Contents
Chapter 1:
What is email marketing, and how does it work?
In this chapter, we'll be introducing you to the basics of email marketing.
Email campaigns are some of the best ways to connect with any target audience. 80% of people still check their email at least once per day!
Read on to find out:
What email marketing is (and why it's so important).
What companies use email marketing for.
How email marketing works to strengthen brands.
How to decide if you need an eMarketing campaign.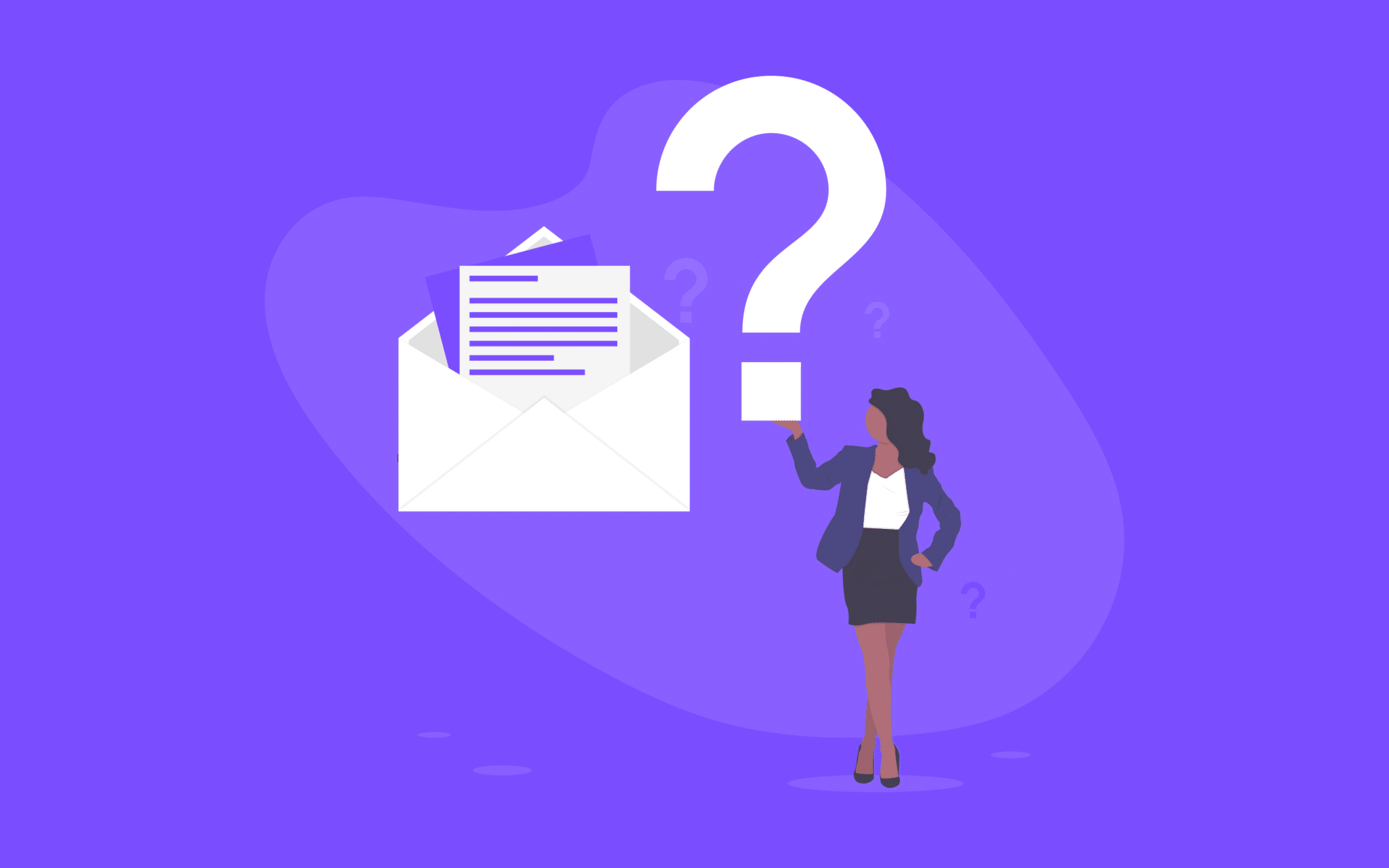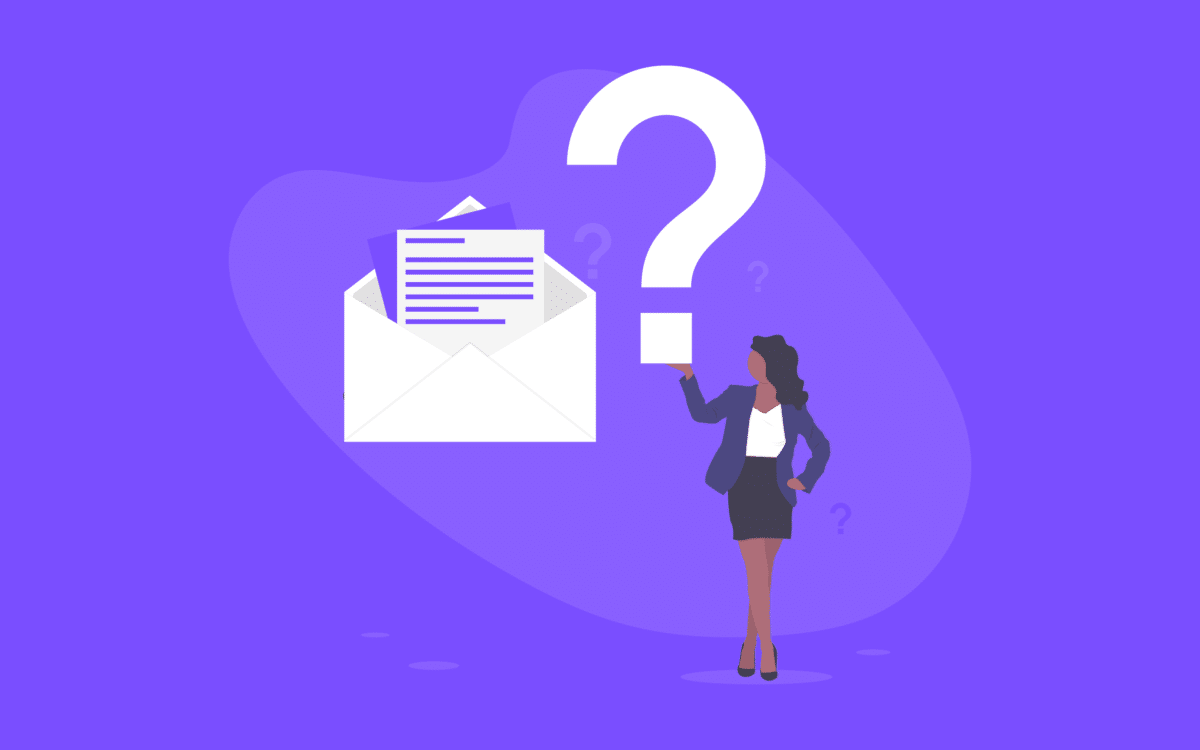 Email is still the most valuable avenue for connecting with customers.
While there are endless new forms of marketing available today, from social media promotion to influencer ads, nothing out weighs email.
Getting into your customer's inbox is how you connect with your consumers on a deeper level whereverthey might be. Email marketing can generate up to 30 times your initial investment.
In this email marketing strategy guide, we're going to introduce you to everything you need to know about email marketing, including:
What is email marketing?
Is email marketing still effective?
Email marketing vs. other marketing channels
Developing your email marketing strategy
Planning your email marketing campaign
Email campaigns vs. one-off email blasts
Email marketing basics
What is a good open rate?
How often should you send emails?
When's the best day and time to send an email?
The golden rules of email marketing
Building an email list: the basics
Designing a new email campaign
Creating images for emails
Sales funnels and landing pages
Get ready for the only email marketing strategy guide you'll need…
Let's start with a basic definition
An obvious email marketing definition would be: "emails used for brand promotion and customer nurturing."
However, to define email marketing, you need to go beyond the basics.
Email marketing is the art of planning a complete strategy to communicate with your customers via email. Your email campaigns might include a digital newsletter updating your audience on what's happening in your business. 
You might also have email marketing campaigns that work on building customer relationships or generating conversions.
In a world where we're constantly connected to our email inbox, email marketing is more valuable today than it's ever been.
Customers expect to get a certain number of emails from each company.
When a client buys something from your store, they want confirmation they received your payment. When someone signs up for a loyalty program, they want regular deals designed just for them.
Learning how to use email marketing correctly means designing carefully targeted messages. You need everything from the branding in your email to the language you use to inform, persuade, and engage your target audience.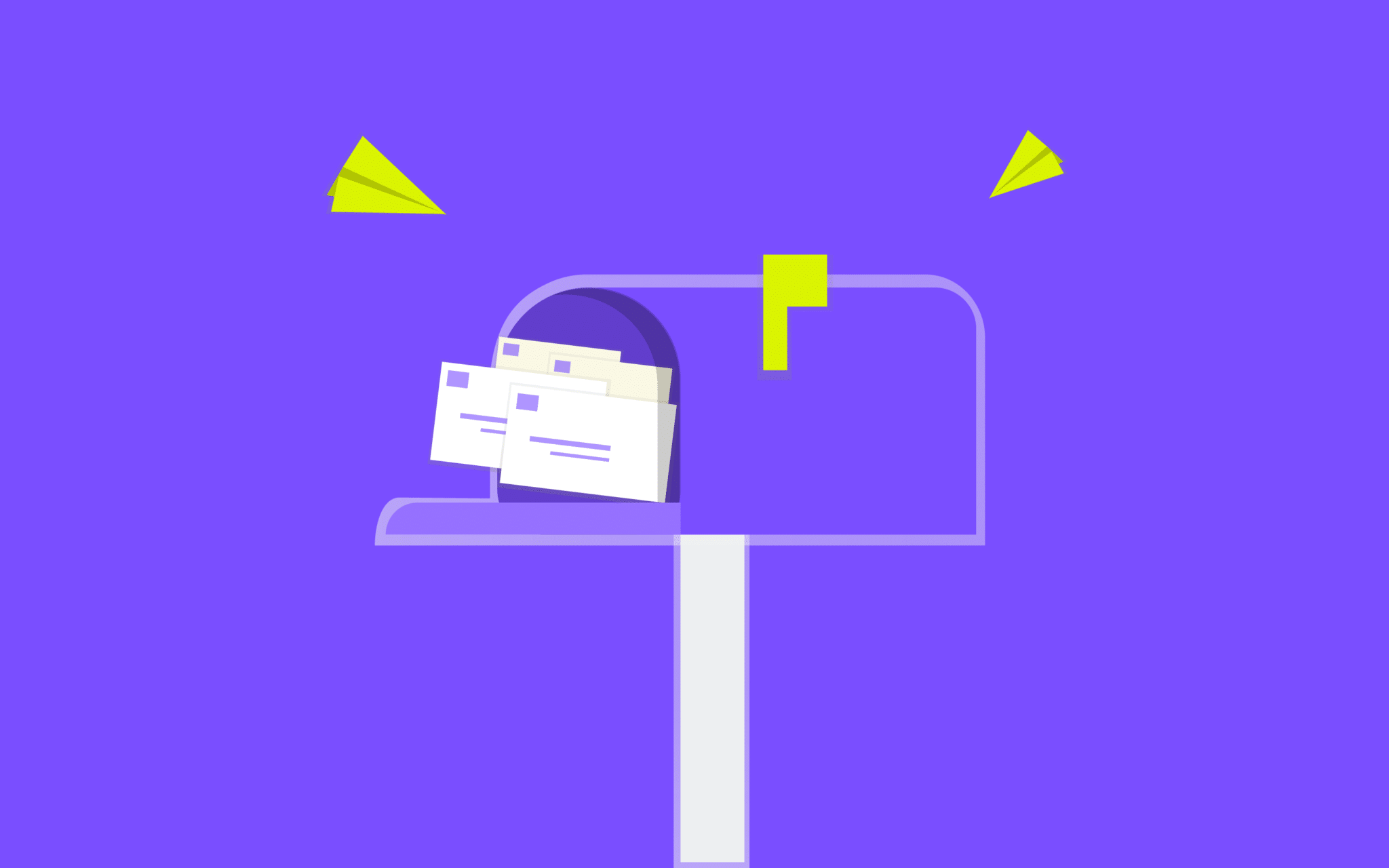 What is email marketing used for?
Email marketing often involves using many different kinds of messages to achieve certain goals. As you'll learn during this email marketing guide, all good strategies begin with figuring out what you want to accomplish with your campaigns.
Usually, the goals of email marketing come in 3 categories:
Earning conversions
Generating customer loyalty
Creating brand awareness
An email intended to earn conversions might target specific members of your audience with a unique offer. For instance, using email marketing tools like AWeber, ConvertKit, or GetResponse, enable you to gather useful information about your target audience.
From this information, you can segment your customers into different groups based on what they buy and what they need from your company.
A conversion-focused marketing campaign can then send specific offers to each segment that takes the needs and expectations of your audience into account.
The important thing to remember is that email isn't just aboutconversions. It's also about showcasing the unique personality of your brand and connecting with customers.
During periods of crisis, businesses use email to put their customer's minds at ease. When a brand is evolving, it can turn to email to inform audiences about upcoming product launches and opportunities.
The diversity of email means that it has a role to play in every part of the customer journey, from awareness, all the way through to post-purchase care.
How does email marketing work to strengthen brands?
Email marketing is a valuable tool in not just your marketing toolkit, but your branding strategy too. With email, you can reach your customers anywhere they are. This helps to increase familiarity with your company and its unique tone of voice.
Email also comes with a degree of intimacy you can't get from standard PPC ads or display ads. Today's consumers have the right to choose who they want in their inbox.
You can't just message anyone anymore, or you'd risk a massive fine. Privacy guidelines mean that for many people, the inbox is an environment for carefully curated content.
If you convince your customer that you deserve a place in their inbox, then you'll be able to reach them wherever they are. That includes connecting with customers on the move. Today's consumers usually have apps on their phones that allow them to check their email anywhere.
Email also has the benefit of being easily customisable. With the right email marketing tools, you can personalise professional templates with your own logo, color schemes and typography. All that, and you have the potential to scale your email messages as far as you like.
You can even automate campaigns and create different messages to suit different parts of your audience.
Combine the versatility of email with the fact that around 80% of people check their email at least once per day,and it's easy to see why email is essential to any brand.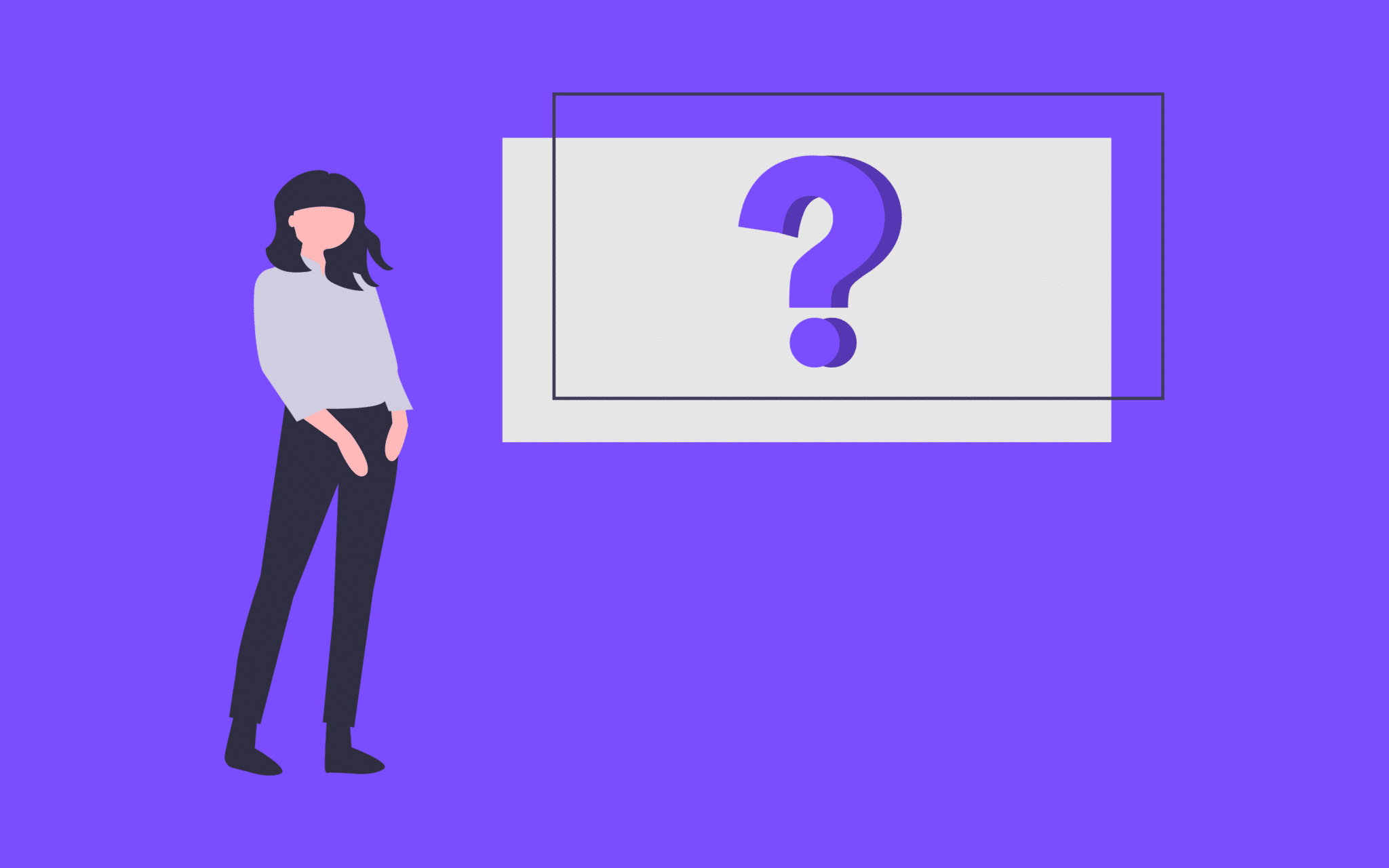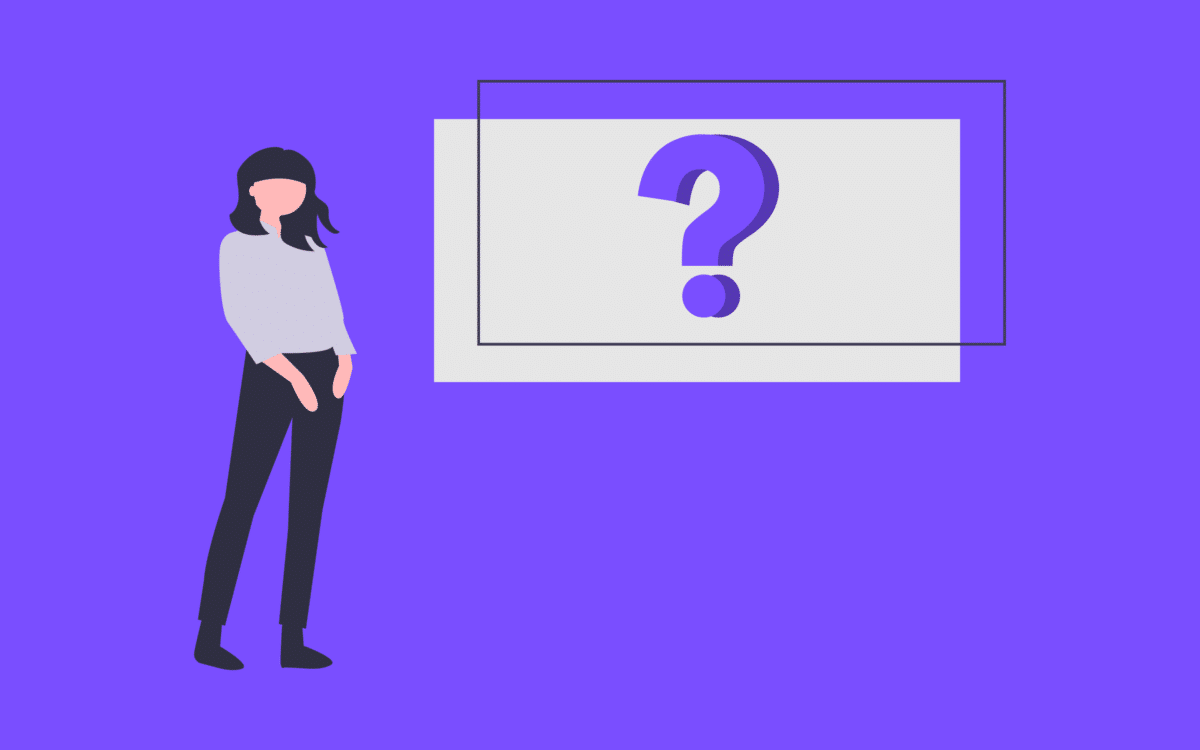 Do you need eMarketing?
Email is a crucial component of any marketing, branding, and growth strategy. Studies show that consumers who purchase products through email spend up to 138% more than their counterparts.
What's more, both B2B and B2C consumers bothexpect emails to deliver offers to their inbox. That means that you can advertise to your customers without seeming too pushy.
The question isn't, "do you need email marketing?" Rather, it's "How are you going to design an email marketing strategy that suits you?"
There are a lot of extra queries that go into this consideration. For instance, "what are the best email marketing services?". Digital services that give you access to valuable templates, analytics, and other tools will be particularly helpful to increase the ROI of your campaign.
You might also need to think about how frequently you should send your emails, how many different segments you need to create, and what you can do to make your brand stand out in the consumer's inbox.
Fortunately, throughout the rest of this eBook, we're going to help you answer some of these essential questions (and more).
Chapter 2:
Is email marketing still effective?
Email marketing has been around for quite some time, but it's not old news.
In this chapter, we're going to introduce you to the truth about email marketing and why it's just as valuable as ever. Read on for stats and insights that provethe value of email marketing. For instance, did you know that 81% of businesses still rely on email as their primary tool for customer acquisition?
Here we'll cover:
Stats on how companies and consumers use email.
The long-lasting effectiveness of email marketing.
Everything you need to know about email marketing ROI.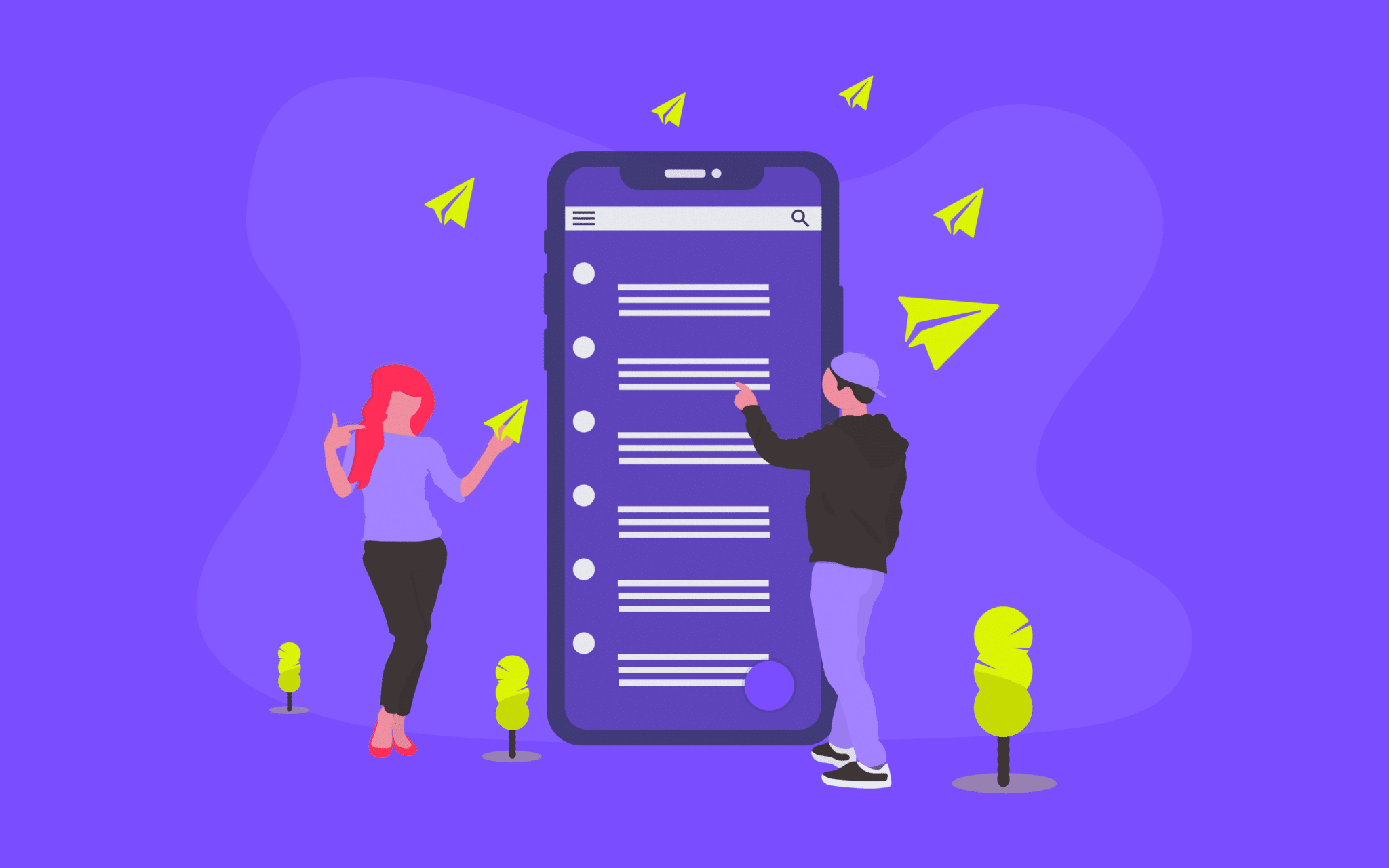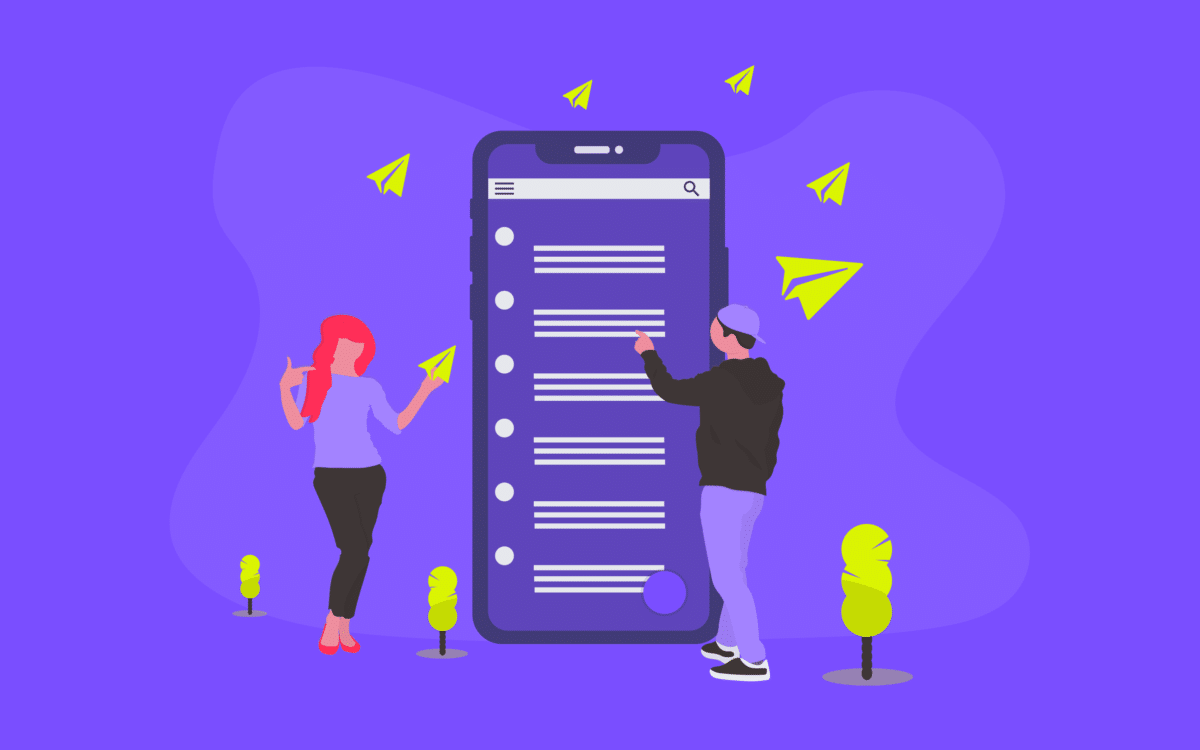 Email marketing has been around for almost as long as the internet at this point.
So, with so much history, is emailing your customers still as valuable as it once was?
The numeric value of email marketing differs depending on where you look. Some experts say that email marketing is the most valuable marketing strategy there is. Others say that it's similar in value to content marketing and SEO.
Let's look at some of the statistics to get a better insight into the true potential of email.
Email marketing statistics: How we use email
In 2019, the number of global email users amounted to around 3.9 billion. This figure will grow to around 4.3 billion by 2023, according to Statista.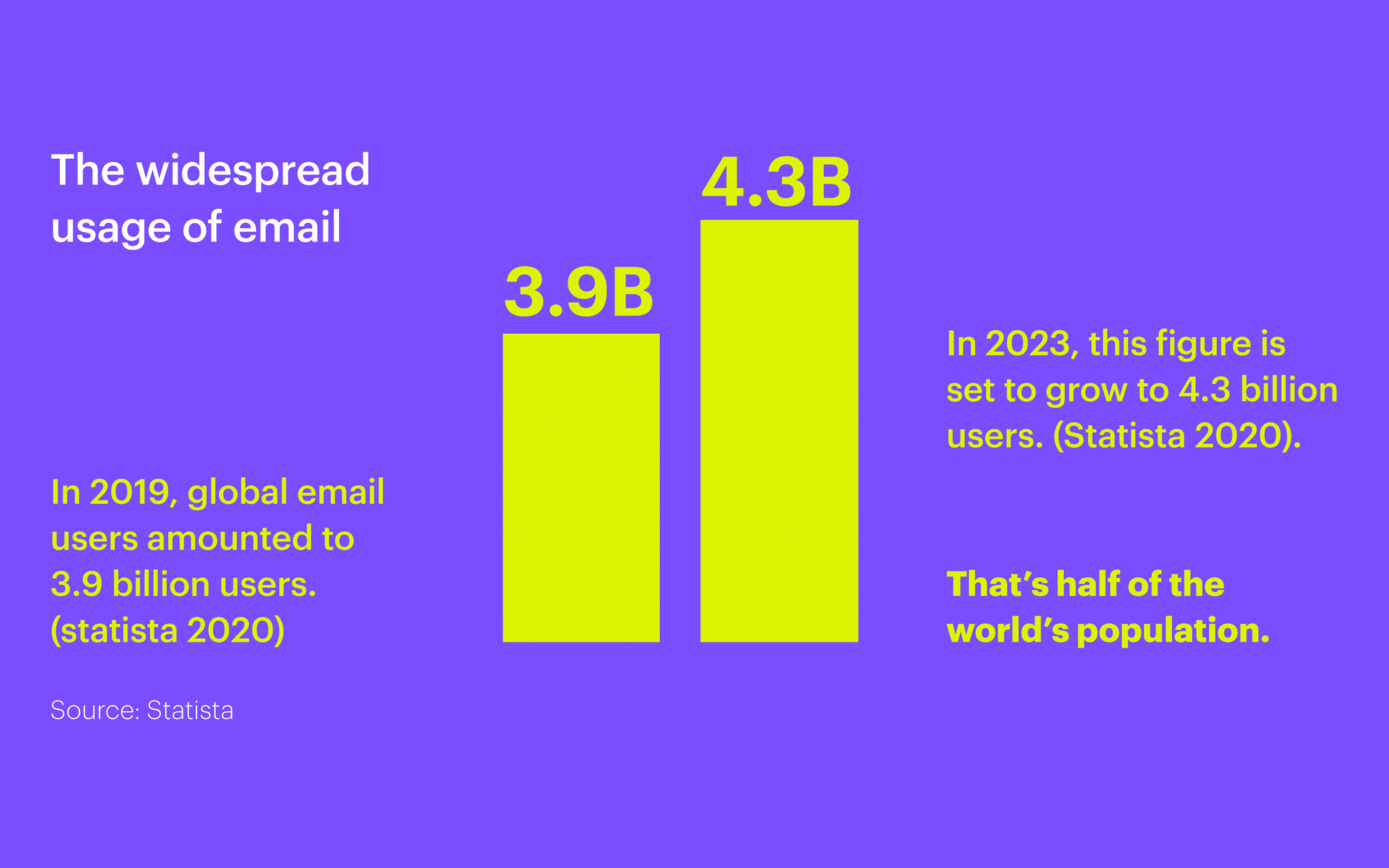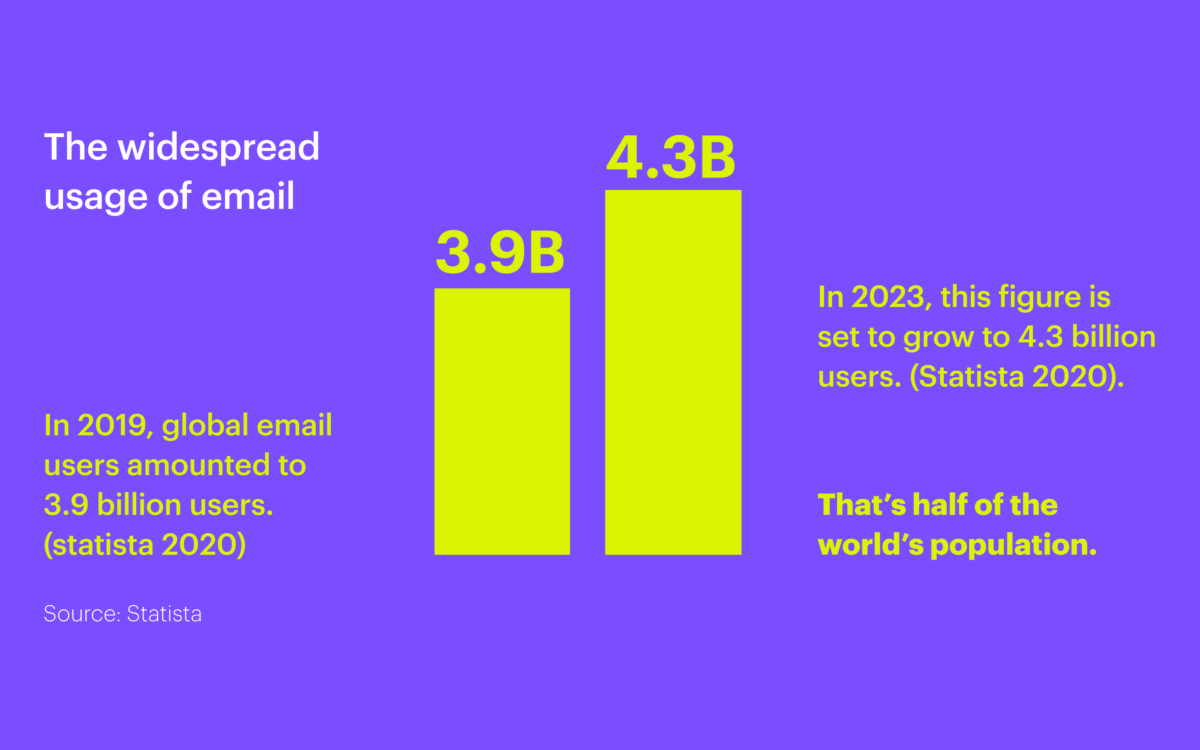 Numbers like these suggest that no matter where you're doing business in the modern world, there's a good chance your customers already have an email account.
Combine the sheer number of email accounts in the world today with the number of messages we send regularly, and its clear email is a valuable form of communication.
In 2020, Statista revealed that around 293.6 billion emails are being sent every day. This number will increase to around 347.3 billion emails each day by the end of 2022. Clearly, even though it's been around for many years now, email isn't going anywhere.
The average person doesn't just have an email account either, they're connected to it on an almost constant basis. The average person checks their email around 15 times each day!
Since now you can get notifications from your inbox sent straight to your smartphone, there's nothing to stop you checking your account more regularly if necessary.
Stats on the effectiveness of email marketing
If you're still not sure about the effectiveness of email marketing, consider the fact that email continues to be the premium driver of customer retention and acquisition for small to mid-sized businesses.
According to the data available today, 81% of businesses rely on email as their primary channel for customer acquisition.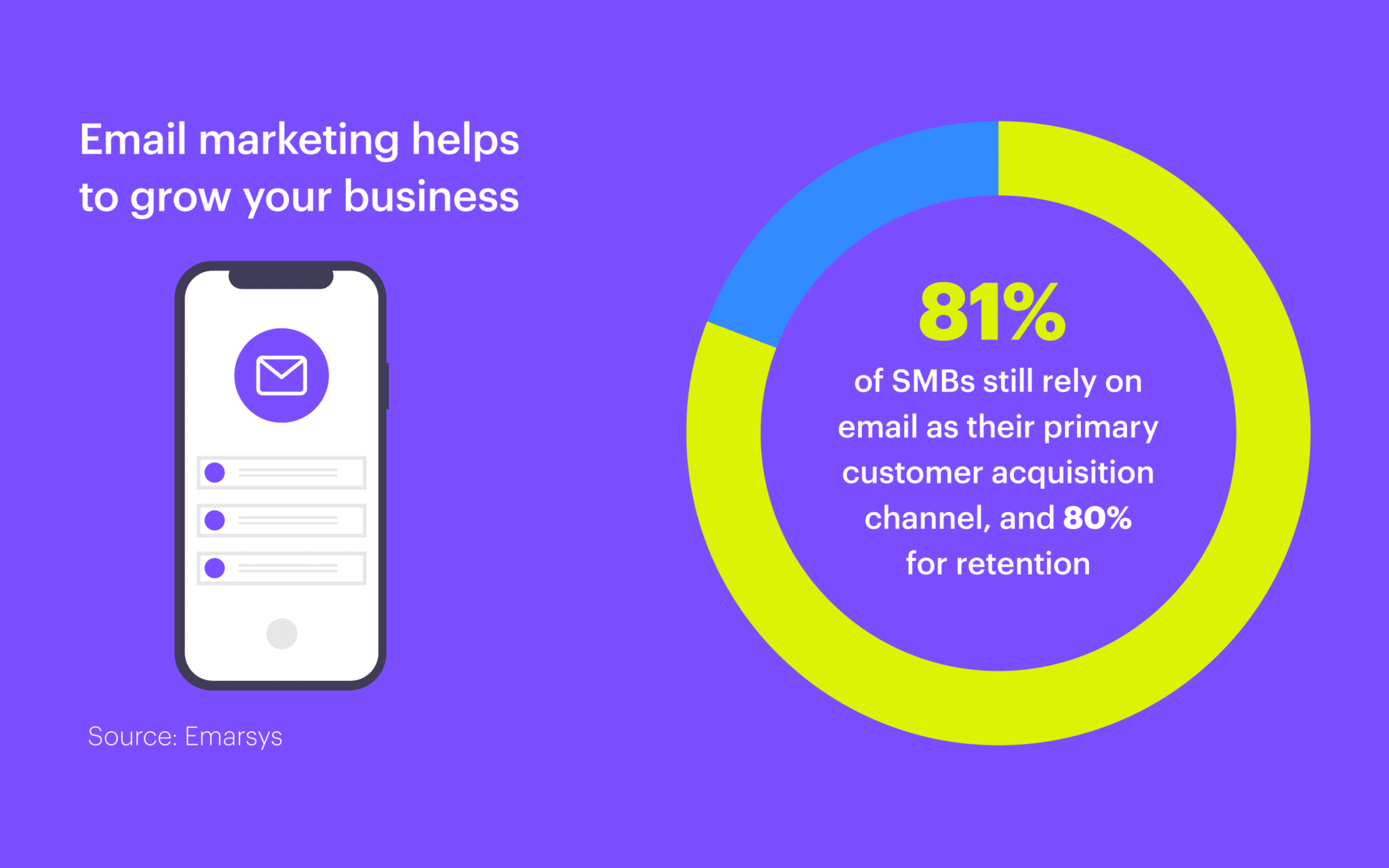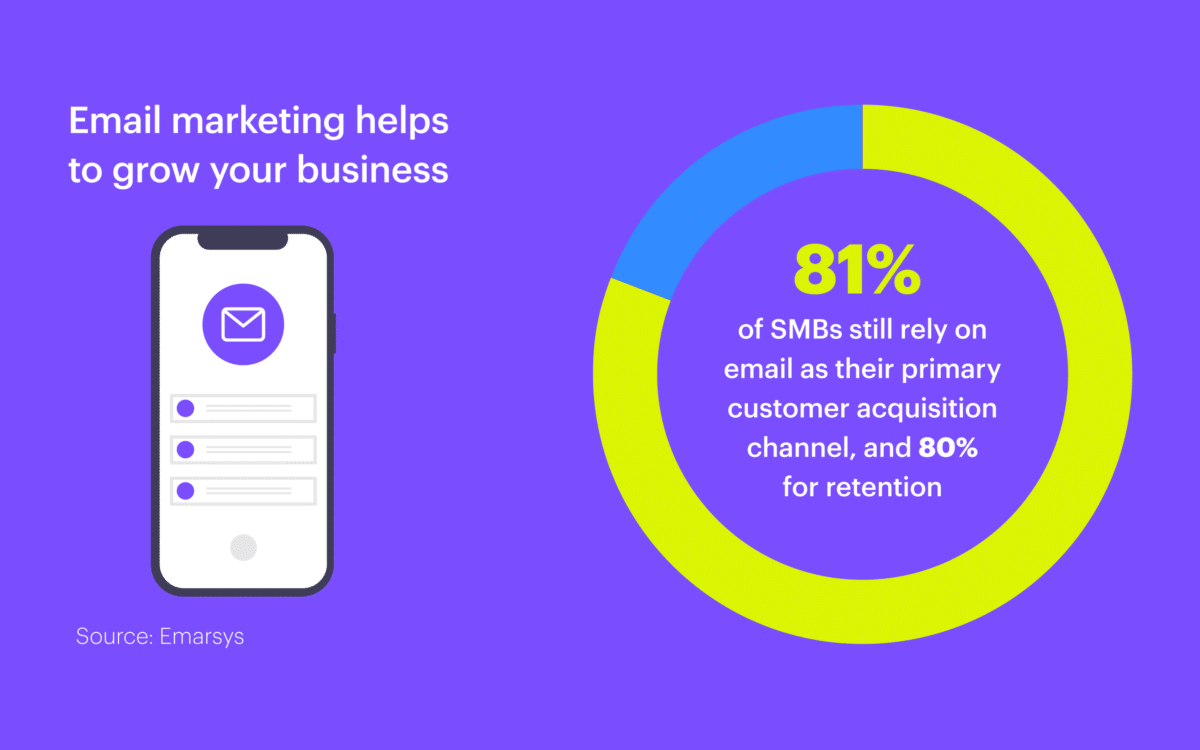 80% of people in an Emarsys study revealed that they use email for retention of customers.
While many people are talking more about things like social media and influencer marketing these days, that doesn't make email less valuable. Email marketing consistently tops the chart as an excellent source of ROI, compared to things like paid search, organic search, and social media.
In particular, welcome messages have some of the most significant impacts on your audience. The average open rate of a welcome message is 82%. That means that if you can convince someone to sign up for your email campaign, you should be able to successfully introduce them to your brand.
Get your welcome email right, and you can convince your audience to keep checking your emails in the future too. Remember, just personalizing your emails, and their subject lines are enough to increase your open rates by around 50%.
On top of that, emails can also give you a way to earn a second chance of selling to your customer too. With the right abandoned cart campaigns, you can bring audiences who left products in their shopping basket on your website back to their account.
Sending 3 abandoned cart emails can drive 69% more orders than sending just one email.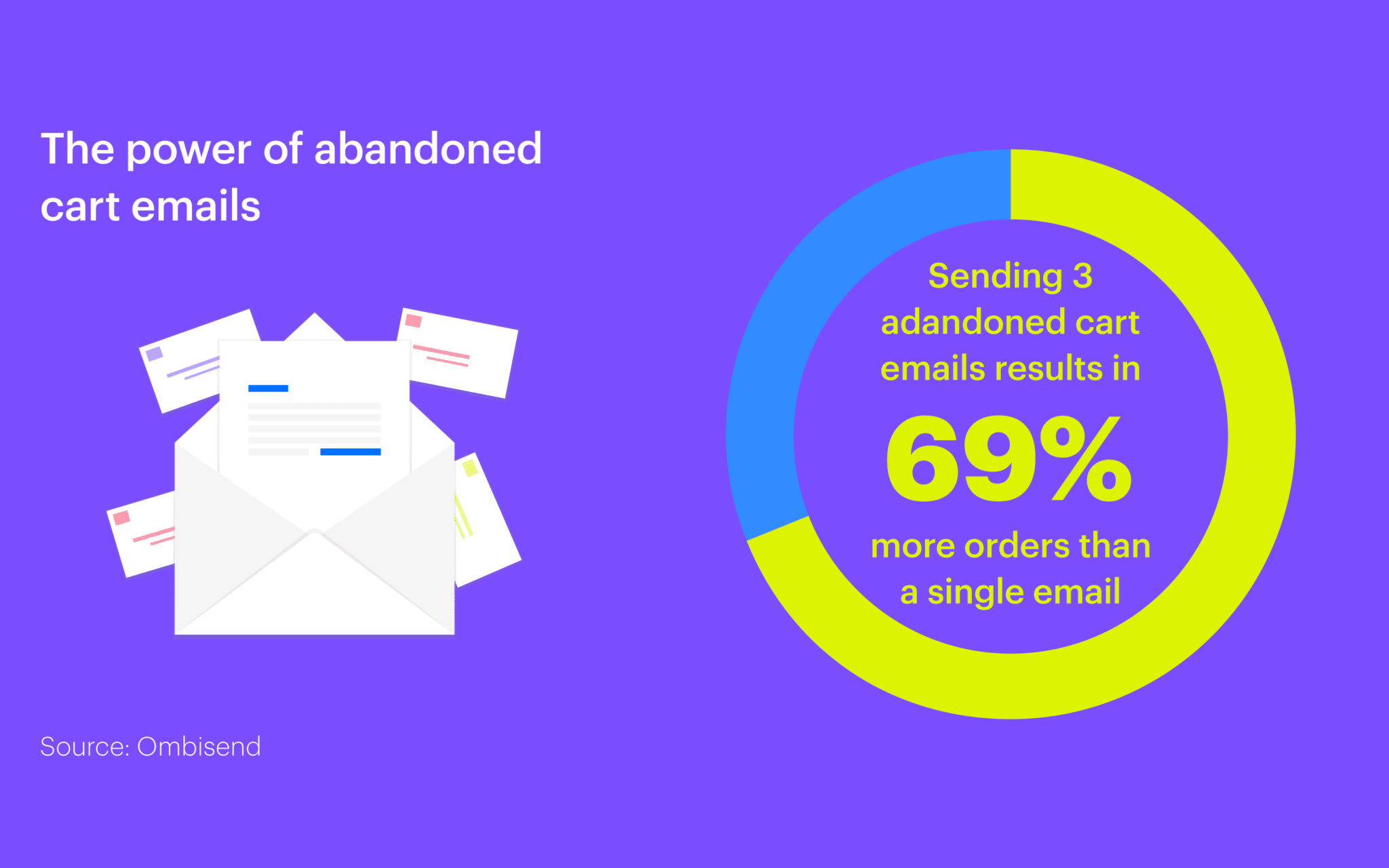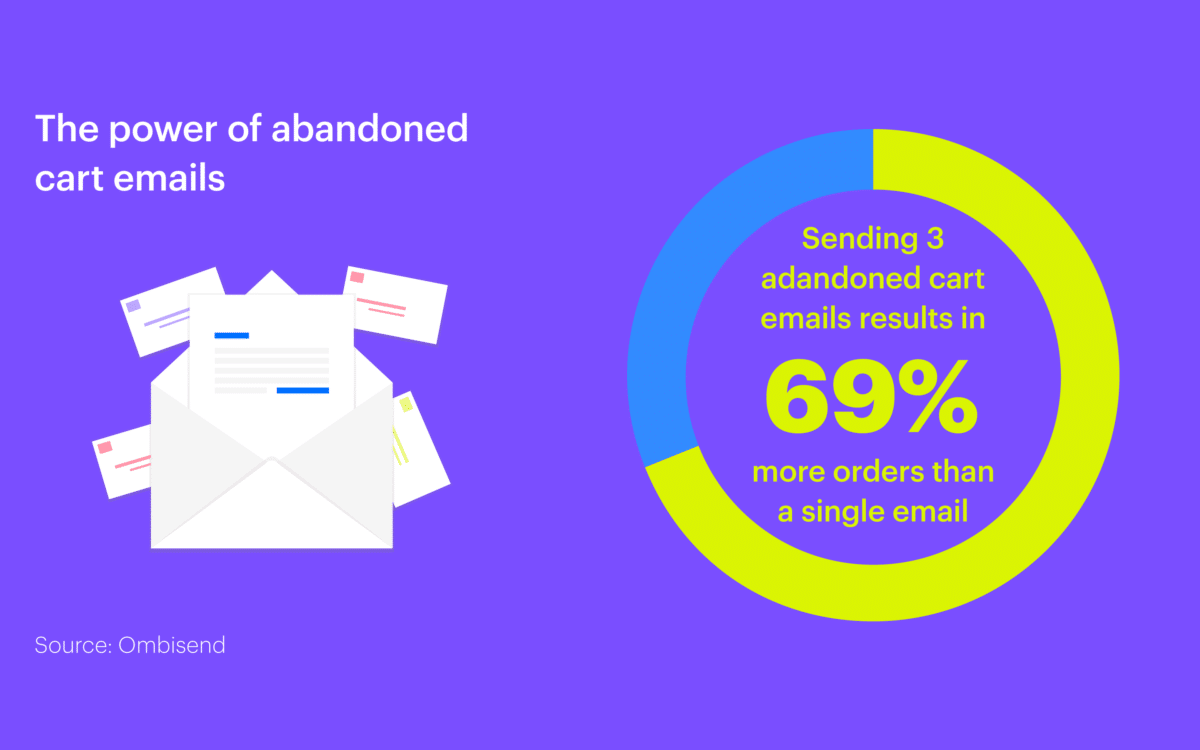 Mastering email marketing ROI
Email marketing hasn't lost its effectiveness. Indeed, research constantly shows that the question "is email marketing dead?" is a dramatic, and unfounded one. Email still reaches around 85% of the people you send it to.
Plus, research shows that both consumers and marketers prefer receiving emails when they want to communicate with brands.
91% of B2B marketers said that email is "extremely important" to their marketing efforts.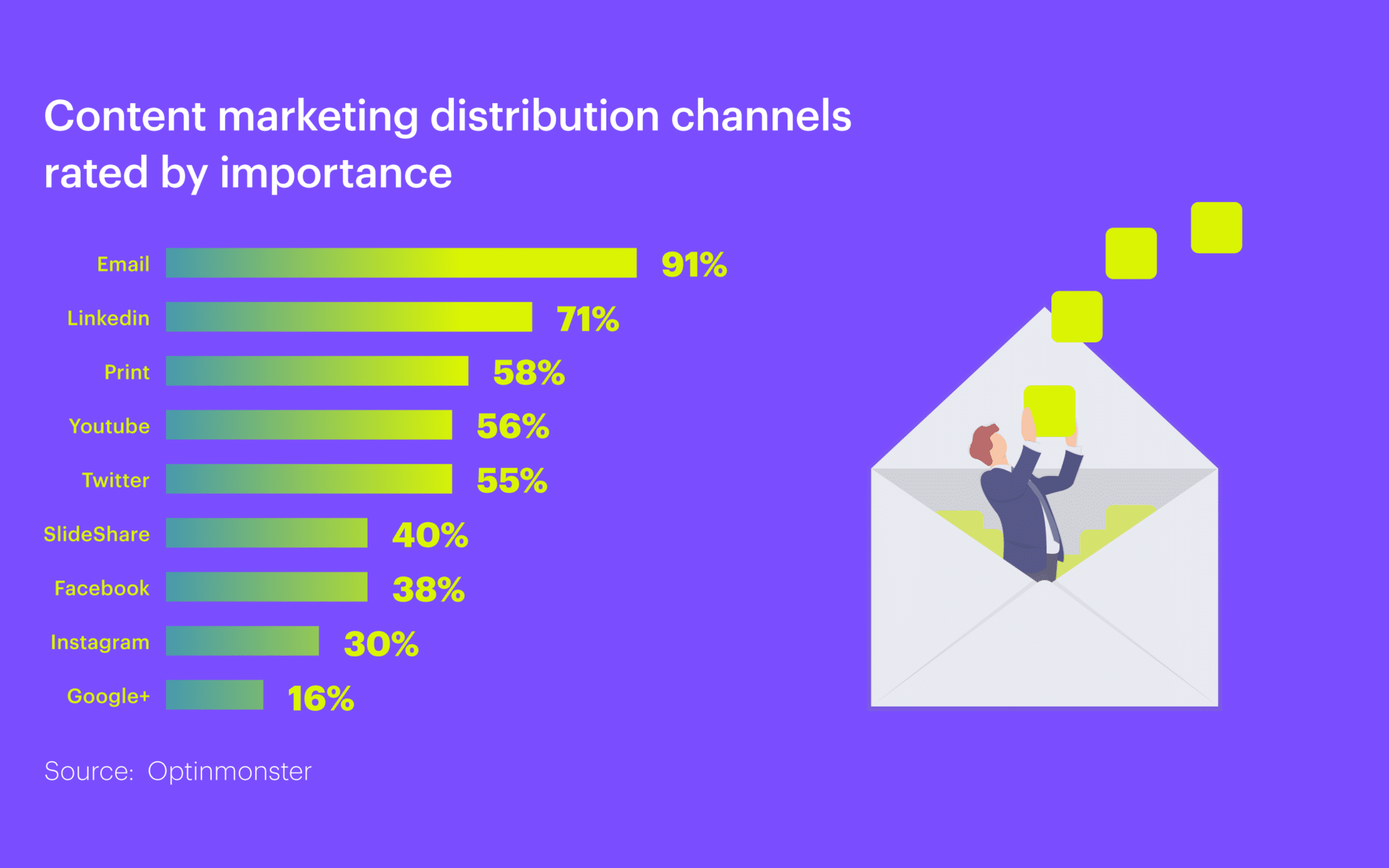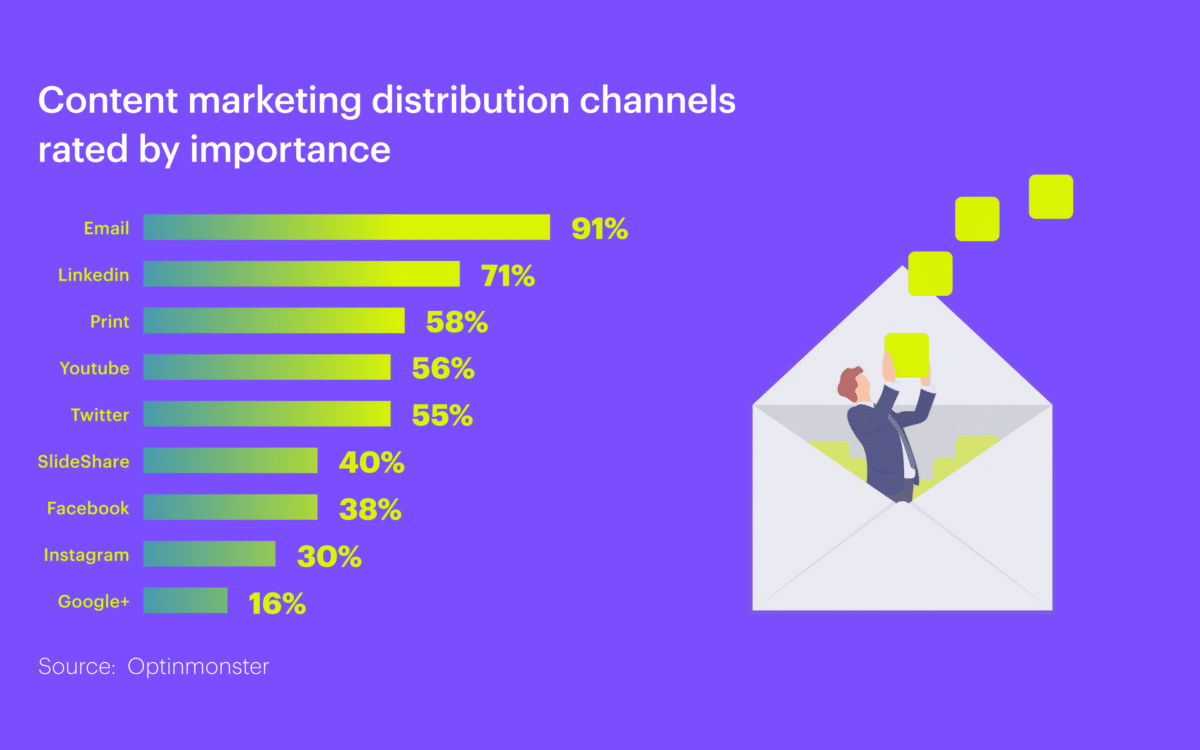 The key to truly unlocking the best email marketing ROI is figuring out how to create the right email campaigns for your audience. The DMA Insight 2019 report found that email list subscribers frequently unsubscribe from messages when they feel the information is irrelevant.
Another reason your customers might leave you behind is because you're sending too many messages.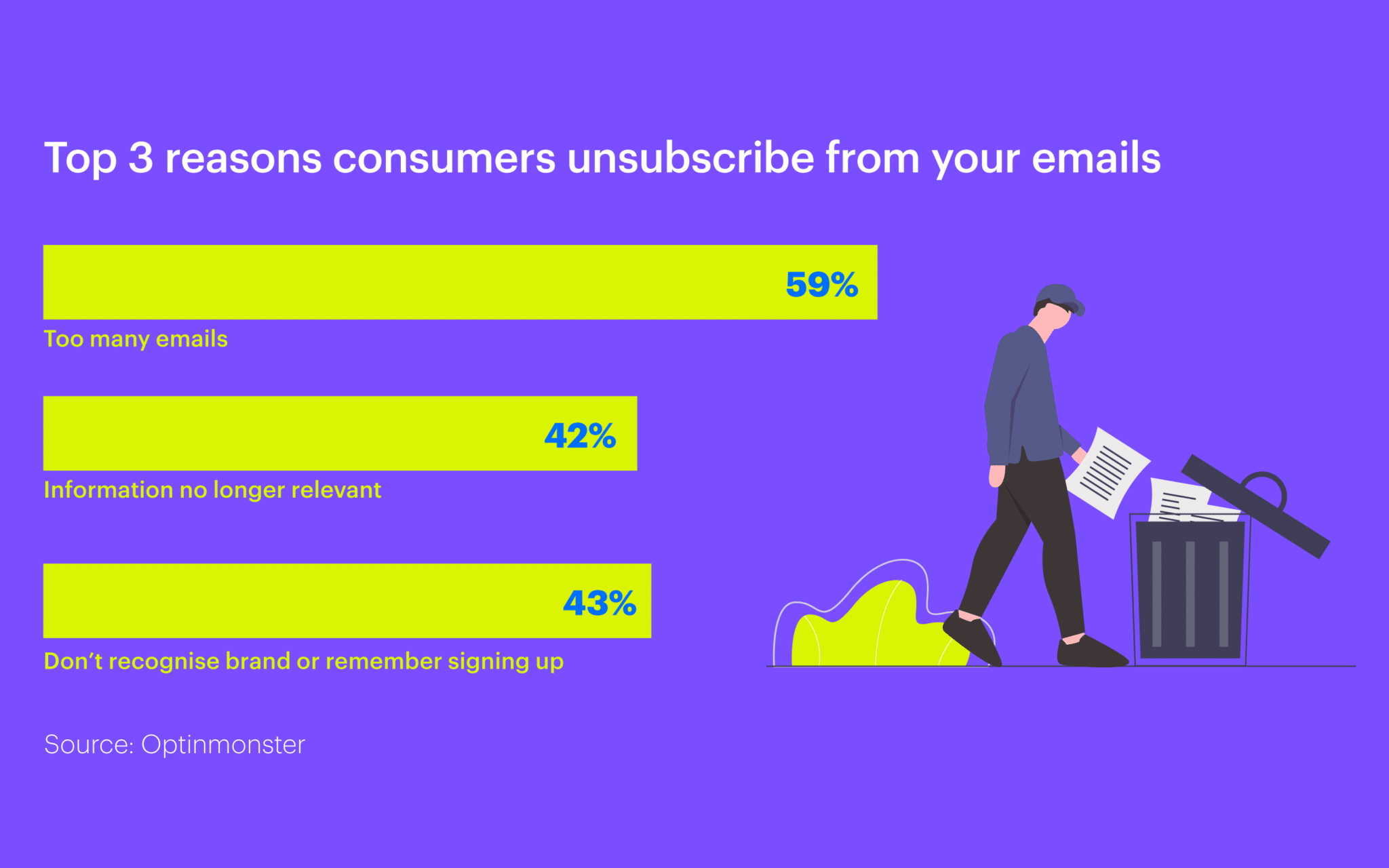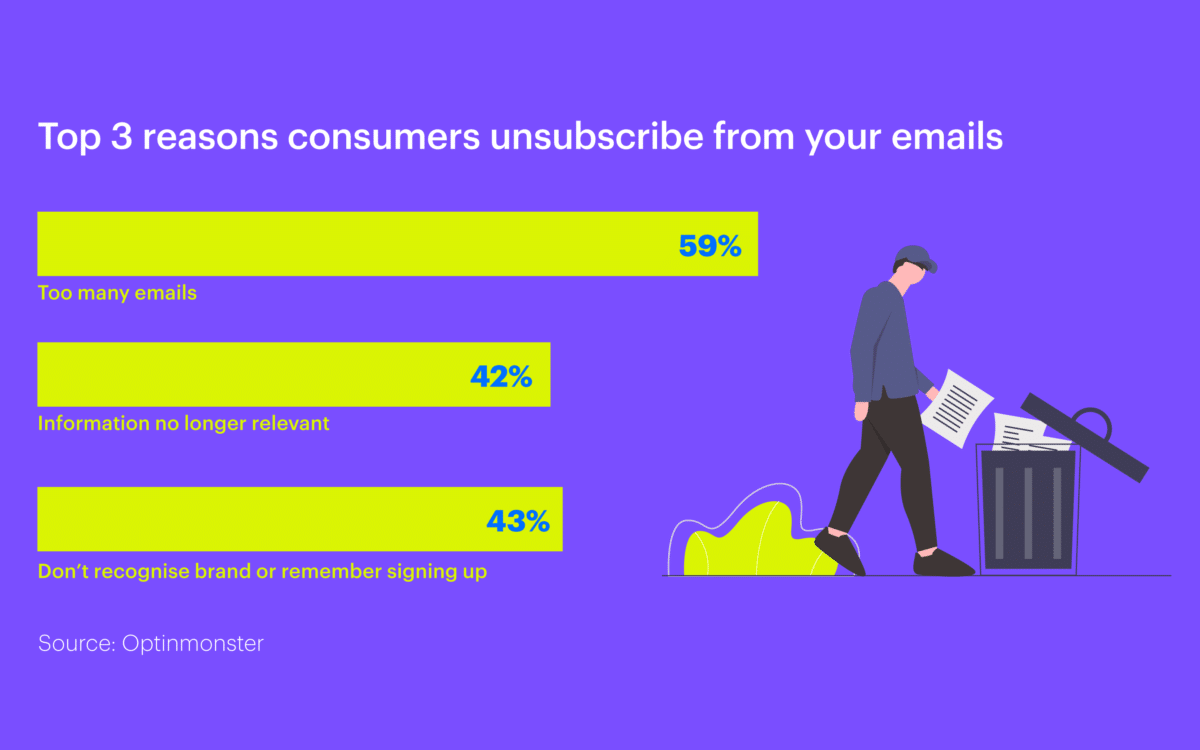 Statista reveals that more than half of the emails sent in the world today are classified as spam. If you want to avoid being a part of the problem, then you need to learn how to connect with your audience on a new level.
Reports suggest that adding videos to your emails, and making content more interactive can increase clickthrough rates by up to 300%.
Learning how to get the best email marketing ROI means paying attention to your audience and the results of your email campaigns. Tools like GetResponse and ConvertKit can help with this.
Any service that provides you with reports on your email marketing efforts will make a huge difference to your outcomes.
The best email marketing tools on the market today allow you to A/B test your assumptions and learn how to connect with your audience on a deeper level.
For instance, it was only with analytics and reports that companies like Marketing Sherpa could discover that 60% of consumers subscribe to brand email lists to get deals and promotional messages.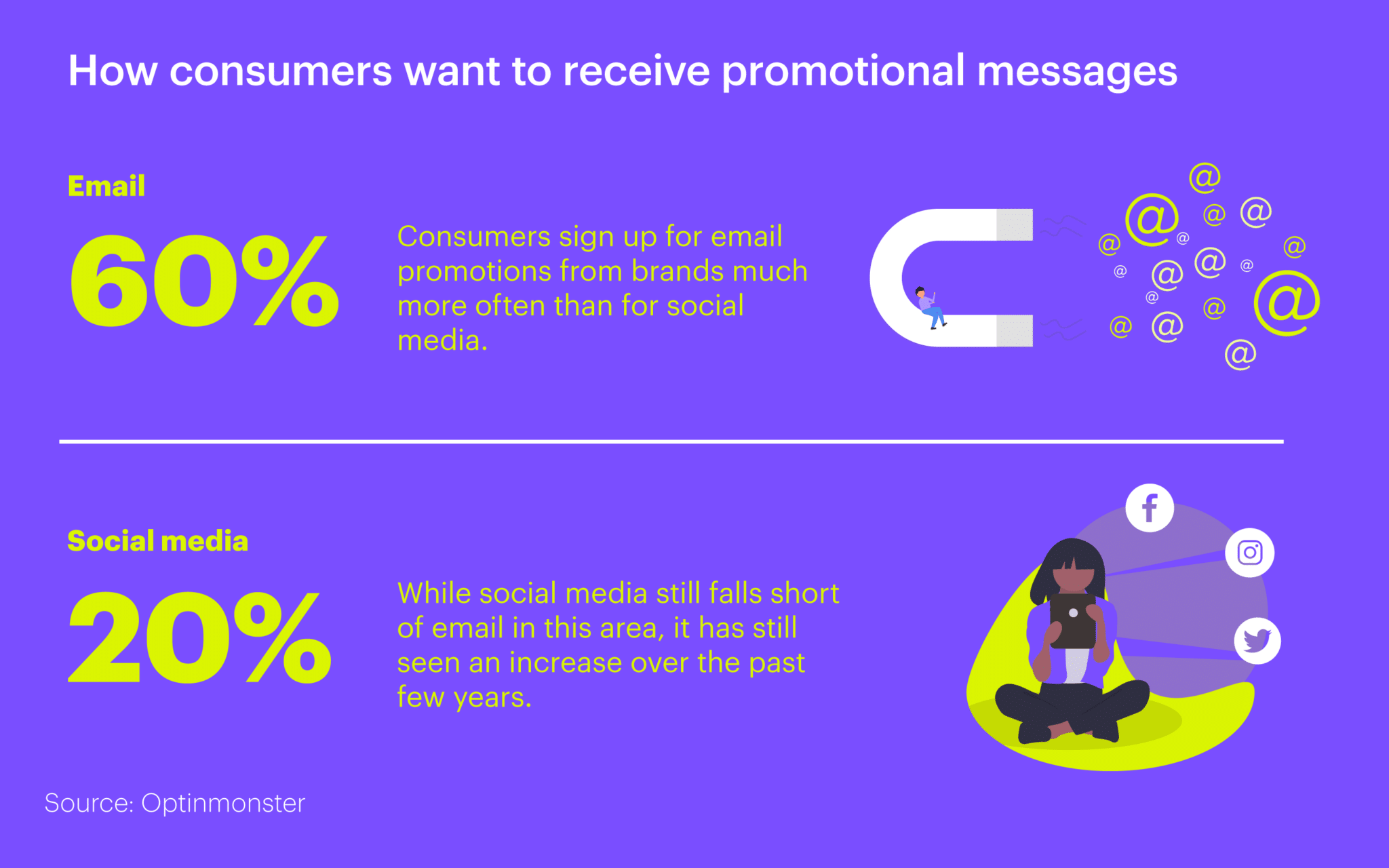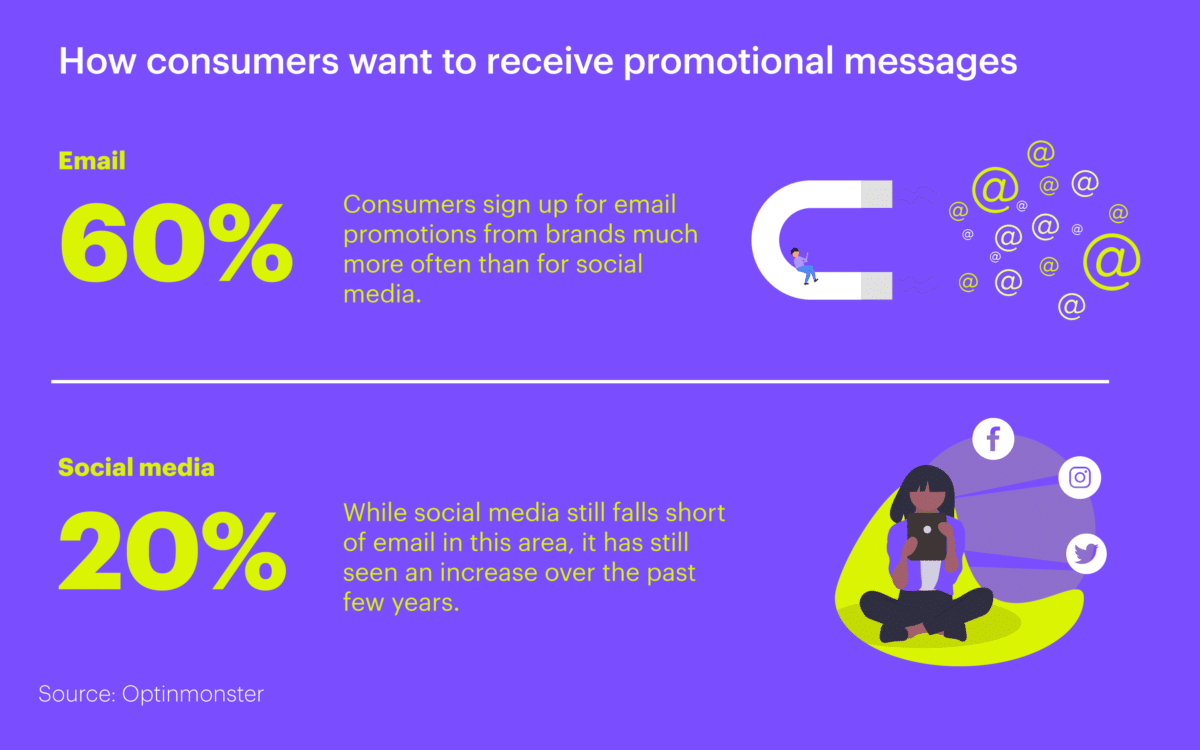 Email might not be the only communication method that brands have when it comes to connecting with their target audience, but it is one of the few strategies that maintains its value over time.
Chapter 3:
Email marketing vs. other digital channels
Now it's time to put email marketing to the test.
You know that eMarketing is excellent for your company – but just how useful is it?
How does the (astronomical) ROI of email marketing measure up to social media, PPC, and other digital marketing strategies?
In this chapter, we'll be walking you through:
Email marketing vs. social media: Which is better?
The benefits of email for nurturing customers.
Growth opportunities from email.
Email marketing vs. other digital channels.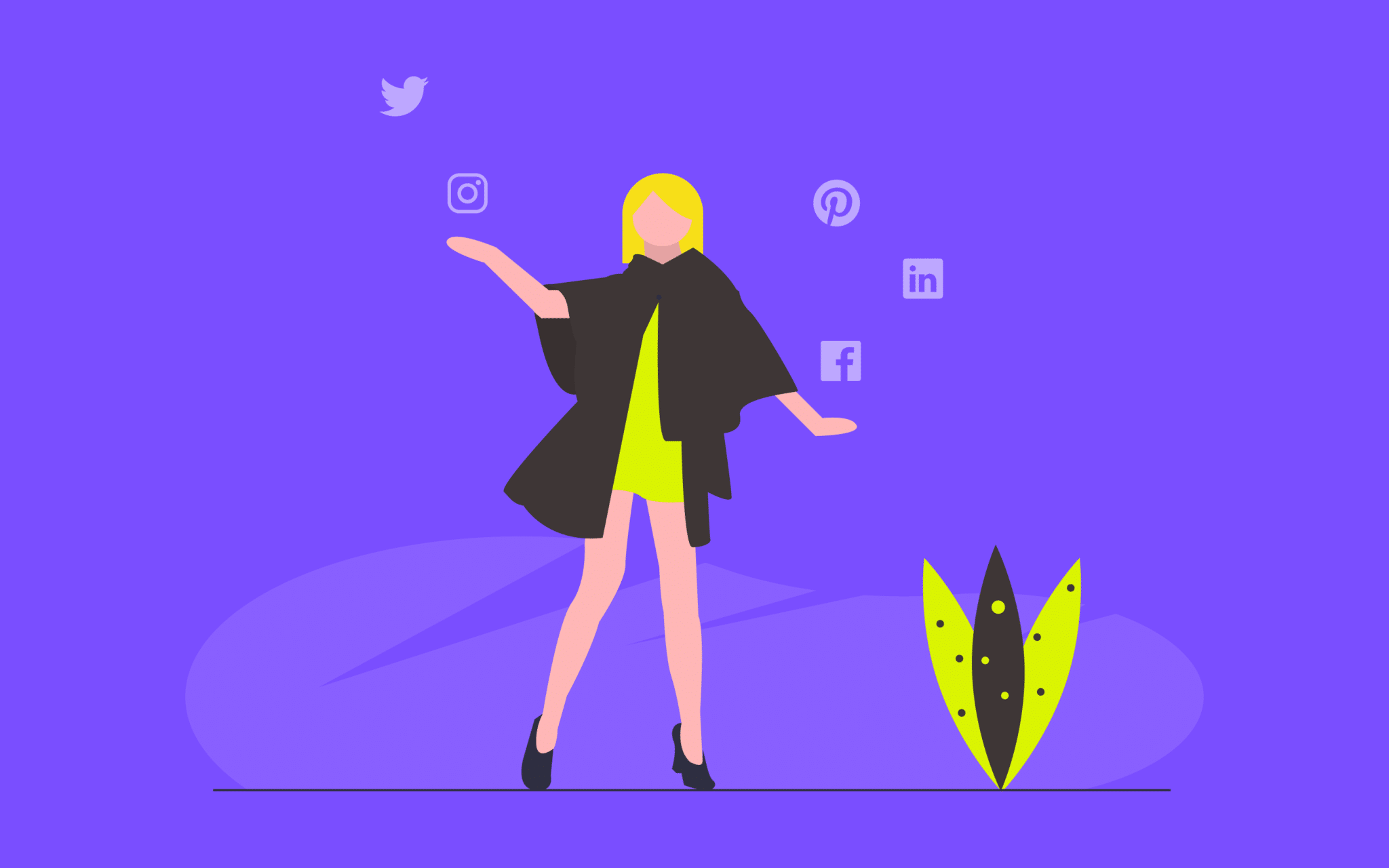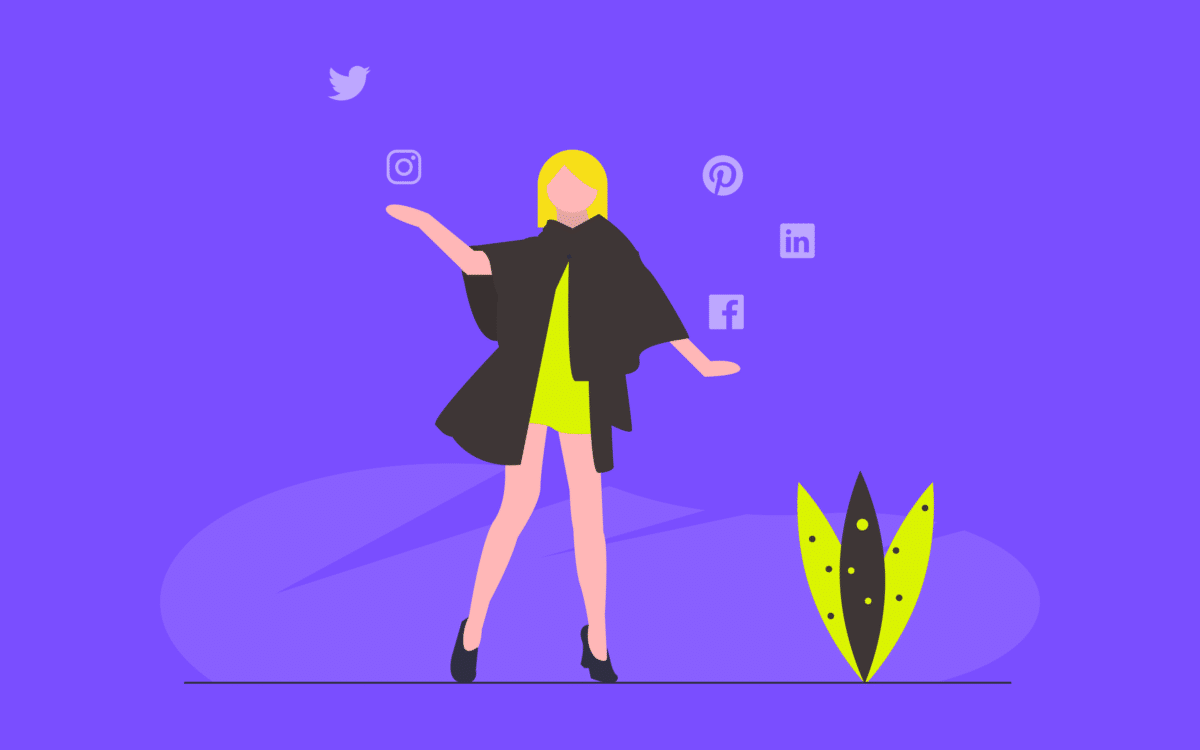 So, how does email marketing compare to some of the other strategies available on the market today? There are a lot of digital marketing channels to choose from besides email.
However, few solutions deliver the same results.
Some studies estimate that the average return from an email marketing campaign can be as high as $44 for every dollar spent. Compared to other digital marketing channels like Google AdWords, companies only get around $2 for every $1.
Email marketing holds its own in the modern marketing environment.
Compared to other strategies, email isn't just valuable; it's cheap too.
For instance, you might pay for your email marketing software, and spend cash on a landing page to acquire email addresses, but the price usually won't come anywhere close to the amount you'd spend on something like social media.
With the right email marketing campaign, you spend maybe a couple of hundred dollars on a full campaign. With social media, you'd need to spend a few hundred dollars just to access a micro-influencer for your promotion.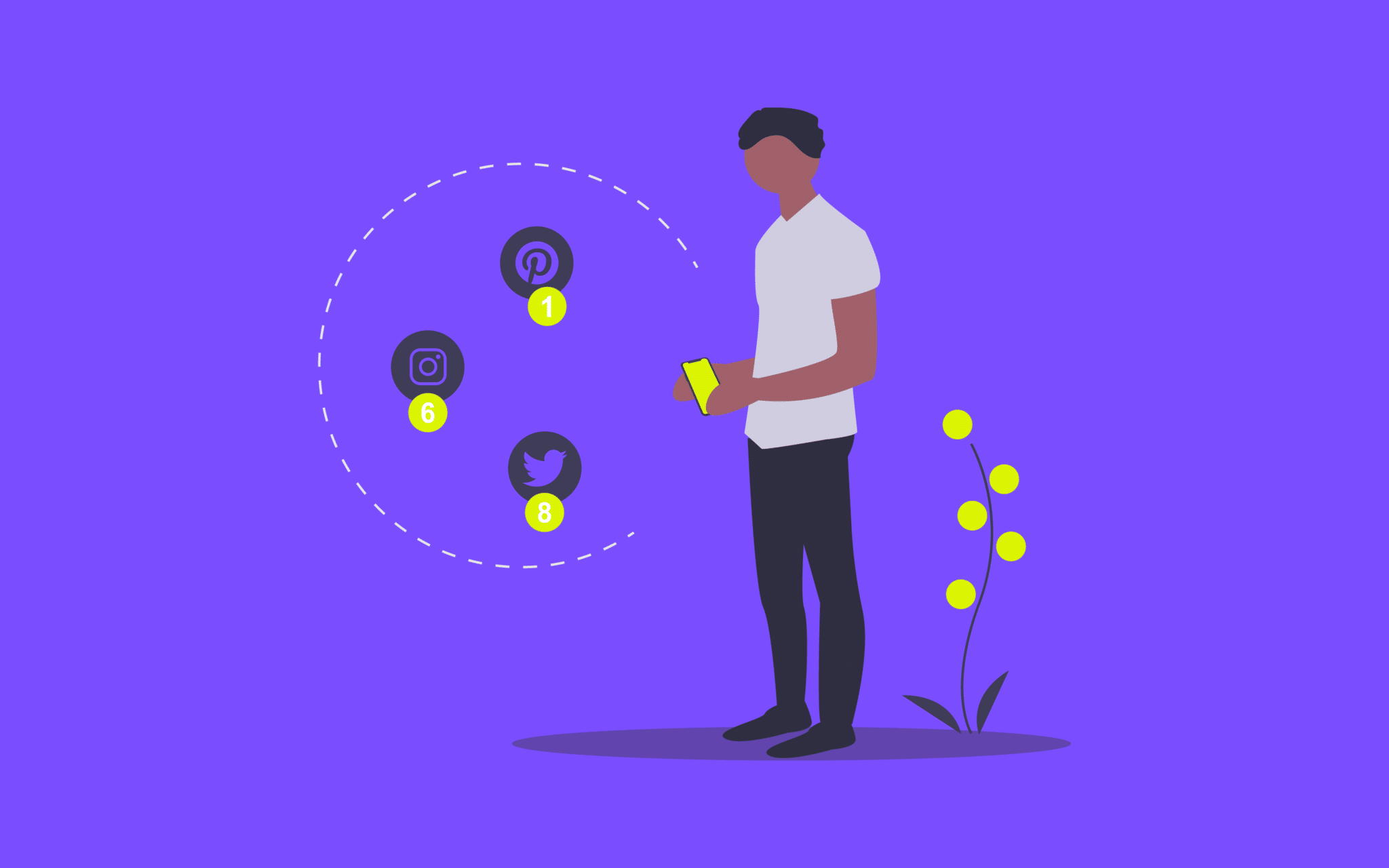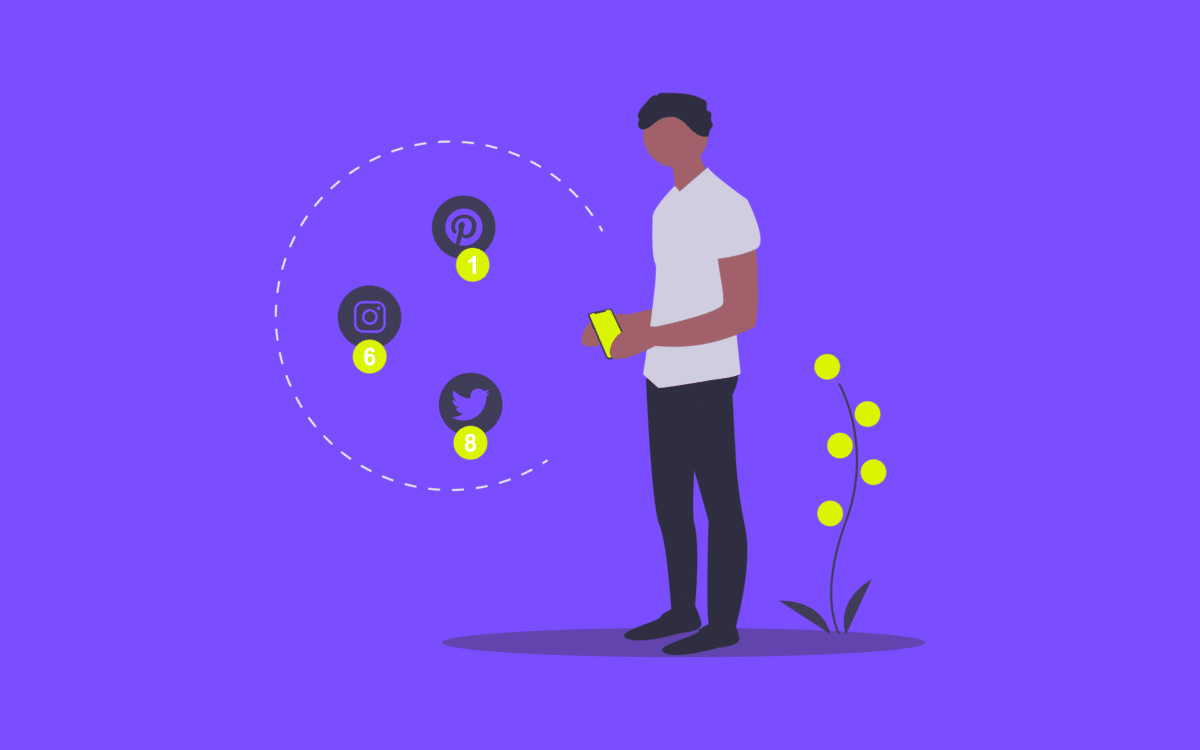 Email marketing vs. social media
Let's think about how email marketing and social media measure up for a moment.
In an ideal world, you'd use a combination of email and social media marketing to get the most out of your digital strategies. If you had to choose one over the other, then email would give you a better return on investment.
74% more Facebook users deleted their app between 2017 and 2018, according to the Pew Research Center. As customers become more concerned about their digital privacy and rights, people like the freedom to choose who they interact with.
That's why, as social media loses attention, email gains more subscribers. The number of email users is expected to grow by at least 3% between 2020 and 2021.
In a world where data is pressure, 49% of users say that they're not at all confident that Facebook and other channels will keep their data secure. Yet the Pew Research Institute reveals that 66% of adults feel confident that their email providers will protect their data.
In usage alone, email far outweighs social media.
There are 2.34 billion social media users in the world, compared to 3.8 billion email users. Additionally, while 81% of the US has a social media account, 90.99% of the US population used to email every day in 2019.
Email is a great tool for nurturing customers
The truth is that most of the people who visit your website or store won't be ready to buy immediately. The average conversion rate is only around 2%.
Email is a way for you to nurture your customers, so they're more likely to buy from you in the future. With email, you can segment your audience based on their likes and dislikes and send specific messages that are intended to drive conversions and new opportunities.
You can create individual ads on social media or the search engines that can target people too. However, this is a much more tedious process than just using an email marketing tool for segmentation.
Perhaps this is the reason why, when social media marketers attempt to understand their return on investment, they have trouble understanding how valuable social media is.
On the other hand, 80% of professionals in the retail industry say that email marketing is their best driver of customer retention. This is compared to social media, which only 44% of retailers believed was valuable to their strategy.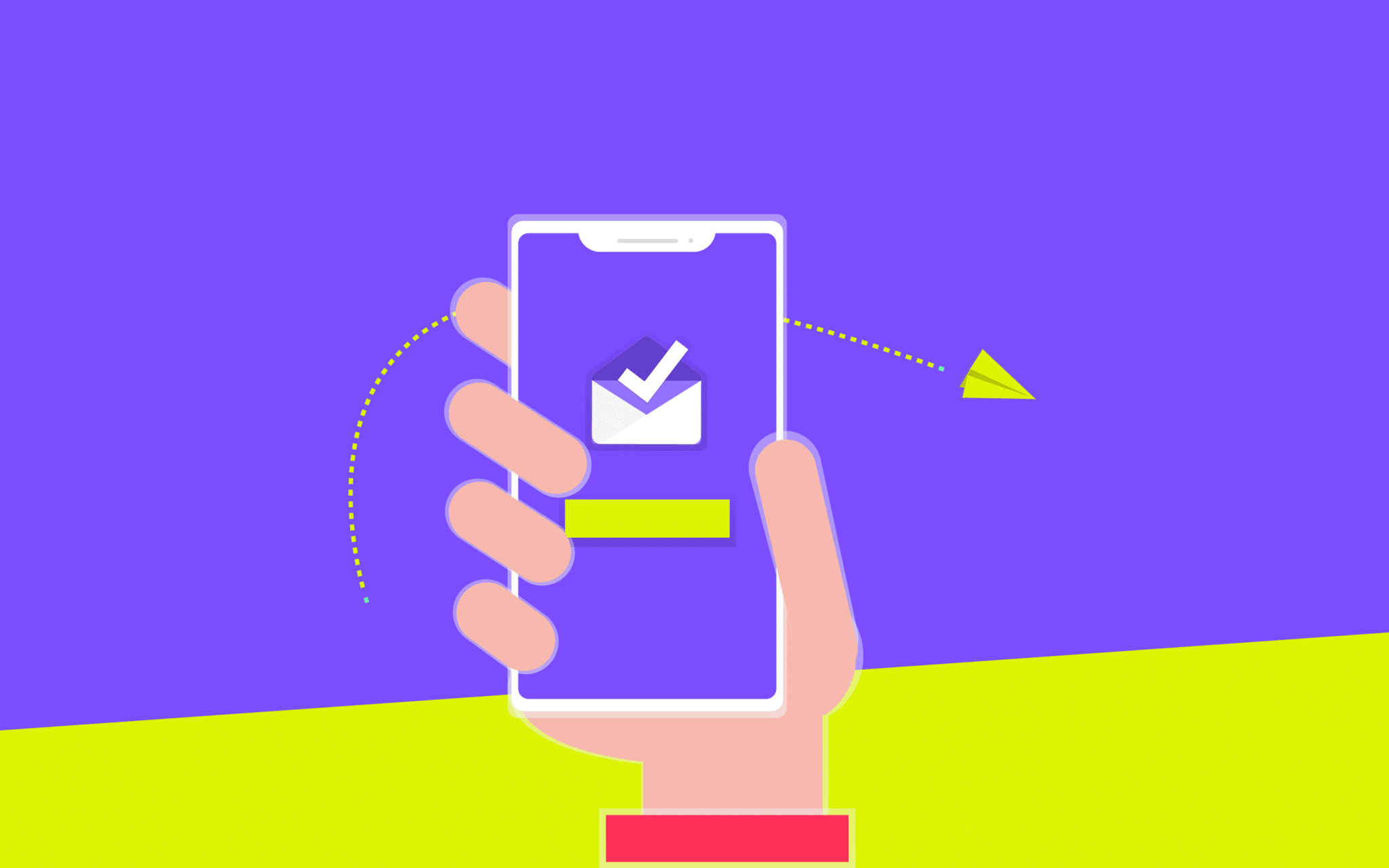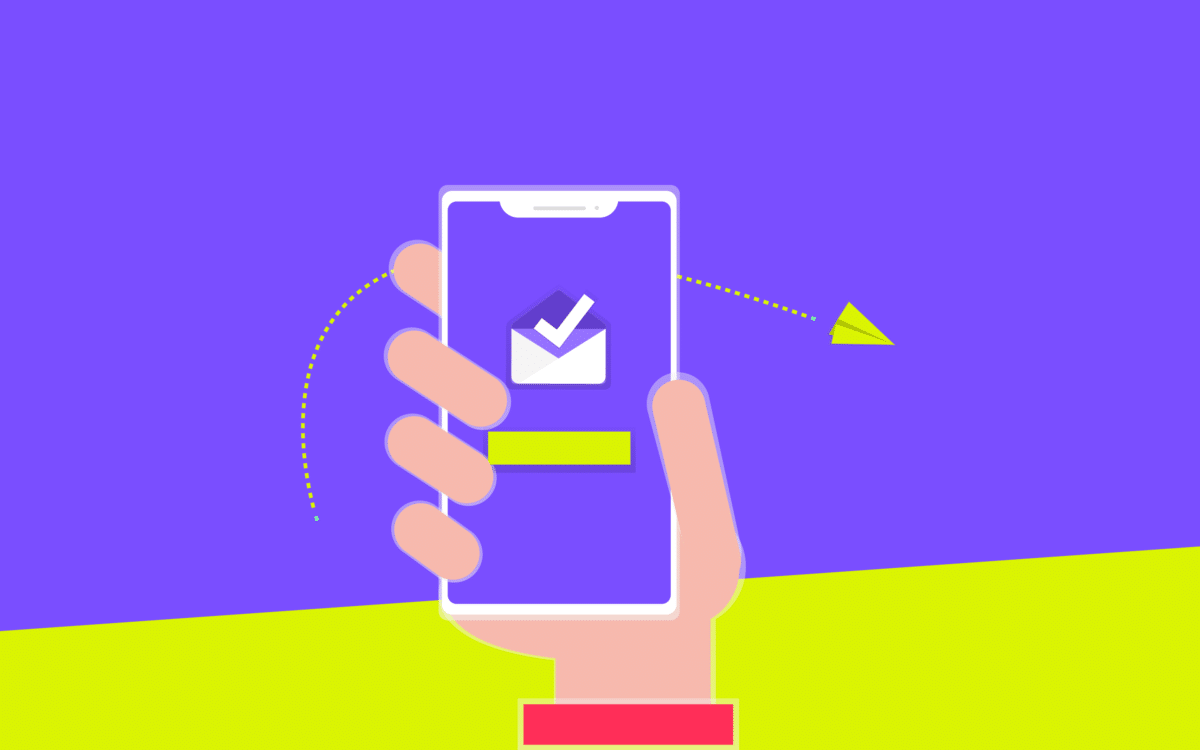 Growing opportunities with email is a breeze
Another big bonus of email marketing compared to other digital marketing channels is that you can grow your list amazingly fast. You can create landing pages and offers to bring more people into your midst.
You could use lead magnets, with free downloads and bonus offers to convince your people to subscribe. Some brands even use competitions.
We'll cover some of the best ways to grow your email list later in this eBook.
However, more often than not, you'll find that your customers are ready and willing to join your subscriber list. Around 73% of millennials say that email is their preferred method of communication with brands. Only 30% of millennials engage with brands on social media once per month.
While email campaigns might not be the newest or most exciting way to develop opportunities for your brand, it's impossible to ignore the impact that it continues to have. Compared to other forms of advertising, email wins every time.
For instance, just look at some of these stats:

There are obviously other ways to connect with your audience outside of the email inbox. It's always worth finding a way to spread your marketing strategies across multiple environments if you can. It's important not to underestimate the impact of email.
Email marketing beats other digital marketing channels
While you should always consider things like content marketing and social media to expand your strategy online, email marketing continues to be the best way to connect with and nurture your audience.
That doesn't mean that you should ditch any other marketing channels you're using. Things like Google AdWords can still double your investment.
Inc.com also found that 70% of people would prefer to learn about products through content, instead of traditional advertising.
Having said that, if you've got limited resources to start your marketing campaigns, then email may be the first place to begin using your budget. If you want more leads, a better response rate, and happier customers, email can deliver all of that – without breaking the bank.
Choose the right email marketing tools to help you and follow the steps that we're going to cover in this eBook, and the benefits of email marketing get even better. You can get the results you've always wanted from your marketing campaigns with email.
Plus, you can do it without exerting a lot of time and effort.
Email delivers better results for less work, virtually every time.
Chapter 4:
Developing an email marketing strategy
You've come this far, and you know that email marketing is essential. Now, it's time to build a strategy that will deliver the results you need.
In this chapter, we're going to introduce you to what it takes to build a successful email marketing strategy. From mastering segmentation for six times higher transaction rates to knowing when to automate your campaigns, we'll give you all the guidance you need.
Read on for:
An insight into email marketing and segmentation.
How to A/B test your email campaigns.
When to automate your marketing strategy.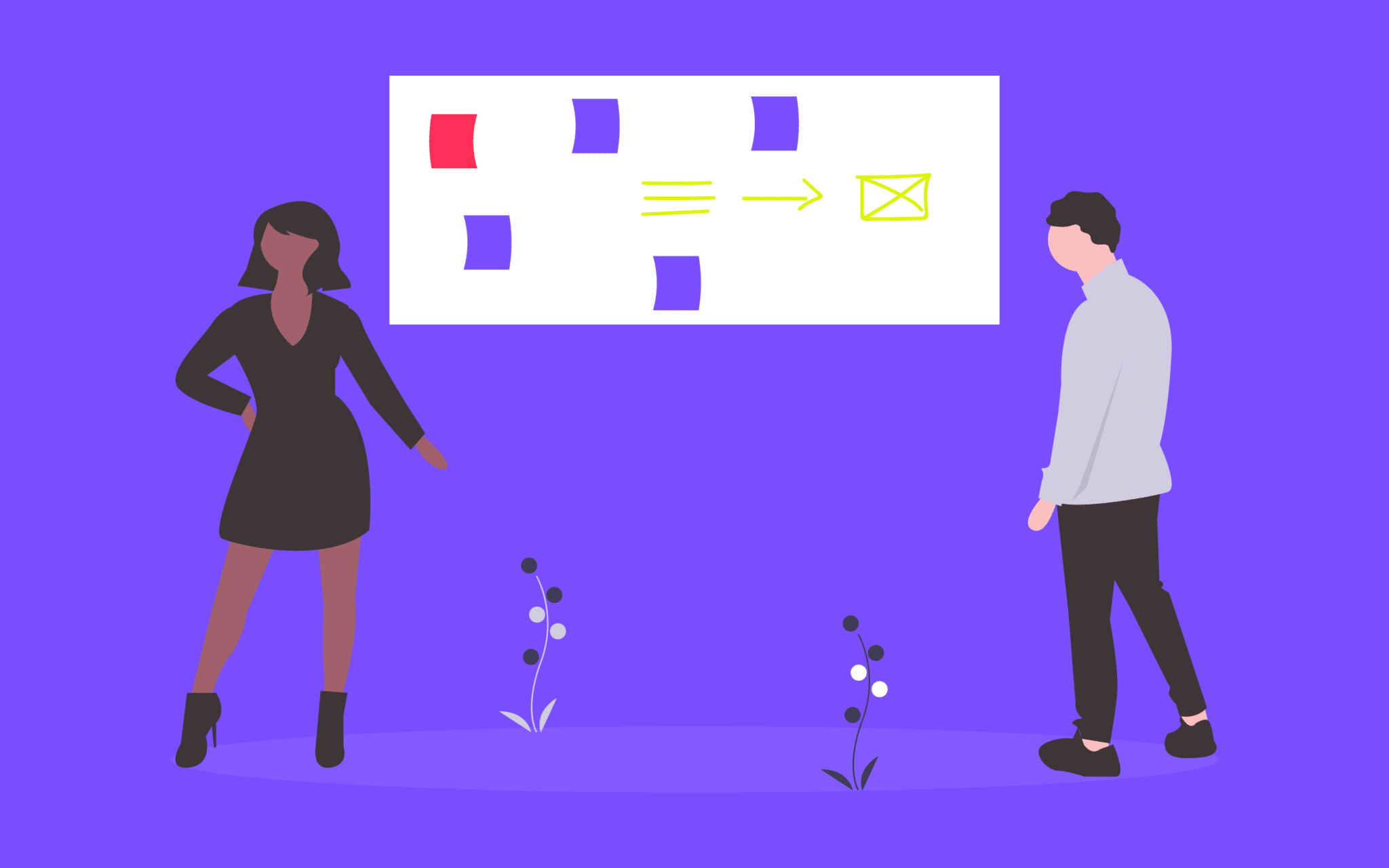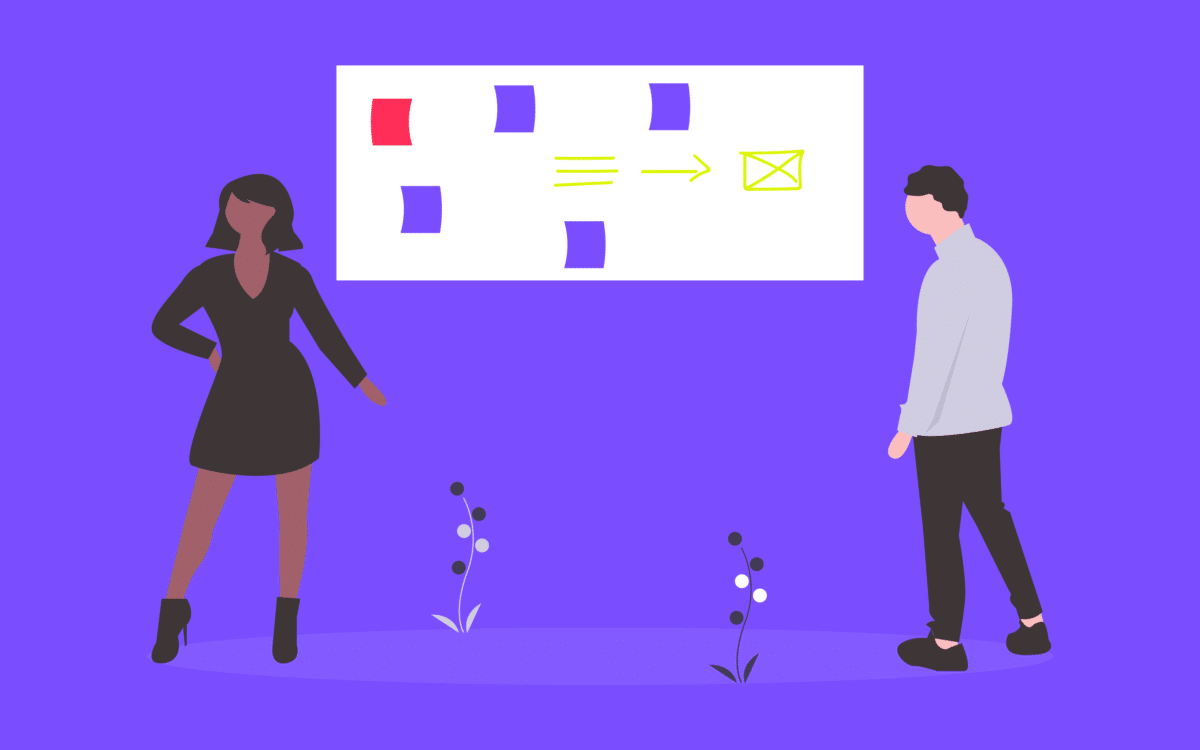 Email marketing is one of the most effective marketing channels out there. However, just like most kinds of advertising, you need to ensure that you have the right plan to get you started.
A successful marketing strategy will help you to find a way of connecting with your audience, without wasting too much of your budget.
One important thing to remember about email marketing is that it's a typical kind of advertising. There are more than 290 billion emails sent each day. That figure will reach more than 347 billion by the end of 2023.
Planning your email campaigns means that you can avoid issues like sending random messages and campaigns that might harm your brand reputation.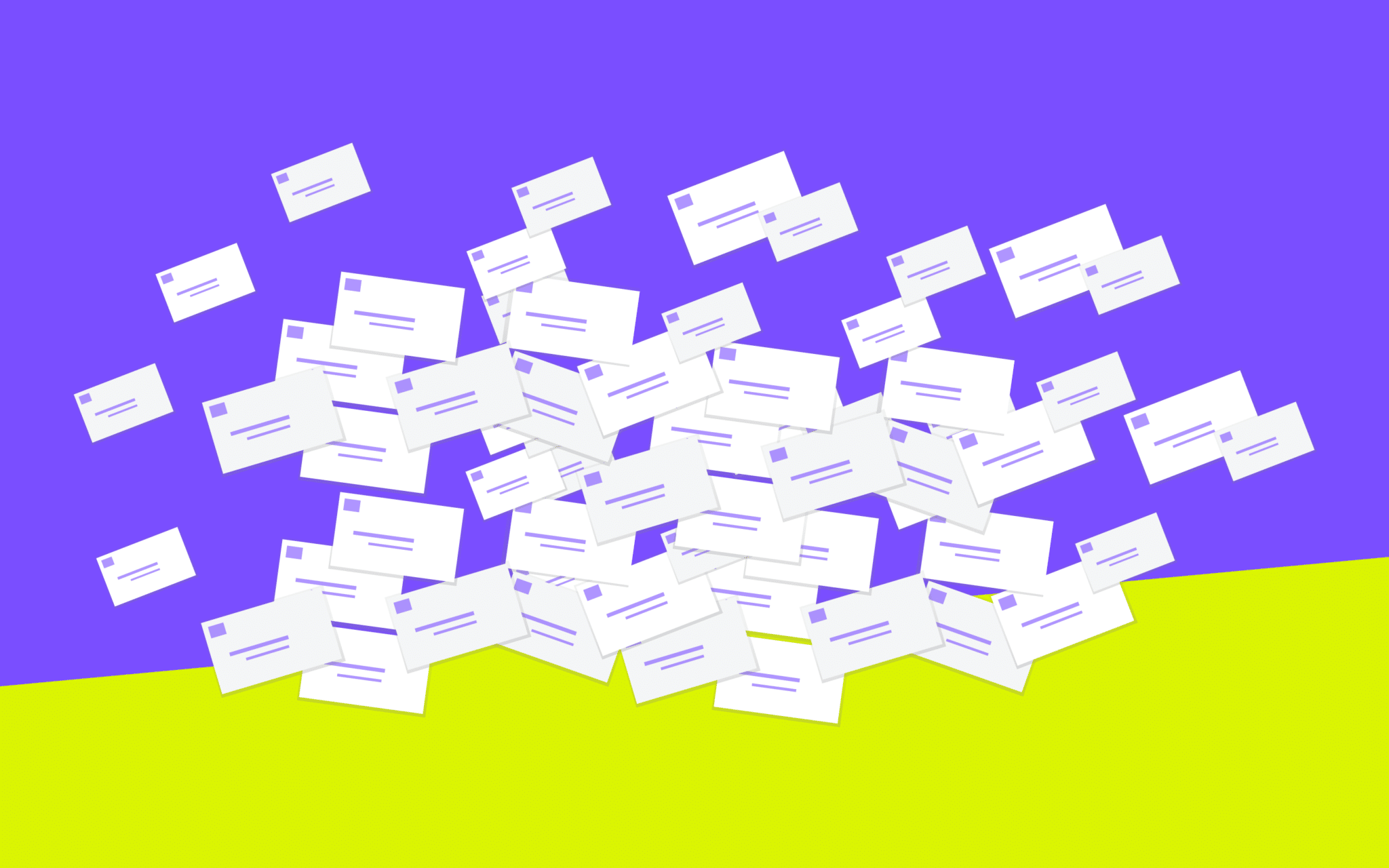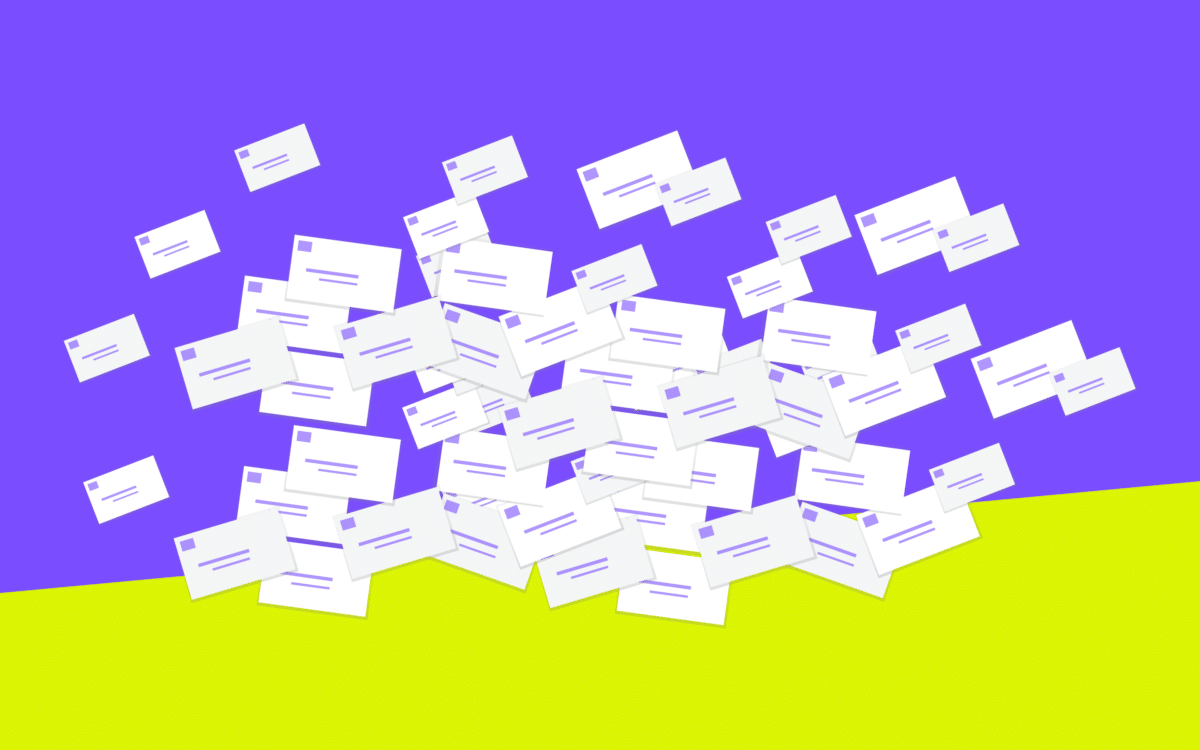 Email marketing and segmentation
The first step in developing a good marketing strategy is understanding your audience. Different people expect different things when they sign up to an email newsletter. That's why it's so essential for businesses to take the time to understand their customers before they launch a campaign.
If you have user personas already, start there. Your personas will offer you an overview of the kind of people you're reaching out to. If you haven't got these yet, consider making a quick list of the demographics of your target audience.
For instance, where do your customers live? How old are they? What kind of job do they have?
Segmenting your audience will help you to personalize messages according to the needs of your customers. Experian research found that personalized emails deliver 6 times higher transaction rates.
To begin segmenting your email strategy, make sure that you get plenty of information from your customers.
These days, you can't just buy an email list or send your messages to anyone. You need to ensure that your customers are choosing to hear from you. A lot of businesses do this by convincing customers to sign up for an email list with lead magnets and offers.
However, it's important to ask for the right information when your customers opt-in. Initially, you may just request their email address and name. After that, you can ask customers to return to your site and let you know about their preferences.
For example, Amazon allows customers choose what they want to hear about via email: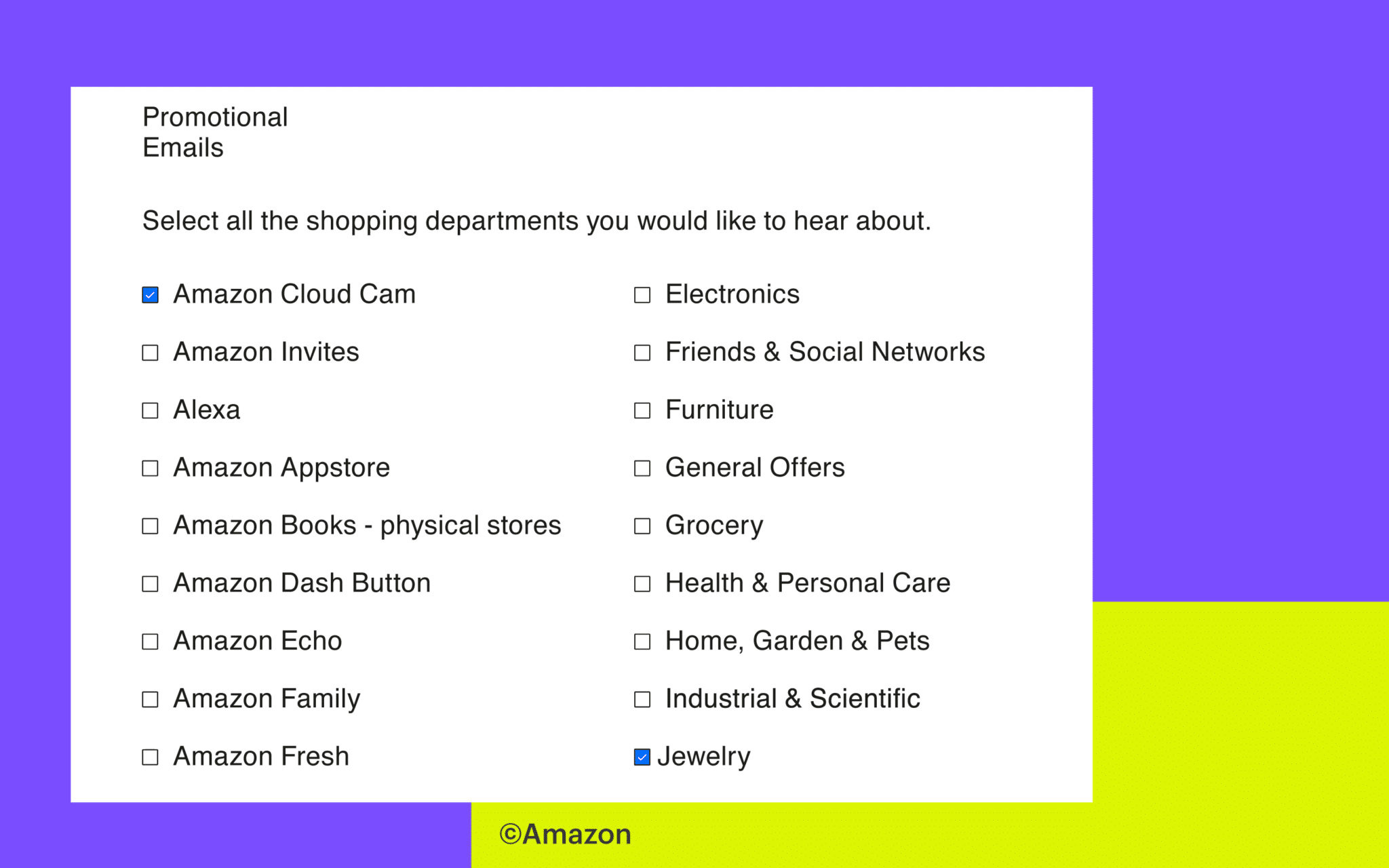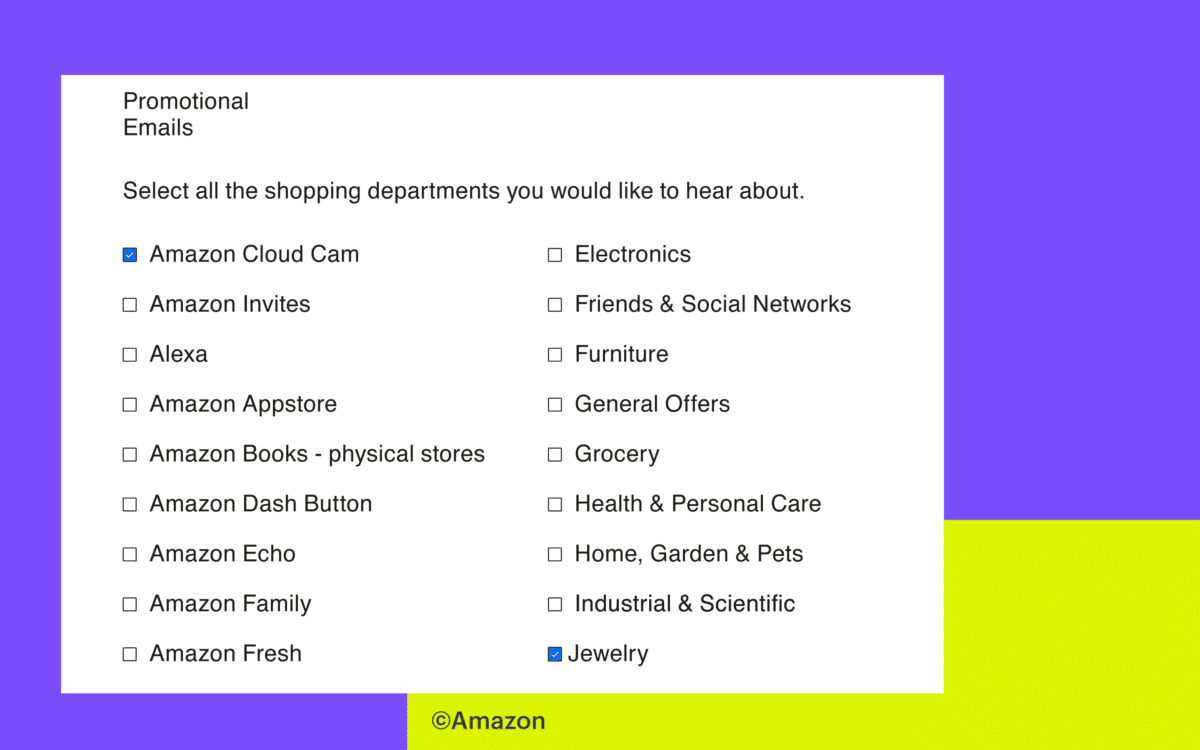 If you're using an email marketing tool like ConvertKit for your email strategy, then you can also use the information you gather from campaigns to make decisions. These tools will track things like open rates and unsubscribe rates, giving you an insight into the emails your customers like and don't like.
Test as much as possible
The best email marketing strategies will evolve. When you conduct a campaign through an email marketing tool, then you'll be able to gain insights into what works and what doesn't. This doesn't just mean checking things like open rates to see which of your emails are most popular.
Most email marketing tools come with things like A/B testing features which allow you to test every element of your campaign. After all, everything from your subject line to your call-to-action button can impact the results of your marketing strategies with email.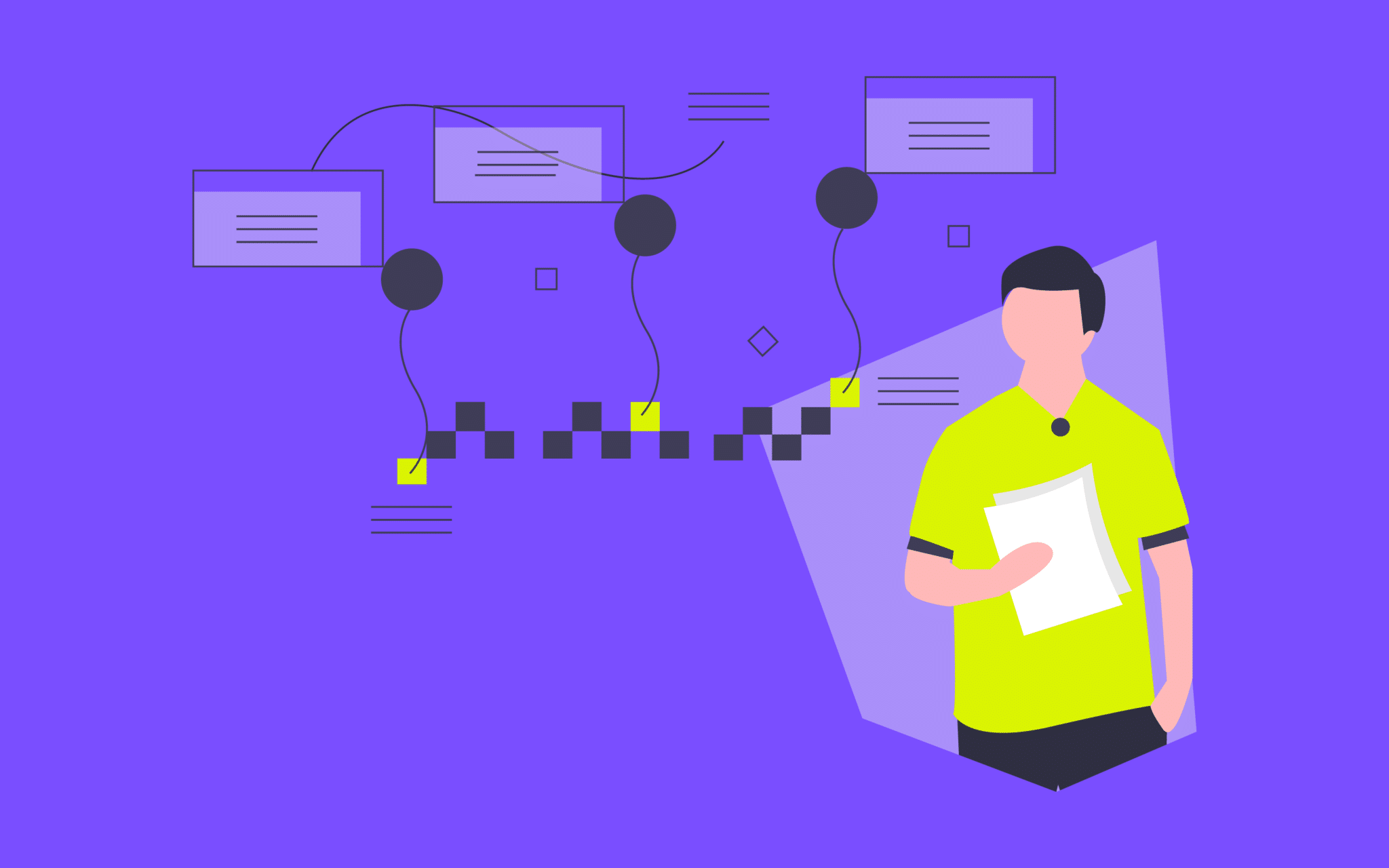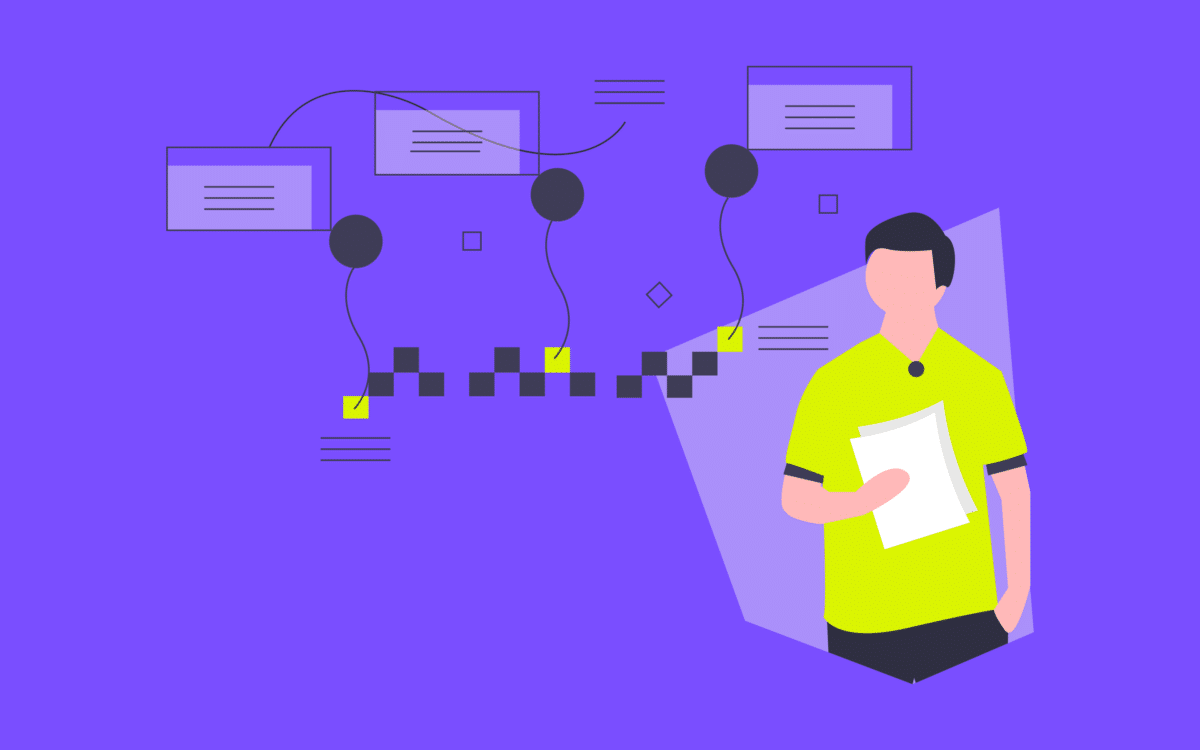 A/B testing even played a big part in the success of the President of the United States' campaign back in 2012. By sending email variations to different people, the government group could calculate the exact amount of donations they would expect to see based on results.
The best-performing subject line in the presidential campaign raised around $2.6 million in donations.
Some of the key things to test with your email campaigns, besides subject lines, include:
From address: This is the name that appears in the "from" field for your email campaigns. The sender name is one of the main reasons why people will open your emails. You can test out sending campaigns from an individual person, or a company.
Email design: Emails come in many different styles, particularly if you have an email marketing tool handy. If you're not sure which template will appeal to your target audience, try testing various options.
Long or short emails: The contents of your email can also have a massive impact on your audience. Although longer emails will allow you to share more information, not all of your customers will appreciate having to read through lengthy messages – particularly if they're checking their email on the phone.
Automating your email campaigns
Automating your email campaigns is one of the best ways to make your life a little simpler. Trigger-based emails are available through email marketing tools like GetResponse and SendinBlue.
The idea behind automated campaigns is that you can send messages to your customers at exactly the right time to push them along the buyer funnel.
For instance, you could set up an automated email campaign as soon as someone signs up for your newsletter, like Lyft does here: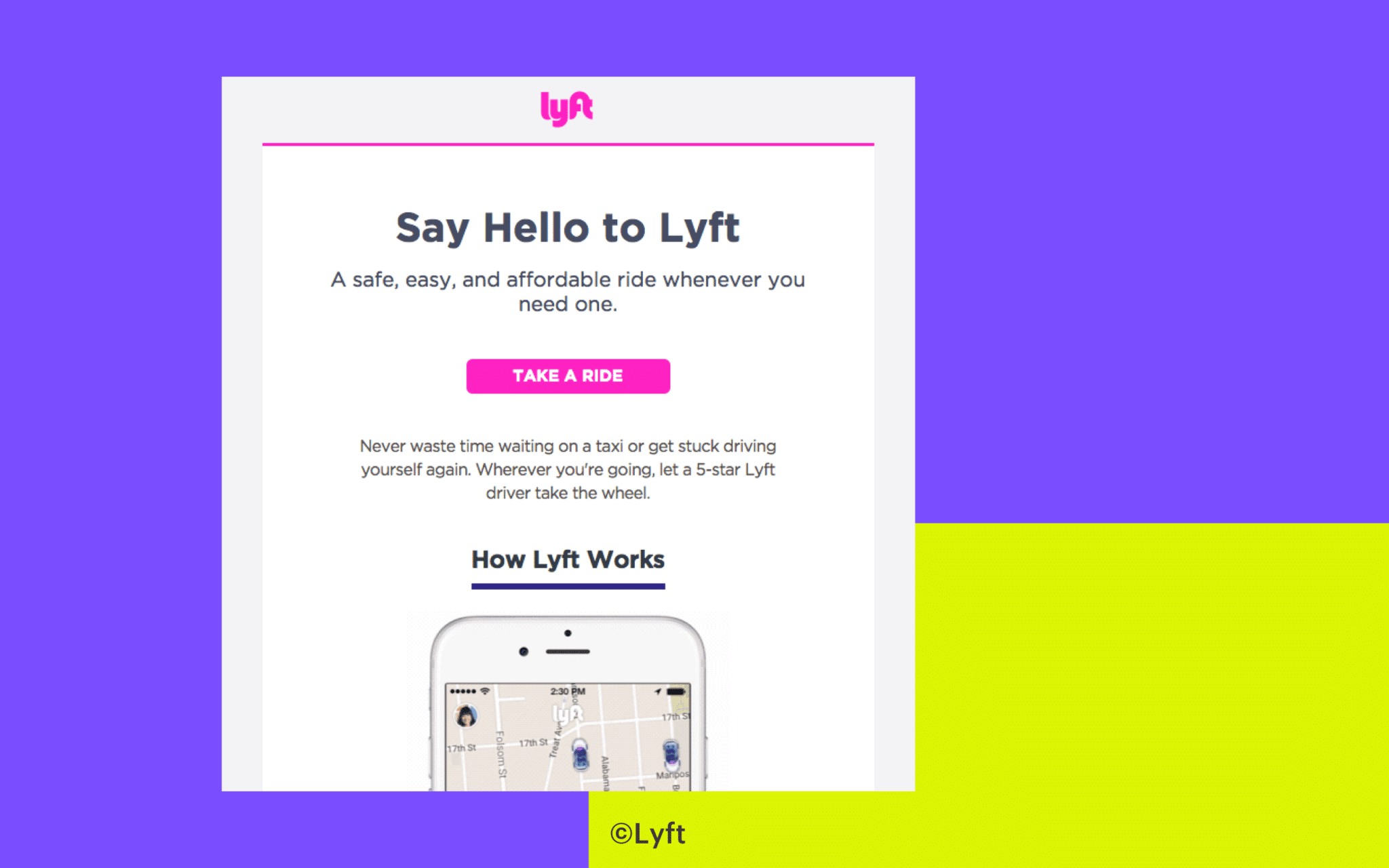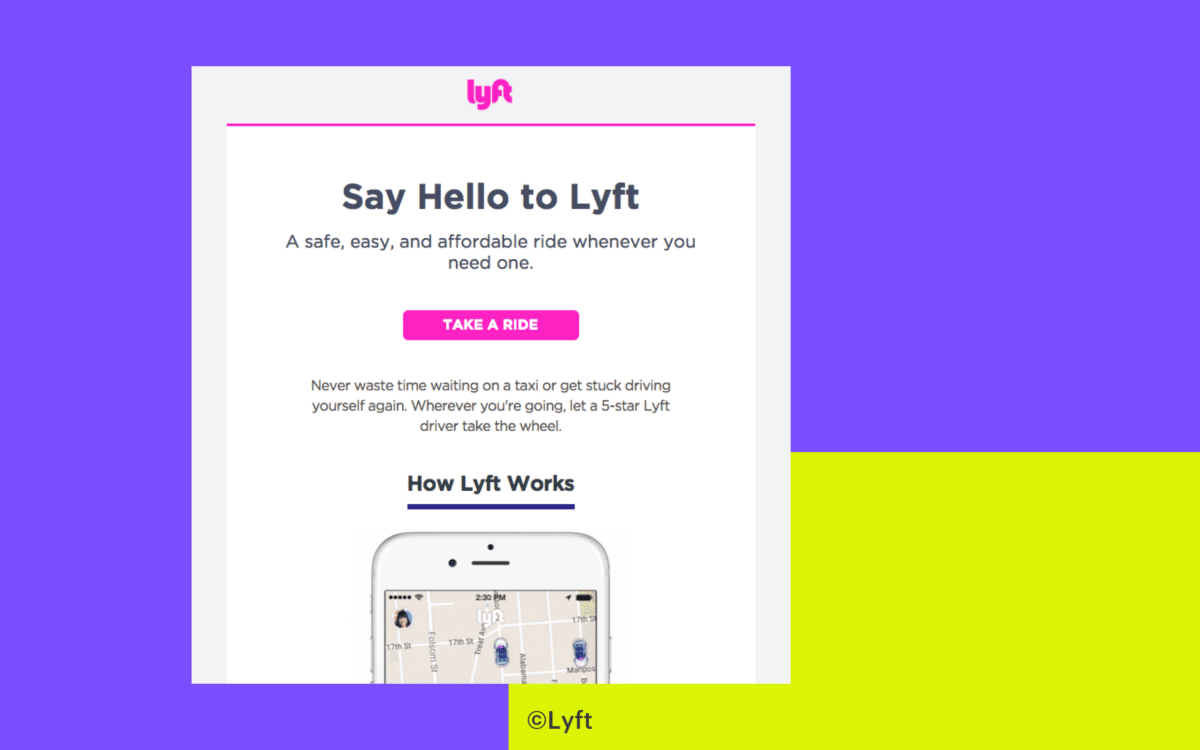 You can also use automated campaigns to immediately connect with customers when they abandon a product in their cart and leave your site without making a purchase.
Abandoned cart emails are some of the most obvious automated campaigns. They can boost your chances of pulling your audience back to your website when they don't convert.
Forrester research found that trigger-based campaigns for email marketing generated up to 4 times more revenue and 18 times bigger profits than their counterparts.
Strangely, despite the fact that research often shows just how valuable triggered and automated campaigns can be, only around a quarter of marketers use triggered emails.
These messages might only make up a small portion of email volume, but they can account for up to 20% of a company's revenue from email.
Having the right tools available to help you plan what triggers you'll use for your campaigns is a fantastic way to ensure that you're delivering your messages at the right times.
Email marketing software provides that you can track the behaviour of your customers and send messages at the times that are best for them.
Chapter 5:
Planning your email marketing campaign
You've got a strategy in mind; now it's time to plan.
What kind of emails are you going to send to your target audience? How will you master the mix between transactional and marketing messages?
In this chapter, we'll be looking at how you can set and achieve the right marketing goals with your email campaigns.
We're also covering:
How to define different kinds of email.
When and how to use technology to your advantage.
Tips for optimizing your opt-ins.
Help for building the right roadmap.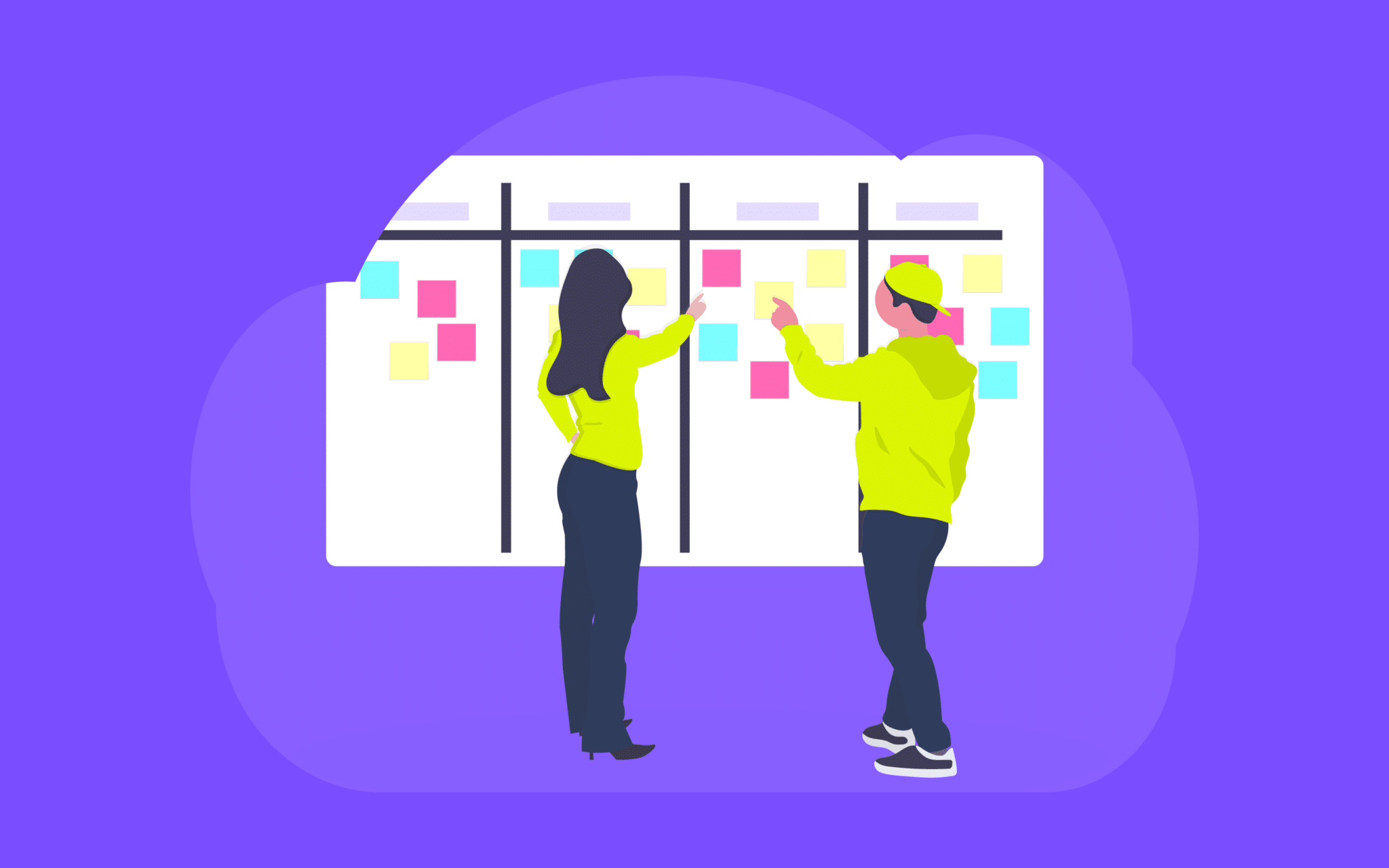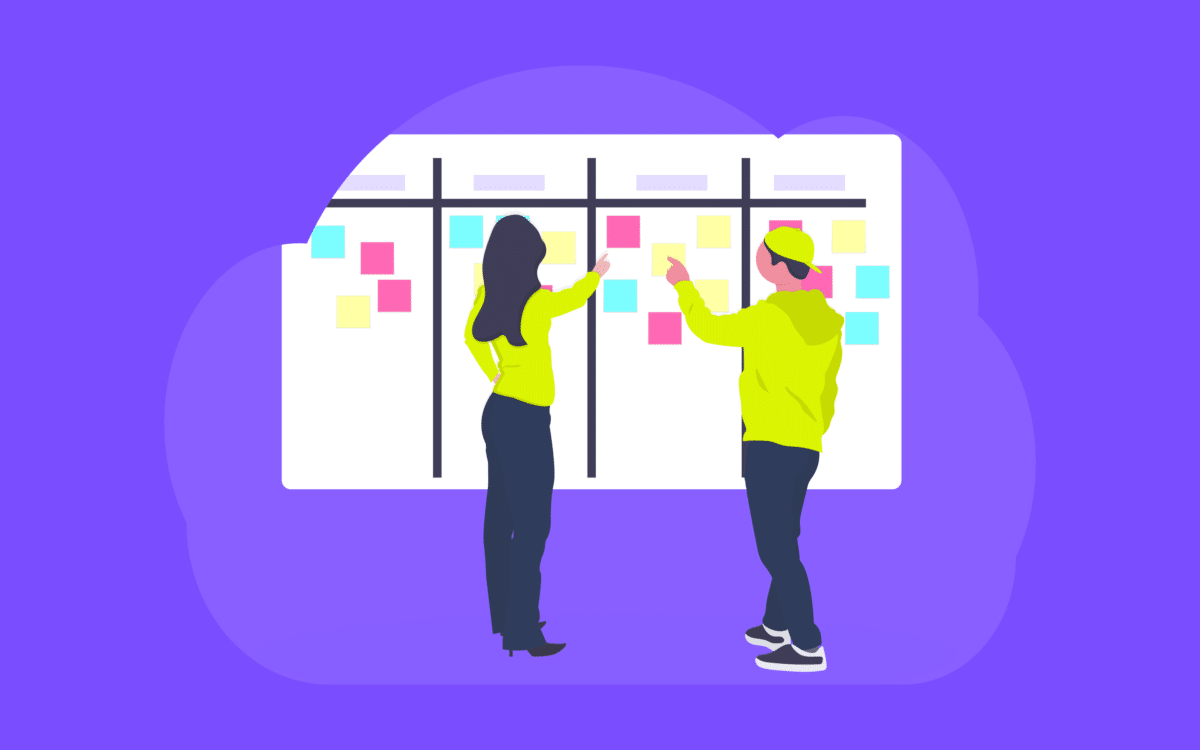 Having an email marketing plan is the next step in making sure you're ready to get the best ROI from your strategy.
When your email marketing strategy outlines who you're going to send your emails to, what your segments look like, and what kind of messages you're going to send, your plan takes a slightly different approach.
An email marketing campaign plan asks you to consider things like how frequently you're going to send your messages, and what KPIs you're going to use to determine whether your campaigns are successful or not.
Setting up an email marketing plan begins with examining your targeted email list. Your list is full of the qualified leads that have signed up for your campaign because they're interested in your company, product, or service.
Think about the journey that those customers take when they're interacting with your brand. They might start by wanting to learn more about your product. Then, they'll want evidence that your company can deliver the best results.
Evaluating the buyer journey means you can do things like setting up a campaign that starts with a welcome message, follows up with case studies, then makes personalised suggestions on products.
Here are some steps to guide you through planning an email marketing campaign.
1. Know your goals
How are you going to decide whether this campaign was successful or a flop?
Any great advertising, promotional, or branding strategy needs to begin with knowing your goals. Email marketing is no different. To run a successful email marketing campaign, think about what you're trying to achieve.
For instance, your initial goal in your new campaign might be to welcome new subscribers and let them know what you can do.
If you aim to build brand awareness or engage your audience, then you can track metrics like open rates and click-through rates. Finding out how many customers will click through to your website from an email campaign shows you if your messages are making the right impact.
On the other hand, if your goal is to nurture conversions and encourage more sales, then you can track things like average order value and customer lifetime value. This will show you whether you're successfully generating more new opportunities.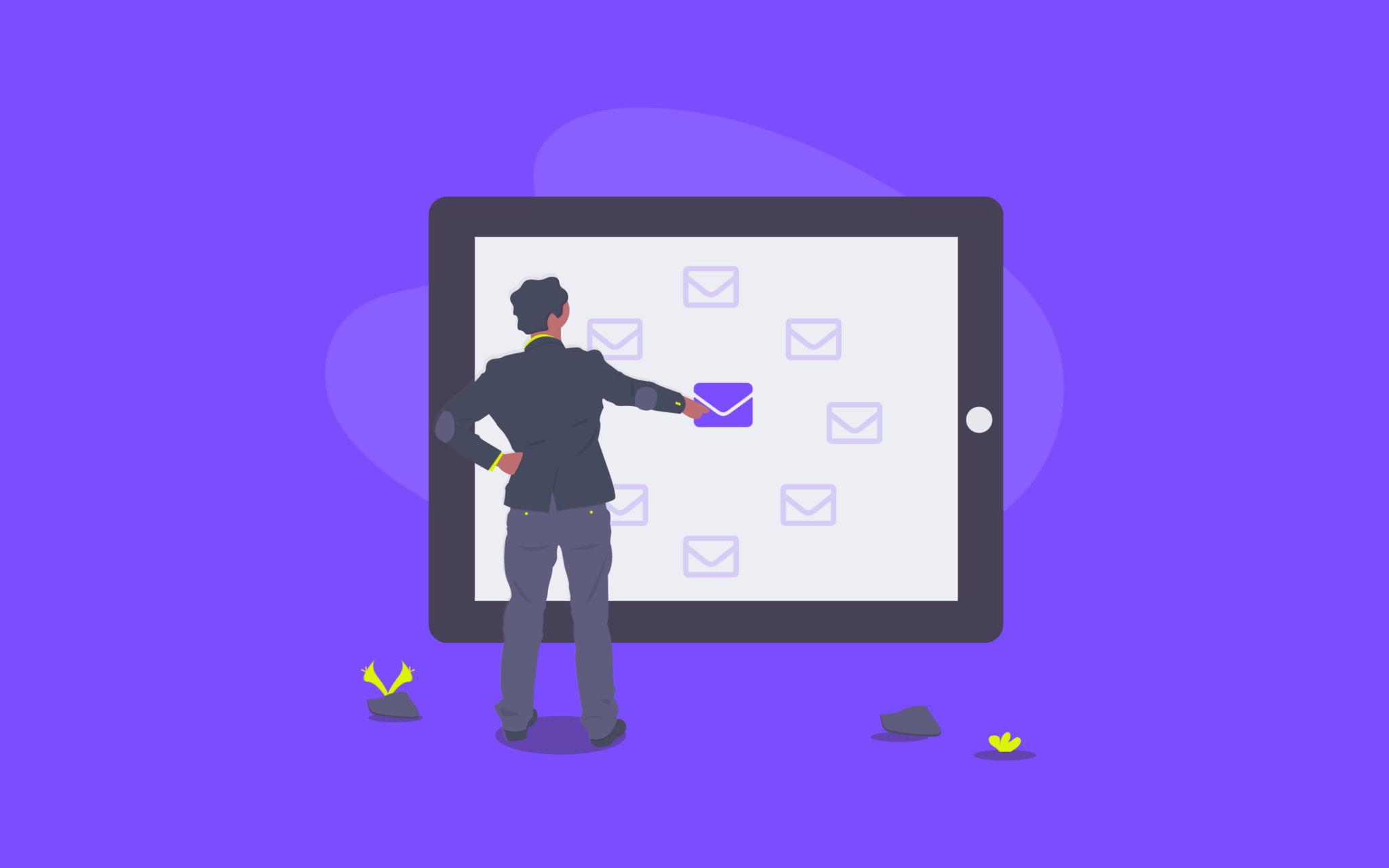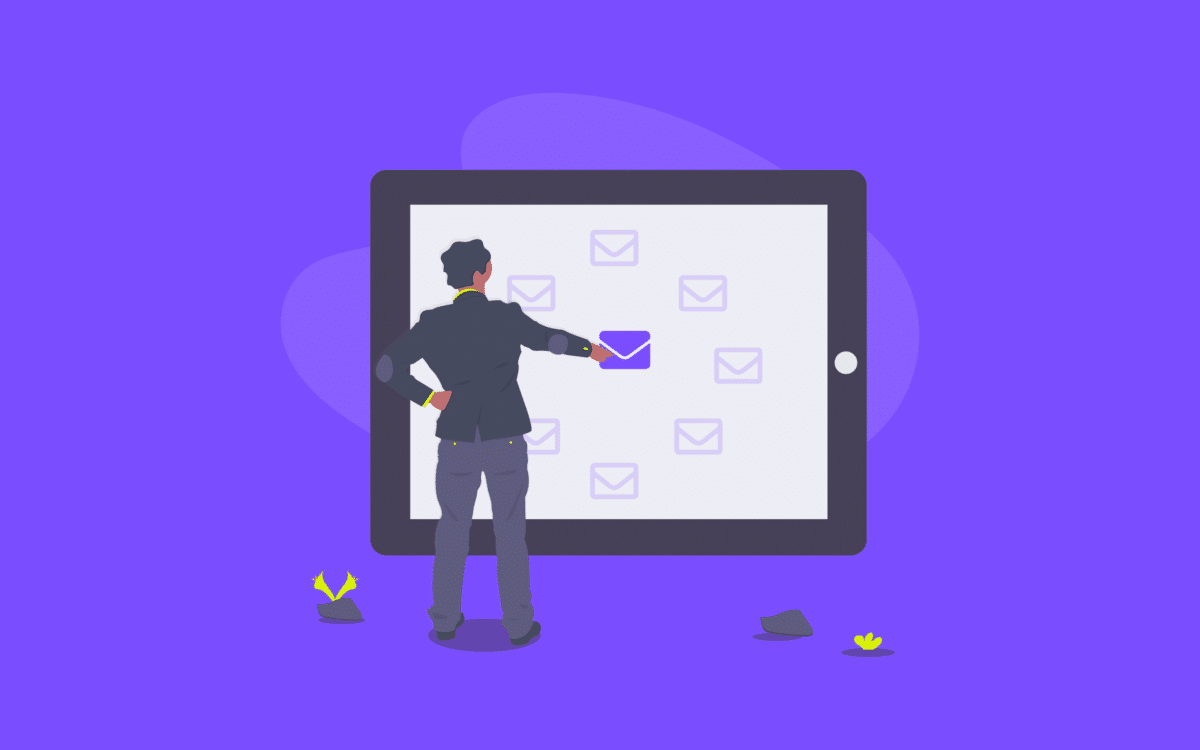 2. Understand email types
It's also worth making sure that you understand all the different kinds of email that you send. After all, not all of your messages are going to be promotional or designed to make a sale. Sometimes, you will aim to build a better relationship with your target audience.
If that's the case, then you'll need to think about "relational" emails.
Relational emails, which give subscribers free gifts, or provide them with information on what your business is doing can help you unlock new opportunities in the future, by building affinity with your target audience.
There are also transactional emails. Although these sound similar to marketing emails, they're triggered by the actions of a subscriber. You might, for example, send a transactional email every time someone buys something from your store, to let them know that you've received payment.
3. Use technology to your advantage
The digital world has evolved drastically in the last few years. There are now plenty of amazing tools online that can help to boot the success of your email marketing efforts. Just take a look at Hello Bar. This website application started as a notification bar tool.
Today, however, you can use Hello Bar to reach your customers and convince them to sign up to your campaigns.
Pop-ups and sliders on your website instantly grab your customer's attention. If you have an attractive deal or offer to provide, then you can use this to convince your customers that they want to stay connected with you.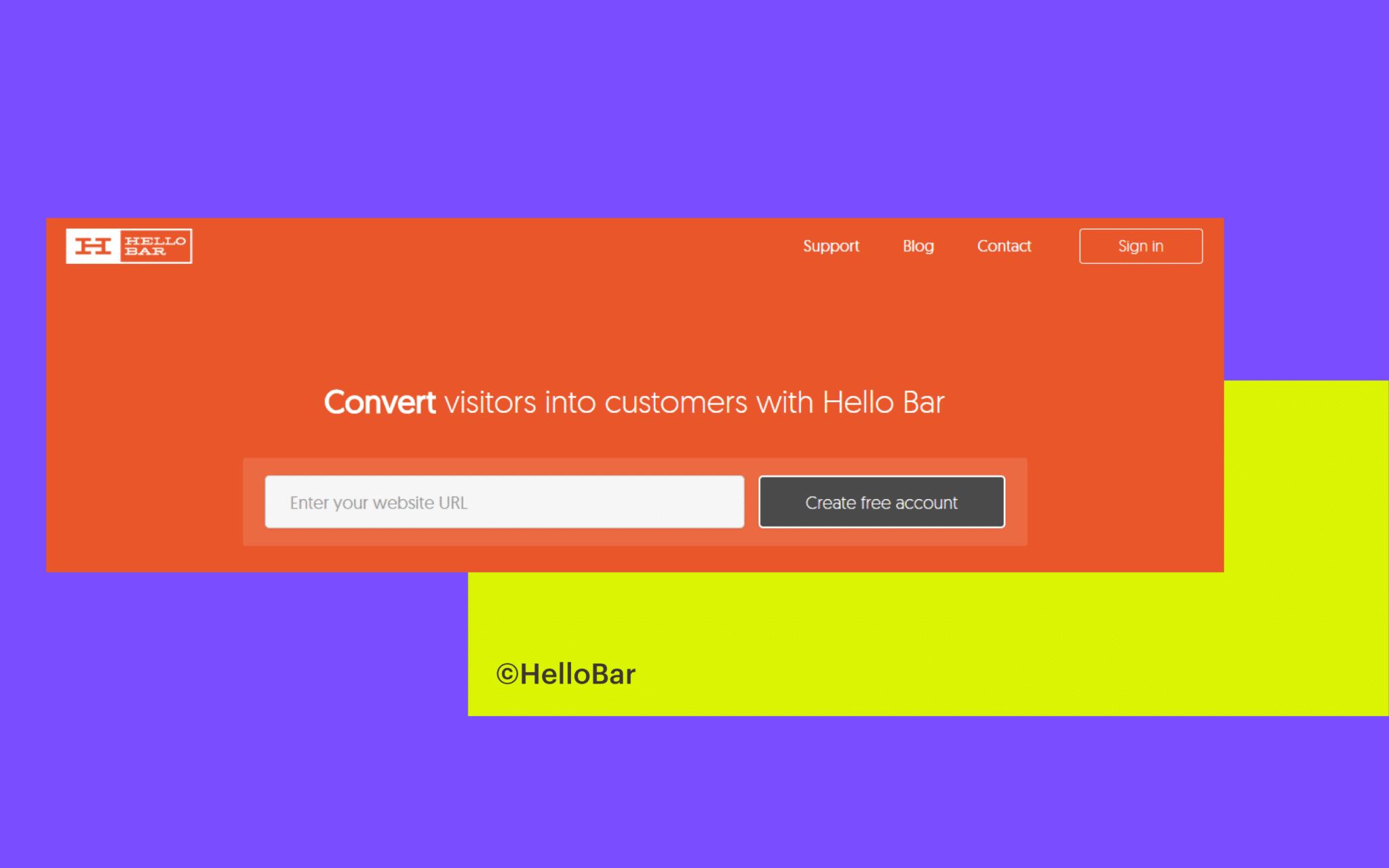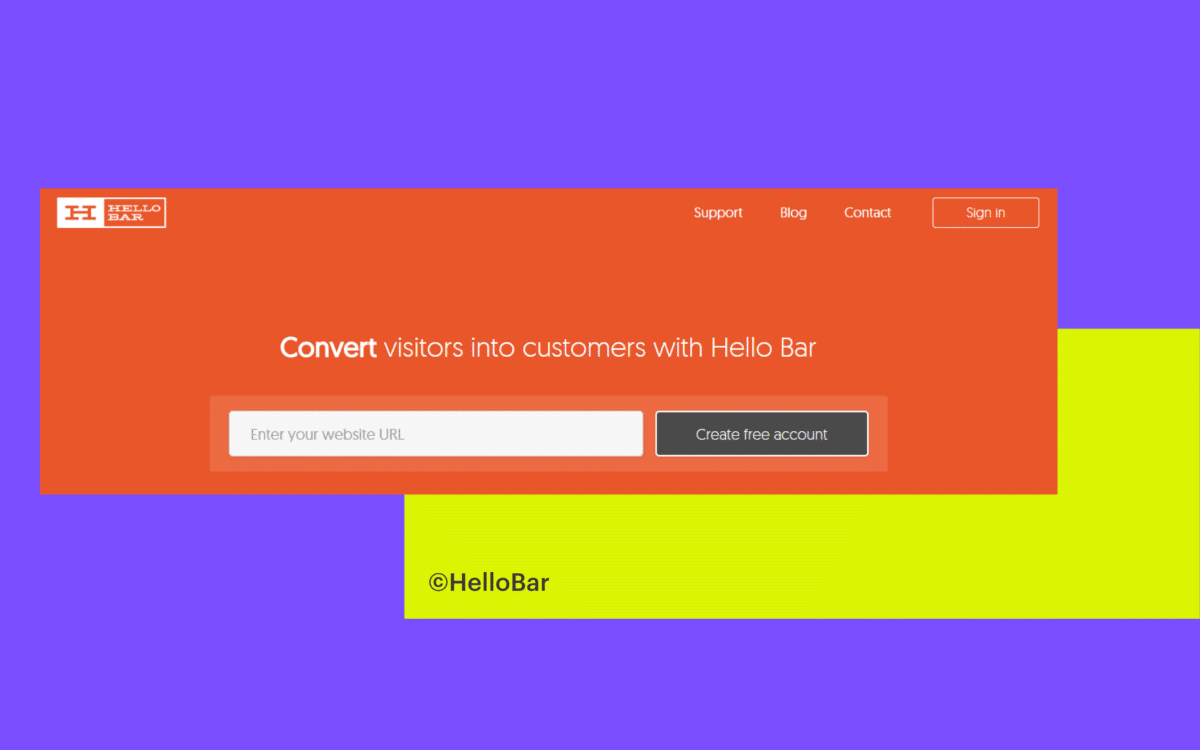 Tools for pop-ups and slide-ins aren't the only way that you can use tech to your advantage. Solutions like Canva can help you to create compelling images for your email campaigns if you want to make your messages stand out.
There are also all-in-one email marketing tools out there, like AWeber and ConvertKit. These give you the freedom to design your emails and landing pages, as well as creating unique emails, and A/B testing each element of your campaign.
Tools like GetResponse and SendinBlue offer similar experiences for email marketers, ensuring that you can plan every part of the email journey so that it highlights your unique brand message.
Depending on your goals, you might even decide to combine your email strategy with an SEO campaign.
Tools like SEMrush can help with this by helping you to find which pieces of top-performing content will work best in your email newsletters. You can even use applications such as SEMrush to create shorter links to lead people back to your site.
4. Make sure your opt-ins are excellent
The email journey for any business starts with one thing – getting subscribers for your list.
Just as there are plenty of tools out there to help you build fantastic email campaigns, there are also solutions that can support you in getting subscribers initially, too. One example is Thrive Architect, a WordPress-specific tool that helps with creating stunning landing pages.
Leadpages is another fantastic choice here. It's a software solution that comes with an easy-to-read analytics dashboard, free templates for your landing pages, and more. Leadpages also benefits from integrations with other apps.
One option to make your opt-ins more successful is to take the double opt-in approach. This means that when someone gives you their email address, you double-check that they want to hear from you by sending them an email and asking them to click on a link.
Although there will be times that you lose subscribers with a double-opt-in approach, the benefit is that you'll know everyone on your list does want to hear from you.
5. Have a roadmap in mind
Once you've got all the right tools, and you know your goals, email types, and the audience you're going to be reaching out to, it's time to plan your roadmap.
Remember, as you learn more about your industry and audience, you'll find it extremely helpful to update your email marketing campaigns. Your strategies don't have to be set in stone.
Start by developing an idea of:
Email frequency (how many times you're going to send messages in a week)
Type of emails you're going to use
Content you want to share
Main actions you want subscribers to take
Outline your initial plan and get ready to put it to the test.
Chapter 6:
Email marketing tools
Feeling overwhelmed by all the work of an email marketing strategy? Don't worry. There are plenty of amazing tools that can help you to get the best results with minimal investment.
Email marketing tools help with managing, automating, and improving your campaigns. In this chapter, we've saved you some time and energy by tracking down the top tools for any eMarketing effort.
Some of the options we're covering include: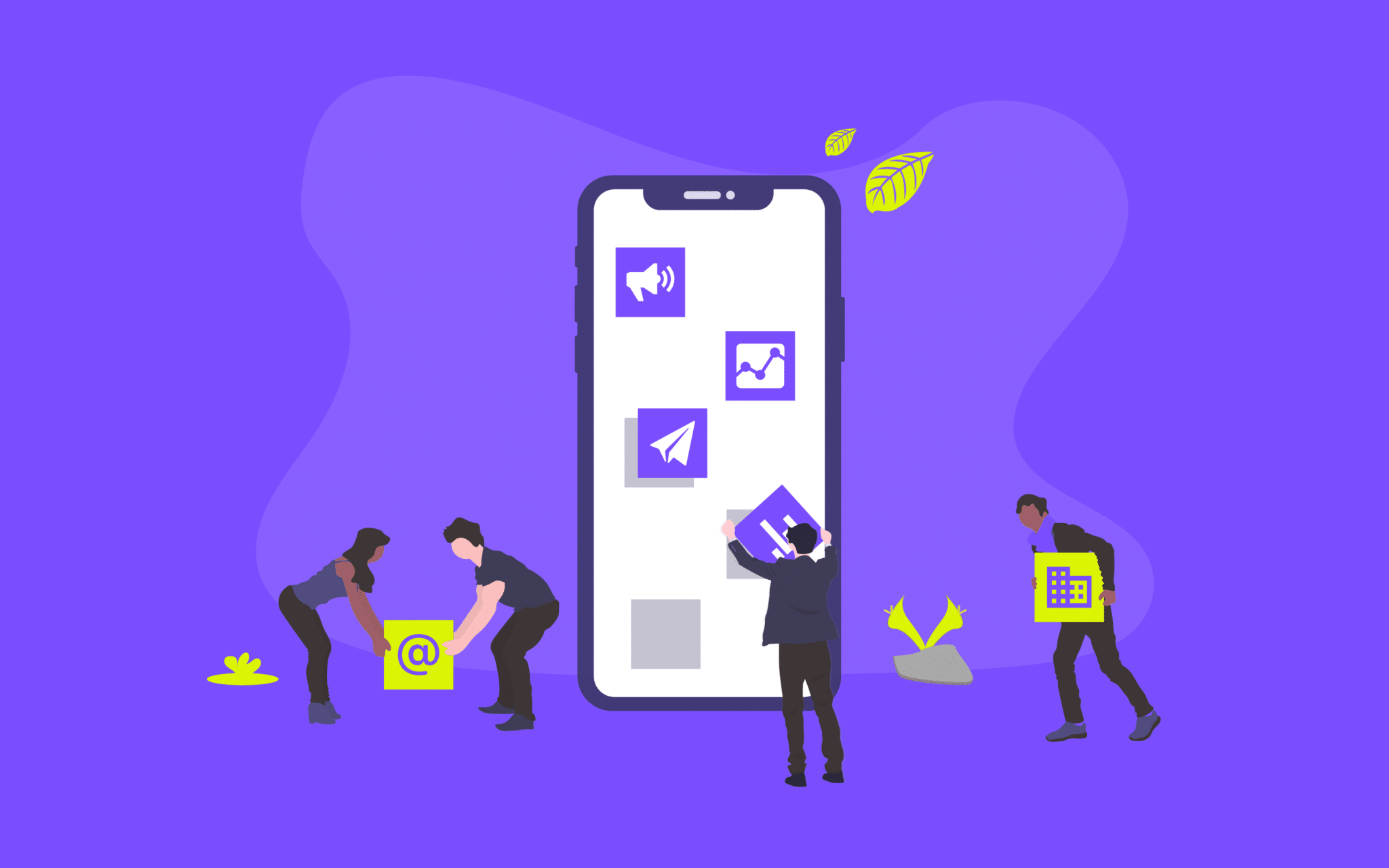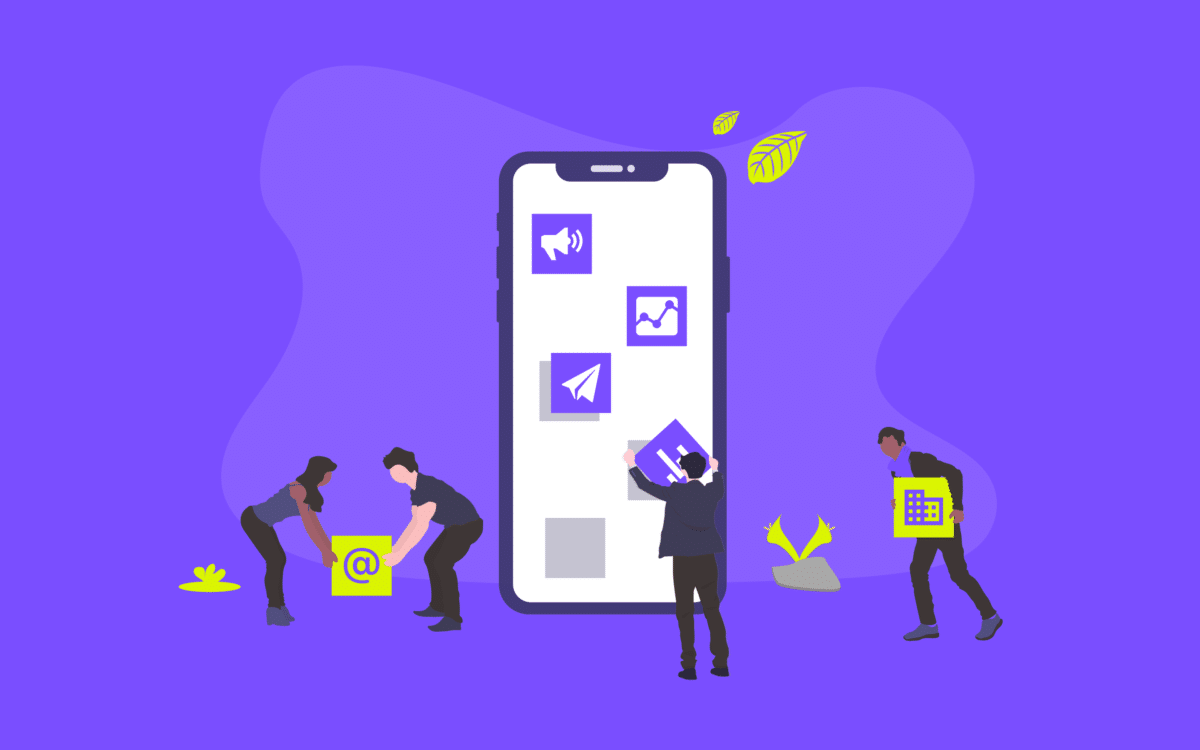 If you're feeling a little nervous about tackling email marketing, don't panic.
The good news is that there are tons of fantastic tools out there to get your eMarketing strategy off the ground.
Email marketing software takes everything that a business needs to connect with its audience over email and places it into a single package.
The only problem? There are so many different tools to choose from; it can feel impossible to figure out what you need. Let's take a look at some of the most popular options on the market, and what they can do.
1. AWeber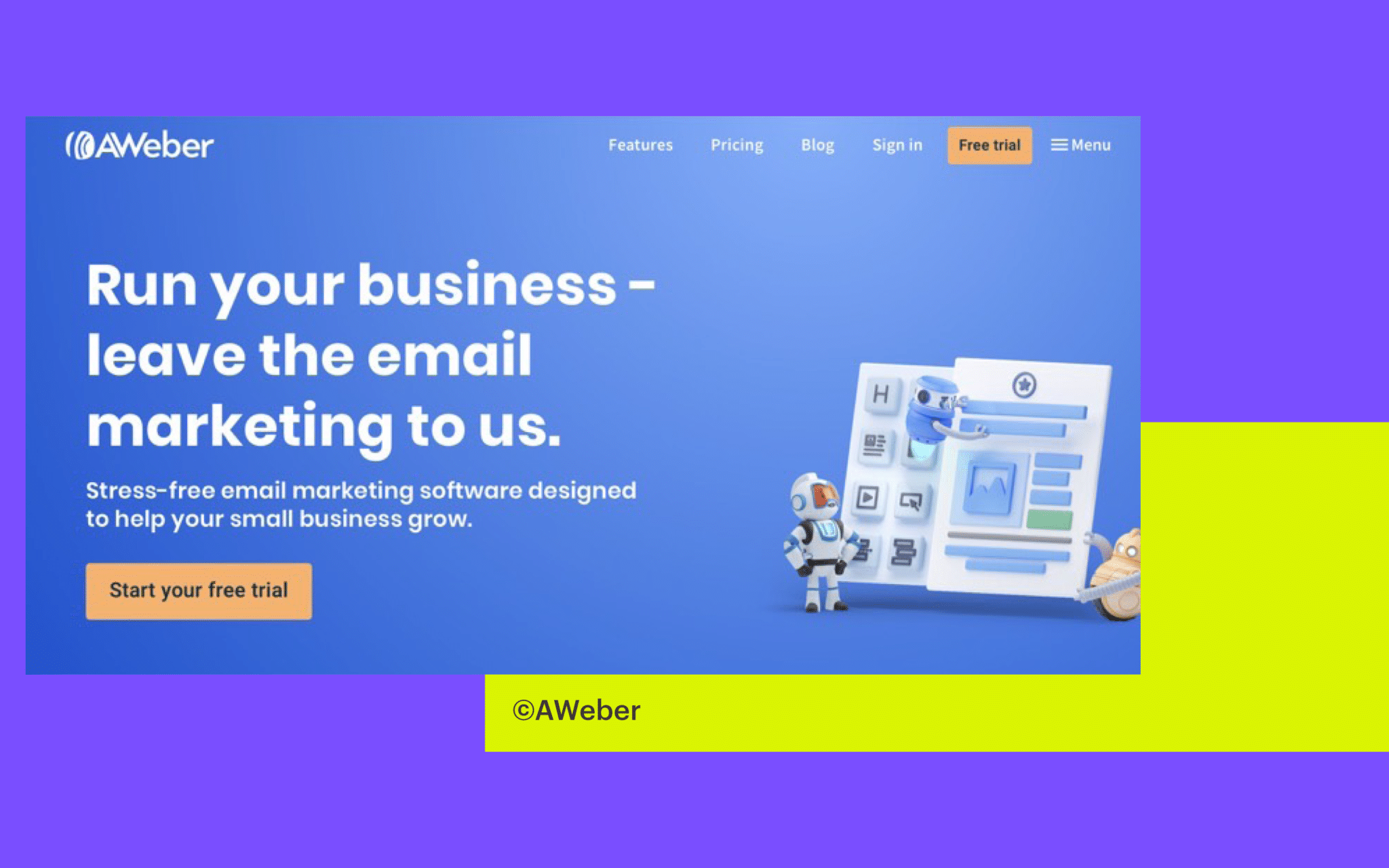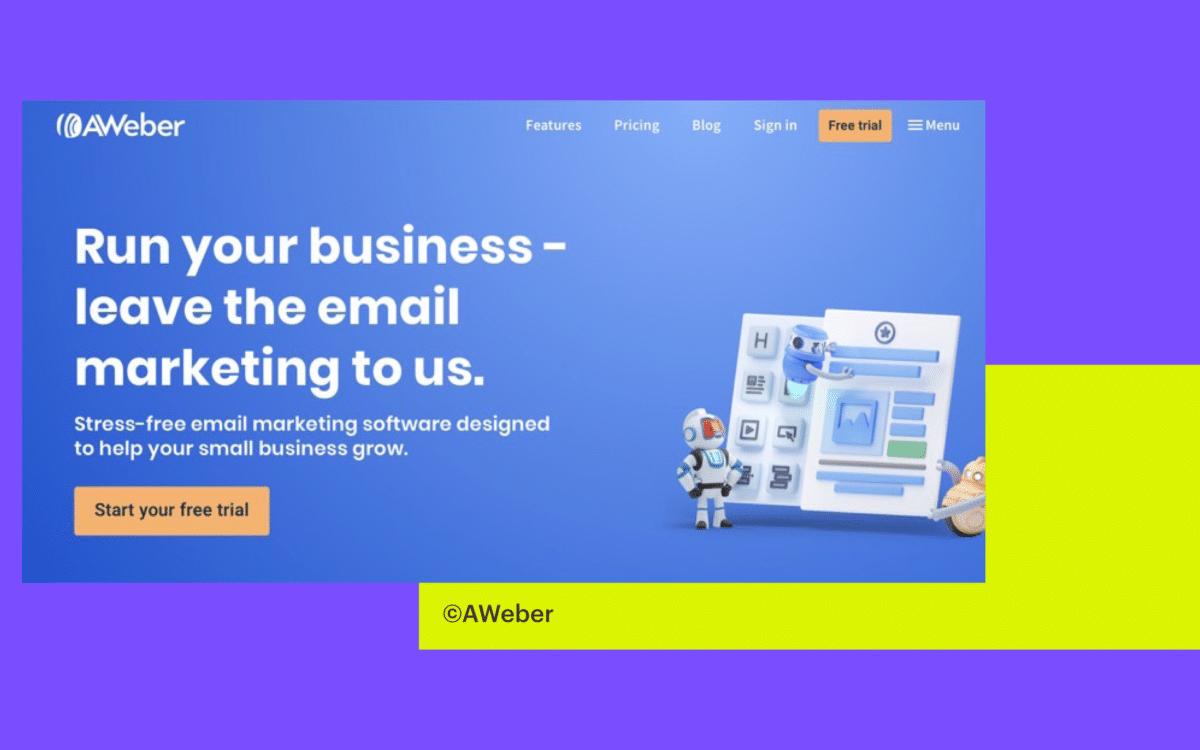 AWeber is a fantastic all-in-one solution for email marketing. It works by giving you a wide selection of tools that you can use to run automated email campaigns, and even design your own landing pages.
Intended for small companies, AWeber has around 100,000 customers already, plus, it comes with a free trial, so you can try before you buy.
Features include:
Intelligent drag-and-drop designer for landing pages and emails
Template library with lots of professional themes
Automatic newsletters and triggers
A/B testing to optimize your campaigns
Simple functionality (no need for any code)
AWeber will be a fantastic email marketing tool choice if you're looking for something versatile and easy to use. There's a built-in landing page tool, and AMP for email. All of your email templates on AWeber are responsive, and you can choose to use double opt-in for your subscribers too.
The product is free to try for 30 days.
2. ConvertKit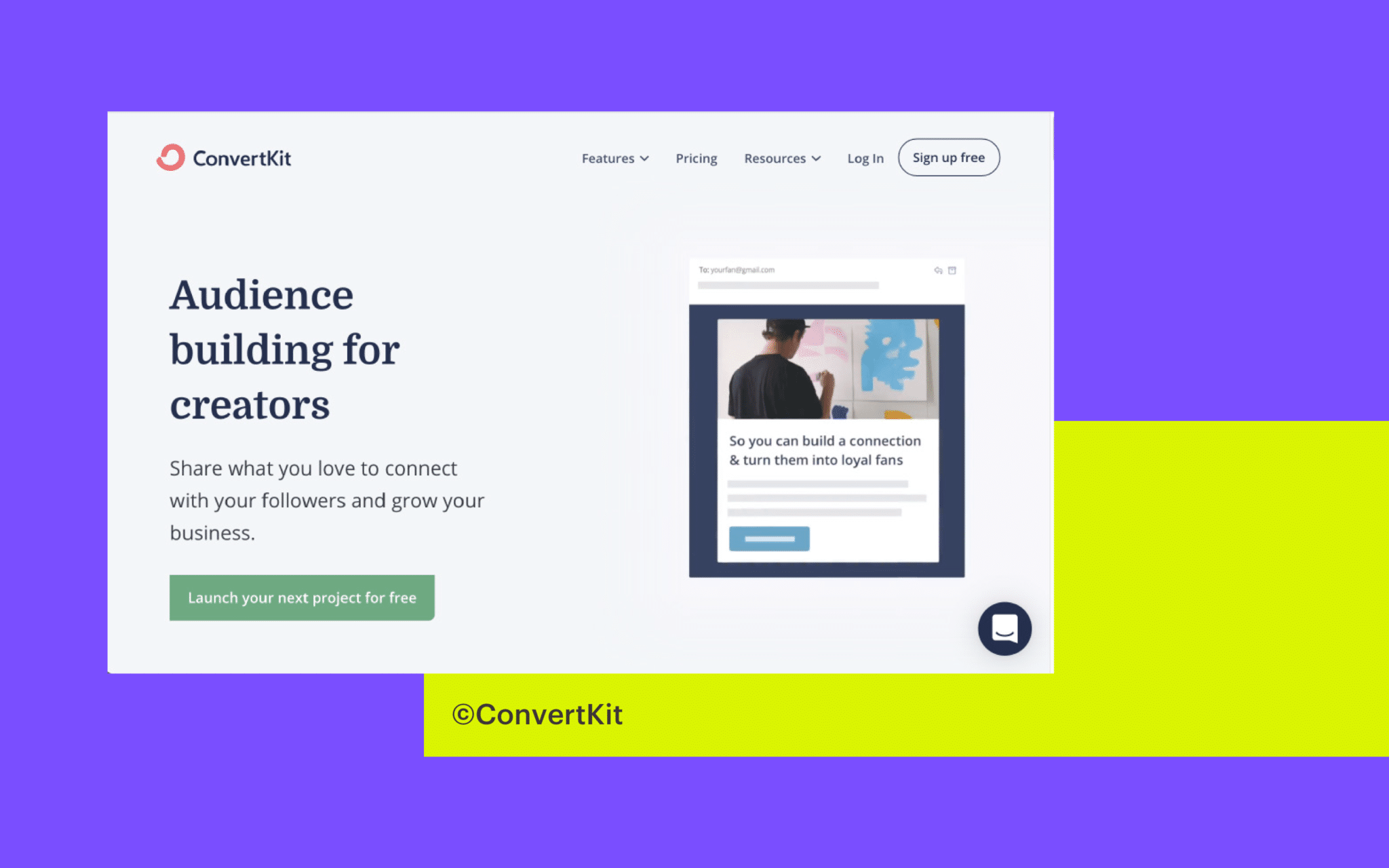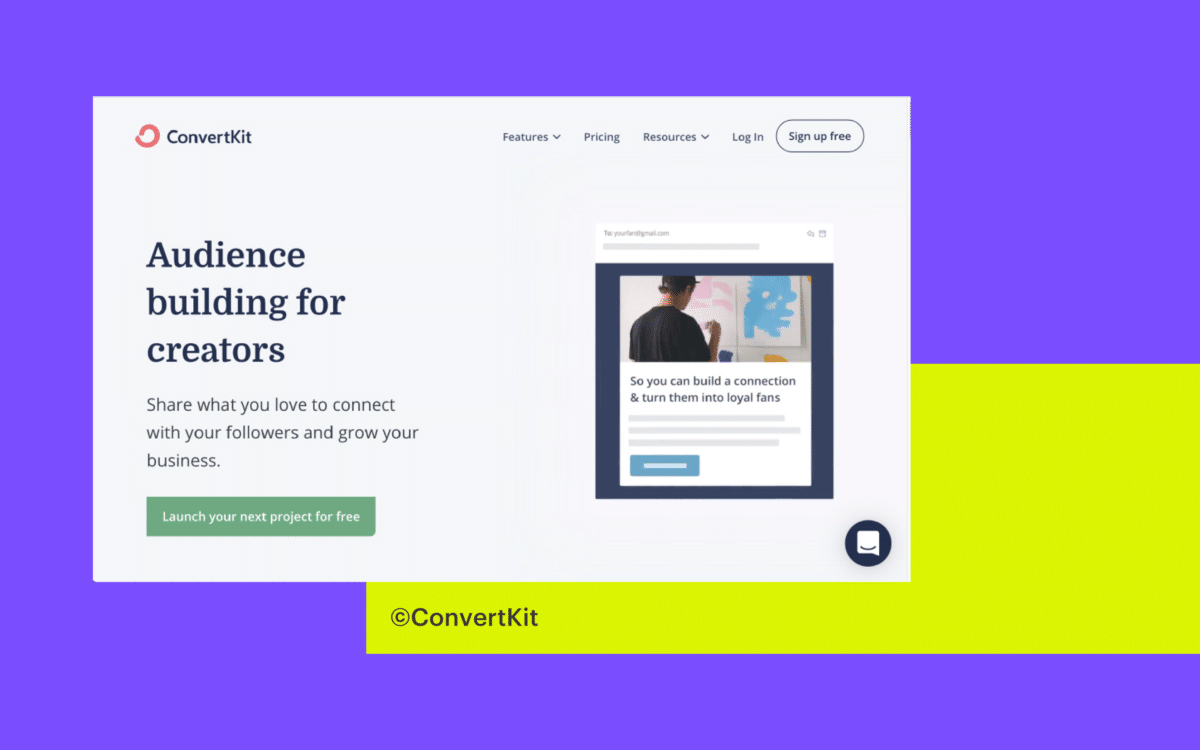 ConvertKit is one of the most popular all-in-one email marketing services on the market today. Known for powerful automation and excellent templates, ConvertKit can help you stand out online.
The company targets professional course creators and bloggers, as well as those who use YouTube regularly.
This tool provides everything from a drag-and-drop editing system for your emails to landing pages and forms.
Features include:
Convenient and easy-to-use email designer
Sign-up forms and landing pages
Integrations with other leading software tools
Automated campaigns and triggers
Excellent segmentation options
Professional and creative templates
You can also easily set up customer segments and automate your messages so that they reach the right customer at the right time. Like with AWeber, there's an initial free tier available so you can test the product before you commit.
This product is best for creative types who want a simple way to automate powerful email journeys.
3. GetResponse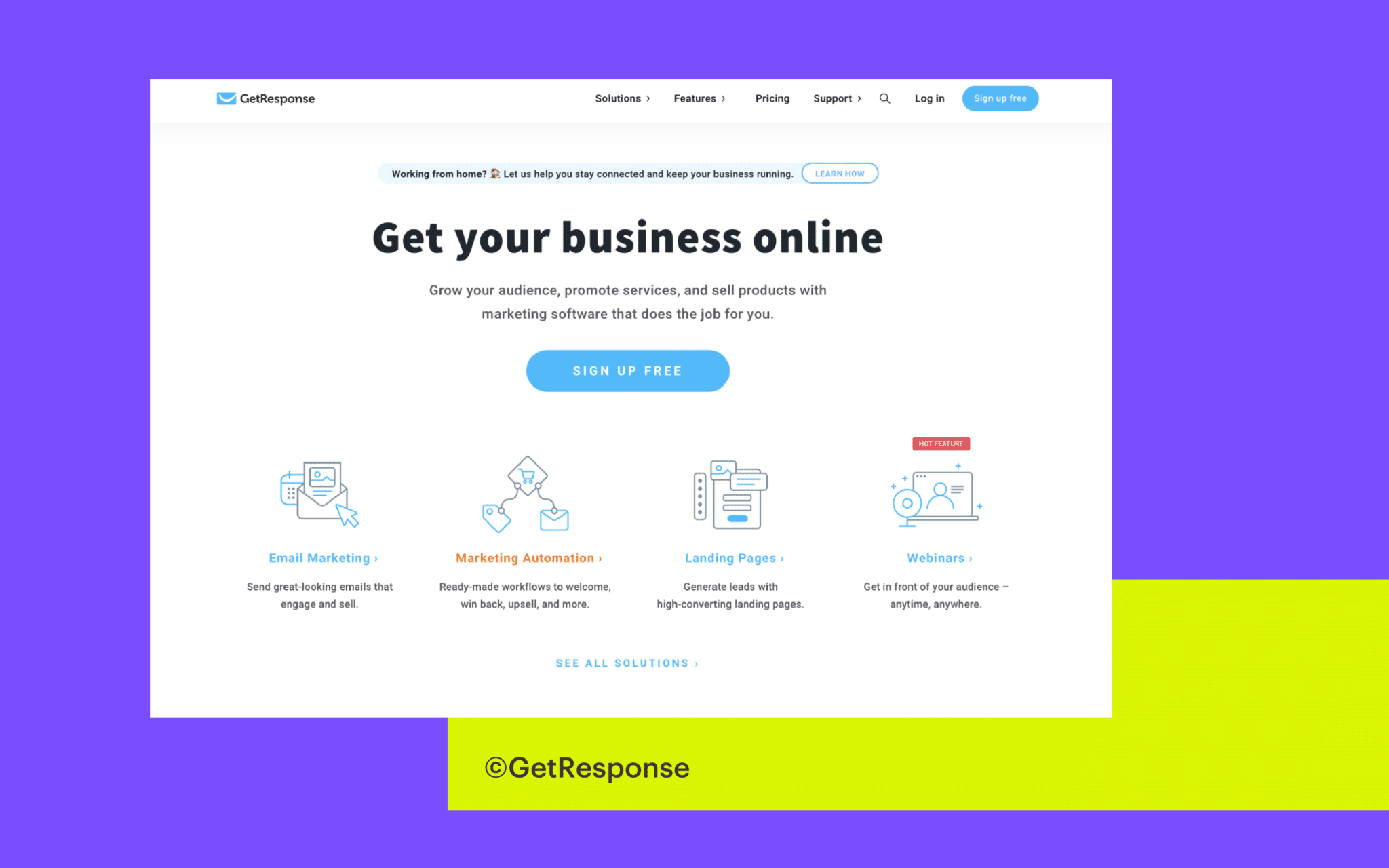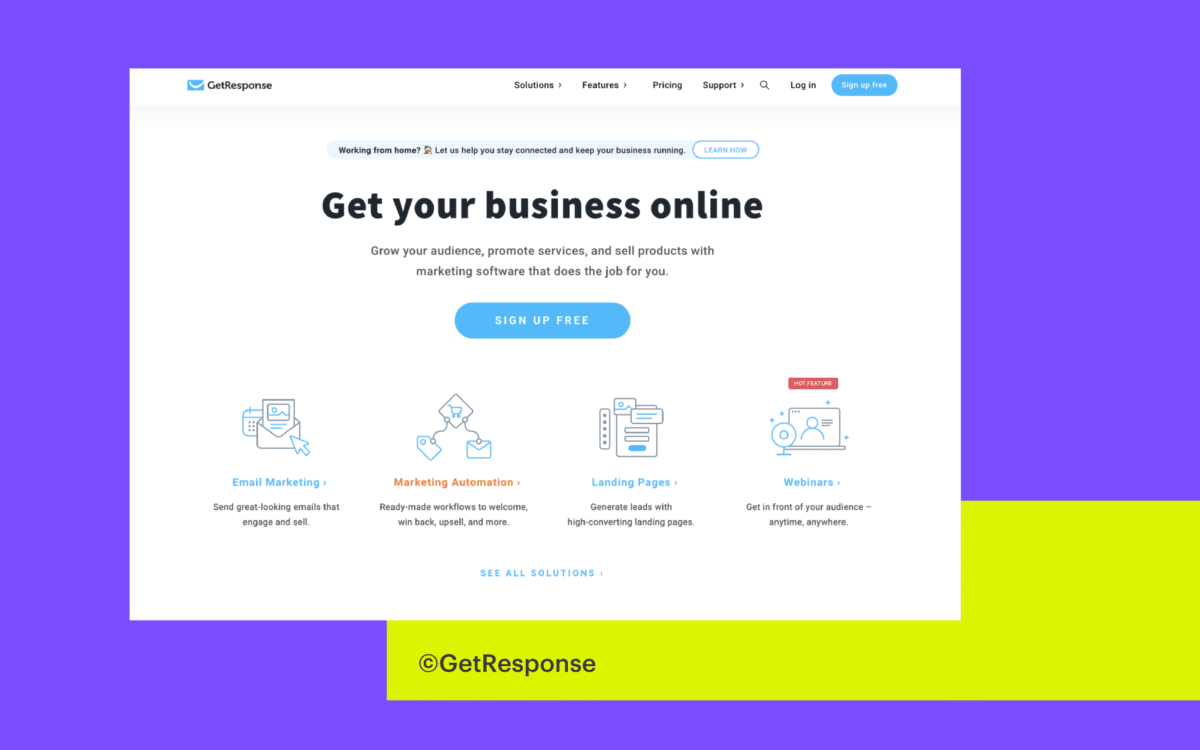 GetResponse is another top-rated tool for email marketing and automation. It comes with plenty of fantastic tools to help you build eye-catching newsletters and full email campaigns. You can also access GetResponse for subscription forms, dynamic website content, and split testing too.
This software specializes in delivering a wide range of email types to choose from. You can set up autoresponders to connect with people who leave items behind in their cart, or welcome customers to your email list. You can also use scheduled emails, targeted emails, and triggered messages.
Features of GetResponse include:
Email autoresponders, triggered emails, and scheduled emails
Complete email funnel access
Segmentation and advanced targeting
Beautiful email templates with no coding required
Subscription forms and landing pages
Dynamic content access
Mobile responsiveness
Split testing
GetResponse is a good choice for companies that want to experiment with different kinds of email and content. You can easily A/B test different campaigns and make sure that you're spending your marketing budget on the messages that drive the best results.
If you're looking for an all-in-one newsletter marketing tool, GetResponse could be the top choice.
4. SendinBlue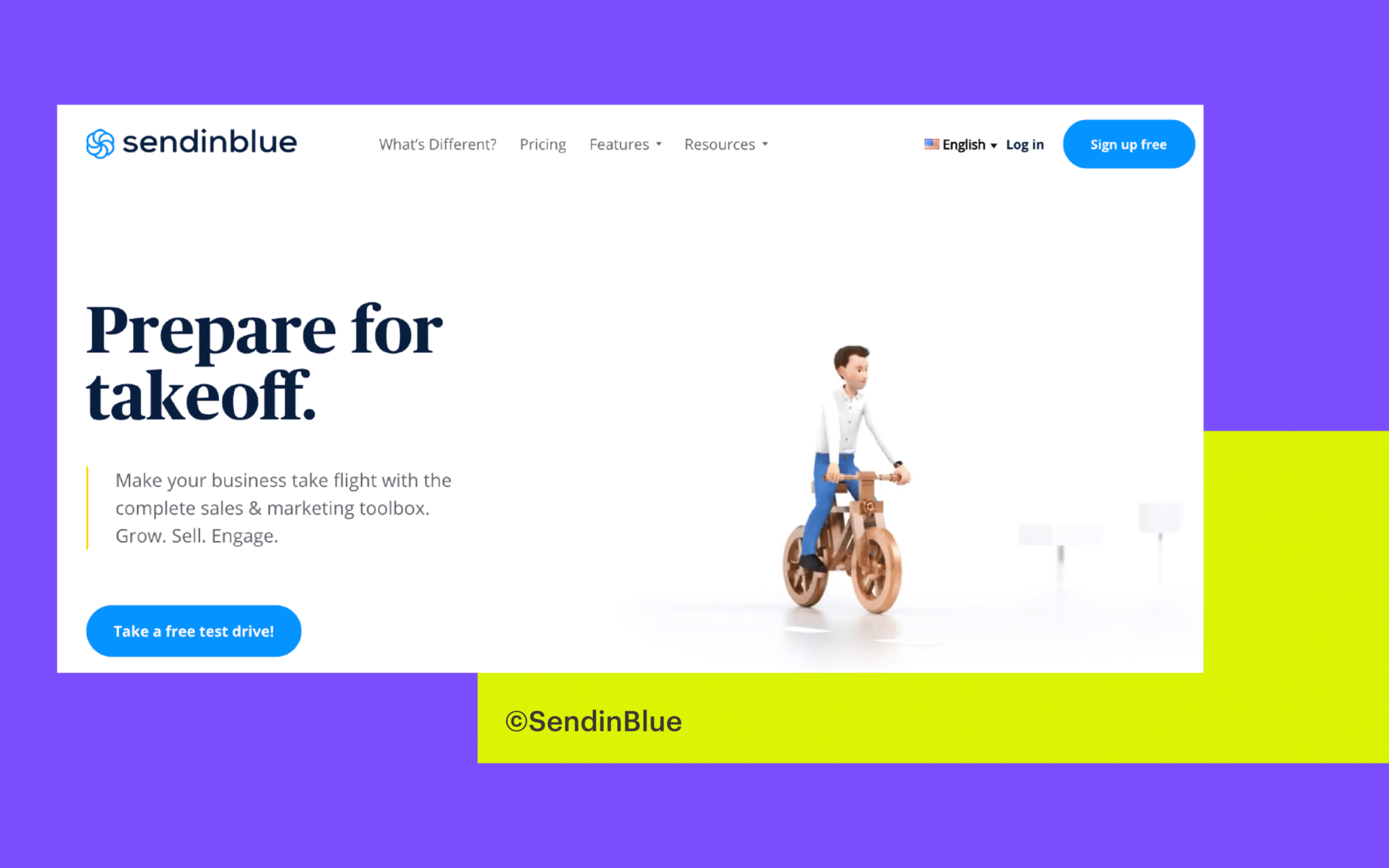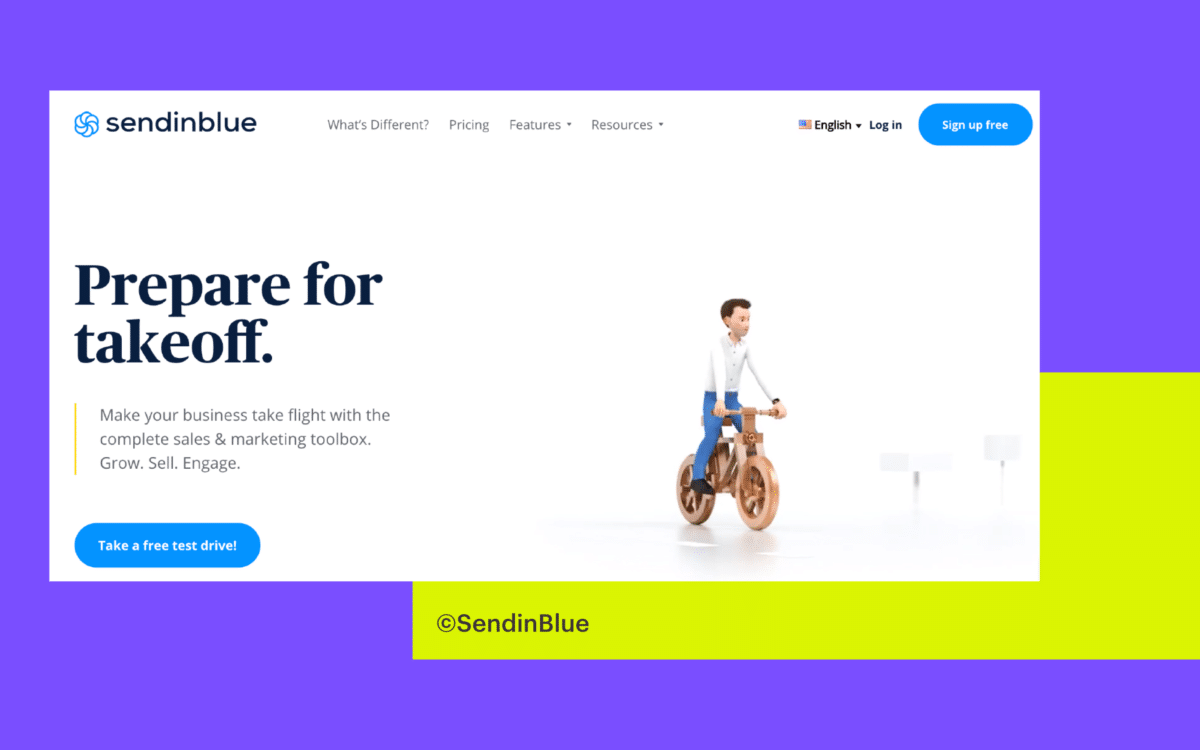 Created for companies of all sizes, SendinBlue makes it easy to launch powerful email marketing campaigns. You can promote your brand with your own unique colours and messages, and you'll get plenty of templates to help you start.
If you're relatively new to email marketing, SendinBlue could be a good choice. This product is simple and straightforward, and it pitches itself at smaller to mid-sized companies. Compared to other email marketing platforms, SendinBlue is also very affordable.
Features include:
Customer relationship management tools
Professional email templates
Automation options and workflow templates
Tracking and optimisation tools
Integration with apps like WordPress, Shopify, and Facebook
Excellent back-end interface support
SendinBlue is likely to be the best option for smaller companies that want to expand online. You can send up to 300 emails per day using the free plan, which is a good way to test whether the service is right for you. There's also support for things like GDPR compliancy.
Bonus tip: Other tools can help with emails
Crucially, although there are a lot of excellent tools out there designed specifically for email marketing, there are also some extra solutions that can indirectly help you too. For instance, we've already mentioned Canva above as a way to add more professional visuals to your emails.
SEMrush, a tool for competitor analysis, is an excellent service too. SEMrush helps with keyword research for paid traffic and SEO campaigns to go alongside your email marketing. However, it can also give you an insight into which of your website pages perform best.
When you know which of your pages are driving the best results, you also know where to link your email subscribers to.
Chapter 7:
Email campaigns vs. one-off blasts
Now it's time to decide how far your new email strategy should go.
Do you need a one-off email blast to deliver quick essentialinformation to your audience? Or is it better to use a full campaign to nurture leads and prospects into loyal customers?
Here, we'll be showing you the difference between one-off messages and complete message flows.
Plus, we'll teach you how to determine which option you need. In chapter 7, we're also covering some essential email marketing questions like:
How often should you send emails?
What's a reasonable open rate?
How do you measure open rate?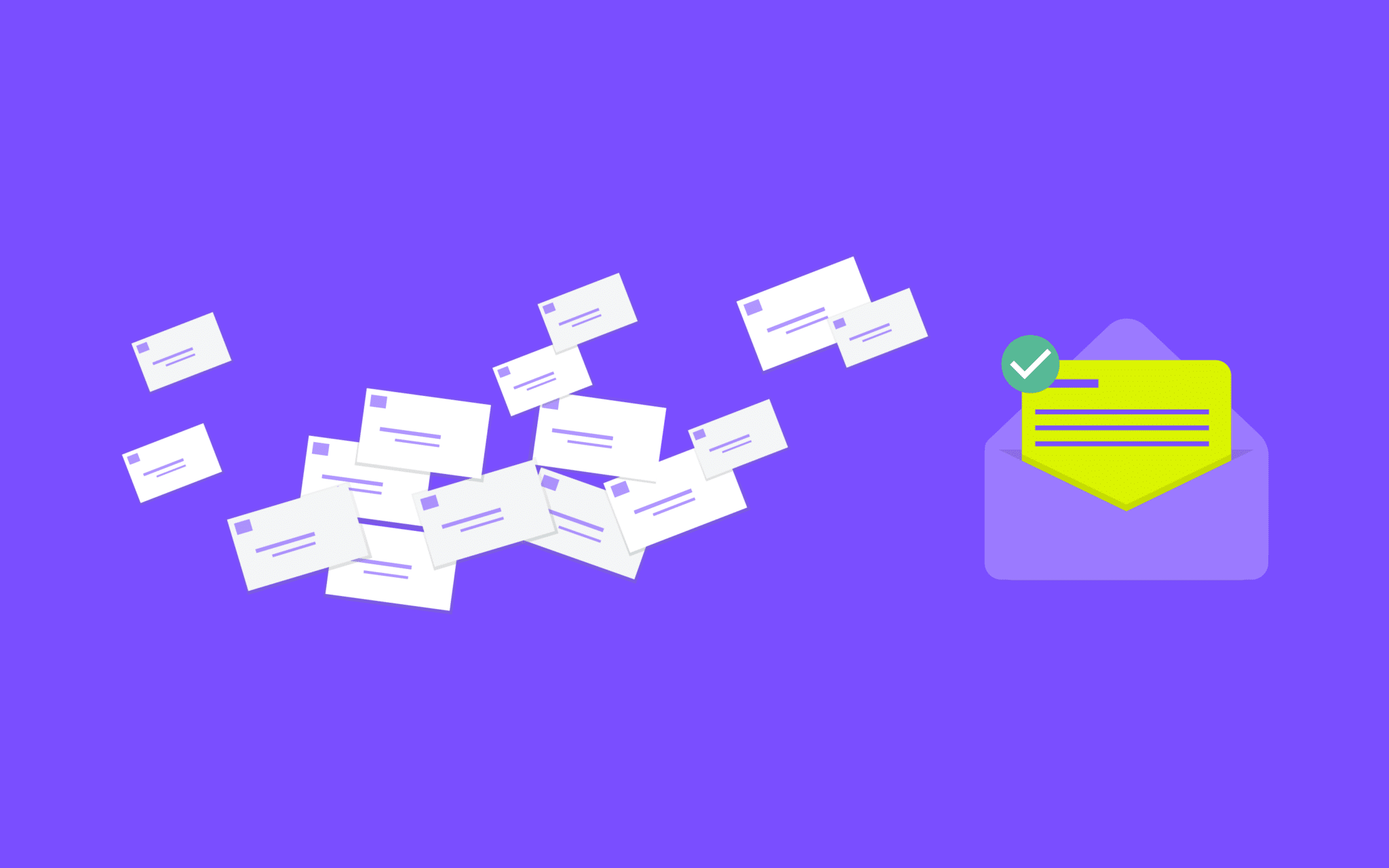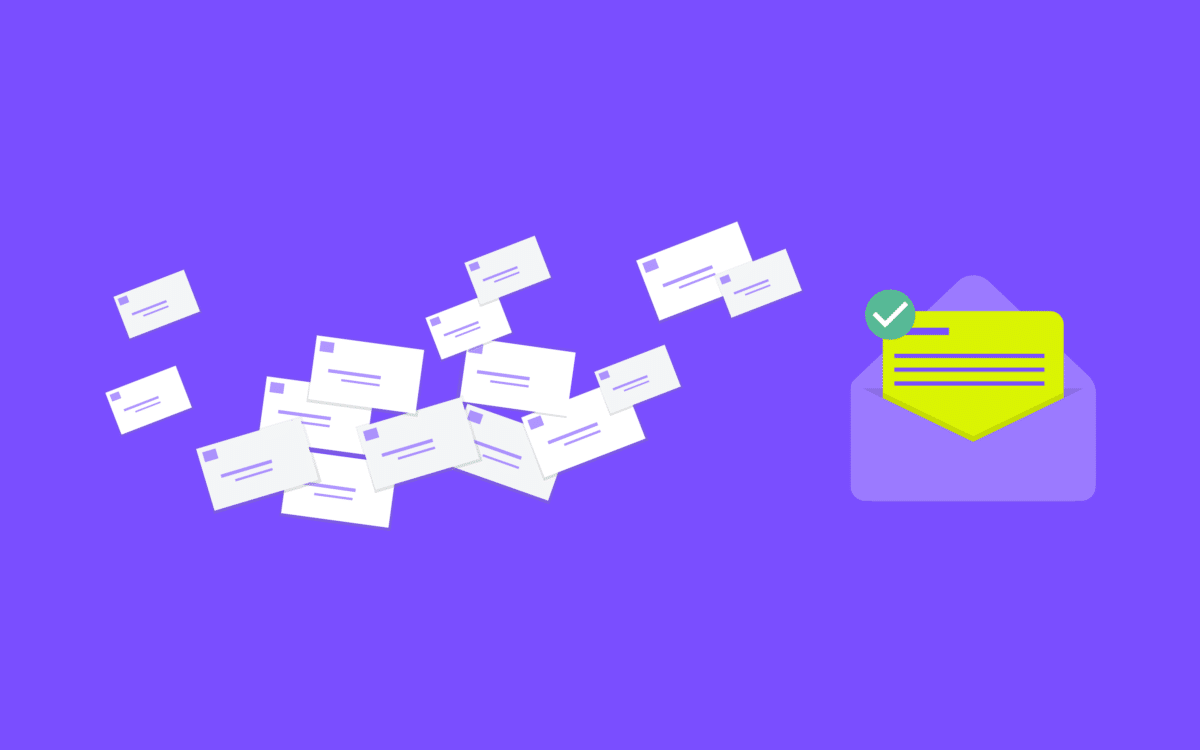 Once you've figured out the basics of how to start your email marketing strategy, it's time to think about the kinds of emails you're going to send. There are lots of different options, from transactional emails, to marketing messages.
However, the most important decision to make is whether you're going to be delivering full email campaigns, or one-off blasts.
There's a little confusion in the marketplace today about the difference between a one-off email blast, and an email marketing campaign.
So,
What are email blasts?
An email blast is a single email that you send to your audience with no follow-up. If you're running a flash sale, for example, you might send a quick email out to all of your subscribers, like this: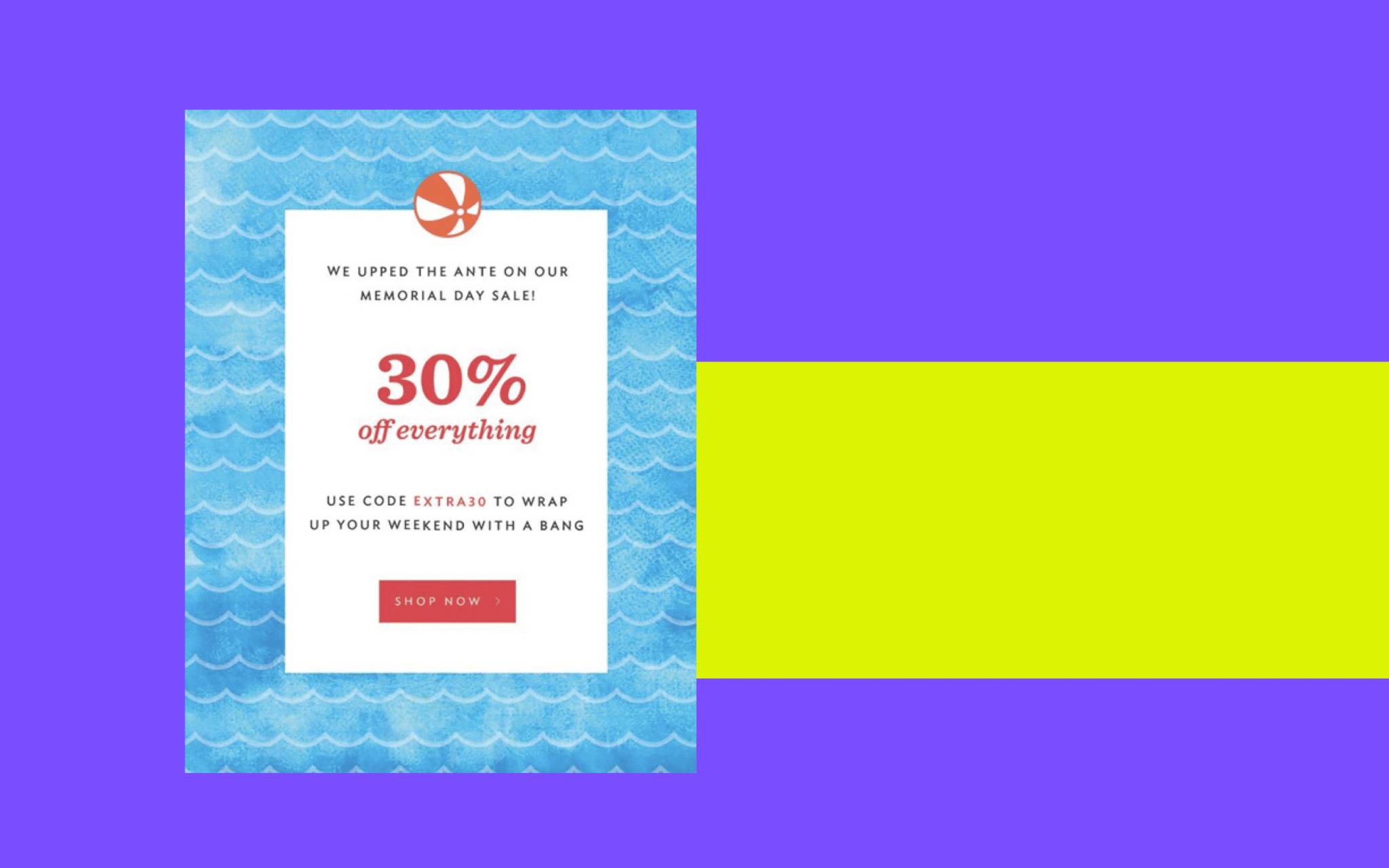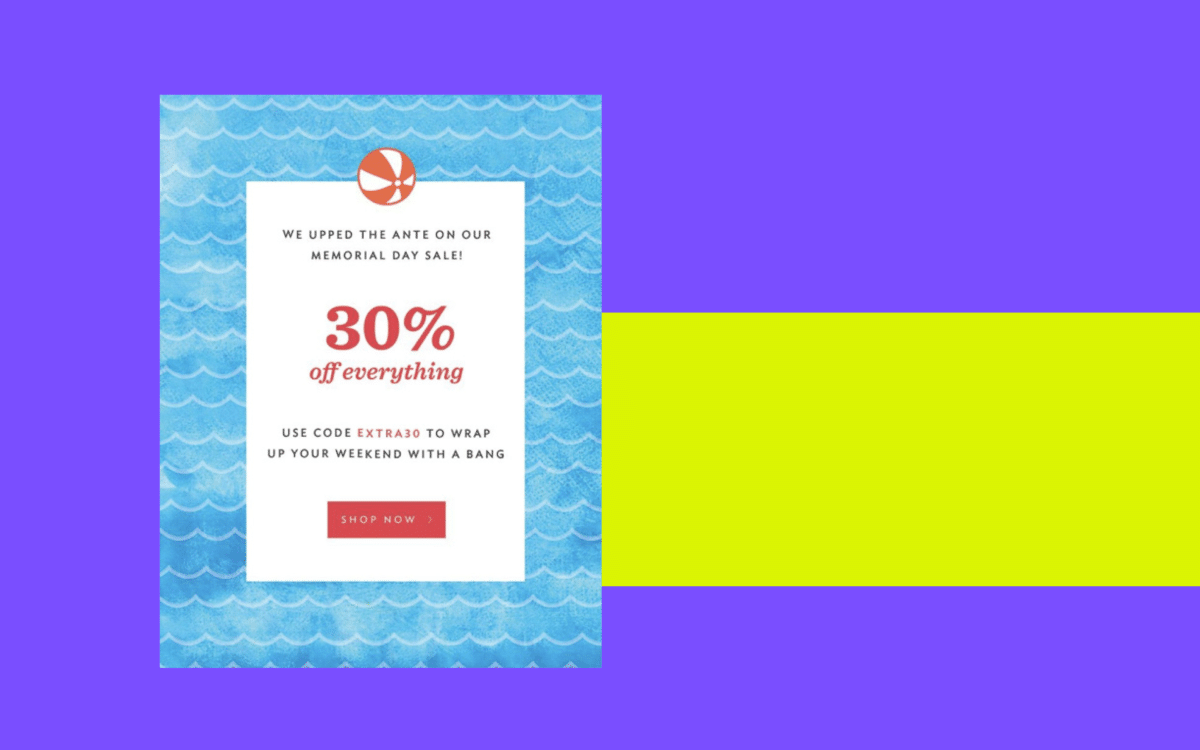 An email marketing campaign, otherwise known as a drip campaign,is a little different.
With a full email campaign, you send a logical sequence of messages or offers to your audience according to a strategic schedule. Imagine someone signed up for your bike repair store's email marketing list, for instance.
You might send them an initial message thanking them for signing up and letting them know what they're going to get from you. Later, you could follow up with a regular weekly newsletter, informing your audience about your offers, and the latest tips you have for looking after bikes.
6 months after a purchase, you may send an email letting your customers know that their bike might need a tune-up. A year down the line, you send an email celebrating the anniversary of when your customer first signed up with you, offering an exclusive discount.
Understanding successful email campaigns
Amazing email campaigns are at the heart of most email marketing strategies. The best email campaigns are designed to build relationships with your audience over time.
Take a look at the first message in the drip email campaigns from Campaign Monitor, for example: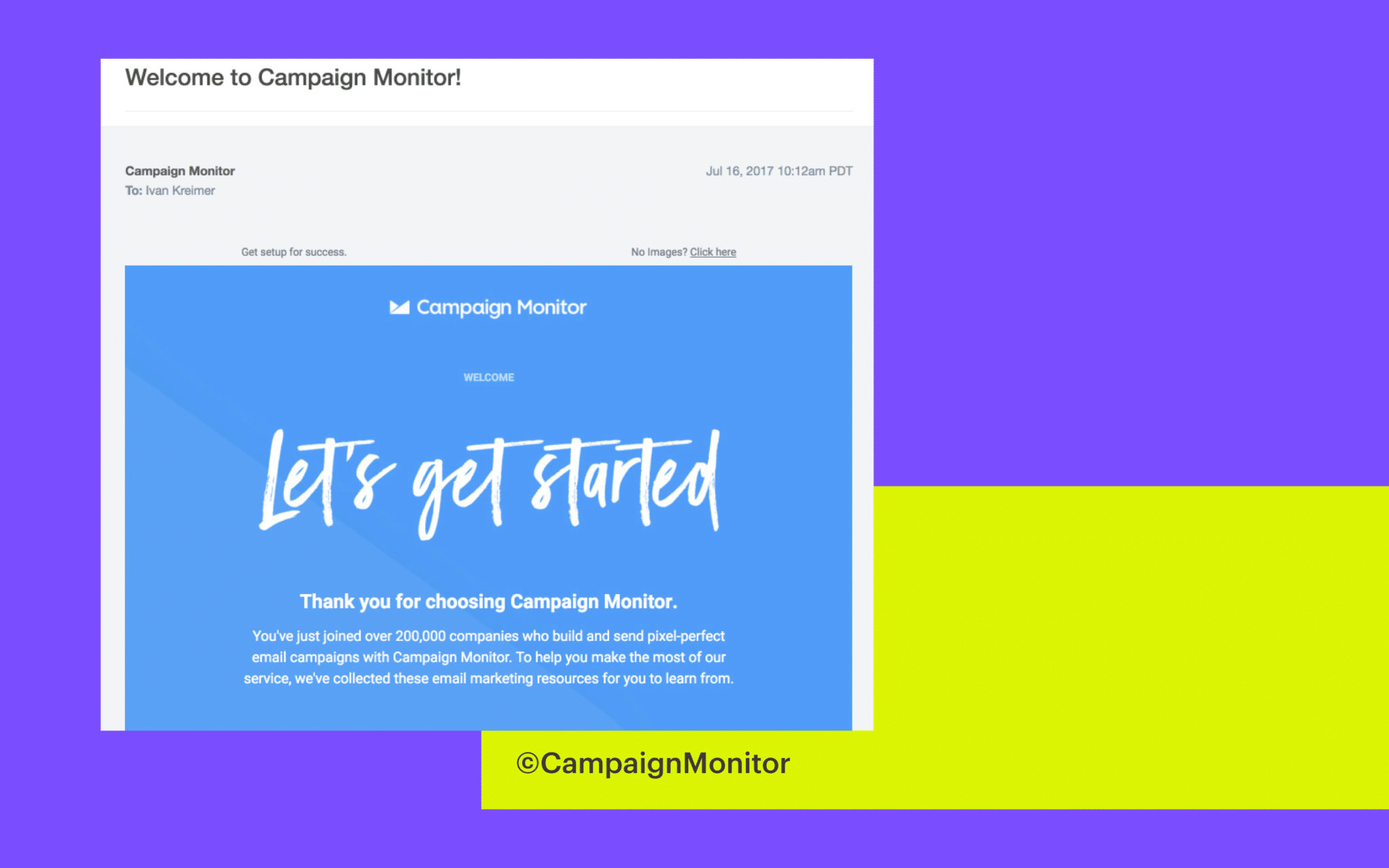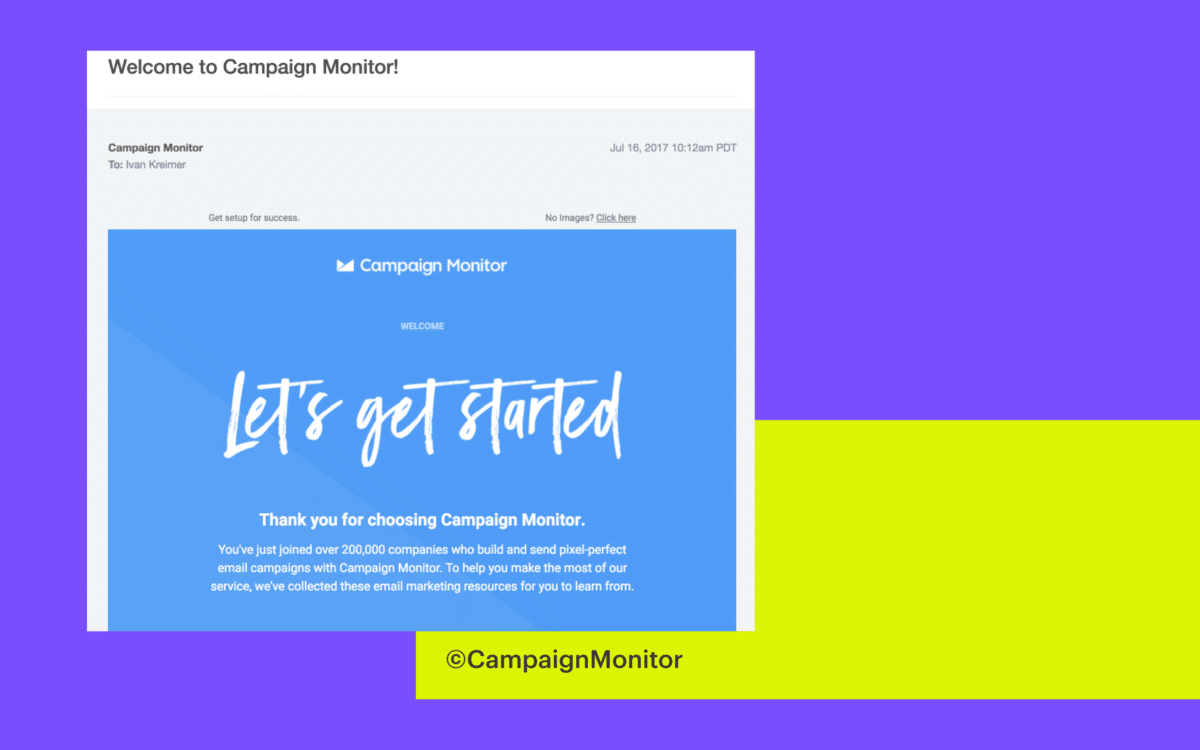 It immediately tells the audience what to expect and paves the way for a stronger relationship. The following emails in the journey after this initial "welcome" message will respond to the target user's individual behavior.
Some of the emails in your drip campaign may include:
A welcome campaign when you introduce your audience to your brand
Alerts that introduce important events and useful information
Promotions to increase customer loyalty and boost sales
Product reviews and case studies to demonstrate credibility
Customer surveys to collect valuable information about your performance
Cart abandonment emails that encourage customers to return to the checkout
Product suggestions and recommendations based on previous purchases
Automated newsletters with regular updates
Are email blasts effective?
An email blast is rarely the right choice when it comes to picking effective marketing strategies. Although there are occasions when email blasts might be a good idea, like for one off-sales or "thanks for your order" messages, they rarely deliver great results on their own.
If you want to generate a valuable relationship with your audience, then you need the segmentation and customization that comes from an email campaign.
Use an email blast:
For brief one-off messages: An email blast is fine for a one-off last-minute sale, but not an entire product promotion campaign.
When you need to add something to your email marketing campaign: Such as when you're saying thank you for a purchase.
When something unexpected happens: Such as if you need to advise customers on the actions you're taking in a pandemic.
For everything else, stick with full email marketing campaigns. Custom campaigns are the only way to strengthen your relationship with your target audience and nurture a sale. Remember, it often takes multiple touch-points to convince a customer to buy something.
Random email blasts delivered from time to time will be more likely to annoy your audience than generate sales.
How often should you send marketing emails?
There's more to successful email marketing than deciding whether it's a good idea to create a full campaign or send a simple email blast. You also need to think about "email frequency".
In other words, how much is too much in email marketing?
Companies need to make sure that they're staying "top of mind" in today's marketplace. There are countless other competitors in your niche that can steal your customers if you're not reaching them frequently enough.
That's why it's so important to have various digital marketing strategies in place to boost brand exposure.
Regularly reaching out to your target audience keeps them updated and informed. However, sending too many emails can lead to frustration.
Campaign Monitor studied over 2 billion emails and found that the companies with the highest open rates sent more than 5 campaigns in a 3 month period.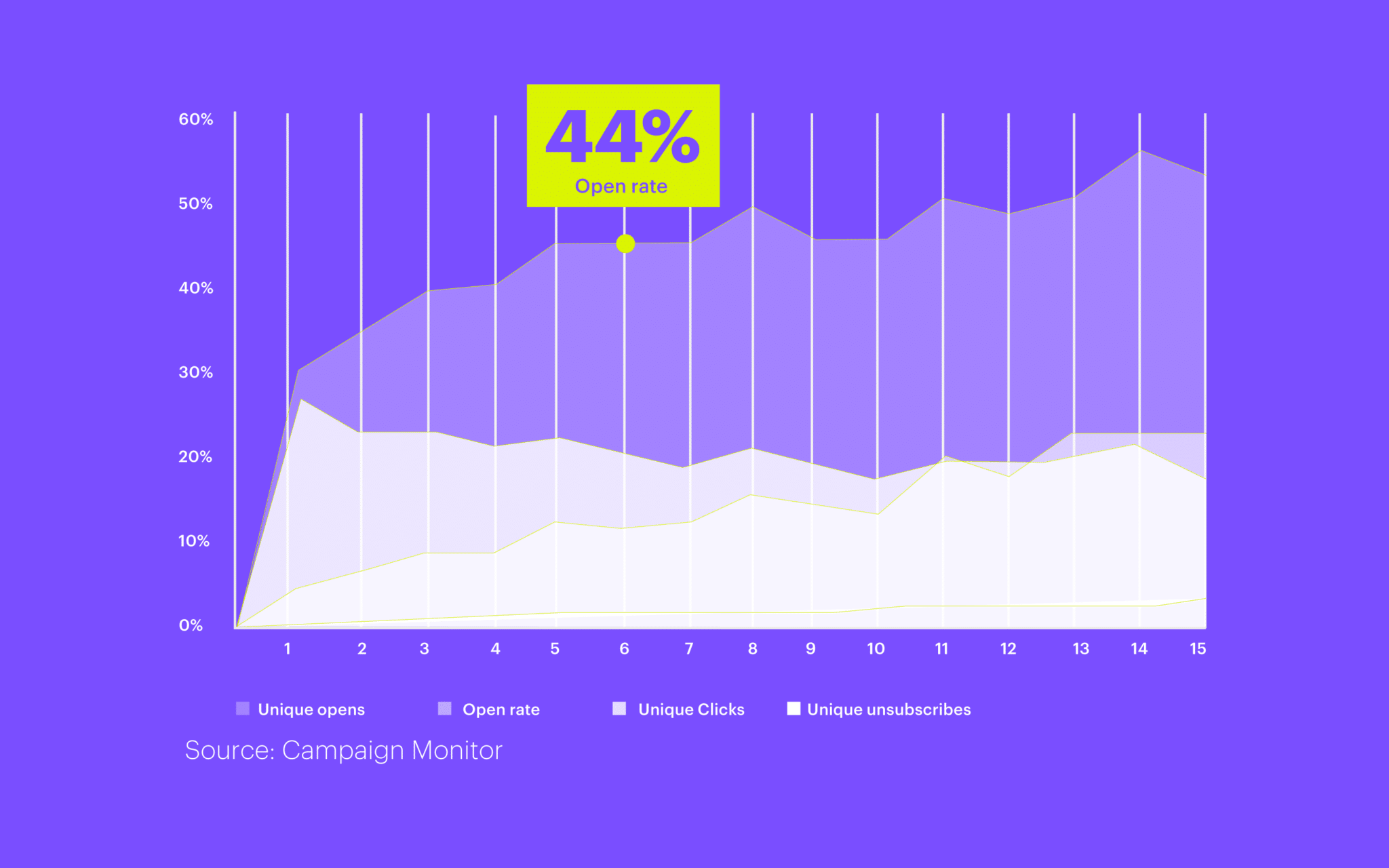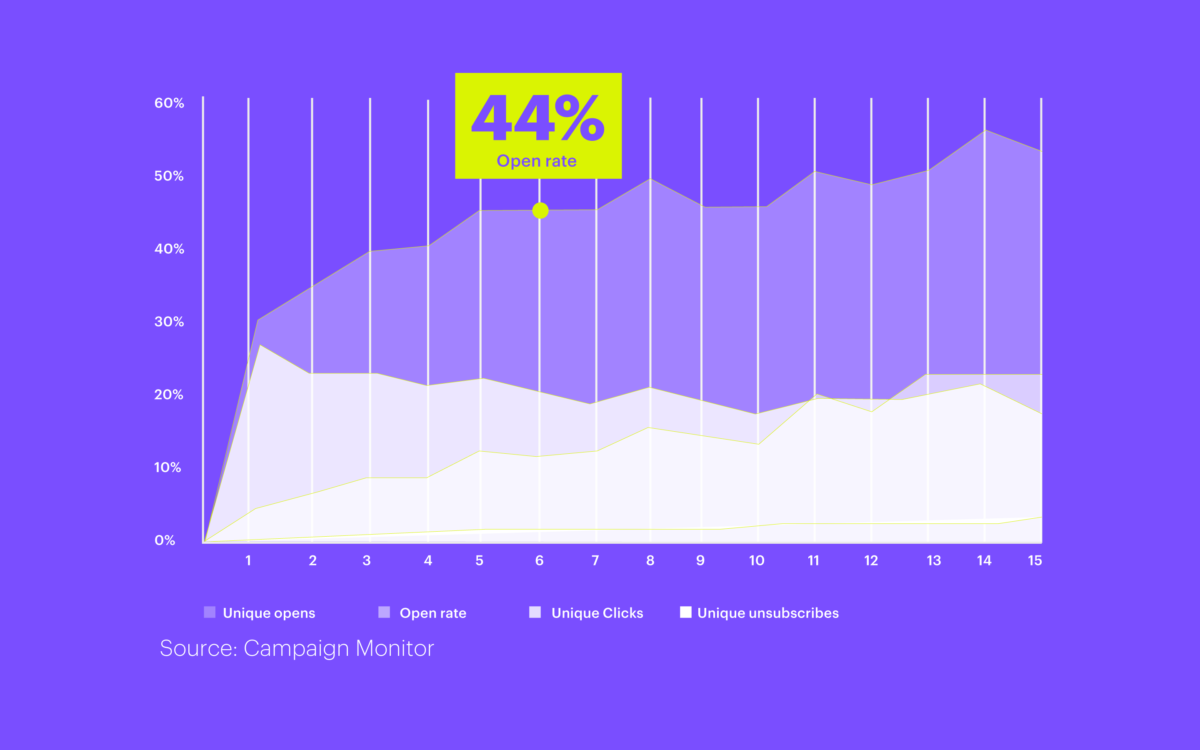 Figuring out the right email frequency
Figuring out how often you should send emails to your customers is similar to deciding what day or time you should send your messages. It all depends on your unique target audience.
Most experts believe that sending one message every two weeks is a good way to get started. This keeps your audience informed without encouraging them to unsubscribe.
However, this once every two weeks strategy doesn't take into account automated campaigns like welcome emails, abandoned cart emails, or transaction messages.
If customer have agreed to receive marketing emails after a purchase, they'll usually expect you to send more emails within the first few weeks. Additionally, if someone buys something from you, they'll expect to get an email immediately, informing them that their order was successful.
Direct interactions with your business, like subscribing to a newsletter, filling out a contact form, or making a purchase, all demand an immediate email. Beyond that, it's up to you to decide how frequently you should send other content to your audience.
Calculating email marketing frequency
To determine the sweet spot for email marketing frequency in your business, start by getting to know your audience. Collecting information with the email marketing tools we mentioned above will help with this.
Services like ConvertKit and GetResponse will show you how many customers open your messages, and whether you face any unsubscribes when you increase frequency.
It's also worth thinking carefully about customer journey. The more you know about the various touch-points your customer interacts with on their way to a sale, the easier it will be for you to send the right content at the right time.
Timing your email sending cadence to your customer's needs guides them along the buyer journey without overwhelming them.
For instance, if you know that your customers like to check your website every week for new blog posts, based on the information you've gathered from Google Analytics, it makes sense that you would send them a weekly roundup of your latest posts.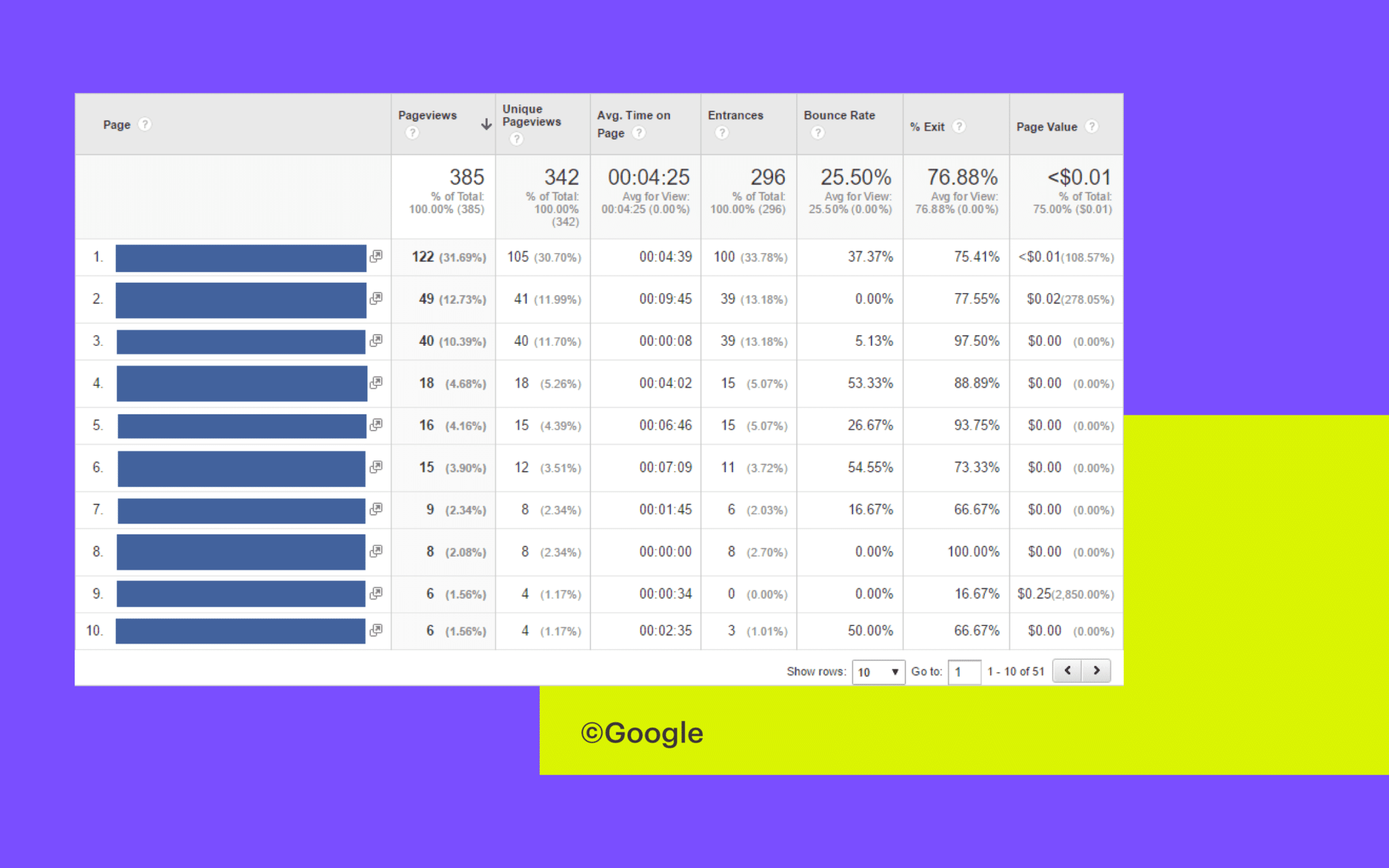 If you're not sure what your available website and email data suggests, then you could always try just askingyour audience what they want.
An email preference centre on your website will give your customers a chance to choosewhen they want to receive emails and what they want to hear about. You can include a link to this page on every one of your emails and ask your customers to choose their own frequencies.
Best practices for email marketing frequency
Every company is different, just as every audience has its own preferences and needs. The more time you spend working on your email strategy, the more you'll learn about what your customers expect from you, and what you need to do to avoid annoying them with too much communication.
As a starting point, the following tips will help:
Send at least one email per week: Whether it's a newsletter, or a promotional email. If you don't have anything interesting to share, make it one email every two weeks instead.
Send emails immediately after your customer acts: If your client buys something or subscribes to an upcoming podcast or webinar, let them know that you appreciate their decision to interact with you.
Give your customers more freedom: Make sure that your clients have a way to reduce or increase the number of emails that they get from you if they want to.

To test whether you're sending your emails at the right times, and as frequently as you should be, you can check metrics like open rate. Open rate shows you how many people actually click on your emails.
This metric, combined with click-through rate, is often one of the first things businesses check when evaluating email marketing strategies.
What is a good open rate?
When you're planning and testing your email marketing campaigns, it's important to know what to expect with things like open rates and conversions.
Answering the question: "what is a good open rate for email marketing?" can be a little tricky initially. Most experts agree that the number differs depending on the industry that you're in.
However, knowing the basics can give you a good jumping-off point when it comes to setting a benchmark for your campaigns.
Leading email marketing company, Campaign Monitor, suggests:
Your average click-to-open rate should be around 20-30%
Your average email open rate should be between 15-25%
Your average click-through rate (when people visit your website) should be 2.5%
Calculating your email open rate
The numbers above are handy starting points, but the results you get are likely to vary based on your industry. Make sure that you check out reports from competitors and market leaders in your industry to learn more about your specific niche.
You can calculate your own click-through and open rates with some basic math. To find the click rate of your emails, you divide the number of people who clicked on a link in your email to the total number of people who received the message. Then times that number by 100 for your percentage.
You can find the click numbers on your email marketing tool interface.
Some email service tools can help you out with calculating email click-throughs and open rates by giving you're a percentage straight away.
How does industry affect open rates?
Research shows that the industry does have a significant impact on your open rate potential. For instance, the most opened emails are usually related to the government. MailChimp found that government emails have an average of 28.77% open rate.
Interestingly, emails about daily deals and coupons have a much lower open rate than emails about business, art, finance, creative services, and more. This indicates that if you really want to connect with your audience, you need to talk to them about more than just sales and discounts.
The average open rate for all industries, according to MailChimp, is 21.33%. If you're doing better than that, you should be on the right track.
When is the best time and day to send an email campaign?
Just like it's important to know how often you should be sending emails with your campaigns, it's also crucial to make sure that you're sending emails on the right days and at the right times.
In any situation, the best day and time to send an email will be whenever works best for your target audience. A business owner will check their emails at different times to a stay-at-home mom. You need to think about your target audience and how they're going to be spending their days.
Use your customer personas to guide you when you're making some of your initial estimations. You'll be able to add to that information later as you gather more data from your email marketing tools.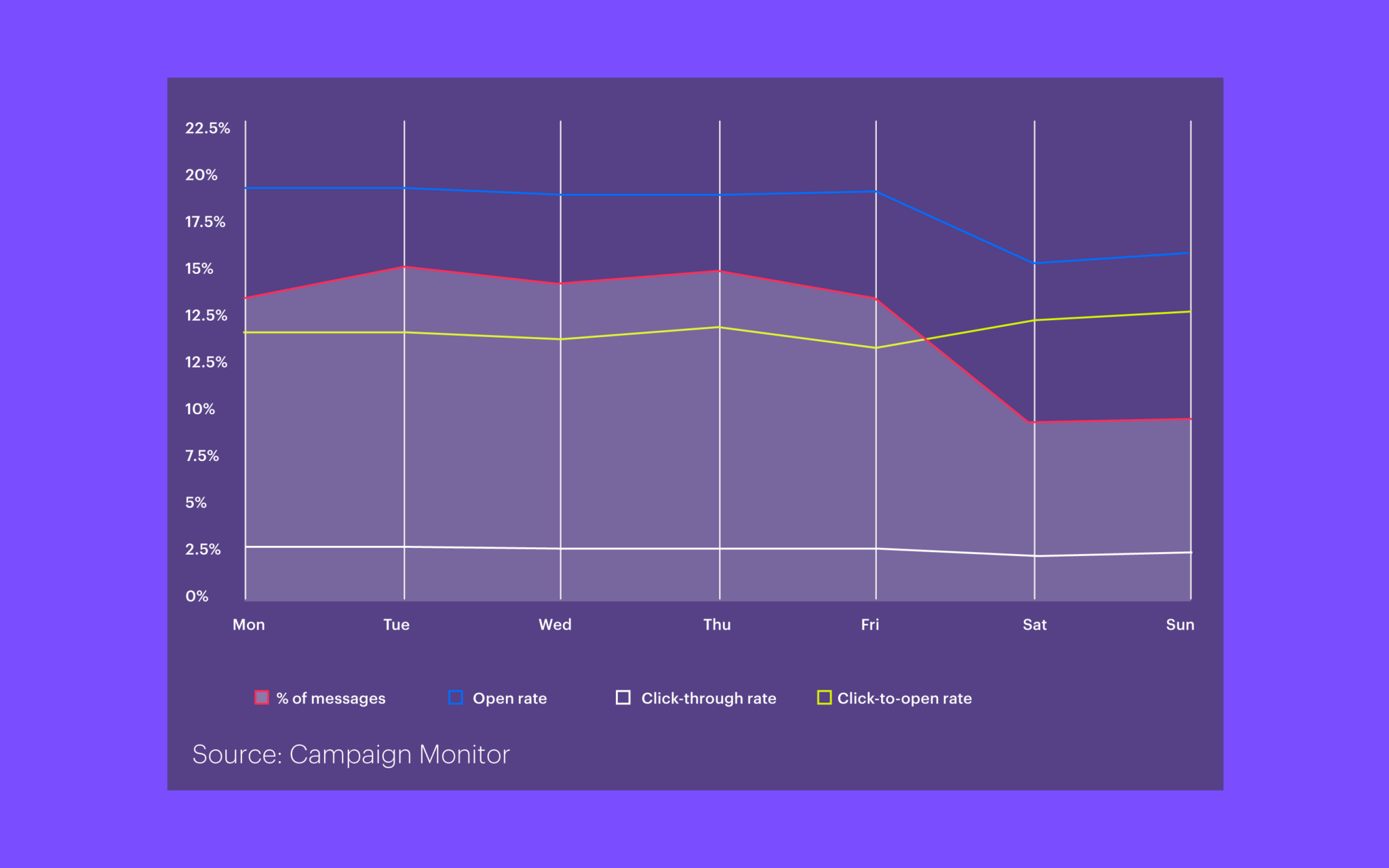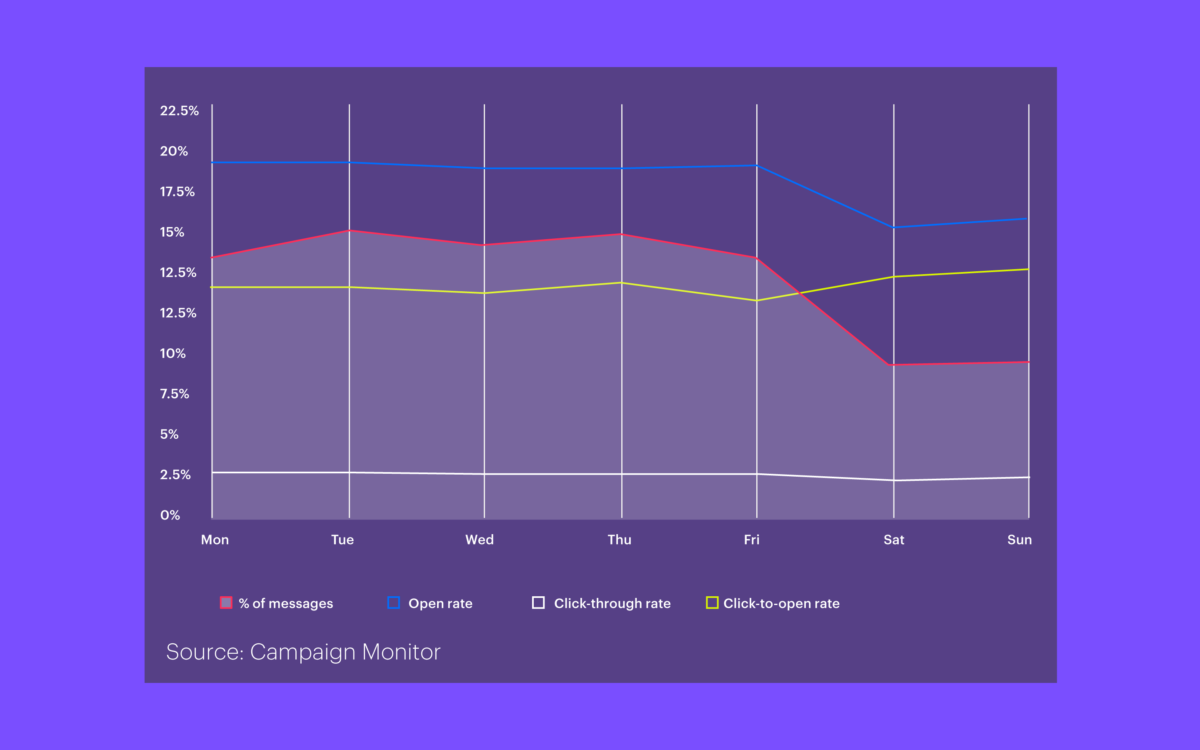 When is the best time to send an email?
There are no hard-and-fast rules out there for which times and days will work best for every company. However, there are some reports out there that can give you a bit more information to start with.
GetResponse says that the best time to send an email is around 10am every day, followed by 1pm (around lunch) and 6pm. The best day to send an email seems to be between Saturday and Sunday if you're looking for higher click to open rate ratios.
Klaviyo suggests that sending an email on a weekday will get you a better open rate and revenue per customer than sending emails on a weekend. Tuesday seems to deliver the best response. In terms of the best time to send an email, messages sent in the afternoon slightly outperformed those sent in the morning.
Campaign Monitor's benchmark study found that the best days for open rates changed depending on the industry you're in. For example, advertising and marketing agencies got the best results on Tuesday and Wednesdays: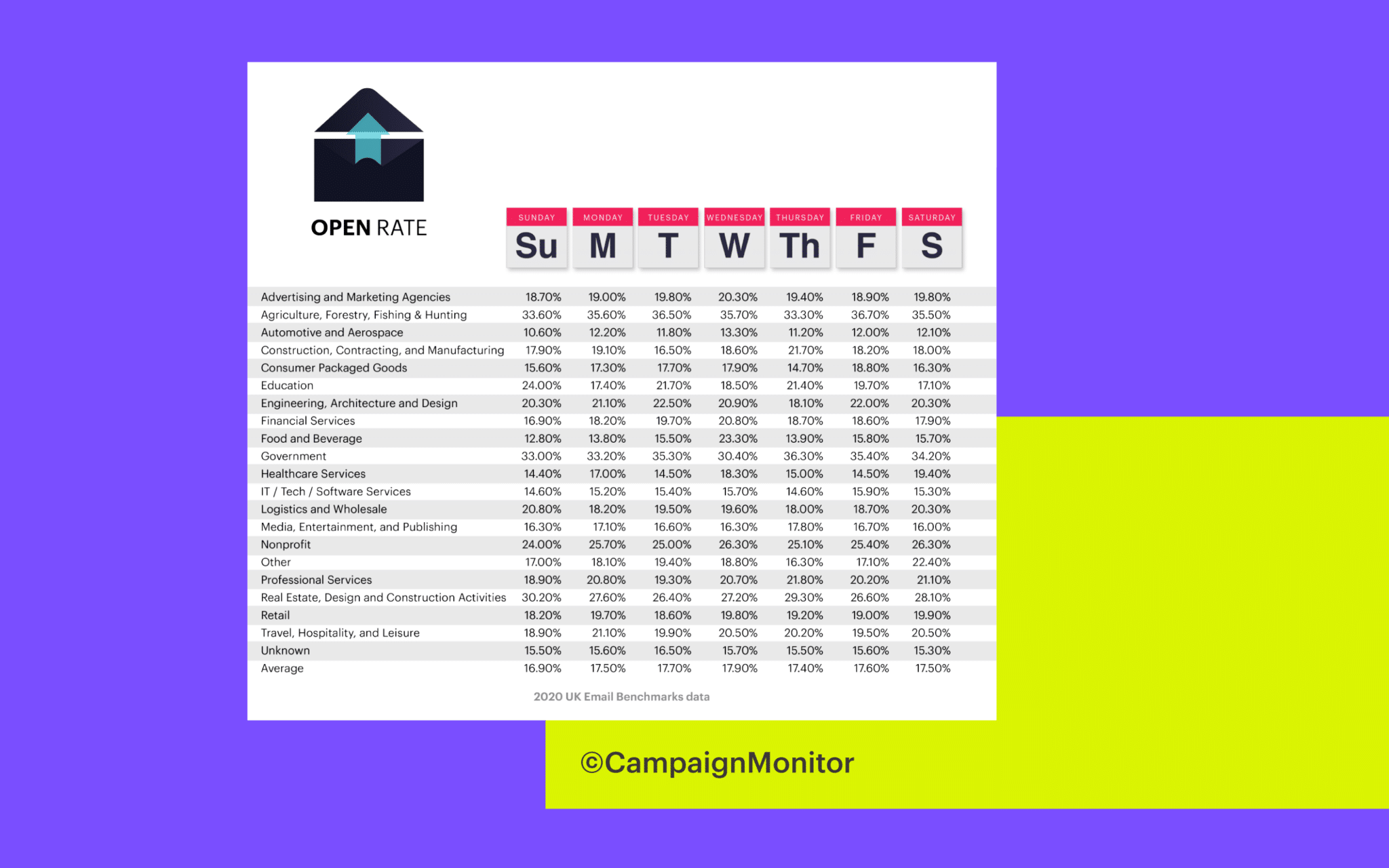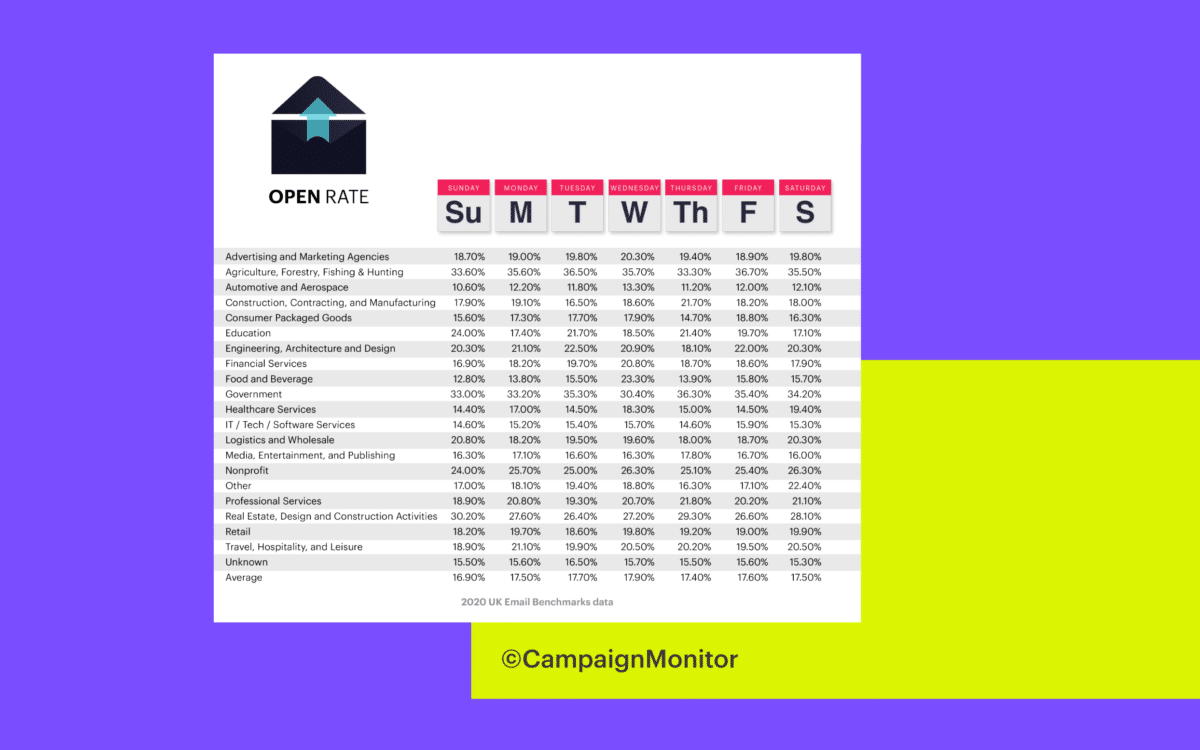 General advice on the best times and days to send emails
As mentioned above, there isn't a one-size-fits-all solution when it comes to choosing the best times to send emails or the best days to send emails. The only way to find what works for your brand is to test as much as you can, using the A/B testing tools in your email marketing software.
However, there are some guidelines that can help you:
Avoid sending too late: Usually, it's best to send emails through the day when your customers are active online, rather than sending messages when they're asleep. Make sure you double-check your time zones if you're sending messages to different parts of the world.
Stay away from Mondays: Although some companies will achieve great results with emails on Mondays, most people are too busy to check their messages on this day. By the time we get back to the office after the weekends, we're inundated with extra messages to respond to, there's no time for marketing messages.
Weekends might not be best: A lot of people spend their weekends with their families, running errands, and ignoring their digital lives. A weekend might not deliver the best click-through rate.
Tuesdays, Wednesdays, and Thursdays work best: Although the results of the many studies into the best days and times for emails differ, a few days tend to stand out on top. Tuesday, Wednesday, and Thursday are the most popular days to send email campaigns. They avoid weekends, Monday's madness, and Friday's eagerness to leave the office.
Another point to keep in mind, is if you're sending an email for an upcoming event, send it early. Around 23% of emails are opened within 60 minutes. However, some people won't check their messages every day.
Give your customers plenty of time to see important messages, so they don't miss out on big events.
Chapter 8:
The golden rules of email marketing
When designing the ultimate email strategy, it's essential to ensure that you're following the right guidelines. Your customers have the right to choose how and when you contact them.
Learning how to master the opt-in, and let your clients opt-out when necessary is crucial. It's also important to be aware of the rules and regulations around email lists, misleading customers, and sharing customer data.
In this chapter, we'll look at:
Email marketing permissions.
Misleading customers and CAN-SPAM.
Opt-out rules and regulations.
Buying email lists.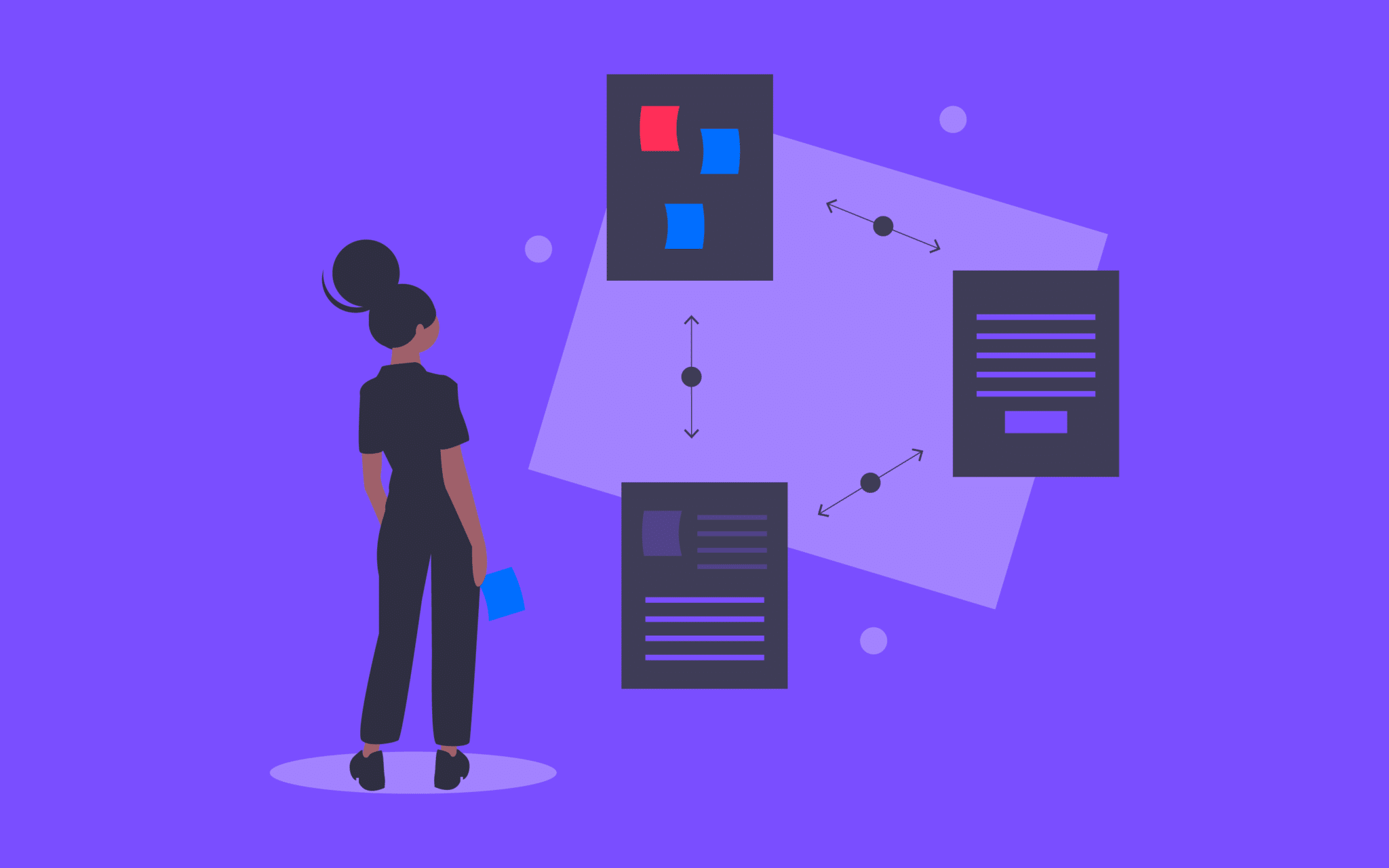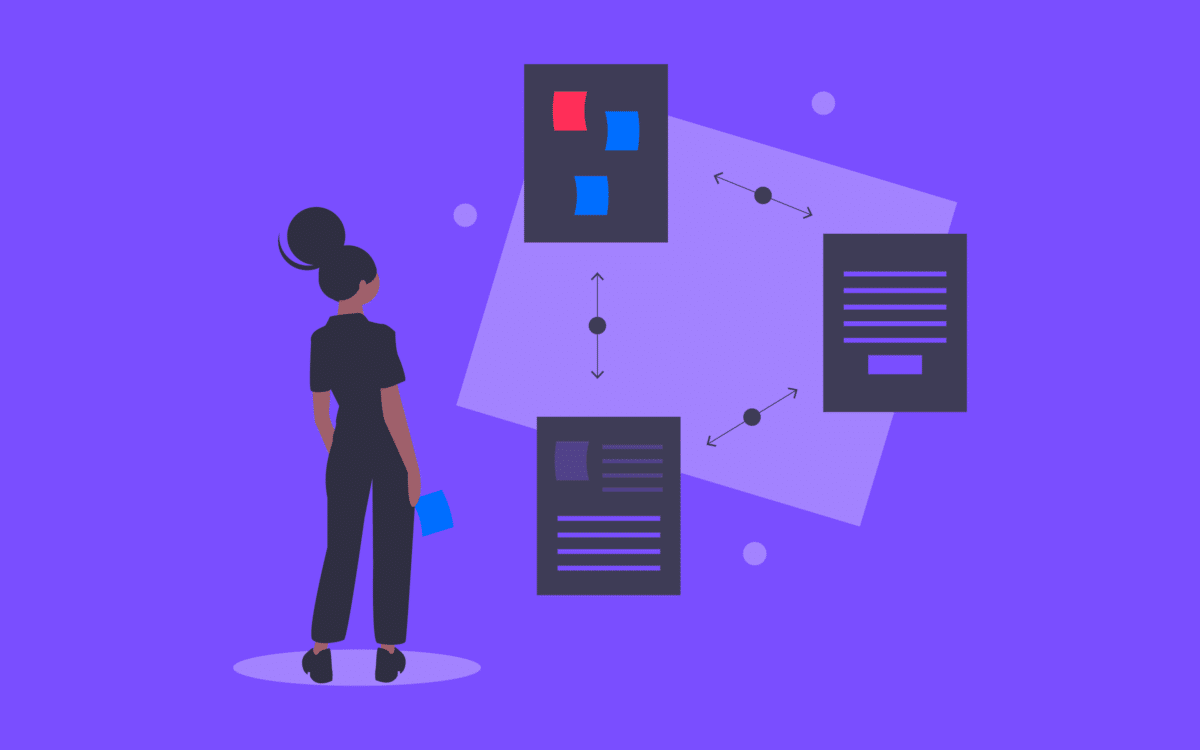 Making the most of your email marketing strategy is about more than just choosing the right selection of tools and sending emails at the right times. You're also going to need to figure out how to send emails in a way that adheres to strict rules and regulations about privacy.
After all, your customers should feel comfortable giving you access to their inbox.
In a world where customers are constantly connected to their email accounts, they don't want to feel as though they're getting hounded with spammy messages.
Email marketing rules and regulations try to prevent businesses from overwhelming their customers with messages they don't want. Additionally, email marketing laws ensure that there's no way you can share the email addresses you get from your customers with someone else.
Here are some of the crucial rules you'll need to adhere to when you're marketing via email.
1. Always get permission to send emails
Email marketing rules and email laws didn't always prevent companies from sending emails to unsubscribedcustomers. However, as more unscrupulous brands started purchasing email addresses and sending them unwanted emails, new rules emerged.
Most email marketing guidelines in countries around the world today say that people need to give you permission to email them if you're going to send marketing campaigns. The way that different countries define "permission" can vary.
For instance, implied permission indicates that you should have a right to email someone who has already purchased something from you.
Express permission shows that your customer wants to hear from you. This involves asking customers to give their email address on a sign-up sheet.
2. Don't mislead your customers
Just as email marketing legalities prevent you from sending messages to people who don't want to hear from you, they also suggest that you shouldn't trick people into opening your email.
Using a fake "from" name or email address could make your audience think they're getting an email from a friend when it's actually from a company.
A misleading subject line that tries to convince your audience to open an email just to be plagued by spam isn't appropriate either. Tricking your subscribers might seem like a good way to improve your open rate.
However, the truth is that it's just going to convince more people to "unsubscribe" from your emails.
Making sure you don't mislead your customers also means letting people know if a message is commercialin nature. The CAN-SPAM act indicates that you always need to let your customers know if you're trying to sell something to them.
CAN-SPAM also dictates that you should always let your customers opt-out of your messages too.
That takes us to our next email marketing rule…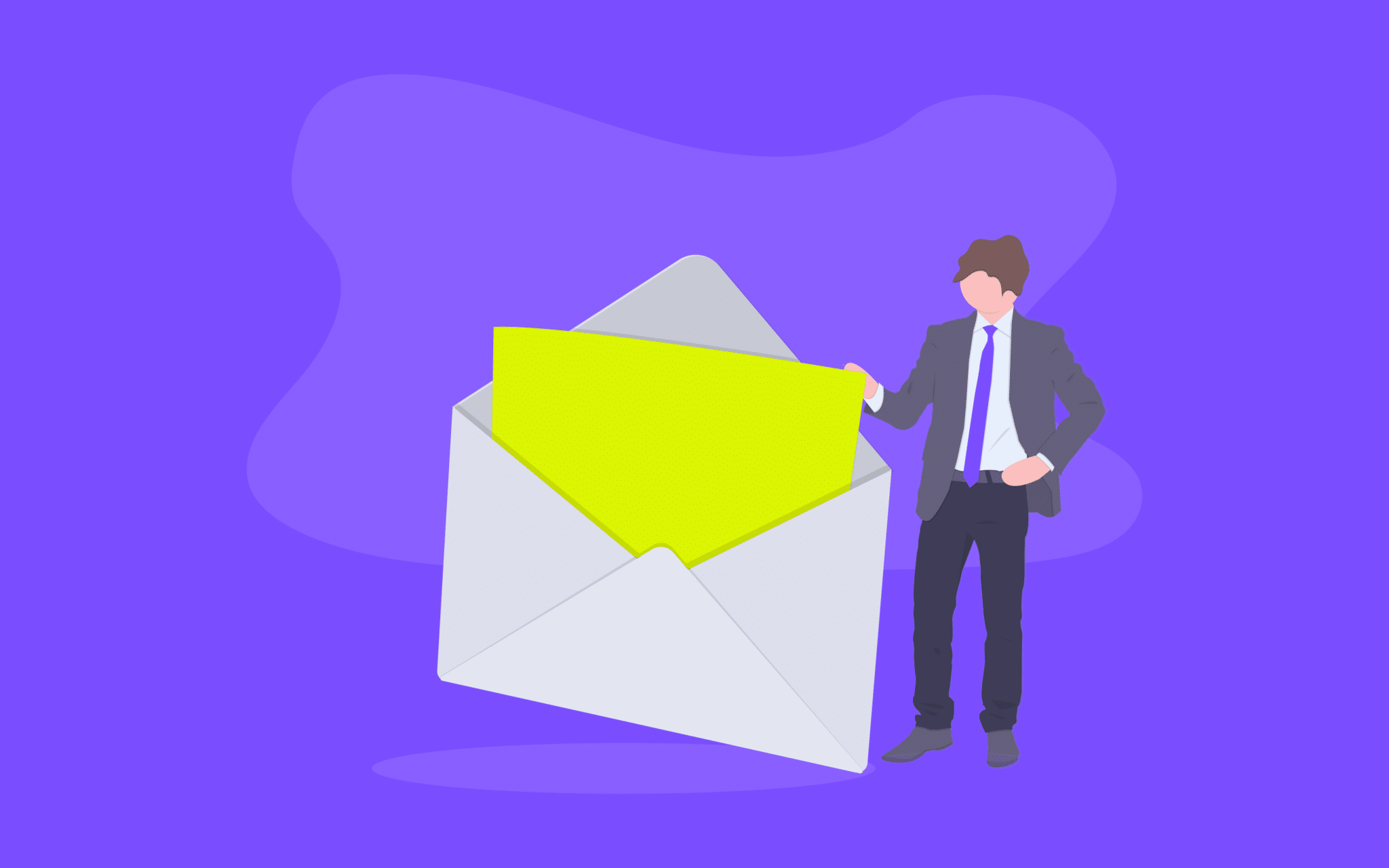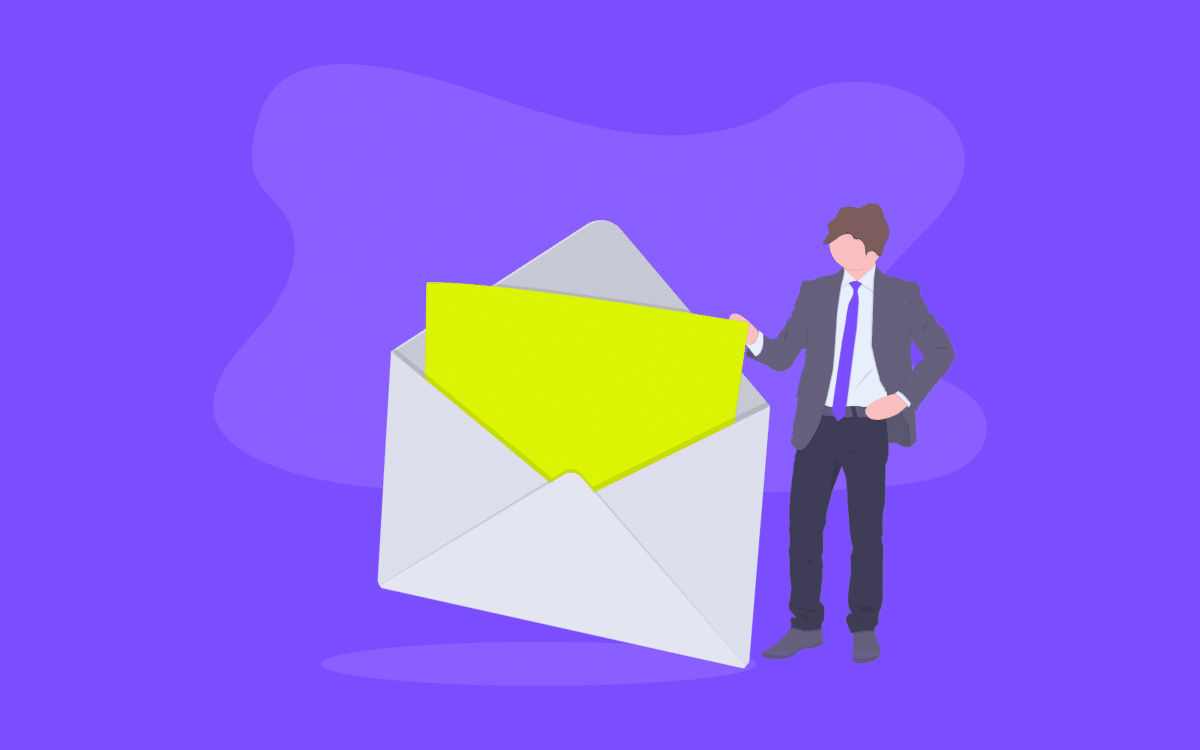 3. Let customers opt-out
The email opt-in rule that suggests you should always get permission to send customers emails, is accompanied by an email opt out law.
Just because your customers wanted to hear from you initially when they signed up for your campaign, doesn't mean that they want to get your emails forever. Your clients might lose interest in your company.
Make sure that you have a link on the bottom of every email that tells your customers what they need to do to stop receiving emails. Remember, the rules of the CAN-SPAM act also suggests that you need to honor a request to opt-out within 10 business days.
You can't charge someone a fee to opt-out, and you can't continue sending messages after a customer opts out.
The only email you can send after someone tells you that they don't want to get your messages anymore, is a confirmation email.
4. Never use email lists
Legally speaking, people are permittedto purchase email lists online. However, if you buy an email list, you also need to get consent from every person on that list.
Even if recipients on your email list already gave their permission to be on the list that you bought, they still need to give direct permission to you.
Ultimately, email lists can get you in a lot of trouble, and they don't often give you the most engaged people to connect with. If you want to grow your brand and develop stronger relationships with your customers, stick to using only the email lists that you create yourself.
When you build your own email list, you can make sure that you're targeting the people who are genuinely interested in your product or service. At the same time, if you use things like double opt-in, you can rest assured that everyone on your list wants to hear from you.
This means you're less likely to have a low open rate and high customer churn.
So, how do you build an email list?
Chapter 9:
Building an email list
An email strategy is excellent – but you need a plan for who you're going to send your messages to before you can generate results.
In this chapter, we'll be giving you a step-by-step guide on how you can build a successful email list full of customers that want to hear from you.
Read on for insights into:
Building landing pages and opt-in forms.
Creating engaging CTA buttons.
Using pop-ups and slide-ins to attract attention.
Pitching your newsletters to new subscribers.
Attracting email referrals from existing customers.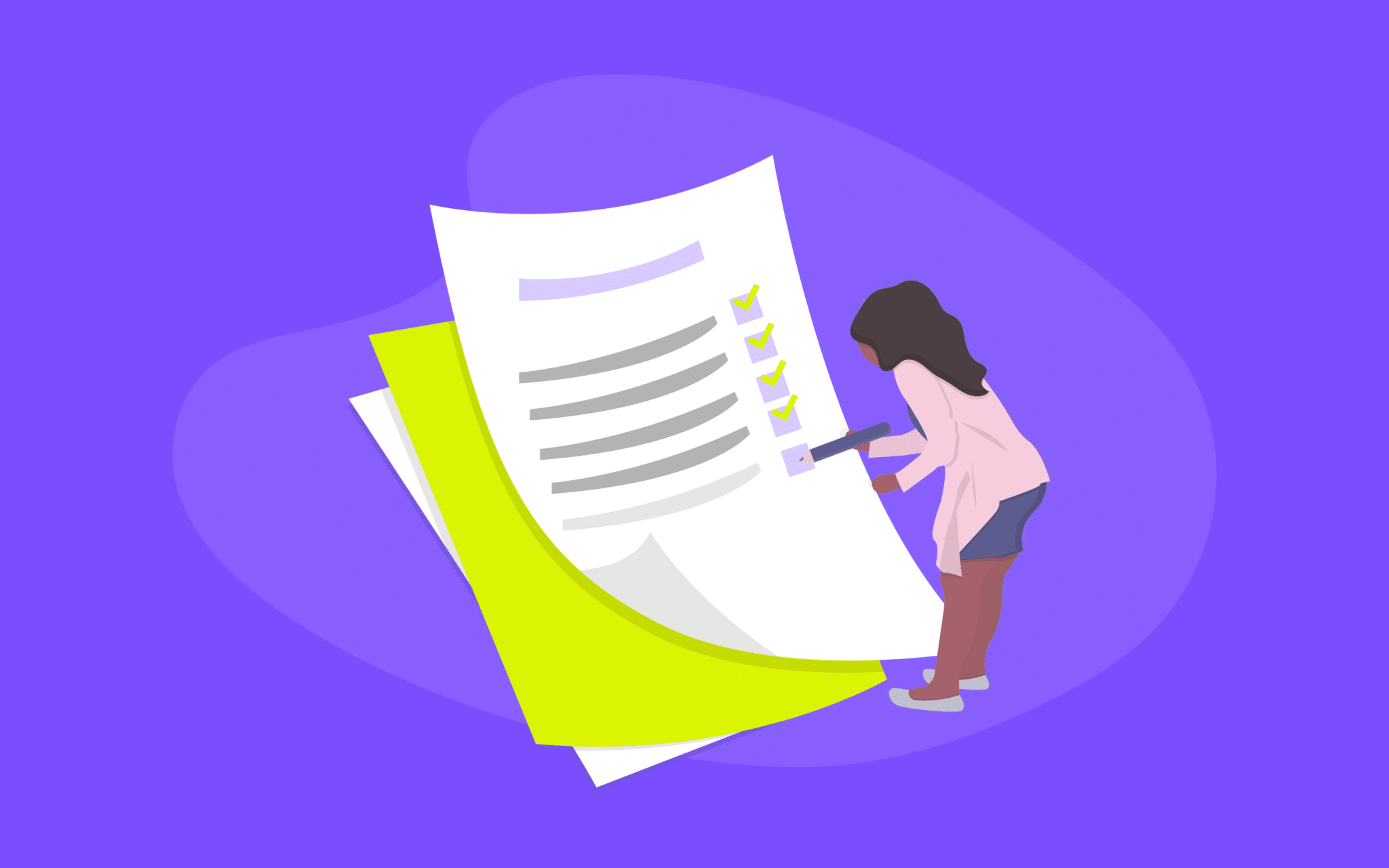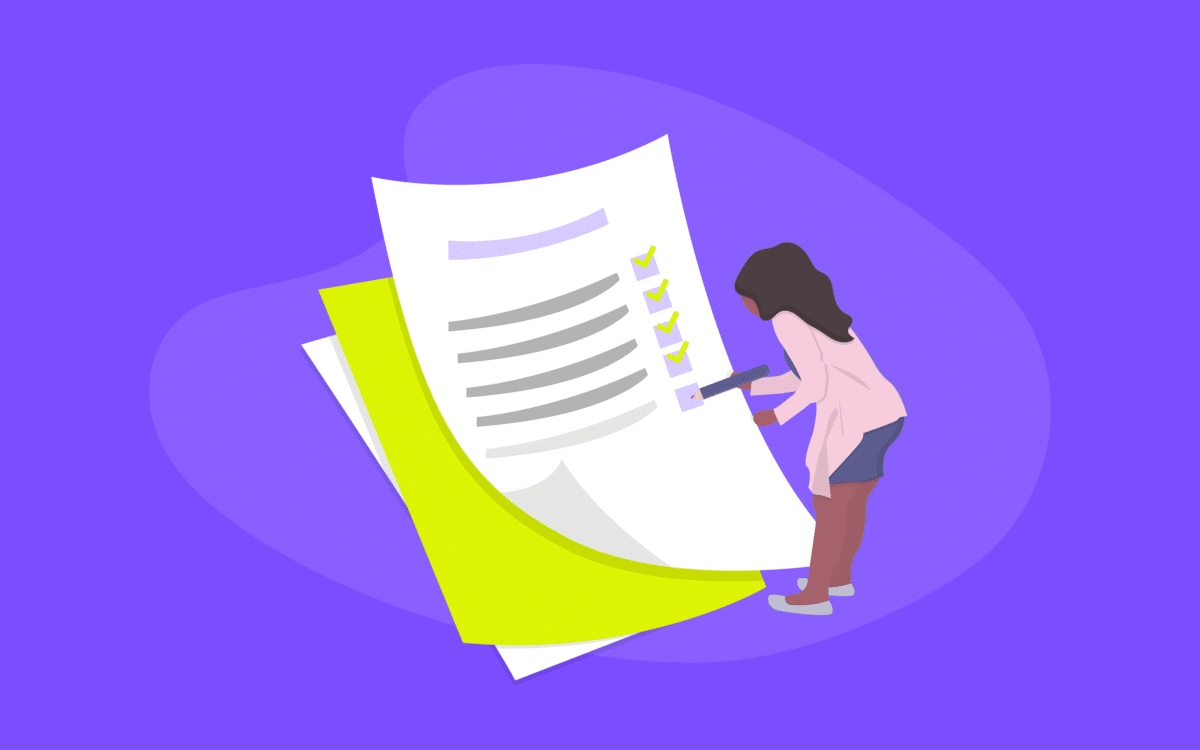 Developing a successful email marketing strategy for your digital campaign means sending carefully tailored messages to a select group of people. You send your messages according to a specific schedule, using triggers to determine what kind of support your audience needs.
The great thing about email marketing, is that it helps you to both nurture new customers and retain existing ones. After all, it costs up to five times more to attract a new customer, compared to keeping an existing one.
So, how do you figure out who to email?
You can't just email potential customers at random. In the age of privacy and security, it's essential to get permissionfrom your customers.
That means building a list of engaged and interested people who want to hear from your company.
Here are some tips for growing your email list.
1. Have a landing page or form
Landing pages and forms are the ultimate way to gather email addresses for your email list. With these tools, you convince your customers to sign up for regular messages from you.
Some forms are simple. They might appear at the bottom of your blog posts and ask people to give their email address if they want to be informed when you next publish something new.
Landing pages, on the other hand, use specific offers and deals to convince people to give you their email addresses. Most landing pages come with deals and offers known as "lead magnets."
For example, you might convince people to sign up for your newsletter in exchange for a free eBook, teaching them all about how to write marketing articles.
Remember, your forms and landing pages need to be convenient, and eye-catching to deliver results. Don't ask for any information beyond what you know you need. And don't be afraid to make multiple landing pages.
HubSpot says that you can increase your leads by 55% just by having 15 pages instead of 10.
2. Create a personalized CTA
According to HubSpot, personalized calls-to-action have a 42% higher view-to-submission rate. In other words, you need to convince your customers that you have exactly what they're looking for.
Personalized CTAs show your audience that you've got something specific to offer, and that's the kind of thing that drives conversions.
However, you need to know your audience before you can create the kind of offers that they want. Make sure that if you don't have an excellent set of user personas already, you create some before you get started with your landing pages and forms.
If you have different kinds of customers that you want to appeal to, then you might need to create multiple landing pages, all with their unique offer and CTA. Remember, creating custom CTAs is great, but every call to action you use should highlight your value.
Make sure that your audience knows exactly what benefits they're going to get from signing up to your newsletter.
3. Use pop-ups and slide-ins
Pop-ups and slide-ins can seriously annoy your audience when you use them excessively. However, they also have the potential to bring more people to your email list when used correctly.
The key to using effective pop-ups and slide-ins is making sure that you're delivering a relevant offer to your customer – something that you're sure that they're going to be interested in.
You can use pop-ups and slide-ins as a form of on-site retargeting. After your customer comes to your site and jumps around a few pages, you can send them a pop-up before they click away from your site. These are known as exit-popups.
Another option is to serve pop-ups to returning customers, welcoming them back to your site, and giving them an extra push to sign up for your newsletter. When Digital Marketer tried this, they increased their leads in two weeks and boosted average time spent on the page by 54%.
4. Pitch your email newsletter everywhere
If you're having a hard time expanding your email list with just your landing pages and pop-ups, then it might be time to branch out. If you already have a following on social media, why not let the people on Facebook and Twitter know that they can get exclusive deals and access to sales early if they sign up for your email newsletter too?
You can pitch your email newsletter on various websites, from LinkedIn to Social media. Another option is to add a link to your email newsletter subscription form to the bottom of your emails.
Including this link in your email signature means that you can convince customers to sign up for long-term communications, even when they're just getting a "thanks for buying" transaction email.
You can also add sign-up forms to other pages on your website that you might not have considered before. Aside from having a sign-up form on your blog page and homepage, why not add one to your "About" page too?
5. Get existing customers to help out
Convincing customers to sign up for your newsletters or join your email list with landing pages and amazing blogs is great. However, there are few things more likely to get you dedicated and loyal customers, than referrals from existing clients.
Consider creating a loyalty program that allows your customer to get rewards whenever they get someone else to sign up for your newsletter. You could give your clients a discount every time they bring someone new to your list.
Alternatively, you could give existing customers the chance to earn rewards, like a free gift for every ten people they successfully refer to your company.
If you want to go beyond just getting email addresses, you can use your loyalty programs to convince customers to ask their friends and family members to buy from you. This is a great way to get more revenue, and more email leads at the same time.
Chapter 10:
Designing your email campaign
You're almost ready to launch your very own email strategy.
However, before you jump in at the deep-end, it's worth making sure you understand all of the elements that are must-haves for your campaign.
Through this chapter, we'll be giving you all the best-practice guidance you need to develop a powerful email marketing campaign, including:
Defining smart marketing goals.
Nailing your subject line.
Using structure to improve clarity.
Choosing the perfect (most relevant) content.
Making your email strategy an extension of your brand.
Designing for the right platform.
Upgrading your CTA.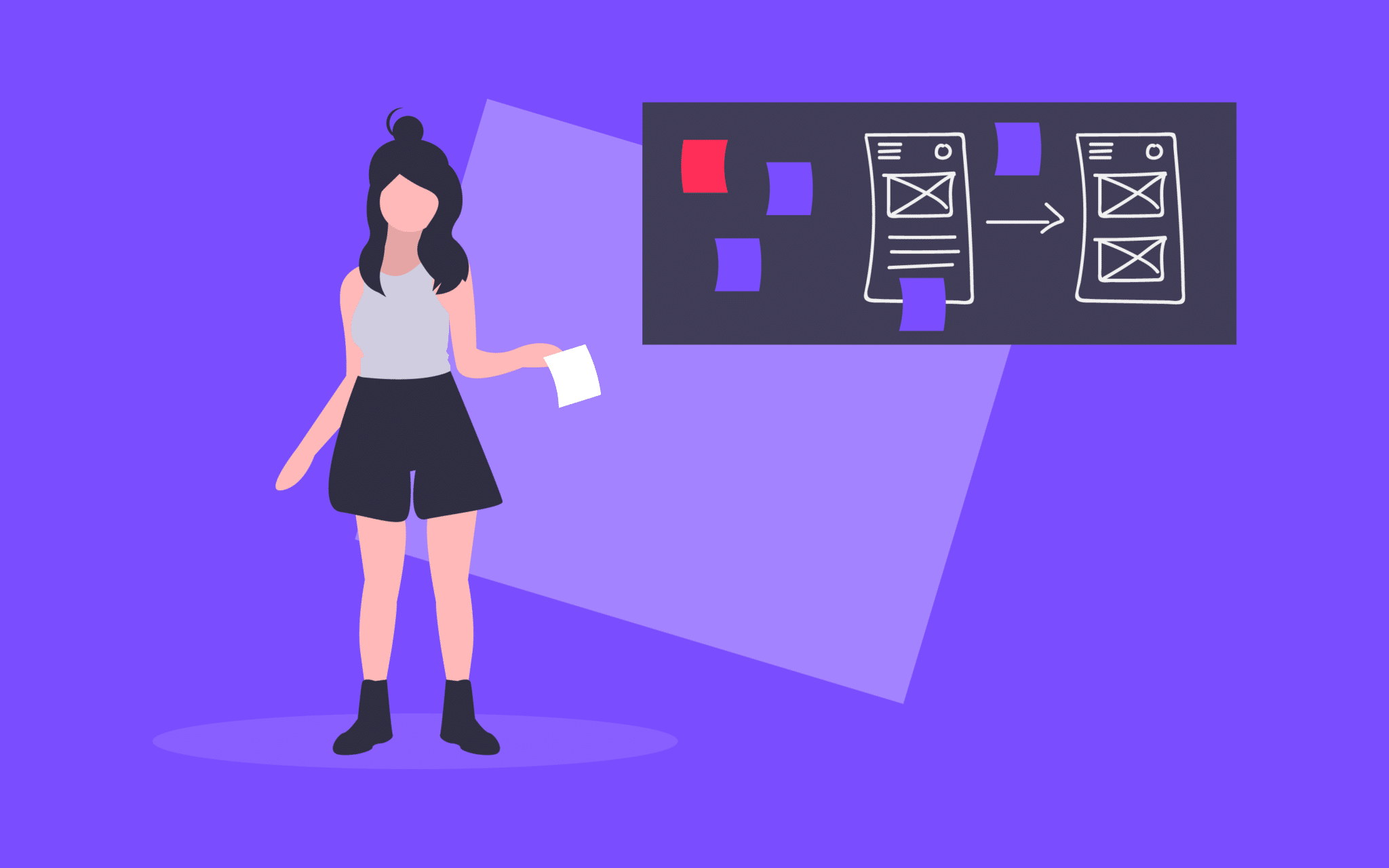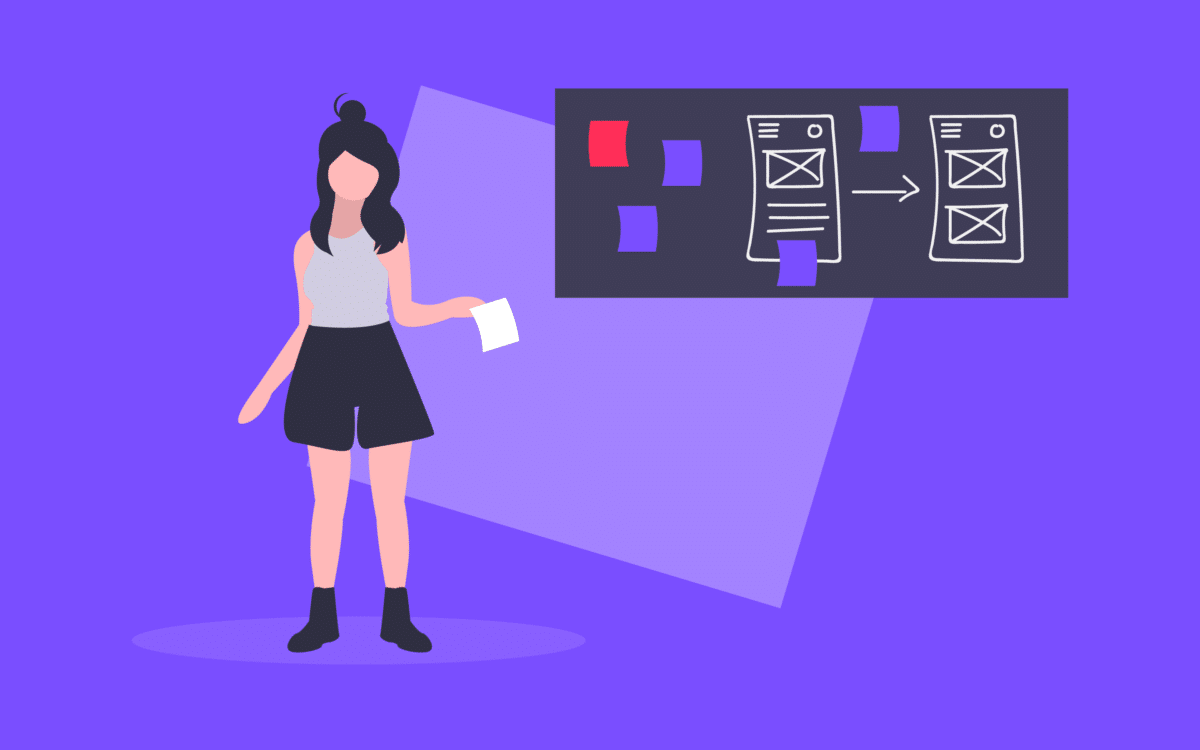 By this point, it should be pretty clear that email marketing is a fantastic tool for any business owner.
Around 54% of the planet had an email address in 2017, and that number continues to grow. Of course, knowing how valuable email is, and knowing how to design an email campaign are two different things.
There's no one-size-fits-all answer to the question, "How do you design a marketing email?" The kind of email you create will depend on your brand, and the goal you're trying to achieve.
Here are some helpful tips on how to design your email marketing campaign to get you started.
Step 1: Know your goal
Every email you send to your target audience needs a purpose. Some emails are transactional in nature, and they're designed to strengthen the relationship you have with a customer after a purchase.
For instance, an email receipt is a "transactional" message. It's not necessarily there to persuade customers to buy something, but it does strengthen the trust they have in your brand.
A "welcome" email is another kind of transactional email, intended to help you develop your connection with your client. Welcome emails have a 91.4% open rate, and they're great for telling customers what they can expect from your brand.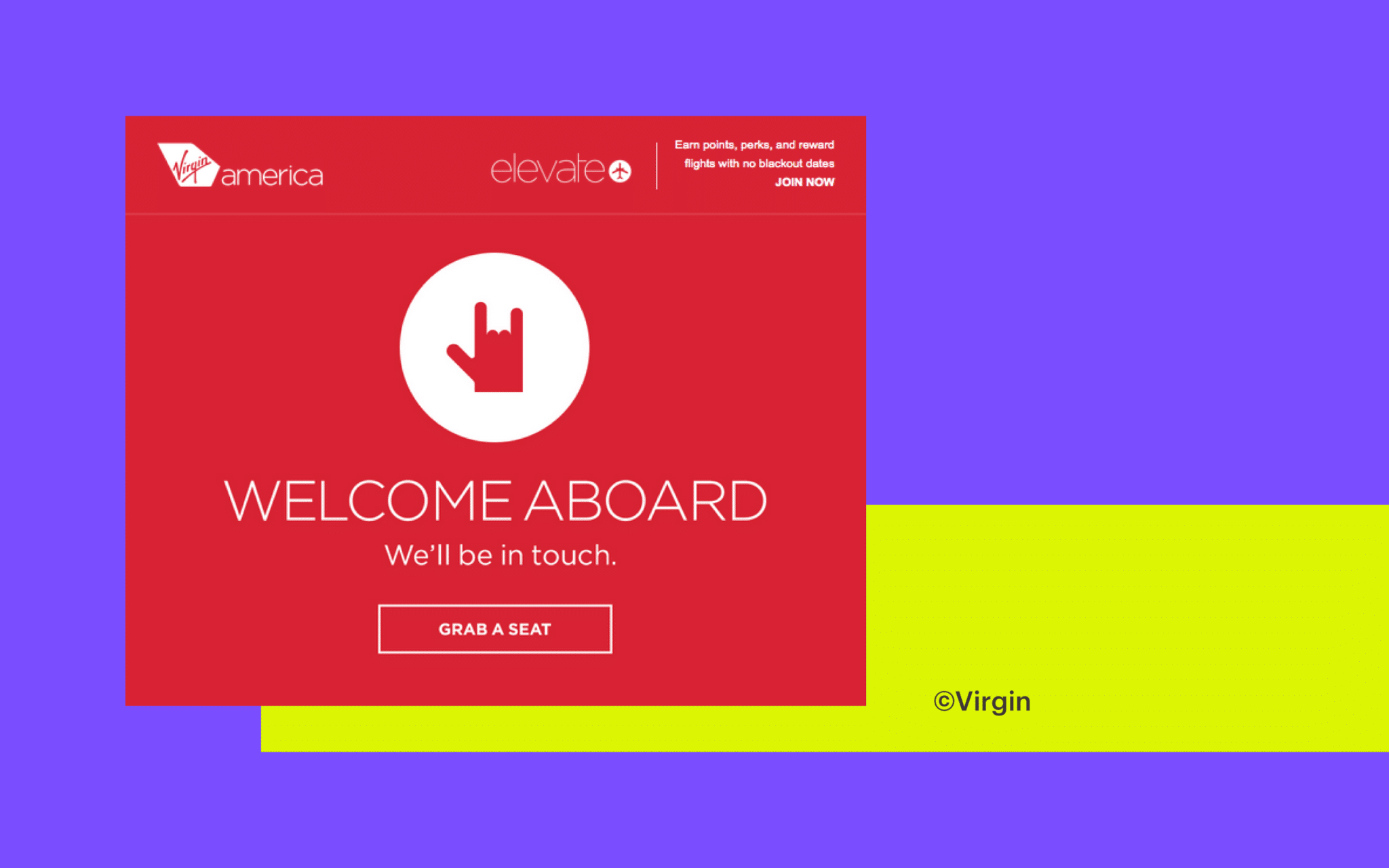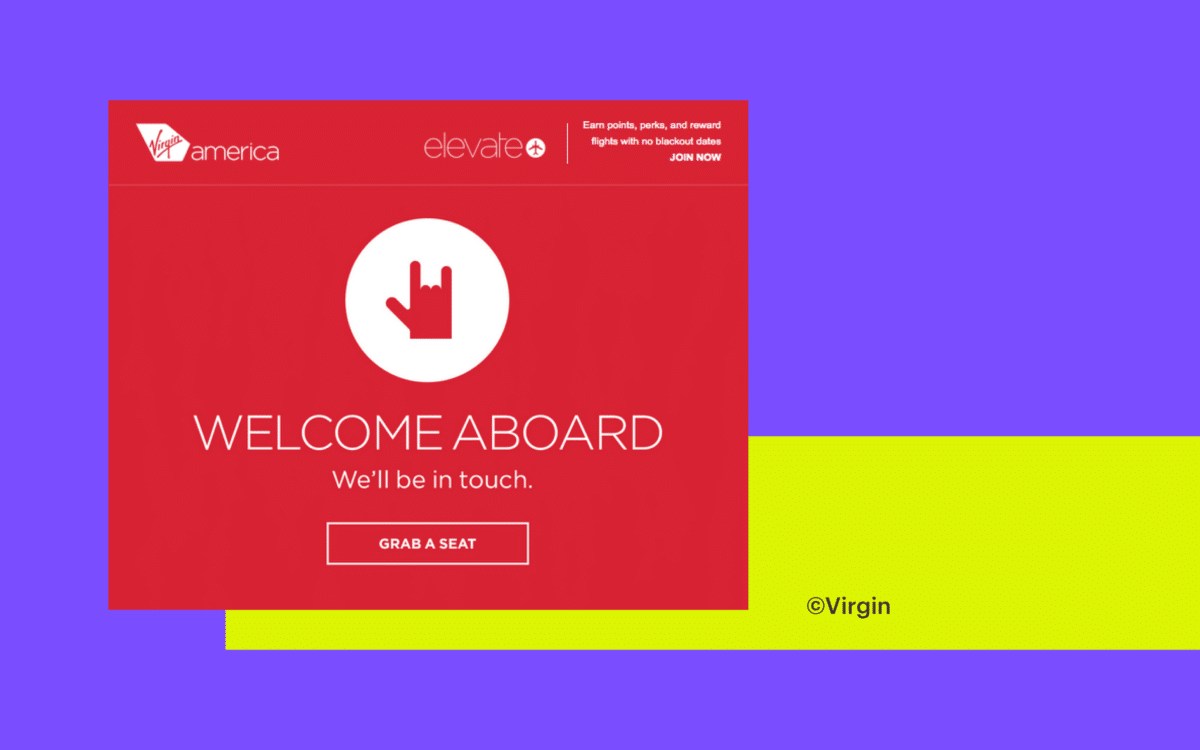 On the other hand, an email about an upcoming sale, or a new product, is a promotional, or marketing email. These messages specifically drive your customers towards a purchase or another positive action.
Figure out what you want to accomplish with each email before you start writing it.
Step 2: Nail the subject line
Around 50% of your subscribers will only open an email if the subject line caught their attention.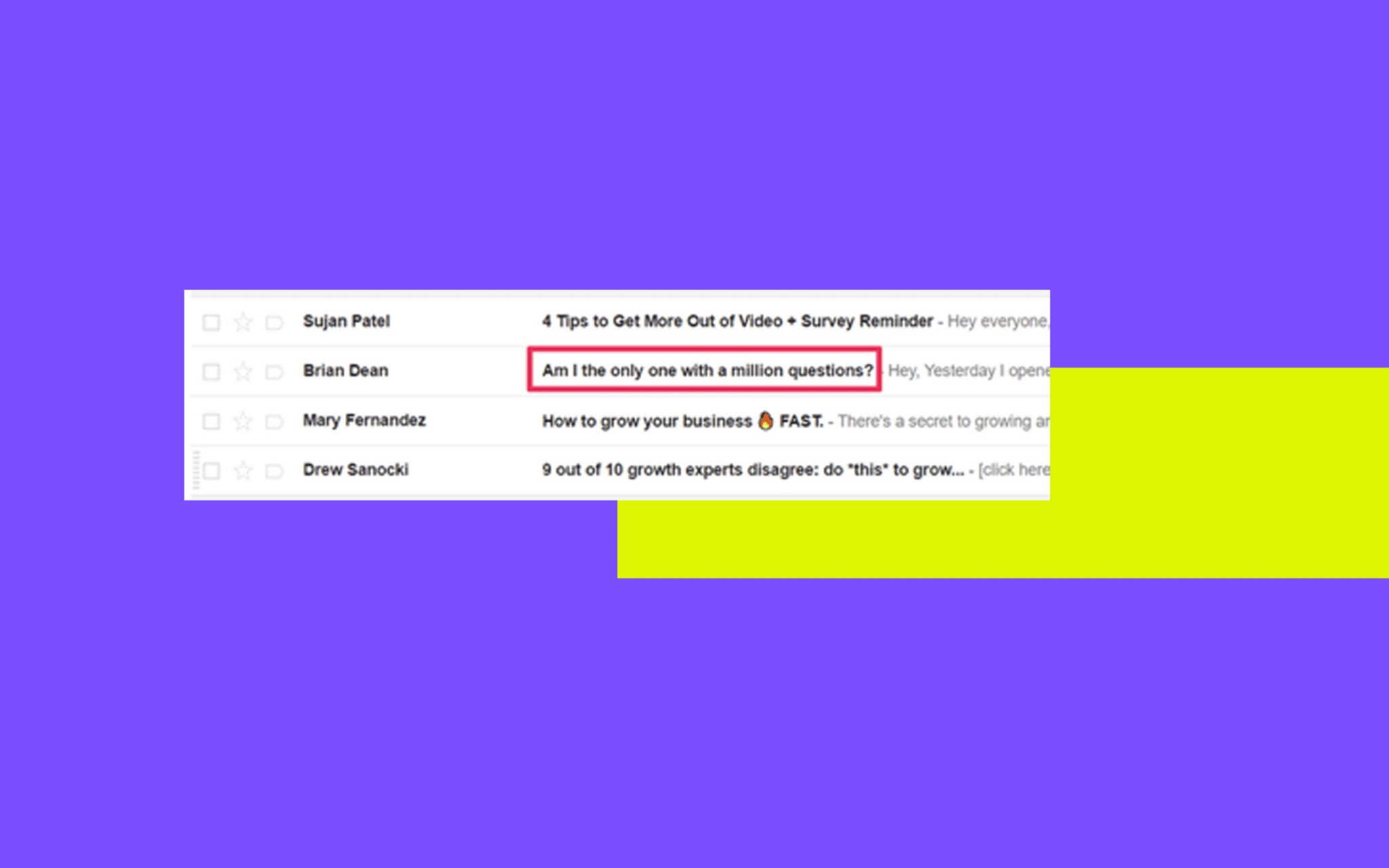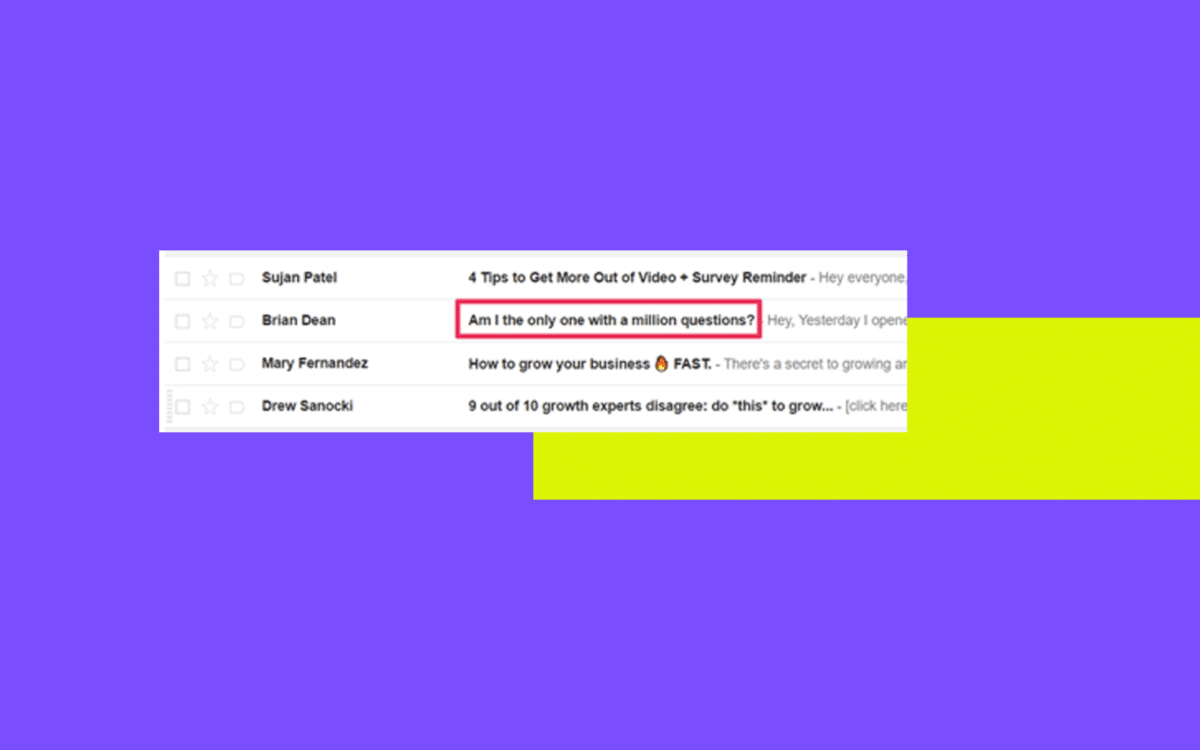 Remember, according to the rules of email, you can't trick your customers into opening an email with a misleading subject line. Instead, you need to create a subject line that highlights the value that you can offer.
Some companies find that emojis and playful language are more likely to help them stand out in the email inbox. Other brands prefer to stick with highly professional language, with statistics that highlight their authority.
Whatever you choose for your subject line, make sure it's:
Short and sweet: Get straight to the point.
Personal: Include your customer's name.
Valuable: Ensure your customers can see the value in opening the email.
Interesting: Capture your customer's curiosity, or get them interested.
Non-spammy: Avoid spam words like "free" if you can.
Step 3: Use structure to improve clarity
An adult's attention span in the digital age isn't great. We can only focus on something for around eight seconds. With that little concentration, it's going to be hard to convince your customers to read through huge walls of text in your email campaigns.
Stay away from emails that contain too much text and not enough imagery. A good way to move in the right direction is to structure your emails with the inverted pyramid model. This means that you start with a big succinct headline that highlights the value of the campaign.
Next, you deliver a little information, followed by a clear call to action.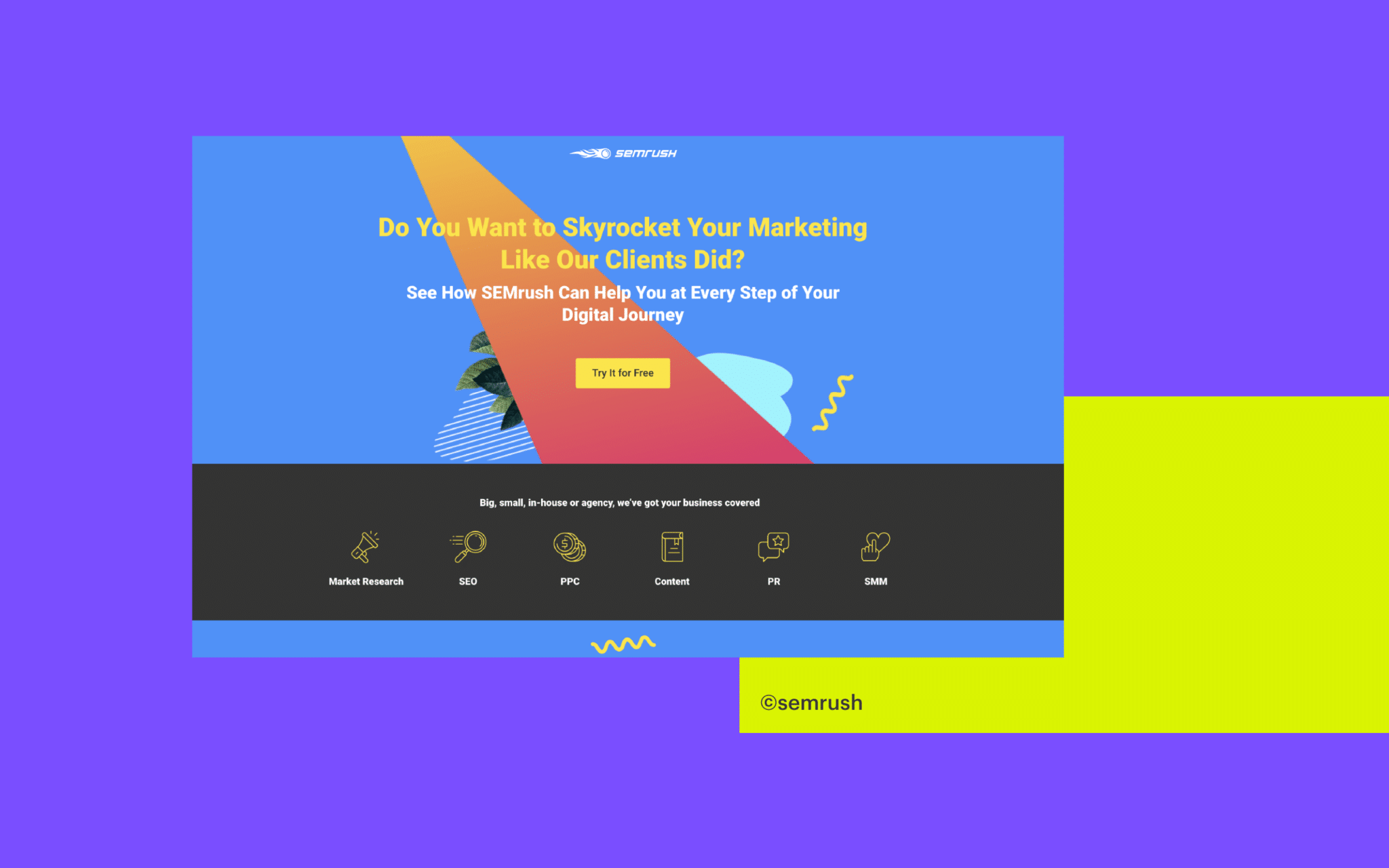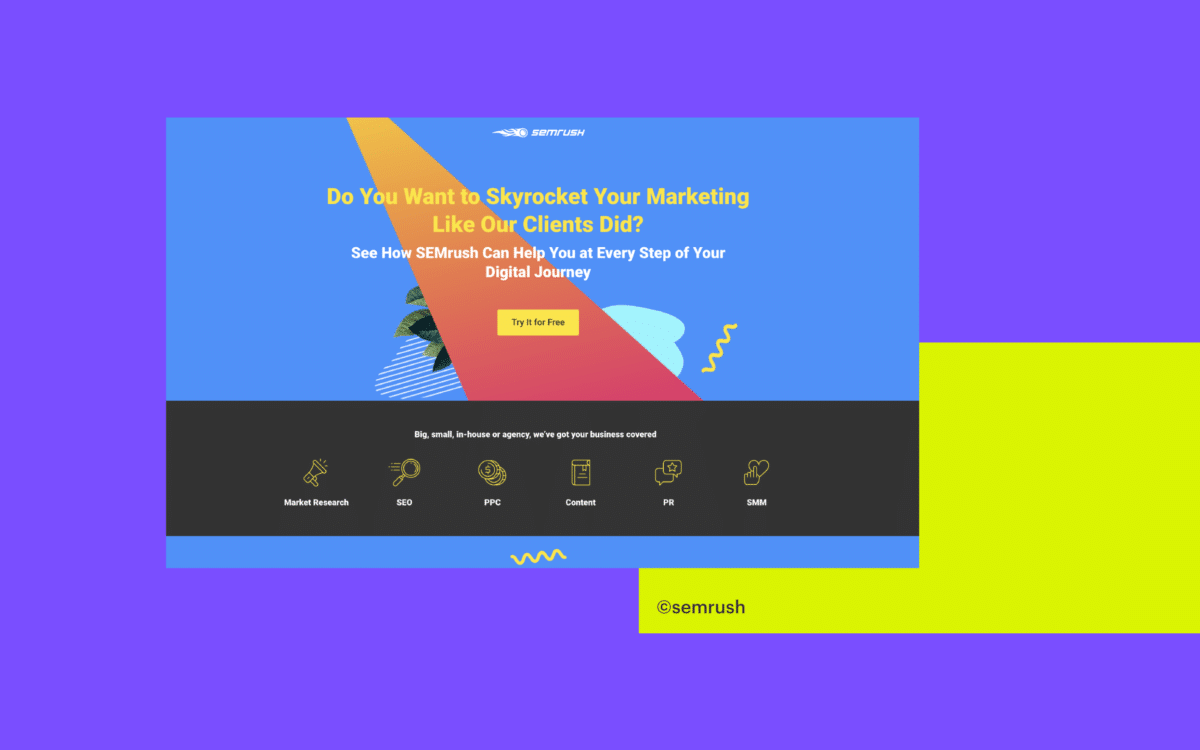 The inverted pyramid model is best for campaigns that only have a single call to action and one message to focus on.
Step 4: Get the content right
Having the right structure in your emails won't mean anything if you're not delivering the best content too. Research tells us that segmented campaigns that contain relevant information can achieve an up to 760% increase in revenue.
That might sound like a huge number, but people really do prefer to get marketing messages that seem to be designed specifically for them. With that in mind, making sure that you send different emails to different users in your community will drive better results.
For example, the water sport company, RipCurl, sends emails based on a person's gender. That means that if you're a man, you get emails that are more tailored to male products.
Although you can still see other information within the RipCurl newsletter, the company focuses on ensuring the message is right for you.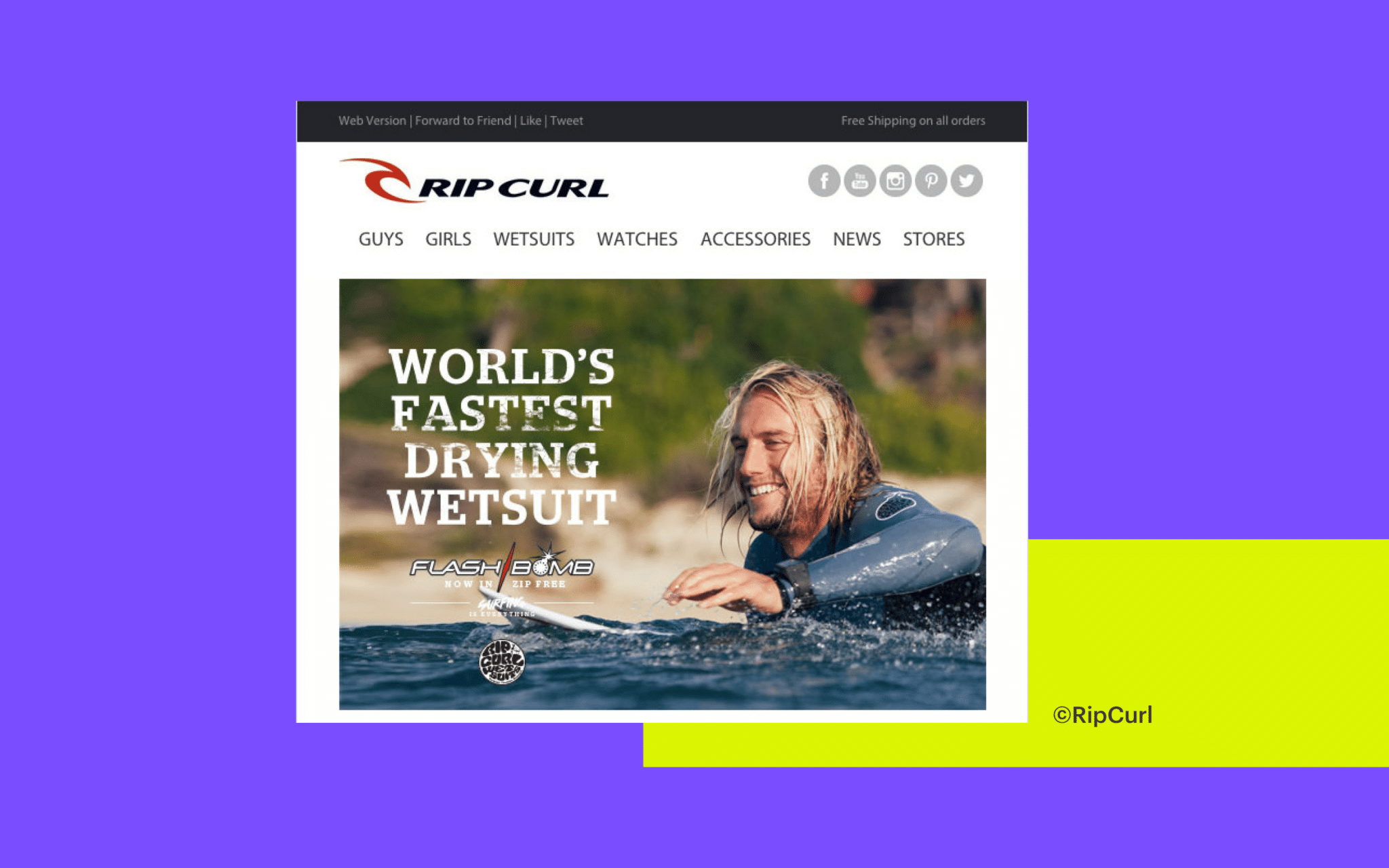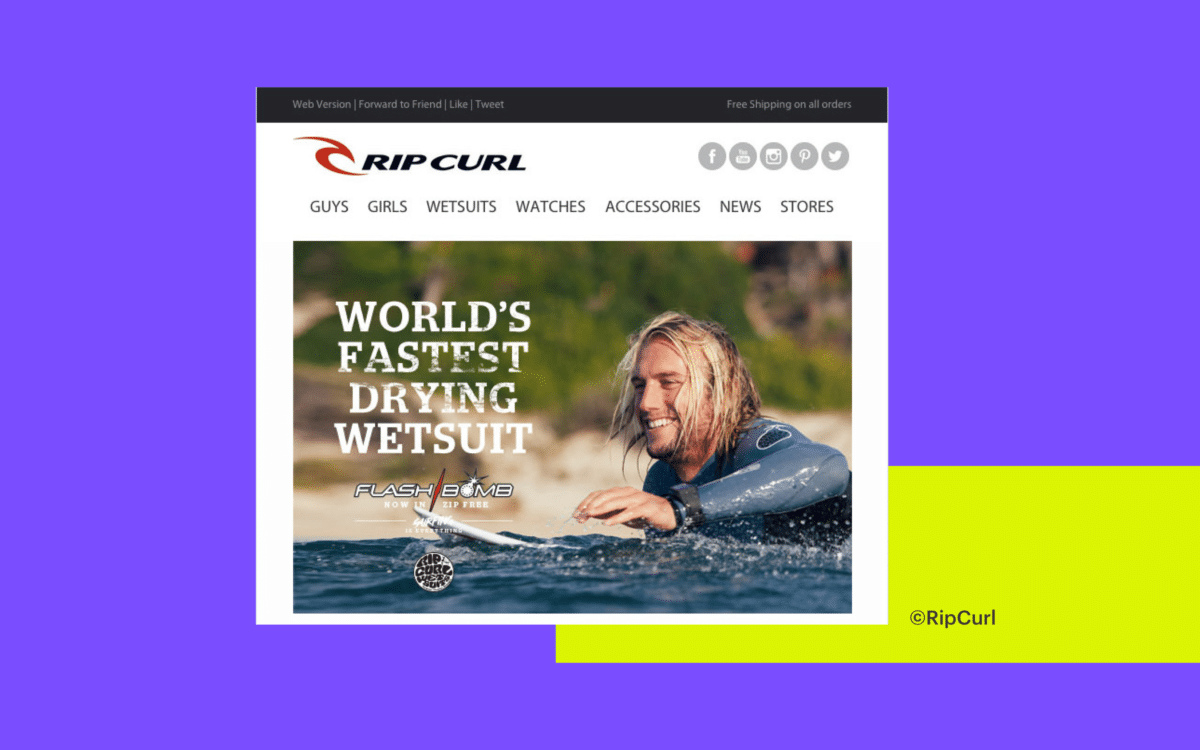 If you're using one of the tools that we mentioned in a previous chapter, like SendinBlue, ConvertKit, and so on, you should be able to segment your audience and send automated email sequences with ease.
Step 5: Make your email an extension of your brand
Your email campaigns aren't the only interaction your customers will have with your company. There's a good chance that your customers are also aware of your social media pages and your website too.
Because of this, it's important to ensure that your email campaigns are aligned with the colors, fonts, and imagery that already defines your brand.
This ensures that your subscribers will feel familiar with the imagery that they see in your campaigns. Just look at the kind of content that FreshBooks sends via email, and the kind of content you'll see on the company's website for instance: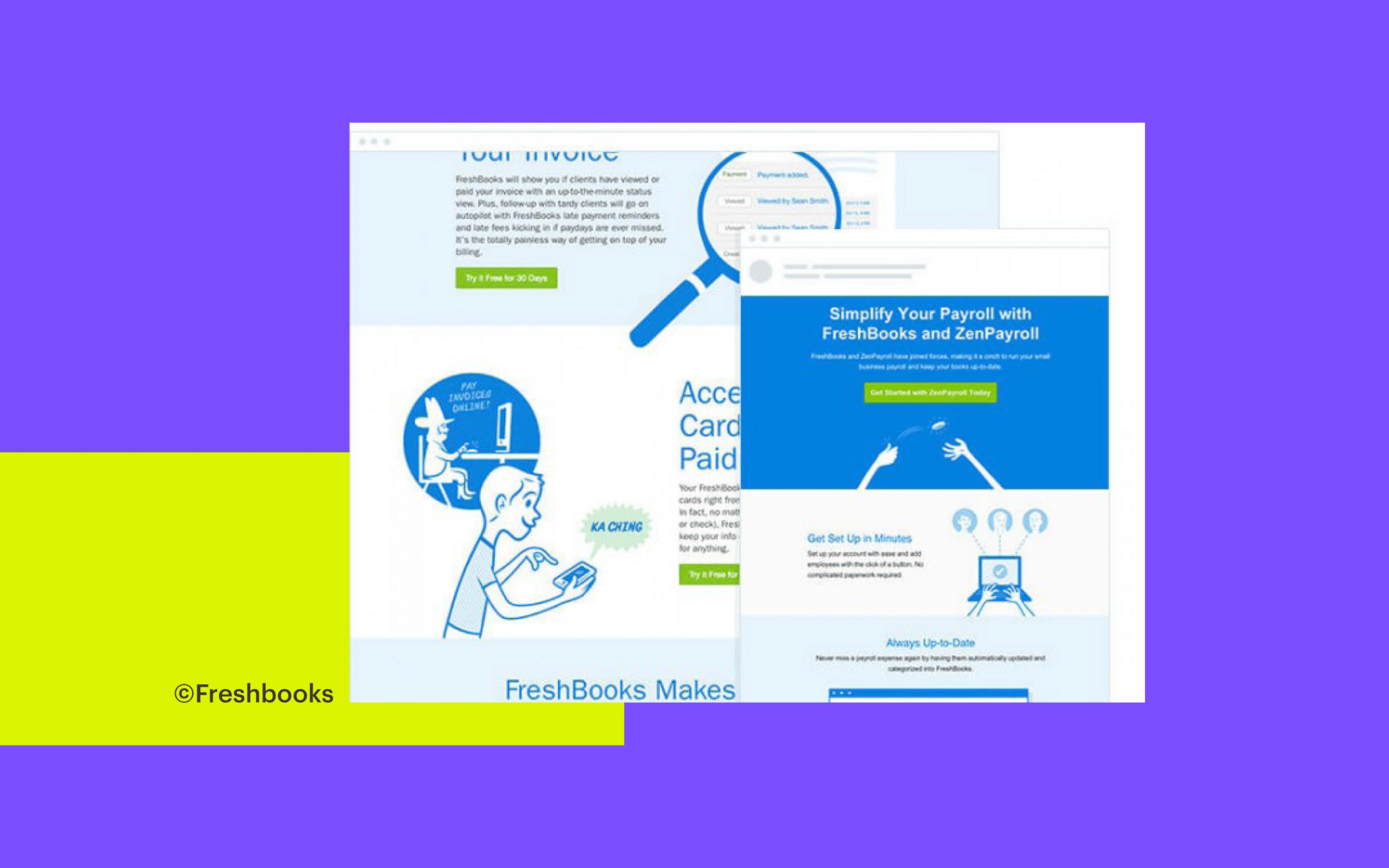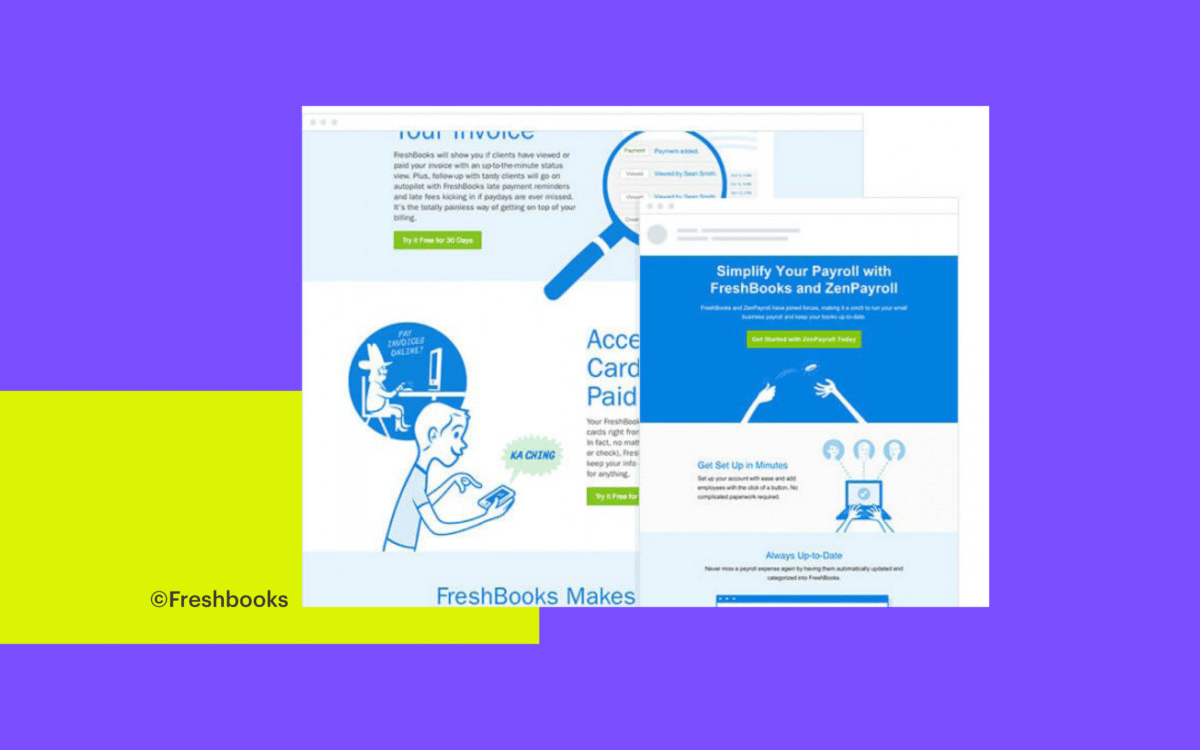 Make sure that your brand image is consistent on every platform. Remember, making your email an extension of your brand also means considering the language you use and your tone of voice too. Your personality should be the same via email as it is anywhere else.
Step 6: Design for the right platform
If you want to make the right impact with your email campaigns and convince your customers to take the next step in interacting with you, then you need to make sure that they can enjoy your emails on any platform.
Customers read about 63% of their emails on mobile devices. Because of this, if your campaigns aren't optimized to show well on mobile, you could be missing out on opportunities.
Ensure that it's just as easy to read your content, watch your videos, and click your buttons on a smartphone, as it is on a computer.
If you're using tools like AWeber and ConvertKit, you should be able to use a bunch of pre-made templates within your email marketing solution that are automatically mobile responsive. You can also preview how your emails will look on mobile devices.
Templates from email service providers can help to ensure that everything on your email looks great, performs well, and fits naturally together.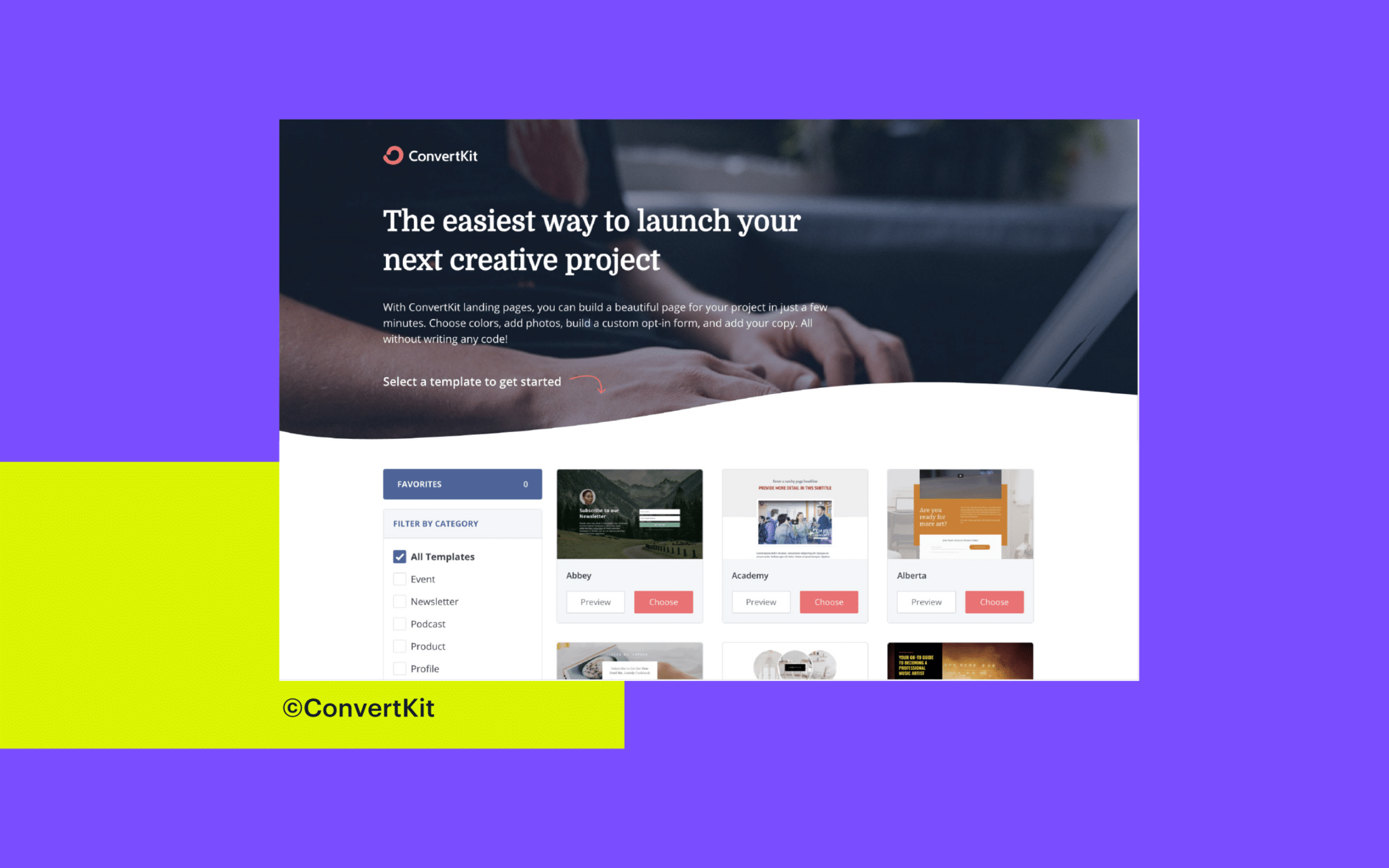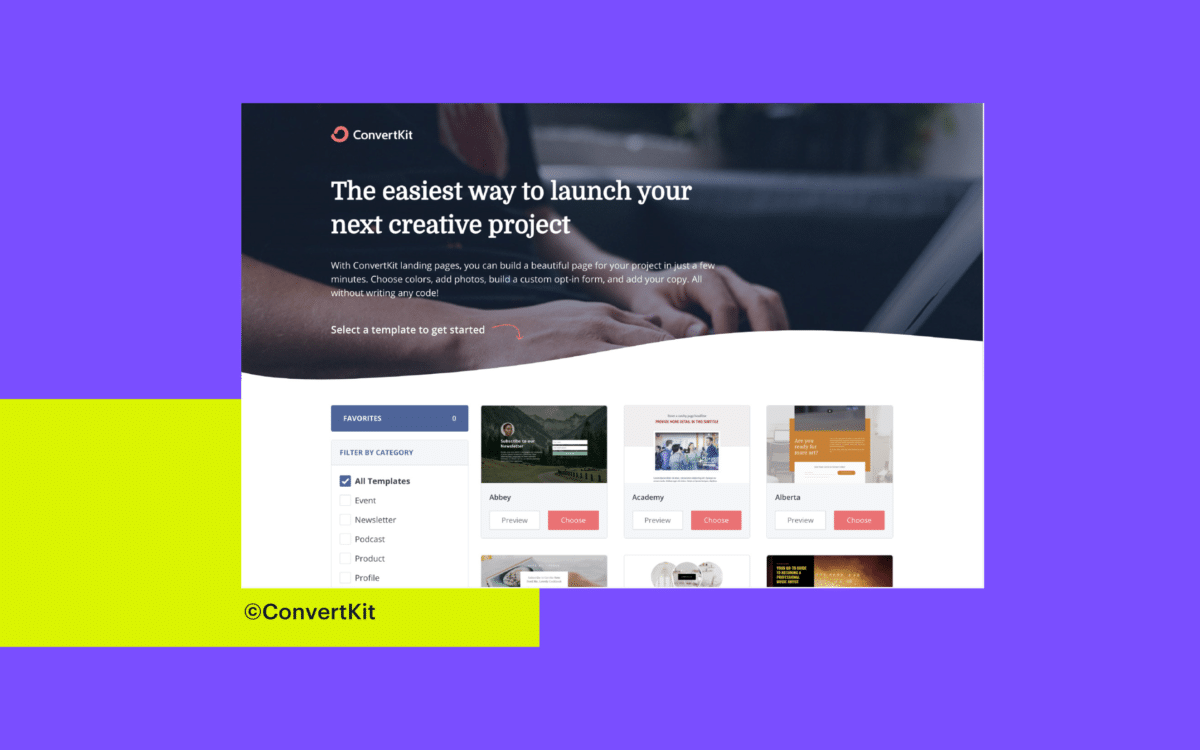 Step 7: Always use a great CTA
Finally, we mentioned the importance of CTAs above when talking about landing pages and forms. However, your need for CTA buttons doesn't stop with the landing page. Emails with a single call to action increase sales by up to 1617%!
Your email CTA is a chance for you to tell your audience what you want them to do next after reading your message. This could mean visiting your blog page and reading a new article. It could also mean asking your customers to click on a product and add it to their cart.
Make sure whatever CTA you use; it's engaging and appealing. Your CTA copy needs to encourage action by highlighting value. If you want customers to buy your new marketing software, for instance, your button could say "Get more sales now."
Aside from getting the copyright, make sure that you get the image perfect too. Your CTA button needs to stand out from the rest of your email and be easy to click. Check out this example from Casper below: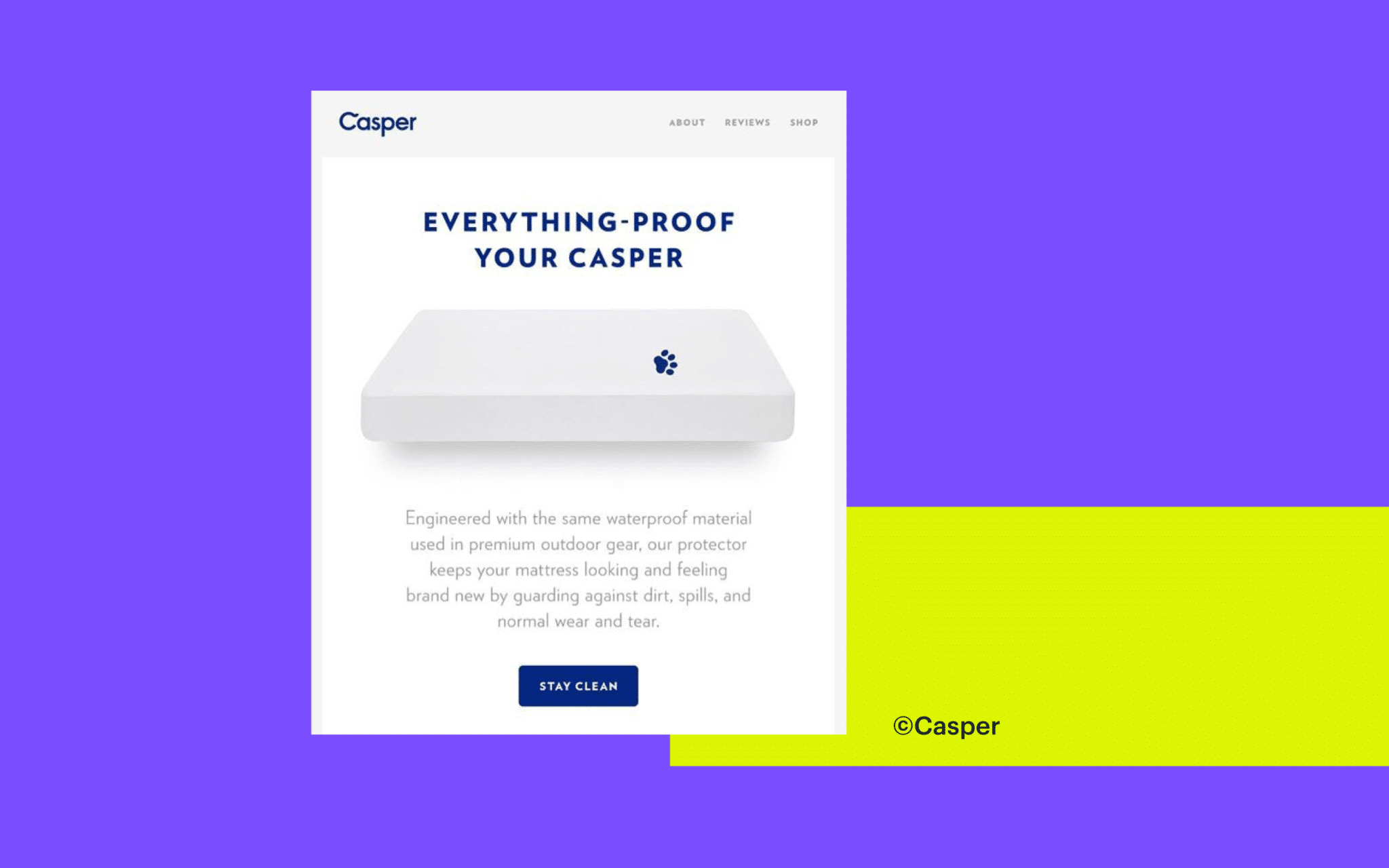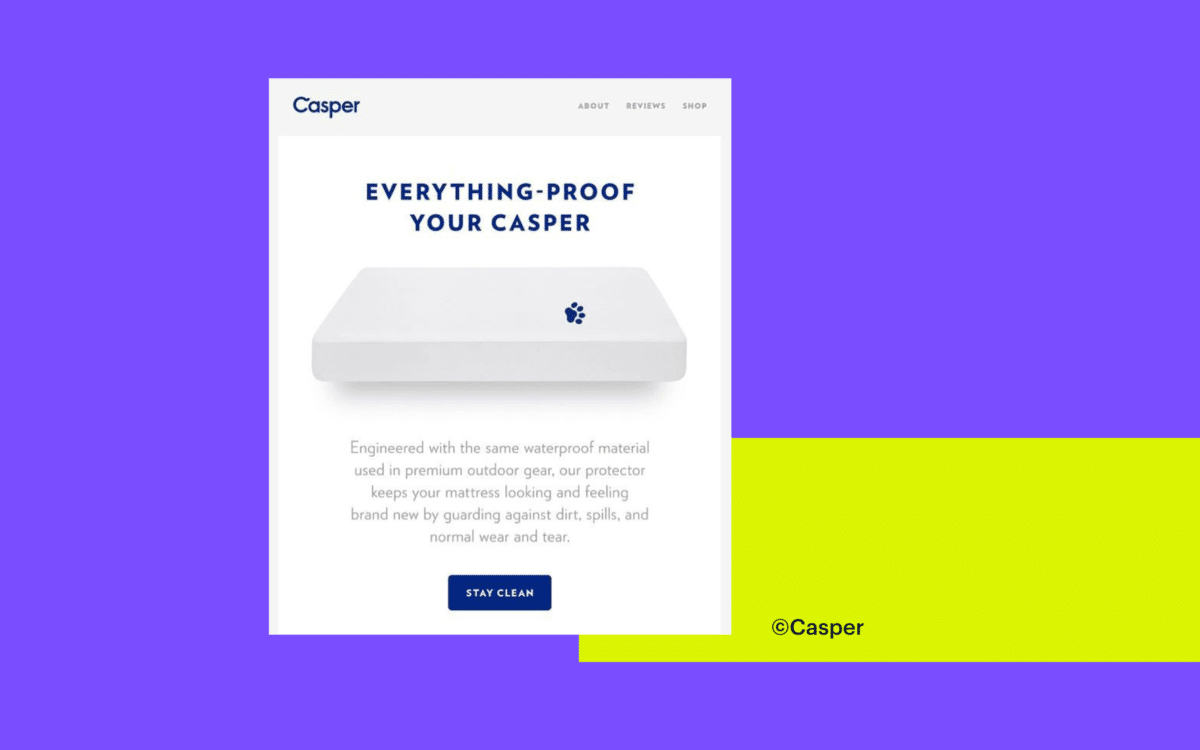 Another pro tip? Only include a single CTA in each email. Using multiple call-to-action buttons is more likely to confuse your audience.
Chapter 11:
Creating images for your email campaign
There's more to an eye-catching email campaign than just the right copy.
You also need to get your visuals right too.
Graphics in an email campaign draw the eye, encourage action, and strengthen your brand reputation. In this chapter, you'll learn how to:
Choose the perfect image size.
Reduce file sizes (and prevent lag).
Explore length and scrolling opportunities.
Adjust your image to suit your customer's email client.
Always use high-quality file types.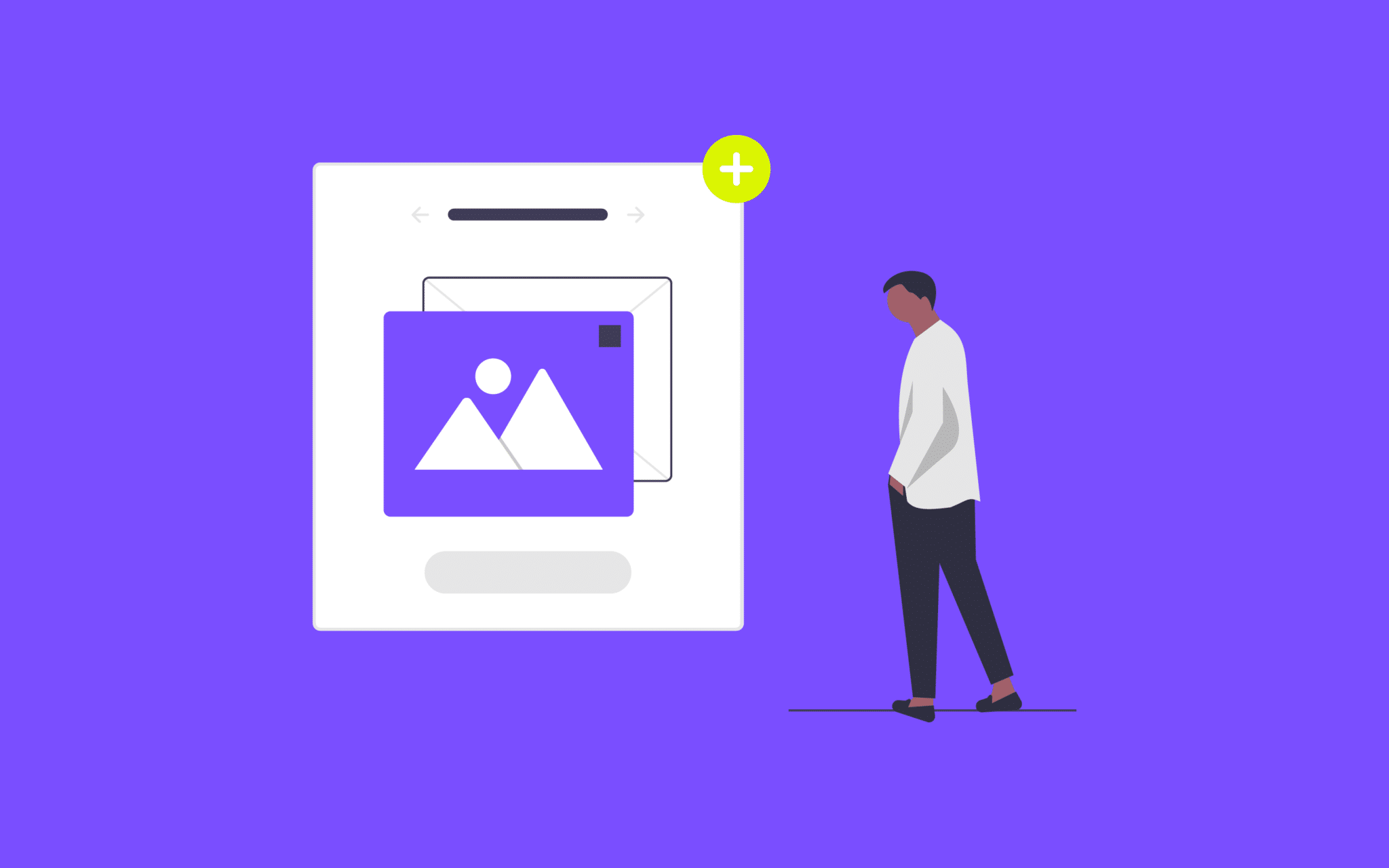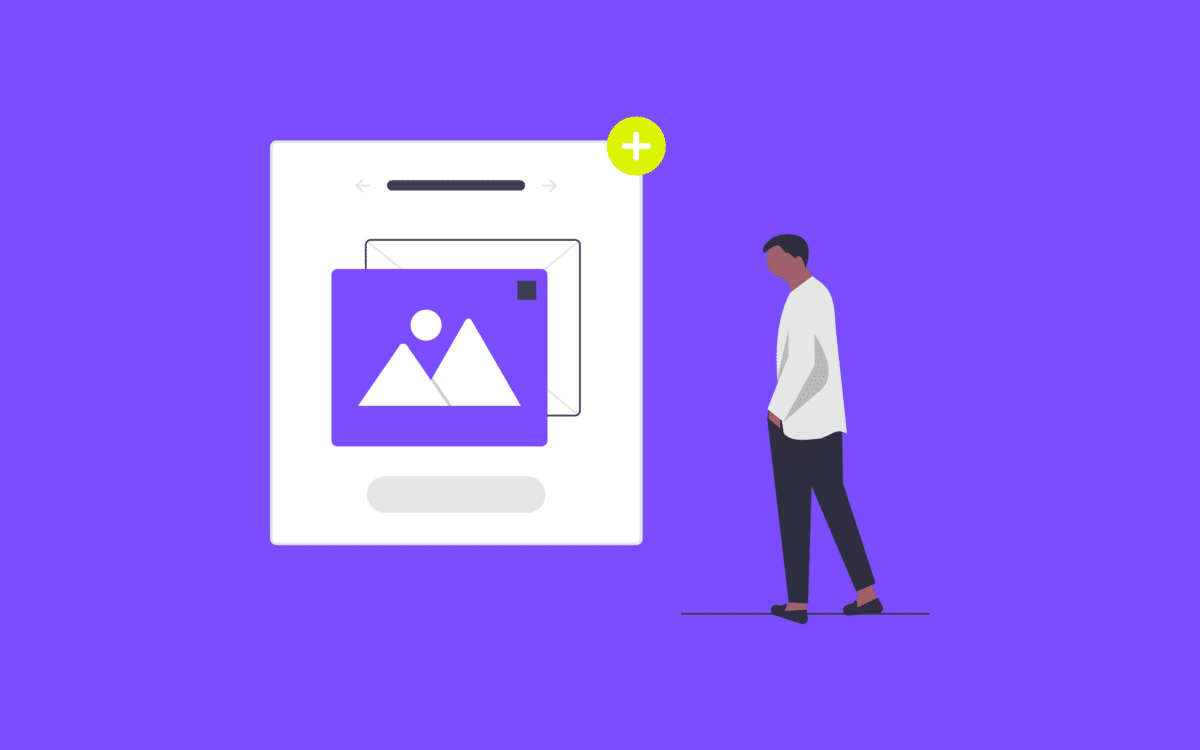 For an email marketing campaign to succeed, you need to consider every element carefully.
Everything from the subject line to the CTA and footer on your email impacts conversions. One of the most important things in all campaigns, is the imagery.
If you see an email marketing campaign that has nothing but text,it's not going to grab your attention. There's little chance that you're going to click on a link to visit the company's website. Additionally, your customers probably aren't going to open your emails again in the future.
Once they've seen one boring email, it's hard to convince them to look at another.
So, how do you get your images exactly right?
1. Get the size right
Email image sizes will depend heavily on the kind of email marketing solution you're using, and the tools that your customers use to read your email. The most popular screen resolution for emails is 360 x 640, which means that your emails should appear beautifully on mobile and email.
You can use image manipulation software for image resizing to bring any larger content down to the right level. However, we'd recommend not stretching smaller images in emails, as this can lead to pixilation.
If you want to push the limits and make your images a bit bigger, start with a slight increase, then test how everything looks on various browsers and mobile devices.
Keep in mind that many of the email apps that your customers will be using to read your email might include advertisements and navigation menus, which can interfere with your image spread.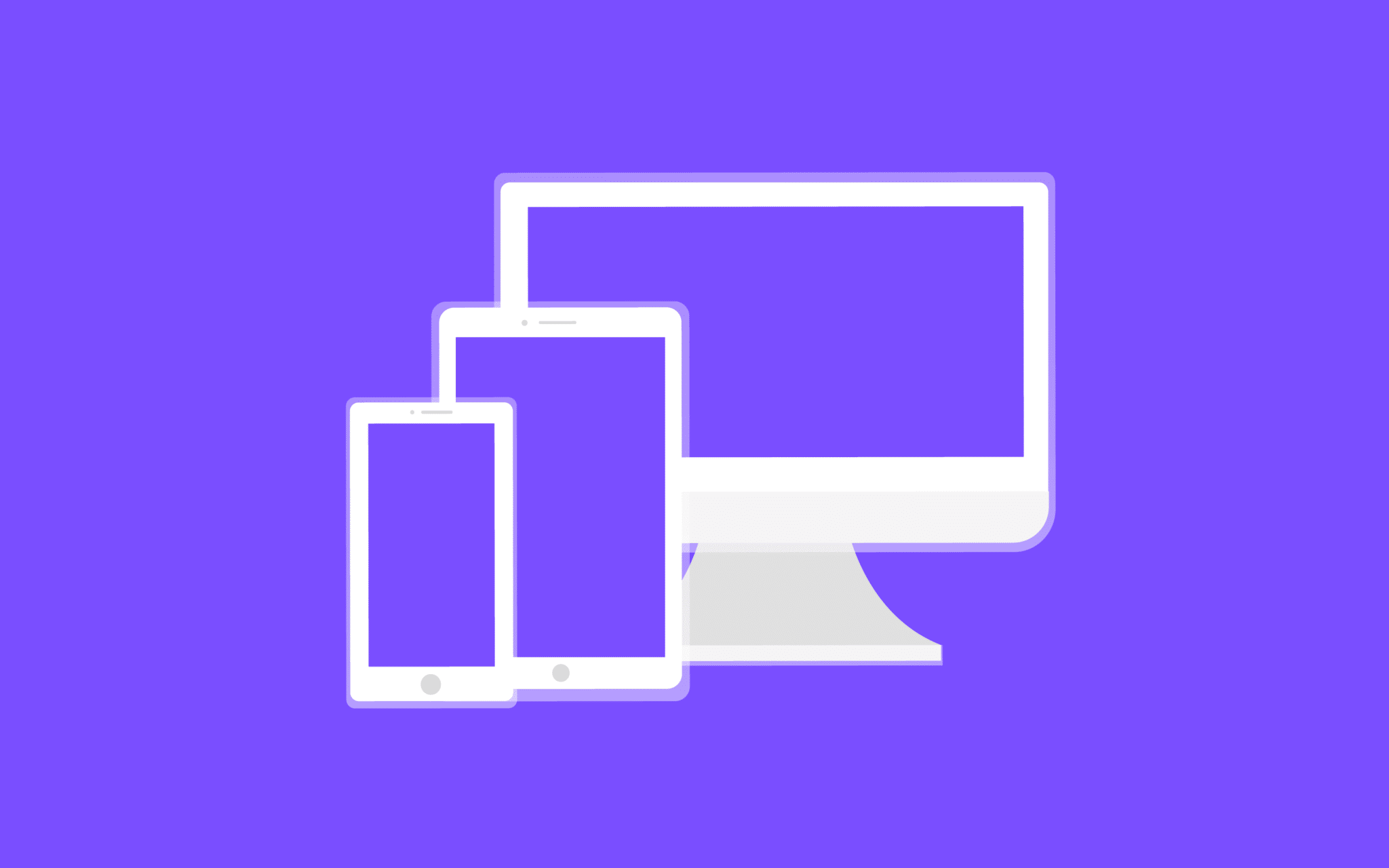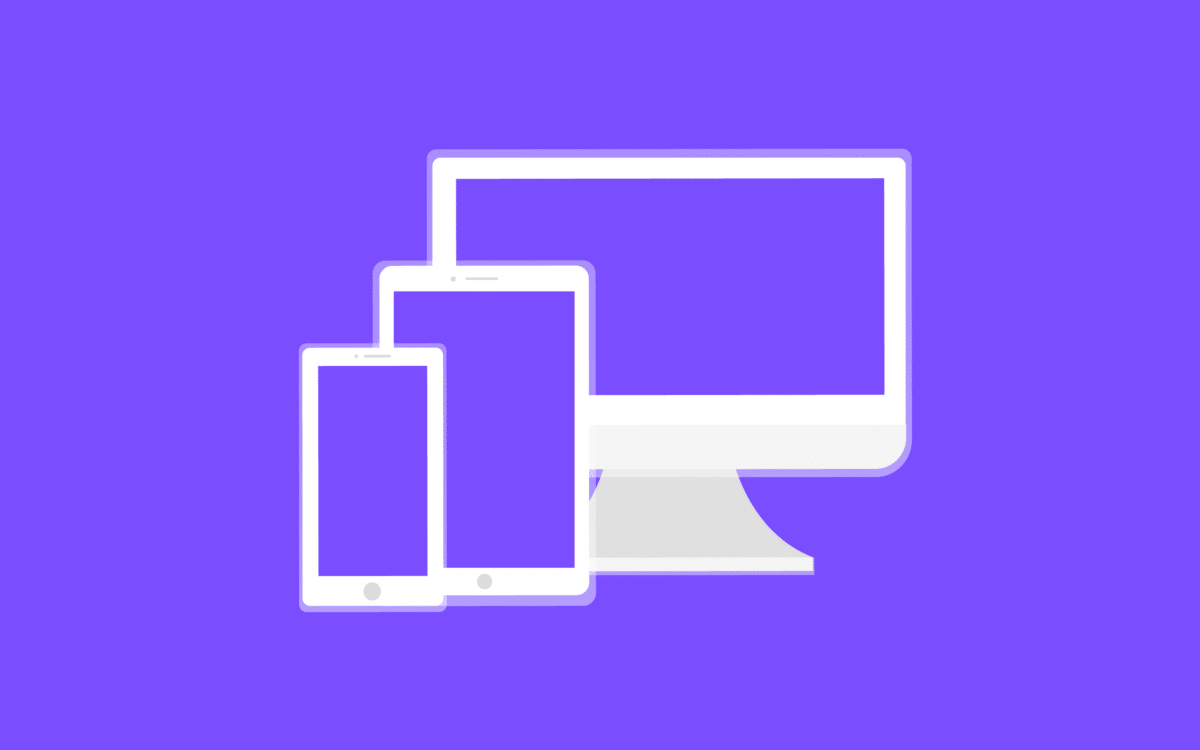 2. File size: Keep it low
Choosing the right image size isn't just about making sure the dimensions of your pictures are correct. You need to ensure that the size of the file isn't too large either. The best image size for the email should be no more than 1MB or less. If you can get by with a lighter image, that's good too.
The goal here is to make sure that your email loads as fast as possible. Giant images take a lot of time to load, so your subscribers are more likely to click away. Additionally, more than half of email opens come from mobile devices. If you're using large images, that will eat up subscriber data.
3. Play around with length
Although the best width for your email image sizes might be 600 px, you can still experiment with length. Some brands are great at producing emails with long vertical graphics that flow down the page. You might even decide to use a single background image with information layered over the top.
The critical thing to note here is that you shouldn't use one large imagefor your entire email. Doing that could make it impossible for customers to actually read your content.
That's because some subscribers might have email images disabled. Others may just find that their emails don't load pictures properly.
This email from Hyped uses a long image, but the text is layered on top so that even if the image doesn't load, the content is still available: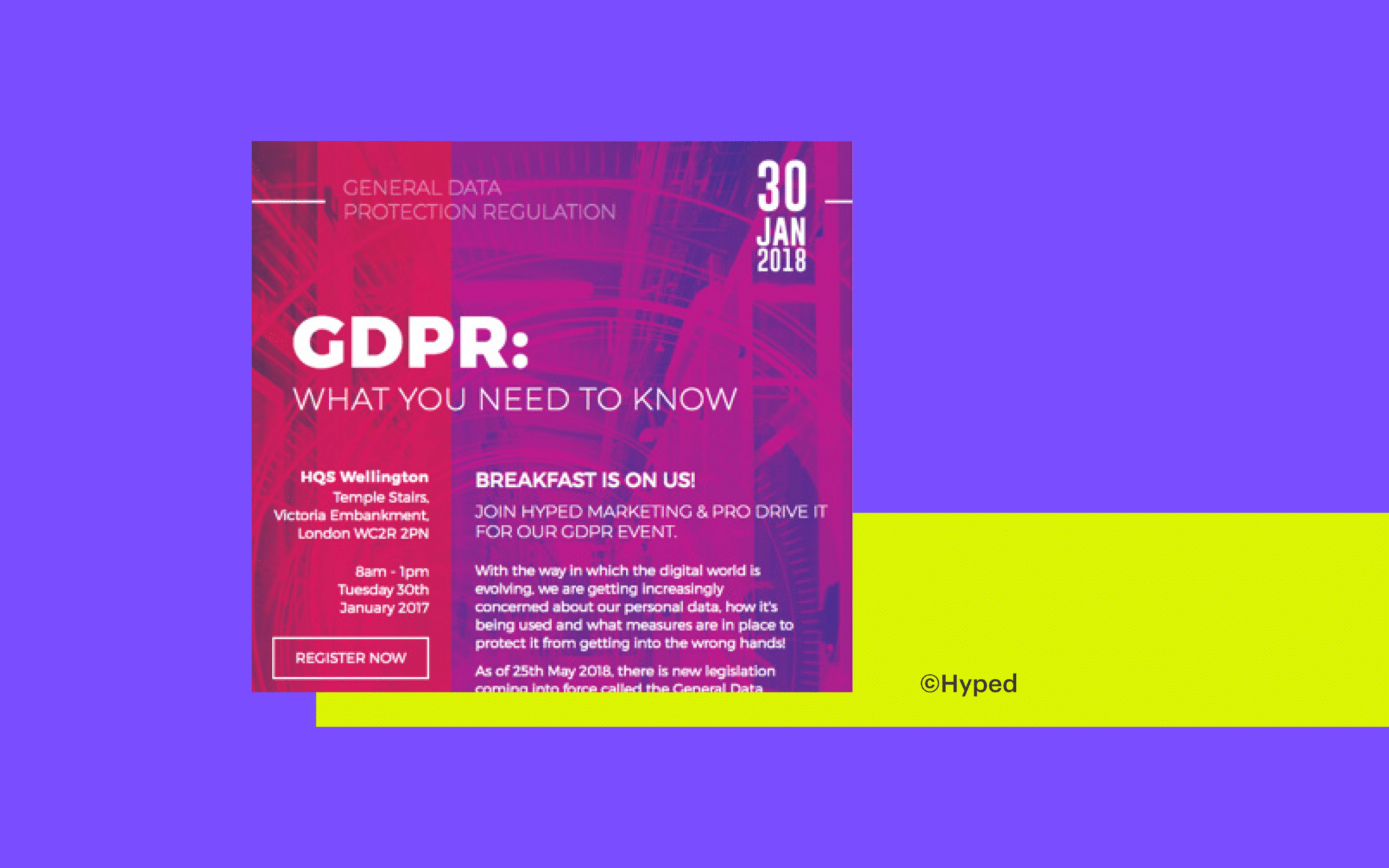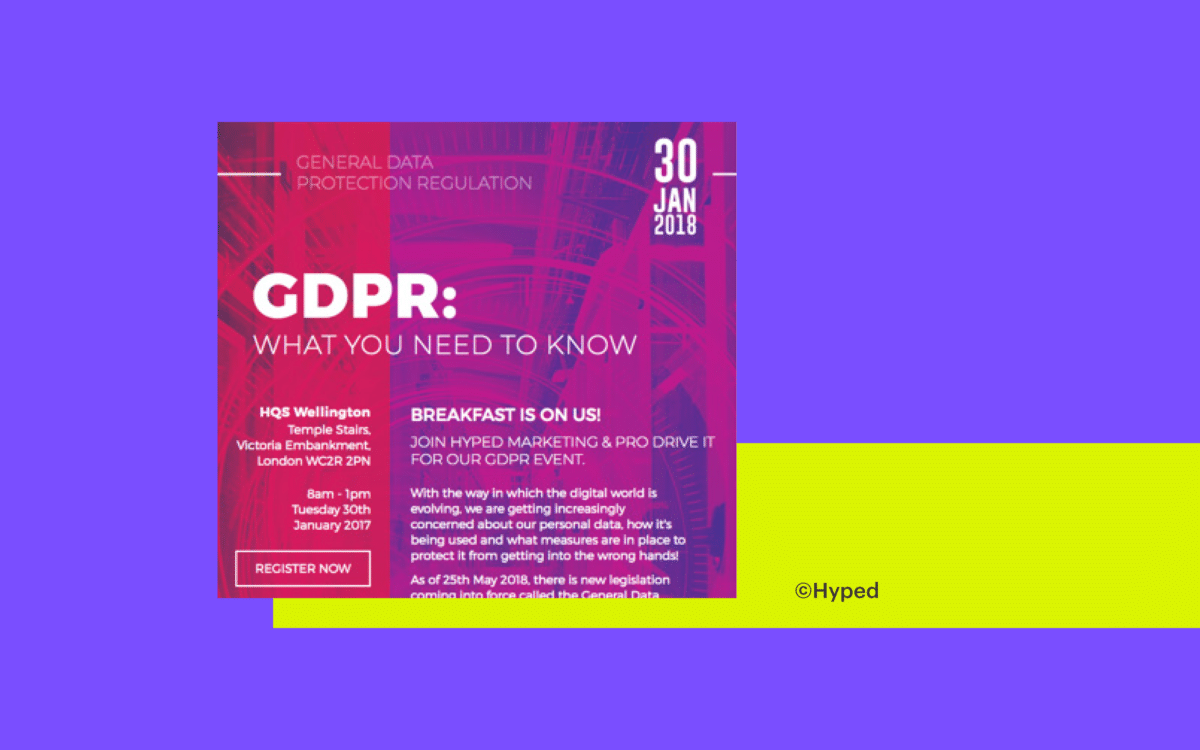 4. Know which email clients your subscribers use
Understanding email clients will be the best way for you to ensure that you have the perfect emails in place. You'll need to segment your subscribers into different categories here, based on whether they use Gmail, Outlook, or another tool entirely.
Remember, different clients respond to emails in their own unique ways. To help you get started, remember that Chrome has 63% of the market share.
On the off chance that the email client your customers use doesn't present images very well, make sure that you have relevant and interesting ALT text available. This simple line of extra text explains what your images are and can also help your customers to click a CTA if a button isn't visible.
5. Stick with high-quality file types
Remember, when you're making your email marketing images, you need to get the sizing just right. That doesn't mean using a lower quality of image, however. Visual emails need the best possible image options, so your graphics look as crisp as possible.
Stick with PNG as much as you can, as this file size is better for retaining resolution in multiple sizes. Just remember that PNG files are also much larger than JPGs, so you'll need to test your messages to ensure they load properly.
6. Use the right tools
Finally, ensure you have access to the right tools for your email images. Most of the leading email service providers, like AWeber and GetResponse, will offer some stock images that you can use if you don't have many of your own pictures.
If this isn't an option for you, then you'll need to use free stock sites, like iStock, Shutterstock and BigStock. Make sure that these photos are completely royalty-free before you use them.
If you have a bit of extra cash, it's better to create your own brand photos to ensure that your emails are 100% unique.
If you need to edit your pictures, stick with tools like Canva.
Canva is a powerful email editing tool, complete with templates that are perfect for social media, blog graphics, and emails too. There's a free plan that you can use to begin with. However, the images and features you have access to are limited here.
You can also browse through a massive stock library for free images.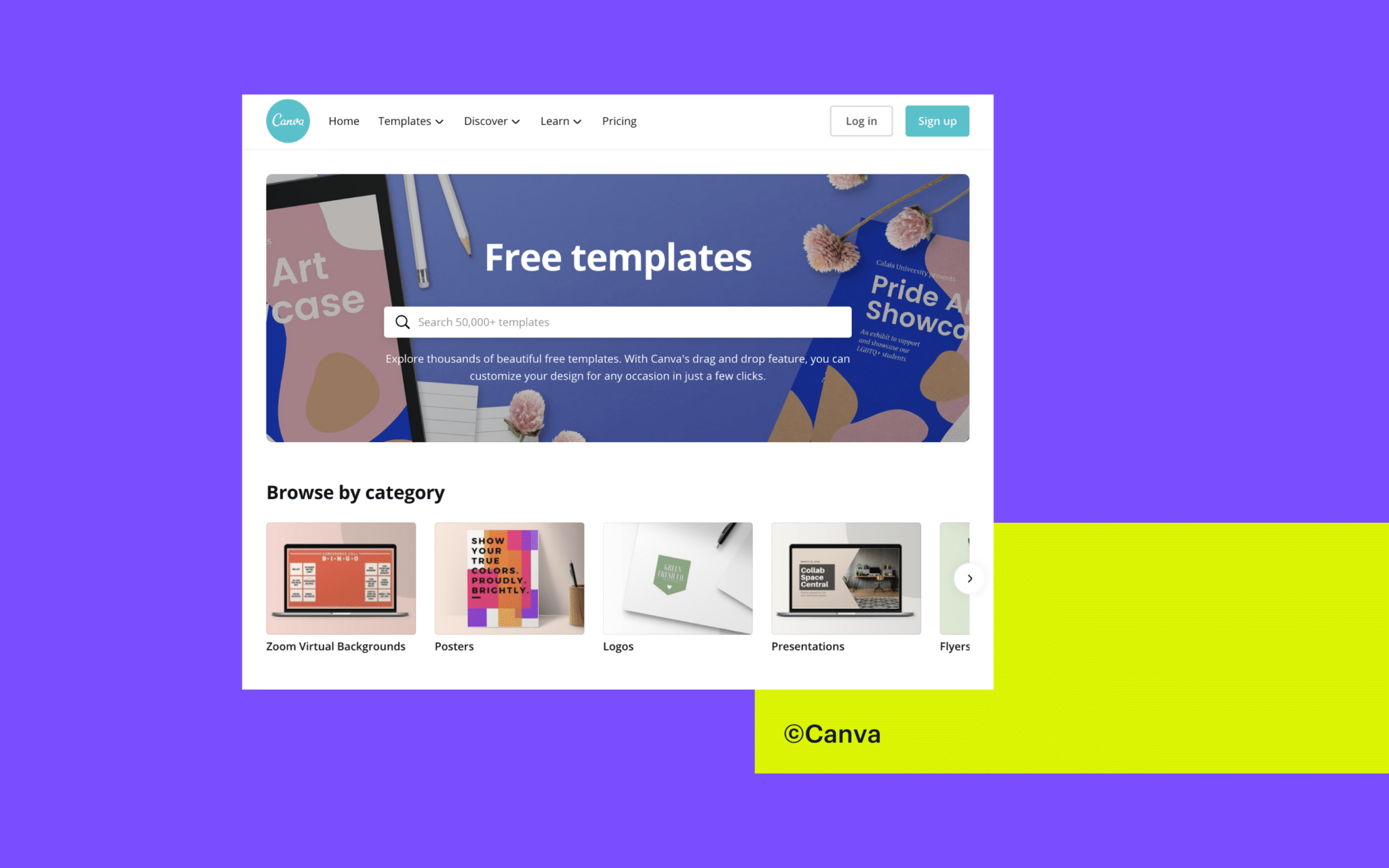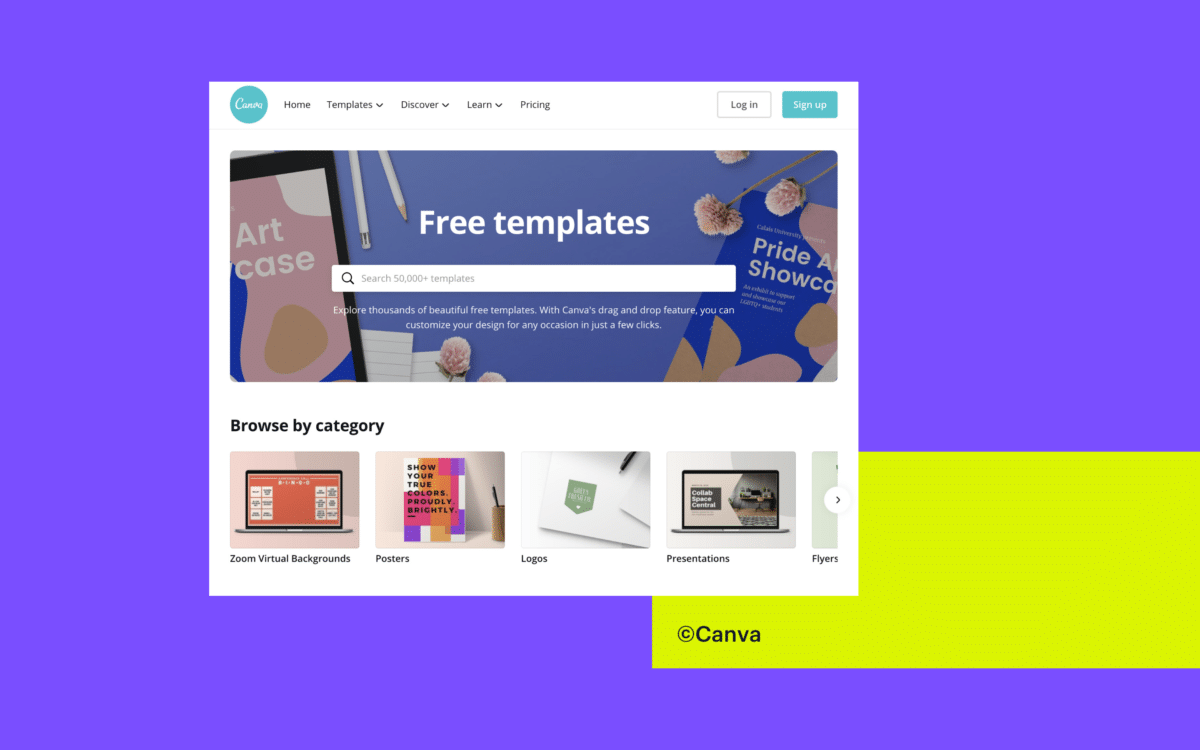 Canva lets you crop, edit, filter, and source amazing professional images. It's a crucial part of a good email marketing toolkit.
Chapter 12:
Sales funnels and landing pages
Finally, it's time to learn all about the tools that you can use to enhanceyour email marketing strategies. Landing pages boost your chances of earning potential subscribers with exciting offers and lead magnets.
Sales funnels are the solutions you use to nurture your prospects into paying customers. Your sales funnels can even help you to turn clients into brand advocates.
This chapter, we'll cover:
What are a sales funnel?
The different sales funnel stages.
What is a landing page?
The key components of landing pages.
Tools for building funnels and landing pages.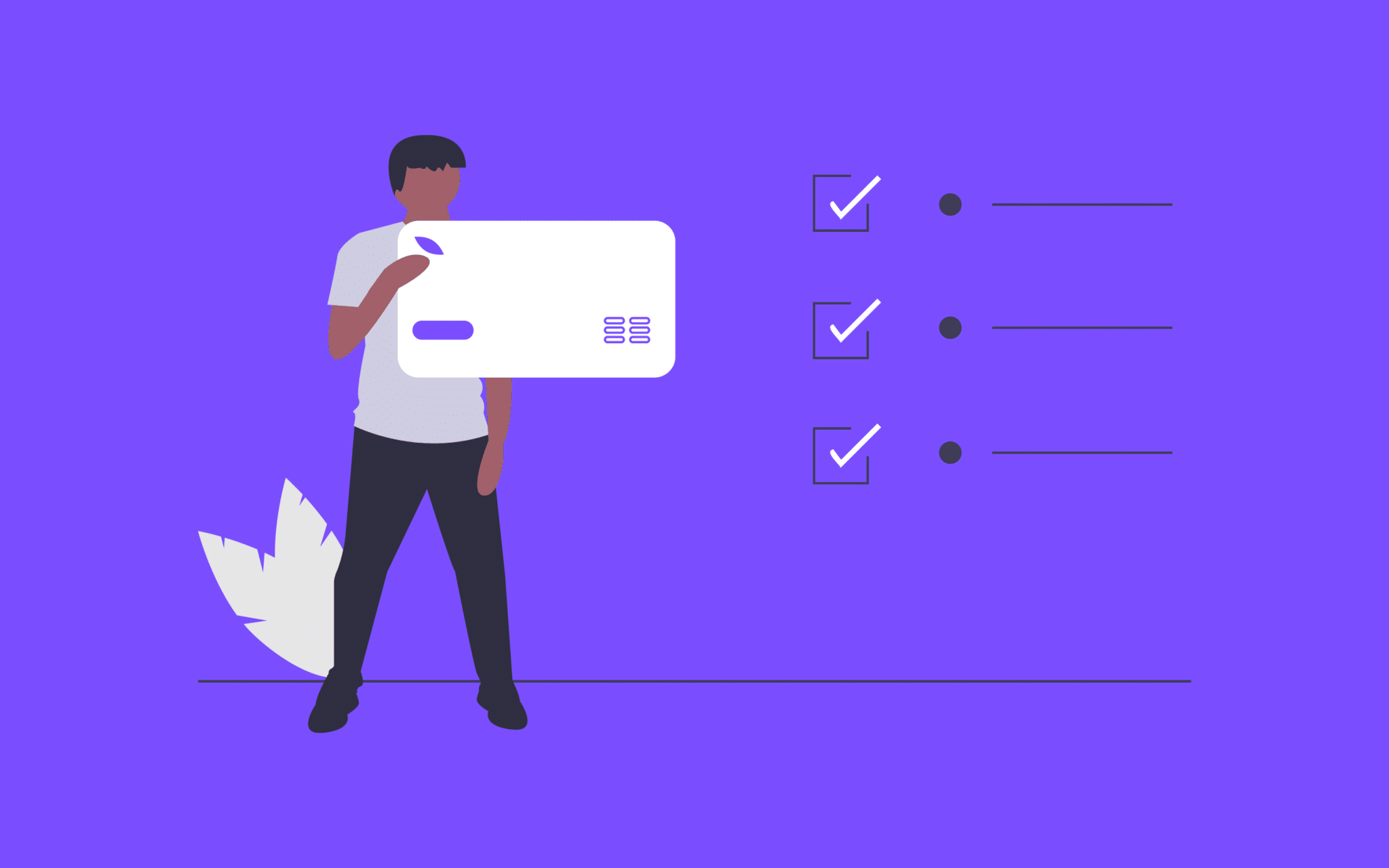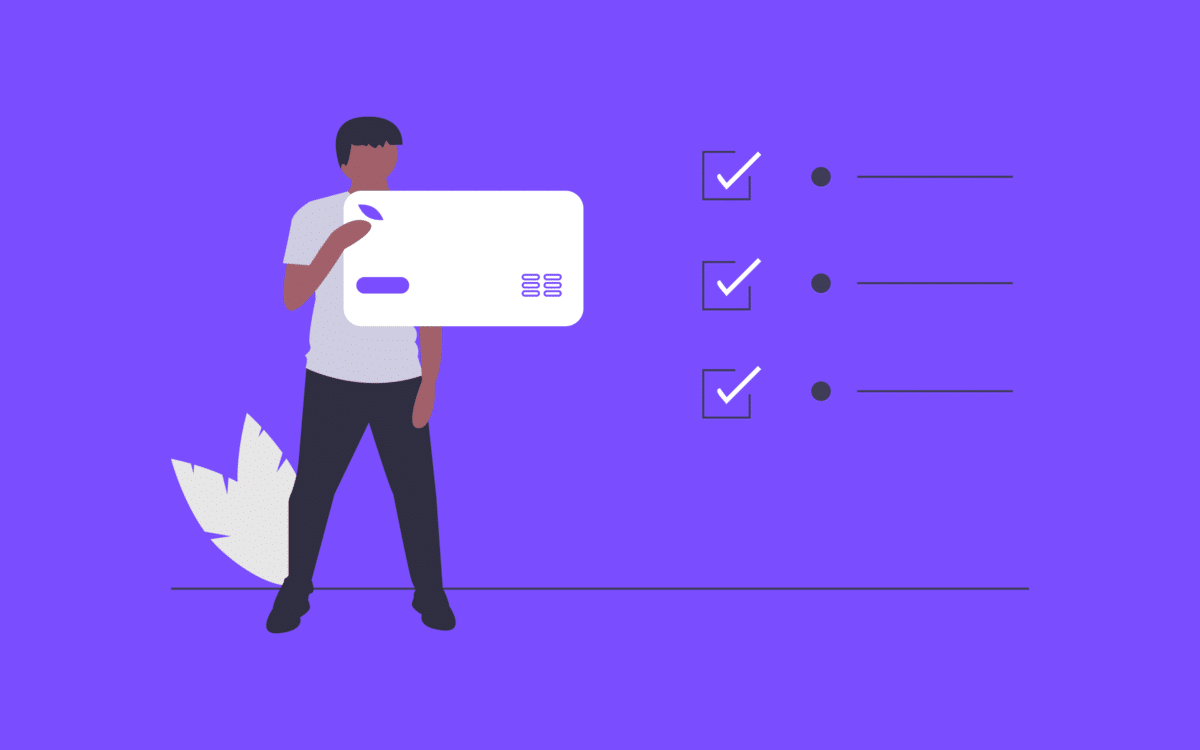 So far, we've given you a lotof insights into plan and design the right email campaign.
However, before you can start sending emails to your customers, you need to create an email list, full of people who want to hear from you. The best way to do this is with a sales funnel or landing page.
Landing pages and sales funnels aren't just valuable for convincing your customers to connect with you initially. These tools can also lead to further conversions after your customer is already familiar with your brand.
For instance, if an email is promoting a product or course, the CTA could take your customer to a landing page, or a series of pages that create a sales funnel.
What is a sales funnel?
A sales funnel makes up every step that a person takes to become your customer.
In a traditional store, the people at the top of the sales funnel would start by finding your shop. A portion of those individuals would then walk into your store. Another part would decide to speak to a sales rep, and so on.
Eventually, the sales funnel pushes your audience along a journey that takes them from being just another person to being a paying customer.
Your sales funnel effectively illustrates the path that your prospects take to purchase. Knowing how your sales funnel works helps you to find potential holes in your conversion strategy.
If you know that a good portion of your customers need answers to questions before they buy something, but you don't have a good customer service strategy, you might be losing people.
What are sales funnel stages?
Although sales funnel examples vary from one company to the next, it's important to remember that all funnels have stages. These stages are typically known as "AIDA". They involve Awareness, Interest, Desire, and Action.
Each point in your sales funnel requires a different kind of action.
For instance:
Awareness: This is the point when your company first captures a customer's attention. You might appear on Google when they search for something, or you could show up on social media. With Awareness, your prospect becomes aware of your company and what you offer. When the chemistry is right, consumers sometimes buy straight away.
Interest: When consumers reach the interest stage of the funnel, they're doing research, thinking over their options, and comparison shopping to ensure that they're getting the best deal. This is the time to prove yourself to your customer through incredible content. If you're pushing your product or service too quickly, you might scare your audience away. Instead, try to focus on helping them make an informed decision.
Desire: At the desire stage of the funnel, your customer is ready to buy. They might be considering multiple options at this stage, including your brand. This is your time to make your customers jump to the next step of their funnel. You might offer a discount or free shipping to convince them to trust you. Make your offer irresistible.
Action: Finally, at the bottom of the sales funnel, your customer does exactly what you want: buying your product or service. The client becomes a part of your business community. However, your work isn't done yet. You need to keep working on giving your customer an excellent experience and providing them with reasons to come back and buy again. This is the point when customer acquisition turns into customer retention.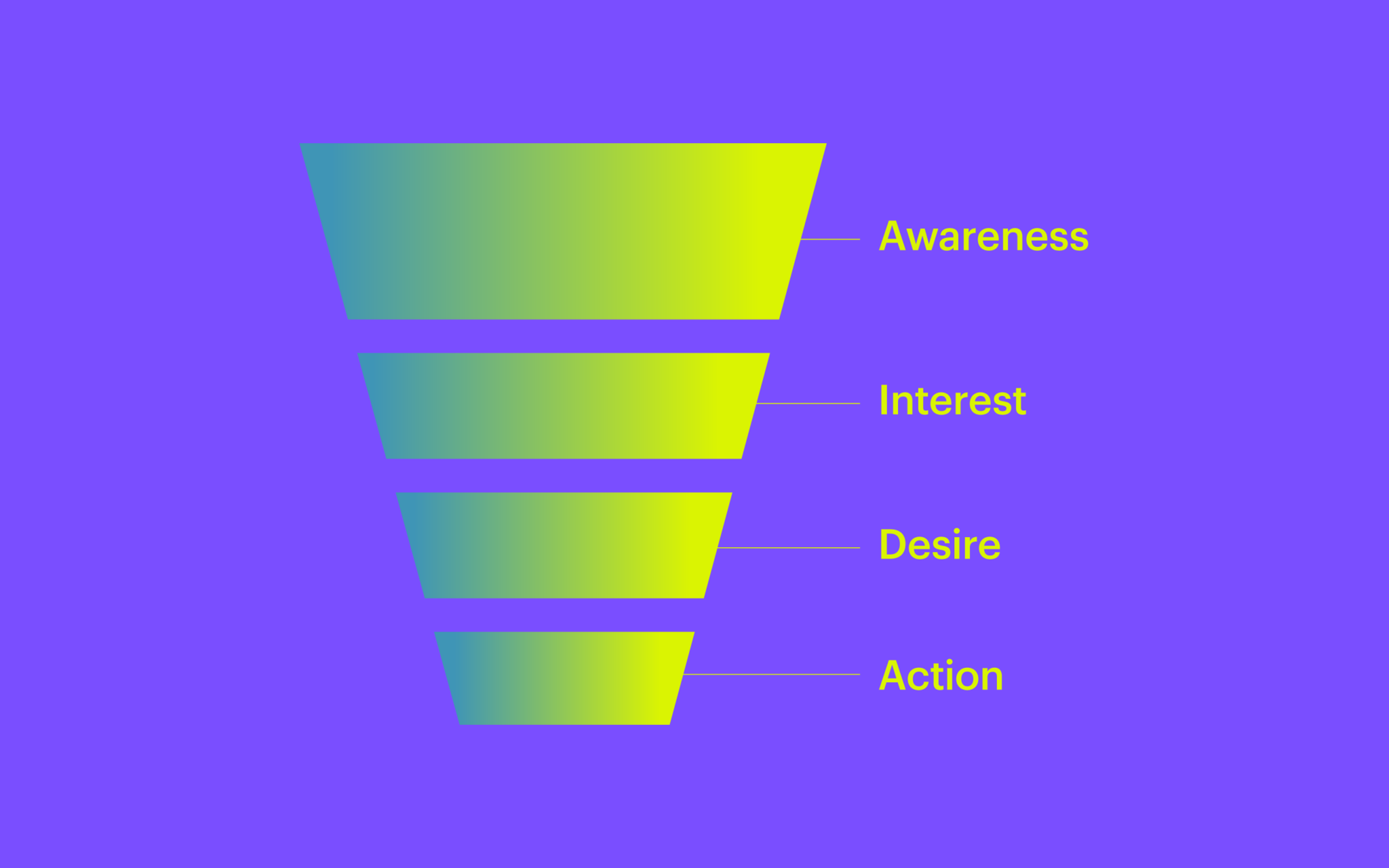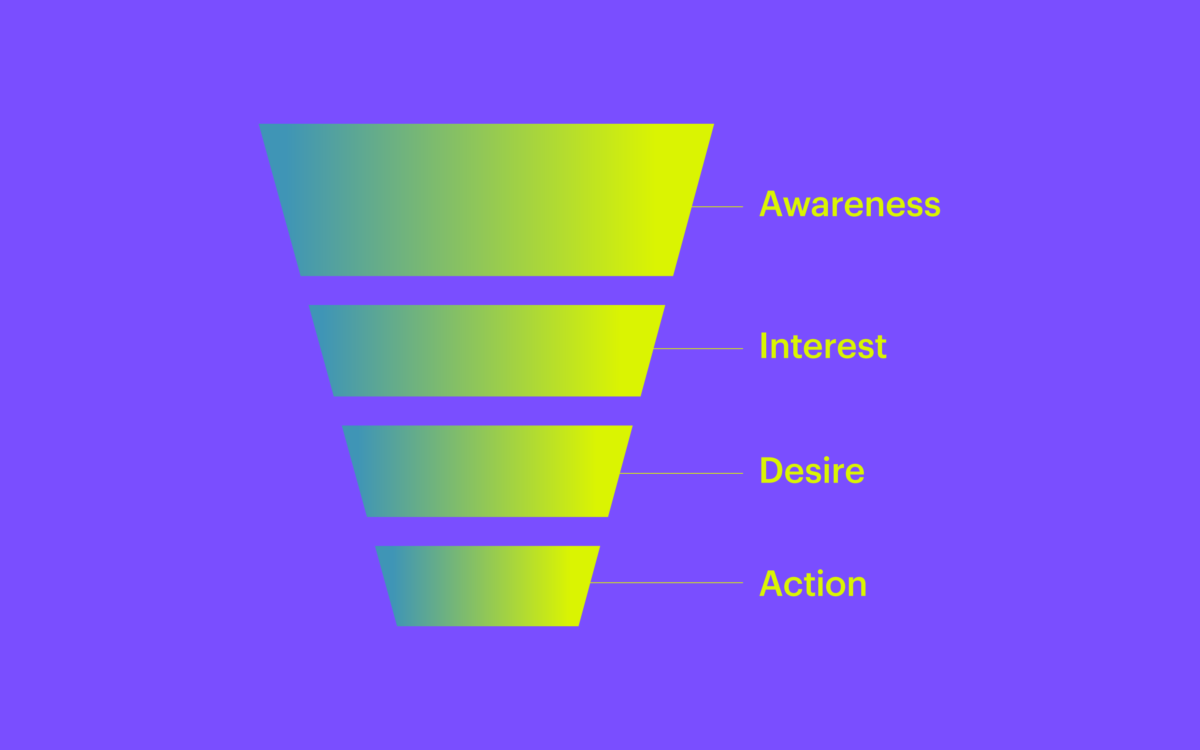 What is a landing page?
So, now you know what a sales funnel is, let's define landing pages.
Landing pages are web pages that help companies to capture visitor information or drive action. Great landing pages target a specific audience, such as people from your email list who might be interested in downloading an eBook, or visitors who saw an ad on your social media pages.
You can design landing pages that immediately allow visitors to access downloadable content offers and access marketing offers like coupons or demos for your product.
Landing pages are crucial to targeting your audience and convincing them to convert.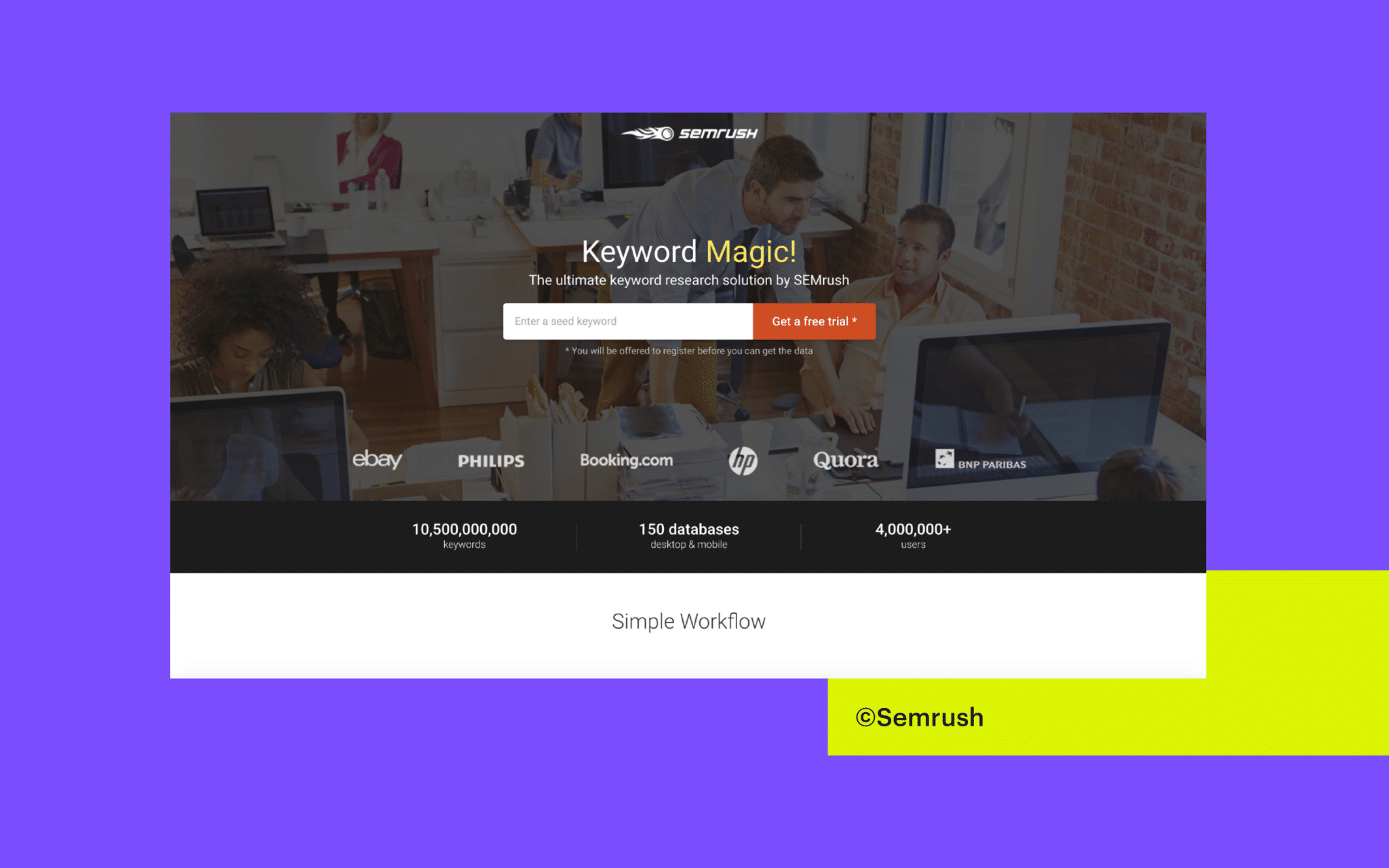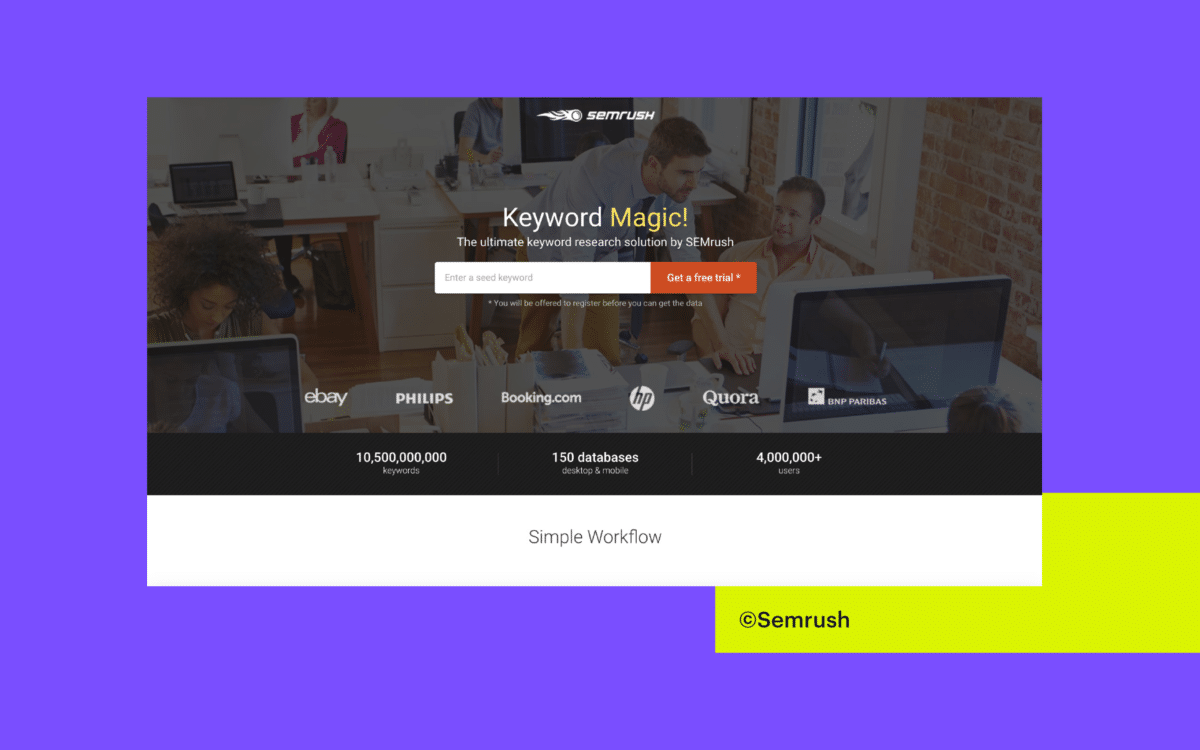 Key components of a landing page
Creating landing pages allows you to target your audience and give them something of value, so they're more likely to convert. To help you understand how website landing pages work, let's take a closer look at some of the options:
Headline: The headline is the first thing your visitors see when they arrive on your landing page. A great landing page sums up the offer clearly and concisely, and answers the question of "what's in it for me?"
Copy: The content on your landing page needs to highlight the value of whatever you're offering. Most of the time, it's best to get straight to the point. Avoid any long-form or confusing content. Bullet points can help to keep your pages clear and concise.
Social sharing buttons/links: These enable visitors to share a landing page with connections on social media. This could help you to expand your reach to beyond your email marketing campaigns.
Keywords: Just like any inbound marketing strategy, your content must have the right keywords. Use these terms in headers, body content, and titles so that your landing pages are optimized.
Images: Just like visuals, make your emails more appealing; they add more impact to your landing pages too. Landing pages with a relevant image give visitors a very tangible insight into what they're going to get.
Hidden navigation: Your navigation bars and search bars on a landing page need to remain hidden. This stops your customers from getting distracted and clicking elsewhere.
Lead capture/conversion forms: These are the most crucial components of your landing pages. They help you to collect information from your audience when you're building your email list. Conversion forms can also include offers to turn leads into customers.
Tools for landing pages and sales funnels
If you're nervous about designing landing pages and sales funnels on your own, there are tools available to help you. We'd recommend both Thrive Architect, and Leadpages.
Thrive Architect is a WordPress-specific tool that helps you to create good landing and content pages for your website. Features include everything from full-width layout support to templates that help you to avoid any pesky coding.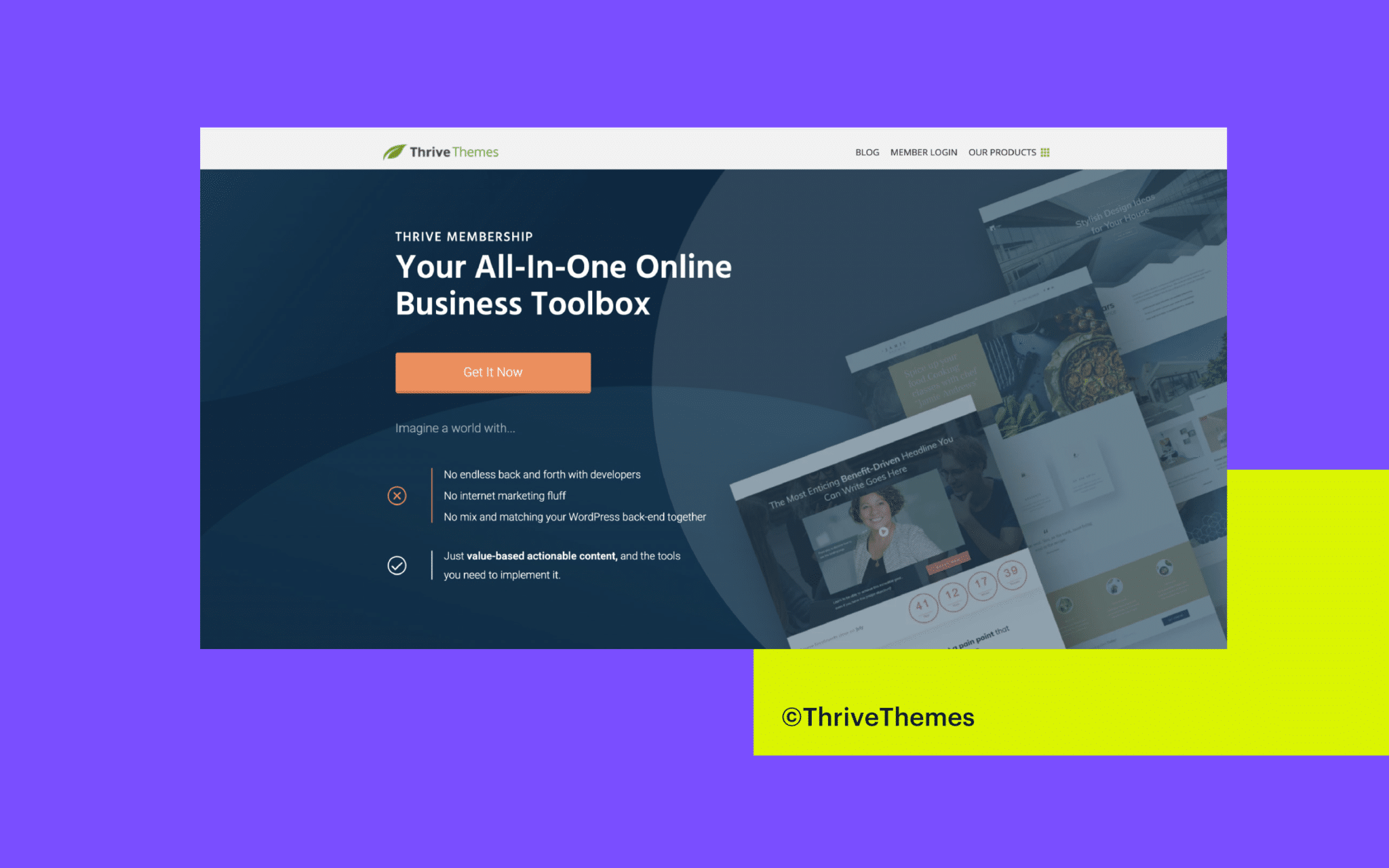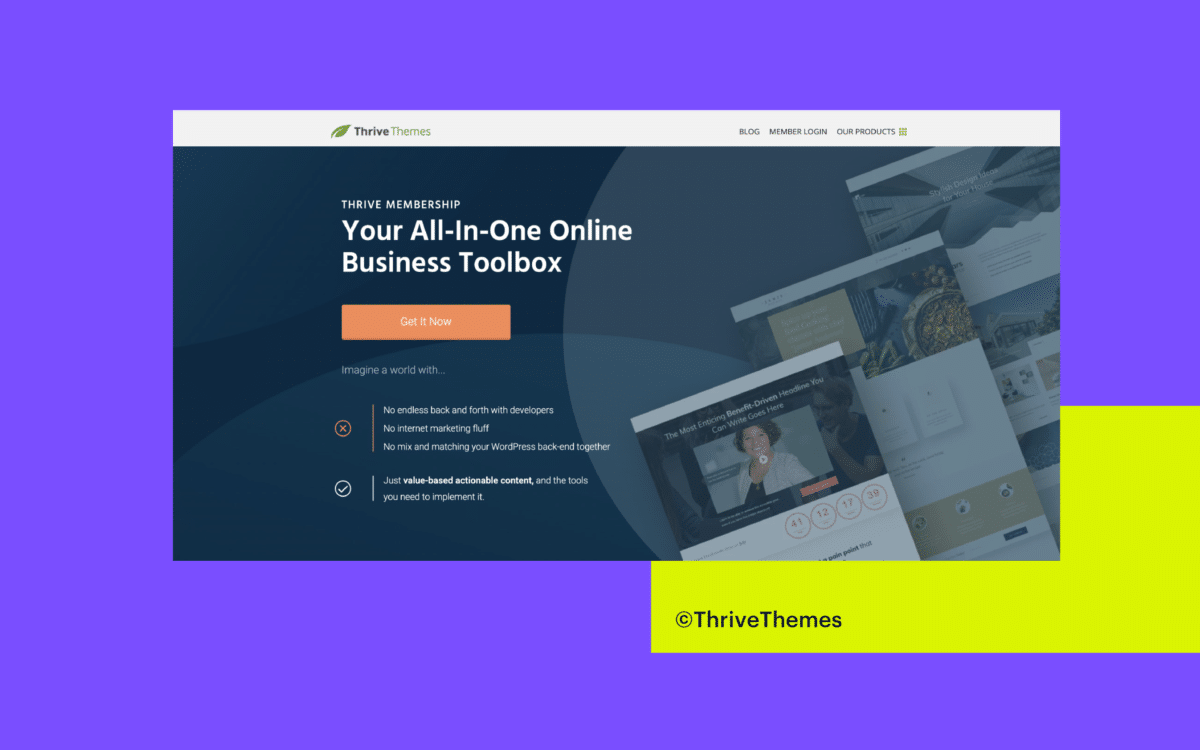 Thrive Architect ensures that you can build your landing pages quickly, with more than 300 templates to choose from, and tons of modules to make your content stand out.
Features include:
Hundreds of templates.
Drag-and-drop editor tool.
Stunning conversion elements.
High-converting pages.
Excellent sales pages.
Webinar and product launch pages.
Leadpages is another landing page designer and a sensational tool for collecting leads for your website. This powerful product helps small businesses to connect with their audience, close sales, and unlock new opportunities through pop-ups, alert bars, and more.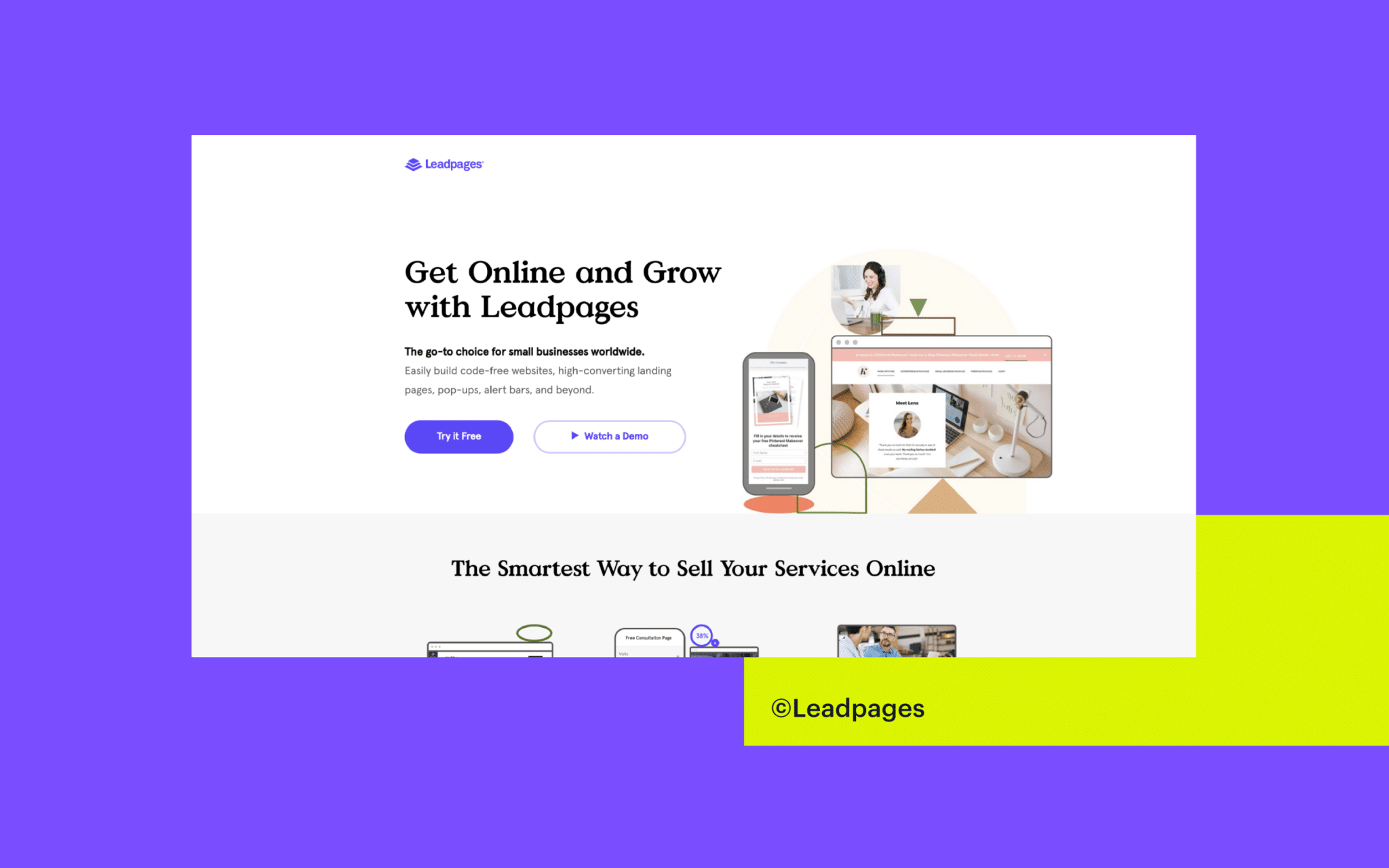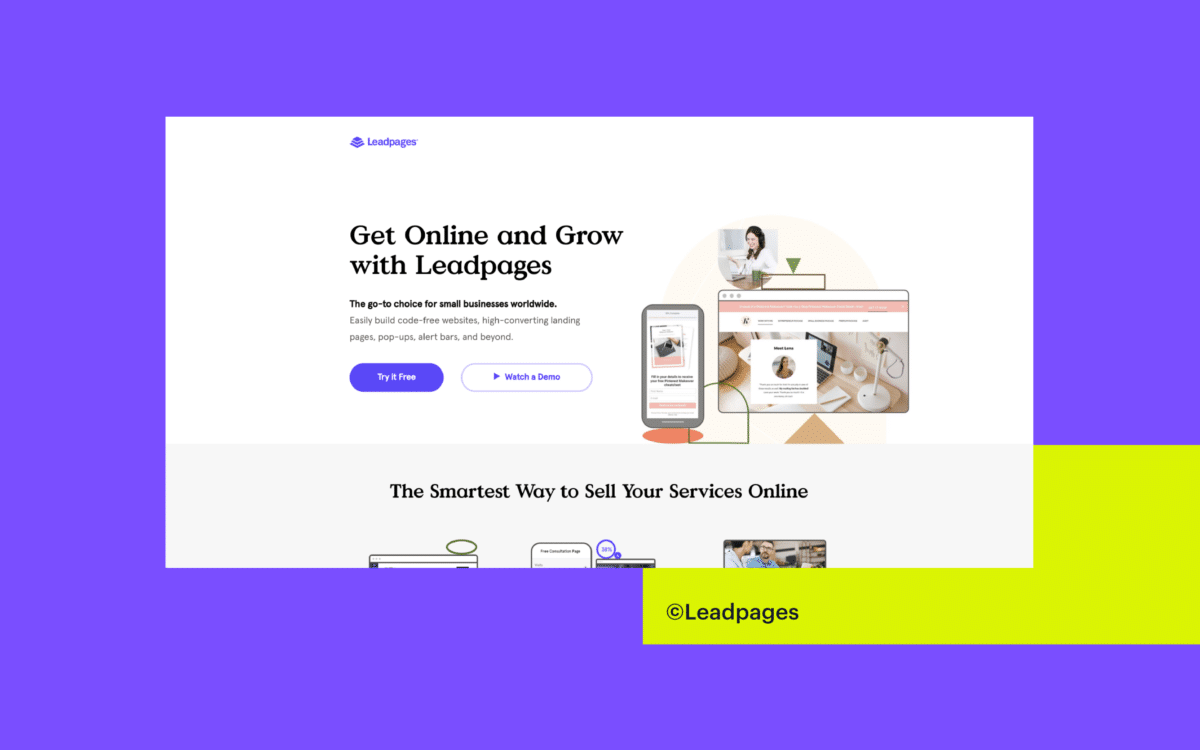 Thee are tons of fantastic ways to take your business to the next level with Leadpages, from amazing templates that simplify building, to A/B testing.
Features include:
Integrations with leading apps.
Pop-ups.
Alert bars.
A/B testing.
Drag and drop builder.
Pre-built templates.
Analytics dashboard and real-time conversion insights.
If you're just looking for a basic pop-up tool to help bring more customers into your email list in the first place, then Hello Bar could be the right option. This notification bar tool evolved over the years, and it now includes a unique template for building email lists.
The service is intuitive and extremely easy to use for beginners. Plus, you can choose from a range of ways to capture leads, including page take-over, sliders, and alert bells.
Mastering your email marketing strategy
Thanks for joining us on this exploration throughout the world of email marketing.
We hope you've learned a lot about the valueof email marketing and how you can use this strategy to transform your brand.
Don't forget; you can always reach out to Fabrik for more guidance on your campaigns!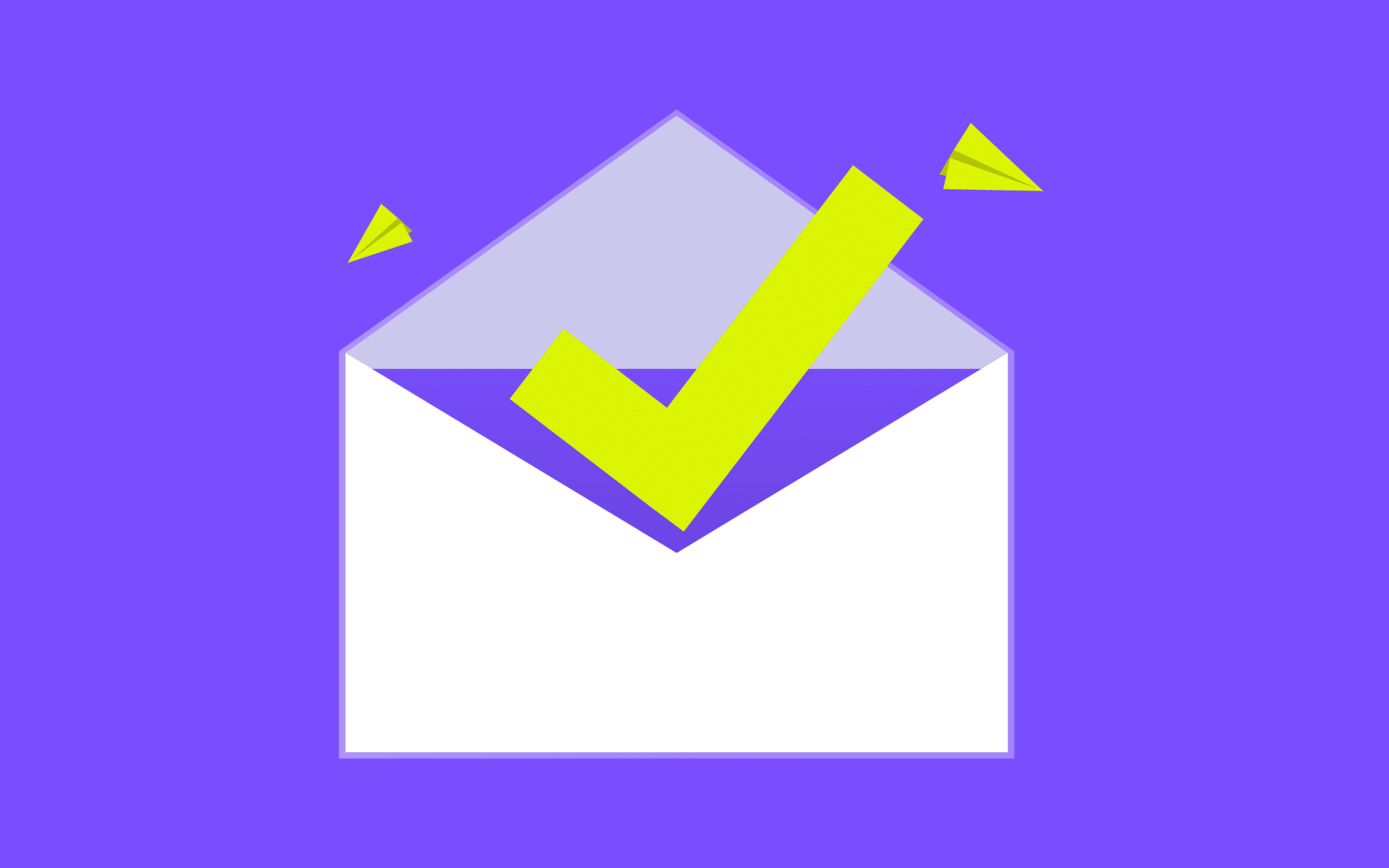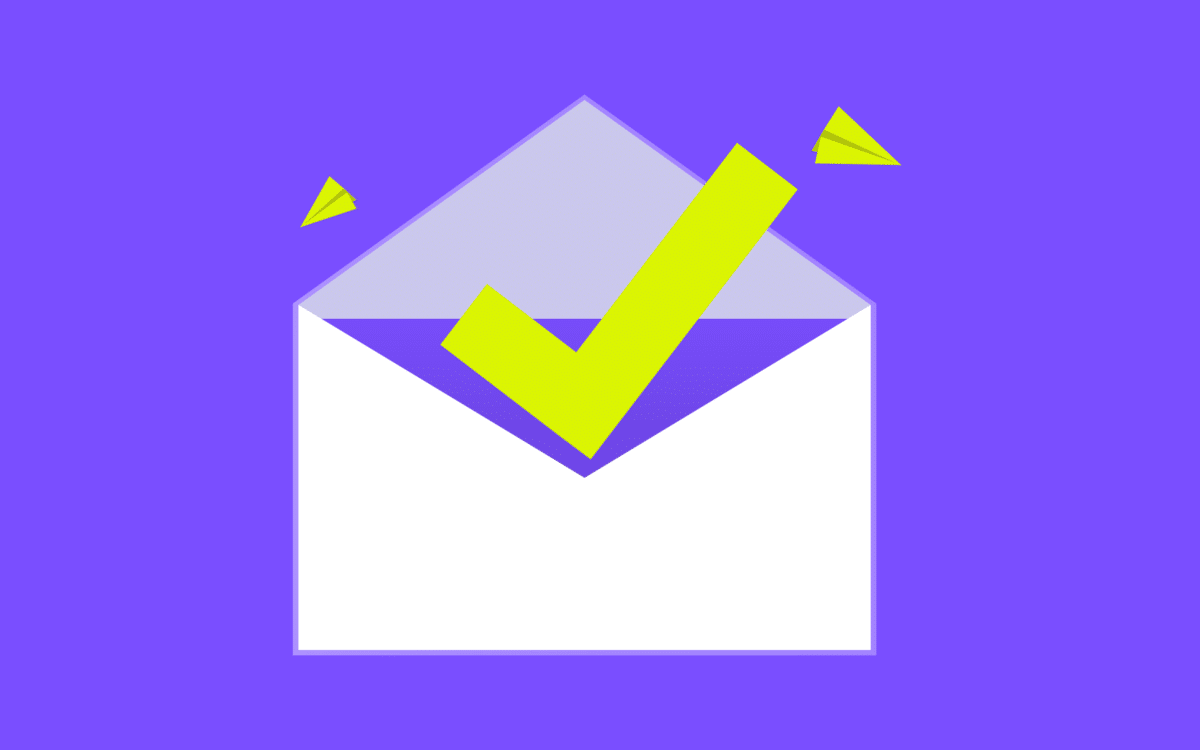 Ultimately, email marketing continues to be the most valuable way to connect with any audience. If you want to nurture leads and unlock new opportunities, then the right email marketing strategy will help. No other marketing system offers the same results.
With a little luck, the advice above will give you everything you need to know to bring your own email marketing efforts to life.
Here's a quick reminder of some of the tools that we've recommended throughout the chapters too:

If you want to learn more about email marketing and the ways that you can grow your business online, check out Brand Fabrik, stay tuned for more incredible eBooks too!
Good luck with your email marketing strategy!
Fabrik: A branding agency for our times.
Just so you know… This guide contains affiliate links. The commission we earn helps to cover our costs, and comes at no additional cost to you. For more information on our affiliate program, please refer to our disclaimer policy.