By 2023, experts say there will be around 4.3 billion people using email. Half of the world's population can connect with your brand through their inbox. If you're not taking advantage of this fact – you're missing out.
Of course, for email marketing to drive results for your brand, you need people to send messages. Email list building is one of the most complexparts of succeeding in eMarketing. However, it's also the heart and soul of your strategy.
If you don't know how to build an email list full of people genuinely interested in your company, you're not going to see any positive outcomes from your campaigns.
Today, we're going to be looking at some of the steps you can take to build an email list.
Let's get started.
Email list building: The basics
Before we jump into our strategies for building an email list, let's discuss some basics. First, you should be continually building email lists, even if you have a lot of contacts already.
This is because the people in your email list are constantly churning. They might unsubscribe or get sick of your emails and send them to the spam folder. Sometimes, people even just get a new email address and stop paying attention to their old one.
Secondly, you should never buy a list from email list providers.
If you've ever wondered "is it legal to buy email lists?" or "how much does it cost to buy email lists?", then you're not alone. But buying is never the answer.
Although it's technically legal to buy lists in some parts of the world, you'd still need to get permission from each of the people on the list to allow you to use their details.
Secondly, even if you do get permission to connect with these customers, there's no guarantee they're going to belong to your target audience. You don't want to waste your email campaigns on customers who aren't interested in what you have to say.
1. Create your landing page
To run a successful digital campaign, you need a landing page. Your landing page is where your customer finds the form or offer which convinces them to sign up for your email strategy.
A landing page is often more effective than having a simple form on your website. The entire page is dedicated to convincing your audience they should sign up for your newsletter.
Landing pages use specific deals (known as lead magnets), to entice your audience members. For instance, if you're a marketing company, you could offer a free eBook on marketing articles for your lead magnet. Alternatively, consider offering a free download or webinar.
To get the most out of your landing pages:
Create a new one for every market segment: Different customers will be converted by different things. Don't be afraid to build unique landing pages for each audience.
Be benefit driven: Let your customers know what's in it for them straight away. Focus on the problems you can solve or solutions you can offer.
Get creative: Make sure your landing page looks great and contains the right, eye-catching copy. Visual cues can help to move the viewer down the page.
A/B test each of the landing pages you create to ensure you're getting the best outcomes. It might take a little while to find the perfect design.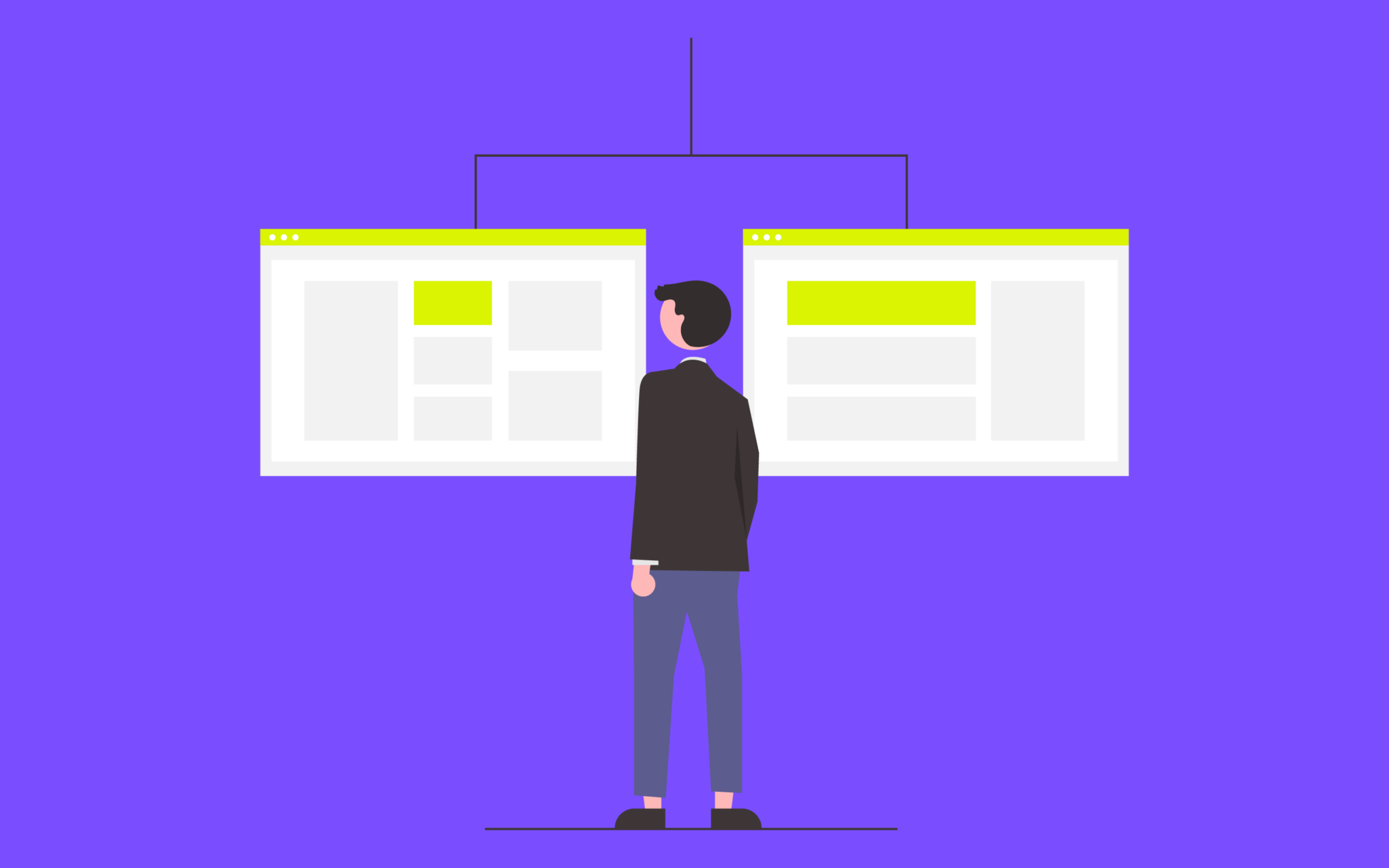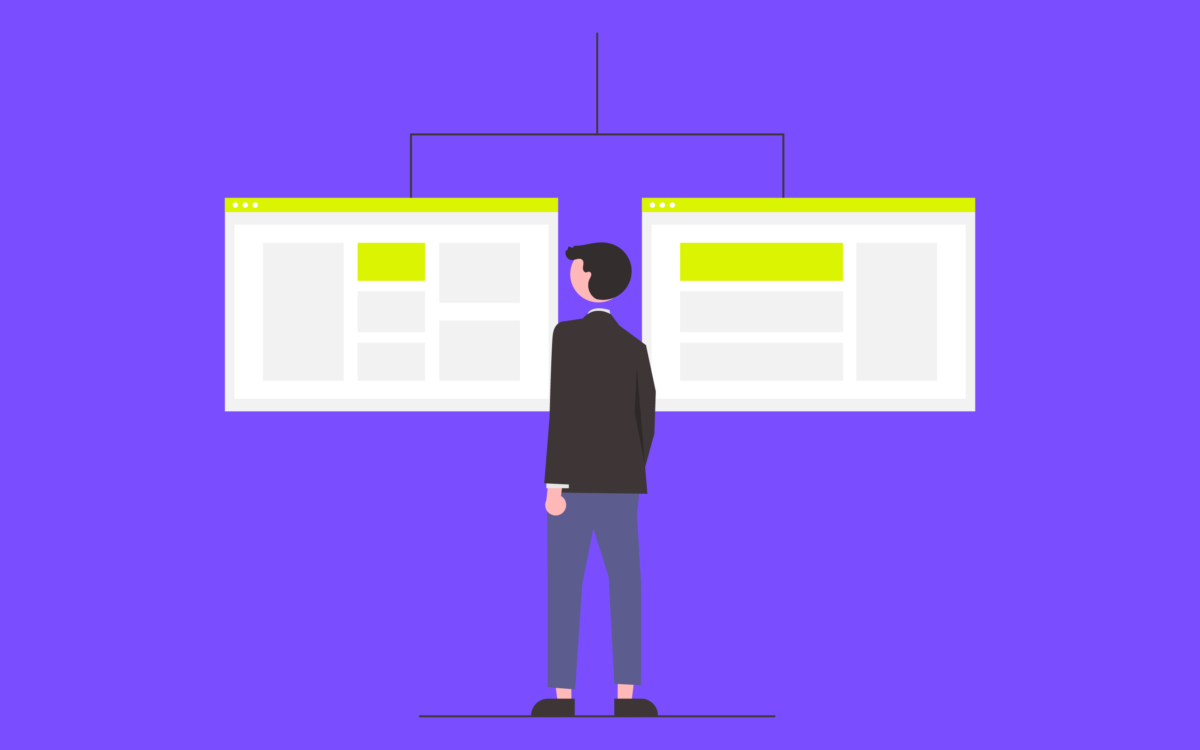 2. Get the CTA right
Your Call to Action is the most valuable part of any landing page or form.
According to HubSpot, personalized CTAs have a 42% higher view-to-submission rate. This means creating a specific CTA for each customer can almost double your subscribers.
You should be designing unique landing pages for each segment of your audience anyway. When it comes to the point where you need to entice the customer to act, ask yourself what kind of voice they're going to respond to.
Things like "Get your free download" are more appealing than "Download now" because they focus on both the customer and action words.
Don't be afraid to use a little humor in your campaigns too.
If you're using a form rather than a landing page, play around with the content in your "No thanks" button.
Getting the tone of your copy right is a great way to encourage action, just by building a stronger relationship with your clients.
Here's a great example from Optimonk: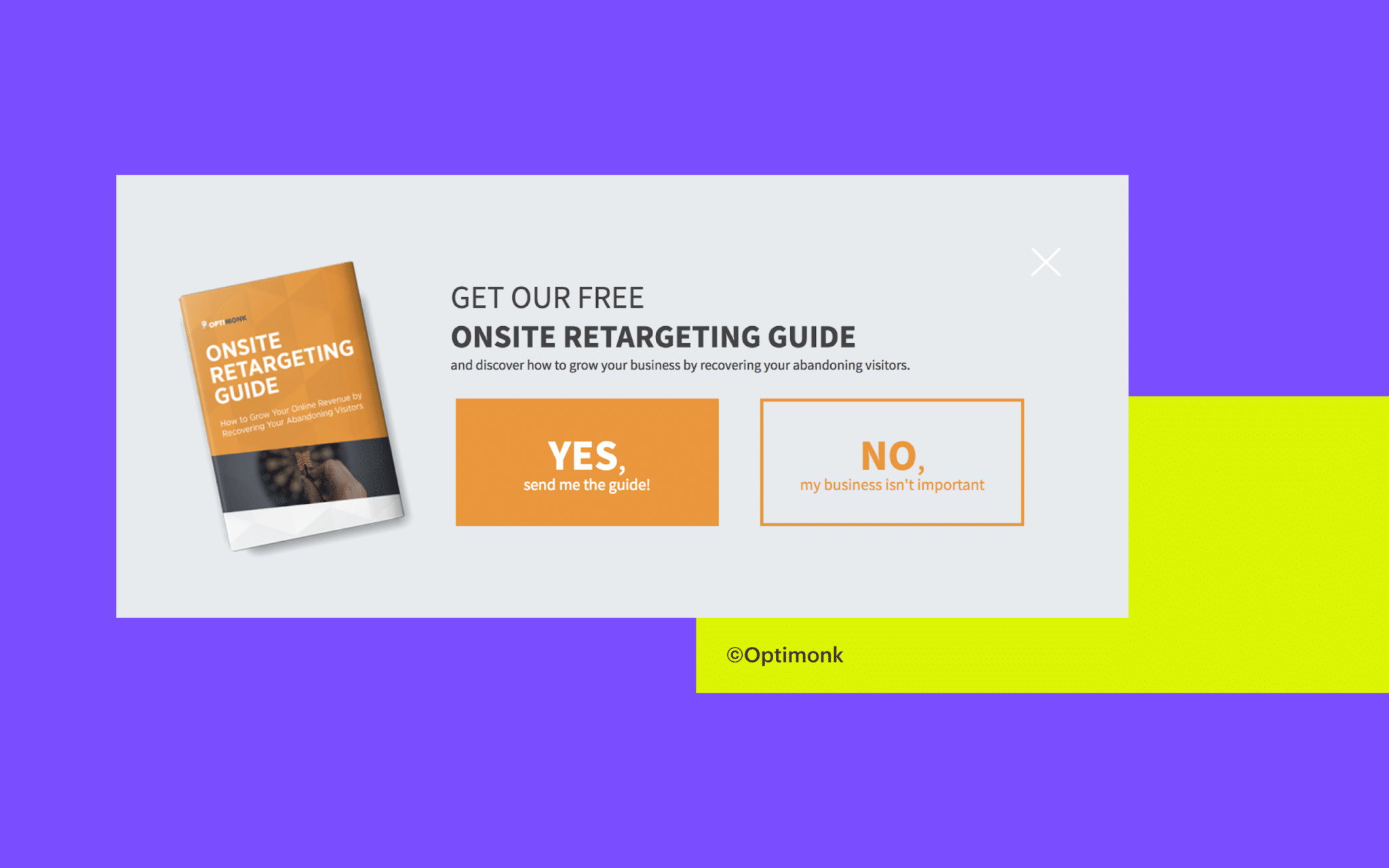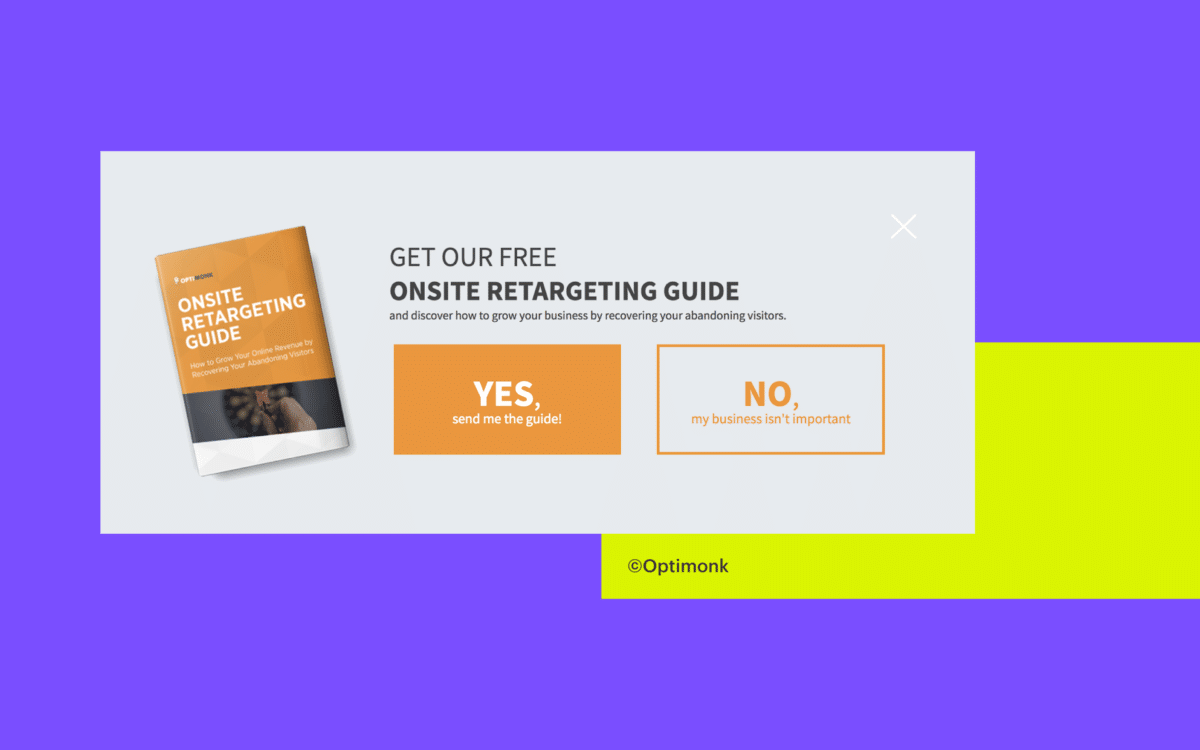 3. Try pop-ups and slide-ins
Yes, pop-ups don't have the best reputation.
However, they can make an impact on your email list building strategy, if you use them correctly. Creating a pop-up or slide-in for your pages could be a great way to capture audience attention fast and encourage positive behavior.
A pop-up gives you a chance to retarget your intended customer when they're still on your website. For instance, Digital Marketer conducted some research which showed a pop-up to a customer after they returned to the site and spent 15 seconds on a page.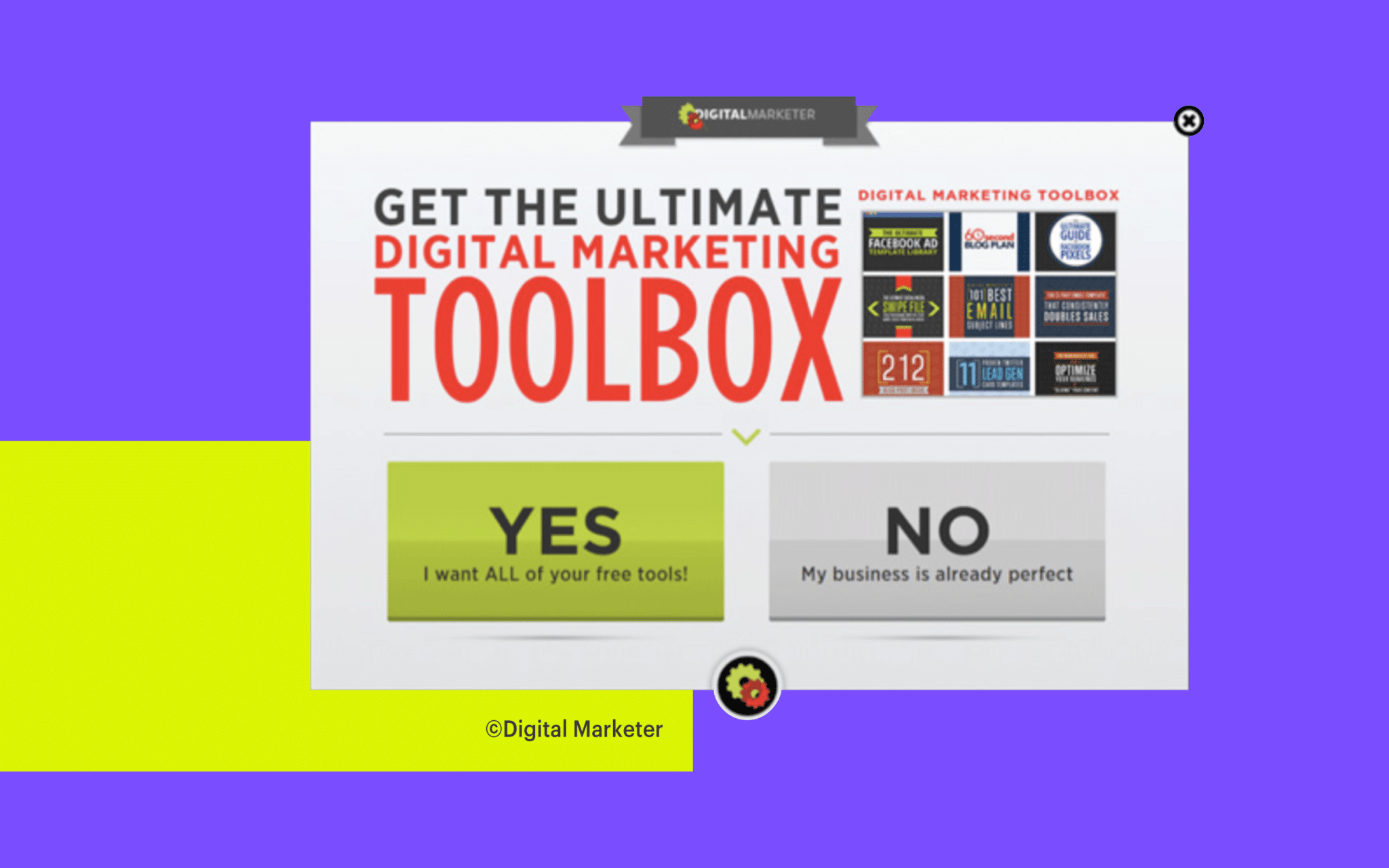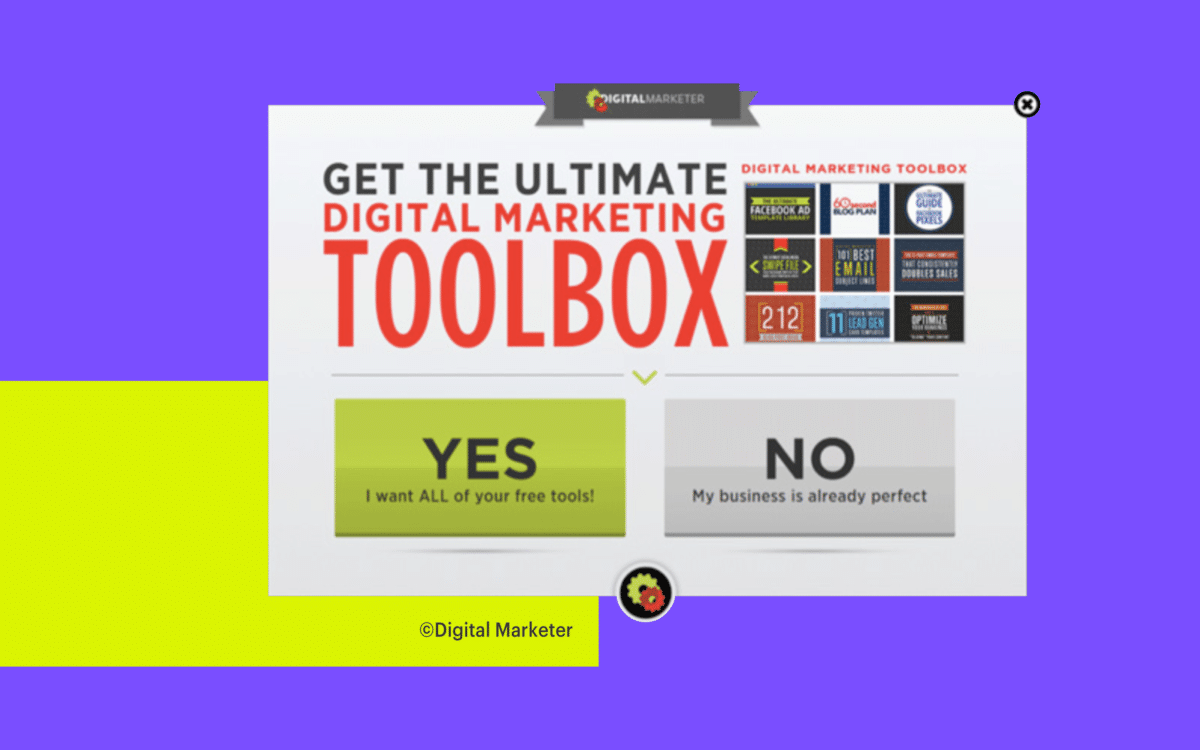 The study discovered just connecting with customers which came back to the site through pop-ups was enough to increase their chances of gaining leads. The campaign generated 2,689 submissions in two weeks, and increased customer time spent on pages.
When you do use pop-ups and slide-ins – have fun with them. Use visuals to grab attention and offer your customers something they won't be able to resist.
We recommend trying a service like Hello Bar, which helps companies to design engaging pop-up and slider experiences for their website.
4. Work on your brand reach
A landing page (or several) and a handful of pop-ups on your website will help you to attract a decent number of people for your potential email list. It's worth looking beyond your site too.
If you're active on social media, for example, it could be helpful to add information about your newsletter on your social channels too.
You can pitch your email newsletter on platforms like Facebook and LinkedIn, and you should find the extra reach is great for building email lists for your company. Just make sure you're using targeted ads relevant to the people you're trying to reach.
Add links to your form and landing pages on the "thank you" message after someone buys something from your brand. You can also include these links on your transactional emails or receipts going out to clients. The more visible you make your newsletter, the more likely you are to get subscriptions.
The great thing about showcasing your newsletter on your email and social channels is your client on these platforms is already familiar with your brand. This means they're more likely to trust you and agree to hand over their email address.
You can even create lead-generating ads using the lead magnets we mentioned above, like Optinmonster does here: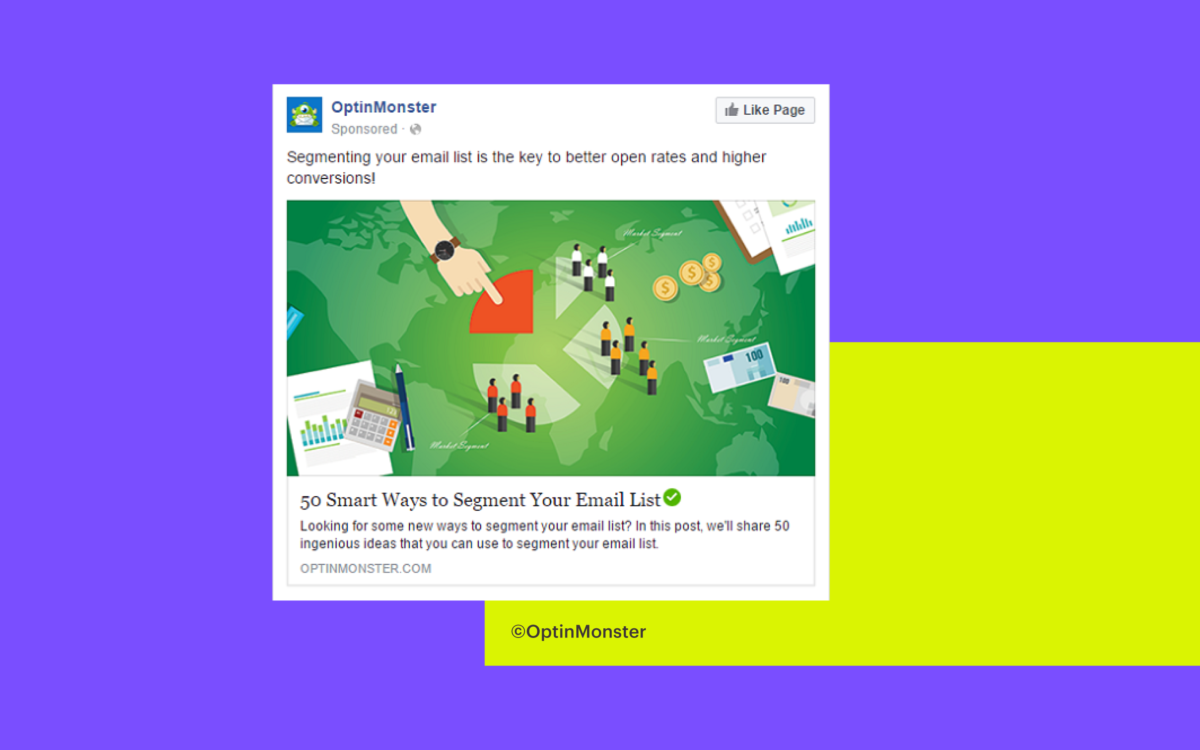 5. Make signing up irresistible
Although today's customers are generally more comfortable connecting with brands online, they still don't want to end up with a ton of inbox spam. Having your customer's email address gives you direct access to them at virtually all times.
Make joining your email list as irresistible as possible to your customers. Your lead magnets will help with this, if you know how to highlight their value. Let your customers know they're going to get exclusive access to industry secrets in your eBook.
Remind them what your offer can do. If you're offering an eBook, for instance, what will your customers learn from it?
Another option is to create a sense of urgency.
FOMO is an advertising and email list-building strategy gaining a lot of attention lately. If you're giving something away which is only available for a limited time, make it obvious.
Telling your customers, they only have a few weeks to see your exclusive webinar is more likely to get them off the fence.
Just remember, if you do give your customers a limited time frame, you'll need to stick to it. Don't just tell people the offer is going to be gone in a few days and leave it there indefinitely. This will make you seem less credible.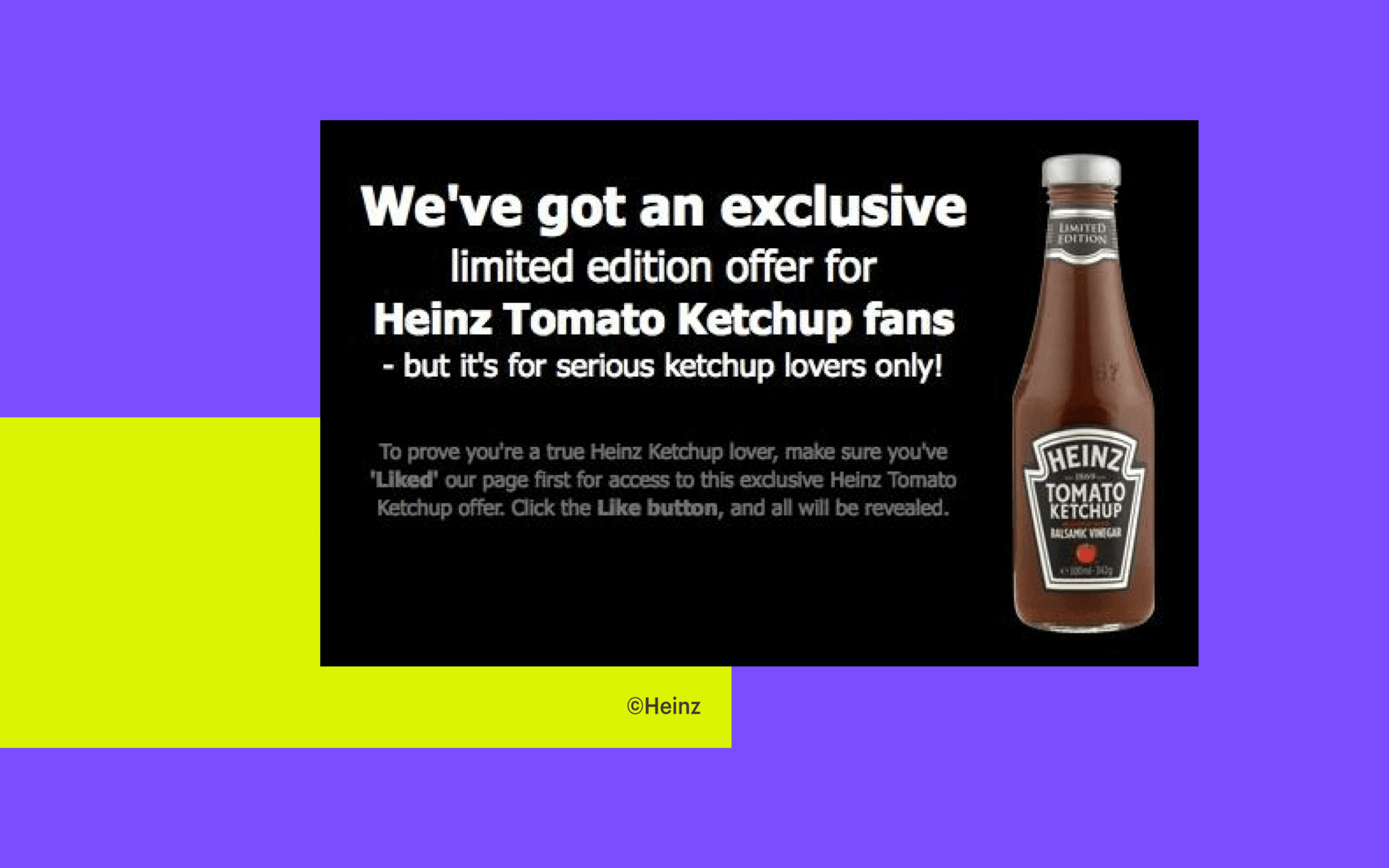 Improve your email list building strategy
From CTA buttons on your "About us" page, to landing pages to convince clients to connect with you long-term, there are various ways to start building email lists. It's also important to have a plan if you want to ensure your email lists are worthwhile.
Think about the kind of customers you want to attract and target your campaigns towards them. Choose lead magnets that your ideal audience will find difficult to resist. Consider putting time limits on your offers, and even explore things like pop-ups and slide-ins.
As your strategy for building email lists continues to evolve, you'll discover more opportunities for brand development. When you've built a loyal audience, you can offer your most dedicated clients a chance to become advocates for your brand.
Referral schemes which award customers points and deals when they send a new customer your way are great for gaining new leads. Most customers will trust other clients more than you.
Remember, whichever strategies you use to build your email list, track your results. Keep a close eye on what's working for your organization, and experiment as you go.
Never stop optimizing your list building strategy.
Fabrik: A branding agency for our times.
Now read these: