Digital marketing is something that all businesses need to think about at some point. In this post we're going to consider email marketing vs social marketing. Read on…
Unfortunately, in today's cluttered landscape, you can't just build a website and wait for your target audience to appear on your doorstep.
You need to find a way to reach your customers wherever they are and encourage them to interact with you.
The good news is that there are a lot of digital marketing channels available. You can experiment with things like social media, influencer marketing, and even PPC.
Yet even as new forms of marketing continue to emerge, one continues to stand out as the most efficient option for ROI: Email marketing.
Email marketing offers value as both a standalone form of advertising and an accompaniment to your other digital marketing channels.
Today, we're going to look at the reasons why email marketing hasn't overtaken other digital marketing channels yet.
Let's get started.
Email marketing vs. other digital marketing channels
There are a lot of different kinds of digital marketing channels.
A combination of SEO (Search Engine Optimization) and PPC (Pay Per Click ads) will help your customers to find you on the search engines.
Social media marketing helps with building relationships with your customers, as does content and influencer marketing.
One of the things that makes email marketing such an incredible tool is that it enhances and supplements your other strategies. When someone signs up for your email newsletter, they're permitting you to stay in contact with them.
People can easily stay off social media for weeks or months at a time, but we constantly check our emails. 40% of people say that they check their inbox between 6 and 20 times per day.
With email, you have a consistent way to nurture your customers and push them along your purchasing cycle.
What's more, with email marketing tools you can customize your messages and ensure that they are personalized to the needs of your target audience. The longer your customers stay tuned into your newsletters, the more likely they are to feel loyal to your brand.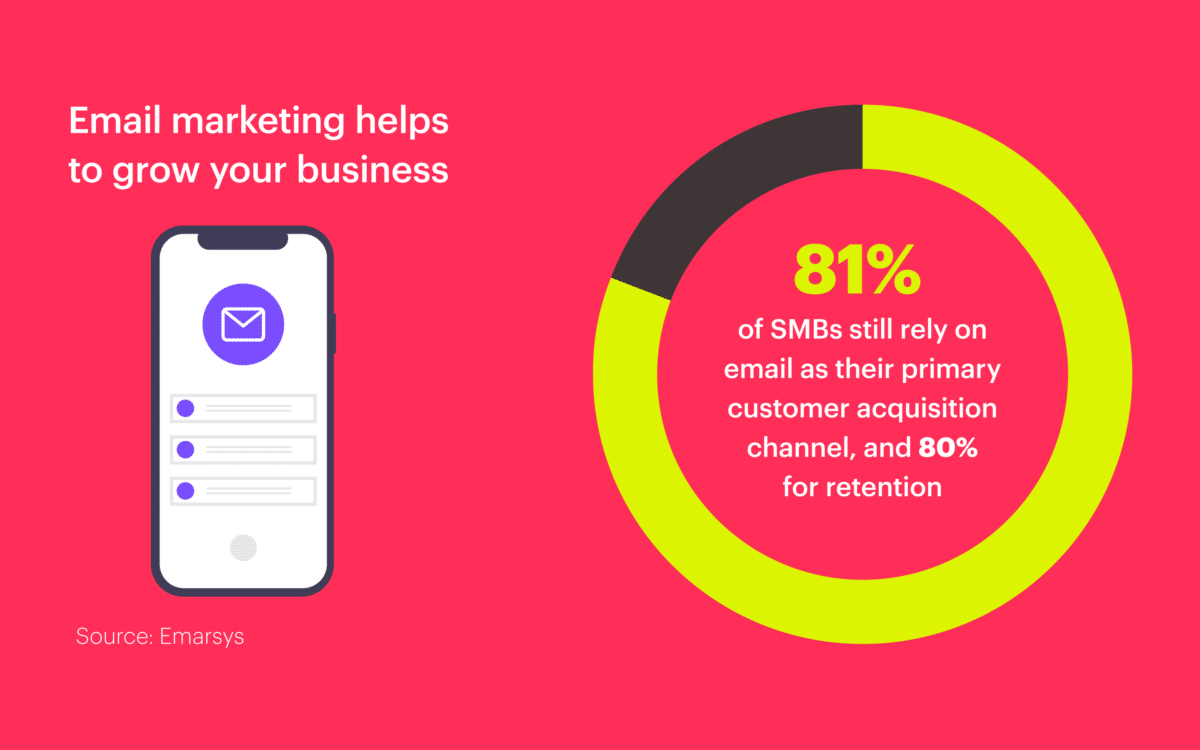 Email marketing and ROI:
For the most part, whether you're comparing email marketing vs social media, or looking for the most valuable digital plan, email is all about return on investment.
The direct marketing association discovered that email marketing has an ROI of up to 4300%. On top of that, eCommerce quarterly says that email has a better conversion rate than any other social media channel.
Email is better at converting customers than search and social combined.
So, why is email so much more effective than anything else?
Look at it this way, Facebook has more than 1500 stories to show on a person's newsfeed at any time. There's a good chance that your company isn't as much of a priority to show to your audience as their friend's messages.
However, when a user checks their email inbox, you have just as much chance of being there as anyone else.
Email marketing vs. social media statistics
While email marketing performs well against any digital marketing strategy, it's social media that most people use as a comparison benchmark.
There are more than 2.6 billion active monthly users on Facebook. Add in all the people on Instagram, Twitter, LinkedIn, and countless other forums, and it's easy to see the appeal of social media.
However, social media still doesn't hold a candle to email marketing for sheer reach. There are more email users than Facebook and Twitter users combined. Additionally, the organic reach on Facebook (people who see your ads) is only 6%.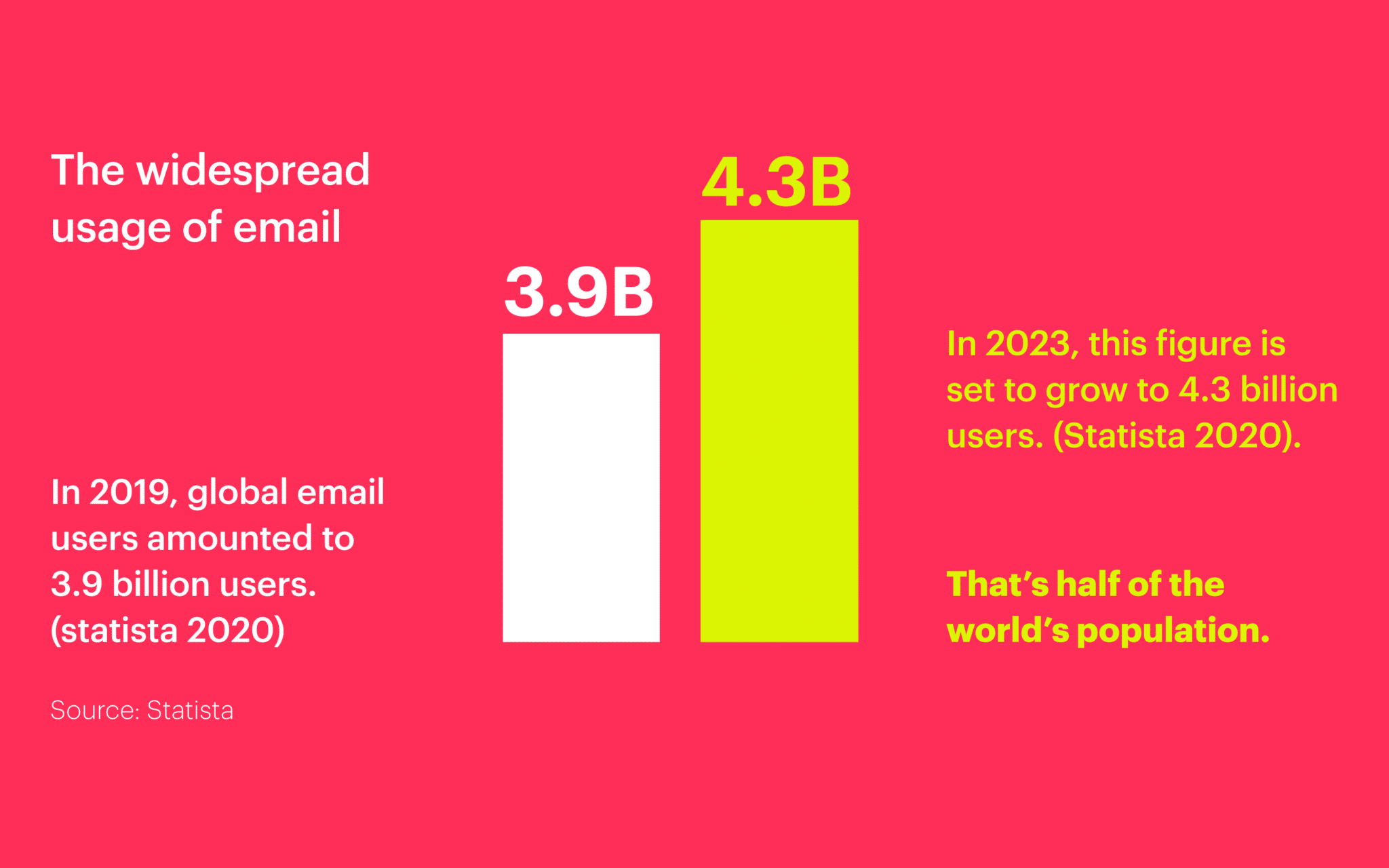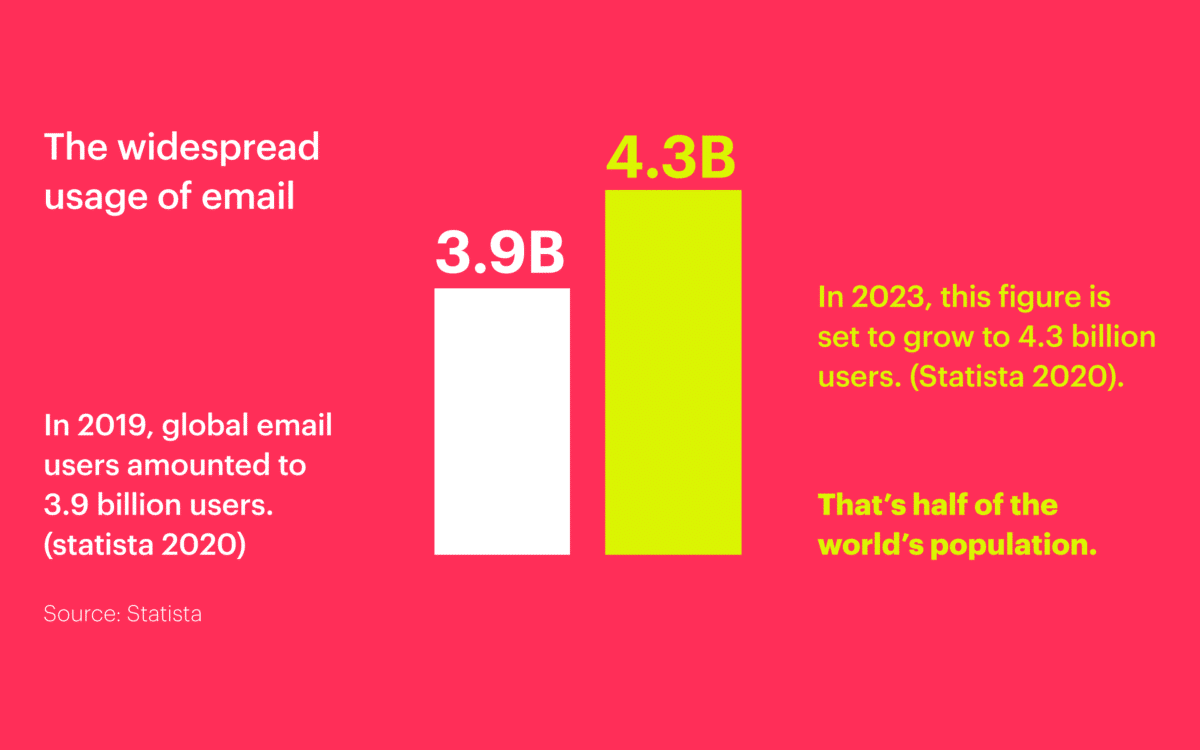 On the other hand, email marketing open rates usually range between 20 and 30%. Additionally, click-through rates are usually around 3% for email, but only 0.5% for Twitter.
Most business leaders know that they need to nurture their leads to turn them into customers. The average conversion rate for first-time visitors is only around 2%. Email gives companies a way to connect consistently with their audience without being too promotional.
Think about all the emails you get from your favorite brands. Many of them will focus on giving you value, like discount codes and links to the company's latest blogs. This makes the standard email a lot more compelling than a basic ad.
Plus, 80% of professionals in the retail industry say that email is the best driver they have for customer retention. Social media lags behind for increasing customer loyalty. Only 44% of companies say social media is ideal for retention.
Here are a few other stats worth acknowledging about email marketing: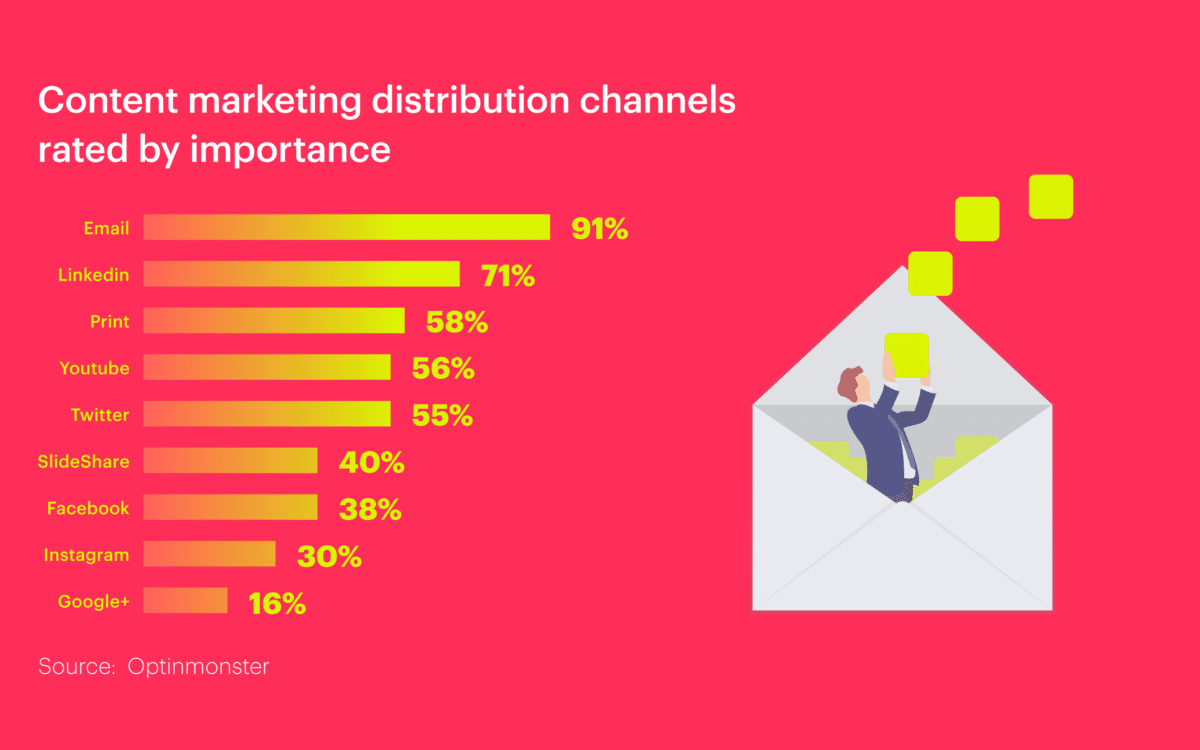 Email vs social media: which works best for customers?
Growing a list for your email marketing strategy isn't as complicated as it seems.
As long as you know your target audience and understand their needs, it's usually quite easy to convince them to subscribe. Most companies use things like landing pages with free downloads, or the promise of a gift, like free shipping to encourage subscriptions.
One of the reasons why convincing your audience to submit their details to your email marketing channels, is that clients prefer to communicate with brands this way.
Around 73% of millennials, one of the biggest generations right now, say that they prefer email for brand communication.
Only around 30% of millennials feel comfortable engaging with companies on social media once a month or more.
In an experiment comparing eMarketing and social media, Derek Halpern learned how simple it can be to get people to subscribe to an email list.
Despite the assumption that more people would be likely to click the Follow button on Twitter, then subscribe to an email newsletter, the results were shocking.
After sending 1000 visitors to an opt-in email page and 1000 to his Twitter account, Halpern received around 500 new email subscribers. That's a conversion rate of nearly 50%. The number of new Twitter followers Halpern earned didn't come close to matching.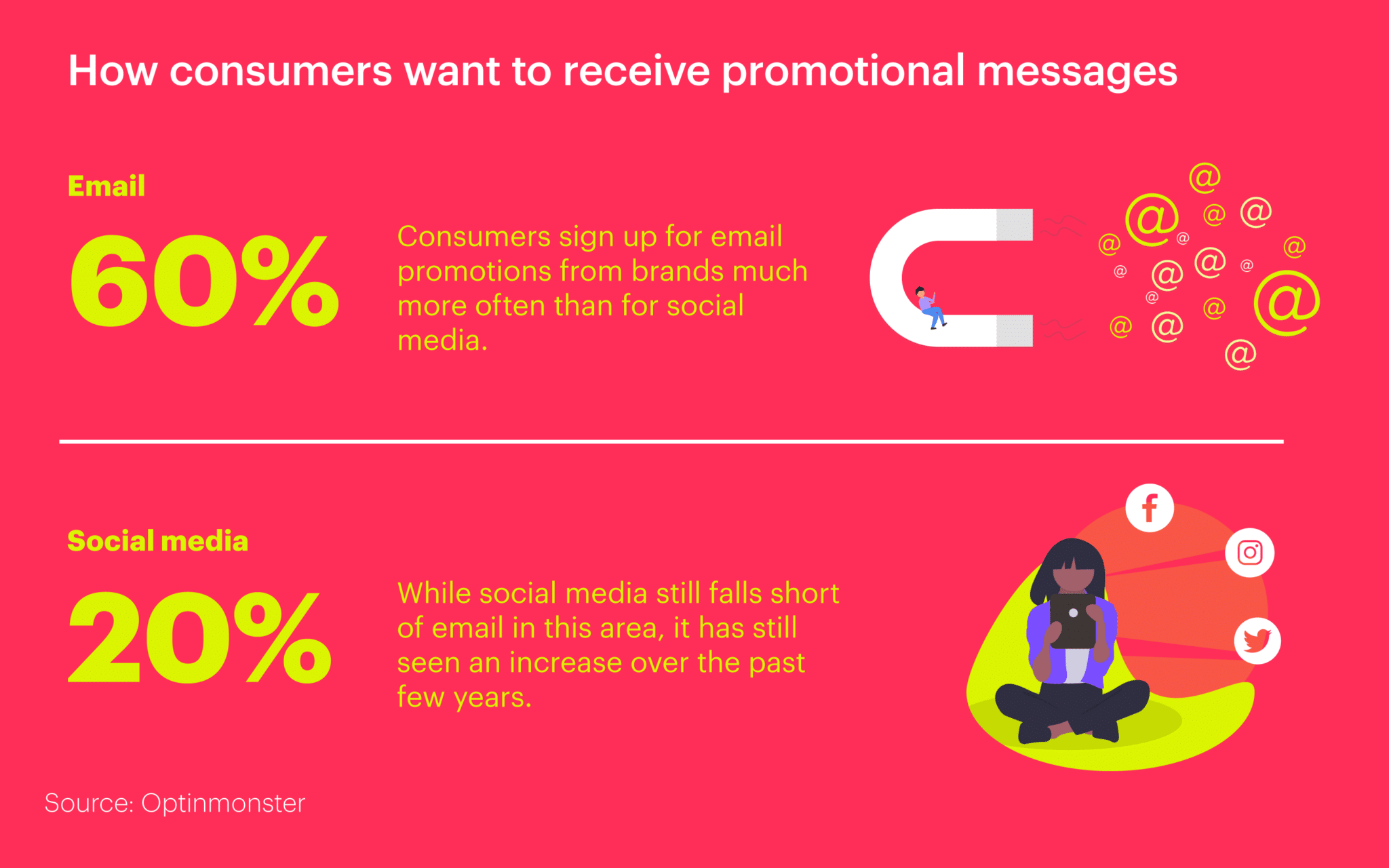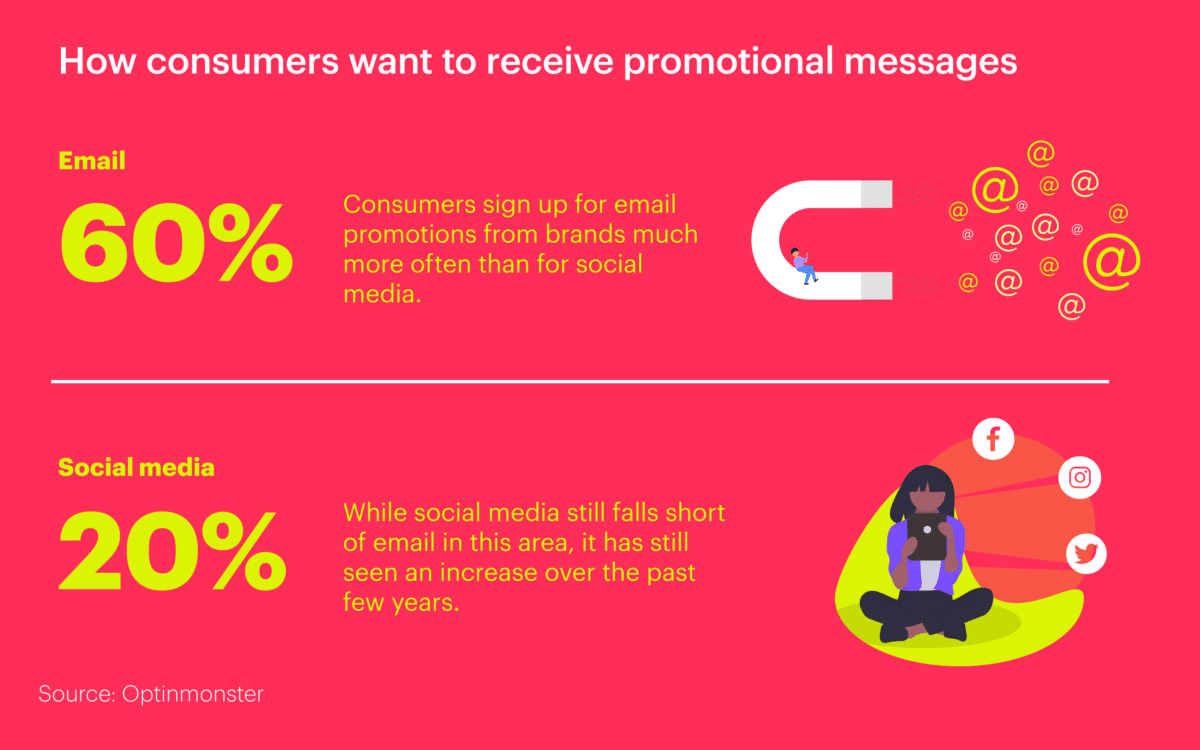 Another piece of research from email marketing company, SendGrid looked at the preferences of Gen Z, Gen X, and millennials. The report found that 74% of customers wanted to stick with email as their main communication method for brands. Only 24% of people chose social media.
Email marketing vs social media: Nurturing potential
Email is something that we're used to seeing in the business world. While many people still use email for connecting with friends and family members, they also use it for many other reasons.
We're accustomed to turning to email for business conversations and finding deals online.
Social media is where people go to connect with their loved ones. While we don't mind seeing the occasional post from a brand on social media, we're not as likely to make a purchase based on something we see on Facebook or Instagram.
Search marketing, like PPC and SEO give your customers a chance to find your business. These tools put your brand front of mind when your audience needs a solution to their problem. However, SEO and PPC might struggle to nurture leads along the buyer funnel.
Both email marketing and social media are great for building relationships with your customers. If you had to pick one over the other, however, email is often the right choice.
Not only do people preferto communicate with brands over email, but it's more affordable too. Organic social reach on social media isn't great right now.
Most of the time, you'll need to invest sizeable amounts of time and money into social media. That's not always an option for smaller brands.
What's more, with social media, you don't really ownyour list. Your social platform can delete your account whenever they choose. That means that you'd have to start from scratch.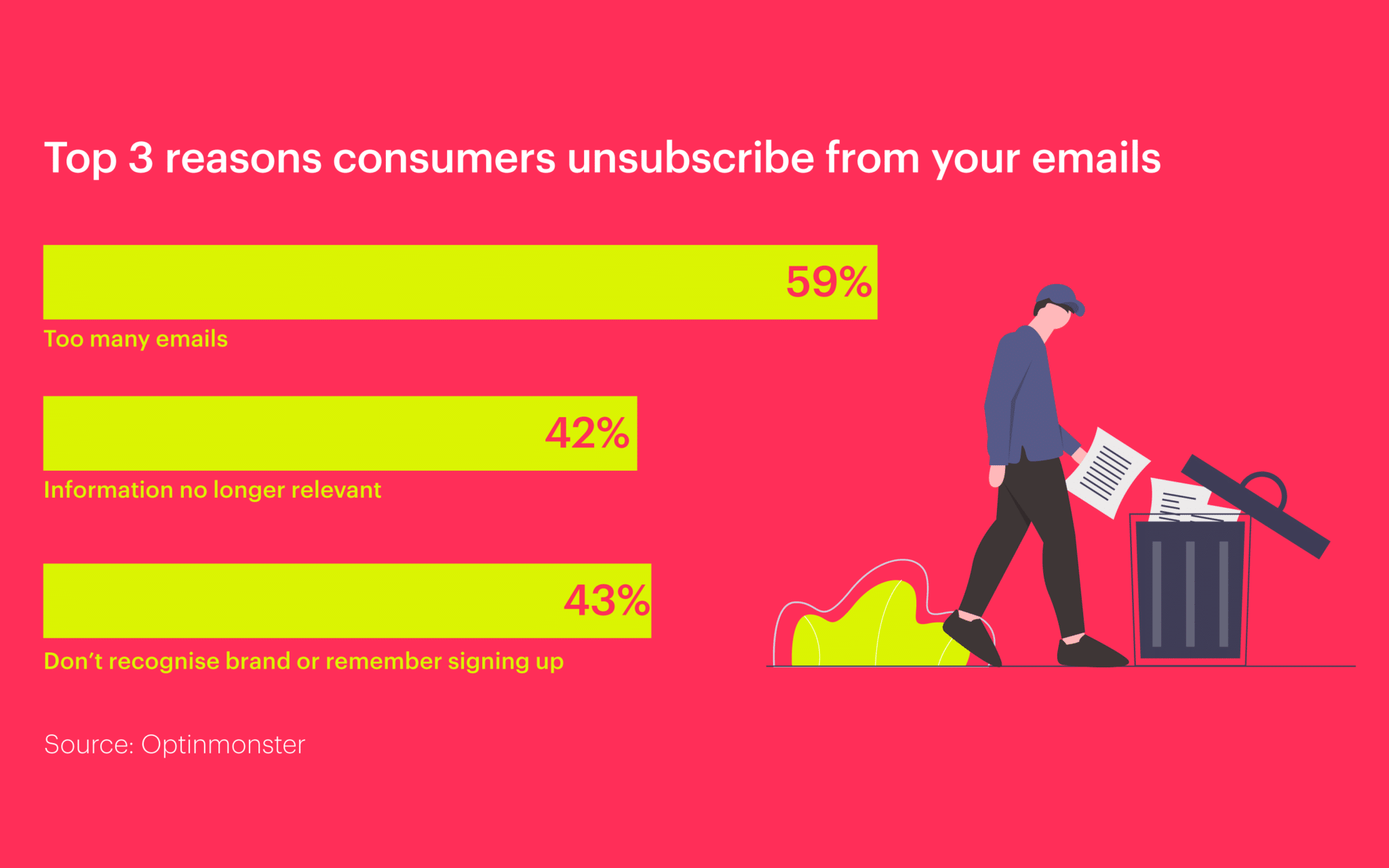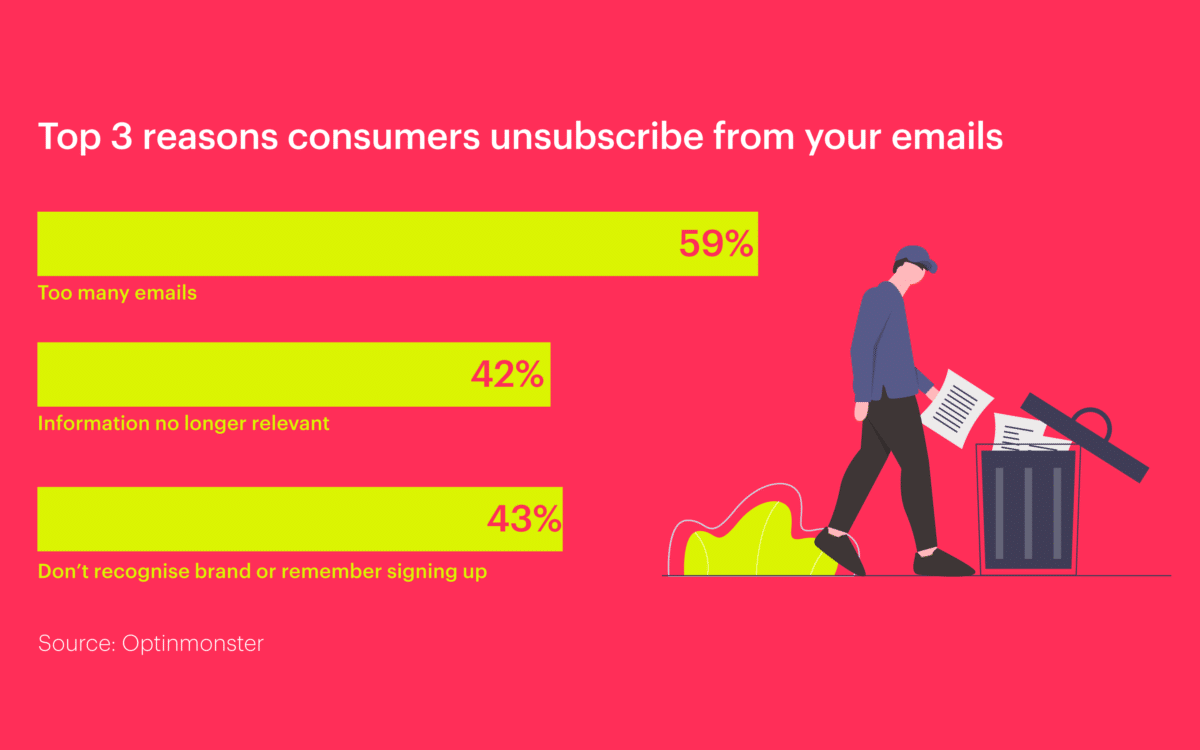 On the other hand, your email list is completely yours. You can contact the people in your list whenever you choose. More importantly, you get to segment and divide that list however you choose.
Email marketing tools give you the power to sort through your contacts and send the right messages to the right people.
Can you combine email and social media marketing?
Both email and social media have their pros and cons.
Social media is often an expensive process. It has less reach than email and doesn't engage your customers as much. Although social media is excellent for encouraging brand awareness. Posting regular content on your social channel makes your company stand out.
You can develop a personality that speaks to your audience with social media. Plus, you have a new way to capture different customers at various points in the purchasing cycle.
Email is excellent for connecting with clients all around the world in a format that they feel comfortable with. That said, it's easy for your messages to go straight to the spam folder if you're not careful.
Around 15% of the emails sent worldwide never reach the inbox. If you want to make sure that you're connecting with your audience, you need a plan.
Often, this involves focusing on getting your messaging right for your chosen audience. It's important to work on your sender reputation too.
The truth is that the debate of email marketing vs social media takes the wrong approach. Companies shouldn't need to choose between one or the other. Social and email marketing actually blend very well together.
Email can send people back to your social posts and website.
Your social media campaigns can encourage new customers to visit your website and sign up for your email newsletter.
Email marketing is the undisputed champion of incredible ROI and reach. However, most companies find that taking a holistic approach that uses both channels is the best way to get results.
With both email marketing and social media, you can create a seamless experience for customers interacting with your brand. You give your audience the freedom to interact with you whenever and however they choose.
Great ways to use eMarketing and social media together
Email marketing and social media aren't opposing channels and tools.
Each option is a valuable tool for business leaders. Both social media and email have their positives and negatives to think about.
The key to getting the best ROI out of any of your digital marketing channels is learning how to use them correctly. Email is a fantastic way to reach customers directly. With the right messages, you can create a customized experience that drives people along the sales funnel.
On the other hand, social media is better for driving customers as communities.
Every time your customers interact with you and each other on social media, they build your brand and its reputation. Combine email and social channels like Facebook, and your customers will be 22% more likely to buy from you.
So, how do you connect social media and email?
1. Use your email list to find customers
If you're looking for a way to grow your audience, you need to start by getting to know the customers you already have. With an email list at-hand, you can use Instagram and Facebook social tools to create "lookalike" audiences.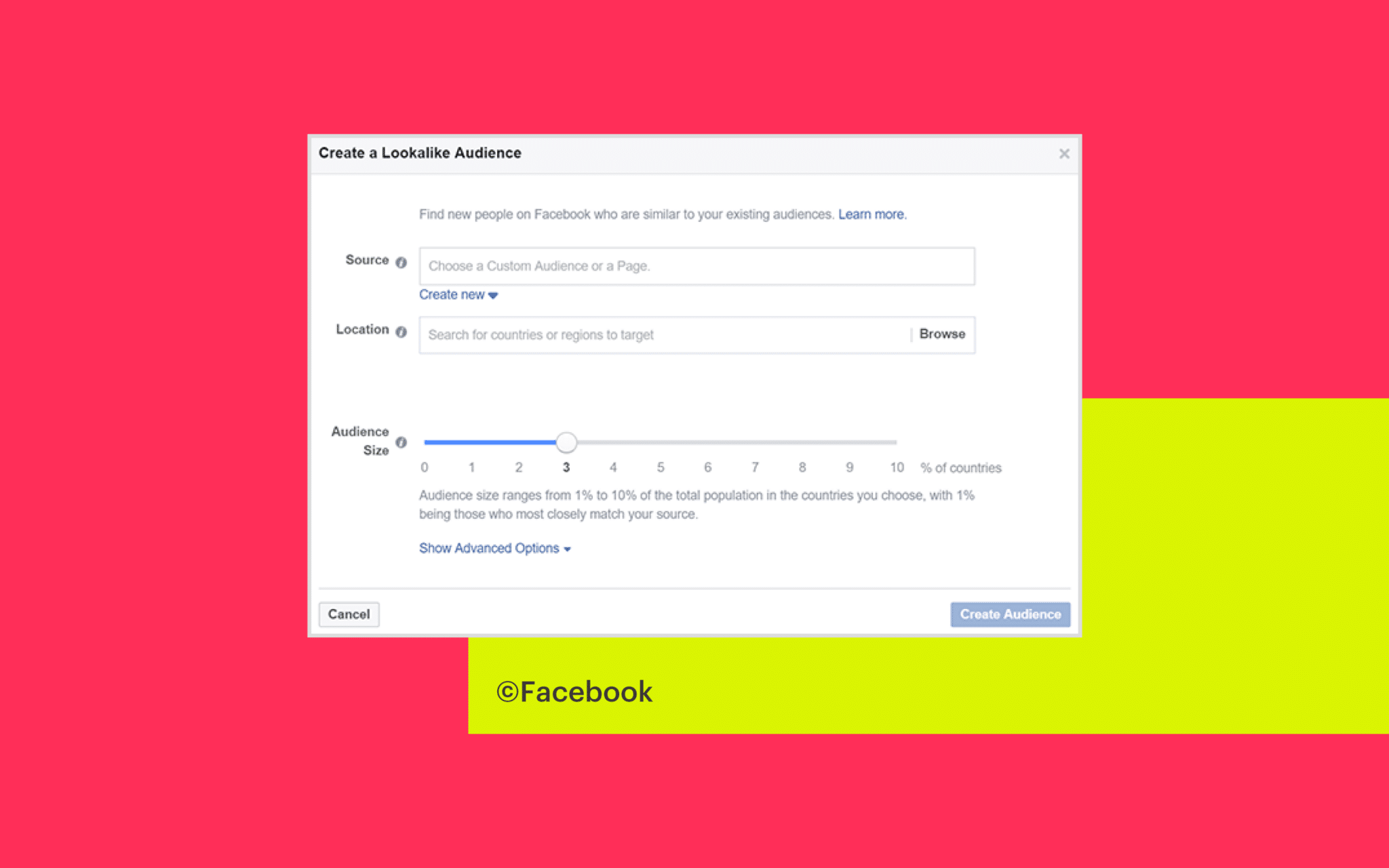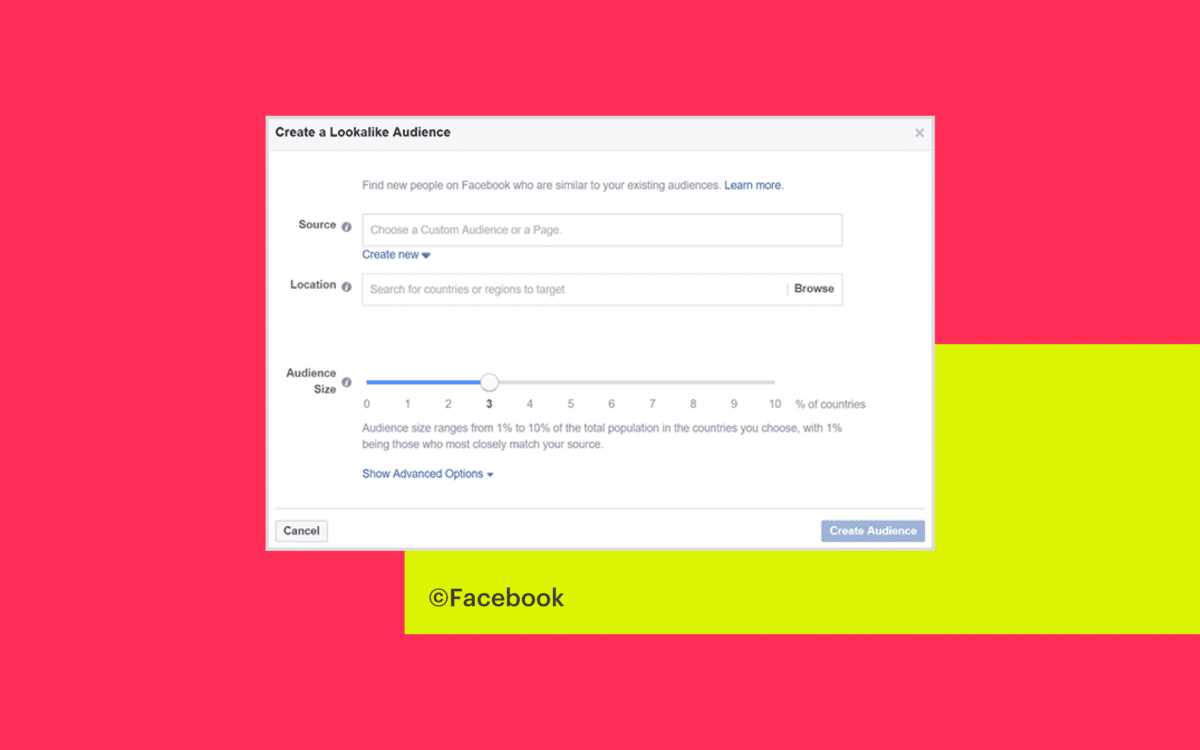 This means that Facebook examines the characteristics of your list to find people with similar habits and qualities.
Your lookalike audience is more likely to convert because they're similar to the existing customers you already have. There's a good chance that a percentage of your target audience might have noticed your brand elsewhere before.
You can choose the size of your lookalike audience, decide which countries you want them to come to and more. Once you have your lookalike market, you can begin building relevant ads that encourage them to like your social pages, visit your website, or even sign up for your newsletter.
2. Retarget customers and leads
Email marketing is a great way to nurture leads into paying customers. However, sometimes your audience will need a little extra push.
Based on how your customers connect with your email campaigns, you can retarget them with Facebook and social ads.
For instance, if you send out an email blast that promotes a product, you can retarget people who opened the email with another message.
Alternatively, if you're using social media and email marketing together, you can use the information you have about your audience to remind them of what they want to buy from your brand on different channels.
As well as sending an abandoned cart email, you can use a retargeting ad on social media with something like the Facebook pixel to deliver relevant ad copy on social media too!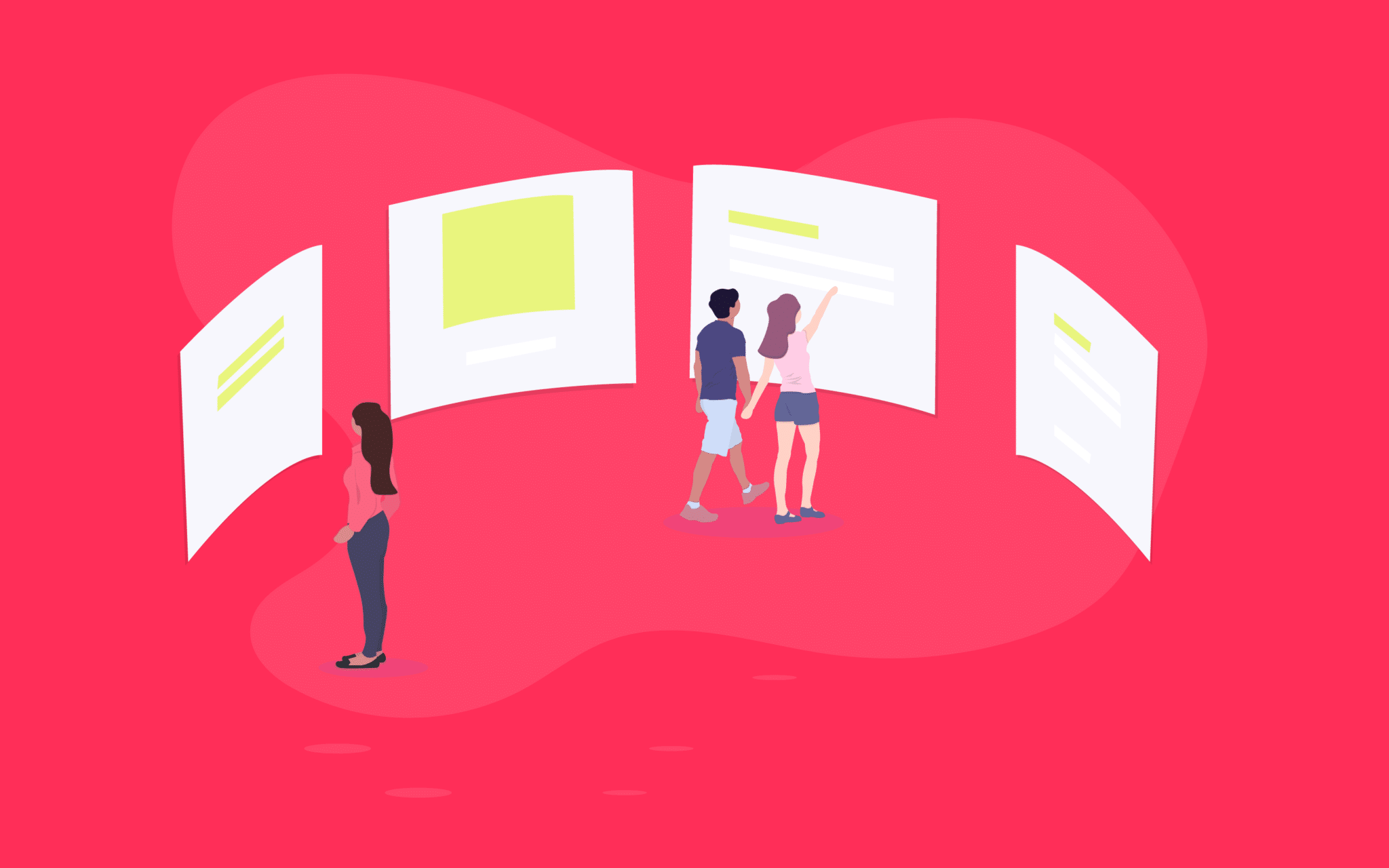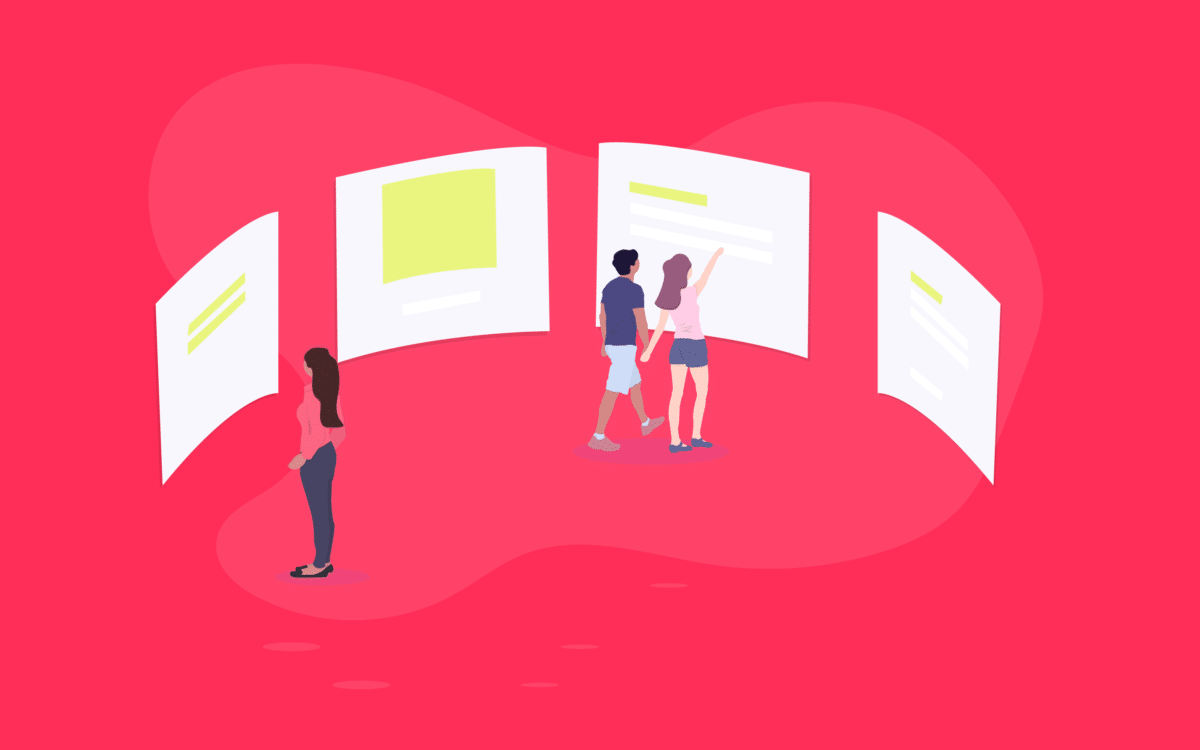 The more your customer sees your products or services, the more likely they are to make a purchase.
3. Grow your email list with social media
Growing your list is one of the most valuable things that you can do in email marketing.
As valuable as your email strategy is, it's important to remember that your list will decay over time. People will begin to lose interest in your product or services. Some will decide to unsubscribe, and others will send your messages to their junk folder.
With email and social media marketing, you can bring more people into your list. There are plenty of great ways to do this. Organic posts on social media that send customers straight to your website and asks them to join a newsletter are great.
For instance, look at how The Decider encourages customers to sign up for their newsletter here: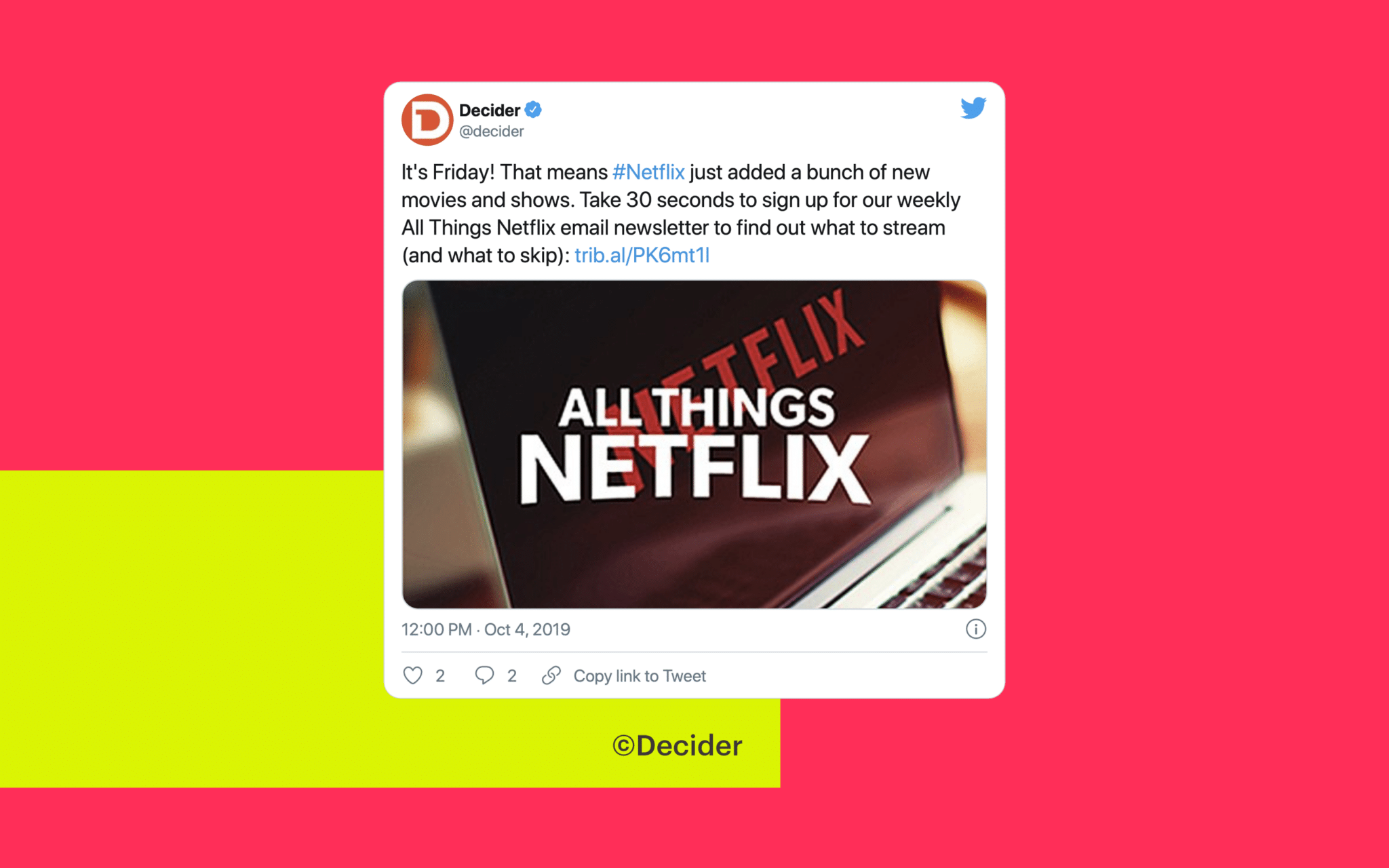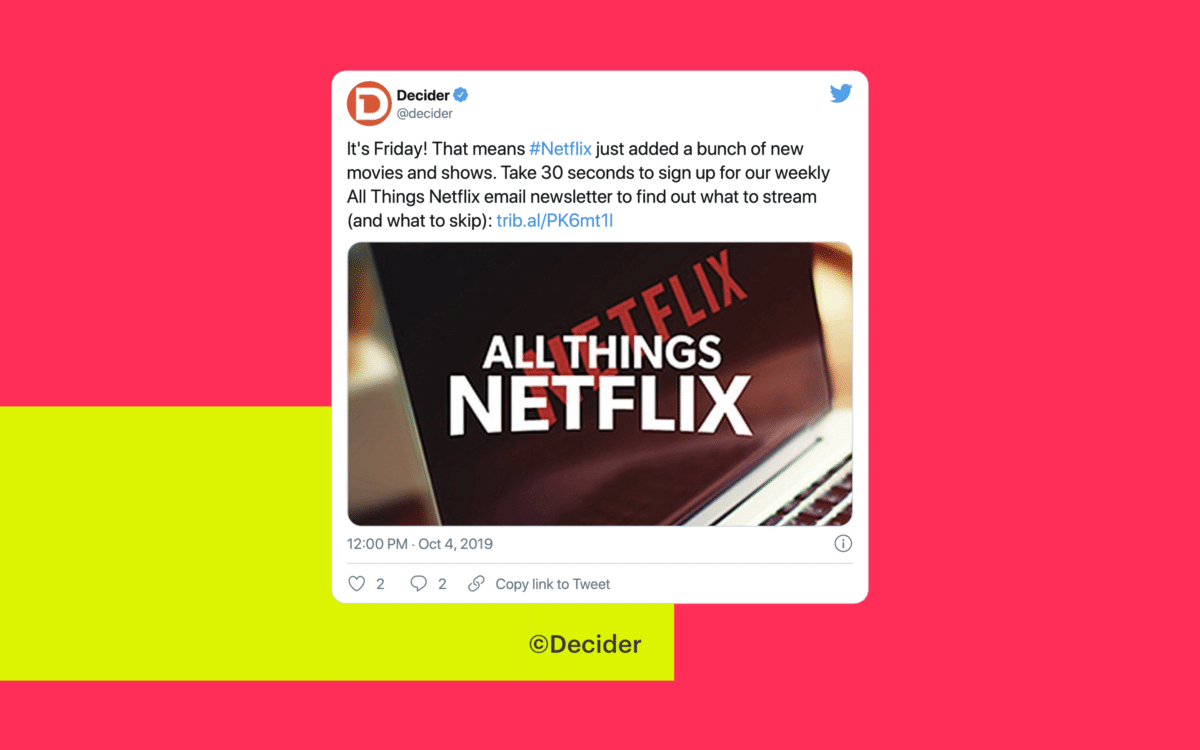 You can also target specific audiences with Facebook ads and create copy or lead magnets that encourage people to join your newsletter.
Email marketing beats other digital marketing channels
Hopefully, at this point, you'll have a better idea of what makes the email marketing channel so appealing to brands.
Email has a better ROI and a stronger reach than any other marketing strategy out there. Although that doesn't necessarily mean it should be the only method you use. While email has a lot of benefits to offer on its own, it works best as part of a comprehensive marketing plan.
Email supports and enhances the performance of all your other digital marketing channels. It nurtures the people that you capture through content marketing and SEO into paying customers.
Remember, though 70% of people prefer to learn about products through content, they need multiple interactions with a brand before a purchase.
Today we've discovered that it's not just a case of email marketing vs social media, as the two work particularly well together. They both offer excellent ways to connect with your audience and build your brand reputation.
However, if you need to pick one marketing strategy to begin with, email is sure to be the right choice.
Learn more about email and other digital marketing strategies on the Fabrik blog today.
Fabrik: A branding agency for our times.