What is the target market of the Super Bowl? Audience age range, gender, and more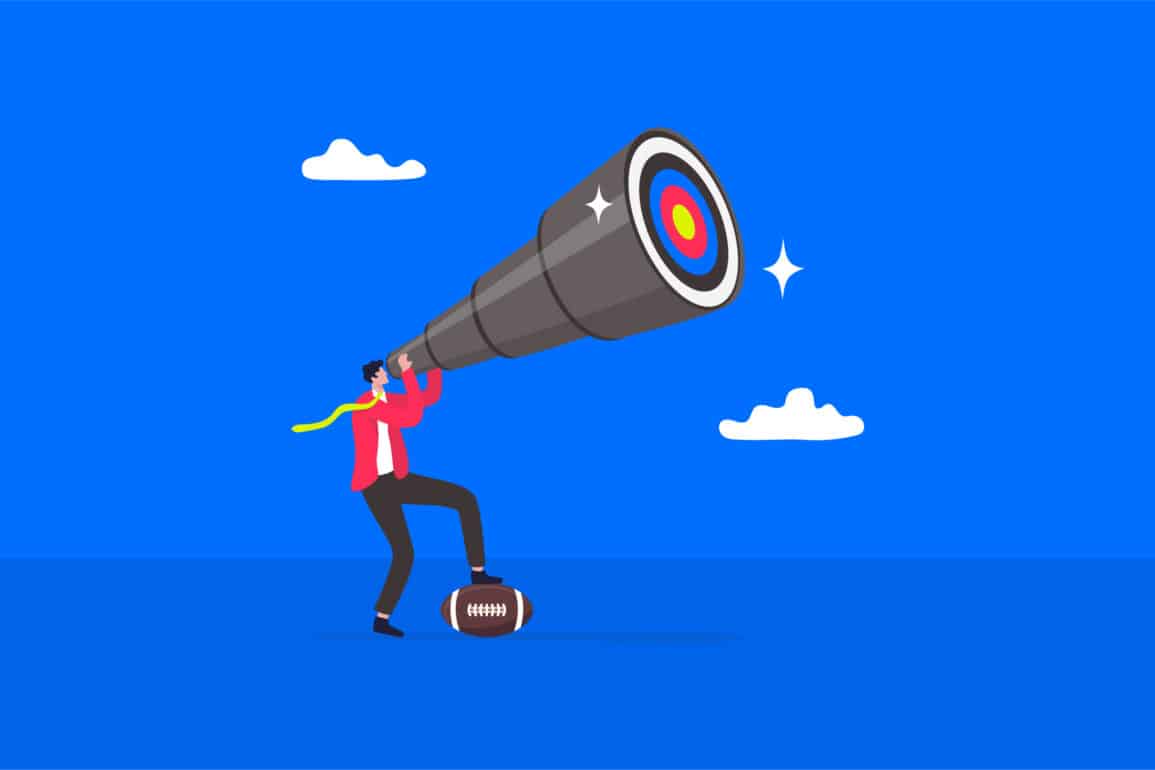 What is the target market of the Super Bowl? Why do so many companies invest millions into Super Bowl marketing, and how has the sporting event evolved over the years? It's time to take a deep dive look at everything you need to know about the transforming Super Bowl target audience.
The Super Bowl is more than just an American sports competition. It's a cultural phenomenon, capable of driving brand awareness and engagement all over the globe. As one of the most watched events of the year in the US (and worldwide), the Super Bowl has phenomenal reach.
Every year, fans flock to the event, not just to watch their favorite teams play, but also to witness the highly anticipated Super Bowl commercials and half-time shows. This makes game day a massive opportunities for marketers and big brands alike.
Today, we're going to take a closer look at the target market of the Super Bowl, how it's changed over the years, and how marketing teams can take advantage of the spectacle.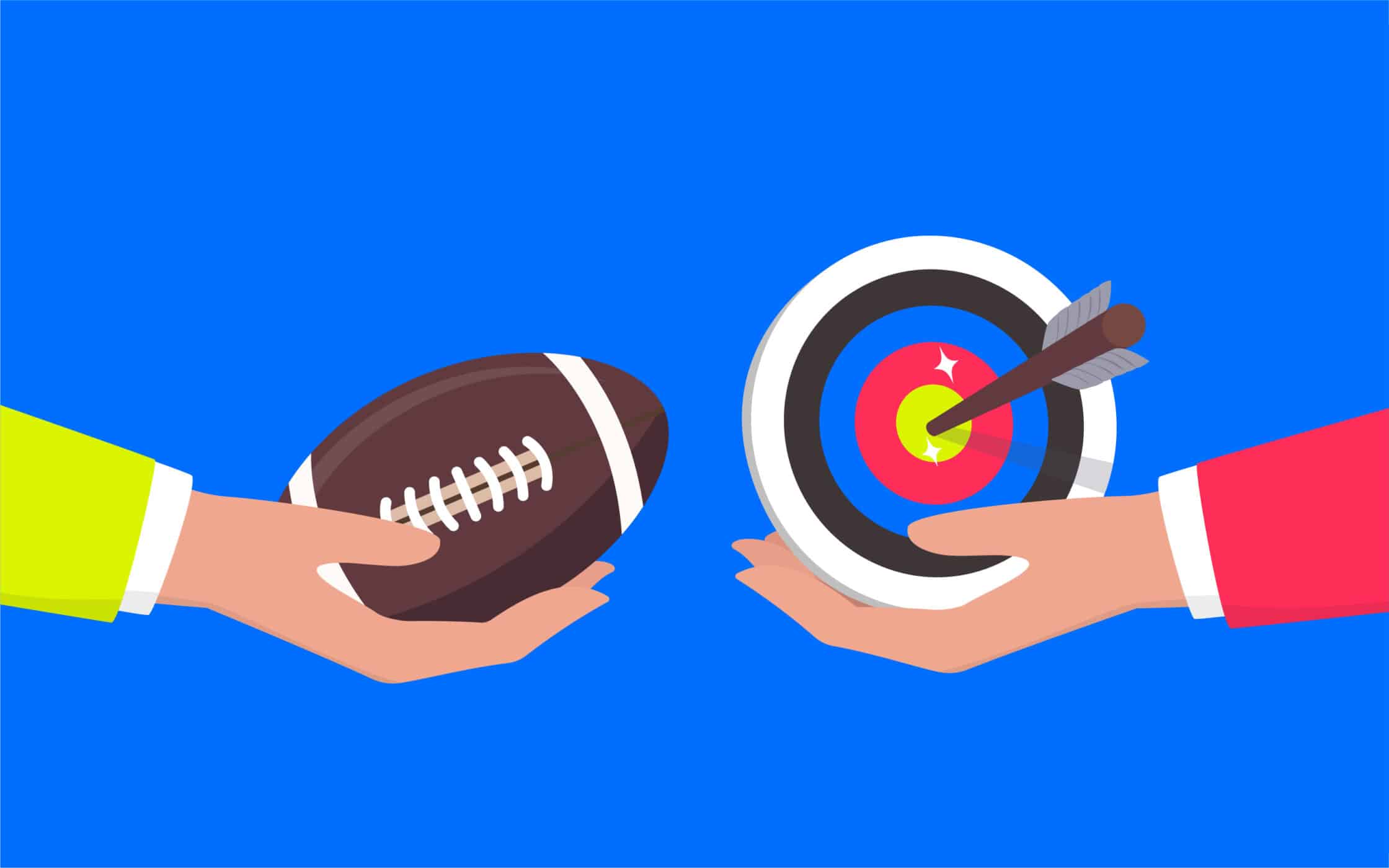 What is the target market of the Super Bowl?
Let's start with the basics: what is the target market of the Super Bowl?
On the surface, it'd be fair to assume that the Super Bowl primarily targets football fans in the United States. It's the highlight of the NFL season, watched by millions of fans throughout the US. In 2022, the Super Bowl broke records with an audience of 115.1 million viewers.
However, these viewers aren't just avid football fans, nor are they exclusively from the United States. According to the NFL, a global audience of more than 56 million people watched the show in 2023. This included 20.7 million people in Mexico, 17.3 million in Canada, and 2.5 million in Brazil.
This demonstrates a growing global market for the sporting event, driven in large part by the advent of worldwide streaming opportunities.
Similarly, these huge viewer numbers are made up of both avid and casual fans, as well as newcomers to the world of American football. According to Kantar, 43% of viewers say they watch the show purely to enjoy the game.
However, 24% of customers said they watch the Super Bowl to enjoy the experience with their friends and family, and 26% said they watch the show for the halftime event. Another 17% of consumers said they also watch the show primarily for the ads.
This suggests the Super Bowl's target market spans across various geographies and landscapes. Not only does the event appeal to viewers, but it targets big brands and companies looking to showcase their services and personality to consumers.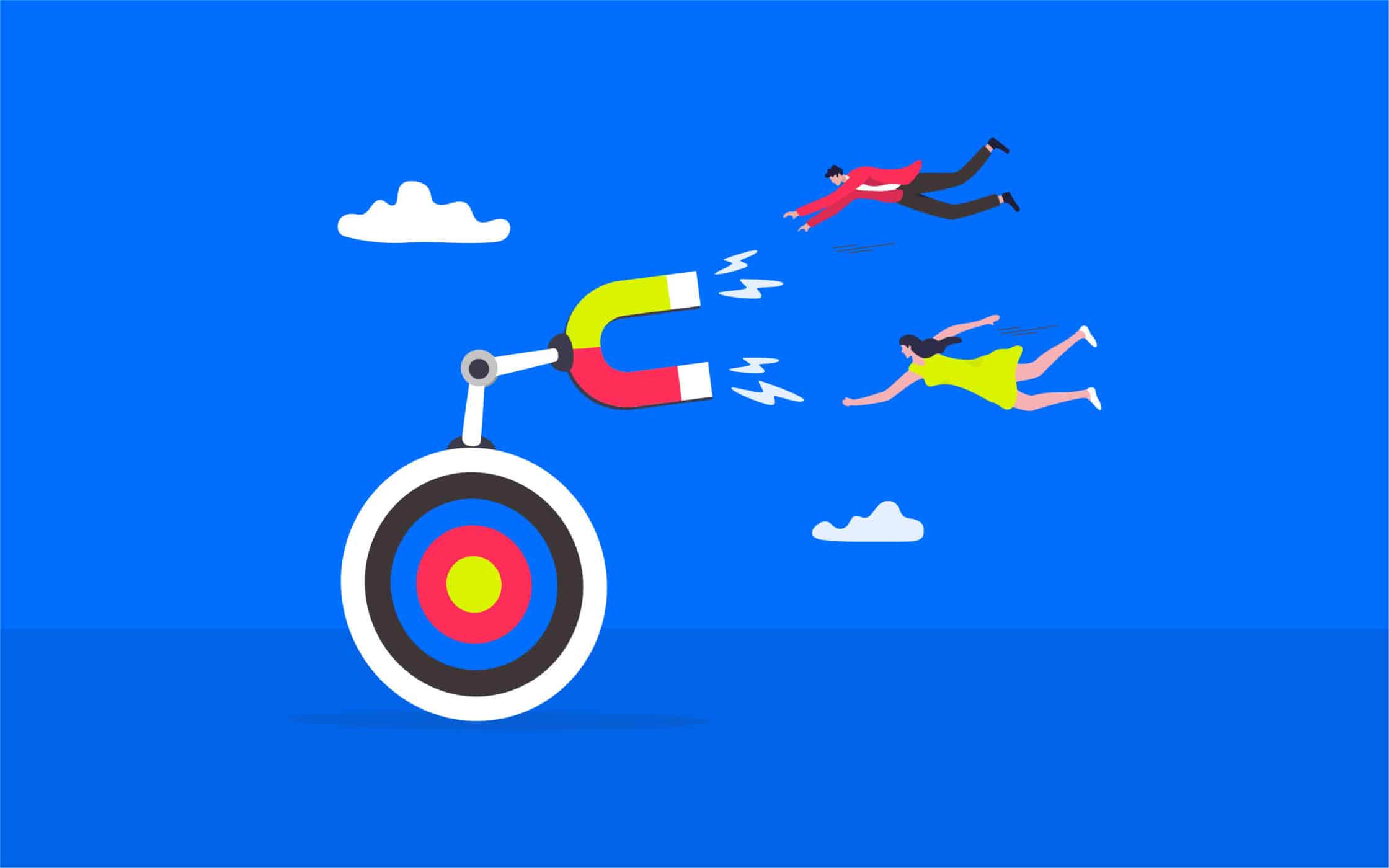 Super Bowl audience demographic characteristics
Diving further into Super Bowl audience demographics, we can see a lot of variety among viewers, beyond geographical segmentation. During an early 2023 survey in the US, more than 50% of respondents between the ages of 35-44 said they planned to watch the Super Bowl.
Other reports have found the event is extremely popular among college-educated students between the ages of 18 and 24. 98% of these viewers are male, and come from middle-class backgrounds.
However, it's worth noting that the demographic audience of the Super Bowl is evolving. Adults aged 44 and under are driving consistent year-over-year increases in viewership.
75% of viewers in 2022 were between the ages of 18 and 34. However, older viewers are still interested in the game, with 62% of adults over 65 saying they planned on watching.
The gender divide appears to be changing too. One study found women have become more interested in football over the last couple of decades. They now make up around 46% of the Super Bowl's viewing audience, plus, they have higher spending intent too.
The report above found women spent something between $100 and $300 per year on NFL related merchandise on a consistent basis.
As new generations enter the marketplace, there's a growing interest in the Super Bowl among younger fans too. Gen Z is becoming a major target for both the Super Bowl itself, and the companies that invest in marketing throughout the game.
The rise of this new generation has led to an evolution in Super Bowl marketing strategy efforts among companies, who are now leveraging more influencers, social media, and humor in campaigns. Kantar even found "funny" ads were ranked highest among all demographics.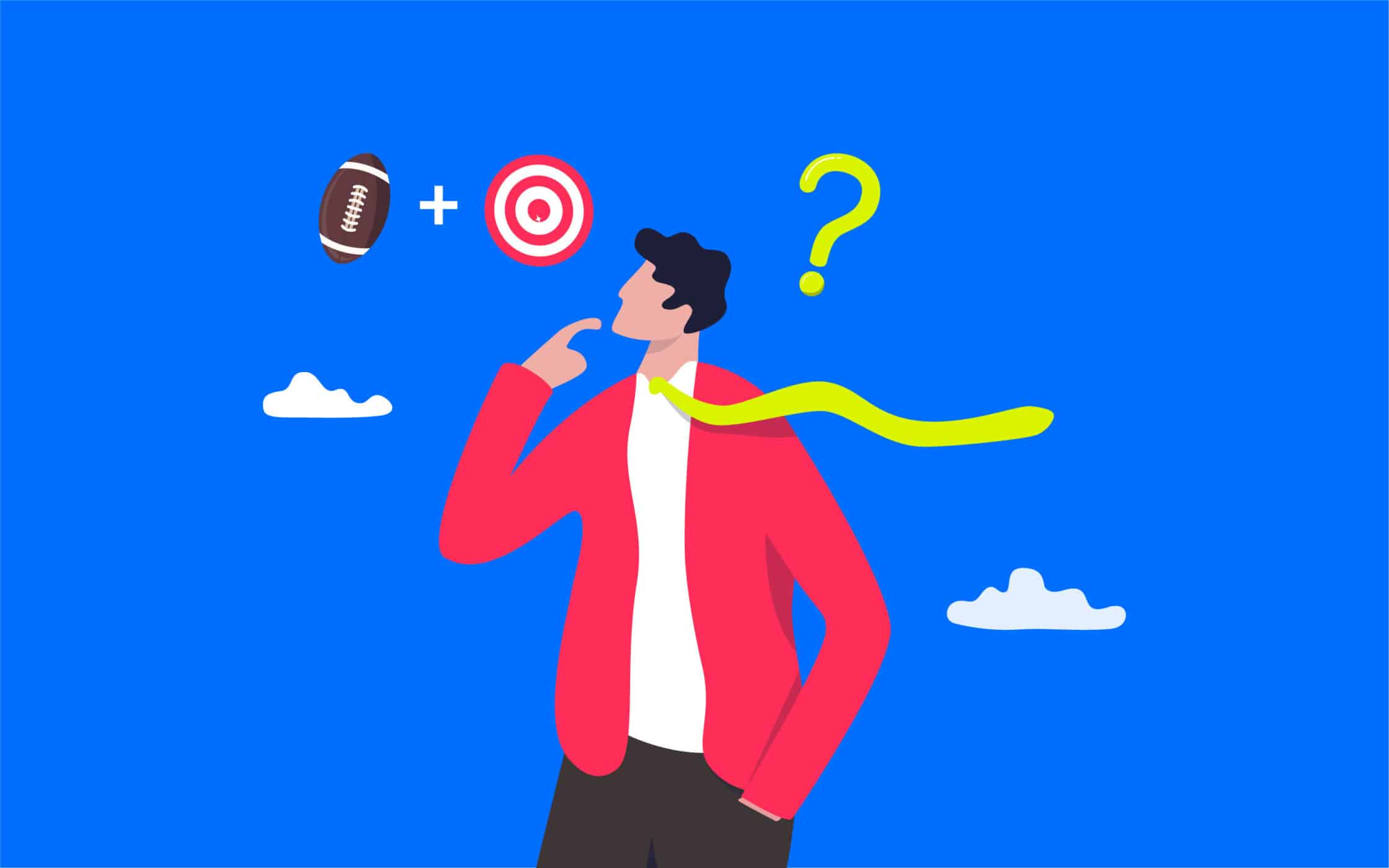 Understanding the Super Bowl target audience
Answering the question "what is the target market of the Super Bowl" is complex because the event has more than one obvious target audience. Though the Super Bowl is certainly a draw for football fans, it also captures the attention of non-fans who love the ads and half-time entertainment.
Around a third of viewers say the ads are their favorite part of the game. Additionally, Kantar found that virtually every country that tunes into the Super Bowl considers ads to be an important part of the experience.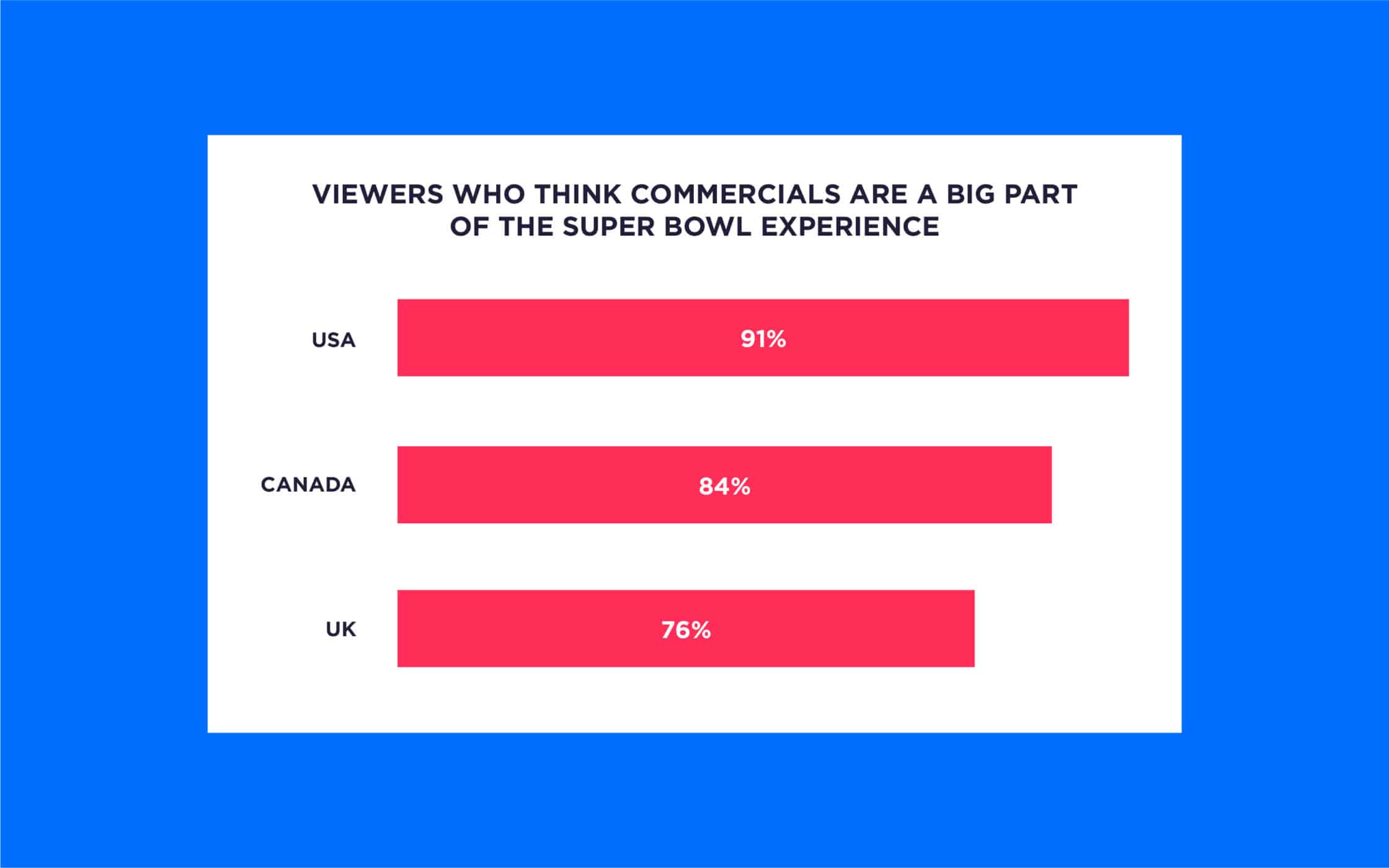 This draws attention to another target audience for the Super Bowl: brands and advertisers. The ability of the Super Bowl to capture the attention of so many engaged viewers makes it an excellent platform for branding and marketing campaigns.
The Super Bowl is a rare event, offering marketers access to an environment where consumers are unlikely to simply skip through the ads. Plus, digital media allows companies to promote their ads during the games, as well as before and after.
Kantar found around 48% of customers actually like seeing teasers of Super Bowl ads on other channels. At the same time, the Super Bowl represents an incredible opportunity for boosting brand awareness and recognition.
In 2021, 67% of fans in the US over the age of 18 said they were more interested in watching the Super Bowl than virtually any other sporting event, including the World Cup and Winter Olympics. This gives companies a fantastic opportunity to stand out.
A report even found that Super Bowl advertisers see a 16% increase in word-of-mouth interactions for up to a month after the game.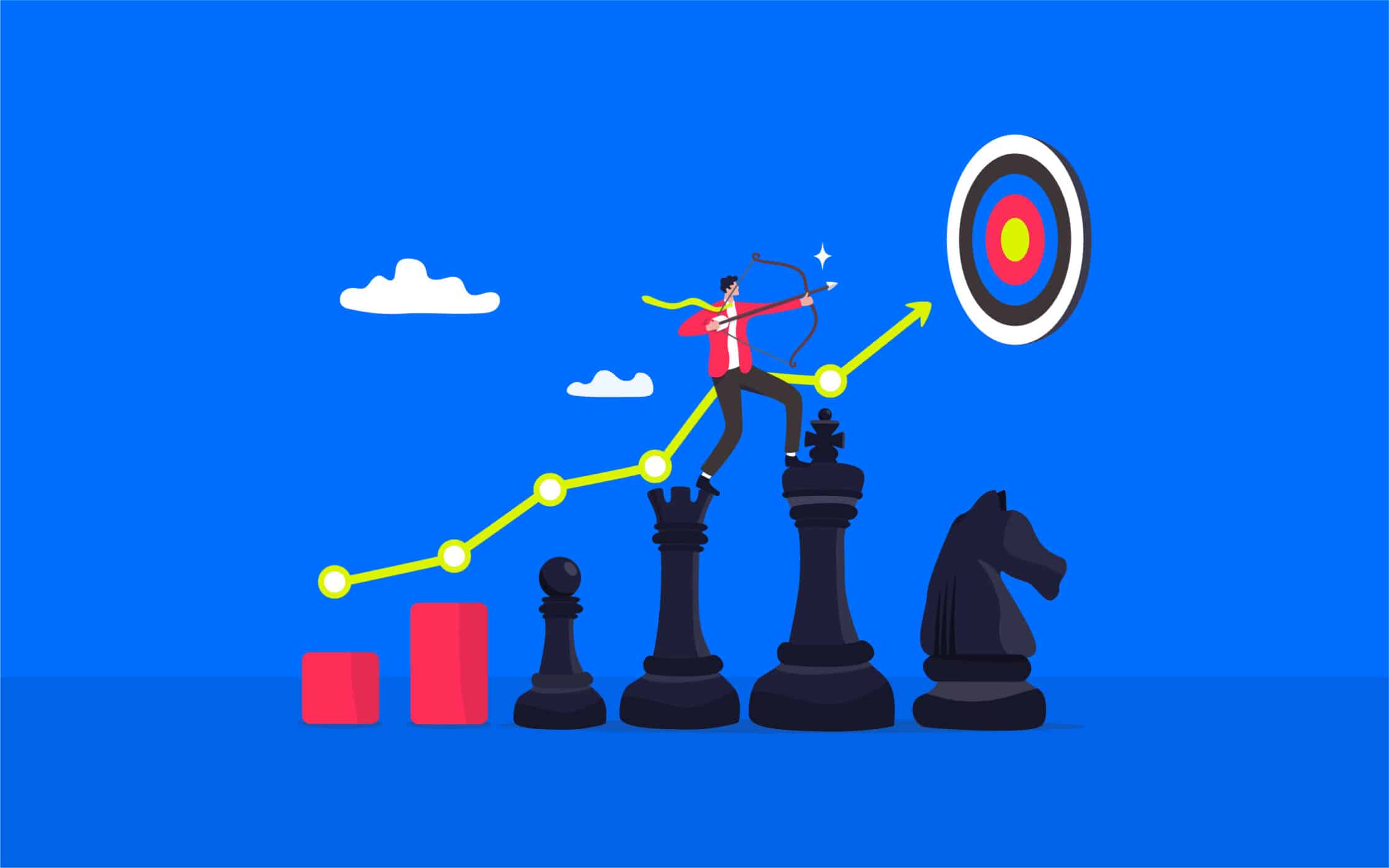 The Super Bowl marketing strategy
Super Bowl Sunday has become such a significant cultural phenomenon over the years, that the NFL doesn't have to invest much in marketing itself. Super Bowl marketing campaigns do exist across various channels, from social media to television ads.
The NFL appeals to younger viewers across social channels like Facebook, Instagram, and TikTok, sharing snippets from last year's game, and behind-the-scenes looks at players.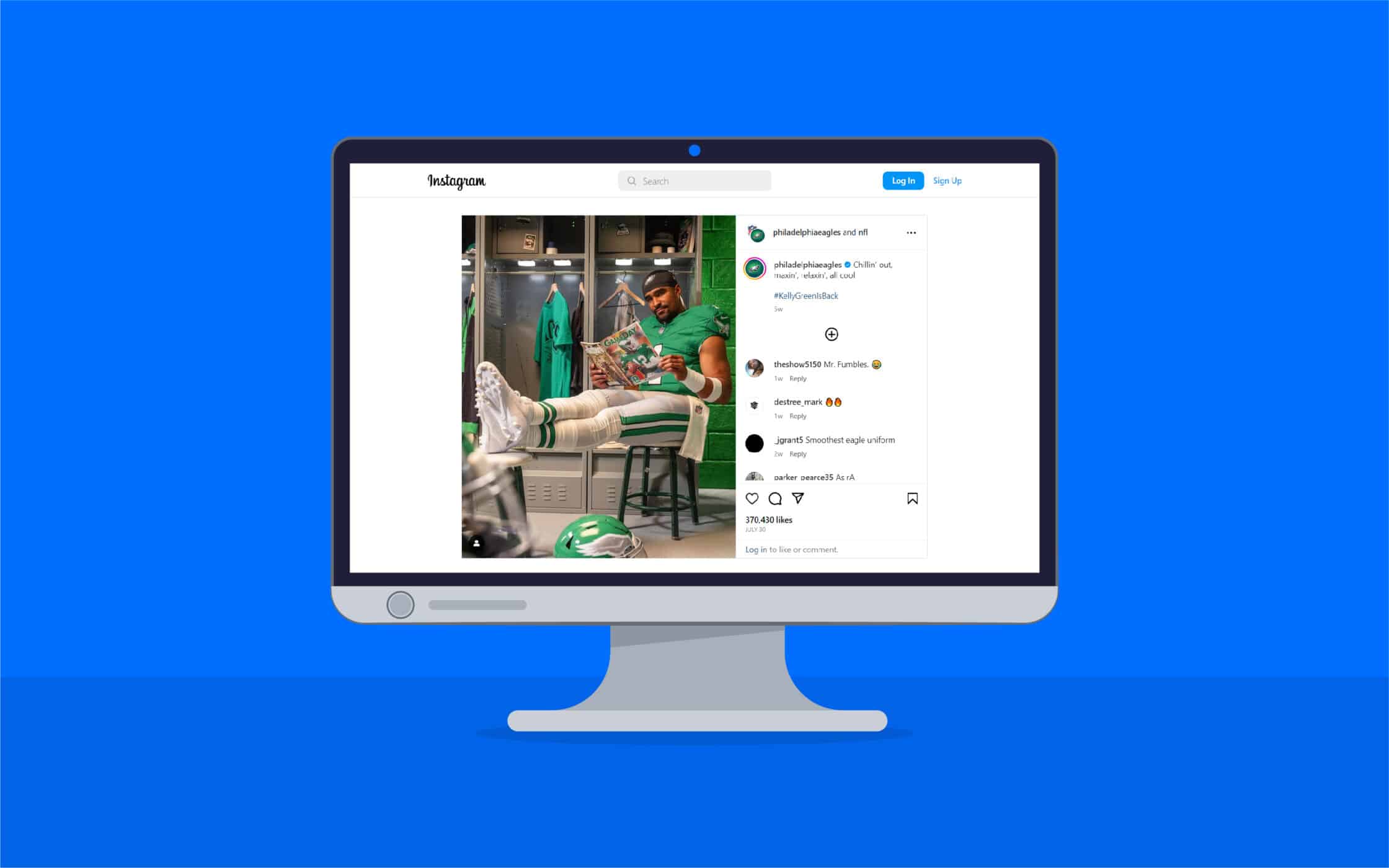 Super Bowl marketing campaigns also run across various TV channels, and radio stations leading up to the big game. It's even common to see physical advertisements, like billboards and promotions in various towns and cities. However, the NFL doesn't have to work hard to draw attention.
In 2023, the Super Bowl had its highest viewership in 6 years, and ad spots for the game constantly sell out, despite changes in the economy.
The NFL relies heavily on the existing excitement among its fan base to ramp up viewership and interest among advertising teams. It also uses audience analysis tools and insights to ensure it's showcasing the right content alongside the game itself.
Half-time shows are designed to capture the attention of evolving audiences, with not just well-known celebrities, but influencers in the modern market. Additionally, each commercial break is carefully planned, with only a handful of companies receiving a 30-second slot.
This careful approach to advertising, and partnerships with companies offering high-profile commercials, allows the Super Bowl to appeal to a wide range of different audiences, without a huge marketing budget.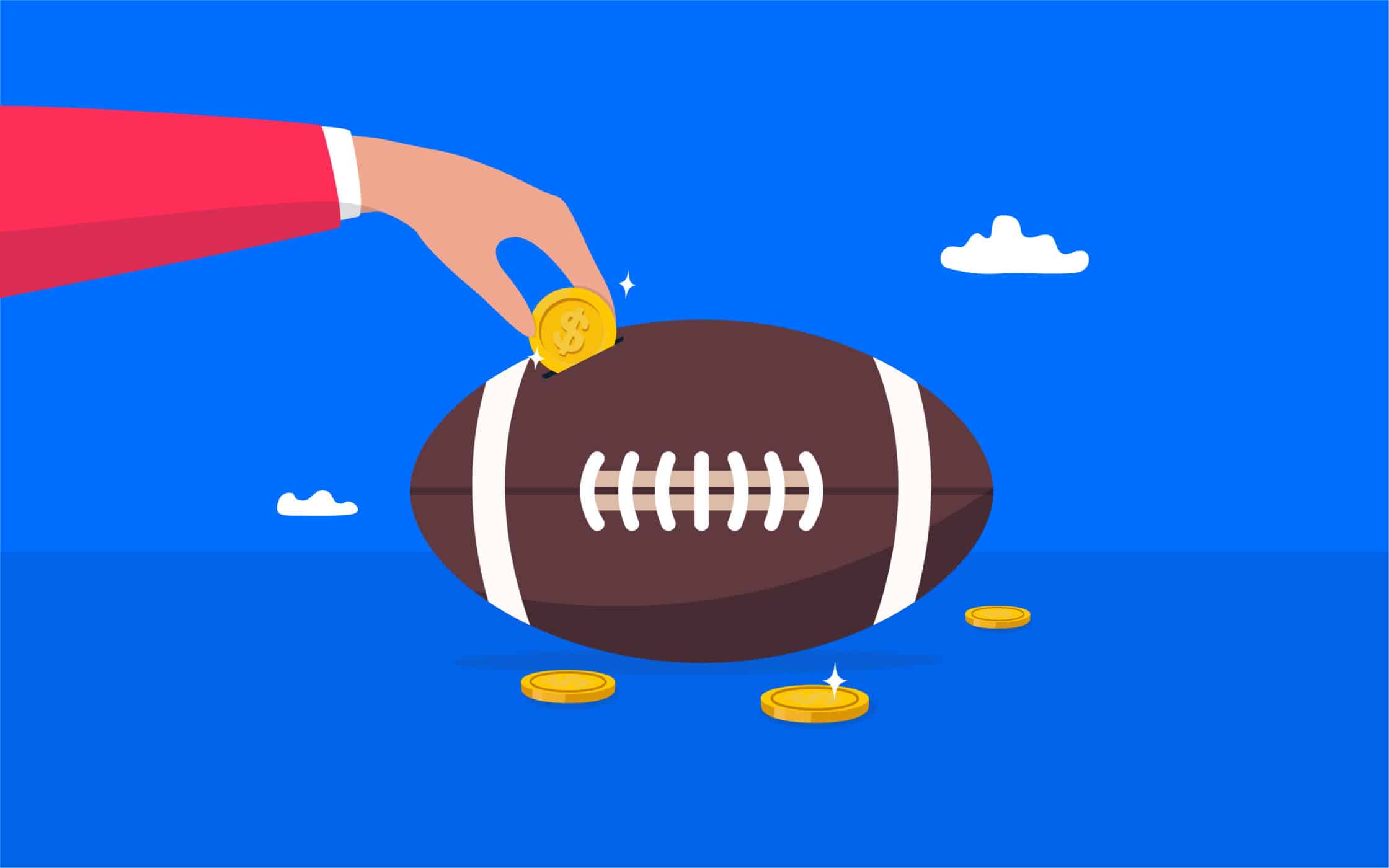 How companies invest in Super Bowl marketing
As mentioned above, a significant portion of the Super Bowl viewership numbers each year come from people interested in seeing the latest ads from well-known companies. The Super Bowl has become perhaps the biggest branding event of the season for many organizations.
The big game is a showcase for phenomenal advertising, adding to both the Super Bowl's appeal, and its reach to different audiences. However, like the NFL, brands aren't just spending millions on a 30-second ad space anymore.
Rather, the success of Super Bowl advertising is now dependent on a more comprehensive approach from business leaders. As digital natives continue to evolve, connecting with potential customers across a range of platforms before, during and after the game is becoming increasingly important.
Companies in 2021 spent more than $435 million on ads during the Super Bowl, but in recent years they've begun investing in social media campaigns, on-site activations, influencer campaigns and more. The future of Super Bowl ads is also changing as a result of customer trends.
As younger generations and female fans continue to tune into watch the game-winning touchdown each year, TV commercials are becoming more inclusive.
Gartner predicted in the years ahead, we can expect to see companies investing in Super Bowl ad campaigns, and the NFL itself investing in more progressive themes for their ads.
Brands are now striving to navigate a variety of social concerns that are becoming more important to young customers. They're investing in authenticity, representation, and human connection, with emotional campaigns intended to connect with new customers.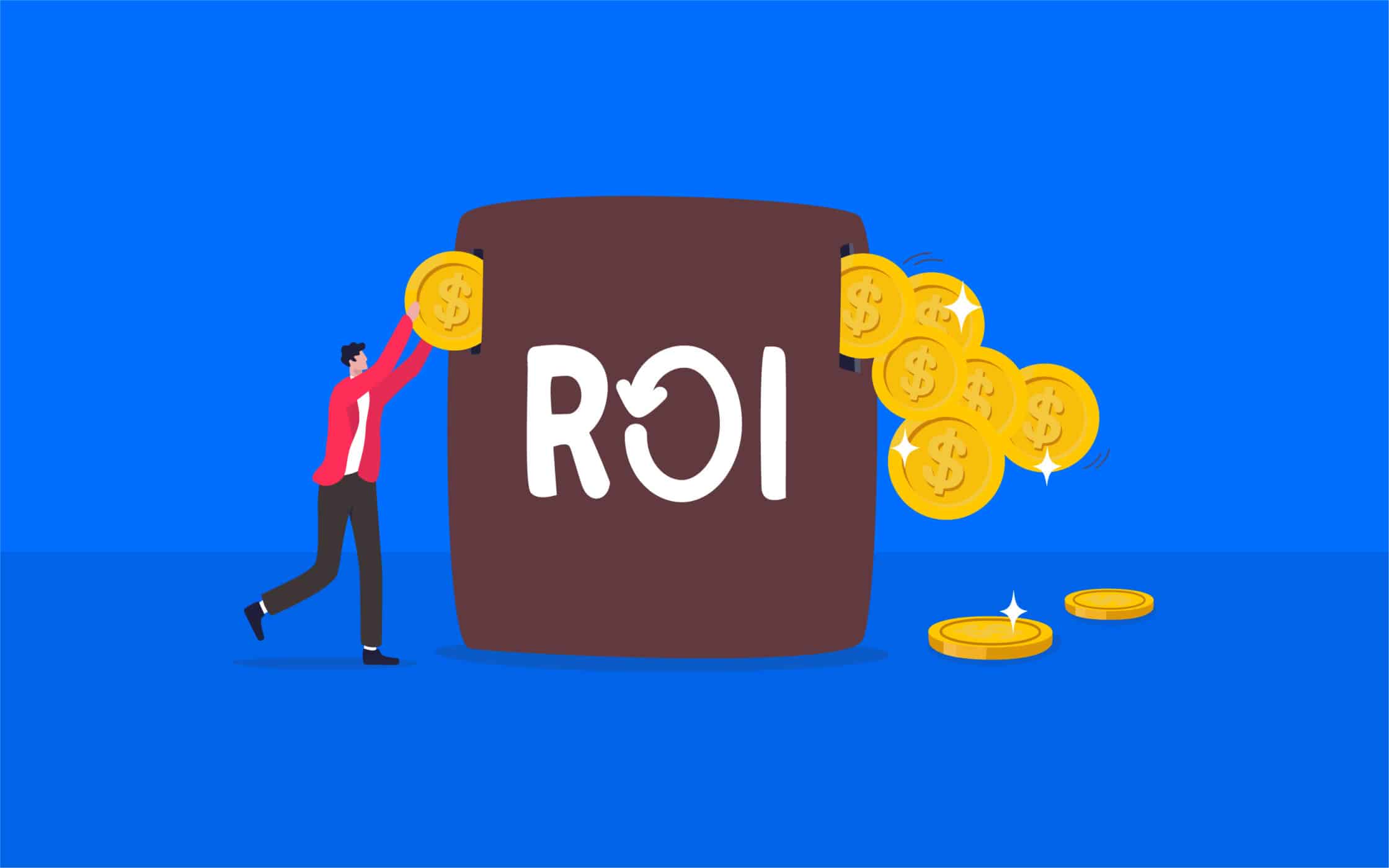 Does Super Bowl advertising provide a good ROI?
While the Super Bowl definitely appeals to a wide range of companies with its advertising slots, few organizations can really afford to showcase an ad. In 2023, advertisers paid an average of $7 million to air a 30-second-long clip. This number increases every year.
However, for companies that do have the budget, investing this amount into advertising can pay off. Not only does a Super Bowl ad slot provide increased brand awareness and engagement, as mentioned above, but it can significantly increase sales.
According to Kantar research, Super Bowl ads delivered an average $4.60 return for every dollar spent. Some brands even received double-digit returns on their investment, per dollar.
Of course, the ROI of any advertising campaign can vary depending on numerous factors. The highest-performing ads are generally the ones that can connect with customers emotionally.
Highly authentic campaigns, with unique content, humor, and the presence of influencers or celebrities can drive more excitement and purchasing behavior.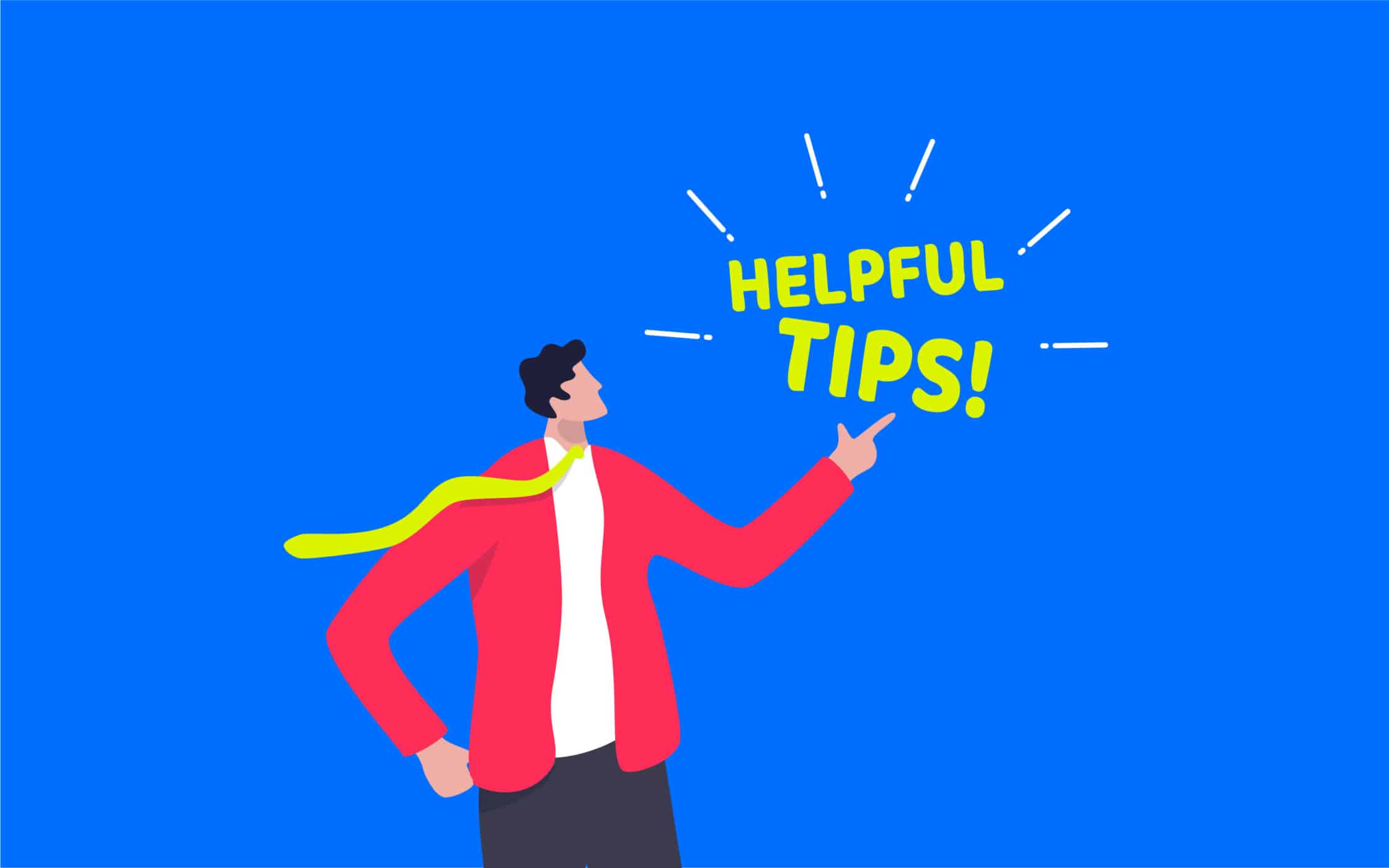 Super Bowl digital marketing: Tips for brands
As one of the world's biggest marketing events, the Super Bowl can teach us a great deal about the evolution of advertising, both online and offline. The NFL's marketing efforts demonstrate the value of appealing to a broad audience.
At the same time, the ads that appear throughout the sporting event each year provide an overview of evolving marketplace trends and preferences. For instance, one of the top rated Super Bowl commercials aired in 2023 was the "Farmer's Dog".
This ad didn't use any celebrity actors, but instead tugged at the heartstrings of viewers, connected with fans on an emotional level, and leveraged high degrees of authenticity and nostalgia.
Even small businesses, who may not have the budget to pay for a 30-second Super Bowl ad, can learn something from the event's approach to marketing.
Here are some tips to take with you into your next advertising campaign.
1. Know your audience
Above, we looked at the question, "What is the target market of the Super Bowl?" Defining your target market, in any industry, is an important step in creating a powerful advertising campaign. The more you know about your customers, the more you can connect with their emotional state.
Defining what type of person is going to view each ad you create; ensures you can create a message that truly resonates with your customers. Around the Super Bowl, it's worth remembering your target audience might not just be major football fans.
All kinds of customers are watching the event through live streams and other platforms. Big companies often adjust their marketing messages to reach a huge audience with versatile themes, such as nostalgia, or community spirit.
2. Be inclusive
While being aware of your target audience and specific customer profile is important, it's worth remembering that inclusivity is important right now. The National Football League appeals to a huge audience in various parts of the world.
If you're creating an ad campaign to coincide with the Super Bowl, making sure you can connect with as many potential viewers as possible makes sense. Think about the different geographies and demographics you might be able to reach on different channels.
Use inclusive language, and avoid focusing specifically on one persona, such as the traditional male football fan. This won't just improve your reach; it could also benefit your reputation.
3. Pay attention to trends
The most memorable Super Bowl marketing campaigns often have an impact because they connect with current trends and concepts in the modern market. Staying in the loop with current events, pop culture, and purchasing trends can help you produce more compelling campaigns.
If you're building your advertising campaign specifically around the Super Bowl, it's worth paying attention to what's going to be happening in the game. Look at the teams playing, as well as the halftime show headliners and advertisers that will appear during the game.
Nostalgia often plays a big part in Super Bowl marketing, so drawing attention back to big moments from previous tournaments and events, particularly in social media ads, can be helpful too.
4. Engage with people on social media
Even companies lucky enough to purchase their own Super Bowl ads don't rely exclusively on their TV campaigns to connect with audiences today. It's worth remembering this major event only happens for one day. What you do around the competition is important too.
Creating a comprehensive social media campaign is one of the best ways to take advantage of the hype and momentum surrounding the Super Bowl. You might create social media ads, host giveaways, and interact with customers through polls.
Social media is an incredible tool during the Super Bowl. According to the NFL, social views of videos and follower accounts increased drastically in the last year. A strong social media strategy allows for easy access to your target audience.
You can use your social campaigns to build a sense of community and engagement around your brand, leverage the excitement among existing customers, and boost interactivity.
5. Take an omnichannel approach
While investing in social media is a great way to build awareness during the Super Bowl, as evidenced by the NFL themselves, it's important to look into other strategies too. Cross-promoting products and services across different channels helps to boost your reach.
Though the right strategy for your marketing team will depend heavily on your target audience, there are various strategies you can explore. Influencer marketing is a great way to connect your company with well-known market leaders and sports professionals during the Super Bowl.
Email marketing gives you an opportunity to nurture and connect with audiences in the weeks leading up to the Super Bowl, offering discounts and deals on products related to the event.
Some companies even experiment with SMS marketing, to help reach the wide number of consumers now investing in mobile commerce.
6. Get the Timing Right
The Super Bowl marketing strategy draws attention to the importance of timing for promotional events. Unsurprisingly, viewership tends to drop when the event ends, and peaks just around the halftime show. That's why certain ad slots are more in-demand than others.
You can take the same approach to careful timing in your own advertising campaigns, both around the Super Bowl, and in day-to-day life. During major events like the Super Bowl, posting on social media during, before, and after the game is a great way to boost viewership and engagement.
After all, many consumers will already be active on social media during these times, discussing the game with their friends.
7. Show your authentic personality
While the most popular Super Bowl marketing campaigns vary from one year to the next, they always have one thing in common: authenticity. This is particularly true now that younger generations are looking to build emotional connections with brands.
An authentic and engaging personality in your ads will help to set you apart from the competition, and engage your potential followers. As mentioned above, Kantar found that most consumers watching Super Bowl ads prefer them to be funny and unique.
Don't be afraid to showcase your unique tone of voice, and a little humor in your ad campaigns, particularly around major events like the Super Bowl.
Learning from the Super Bowl marketing phenomenon
Hopefully, by this point, you can answer the question "What is the target market of the Super Bowl." However, you should also have an insight into how the Super Bowl target audience has evolved, and how the event has become such a significant cultural phenomenon worldwide.
The Super Bowl isn't just an event that appeals to customers interested in the American football landscape. Every year, the competition attracts countless people from all backgrounds, giving the NFL a range of viewers to appeal to.
At the same time, the NFL also appeals to businesses of all shapes and sizes, who want to take advantage of the powerful impact the event has on various cultures.
Organizations from every industry can learn a lot from the Super Bowl's evolving target audience, and the ads it displays each year to new fans.
Fabrik: A branding agency for our times.