Creating a list of the best Coke commercials ever is tougher than it seems. Throughout the decades, dozens of amazing Coca-Cola ads have flooded our screens, as well as the physical world. Year after year, the Coke brand demonstrates just how effective it is at connecting with its audience.
In fact, around 94% of the world's population is familiar with the Coca-Cola company. The organization has become so iconic, that customers instantly recognize the brand based solely on its original jingle, tagline, or red and white color palette.
Marketing has played a significant role into the company's rise to success. Year after year, the company produces ever-more innovative campaigns, designed to engage audiences in new ways.
Today, we're going to be taking a closer look at the Coke ad strategy, and the famous Coca-Cola commercials responsible for driving the business to new heights.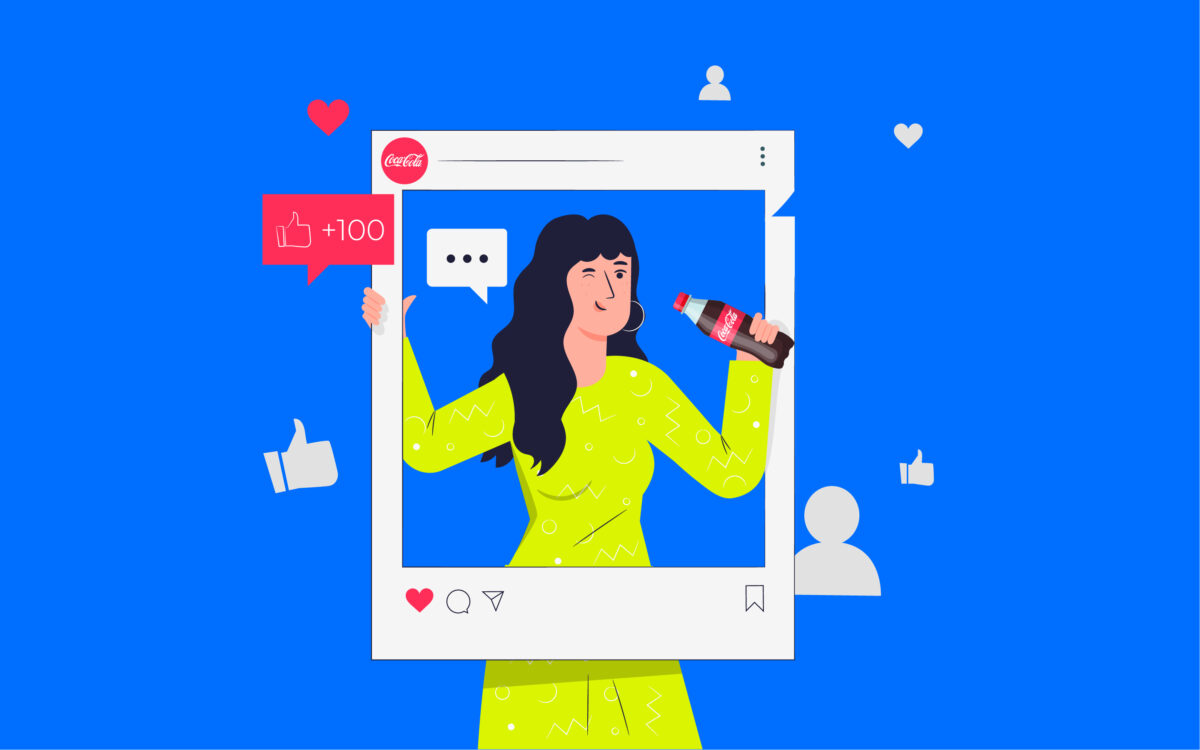 How does Coca-Cola advertise? Coca-Cola ads
First launched in 1886, Coca-Cola has experimented with a host of different advertising strategies and platforms over the years. From the 1971 hit song "I'd Like to Buy the World a Coke", to the world-changing "Share a Coke" campaign, Coke has found countless ways to reach its target audience.
While initially, most Coca-Cola advertisements were focused on the print landscape and traditional media, the organization has branched into countless environments over time.
Some of the core components of the Coca-Cola advertising plan today include:
Coca-Cola ad campaigns on social media
Coca-Cola invests heavily in digital marketing campaigns. Most of its video advertisements and commercials are shared online, both on the Coke website, and on other platforms like YouTube and Facebook.
However, the company's biggest wins online generally come from its social media marketing strategy. On channels like Twitter, Facebook, and Instagram, Coca-Cola consistently interacts with its audience and encourages engagement.
It's well-known for its social influencer campaigns:
Plus, Coke is no stranger to the power of hashtags. Many of the best Coca-Cola commercial campaigns of all time come with their own branded hashtag, such as #Shareacoke.
Coca-Cola television adverts
Few companies have more of a presence in the television advertising landscape than Coca-Cola. Television ads offer the company a phenomenal way to reach a wide range of customers, with a range of different images, stories, and audio branding strategies.
The company also knows how to position itself effectively in the television world, by partnering with well-known shows and productions. For instance, the brand engaged in a powerful American Idol deal, which helped to differentiate it from its competitor, Pepsi.
Coca-Cola sponsorship campaigns
Speaking of sponsorship, many of Coca-Cola's biggest advertising wins have come from sponsoring different events, and organizations. Coca-Cola has sponsored the Olympic Games for a number of years, as well as the World Cup and other major sporting events.
As a worldwide partner of some of the biggest events in the world, Coca Cola has ensured it can connect with a huge variety of fans from different walks of life. The company also shows its commitment to diversity and inclusion, by sponsoring the special Olympics.
Coke ads via print media and outdoor advertising
Though the Coca-Cola advertising strategy has evolved over the years with the introduction of new media, the company still has a strong presence in the traditional ad space. Coca-Cola ads can be found in everything from posters in outlet stores, to on billboard signs.
The company ensures it can connect with its audience on a deeper level, by addressing the interests and concerns of customers in different landscapes. For instance, during the pandemic, the brand used a billboard in Times Square to promote social distancing.
Some other popular print campaigns have included solutions like "Can you see a Coke bottle" in 2020, and "Try not to hear this" in 2019.
Coca-Cola experiential ad campaigns
A big part of what makes Coca-Cola adverts so compelling, is they focus on promoting an experience over a product. To expand on this, Coke has invested in a variety of experiential ad campaigns, designed to connect with customers as they move through their day to day lives.
In 2006, the company introduced its "Happiness factory", which allowed viewers from the sidewalk to walk through a vending machine and experience the process of making a bottle of coke.
In 2010, the company took this concept to another level, with their "Happiness machines" campaigns. The brand placed a special machine in a college cafeteria, which delivered free "Doses of happiness" to unexpecting students.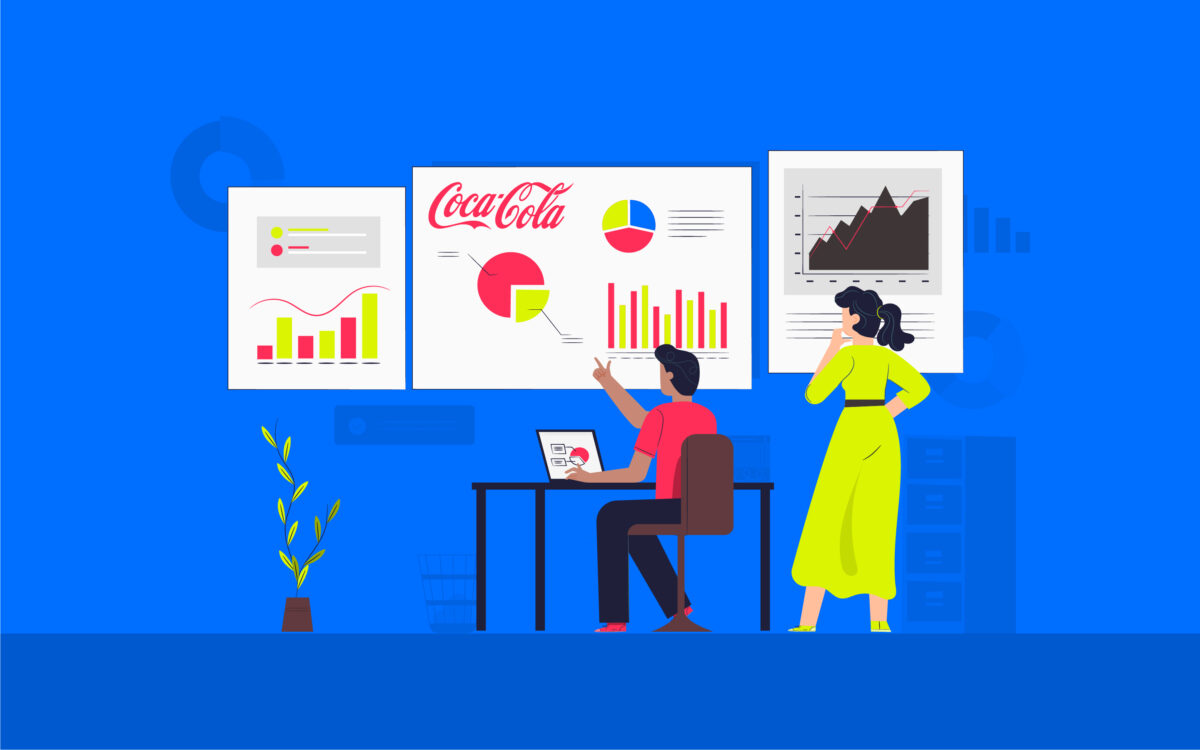 The best Coke commercials ever: Coca-Cola advert analysis
While the Coca-Cola creative team has experimented with a variety of different ad campaigns over the years, on radio stations, billboards, and digital media alike, its commercials often draw the most attention.
The best Coca-Cola ads throughout history demonstrate just how effective the company is at reaching its audience with compelling storytelling and visuals.
Looking at some of the Coca-Cola commercials produced throughout the years, we can see the brand has risen to fame for one core reason. Instead of selling just a soft drink or a bottle of Coke, Coca-Cola promises its audience an unforgettable experience.
Let's take a closer look at some of the best Coke commercials ever created.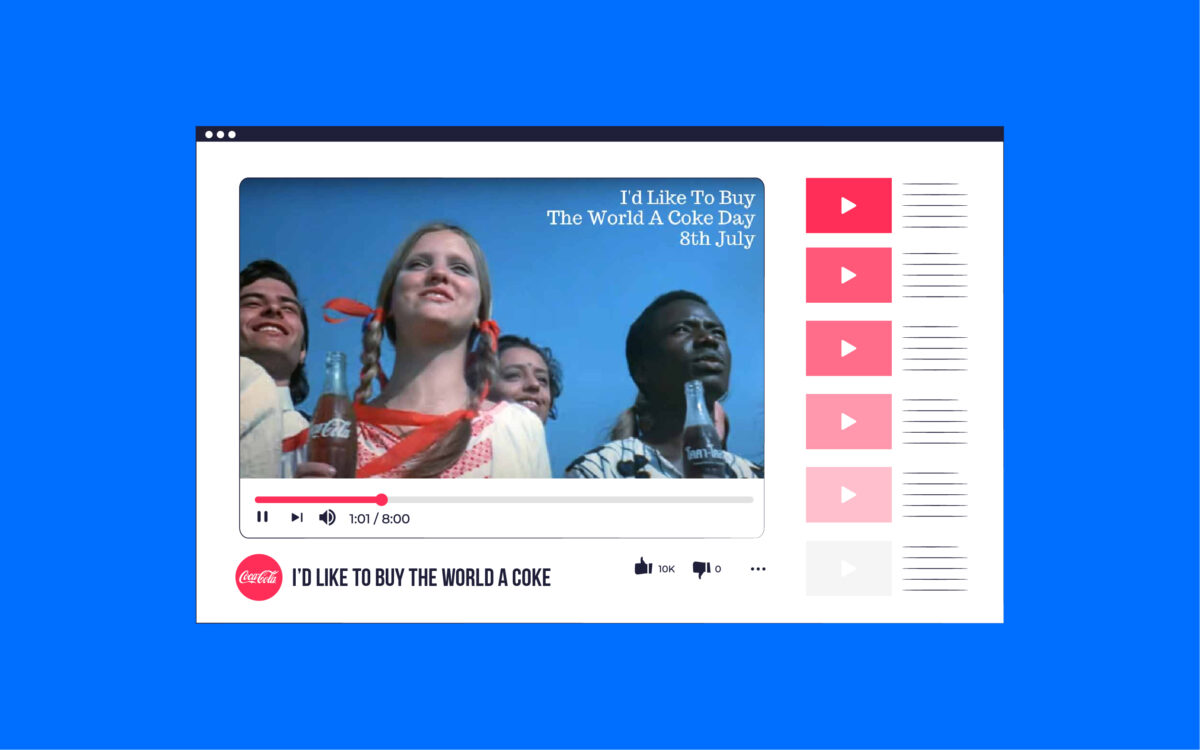 1. I'd like to buy the world a Coke (1971)
Perhaps one of the most iconic Coca-Cola ads of all time was first introduced in 1971. Committed to becoming one of the world's most beloved brands, Coca-Cola created its very own song, designed to inspire positivity within a global audience.
After years of turmoil, from the Vietnam war, to countless socio-economic issues, people needed something to reignite their positivity in the 70s. The song "I'd like to buy the world a Coke", was produced to demonstrate the company's commitment to peace, love, and community.
The video, otherwise known as the "Hilltop ad", was filmed on a hilltop in Italy, and produced by Italian film company Roma Film. The creative work pulled people from all races and creeds together, showing harmony during a turbulent period in history.
The company even produced a record version of the song, which played on radio stations worldwide.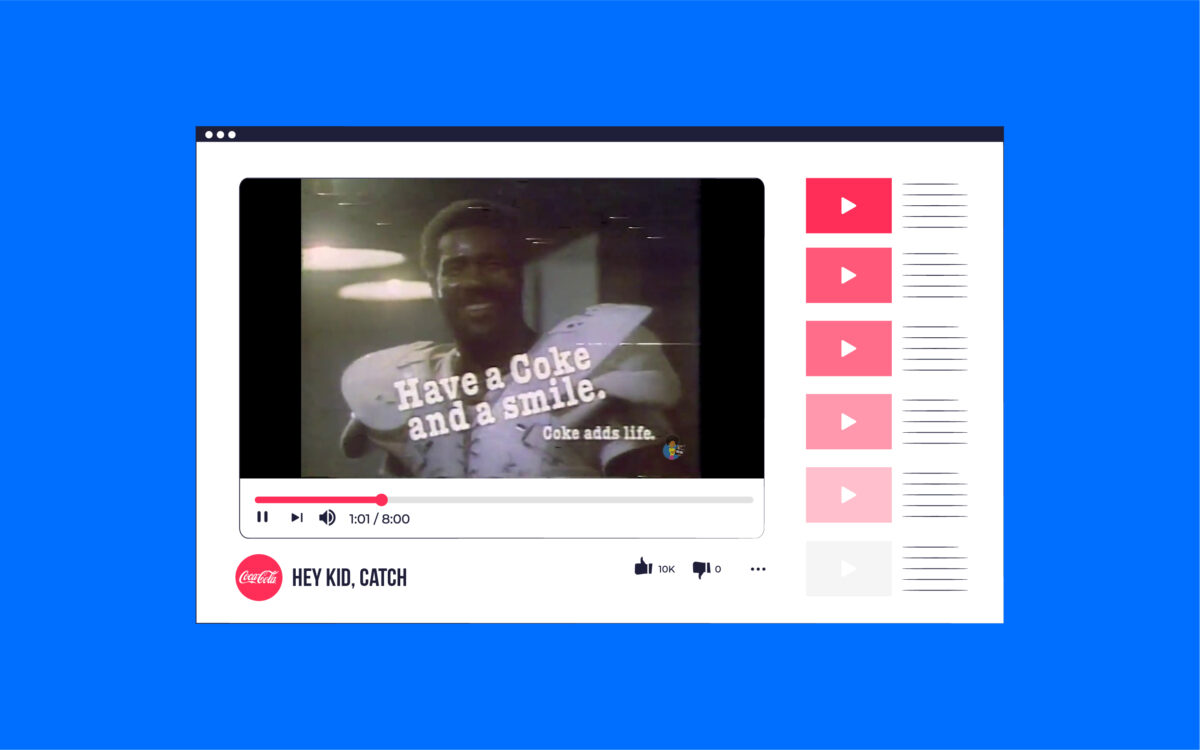 2. Hey kid, catch (1979)
Coca-Cola is no stranger to the benefits of using celebrity endorsements in their ad campaigns. The company has worked with a variety of different well-known artists and athletes over the years.
However, one of the most memorable celebrity-endorsed ads ever produced was launched in 1979.
The "Hey Kid, Catch" campaign built on Coca-Cola's mission to bring people together. It featured an injured football star, mean Joe Greene, limping into a dressing room at a big game. He's stopped by a fan, who offers Joe a Coke, telling him to smile.
Though simple, this Coca-Cola advertisement was such a massive success, it even appeared in the Super Bowl ad segment for 1980. Part of what made the campaign so effective is it helped to demonstrate Coca-Cola's commitment to connectivity and community.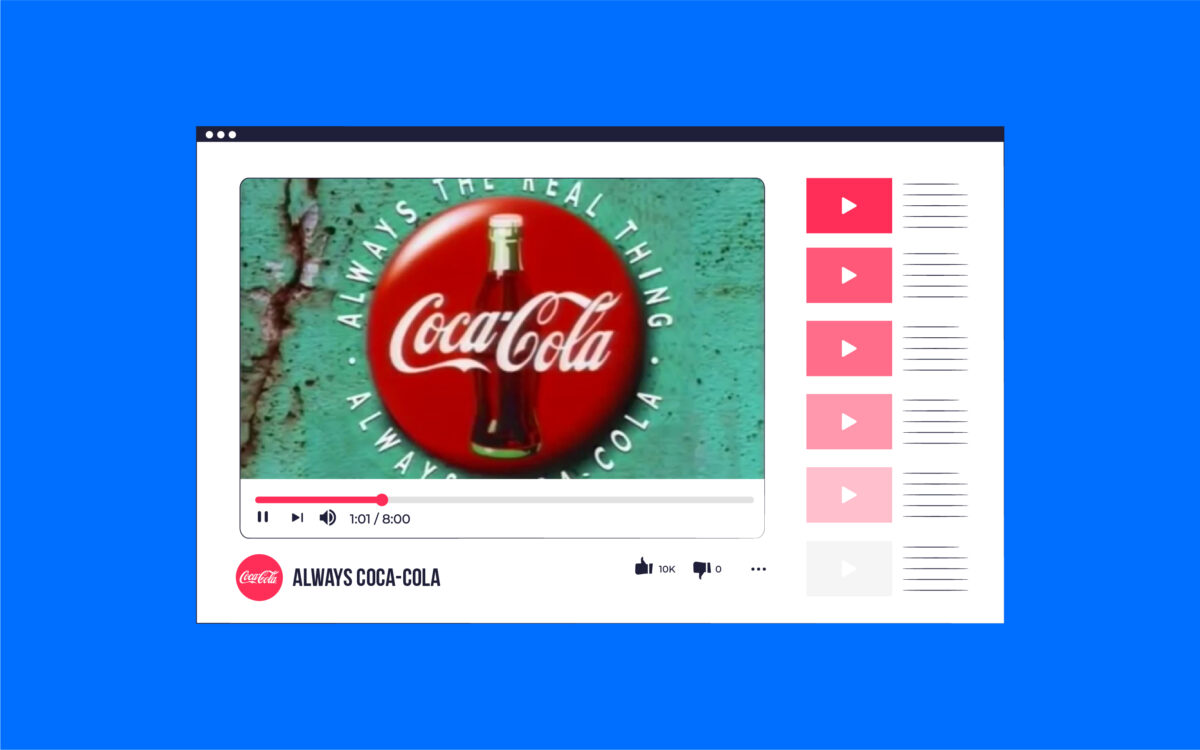 3. Always Coca-Cola (1996)
Coca-Cola started experimenting with the "Always Coca-Cola" tagline back in 1993. The brand started playing with computer animation, long before many other organizations had an option to branch into the landscape.
This led to the creation of the iconic Coca-Cola polar bears.
The images of the polar bears produced by Coca-Cola, enjoying the Northern Lights with a selection of Coke bottles really stuck with customers everywhere. It also paved the way to its holiday strategies, which showcased not just the polar bears, but also the famous Coca-Cola trucks.
Dozens of "Always Coca-Cola" ads were produced throughout the decades, making the slogan into one of the most memorable ever used by the brand. Computer animated images allowed Coke to separate itself from its competitors.
However, it also allowed it to build on its personality as a playful, friendly, and fun-loving brand.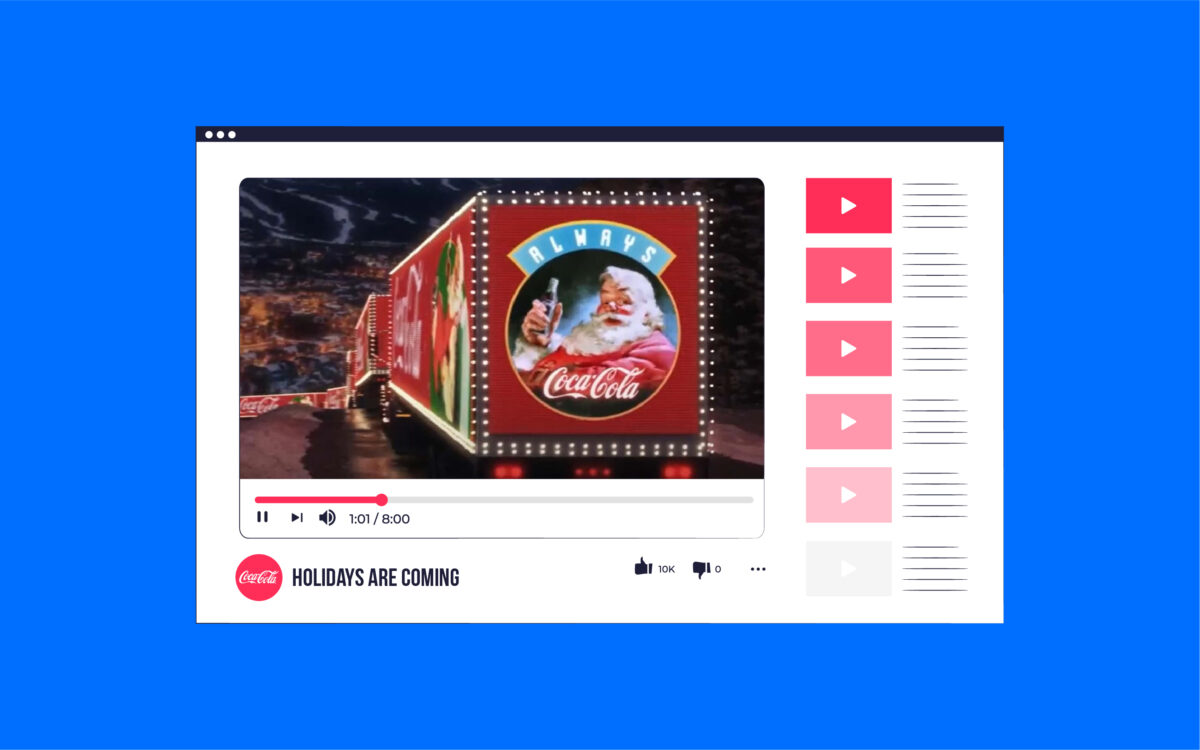 4. Holidays are coming (1995)
Few companies have had the same impact on the culture of the world as we know it as Coca-Cola. In fact, the company is credited for being the brand responsible for turning Christmas red.
The "Holidays are Coming" ads were first created in 1995, with support from advertising agency W.B Doner. They took advantage of Coca-Cola's new experiments with animation, and tapped into a globally recognizable symbol – Santa Claus.
Ever since then, Coca-Cola has consistently created dedicated holiday campaigns, each with their own heartwarming story, and unique aspects. However, while many of the stories told in these campaigns have changed over time, the presence of the "Coca-Cola truck" has been consistent.
Coca-Cola even invests in trucks to circulate around popular areas worldwide, giving away free Coke products to everyone who encounters them.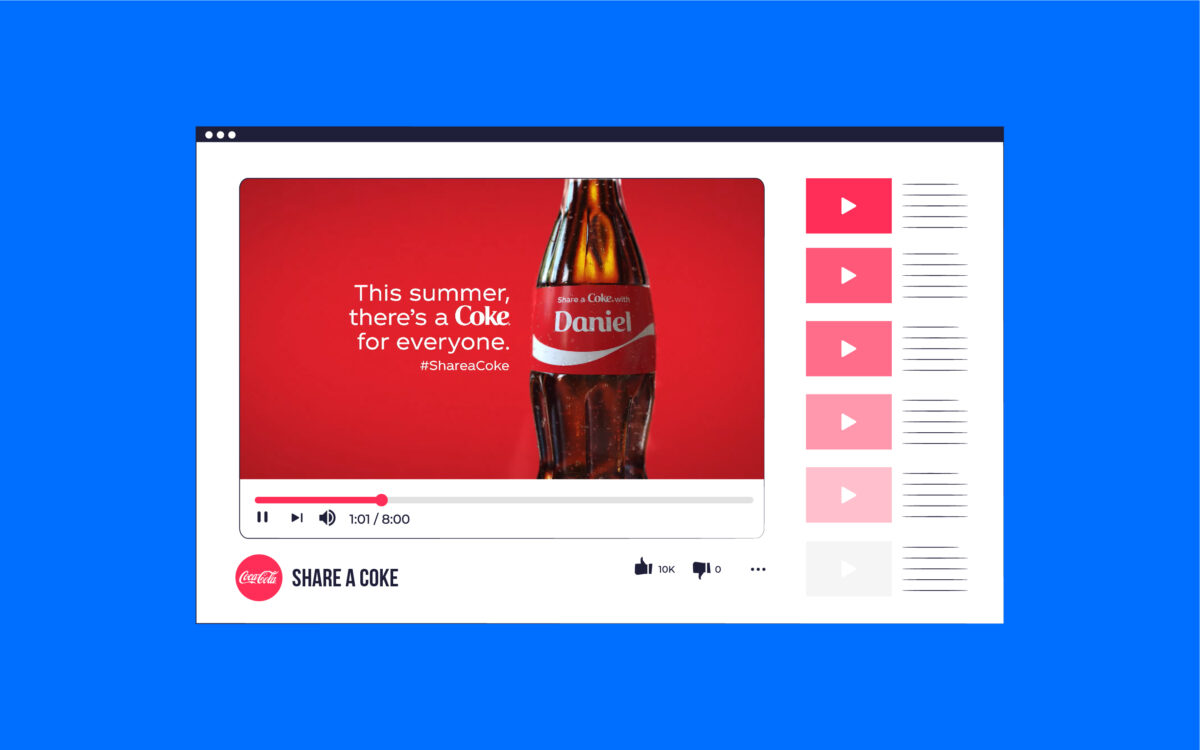 5. Share a Coke (2011)
First launched in 2011, within Australia, and still running to this day, the "Share a Coke" campaign has become one of the most iconic Coca-Cola advertisement strategies of all time. Combining traditional television ads with digital marketing and packaging strategies, this ad has it all.
The campaign involved encouraging people from around the world to seek out bottles or cans of Coke which featured their name. It also involved various celebrity endorsements, from celebrities like Serena Gomez, who also had her lyrics featured on a bottle.
Aside from gaining significant attention through traditional media, the #Shareacoke campaign became a social media phenomenon. Countless consumers took to social media to showcase images and videos of them enjoying a Coke with their name on the label.
Plus, searches for "Coke" and "Coca-Cola" increased drastically throughout the life of the campaign.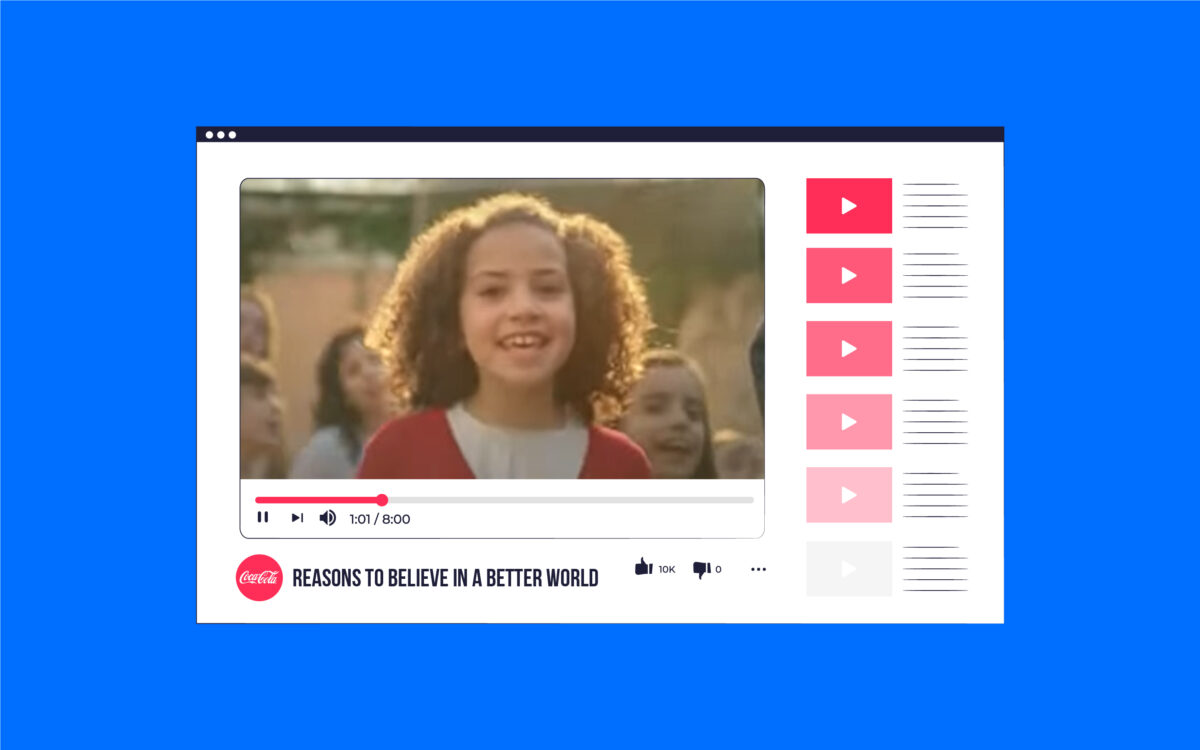 6. Reasons to believe in a better world (2011)
While the "Share a Coke" campaign might have stolen most of the spotlight in 2011, it didn't stop the brand from coming up with other ways to connect with its audience at the same time. Coca-Cola television adverts and commercials seem to constantly adapt to the needs of their audience.
The "Reasons to believe in a better world" Coca-Cola advertising campaign launched at a time when people were constantly struggling with environmental disasters and economic issues. Showcasing its commitment to good vibes, Coca-Cola built on the popular Oasis song "Whatever".
Using a new song version, and inspiring messages printed on screen, Coca-Cola reminded its audience there was still plenty of positivity around them.
The ad was even shared by the official Oasis brand on their YouTube channel. While this wasn't the first (or last) ad Coca-Cola produced to promote positivity, it was one of the most impactful.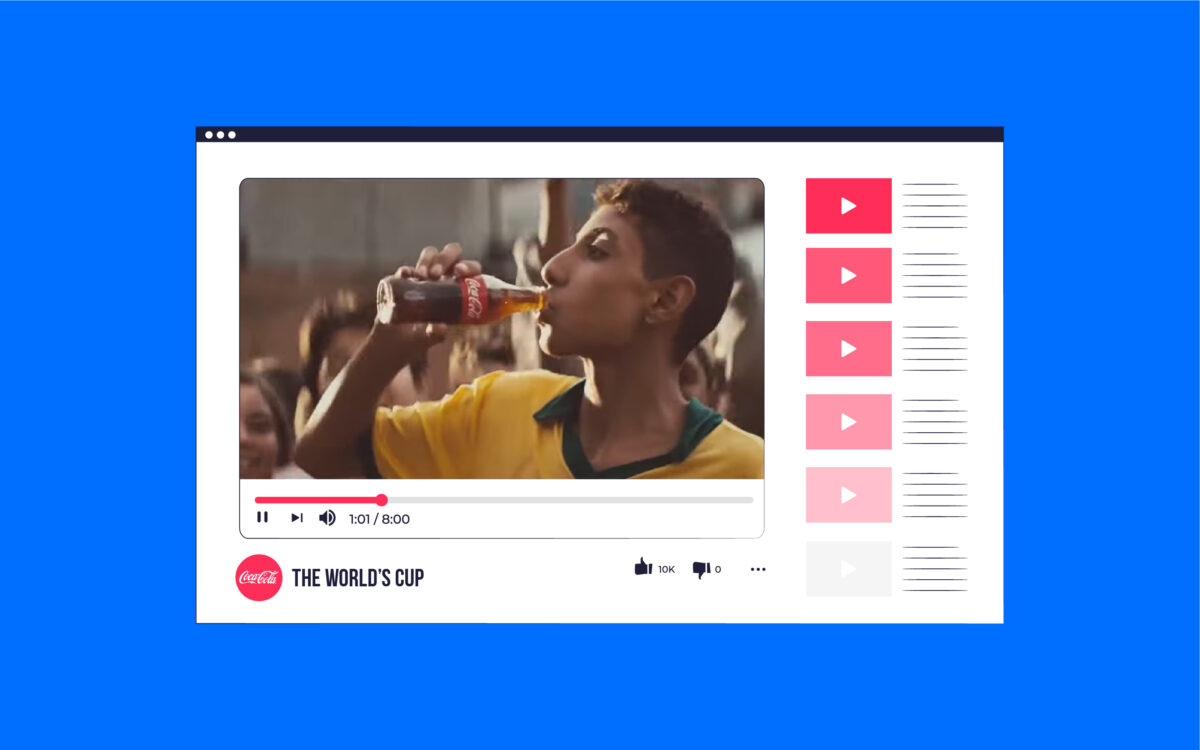 7. The world's cup (2014)
Many of the best Coca-Cola commercials have revolved around major events in the sporting space. As an official sponsor for the 2014 FIFA World Cup, hosted in Brazil, Coke had an amazing opportunity to connect with millions of football and soccer fans worldwide.
The campaign, "The world's cup", built on Coke's existing strategy to shed a positive light on the power of community. The company created a captivating story, bringing more than 1 million fans from over 90 countries to the World Cup.
The campaign, and competition was so successful for the brand that they've actively replicated it for numerous years ever since. Even in 2022, Coca-Cola launched a new campaign designed to provide customers with the opportunity to win a place at the World Cup once again.
These Coca-Cola ads show us the brand isn't just committed to connecting with its audience, it wants to actively bring them into the experience and get them engaged.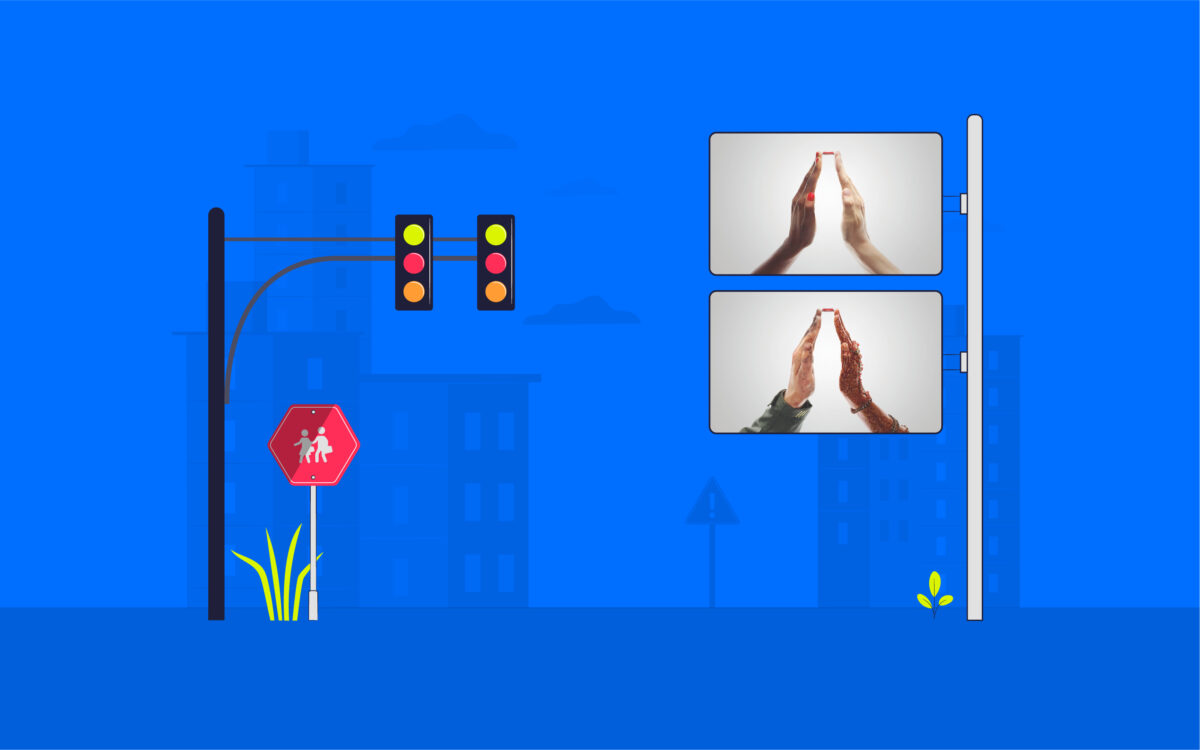 8. Together (2015)
Ever since the 70s, Coca-Cola has been committed to bringing the world together in "Perfect harmony". This is a consistent message, and part of Coke's universally liked formula for connecting emotionally with its fans and customers.
In 2015, the company launched the "Together" campaign across multiple different media platforms. The brand produced a fully-integrated creative campaign, launched across video, press releases, and outdoor advertising strategies.
The creative concept was beautiful, using the iconic contours of a bottle of Coca-Cola to inspire ideas of peace, love, and unity. It was a truly interesting way for Coca-Cola to experiment with imagery, showing the hands of people from different ethnicities all coming together.
The campaign not only celebrated 100 years of Coca-Cola's incredible branding strategy, it also shed a whole new light on the concept of togetherness.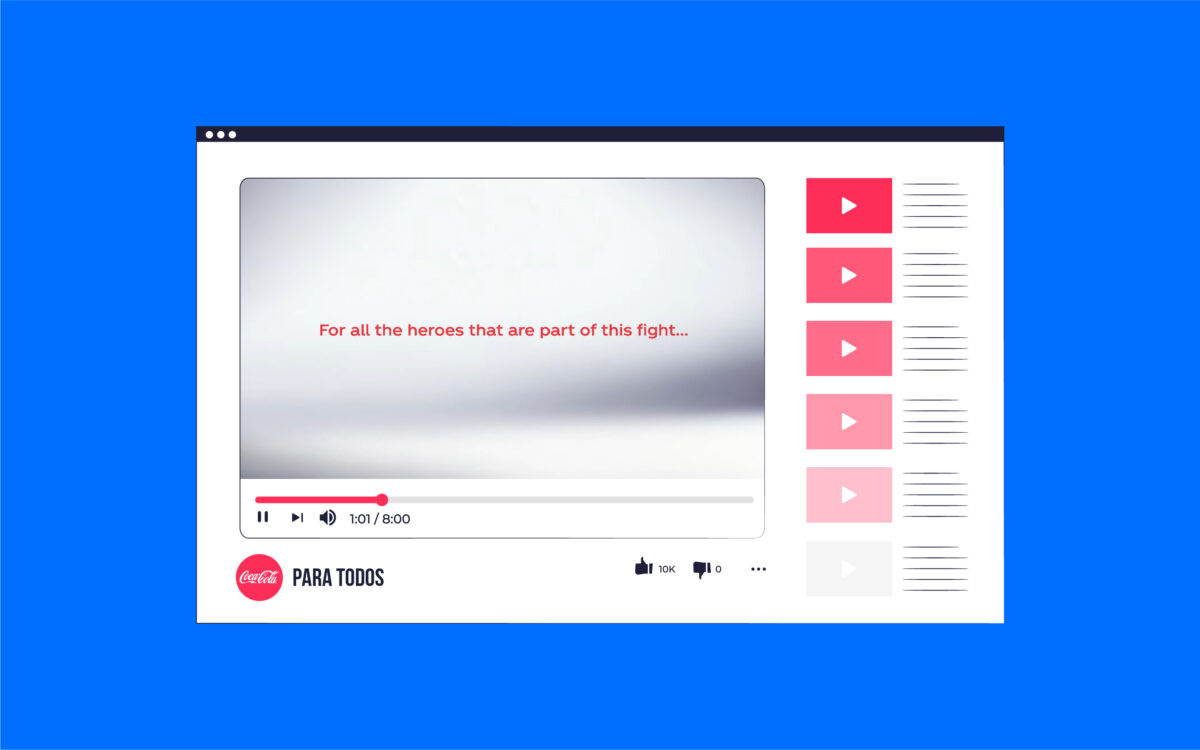 9. Para todos (2021)
As mentioned above, many of the best Coke commercials ever created are effective because they address the issues customers are facing in the moment. During the global pandemic, which began in 2020, Coca-Cola showed its ability to listen to, and support its audience.
The 2021 "Para todos" or "For everyone" campaign was created by Coca-Cola Argentina. It was shown in more than 80 countries, in 20 languages, to reach as many people as possible.
In this ad, Coca-Cola focused on using every element of the Coke bottles and cans known by consumers around the world possible, to encourage unity and collective action during a time of social isolation.
The level of detail and creativity used, alongside distinctive camera angles in the video, really captured the attention of a huge market.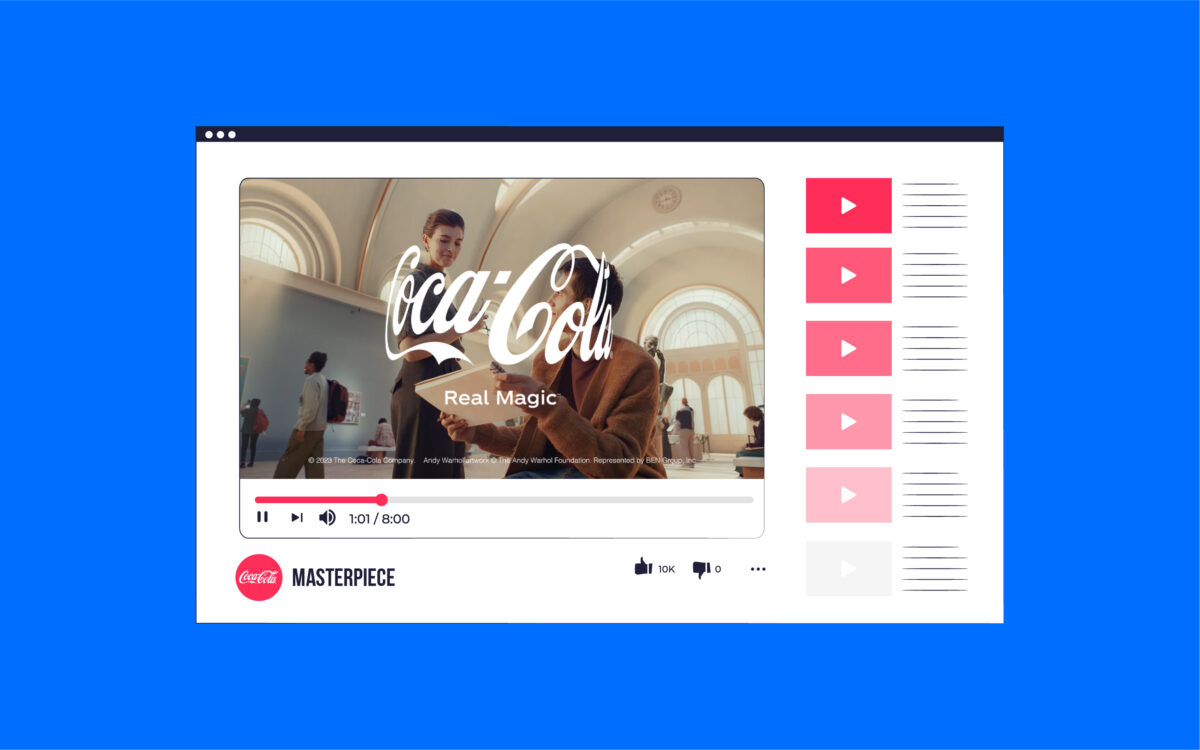 10. Masterpiece (2023)
For decades, Coca-Cola has proven it's willing to experiment with all kinds of technology to reach its intended audience. This includes working with the latest innovations in AI. One of Coke's most recent advertisements, produced in 2023, uses AI to bring well-known masterpieces to life.
The "Masterpiece" ad campaign follows the journey of a Coca-Cola bottle from one iconic painting to the next, as it makes its way to a student looking for inspiration. The Electric Theatre Collective and ad agency Blitzworks worked together to use various digital effects, and live action shots.
Part of what makes this commercial so compelling is its ability to draw attention to Coke as a long-standing leader and innovator in its industry. The campaign is inspiring, and an excellent testament to the Coca-Cola advertising strategy, which constantly evolves year after year.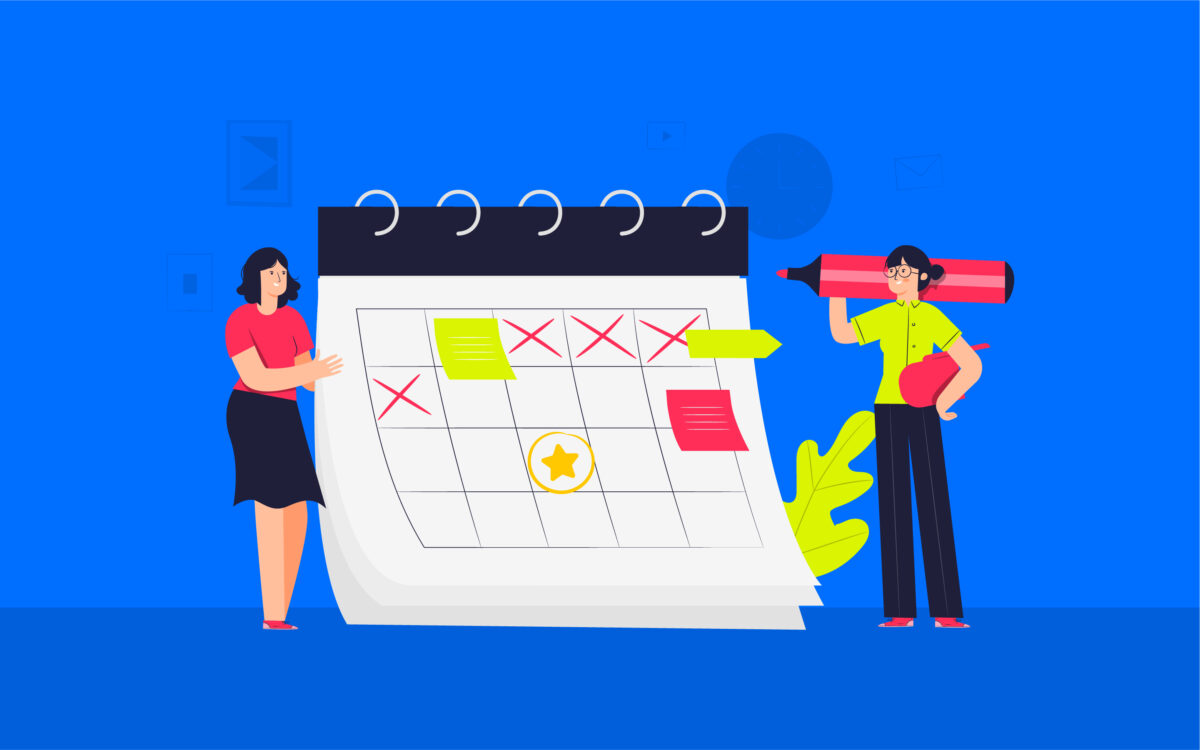 The Coca-Cola advertising plan
As you can see from the examples of the best Coke commercials ever created above, Coke's advertising success comes from how it presents the brand. Instead of focusing exclusively on a product, they emphasize a feeling of connectivity, joy, and togetherness.
Human connection has always been an essential part of the Coca-Cola advertising strategy, paired with innovative technology, and a commitment to constantly investing in new ideas.
In fact, even from its early days, marketing leader Asa Griggs Candler spent a considerable amount of money on advertising for the Coke brand. His original budget was around $11,000, or $300,000 in today's cash.
By the 1900s, the budget had increased ten-fold, and Coca-Cola continued to invest more and more in finding new ways to promote their products and reach customers, through celebrity endorsements, pop culture connections, and sponsorships.
Coke has also consistently focused on ways to engage their audience, and make them a part of the brand experience. The business has sold merchandise in the past, through Coca-Cola stores, and has even begun experimenting with NFTs and digital collectibles in the metaverse.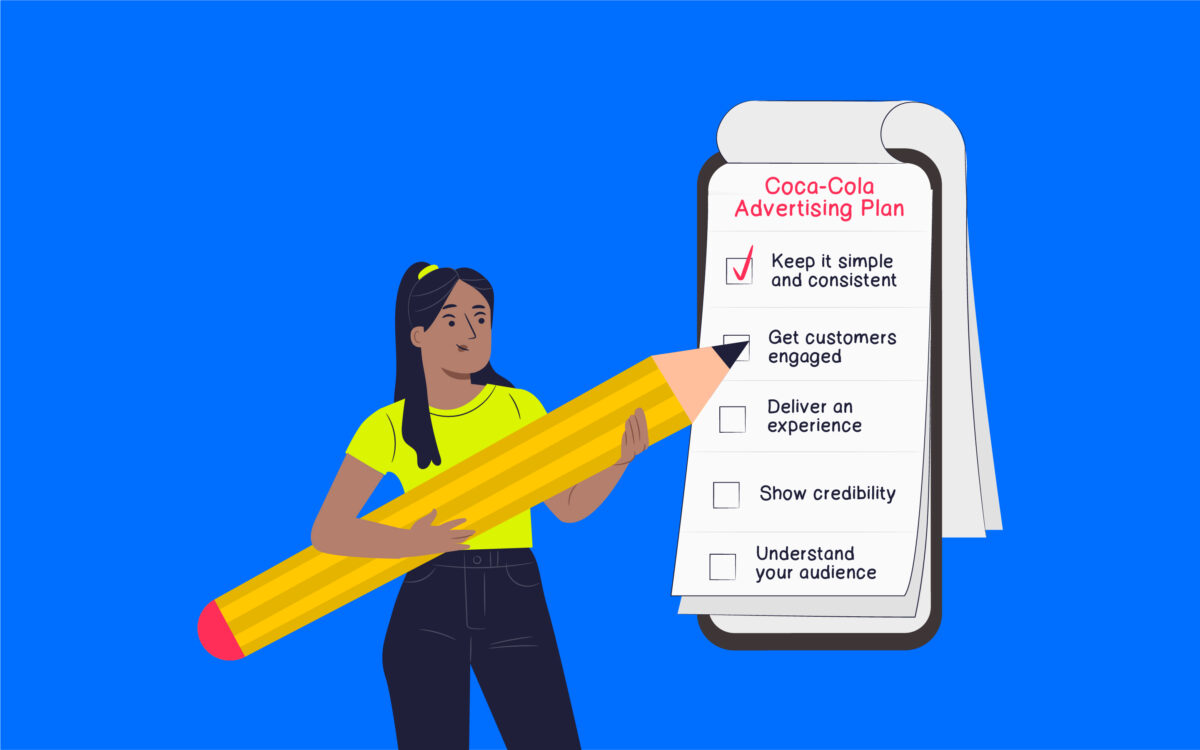 Learning from famous Coca-Cola commercials and ads
Coca-Cola ads are inspiring, not just for consumers, but for brands and businesses around the world. If you're looking for a way to enhance your own marketing campaigns, there are various lessons you can take away from Coke's approach to marketing.
Here are some key points worth replicating from the Coca-Cola advertising plan:
Keep it simple and consistent
Despite experimenting with a wide range of different mediums and advertising strategies, Coca-Cola has always been extremely consistent in its advertising. The best Coke commercials ever created are effective because they send a simple message about joy, unity, and togetherness.
These are all concepts that never go out of style, and will always be relevant in areas across the globe.
Get customers engaged
Coke is an expert at bringing consumers into its marketing campaigns, and getting them engaged. From the iconic "Share a Coke" campaign, from the "The World's Cup" marketing strategy, Coke is always looking for ways to activate its audience and convince them to take part in its growth.
Deliver an experience
A significant part of Coca-Cola's advertising success comes from its emphasis on delivering an experience, not just a product. The company attracts old and new customers alike, by allowing them to take part in unique experiences.
It even works with experiential campaigns to reach customers around the globe.
Show credibility
Though Coke doesn't have to work hard to be seen as a credible company today, this is in part down to its connection with other credible figures. Working with Magic Johnson, Britney Spears, and countless other celebrities has helped the company to gain the trust of its audience.
Understand your audience
Perhaps most importantly, Coca-Cola knows how to listen to its target audience. It pays attention to the various ways young people and consumers are struggling, and looks for ways to inspire positivity.
The company also conducts extensive research into its customers, to maintain strong year-over-year growth.
The incredible Coca-Cola advertisement strategy
The best Coke commercials ever created show us why Coca-Cola has become one of the biggest organizations of all time.
It's now the consumer choice for soft drinks in regions throughout every corner of the globe, not just because of its exceptional products, but also because of its brand positioning.
Whether it's the Coca-Cola account on Twitter, or the radio commercials that air around the world, Coke is constantly experimenting with new ways to reach its target audience.
Additionally, it knows how to use consistency to its advantage. By conveying the same basic idea of true love, togetherness, and community in many of its campaigns, Coke has aligned itself with people all over the world.
Every creative director for the Cola company has brought their own unique approach to global campaign strategies.
However, Coca-Cola has maintained its presence in the hearts and minds of customers by creating unforgettable experiences, based on concepts of happiness and unity anyone can get behind.
Fabrik: A branding agency for our times.
Now read these: 
—The Coca-Cola brand positioning strategy
—How Coca-Cola turned Christmas red