How much do you know about the Netflix brand strategy? Today, a huge number of consumers are familiar with Netflix as a pioneering entertainment company. Netflix has transformed the way the world consumes content, earning millions of customers worldwide.
As of the first quarter of 2023, Netflix had more than 232.5 million paid subscribers worldwide. This makes it the largest streaming service currently available.
While Netflix's approach to content and business model has inspired the creation of countless competitors, from Amazon Prime to Hulu, few have achieved the same level of brand equity.
So, what makes Netflix so successful?
The company's approach to creating original content is one factor. Consumers have flocked to the brand to consume Netflix originals like House of Cards, Stranger Things, and even Black Mirror.
However, the Netflix brand strategy goes further than this.
The streaming company has positioned itself as more than just a leader in its industry, using its branding and marketing campaigns to connect emotionally with its audience.
Here's everything you need to know about Netflix's brand strategy.
Introducing the Netflix brand strategy
A couple of years ago, watching movies and television series at home used to involve renting or purchasing DVDs and Blu-rays. The CEO of Netflix chose to flip the script, by offering customers a novel new approach to entertainment.
In the early days, the Netflix business model consisted of allowing customers to order DVDs online and have them delivered to your door. However, 10 years after launching, in 2007, the company introduced perhaps the biggest change to the entertainment industry in decades.
The company launched its famous video streaming service, allowing consumers to access content through the internet in exchange for a simple monthly subscription fee.
Netflix became a prime example of a company that mastered digital transformation. It took advantage of the evolution of smart TVs and online platforms to create a subscription-based streaming service that fundamentally altered the entertainment landscape.
Since then, Netflix has remained a pioneer in its landscape. The company invests heavily in the production of new, exclusive content, such as Squid Game and the Witcher, designed to attract new customers. It also leverages state-of-the-art technology.
Through machine learning and AI, Netflix has created a personalized movie recommendation system, ensuring it can connect with different age groups and audiences based on their interests.
Despite numerous evolutions in the Netflix business model over the years, the success of Netflix is strongly connected to a consistent mission: to make content consumption easy.
Key components of Netflix branding
Netflix has long positioned itself as a differentiator in the entertainment landscape. Not only does it produce original programming and use cutting-edge technology, but it separates itself from its competitors with a unique visual identity, brand personality, and voice.
Netflix's brand strategy: Visual identity
The Netflix visual identity is instantly eye-catching. The company's bright red logo and animated icon is designed to invigorate and engage audiences wherever it's displayed. Following a few logo updates and changes, the company created a simplistic emblem to help highlight its core focus.
Netflix doesn't just want to provide customers with access to content; the brand wants to ensure its target audience can find the shows and movies they need with ease.
Netflix believes simplicity is crucial to a positive user experience, which is why the Netflix logo and icon are so minimalistic. At the same time, the color palette of white, black, and red demonstrates the professional yet passionate nature of the brand.
Netflix's branding: Voice and personality
Netflix positions itself as a solution for "movie enjoyment made easy." Though the company's approach to innovation places it within the "leader" brand archetype segment, Netflix also presents itself as a caregiver. The company is warm, inviting, and inclusive.
Netflix shows its caring side by creating and promoting a huge range of different types of content for different audiences. It ensures every customer can find the content they need with ease, using AI-powered recommendations and guidance.
The online streaming platform also has a powerful and friendly brand voice. The company combines simple language with memes and humor to show its fun and playful side. It listens to its audience and replicates its language to create a closer connection.
Netflix's brand strategy: The brand positioning of Netflix
Netflix is positioned as a caregiver, leader, and innovator in the entertainment market. The Netflix brand positioning statement is to be the "leading subscription-based streaming platform in the global mass media and entertainment industry."
To achieve its goals, Netflix has built its brand around a few core pillars:
Convenience
Netflix customers can access entertainment content whenever and wherever they choose, using multiple devices, iOS and Android devices, game consoles, and even browsers on laptops or desktops.
Versatility
Netflix offers a wide variety of TV shows and movies to suit virtually every kind of audience, including a host of original series productions.
Customization
Netflix provides personalized services and content to every customer, regardless of their market segment. It's a user-friendly platform that can adapt to the needs of its active subscribers and new customers.
Quality
Content on Netflix is produced to the highest standards, with high-definition options, including 4K, as well as crisp audio. Netflix also ensures it stays up to date with current shows, series, documentaries, and movies.
Exclusivity
Netflix is home to a number of exclusive shows and movies which make its platform more appealing to specific audiences. Its approach to working with production houses and other large brands gives it a competitive advantage.
Netflix brand positioning: The promise, mission, and values
The brand positioning of Netflix highlights its innovative approach to content creation, and its commitment to serving its customers with a personalized, user-friendly experience.
The diversity offered by the company, combined with its approach to customer care has made it one of the world's most beloved brands. We can learn a little more about Netflix's brand positioning strategy by looking at some of the core elements of the brand.
Netflix positioning: The Netflix mission statement
The Netflix brand promise and mission statement is to "entertain the world." Netflix promises to deliver exceptional content to every customer, no matter their tastes or location. Although it may seem like a relatively broad mission, it's something Netflix regularly lives up to.
The company has consistently invested in increasing its subscriber base by delivering services to customers throughout the globe. It even adapts its content to suit the needs of subscribers in different parts of the world and adhere to their tastes.
Additionally, Netflix preserves its value proposition by innovating in the "entertainment" space. It constantly evaluates the preferences of its customers, and produces new tv shows and movies based on authentic data analytics. This helps drive subscriber loyalty.
Netflix brand positioning: The Netflix vision statement
The vision statement of Netflix is to "continue being one of the leading firms of the internet entertainment era." This vision statement highlights the company's commitment to being the very best in its industry.
Even as new competitors like Apple TV and Amazon Prime continue to grow, Netflix ensures it's always staying one step ahead with new experiences for its customers. It invests in partnerships to create new entertainment content consistently.
It also experiments with a range of different ways to engage its audience, creating limited-time experiences, and even interactive TV shows. Netflix's organizational culture even motivates employees to consistently share their own insights on how the platform can improve.
Netflix's positioning strategy: Core values
Netflix's brand positioning is heavily affected by a strong focus on a number of core values. The company's "culture" page on its website outlines various values shared by every member of the Netflix team.
These include:
Judgement
Selflessness
Courage
Communication
Inclusion
Integrity
Passion
Curiosity
Innovation
These central values have assisted Netflix in creating a working environment that contributes to the production of some of the world's most sought-after content. At the same time, it makes Netflix one of the most popular employers of the modern age.
The Netflix target market: Netflix's target audience
Netflix's brand positioning strategy situates the company as a "global" provider of entertainment. As such, its target audience is relatively broad. Netflix is currently available in more than 190 countries worldwide, and consumers can access content on a range of devices.
Primarily, Netflix targets millennials and younger customers, earning around $50,000 or less each year. It appeals to less affluent customers with a subscription strategy that makes its services more affordable than simply downloading or buying content separately.
Around 65% of Netflix users are millennials, while around 70% of Gen Z customers are Netflix subscribers, demonstrating a commitment to a younger group.
From a gender perspective, there are slightly more female (52%) Netflix viewers than male (48%). However, Netflix produces content to appeal to everyone, including non-binary viewers.
Netflix market segmentation: Netflix customer segments
Similar to many major brands, Netflix divides its target customers into segments based on their behavioral intents, demographics, psychographics, and geographies.
We can learn a little more about Netflix's approach to marketing and branding by looking at each segment:
Netflix demographic segmentation
From a demographic perspective, Netflix's target audience typically consists of younger customers, such as Gen Z and millennial customers. However, numbers of older customers have been increasing in recent years. As of 2020, around 54% of Gen X customers were Netflix subscribers.
Though Netflix aims to appeal to people from various educational backgrounds, the average Netflix target customer isn't highly educated. Around 70% have no college education.
Netflix geographic segmentation
Initially, Netflix's largest audience base was located in the United States. However, since the company has grown as a global brand, its diversity has evolved. Netflix subscriber numbers are split relatively evenly between North America, Europe, Africa, and the Middle East.
Netflix also has a presence among Asia Pacific and Latin American audiences. In recent years, the Asia Pacific market has demonstrated stronger growth, with a 65% increase in 2020. Still, Netflix is still strong in the US, with 70% of US homes owning their own subscription.
Netflix behavioral segmentation
From a behavioral perspective, the largest group of Netflix subscribers falls into the income bracket of around $35-50k per year. More affluent customers do still make up a significant chunk of the Netflix subscriber base, with around 40% earning more than $75k.
Interestingly, Netflix users generally believe in generosity, with 70% sharing their passwords with others. Additionally, many Netflix customers enjoy watching the subscription channel with pets.
Netflix psychographic segmentation
Netflix's brand positioning strategy to become a "global" vendor has been very successful. From a psychographic perspective, the target market is extremely broad, reaching across all socio-economic segments and age groups.
This is reflected in the broad range of content options positioned on the platform, which includes documentaries, action movies, comedy, and children's entertainment.
How does Netflix advertise? Netflix advertising
Netflix invests heavily in promotion. During 2021, the company spent more than $2.55 billion on marketing campaigns, stretching across digital and offline platforms.
In 2022, the Netflix marketing budget remained relatively consistent, though it dropped very slightly to $2.53 billion.
Perhaps the most significant feature of the Netflix marketing plan is personalization. The company uses sophisticated strategies to track user behaviors and preferences so that they can tailor both their content and marketing strategy to a range of audiences.
Some of the core forms of advertising used by Netflix include:
1. Online advertising
Netflix invests heavily in online campaigns to connect with its audience through email, social media campaigns, and video content. The channel has a relatively strong presence on almost every social media channel, from TikTok to Facebook.
It produces both organic content and paid advertising campaigns with a strong focus on customer targeting.
Netflix even has dedicated social media pages for users in different countries, such as Netflix UK on Instagram and Facebook.
Its social media campaigns are based heavily on interactivity. The company creates quizzes, guides, and videos to engage and convert its customers.
The company also has a relatively strong search engine optimization strategy, often appearing at the top of the search results for keywords like "watch movies online." The Netflix team has its own news room and a robust content marketing strategy to inform and educate followers.
2. Experiential and guerilla marketing
Netflix is unique in its ability to connect with customers both online and offline, using a variety of different experiences. When producing the Squid Game series, Netflix invested in a broad guerrilla marketing strategy which included installing giant dolls in certain parts of the world.
Dolls were introduced throughout America, Australia, the Philippines, and the UK.
The dolls were programmed to play the game "Red light, green light" from the TV series, and participants were able to win prizes. This led to a huge increase in Netflix subscriptions, as well as a large amount of buzz on social media.
3. Moment marketing
The Netflix brand strategy revolves heavily around cultivating a presence as an innovator and cutting-edge producer in the entertainment world. To build on this, the company regularly deploys "moment marketing" strategies, in which current events are used to promote the streaming platform.
For instance, during the 2016 US Election, Netflix ran a successful marketing campaign for the drama series "House of Cards." The company broadcast a campaign commercial for the fictional Frank Underwood during the live Republican debate.
The campaign was instantly successful and began trending on Facebook and Twitter within just an hour of its launch.
What is Netflix's marketing strategy? Learning from Netflix
The Netflix marketing strategy, like the Netflix brand strategy, is a multifaceted approach designed to demonstrate the company's commitment to personalization.
Some of the core marketing strategies that have contributed to Netflix's success include:
1. Building hype
Netflix is an expert at building intrigue and excitement about its original series, upcoming releases, and new content. The company is constantly sharing original content on its social media channels, websites, and through emails to carefully targeted customer groups.
Virtually every social media campaign launched by Netflix involves hefty content promotion, with snippets and trailers specific to the platform.
The company even shares behind-the-scenes content and teasers, combined with hashtags to generate audience interest: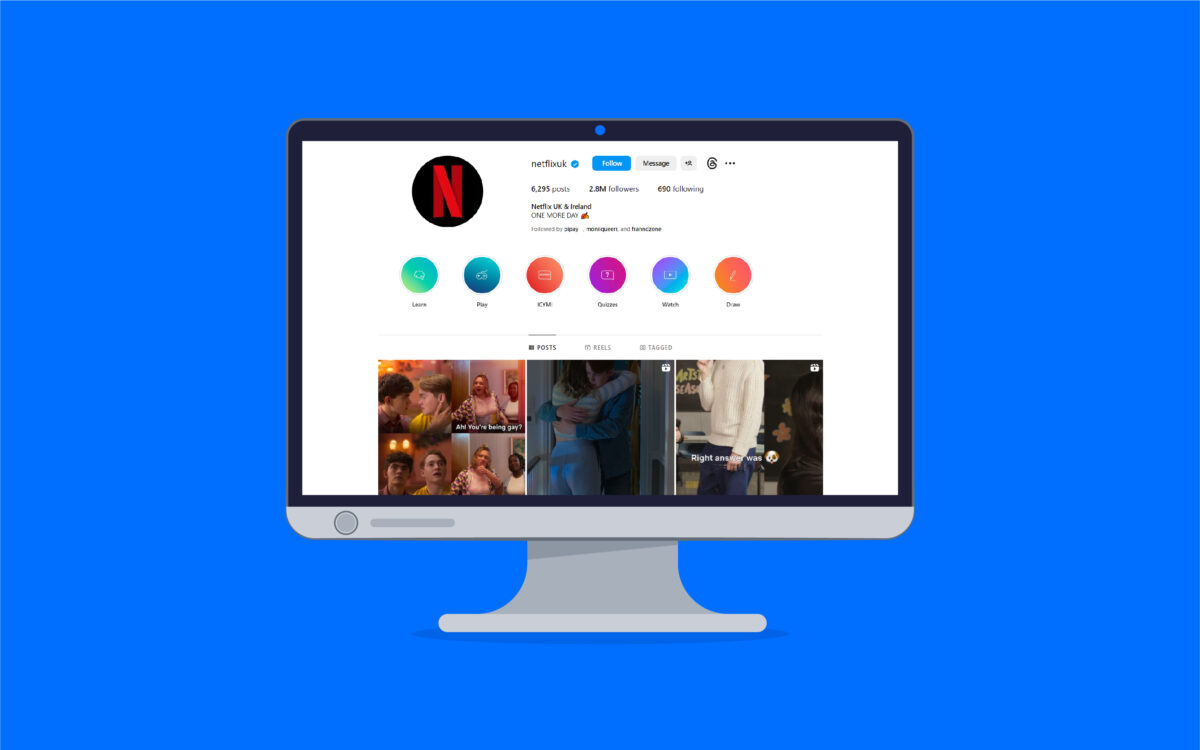 The company also regularly hosts polls and asks customers questions about content to keep the conversation going prior to the release of new series and movies.
2. Hyper personalization
To build stronger relationships with their audience and ensure consistent subscriber growth, Netflix invests in hyper-personalization. Customers who download the Netflix app receive push notifications based on the content they might be interested in.
The company's email marketing strategy sends updates about new releases to customers on a regular basis, tailored to the shows they've already watched.
Plus, within the Netflix platform, customers see a range of "top picks" on the platform based on their previous watching habits.
3. Innovative technology
Part of what makes Netflix such a brilliant brand is its ability to embed cutting-edge technology into its marketing mix. No two Netflix accounts have the exact same interface or content suggestions. Every account is infused with AI and machine learning.
This ensures that every customer gets a personalized experience in their living room. The company is constantly investing in new ways to learn more about its audience, and find ways to increase emotional connection.
It even experiments with innovation in its guerilla marketing efforts, as noted in the Squid Game example above.
4. Audience engagement
As mentioned above, Netflix is highly invested in engaging and interacting with its target audience.
Many of its campaigns revolve around interacting with its customers and asking them questions about the shows and movies they watch: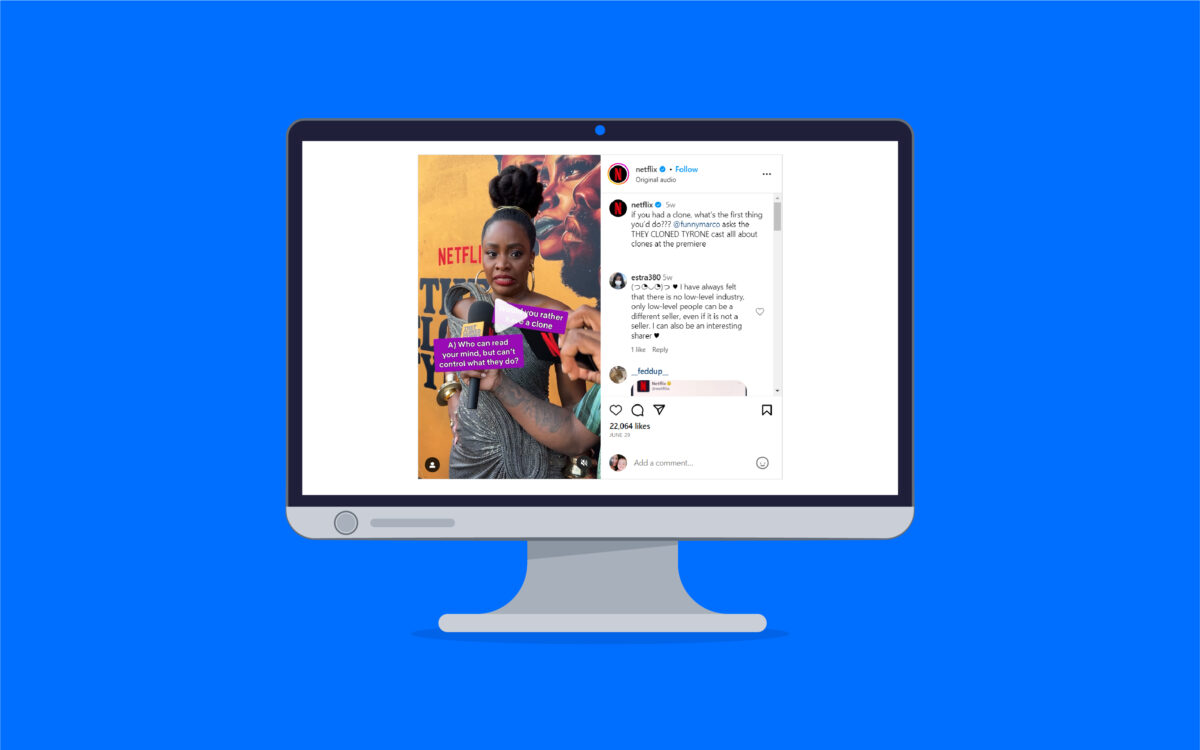 Netflix also allows its customers to constantly share feedback about the content they like and dislike. There are even tools in the Netflix platform that can allow consumers to adjust the kind of content that's recommended to them.
Plus, in recent years, Netflix has begun experimenting with interactive video content, which allows customers to actually control the story they see.
5. Constant creativity
One of the core components of the Netflix brand strategy and the company's approach to marketing is constant creativity. The company doesn't just want to be another streaming platform. It aims to be a production company that changes the world of entertainment.
This means the business is always drawing attention to its investment in producing new original content and videos for its target audience. On its website, Netflix draws attention to the variety of original shows customers can only watch on the platform.
It's also constantly increasing its investment in content production, working with some of the biggest partners and brands in the world.
Learning from the Netflix branding strategy
Looking at the Netflix brand strategy, we can see how the company has become such a titan in its industry within a relatively short space of time. The massive success of Netflix stems largely from its approach to innovation, and its commitment to personalizing experiences for its customers.
Netflix wants to position its platform as one of the best ways to consume content in the modern world. To do this, it takes a unique approach to content delivery, creating customized experiences for every new audience and segment.
The company also dedicates a significant amount of time to promoting its high-quality content in a range of different mediums, expanding its global reach.
If you're inspired by the Netflix brand strategy and want to start developing a world-changing brand of your own, contact the Fabrik Brands team today. Let's develop an unforgettable brand.
Fabrik: A branding agency for our times.