Car logos with wings: The 50 biggest car brands with wings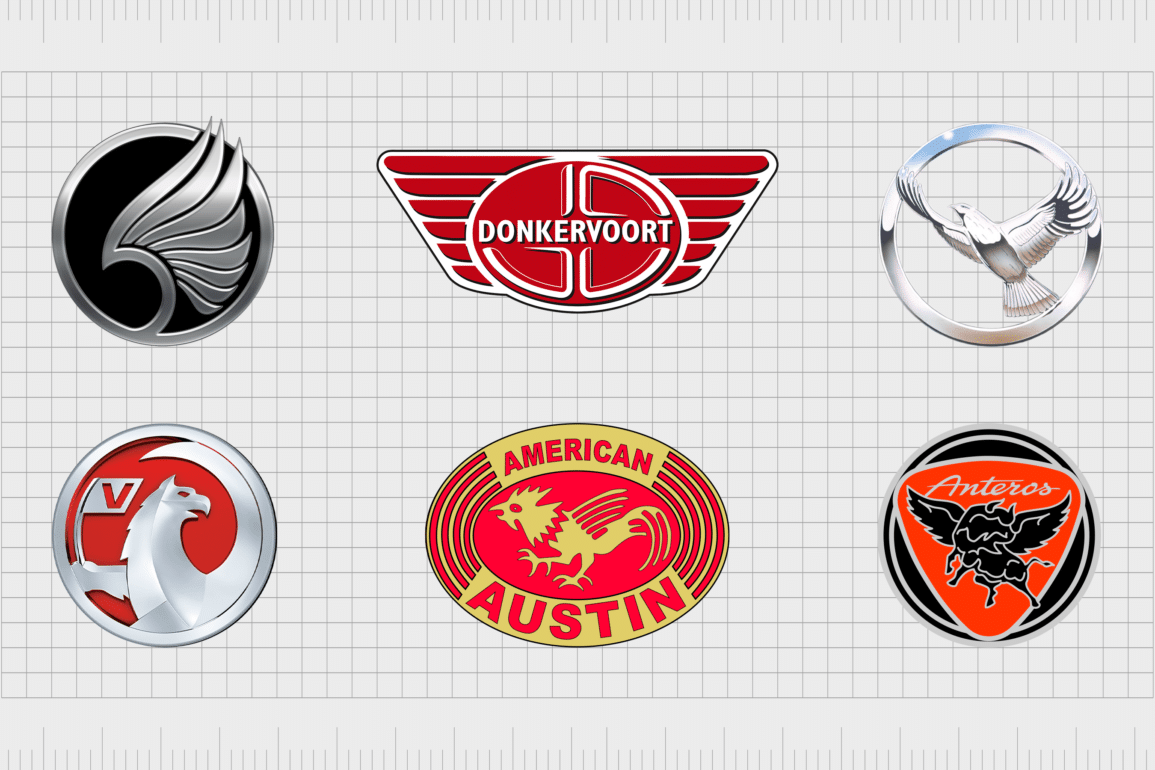 With dozens of car companies scattered around the globe, you'll have no trouble finding car logos with wings. Car emblems frequently feature wings as a testament to ideas of freedom, speed, and motion. While some symbols are obvious, others use very subtle aviation imagery.
For logos to be effective in any industry, they need to convey meaning as quickly and simply as possible. To minimize the risk of misunderstandings, companies frequently use imagery and symbols their audience are familiar with.
The star car emblem, car logos with animals, and images with wings are all extremely common.
Today, we're going to be exploring some of the better-known winged car logos in the industry. These designs all leverage wings in their own unique way.
Memorable car logos with with wings
Car logos with wings are popular in the automotive industry for a number of reasons. As mentioned, wings, feathers, and other bird-related shapes are often associated with concepts vehicle companies want to convey with their branding.
A set of wings on a car logo can depict a sense of speed and accuracy, as birds are often fast creatures, capable of exceptional precision in the way they swoop and soar.
Wings also elicit ideas of freedom, something many dedicated car owners feel when sitting behind the wheels of their vehicle.
If you're ready, let's explore some of the top car logos with wings in greater depth, for an insight into how different brands use wings to their advantage.
Car logos with wings
With a little luck, we've covered most of the more popular car logos with wings in our list above. However, you may also know some other lesser-known symbols which embraced the wing shape in the past.
A car logo with wings is more than just a way to grab audience attention. Like many of the popular shapes used by vehicle companies in their branding initiatives, wings have deeper meaning.
The use of a pair of wings, a single wing, or even just a shape intended to indicate flight, can bring life and energy to a vehicle company's brand.
While wings are used in various other industries too, from aviation, to the scientific, health, and even medical landscapes, they seem to have a special power in the car sector. Hopefully, this exploration of car symbols with wings has helped your imagination to take flight.
Well, there you have it, we hope you've enjoyed our definitive guide to car logos with wings, and come back to Logofile for regular updates on the world's most famous, and little-known, logos!
Now read these:
—Which car companies own which car brand?
—Famous car brands, their names and logos
—The ultimate list of French car brand logos
—The definitive guide to German car logos
—Famous car logos and emblems with stars
—Top American car brands and their logos
—Your ultimate guide to Italian car brands
—American car companies that went bust
—The conclusive guide to British car logos
—The essential list of Japanese car logos
—A decisive guide to car logos with circles
Fabrik: A branding agency for our times.