How to market a healthcare company: Your essential guide to marketing in healthcare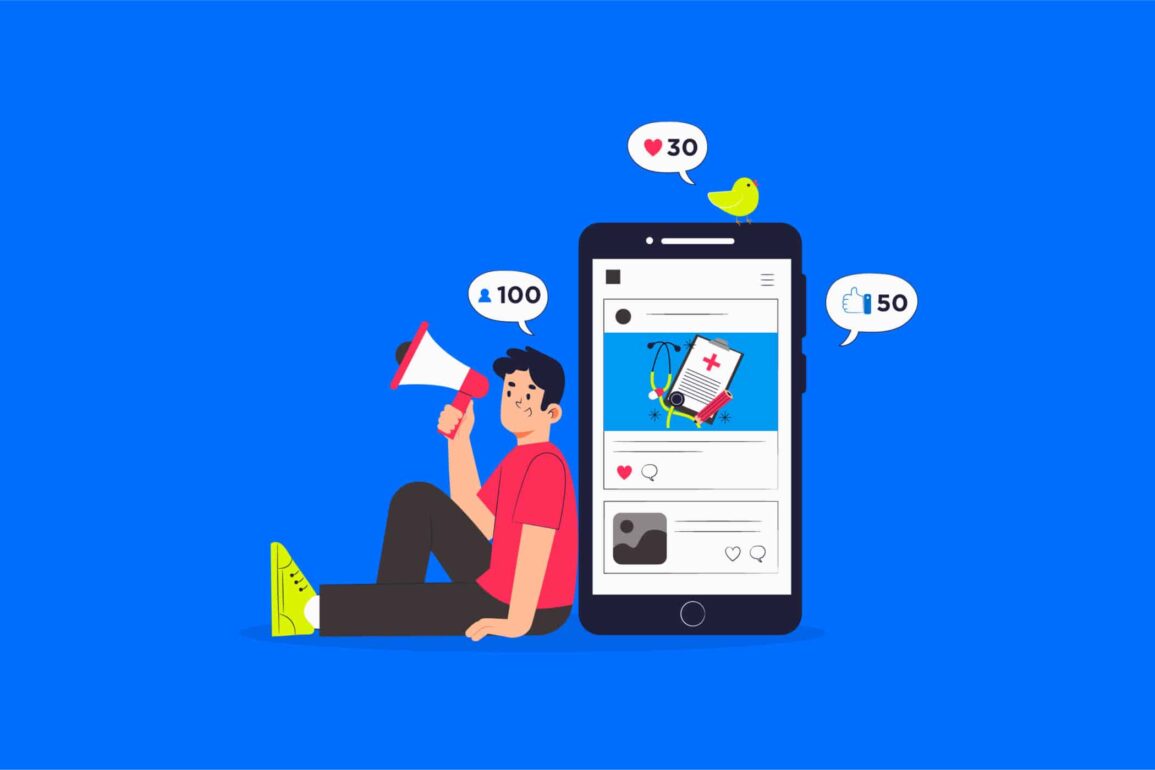 For business leaders, figuring out how to market a healthcare company can take time and effort. Effective marketing in healthcare involves finding ways to expand brand reach and generate trust and engagement. The best strategies revolve around building extensive relationships with clients.
In the past, good healthcare company marketing has often been overlooked by many organizations. Like other companies selling essential products and services, healthcare brands have assumed need for their solutions would reduce the requirement for marketing.
However, demand for amazing healthcare advertising is also growing as the landscape grows more competitive and consumers evolve. Today, many companies know if they want to reach and convert their audience effectively, they need to formulate the right promotional strategy.
So, what does marketing for medical companies involve? What strategies can business leaders use, and how can brands ensure their success?
Why is marketing important in the healthcare sector?
The world is changing at an incredible rate. Consumers are increasingly searching for more choice and freedom regarding essential purchases like healthcare. Additionally, we're all doing more market research online to help us determine which companies we can trust.
As the healthcare consumer journey evolves, studies show 94% of healthcare patients now use online reviews to evaluate providers.
Additionally, 43% of younger consumers say they plan on switching practices in the coming years. This indicates that any healthcare company needs to have a strong presence if it wants to retain clients.
Every healthcare brand, from hospitals and multilocation providers to pharmaceutical companies, insurance brands, and specialists, can benefit from adding marketing to its strategy.
In fact, healthcare advertising spending in the US increased 11.5% in 2022. If you're not investing in advertising for your company, you could be losing customers to brands that do.
Used correctly, a healthcare marketing plan informs, educates, and engages patients and improves a company's chance of building long-lasting relationships with clients.
Discovering how to market a healthcare company allows you to:
Improve the patient experience, offering access to guidance and support.
Keep healthcare consumers engaged with personalized, powerful content.
Position yourself as a thought leader in your industry to generate trust.
Empower consumers to make smarter decisions for their wellbeing.
Increase your customer base and improve your chances of retaining existing clients.
Differentiate yourself from other market competitors.
Improve your online reputation and increase referrals.
Where do healthcare companies get their leads?
In the past, lead generation for healthcare companies wasn't as much of an issue as today. Most healthcare brands relied on local consumers coming to them because they offered the best services, at the lowest price, in the right location.
Today, however, with the advent of telehealth and increased competition, no healthcare brand is guaranteed to receive leads.
As a result, most healthcare organizations infuse various lead generation tactics into their marketing campaigns. Common strategies include:
Website forms and contact pages
As consumers continue to search for healthcare support and guidance online, they often rely on website forms and contact pages to reach out to specialists. Some companies create specific landing pages for collecting leads, while others simply add contact details to their existing website format.
Search advertising
According to Google, search drives three times more visitors to hospital sites, highlighting the importance of a good SEO presence. Most healthcare brands will use a combination of paid ads and organic search optimization to improve the number of leads they drive to their contact pages.
Social media
Consumers are relying heavily on social media for a range of different research and purchasing processes. Social media allows customers to reach out to healthcare brands, collect valuable information about the company, and even read reviews and testimonials from other consumers.
Partnerships and referrals
To drive more patients to physical healthcare locations, many providers partner with other market-leading brands, as well as existing companies, to boost their number of referrals. Nurturing relationships with existing customers can be an excellent way to improve lead generation results.
Online and offline events
Some healthcare companies offer online and offline events designed to increase awareness and generate leads. For instance, a doctor's practice might offer a free screening day, or an optician could provide a free online webinar to customers to help them learn more about potential eye issues.
Marketing in healthcare: How to introduce a healthcare product
The first step in succeeding with marketing in healthcare is learning how to introduce a product or service to the market. The good news is most consumers are becoming increasingly aware of the importance of good physical and mental health.
As a result, many are seeking out more information online (5% of Google searches are health-related).
This gives companies an excellent opportunity to stand out and attract new leads if they know how to distribute their marketing content correctly.
Before you dive into healthcare marketing strategies like email advertising and social media, it's worth taking a few initial steps:
1. Define your target audience
Most healthcare companies will have a specific niche patient they want to attract. While there are general practitioners out there, even these companies will likely focus on a specific group of people, such as those located in a certain area (closest to the practice).
Knowing exactly who you want to reach with your healthcare advertising campaigns will help you tailor your messaging to your target audience's needs, interests, and pain points.
It may be worth creating user personas to guide you, with insights into each customer's specific health concerns, demographic, and behavioral characteristics.
2. Develop a powerful brand
The best healthcare company marketing campaigns are built on the foundations of strong branding. While some companies may feel confident their expertise and specialist services can set them apart from the competition, a brand is the best way to build an emotional connection with an audience.
Healthcare brands should be built to demonstrate expertise, compassion, and understanding.
Start by defining your USP, or what makes your company special – what can you offer that competitors can't? Using this information, begin to build a personality and visual identity for your brand that resonates with your target audience.
Ensure your branding elements are consistent across your offline and online assets.
3. Map the customer journey
Once you have a clear idea of your brand and its unique properties, as well as your target audience, it's time to start thinking about where you will be investing in healthcare marketing. There are countless ways to reach and engage your target audience.
Your strategies will depend on the core stages of your client's journey.
For instance, if you know most of your customers start searching for a practitioner with Google, you'll also know you need to develop SEO content and paid campaigns for the search engine result pages.
If your consumers are active on social media, determine which channels they use when assessing providers. For healthcare companies, it's also worth examining the offline world. For instance, should you invest in radio, TV, or billboard ads?
How can I promote my healthcare business?
As mentioned above, there are a few ways to invest in marketing in healthcare. With your initial research to guide you, you should better know how to market a healthcare company to your specific target audience. One of the most valuable resources for any healthcare company is content.
According to Google, patients who booked healthcare appointments ran around three times more searches than those who didn't. Making sure you have a strong online presence with content and SEO can significantly boost your chances of gaining leads. Start by:
1. Producing educational content
Today's consumers want to know how to look after themselves, protect their health, and even resolve common care problems independently. Because of this, even before speaking to a doctor, most will research topics and queries online.
Creating educational, informative thought leadership content is an excellent way to connect with your audience throughout their purchasing journey.
With content, you can target customers at various stages of the purchasing funnel.
A cardiovascular healthcare brand could use a blog about the signs of heart failure and the causes of heart problems to attract customers in the awareness stage. The same brand could then produce content about comparing healthcare providers to assist with decision-making.
Producing powerful healthcare content serves a number of purposes. It improves your chances of appearing on the search engine results pages when customers are researching issues. It also allows you to show your authority and earn the trust of your consumers.
It's worth experimenting with various content types, from video to written text and infographics.
2. Investing in search engine optimization
As mentioned above, many healthcare journeys start on Google these days. Creating content is a great way to position yourself in front of your target audience, but ensuring it stands out on the search engine result pages is essential. Search engine optimization can help with this.
Start by researching the keywords your customers will likely search for throughout the purchasing journey.
Think about long- phrases like "Symptoms of Flu" or geographical terms like "Surgeries in New York." These keywords should be embedded into their own dedicated pages throughout your website as naturally as possible.
Beyond keywords, you'll also need to think about other SEO practices, such as generating backlinks from authoritative companies, improving your internal linking strategy for search crawlers, and boosting user experience on your site. Fast-loading pages and well-formatted designs are crucial.
You'll also want to claim your healthcare website on your Google Business Profile.
3. Prioritize reviews and testimonials
The content you produce for your healthcare brand can range all the way from educational infographics to videos and podcasts. However, user-generated content is one of the most valuable forms of content for any healthcare organization.
Today's consumers seek evidence they can trust the companies they rely on to preserve their wellbeing.
By reading around 1-6 reviews, most consumers will form an opinion about your practice without ever interacting with you or one of your doctors. With this in mind, it's crucial to consider leveraging word of mouth and social proof.
Add certifications to your website to show customers they can trust you to deliver expertise.
Display customer case studies and stories on your website and social media. It's also worth using social listening tools to track what other people say about your brand. You can even list your site on review websites to collect more feedback.
How to market a healthcare company: 3 strategies
Producing and curating the right content is perhaps the most effective method of healthcare company marketing. However, there are other strategies medical companies can use to expand their reach and generate better results.
As mentioned above, entrepreneurs learning how to market a healthcare company often use various methods to collect leads. A few effective options include:
1. Building a social media presence
Social media is an excellent way to raise awareness of your healthcare brand, combat misinformation and even communicate directly with customers during a crisis.
You can use your social presence to expand the reach of your resources and content assets, answer common questions, and even engage your existing customers. Social media is also a great way to share insights into your brand values.
For instance, look at how CVS Health uses social media to inspire conversations about topics important to its target audience:
The key to success with social media is knowing where to reach your audience. For some companies, Instagram and Facebook could be excellent tools for reaching a broad audience. LinkedIn is ideal for B2B brands, while TikTok is fantastic for reaching a younger audience.
It's also worth using various marketing strategies, from organic posts to paid campaigns, and even influencer marketing, to help boost your credibility.
2. Create email and SMS campaigns
For healthcare companies, it's crucial not just to attract the right audience but keep them engaged and committed to your organization. You want every patient to become a lifelong member of your practice (or stay with you for as long as possible). This means consistently nurturing your leads.
While social media can be excellent for lead nurturing, it's also worth exploring email marketing and SMS campaigns. These allow you to reach out to your audience wherever they are with news, information, and even appointment updates.
The best email healthcare marketing strategies will focus on delivering highly personalized and relevant content to each consumer. This means it's worth using email automation tools to help you segment your audience and deliver content at the correct time.
Experiment with different types of campaigns focused on information, education, and service promotion.
3. Leverage paid advertising
While much of the work you do when marketing in healthcare may focus on creating and promoting organic content, it's worth considering paid advertising too. Throughout 2023, healthcare digital ad-spend across the US will increase by at least 10%.
There are a few ways to invest in paid advertising. You can consider using pay-per-click (PPC) campaigns on Google to boost your website's presence and increase your leads when targeting specific keyword searches. Another option is to pay to promote specific posts on social media.
When considering paid advertising, it's also worth exploring different mediums in the healthcare landscape.
While an improved search presence is excellent, you may also want to pay for promotion on television channels, podcasts, and even radio platforms. The best strategies will focus on getting your message in front of the right people at the correct time.
What tools can be used to market healthcare? Healthcare advertising
Technology and software can make learning how to market a healthcare company much easier. The right tools will ensure you're investing the proper budget into certain parts of your marketing campaign so that you can increase your return on investment.
While the tools for marketing a healthcare service you use may vary depending on your promotional strategy, standard options include:
CRM tools
Customer Relationship Management (CRM) tools are extremely valuable for healthcare companies. They allow you to manage your relationship with different leads and prospects throughout the purchasing cycle.
Plus, they often come with tools to help you automate outreach and follow-ups with existing customers. Many tools will integrate with other technology platforms, such as your email marketing system.
CMS platforms
Content Management Platforms (CMS) are designed to help you distribute content to your target audience. They're ideal for businesses relying on blogs, articles, and thought leadership content to engage with customers.
A CMS will allow you to publish everything from videos to text on your website, so you can boost your search engine presence and strengthen your brand reputation.
Automation tools
Automation tools allow you to streamline some of the repetitive tasks associated with marketing in healthcare. As an example, you can automate the delivery of SMS and email messages to customers at specific times.
There are even automation tools that can help with setting up appointments and conversations. Marketing automation software can also help you to publish social media posts at the right time to boost engagement.
Analytics tools
Analytical tools and reporting platforms provide behind-the-scenes insight into your target audience so that you can create more personalized, effective campaigns.
You can use these tools to track what kind of healthcare advertising content your customers are consuming and where most of your leads are coming from.
Website builders
Website builders and app-building tools allow you to create a comprehensive digital presence for your healthcare brand.
Many come with bonus solutions specifically designed for healthcare companies. You could create a website with an in-built booking system so customers can make appointments online.
Top tips for marketing a healthcare company
Healthcare company marketing is often a multi-faceted process, requiring companies to invest in various methods for engaging, nurturing, and converting their audience. With the advice above, you should have a good idea of how to get started with your strategy.
However, it's worth keeping the following tips in mind:
Become a thought leader
Use content to engage with your target audience and demonstrate your field expertise. Publish reports, data, and analytics to help highlight your credibility and knowledge. Consider working in partnership with other brands and influencers to improve your reputation.
Manage customer experience
Many leads you generate for your healthcare company will likely come from reviews, testimonials, and referrals.
With this in mind, ensuring you're delivering an excellent customer experience is important. Listen to the feedback your customers share, and ensure you're delighting them every step of the way.
Experiment
Work with different promotional strategies to determine the best for your target audience.
Create various types of content in different formats, and measure their results. Explore partnerships with influencers, invest in podcasts and videos, and consider both paid and organic marketing.
Consider professional assistance
If you're struggling to stand out in the healthcare market, one of the best things you can do is seek out extra help.
Working with healthcare marketing experts can help you develop new strategies for reaching your audience. It's also worth working with the right writers and graphic designers to promote your brand.
Remember the offline world
Don't forget to consider offline marketing options for your campaigns. Many people will still respond well to messages and leaflets sent in the mail, billboards, television ads, and radio promotions. You could even consider sponsoring local teams and charities to increase your leads.
Mastering healthcare company marketing
Learning how to market a healthcare company effectively can be a time-consuming and complex process. Powerful marketing in healthcare often requires companies to experiment with a wide range of promotional strategies.
However, you will succeed if you commit to sharing your industry knowledge, producing fantastic content, and connecting with your audience emotionally.
Healthcare consumers are looking for evidence in the online and offline world that they can trust the companies they partner with. With this in mind, it's worth using your marketing strategy to consistently showcase your brand's unique and compelling aspects.
Fabrik: A branding agency for our times.
Now read these: 
—Your guide to starting a healthcare business 
—Top healthcare company naming strategies 
—Examining the role of branding in healthcare 
—How to design a healthcare company logo 
—The ultimate list of healthcare company logos 
—Developing a healthcare marketing strategy