Figuring out how to name a healthcare company is often far more complicated than people realize. Business leaders often assume the right name will naturally come to them when building their brand.
However, with so many healthcare brands already out there, choosing a title that really differentiates your organization is more challenging than it appears.
It's easy to convince yourself a name doesn't really matter too much for your healthcare business. After all, if you offer fantastic service and exceptional customer experiences, you can assume those components will help you reach and convert your audience better than anything else.
However, a good healthcare naming process ensures you can differentiate yourself from the other organizations in your field and boost your chances of attracting loyal clients. Your name will help your customers form a deeper connection with you, showcasing your values and identity.
Moreover, a good name also boosts a healthcare company's chances of growth. It can engage potential investors and partners and even draw in new talented employees.
How exactly do you get started when it comes to choosing healthcare names?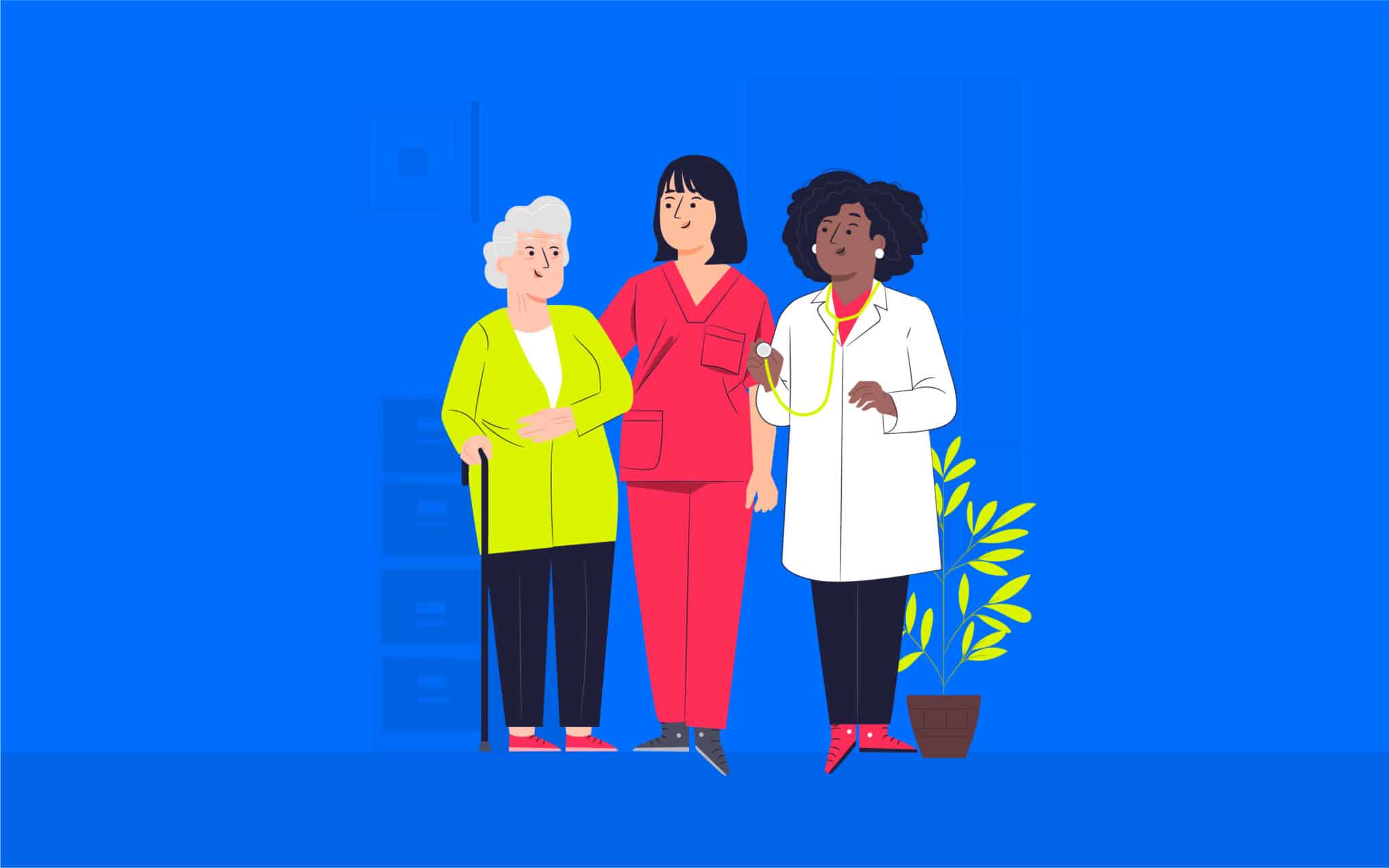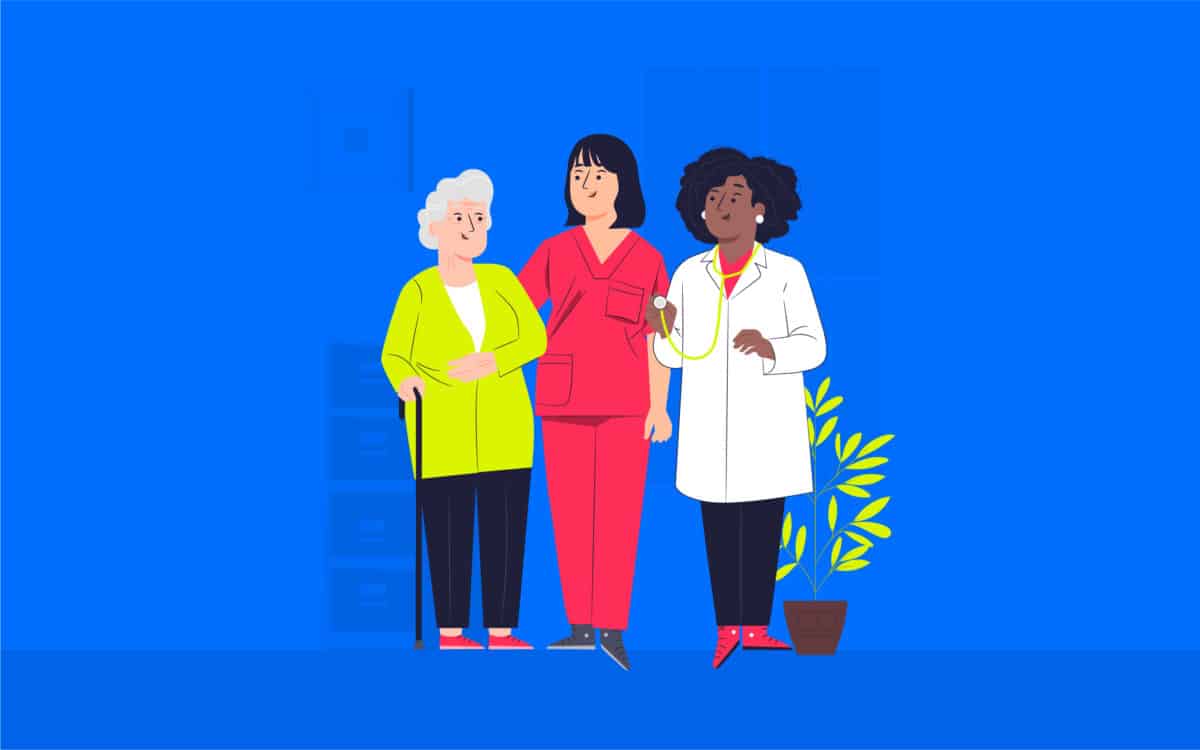 How do I name my healthcare business?
Getting started
Learning to name a healthcare company starts with defining what a good name looks like. A good moniker isn't just distinctive; it's also meaningful. In the past, many healthcare companies have struggled with building effective branding strategies.
Healthcare is often seen as a "crucial purchase," something customers are forced to invest in, whether they like it or not. This means many healthcare organizations have assumed that they don't necessarily need to invest in a good brand if they can offer the right services and support.
Unfortunately, this isn't necessarily the case. While most consumers will eventually have to invest in healthcare, they do have options. It's more than just the price of the services they'll consider when deciding who to work with.
Consumers also want to ensure they can trust the company they interact with. After all, they're putting their lives, health, and livelihoods in your hands.
Choosing a good name can help reduce the work you need to put into constantly marketing your services and seeking out new patients. So, what is a good name?
While there's no one-size-fits-all strategy for healthcare naming, the right titles should be:
Emotional
Choosing a healthcare provider is as much of an emotional decision as a logical one. If your name can instantly make an emotional connection with your audience through evocative words, you're more likely to attract attention.
For instance, "United Health" tells us we're working with a company that takes community seriously.
Versatile
Like any company, a healthcare brand can grow and evolve. With this in mind, it's worth ensuring your chosen name is versatile enough to scale with you.
Naming your company after the location it serves is an excellent way to create local connections at first. However, it might make little sense if it ends up expanding.
Unique
Your name should describe your brand and help differentiate you from your target audience. While many healthcare brands use the word "Health" in their name, they also use other components for differentiation.
Making your name sound too much like another brand could lose you customers.
Simple
There's a time and a place for complex names. If you're trying to reach a broad audience, avoid using jargon terms from the healthcare industry. However, there is an exception to this rule.
Pharmaceutical and health technology companies can often use more complex names as they're trying to reach a different kind of customer.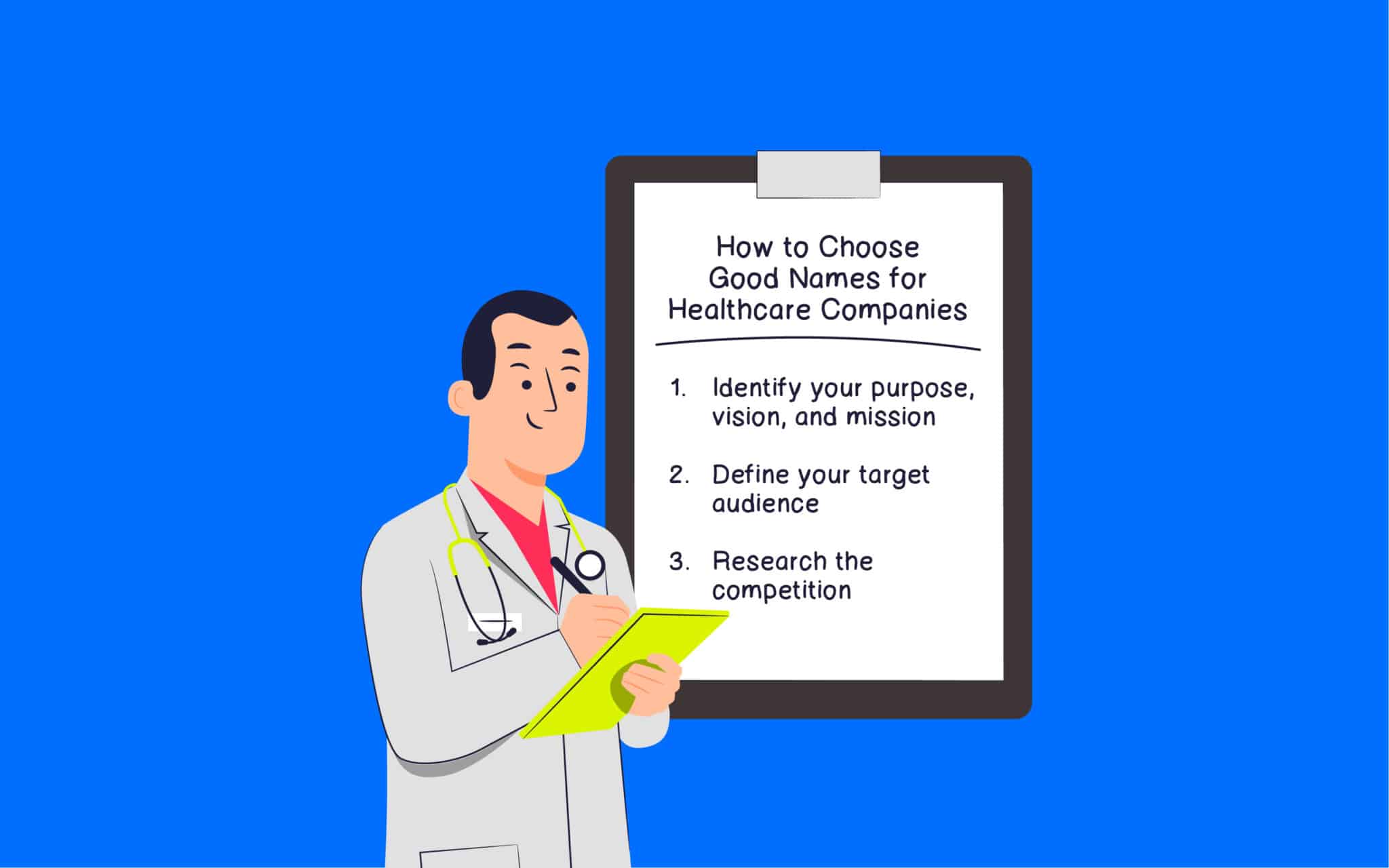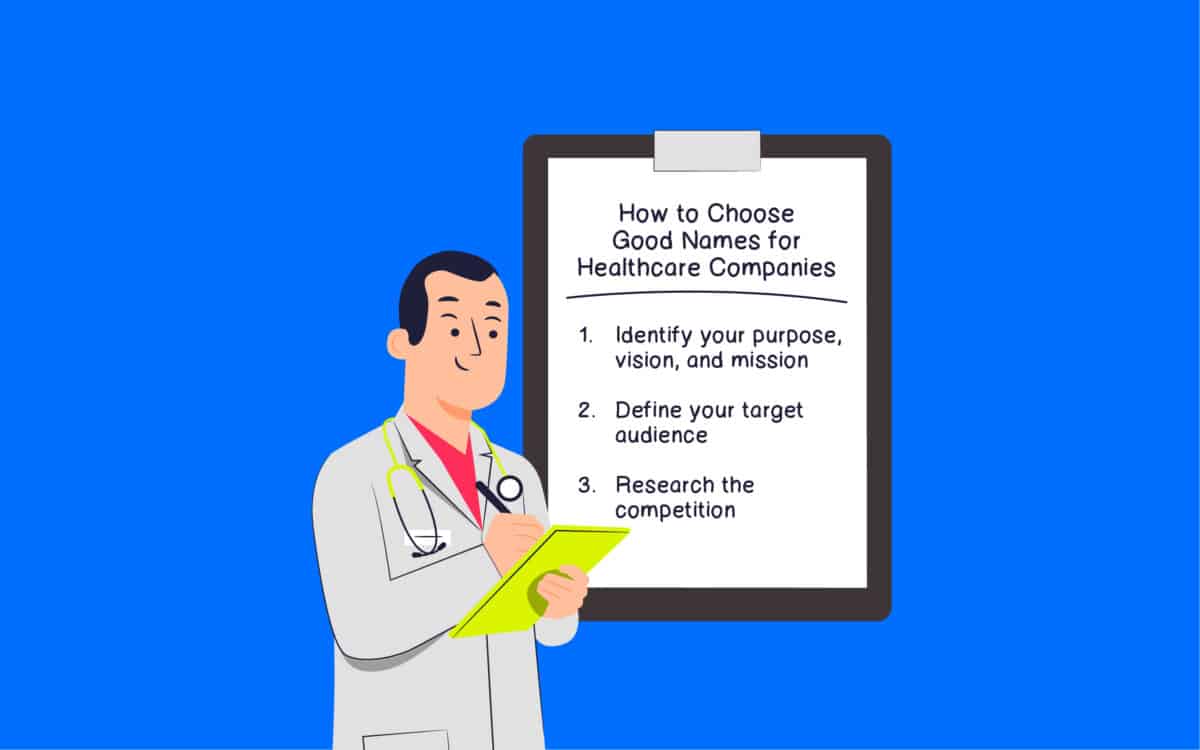 How to choose good names for healthcare companies
Once you know what makes catchy healthcare names so effective, the next step is doing your research. Many businesses across every industry make the mistake of trying to dive into the brainstorming process too quickly.
However, this could mean you end up with a title that doesn't really resonate with your audience. Since changing your name and identity can be expensive, it's worth doing your due diligence first. Here's how you can begin your research.
1. Identify your purpose, vision, and mission
As mentioned above, the best healthcare names are meaningful. They convey crucial information about what the company does and what they're trying to accomplish in the industry. When naming your healthcare company, you should think about the promise you're making to your clients.
What is your core purpose as a healthcare brand?
What services do you offer, and what can you provide better than anyone else? What do you want to do for the world around you? Are you focused on making healthcare accessible to everyone, or do you want to help a specific group of people, like children or those with chronic health conditions?
2. Define your target audience
Everyone needs healthcare at some point. However, most healthcare companies will have a specific audience they want to connect with. For example, if you're running a local healthcare practice, you won't be able to deliver support to people overseas.
In this case, taking a local approach to branding might be a good idea. If your healthcare business offers specific support, such as oncology or cardiology, then you should be conveying this in your name.
Define who will benefit most from your service, and create a set of user personas to guide you. These personas should highlight everything you need to know about your customers, from their pain points and challenges to their goals and fears.
Your knowledge of your target audience will help you to create a name that resonates with them.
3. Research the competition
According to some statistics, more than 784,000 healthcare companies are in the US alone. Even if you're targeting a niche group of customers, there's a good chance competitors will offer similar services.
Researching the competition is how you define what will separate you from the rest of the market.
Look at what your competitors have to offer in your industry. What kind of services do they provide, and what makes them unique? Who do they target precisely, and what prompts consumers to choose them over other companies?
Not only will this give you inspiration for your own brand, but it should also help you define your own clear USP.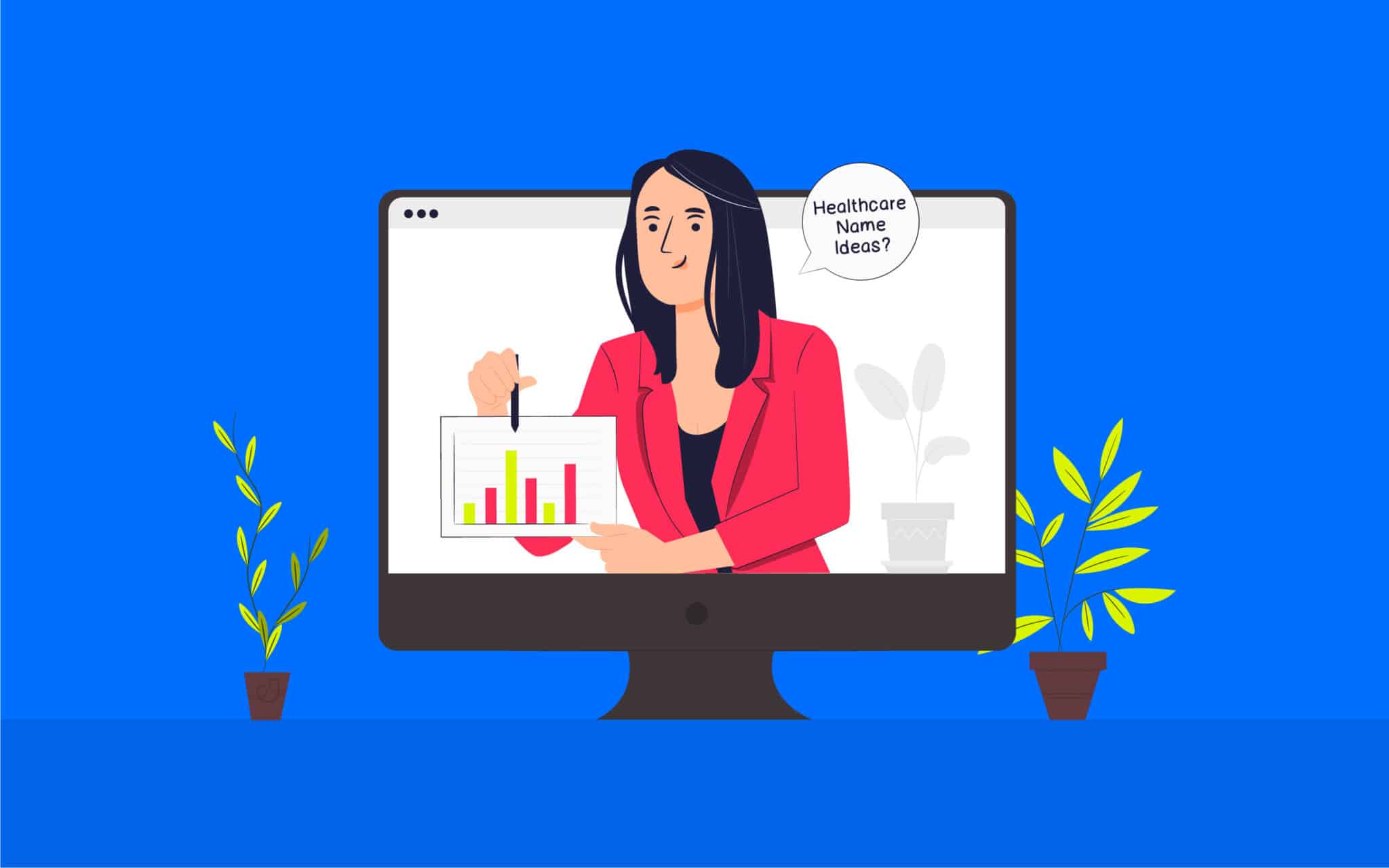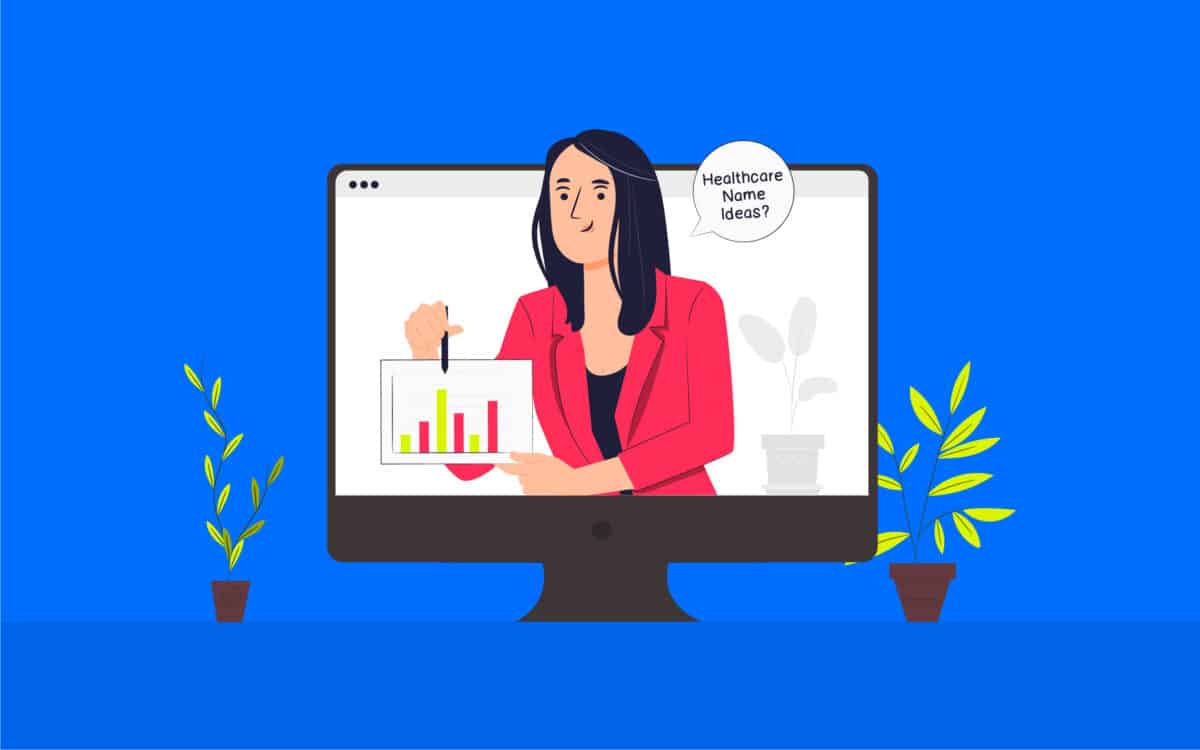 Should I use a professional naming agency?
The healthcare naming process can be long and arduous. There's a reason so many organizations need help selecting the right name or end up with complex titles that need to be changed.
When you're trying to build a successful business, spending too much time on the naming process can cause significant problems. After all, you can only launch once you have a name.
If you need help with the correct title, the easiest option might be to seek a specialist. A naming firm or agency will allow you to outsource the difficult task of healthcare naming to a group with more experience.
These organizations have already spent years developing their naming skills, so they're more likely to come up with a great moniker quickly.
Additionally, working with a professional naming agency can have other benefits. Instead of learning to name a healthcare company from scratch, you can focus on the different aspects of building your brand. Plus, you can get extra assistance with the due diligence part of naming.
A healthcare naming agency will search through trademark databases for you so you don't have any legal issues.
What's more, they'll make sure your name will work well in various formats and industries so that you can minimize the risk of misunderstandings. While there is a cost to working with an agency, the value of having professional support on your side can more than make up for it.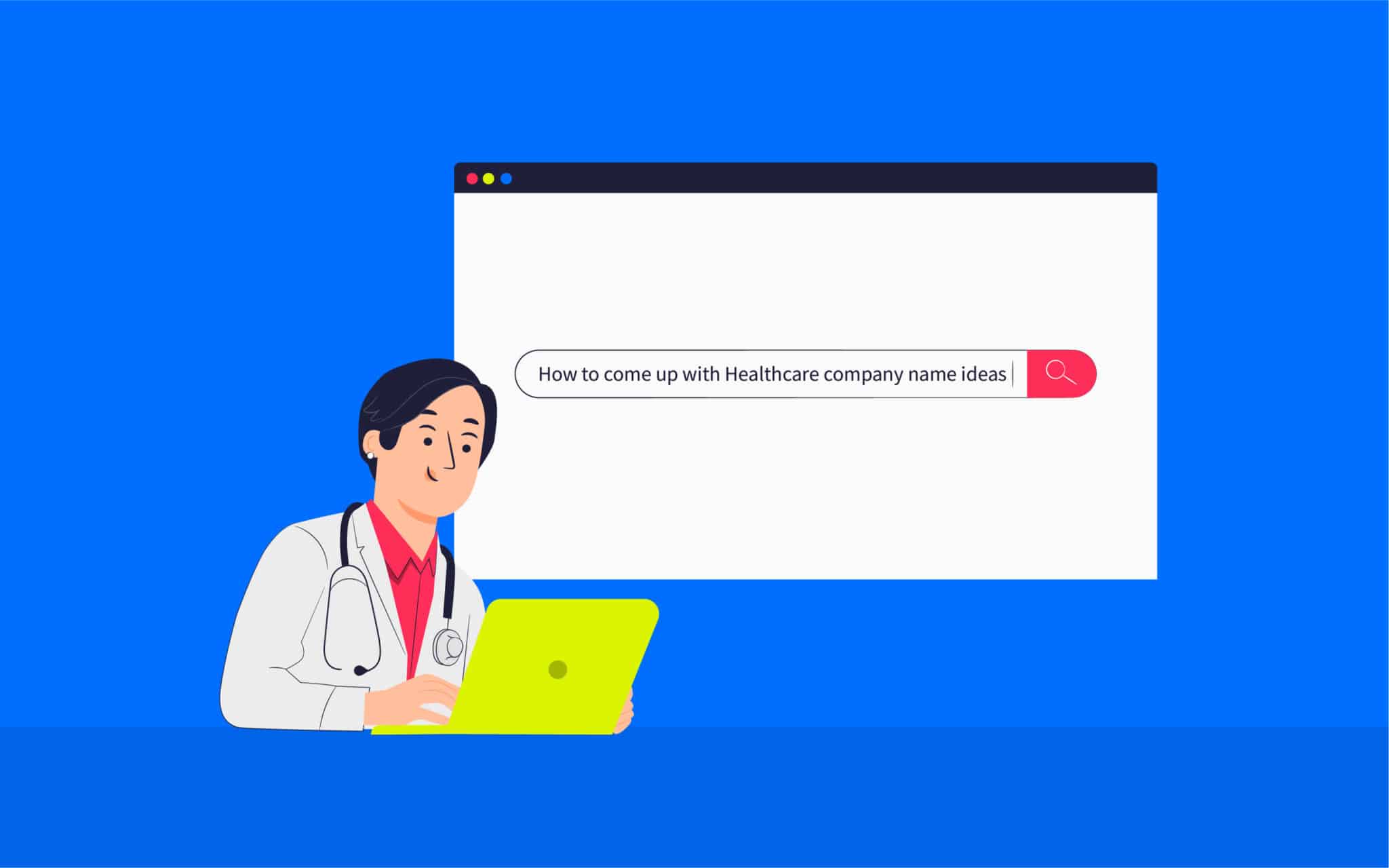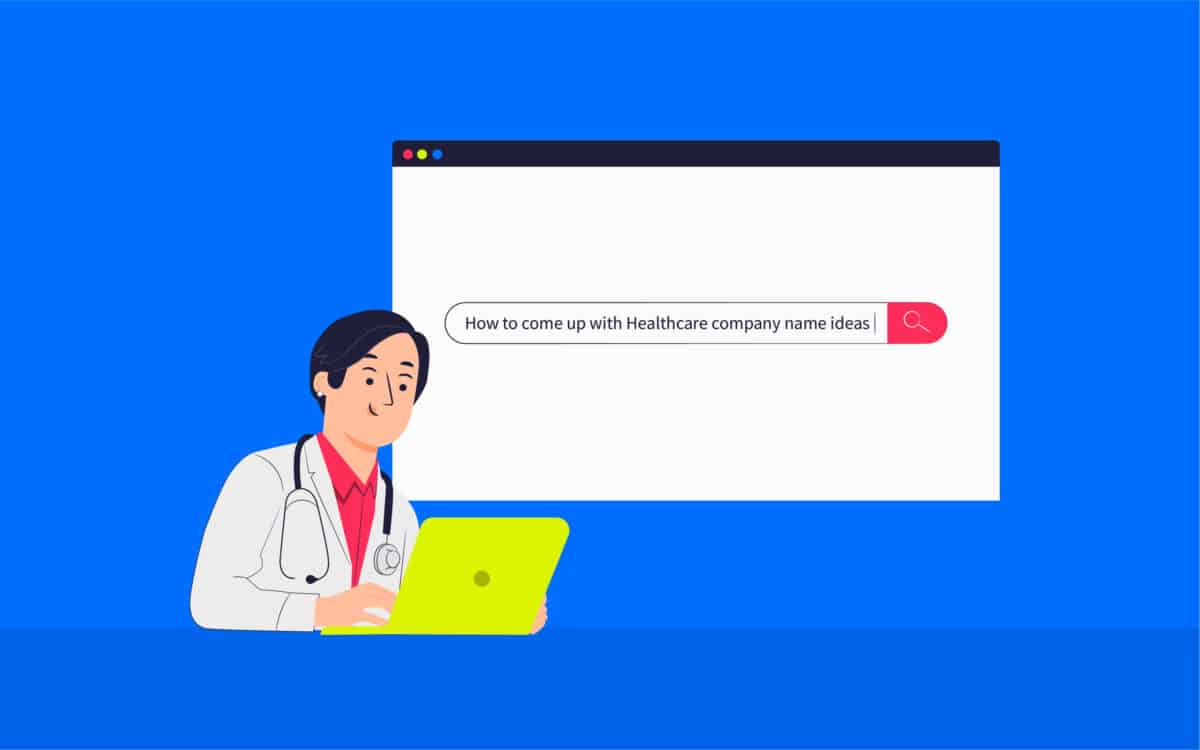 How to come up with healthcare company name ideas
If you decide to go it alone with your healthcare naming strategy, then the chances are the most time-consuming part of the process will be coming up with ideas. Few companies simply stumble across the right name overnight.
In fact, even if you come up with ideas for names for a healthcare business, there's a good chance your title will have already been taken.
The first step in brainstorming is ensuring you have the right people involved. Too many team members involved in the naming process can complicate things, but too few could mean you don't come up with enough ideas.
Decide which stakeholders you want to be involved in the process in advance, and arrange a time to get together.
Once you have your "naming team" in place, you can try the following strategies to come up with healthcare company name ideas:
Write a list of words
One of the easiest ways to get started with a good healthcare naming process is to write a list of words relevant to your company. Think about the words you would use to describe your organization and the terms most connected to your brand.
You might list things like "cardio" for a heart company or "well-being" for an overall health organization. Come up with as many different names as possible.
Scan the market
As mentioned above, you should only choose a healthcare name similar to something already out there. However, examining the competition and other healthcare brands can inspire you.
You might discover ways to format your name you hadn't thought of before. Plus, you can use this strategy to list words you want to avoid for differentiation purposes.
Use creative tools
There are countless tools out there to help with your creative process. A thesaurus can come in handy when looking for synonyms for common words. Mood boards are helpful if you're trying to create an evocative name.
It's even worth looking at dictionaries that allow you to convert words into other languages, such as Latin. This can give you more initial options to work with.
Explore naming strategies
Remember, there are many different ways to choose a healthcare name. While many of the best healthcare names are evocative, you could also consider descriptive names, invented words, and even acronyms.
You could even name your organization after its founder to give it a human touch. Just be careful if you choose an eponymous name, as you'll need to invest in branding for the person too.
Combine words
An easy way to create a unique and evocative name at the same time is to combine two words into one. For instance, you could choose a name like "CardioCare" for a healthcare company committed to heart health.
Or you could drop letters from one word to create something entirely new, such as "Omnihealth" or "Commcare."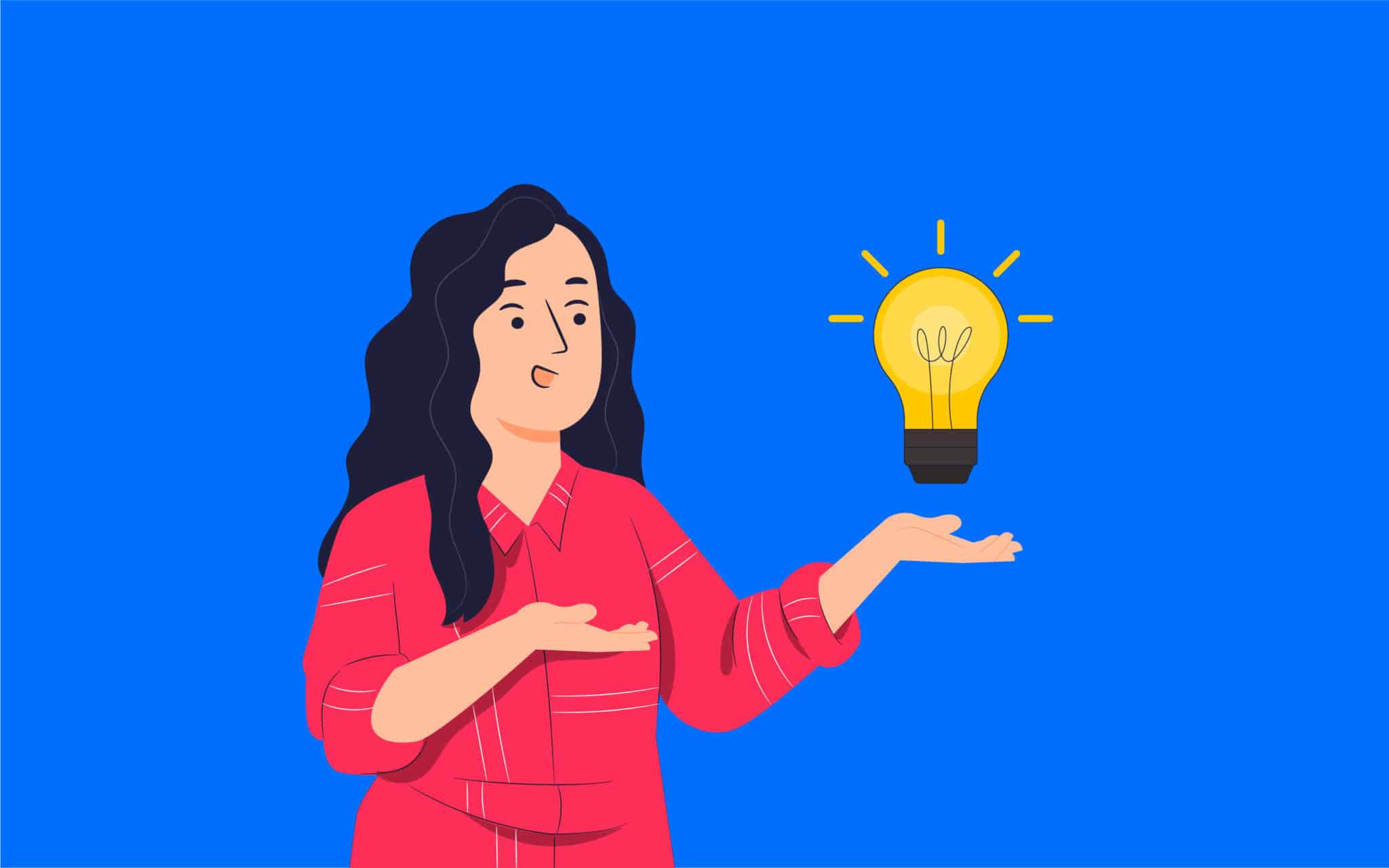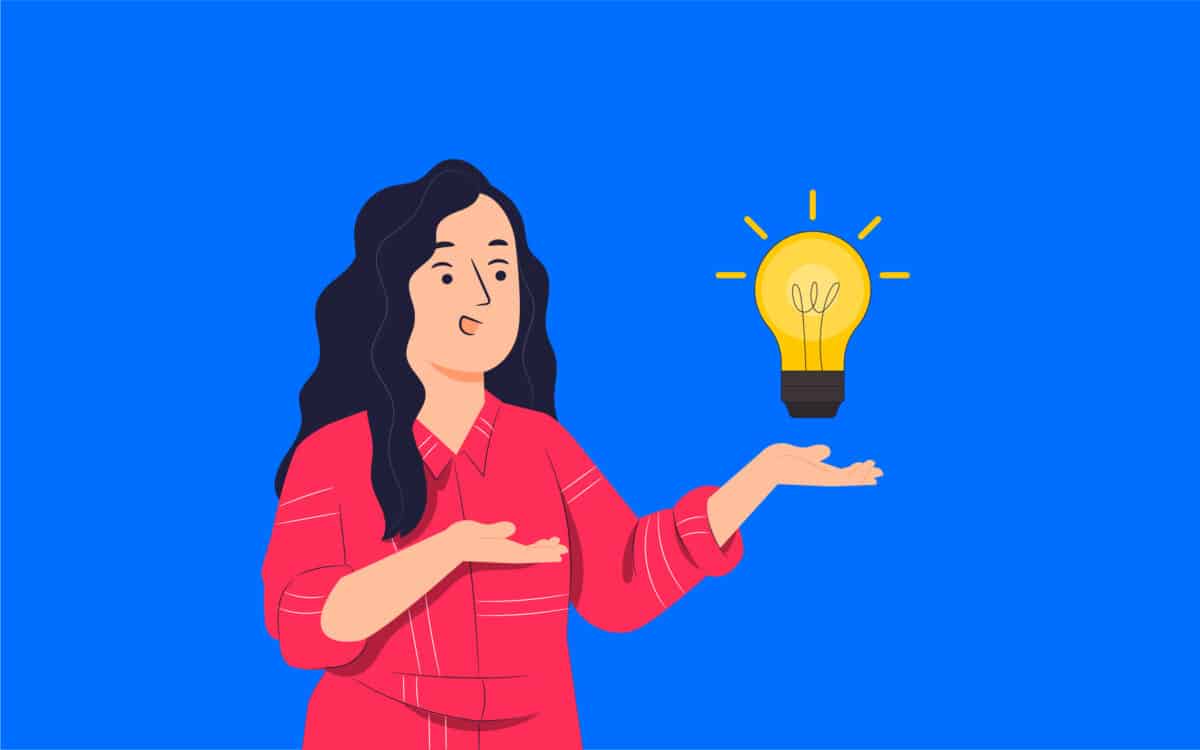 Tips for choosing names for healthcare companies
While the tips above should help you develop a list of ideas for your healthcare name, you'll still have to narrow your options to find the perfect title. The process of choosing a healthcare name can be challenging.
Not only do you need to find something that will appeal to your target audience, but you'll also need to ensure all your stakeholders are on the same page.
Here are some tips to help you narrow down your options:
1. Keep it simple
Unless you're creating a name in a specific, technical sector of the healthcare landscape, it's best to stick to a simple moniker. If your name is too complex, your audience won't understand what you do and can offer.
Pick a name that's easy to pronounce, spell, and share. Avoid anything too long, as this could make it harder to produce your healthcare logo and website.
2. Do your due diligence
Before you fall in love with any specific name, make sure it's available for you to use. You can conduct trademark searches online to look for already-owned names. Plus, it's worth typing your name into Google to see what comes up.
Double-check that your name has no double meanings in different cultures or geographies. Healthcare names shouldn't be funny.
3. Showcase your core identity
A generic name won't get you far in the healthcare landscape. Your title is one of the first chances you'll have to emotionally connect with your target audience. With that in mind, make sure it's sharing genuine information about the nature of your business.
Ask yourself how each name makes you feel and whether it resonates with your business' core values and vision.
4. Test your names
If you need help determining which names best suit your target audience, consider putting them to the test. You can host polls online to get people to vote for their preferred name. Consider speaking to local people to get their input.
You can also share your name with others on your team who weren't involved in the naming process to get their feedback.
5. Look at the name in context
Examining it in context is an excellent way to see whether a name will really work for your brand. In other words, create a placeholder logo, and visualize what your name will look like on signposts, advertising campaigns, and even your website.
Ask yourself what kind of impression the title will make when people see it on your business cards and newsletters.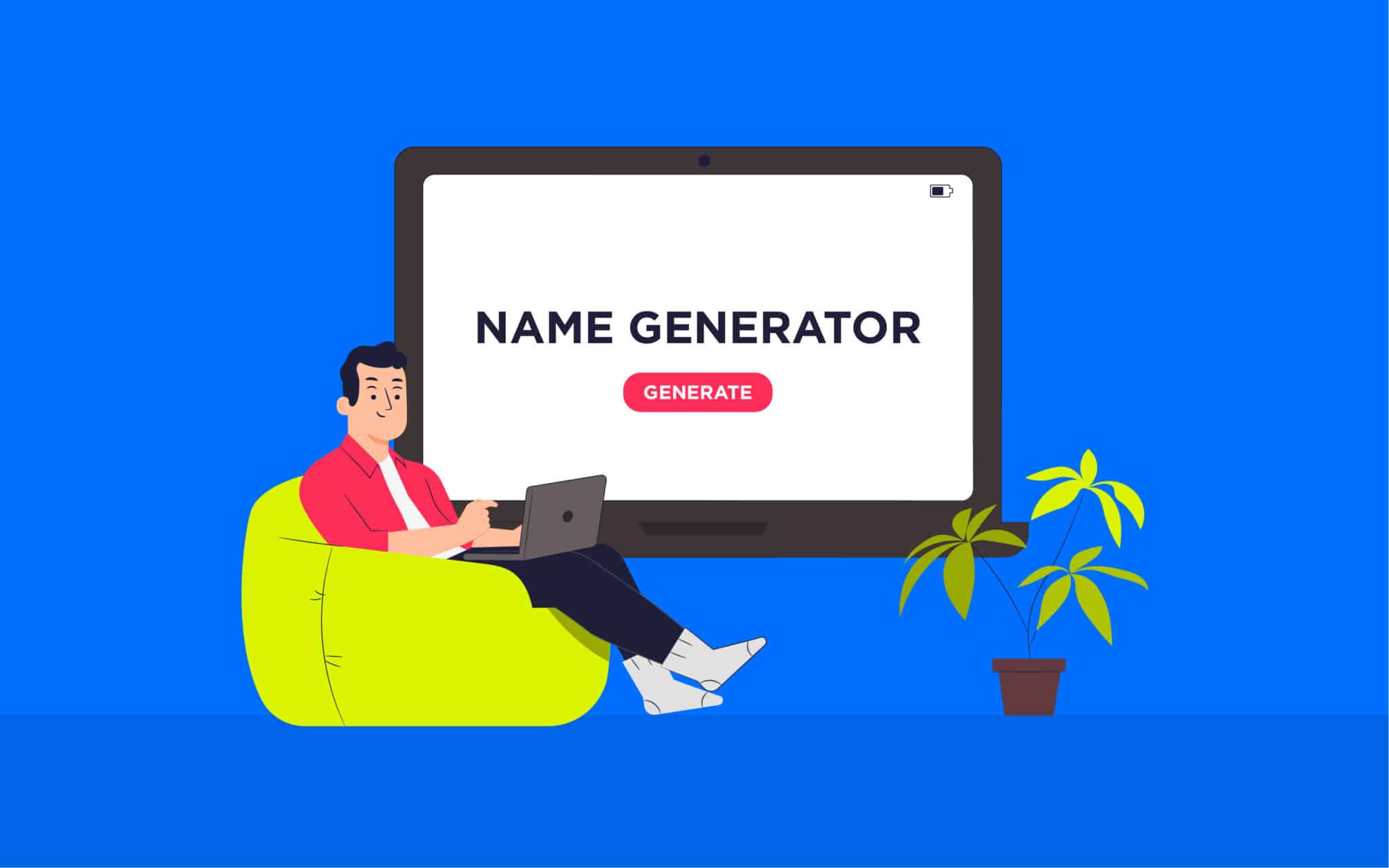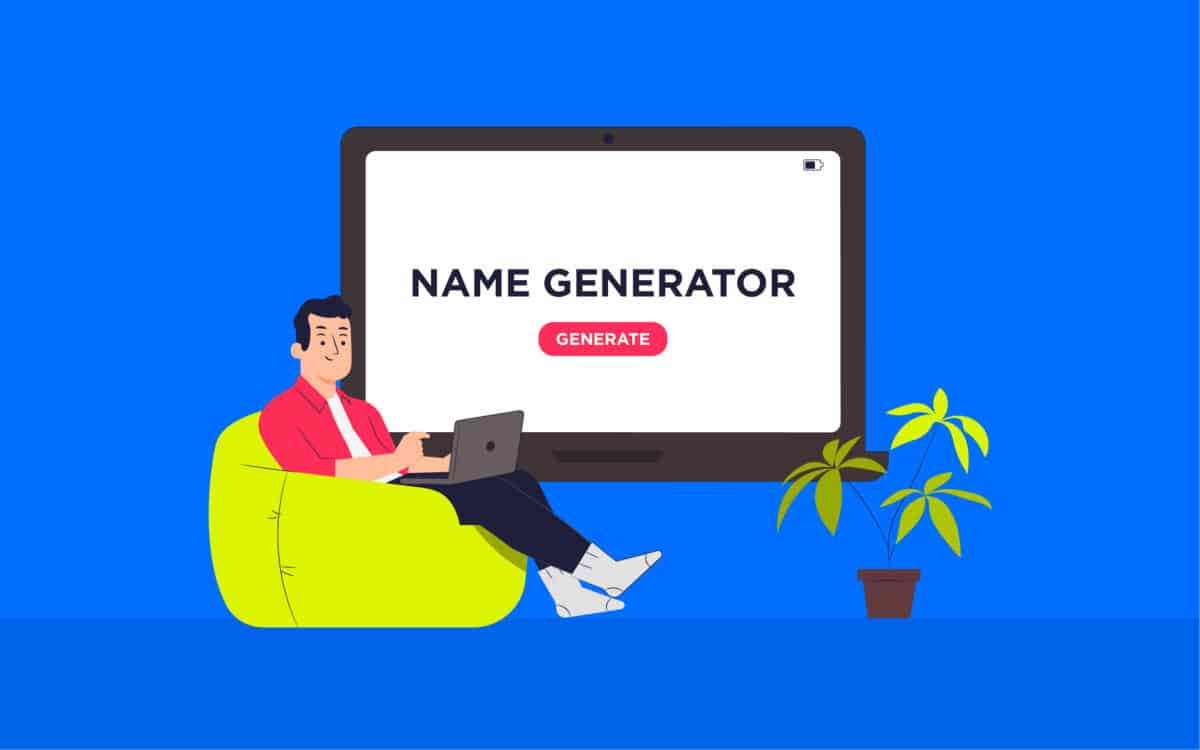 Should I use a name generator for my healthcare business?
Many business leaders need help with figuring out how to name a healthcare company. There's a lot of competition out there that can make it difficult to stand out in the market. Plus, you consistently risk choosing a too jargon-filled or complex name.
If you're struggling, consider using a name generator to help you. However, this can be a problematic process. Name generators use pre-built algorithms to generate names based on input keywords and phrases.
They can inspire those in the initial brainstorming stages but are rarely a good option for choosing a final name.
These tools can only produce a particular type of name based on the information they already have. This means you'll often end up with relatively generic, uninteresting titles. They might mash words together and suggest misspelled titles which send the wrong message about your brand.
Plus, they don't do any of the due diligence required to determine whether your name will be effective.
We advise using a name generator only if you're coming up with basic initial ideas. Don't rely on a generator to come up with your official title.
Examples of good healthcare company names
As mentioned above, one of the best ways to boost your chances of coming up with great names for healthcare companies is to check out the existing market. There are plenty of fantastic titles to consider, which can give you some crucial initial inspiration.
Here are some examples of fantastic healthcare company name ideas chosen by some of the biggest brands in the industry today: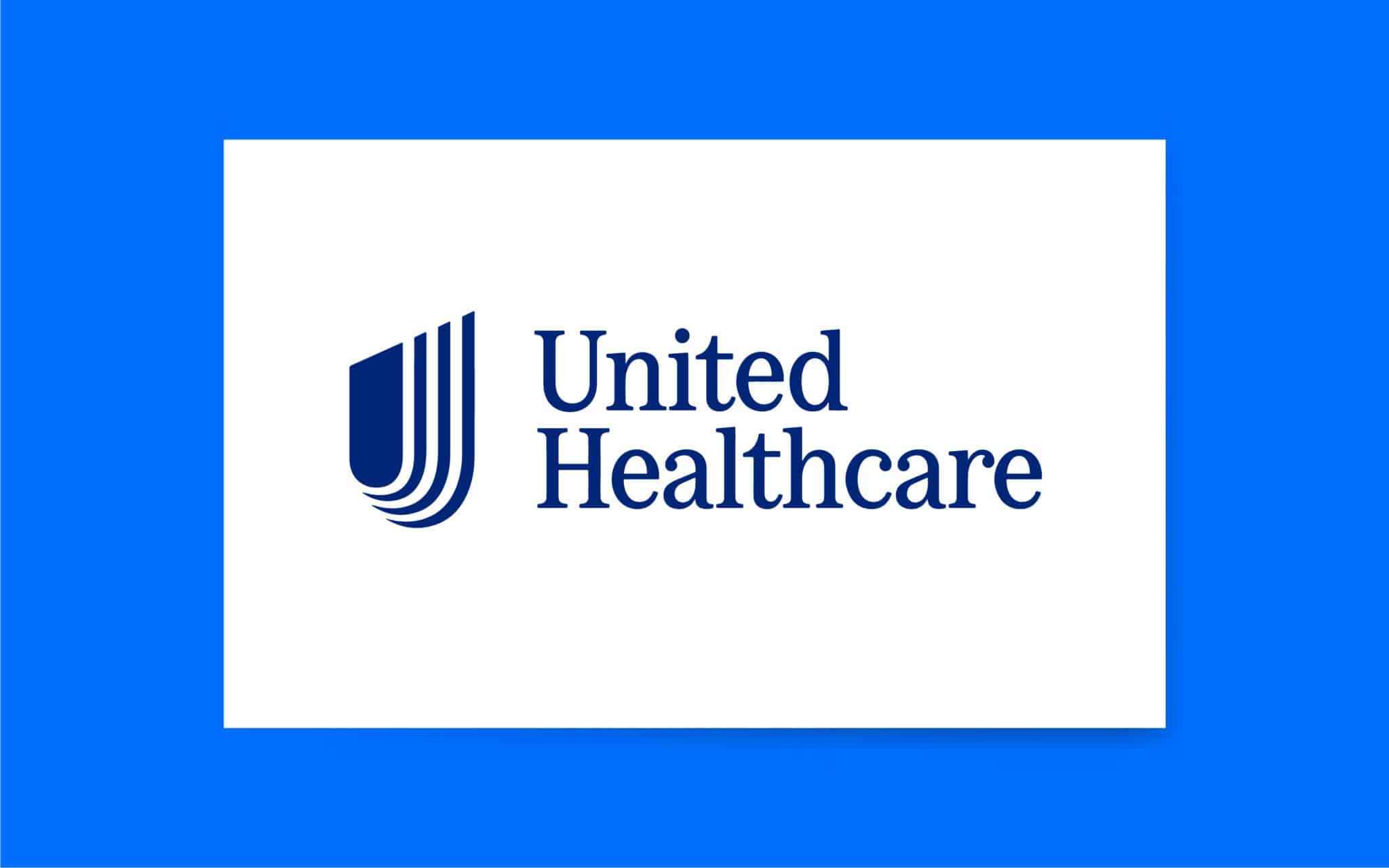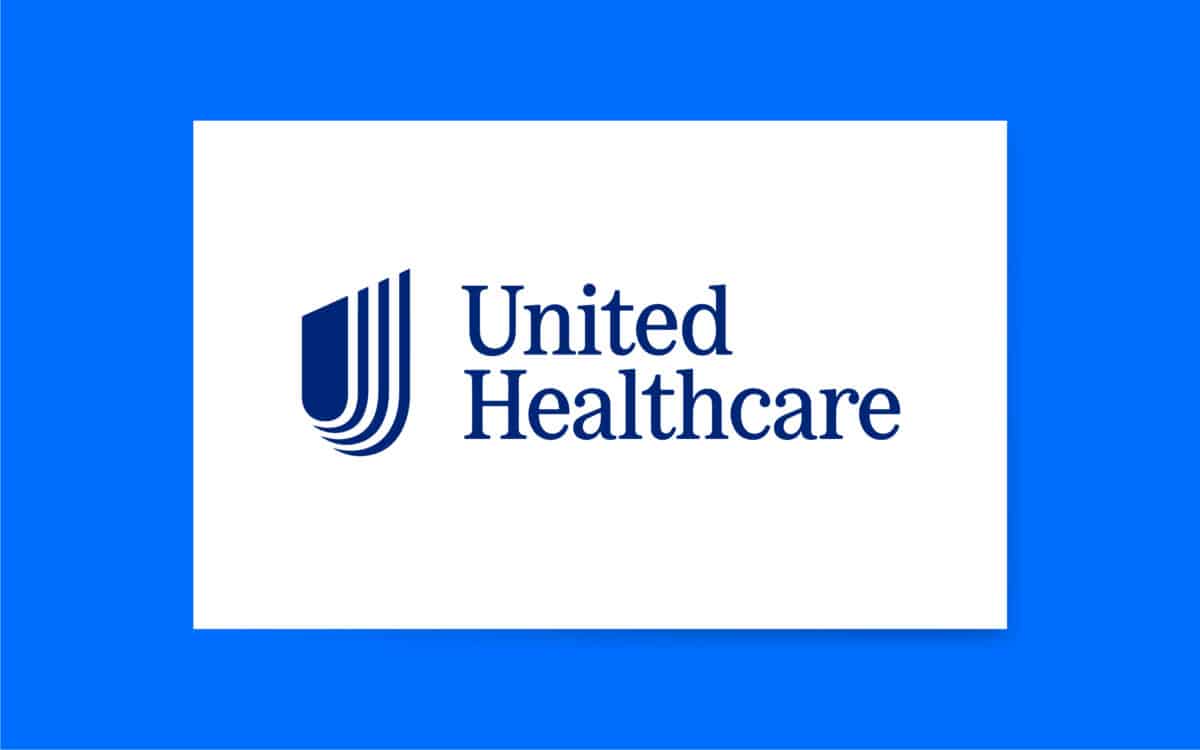 UnitedHealth
UnitedHealth is one of the biggest healthcare brands on the market today. The UnitedHealth Group chose its name to show its commitment to caring for its patients. The word "United" makes us think of partnership, community, and shared values.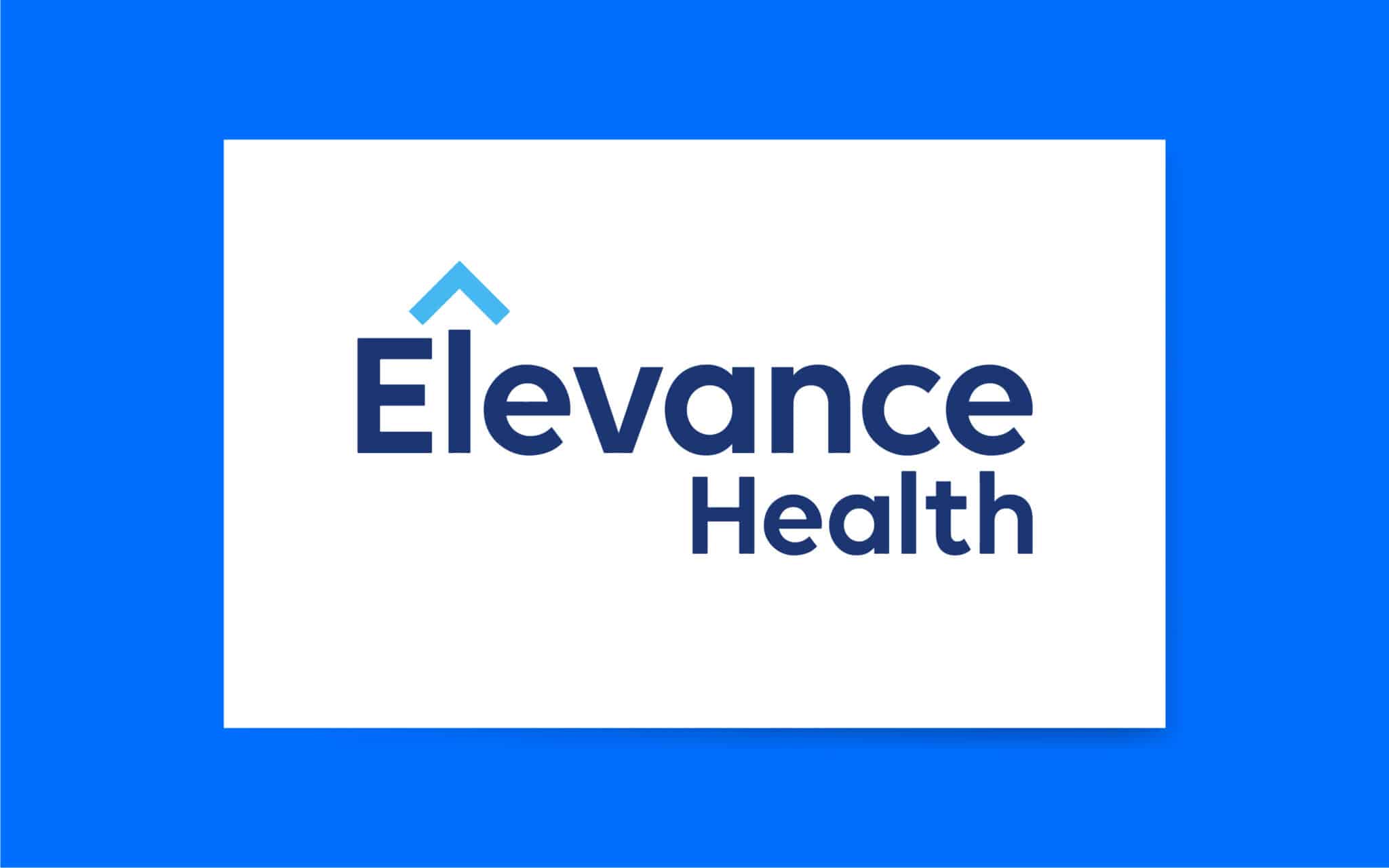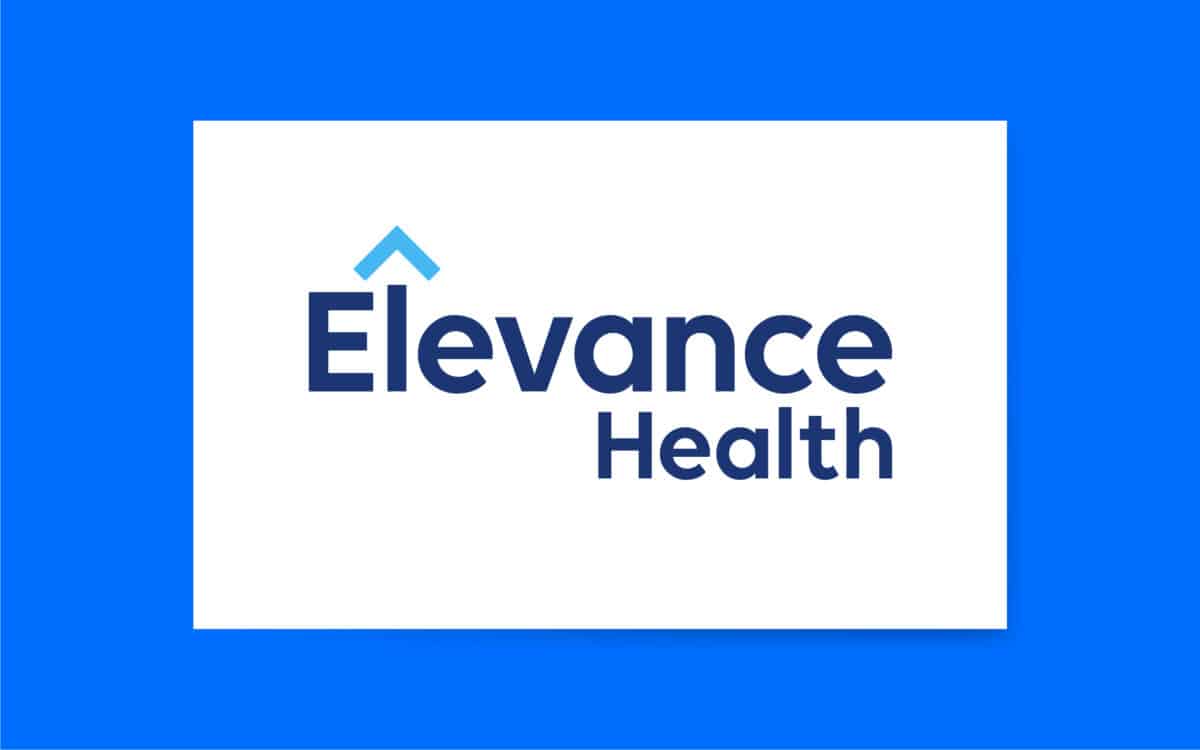 Elevance Health
Another excellent example of a healthcare company with a compelling name, Elevance Health provides healthcare insurance. The organization's name, "Elevance," reminds us of "Elevate," which conveys ideas of growth, nurturing, and vitality.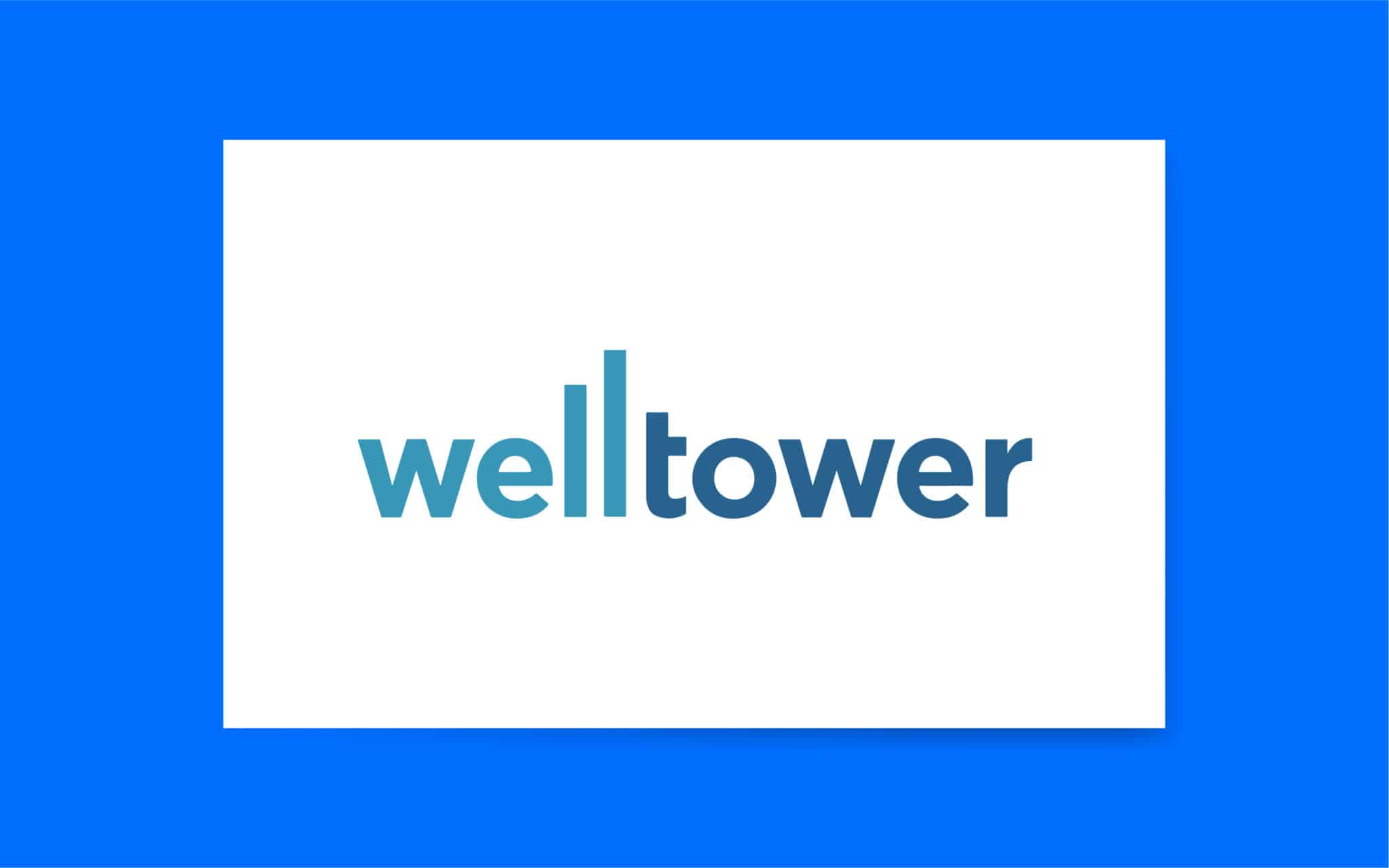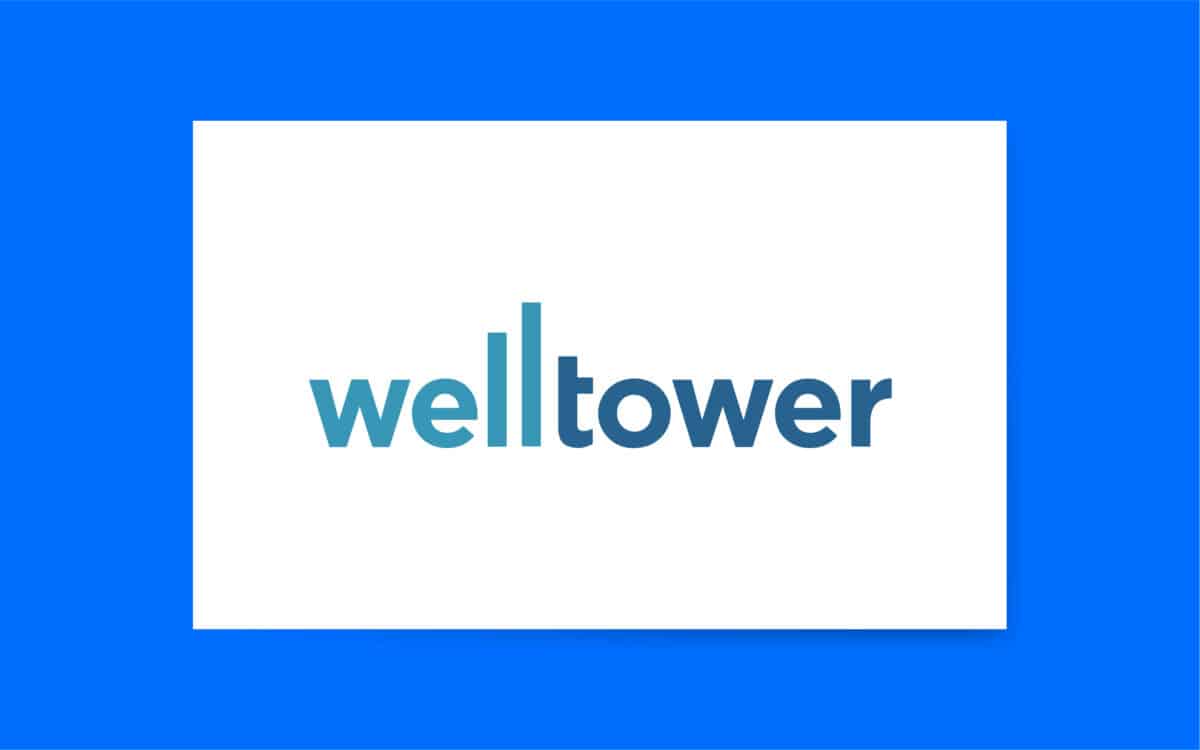 Welltower
The WellTower hospital company achieves two things with its name. First, the word "well" tells us they're focused on wellbeing. Secondly, the word "tower" makes us think of a stable, sturdy structure. With this title, the company creates trust and credibility.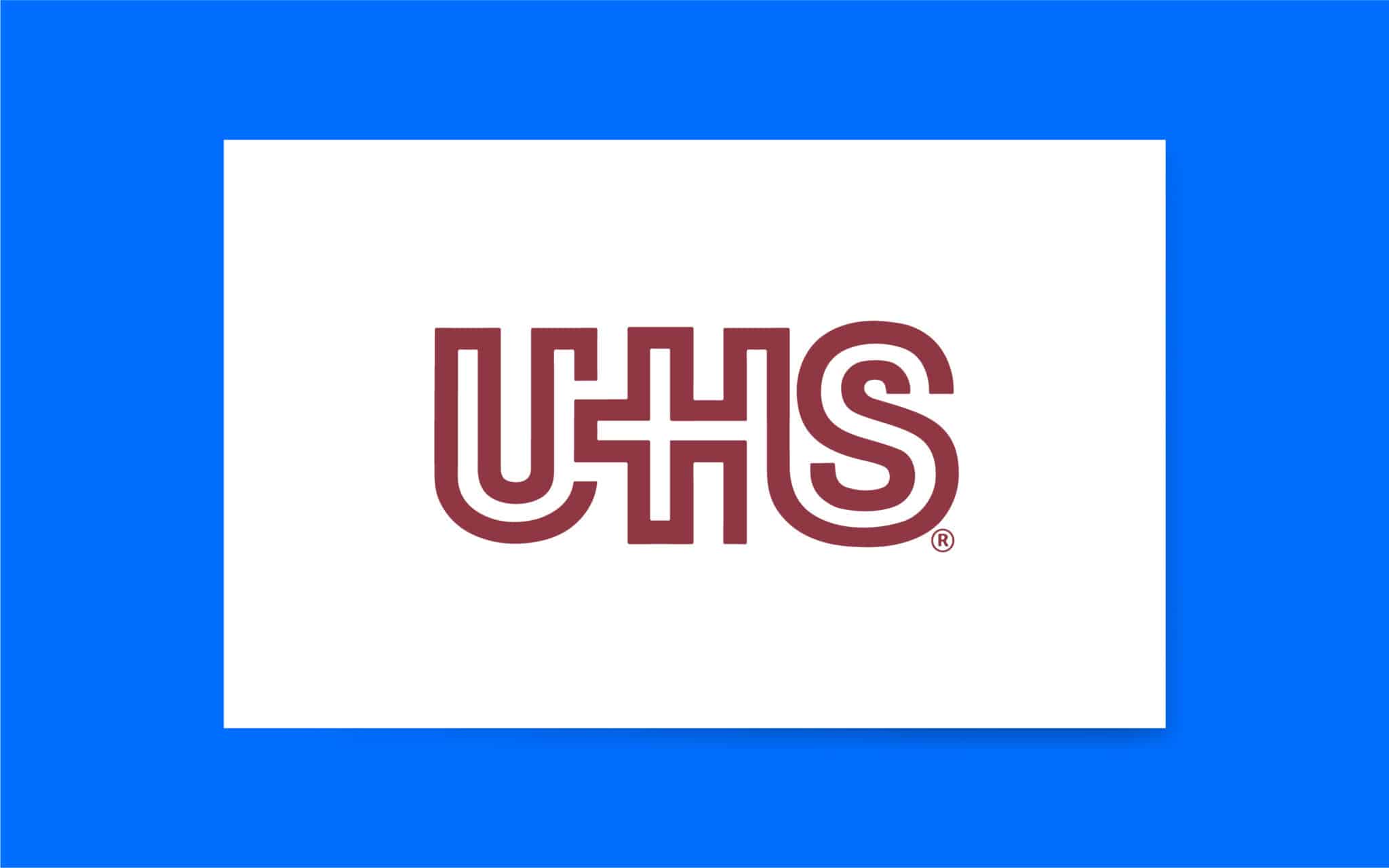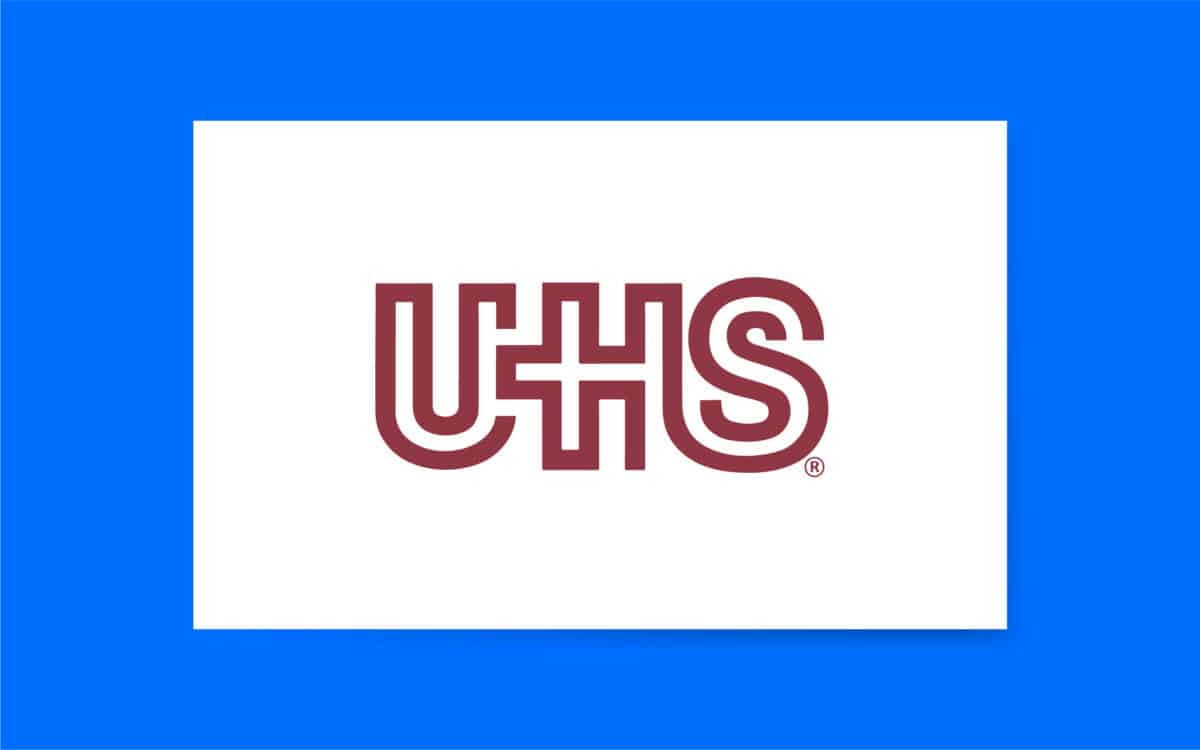 Universal Health Services
Another market-leading brand from the United States, the Universal Health Services brand, stands out because its name tells customers it's committed to helping everyone. The word "Universal" makes the title more engaging for a wider audience.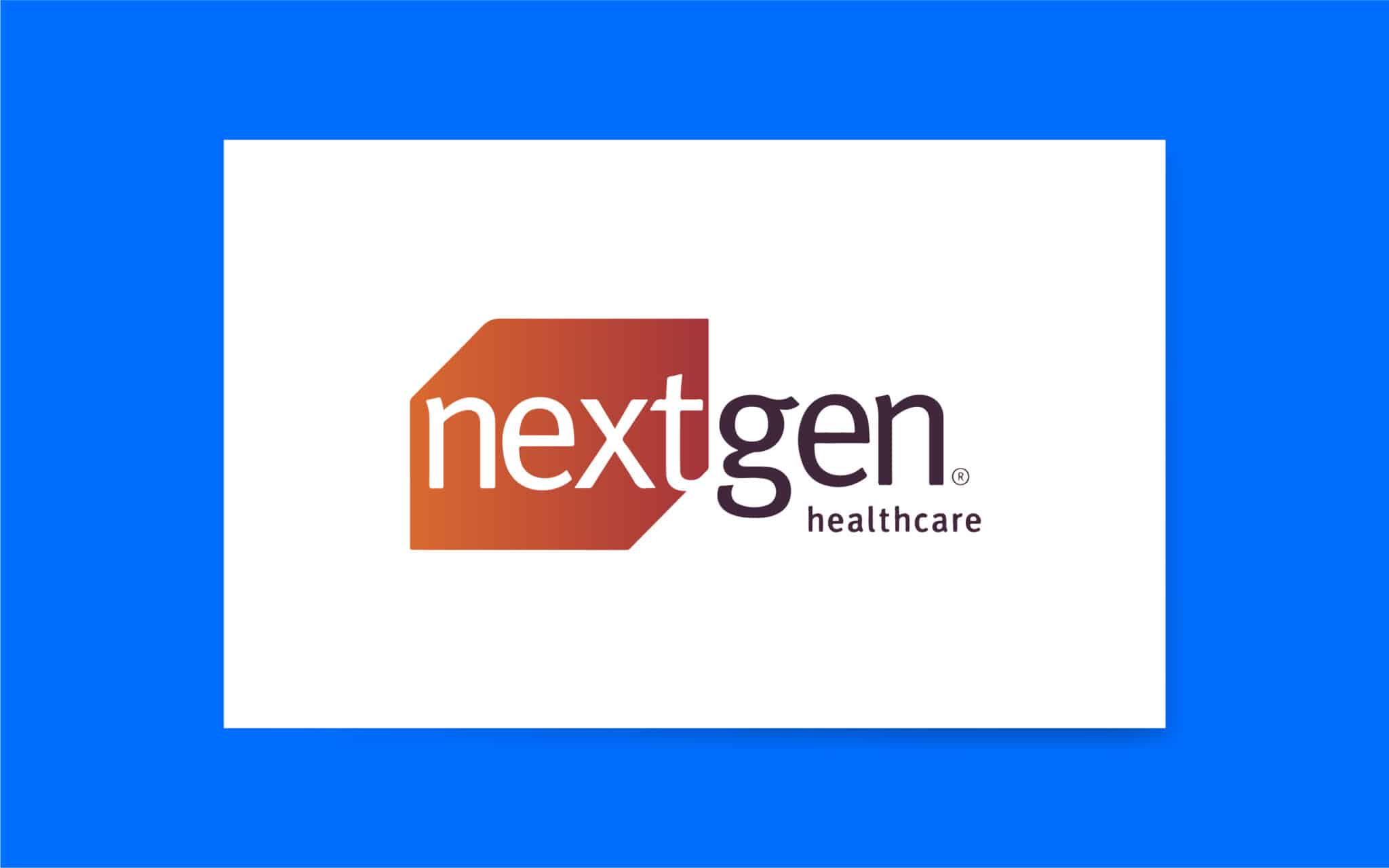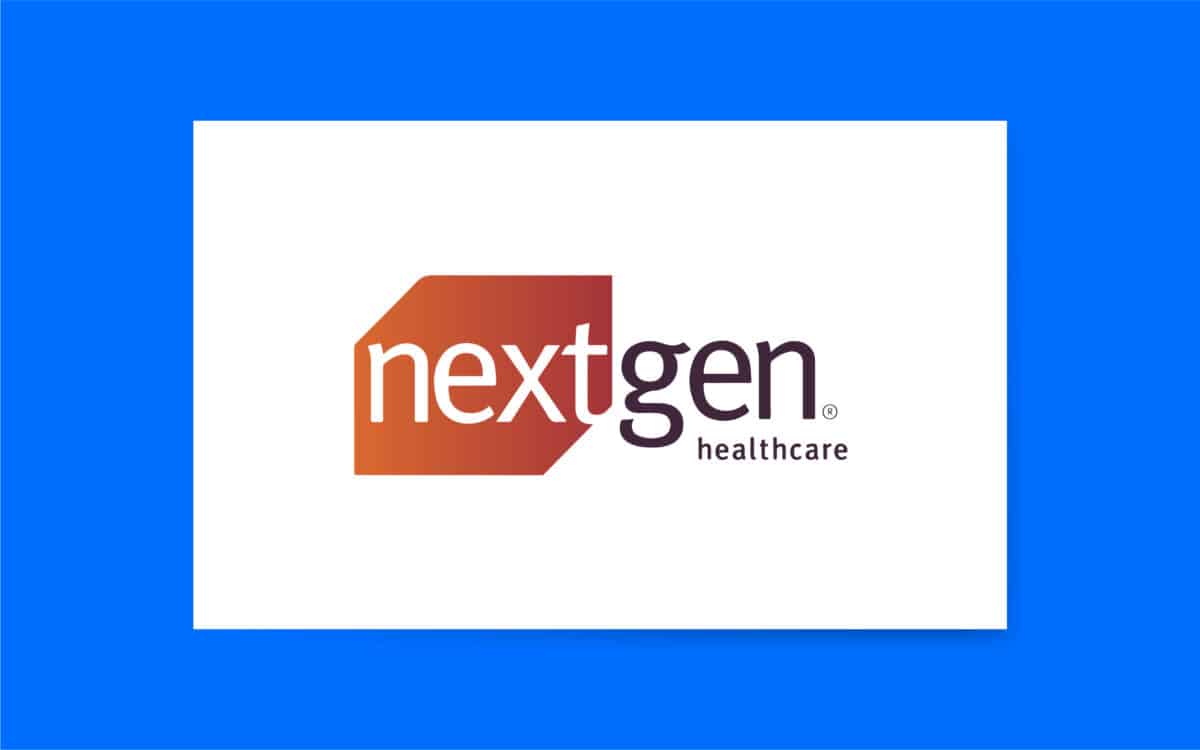 NextGen Healthcare
The NextGen healthcare company tells us it is focused on the future, the next generation, and the overall growth of its community. It's an innovative and modern name, meaning it's more likely to appeal to a younger audience.
Mastering the healthcare naming process
Learning how to name a healthcare company effectively can be a challenging process.
Many stages are involved in the healthcare naming process that is easy to overlook. You'll need a clear understanding of your brand identity and goals before you get started and a clear idea of what kind of customers you want to reach both online and offline.
With so many competing brands already on the market, creating a unique healthcare name can take significant time and effort. However, it's also one of the most important things you can do to ensure your endeavor is successful.
If you're struggling, rely on something other than a generator to get you the right name. The risk of ending up with a generic name is simply too great. Instead, consider speaking to a naming professional or agency that can help you to seek out the right moniker for your target audience.
Fabrik: A naming agency for our times.

We've made our name famous by naming other businesses.
Get in touch if you have a company, product, or service that requires a unique name. Click below, and let's start a conversation today!
Now read these:
—Your guide to starting a healthcare business
—The essential guide to healthcare marketing
—Examining the role of branding in healthcare
—How to design a healthcare company logo
—The ultimate list of healthcare company logos
—Developing a healthcare marketing strategy