Learning how to start a healthcare business could be a great strategy for hoping to launch a lucrative venture. The right health business ideas not only have the potential to make you a lot of money, but they can also allow you to change the world for the better.
While starting a healthcare company is no easy feat, it's a chance for a compassionate, innovative individual (or team) to break into a highly secure and stable market. After all, people will always need access to experts to help preserve and improve their health.
The demand for healthcare solutions is increasing as people live longer and new chronic, degenerative, and complex diseases are discovered. Additionally, new technologies and innovations are opening the door to expansive opportunities in everything from telemedicine to health research.
Of course, just like with any business, it's important to have the right plan before diving into your new venture. Today, we will explore all the nuances involved in starting a healthcare company and provide you with some useful ideas for your medical brand.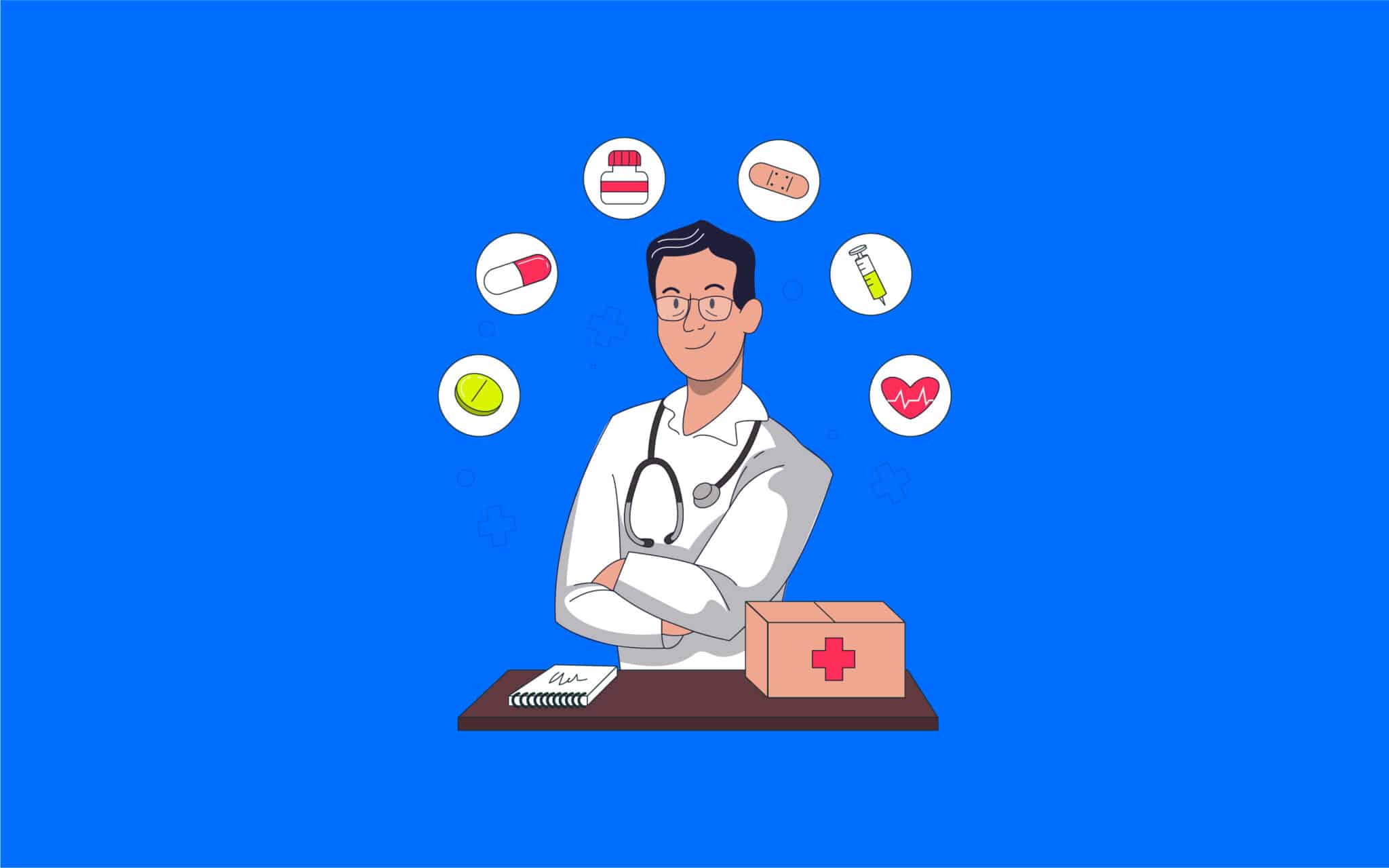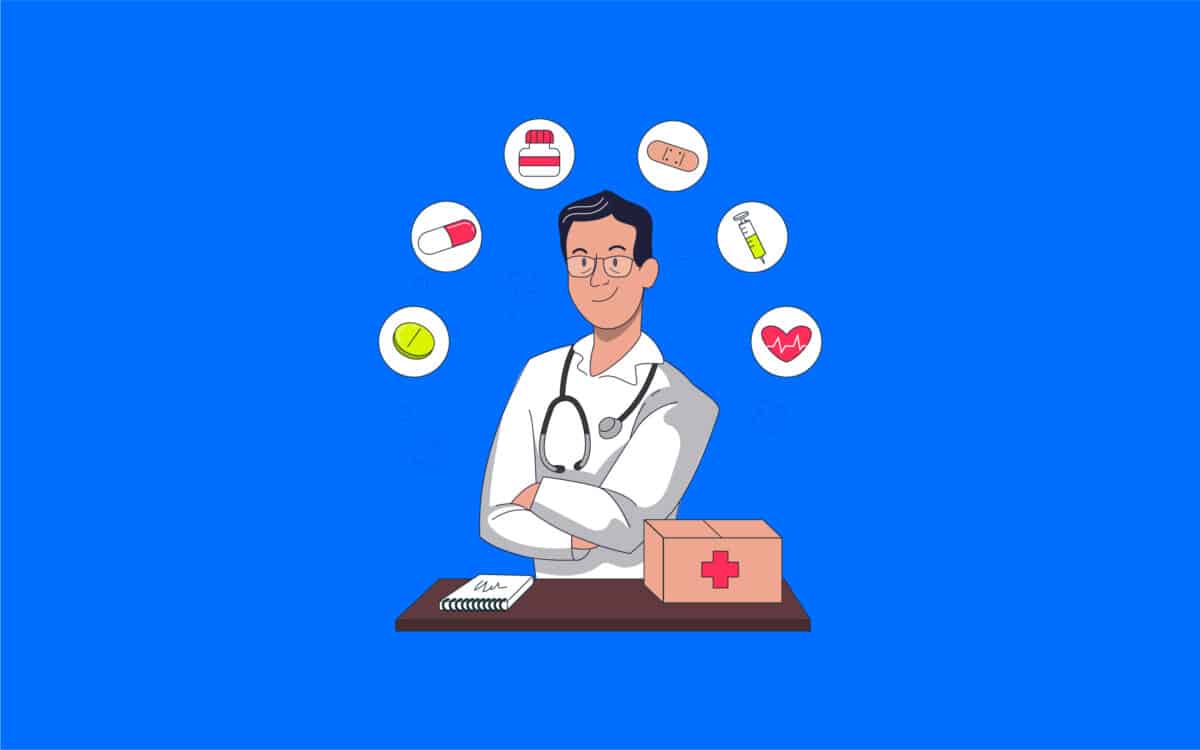 How to start a health care business: An introduction
As mentioned above, learning how to start a healthcare business could present a lucrative opportunity for entrepreneurs. We're living at a time when spending on healthcare is increasing rapidly, growing at a rate of around 5.5% through to 2026.
By 2026, healthcare is actually expected to account for approximately 20% of the global GDP.
On top of that, today's analysts suggest employment in healthcare-related occupations is expected to grow in the next four years as demand for solutions continues to increase. This means there's a lot of opportunity out there for medical businesses to thrive.
However, before you start considering health business ideas, it's worth doing some planning.
Here are some of the things you'll need to consider before you jump in.
1. Your target market
Let'sstart with perhaps one of the most important aspects of starting a healthcare business – understanding your target market. The healthcare industry is a vast and complex space with many niche opportunities to consider.
Alongside general practitioners and hospitals, there are countless professionals offering specialist services for different chronic, acute, and genetic conditions.
Deciding exactly who you want to serve in the healthcare landscape will help you to develop a comprehensive business plan which addresses the key needs of your audience.
It may even be worth developing some user personas, so you can explore the characteristics and demographics of your audience and their specific pain points.
2. The unique solution
Based on your understanding of your target audience, you'll need to find something that establishes your medical company as the ideal choice for your customers. In other words, you need a unique selling point.
When starting a healthcare business, think about what you can offer your clients that other enterprises can't. You may need to conduct some competitor analysis to help with this.
Examining the competitors in your landscape will give you an opportunity to understand exactly what customers already have access to, and what you need to do to stand out. For example, are you going to provide a higher level of service or access to specialists only you can source?
3. Industry regulations
Most industries come with various rules and guidelines you need to follow to ensure you're upholding the requirements of the law. However, the healthcare sector is one of the most highly regulated of all.
There are various specific compliance rules you'll need to follow to ensure you're keeping your customers safe. You'll need to think about how you're going to protect data, ensure your customers get the best level of care, and avoid legal battles.
It's worth taking the time to explore all of the regulations you're going to have to deal with for each of your health business ideas. Don't make the mistake of diving into your business plan before you've spoken to an expert about things like insurance, and legal guidelines.
4. Branding
Just because you're starting a business offering a "required" service doesn't mean you should overlook the importance of branding. Developing a strong identity for your organization is key to earning the trust of your target audience.
Everything from your logo to your business name and even the marketing messages you use should highlight your unique brand promise.
Think about how you want your customers to perceive your healthcare company. Do you want them to see you as an expert and authority in your field with endless years of experience? Are you looking for a way to appear more friendly and compassionate to people who need extra support?
Developing a clear visual identity and personality will be crucial for your success.
5. Promotion
Just like you'll need to brand your healthcare company to improve your chances of connecting with your audience, you'll also need to think carefully about promotion. As demand for solutions in the health space continues to grow, you'll have a lot of competition to consider.
This means you need to constantly find ways to expand your brand reach and connect with new customers.
Ask yourself whether you'll be focusing heavily on digital marketing strategies, such as content creation and SEO, social media, and email marketing. Or are you going to consider spreading your promotional techniques across the online and offline landscapes?
Do you want to make it easier for customers in your local area to find you? Will you be sponsoring companies, and working with partners to promote your business?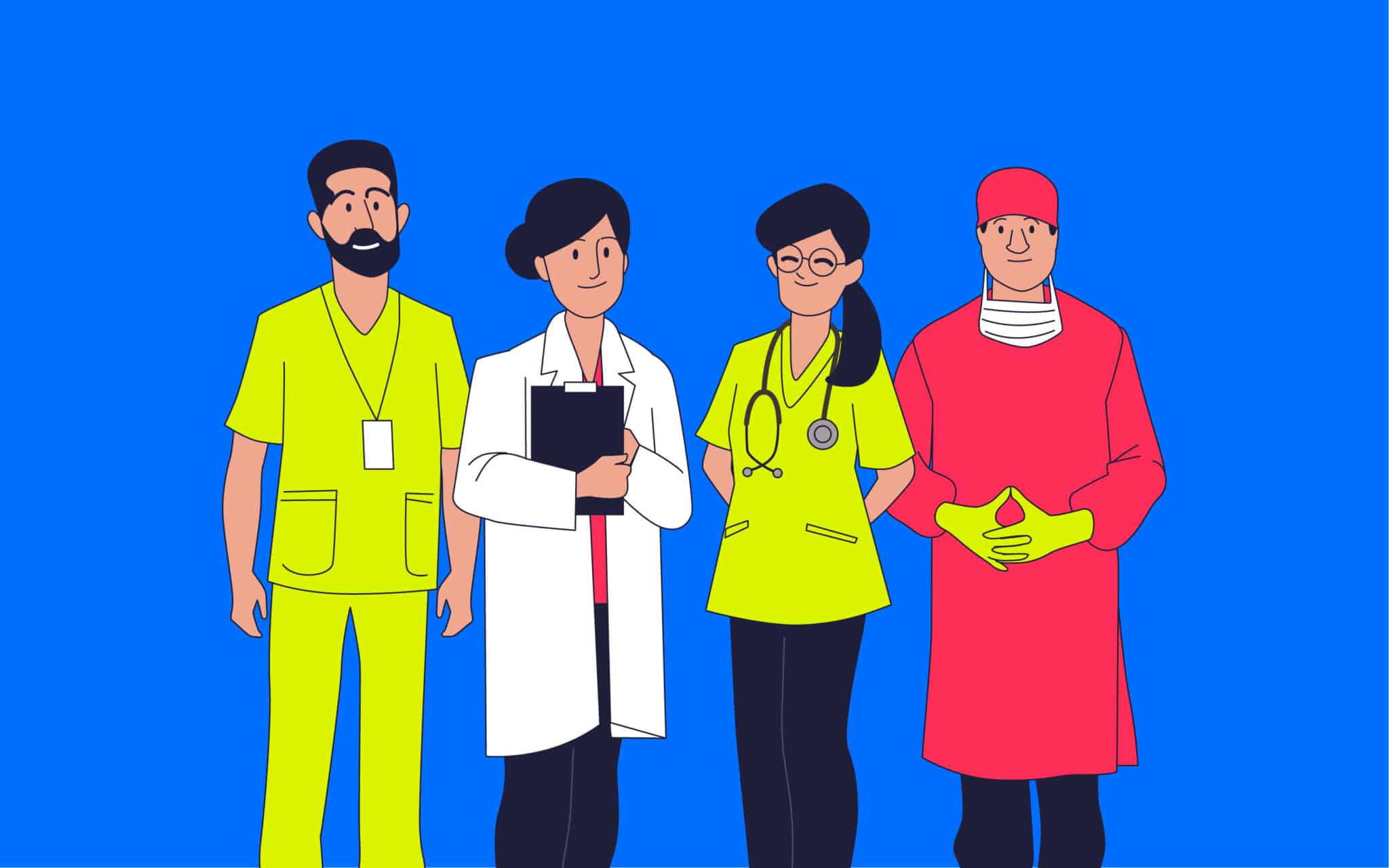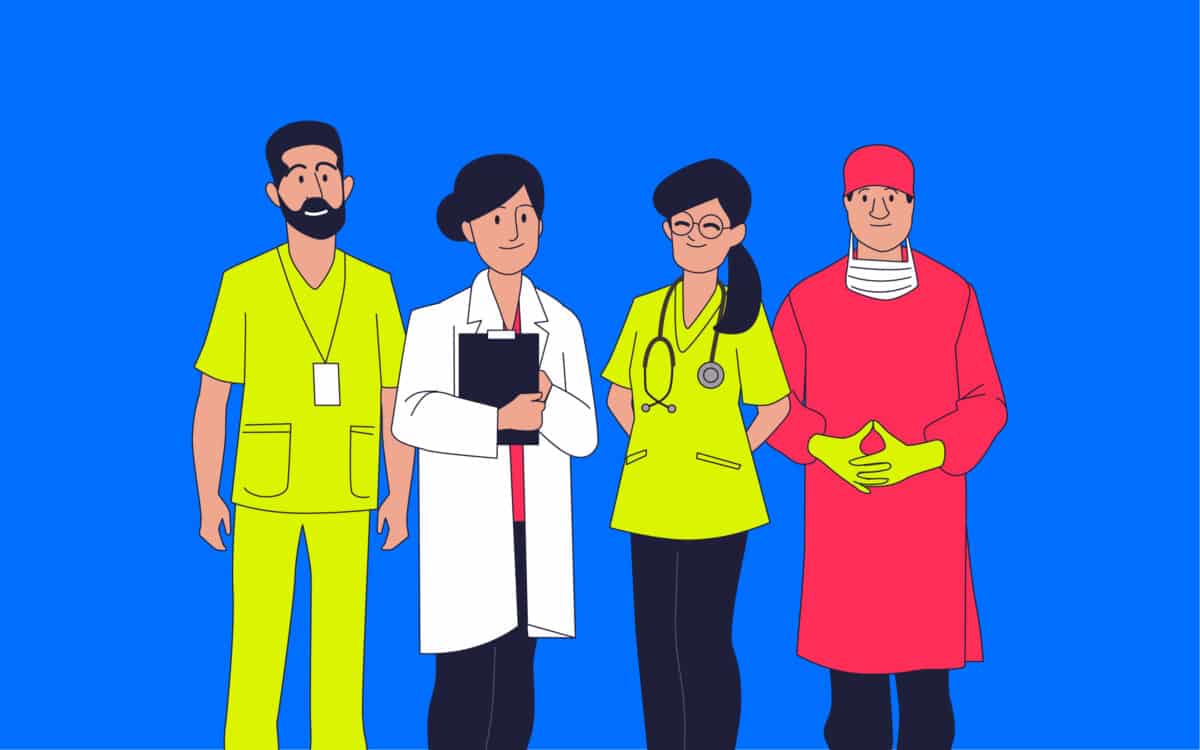 Healthcare business ideas: Types of medical business
One of the biggest challenges in learning how to start a healthcare business is coming up with ideas for what your company is going to do. The healthcare sector is a vast and complex environment, with endless opportunities for innovative entrepreneurs.
You're not limited to just opening your own hospital or general practice (GP) surgery.
The healthcare business ideas you come up with will likely revolve around your access to specific resources. You'll need to think about the skills of your team and exactly what kind of services you can offer. Here are some of the top business ideas in healthcare you can look into.
1. Medical records management
Managing medical records is a complex task for many hospitals and clinics. If you have the right analytical mindset, and a commitment to security, you can work with clients to help them streamline their processes. You can work with teams to identify the best systems for records management, implement them on the company's behalf, and even deliver training.
Alternatively, you can offer this solution as a "managed service," which means you take over the task of handling all records for another company. This could be an ideal option if you're looking to start a B2B (Business to Business) brand working remotely with other clients.
2. General practice
Private general practices can be an excellent way to offer services to a wide range of different customers in the healthcare landscape. If you choose this healthcare business idea, you'll need to hire a range of credible doctors to work alongside you, examining and treating patients.
There are various regulations involved here to ensure you treat patients correctly.
Setting up a private general practice means you can work with a wide range of patients suffering from all kinds of acute and chronic conditions. You'll also be able to consider partnering with other companies, to deliver referrals (often in exchange for a commission) to their company.
3. Medical transcription
If you have limited access to doctors and surgeons, as well as expensive equipment and real estate, starting a business offering medical transcription services could be an excellent option.
In this landscape, you'll be responsible for transcribing notes, and voice recordings from healthcare practitioners into easily accessible records.
Although there are various AI tools that can help with this today, many advanced medical companies will still rely on human transcribers to ensure a high level of accuracy. You can run your business from home, and even start as a solo practitioner, before hiring extra staff.
4. Physical or occupational therapy
One of the top healthcare business ideas used by professionals around the world today is starting a physical therapy office. Physical therapists are responsible for helping patients recover from injuries and other ailments, so they can function normally in their day-to-day life.
If you want to dive into a more specific area, you can look into occupational therapy for severely injured people.
Like most business ideas in healthcare, this one comes with some caveats. You'll need to be certified as a physical therapist and ensure you're adhering to the rules and regulations of the industry.
5. Diabetic care
Depending on your knowledge of the healthcare landscape, you can branch into a number of niche areas focused on specific conditions or ailments. While there are numerous options to choose from, from oncology to cardiovascular health, diabetes is a growing concern throughout the world.
Around 9.4% of all Americans either have diabetes or are pre-diabetic.
Running a diabetes care practice will involve providing nutrition, counseling, and health support to people with diabetes. You can offer step-by-step guidance on preventative care, assist with teaching diabetics healthy eating habits, and more.
6. Create a health care app
If you have a love of technology and you're committed to the healthcare industry, developing your own app could be a fantastic way to earn an ongoing income.
In today's digital landscape, many patients and practitioners alike are turning to healthcare apps that help with tracking, recording, and managing medical conditions.
You could create a nutrition app to assist people with losing weight and maintaining a healthy lifestyle. Alternatively, you could consider mental health apps or solutions targeted at specific conditions such as Crohn's disease or diabetes.
7. Home care services
A home healthcare provider is similar in a lot of ways to a general practitioner, as they offer assistance with a wide range of conditions. However, if you start a healthcare business delivering care at home for users, then you'll typically spend a lot of time visiting people in their houses.
Home healthcare solutions are popular among elderly individuals and patients with chronic conditions who need help managing their issues on a day-to-day basis. You may need to consider hiring multiple accredited professionals to help you deliver care.
8. Mental health services
The mental health market is expected to grow at a rate of around 9.06% up to 2026, making it one of the fastest-growing spaces in the health landscape. Demand for mental health support has increased significantly in recent years, particularly following the pandemic.
You'll need to be a registered counselor or therapist to start this kind of business, or you'll need to hire accredited professionals to work with you. Your focus will be on offering various kinds of therapy, such as cognitive behavioral therapy and psychoanalysis.
9. Maternity or childbirth services
This could be one of the most lucrative healthcare business ideas if you're looking for a way to maintain constant growth and revenue. After all, there will always be people who need extra help when going through the process of childbirth.
You can become certified as a midwife and hire various doctors to work alongside you to support your clients.
Depending on your business plan, you can offer pregnancy coaching and counseling to mothers, or assist with the actual childbirth process, delivering babies for expectant parents.
10. Rehabilitation centers
If you want to provide care and support to people overcoming addiction, this could be the ideal option for you. Drug use has accelerated throughout the world, particularly in the United States. People are constantly looking for practices that can help them overcome and manage their addictions.
This is particularly true now that 115 Americans are dying each day due to opioid abuse.
With your Rehab center, you can determine whether you want to specialize in specific types of care or patient. You could offer an inpatient or outpatient service or focus specifically on treating juveniles or senior patients.
11. Medical billing
Managing costs and bills in a healthcare setting can be extremely complex and time-consuming. Companies need to ensure they use the right codes and information when submitting claims to insurance companies.
Certification is required in this field, so you'll need to make sure you have the right education or hire people you do.
While larger hospitals and medical practices often use in-house staff to manage medical billing, you could consider working with smaller practices with fewer resources. You can handle the process of billing on behalf of other brands and ensure they're staying compliant with regulations.
12. Nutritionist or dietitian
Like many forms of healthcare business, nutritionist and dietitian centers are becoming increasingly popular in recent years. People are becoming more cautious about what they eat and the diets they follow to lose weight or improve their health.
You will need to get certified as a dietitian or nutritionist to ensure you can thrive in this field.
However, once you have the right kind of qualifications, there are various options to explore. You can specialize in clients looking to prepare for athletic competitions or people interested in overcoming nutritional deficiencies.
You could also look at supporting customers with weight loss guidance.
13. Alternative health care
Not all health business ideas revolve around traditional medical practices. Alternative and holistic healthcare is also an extremely popular and lucrative area to consider. Depending on your experience and knowledge, you could offer options like massage therapy and acupuncture.
You may even assist in providing customers with holistic alternatives to medical treatment. For instance, you can help patients use their diet to improve their health so they're less reliant on medications.
Make sure you check with state requirements to ensure you hold the right insurance and certifications for your practice.
14. Medical supply sales
This is another excellent B2B business opportunity for medical practitioners. If you have experience in sales, you can consider selling pharmaceuticals, medical devices, and other crucial products to hospitals and healthcare providers.
You can also think about selling medical supplies directly to customers, such as walkers, braces, and syringes for diabetes.
Depending on your strategy, you may choose to open a physical store, or you can sell your products online to customers around the world. However, research will be crucial to ensure you adhere to local regulations and address the specific needs of your customers.
15. Specialist care
Finally, if you're accredited in a specific area of healthcare, you can consider building a business that revolves around delivering specialist support to patients with specific conditions. You can open an oncology practice for cancer patients, a cardiovascular clinic for those with heart issues, or even a podiatrist for foot care.
Specialist care providers need to ensure they're following the specific requirements laid out for their industry. You may also need to consider hiring extra professionals to assist you with your care or partnering with other market-leading experts.
Tips for starting a healthcare company
Once you've assessed the various health business ideas available for today's professionals, you can start developing your business plan. Your plan should outline everything from the kind of patients you're going to serve to your insurance requirements, finances, and marketing campaigns.
While you're working on your business plan and your healthcare company, remember to:
Form the right partnerships
Partnering with other medical professionals and groups can help to make your company appear more credible. Additionally, you'll need to think about hiring professionals who can offer a specific level of care thanks to their education, experience, and credentials.
Preserve your brand
Make sure you have a consistent brand to connect with customers. Focus on being compassionate, caring, and authoritative in your industry. The more engaging your brand is, the more likely you are to collect new customers.
Additionally, commit to delivering excellent service, so you can boost your word-of-mouth promotion.
Stay informed
The healthcare industry is always changing, with new regulations and compliance requirements to consider, alongside technical advances. It's important to make sure you stay on the cutting edge with all the information you need. Stay up to date with industry changes, and attend events where possible.
Choosing the best business ideas in healthcare
Learning how to start a healthcare business can be an incredible opportunity for any compassionate and innovative entrepreneur. However, in a highly regulated and competitive industry, ensuring you have the right strategy in place is important.
Not just anyone can start a healthcare business that's guaranteed success.
You'll need to adhere to industry regulations, ensure you're delivering excellent care at all times, and find ways to stand out from the competition.
However, if you can impress your customers with amazing service and support, you can design a lucrative business that benefits your local community.
Fabrik: A branding agency for our times.
Now read these: 
—The essential guide to healthcare marketing 
—Top healthcare company naming strategies 
—Examining the role of branding in healthcare 
—How to design a healthcare company logo 
—The ultimate list of healthcare company logos 
—Developing a healthcare marketing strategy