Figuring out how to name a software company isn't nearly as simple as it seems. Most people assume the right name will simply come to them once they're done producing their software or researching their target audience. However, this is rarely the case.
In fact, many of the most famous tech companies in the world struggled to find the perfect name. Google would have been called "BackRub" if it had stuck to its original idea. Imagine how different life would be if your friends told you to just "BackRub" any questions you might have.
As the software landscape continues to evolve at an incredible pace, it's never been more important to optimize your branding strategy. If you're going to stand out from the predicted 1 million software brands set to launch by 2027, you're going to need an incredible name.
Here's your guide to successful software company naming.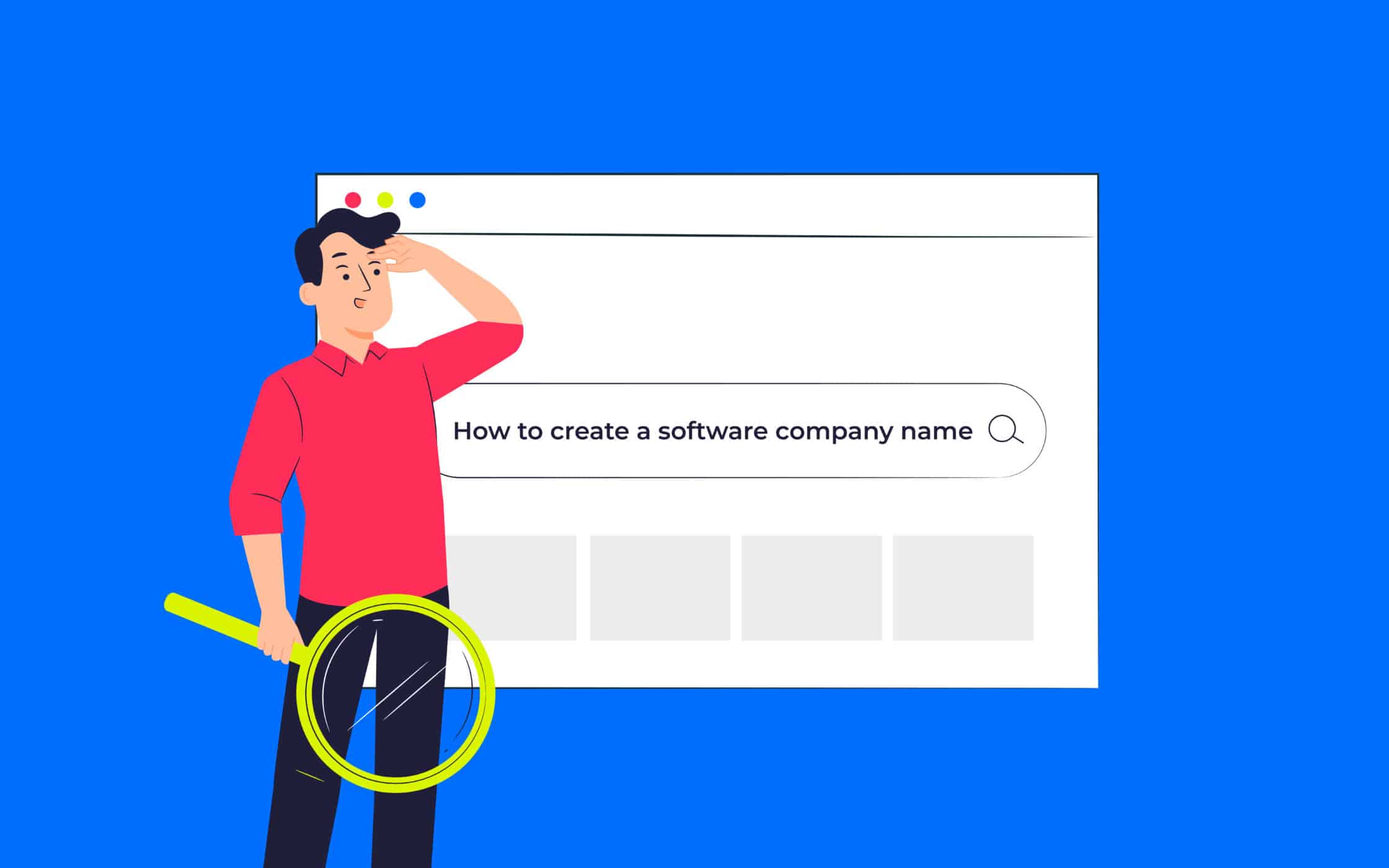 How to create a software company name: An introduction
One of the reasons companies struggle when figuring out how to name a software company, is most solutions don't generate an obvious title. A company creating an accounting application can't simply call themselves the "accounting and bookkeeping application company".
Instead, you need something capable of conveying the values and mission of your brand in a concise fashion.
Simply naming your company after your product isn't always the best idea either. While some companies focused on producing one single solution have thrived with this strategy (like QuickBooks, or Xero), making your product and brand name the same can be extremely restrictive.
It prevents you from branching out into other relevant areas if you decide to expand your software portfolio in future.
To master software company naming, you're going to need to do some significant research and brainstorming. Your title needs to be something meaningful and descriptive, without being overly specific.
While the exact path to choosing a company name will vary, some of the most important things to prioritize with any title include:
Simplicity
The best software names are the ones capable of blending seamlessly into our everyday vocabulary. Just think of how easily we say things like "I'll Slack you", or "Just Google it".
The name should have the power to feel natural in a sentence. A single word is often the best way to ensure the right results.
Memorability
A great software company name needs to be unique and memorable. Even if your software solution is innovative and cutting-edge, the chances are there are other competitors in your space with similar solutions.
If you want to stand out from the crowd, you need to choose something inherently memorable.
Ease of use
If you want your software company to become a household name, it's important to choose something easy to spell and pronounce. You want people to talk about your company, and it's hard to do this if your name is complex.
Try to avoid anything which might be deemed too complicated or difficult to read.
Meaning
All of the best names have meaning. They connect to the values of your company and let your audience know what you stand for, or what kind of mission you're trying to achieve.
It's a good idea to sit down and brainstorm some of the most important concepts connected to your brand before you begin looking for your name.
Why does software company naming matter?
Software companies often assume their own name doesn't matter as much as the name and branding for their product. If your whole business builds around a specific app or service, your focus may be on making your offering stand out, instead of the parent brand.
However, it's important not to underestimate the value of a good brand name in any industry.
Figuring out how to choose a software company name with impact ensures you can develop a more powerful brand. While people will be interested in the software products you sell, they'll also want to develop an understanding of your organization and what it stands for.
This is true both in the B2C consumer world, and the B2B marketplace.
When searching for the ideal software investment, most customers won't look at the solution alone. They'll turn to the brand to determine what the company stands for, whether it's trustworthy, and what they can expect from the organization in the years to come.
What's more, your software company name can influence your growth in the years to come. It helps to ensure you can attract new customers when you start growing and generate conversations about your company.
It's also how you preserve your brand equity as your software portfolio evolves.
A great software company naming strategy:
Differentiates your company from other software brands.
Helps you to share important values and visions with your target audience.
Creates a strong foundation on which to build your product brands.
Attracts employees, shareholders, and investors, as well as customers.
Boosts the credibility of your company to increase your conversions.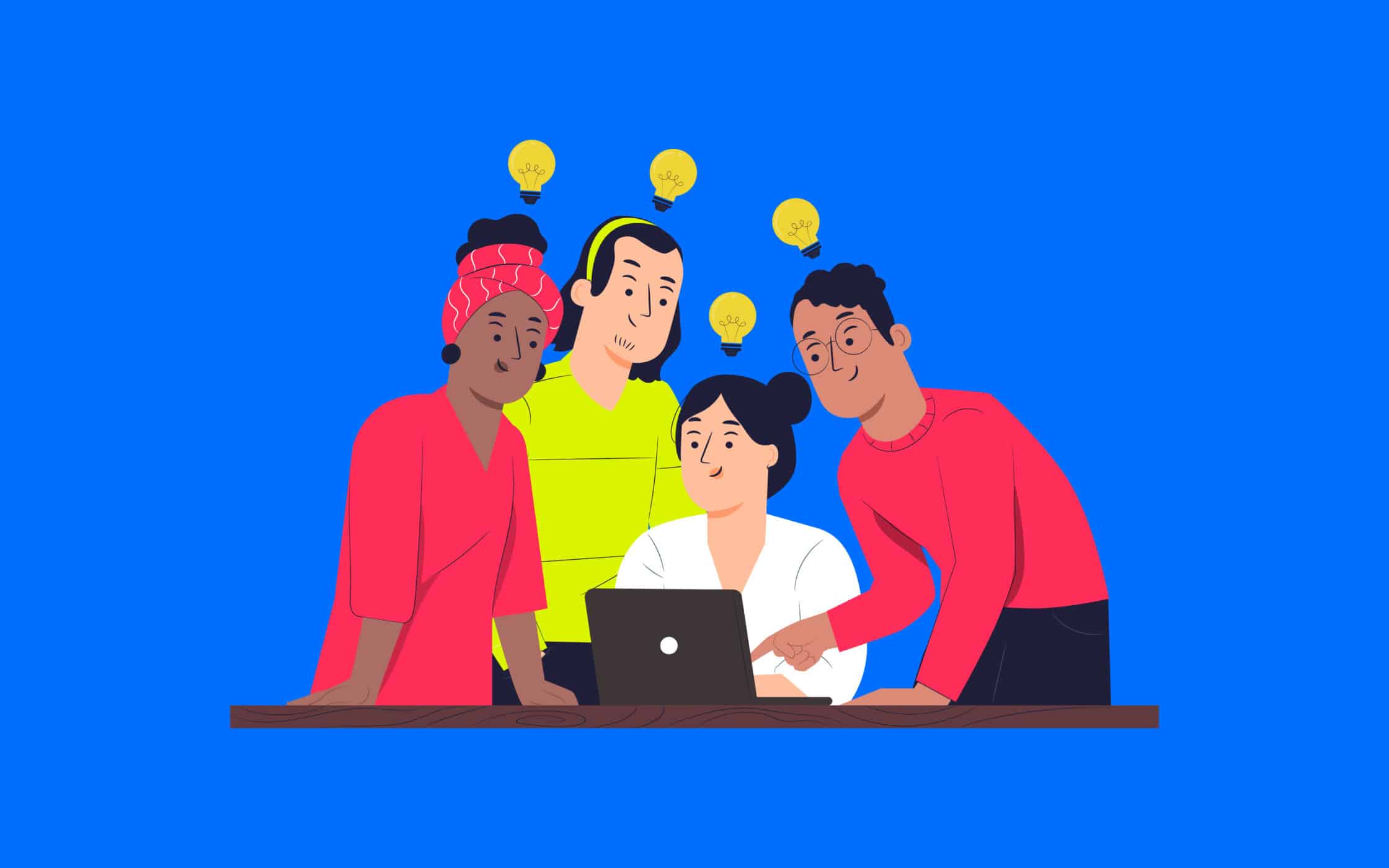 How to choose a software company name
Figuring out how to name a software company is rarely as simple as people assume. Coming up with a truly meaningful name often means going beneath the surface of your business. It's not enough to simply describe what you do.
Instead, you need to think about how you're going to resonate with your target audience on an emotional level.
While there's no one-size-fits-all roadmap to selecting a name with significant growth potential, there are a few steps you can take to improve your chances of success.
Step 1: Identify your core brand values
Before you begin any naming journey, you'll need to get a deeper understanding of your brand, and the message you're trying to send to your audience. Creating a brand mission statement and outlining your values or vision for your company will help you to cultivate a more meaningful name.
Start by thinking about what you're trying to achieve with your company. What sort of problems are you trying to solve, and what are the main benefits you can offer?
For instance, Google's name is based on "Googol", which is a mathematical term, intended to reference the company's ability to deliver huge amounts of information.
It may be helpful to look at your user personas at this time and think about what kind of values or concepts matter most to them. Are they looking for simplicity, peace of mind, or productivity?
Step 2: Start brainstorming
Brainstorming sessions are a common part of software company naming. Notably, it's worth acknowledging this process may take a little longer than expected. You might not come up with a shortlist of titles from the moment you sit down with your colleagues.
Some companies spend months exploring potential words and phrases.
To begin, it's a good idea to make sure you have the input of multiple shareholders from throughout your business. Bringing various perspectives and opinions together will give you a wider variety of ideas to choose from.
It also prevents you from naming your company in a vacuum.
When you're brainstorming, start with a selection of words relevant to your brand and software. Think about the terms you want to be associated with, like simplicity or efficiency. Consider the industry, like accounting, or the type of software you're creating.
From there, you can use synonyms and word games to expand your available list.
Step 3: Refine your list
When you first start brainstorming new brand names, the aim isn't to come up with the best possible titles from day one. Instead, you'll need to create as many potential ideas as possible, so you have a lot of options to choose from.
Only once you've completely worn out your creative juices should you start to narrow things down.
The best way to refine your list is to look for the meaning behind each word. Ask yourself what the term signifies, how it might make people feel, and what it conveys for your business. The best software names have clear meaning.
For example, Slack reminds us of relaxation, highlighting the ability of the software to reduce the stress of collaboration and communication.
It's a good idea to ensure everyone agrees on your final list of 3-5 names. If you're struggling, try asking people to vote on a selection of top titles within your team, so you can choose the options with the most potential.
Researching your software company name suggestions
Once you have a narrowed list of your potential names, it's time to really go to work on making sure each moniker is suitable for your business. A significant, but often overlooked aspect of software company naming, is due diligence.
The first, and most important thing you'll need to do is check for any naming conflicts. As mentioned above, the best software names are always unique. The last thing you want is for a name to be too similar to another brand.
There's also a risk you could end up choosing a name already taken by another company. This is becoming more likely at a time when the software industry is growing.
Take the time to research existing trademarks with the USPTO and similar trademark repositories. You can also refine your search by simply searching for your name on Google and seeing what comes up.
Remember, even if the exact name isn't taken, something too similar to another name could prompt legal issues, and make it harder for users to find your software company.
When figuring out how to name a software company, dedicate time to:
Domain research
Any great software company needs a website where they can showcase their company to potential customers and investors. If you can't claim the domain name for your website, even if you can't find a trademark for your business title, you'll need to look for another name.
Ideally, you'll want access to the .com domain name, but it's also worth looking for access to other options, like .net and .org.
Cultural research
Words and phrases can easily take on different meanings throughout various cultures and generations. Just because a name sounds fine to you, doesn't mean it will resonate well in regions across the world.
Since software companies can often have a global impact, it's important to ensure your name works everywhere. You can use sites like www.wordsafety.com to ensure there aren't any negative connotations to your title you need to be aware of.
If you're choosing a foreign word, speak to a translator.
Social media research
Just as your domain name is crucial to ensuring you stand out online, your social media presence will be critical too. Many software companies rely on their social presence to connect with their audience and generate brand awareness.
Make sure you can claim your name across all the channels you're going to be using. A consistent username across Facebook, Instagram, Twitter, and LinkedIn will be essential for making your brand as consistent as possible.
Industry research
You'll do some basic industry research when you're ensuring your name isn't too similar to anything owned by your competitors. However, you'll also need to think about the market in general.
Your name should make sense to the sector of the software landscape you're going to be getting involved with. Ask yourself whether it's likely the name you choose won't resonate with your audience, or may end up being confusing.
If you have existing shareholders for your business or investors, you'll also need to present your name to them to ensure they agree with your title of choice.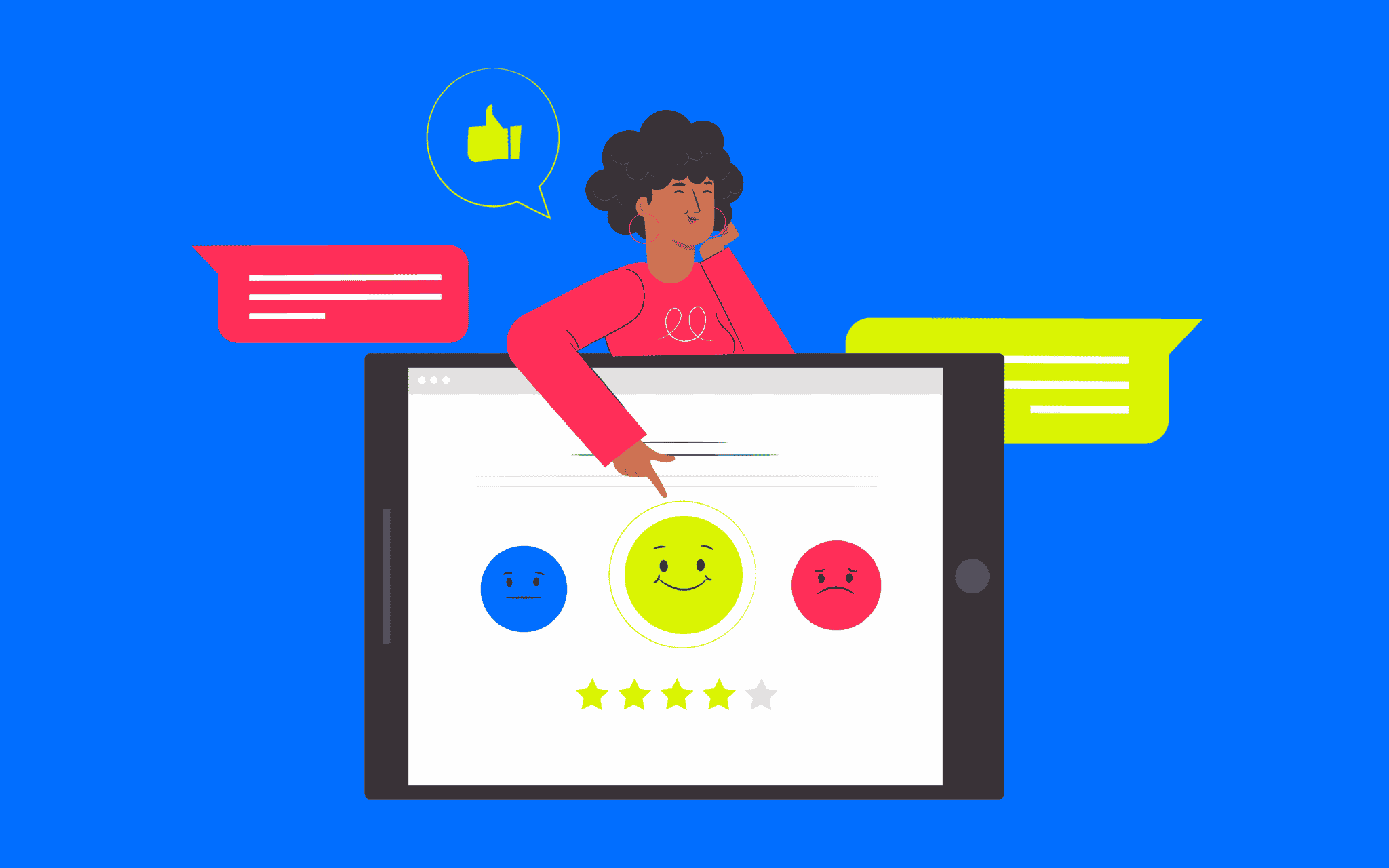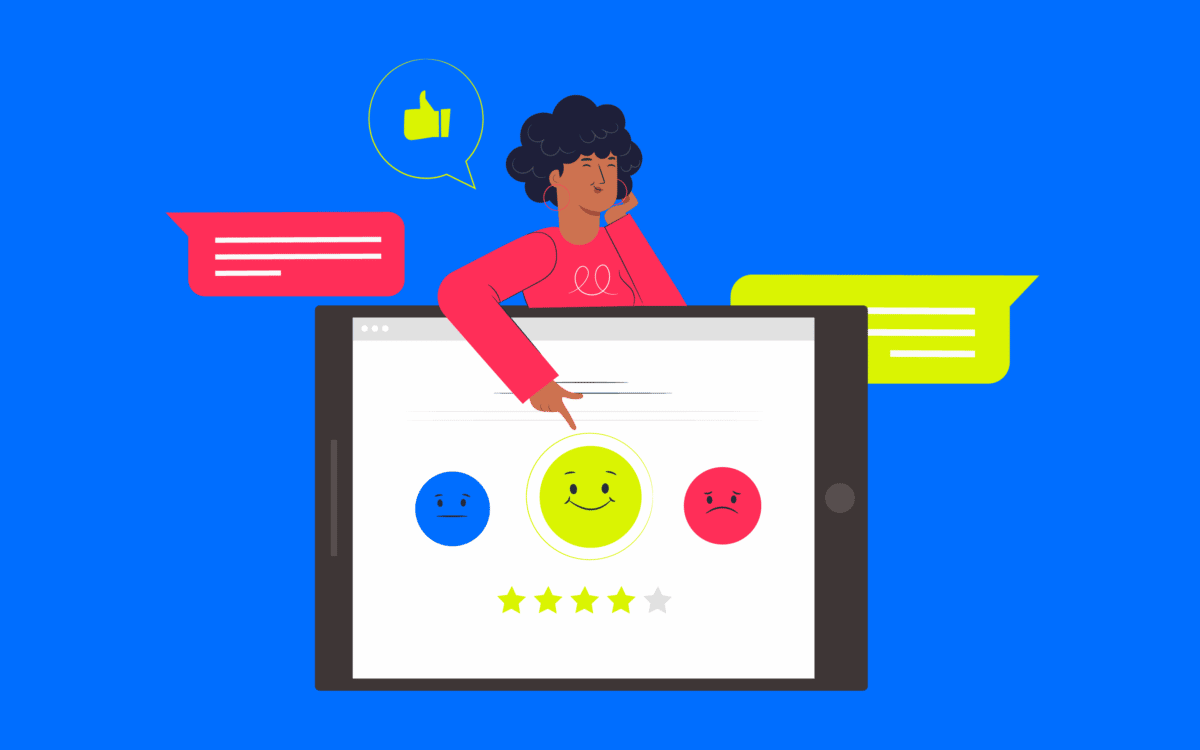 Tips for better software company names
Finding the best software company names takes time and focus. You'll need to commit to searching through your options thoroughly. No matter how complex the process might seem, it's never a good idea to simply "dial in" your name choice.
If you're struggling to optimize your efforts when figuring out how to name a software company, the following tips may help:
Find relevant words
Starting your brainstorming session with words relevant to your industry can make it easier to find a more meaningful title. You can list words relevant to your company's expertise, like "cloud" or "design".
Sometimes, it's helpful to focus on the emotional impact your company has, or its ability to deliver something specific like productivity, efficiency, and time savings.
Review the competition
You should never choose a name for your company too similar to something already in your industry. However, reviewing the names of competitors can give you a useful source of inspiration.
Looking into where companies in your landscape might have come up with their own names could direct you on your own naming journey.
Remember SEO
Most of the time, it's not a good idea to choose a name based on SEO alone. A keyword laden name often won't have the right emotional impact or meaning.
However, there are times when adding a specific term like "cloud" to your name could make it easier for people to find you when they're searching online.
Create a logo mockup
Sometimes it's easier to visualize how effective a software name might be when you create a logo to match it. There are various tools you can use to get an idea of what your name might look like in a logo variation.
Simply trying to create a logo can also help you to determine whether your chosen name lends itself to a visual design.
Get feedback
We've already mentioned the importance of gaining feedback from your shareholders, investors, and colleagues. However, there are opportunities to get insights from your target audience too.
You could consider giving people interested in your product an insight into the kinds of names you're thinking of choosing and gather their responses.
Play with words
Don't be afraid to get creative with your naming journey. You can mash up names to create a compound word from two concepts, like Pinterest, or Instagram. There's also the option to swap letters and take them out altogether.
For example, look at the success of companies like Netflix, and Flickr.
When all else fails, the best way to make sure you get the right results from your naming strategy is to work with the professionals. An expert naming company will be able to give you a clear and direct map to choosing the right name.
Professional naming brands work with your business to develop a deeper understanding of your vision and audience.
Only once they know what kind of message, you're trying to send with your name do naming brands get to work on producing a list of incredible titles potentially valuable to you.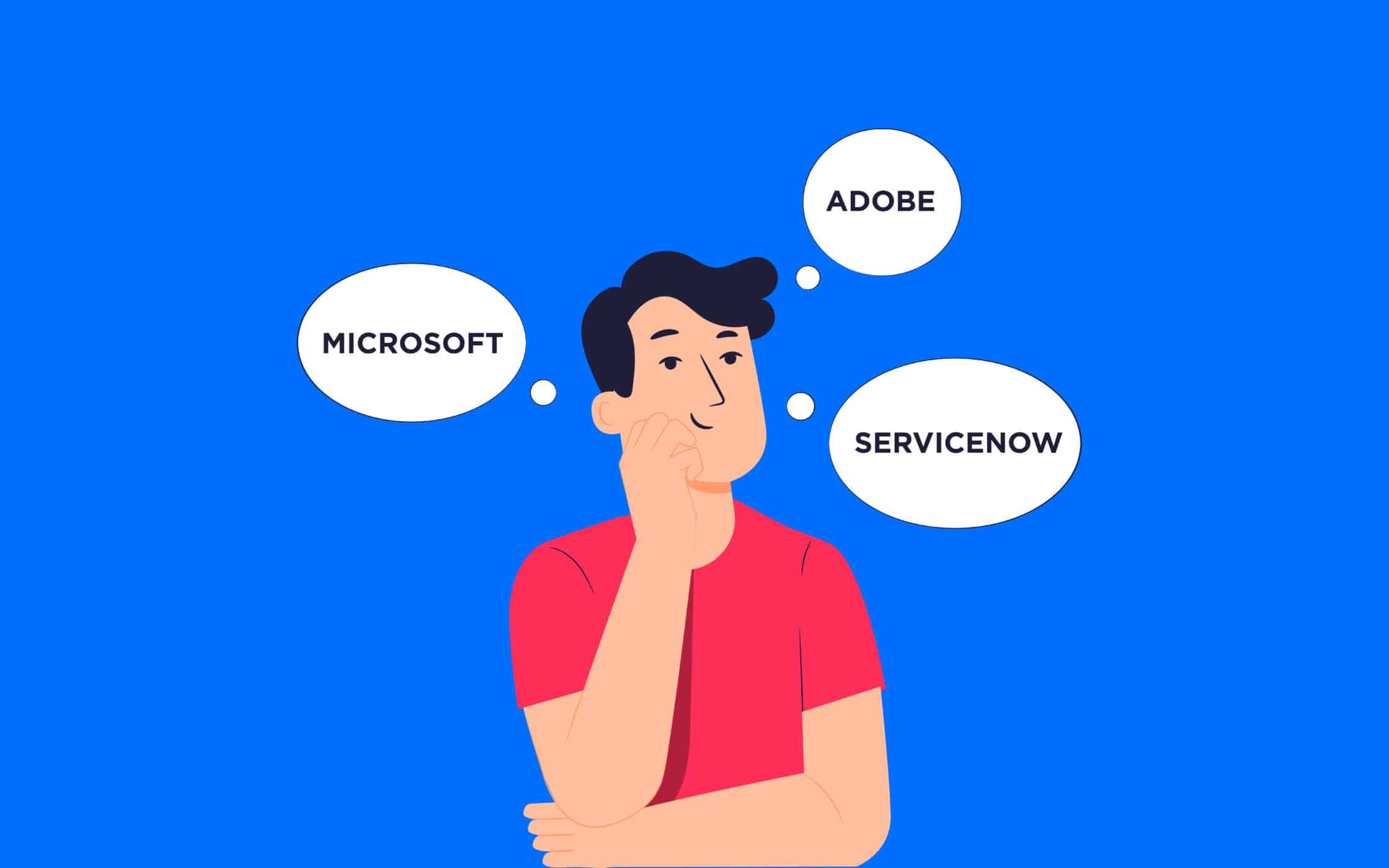 Examples of the best software company names
Sometimes, when you're struggling with figuring out how to name a software company, the best option is to find some inspiration. Let's look at a handful of some of the best software company names, and where they came from for guidance.
1. Microsoft
Microsoft is one of the most prolific software and hardware companies in the technology landscape. The company sells everything from word processing tools to collaboration software.
The name for Microsoft is relatively straightforward; it comes from a combination of "Microcomputer", and "Software". This refers to the time when Microsoft first began producing its computers, which were much smaller and more accessible than the devices of the time.
2. Adobe
Adobe serves millions of users around the globe with a host of well-known software solutions, including Acrobat Reader, and Photoshop.
Originally, the company chose its name to reference the Adobe Creek in California, which actually ran alongside the two houses of the company's founders, Charles Geschke and John Warnock. It's a reference to inspiration and natural forward motion, perfect for a software brand.
3. ServiceNow
ServiceNow is one of the largest software companies in the world, founded in 2004 by the innovative Fred Luddy. ServiceNow is also recognized as one of the most innovative companies in the world.
The company's name is wonderfully straightforward and meaningful. It simply combines the main focus of the brand "Service", with the desire of the companies using the solution — speed. ServiceNow promises businesses and their customers an immediate tool for service.
Mastering software development company naming
Figuring out how to name a software company effectively can be easier said than done. There are numerous issues to overcome, from making sure the name can transcend geographical borders, to choosing something unique and meaningful.
Following the steps above, you should be able to choose a phenomenal name with a little patience and creativity. Of course, if you need some extra support, you can always turn to the experts to guide your naming strategy.
We've made our name by naming other businesses. If you require a new name for your brand, product or service, let's start a conversation…
Fabrik: A naming agency for our times.