The best Macbook Pro accessories can really transform your Apple device. With new Macbook pro accessories, you could accomplish a host of new things with your computer.
A great set of accessories will enhance the performance of your Mac, strengthen your device's longevity, and ensure you get the most out of a significant investment.
Although the exact Apple accessories you invest in will depend on the kind of work you do with your device, we're here to offer some inspiration. As fans of the Apple MacBook line ourselves, we've built a collection of our favorite picks to explore.
Our best MacBook Pro accessories are:
MacBook Pro USB adapter (best for connectivity)
Samsung T7 Portable SSD (best for storage)
Ergonomic MacBook Pro stand (best stand)
MacBook Pro CaseSack storage (best for transport)
MOSISO laptop sleeve (best laptop sleeve)
SAIJI laptop tray (best all-in-one tray)
Havit RGB laptop cooling pad (best cooling)
Replacement MacBook Pro charger (best must-have extra)
MacBook anti-glare filter (best eye protection)
Hcsunfly external driver (best external disk drive)
Read on for more…
1. MacBook Pro USB adapter (best for connectivity)
The MacBook Pro USB adapter is one of our top picks for the best MacBook Pro accessories, simple thanks to its versatility. This 7-in-1 adapter comes with a host of connection point for all your extra peripherals.
There's a thunderbolt 3 port, a 4K HDMI, 2 USB ports, a USB Type-C port, and a micro-SD and SD card reader.
If you're a fan of the MacBook Pro, you'll know it's often pretty limited on connection points. This way, you won't have to fiddle around with tons of different ports and accessories just to ensure you can connect a tablet or external monitor.
Easy to use and efficient, this is a fantastic tool for professionals using a MacBook.
Features include:
4K HDMI port
Thunderbolt 3 port
USB Type-C Port
2 USB 3 ports
Micro SD and SD card reader
Compact durable design
The comprehensive adapter ensures you can plug everything from USB devices to micro-SD cards into your MacBook Pro in seconds.
What's more, because the device is highly compact and durable, it's excellent for life on the road. You can slip the product into your pocket when you're on the move.
Pros:
Wide range of connection points
Works with MacBook Pro and Air
Compact portable design
SD and micro SD reader
Easy to use
Cons:
Easily lost
Components are a little fragile in places
Sale
MacBook Pro USB adapter
This stylish, compact device doesn't require an external power supply, so it fits neatly on an office. You can also slide it easily into your bag on business trips. An ideal solution for your 13-inch,15-inch,16-inch MacBook Pro/Air with two available Thunderbolt 3 (USB-C) ports.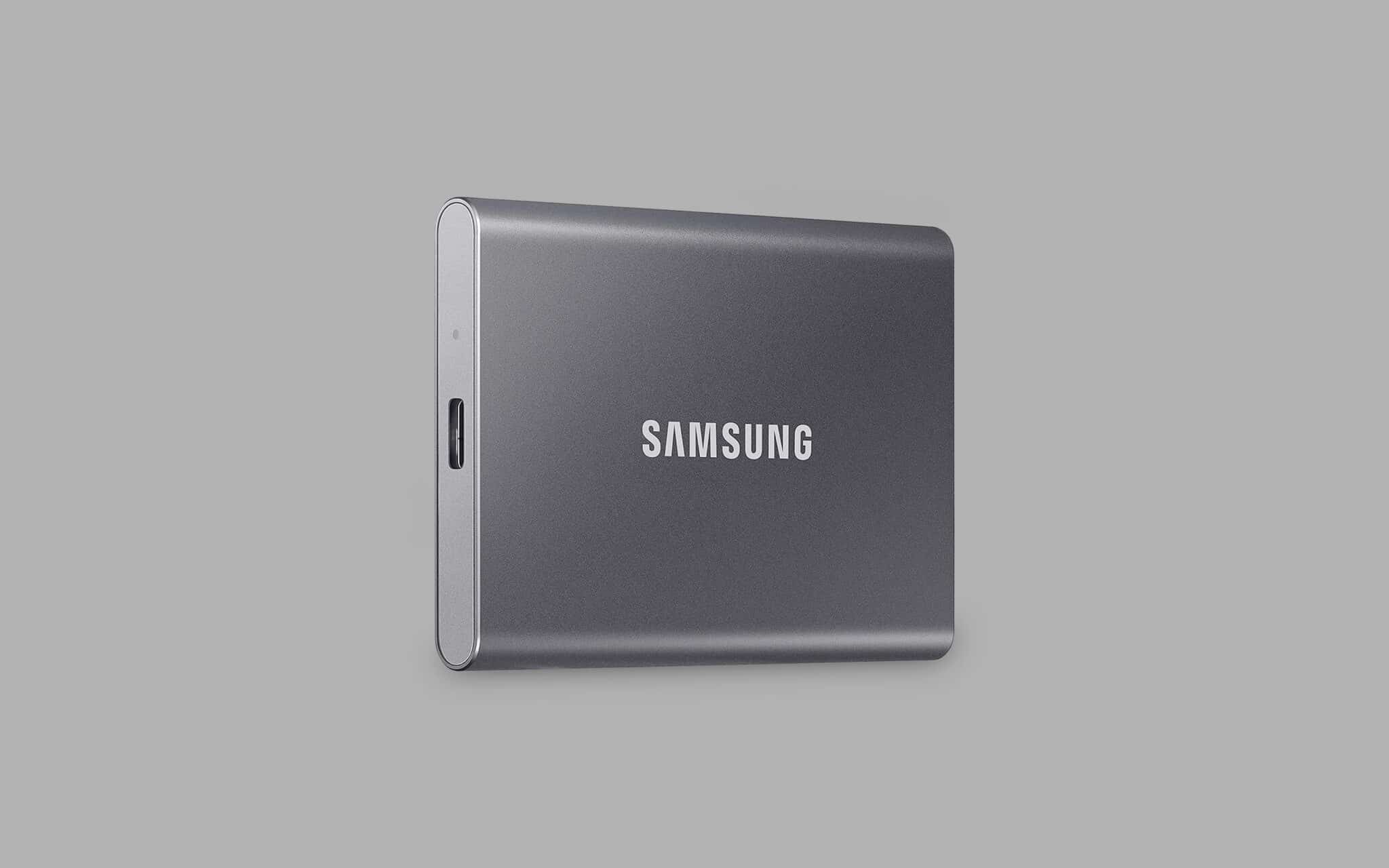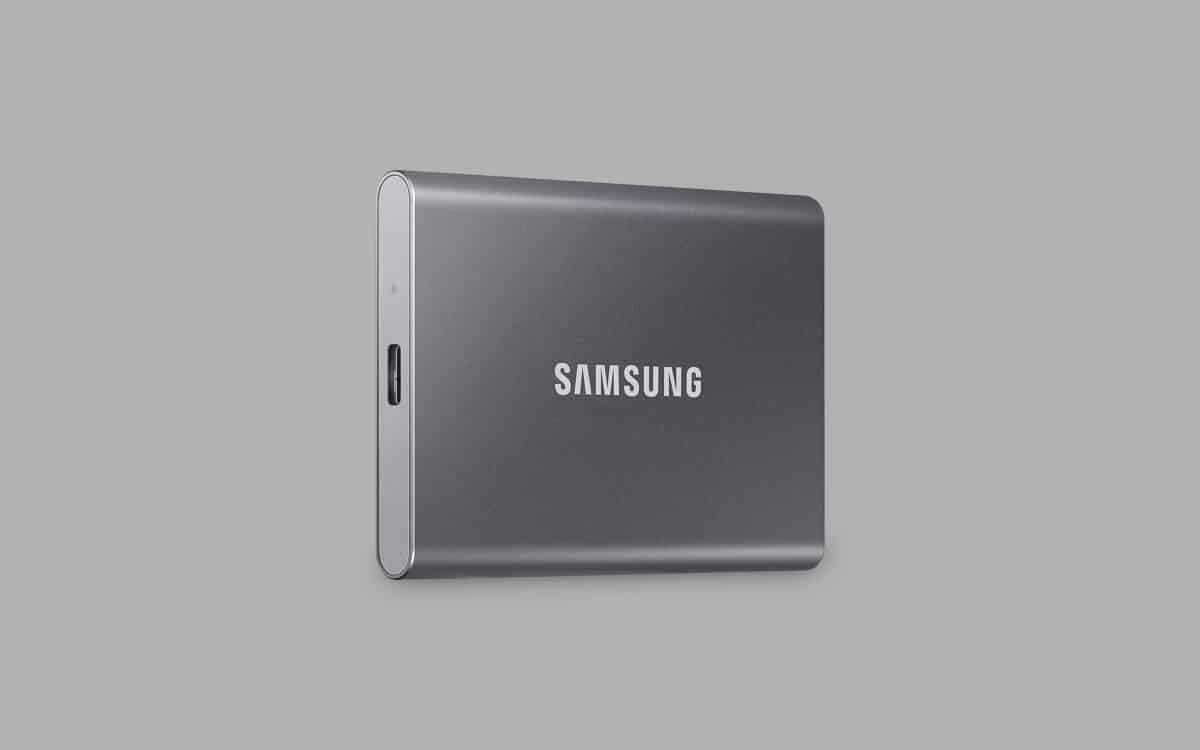 2. Samsung T7 Portable SSD (best for storage)
If you use your Apple MacBook Pro frequently for working on graphic designs, animations, and videos, you'll know how easy it is for the device to run out of space. Having a form of external storage available is a great way to ensure you can save any important documents.
The ultra-fast SSD solution from Samsung allows you to save and move files up to 9.5 times faster than a traditional hard disk drive. All you need is a USB to lightning connection cable.
Built to be totally shock-resistant, the SSD can easily withstand accidental knocks and bumps. Advanced heat control is also built-in, to ensure your device won't accidentally overheat and start slowing down.
Features include:
Transfers files up to 9.5 times faster
Constant firmware updates
USB connection for easy transfer
Shock-resistant and withstands drops
Advanced heat control
Password security
Designed to work perfectly for MacBook users who need a little extra space for all their projects, the Samsung T7 portable SSD will quickly become a must-have part of your computer setup. It's a shame you do need to buy your adapter cable separately, however.
Pros:
Excellent functionality with a range of devices
Super-fast transfer speed
Shock resistant for durability
Heat and temperature control
Password protection available
Cons:
Requires a separate cable purchase
Sale
Samsung T7 Portable SSD
The light, pocket-sized Portable SSD T7 delivers fast speeds with easy and reliable data storage for transferring large files. Whether you're storing critical business documents, games, or movies, the Portable SSD T7 gives you speed and durability in a palm-sized package.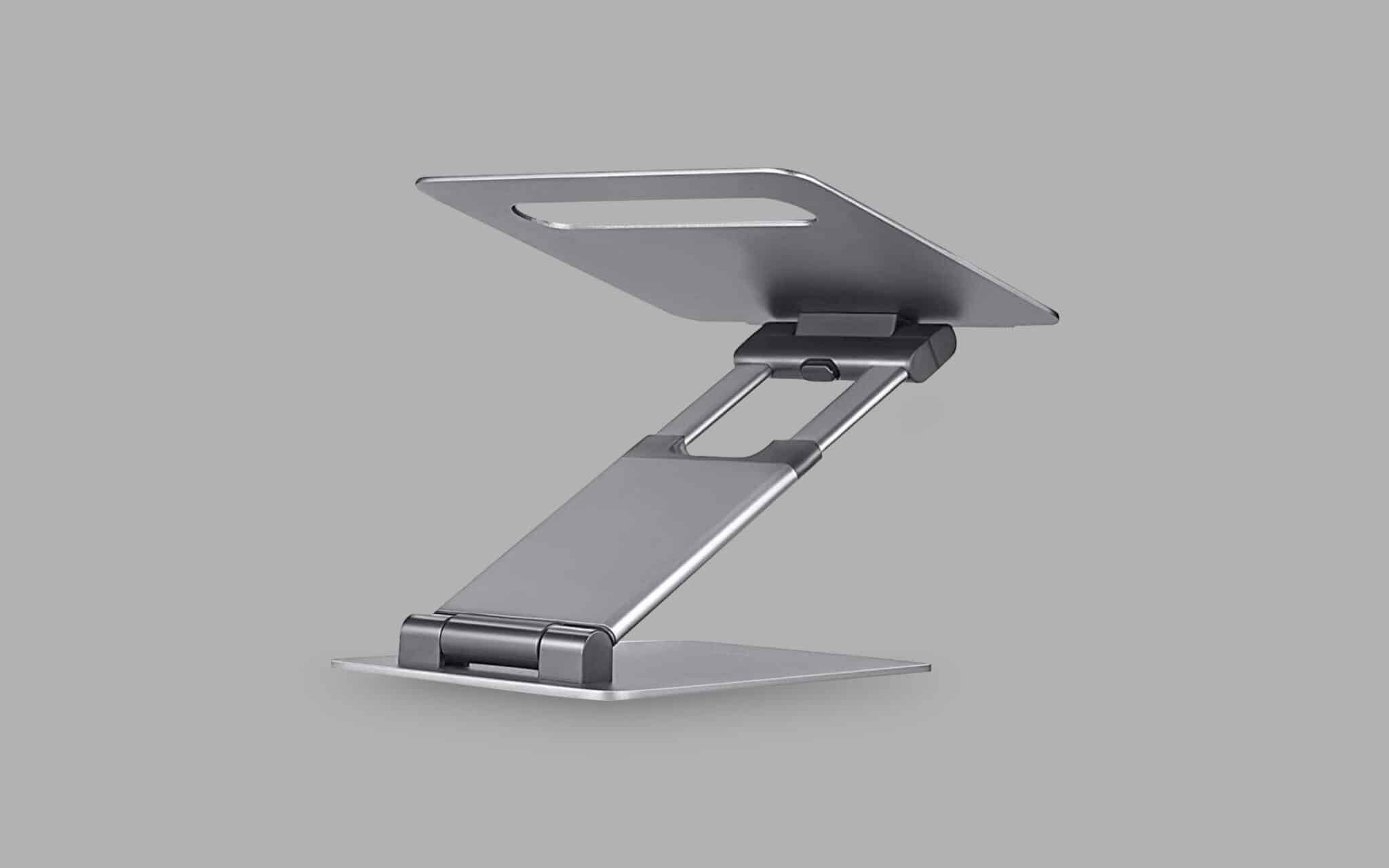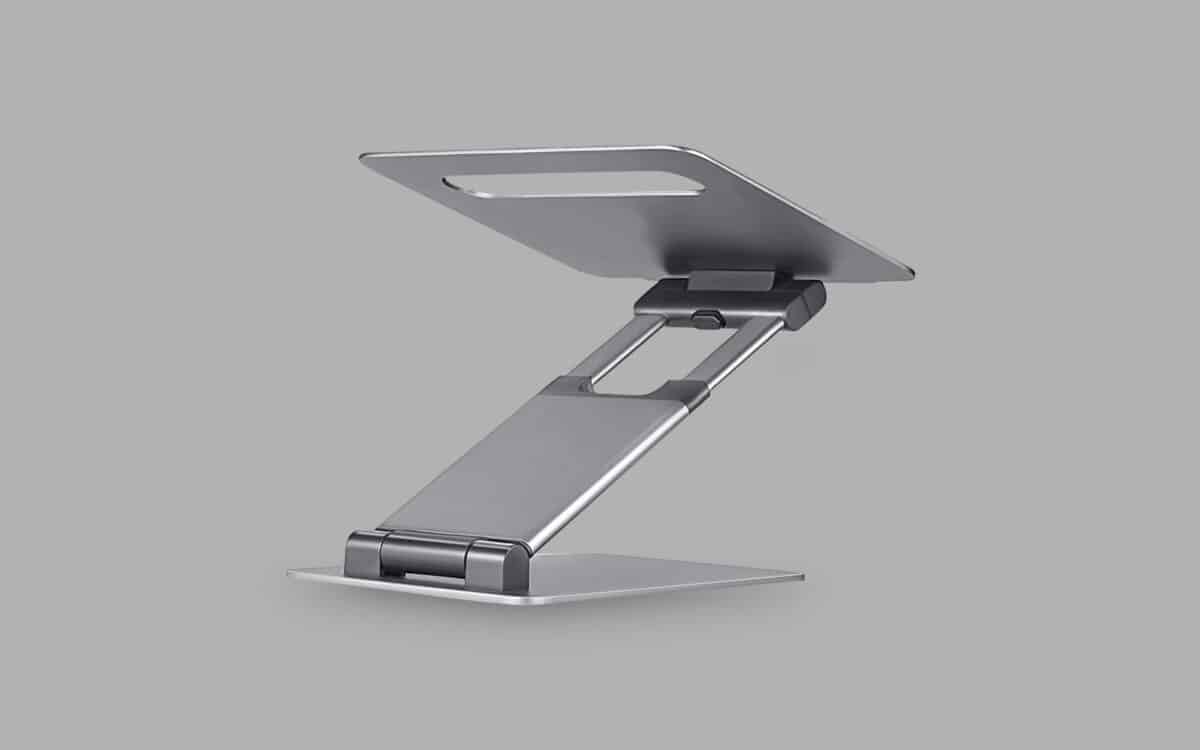 3. Ergonomic MacBook Pro stand (best stand)
Sometimes, the coolest MacBook Pro accessories are also the simplest. For instance, if you're sick of trying to get the perfect angle for your MacBook on your desk, this ergonomic stand will help.
You simply attach your MacBook stand to the computer, and adjust the height depending on your needs. You can also use this device to create your own standing desk.
Easily adjustable, but secure, the MacBook Pro stand can easily adapt for any meeting, gaming session, video creation project and more. The stand is also lightweight enough so you shouldn't have too much problem carrying your device around.
Features include:
Ergonomic adjustable size
Amazing fit works with a range of laptops
Standing desk compatible
Lightweight for transportation
Up to 20 different arm lengths
Extension up to 13 inches
Simple but effective, this is one of the best MacBook Pro accessories if you're sick of struggling with neck and back pain when you're working on complex projects. You can even convert your sitting desk into a standing one whenever you feel like it. The hinges are quite tight, however.
Pros:
Excellent for neck and back pain
Works perfectly with MacBook Pro
Great for someone who wants a standing desk
Multiple arm and extension options
Lightweight for portability
Sale
Ergonomic MacBook Pro stand
This laptop stand was designed to easily be adjusted for any zoom conference meeting, watching videos, gaming or can even be used for cooking as a cookbook stand. it's just an amazing gifted notebook stand. With the ergonomic design, it even keeps your laptop cool so that it doesn't overheat.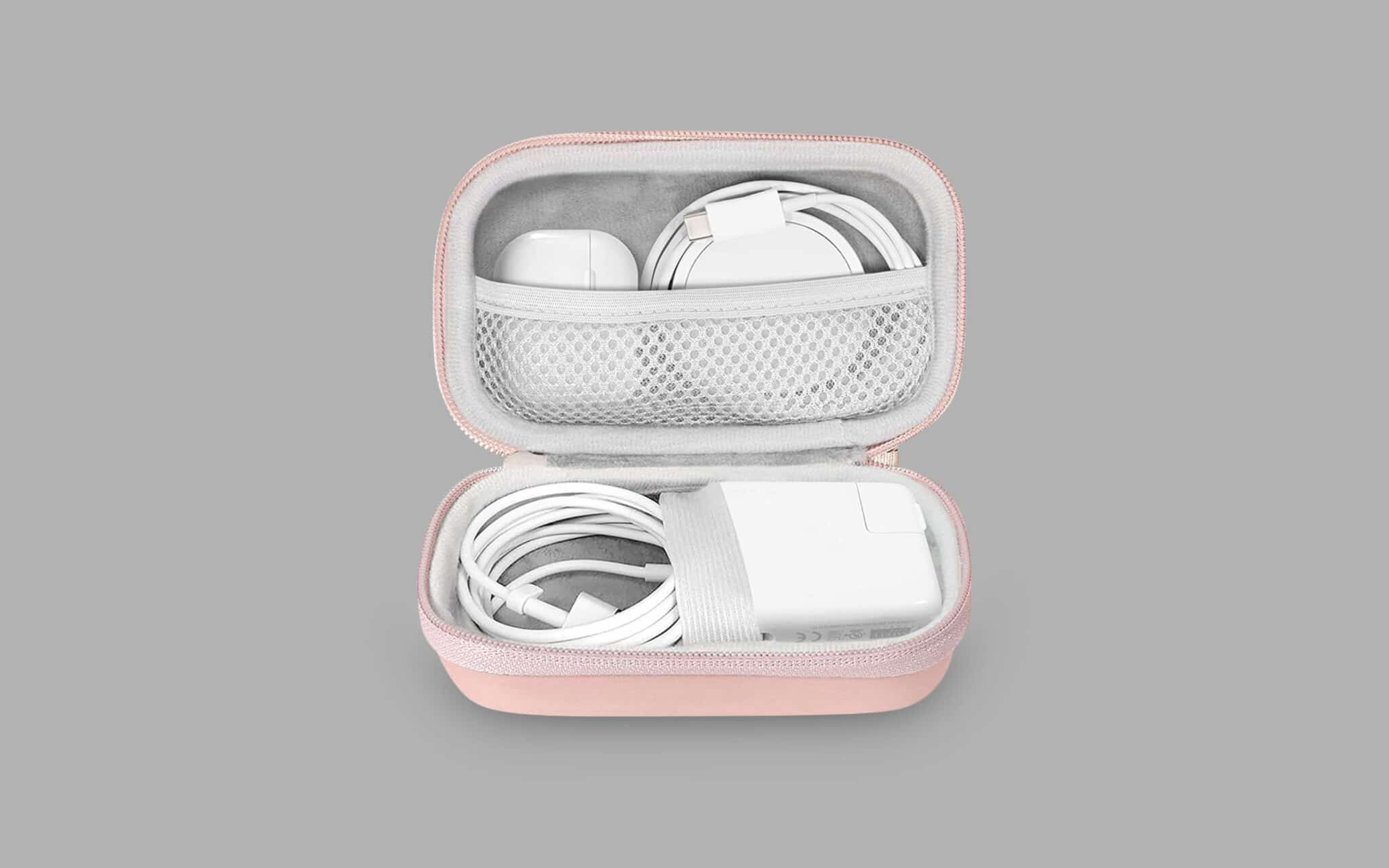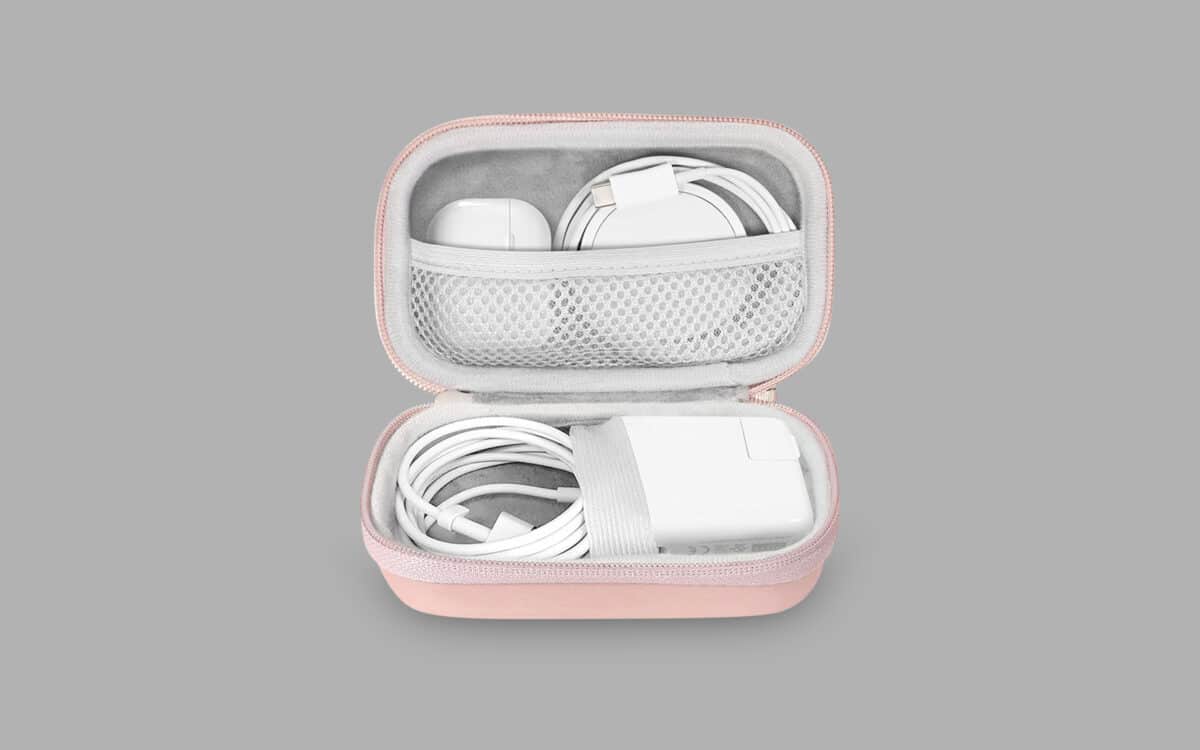 4. MacBook Pro CaseSack storage (best for transport)
As much as people love MacBook and Mac products, they do have their occasional downsides. Wired keyboards, mice, and charges can break very easily if you're not storing them properly when you travel.
That's why it's so important to have the right carrying cases available. The CaseSack carry case for your MacBook Pro comes with compartments for all your wires and accessories.
There are various colors to choose from, and each is designed to hold USB C hubs, multi port hubs, SSD drives, MagSafe charges, MacBook air power adapters and so much more.
The semi hard case will protect your equipment from knocks and bumps, while the handy wrist strap means you can keep it close wherever you go.
Features include:
Netted storage compartments for all MacBook accessories
Suitable for a wide range of chargers and drives
Semi-hard carrying case for shock protection
User-friendly compact and durable finish
Worry-free guarantee
Strong wrist strap included
Multiple color options
With a super-soft and water-resistant lining, the MacBook CaseSack storage compartment means you can keep all of your essential cables properly organized when you travel with your Apple device. You can even store your earbuds in here.
One odd downside is the product can have a strange smell at first.
Pros:
Multiple storage compartments
Shock and water resistant
Guarantee included
Wrist strap for easy transport
Ideal for travel
Sale
MacBook Pro CaseSack storage
The MacBook Pro CaseSack storage is a strong, compact, light weight case with a featured wrist strap. Perfect for home storage and travel carrying thanks to the three protective layers on all sides of the case.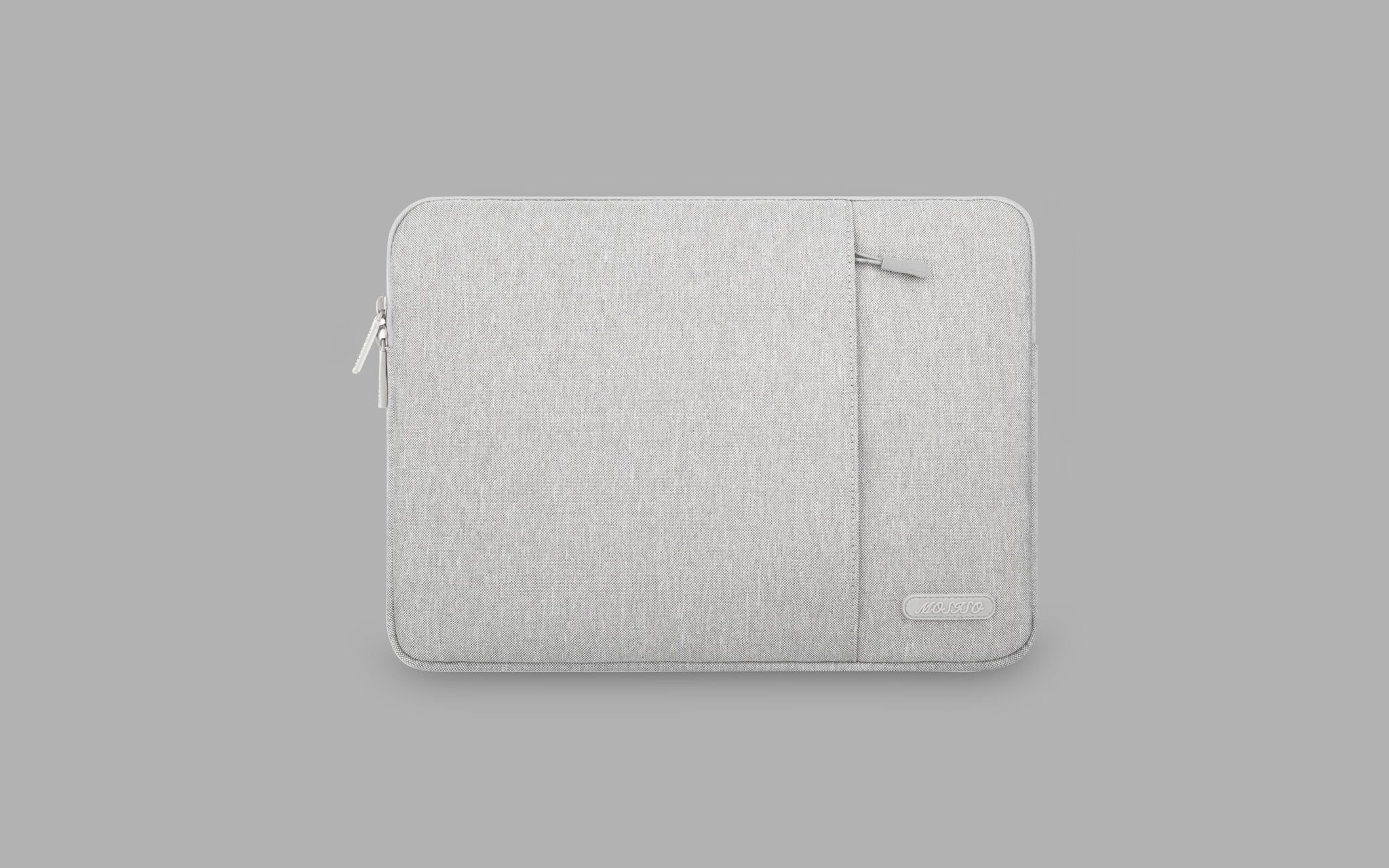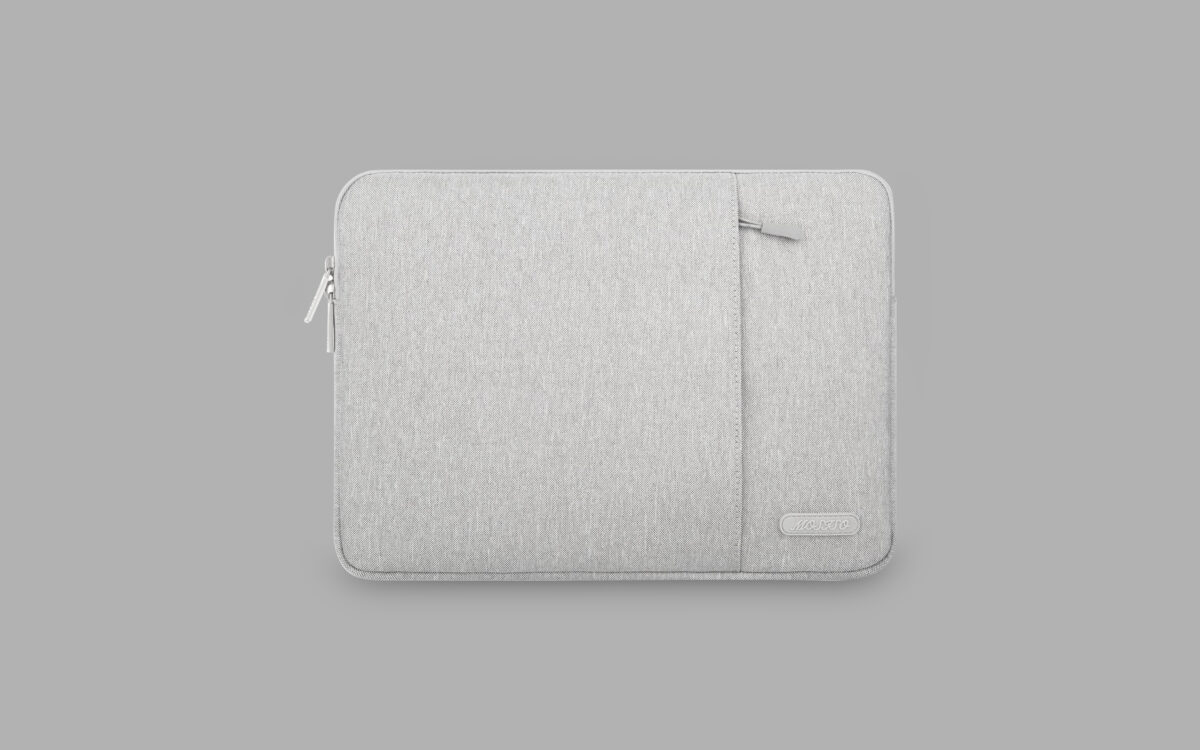 5. MOSISO laptop sleeve (best laptop sleeve)
As far as laptop accessories go, there are few things more valuable than the protective sleeve. You can use a laptop sleeve to keep your MacBook Pro safe in your backpack and separate it from the other best MacBook Pro accessories you carry with you.
A sleeve also keeps your device squared away when you're not using it.
This compelling laptop sleeve from MOSISO fits a range of different devices, including the new MacBook Pro. There's an external side pocket for files and papers, and water-resistant polyester throughout the entire product. 
All you need to do is slide the sleeve open, pop your device inside and you're protected. Additional foam padding is ideal for shock and bump protection.
Features include:
Multiple great colors to choose from
Various sizes, including options for MacBook Pro
Water repellant material
Convenient top opening
Extra pocket for storage
Padding and fleece layer for shock protection
Designed to make protecting your MacBook quick and simple, the sleeve looks professional, and delivers peace of mind when you need it most.
The biggest downside is the pocket on the side won't be large enough to hold a huge range of accessories. We could barely get a charger in there.
Pros:
Attracted, sophisticated design
Compact for travel purposes
Excellent fit for the MacBook Pro
Extra storage compartment
Water and shock resistant
Cons:
Quite a small external sleeve
MOSISO laptop sleeve
This MOSISO protective laptop sleeve bag is made from water repellent polyester material, slim, light weight, which is very durable. The exclusive trendy design also gives your device the most functional yet fashionable look and enables you to carry your device in a uniquely sleek style.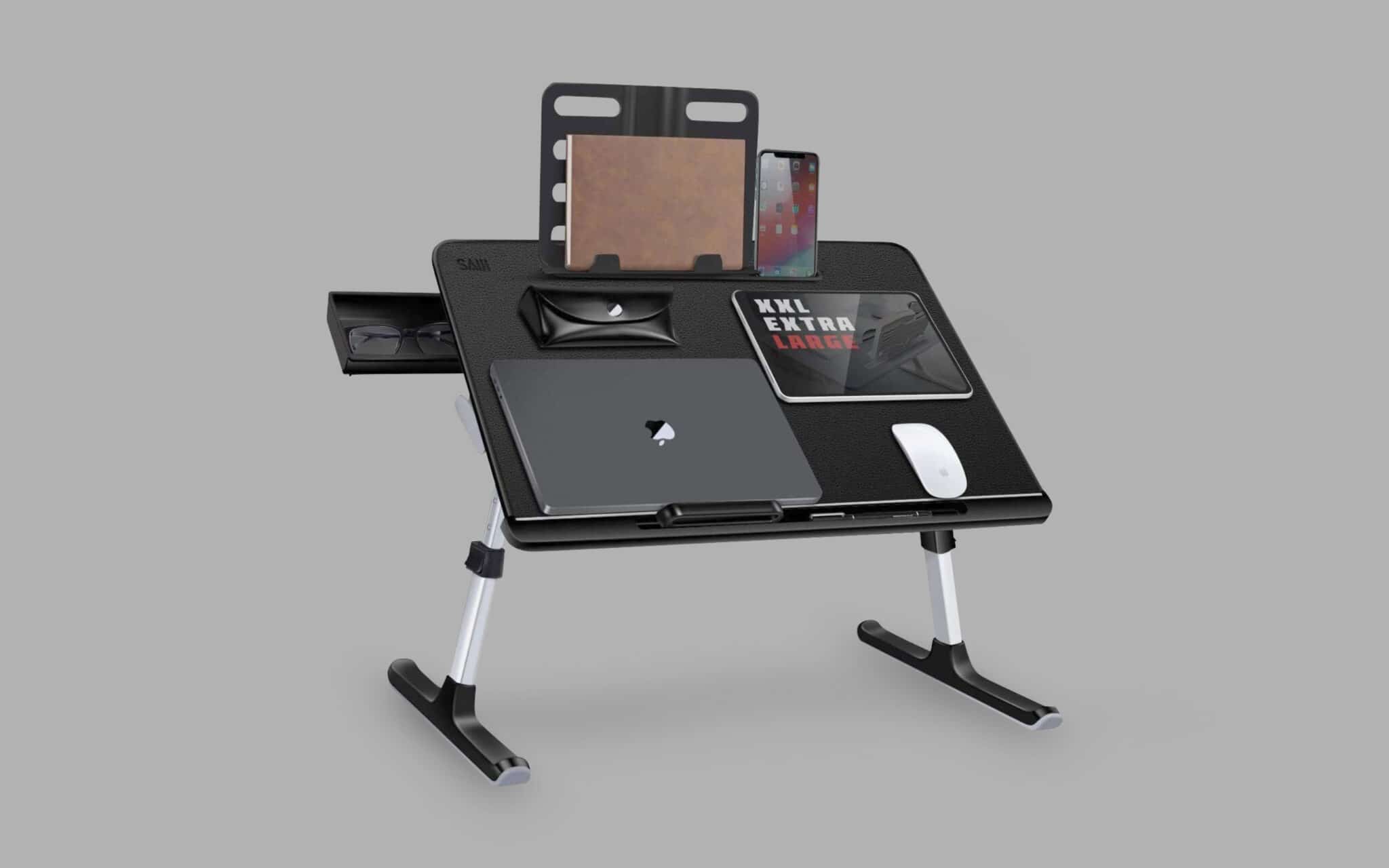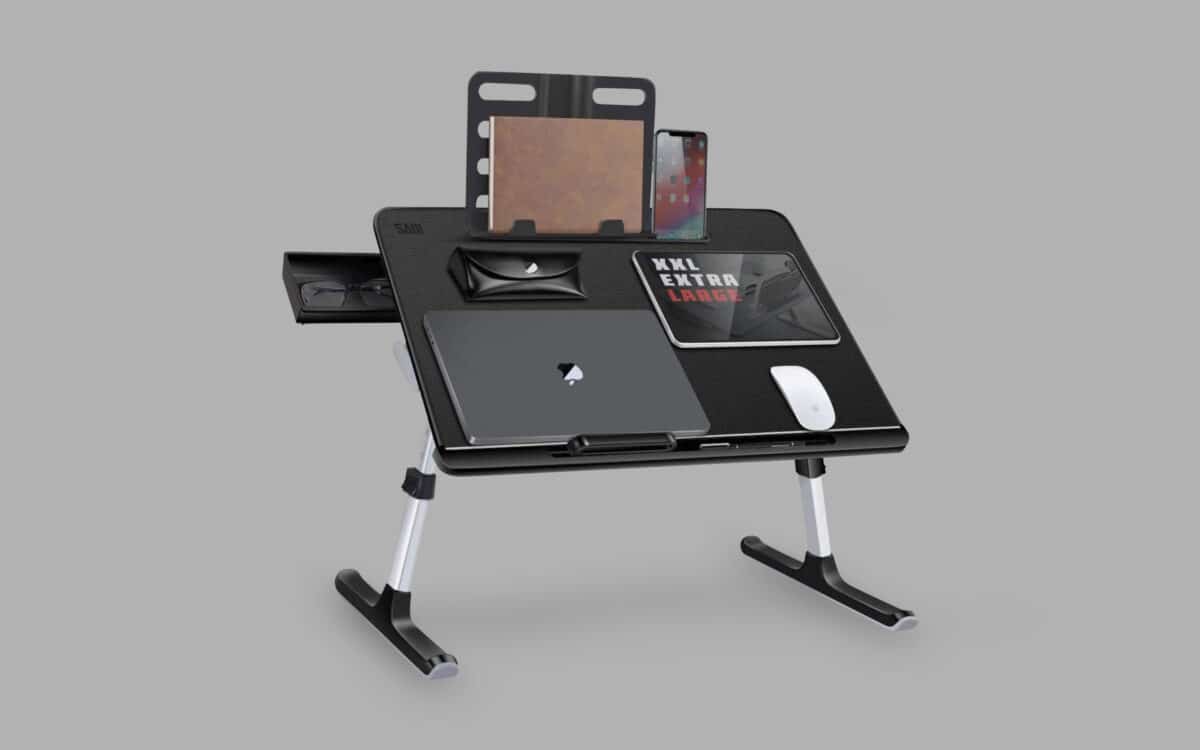 6. SAIJI laptop tray (best all-in-one tray)
If you have limited space in your office, then the best MacBook Pro accessories might be those which allow you to make the most of the room. This SAIJI laptop tray elevates your laptop to the perfect level for ergonomic typing.
However, it also comes with plenty of space for storing extra products too. This's an area for an extra mouse, a space for your tablet if you're sketching out animations, and a place for your smartphone.
The table legs are available to set at 5 different heights There's a detachable notebook and mouse slip to keep your device situated properly on the desk, and you even get a little drawer where you can store pens or eyeglasses while you work.
Features include:
5-way adjustable legs
Book or tablet holder
Smartphone holding point
Laptop table
Detachable tablet or mouse pads
Slide-out drawer
Fold-away design
Not only is the SAIJI laptop tray packed full of excellent space-saving components to help you make the most out of your MacBook Pro, but it also folds down flat. When you're not using your device, you can easily slide it out of the way.
Pros:
Wide range of space-saving features
Smartphone and tablet holding point
Detachable mouse and tablet pads
Slide-out drawer for eyeglasses
Multiple height options
Cons:
Can be difficult to adjust at first
Sale
SAIJI laptop tray
Light but sturdy, the Saiji laptop bed tray desk can be folded flat for space-saving storage. This lap desk allows you to work on the spot, in which you can set your laptop writing workstation anywhere. It can make your work environment become more healthier and more convenient.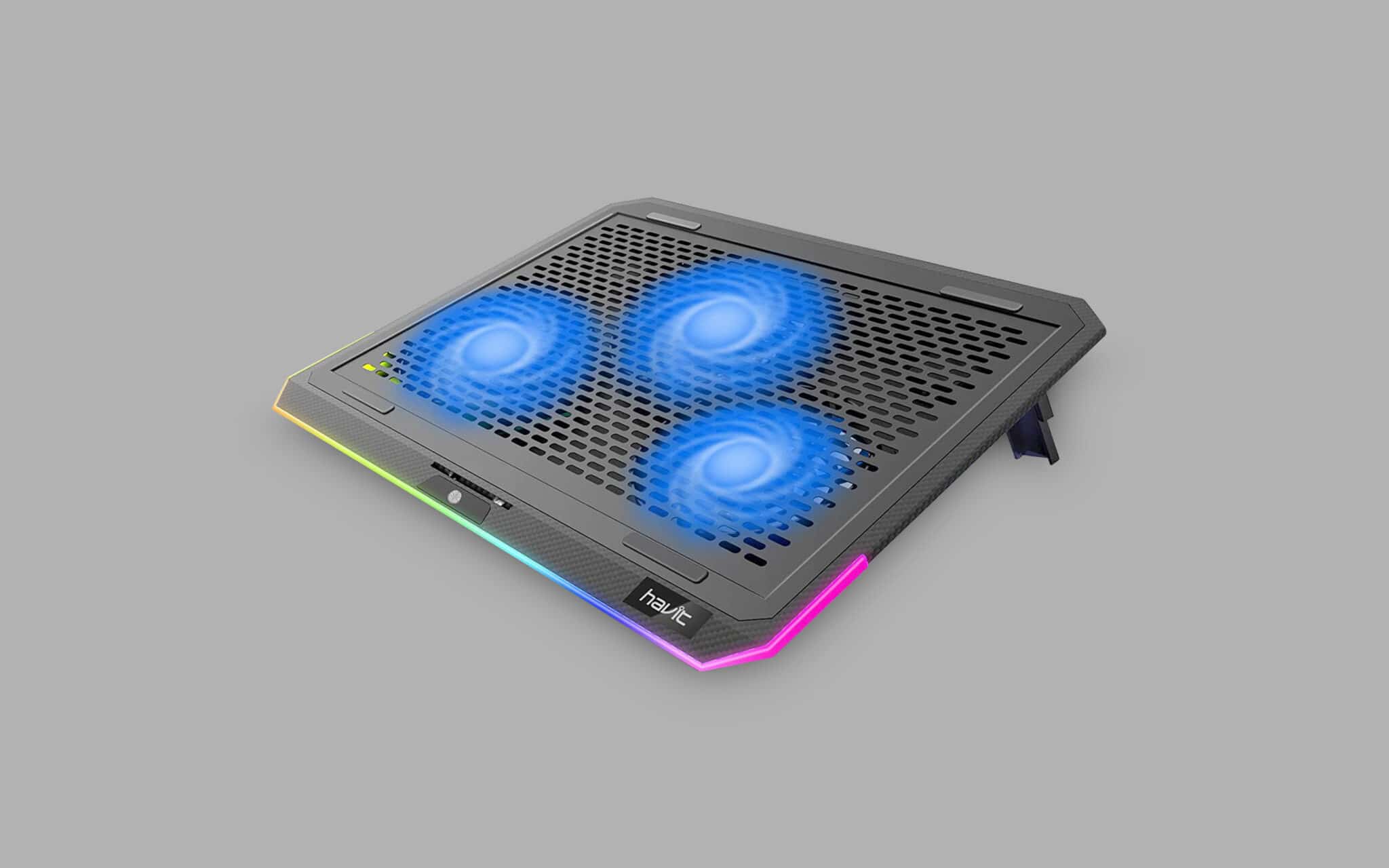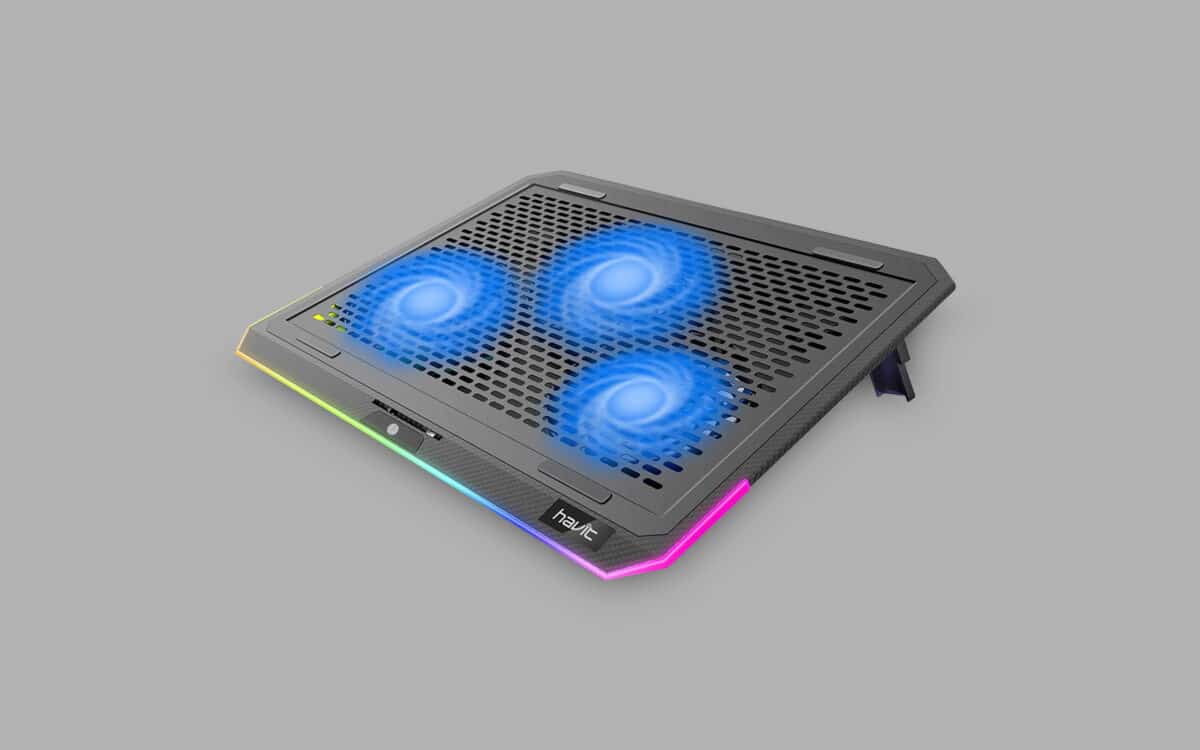 7. Havit RGB laptop cooling pad (best cooling)
If you're running a lot of complex software, or attaching drawing pads to your MacBook, it might begin to overheat a lot faster than you'd expect. In this case, it's crucial to have a way of keeping your device as cool and balanced as possible. This high-speed cooling pad comes with three 1100 PRM high-speed fans.
The large metal mesh surface on the top of this fan is perfect for supporting proper airflow from your device. There are RGB lights to transform your working station, and you can even flip the feed out at the bottom of the pad to give your MacBook Pro some extra lift.
An extra bonus is a pair of two USB ports for additional connection points.
Features include:
Ergonomic comfort cooling stand
Extra USB ports
RGB laptop cooling pad
Metal surface laptop cooler
High-speed 1100 RPM fans
Extra USB ports
Simple and effective, this MacBook Pro cooling pad is perfect for giving you more out of your device. If you're ever concerned about your Mac overheating, then this fan will be a great thing to have on-hand. The extra RGB lighting might not be necessary, but it's a nice touch.
Pros:
Ergonomic stand for better comfort
Extra USB ports included
Metal surface for better airflow
High-speed 1100 RPM fans
Portable design
Sale
Havit RGB laptop cooling pad
The Havit cooling pad features a large metal mesh surface design to release airflow as much as possible, keeping your laptop from heating up. It also doubles as an ergonomic stand with two adjustable height settings.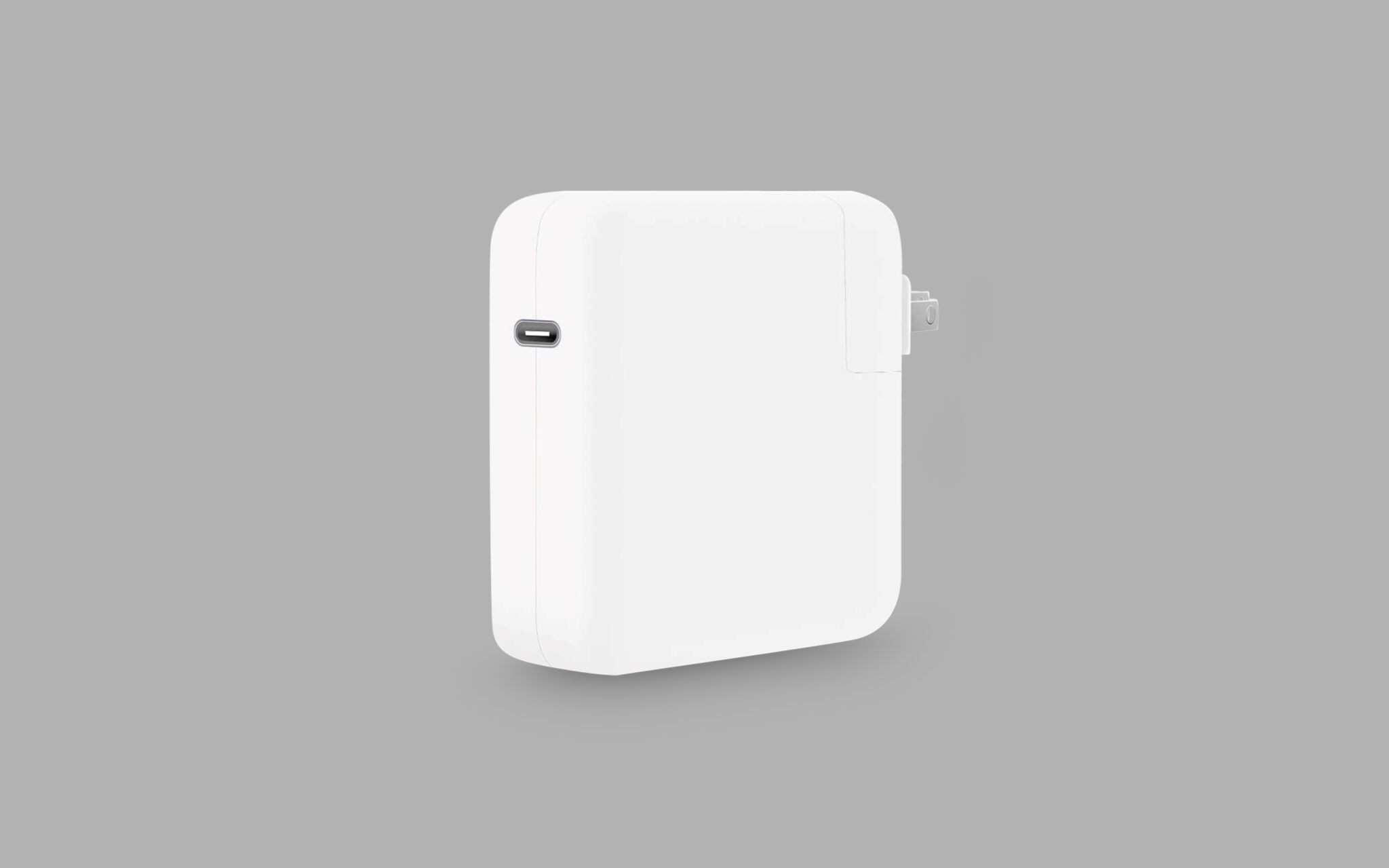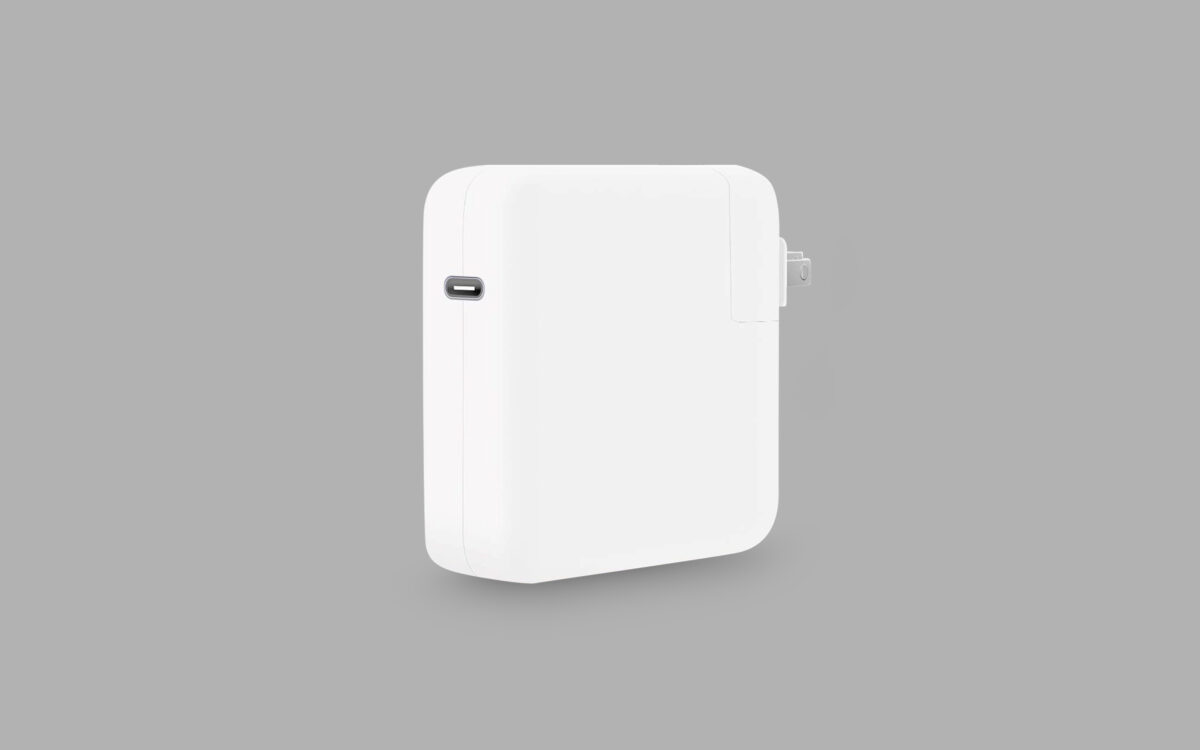 8. Replacement MacBook Pro charger (best must-have extra)
MacBook Pro accessories won't always transform the functionality of your MacBook. Sometimes, the best investments simply ensure you can use your device for longer.
This replacement MacBook Pro charger is an essential purchase if you're looking for the best solutions to keep your device running smoothly. There's an included cable for charging, and the portable design ensures you can keep your device on-hand whenever you need it.
The heavy-duty cable on this replacement charger is a little stronger than the standard cable for your MacBook Pro, should it's more likely to withstand the constant bending and movement your MacBook goes through each day. The USB 3 cable connection delivers a faster charge.
Features include:
Full customer service and support
USB Type C charging
USB 3.1 for faster performance
Security and safety with high-quality materials
Durable cable connections
Automatically identifies your devices
Compact design for portability
This powerful replacement MacBook charger is an excellent investment for people who constantly rely on their Apple device. You can revive your MacBook Pro within around 2 hours and have a full charge again in no time. There's even a fold-in plug section.
Pros:
Convenient foldable design
Excellent durable cable
Extra long cable for ease of use
Fast charging when you need it most
High quality materials
Replacement MacBook Pro charger
Portable size, weighing only 0.37 lb, lighten up your backpack and save your space as this charger is easy to carry and perfect for traveling. Some features include: supports high charging speed, compatibility with any USB-C device, travel-Ready with foldable plug
and 6.6ft long Cord.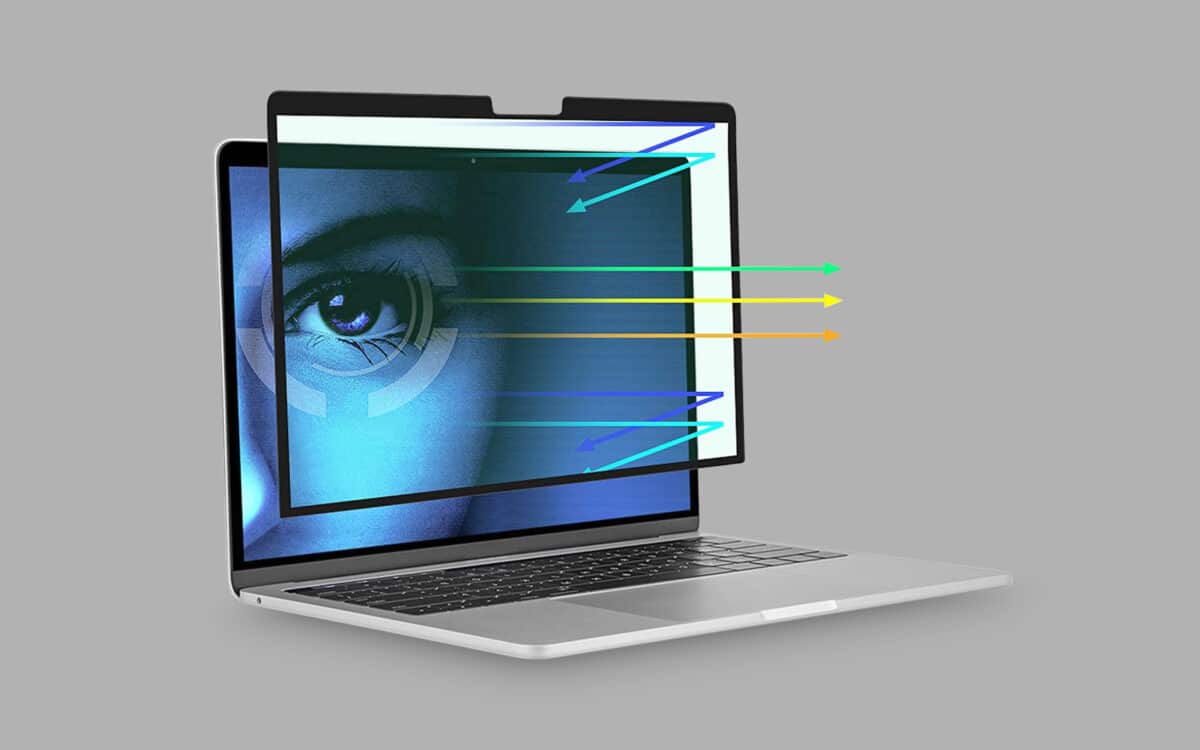 9. MacBook anti-glare filter (best eye protection)
Another example as one of the best MacBook Pro accessories, this product might be simple, but it can save you a lot of headaches and stress. Many new monitors now come with blue-light protection built-in.
However, if you don't have this feature for your MacBook Pro, you can notice a lot of uncomfortable side effects after a while. Constant exposure to blue light causes dry eyes, eye strain, and even trouble sleeping.
The MacBook anti-glare filter from Filmext is perfect for protecting your eyes and your MacBook screen at the same time. The cover will stop the screen from being accidentally scratched or chipped. At the same time, the carefully structured filter blocks almost 70% of all blue light.
The filter is easy to install, and available in a range of sizes.
Features include:
Excellent protection against chips and scratches
Reduced digital eye strain
Black frame silicon steel for easy installation
Simple removal
Microfiber cloth included
Blue light reduction filter
With a microfiber cleaning cloth included, and a helpful black frame to guide your installation, you can have your new screen protector set up in seconds. The MacBook Pro anti-glare filter will keep your vision protected even if you're spending all day in front of the screen.
Pros:
Reduces blue light
Excellent for reducing eye strain
Easy installation and removal
Microfiber cloth included
Protects against scratches
Cons:
Can be tough to get the sizing right
MacBook anti-glare filter
This blue Light blocking filter screen protector reduces digital eye strain when viewing screens and gives you better sleeping. It's easy to install and remove and comes with a microfiber cleaning cloth and an installation cleaning kit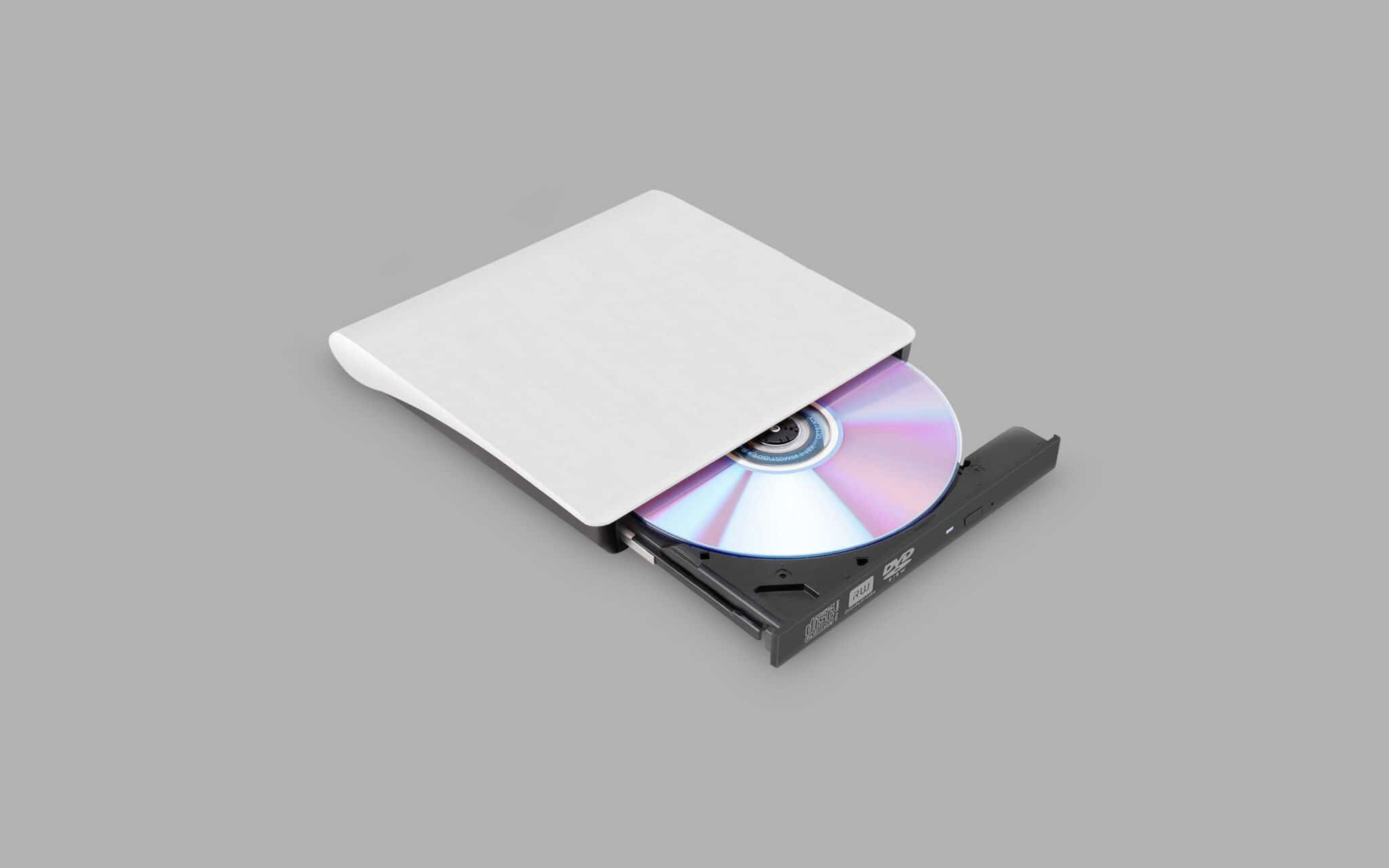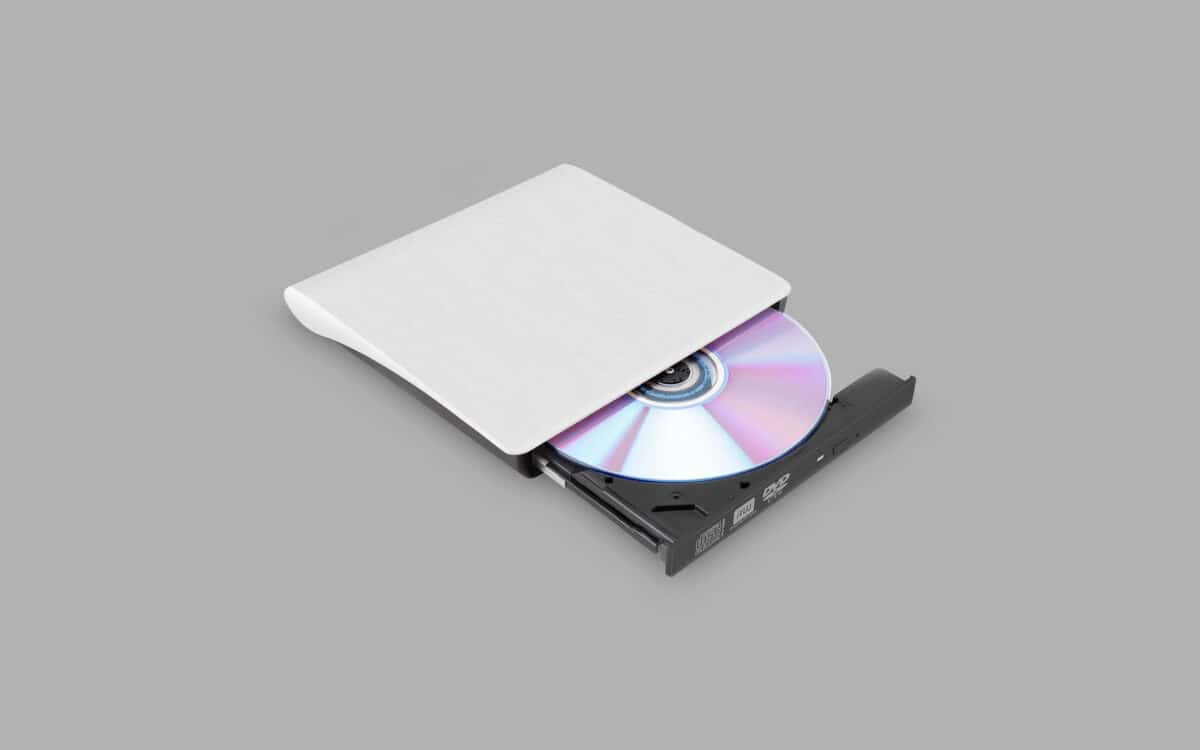 10. Hcsunfly external driver (best external disc drive)
If you're looking for a way to easily write CDs, or save photos to a disc, then the Hcsunfly External driver is the perfect option for you. This plug-and-play product is wonderfully easy to use. You don't need any external power to get started.
Simply plug your CD drive into the UBS port and you're ready to go. You can even burn files onto discs in seconds.
The DVD and CD drive solution is compatible with a wide range of Mac OS options, and it was specially designed for the MacBook. Thanks to a powerful range of internal features, you can rest assured the system will write your data quickly.
A USB 3.0 connection enhances data transmission, while a shockproof exterior protects your investment.
Features include:
Ultra slim and portable design
Compatible with Windows and Mac OS
High durability shock proofing technology
USB 3.0 and backwards compatible
Plug and play functionality
Easy to transport
If you're constantly working with CDs and DVDs, an external driver like this could be the perfect option. Just keep in mind you may end up accidentally damaging this device if you're not careful with it. The inner mechanisms don't hold up well to regular knocking.
Pros:
Excellent writing speeds
Compatible with various operating systems
USB 3.0 and backwards compatibility
Plug and play simplicity
Shock proofing
Cons:
Can easily break over time
Sale
Hcsunfly external driver
No driver and external power required, the Hcsunfly is powered by the USB port. The external CD/DVD drive can used to watch DVD movies, listen to music, create backup discs, burn movies/music, and more.
Choosing the best MacBook Pro accessories
The best MacBook Pro accessories are a great investment into your digital tech. With so many Apple fans around the world, the number of MacBook Pro accessories is constantly growing. Today's Mac users are happy to invest in technology which helps them make the most of their investment.
Whether it's an extra charger to keep them from running out of power, or a filter for the MacBook screen, there's something for everyone.
Our best advice when it comes to choosing the best Mac accessories, is to think about the issues you face each day. Work back from the problems which can influence your productivity and performance with your MacBook.
For instance, if your device is constantly overheating, then the first thing you invest in might be a fan-based stand.
If you're worried about the number of connection points in your new MacBook, purchasing a connection hub for all of your peripherals will help to overcome this problem.
Once you've determined what your issues are, you can check the compatibility with your MacBook to ensure everything works as it should.
Good luck finding the best MacBook Pro accessories. Don't forget to check out our other guides for more inspiration.
Fabrik: A branding agency for our times.