The best keyboard for programming is one of the most important purchases you'll make as you build your programming toolkit. A well-chosen programming keyboard makes various tasks simpler, and more efficient.
In the world of coding and development, a keyboard is like your artist's brush – you can't do much without it. The question is, how do you choose the best coding keyboard for your needs?
Read on to discover the best options on the market right now, along with our top picks…
The best keyboard for programming: Our top picks!
As we know, having a good keyboard for programming significantly improves workflow, efficiency, and performance. Finding the best solution, however, isn't always easy.
To save you time and effort, we've done the hard work of searching for keyboards for you. Whether you're looking for the most comfortable programming keyboard or just something that makes you more efficient.
Before we get onto the definitive list of coding keyboards, however, let's take a closer look at today's star buys!
Built to withstand a lifetime of gaming
8MB profile storage for hardware macro and lighting playback
Per key dynamic multi color RGB backlighting
CHERRY MX Speed mechanical key switches
USB pass through port
Tenkeyless compact mechanical gaming keyboard
Dust-proof mechanical red switches
Rainbow LED RGB backlighting
Anti-ghosting – all 87 keys are conflict free nkey rollover
Magic Keyboard with Numeric Keypad features
Low-profile scissor key switch allows for increased stability and optimized key travel
The numeric keypad is also great for spreadsheets and finance applications
Built-in, rechargeable battery is incredibly long-lasting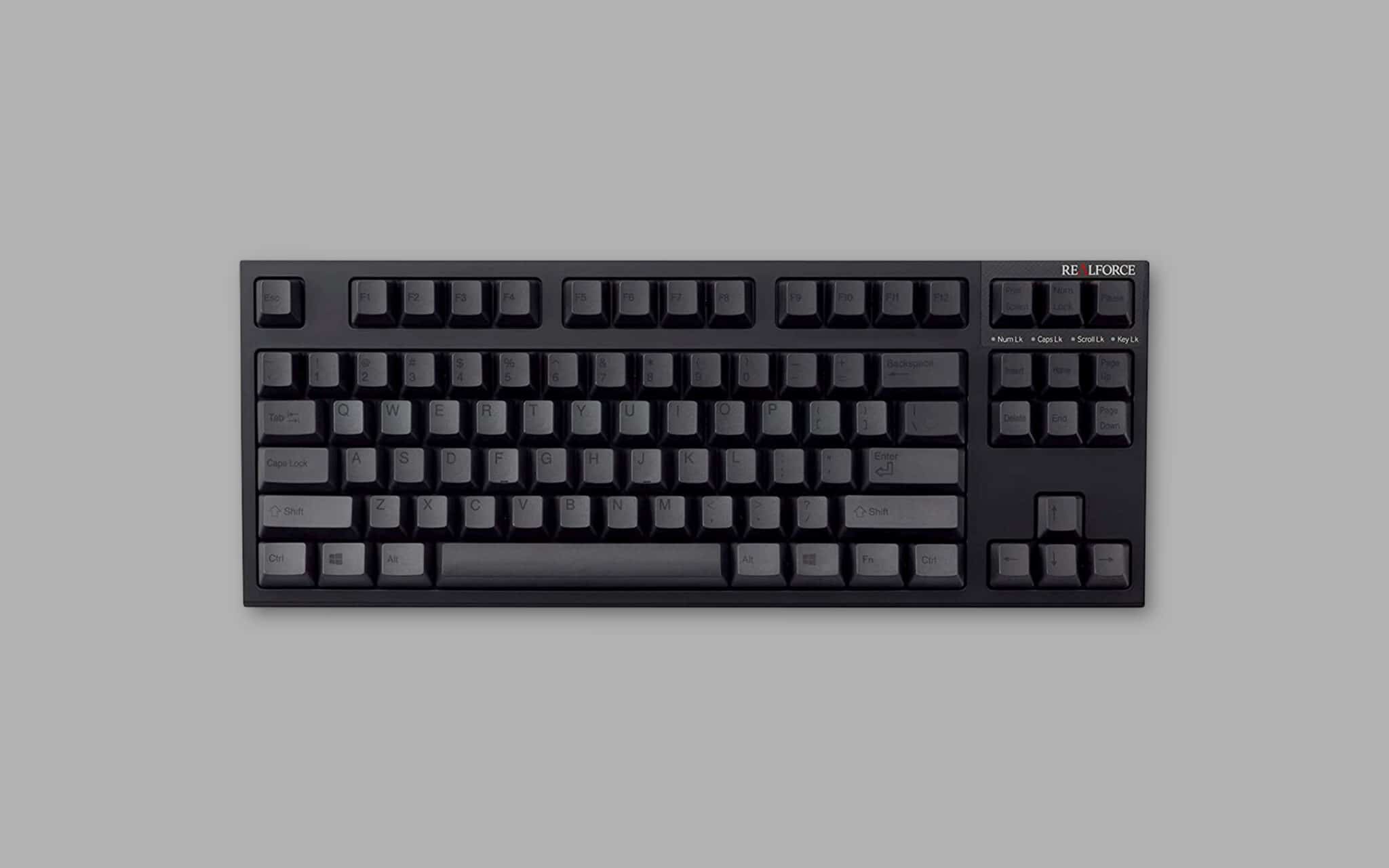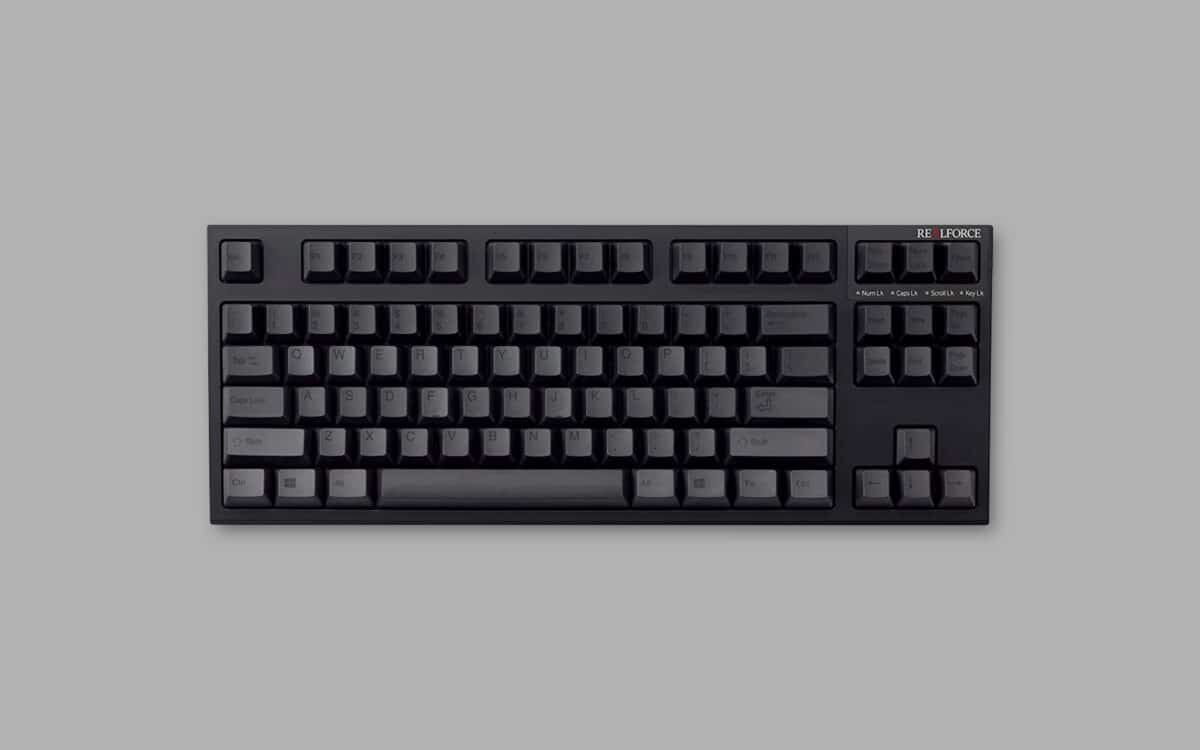 1. RealForce R2 PFU (best with APC)
The RealForce R2 PFU programming keyboard is one of the leading options on the market today.
Offering 108-silent key performance, this full-sized device isn't just ergonomic – it looks fantastic too.
You also get actuation point changer support so that you can adjust the keystroke performance on a key-by-key basis. That's some pretty impressive stuff.
Thanks to a lightweight structure, you can take your RealForce keyboard wherever you go, and the sculptured step design means that you can always enjoy brilliant comfort for your wrists and fingers.
Features include:
Full-size professional design with a lightweight structure
Topre silent key switches to eliminate key chatter
Switches rated for 50 million keystrokes
Highly durable PBT keycaps with sublimated characters
Full N-key rollover (no matter how fast you type, the keyboard registers every stroke)
Sculptured step for better ergonomics
Lightweight keys (only 45g each)
The RealForce R2 keyboard is one of the more expensive options on our list of keyboards for programming, but it's also one of the best.
If you're looking for exquisite performance and full control, the combination of NKRO and APC adjustments is excellent here.
Pros
Excellent aluminum frame
Profile storage with no external software
Cosair software for macro programming included
Rapidfire mechanical switches
USB pass-through port included
Cons
Quite a high actuation point (might not be ideal for bigger fingers)
Takes a few minutes to wake up from sleep mode.
RECOMMENDED
The Topre switch is a hybrid between a mechanical spring based switch, a rubber dome switch, and a capacitive sensor. Keypresses are sensed electrically without any physical circuit closure, which helps eliminate key bounce.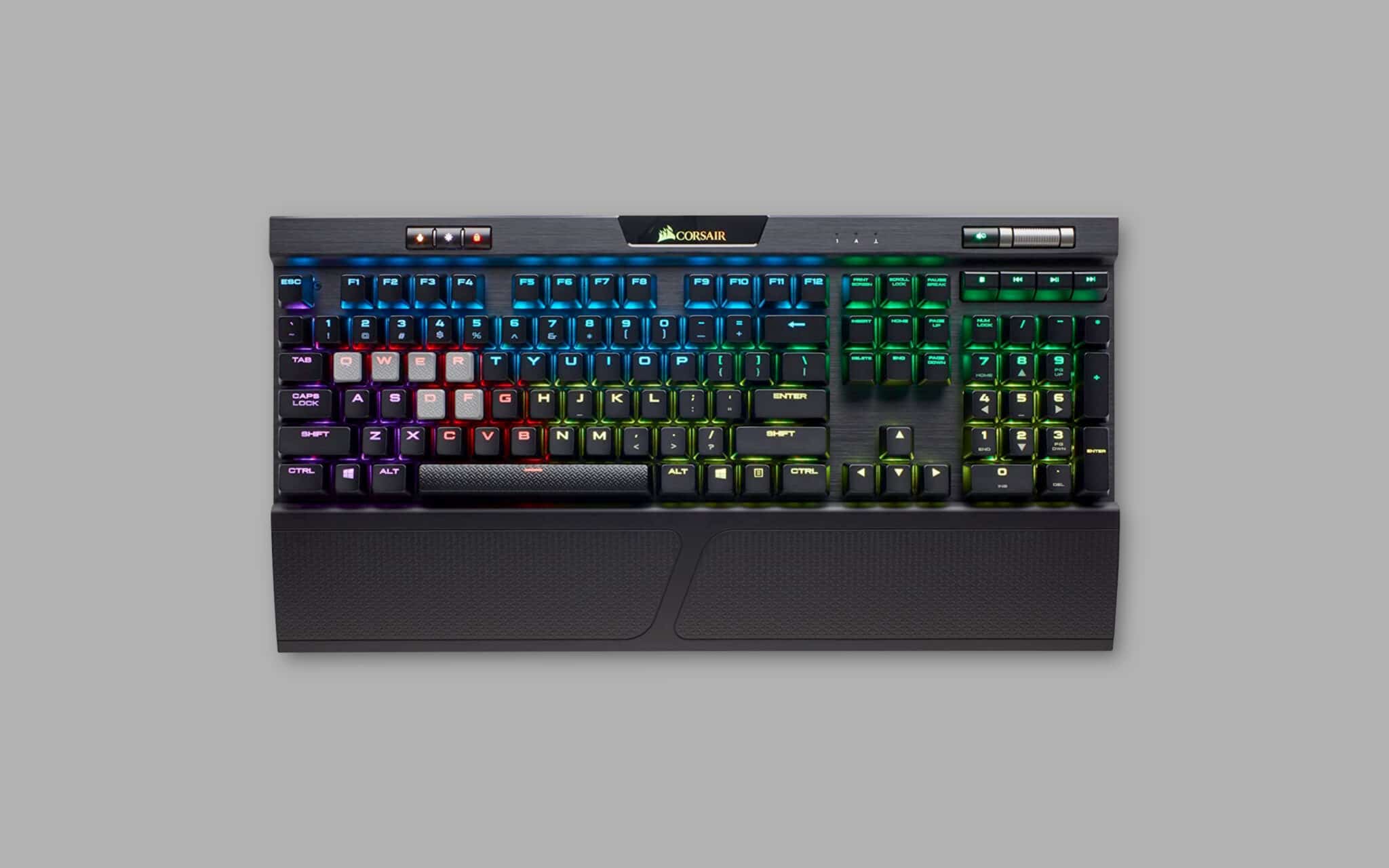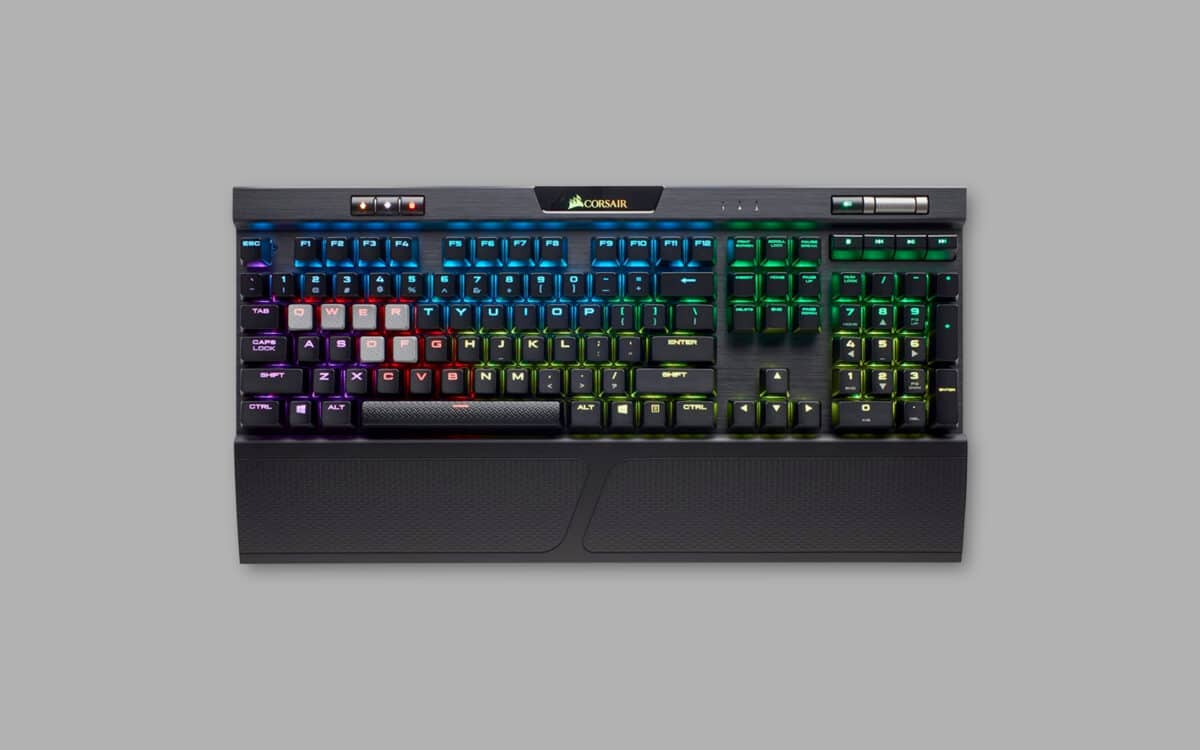 2. Cosair K70 RGB MK.2 Rapidfire (best frame)
The stunning Cosair K70 Rapidfire is among the best mechanical keyboard for programming options on the market today.
Unlike other competing keyboards, the Cosair eliminates cheap plastic in favor of a stunning aircraft-grade aluminum frame.
This means that you get a keyboard that can stand the test of time without being overly heavy.
The Cosair K70 comes with 8MB of profile storage so that you can set up as many as 3 profiles for different styles of programming and other world.
There's no external software required, just choose your profile and you're ready to go.
There's also the inclusion of a USB pass-through port for easy access to a mouse or headset.
Features include:
Aircraft quality aluminum frame
8MB of profile storage with support for up to 3 profiles
RGB backlighting with color customization
Rapid fire Cherry MX speed mechanical key switches
USB passthrough port
Cosair iCUE software for dynamic macro programming
Choose between standard, low profile, or special edition
The K70 is a highly customizable programming keyboard with delightful CHERRY MX switches that can support 1.2 millimeter actuation.
If you're looking for blisteringly fast performance and full system synchronization, Cosair has you covered.
Just keep in mind that the keyboard takes a few minutes to wake up from sleep. 
Pros
Beautifully smooth typing experience
Letters, numbers, and symbols are easy to read
Silent performance to eliminate distractions
Excellent key resistance
NKRO and APC features
Cons
Very expensive
Slightly flimsy feeling plastic on the keyboard frame
EDITORS CHOICE
The CORSAIR K70 RGB MK.2 RAPIDFIRE is a premium mechanical gaming keyboard built to last. Equipped with a lightweight durable aluminum frame and CHERRY MX Speed key switches, it boasts the reliability and accuracy you demand with blistering fast 1.2mm actuation.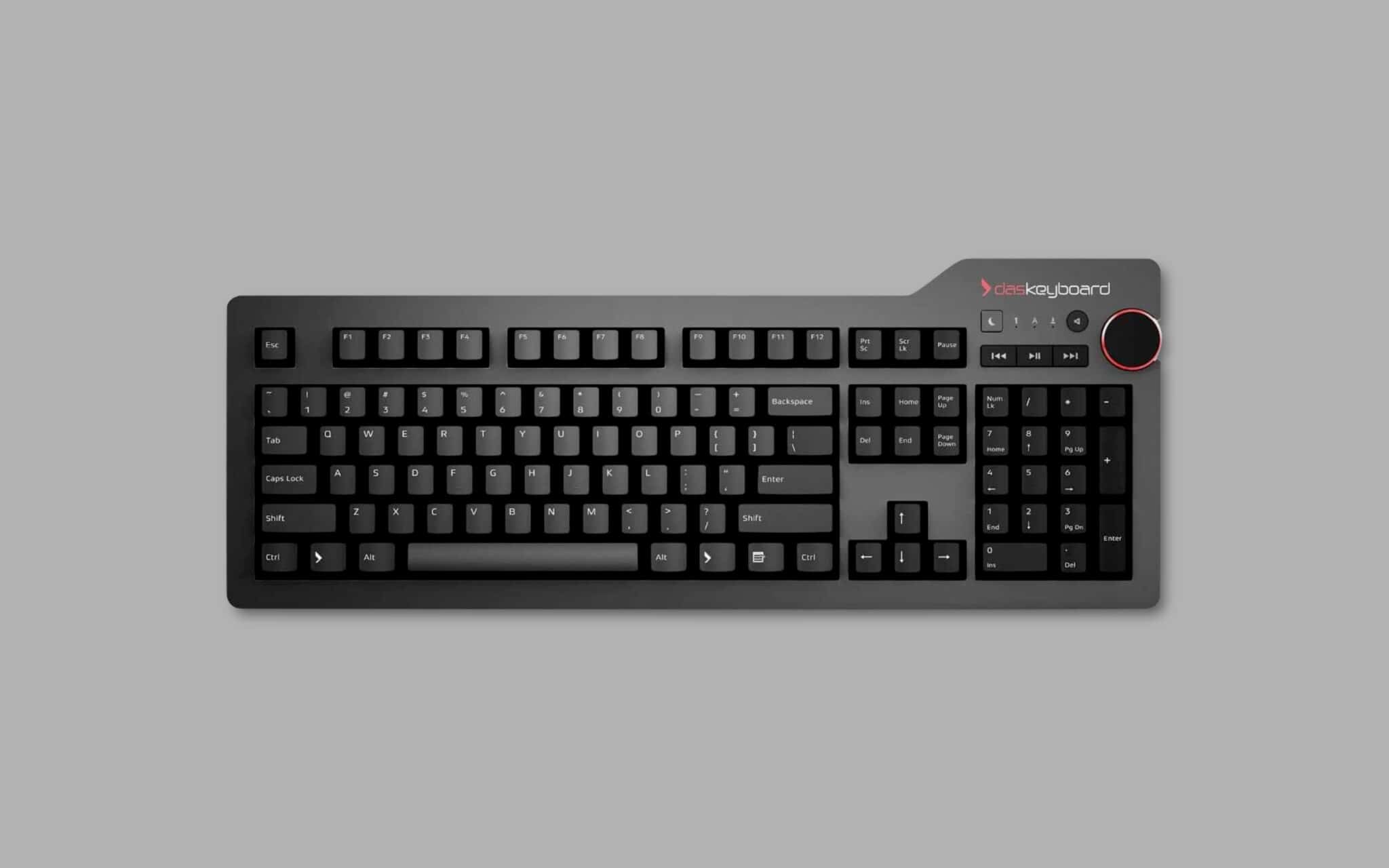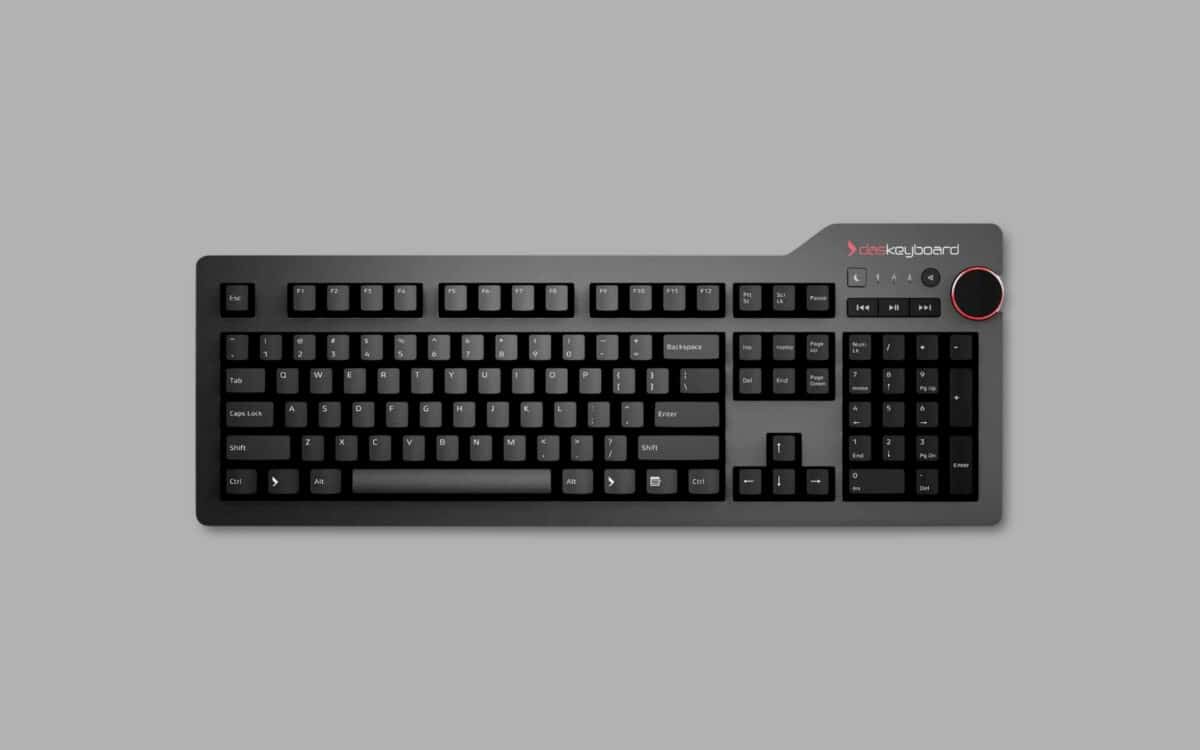 3. Das Keyboard 4 (best with USB ports)
When it comes to finding a good keyboard for programming, there's a lot of personal taste points to consider.
You'll need to think about what kind of experience you like with your keyboard, what size you want, and even what kind of switches are best for you.
The Das Keyboard 4 checks a lot of boxes for programmers with convenient Cherry MX brown mechanical switches with gold contacts.
Offering a soft tactile feel for a delightful typing experience, the Das Keyboard comes with laser etched inscriptions on your keys for easy clarity.
You also get an oversized volume knob and media controls for managing your music.
Features include:
Rugged Das German engineering withstands 50+ million keystrokes
Two port USB 3.0 Hub
Cherry MX brown mechanical key switches
Gold contacts for softer typing experience
Full N-key rollover to reduce ghosting
Laser etched key inscriptions
Oversized volume knob and media controls
Footboard (magnetically detachable) included
One of the biggest bonuses of the Das Keyboard 4 is the fact that it comes with two USB 3.0 ports so you can connect your headset and your mouse at the same time.
There's also a handy N-key rollover function that ensures your keyboard can process every keystroke individually no matter how fast you might be typing.
Keep in mind that the software included with this keyboard for programming can be quite difficult to use, however.
Pros
Excellent durability (withstands more than 50 million keystrokes)
Two port USB 3.0 hub for mouse and headset
Cherry MX mechanical key switches for tactile feedback
Media controls included
Magnetic footboard included
Cons
Difficult to use the included software
RECOMMENDED
The combination of tactile feel, the psycho-acoustic experience and incredible craftsmanship all deliver an unmatched typing experience that only Das Keyboard 4 offers.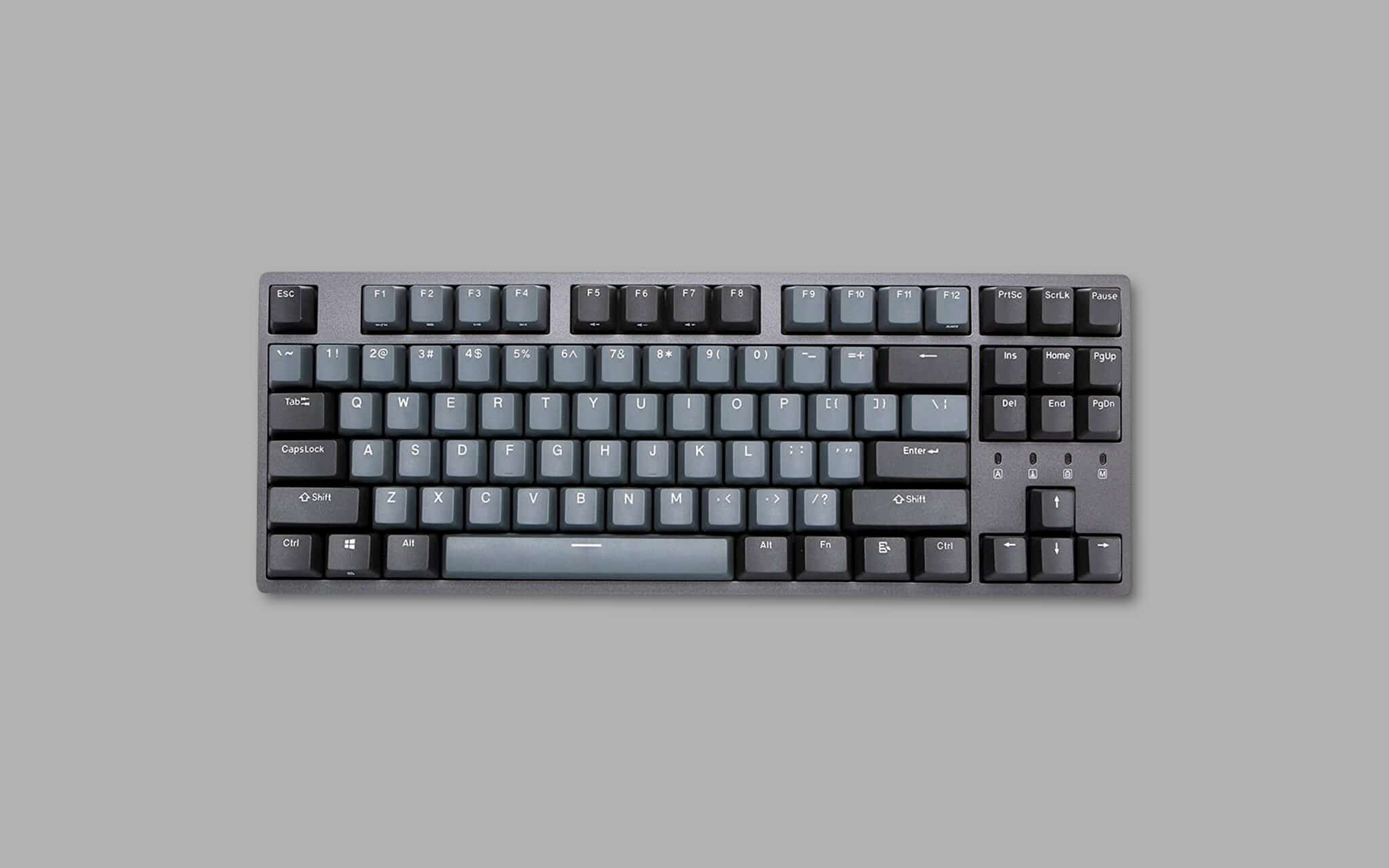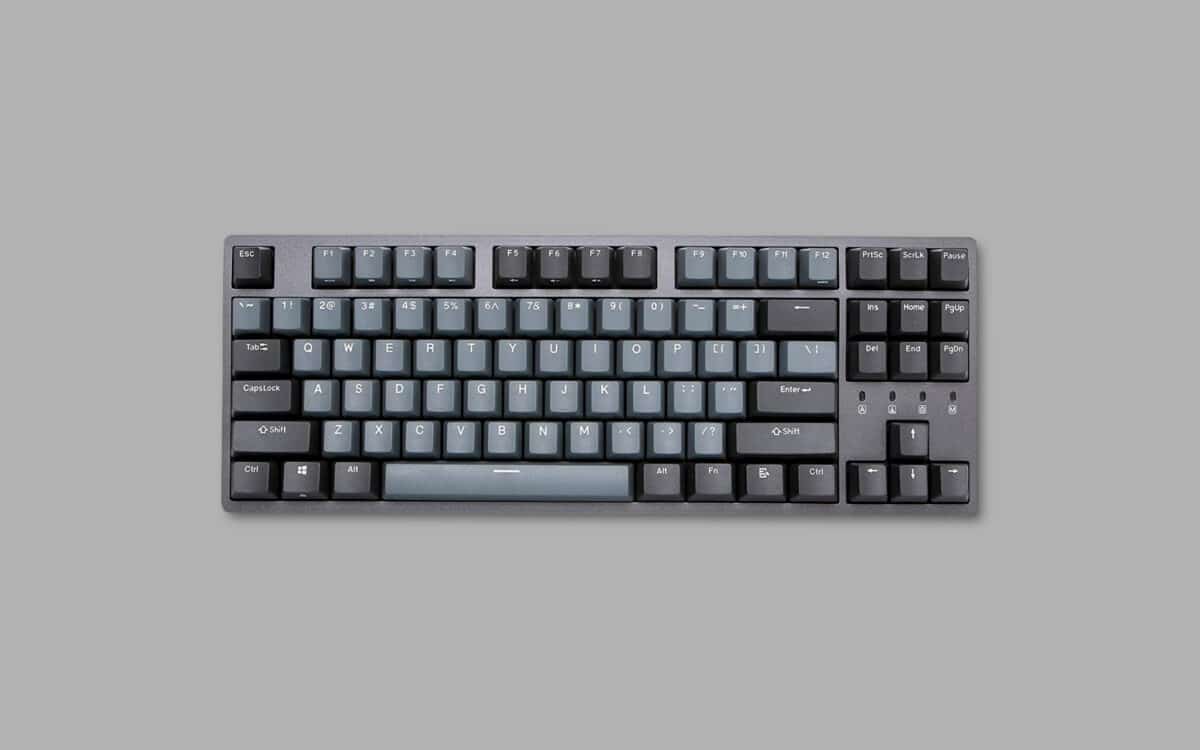 4. Durgod Taurus K320 TKL (best for simplicity)
Many of the best keyboard for programming options are gaming keyboards.
Like gamers, programmers need quick feedback and access to various customizable functions.
You probably don't need the same media controls and flashing lights of a gaming keyboard, however. For something simpler, you can try the Durgod Taurus K320.
This is a leading mechanical keyboard for programming with an option of tactile switches to choose from, from cherry silent red, to cherry blue and brown.
The 87 keys come with double-shot durable PBT keycaps.
The Durgod also features a sturdy case complete with adjustable feet.
Features include:
Double shot PBT keycaps
Cherry MX switches
Durable case with adjustable feet
Durgod Zeus engine software
Two different cables included
Compatible with all devices
Ergonomic and easy-to-use, the Durgod is a simple and straightforward keyboard for programming.
The Durgod Zeus engine software included means that you can upgrade firmware on your device wherever you are.
There's also the option to set up various macros and rebind keys according to your needs.
Another bonus – this keyboard works with Macs as well as PCs.
One slight downside is that you might have issues with setting up the software initially. 
Pros
Excellent durable design
Convenient range of switches to choose from
Software included to rebind keys and set macros
Lightweight design with feet included
Compatible with all devices
Cons
Not easy to set up for beginners
A little basic in appearance
RECOMMENDED
Tenkeyless 80% keyboard design, simple, elegant and compact size, saving you more space for your mouse and provides extra flexibility for your keyboard positioning.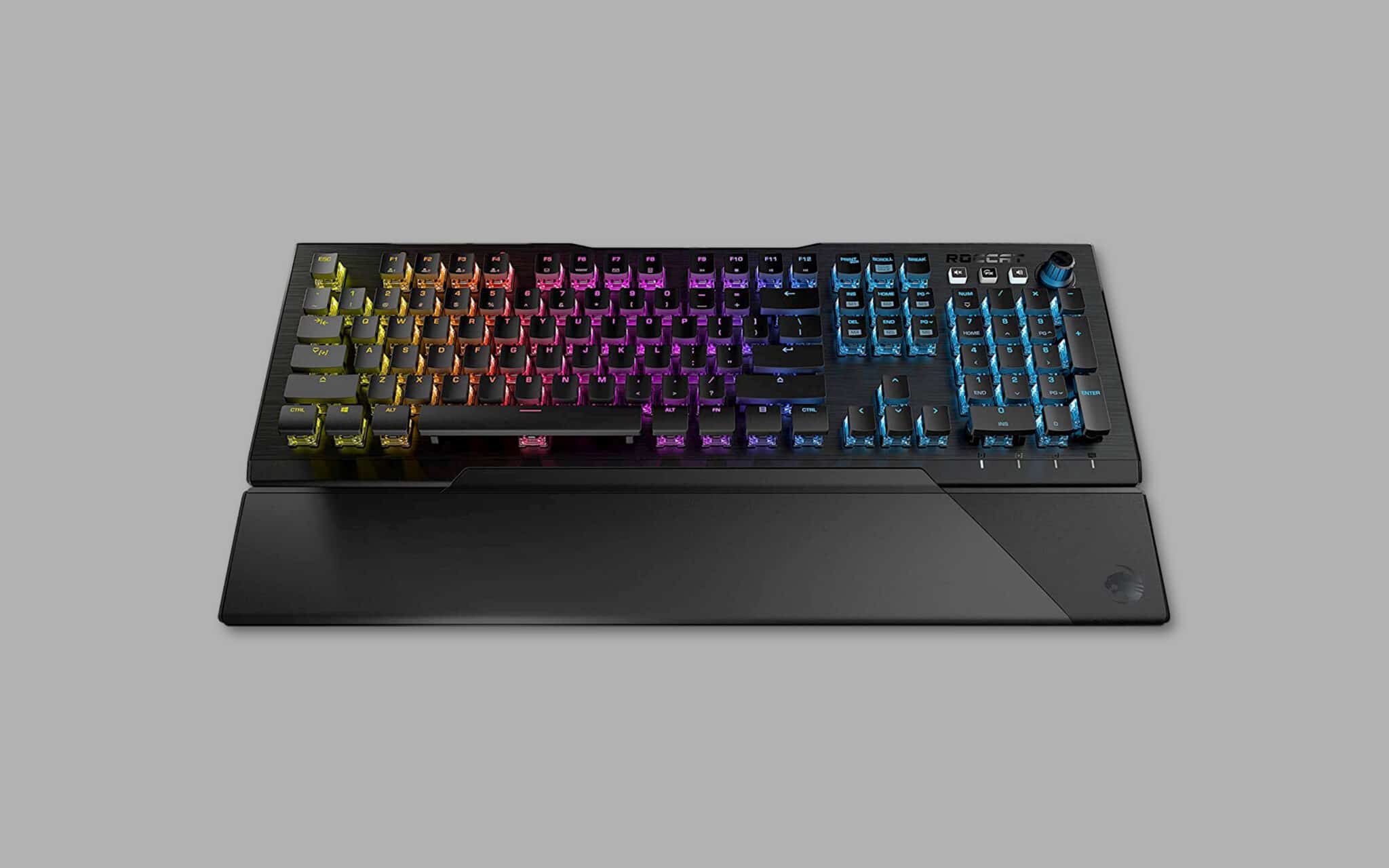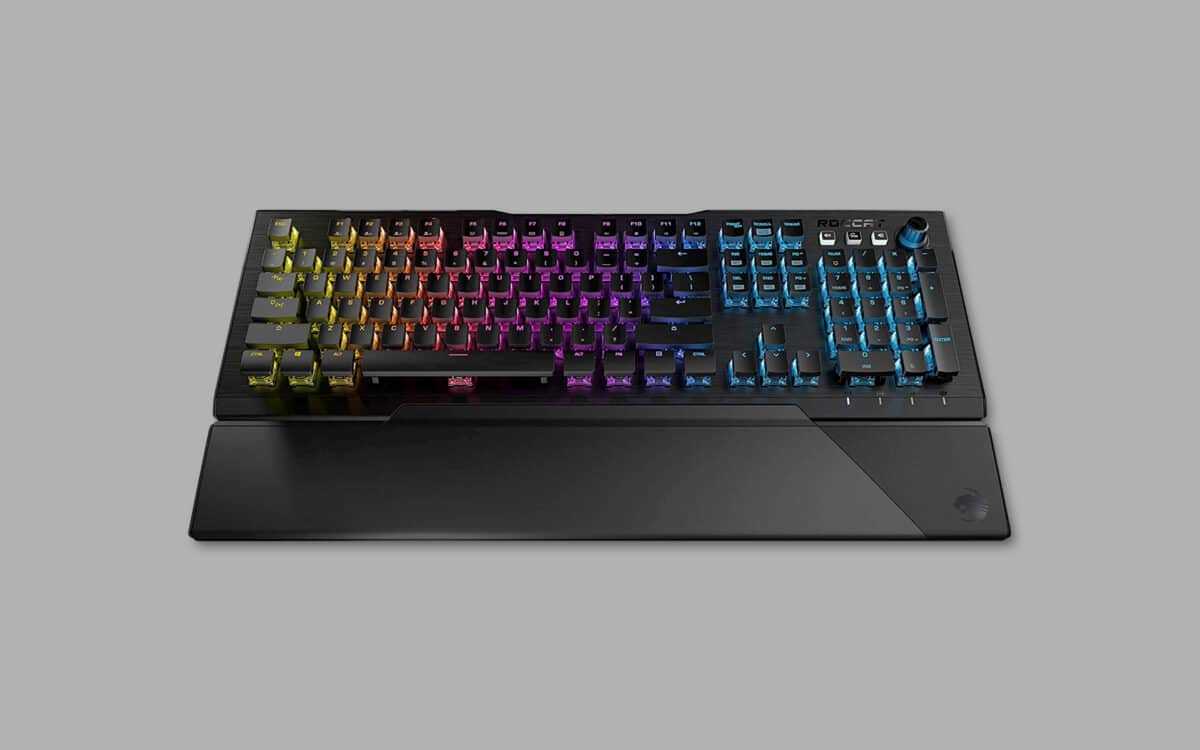 5. ROCCAT Vulcan 121 Aimo (best illumination)
Lighting might not be your top concern when looking for the best keyboard for programming.
Some experts use the custom lights on their device to help them track down hot-keys and combinations faster.
The ROCCAT Vulcan 121 keyboard is excellent for that purpose, with a fantastic lightweight and ergonomic design that you can take on the move.
This attractive keyboard comes with the option of brown or red switches, so you can choose how quiet you want your keyboard to be.
Switch bound is minimized thanks to premium components that allow your firmware to recognize input at lightning speeds.
Features include:
Minimal switch bounce with premium components
Tactile 1.8 millimeter actuation point
Adonized aluminum top plate for durability
Removable ergonomic palm rest included
Excellent reinforced key switches
Illumination with complete control over lighting
Media keys included with a volume wheel
Full N-key rollover
The ROCCAT Vulcan is more than just another gaming keyboard.
This programmer friendly keyboard comes with intelligent lighting components, and essential key performance.
The housing on the titan switches even resists dust buildup so that your keyboard can last longer.
 One slight issue is that some people find this keyboard to be a little more fragile than others.
Pros
Excellent high-performance switches for speed
Advanced anti-ghosting KNRO
Integrated macro and settings memory with light control
Titan switches resist dust and damage
Durable design for long-term use
Cons
Thinner and more fragile than some other keyboards
RECOMMENDED
The ROCCAT Vulcan mechanical gaming keyboard features a refined trio of speed, durability and illumination. A precision gaming tool, this keyboard is confidently built using the detail-oriented principles of German design and engineering.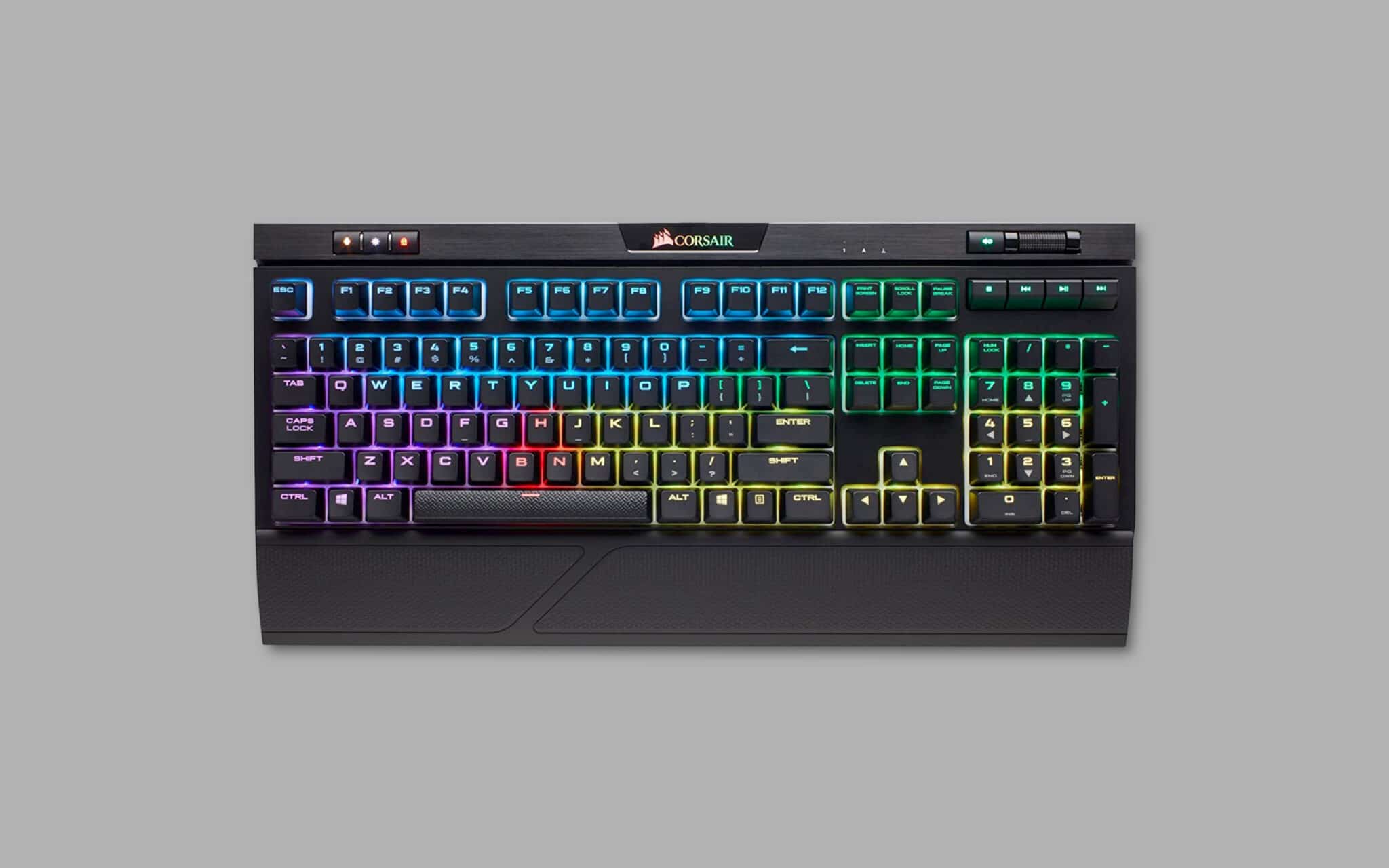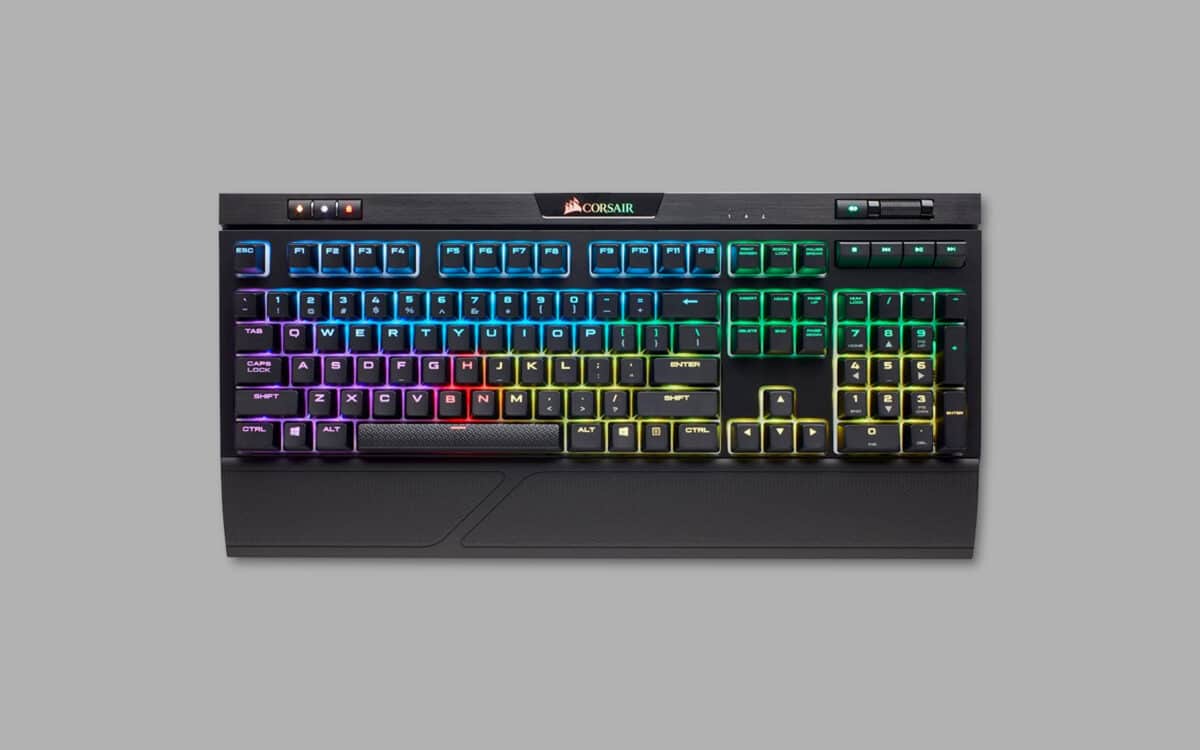 6. Cosair Strafe RGB Mk.2 (best silent performance)
Some people love using a mechanical keyboard for programming with clicky keys, because the feedback is tactile and satisfying.
Other experts say that a good keyboard for programming needs to be silent to minimize distractions.
If you fall into the second camp, you'll love the Cosair Strafe Mk.2 keyboard.
This convenient full-sized device comes with silent RGB mechanical switches that allow for up to 30% less noise when you're typing.
The dynamic multicolor key backlighting also means that you have full control over your key's illumination.
Like many of the options for the best keyboard for programming we've covered so far, this product comes with a full N-key rollover support for anti-ghosting and quick feedback.
There's also 8MB of onboard profile storage so you can save lighting effects and macros to take with you onto any computer or laptop.
Features include:
Dynamic adjustable backlighting options
8MB of onboard profile memory
100% MX silent RGB key switches
Excellent 100% anti-ghosting N-key rollover
FPS and MOBA keycap sets
Easy access with no need for extra storage
Durable and lightweight design
The Cosair Strafe keyboard for programming gives you full control over your keyboard performance with access to vivid lighting control, sophisticated macro programming, full-system lighting sync, and more.
All that, and you get a keyboard that looks fantastic too.
The clip that holds the optional hand-rest in place is a bit flimsy, unfortunately.
Pros
Dynamic adjustable backlight
8MB of profile memory
Silent Cherry MX key switches
Excellent anti-ghosting performance
Adjust your profile to suit you
Cons
Clips and plastic components are a little flimsy
RECOMMENDED
The next-generation CORSAIR STRAFE RGB MK.2 mechanical keyboard features 100% CHERRY MX Silent RGB keyswitches for key presses that are up to 30% quieter, alongside and 8MB onboard profile storage to take your gaming profiles with you.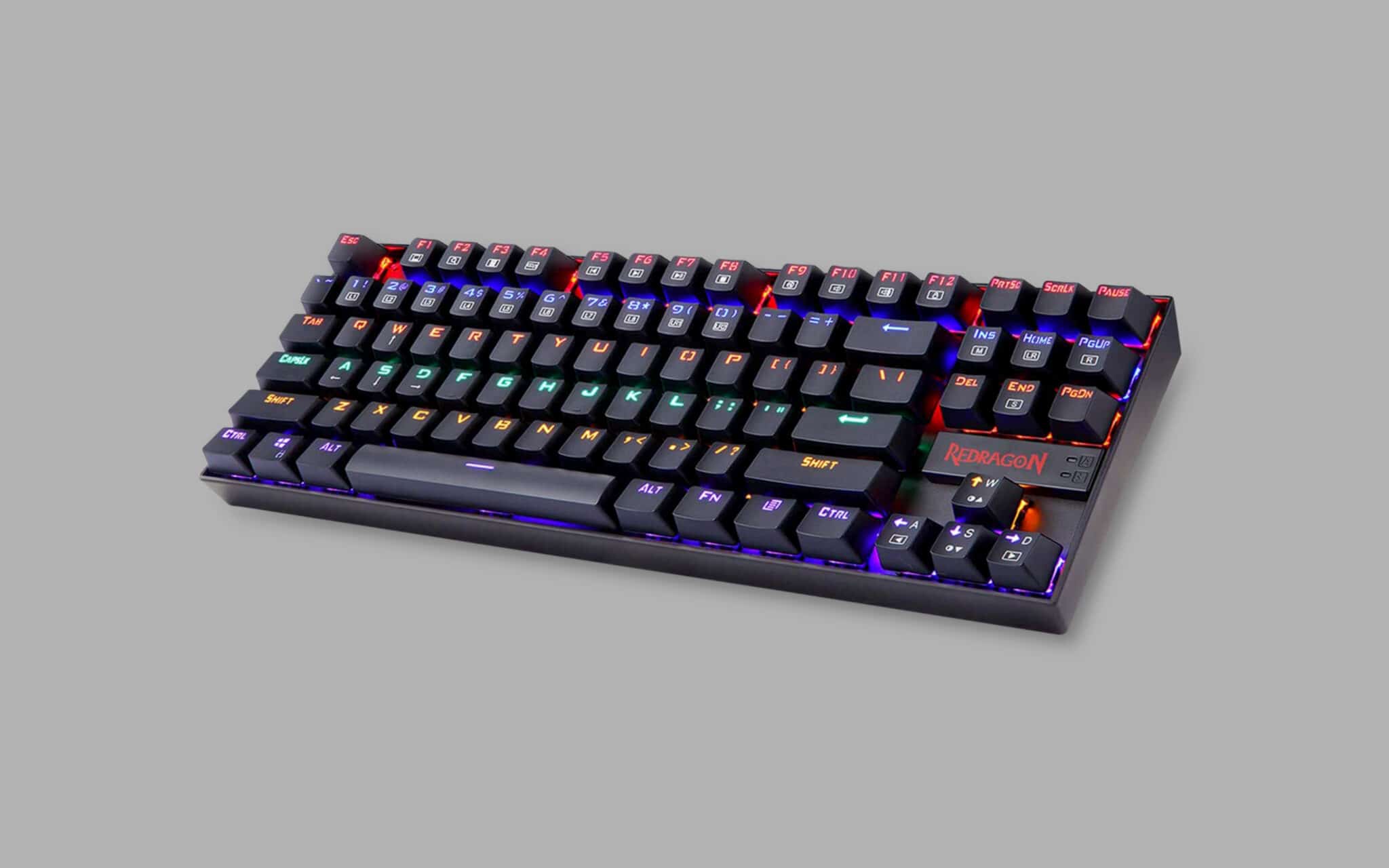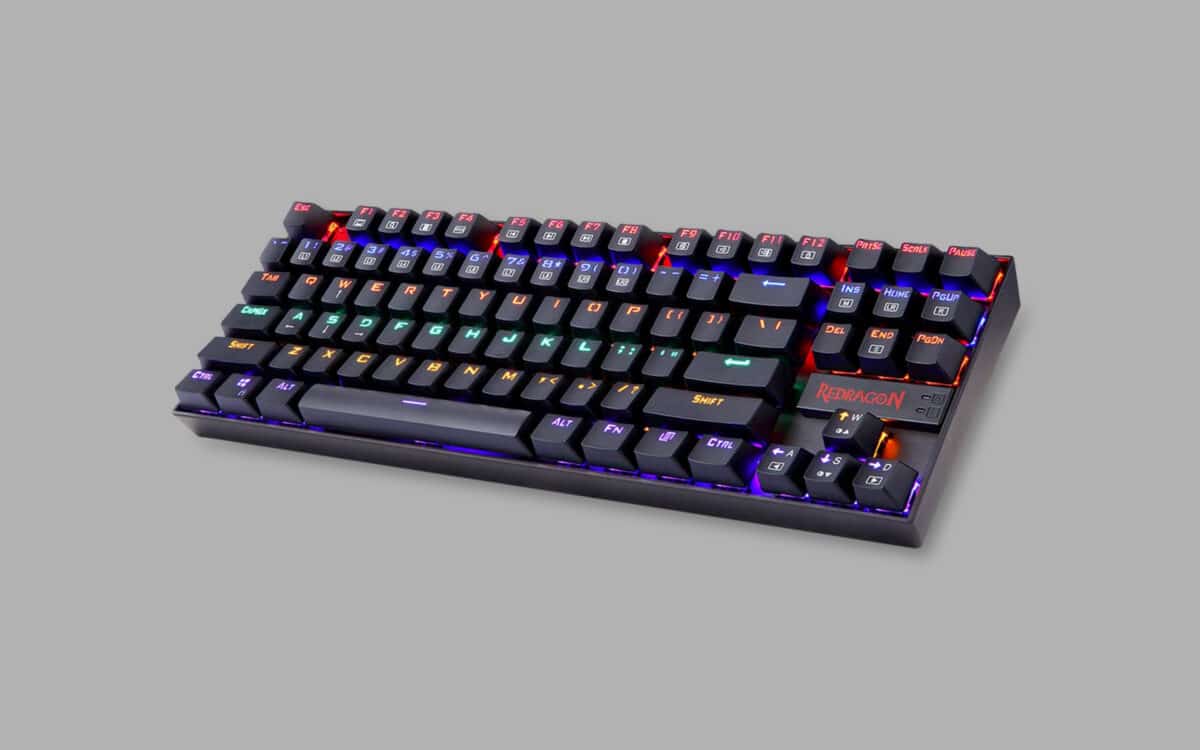 7. Redragon K552 Mechanical (best compact)
Another contender on our list of the best keyboard for programming options is the Redragon K552 mechanical keyboard.
This compact keyboard is great for people that need to take their work with them on the move. The compact design is lightweight, while still offering an excellent comfortable experience.
The Cherry MX red equivalent switches offer fast action with minimal resistance, and you also get a rainbow LED backlight system, with various lighting effects to choose from.
You can also adjust brightness levels too.
The ergonomic Steel series keyboard also comes with anti-ghosting components include (N-key rollover) to ensure quick responsivity.
Features include:
Compact design for portability
Dust-resistant tactile switches
LED RGB backlight control with multiple modes and brightness
Ergonomic performance with feet for angling
Anti-ghosting support with N-key rollover
Gold-plated high speed USB connector
Compatible with all Windows computers
This compact device is a great choice for programmers on the move.
The tactile keys offer a smooth feedback experience, and the precision engineered base features a metal alloy for durability.
Just remember that you don't get a numpad included with this keyboard, and you also can't use the Redragon with Mac devices. 
Pros
Compact and portable design
Dust-resistant but tactile switches
LED RGB lighting controls
N-key rollover for anti-ghosting support
Ergonomic design
Cons
Doesn't work with Macs
Not full-sized (No Num pad)
BUDGET PICK
The ergonomic designed steel series mechanical game keyboard provides a high-quality durable construction with plate-mounted mechanical keys and switches that stand up even during the most testing marathon gaming sessions.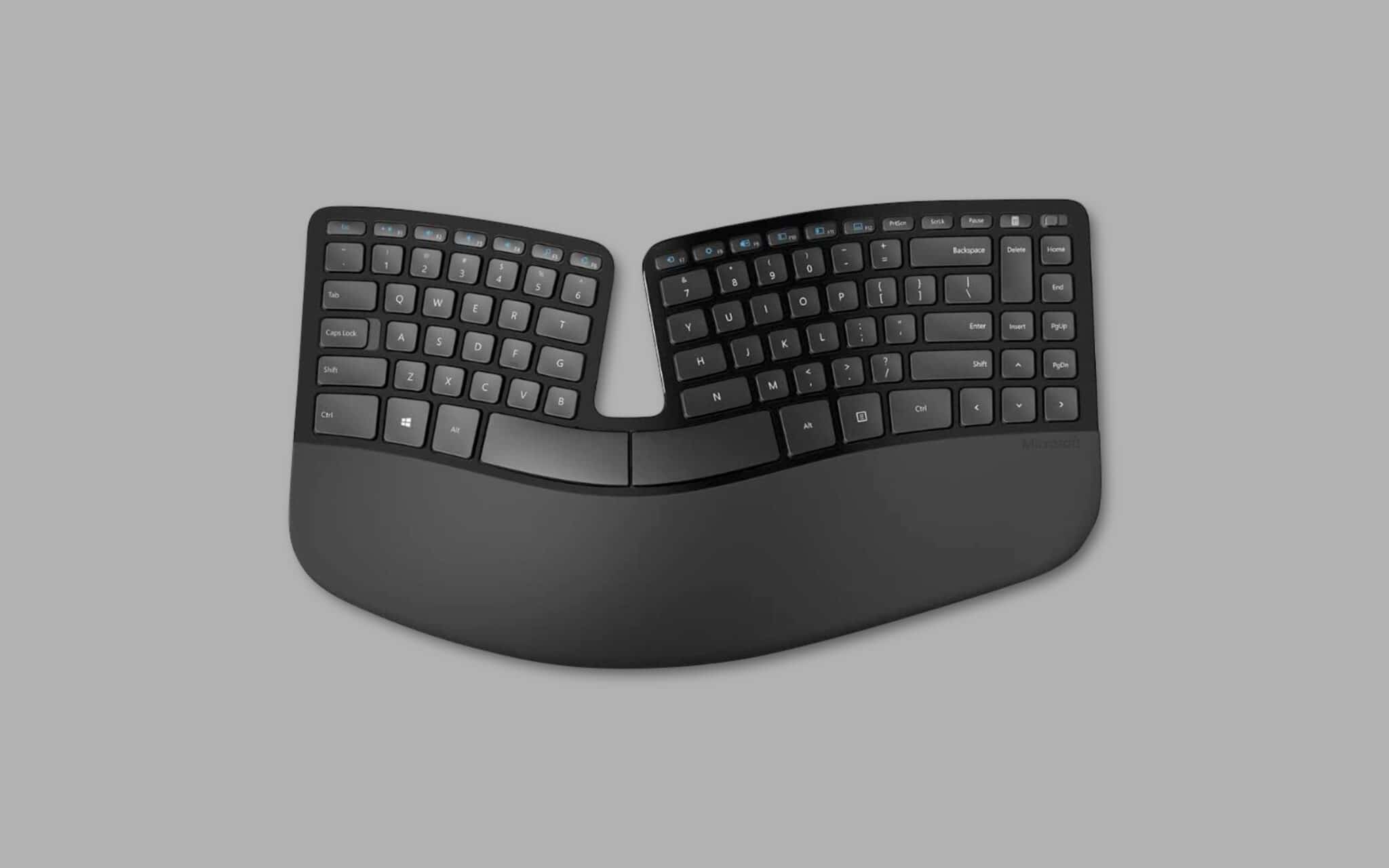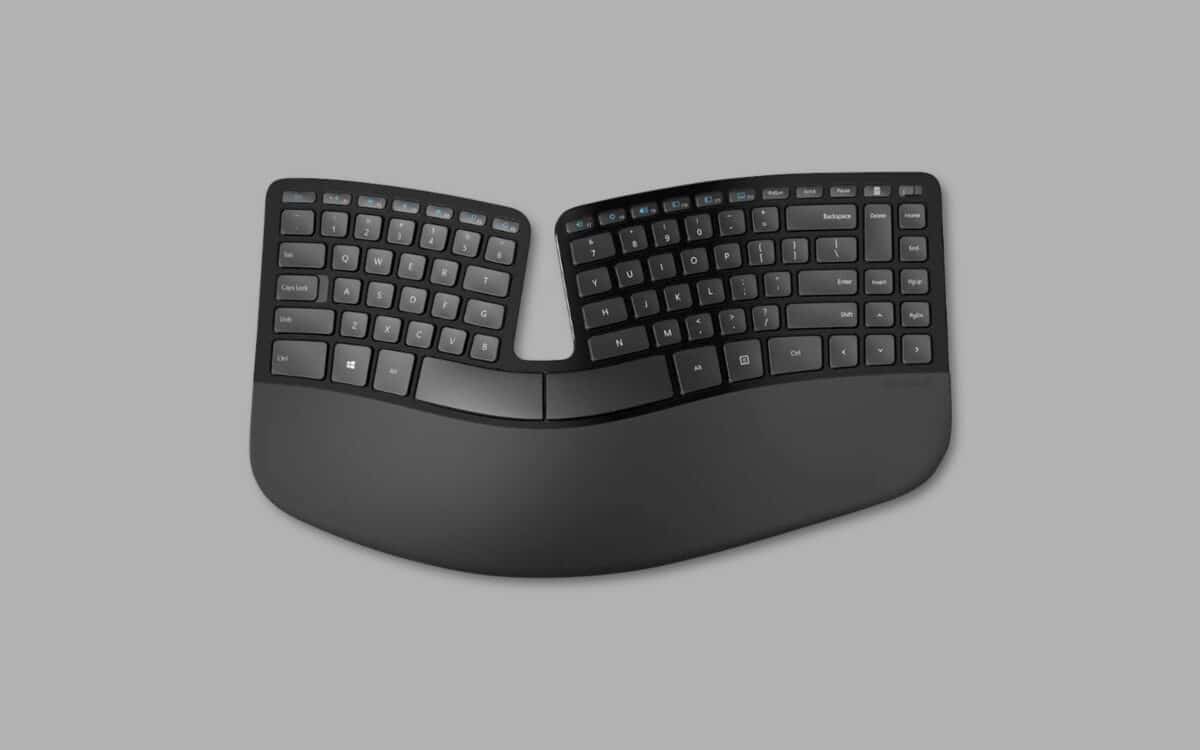 8. Microsoft Sculpt (best for comfort)
Sometimes, the most important thing to think about when you're choosing a keyboard for programming, is comfort.
If you're going to be working on a project for hours at a time, you don't want your wrists to be aching at the end.
The most comfortable keyboard for programming we've seen is the Microsoft Sculpt.
The Sculpt is an ergonomic desktop keyboard with a split keyset design to help position your forearms and wrists in a more relaxed way.
There's a cushioned palm rest for extra support and neutral comfort, and a separate number pad for additional flexibility.
You even get a mouse included as part of the kit.
Features include:
Mouse and keyboard combo
Split keyset design for ergonomics
Cushioned palm rest support
Separate number pad for more flexibility
Thumb scoop to preserve good wrist position
Back-button for quick navigation
Encryption included for better security
If comfort is the most important feature for your keyboard for programming, then you'll love the Microsoft Sculpt.
This is a keyboard that's 100% focused on giving you more comfort and control, with extra support for your wrists at any angle.
There's also a windows button for one-touch access to the home screen and a back button.
Keep in mind that there aren't as many special features included with this keyboard, though, such as N-key rollover, or backlights.
Pros
Ergonomic combination of keyboard and mouse
Excellent split keyset design with separate number pad
Supports good forearm and wrist positioning
Quick and easy access to home screen
Encryption included
Cons
No advanced features like N-key rollover
No programmable elements
RECOMMENDED
The Sculpt Ergonomic Desktop has a uniquely modern design and an amazingly comfortable feel. It's built on advanced ergonomic principles, incorporating a split keyboard layout to help position the wrists and forearms in a natural, relaxed position.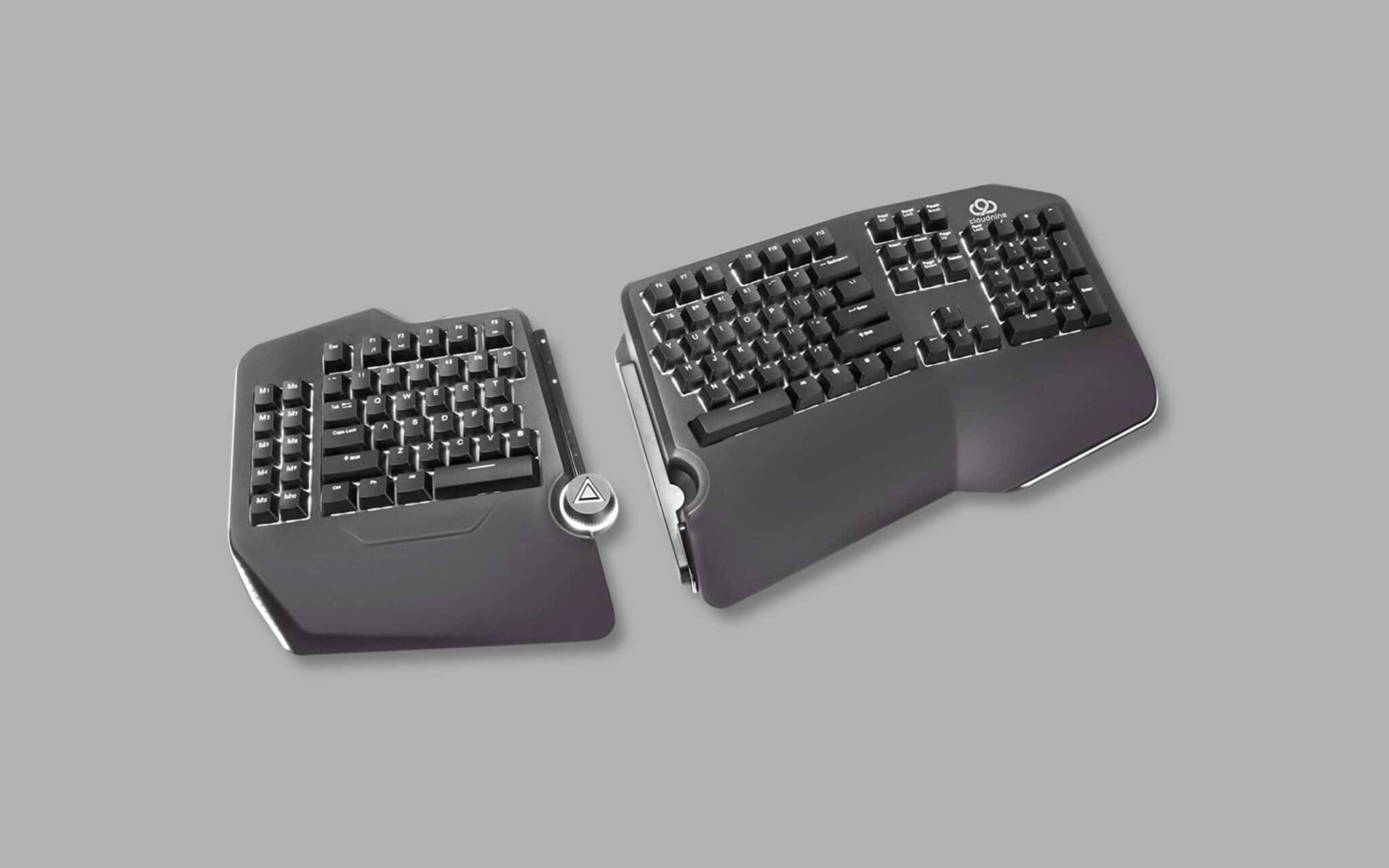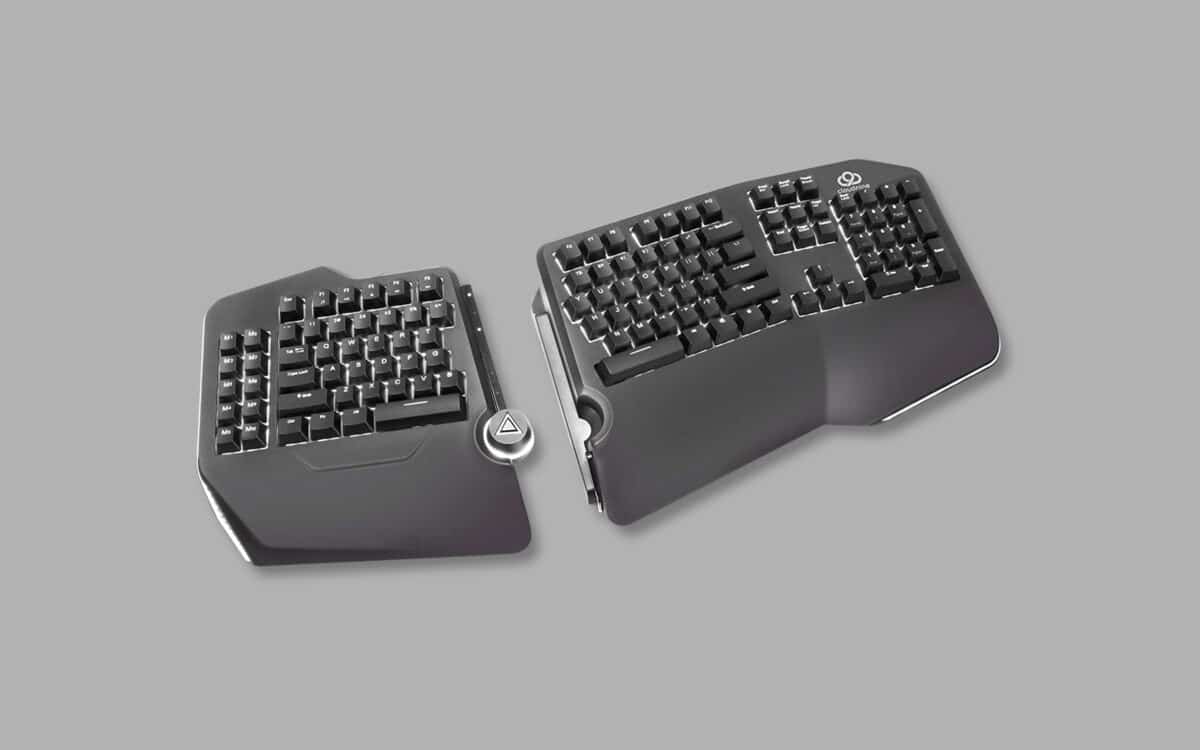 9. Cloud Nine C989M (best split keyboard)
The most comfortable keyboard for programming can come in a variety of shapes and sizes.
The Cloud Nine C989M ergonomic mechanical keyboard is an excellent choice for programmers that want both comfort and advanced features.
The split keyboard design reduces shoulder and wrist pain when you type, by keeping your arms properly aligned.
With built-in palm support and tenting, this ergonomic keyboard is a delight for people who sit in front of a computer all day.
There are seven angle options built-in so you can adjust the keyboard to suit your needs. If you've ever suffered from sore wrists or carpal tunnel, this could be the product for you.
You also get Cherry MX brown switches for excellent tactile performance.
Features include:
Split keyboard design to eliminate wrist pain
Tenting and palm support built-in
Cherry MX brown switches
Illuminated keys with lighting options
USB pass through included
Dedicated multi-media dial
Customizable keys
The Cloud Nine keyboard for programmers isn't just an ergonomic device.
This product comes with high-quality Cherry MX switches for tactile feedback, and a USB passthrough for attaching your headset or mouse.
There's the option to control the lighting options on your keyboard too. The numeric keyboard can be difficult to reach, unfortunately. 
Pros
Excellent mechanical keys
Good split keyboard design for comfort and ergonomics
Multi-media dial included
Customizable illumination included
USB passthrough
Cons
Difficult to reach the numeric keypad
RECOMMENDED
Split keyboard design helps eliminate wrist and shoulder pain while you type. By keeping your hands and arms properly aligned, this ergo keyboard helps provide pain-free typing for 8 plus hours a day.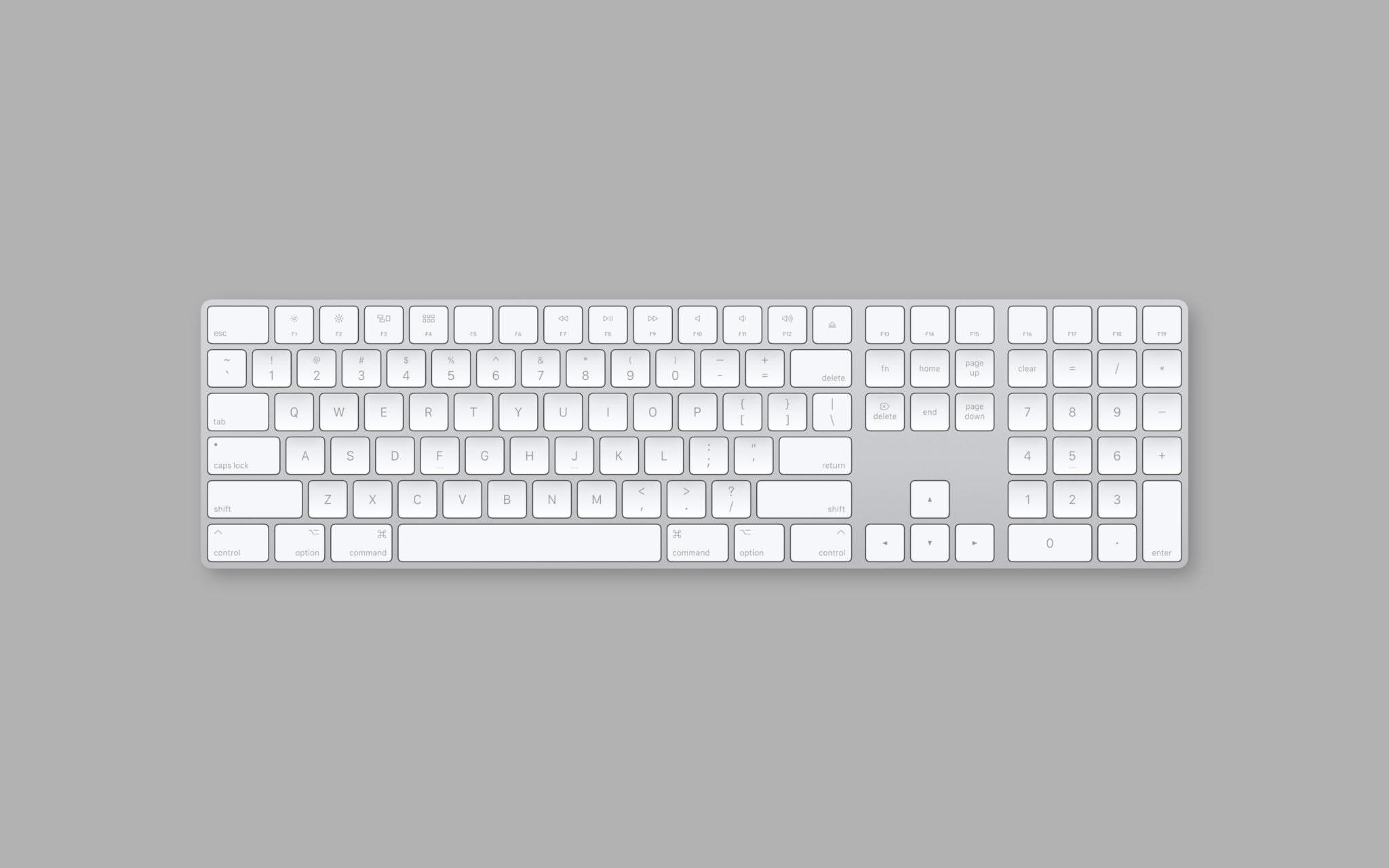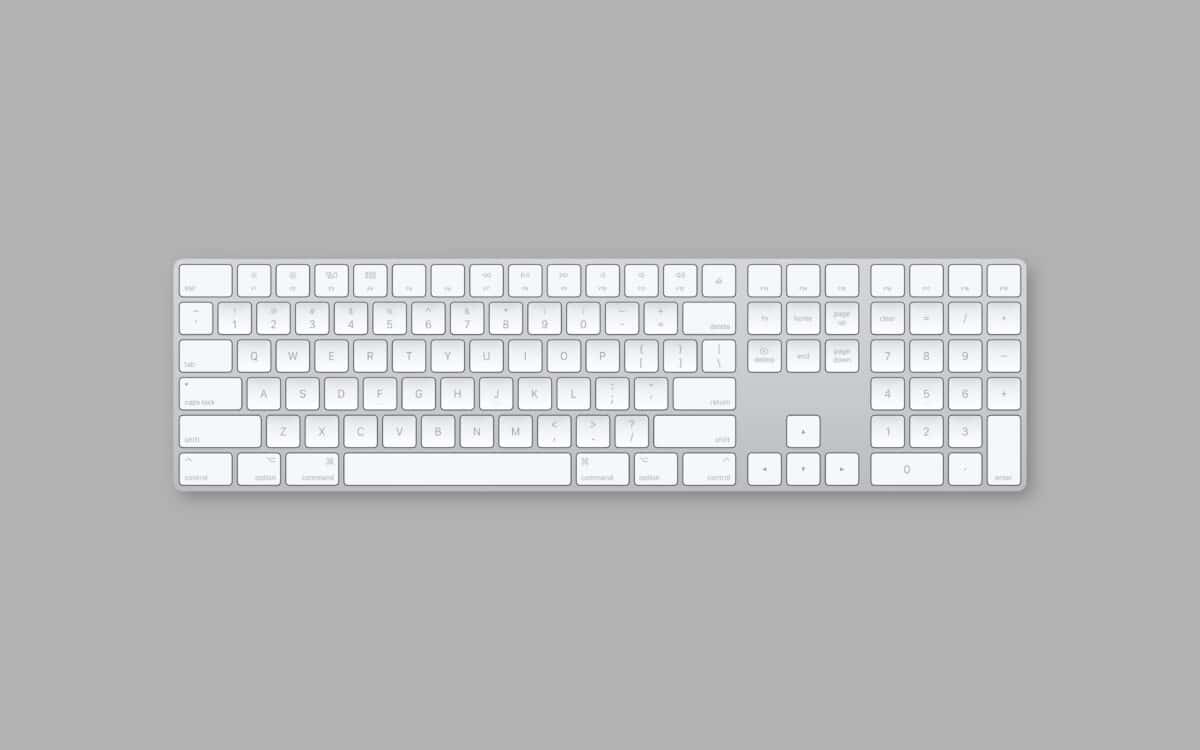 10. Apple Magic Keyboard (best for Mac)
Finally, if you're a dedicated Mac user, then the best keyboard for programming for your needs is likely to be a little different.
Although you still want the same ergonomic and comfortable experience, you also need a keyboard that's fully compatible with your device.
One of the best Mac keyboard for programming options is the Apple Magic keyboard.
Perfect for freedom and flexibility, the Apple Magic Keyboard comes with a numeric keyboard included on an extended layout.
The scissor mechanism beneath each key offers fantastic stability, while the device itself is wonderfully lightweight.
Features include:
Excellent extended layout with document navigation controls
Scissor mechanism on each key for tactile feedback
Low profile and lightweight design for travel
Numeric keyboard included
Beautiful comfortable design
Solid feel and look that's unique to Apple
Lightning port rechargeable
Internal battery for great transportation
This is the kind of keyboard you'll love to have around when you hate being tied down to a desk.
You recharge your device using your lightning cable and it's ready to use wherever you choose.
Although you don't get mechanical key switches here, you will get a unique design that offers a similar tactile responsivity.
This device is only suitable for Macs, however.
Pros
Comfortable and solid design
Low profile lightweight structure
Easy to scroll through documents and projects
Internal battery for programming on the move
Perfect for use with your Mac
Cons
Only suitable for Macs
No mechanical switches
PREMIUM PICK
The Magic Keyboard with Numeric Keypad features an extended layout, with document navigation controls for quick scrolling and full size arrow keys for gaming.
Today's best deals at a glance!
How to choose the best keyboard for programming
The best keyboard for programming is a valuable investment, capable of improving your productivity levels, and even reducing errors in your coding. Of course, choosing the right keyboard for programming isn't always simple.
Your keyboard is the most important devices in your professional arsenal. You need something that's comfortable, lightweight, responsive, and even customizable.
A good keyboard for programming should offer excellent feedback on any keypress, as well as an ergonomic design that you can use all day. Some of the features to consider include:
Size
Do you need a compact keyboard for programming on the go, or a full-sized device? Remember that there are different styles of keyboard out there depending on whether you want access to a numerical keypad and other features. Full-sized keyboards will give you more control over a wider selection of feedback.
Design
You don't necessarily need a keyboard that lights up and comes with various bells and whistles to be a successful programmer. Instead, look for the most comfortable keyboard for programming, with ergonomic elements that are going to help you prevent wrist and muscle strain. If lights are important, make sure that you can adjust them according to your needs.
Compatibility
The best keyboard needs to work with the device you're going to use. Being able to switch between Apple or Windows devices is usually helpful if possible. If not, ensure that your keyboard will work with the operating system you use most often.
Responsivity
Any great programmer keyboard needs to be responsive. To ensure excellent performance, look for N-key rollover, or NKRO. This ensure that your keyboard will be able to register all of your keystrokes individually no matter how fast you might be typing.
Extra features
Access to things like USB pass-through ports can be useful if you want to attach a mouse or headphones to your keyboard. It might also be worth looking for a keyboard that offers access to various customization elements. For instance, can you adjust keystroke performance or assign features to different key sets?
Switches
One of the most important considerations for your programmable keyboard will be which mechanical switches you're going to use. Here are the most common options:
Clicky switches: Blue and green
Tactile switches: Clear and brown
Linear switches: Black and red
Clicky switches offer clicky feedback which can be satisfying for some. Tactile switches come with an actuation bump when you press them. Linear switches offer no tactile bump or click.
Enjoy your new keyboard for programming
A good keyboard for programming can come in a variety of shapes and styles. It's up to you to find out which option works for you.
There are a lot of options to choose from, including mechanical keyboards that offer fantastic tactile feedback, and ergonomic keyboards.
You might even find that your best choice comes with extra features, like programmable keys.
Whatever you do, you're going to need to invest in something that makes spending hours in front of your keyboard a little more comfortable.
Our top choice is the RealForce R2 PFU. Although this keyboard is quite expensive, it does come with a fantastic lightweight design, full N-key rollover, and support for up to 50 million keystrokes.
You also get absolute control over your APC too.
Good luck picking your ideal keyboard!
Fabrik: A branding agency for our times.