The best 8K monitor might sound like a dream come true, but is it really worth spending all that cash? Capable of around double the quality of a 4K monitor, many of us can scarcely imagine what gazing at 8K monitors might feel like.
4K is now widely regarded as a must-have resolution for graphic designers, artists, and visual professionals. The better the resolution, the more amazing your work becomes. However, upgrading to an 8K monitor isn't quite the no-brainer it seems to be.
Not only do you have the headache of an 8K monitor price to worry about, but you may not even be able to find content capable of running in 8K on your new device.
Today, we're going to give you a quick intro into 8K monitors, 5K alternatives, and whether it's really worth spending cash on an 8K resolution.
What is 8K? The 8K monitor resolution
First, let's cover the basics. An 8K monitor is a super high-resolution screen capable of delivering almost unimaginable levels of clarity.
The average resolution of an 8K monitor is actually a little lower than 8000 pixels. From the options we've seen on the market so far, the closest you're going to get is around 7,680 pixels by 4320. Of course, it's still a really high resolution, doubling the performance of the 4K monitor (3840 x 2160).
So, is 8K really better than 4K? In theory, it has to be.
Higher resolution means a better-quality image. Right?
The truth is, you might not actually notice the difference. Some studies suggest many of us actually can't tell the difference between 4K and 8K, because the human eye is really only capable of taking in so much detail.
Unless you were pressed with your face to a monitor constantly searching for tiny changes – you're not going to feel the impact.
It's also worth noting there are very few 8K monitors actually available right now. A monitor with this level of resolution would need to be huge to generate a real difference for your eye – which means you'd need a pretty massive office space for editing footage.
Speaking of your footage – just because your monitor can display 8K resolution, doesn't mean the files, photography, video, and programs you run will perform at this level.
Is an 8K monitor worth it? Is 8k pointless?
8K monitors sound like an amazing purchase for graphic artists and designers who need sensational levels of detail, but they may not be worth spending all your cash.
Although there are a handful of 8K TVs on the market, the number of 8K monitors is extremely limited – you'll struggle to find anything suitable for your desk space.
How much does an 8K monitor cost?
ViewSonic announced a new 8K monitor at the beginning of 2021, but it's pretty difficult to find. This device can apparently deliver 99% Adobe RGB and comes with a host of display ports and "puck" for photo editing.
This may be one of the most powerful monitors out there, but it comes at around five times the price of a high-quality 4K monitor, at around $5,000.
Is an 8k monitor worth it?
Not only is the price of an 8k monitor difficult to stomach, but you're probably not going to be able to find one of these monitors anyway.
On the one hand, you could argue buying an 8K monitor will help you to get ahead of the curve and future-proof your design setup. On the other hand, the reality is many experts believe 8K will never actually replace 4K fully.
Look online for things like a Samsung 8K monitor, Asus 8K monitor, or LG 8K monitor, and you may be able to find a television – if you're lucky. Many of the top companies have avoided manufacturing and delivering a large number of these devices, because they're unlikely to sell.
While television sales are possible among people looking to have the best-of-the-best, monitors are extremely unlikely.
Though it's true designers and photographers might need access to higher levels of resolution than the rest of us – the majority just aren't working with projects in need of 8K technology.
8K cameras are extremely rare, so finding content you can use with 8K projects is almost impossible. 8K content also has a much higher file size than even the highest frame-rate 4K video, so it requires a heck of a lot of storage space.
What is the best 8K monitor?
As much as we'd love to take you on a tour through leading 8K monitors, the reality is there really aren't a lot of options on the market. There's a (low) possibility you may be able to find an 8K television and hook it up to your computer as a monitor – but even this will be difficult.
Products like this Samsung 8K monitor have been around for quite a while. Perhaps it's just the lack of income available from this sector scaring companies away. 
Here are a handful of options to try.
Read on for more…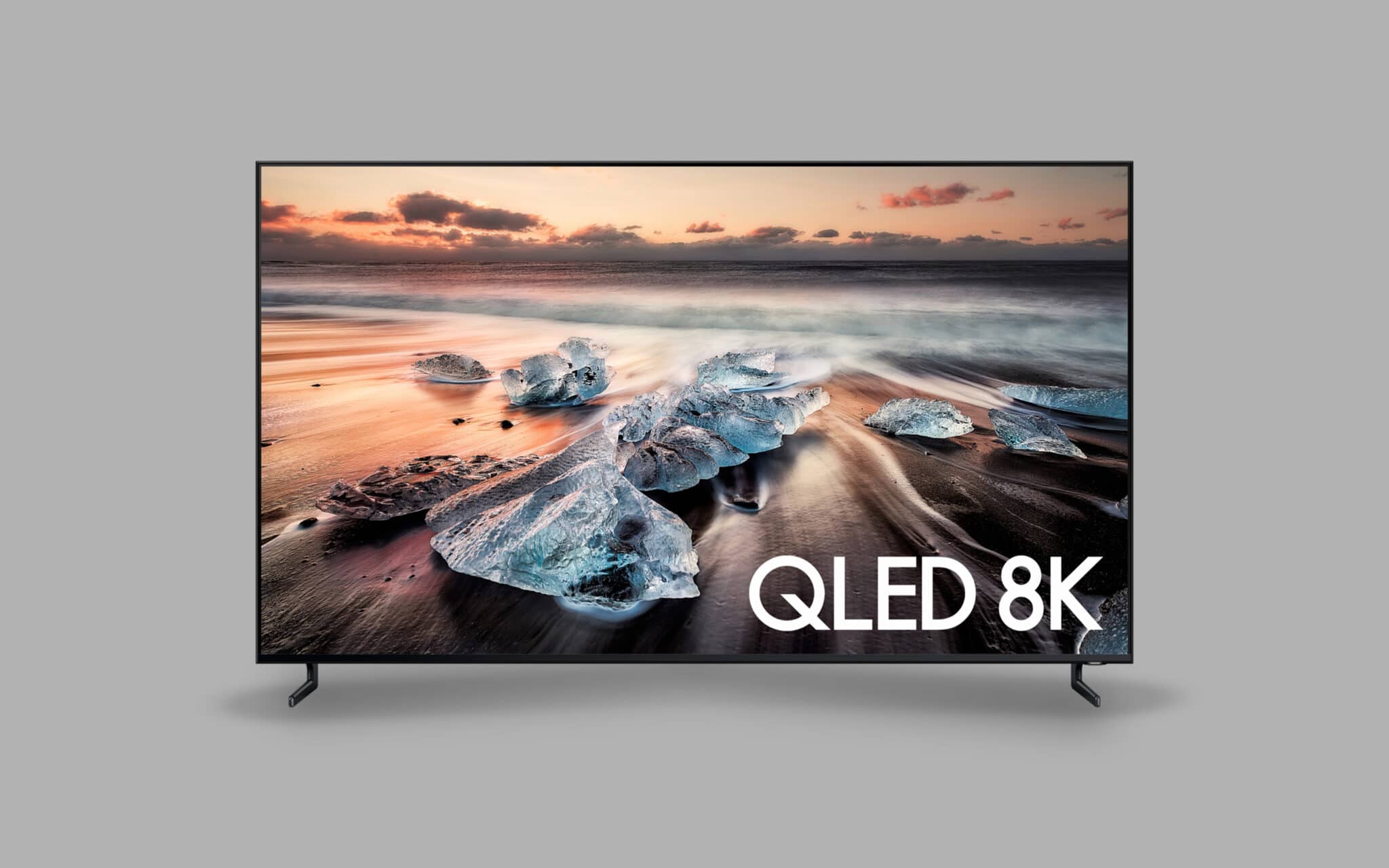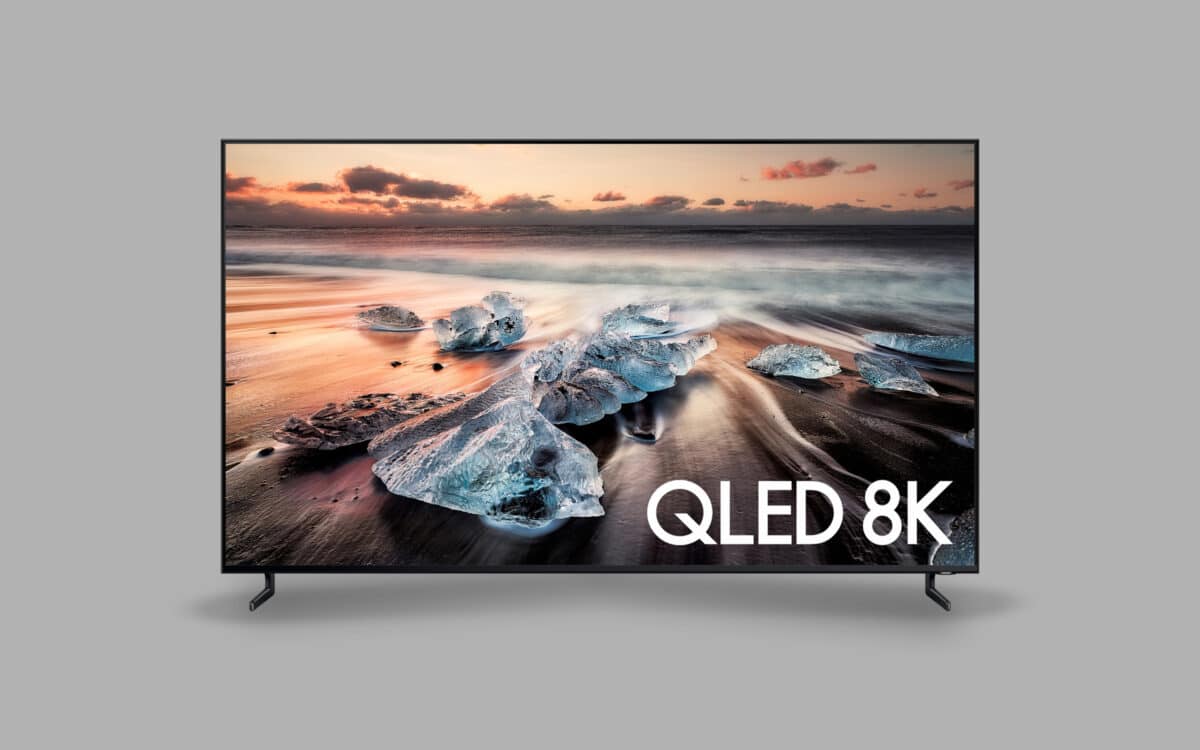 1. 55-inch Samsung 8K monitor/TV
Available direct from Samsung, the 55-inch QLED monitor from Samsung is actually a smart television – not a monitor, so you're going to have limited capabilities in the way of inputs and outputs.
If you can set this device up to work in place of your monitor, it's one of the smaller TV options we've seen on the market so far, making it a little more accessible.
You'll get a quantum processor for 8K resolution, 8K AI upscaling, real 8K resolution, and a Quantum HDR 24x performance for super-deep colors.
Promising sensational picture quality, the AI upscaling feature is a nice touch here, as it helps to improve the quality of your content, even when not captured in 8K originally.
Features include:
Automatic adaptation with AI intelligence
Excellent viewing angles with minimal glare
8K resolution with super big-screen clarity
55-inch monitor
QLED smart features
Voice control
Alexa and Google Assistant
8K Quantum processor
3 USB
4 HDMI connections
Again, this technically isn't a monitor, so you're going to have to manage some workarounds if you want to get your hands on this device for work purposes. Still, it's a good insight into what an 8K device might be capable of.
Pros:
Intelligent upscaling
Voice control
Deep black with full array dimming
Intelligent processor 8K
Dolby vision
Samsung Q900
Samsung's most powerful TV enables today's content to be remastered into stunning 8K detail with optimized sound and picture.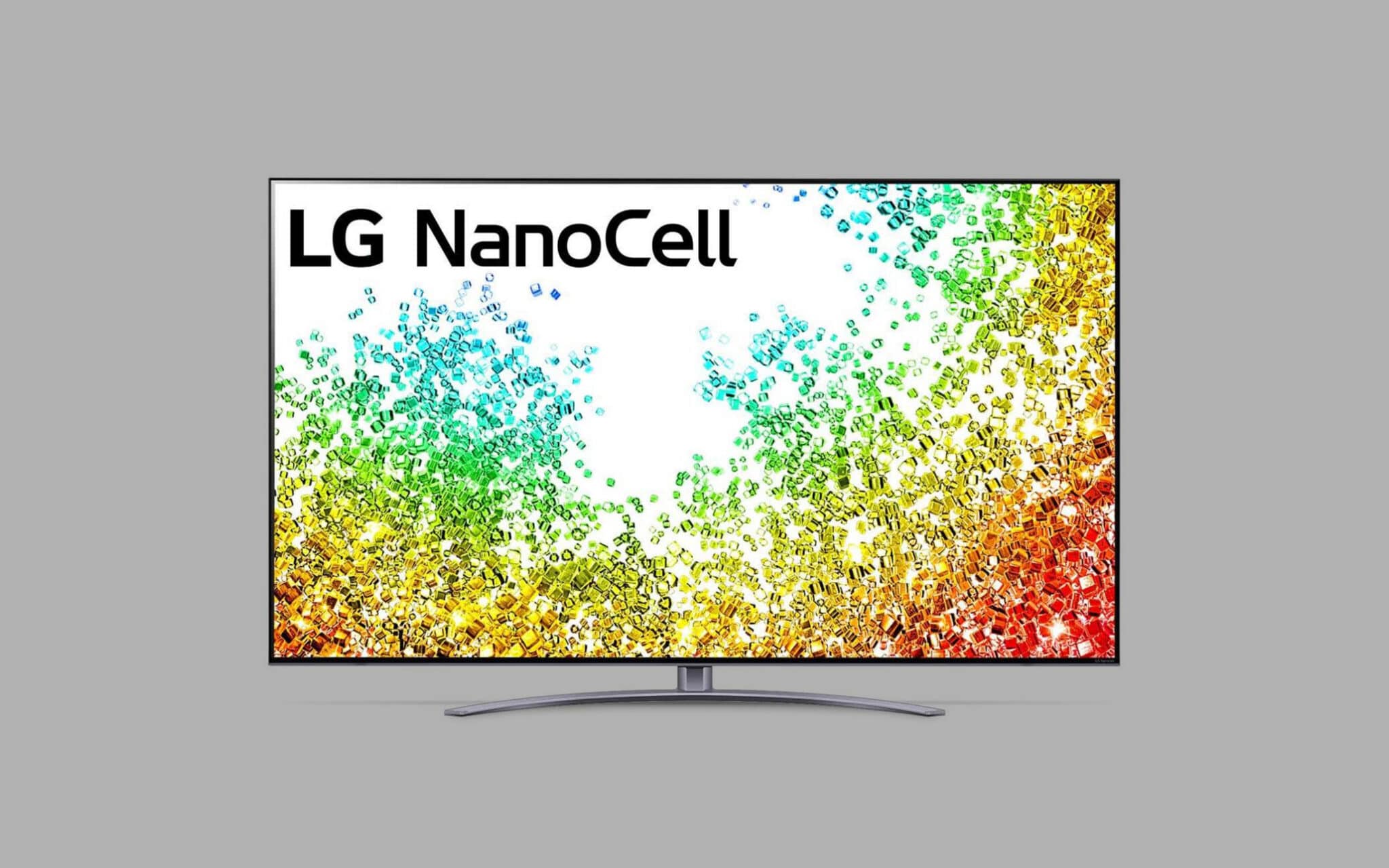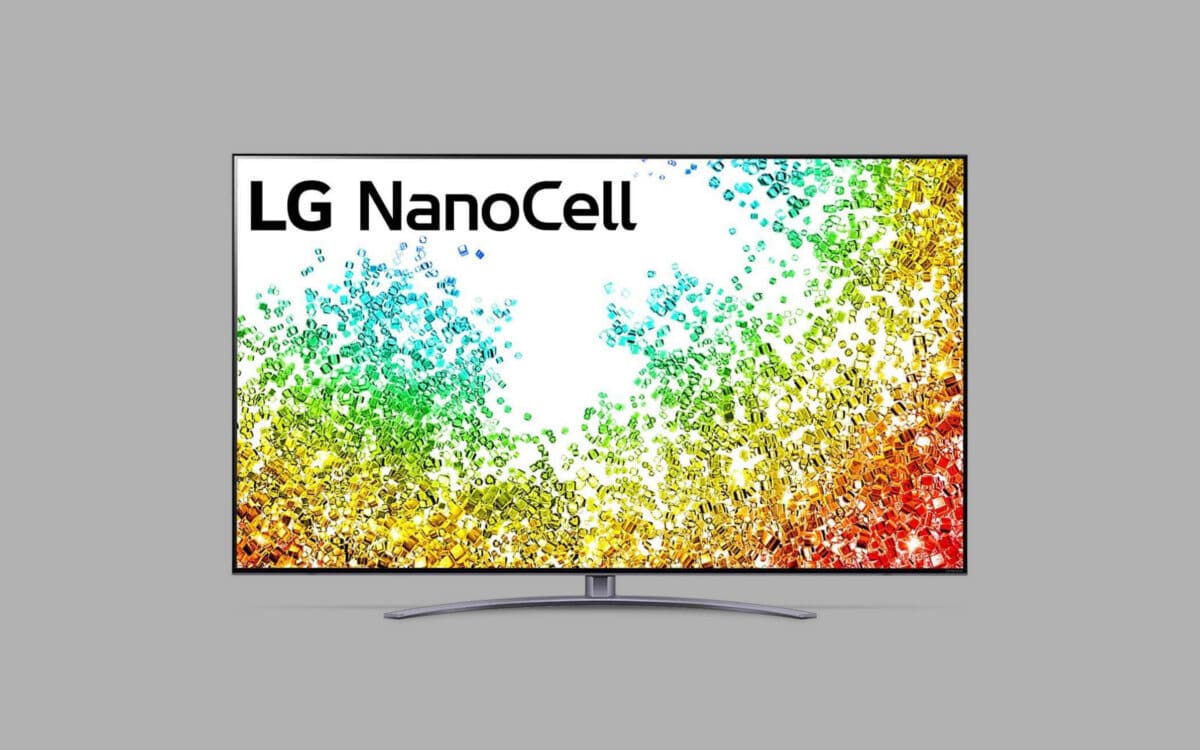 2. LG Nano96 65-inch
Since we gave a shout out to the Samsung television above, let's have a look at another television alternative from LG. Again, you'll have to work around things a little here, which means using a HDMI or DP cable to connect your TV to your computer.
As you might expect, the LG Nano96 also offers a sensational quality image, with pure colors and deep blacks. The 8K display is pretty incredible, but it's probably not going to change your life that much if you're not staring at every detail every second.
The nanoparticle technology is pretty impressive – but we think it might be just as appealing on a 4K or 5K monitor
Features include:
8K Nano-cell screen
65 inches of beautiful imagery
Ultra luminance Pro
Gen4 AI processor with 8K resolution
Web OS smart TV
AI 8k upscaling
Dolby vision included
HDR Pro
AI Pro audio
Amazon Alexa and Google voice controls
2 HDMI connections
2 USBs
Overall, you get a pretty impressive television/monitor here if you're willing to pay the extra cost. But it's hard to see too much of a difference between this and a standard 4K or 5K screen, particularly if you're still buying the same Nano-cell technology from the LG team.
Pros:
Nano-cell technology
Fantastic AI upscaling
Access to voice controls
Great audio
Decent number of smart features
LG Nano96 65-inch
Bring your work and favorite shows to life with LG's bright, vivid 8K NanoCell technology.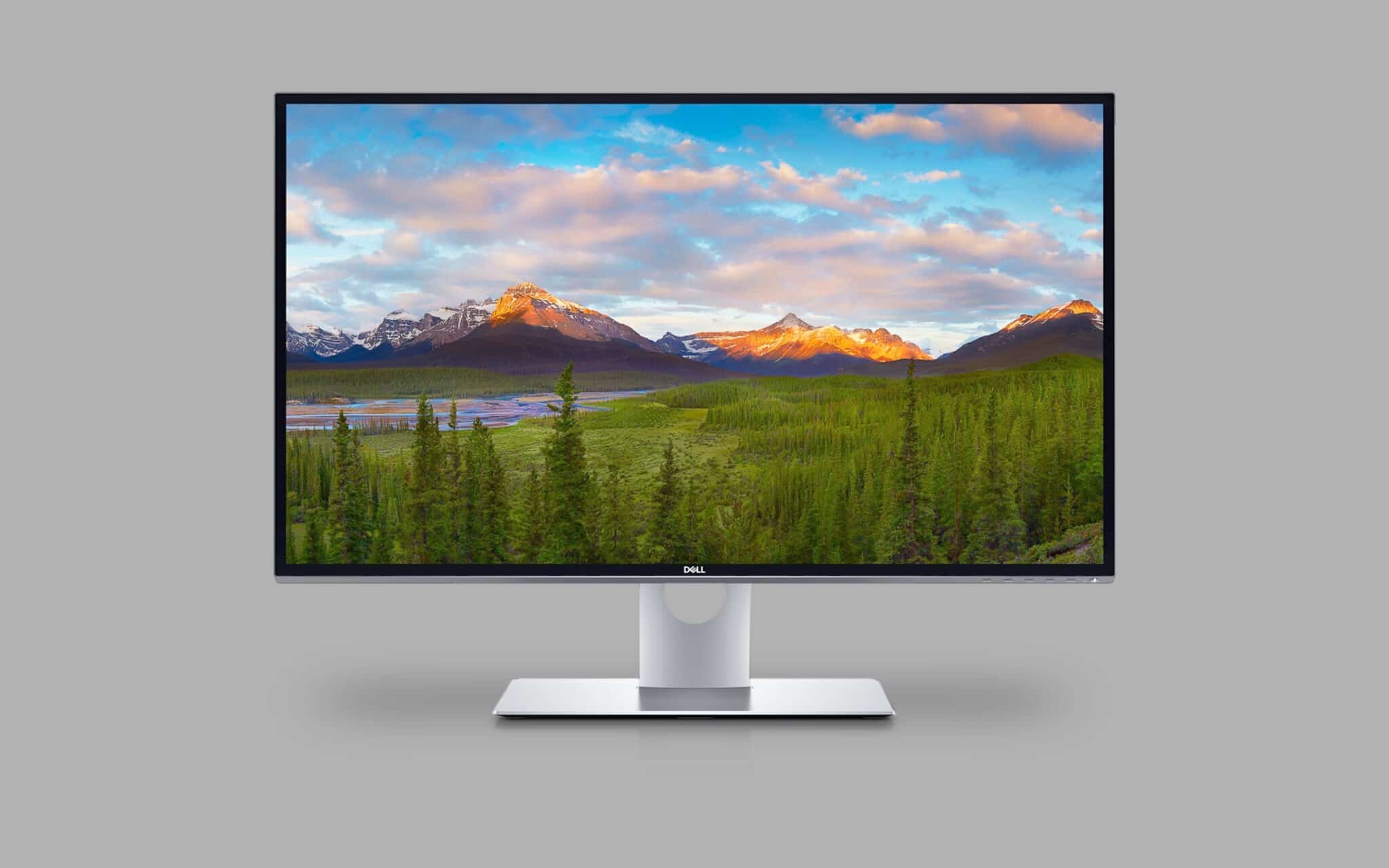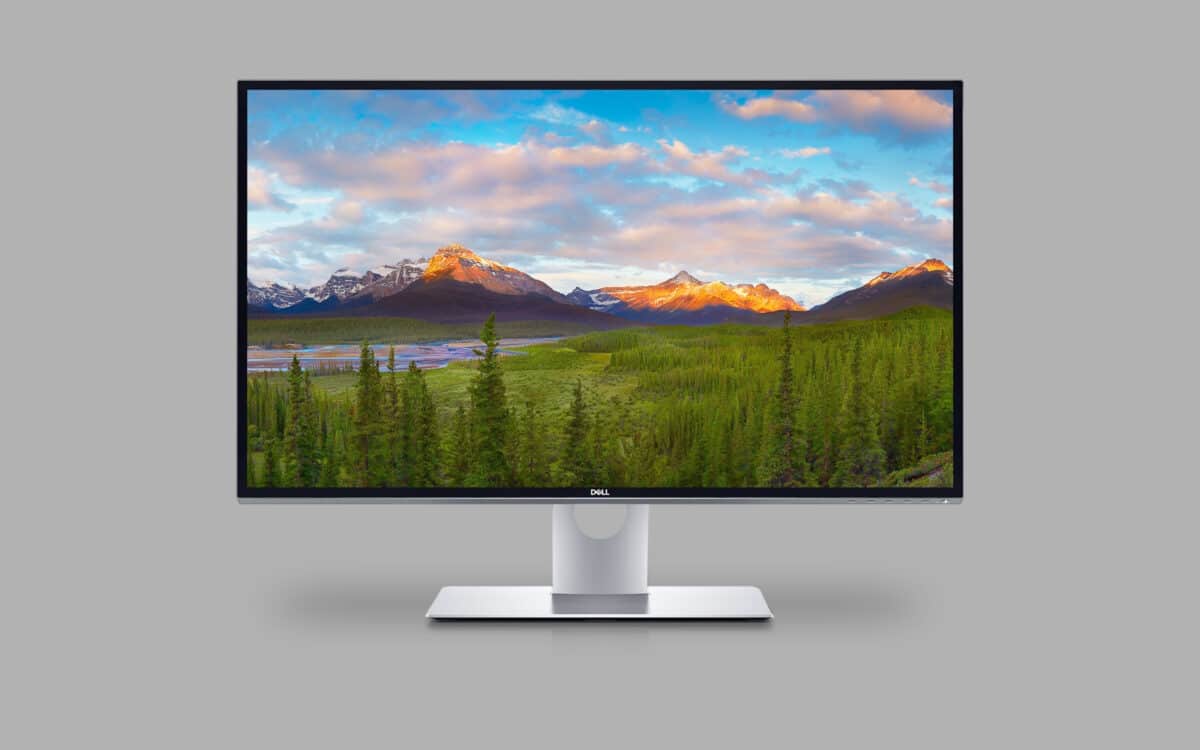 3. Dell Ultrasharp 32-inch 8K monitor
Finally, we come to the only actual 8K monitor we were able to find on the market right now. This is literally the only device selling as a true 8K monitor at the time of writing this article.
The 32-inch monitor from Dell promises the world's most compelling monitor, with 8K Dell Premier Color performance. You'll experience stunning unprecedented realism from every image, stunning details, and an unforgettable 33.2-million-pixel resolution.
Unlike any monitor we've ever seen, the Dell Ultrasharp comes with 100% sRGB, 100% AdobeRGB, and 100% Rec for immaculate color. Support is available for more than 1.07 billion colors, and you can even see amazing color in dark spots.
The option to use Custom Color mode also means you can adjust color parameters according to your specifications.
Features include:
USB 3.0 hub
LED backlit LCD monitor (32 inches)
IPS panel
1.07 billion colors
8K native resolution at 60 Hz
EPEAT registered
Anti-reflective screen
2 display port connectors
Audio line out
6ms response time
Impeccable color gamut
To make things even more impressive, the Dell Ultrasharp comes with superb options for usability. The height adjustable stand can tilt, swivel, and pivot according to your needs. You can even turn your screen fully vertical if you like.
Overall, this dedicated monitor does give us a good insight into why someone would want to buy an 8K monitor for their work. We're still not sure if it's totally worth the price though.
Pros:
USB hub
Excellent color performance
Fantastic response time
Adjustable screen (swivel)
8K native resolution
Sale
Alternatives to an 8K monitor
Clearly, there aren't a huge number of 8K monitors out there for today's professionals. Ultimately, if you want to get amazing visuals, you're going to have to consider going for a 4K or 5K monitor instead.
To help you out, we've put together a small collection of 5K monitors to make you feel like you're working in 8K.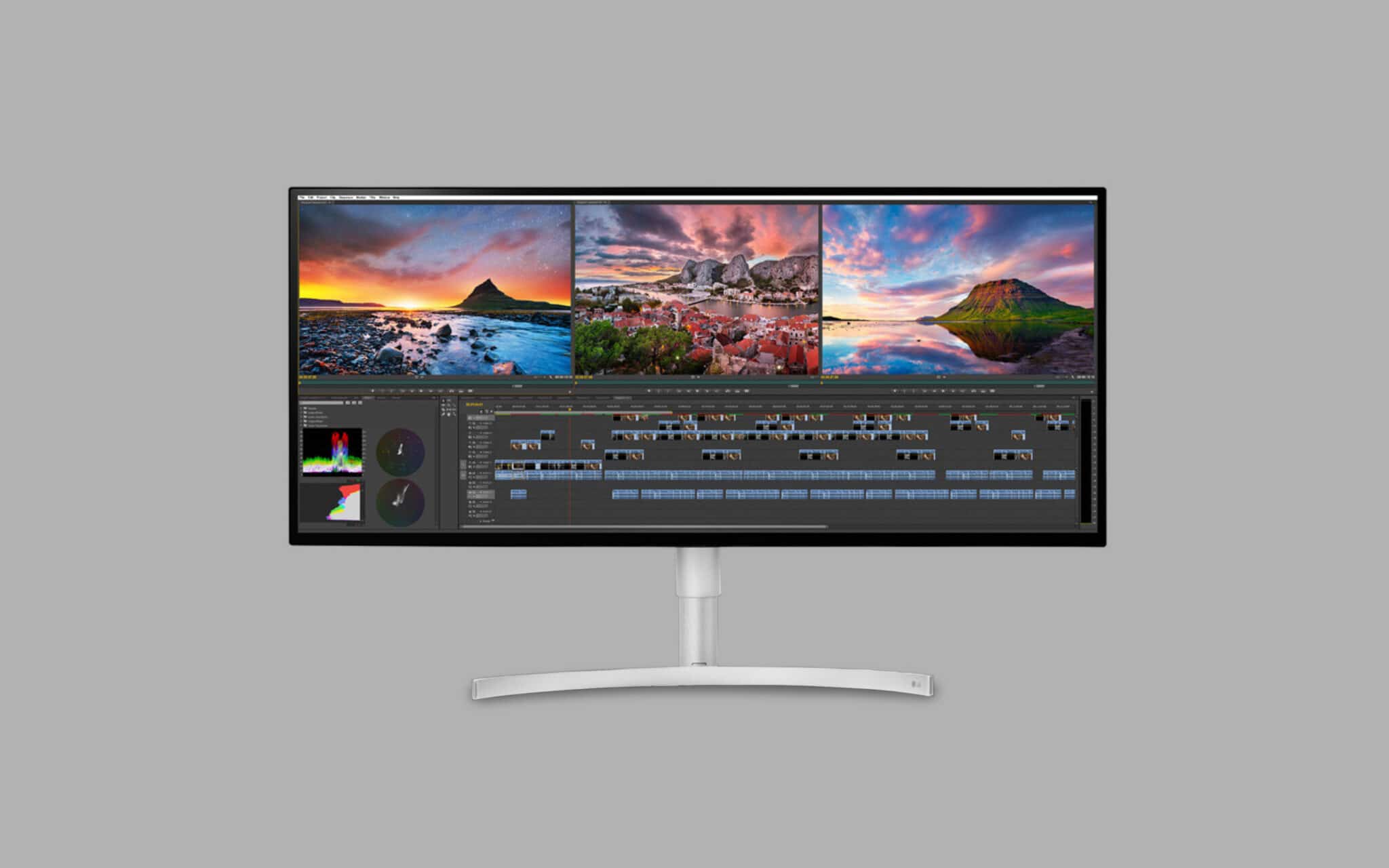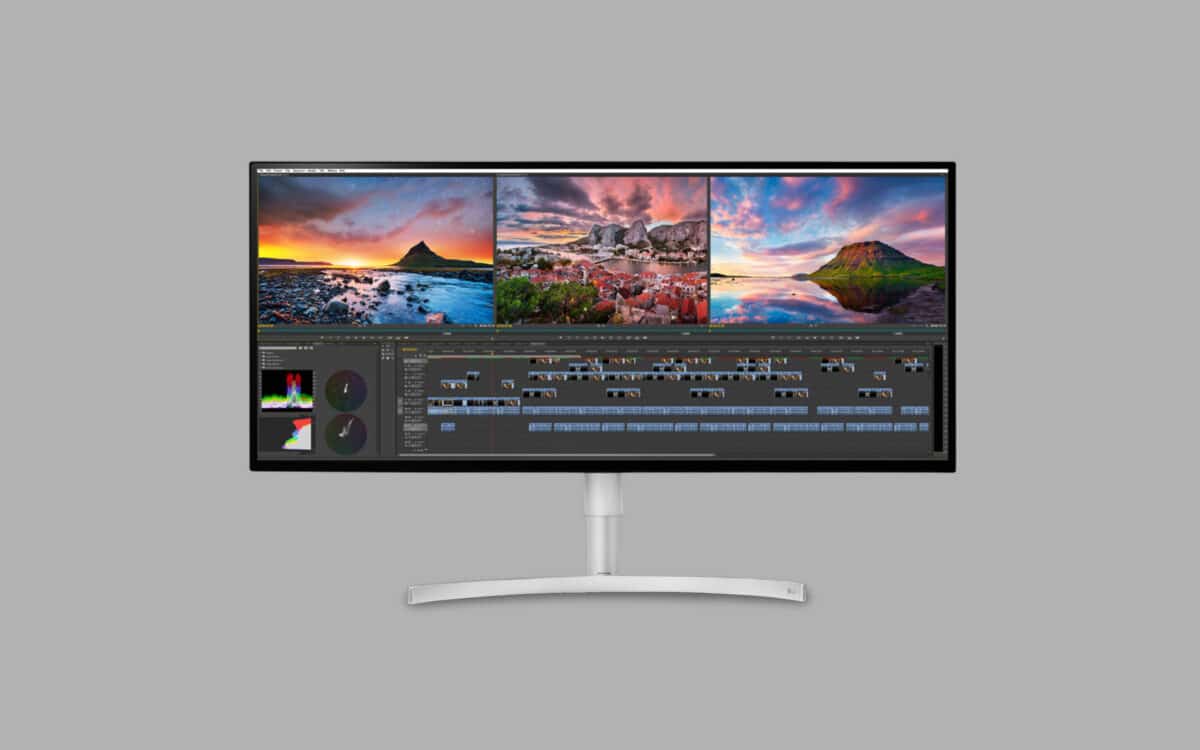 1. LG 34WK95U-W
Created to enable a new generation of designers and artists, the LG 34WK95U-W is a state-of-the-art monitor with a 60 Hz refresh rate, excellent 5 Ms response time, and sleek design. 
According to LG, this device is plug-and-play ready for both Mac and Windows users, with 1-year parts and labor included from the brand should anything go wrong.
You'll have access to built-in speakers, an ultra-thin bezel to reduce the amount of space consumed on your desk, and so much more.
There's even the option to create multiple viewing areas on your monitor at the same time, so you can work on different programs in tandem when editing videos and creating graphical content.
Features include:
Clear and bright HDR
1-year parts and labor
Display port cable included
Plug and play for Apple with Thunderbolt 3
Windows plug and play
1200:1 Contrast ratio
450 cd/m2 brightness
5120 x 2160 resolution
60 Hz refresh rate
USB Type C inputs
Built-in speakers
While the 5K resolution might not be the highest on the market, it's still enough to give you an excellent experience when you're working on all kinds of creative projects. Access to a range of inputs and outputs makes it easy to use headphones and other accessories too.
Pros:
Excellent brightness and contrast
Lots of inputs and outputs
Thin bezel to take up less space
Great screen-in-screen performance
Impeccable color
LG 34WK95U-W
The LG 34WK95U-W features a 5K IPS LED display with good picture quality and wide viewing angles to easily share your work. And thanks to the Thunderbolt 3 technology the latency/lag is very low.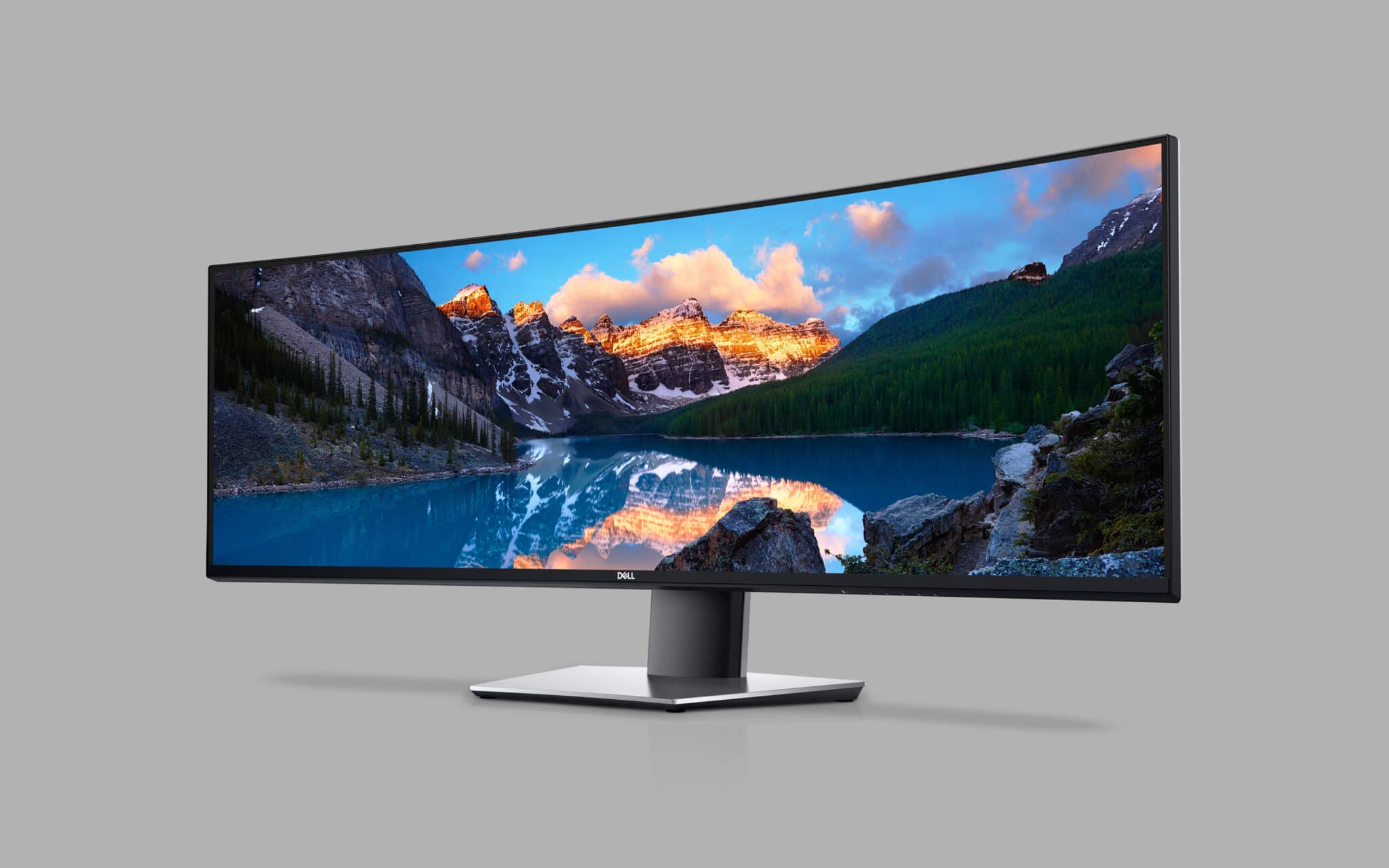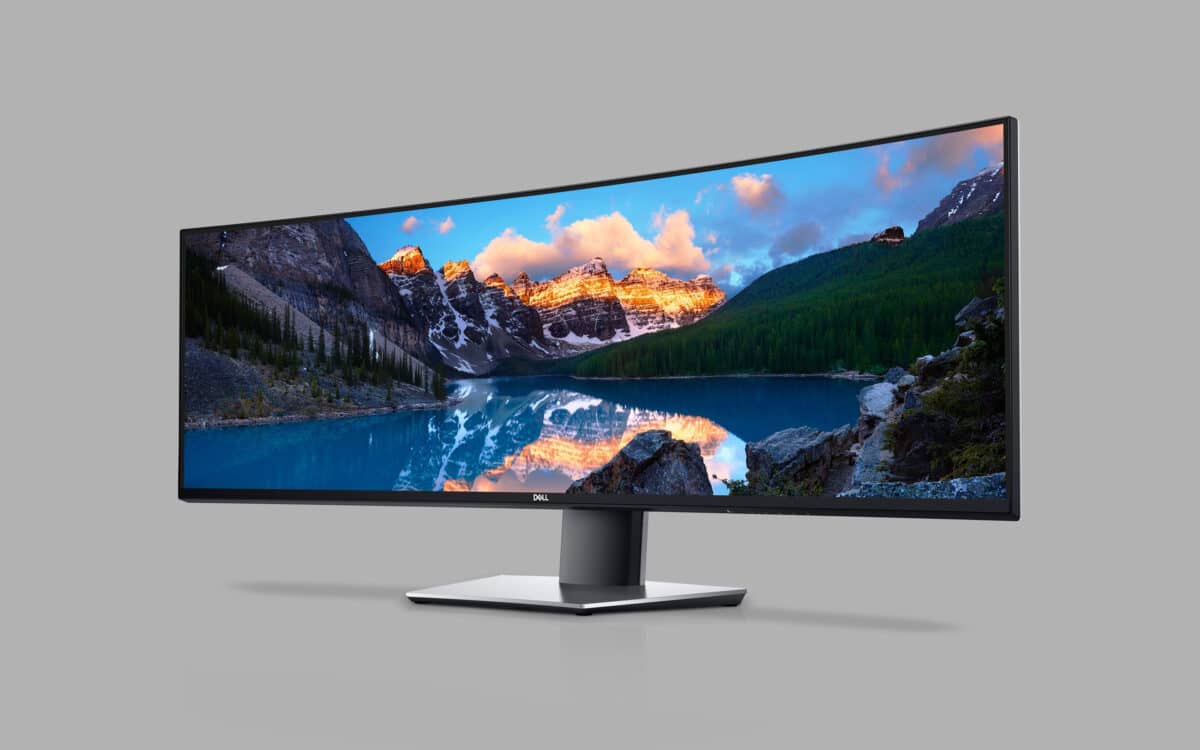 2. Dell Ultrasharp 49 Curved Monitor
Dell is one of the top companies producing high quality monitors today. If you can't get your hands on an 8K monitor resolution with Dell, you can always consider a 5K alternative. The Dell Ultrasharp 49 Curved Monitor is a high-performance device with ultra-wide views, and amazing performance.
You can access in-plane switching technology, so it's easy to spread your content across your screen. There's also the option to access picture-by-picture mode, and toggle between different PCs with your keyboard and mouse.
For ease of use, you'll only need one cable to plug your monitor in and start using it – you'll even be able to charge other devices from your monitor.
Features include:
Neat and organized cables
Dell display manager software
Huge ultra-wide 49-inch display
5120 X 2160 resolution
Picture by picture design
Flicker-free screen with comfort view
Delivers with style and size
Accurate color with 99% sRGB calibration
32:9 aspect ratio
HDMI, USB, and display port connections
Security lock included
The Dell Ultrasharp monitor ensures an impressive view of all your projects with a stunning resolution and amazing display customizations. Your device will come pre-calibrated for excellence, and it's easy on the eyes thanks to TUV-certified comfort view and flicker-free screen performance.
Pros:
Excellent ultra-wide screen
Great for managing projects
Curved screen for less glare
Good for maintaining eye health
Plenty of inputs and outputs
Cons:
May be too large for some office spaces
Sale
Dell UltraSharp U4919DW
The world's First 49-inch curved Dual QHD monitor for an immersive work experience that boosts productivity. Equivalent to two 27-inch QHD monitors, you'll get a brilliant uninterrupted view.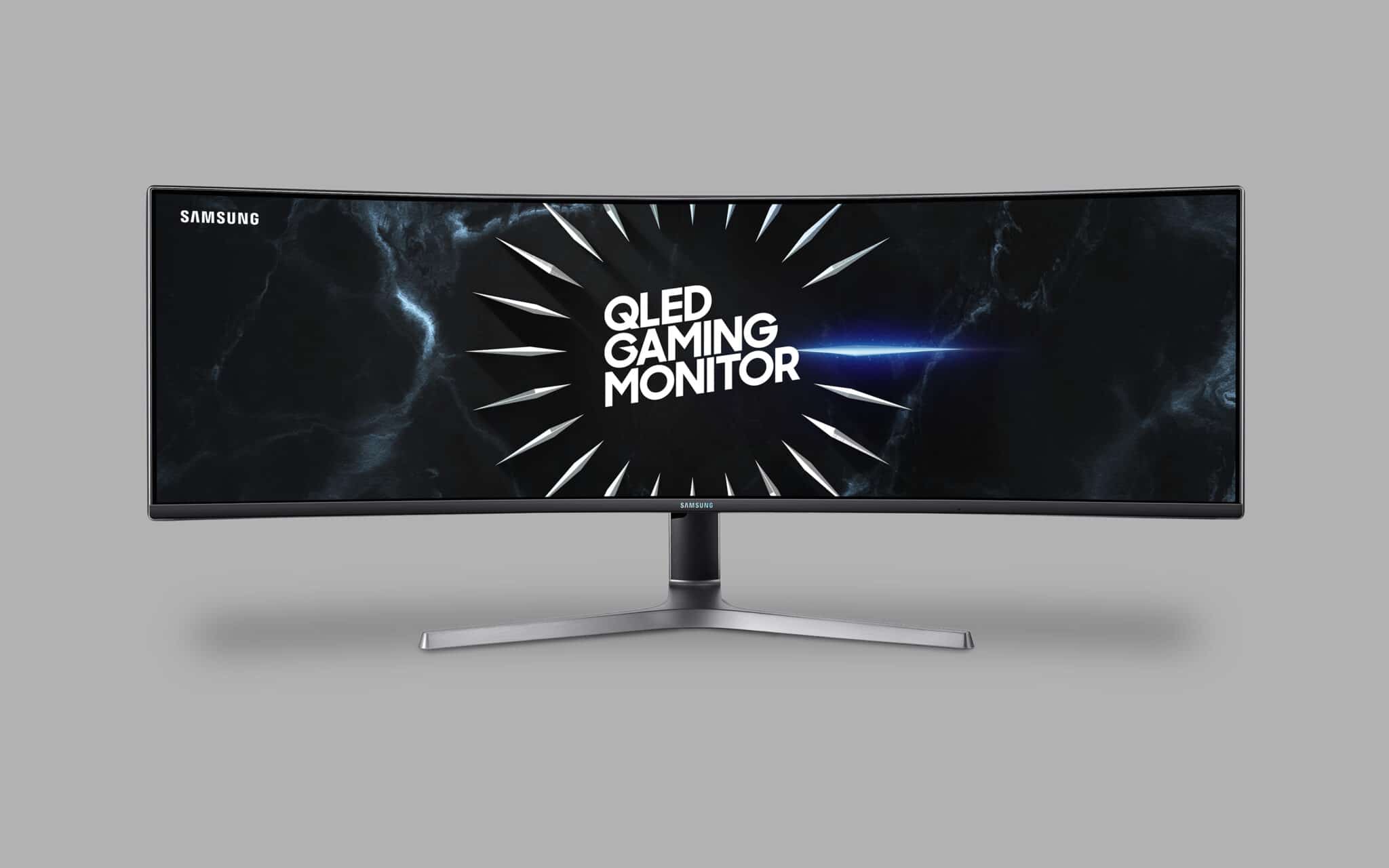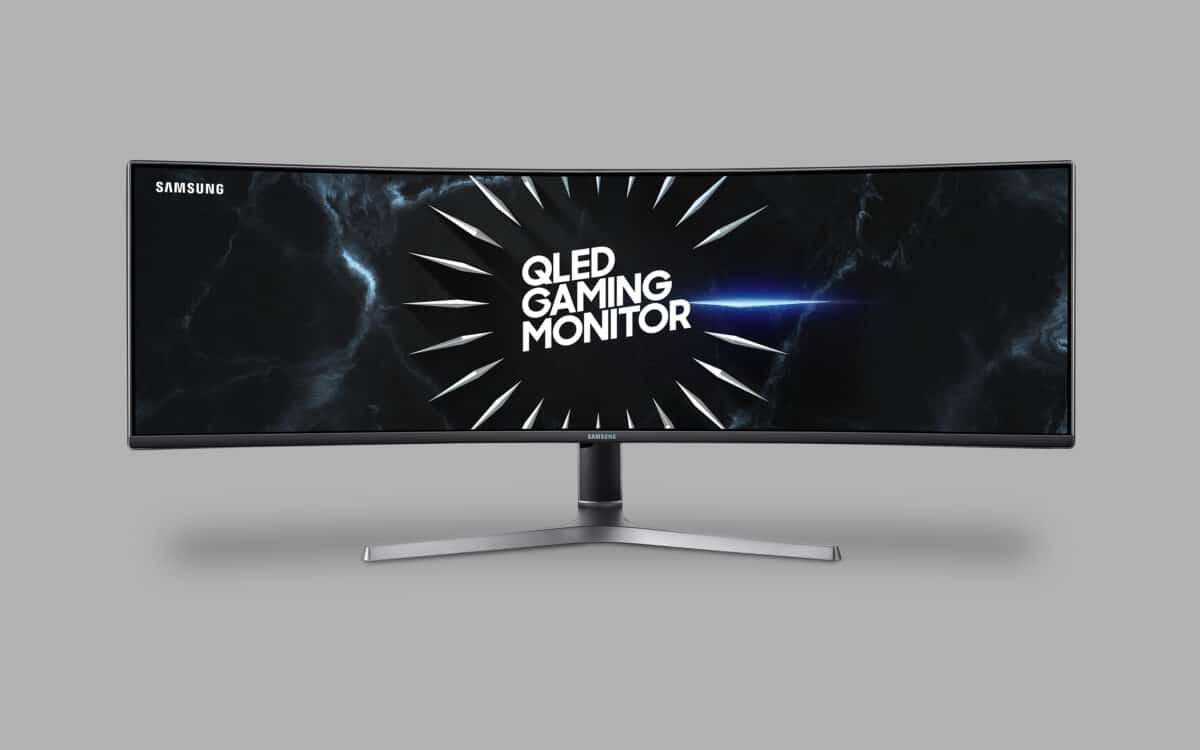 3. Samsung LC49RG90SSNXZA
Like many 8K monitors, 5K monitors from leading brands are becoming increasingly difficult to come by. This Samsung LC49RG90SSNXZA could be an excellent investment for a lot of designers and creators, but it's not always easy to find.
Perhaps the most impressive feature of this Samsung monitor is its ability to combine 5K resolution with an up to 120 Hz refresh rate.
The Samsung curved QHD monitor uses AMD FreeSync 2 technology for a crisp display, and it was the 2019 CES Best of Innovation award winner too. An HDR 1000 solution supports a peak brightness of 1000 nits, with Samsung QLED technology for brighter images. 
You'll even have access to flicker-free and eye saver modes to reduce viewing fatigue.
Features include:
49-inch ultra-wide QHD curved screen
120 Hz refresh rate
AMD FreeSync 2 technology
CES 2019 best-of innovation award winner
HDR 1000 for a peak brightness rating of 1000 nits
5120×2160 resolution (5K)
Flicker free screen
Picture-by-picture control
4 ms response time
4 USB ports
2 display ports
1 HDMI
With all the USB ports you might need to plug in extra devices like tablets and keyboards, the Samsung 5K monitor is a great choice for the modern creator. We're particularly fond of the picture-by-picture option you can access to view websites and programs at the same time as your content.
Pros:
Excellent for multi-tasking
Fantastic refresh rate
Flicker-free screen for eye protection
Award-winning performance
Lots of USB ports
Cons:
Intended more for gaming than design
Sale
SAMSUNG 49-Inch CRG9
This 49-inch super ultrawide dual QHD curved monitor from Samsung enhances productivity with it's large on-screen real estate.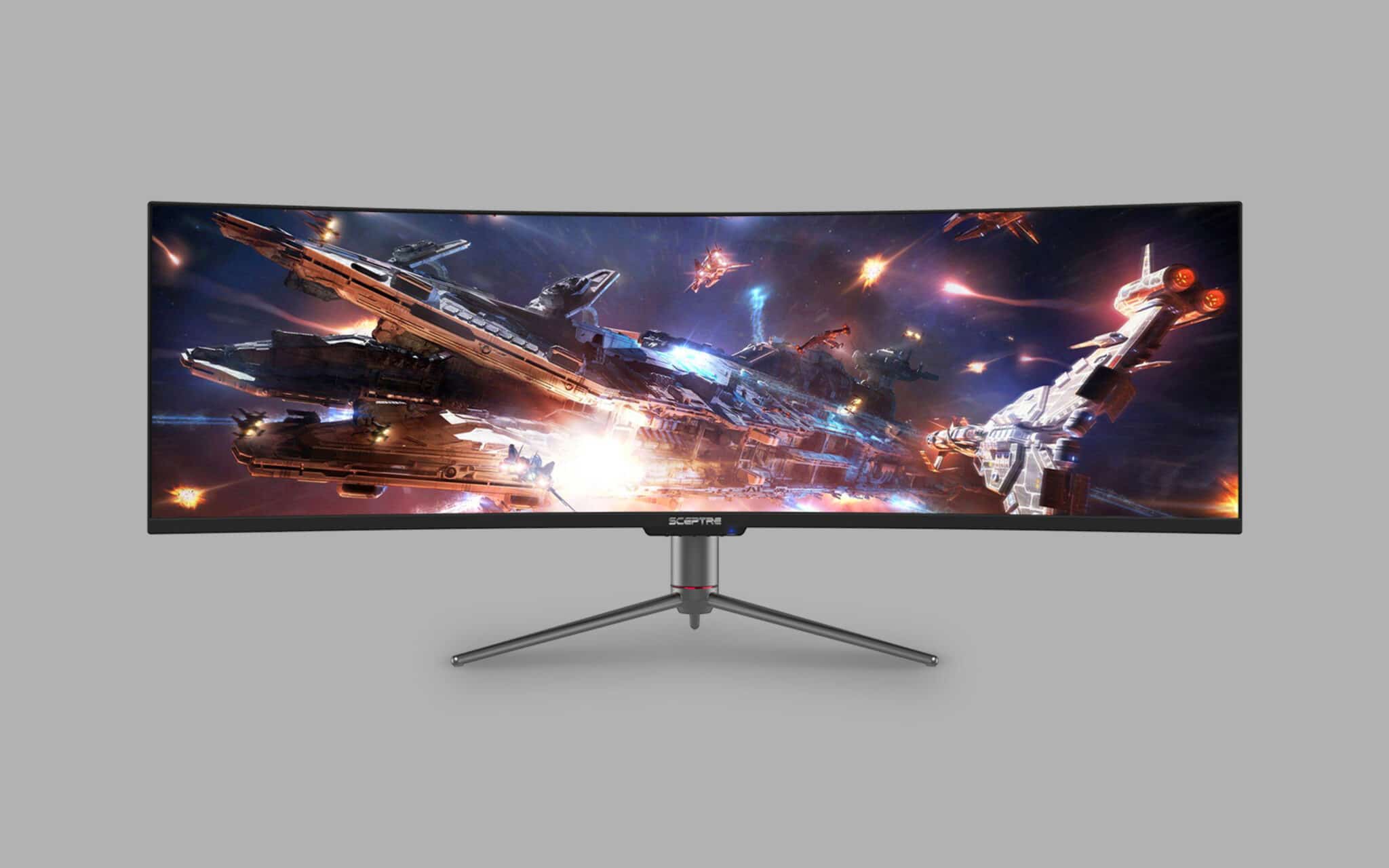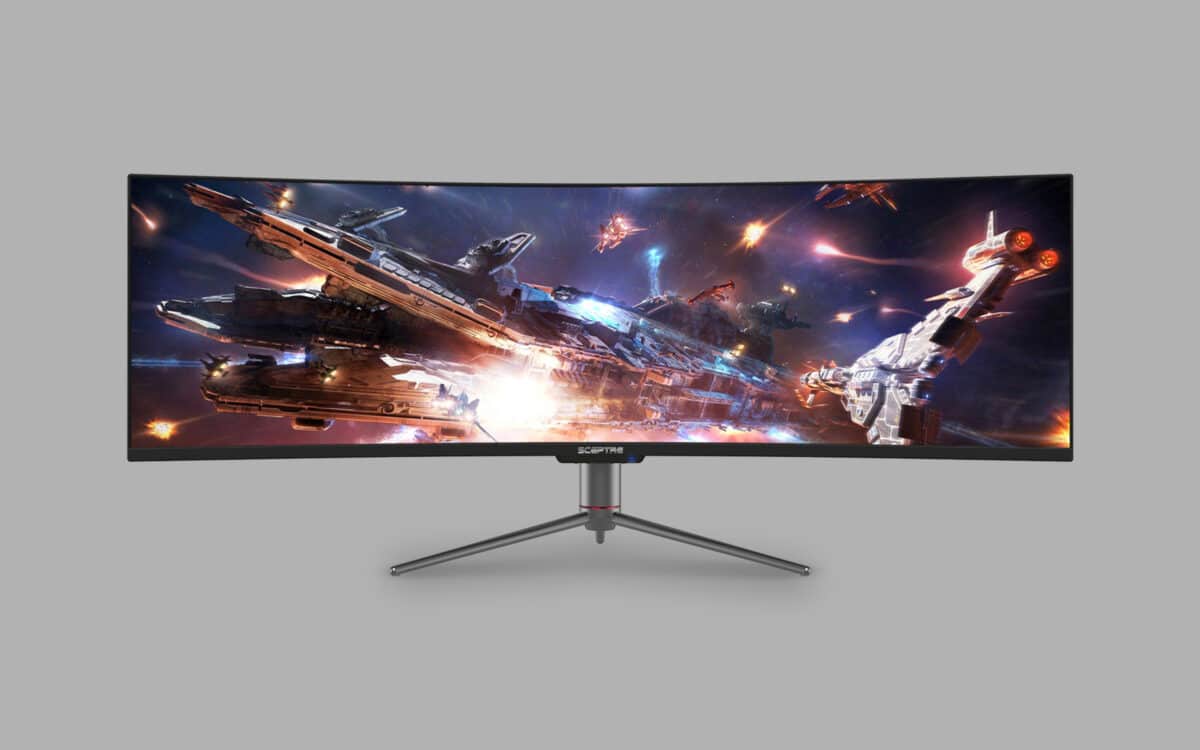 4. Sceptre Curved 49 inch
If an 8K monitor resolution seems like far too much, and you're happy to go for something a little simpler, the Sceptre Curved 49-inch display could be a great alternative. 
This ultra-wide curved monitor comes with multiple ports for connecting your tablets and drawing devices, a headphone jack, and a set of built-in speakers.
With the Sceptre, users can access refresh rates ranging from 60 Hz to 120 Hz, depending on your needs. The high-brightness display comes with an edgeless design, so you can enjoy glare-free visuals from one edge to the next.
As an extra bonus, picture-by-picture and picture-in-picture controls are available for multi-tasking too.
Features include:
5120 x 1400-pixel resolution
49 inch LED screen
Bezel-free edge
60 to 120 Hz refresh rate
Headphone jack
Multiple HDMI, USB, and display inputs
Height adjustable
Built-in speakers
Controls for picture-in-picture and picture-by-picture
The Sceptre Curved 49-inch monitor is a fantastic alternative to an 8k monitor if you don't have the cash to invest too much in your graphic design setup. You'll still get an excellent resolution from this product, as well as various features to help improve your productivity levels.
Pros:
Great productivity features
Built-in speakers included
Curved design for minimal glare
Excellent resolution
Great refresh rate
Cons:
Not as close to 8K as other displays
Spectre C505B-QSN168
Immerse yourself at every angle with this Spectre super ultrawide curved display that boasts a high 120Hz refresh rate, HDR, and AMD FreeSync technology.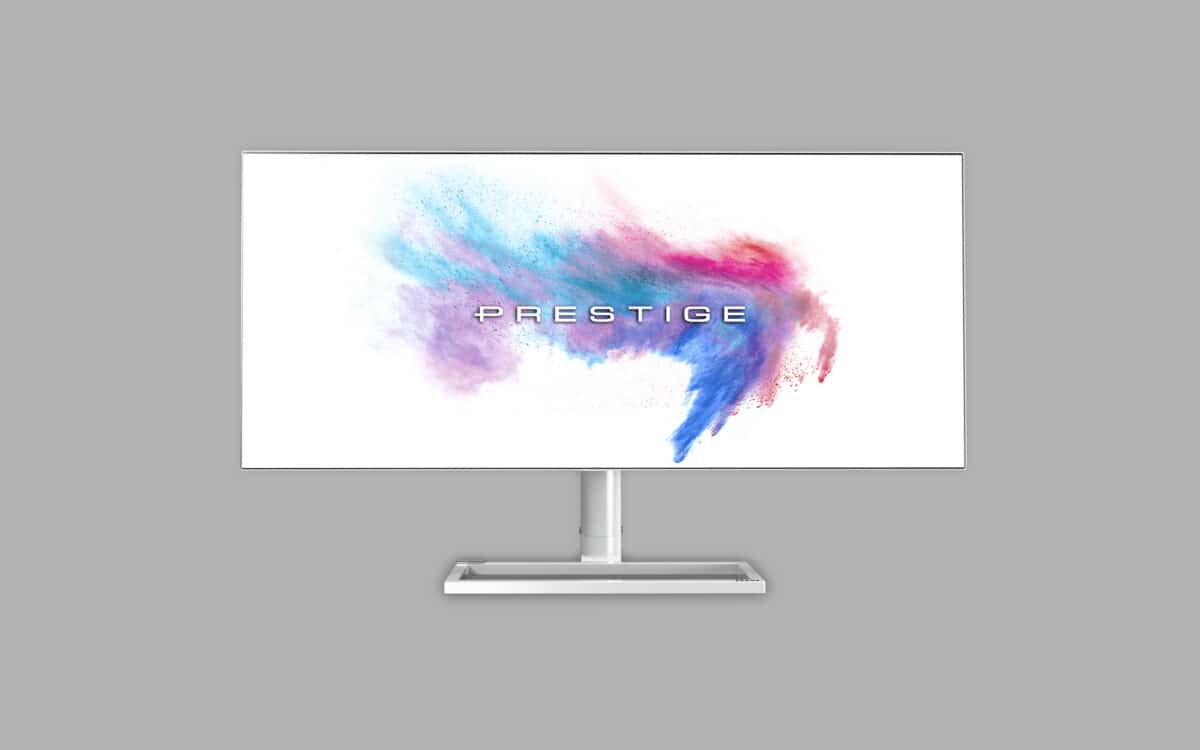 5. MSI Non-Glare Prestige PS3451WU
MSI is one of the better-known brands for gaming PCs and accessories today. The Company also offers an excellent range of products for graphic designers too. This 34-inch ultra-wide professional monitors is intended for multi-tasking creators in the digital landscape. 
You'll get a Nano-IPS panel display for a wonderfully premium picture quality, and a 98% DCI-P3 color gamut.
If you're not ready to upgrade to an 8K monitor, the 34-inch ultra-wide 5K monitor from MSI should be more than enough. Like many of the leading high-performance monitors in the market, the device comes with various productivity features too, like picture-in-picture, or picture-by-picture options.
Features include:
98% DCI-P3 color gamut
Pre-calibrated in factory
34-inch ultra-wide display
Built-in picture-in-picture and picture-by-picture
Nano-IPS panel display
Excellent ultra-wide design with nano particles
Adjustable design (vertical or horizontal screen)
Great color range
5120 X 2160 resolution
60 HZ refresh rate
With only a 60 Hz refresh rate, the MSI Prestige monitor isn't the fastest-performing 5K product we've seen, but it still has a lot of value to offer. The 34 inch screen will fit well in a range of office environments, and it can even swivel to suit your needs.
Pros:
Multiple customization options
Productivity features for multi-tasking
Pre-calibrated for excellent performance
Good color range
Design will fit well in most offices
Cons:
Not the best refresh rate
MSI Prestige PS341WU
The anti-glare display of the Prestige PS341WU is paired with the DCI-P3 color standard, bringing out the full color expression for your creative needs.
Should you buy an 8K monitor?
If you're a graphic artist or designer, it's easy to get carried away by the idea of an 8K monitor resolution. The better the resolution of your display, the more you'll be able to see and create.
However, paying out for the best 8K monitor might not be a good idea.
Native 8K content just isn't readily available at this point, and most of the content you'll be working with just won't perform to the highest standards your display can offer. It's also worth noting the human eye can only see so much.
Upgrading to an 8K monitor will likely make very little difference to the quality of whatever you see.
We'd probably recommend sticking to a 4K monitor for now. If you really want to take your work to the next level, you can also consider a 5K alternative.
Fabrik: A branding agency for our times.
8K Monitors:
5K Monitors: