The best monitor for graphic design: 8 top screens to consider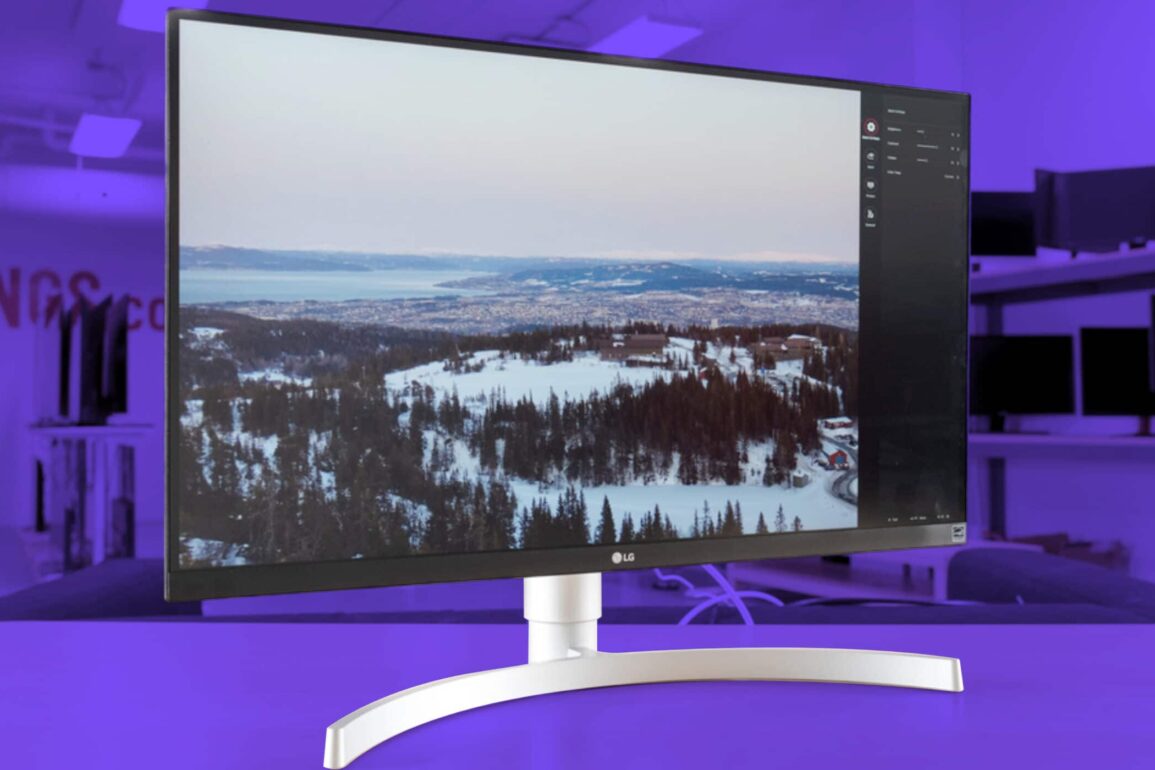 If you're looking for the best monitor for graphic design, you're not alone. As a creative professional or dedicated design enthusiast, you'll know important the right monitor for graphic design can be.
Success in today's modern world requires a deep investment in a range of crucial tools, from a state-of-the-art computer to the right mouse.
To create stunning websites, logos, and graphics for your clients, you're going to need the right software, plenty of creative skill, and a monitor where you can watch your designs come to life.
A professional monitor will give you exceptional resolution, so you can see how colors and components work together.
It will also ensure that you have a more professional image when you're showing your creations to customers.
So, how do you choose a good monitor for graphic design purposes?
With so many options to choose from, it's easy to get overwhelmed. That's why we've put together a list of some of the most impressive options on the market today.
The best monitor for graphic design choices we've picked are:
Samsung UH850 Series 31.5 inch (best with USB hub)
LG 27UK850-W 4K (best adjustability)
ViewSonic VG3448 (best extra-wide screen)
BenQ PD2700U 27 inch (best display modes)
Philips 276E8VJSB (best budget option)
ViewSonic VP2785 4K (best for color)
BenQ EW2780U 27 inch (best with in-built speakers)
Acer ET322QK 31.5 inch (best multi-position monitor)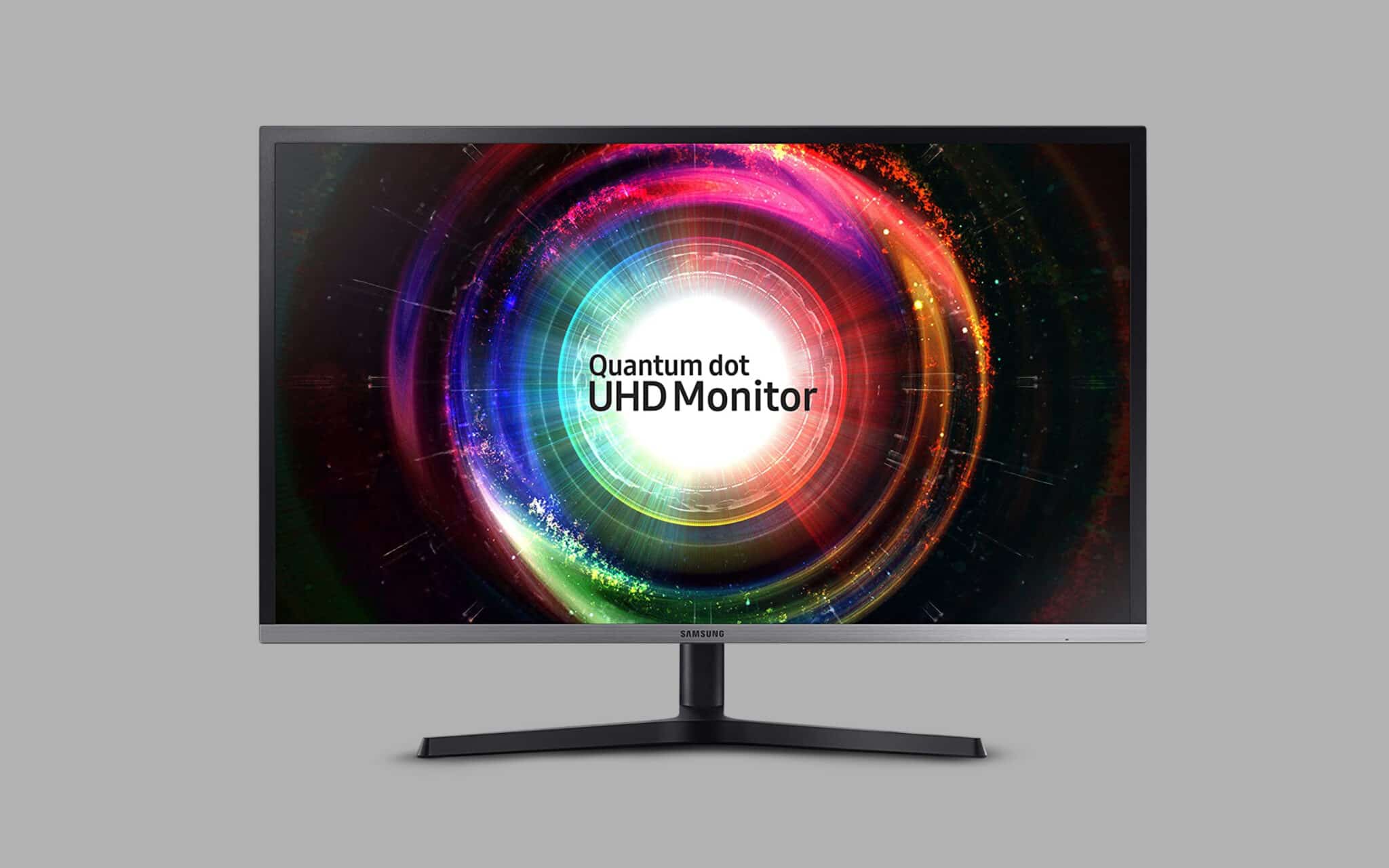 1. Samsung UH850 Series 31.5 inch (best with USB hub)
Samsung, one of the better-known names in technology, knows how to deliver a sensational experience with its monitors. The Samsung UH850 is a stunning example of this.
This 32-inch QLED monitor for graphic design comes with a sensationally sharp and color accurate picture.
The 3,840 x 2,160 resolution should ensure that you can get the crispest images for every logo and animation.
With a wall mount capability, you can place this monitor wherever you choose, it also comes with 2 HDMI ports, a display port, a mini display port, and a USB hub with 4 USB 3.0 inputs for a range of devices.
There's also adaptive sync support for AMD free-sync technology.
Features include:
QLED 32-inch UHD screen
3,840 x 2,160 resolution
Black equalizer for vibrant colors
178 degree viewing angle
20 different dark levels
QLED technology for accurate color
AMD free-sync performance for faster content
Split-screen support
Fully adjustable wall mount
Eye-saver and flicker-free mode
4 USB 3.0 ports and 2 ethernet ports
Ideal for graphic designers who spend a lot of time focusing on their work, the Samsung comes with eye-saver mode which reduces blue light levels to protect you from eye fatigue.
There's also flicker-free technology built in to reduce the risk of flickering at all brightness levels.
Perhaps the biggest issue is that this monitor is quite high on its tabletop stand, which might not be ideal for ergonomics.
Pros:
Full QLED ultra high definition screen
Amazing eye-saver and flicker free technology
20 dark levels and billions of colors
128 degree viewing angle
Suitable for use with extra-fast sync technology
Four USB 3.0 ports
Cons:
A little too high on the stand for ergonomics
Samsung UH850 Series 31.5 inch
Experience exceptional picture quality and keep productive during your workday with the Samsung U32H850UMN UHD QLED Monitor.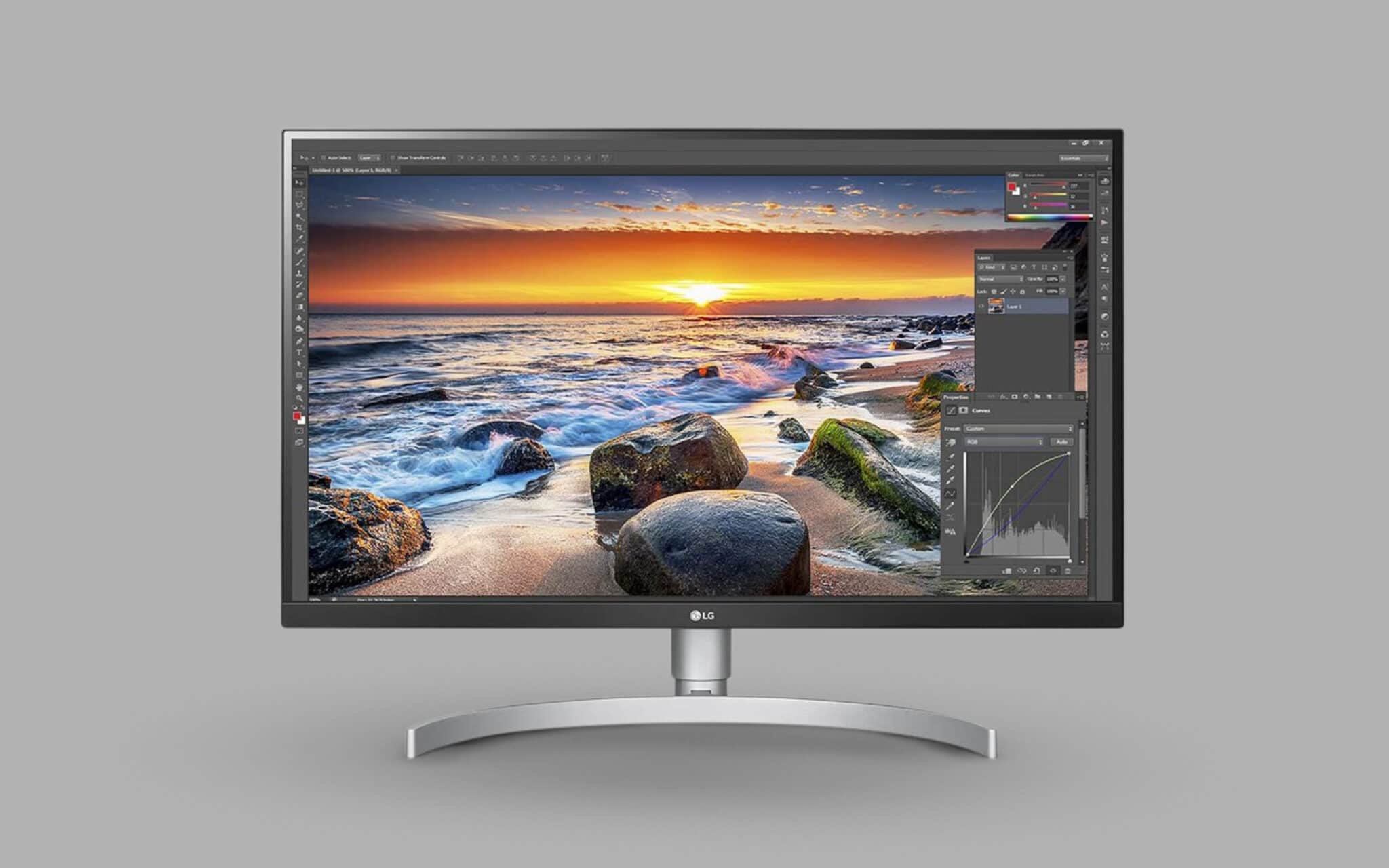 2. LG 27UK850-W 4K (best adjustable monitor for graphic design)
Depending on what you're working on, there's a good chance you'll need to adjust your computer monitor for graphic design from time to time.
That's why companies like LG give you a variety of customization options to suit your needs.
The LG 27UK850-W 4K monitor comes with a 27-inch ultra high definition monitor with a 3,840 x 2,160 resolution.
Supporting HDR 10 compatibility, the LG can deliver a 60 Hz refresh rate and a response time of 5ms, for excellent and quick performance.
The USB type-C inputs allow you to link in other displays and tools, and AMD free-sync technology reduces the risk of lag.
Features include:
Virtually borderless on 3 sides
4K ultra high definition screen
27-inch display
USB type-C connectors with AMD free-sync
HDR 10 compatible
Over 99% color coverage
On-screen controls for brightness management
Advanced black stabilizer
Adjustable display
Not only you can control everything from your picture mode to your brightness levels on the LG monitor, but there are a ton of other customization options too.
The adjustable display can tilt and pivot to suit your height and ergonomic requirements.
There are, however, some issues with light bleed on this device, and the picture presets aren't ideal for some designers so you'll need to do a bit of work on the set up.
Pros:
4K ultra high definition screen
Over 99% color coverage
On-screen controls for brightness
Adjustable display for extra comfort
HDR 10 compatibility
Cons:
Some issues with light bleeds
Not all pre-sets are suitable for designers
LG 27UK850-W 4K
Upgrade to an HDR10 compatible IPS 4K screen, delivering Ultra HD resolution with supremely accurate colors, even when viewed off-angle.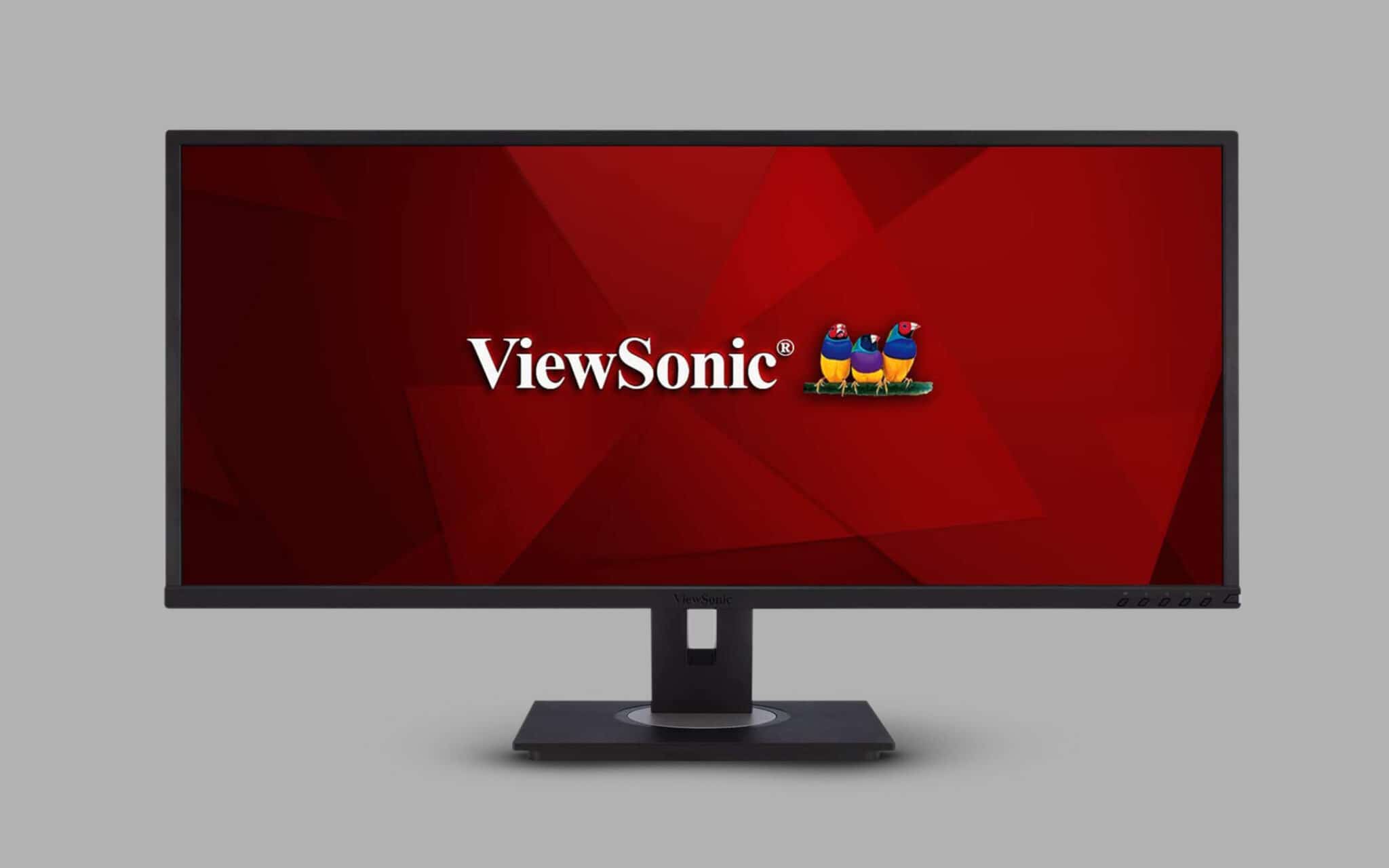 3. ViewSonic VG3448 (best ultra-wide screen monitor for graphic design)
If you work on a lot of ultra-wide projects for your clients, then it can help to have a particularly large screen.
An extra-wide screen is also a useful choice if you find it helpful to have multiple pieces of information up and available for you to work from at any moment.
Maybe you want to see all of your logo shape inspiration at once, for instance.
The ViewSonic VG3448 is a productivity and comfort masterpiece, offering advanced ergonomics to assist with all-day comfort.
Ideal at any angle, the solution promises no image tearing, and a quad HD resolution with 21:9 aspect ratio support.
There's also a slim bezel design which increases the surface area you have access to when you're designing.
Features include:
21:9 aspect ration with 3,440 x 1,440 resolution
Ultra-wide monitor (34 inches)
40 degree tilt for ergonomics
Free-sync for convenient tech connections
No image tearing
Slim bezel design for more surface area
Easy-to-install stand
Super clear MVA panel technology
Eco-friendly packaging
Packed in sustainable paper-based packaging, this eco-friendly solution is sure to appeal for anyone in search of the best computer monitor for graphic design who wants an extra wide screen.
There's the option to choose between 40 tilt angles for great ergonomics, and you get easy screen sharing features too.
One slight issue is that the built-in speakers are very quiet. And you may have to download extra firmware from the web.
Pros:
Extra-wide aspect ratio
Fantastic range of tilt options for ergonomics
Extra-slim bezel design for extra surface area
Easy-to-install stand
Eco-friendly packaging
Cons:
May require additional firmware
Built-in speakers are very quiet
ViewSonic VG3448
Featuring an ultra-wide 34" screen, the ViewSonic VG3448 monitor is ideal for both office use and home entertainment.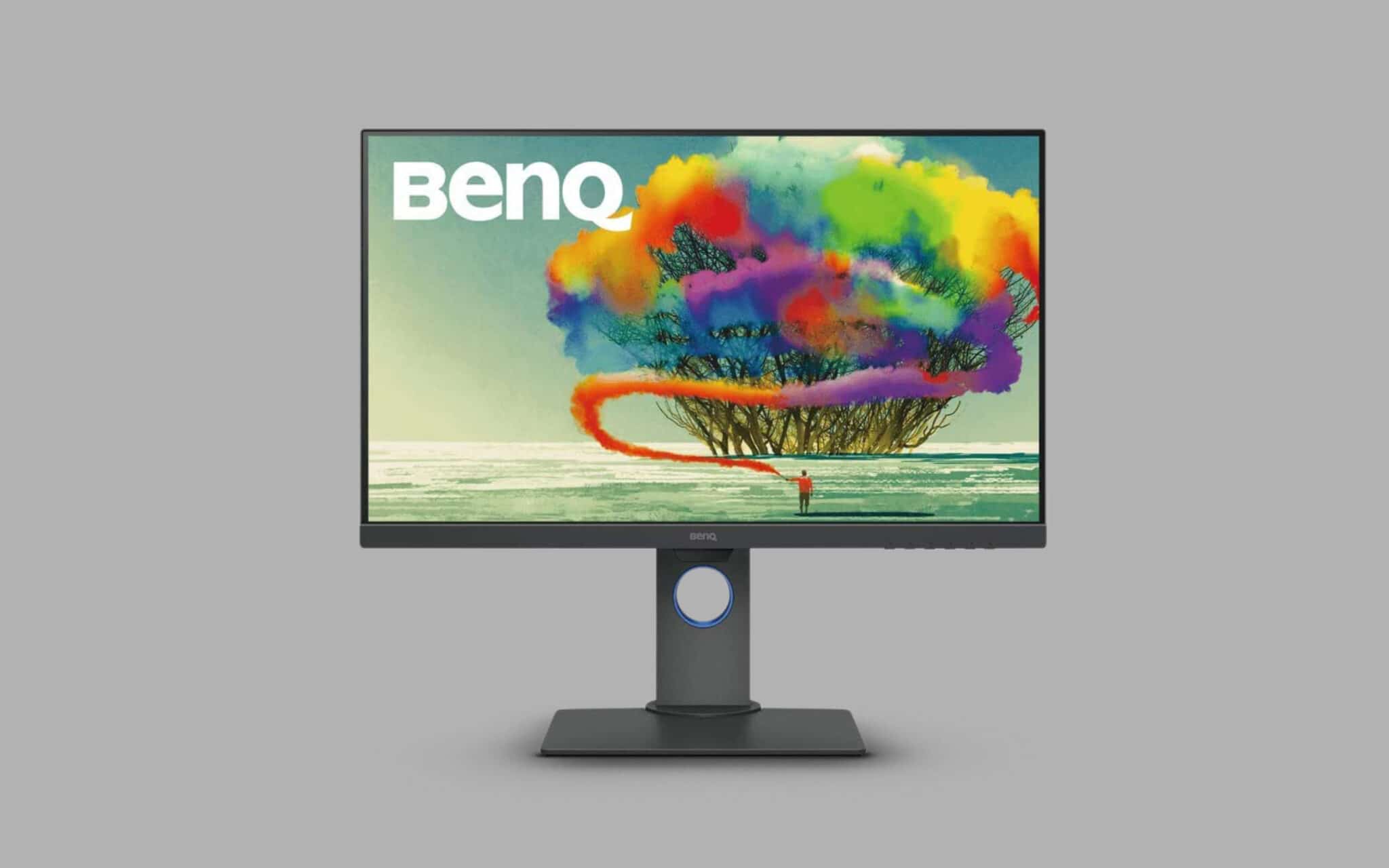 4. BenQ PD2700U 27 inch (best display modes)
Specially crafted for designers, the BenQ PD2700U is one of the top computer monitor for graphic design options on the market, with a full 27 inch display and 4K resolution.
The 60 Hz refresh rate makes it easy to see your content in real-time, and HDR 10 support ensures that you can even edit your video content in HDR too.
With the ultra-high-definition resolution and exclusive AQCOLOR technology, every image will look crisp and clear.
The factory calibrated color is Pantone and Calman certified, so you can trust that your images will look perfect both on and off the screen.
BenQ's monitor also comes with a range of display modes like dual view, darkroom mode and animation mode too.
Features include:
27-inch 4k UHD monitor
HDR 10 support
16:9 aspect ratio
CAD/CAM, darkroom, dual view, and animation modes
Pioneering color technology
Pantone and Calman verified
60 Hz refresh rate
Leading eye-care technology
Anti-glare screen
This high-definition monitor makes it easier for every graphic designer to work on the projects they choose.
Darkroom and animation modes adjust your screen automatically for your work, while CAD/CAM mode gives you access to extra contrast for technical illustrations.
There's even leading eye-care technology with anti-glare, anti-flicker, and reduced blue light modes.
One slight issue is that the stand is quite high, and there's a small amount of light bleed too.
Pros:
4K monitor with HDR 10 support
Leading eye-care technology included
Various graphic design display modes to choose from
Pioneering color technology
Excellent for reducing flicker
Cons:
Small amount of light bleed
Stand is quite high for ergonomics
Sale
BenQ PD2700U 27 inch
Experience color as nature intended with BenQ AQCOLOR on PD2700U. This 27 inch 4K HDR monitor with HDR10 support covers 100% sRGB and Rec 709 for stunning photo and video content creation and design.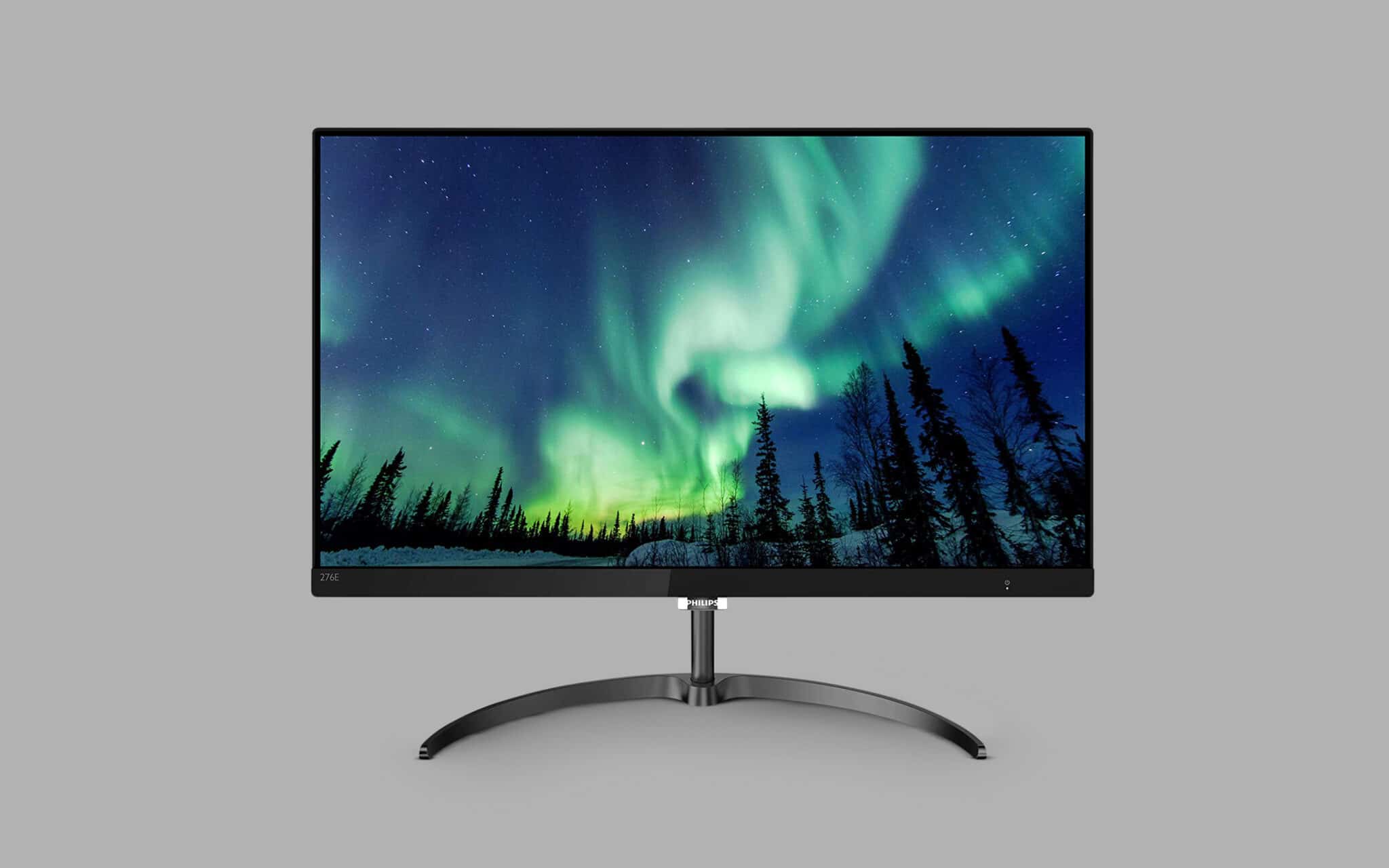 5. Philips 276E8VJSB (best budget monitor for graphic design)
An excellent choice for those in search of ultra-clear 4K monitors, the Philips 276E8VJSB is one of the most impressive budget options for graphic design.
This 27-inch LED monitor comes with a 10-bit IPS panel that can produce around 1,074 billion colors, with smooth gradients and incredible detail.
An elegant and slimline design also ensures seamless workflow with a crisp edge-to-edge display.
The multi-view enabled graphic design monitor makes it easy to connect to different tools and use them all at the same time.
There's also two HDMI ports for connectivity, and a four year advanced replacement warranty for peace of mind.
Features include:
27-inch monitor with 4K UHD
Elegant slim borderless design
Multi-view enabled
163 PPI pixel density
10-bit IPS panel
Flicker-free design for eye protection
Low blue mode for reducing eye strain
1,074 billion colors
Energy Star certified
This eco-friendly HDMI-ready graphic design monitor is a great choice if you're looking to upgrade your monitor options, without spending a fortune.
There's low blue light mode and flicker-free technology built-in to protect your eyes, and the ultra-clear resolution is great for everything from CAD design to creating 3D graphics.
There's no way to mount this monitor, and no USB connections.
Pros:
Excellent color performance
Multi-view enabled
Low blue light and anti-flicker
Energy star certified
27-inch borderless design
Cons:
No mounting options
No USB connections
Sale
Philips 276E8VJSB
Philips 27" 4K UHD monitor gives ultra-clear picture quality. 4K UHD with wide-view delivers same ultimate clarity and life-like visuals from any front angle view.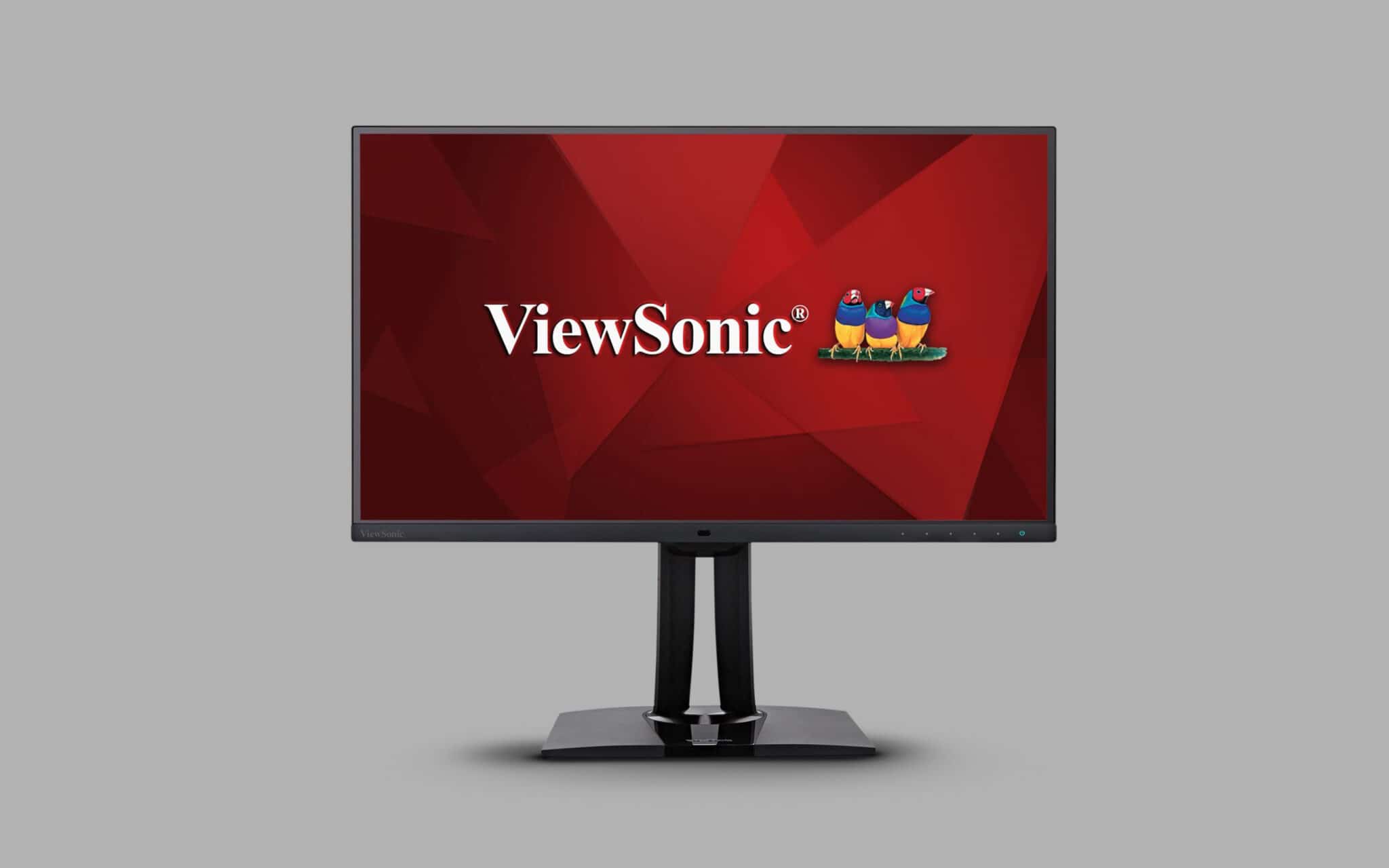 6. ViewSonic VP2785 4K (best color monitor for graphic design)
Probably one of the most advanced monitor for graphic design options around, the ViewSonic VP2785 4K monitor is second to none for its color accuracy and crystal clear performance.
This UHD monitor can deliver lifelike colors that are excellent for graphic designers, video editors, photographers and so much more.
With a 99% color accuracy, and a smooth palette of 4.39 trillion colors – there's nothing quite like this product anywhere else.
The ViewSonic monitor for graphic design comes with HDR 10 content support, and a host of productivity boosting features, including a built-in ambient light sensor, a KVM switch for productivity, and an ergonomic design.
There's support for HDMI ports, USB ports, mini display, and full display ports, and a 3 year warranty too.
Features include:
4K UHD monitor
60Hz super clear performance
99% accuracy color with 4.39 trillion shades
Quick and easy hardware calibration
HDR 10 content support
Productivity boost with ambient light sensor
KVM switch
Flexible connectivity options, HDMI, USB, and display port
3 year warranty
Ergonomic adjustment options
Excellent screen uniformity
If you work a lot with high-definition images or brand photography, this could be the ultimate monitor for you.
You'll be guaranteed a seamless viewing experience with amazing color accuracy and unbeatable connectivity options too.
Of course, this device is a little pricey, thanks to all the extra features. You'll also need a decent computer to take full advantage of all the monitor's features.
Pros:
4K UHD monitor with HDR 10 support
KVM switch and ambient light sensor
Flexible connectivity options
Exceptional color accuracy
3 year warranty
Cons:
Quite expensive
Requires quite an expensive computer too
ViewSonic VP2785 4K
Covering 99% of the Adobe RGB color space and 96% DCI-P3, the View Sonic VP2785-4K Ultra HD monitor meets the high color standards of photographers, graphic designers, video editors, print departments, and other design professionals.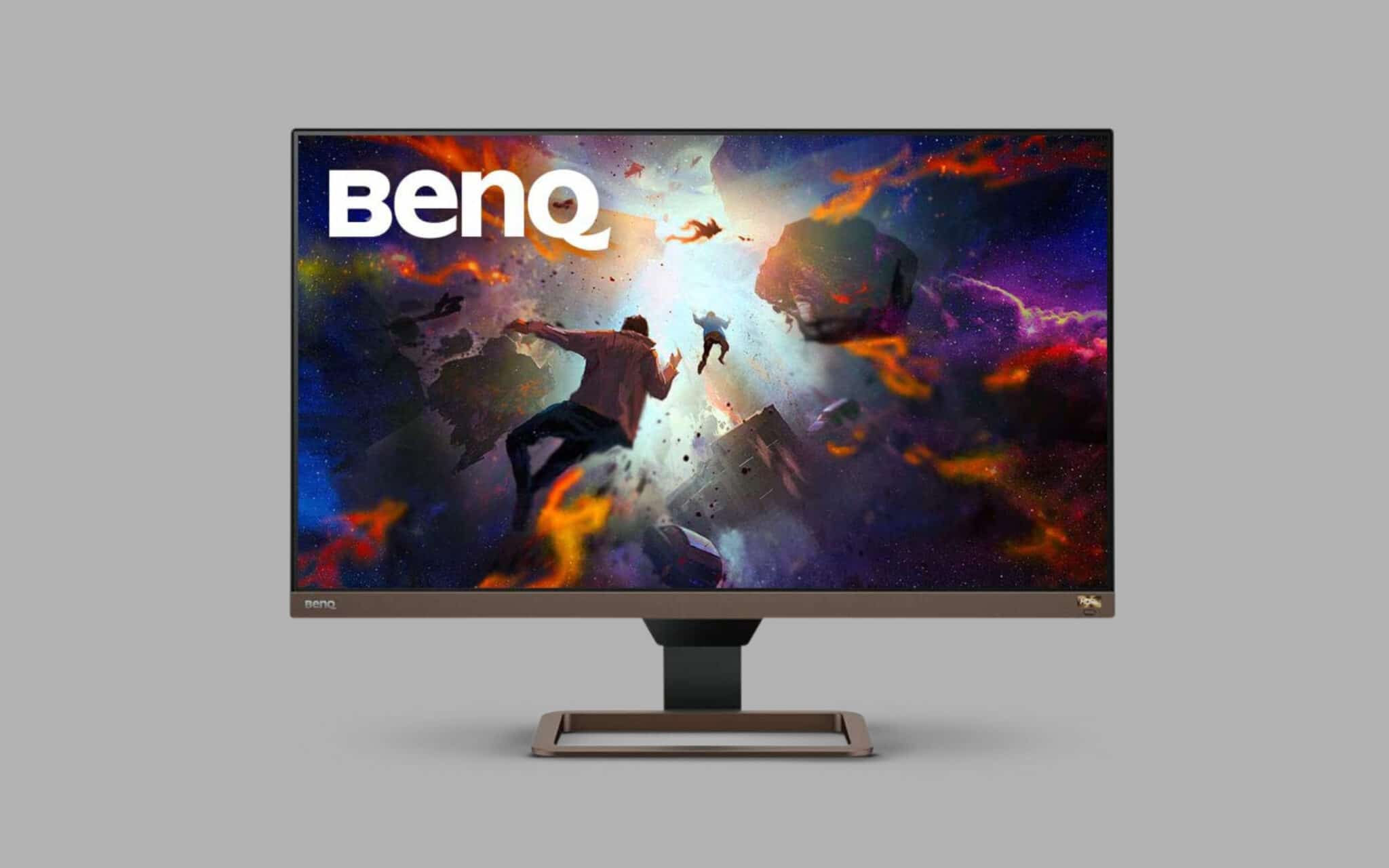 7. BenQ EW2780U 27 inch (best with in-built speakers)
This BenQ monitor for graphic designers is a fantastic 4K product, equipped with 16:9 aspect ratio and a 3,840 x 2,160 resolution.
Supporting 99% color accuracy, and a powerful IPS panel, this device will make all of your designs look incredible.
The sharp details provided by proprietary HDRi ensures that all of your high-definition content looks refined and vivid.
Integrated speakers also mean you can work on full videos without a headset.
For absolute convenience, BenQ has equipped this monitor with a 5 way navigator where you can adjust your settings according to your needs.
Versatile HDMI, USB-C, and display port options also mean that you can access your content from any external device.
Features include:
4K 27-inch HDR screen
3,840 x 2,160 resolution
99% color accuracy
Sharp details with vivid colors
In-built speakers with custom audio
Access to various settings with a 5-way navigator
HDMI, display port, and USB connections
Brightness intelligence and blue light mode
Paper display mode and zero flicker technology
Color weakness detection
For those who want to feel like they're working on paper, there's a convenient paper setting that balances the background of your monitor with the content.
You can also enjoy flicker-free technology combined with a low blue light system for vision protection.
Custom audio modes even make it easier to work on audio and visuals at the same time – perfect for video marketing.
There is a slight amount of light bleed on this monitor.
Pros:
Exceptional color accuracy and resolution
In-built speakers with custom audio settings
5-way navigation for your display settings
HDMI, DP, and USB connections
Paper display mode option
Cons:
Light bleed is a problem
Quite expensive
Sale
BenQ EW2780U 27 inch
BenQ EW2780U is built for entertainment. Amazing 27 inch 4K UHD images, enhanced by HDRi, Smart Focus, and Super Resolution will blow your mind. See all the colors in the rainbow, and more, thanks to 99% sRGB color coverage and HDR.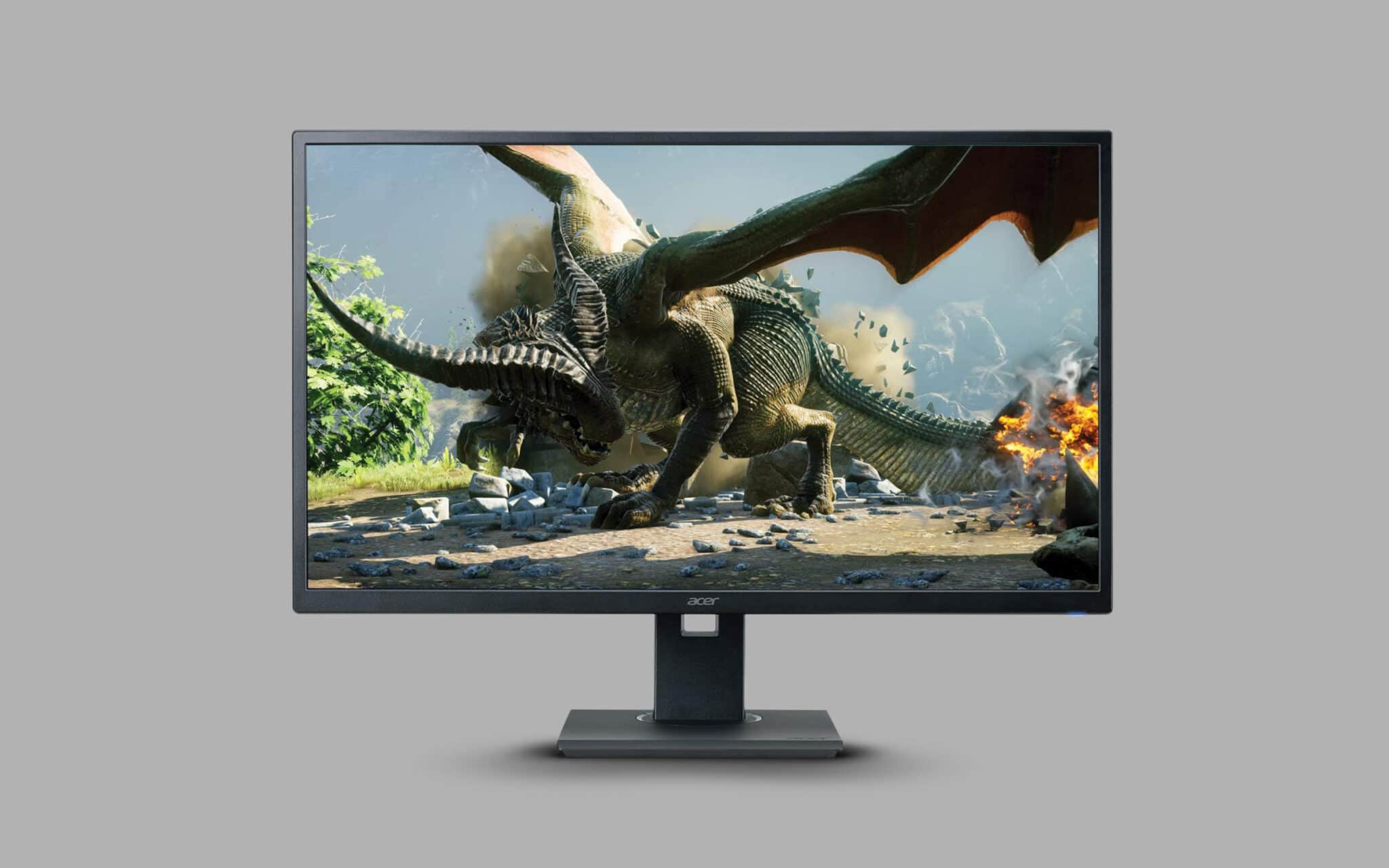 8. Acer ET322QK 31.5 inch (best multi-position monitor)
Acer's incredible monitors are all about stunning viewing experiences.
This compelling monitor for graphic designers comes with an extra-large 31.5-inch display, with a stunning 3,840 x 2,160 resolution.
The AMD free-sync technology ensures you can easily sync to the other accessories that you love to use with your computer and there are 2 HDMI ports included too.
With 10 bit color depth, there's no need to worry about less vibrant creations, as you can explore every shade that you need for your customers, with absolute clarity.
A flawless frame rate means viewing video is simple, and the Ergostand also means that you can adjust your monitor so it's in a horizontal or vertical position, depending on your needs.
Features include:
31.5-inch 4K monitor
3,840 x 2,160 ultra HD performance
Flawless framer ate with free-sync
Built-in color gamut with 99% accuracy
10 bit color depth
HDR ready performance
Ergo stand for switching your view
Convenient adjustment options
Various connection points
The Ergostand is an impressive extra touch for this monitor, as it will help designers to work on different kinds of projects in the way that works best for them.
Flip your screen to work on a leaflet or document, or work in horizontally for logos and animations.
One problem is that this product does take a little while to set up. It may also be a problem for those following ergonomic guidelines.
Pros:
Ergostand for switching between vertical and horizontal
HDR ready performance
Flawless frame rate
Excellent color accuracy
Fantastic extra-large size
Cons:
Not the best for ergonomics
Can be a little difficult to set up
Acer ET322QK 31.5 inch
Delve into the world of awesome with Acer's ET322QK 4K monitor, which offers an unmatched viewing experience. An extra-large 31.5
Choosing the best monitor for graphic design
There are plenty of tools that a professional designer needs to deliver amazing results for their clients.
You're going to need to invest in the right software, maybe a drawing tablet and plenty of practice so that you can hone your skills.
One of the most important investments you'll need, however, is the right monitor.
The best computer monitor for graphic design is a powerful tool for those interested in any kind of creative graphic endeavor.
Whether you're creating videos for companies, editing photos, or designing logos, you need a monitor to help you.
Here are some of the points worth considering as you explore the monitor reviews above:
Resolution
Every few years, we seem to encounter a new level of resolution and clarity for digital screens. The higher the pixel resolution for a monitor used for graphic design purposes, the better the accuracy of your projects. Most graphic designers won't settle for anything less than ultra-high definition (4K).
Screen size
If you're working on images and designs that are highly detailed, a larger screen will make it a lot easier to zoom into different components. Bigger screens can also be quite helpful if you're going to be splitting the display to view multiple tools and software options at the same time. Remember to consider the shape of your screen too. Do you want something that's ultra-wide or curved?
Display options
The best monitor for graphic design will allow you to adjust your display according to your needs. Sometimes this means having the option to change the brightness or contrast levels. Some specialist products also come with in-built presets that adjust your screen to reduce flicker, blue light, and other distracting elements.
Connection points
Most graphic design monitors will come with a variety of connection points, including display port options, and HDMI inputs. Make sure that the product you choose has the right input and output ports for the additional accessories and peripherals you use for your work.
Design
There's no one-size-fits-all best type of monitor for graphic design. Some people prefer to use a touch screen monitor for graphic design, while others like screens that they can spin into horizontal and vertical positions. You might even decide that you want a monitor you can mount on the wall in your office.
Ergonomics
You should always be comfortable using your monitor. Features that reduce blue light and flicker can protect your eyes. Make sure, however, that you can also adjust the tilt and the angle of the screen to avoid craning your neck as you work.
Invest in the right design tools
Finding the best monitor for graphic design can be tricky – particularly when there are so many amazing options out there. Hopefully, our reviews have helped you make your initial list of good monitor for graphic design options.
Of course, there's no one monitor for graphic design that's sure to be perfect for every artist.
It's up to you to consider which features matter most to you and start from there.
Our favorite product from this list is the BenQ PD2700U, which comes with a fantastic 4K resolution, pioneering color technology, and a range of display modes.
You can choose to alter your display depending on whether you're working on photos, animations, or technical designs.
Alternatively, if you're looking for a monitor that excels in color, try the ViewSonic VP2785, as one of the only products on the market with trillions of supported shades.
Good luck finding the monitor that's right for you, and don't forget to check out our guides for more help.
Fabrik: A branding agency for our times.