The best animation tablet: 9 amazing options to consider today!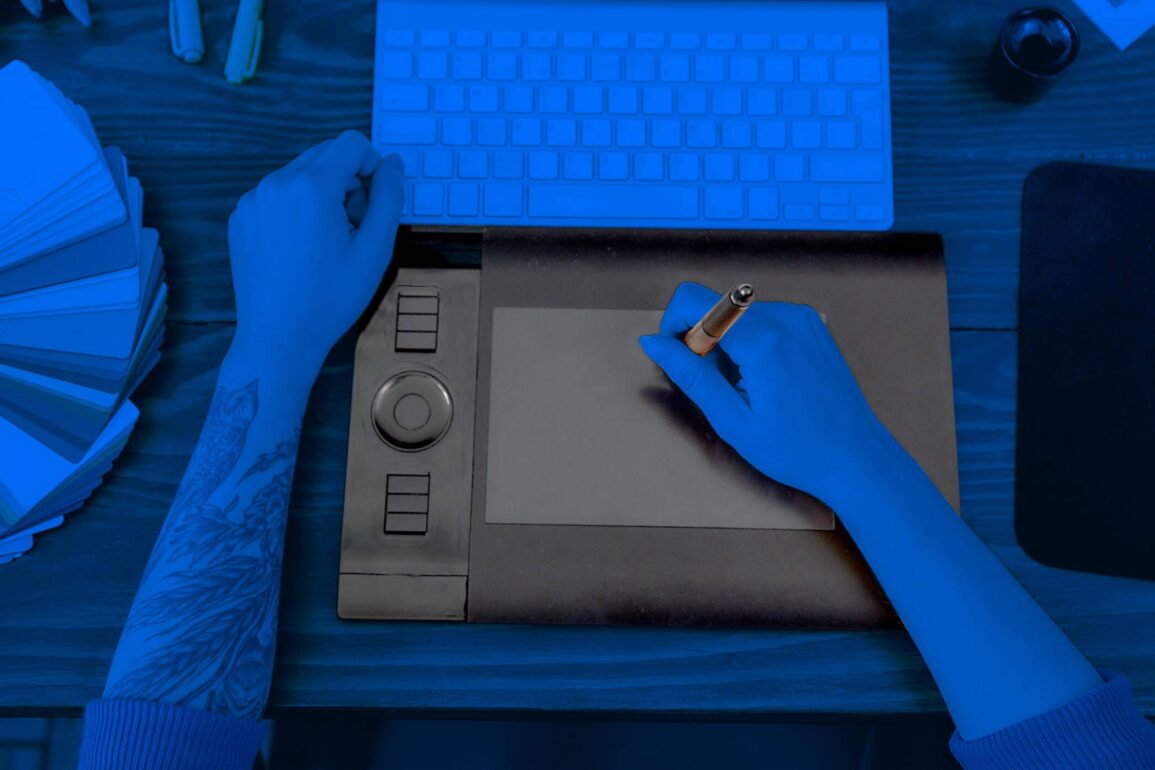 A career in animation requires investment in the best animation tablet your budget can buy. With an animation tablet, you'll have the freedom to bring your designs to life quickly, and effectively.
A great animation tablet is just like any other essential tool for helping you hone your design skills. Similar to a great monitor or an ergonomic keyboard, your tablet will help you accomplish more in the design world, from creating logos, to creating promotional assets.
In today's digital world, a professional graphic designer needs a selection of tools to help them hone their craft. These solutions can range from state-of-the-art PCs or Mac computers, to a simple and ergonomic keyboard.
An animation tablet (or drawing tablet) is a valuable device for creating logos, animations, and other graphics, without relying too heavily on using a mouse.
With a drawing tablet, you can draw just like you would with a pen or pencil, on a surface which feels like paper. This allows for far more creative control than you'd get with a mouse and keyboard (or even a touchpad).
Animation tablet technology has evolved drastically over the years, to the point where we now have advanced solutions with built-in screens and battery-free pens.
Today, we're going to be looking at some of the best animation tablet options on the market.
Our picks for the top animation tablets are:
Huion KAMVAS 16 Drawing Display (best for beginners)
Wacom DTC133W0A One (best with software)
GAOMON PD146PRO (best versatility)
Wacom Cintiq 22 (best luxury choice)
2020 Huion KAMVAS Pro 24 (best large screen)
Wacom Intuos Pro (best for capturing paper sketches)
Artisul D22S 21.5-inch (best with adjustable stand)
Parblo 10.1 Inches Coast10 (best budget option)
Simbans PicassoTab 10-inch (best connectivity)
Read on for more…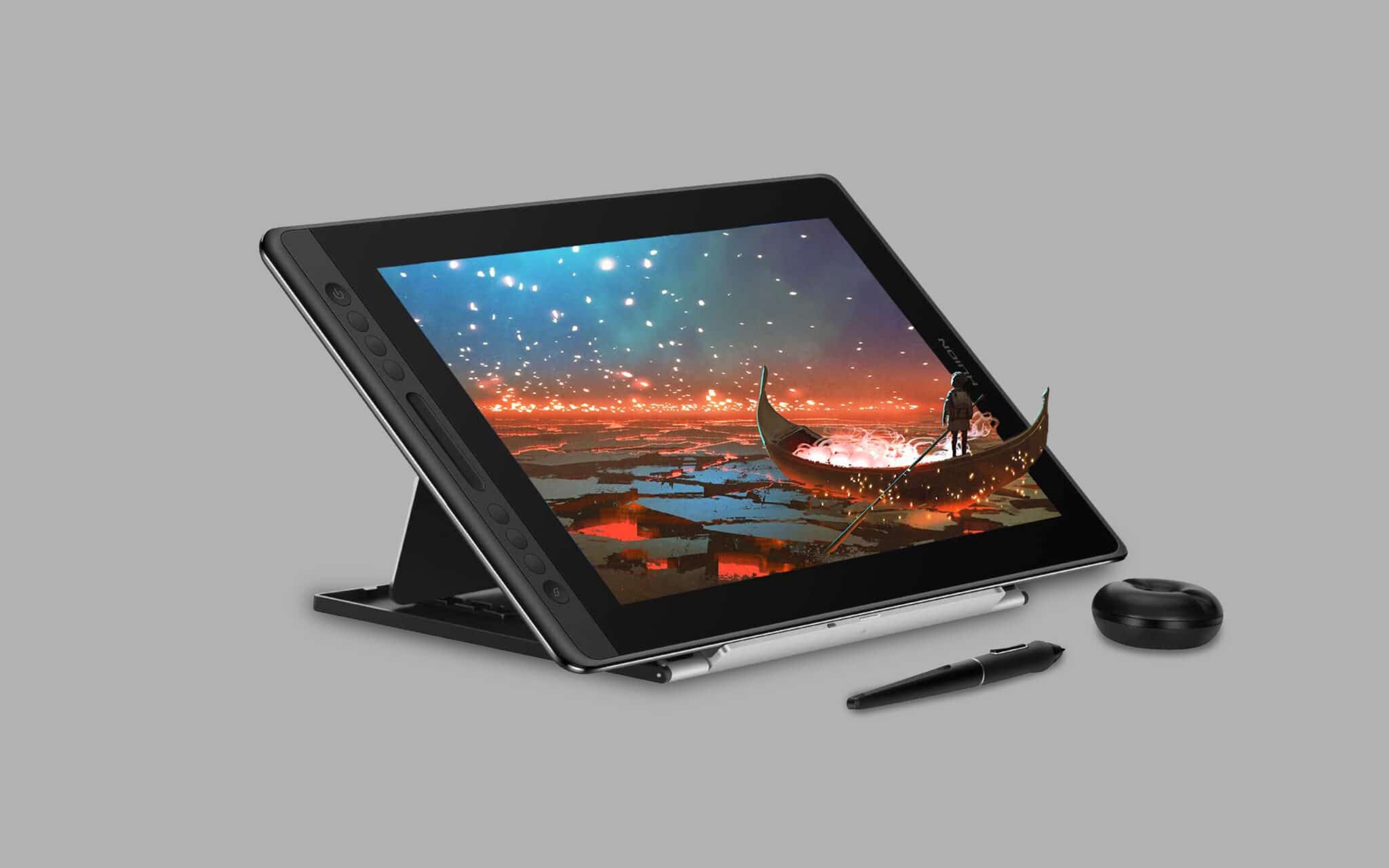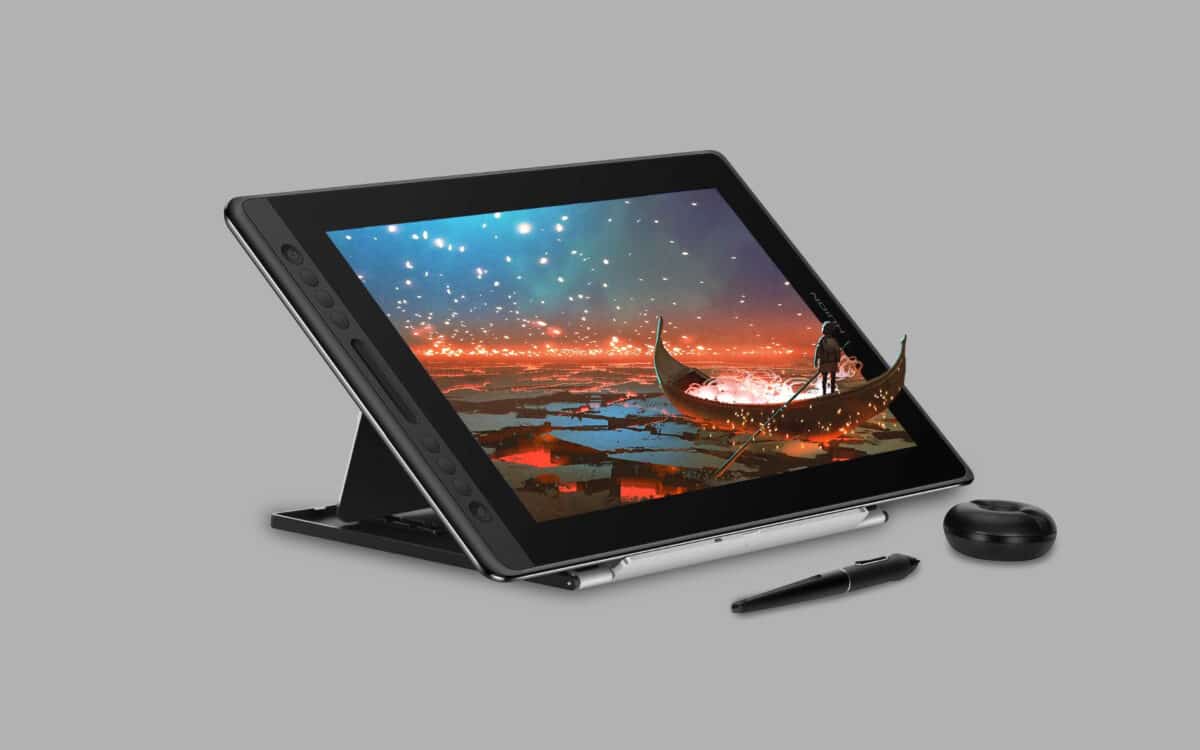 1. Huion KAMVAS 16 Drawing Display (best animation tablet for beginners)
Huion is an up-and-coming brand in the world of computer animation tablet designs.
The KAMVAS series is the brand's selection of animation tablet with screen devices, which allow you to see what you're creating as you draw.
This KAMVAS 16 version comes with a 15.6 IPS screen, and a battery-free pen so you can draw easily with no drag.
Suitable for use with a wide range of Mac OS and Windows operating systems, you can easily use the KAMVAS with your favorite tools, including Clip Studio, Adobe Photoshop, and more.
There's a USB type-C port for connecting to your computer, and a set of 6 press keys with one touch bar for easier navigation and use.
Features include:
15.6-inch screen
120% sRGB color gamut (16.7 million colors)
Compatible with Windows and Mac
Type-C port
Full-laminated anti-glare glass
60 levels of tilt recognition
Battery-free drawing pen
6 express keys
1 touch bar for navigation
Quick start guide
Adjustable stand
Pen holder and nibs
The KAMVAS 16 comes with everything a budding graphic designer needs to get started, from a sensational 3-in-1 cable, to a pen holder for all your nibs.
The 60 levels of tilt recognition mean you can have a more organic drawing experience, without the annoying digital lag.
One slight issue is it needs to be connected to something (a computer or laptop) to work. The pen offset can drift a little too.
Pros:
Excellent wide color gamut
Good compatibility with leading OS systems
Express keys and touch bar included
Fantastic tilt recognition
Adjustable stand and pen holder included
Cons:
Issues with the pen offset drift
Needs to be connected to a computer
Sale
Huion KAMVAS Pro 16
When you draw on KAMVAS Pro 16 Graphic Monitor, you notice how magnificent the display is with it's wide color gamut support.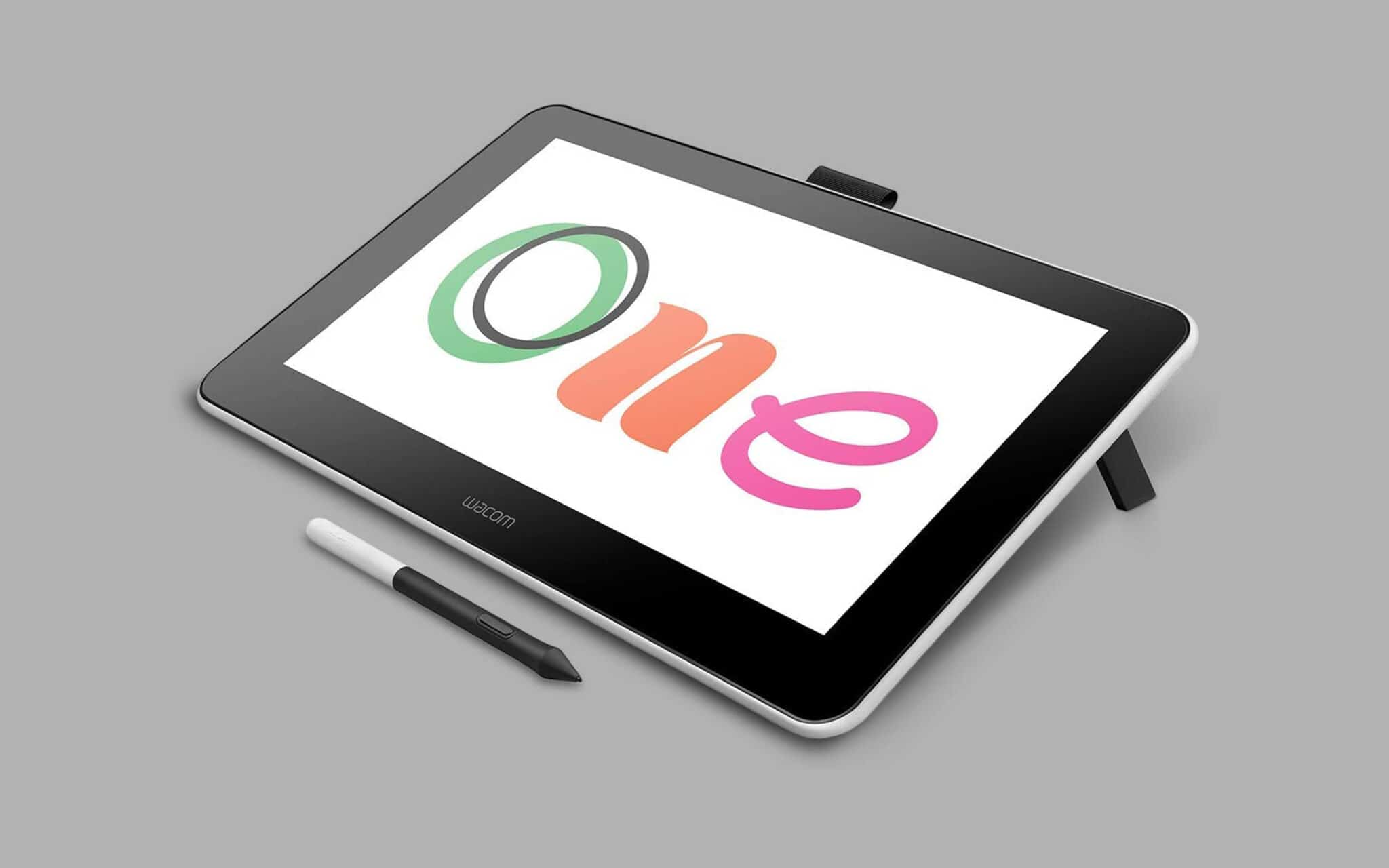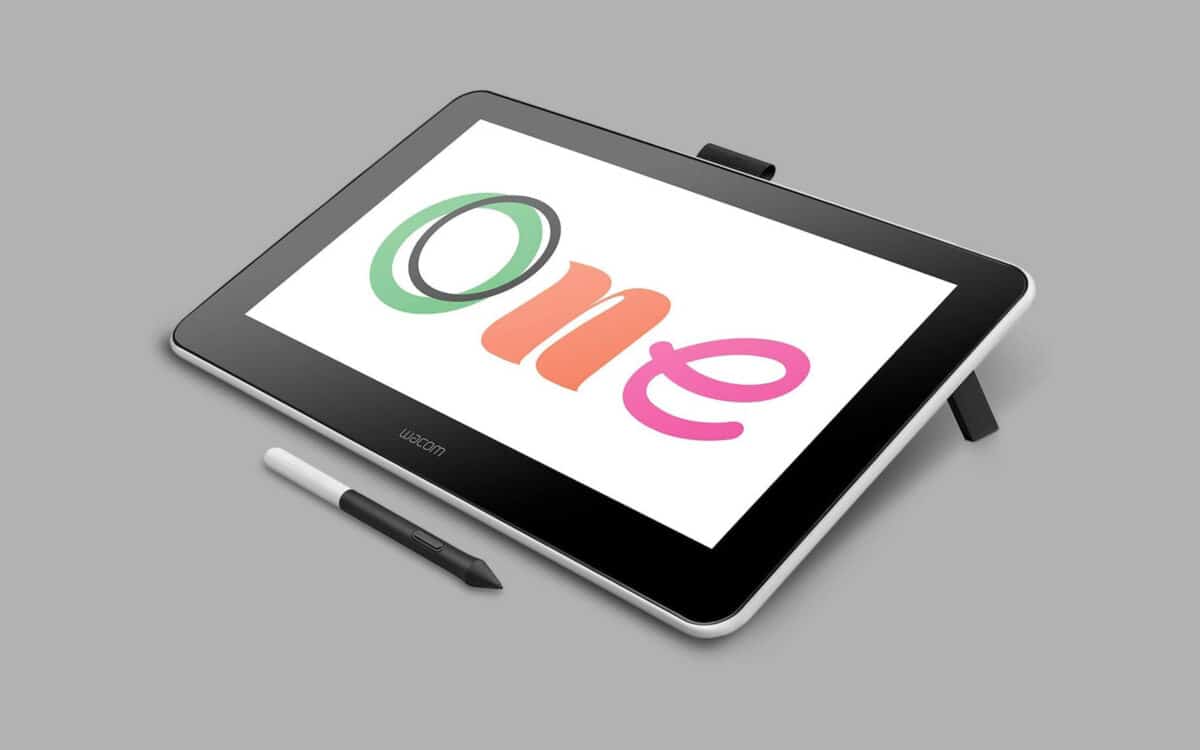 2. Wacom DTC133W0A One (best with software)
If you've heard of animation tablets, then you've heard of Wacom. The two go together like tea and biscuits, with Wacom earning the top spot in the hearts of many designers.
This 13.3-inch graphics display might be small, but it's fantastic for a beginner animator. The display delivers just enough friction to make it feel like you're drawing on paper, and the pen feels real too, with no batteries.
With absolute digital freedom, you can sketch and paint on the screen, and watch your art come to life.
There's also access to creative software built in. You get Baboo Paper Pro, Clip Studio, and Adobe Photoshop, among other things, for a few months for free.
Features include:
13.3-inch display
Natural surface friction
Battery-free pen
Creative software included
Works with Mac, PC, and Android
Award-winning functionality
Bonus software trials for teachers
True-to-life color gamut
Lightweight and portable design
The Wacom animation tablet is a fantastic piece of tech for someone keen to get into the higher end of the animation tablet market.
You'll need to attach the screen to a computer to use it, but once you do, there's no limit to what you can create.
For those getting started with animation, this is fantastic choice, but the connection cable isn't great, and you may notice the screen breaks easily.
Pros:
Works with a variety of operating system
Award-winning technology
Fantastic range of free software included
Beautiful battery-free pen
Unique level of surface friction
Cons:
Screen may break easily
Connection cable isn't ideal
Sale
Wacom One DTC133W0A
The Wacom One is a great tablet gives beginners and casual artists a good entry point into the graphic design world – and anyone who'd enjoys sketching, doodling, or note taking.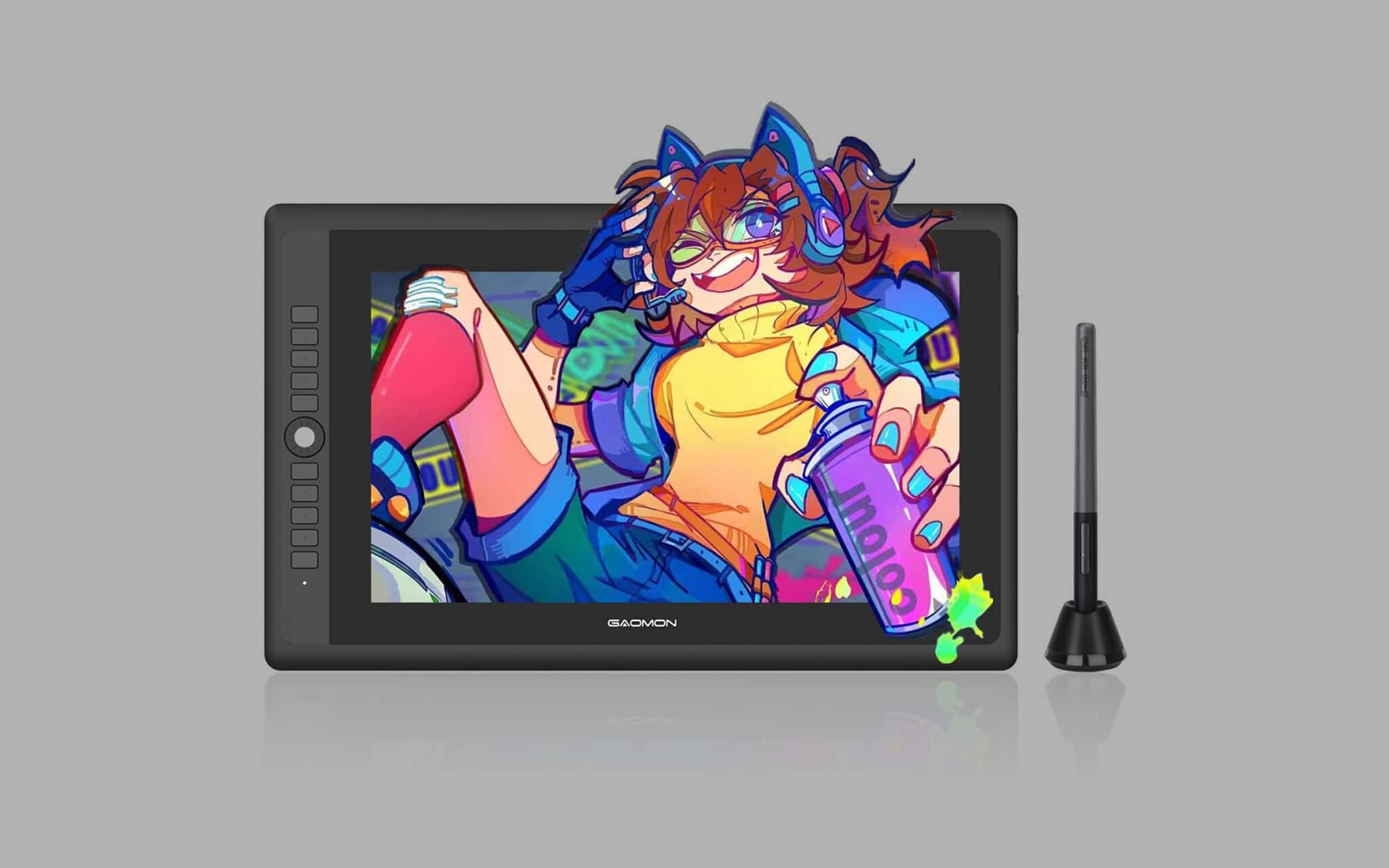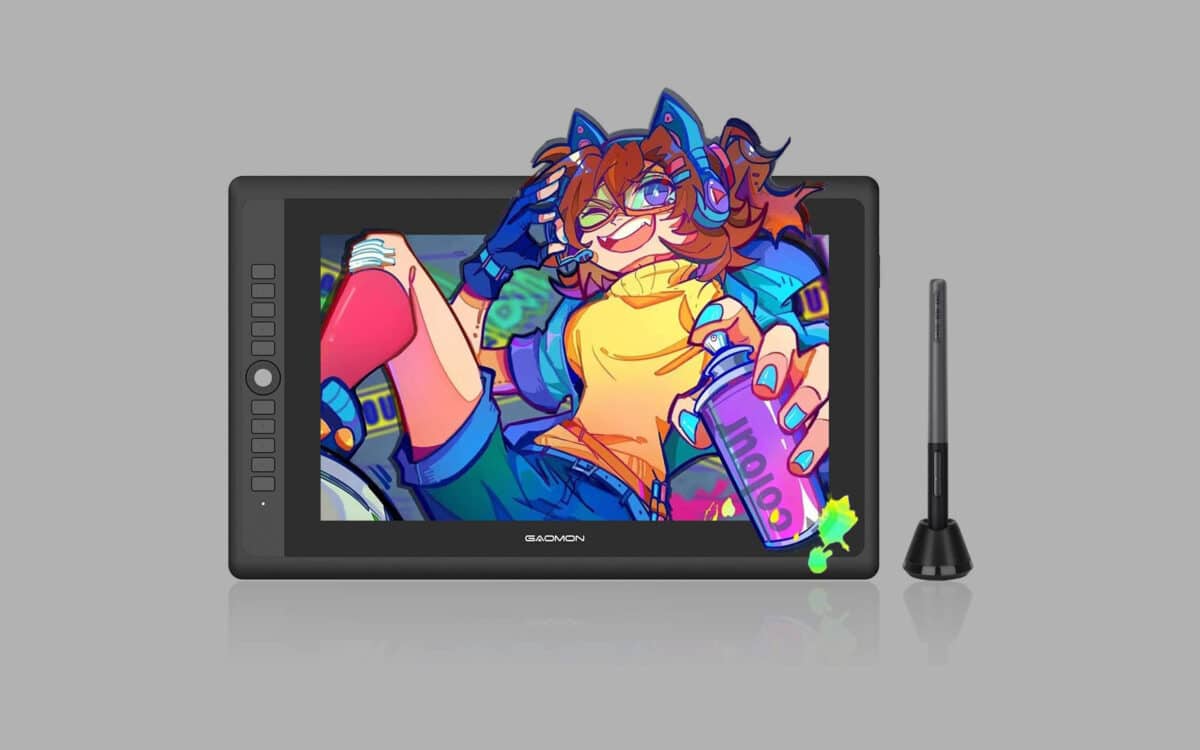 3. GAOMON PD156PRO (best versatility)
The GAOMON animation tablet is a great product for someone in search of a system they can use to animate, work on documents, and even teach with at the same time.
The tablet, measuring around 15.6 inches, comes with an 88% color gamut and 1,920 x 1,080 screen resolution.
The full-laminated HD screen makes it easy to draw smoothly on the surface, and there's a set of 9 express keys and a round button for managing navigation.
The tilt support passive pen comes with no battery to weigh you down, so you can draw three dimensional creations within seconds. There's also a pen holder and set of nibs included with the purchase.
You can use this animation tablet on virtually any operating system, and it works with many of the top software choices too.
This animation tablet for beginners' features:
15.6-inch screen
88% color gamut
Full lamination HD technology
No air layer in the screen
9 express short keys and 1 round button
Passive battery-free pen
Tilt support with 8,192 levels of pressure
8 replacement nibs and pen holder
Wide compatibility with different OS options
Access to various popular software tools
If you're looking for a well-sized tablet which makes it easy to get into animation or improve your skills, then GAOMON has you covered.
The express keys are an excellent touch, and you can use various teaching tools on this device too.
The pen can act a little odd from time to time, but this is common among animation tools.
One issue is installing the driver can be a headache.
Pros:
Excellent tilt and pressure support
Good color gamut and full laminated screen
Passive pen with no battery
Wide range of compatibility options
Versatile performance
Cons:
Difficult driver installation
Some issues with pen functionality
GAOMON PD156PRO
The performance of the PD156PRO makes it suitable for artists who plan to draw digital often and pursue professional display effects.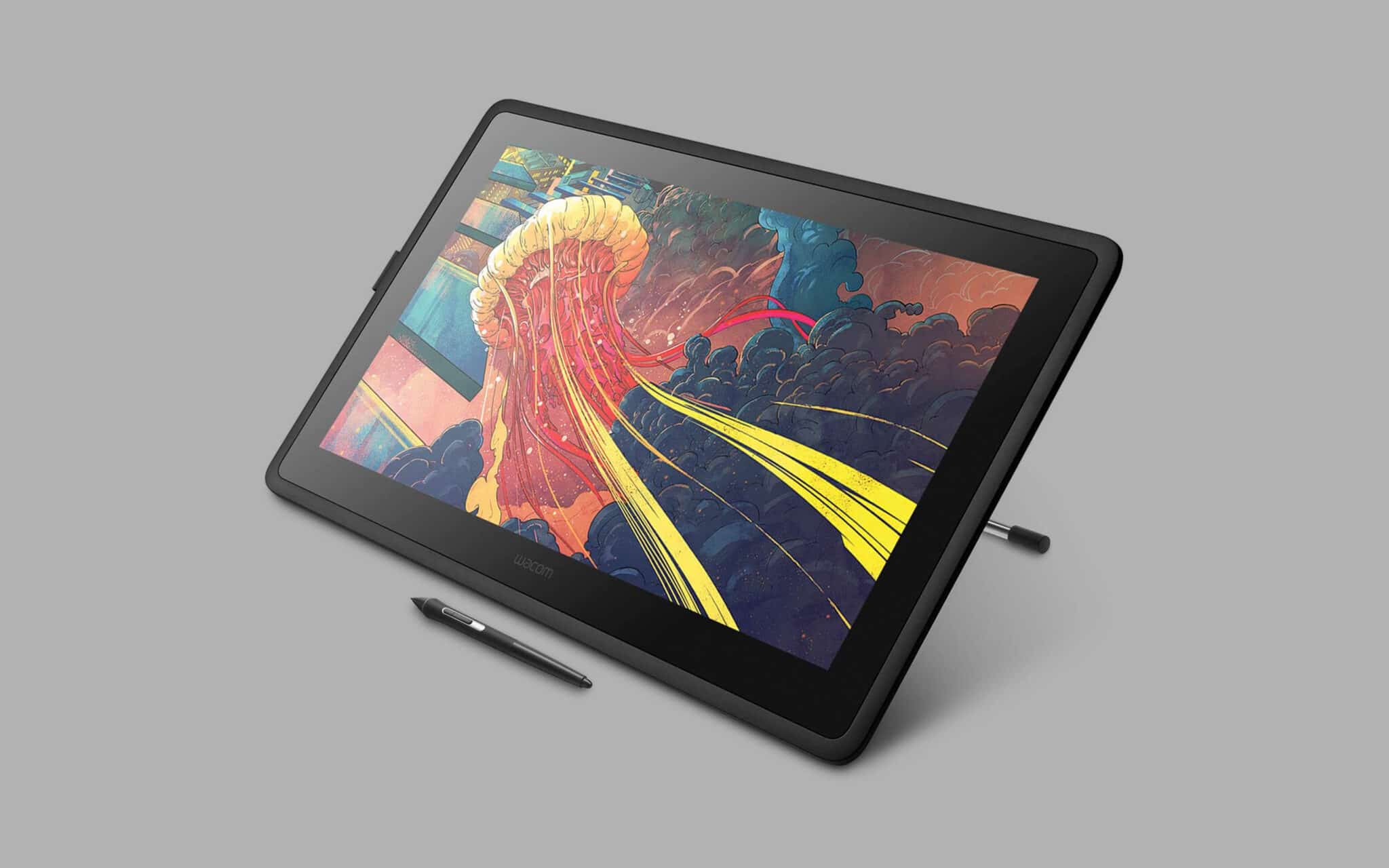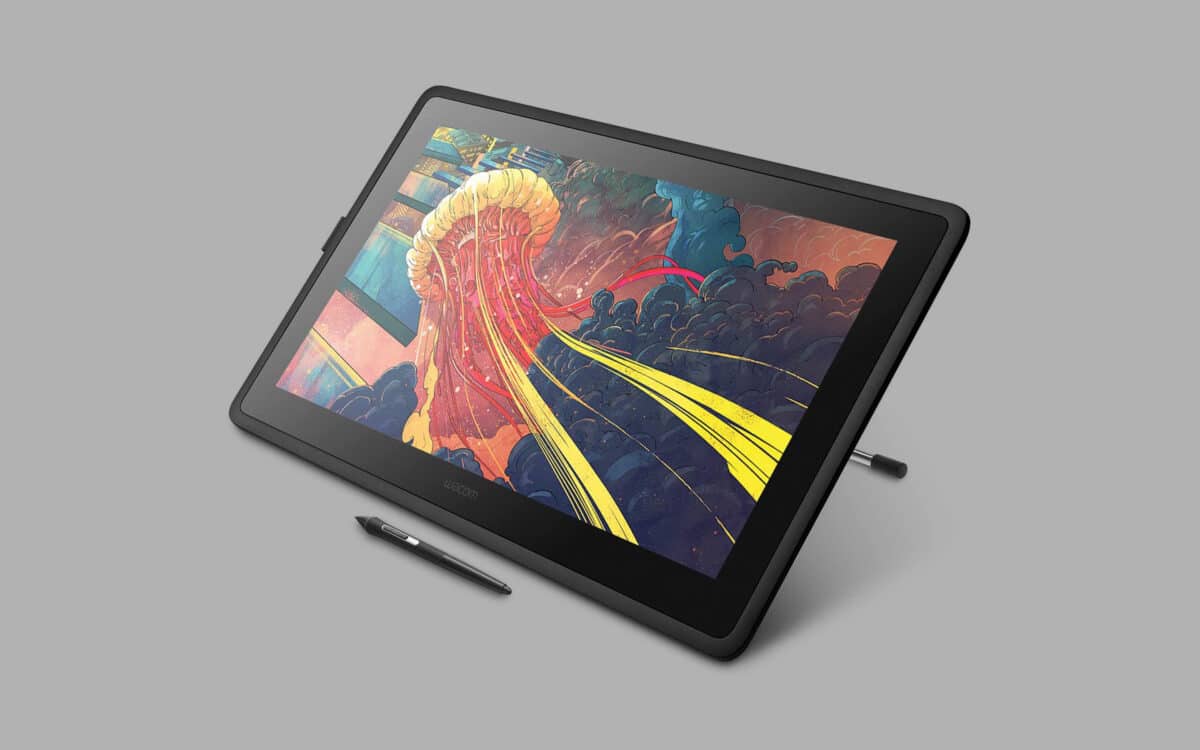 4. Wacom Cintiq 22 (best luxury animation tablet)
Sometimes, you've got to invest in your career. For a graphic designer, this might mean upgrading your printer or purchasing a new laptop. It could also mean investing in something like the Wacom Cintiq 22.
This sensational drawing tablet is by far one of the best on the market from Wacom. The device comes with Pro Pen 2 technology, a low activation force, and various tilt recognition levels.
Reduced parallax and access to 192 pressure levels make this one of the most natural drawing experiences you can get from an animation tablet with screen performance.
The screen itself shows more than 16.7 million colors, and the anti-glare, and scratch-resistant screen helps to protect your work.
Features include:
HDMI and USB connections
16.7 million colors
Battery free pen
1,920 x 1,080 HD display
Pro Pen 2 technology
192 pressure levels
Low activation force
Tilt recognition and reduced parallax
Scratch and water-resistant screen
Access to leading animation software
This Wacom animation tablet is the kind of animation tablet you'd buy as a true professional, looking to show off your skills.
You can access all the market leading software you might need on it, including Photoshop, and you can access a host of tilt and pressure levels.
One issue is it's quite difficult to set up the drivers if you haven't had a Wacom before.
Pros:
Incredible screen performance
192 pressure levels
Scratch, water and glare resistant
Pro Pen technology with no battery
Low parallax and low activation force
Cons:
Quite difficult to set up the drivers
Sale
Wacom Cintiq 22
The Cintiq is a more affordable pen display from Wacom with their Pro Pen 2 technology and a Full HD display to provide clarity in every detail of your work.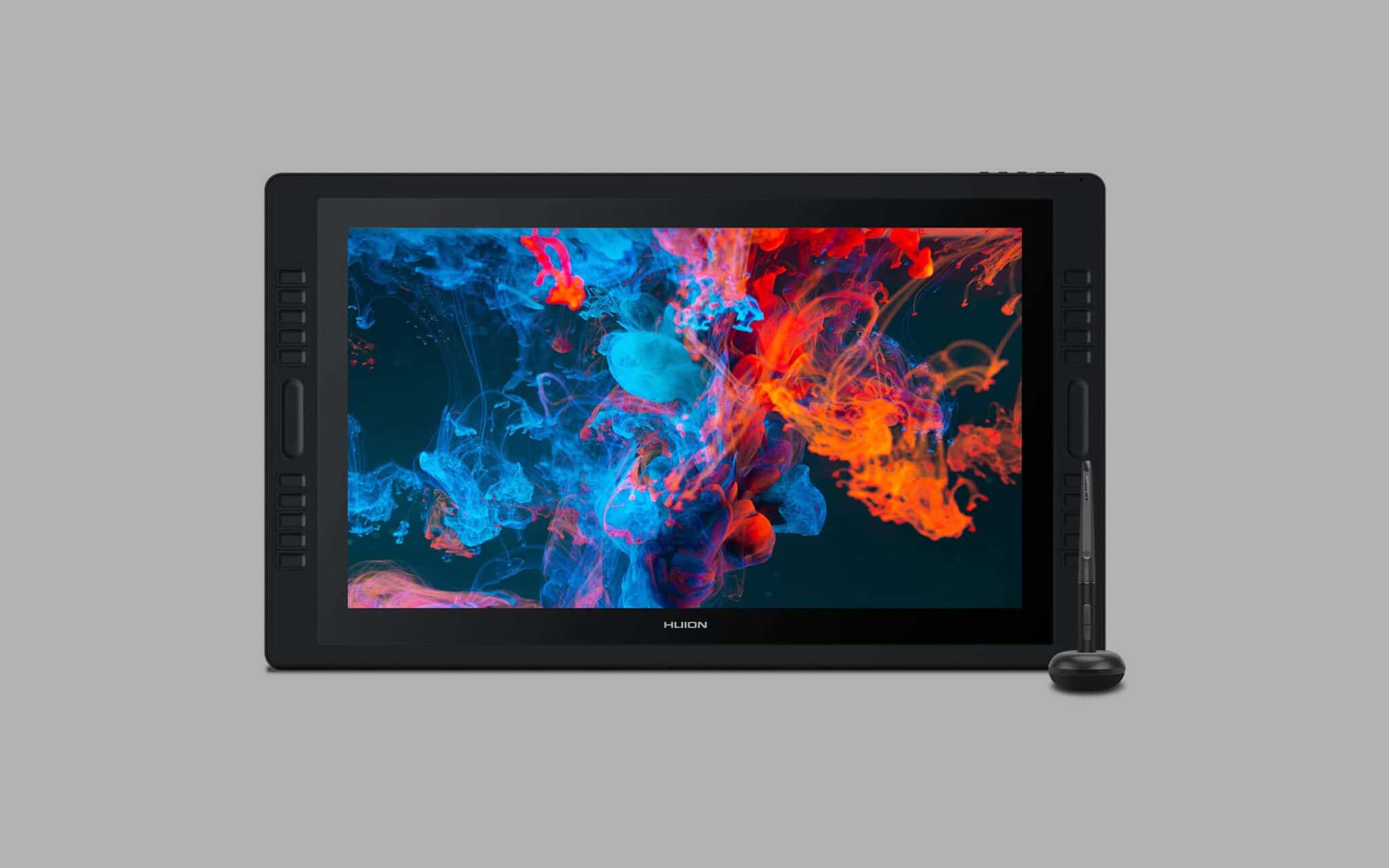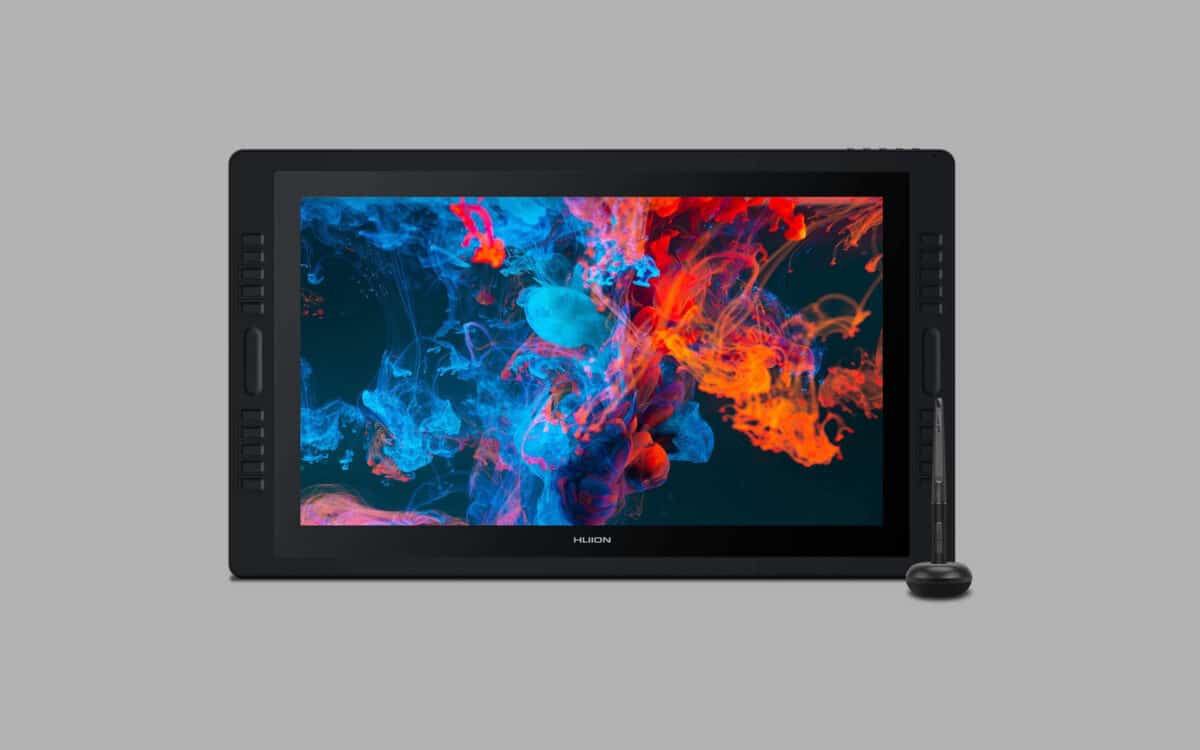 5. 2020 Huion KAMVAS Pro 24 (best large screen)
Why struggle with a tiny computer animation tablet when you could have perhaps the largest drawing monitor on the market. The KAMVAS Pro 24 comes with a sensational 23.8-inch screen, and an unbeatable 2.5k resolution.
The QHD screen shows you everything you need to make really detailed animations come to life.
There's 120% sRGB color with a 16.7 million color display so you can present your work like never before.
On top of a fantastic display experience, you get a powerful 5080 LPI pen capable of managing all kinds of movements.
The fully laminated screen lacks any significant parallax, so you can get a more beautiful, clear view as you work. There's also no air inside the screen, so you don't have to worry about dust either.
Features include:
23.8-inch screen
2.5k HD resolution
Tilt option for easier drawing
120% sRGB color gamut
16.7 million display colors
5080 LPI pen resolution
High-quality laminated screen
Anti-glare glass to reduce eye strain
Battery-free pen
The battery free pen included with the KAMVAS Pro 24 offers up to 8,192 levels of pressure sensitivity, as well as 60-degree tilt support.
A 266 PPS report rate is excellent for quick feedback, and there's no battery to weigh you down either.
One slight issue is the display might not be as bright as necessary for some.
Pros:
Excellent huge screen
QHD 2.5K resolution
Anti-glare glass
Amazing color performance
Great pen sensitivity
Cons:
A little dimmer than some animation tablets
HUION Kamvas Pro 24
The rich feature set of the KAMVAS Pro 24, including the impressive QHD display, makes it a compelling option for those who are looking for a lot of bang for your buck.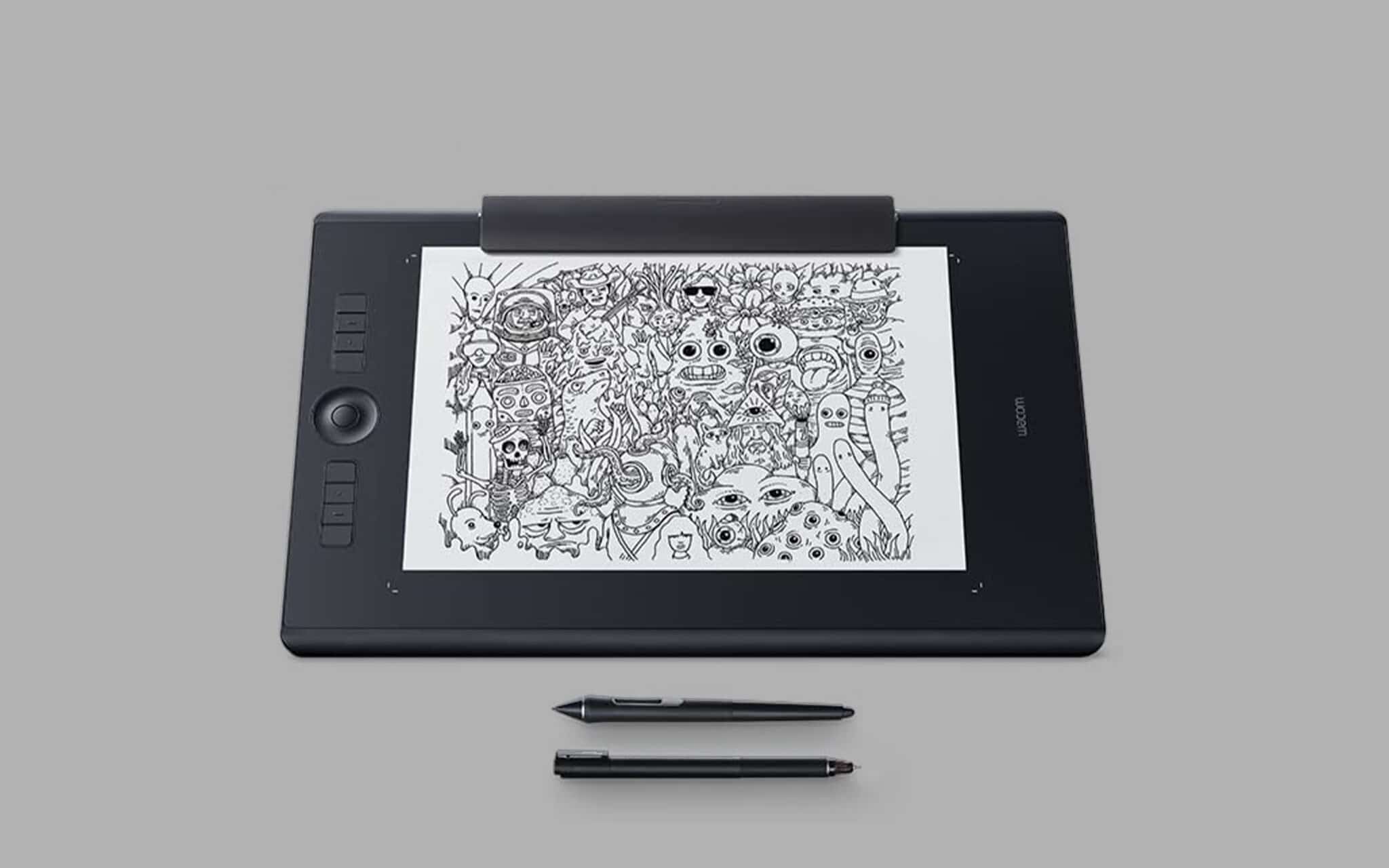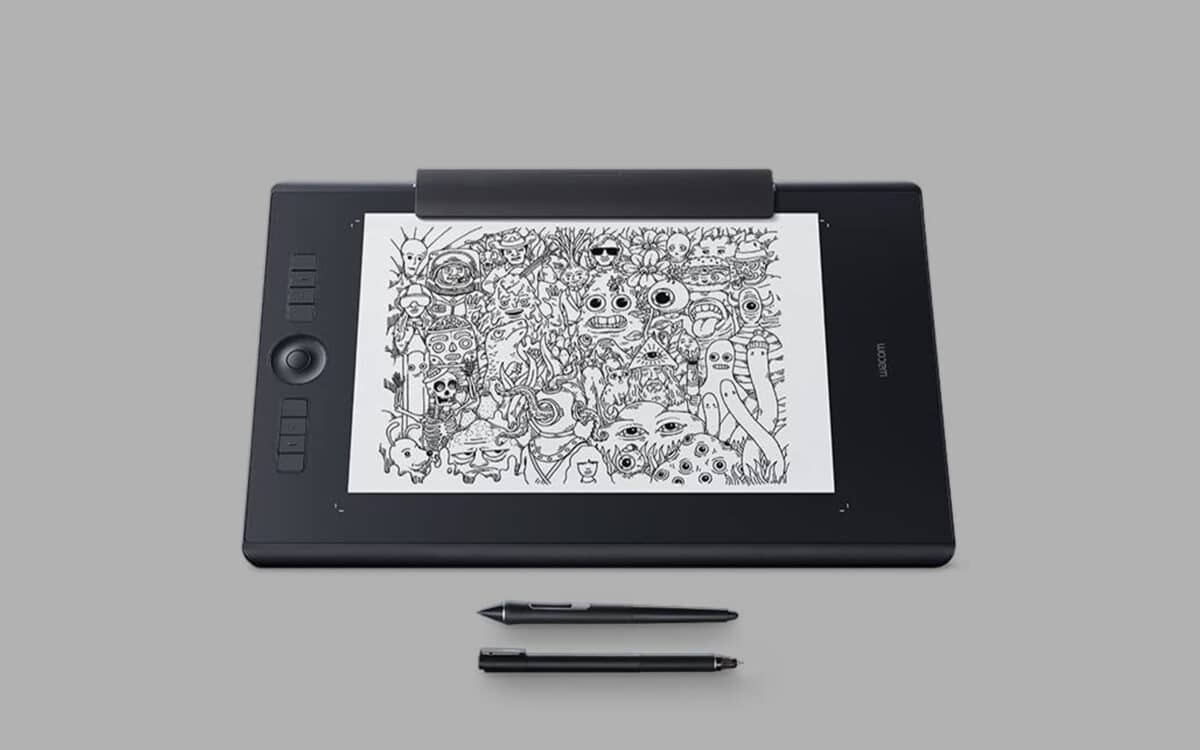 6. Wacom Intuos Pro (best for capturing paper sketches)
Wacom's Intuos Pro animation tablet is one of the most intuitive for today's designers.
The paper-to-digital function means you can capture versions of your pen-on-paper drawings and bring them into the digital world.
There are 8192 levels of pressure sensitive, lag-free tracking, tilt-response and so much more with this tablet.
This Wacom animation tablet needs to be connected to a computer or Mac device to work, but once you have it set up, it's a delight to use.
The paper edition comes with a detachable fine-tip gel pen for sketching on paper too.
Features include:
Paper to digital ability
8,192 levels of pressure sensitivity
Tilt response and lag-free movement
Mac OS or Windows compatible
Intuous Pro tablet with Pro Pen 2
Fine tip gel pen included
Paper clip to hold your paper on top of the tablet
Valuable inkspace software
Eight application options with express keys
2 free months of After Effects and
Multi-touch sensor technology
With sensor technology to sense when you're scrolling and flipping between images, the Wacom Intuos Pro is a delight to work with.
There are a host of express keys to make navigation simpler, and free demo software included too.
One slight issue is the Bluetooth connection isn't great.
Pros:
Mac OS or Windows compatible
Inkspace software included
Eight app options with express keys
2 months of After effects
Sensational paper to digital ability
Cons:
Not the best Bluetooth
Drivers can be fiddly
Wacom Intuos Pro
The Wacom Intuos Pro Paper is a great animation tablet that also lets you capture editable versions of your pen-on-paper sketches, completely digital from start to finish and export as raster or vector files.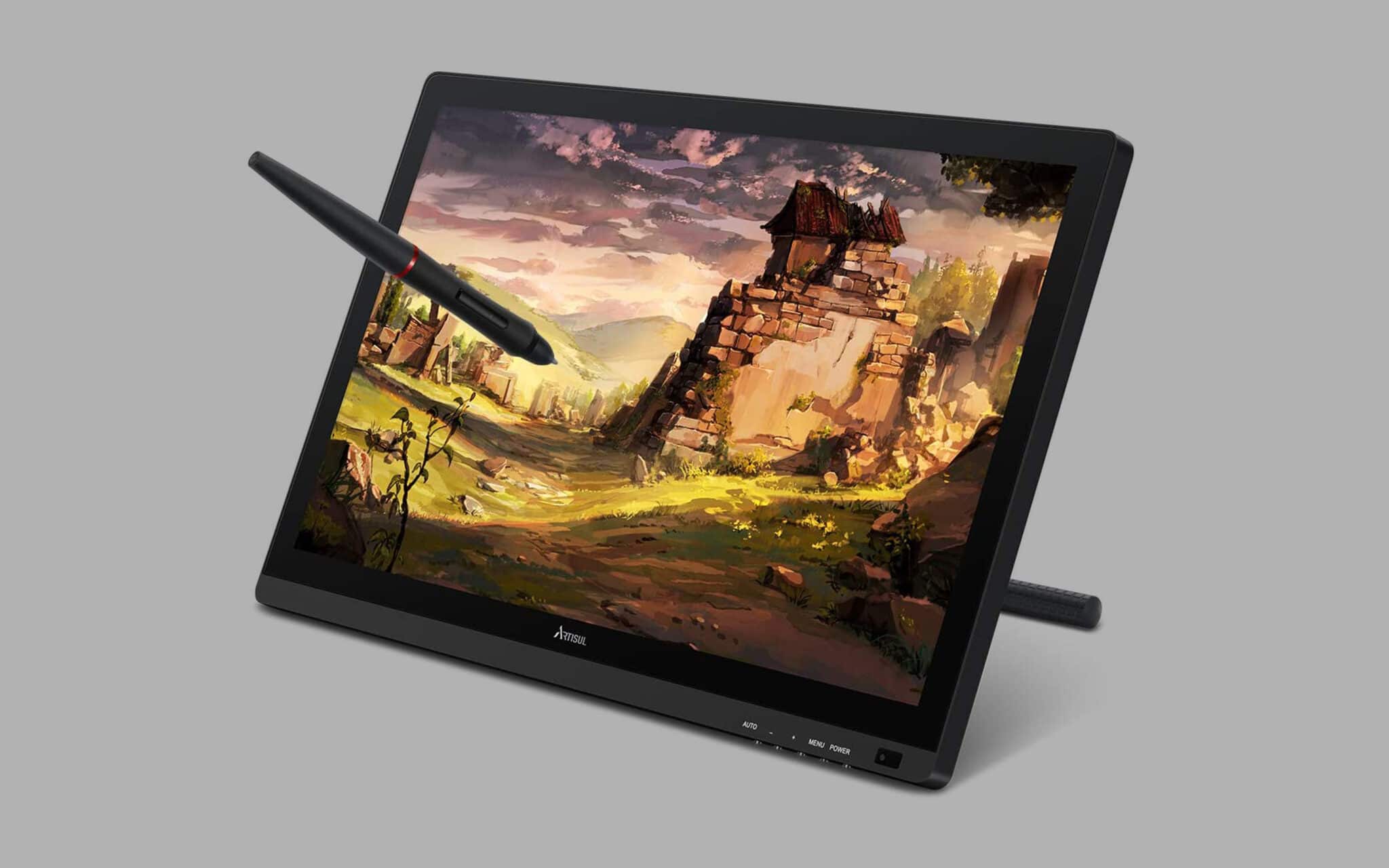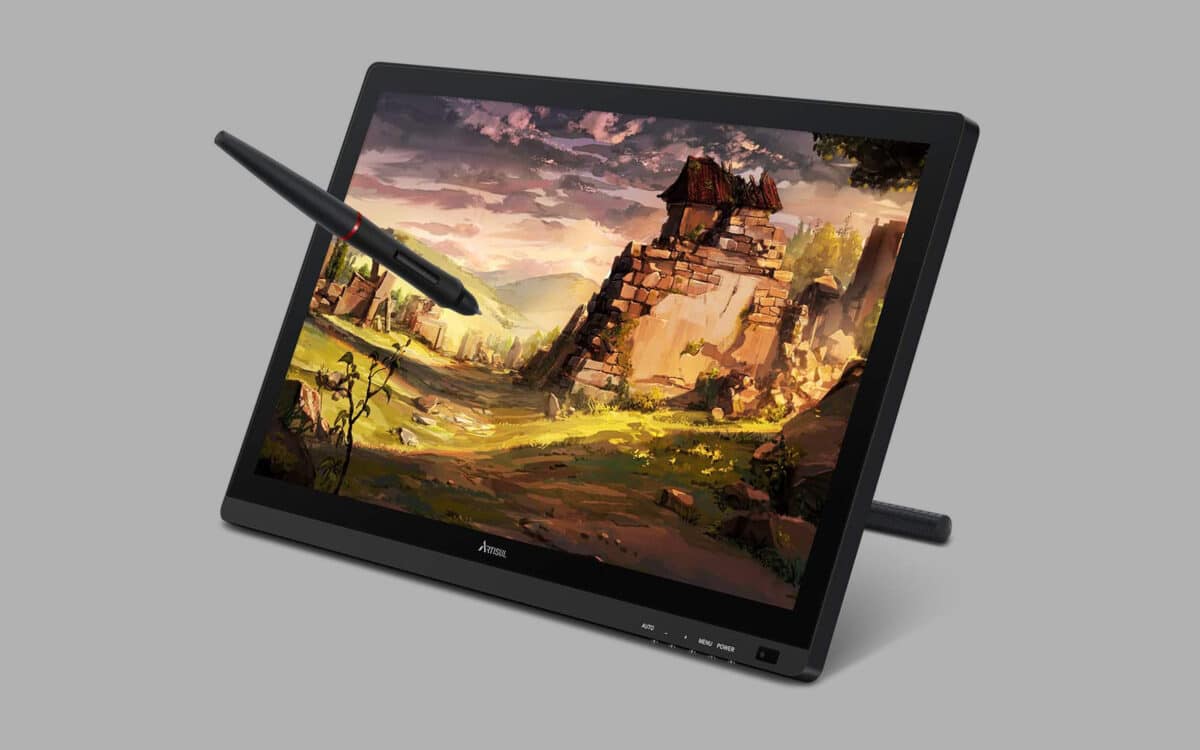 7. Artisul D22S 21.5-inch (best with adjustable stand)
As animation tablet technology continues to evolve, it's becoming much easier to find a device which feels as natural to draw on as a piece of paper.
It may still be difficult to find the right angle for the best drawing experience. This is why the Artisul D22S 21.5-inch comes with a special adjustable stand which allows you to alter your angle to the most comfortable position.
Aside from a great tool for angling, the Artisul also comes with a battery-free stylus with 60-degree tilt function to help you get the perfect depth in all your designs.
There's support for 8,192 levels of pen pressure, and an anti-glare film which helps to reduce the interference of ambient light, improve the quality of picture presentation, and makes the image clearer.
Features include:
21.5-inch size for plenty of drawing space
Battery-free stylus
8,192 levels of pen pressure
60-degree pen tilt
Anti-glare film for natural drawing
Anti-corrosion and anti-scratch coating
Adjustable stand up to 80 degrees
Compatible with Mac and Windows
Notably, the Artisul isn't a standalone tablet. You will need to keep the device hooked up to a laptop or PC when you're using it.
It's also worth noting the resolution on this device isn't quite as impressive as what you may get from a brand like Huion or Wacom.
Pros:
Excellent large screen size
Lot of pen pressure and tilt support
Compatible with Windows and Mac
Adjustable stand included
Anti-glare film
Cons:
Some issues with resolution quality
Doesn't work as a standalone tablet
Artisul D22S 21.5-inch
The high quality 21.5-inch display on the Artisul D22S makes it a compelling option for novices and professionals alike thanks to the resolutions, contrast and responsivity.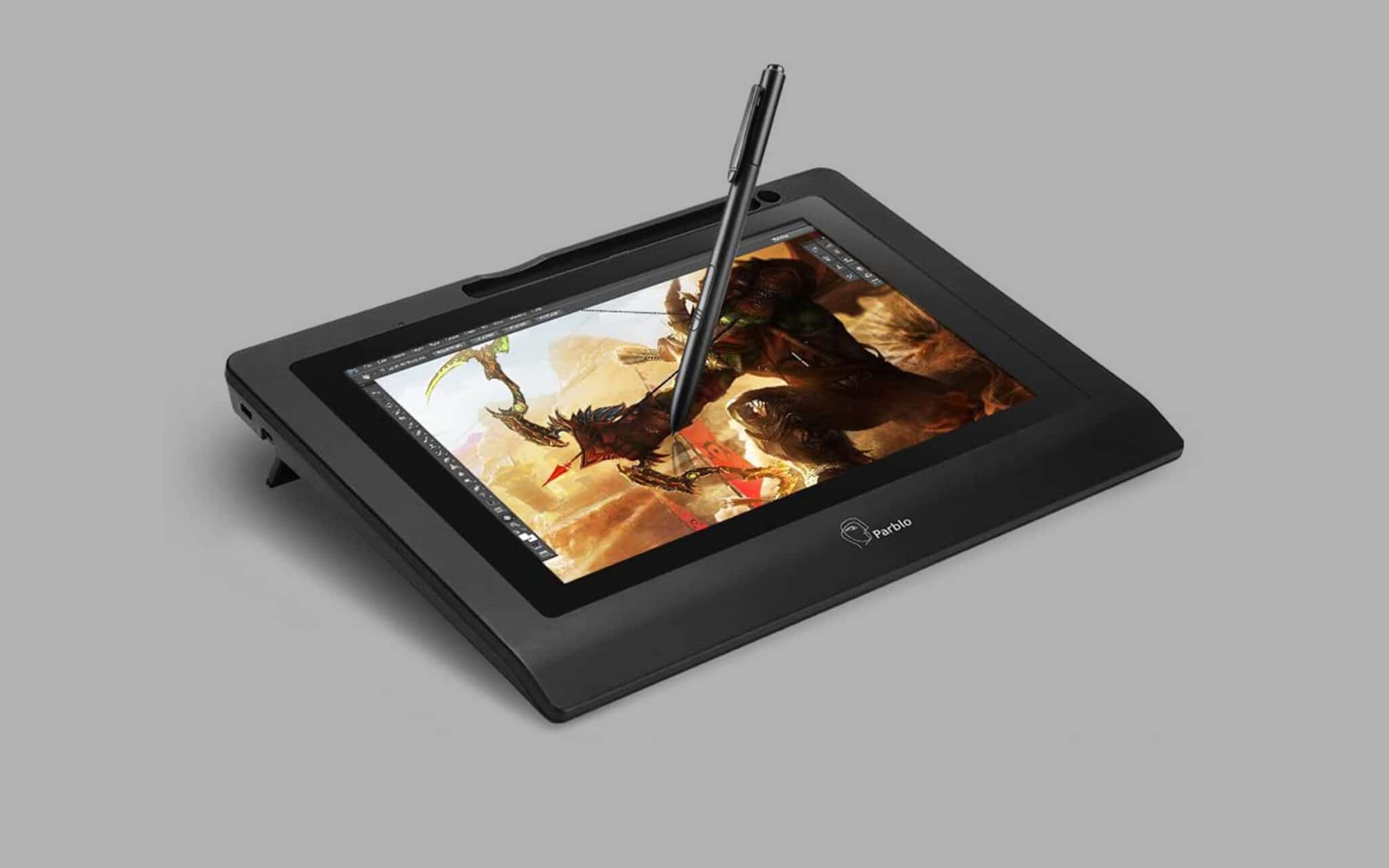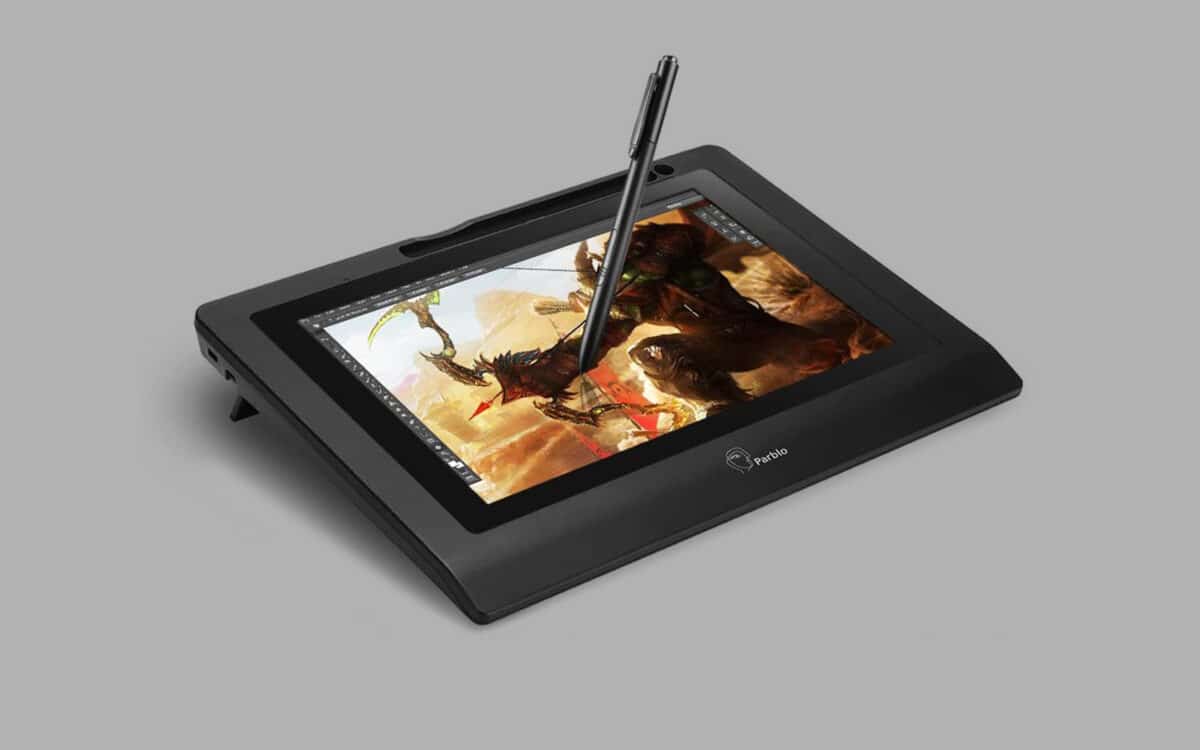 8. Parblo 10.1 Inches Coast10 (best cheap animation tablet)
Not every designer will have a fortune to spend on their technology.
Notably, if you go out to buy a cheap animation tablet, you may end up compromising on some features and functionality. You can still get an excellent outcome, however, if you know where to look.
The best animation tablet we've found for people with limited cash is the Parblo Coast10.
A convenient animation tablet for beginners, this device comes with a battery-free pen as standard which gives you a more ergonomic drawing experience.
There's an adjustable stand built in to help reduce discomfort for your monitor view, and the Parblo is also compatible with all major graphics applications like Illustrator, and Photoshop too.
Features include:
10.1-inch anti-glare screen
Battery-free pen
High viewing angles (horizontal or vertical)
Ergonomic design
Compatible with all animation applications
Versatile operating system support for Windows
Accessories included (glove and case)
1,280 x 800 resolution
USB port hub included
The Parblo might not be the most amazing product when it comes to things like pen pressure and clarity, but it's good for beginners.
You still get over 2,000 levels of pressure support, and a decent enough resolution for basic drawing.
There's also a USB port hub included for plugging in external devices. Unfortunately, this product is not compatible with Mac OS.
Pros:
Over 2,000 levels of pressure support
Ergonomic design with tilt options
Affordable price with accessories included
Works with many leading software options
Great for beginners
Cons:
Doesn't work with Mac OS
Limited resolution
Parblo 10.1-inch
The Parblo is a well built drawing tablet made for portable use. On a device like the Parblo Coast10 the ergonomic design is strong buying-factor, in addition to the extra accessories that come with it.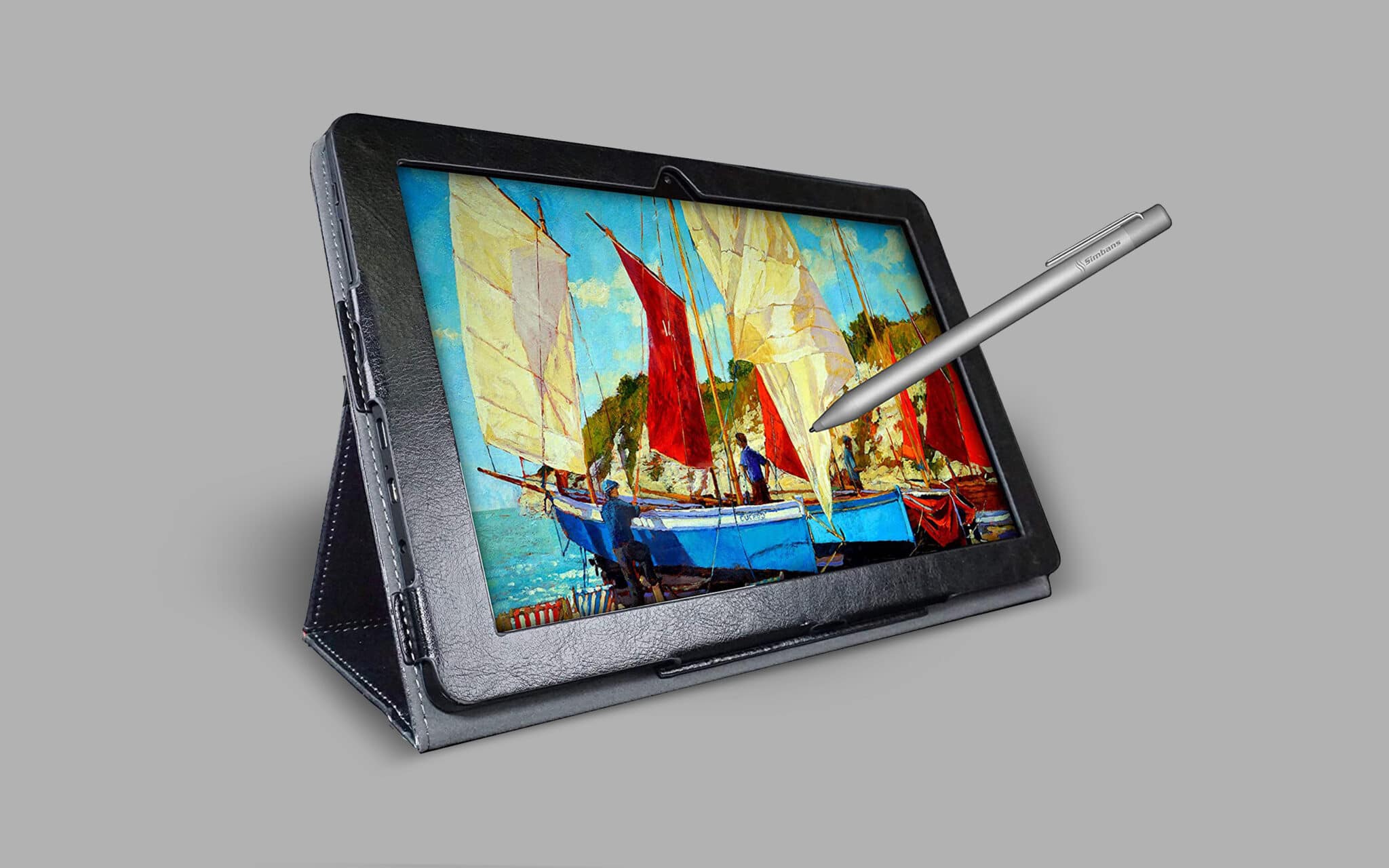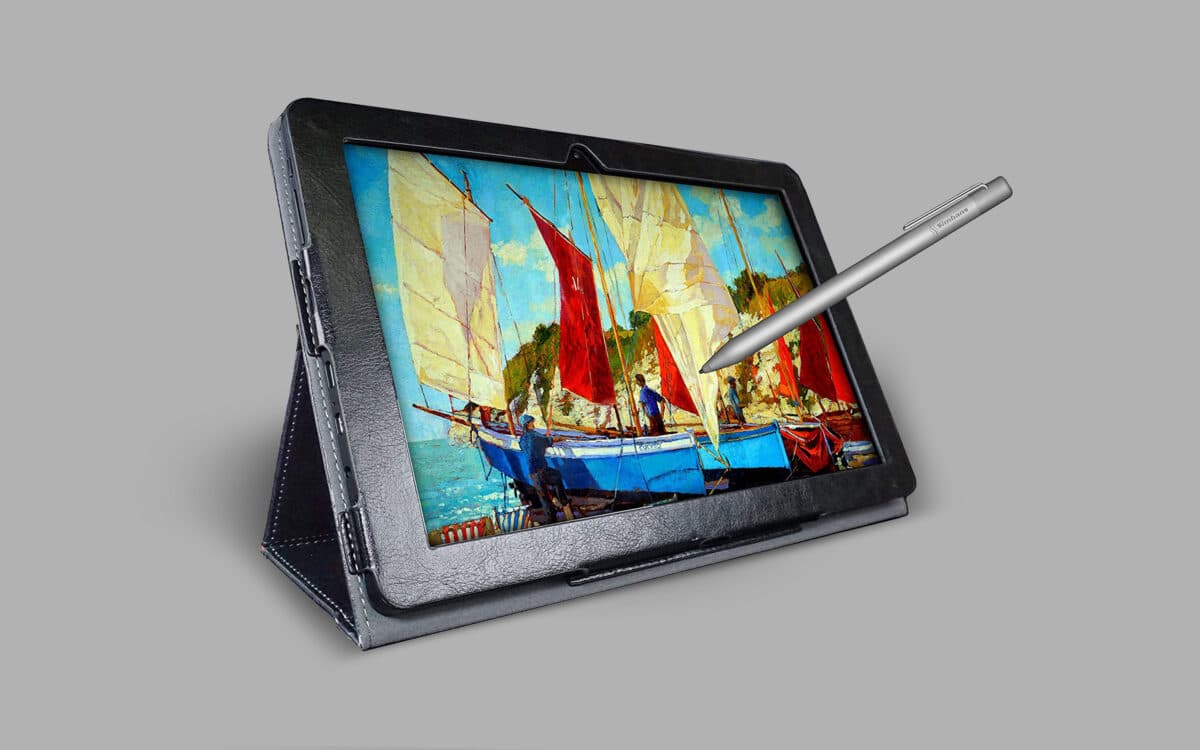 9. Simbans PicassoTab 10-inch (best connectivity)
Ready for drawing, taking notes, or sketching, this computer animation tablet from Simbans is a versatile choice for the beginner artist.
If you're looking for something small and easy to use, the Simbans can quickly become the go-to solution you use for quick and convenient design.
There's a pre-installed Autodesk sketchbook app, so you don't have to download any extra software to get started.
Equipped with a quad-core processor, this device is surprisingly fast for its price, and it comes with a decent HD screen resolution too. With 64GB of disk space, you can save and download all kinds of apps from the app store.
The Simbans also features Wi-Fi connectivity, a HDMI port, Bluetooth, and more.
Features include:
Android 10 processing
Quadcore performance
IPS HD crystal clear screen
GPS access
RAM (4GM)
ROM (64GB)
Wi-Fi and Bluetooth connectivity
Camera included
Active pen
You don't need to keep this device plugged into a computer or laptop to use it, which is convenient for people who like to design and draw on the move.
It's also extremely easy to download any extra tools you might need to use to design with.
There's also space to upgrade your file storage, and a set of 2 cameras back and front. Some people feel these tablets aren't built to last, however.
Pros:
Standalone processing power
Multiple connection options
Active pen included
Glove and storage case
Camera on front and back
Simbans PicassoTab
The PicassoTab from Simbans will easily satisfy budding artists who want to draw digitally without breaking the bank. It's a great tablet to enter into the drawing tablet space.
How to choose the best animation tablet
Finding the best animation tablet is crucial for your career. Graphic designers do their best work when they have access to the tools, they need to let their creativity flow.
An animation tablet is a valuable piece of equipment in a graphic artist's arsenal, offering an excellent and convenient place to sketch digital ideas.
While there's no one-size-fits-all strategy for choosing the perfect tablet, there are a few things you can consider to boost your chances of making the right choice. For instance:
Size
The more complicated the project, the bigger the animation tablet may need to be. If you need to work on a large piece of work, and you don't want to have to sketch one section at a time, consider a slightly bigger tablet.
Display
The display of any animation tablet with screen access should be good enough, so you can appreciate all the details contained within your drawings. Try to look for something with a good display resolution and a decent amount of brightness too.
Functionality
Your animation tablet may come as a standalone product with its own operating system, or it may need to plug into an accompanying computer or device. If you want your device to be more portable, choose something with a standalone OS.
Compatibility
If you are going to plug your animation tablet into a device, then you'll need to ensure everything will work seamlessly with the tools and operating systems you already use. Find out if your tablet works with Mac as well as Windows devices, and whether you can download popular software for it.
Usability
How comfortable and convenient is it for you to use your animation tablet? Do you have a way to angle or tilt the screen if necessary? Is the pen battery-free, so you don't have it weighing you down as you sketch? What does the screen feel like to draw on?
Budget
Although there's more to making an important purchase for your career than budget, we all have financial restraints to think about. Remember, don't look at price alone, try to ask yourself what kind of value you're getting for the cost.
An animation tablet is a valuable investment for today's graphic artist, offering endless opportunities for sketching and practicing your skills. Hopefully, this list has given you some excellent options to consider.
Don't forget to check out our other review lists for more guidance too.
Fabrik: A branding agency for our times.