The best budget monitor for graphic design is an important investment for a budding designer. Even if you don't have a fortune to spent on your tech, you can still get a monitor capable of bringing your designs to life
As a creative professional, you'll use your monitor to create stunning animations, beautiful images, and even eye-catching logos for your clients.
Things like low resolution and limited color vibrancy can make it difficult to deliver the right results.
For beginners in the graphic design landscape, or freelancers with a limited budget, the most advanced 4K monitors can cost a pretty penny.
The good news is that as display technology continues to evolve, there are some more affordable choices out there too.
Today, we're going to be exploring some of the best budget monitor for graphic design options available.
These are the displays that can deliver stunning images, without draining your bank account.
Our choices for the best budget monitor for graphic design are:
Samsung 32-inch UJ59 4K (best refresh rate)
Philips 276E8VJSB (best eye protection)
Samsung Business SH850 (best ports)
ViewSonic VP2458 (best color)
Philips 272E1CA 27 inch (best curved)
HP VH240A (best rotating)
Acer SB220Q Bi (best ultra-thin)
ASUS VA24DQLB (best for wall mounting)
Asus Pro Art (best pre-calibration)
Read on for more…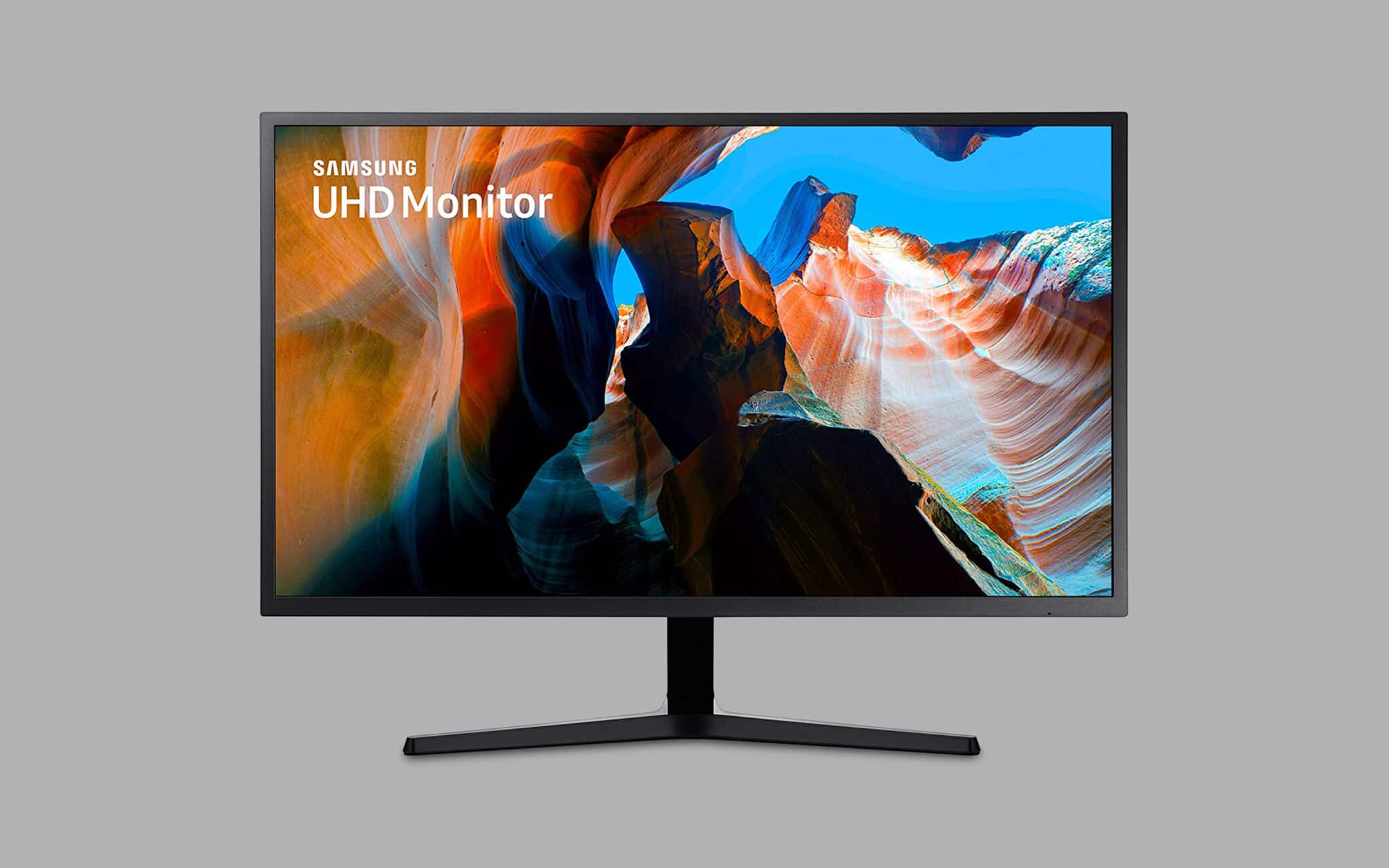 1. Samsung 32-inch UJ59 4K (best refresh rate)
The best gaming monitors and the best budget monitor for graphic design are often very intricately connected.
High-quality gaming displays offer excellent color reproduction, high refresh rates, and minimal eye-strain, all things you'd want as a graphic designer too.
This 32-inch widescreen monitor offers stunning detail, with enhanced split screen functions like picture-by-picture, so you can connect two devices as you draw, build, or create.
The flicker-free design and eye-saver mode protect your vision from long working hours, while AMD free sync delivers a fantastic refresh rate to reduce image stutter.
Features include:
60 Hz performance
AMD free-sync refresh rate
Support for connecting multiple devices
1 billion vibrant colors
Minimal eye strain with eye-saver mode
Flicker free performance
Picture-by-picture productivity features
32-inch 4K display
Seamless upscaling technology
Despite being heavily marketed towards gamers, the Samsung display is an excellent tool for professional productivity too.
Optimized screen contrast makes it easier to see images at their best, while multi-tasking features help you to complete tasks faster.
There's also extra slim bezels for a refined professional finish.
One issue with this monitor, however, is that it struggles to auto-detect cables sometimes and won't always go to sleep when requested.
Pros:
Flicker free eye protection
Full 4K display
AMD free-sync for quicker syncing
1 billion vibrant colors
Eye-saver mode included
Cons:
Input detection isn't always great
Can be difficult to put into sleep mode
Sale
Samsung UJ59 4K
This 32-inch 4K MONITOR provides stunning images with incredible details and supports AMD's FreeSync for a smoother refresh rate.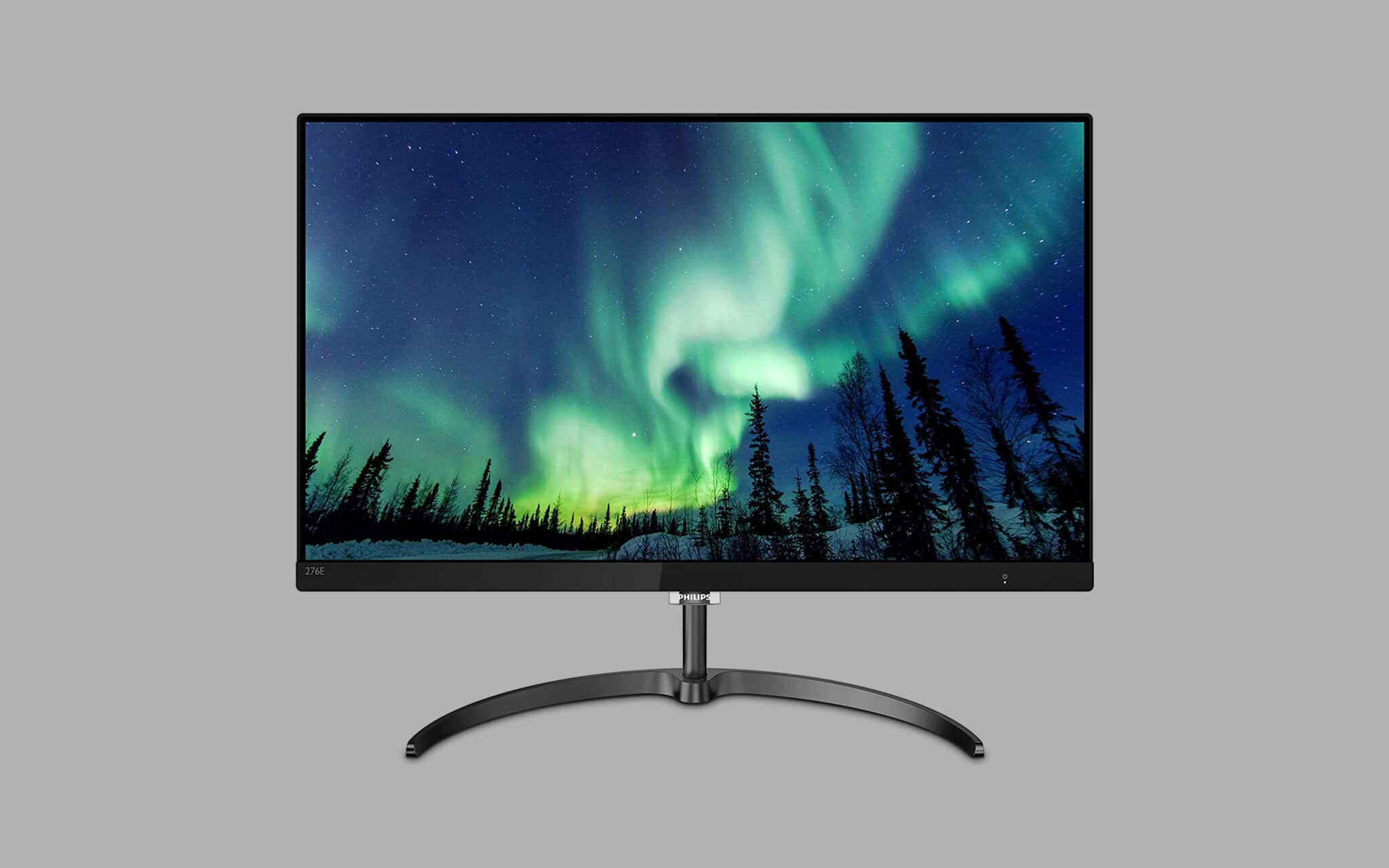 2. Philips 276E8VJSB (best eye protection)
Working for long hours on a company's branding essentials can be headache-inducing work.
That's why the best budget monitor for graphic design needs to be more than just crisp and vibrant – but ergonomically friendly too.
This 27-inch ultra-clear 4K monitor from Philips is a great and affordable option for graphic designers. Elegant and slimline, the display will fit easily into any office.
Thanks to a multi-view function, you can connect multiple tools for everything from CAD design to building 3D graphics.
The display comes with a low blue mode for reduced eye strain, and a flicker-free design to protect your vision too.
Features include:
Multi-view support
Slim borderless design
27-inch monitor in 4K UHD
163 PPI pixel density
10 bit IPS panel
Low-blue mode for reduced eye strain
1,074 billion colors
Flicker free performance
Energy Star certified
This monitor isn't just easy on your eyes, it's easy on the planet too.
Thanks to an Energy Star certified performance, the Philips display can reduce the amount of electricity you use all day, supporting a healthier planet.
There's no way to mount this display to the wall, and you might struggle with the lack of USB connectors.
Pros:
Incredible range of colors
Multi-view supported
Anti-flicker and blue light mode
Energy Star certified
Sleek borderless design
Cons:
Not suitable for wall mounting
No USB inputs
Sale
Philips 276E8VJSB
With an elegant, slim design, narrow borders, and low blue technology, the Philips 276E8VJSB provides a seamless 4K experience.
3. Samsung Business SH850 (best ports)
The Samsung Business SH850 is a budget monitor designed specifically for professionals.
With an attractive finish and a 24-inch screen, this device will look fantastic in any office.
The LCD display delivers amazing life-like image quality with fantastic pixel density and extra-fine detail. In fact, this product has around 50% more pixels than most standard HD monitors.
Perhaps the most impressive thing about this monitor is the connection points it has to offer.
You can link your devices via HDMI, daisy chain various monitors together using display port functionality, or streamline connections with a USB type-C link.
Features include:
23.8-inch LCD display
50% more pixels than standard monitors
Connect via HDMI, USB type-C, or display port
Innovative PLS display technology
178 degree wide viewing angle
Ultra-slim bezel
Fully adjustable stand
Eye-saver mode with flicker-free technology
3 year business warranty
With an extra long business warranty for peace of mind, and innovative display technology with a 178 degree field of view, the Samsung Business seems to have it all.
There's even eye-saver mode and flicker-free technology to protect your vision.
The USB type-C cables that come with this device are very short. You may also find this product hard to mount.
Pros:
178 degree wide viewing angle
Eye-saver mode with flicker-free tech
Connect via USB type-C, display port, or HDMI
50% more pixels than HD monitors
Ultra slim bezel finish
Cons:
Not ideal for wall mounting
Very short USB cables
Samsung SH850
At 24-inches, this QHD monitor from Samsung offers a high pixel density for finer visual detail. Not only are the visuals fantastic — the connectivity options are great too!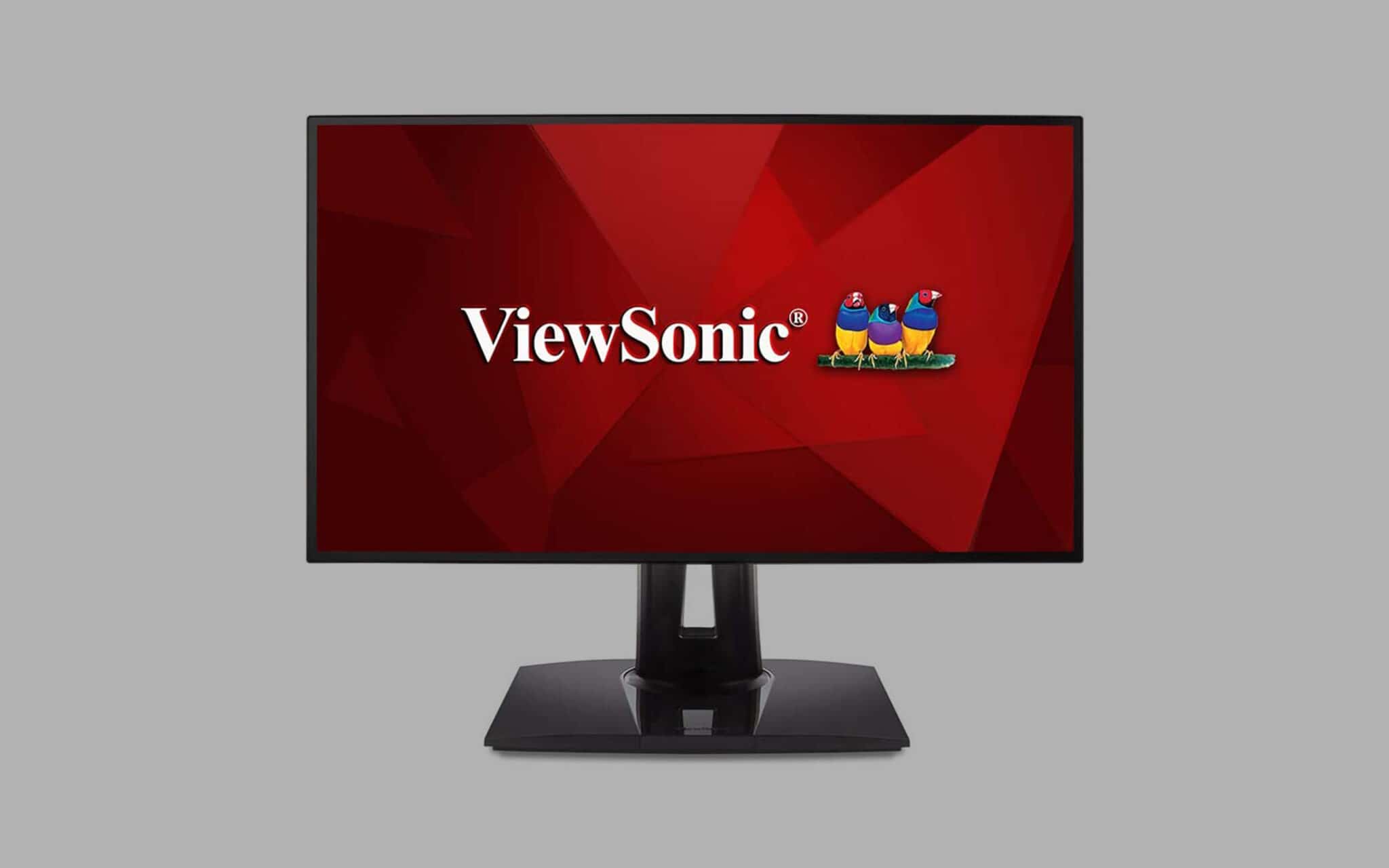 4. ViewSonic VP2458 (best color)
ViewSonic are one of the market leaders in professional monitor technology, although not all of their products are budget-friendly.
This 1080p monitor offers a professional standard of crystal-clear image, with lifelike colors ideal for creative professionals.
The screen-wide 100% RGB color coverage and high color accuracy also ensures lifelike images.
Thanks to an ultra-thin bezel, the ViewSonic monitor seems almost frameless, so you can make the most of every bit of your monitor.
Like most leading budget monitors, this product also comes with flicker-free technology, and a blue light filter for eye protection.
Features include:
HDMI and USB socket
Display port and VGA inputs
Frameless digital canvas design
Flicker-free technology
Advanced ergonomics with blue light filter
Exceptional color accuracy
Lifelike colors with super-clear performance
Full HD screen
Offering everything from ultra-wide viewing angles to a state-of-the-art resolution, this low-cost ViewSonic display is the perfect investment for a graphic design.
Versatile connectivity means linking to your tools is easy, and there's even optimized display modes to choose from too.
Setting up the display can be a little fiddly. There's also a risk of the occasional dead pixel here.
Pros:
USB and HDMI socket
VGA inputs and display port
Frameless digital canvas
Flicker-free technology
Exceptionally lifelike colors
Cons:
Occasional dead pixel issues
Set up is a little frustrating
Sale
ViewSonic VP2458
The ViewSonic VP2458 uses IPS screen technology that covers 100% of the sRGB colorspace for an accurate image recreation.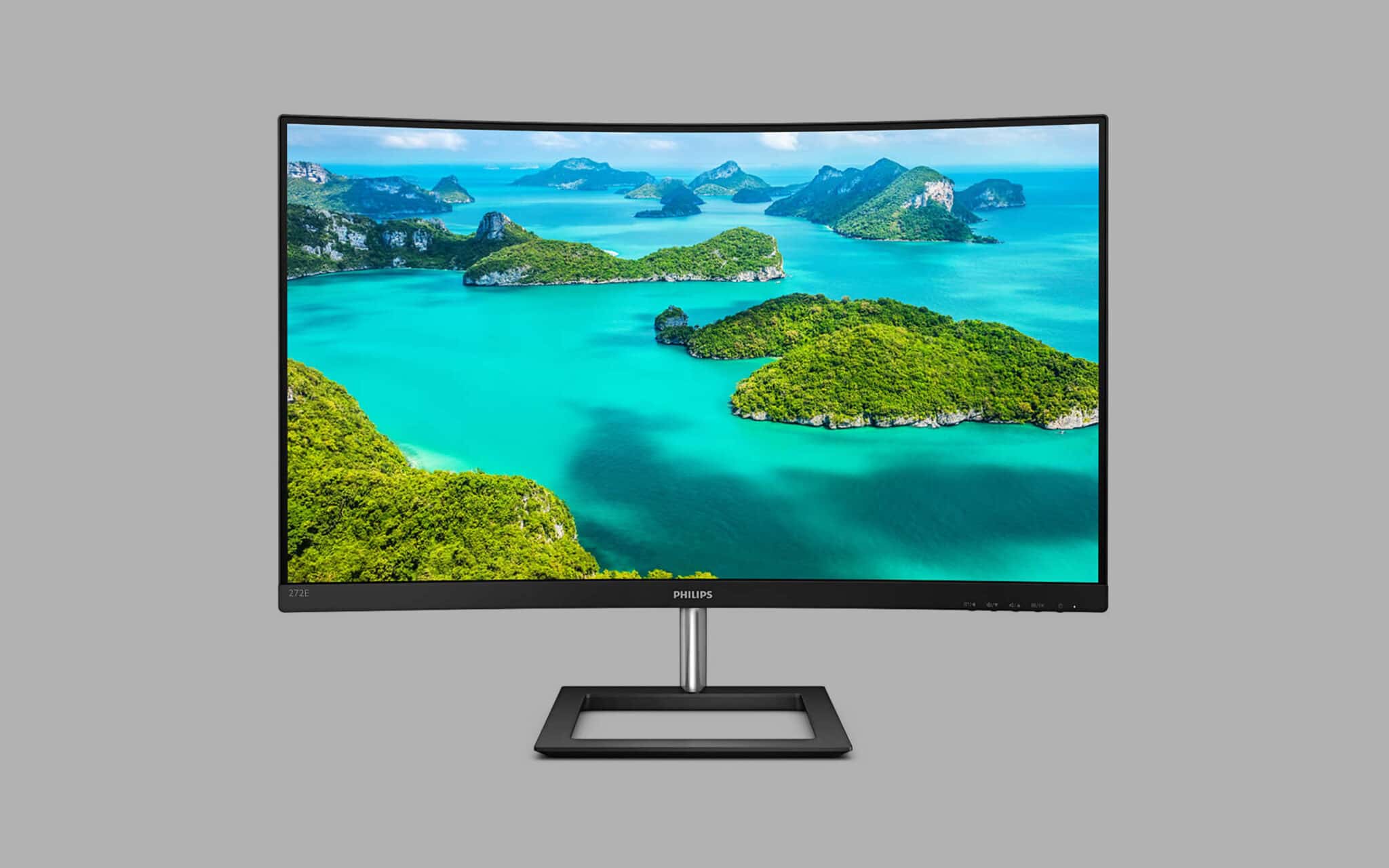 5. Philips 272E1CA 27-inch (best curved)
Curved monitors appeal to some designers more than others.
You may feel that a curved monitor makes it harder to see the full impact of your logo design, or you might think that it's much easier to create imagery with a curved screen.
The E-Line 27-inch curved monitor from Philips promises a 1080p FHD display with 100% sRGB color gamut coverage and amazing contrast ratio.
This monitor can display over 1 billion colors for amazing gradations, and it comes with a 4 year guarantee as standard, so you don't have to worry about lost downtime.
There are 2 HDMI ports built-in, and a set of speakers to help you manage your sound too.
Features include:
27-inch curved display
FHD 1920 x 1080 resolution
Over 1 billion colors
4 year advanced replacement guarantee
2 HDMI ports
Display port and audio in
Low blue light to protect your eyes
Flicker free technology
Built-in speakers
VESA wall mount compatible
The VESA wall mount compatible display makes this product perfect for mounting, and there's low blue-light protection built in to protect against eye strain.
This monitor even comes with a cable management system for reducing cable clutter.
On the other hand, there aren't any USB type-C interfaces available, and the refresh rate on this device is a little slow.
Pros:
Built-in speakers for audio management
Curved FHD 1080p display
4 years of warranty for peace of mind
Low blue light mode to protect your eyes
Cable slot for easy cable management
75Hz refresh rate
Sale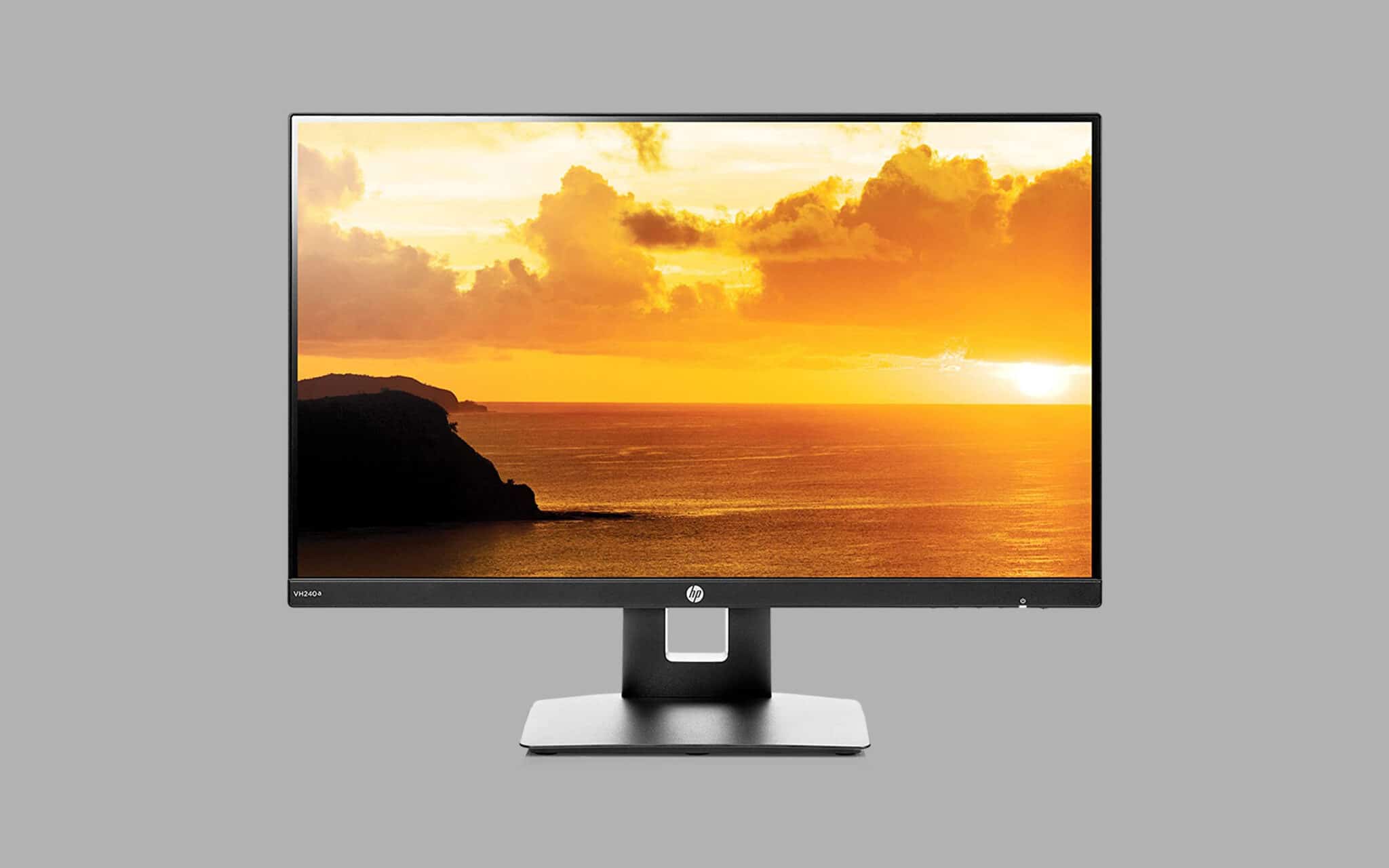 6. HP VH240A (best rotating budget monitor for graphic design)
If you're looking for the best budget monitor for graphic design and gaming, then HP might have just the solution for you.
This 23.8-inch full HD monitor comes with a 16:9 aspect ratio and a handy anti-glare matte display.
Promising a quick response time and a set of in-built speakers to reduce the amount you spend on extra accessories; this is a fantastic investment.
The HP VH240A is particularly appealing for designer because it can rotate any way you choose, rotating the screen ninety degrees means that you can work on more vertical projects, before switching back to horizontal viewing.
The display is also compatible with VESA mounting.
Features include:
23.8-inch full HD monitor
16:9 aspect ratio
5ms response time with overdrive
Built-in speakers
Thin frameless design
VESA mounting
4-way ergonomic adjustments for display
HDMI and VGA connectivity
Blue light and anti-flicker protection
Visually striking from every angle, the HP is a powerful display with a delightfully crisp resolution and a 178 degree viewing angle.
The built-in speakers are a nice extra touch, although it's a shame there's no headphone jack included.
Though this screen is very adjustable, it also takes up a lot of space.
Pros:
Horizontal or vertical display viewing
Built-in speakers
Excellent response time
Blue-light and anti-flicker protection
Frameless design
Cons:
Takes up a lot of space
No headphone jack
HP VH240A
A rotatable display for those taller projects is a designers best friend. And with minimal borders, this HP monitor makes the most of it's 24-inch screen form factor.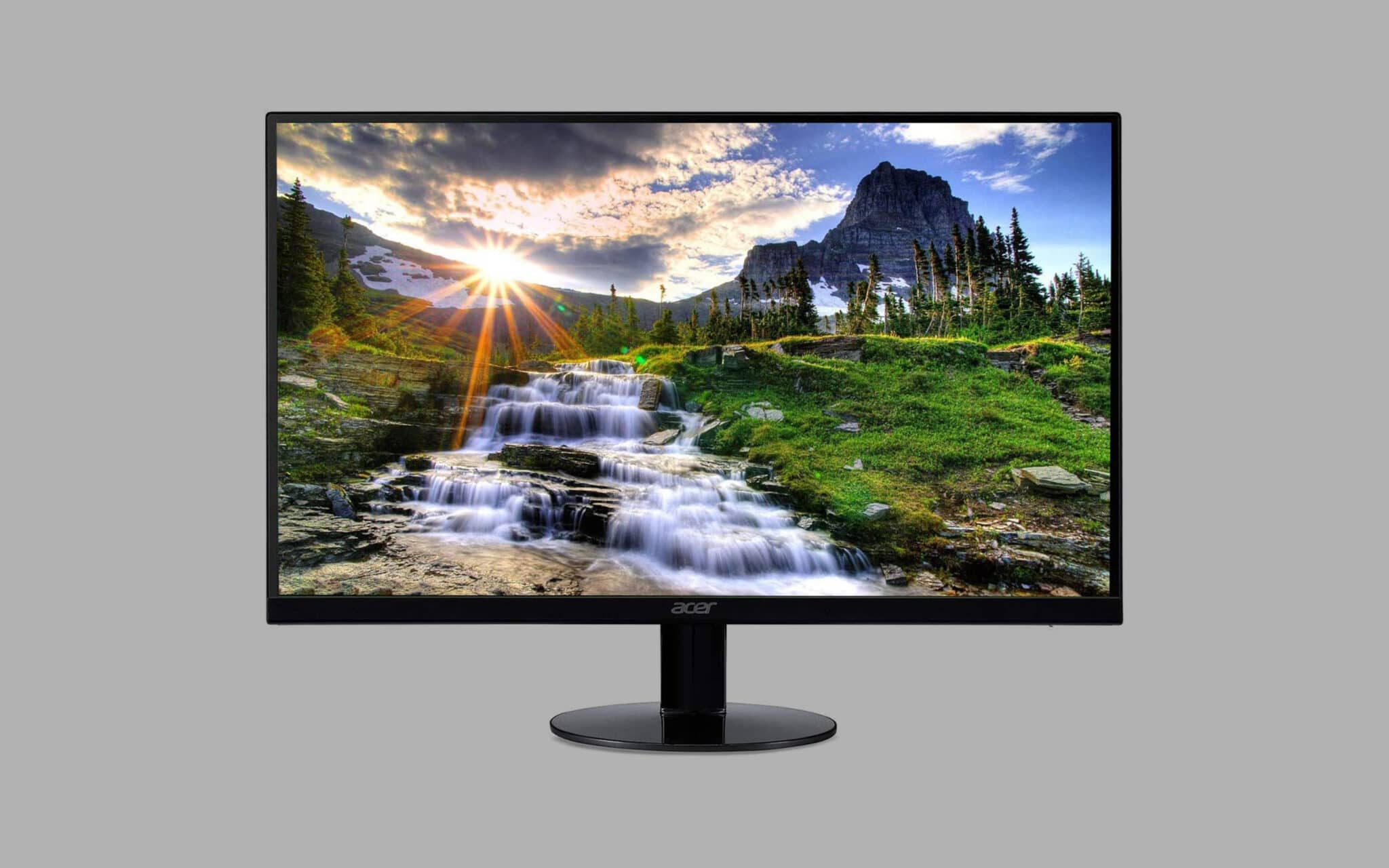 7. Acer SB220Q Bi (best ultra-thin)
If you're looking for something slim and sleek for your office, then the Acer SB220Q could be right up your street.
Available in a range of sizes, this full HD 1080p monitor offers an excellent refresh rate of up to 75 Hz, and Radeon free-sync technology.
The zero-frame design ensures you can get the most out of your full monitor, with a total of 16.7 million supported colors.
Ideal for ergonomics, this monitor can tilt in various directions to suit your needs.
The 4ms response time means that you don't have to worry about lagging screens, and the advanced liquid crystal formula means you get a crystal-clear picture at any angle.
Features include:
0.24 inches thin
Extra wide viewing angles
21.5-inch borderless full HD display
Radeon free-sync technology
75 Hz refresh rate
16:9 aspect ratio
5 to 15 degree tilt angles
Horizontal or vertical viewing
The Acer SB220Q also benefits from a swivel stand that lets you view your monitor horizontally or vertically depending on the kind of content you want to create.
Just make sure there's enough space around the display.
This monitor isn't suitable for VESA mounting, which might be a problem for some pros.
There's also no support for vision protection or flicker reduction.
Pros:
Excellent refresh rate and response speed
Extra thin and adjustable design
Support for millions of colors
Plenty of adjustment options
Cons:
Limited mounting options
No blue light filter or vision protection
Sale
Acer SB220Q
This monitor from Acer boast a Full HD resolution for crisp visuals and 75 Hz refresh rate for smooth motion. Being thin and a 21.5-inch display, the SB220Q doesn't take up unnecessary desk real estate.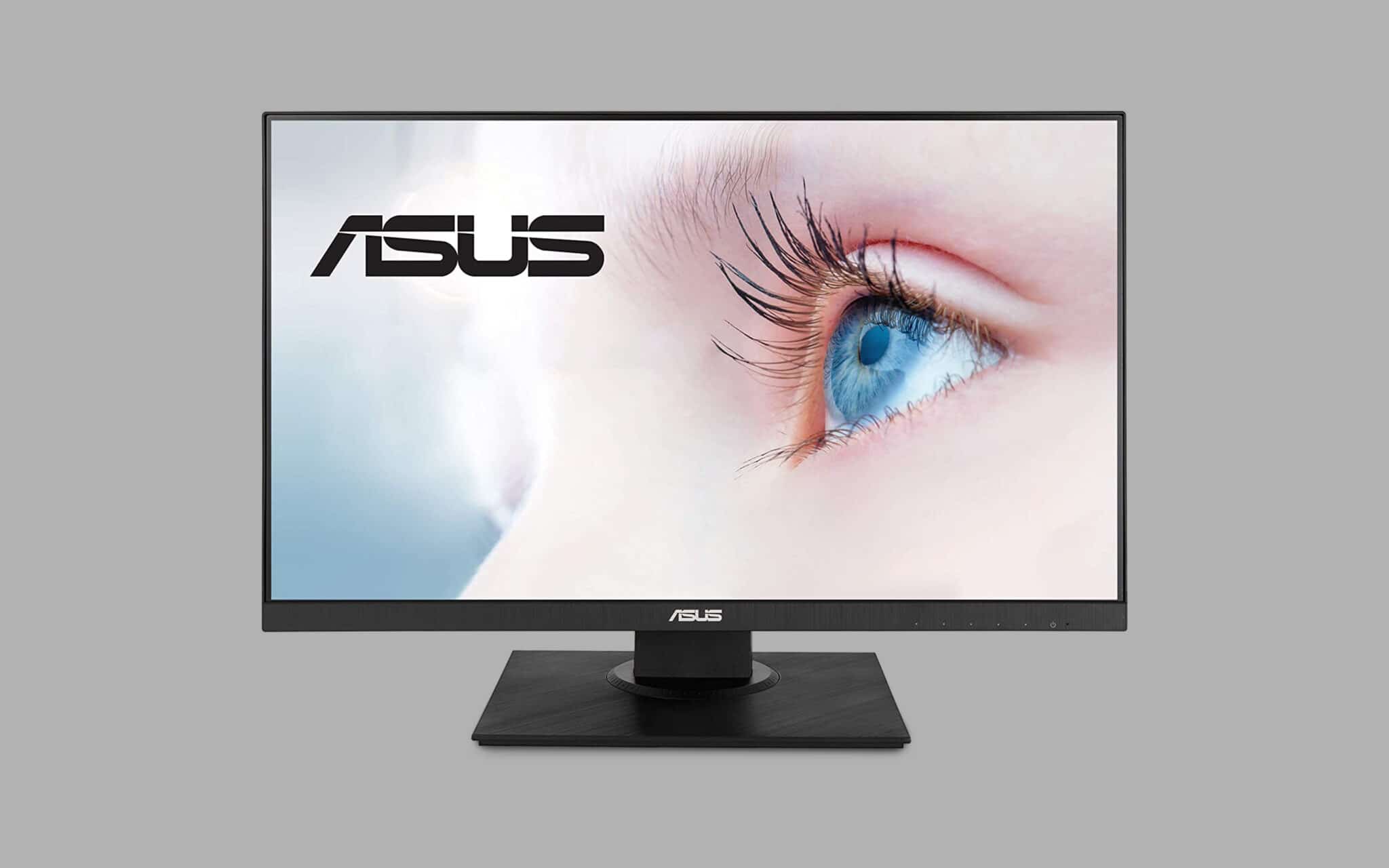 8. ASUS VA24DQLB (best for wall mounting)
Affordable and effective, the high-resolution ASUS VA24DQLB is sure to be a delight for graphic designers everywhere.
This 23.8-inch display with LED backlighting and a 178 wide viewing angle is ideal for any office environment.
There's a 75 Hz refresh rate with adaptive sync to eliminate tracing and improve video playback.
You also get ASUS eye-care to reduce flicker.
A low blue light filter protects your eyes from over-exposure, while the VESA wall mount ensures that you can save on desk space if you're also using drawing tablets to work on your projects.
The ASUS display also comes with a USB hub, D-Sub, HDMI, and display port.
Features include:
Adaptive sync with NVIDIA GeForce and Radeon graphics cards
ASUS eye-care with anti-flicker
Blue light filter protects your vision
VESA wall mounting
Ergonomic swivel and tilt adjustments
75 Hz refresh rate
23.8-inch full HD screen
178 degree wide viewing angle
Ready to support designers in a range of creative projects, the ASUS screen comes with fantastic adaptive sync technology to work perfectly with Radeon or NVIDIA graphics cards.
You can also pivot and tilt your display all the way to the point of vertical or horizontal viewing.
Dead pixels are a possible problem with this monitor, so do be careful. Also, the brightness may be a little too low for some.
Pros:
Adaptive sync with Radeon and Geforce cards
Multi-direction pivot and tilt
Excellent refresh rate
VESA wall mounting supported
Blue light vision protection
Cons:
Slightly low on brightness
Dead pixels can be a problem
ASUS VA24DQLB
The ASUS VA24DQLB monitor is great all purpose 1080p monitor with almost all the features you could want, including pivot adjust for vertical viewing.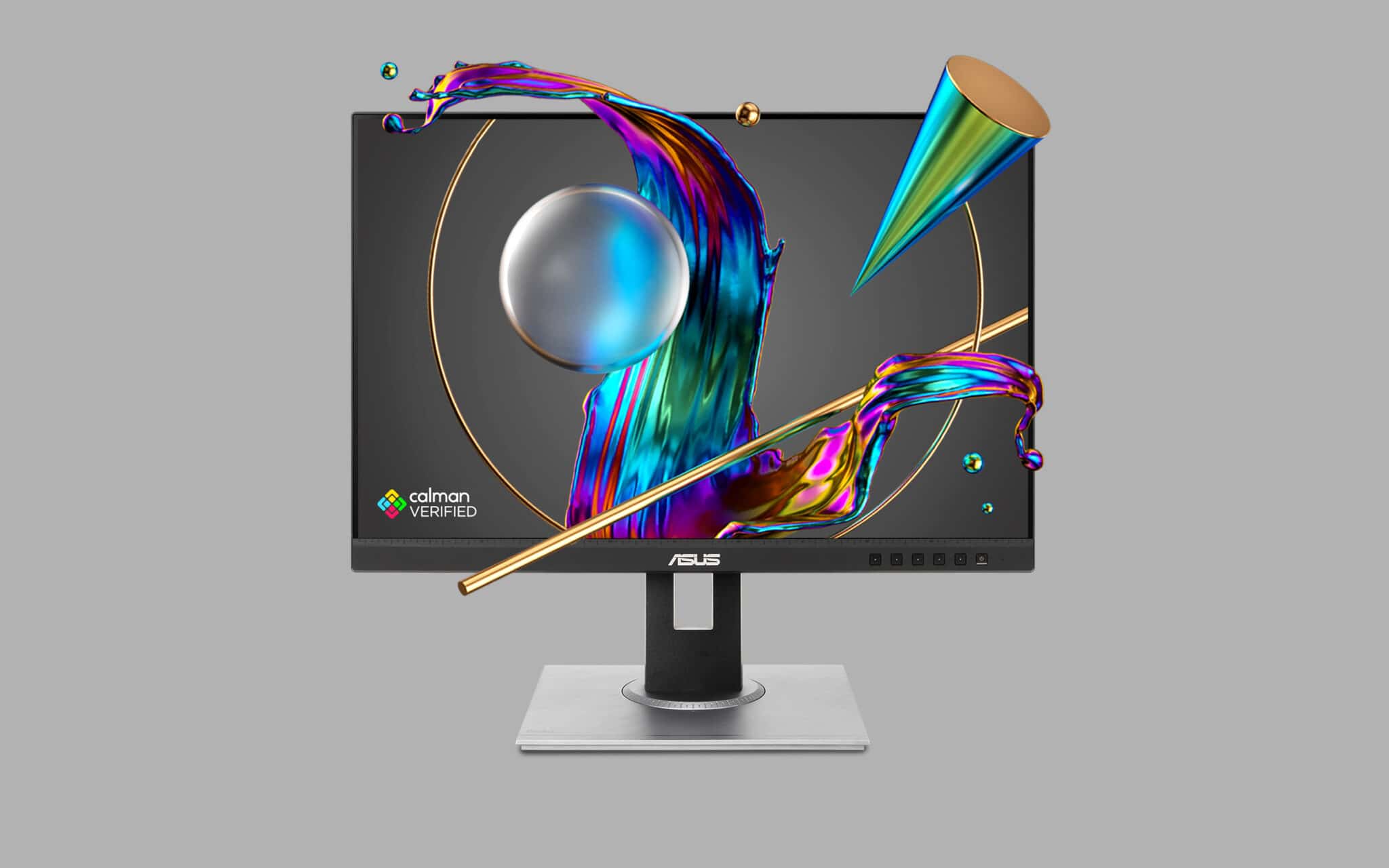 9. ASUS ProArt (best pre-calibration)
Designed exclusively for artists, the ASUS ProArt screen is one of the best budget monitors for graphic design options we've seen so far.
This compelling and affordable 24.1-inch display has an international color standard of 100% sRGB and REC.
Perfect for professionals, the display is Calman verified, with pre-calibrated factory settings to ensure color accuracy.
With the display, users also get access to ASUS exclusive ProArt Preset and ProArt Palette, so you can adjust your viewing preferences and color parameters according to your needs.
On top of that, there are tons of connectivity options too, including 4 USB ports.
Features include:
VESA wall-mountable design
Extensive connectivity with 4 USB 3.0 ports
HDMI, D-Sub, audio in, display port, and headphone jack
Exclusive ProArt Preset and ProArt Palette features
Calman verified pre-calibrated performance
International color standards
Full HD screen performance
Real-size virtual scaling function
With rich connectivity options for all of your devices, intelligent scaling functions, and so much more, it's hard to find something that a graphic designer wouldn't love about this display.
The monitor is excellent, but it can take a while to figure out what all the customization options do.
This screen doesn't have the best refresh rate, though.
Pros:
Amazing color performance
Fantastic pre-calibration accuracy
Lots of connectivity options
Intelligent scaling function
Multiple ergonomic adjustment options
Cons:
Not the best refresh rate
Difficult to get used to all the customization options
Sale
ASUS ProArt
The ProArt Display PA248QV from ASUS great choice for designers thanks to its pre-calibrated color accurate IPS panel.
Choosing the best budget monitor for graphic design
You probably have a selection of tools that you rely on each day for your job as a graphic designer, but few will be as valuable as a great monitor.
Your monitor is where you'll spend the majority of your time working on images and projects, so it has to be capable of meeting your performance standards.
At the same time, you need something that fits with your budget.
In the world of graphic design tools, you do sometimes get what you pay for.
A more expensive monitor may deliver a better selection of features. There are budget-friendly alternatives out there too.
When looking for your ideal option, remember to check the:
Screen size
A bigger screen size can make it easier to work on large projects with a lot of details. You might even decide to go for an ultra-wide screen, or something curved depending on your preferences. The bigger your screen is, the more you'll probably have to pay for it.
Resolution
As the technology available for digital displays continues to evolve, the possibilities with your resolution are transforming too. Currently, 4K screens are some of the best on the market, but you may be able to get by with a basic 1080p screen too.
Design
There's no one-size-fits-all solution when it comes to monitor design. Think about how you use your current monitor. Do you need something that spins from horizontal to vertical positions? What about a monitor with very little surrounding frame, so you can take full advantage of the screen?
Connectivity
The best budget monitors for graphic design should have plenty of connection points for your other must-have tools. Some of the most common inputs include HDMI, USB, and even a headphone jack. Consider how many extra peripherals you'll need to attach to your monitor when making your purchase.
Ergonomics
Your monitor should make your working experience as comfortable as possible. Look for something that can protect you from excessive levels of blue light and reduce the risk of excess flicker. Adjustable angles come in handy too.
Good luck finding your monitor
The best budget monitor for graphic design can seem like a difficult thing to find. When you don't have much of a budget to work with, it can feel as though finding the right tools is practically impossible.
Fortunately, the best budget monitor for graphic design could be the answer to your problems.
Our favorite option in this list for designers is the ASUS Pro Art.
The Pro Art display specifically supports artists with a beautiful degree of color accuracy, multiple adjustment options, and even blue light protection.
You can customize your experience however you choose with the Pro Art and get the perfect results every time.
Don't forget to check our other handy guides for insights into the best products on the market for graphic designers today.
Fabrik: A branding agency for our times.