The best all-in-one printer for Mac is a great investment for home computer and office users alike. Capable of scanning, faxing, and printing, all-in-one printers for Mac users can tackle a huge range of day-to-day tasks.
The biggest challenging is finding an all-in-one printer suitable for use with Mac devices.
While your Mac may be one of the most important products you own, most Mac devices don't offer a great deal of compatibility with accessories, like printers.
That's why if you're in need of a top printer for your Mac device, it's probably best to look for an all-in-one option.
The best all-in-one printer for Mac will handle everything from printing, to scanning and copying. Sometimes, you can even use fax too.
This means less clutter in your home and office, and less of a headache searching for multiple Mac-accessible tools.
We've tracked down some of the top performers to save you the hassle.
Our best all-in-one printer for Mac options are:
Canon Pixma TS6320 (best ink system)
Epson Workforce WF-2830 (best duplex)
Lexmark MC3224i (best security)
Brother Business Color MFC-L8900CDW (best color laser)
Xerox VersaLink C405/DN (best professional)
Pantum M6552NW Monochrome (best monochrome)
Lexmark MC3326i (best eco-friendly)
Canon G7020 (best supertank)
HP Color Laserjet Pro M479FDW (best with custom workflow)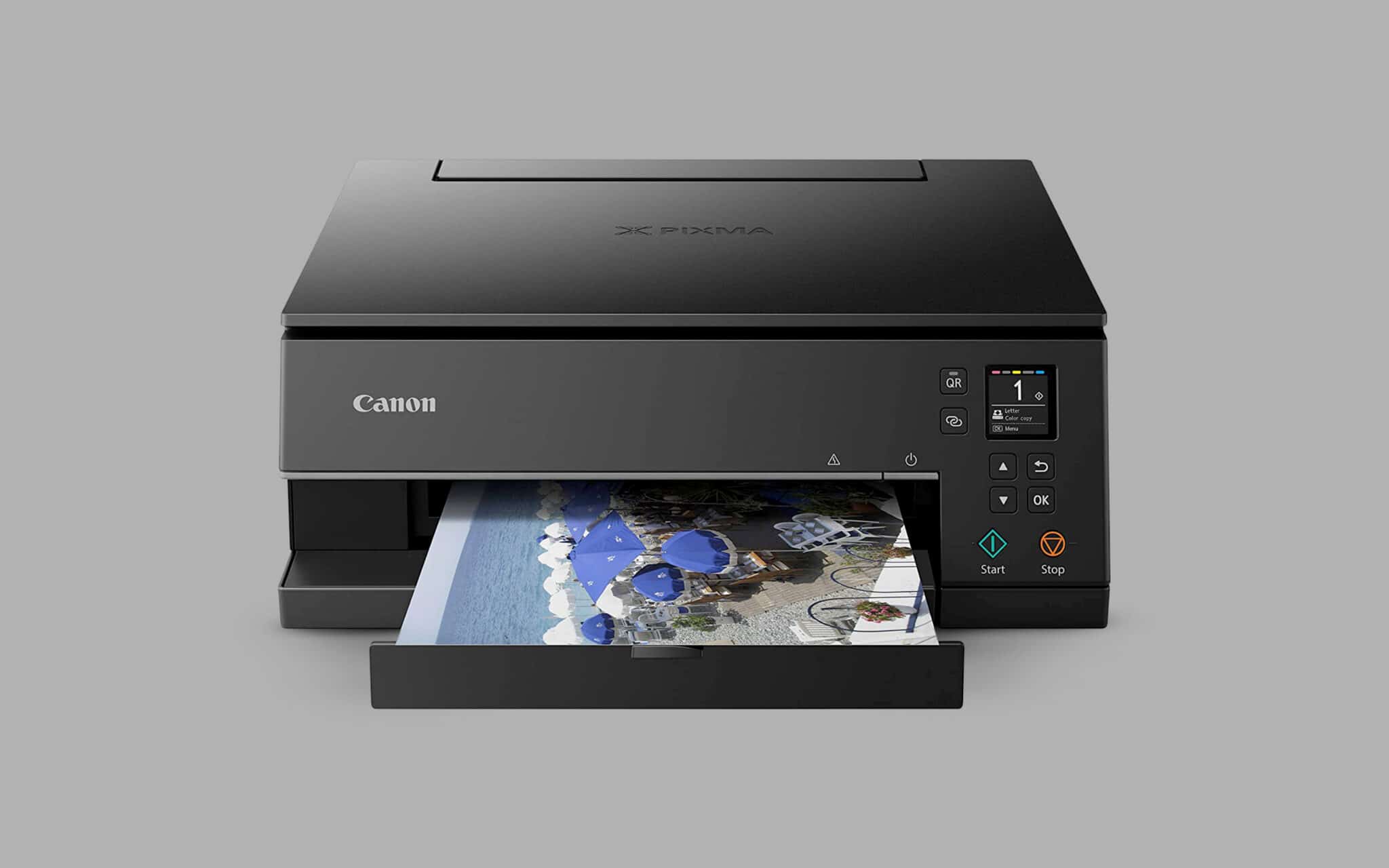 1. Canon Pixma TS6320 (best ink system)
Designed by the leaders at Canon, the Pixma TS6320 is one of the more recent additions to the Canon Pixma line for wireless devices.
This product comes with Amazon Alexa compatibility, and Amazon Dash, so you can order ink with just your voice and save 10% on supplies in the process.
On top of that, you get a sleek all-in-one printer for Mac design, with an automatically expanding output tray.
Ideal for all kinds of printing, the Pixma features a fantastic five-ink system that supports you in printing extra sharp text documents, as well as vibrant color photos.
When one of your ink tanks runs out, you just have to replace that specific color, which is a great money saver.
Features include:
1.44-inch OLED display
LED status bar for printing progress
Five individual ink system
Crisp color printing support
Auto expandable output tray
Wireless functionality
Amazon Alexa and Dash compatible
Access to the Canon Print app
Copying and scanning
The Canon Print app means that when you're done printing from your Mac, you can also print direct from a range of cloud apps, like Dropbox.
The printer is compact, easy to use, and brimming with impressive features to make your life easier.
One slight issue, unfortunately, is that the printing does take quite a while.
There's also no automatic document feeder for copying and scanning.
Pros:
LED display and status bar
Five individual ink system
Wireless functionality and Amazon Alexa
Crisp color and monochrome prints
Scanning and copying via flatbed
Cons:
No automatic document feeder
Printing takes a while
Canon Pixma TS6320
With your smart device and the Canon PRINT app, you can conveniently edit, print or scan your favorite memories from cloud-based platforms like Facebook or Instagram.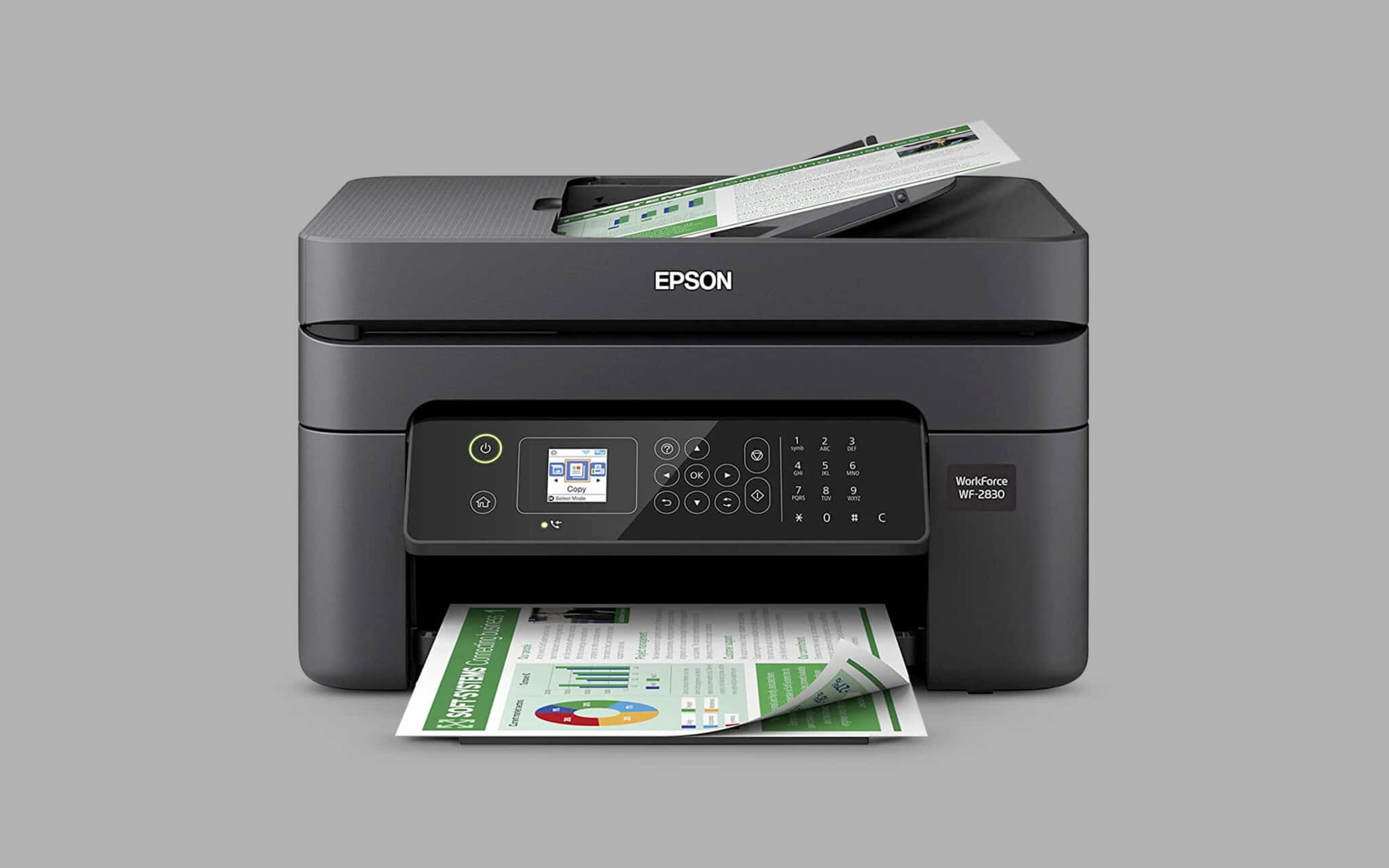 2. Epson Workforce WF-2830 (best duplex)
The Epson Workforce line of all in one printer for Mac products is great for those who don't have a lot of extra time in their lives.
With this handy printer, you can quickly save time and paper by duplex printing at a rapid speed.
There's an automatic document feeder for easy scanning and copying, and you can print from any device, including your Mac, Android, iPhone, and Windows computer, thanks to Wi-Fi Direct.
Epson's Workforce printer is very cost-effective too, with convenient ink packages that you can deliver through Amazon Dash, and you only need to replace one cartridge at a time.
Unlike some all-in-one printers for Mac, this product also comes with the extra bonus of fax functionality, which can sometimes be missing on newer models.
Features include:
Quick and easy wireless printing
Automatic document feeder for scanning and copying
Duplex printing as standard
Affordable cartridges you can replace one at a time
Fax functionality
100-sheet paper feeder
Quick and efficient print from any device
1.4-inch color LCD
Offering an exceptional high-quality performance ideal for the modern office worker or work-from-home designer, the Epson has plenty of great features to explore.
We were particularly impressed by the automatic document feeder.
It does take a little while to get this printer set up properly, and you might find that it takes up quite a bit of space in your room.
Pros:
Complete all-in-one printer for Mac with fax
Excellent affordable ink that's easy to replace
Duplex printing as standard
Easy automatic document feeder
Wireless printing from any device
Cons:
Takes up a lot of space
Can be difficult to set up initially
Sale
Epson Workforce WF-2830
With auto 2-sided printing, plus a 30-page Auto Document Feeder, the WorkForce WF-2830 offers efficient, reliable home office printing.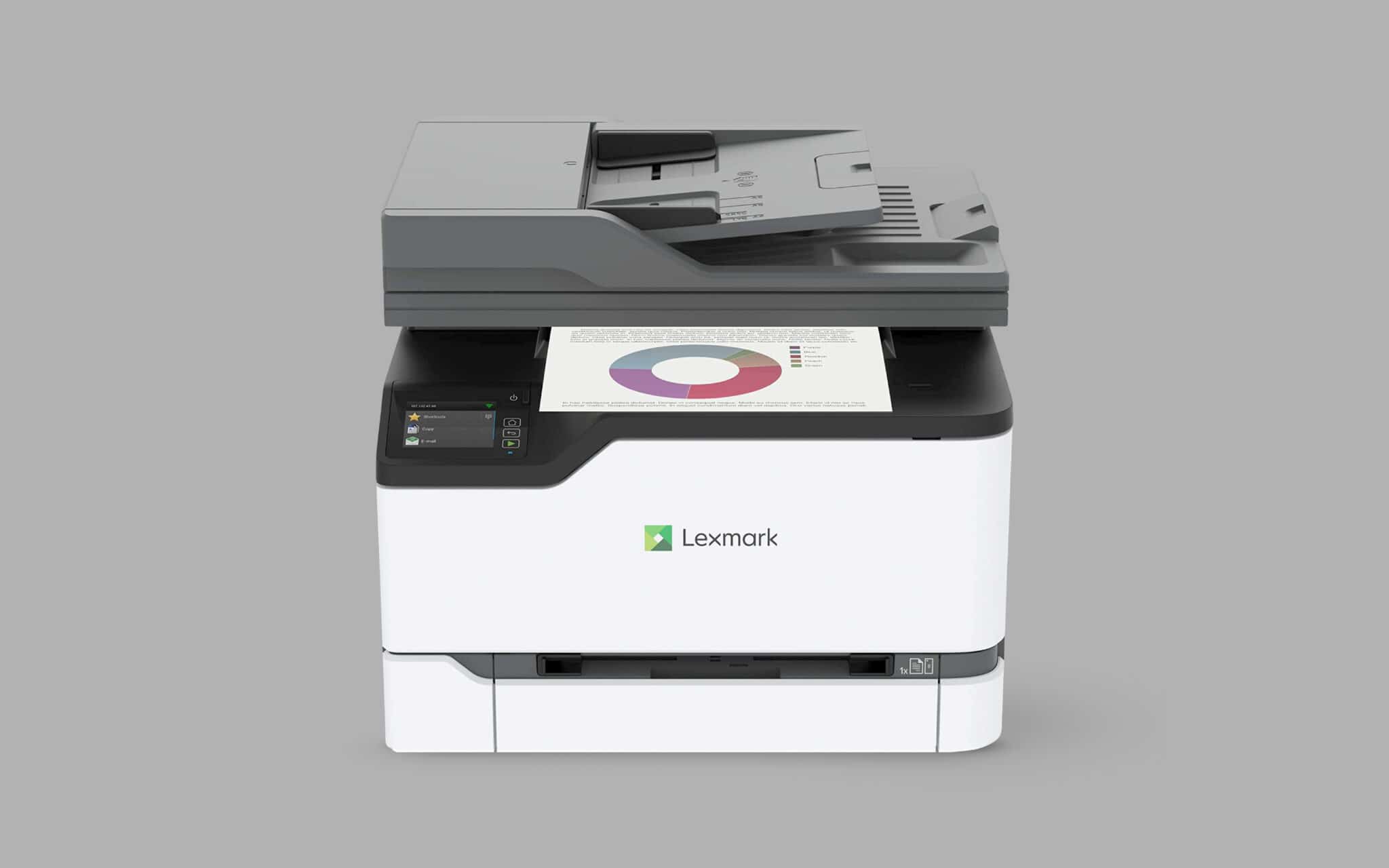 3. Lexmark MC3224i (best security)
If you need the best all in one printer for Mac devices to sit in your office, then you're going to need a lot more than just a budget-friendly ink system.
This compact but impressive all-in-one printer from Lexmark could be just the thing for you.
Easy-to-use, with plug and play functionality and Wi-Fi setup, the Lexmark printer allows you to print and copy in a matter of seconds.
There's an 8-inch touchscreen interface to help you edit your prints, and the option to scan to virtually any network.
With the Lexmark, you also get extra-long high-yield print runs, with up to 500 pages of output from a single toner update.
All that, and you get complete security built-in, to protect the files you're sending wirelessly.
Features include:
Efficient color laser
Steel frame for durability
Excellent 8-inch touch screen
Plug and play performance
Built-in full spectrum security
Automatic two-sided paper printing
Connect via Wi-Fi instantly
Compact design
If you're looking for a reliable color printer with laser performance, then the Lexmark could be the ideal choice for you.
If you don't have any prior networking information, then you might struggle to get the Wi-Fi set up initially.
And it's not always simple to get hold of Lexmark's team when you need help.
Pros:
Full laser color printing performance
Steel frame for long-term durability
Instant Wi-Fi or ethernet connections
Full-spectrum security included
8-inch touch screen
Cons:
Requires some initial networking knowledge
Hard to get support
Lexmark MC3224i
8-inch color touch screen enables convenient interaction with essential system functions and task information.
4. Brother Business Color MFC-L8900CDW (best color laser)
Surprisingly compact compared to some of the similar Brother all in one printer for Mac devices, the Brother MFC-L89000CDW looks and feels completely professional.
This wireless networking printer connects to Macs, computers, and smartphones with ease, with cloud printing available too.
Plus, you can connect your device to your Amazon Alexa system and control it with just your voice.
Ready to deliver high-quality color printing in a professional setting, this Brother device comes with automatic duplex printing to help save you money on excess paper.
There's also Dash replenishment available if you want to stock up on toner fast, but each cartridge does last for quite some time.
Features include:
Automatic duplex printing
250-sheet capacity paper tray
Easy expandable paper tray option
Amazon Alexa compatible
Wireless connection or ethernet
Triple layer security
Color touch screen
NFC connectivity
Mobile device printing
Scanning and copying included
With a touch screen for managing your print queues and the potential for truly massive print quantities, this is the kind of all-in-one printer for Mac that you'll be happy to have in your office.
The biggest problem is generally setting the printer up to begin with, which can be complicated.
You should also make sure to only use Brother toner.
Pros:
Excellent duplex printing at great speed
NFC connectivity and Wi-Fi
Amazon Alexa compatible
Touch screen included
Full color laser printing
Cons:
Difficult to set up
Not compatible with third-party toner options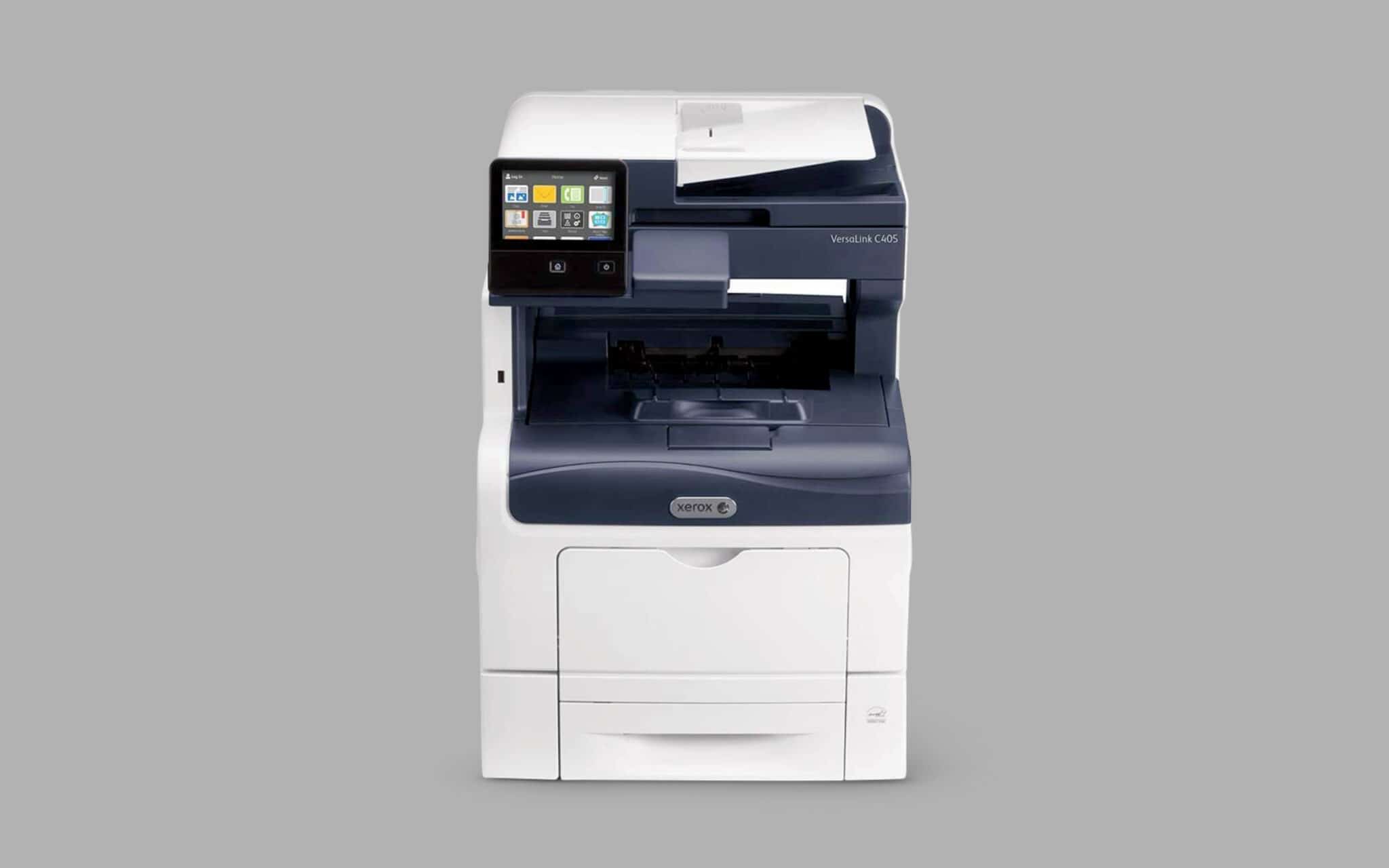 5. Xerox VersaLink C405/DN (best professional)
If your printing needs go beyond having to print a few basic documents at home, and you want something robust to suit your business, the Xerox VersaLink could be the ideal choice.
This powerful high-performance all-in-one printer for Mac comes with touch screen performance to help you line up your print queues with ease, and a selection of apps so you can download files from the cloud.
The Xerox apps support better office efficiency to help save you time when you're rushing between jobs, and there's even access to things like automatic translate for documents in a different language.
Offering amazing scanning, copying, and printing functionality, this printer features:
5-inch customizable touchscreen
Standard duplex printing
Wi-Fi and NFC connectivity
50-sheet duplex automatic feeder
13 seconds for color print
Amazing smart app functionality
Security built in for peace of mind
Scanning, copying and printing in one
Because it's designed for the office, the Xerox VersaLink comes with the added benefit of high-level security, with password protected PDF options, and role based permissions too.
All of that extra functionality can make this all in one printer quite difficult to set up for beginners.
You might also have a problem with the hefty price tag, which ensures that this printer is out of budget for some Mac users.
Pros:
Excellent color laser printing
Wi-Fi and NFC connectivity
Convenient automatic duplex scanning and copying
In-built apps with automatic translation
Security features for peace of mind
Cons:
Complicated setup
Very expensive
Xerox VersaLink C405/DN
The VersaLink C405 revolutionizes workplace productivity with next generation features and easy, instant cloud and mobile connectivity.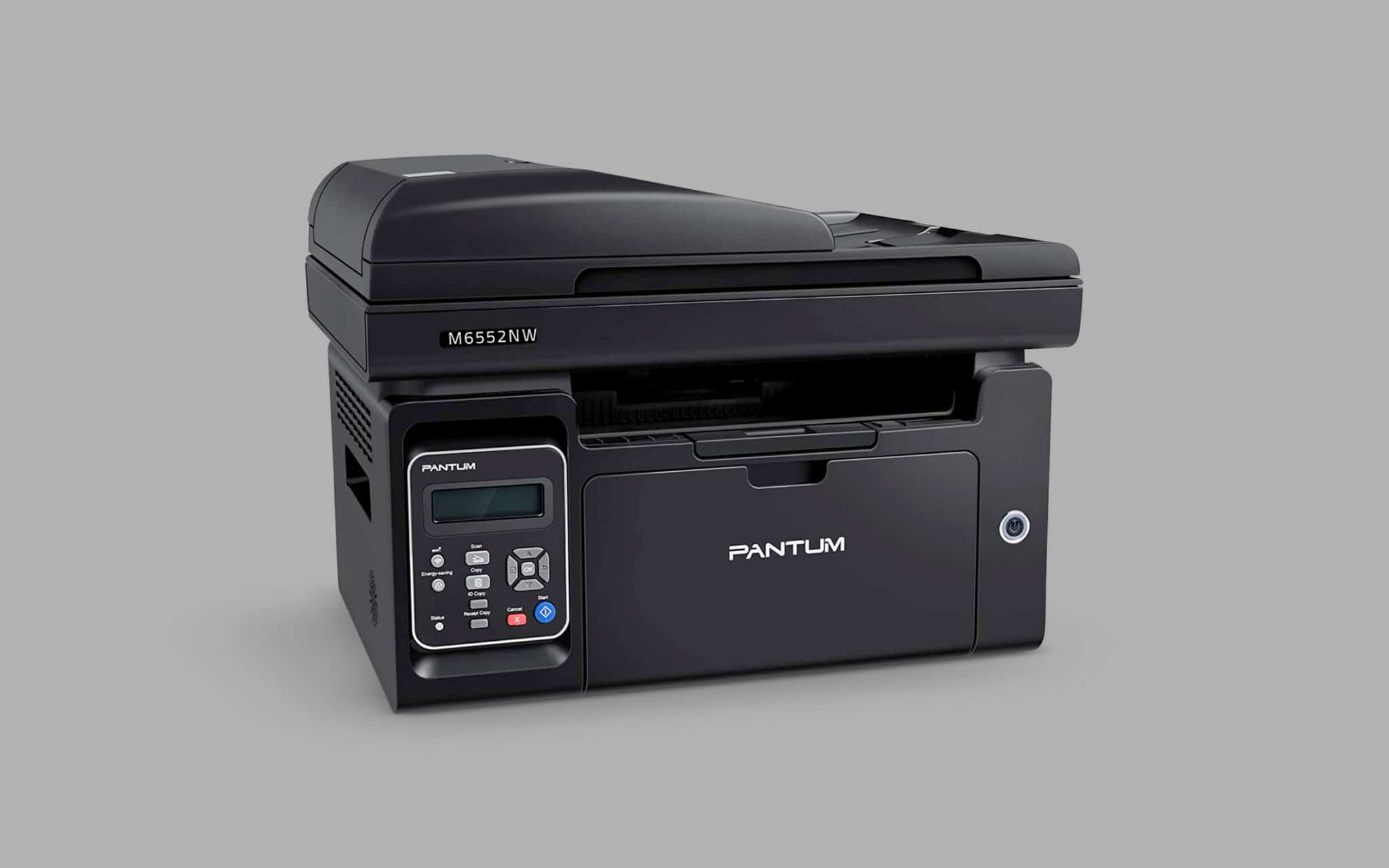 6. Pantum M6552NW monochrome (best monochrome)
A monochrome printer might not be the ideal choice for you if you're planning on producing a lot of high-quality color images.
This printer, however, could be an excellent choice if you want to keep things simple in your home or office.
The multi-functional Pantum printer comes with wireless networking, so you don't have to worry about using a compatible cable.
Aside from monochrome printing, you'll also have speedy scanning and copying.
And because the Pantum is a laser printer you may find that your toner purchases are more economical than using ink.
Features include:
3-in-1 printer functionality
Automatic document feeder
Black and white laser printing
Sleek compact design
One-step wireless installation
Wi-Fi and USB 2.0 connectivity
iOS and Android mobile printing
Pantum app for cloud printing
1200 x 1200 DPI resolution
1 year warranty
With convenient apps for mobile printing and a handy one-step wireless installation, the Pantum really does have it all.
This powerful device comes with access to 1 year of standard warranty too, so you can have true peace of mind for your purchase.
This printer is a little noisy, unfortunately, which can be problematic for some people.
Pros:
Excellent all-in-one printing, scanning and copying
Wi-Fi one-step setup for printing
iOS and Android compatible
1 year warranty included
Easy automatic document feeder
Cons:
Black and white printing only
A little noisy
Pantum M6552NW monochrome
A Multi-function 3-in-1 (printing, copying, scanning) laser printer. The sleek design and compact size will fit nicely on any workspace.
7. Lexmark MC3326i (best eco-friendly)
An all-in-one printer for Mac users is often a more environmentally friendly option than having multiple devices plugged in and working at the same time.
This particular Lexmark printer could be extra beneficial if you're looking for something that's eco-ready.
This printer has EPEAT silver and Energy Star ratings to prove that you're not wasting any essential materials.
You also get duplex printing as standard to save on paper.
The Lexmark MC3326i is one of the leading all-in-one printers for Mac, with colour laser printing, scanning, and document copying.
Set-up is quick and easy with Wi-Fi connectivity and Lexmark full spectrum security for peace of mind.
Features include:
EPEAT Silver and Energy Star certified
All-in-one printer, copier, and scanner
Capable of 26 pages per minute
Secure full-spectrum architecture
Wireless setup is quick and easy
Mobile printing with AirPrint
250 paper capacity
Automatic scanning feeder
Color laser printer
Screen for print management
Capable of up to 26 pages of printing per minute, the wireless Lexmark is one of the most impressive all-in-one printers for Mac options, with access to a host of mobile and cloud applications too. Unfortunately, it can be quite difficult to set this device up on your own, and ink replacement is a little messy too.
Pros:
Excellent eco-friendly performance
Duplex printing with 250 page paper capacity
Automatic document scanner
Screen access with mobile printing
Convenient wireless connectivity
Cons:
Quite difficult to set up initially
Replacing the toner is often a headache
Lexmark MC3326i
Compact and lightweight, the Lexmark MC3326i multifunction brings color printing, automatic scanning, copying, faxing, and touch-screen convenience to small workgroups.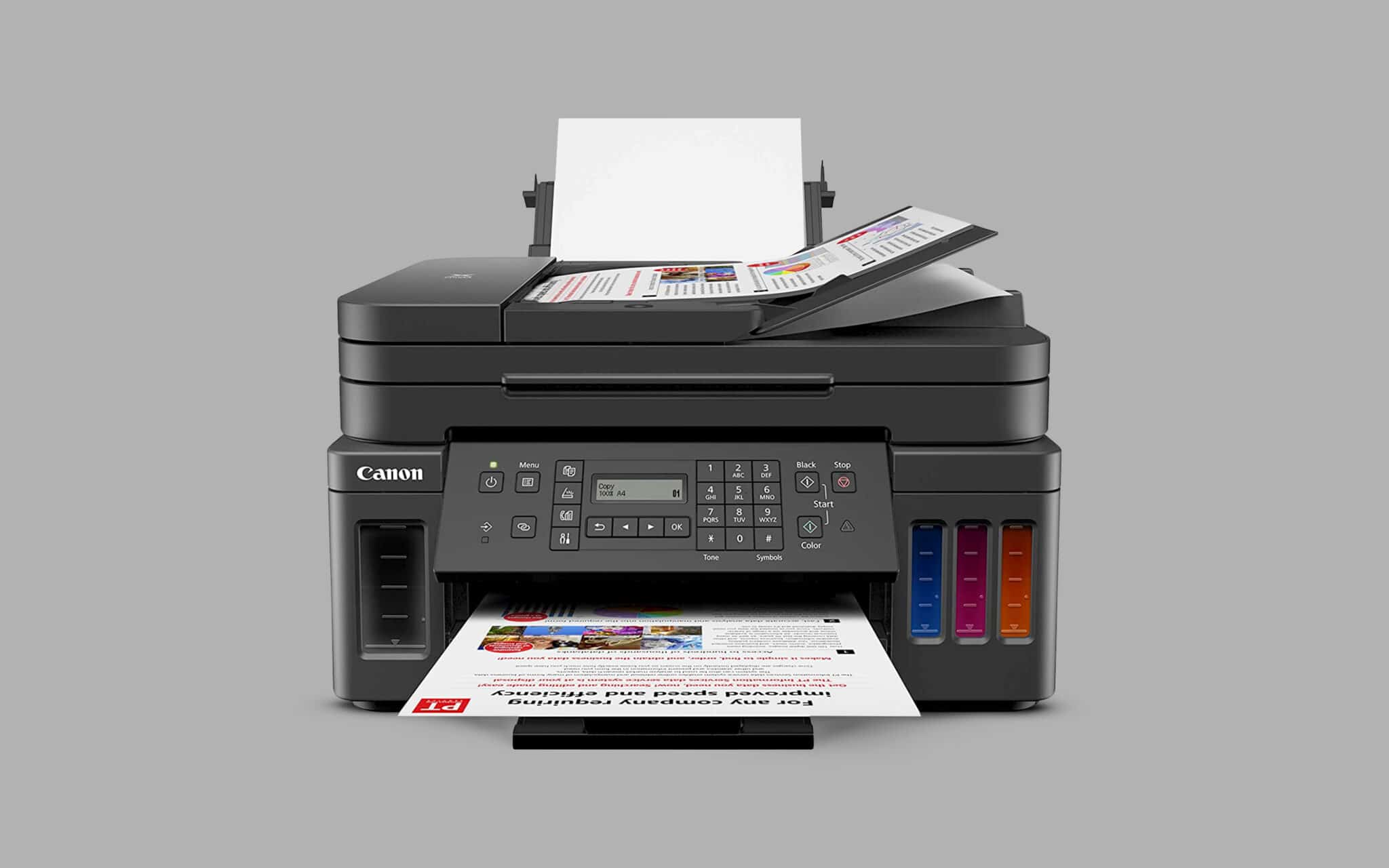 8. Canon G7020 (best supertank all-in-one printer for Mac)
Supertank printers aren't something you'll see in all home office environments.
If you're looking for a convenient and cost-effective way to handle your printing needs, they could be a good pick.
This Canon G7020 wireless all in one printer for Mac comes with scanning and copying functionality, as well as unique integrated ink tanks.
The ink tanks ensure that you can see for yourself when you're running low on resources. You just refill the ink that you need with a bottle when it gets low, which reduces the need for countless expensive plastic cartridges.
Features include:
View and refill the ink with a tank system
Easy Apple Mac and AirPrint
350 sheet paper capacity
Up to 7,700 color prints for each bottle set
Copier and scanner included
Comes with a full set of inks
Helpful screen for adjusting print queue
Compact design
Great for scanning, copying, and printing, the Ganon G7202 is packed full of great features to explore, with access to an automatic document feeder, and an ethernet or Wi-Fi connection to choose from.
There's also various mobile printing options too.
Refilling the ink can be a messy experience, and connecting to your home network can be quite tough at first too.
Pros:
Supertank design
Good for the environment and cost-effective
Print from your Mac or mobile
Automatic document feeding for copying and scanning
Compact and attractive design
Cons:
Can be difficult to get the initial network connection
Messy ink refilling experience
Canon G7020
Want a printer that can do it all? The Canon PIXMA G7020 Wireless MegaTank All-In-One Printer is built for serious productivity and cost-efficiency.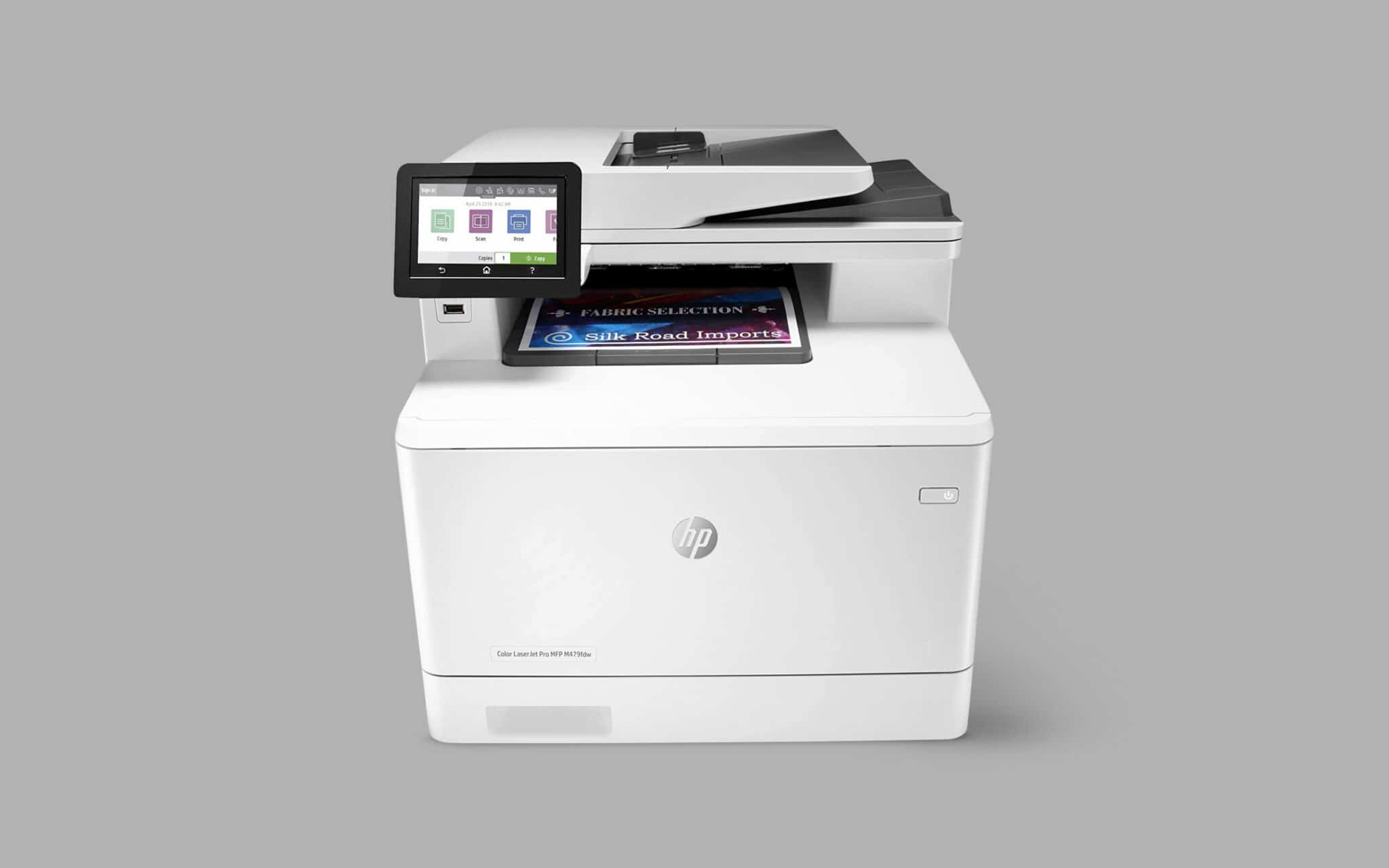 9. HP Color Laserjet Pro M479FDW (best with custom workflow)
Finally, if you're looking for a wireless all in one printer for Mac that will help to keep you productive and efficient in the office, this is the investment for you.
The HP Color Laserjet Pro M479FDW is one of the leading printing devices on the market, with best-in-class security built into a scanner, copier, and printer.
There's access to PIN and pull printing, and you get a convenient touch screen where you can automate complex workflows with the touch of a button.
The HP Color Laserjet printer allows you to print wirelessly from your Mac, or your smartphone, among other devices.
There's also support for 2-sided scanning, and a print speed of up to 28 pages per minute with this printer. Enhanced energy efficiency reduces paper waste too.
Features include:
One-year business warranty
Toner cartridges to reduce waste
Enhanced energy efficiency
Duplex printing and scanning
250 sheet paper tray
50 sheet automatic document feeder
Built-in Wi-Fi to connect your smartphone
Automate complicated workflows with the touch screen
Best in class security
With everything you need for secure scanning, copying, and printing built into one space, the HP color printer makes it easier to focus on getting work done around the office.
Despite its wide functionality, this product is even surprisingly compact, so you can find the fit that works best for you.
At times, the printer can lose its alignment and print slightly askew, and it sometimes has a strange squeaking sound too.
Pros:
One year warranty included
Automatic document feeder
Duplex scanning and printing
Wi-Fi for quick connectivity
Workflow automation options
Cons:
Occasionally annoying squeaking noise
Some issues with paper alignment
HP Color Laserjet Pro M479FDW
Built to keep your business moving forward: Print, scan, copy and fax, consistently high quality documents with the HP Color LaserJet Pro Multifunction M479fdw, a wireless printer designed to let you focus on growing your business.
Choosing the best all in one printer for Mac
The best all-in-one printer for Mac is a crucial investment for most people who regularly use a Mac device. With your wired or wireless all-in-one printer for Mac, you can print office documents, photos, files, and more.
With various options to choose from on the current market, however, it can be tough to decide which product is right for you.
Here are some quick tips to help you out when you're making your choice.
Color or black and white?
Do you want a printer that's ideal for black and white documents, or are you planning on printing a lot of color images? Black and white devices are usually cheaper, but they don't have as much versatility.
Speed
A great all in one printer for Mac users needs to be fast and effective. It's even better if the device can help to make other aspects of your life quicker and more convenient too with automated workflows and one-touch printing.
Laser or inkjet
A laser printer is usually more cost-effective and environmentally friendly in the long-term, but they're also more expensive to buy initially. You could also consider a supertank printer if you're looking for an environmentally friendly option, as these reduce the need for cartridges.
Connectivity
To make linking your all in one device to your Mac as simple as possible, stick to a wireless system. This should ensure that you don't have to waste time constantly looking for the right wires and cables.
Other features
Aside from scanning, copying, and printing, it's worth looking into the other features your device can offer. Some all in one printers come with faxing capability, or support for cloud and mobile printing.
With so many great all in one devices out there, a little research and careful consideration should be all it takes to find the excellent product you can trust for your home or office needs.
For crisp and clear printing, scanning, and copying, we love the Brother Business Color MFC-L89000CDW, with its state-of-the-art laser performance.
Keep in mind, however, that the toner refills can be a little pricey.
For something slightly more affordable, consider the Canon Pixma TS6320.
If you need more help finding the right device for your requirements, make sure that you check out some of the other helpful guides we have here at Fabrik.
Good luck choosing the ideal printer!
Fabrik: A branding agency for our times.