The best home printers for Mac users offer a simple way to print documents, files, and photos fast. With a home printer for Mac products, you can quickly create hard copies of various files
It's no wonder that when most people get a taste of the Mac experience for the first time, they struggle to choose anything else.
Of course, there is one area where Mac devices can struggle – compatibility. It seems like virtually every third-party tool, software, and solution is intended for use with a Windows PC instead.
If you're an Apple lover, finding tech that's guaranteed to work with your Mac isn't always easy.
The good news? At least from a printer perspective, you shouldn't have too much to worry about.
Most of the time, you can simply link your Mac product on the same network as your printer, and you'll be ready to go.
Here are the best home printers for Mac we recommend today:
Lexmark MC3326i multifunction (best security)
Canon Pixma TS5320 (best for simple AirPrint)
Pantum Mini Monochrome (best budget option)
Brother HL-L8260DCW (best laser color)
Brother MFC-L3710CW (best all-in-one)
Epson Expression Premium XP-6000 (best photo)
HP ENVY Photo 7155 (best printing app)
Brother MFC-J805DWB (best reliability)
HP OfficeJet 250 (best portable)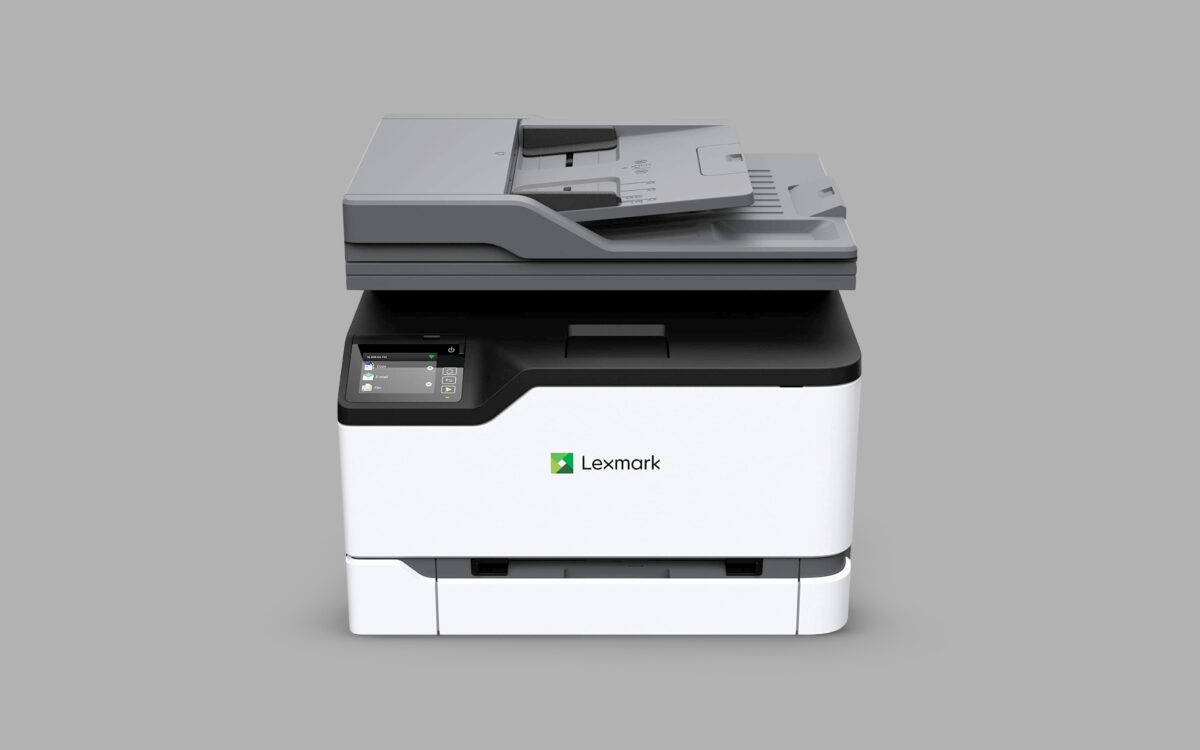 1. Lexmark MC3326i multifunction (best security)
Just because you're looking for the best home printers for Mac, instead of an office system doesn't mean you can afford to compromise on security.
Thankfully, Lexmark has you covered from a privacy perspective. The MC3326i is a multi-function color compact printer offers a range of features including printing, scanning, copying, and faxing.
This home printer for Mac will hold up to 250 pages at once, with a color touchscreen that allows you to adjust the details of your print.
Wireless setup is quick and easy, with Wi-Fi that allows you to print from any Apple or mobile devices. You also get full compatibility for Apple AirPrint too.
Features include:
Multi-function color compact printer
250 page tray capacity
Single-sheet feeder
Color touch screen
Automatic single-side scanning
Secure spectrum architecture
Prints up to 26 pages per minute
1GHz dual core processor included
Duplex printing available
Energy Star certified
With Lexmark full-spectrum security, you know your information is protected, even when you're connecting with the printer wireless.
You also get the benefit of an Energy Star certified device that works with recyclable toner cartridges. In other words, this printer is good for your budget, and the planet.
One slight issue is that it is a little awkward to get this printer up and running. You need to unplug it regularly to reset it too.
Pros:
Multi-function scanner, printer, and copier
Wireless printing and AirPrint
Prints up to 26 pages per minute with duplex printing
Energy Star certified to save you money
Excellent security measures
Cons:
Requires regular unplugging and rebooting
Takes a while to set it up
Lexmark MC3326i multifunction
Compact and lightweight, the Lexmark MC3326i multifunction brings color printing, automatic scanning, copying, faxing, and touch-screen convenience to small workgroups.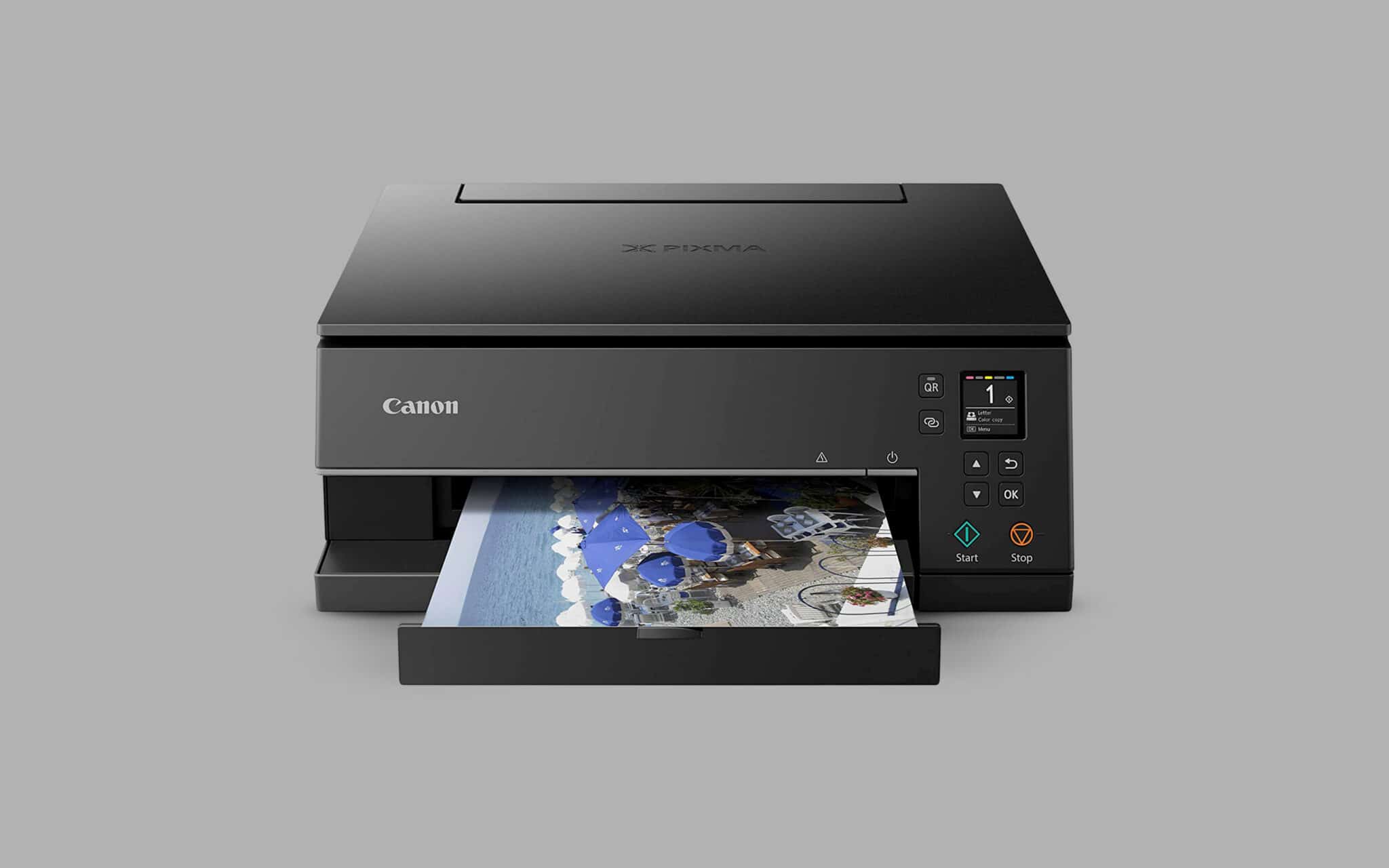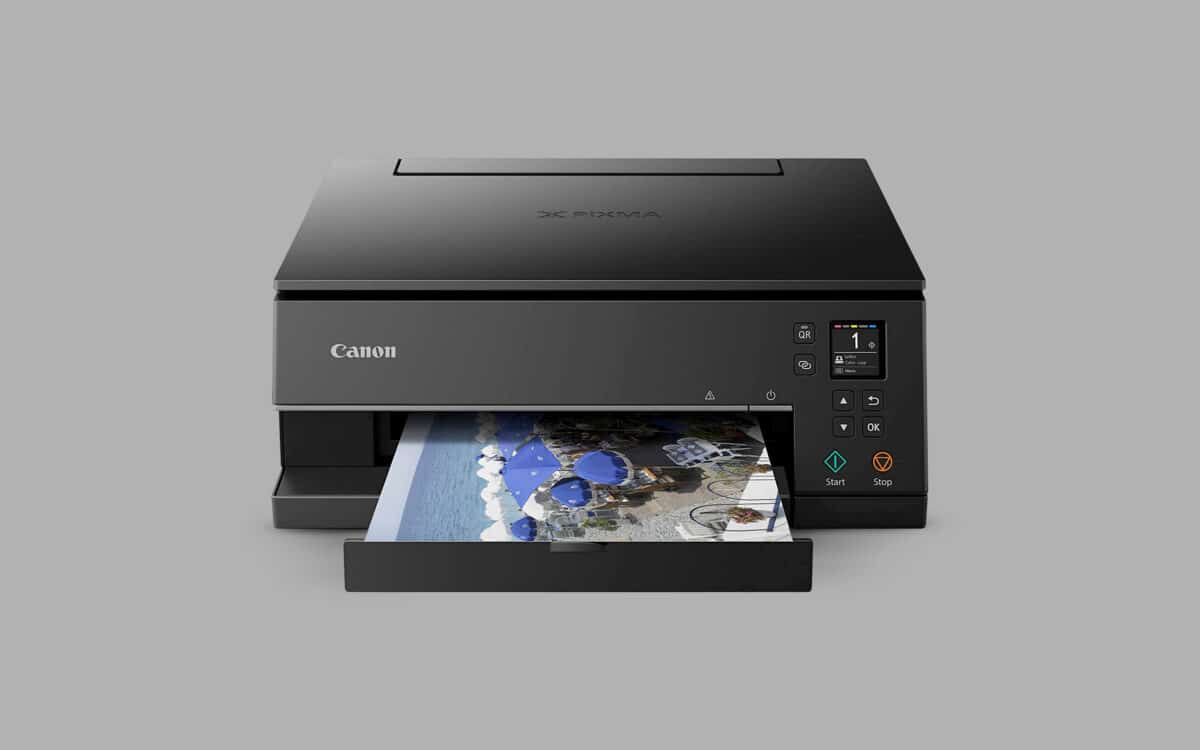 2. Canon Pixma TS6320 (best for simple AirPrint)
If you're looking for quick and easy home printers for Mac, Canon is a good brand to start with.
One of the better-known companies in the printing world, Canon offers a combination of efficiency and performance for peace of mind.
This TS6320 home printer is a compact product that delivers fantastic performance year after year.
Stylish and convenient, there's a small OLED display on the Canon Pixma where you can check out information about your printing projects.
You can even get this device in a variety of colors to help you make your home office look amazing.
This printer also only requires two cartridges, which means you can reduce your ink spend.
Features include:
Duplex printing to save paper
Quick and simple wireless connections
LED display with status bar
Compact enough to fit in any home
Hybrid ink system to save money and the environment
Amazon Dash applicable
AirPrint available for Apple devices
Convenient easy-to-use design
Printing from the Canon is a quick and simple process, with AirPrint for Apple products and an app for your phone if you want to send documents that way.
As one of the best small home printers for Mac, this item even comes with eco-friendly duplex printing.
There's no scanning function, however, and the ink cartridges can run out quite quickly.
Pros:
Convenient hybrid ink system
Compact and stylish to fit in any home
AirPrint available for Apple devices
Easy to use
Duplex printing
Cons:
Ink runs out quite quickly
No scanning or copying
Canon Pixma TS6320
With your smart device and the Canon PRINT app, you can conveniently edit, print or scan your favorite memories from cloud-based platforms like Facebook or Instagram.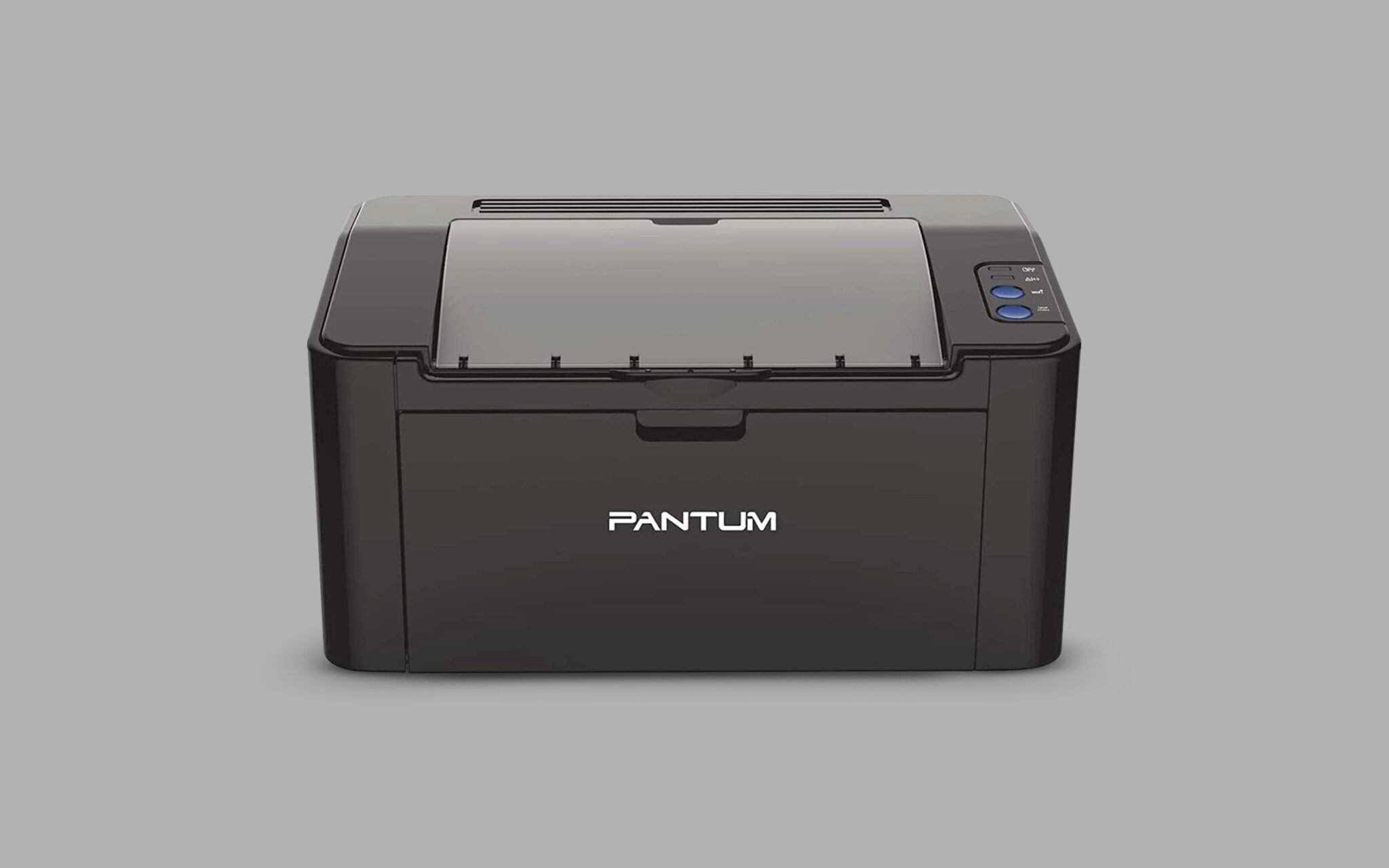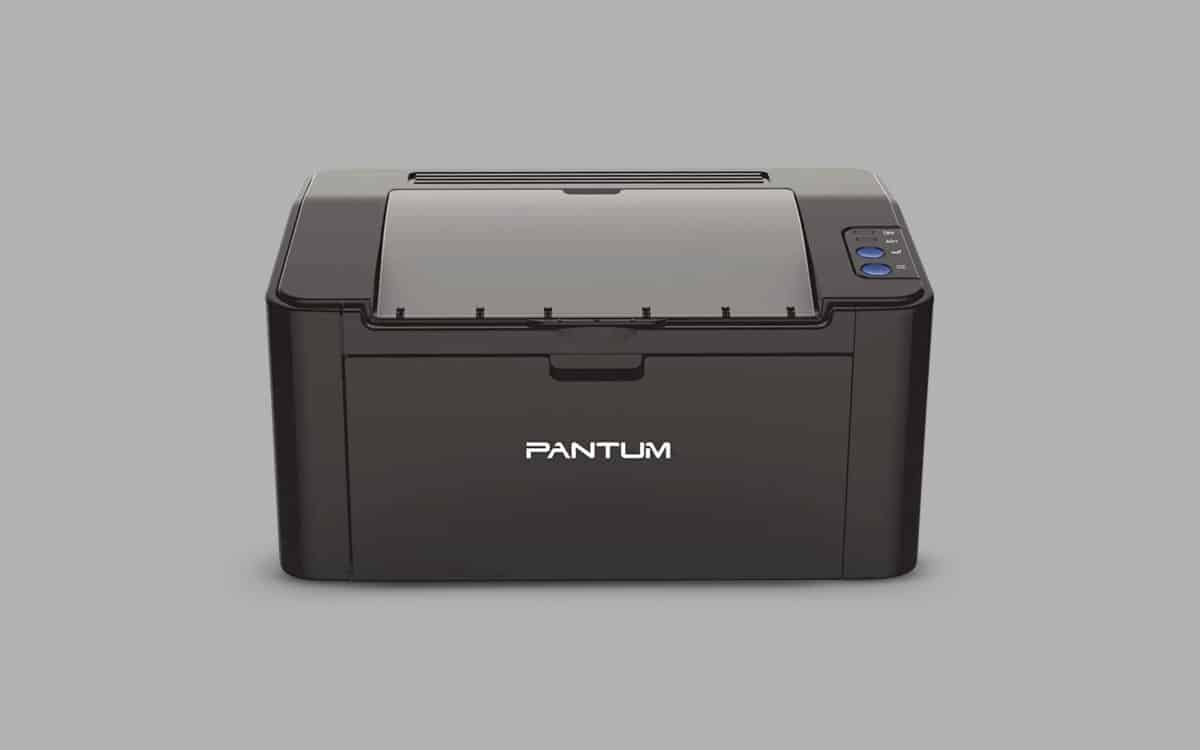 3. Pantum mini monochrome (best budget home printer for Mac)
If you're looking for the best at-home printer for Mac devices and you don't want to spend a fortune, Pantum could have just the product for you.
The Pantum mini monochrome printer will only deliver documents in black and white, but it's a good choice to have around if you're on a small budget.
You can quickly connect to this printer in no time, thanks to the one-step wireless connect. You can also pair the device with iOS and Android phones.
Intended for compact spaces, the Pantum will only take a tiny amount of space up on your desk, so you have plenty of room for your Mac computer and all the other items you need.
Pantum also promises excellent printing costs, and you get a 700-page starter toner kit too.
If you're on the hunt for a compact laser printer with amazing quality, this could be the item for you.
Features include:
Miniature compact design
Powerful wireless monochrome printing
32 pages per minute
First page in 7.2 seconds
Wi-Fi hotspot and mobile device pairing
Connect via high-speed USB
Unbeatable laser printing costs
Excellent starter toner cartridges included
Although this printer doesn't offer color performance, it's still a great investment if you want to keep costs low and access all the benefits of environmentally-friendly laser printing.
It's a great tool for pairing with your smartphone on the move too. One possible problem is that this device can't duplex print, which may waste paper.
Pros:
Compact design fits in any room
Excellent laser performance saves on toner
High-speed performance with wireless connections
Suitable for use with your smartphone
Great toner prices
Cons:
Only does monochrome printing
Can't duplex print
Pantum mini monochrome
The Pantum mini is perfectly sized to fit on smaller desks or in tight spaces with a metal frame structure built for longevity. Specially designed for home office and student work printing.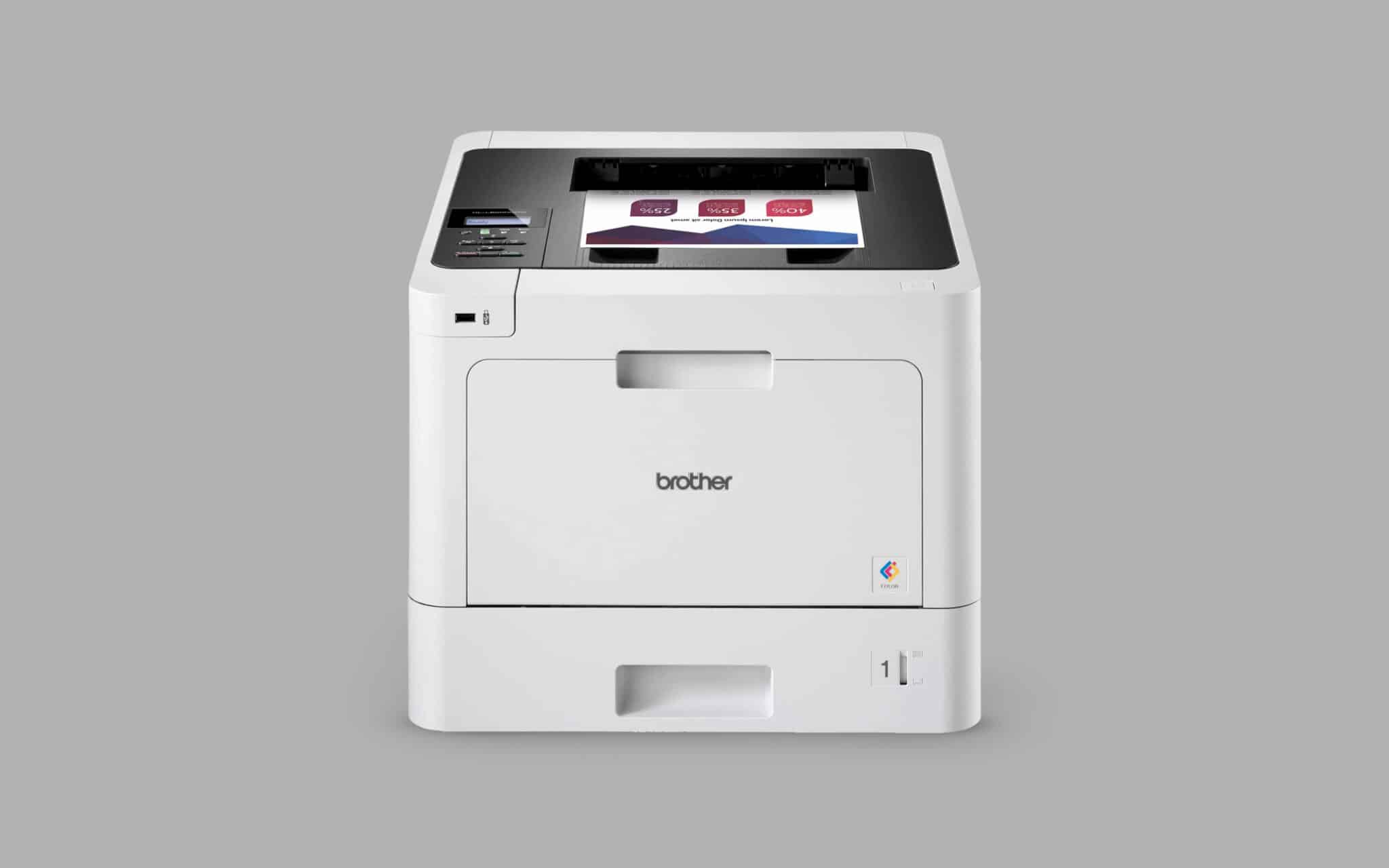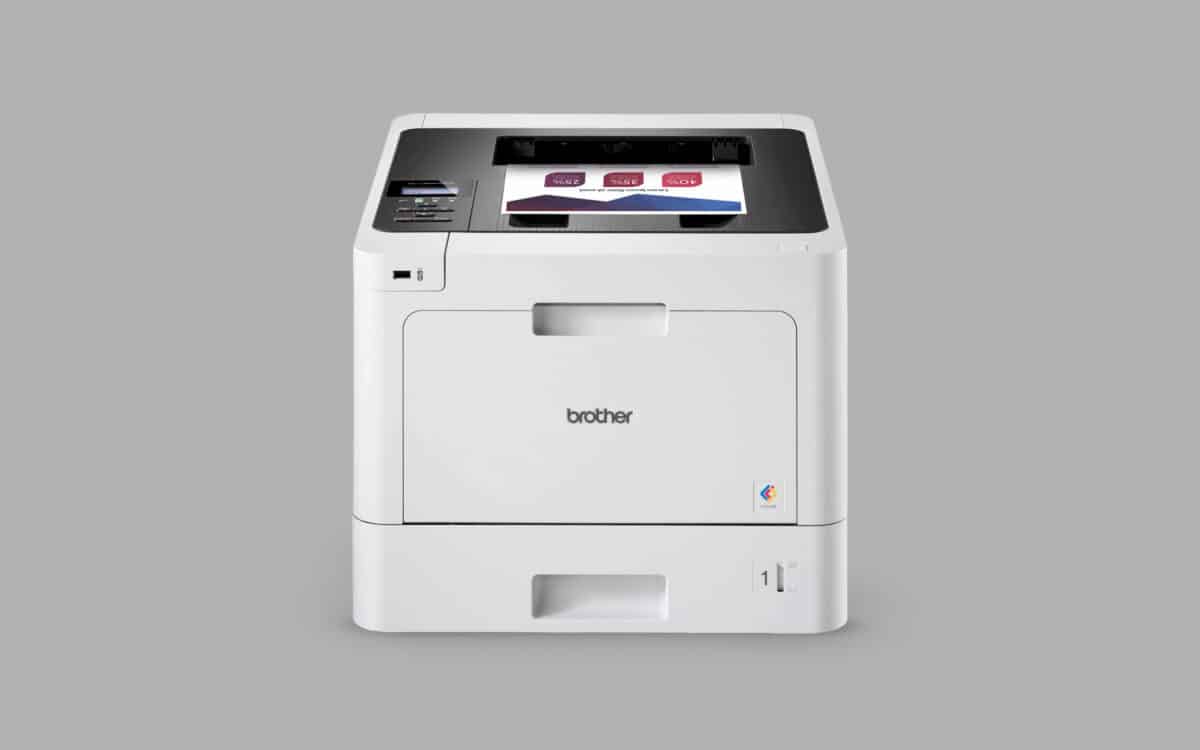 4. Brother HL-L8260DCW (best laser color home printer for Mac)
There's a reason why Brother is the best-known brand for delivering high-quality laser printers on the market today.
Whether you're looking for the best home printers for Mac, or an excellent office-based device, Brother has you covered.
The Brother HL-L8260CDW is no exception, as one of the most efficient and reliable color printers around.
Capable of delivering the perfect blend of speed and quality, Brother can deliver up to 33 pages of printing per minute with this device.
There's a multipurpose tray for feeding the printer automatically, and you get the benefit of advanced security built-in.
Durable and reliable, the Brother printer even comes with a flexible range of connectivity options.
Features include:
Complete color printing performance
High-yield toner to save money
33 page per minute printing speed
Duplex printing
2 line LED display
Mobile printing options
Wireless and ethernet connections
Triple-layer device security
Offering an excellent combination of security and speed, the Brother HL-L8260CDW makes Mac printing at home quick and simple.
You can easily connect to your device in seconds and print up to 4,000 pages in color on a single cartridge.
Remember that this isn't an all-in-one printer with copying and scanning functionality, however.
Brother printers can also be quite bulky, so be prepared for your item to take up a lot of space.
Pros:
Full-color laser printer
Excellent triple layer security
Quick and effective printing
Wireless or smartphone connectivity
Duplex printing as standard
Cons:
Takes up a lot of space
No scanning or copying
Brother HL-L8260DCW
The Brother HL-L8260CDW Laser Printer delivers exceptional copies at print speeds of up to 33ppm without compromising quality.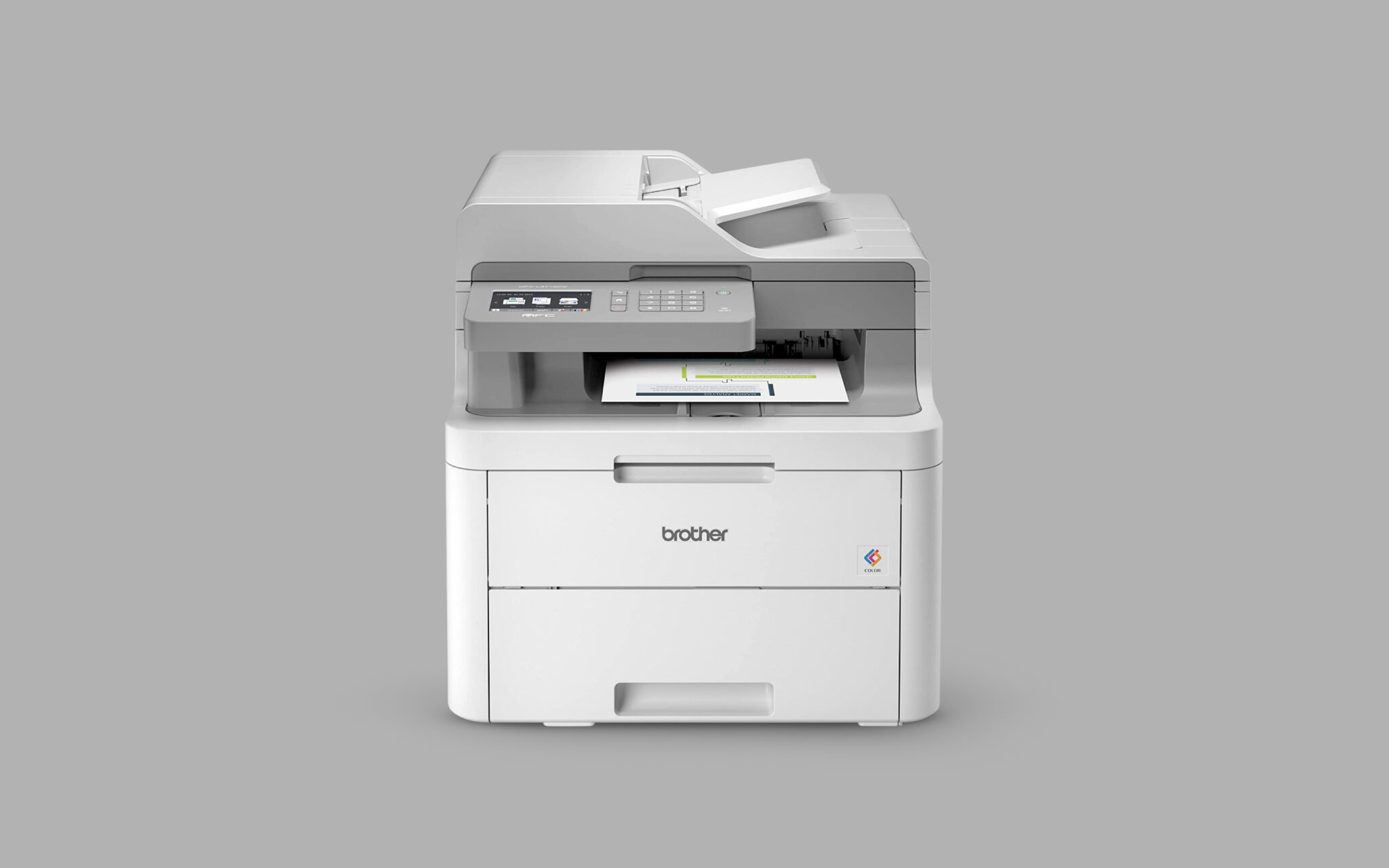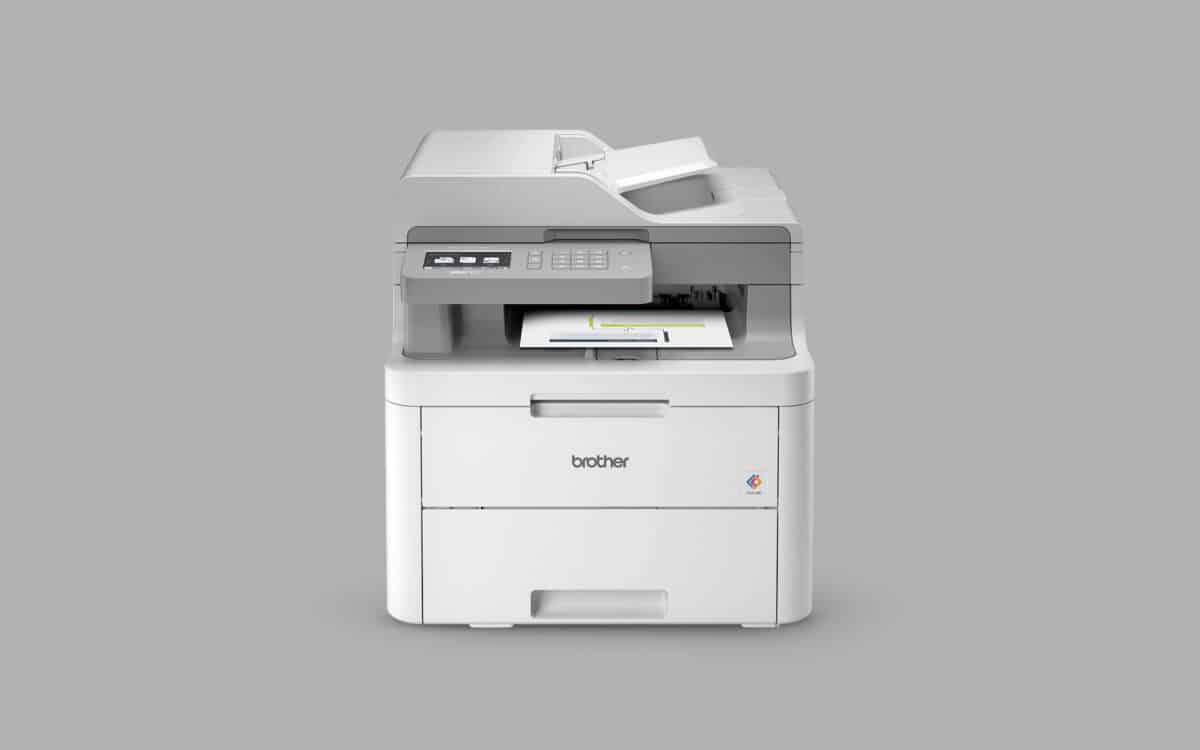 5. Brother MFC-L3710CW (best all-in-one home printer for Mac)
Let's stick with the Brother brand for a moment to take a look at one of the most comprehensive choices for the best home printers for Mac.
This compact digital all-in-one device gives you everything you need for printing, scanning, and copying at home.
Equipped with a speedy performance that gets the job done in no time – the Brother MFC-L3710CW can print up to 29 pages per minute in black and white, or 22 in color.
Promising both affordable and flexible color printing, this device comes with laser technology, so you can create professional-quality documents without having to worry about the cost of ink cartridges.
There's a 250-sheet adjustable paper tray included too, so you don't have to refill as frequently.
This is one of the best at home printer for Mac solutions, featuring:
Fast print and scan performance
Affordable color toner design
250 adjustable paper tray
3.7-inch color touchscreen
Dropbox, Evernote, Google Drive, and more access
Print and connect through any wireless device
Connect to computers via USB
Top up toner with Amazon Dash
The convenient color LCD screen ensures that you can keep track of all your printing tasks as you go.
Also, this handy device comes with various ways to connect from your Mac, laptop, or smartphone.
Built-in wireless and Wi-Fi connect are included, along with a USB cable.
One thing to note, however, is that this printer might be too bulky for some homes. You might also find that the printer is quite expensive compared to other options.
Pros:
Exceptionally fast printing and scanning
Excellent for environment (laser printer)
3.7-inch touchscreen for managing your prints
Works with a range of apps and connection options
Large paper tray with duplex printing
Cons:
Very bulky design
Quite expensive compared to many alternatives
Brother MFC-L3710CW
Affordably print professional quality, rich, vivid color documents with laser printer quality. The 250 sheet adjustable paper tray helps minimize refills and the manual feed slot handles varied printing needs.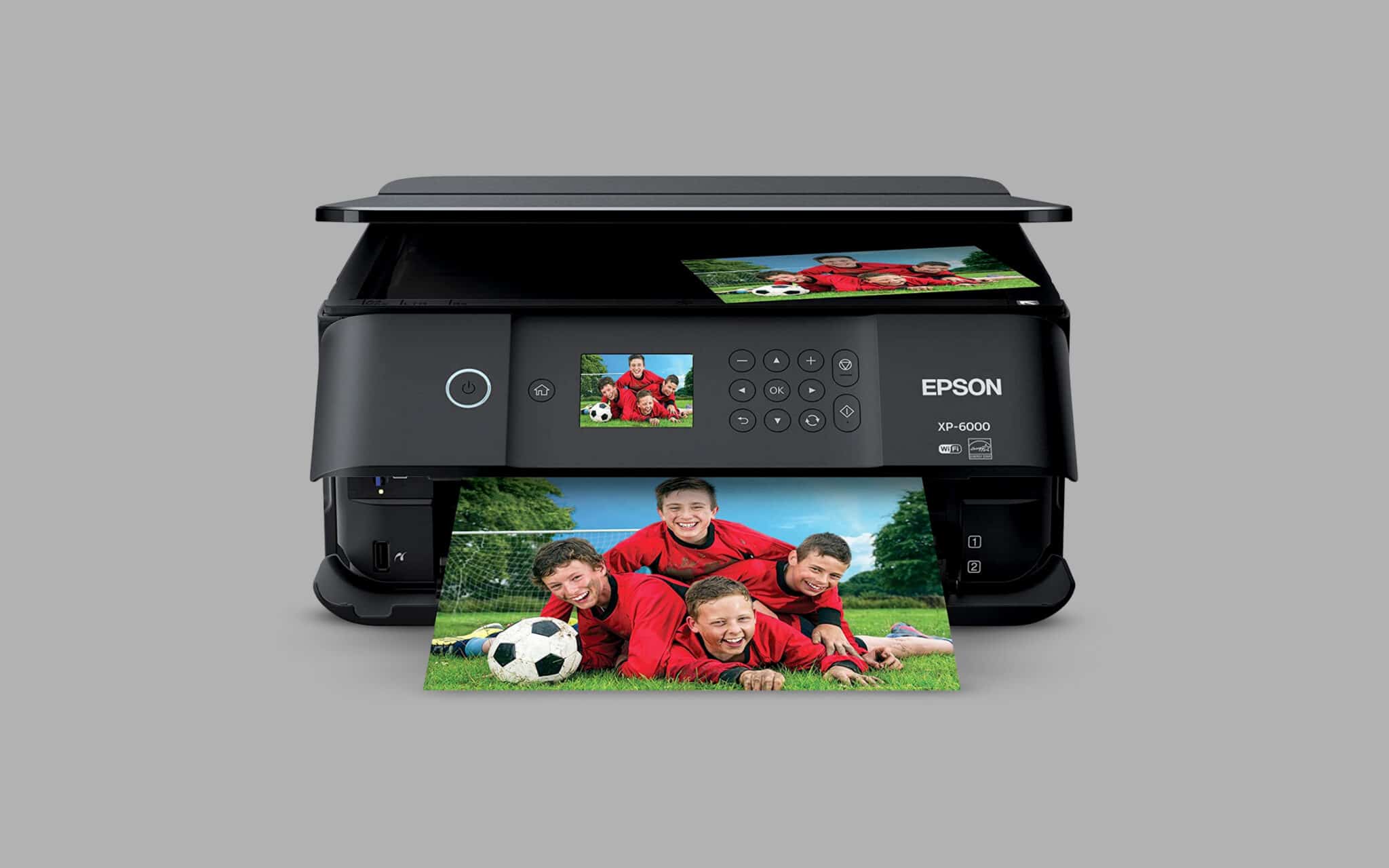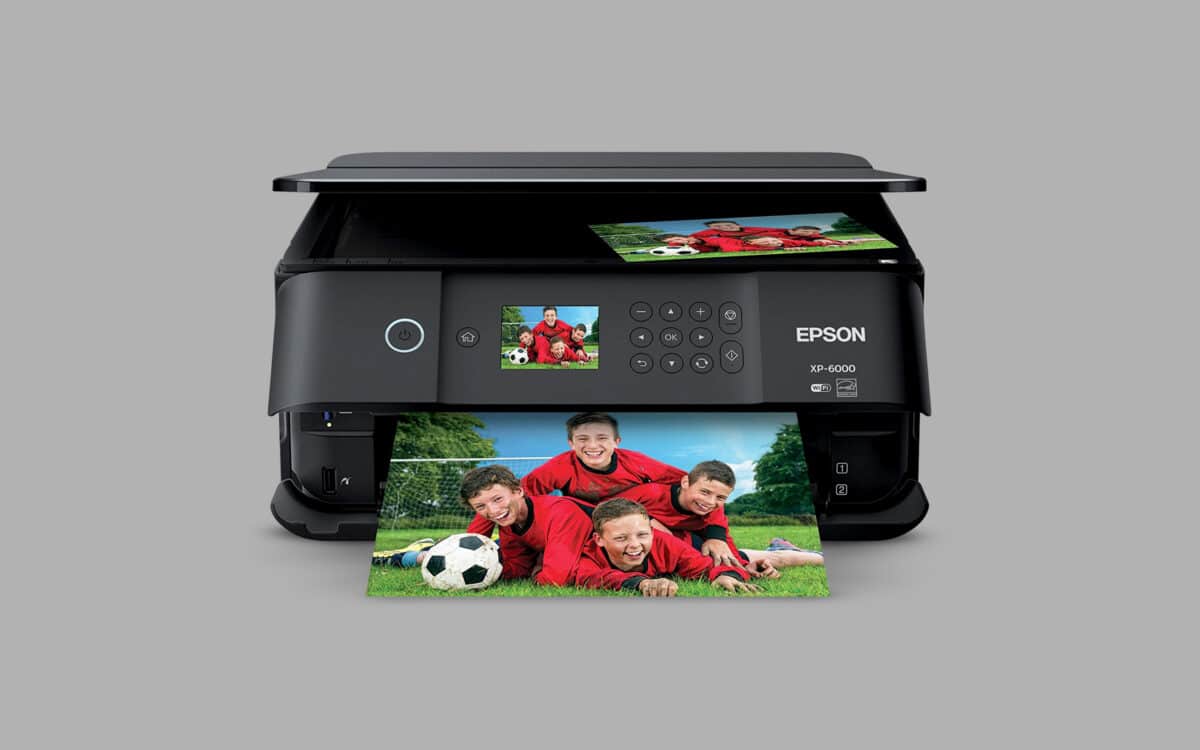 6. Epson Expression Premium XP-6000 (best photo)
If you're looking for the best home printer for Mac to print photos straight from your Apple device, Epson could have just the product for you.
The Epson Expression Premium XP-6000 is a compact and attractive wireless photo printer with a scanner and copier included for extra functionality.
This device will allow you to print photos within as little as 15 seconds. And the five color inks allow for vibrant depth in every image.
With ultra-fast printing speed and a convenient interface, you can start creating the images that you want to share in no time.
There's also a built—in USB and memory card slot so that you can access your files in a range of ways.
The LCD touch panel will allow you to make changes to your printing projects on the go.
Features include:
Dedicated photo printer design
Scanner and copier included
5 color ink cartridges for better quality images
Hassle-free user interface
LCD screen included for print management
Wireless Mac, smartphone, and tablet printing
USB and memory card slots included
Alexa compatible
Compact and convenient, this best at home printer for Mac is an all-in-one solution for photographers and creative professionals who want to add to their portfolio.
You can print professional photos in no time, and you can even control your device with your Alexa speaker.
The Epson printer is also Dash ready for quick replacement ink orders.
Keep in mind that setting this device up is a little problematic too. Choosing the right sizing for your photos can be tough.
Pros:
Dedicated photo printing design
Stunning high-quality color images
LCD screen included for tracking your printing projects
Wireless smartphone, Mac, and tablet printing
Alexa compatible
Cons:
Difficult to set up initially
Tricky to adjust paper sizes
Epson Expression Premium XP-6000
The ultra powerful, ultra slim Expression Premium XP-6000 wireless Small-in-One printer delivers superior photo quality and fast print speeds.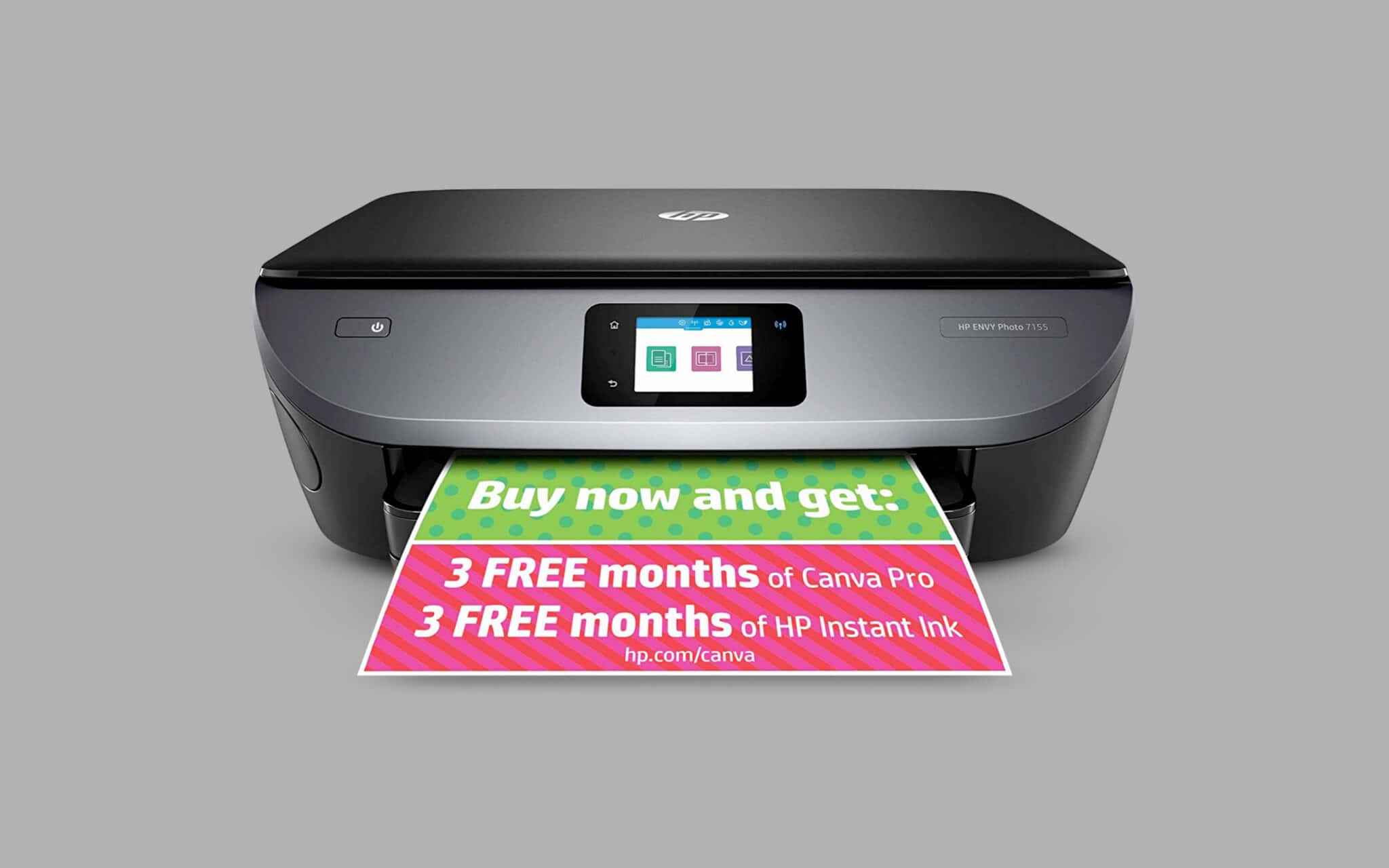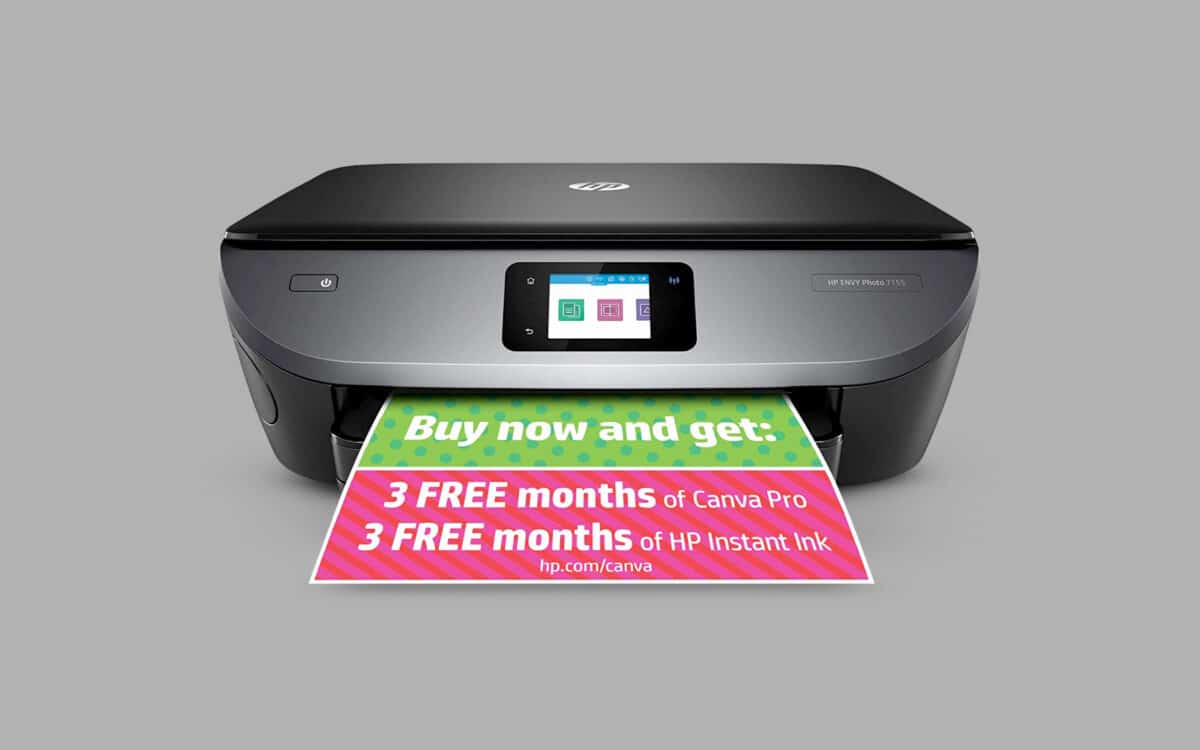 7. HP ENVY Photo 7155 (best printing app)
Printing high-quality images from your Mac doesn't have to be difficult with the HP ENVY Photo 7155.
This compact and convenient all-in-one printer can do everything, from scanning images, to producing professional looking photo prints. You can also create borderless prints – great for those stunning Mac edited images.
This device ensures that you can print from any device, anywhere. There's wireless connectivity you can count-on, with both Bluetooth Smart connections and Wi-Fi.
It also only takes a matter of minutes to get the AirPrint enabled app up and running on your phone.
From your iPhone, you can edit various Mac images and adjust your prints, then send them straight to your printer.
Features include:
Photo quality color prints
Scanner and copier included
Wireless and borderless printing
SD card slot for adding your own content
Convenient mobile app for print management
Wi-Fi and Bluetooth connections
Wide range of support for different paper sizes
Touch screen display
Duplex printing available
With a handy duplex printing option to save on paper, and the option to print directly from an SD card, this is one of the most versatile and best small home printers for Mac products around.
You even get a one year limited hardware warranty for peace of mind as part of the purchase.
Customers do complain about the difficult error messages that can pop up from time to time.
It's also worth noting that inkjet printers are often more expensive to run than laser.
Pros:
Convenient duplex printing on multiple paper sizes
Scanning, copying, and printing functionality
Handy app for managing your print queue
Print directly from an SD card
Excellent compact design
Cons:
Difficult to deal with errors when they arise
Can be expensive to stock up on ink
Sale
HP ENVY Photo 7155
The power of your printer in the palm of your hand – Mobile printing from your device such as iPhone with AirPrint, or print without a network using Wireless Direct printing.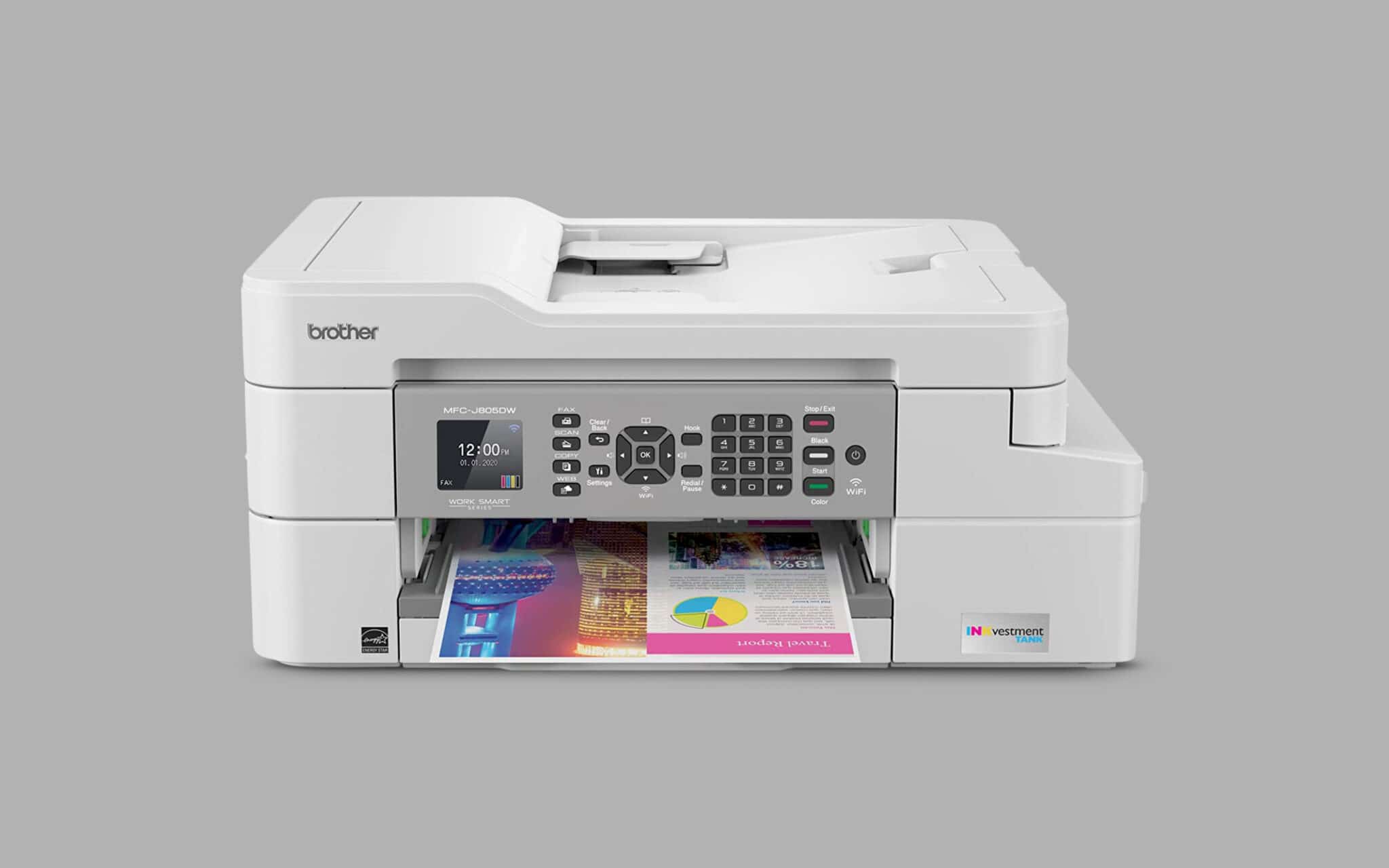 8. Brother MFC-J805DWB (best reliable home printer for Mac)
When you're shopping for the best home printers for Mac, you usually want something that's convenient, reliable, and easy to use. That's not a problem with the Brother MFC-J805DWB.
This all-in-one printer comes with up to 1-year of ink included to get you started. There's also a handy investment tank system which means that you can hold more ink than your standard printer.
Suitable for scanning, copying, and printing, this Brother device is a lot more compact than some of the other Brother printers on the market. It's still extremely versatile, however.
You can print directly from your mobile device, or Mac using AirPrint. There's also the option to use a direct Wi-Fi connection.
Features include:
Printer, scanner, and copier in one
Revolutionary tank system for ink
Up to 1-year of ink included
Excellent mobile device printing
AirPrint access available
Wi-Fi direct for wireless printing
Multiple paper tray sizes available
Durable and compact design
This Brother printer also comes with a handy ink gauge system that gives you a visual way to determine how much ink you've used and how much you've got left.
That makes it easier to decide when you need to stock up on new cartridges.
Just be careful to read the instructions carefully before you start setting up this device, as it can be quite complicated.
Also, remember that you can only use genuine Brother ink with this printer.
Pros:
Compact and convenient design
Full color printing, scanning and copying
Easy to use ink gauge system
Plenty of ink included as part of the kit
Simple wireless printing performance
Cons:
Only works with genuine Brother cartridges
Difficult to set up initially (though long-term use is simple)
No products found.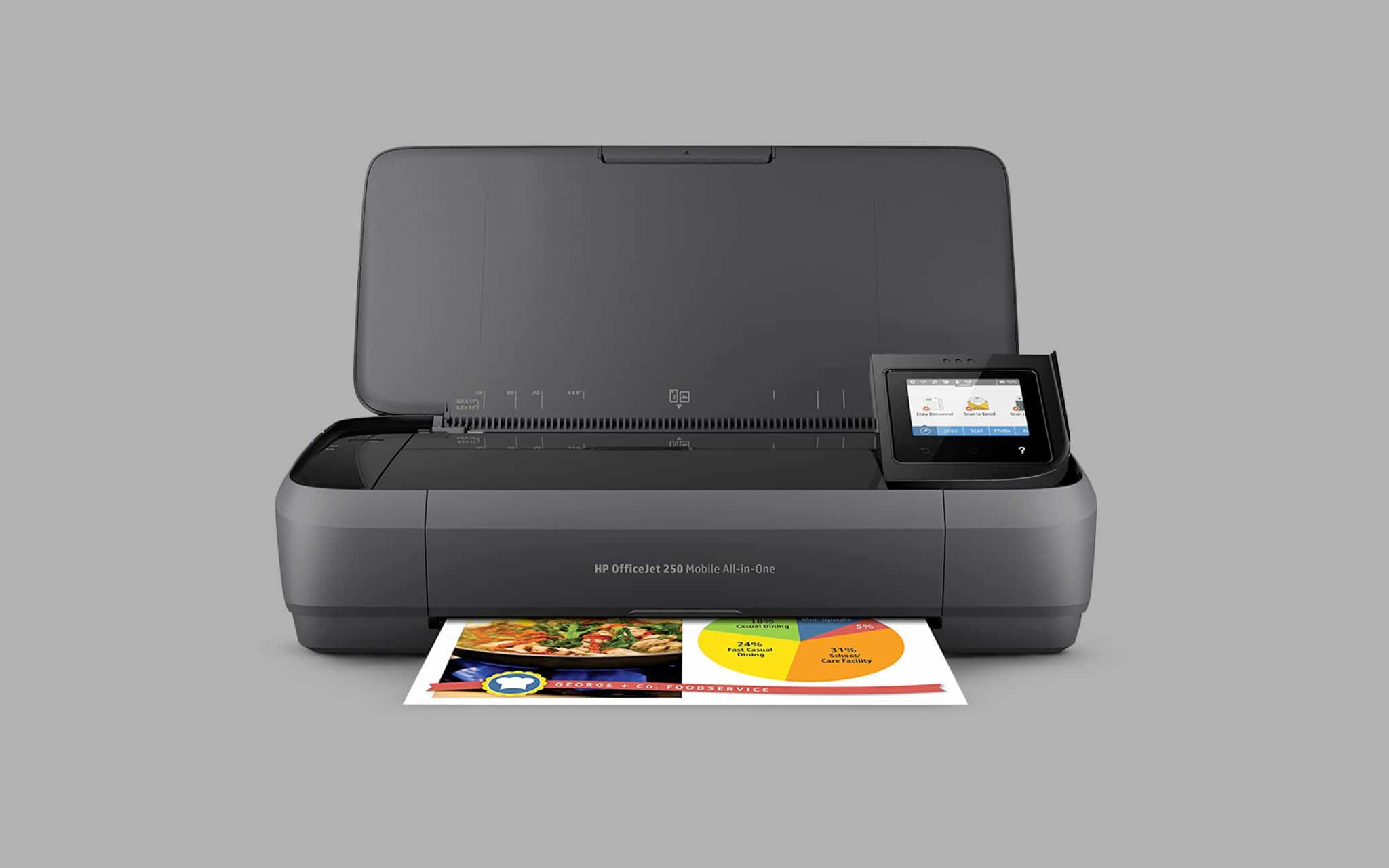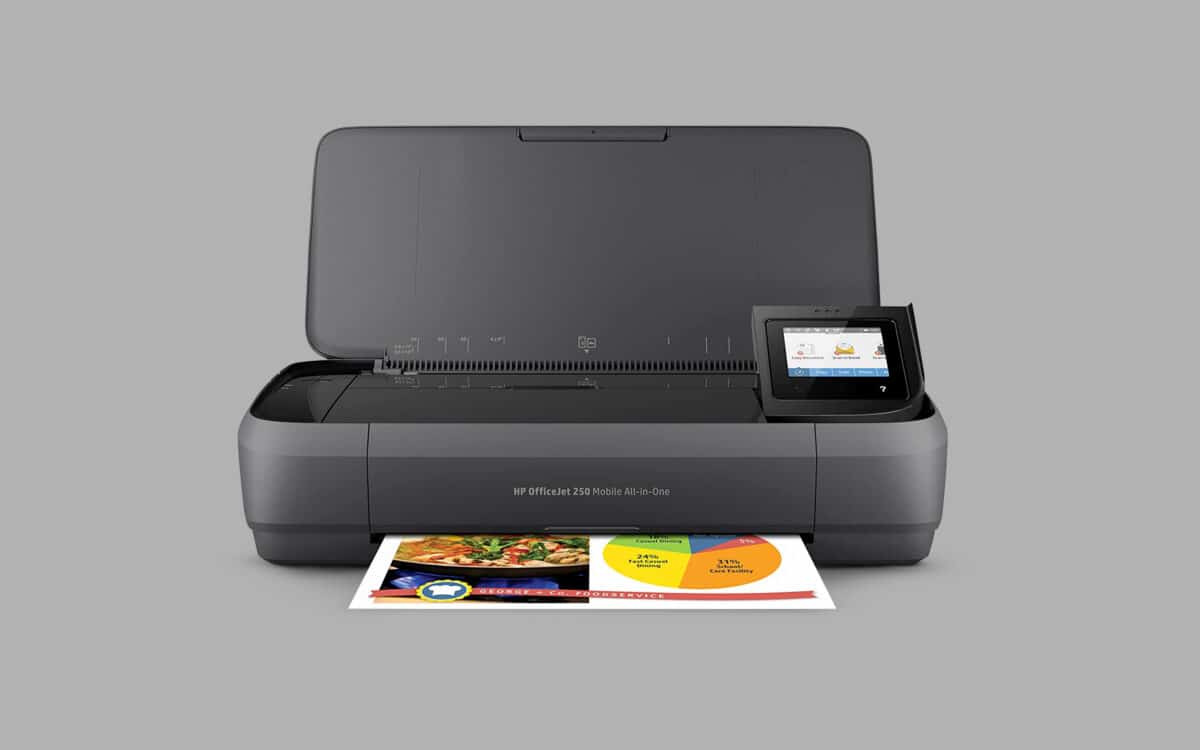 9. HP OfficeJet 250 (best portable home printer for Mac)
What if you want a Mac printer that you can use downstairs in the living room for kids' homework, then take up to the office when you're printing documents for work?
The HP OfficeJet 250 is one of the few home printers for Mac that's designed to be completely portable.
The all-in-one device comes with support for copying, scanning, and printing. You can even get a travel case separately to carry your portable device in.
Offering quick and easy access to printing from your Mac or mobile devices, the HP OfficeJet comes with a smartphone app where you can check your print queue and monitor your projects.
There's a color touchscreen on the front of the device too, which makes it easy to check everything from ink levels, to printer settings.
Features include:
Scanner, copier, and printer in one
Portable design (carry it around the house)
Durable rechargeable battery
Smartphone and wireless printing
Color touchscreen and app access
1-year warranty
Alexa accessible
This portable printer comes with a rechargeable battery, so you don't need to keep it plugged into the wall at all times.
There's also Alexa access, so you can control your printing processes with your voice.
A 1-year warranty also gives you extra peace of mind in case something goes wrong.
If you're looking for speedy printing, however, the HP OfficeJet is a little slower than some of its competitors, and it can be tough to set up for beginners.
Pros:
Rechargeable battery for easy portability
Works with Amazon Alexa controls
Color touchscreen and handy app
Scan, print or copy
Automatic document feeder included
Cons:
Can be tough to set up
A little slower than some models
HP OfficeJet 250
Main functions of this HP all-in-one portable printer include: scan, copy, easy portable printing wherever you need it, wireless Print from your laptop or mobile devices, and more!
How to choose the best home printers for Mac
There's no one-size-fits-all strategy for choosing the best home printer for Mac devices.
Ultimately, your choice will come down to a careful consideration of the features you need, and what kind of printing experience you're looking for.
There's a good chance that budget is going to factor into the equation too. Before you buy the cheapest printer you can find, however, make sure you consider these elements:
Functionality
What can your home printer for Mac do besides printing? Can it scan and copy documents in your home? Do you need a printer that can print in color, or just one that's black and white? Consider your feature needs carefully before you start searching for the right option.
Laser or inkjet
Laser printers generally cost quite a bit more than their inkjet counterparts, but you can get a better quality print as a result, and the toner cartridges typically last longer. On the other hand, inkjet can still deliver decent results, and most of these devices are quite affordable too.
Speed
A printer that's fast is often a good investment when you're looking for convenience. When checking speed, don't just focus on number of pages per minute. You can also look at things like how quickly the automatic feeder works for the scanner and how fast you can get a wireless connection for your Mac.
Connectivity
The easiest way to make sure a printer will work with your Mac at this point, is to ensure that it's wireless enabled. A wireless printer is a great choice because it means that you can print from virtually any device. Looking for something that's AirPrint enabled is particularly useful if you're an Apple fan.
Paper options
Finally, remember to think about your paper handling options. Can you change the size of the paper you're using? How many pages can your printer hold at once, and is it possible to use duplex printing (print on both sides)?
Choosing the best at home printer for Mac users
There are tons of great home printers for Mac users out there, each with their own benefits and negatives to consider. The right home printer for Mac devices in your case will depend on your specific technical needs.
If you're looking for something compact and easy to use, the HP ENVY is an excellent choice for quick color prints with photo quality.
If you want something a little more professional, then the Brother MFC-L3710CW delivers a true all-in-one experience with the benefits of money-saving toner, and duplex printing.
Make sure you check out all of your options before you invest, and happy printing!
Fabrik: A branding agency for our times.