Album covers, modern designs, and many an iconic magazine cover — plus much more. The 1990s were a transformative and intriguing time to be alive, and to say that a lot happened would be an understatement. With that in mind, it's totally understandable if you want to bring the nostalgia back with a 90s font for either your commercial projects or personal use.
The 1990s aesthetic has a unique look that separates it from the 1980s and previous eras. This is in part due to the amount of technology coming through at that time.
Some of the most iconic video games were designed in the 90s, and the dotcom boom toward the end of the decade opened the world up to new opportunities that have since evolved dramatically.
Vibrant colors were a mainstay, but that doesn't mean that you couldn't get away with more muted looks at the same time.
One problem when looking for the best 1990s fonts online is that there are quite simply so many options. You might want a retro feel, for example, whereas someone else could be on the lookout for unique combinations that blend older styles with a bold look toward the future.
Similarly, you one person might want a 90s font for horror movies that they're creating — whereas a clean-edged original could work better for a marketing campaign or if you're a graphic designer in another space.
There is no such thing as the perfect font, but we'll do our best to help you find a selection of popular 1990s fonts — plus some hidden gems that you may previously not have heard about.
We'll also mention what graphic elements constitute a 1990s font, along with providing you with some places where you can find these different types of fonts for any eye-catching designs you want to bring to life.
If all of this sounds interesting to you, let's dive in and begin looking at 90s typography — plus much more.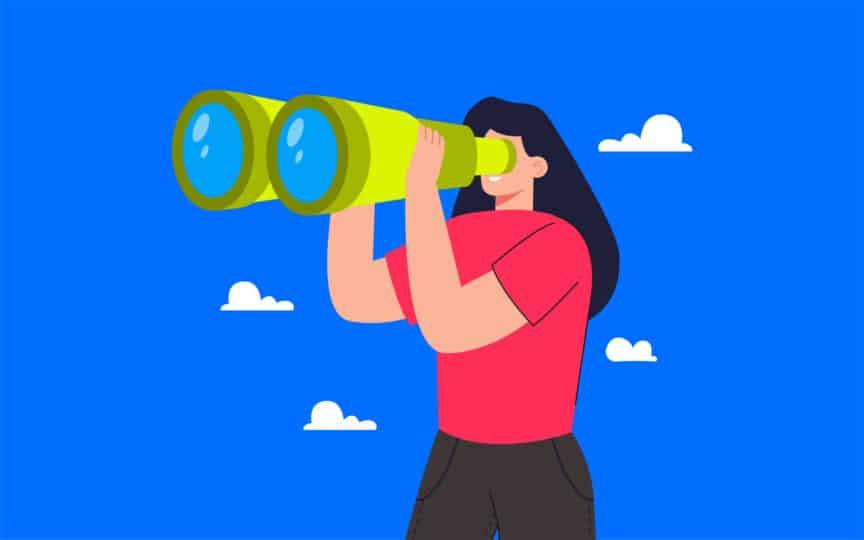 Intro: On the lookout for the best 90s font
Some would argue that the 1990s was the best decade of the 20th century. That's potentially up for debate, but it did signal the end of a turbulent century for the planet. We endured two major wars, a Great Depression that ruined millions of livelihoods, and the Cold War left many people on edge.
But the human race also made huge strides through innovation, with the invention of the internet and the famous moon landing. All of this helped to shape the different 90s font styles and create a diverse aesthetic.
Events over the course of the decade also shaped the versatile font ranges we saw. In the early 90s, for example, the previously-mentioned Cold War ended. And as we edged toward the end of the millennium, Hong Kong was returned to China.
Meanwhile, in Europe, the European Union continued expanding — with the likes of Austria, Sweden, and Finland joining countries that were already there — such as Italy and Belgium.
The Good Friday Agreement was also signed in 1998, which helped calm the violence that had plagued Britain during The Troubles for decades beforehand.
Culturally, vintage designs and more helped to shape famous 90s art styles. We saw some futuristic fonts as people began to speculate on what the 21st century would hold… we're not sure if they thought video pranks and "social media" as we call it today would be at the forefront of their minds, but here we are.
There were several famous musicians at this time as well, many of whom went on to enjoy continued success in the 2000s. The likes of the Red Hot Chilli Peppers and Green Day were influential, while Eminem was also gaining traction.
You can find all kinds of display font types and different styles on several platforms, and one of the most popular is Envato Elements.
When using Envato Elements, you can choose from a broad suite of different original design elements that will make your posters, book covers, greeting cards, and any other design project you want to stand out.
Although you'll find some 1990s fonts with a free membership, upgrading to a paid version is better if you want a broader range of options.
Access 50 Million+ Design Assets And Fonts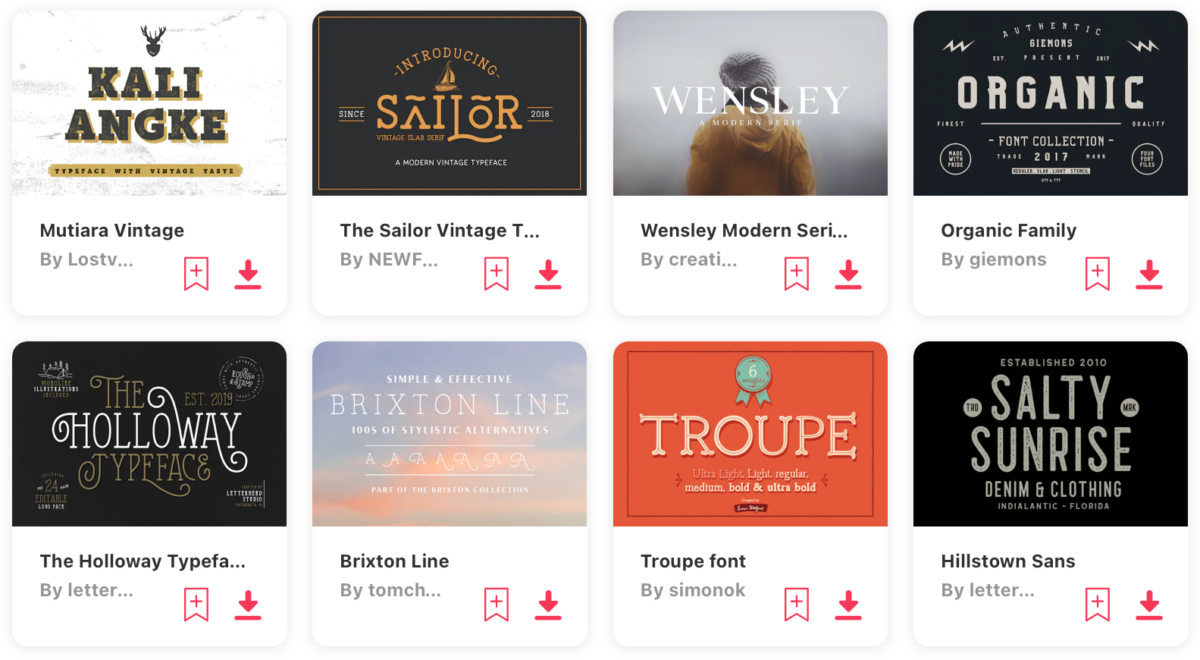 Access a vast selection of fonts with a subscription to Envato Elements. The affordable monthly subscription service costs just $16.50 per month and includes unlimited access to a phenomenal font library and over 50 million design assets. Alongside fonts, you can find everything from stock effects and element packs to images in one convenient place.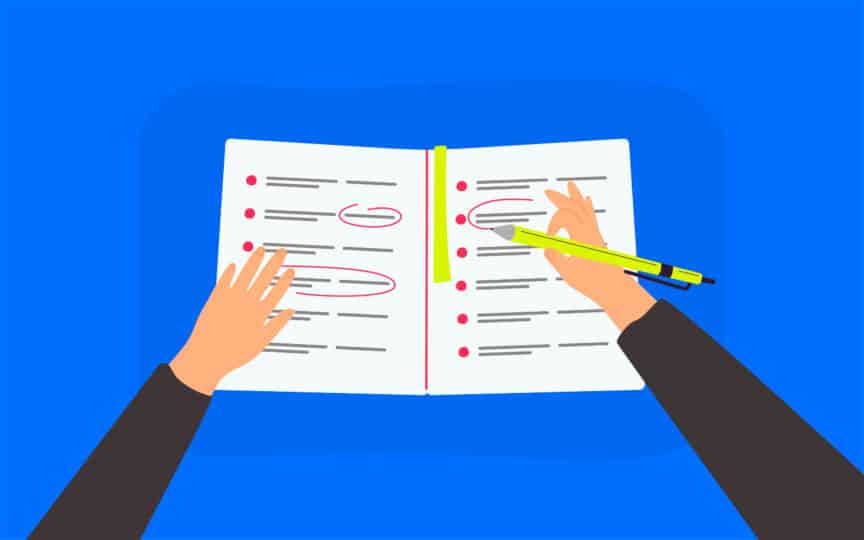 What qualifies as a 1990s font?
Before we go any further, it's a good idea to discuss what actually constitutes a 90s style font. Generally speaking, we're talking about fonts that were designed and released — or were popular during this era.
You might see some of them on neon lights, whereas others could be in caps font, and a selection could be with geometric shapes. The term is quite versatile, however, and you might find 90s style fonts from different decades — but which are an excellent choice for your personal projects or commercial use.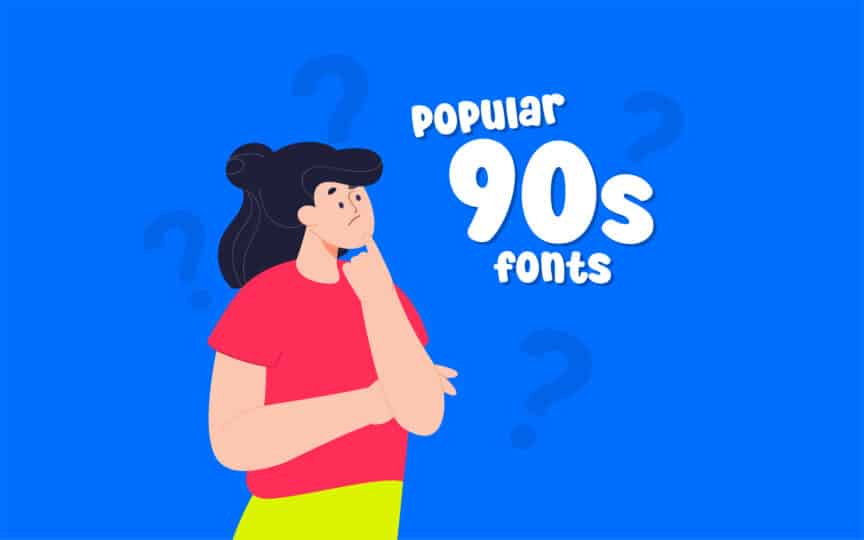 What fonts were popular in the 90s?
Many popular fonts from the 1990s have continued to be in style since then, and a lot of them were actually designed and used before.
You've probably seen Helvetica, especially if you've ever been to Switzerland before. Times New Roman is another timeless classic that is a popular choice with writing larger bodies of text — though you won't usually see it in logo design.
The cartoon-style font that you might have seen on video games was also in style during this period, as was Century Schoolbook. Many of these are great fonts in and of themselves, but what makes them especially interesting is how creative people got with 90s font styles.
Thin strokes and blocky letters both contribute to 90s vibes, as do many other factors.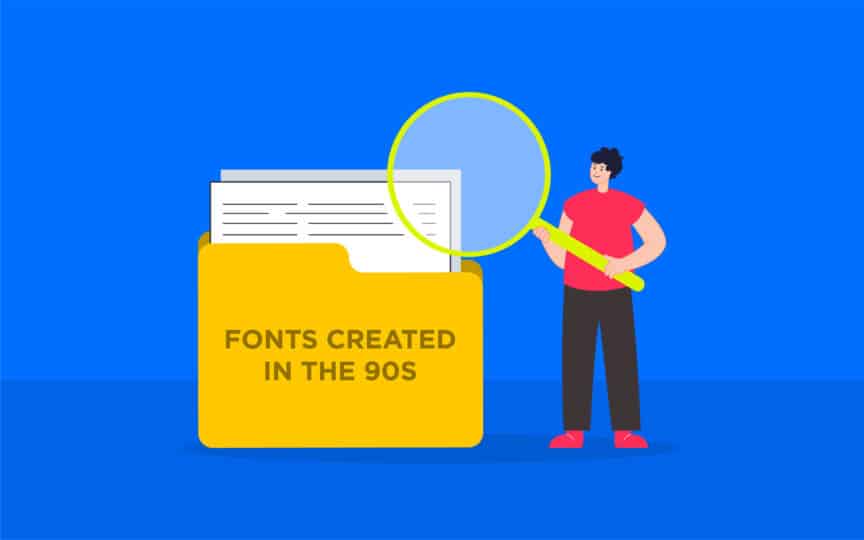 What fonts were created in the 90s?
While some of the best 90s fonts already existed beforehand, others came to prominence after being created during the decade. Century Gothic was one font designed in the 1990s, and Comic Sans is another famous example.
However, there were plenty of others.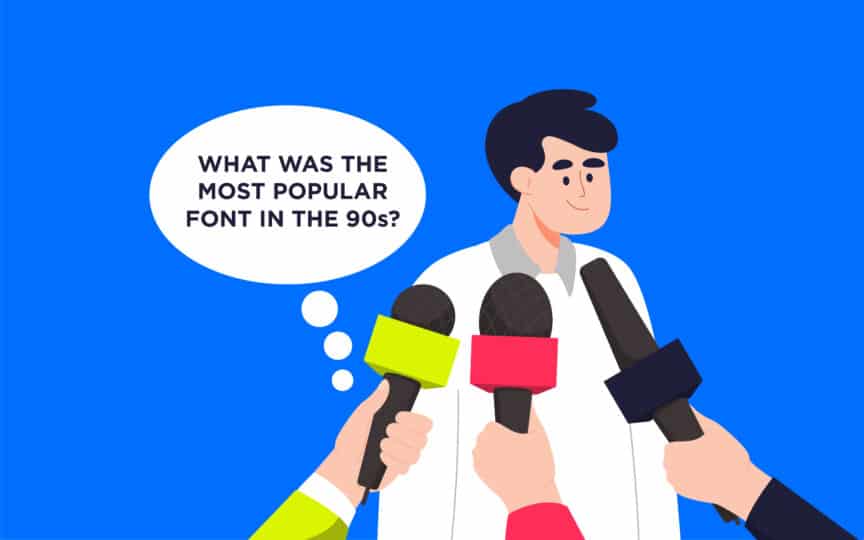 What was the most popular font in the 90s?
The most popular 90s font largely depends on your interests, but Arial was certainly up there when you consider how many offices and other places would use it. Comic Sans was also widely used, and creative variations of Helvetica can be seen in posters and other places.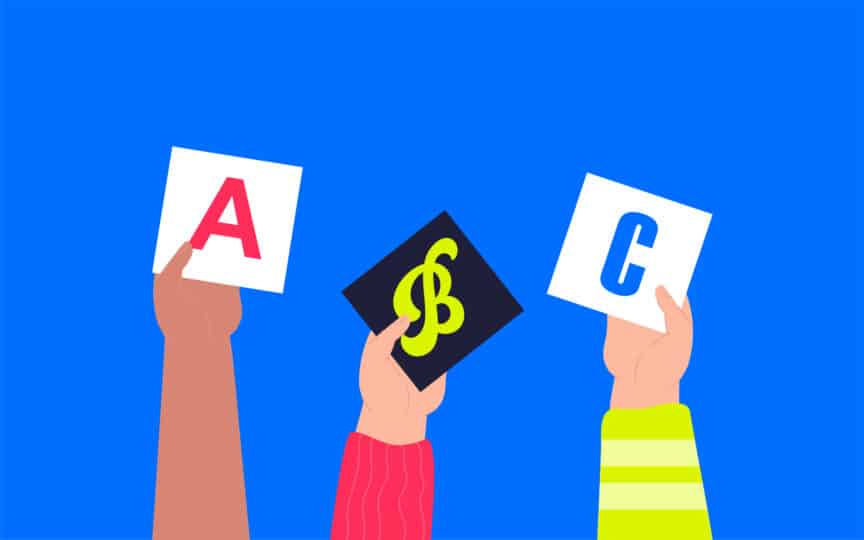 Are 90s fonts still used today?
Even to this day, you will still find some of the best 90s fonts used in places you might not have expected. Comic Sans, for example, is still a popular choice — and you'll see it in bright colors and many other variations.
Similarly, a lot of people rely on Arial for writing essays, articles, and numerous other long-form text pieces. It's an ideal choice if you need something more versatile.
What are the best 90s fonts?
Now that we've discussed the best 90s fonts in more context, we think that now is a good time to start mentioning where you can get them from. For each of the below, we'll also identify where you can purchase them from.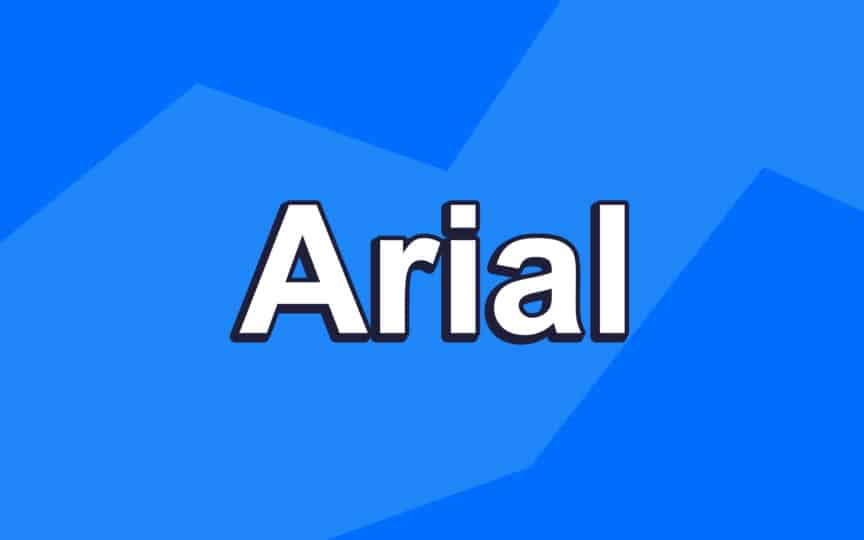 Arial
Arial was created in the 1980s, but the growth in importance of the computer meant that it was even more significant in the 1990s. For many years, it was the default option for a lot of people who wanted to type long-form text — such as essays and articles.
And to be truthful, it's still essential even today in this respect. You can use the font in all kinds of places, including digital and print ads. It's easy to read, clean, and will probably never go out of style.
Comic Sans
Comic Sans is probably the most famous font created in the 1990s. If you were born in said decade, you might even have used it on a couple of school projects (or seen it on congratulatory certificates!).
The font is playful and best used for more light-hearted scenarios, though you can get creative and try lots of different colors.
Like Arial, you can find Comic Sans included in Microsoft Word — but when using it for commercial projects, going elsewhere might be a good idea. The font was developed by Microsoft in 1994.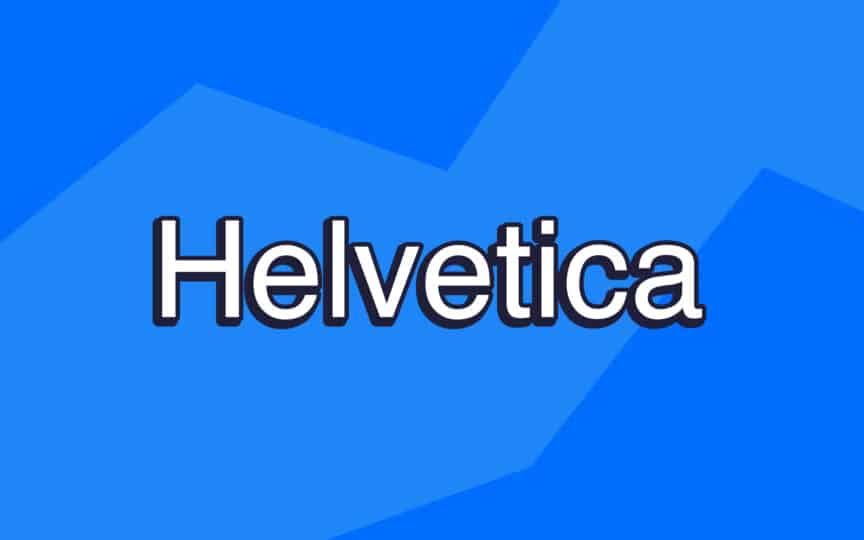 Helvetica
​Helvetica is actually quite an old font if we look at age alone; it was designed in 1957. However, it's a testament to how useful this font is that it's still fondly used today.
Helvetica is incredibly versatile, and it works really well on magazine covers and website landing pages. You can use both bold and non-bold versions, while also using the font in titles and main bodies of text alike.
Helvetica is interchangeable with many other fonts; something like Times New Roman can add even more elegance.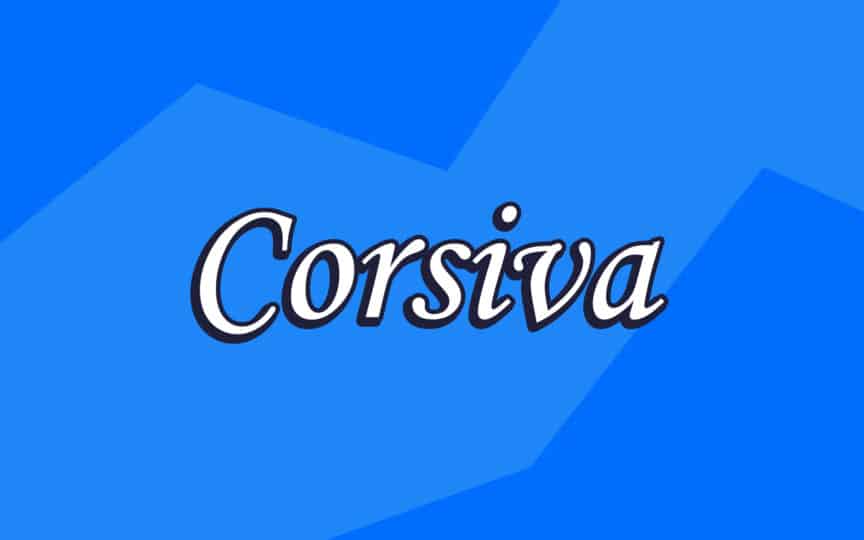 Corsiva
Corsiva was designed by Three Islands Press and has become a popular alternative to the likes of Times New Roman and Arial. Though this qualifies as a retro 90s font, it's interchangeable across many other decades.
Consider using this font if you need something for a publication you're designing, but you're also looking for more of a curvy typeface.
​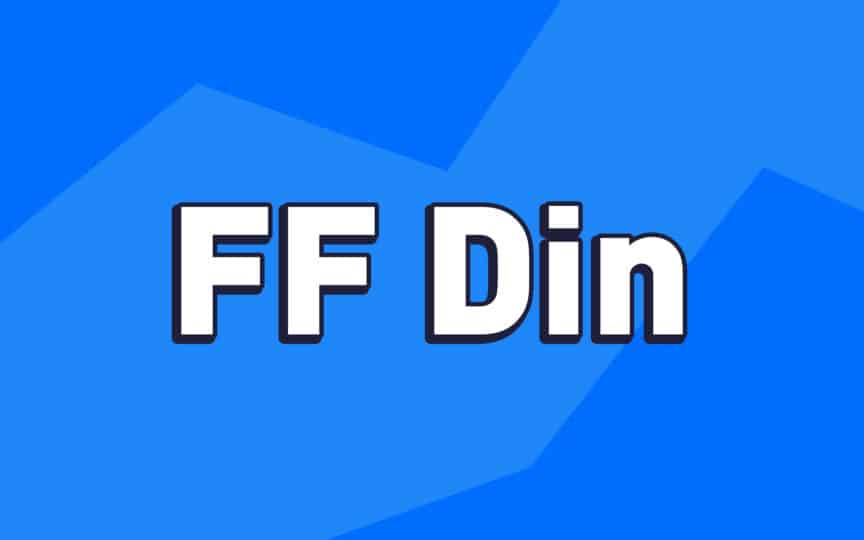 FF Din
Designed in 1995, FF Din is another alternative to Helvetica. It features a relatively slim design, and it's a particularly good option if you want a modern look and are also interested in a caps typeface.
You can use FF Din for various design styles, including logos and titles. It's also a good choice if you need something for a subtitle.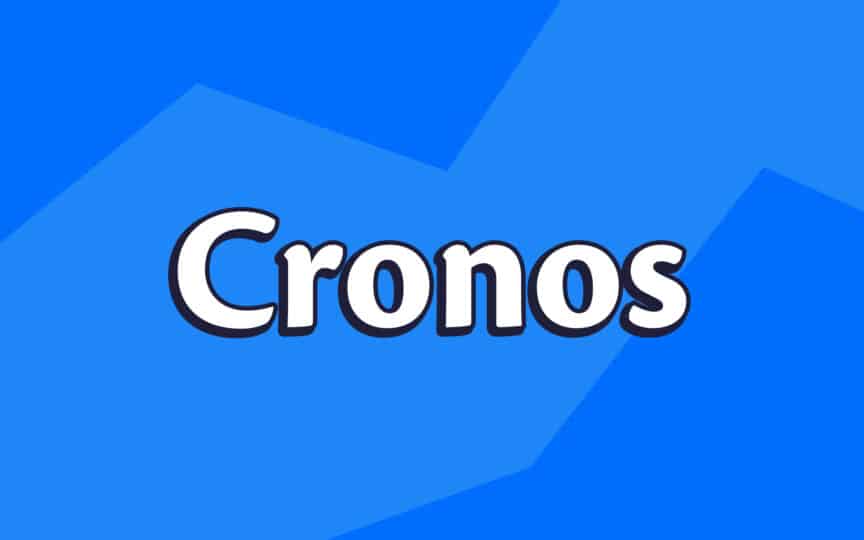 Cronos
Those of you reading this, who are also in a creative industry, might well have heard of (or seen) the Cronos font before. This is one of the best fonts from the 1990s, and it was designed by Adobe in 1996.
It's a great choice if you want to design software and need a font for the text, and it's also a good option if you specialize in Adobe programs — such as Lightroom and Photoshop — and you want to offer services to clients around the world.
​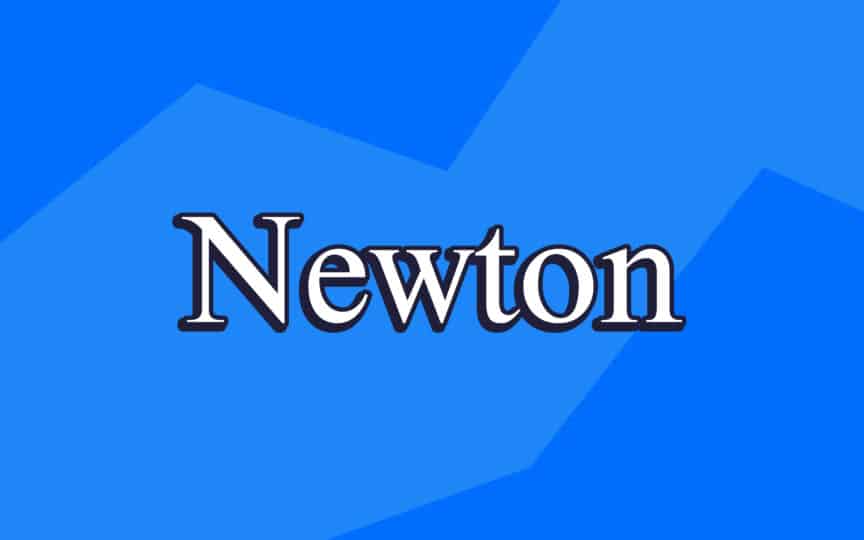 Newton
The Newton font is an alternative you can try if you want something similar to Times New Roman, but not the exact thing. This font is easy to read, and it can work in both larger bodies of text and those that don't feature too many letters or words.
Newton works if you're looking for a font that is neither too close together nor too far apart. And if you aren't sure where to start, it's an ideal beginning point.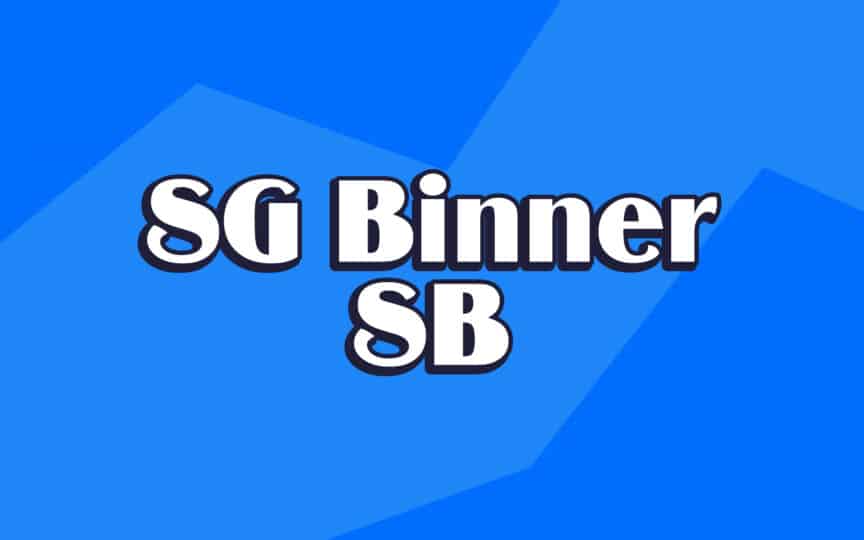 SG Binner SB
Designed in 1989, this came to the world just before the era we've mentioned today. However, it was a popular choice for all kinds of designs throughout the 1990s.
The SG Binner SB font is a caps-style font that is also bolded, making it a handy choice if you want to design a title for your brand or a poster. Similarly, it can work well if you need text that takes up a significant amount of real estate on your paper or canvas.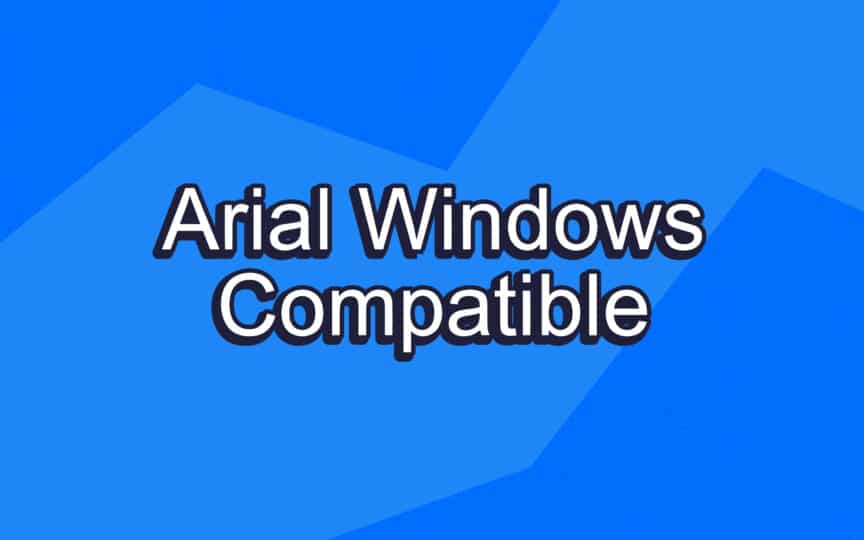 Arial Windows Compatible
We've already covered Arial in this list of 90s fonts, and Arial Windows Compatible has a lot of similarities. However, there are also some subtle differences that might make it a better option for you to pick in comparison to what we mentioned before.
The main separator between Arial and Arial Windows Compatible is that the latter is more bolded, giving it an imposing look that isn't always possible with the ordinary version of Arial. So, if you need something to stand out, consider getting this option instead.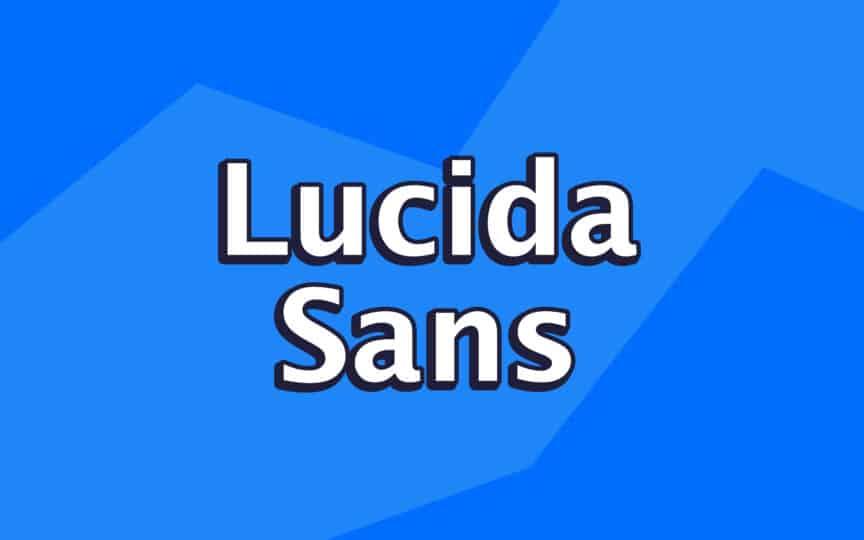 Lucida Sans
If you've used Microsoft Word for an extended period of time, you've probably heard of Lucida Sans. This intriguing font is again another viable alternative to the likes of Arial and Times New Roman, and it works especially well when we use it in main bodies of text.
The font itself was designed by Kris Holmes and Charles Bigelow. It's a clean font that you could easily use in street signs, along with when writing essays and articles — along with blog posts for your website.
The font works both in its normal form and as a bolded version.
​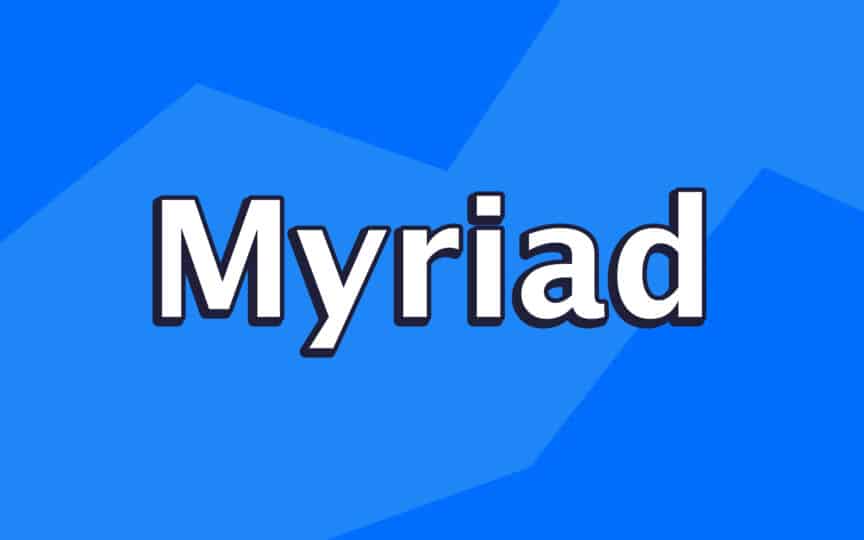 Myriad
The Myriad font is one of the more modern 90s font styles on our list, and it was designed in 1992 by Adobe. Several companies have used this font over the years, including Apple — which adopted Myriad between 2003 and 2016.
Today, the motoring giant Rolls Royce also uses Myriad in its branding — and the European Parliament uses the font as well. As you can guess from these names, it's an ideal choice if you need something that's professional but also modern.
​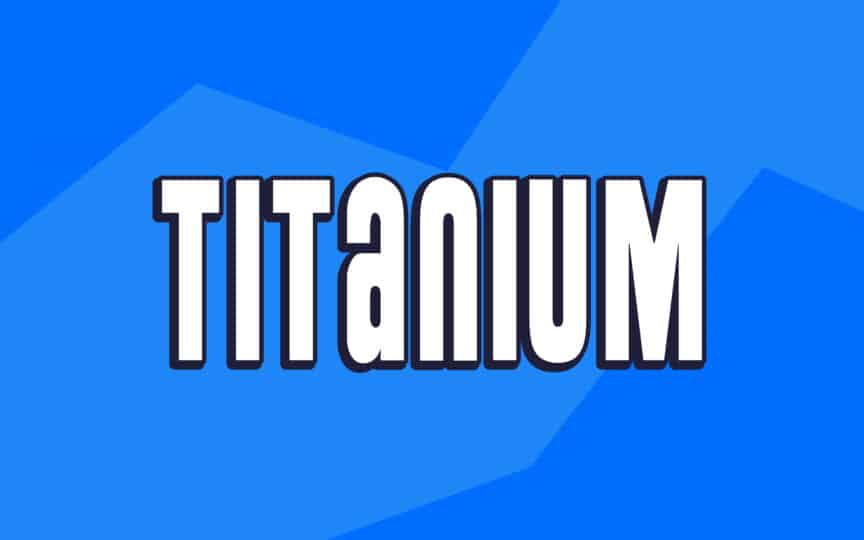 Titanium
Titanium is a font that mixes a futuristic style with also managing to look like a 90s retro font at the same time. You can use it on technology companies' branding, and it's also a helpful option if you want to design sleek ads.
It can work in various other situations, such as for any titles you want to create.
​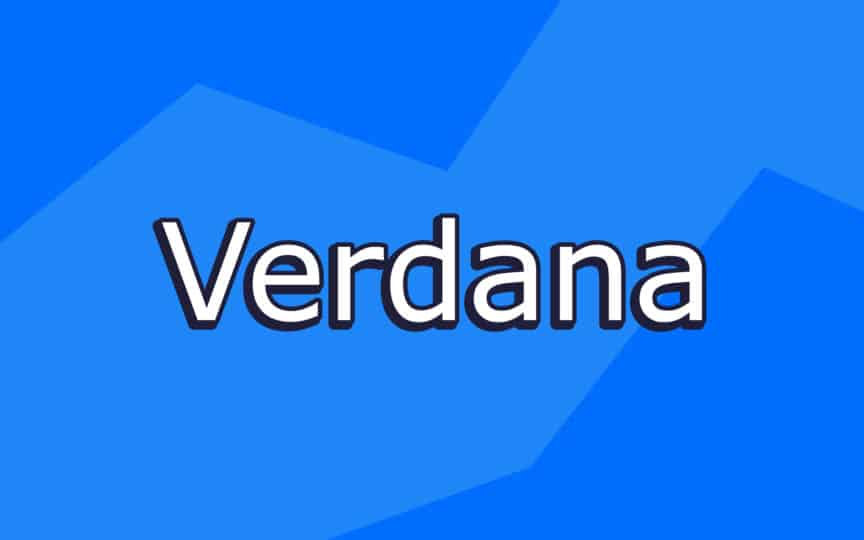 Verdana
Verdana is another of the most famous fonts that was designed by Microsoft, and it's commonly viewed as one of the best Helvetica alternatives.
It's pretty sleek and well-designed, but we think it works better when you don't use the bold version. But of course, you can experiment in this respect.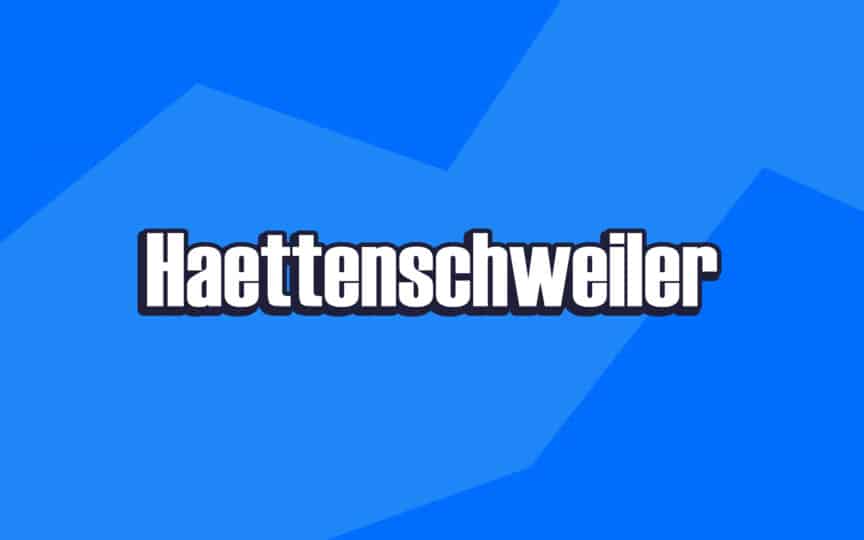 ​Haettenschweiler
Hattenschweiler is another of the best 90s fonts that you should consider trying out. It was created by Microsoft and is a bold font — making it ideal for logos and titles. You can also use it on book, magazine, and album covers.
It's better to use this font with a bigger size, as it gets harder to read as you make it smaller.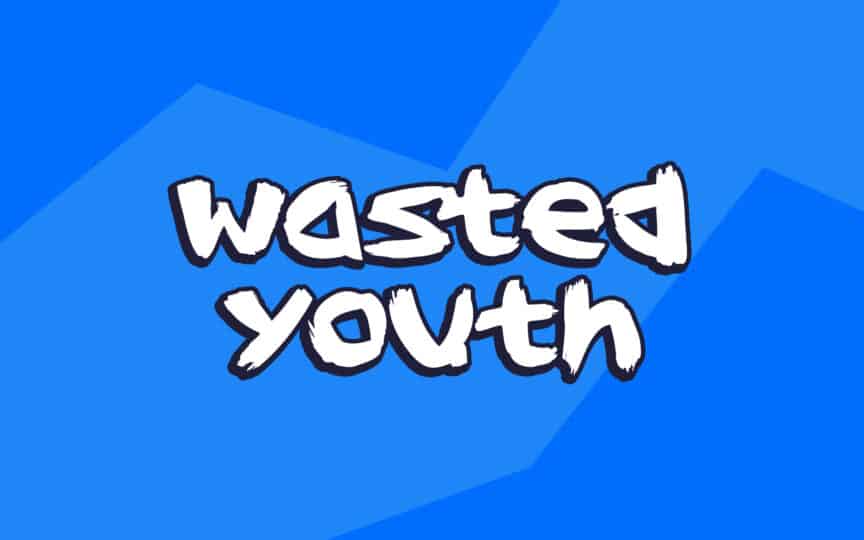 Wasted Youth
The 1990s was also a time of rebellious and new ideas, which you can clearly see in a lot of music that was released during this era. When bringing your creations to life, you might well decide that you would like to adopt this free-spirited approach to life.
Wasted Youth is one option that you can use for t-shirt designs, along with album covers and cup faces.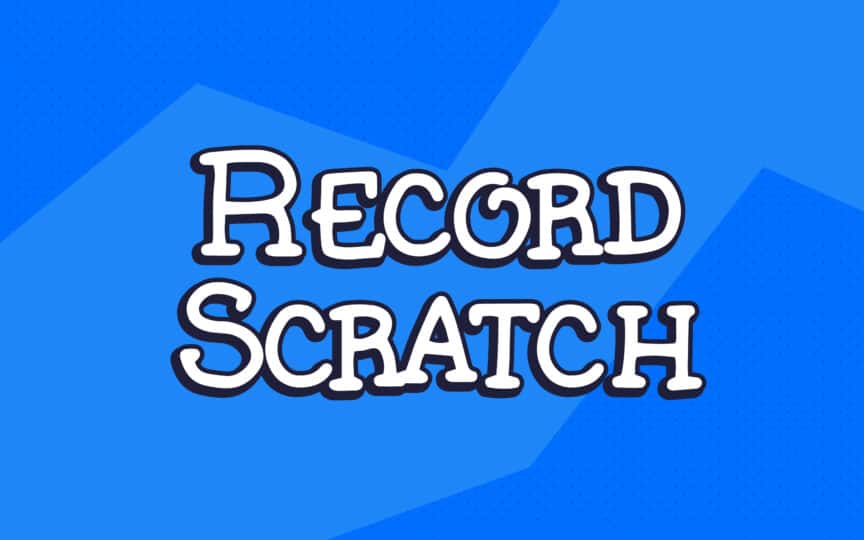 Record Scratch
One of the more fun 90s font styles you can try is Record Scratch, which features thin letters and a capitalized font design style. It works well on backgrounds with bright colors, such as yellow, orange, pink, and baby blue.
You can try this font if you're putting together a design for some kind of music-themed project.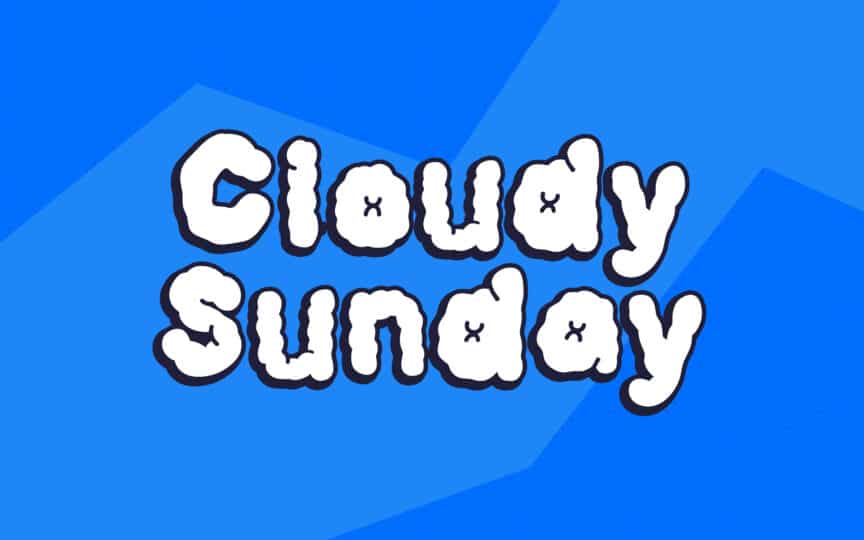 Cloudy Sunday
Also worth trying from our list of the best 90s fonts is Cloudy Sunday. We promise it's more fun than it sounds!
The Cloudy Sunday font is a retro-style design that works best on darker backgrounds. You can pair it with all sorts of vibrant elements, such as bright-colored clothing and emojis.
This is an excellent choice if you want to make gift cards or other kinds of youthful designs.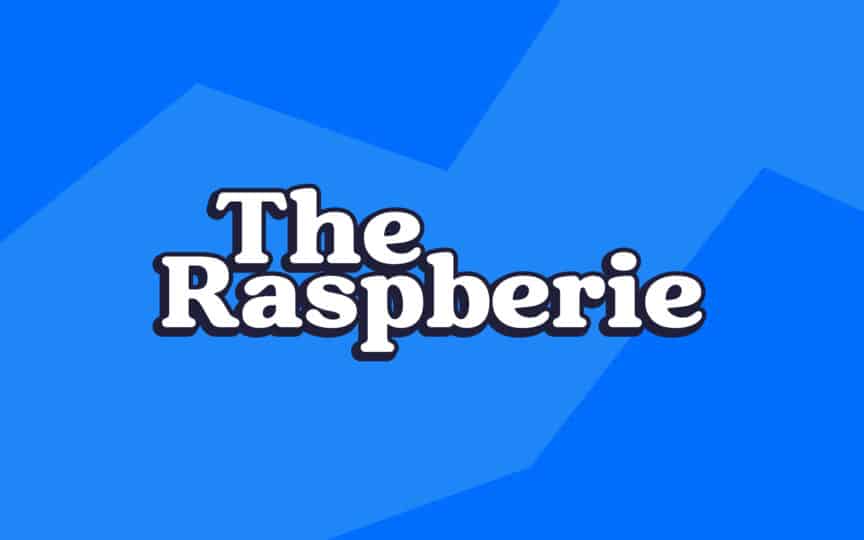 The Raspberie
The Raspberie is a font that you may wish to consider trying if you want a 1990s-style font, but you're also interested in a vintage aesthetic.
This font is quite bold and works especially well when you use it with brighter colors. It's quite versatile on brighter backgrounds, and you can try both the normal version and to italicize your text instead.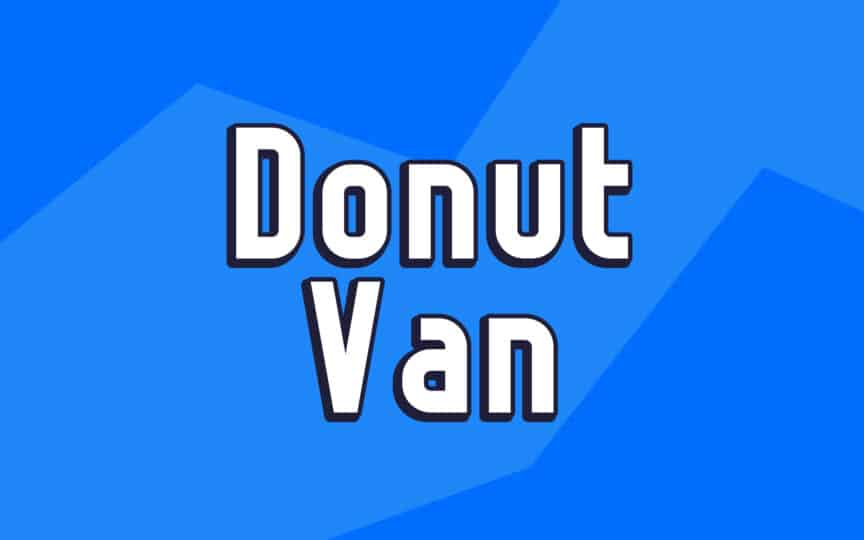 Donut Van
This font looks like it could be straight out of the Simpsons, or at least we see Homer Simpson each time we click on it. Donut Van is a vibrant and fun retro-style font that you can use in many kinds of 1990s-style designs.
This includes if you need to design something that you're going to use in a food service of some sort, and you can also try using it for album covers and similar kinds of creative projects.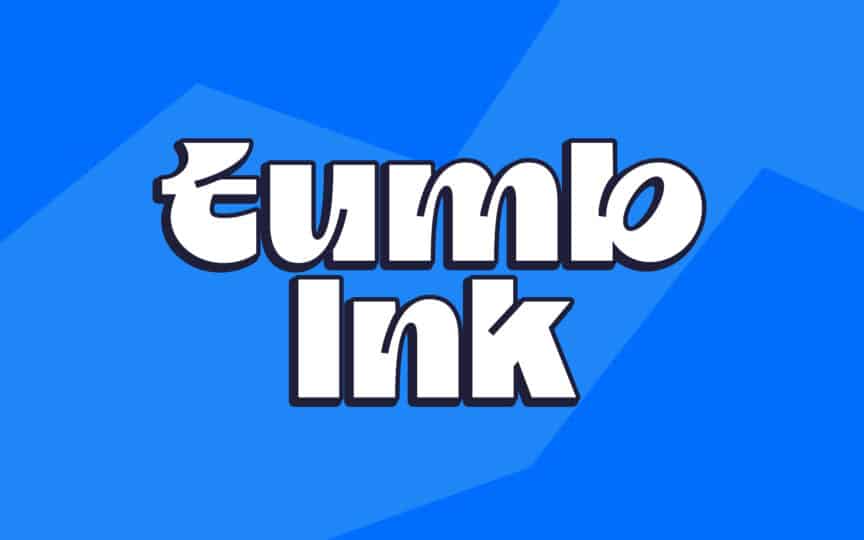 Tumb Ink
Another fun and unique 1990s-style font design you should consider trying is Tumb Ink. This font works especially well when you use it with online designs, and it's an excellent choice if you'd like to work with brighter backgrounds.
You should consider keeping a bright or neutral color for the main part of the text, but you can get experimental with the outlines you'd prefer to use.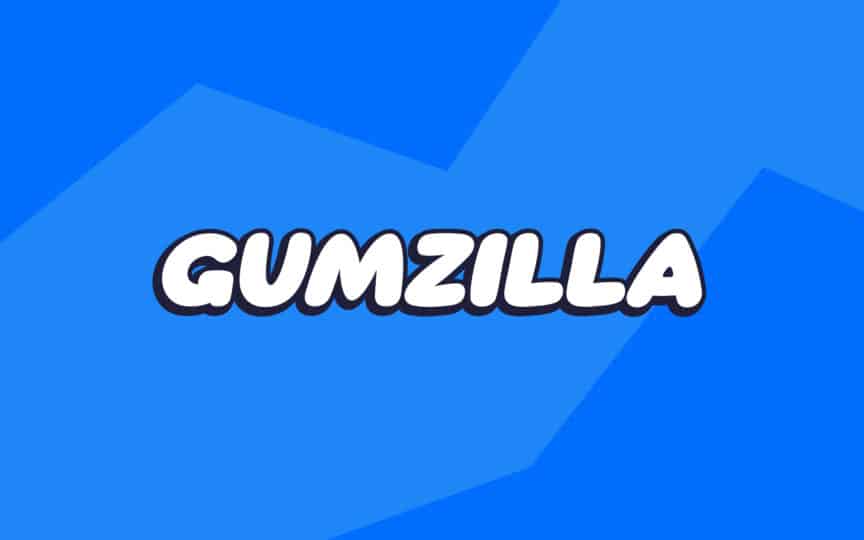 Gumzilla
Gumzilla is a font pack that looks great if you want to design something related to leisure or gaming. It's vibrant and bold, and you will have no problems whatsoever making your designs stand out.
You can customize Gumzilla in a whole host of colors, and it's definitely something that's worth experimenting with.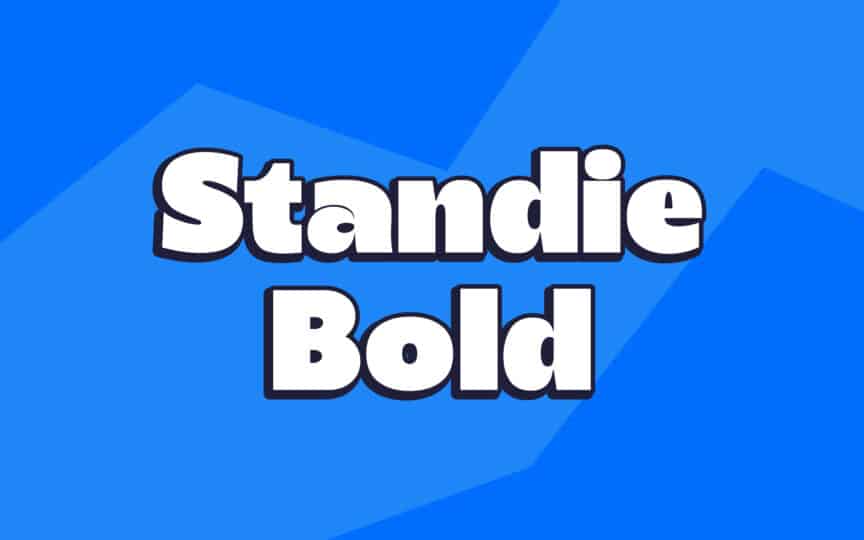 Standie Bold
Another fun font that you'll find on Envato Elements is Standie Bold. Like when using Gumzilla, you can use this font in all kinds of colors — and it comes with a bold outline plus shadows around the letters.
It's a fantastic choice if you want to create a title or logo and need something to stand out, and it would look particularly cool on a TV screen. So, if you're making video projects of some kind, consider using this.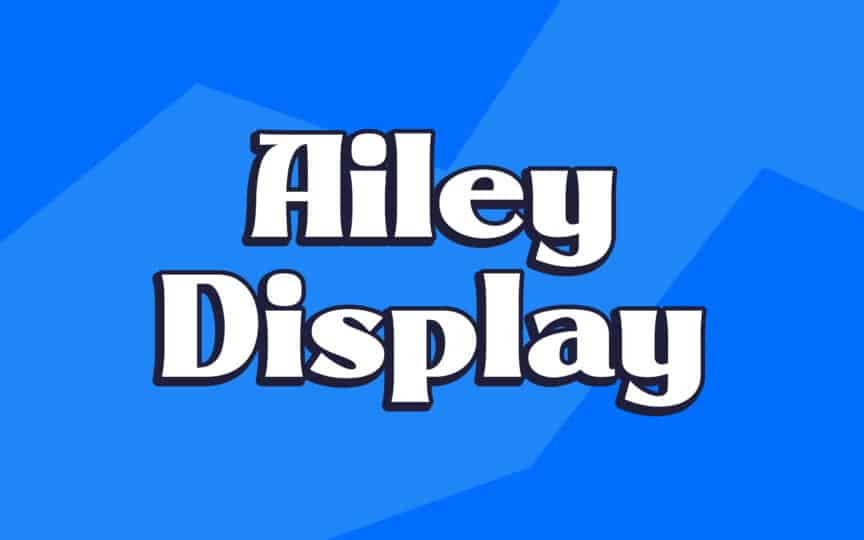 Ailey Display
Another 90s-style font to consider looking at is Ailey Display. You can use this font with lots of bright colors, and it's more italicized than some of the other options we've mentioned so far today.
It features different colors for the outline and shadows, and it's a great option if you want to take up a lot of space with your text — but at the same time, you don't want too much else in the form of illustrations and whatnot.
The Bayland
Also making our list of the best 90s fonts is The Bayland, which looks similar to something you'd see in an advert for toothpaste. It's also a good choice if you want to design vintage clothing or sell something else that's bright-colored.
Swingman
If you're a big sports fan, you'll love the Swingman font design. It looks very similar to something that could be used in MLB, and it works especially well with the blue, red, and white color scheme.
You can consider using this for other sports as well, but it will mainly look good if you use it in a baseball context.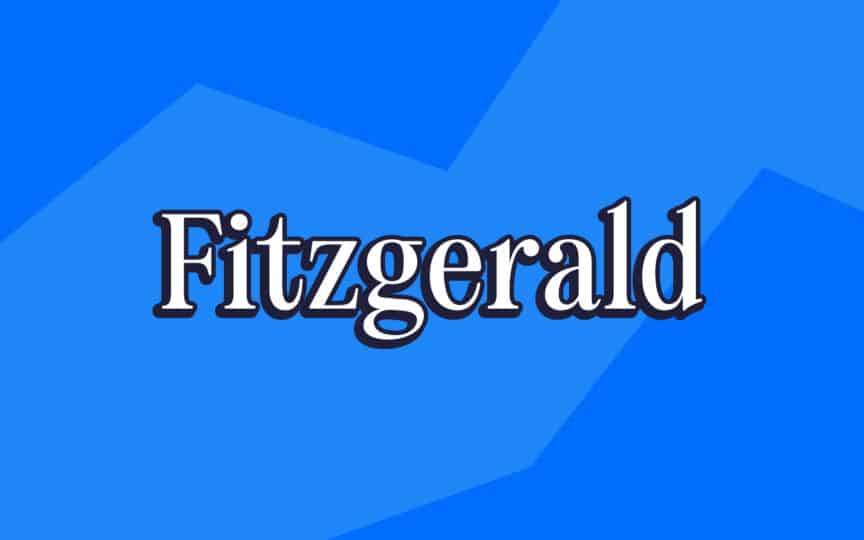 Fitzgerald
​Fitzgerald is a creative font that you might want to use if you run your own blog or YouTube channel, or something along those lines.
It has a dreamy vibe that you could associate with a warm exotic location, and it works well with muted colors in the background. You can also use images to design your frame appropriately.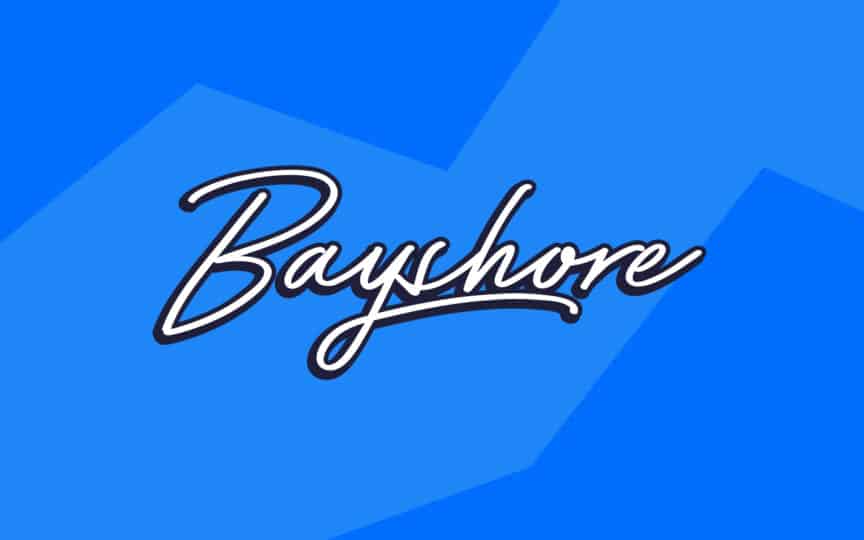 Bayshore
Bayshore has the look of something that could be included in GTA: Vice City posters and similar things along that line. It's a great choice when going for that vintage California or Florida look, and it's also an ideal choice for pairing with vectors and other illustrations.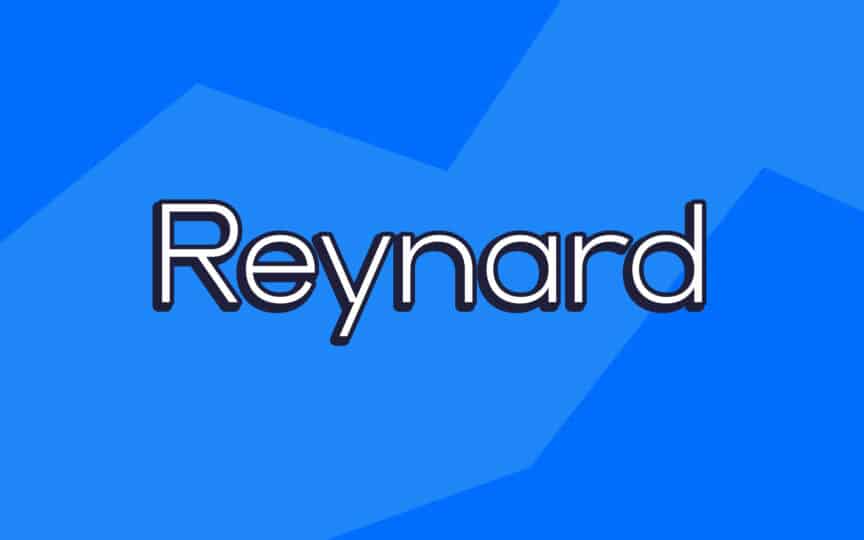 Reynard
Another font on our list that you should consider checking out is Reynard, which is a versatile font that's easy to read. You can use this design for online and offline designs, and it's great because of its simplicity.
It's best to keep this font with neutral colors, rather than trying something more flamboyant.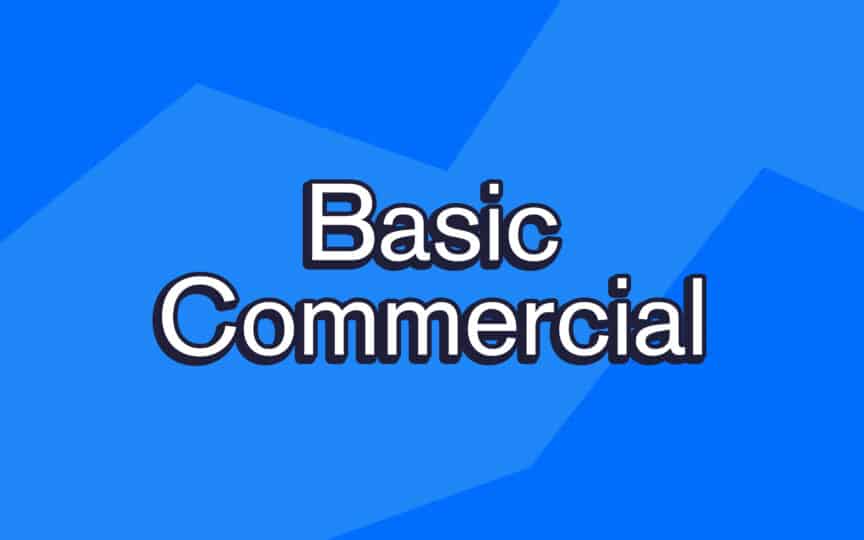 Basic Commercial
Basic Commercial is a simple set of fonts that you can use in a broad range of situations. It has lots of similarities to the likes of Lucida Sans and Helvetica, and you can use it for both long-form writing and designs that don't need a lot of text.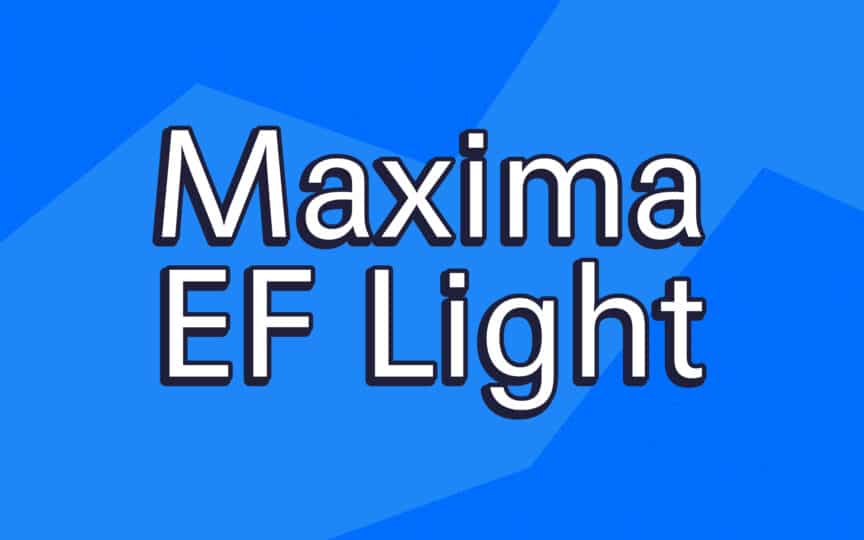 Maxima EF Light
As we get toward the end of our best 90s fonts list, we'll next look at Maxima EF Light. This is another similar font to Basic Commercial, and it's a good choice if you don't know what you want to use yet — or if you're looking for a versatile font.
You can use several other Maxima fonts in conjunction with this one, too, such as bolded and italicized versions.
Everything you ever wanted to know about 90s fonts
​So, there we are — now you've got a full list of the best 90s fonts. You have a big range to choose from here, and what we've picked ranges across numerous categories. If you want something that has more of a vintage look, you can discover that with no issues.
At the same time, you'll discover numerous fonts with more of a sleek and modern approach instead. It's worth thinking about your branding before you make an investment, but we recommend picking one of the more versatile choices if you're still in your early stages.
You can always change what you've designed later, and going through this list should hopefully help you come up with a better idea of what you're trying to achieve.
If you're specifically looking for logo design fonts, you might want to consider checking out this guide on font psychology and typography inspiration.
Fabrik: A branding agency for our times.