The best number fonts for amazing designs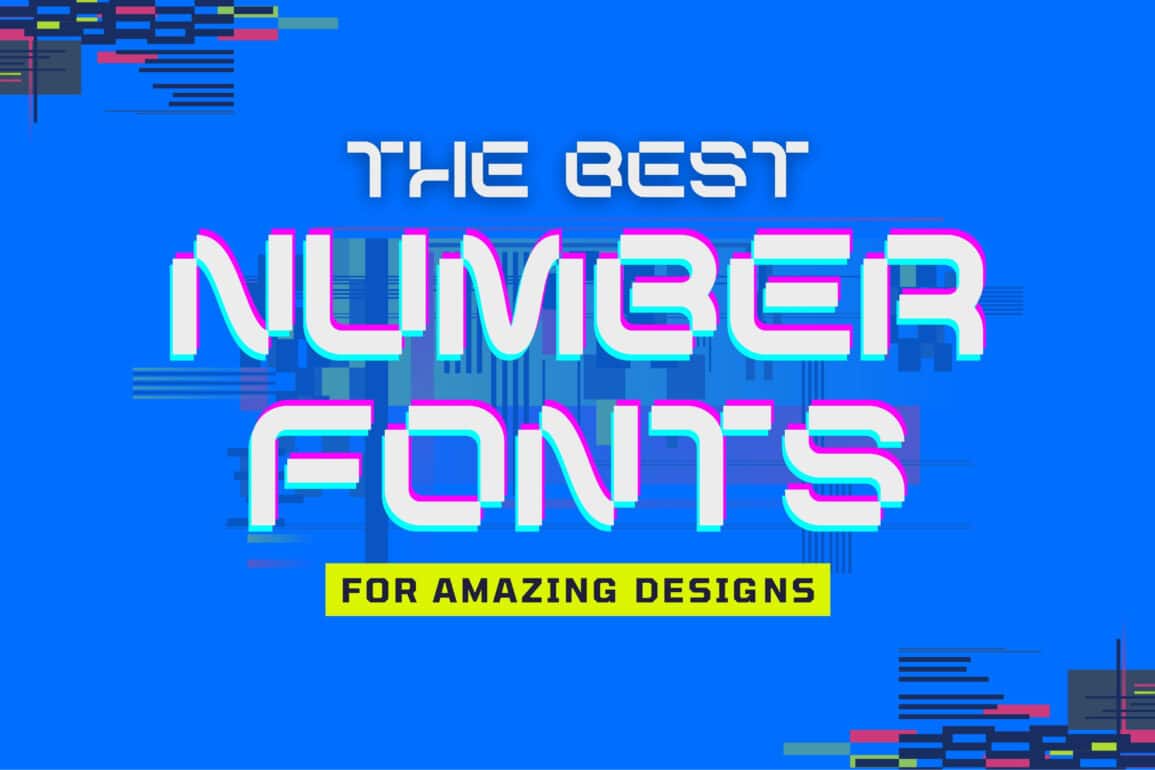 Knowing what the best number fonts are will serve you well in several areas of design. It's always wise to know that you can refer to a list of high-quality fonts whenever you need to, and you will also find it useful to know what works well in different situations – such as commercial projects and your own personal hobbies.
However, discovering number fonts online can be incredibly difficult. Not because of the lack of options out there, but instead due to how many choices you have – along with the number of websites that you can choose from.
Wouldn't it be great if someone made a list of good number fonts… maybe even in the article that you're reading right now?
Good news: That's exactly what you will find today. Keep reading to discover the best number fonts for amazing designs. You can use these for logos, posters, book covers, and much more. We'll also cover some of the top websites for finding design assets.
What is a number font?
Before we look at some of our favorite number fonts, it's worth defining the term in the first place. Doing so will make it much easier for you to find what you're looking for.
When we talk about a number font, we aren't necessarily talking about fonts that only exclusively include numbers. Instead, we're speaking about the fonts that have our favorite numbers styles to choose from – but they can also include letters.
That's handy if they do include letters because it means that you can combine your font designs with multiple other aspects and not encounter too many difficulties.
While we look at number fonts, we're also looking at some that include interesting shapes and the like. So, for example, you can use some of the fonts on our list with circles, squares, and more.
Number fonts can also be either free or premium, but the copyright rules may vary depending on what you choose. Often, you'll have more rights when using premium fonts – meaning that they're also quite versatile.
Another thing to keep in mind when using a number font is that the definition spans across multiple styles and decades. You'll find a broad range that were introduced in the 21st century, along with others that have been around for longer than that.
In this guide, we have chosen pretty number fonts that have more of an old style – plus stylish number fonts that are more designed for modern audiences.
When do designers require number fonts?
When you create designs, you aren't solely working with letters – though these will form a significant part of many creations. You also need to think about how your spaces work in harmony with different numbers, regardless of whether you use a lot of them or not.
With this in mind, you can cause a big headache for yourself if you don't think about this in advance. On top of that, you may then need to spend more time looking for a number font that works well with the letters you use.
It's also important to use number fonts because you will likely create a broad range of designs. With this in mind, having just one go-to font isn't always the best idea. Often, you'll need to choose a variety to match the brief you've been given – or the specific project you have created for yourself.
How should you use a number font?
You can use a number font in numerous ways, such as on magazine covers and in logos. When using a number font, it's important to think about spacing – and the best fonts for numbers often include enough of this to ensure that everything remains readable to any viewer of your design.
The reality, however, is that there isn't a huge number of rules that you should consider when using a number font. In some cases, you might need to disregard all design rules you've learned and improvise with something truly unique.
So, just think about spacing and colors – and let the rest come into place. You'll naturally be able to innovate more as you become more proficient in your design skills.
What number fonts are easiest to read?
Different fonts for numbers have different levels of readability. Generally speaking, the easiest number fonts to read are quite bold and typically include neutral colors. You will also use them on backgrounds that complement your design, such as a bright background for a dark font color and vice versa.
It's always a good idea to use your number fonts in a bigger font size, as this will give you a better understanding of what works and what does not. Of course, you'll also need to think about how your fonts work within the specific design that you're going for.
You can also go for fonts that don't include patterns and instead just feature text. Doing so will make your design less distracting for readers, which could – as a result – make everything easier to read. Again, this will require experimentation on your part.
What's the best font for street numbers?
Determining the best number font styles for your individual needs is quite difficult, and it will depend on what you're creating. If you travel around different cities, you'll notice that many have their own unique fonts.
Generally speaking, street numbers should be easy to read; for example, the Univers typeface features heavily across streets in London. If you go to Munich, Copenhagen, or Zürich, you'll also notice well-designed and easy-to-read street signs.
These make it easy to know where you are, and you should find navigating such places – even without a map – much easier.
If you want to do another study trip for street number designs, Helsinki could be a great place – as its homes are well-known for having unique door numbers that are easy to read. In short, you should choose something that's simple and easy to read.
Helvetica is a great starting point.
Where is the best place to get number fonts?
You can find cool number fonts in several places online, many of which we include in this guide. Envato Elements is an excellent place to start, and Canva is another fantastic website for gathering number fonts. On top of those two, you can always try looking for different fonts in places like Myfonts.com.
Access 50 Million+ Design Assets And Fonts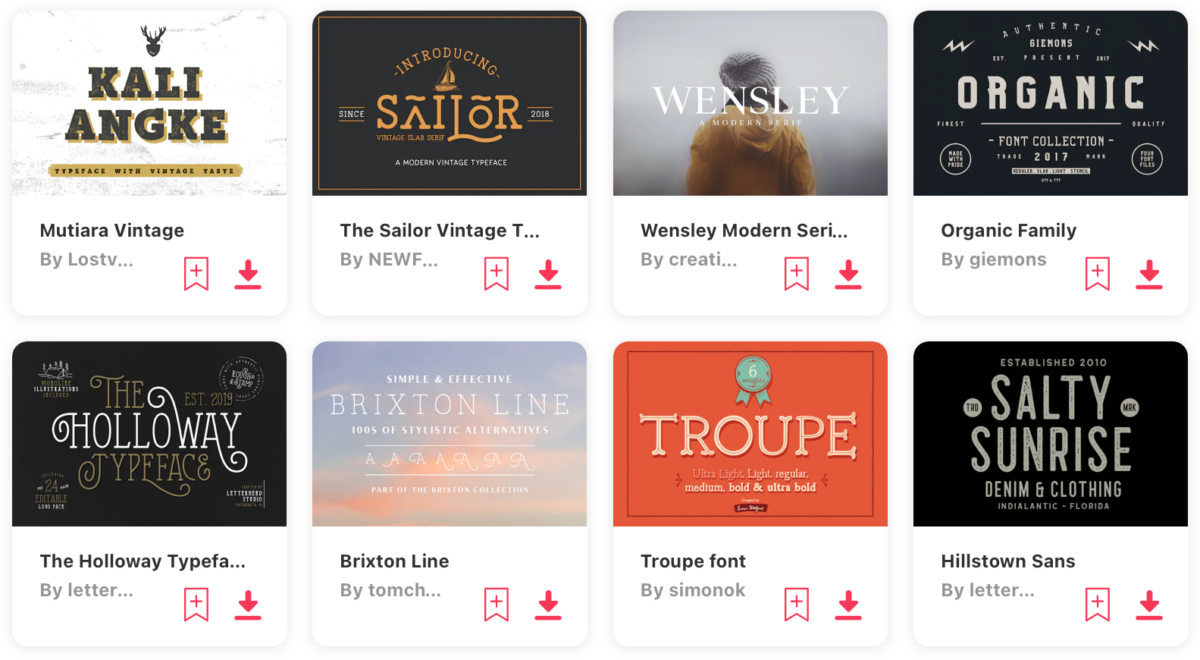 Access a vast selection of fonts with a subscription to Envato Elements. The affordable monthly subscription service costs just $16.50 per month and includes unlimited access to a phenomenal font library and over 50 million design assets. Alongside fonts, you can find everything from stock effects and element packs to images in one convenient place.
Are paid for number fonts worth it?
The answer to this question will largely depend on your individual needs. You can find a broad selection of number fonts for free, and these are ideal choices for beginner designers who are just finding their feet. Beyond a certain point, however, you might find that you need something more substantial.
In many cases, you can only find some of the best number fonts by paying for them – or at the very least, buying a subscription for those platforms. And even if you do find them for free, you may not have the right to utilize these in high-end projects.
You can always start with free number fonts and then upgrade to something that's paid for later down the line. A general good rule of thumb to follow is to max out the free resources you can get, before you then decide whether it's worth upgrading to something more premium.
What are some cool fonts for numbers?
Now that we've looked at the basics surrounding number fonts, let's look at some of the best number font styles. To make everything easier for you to follow along with, we'll break each of these down based on the websites that you'll find them on.
Envato Elements
Didone Room Numbers
This font is an easy-to-read font that looks great on front doors, and you can use them for online designs involving similar aspects. You might also find that this font is handy for trying out a poster that needs easy-to-read numbers.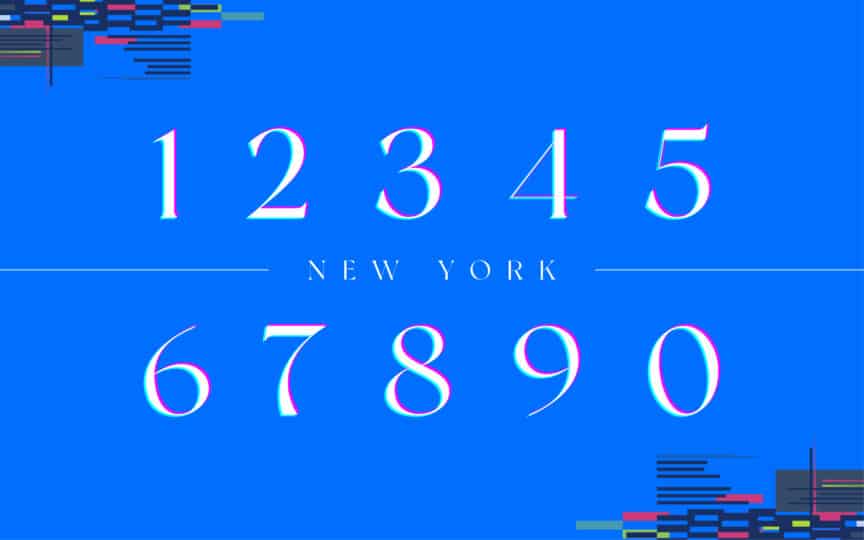 New York
New York is a font that certainly would not look out of place in the Big Apple. It features thin characters with a clear blockbuster feel to them. You can use this font for posters related to New York City, and you'll also find it handy for movie posters and the like.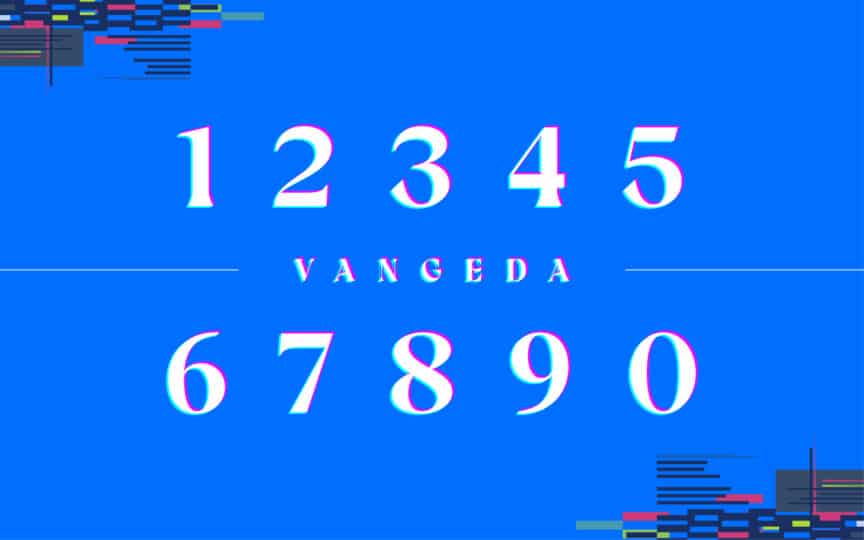 Vangeda
Vangeda is a vintage-style font that features curvy edges and bold typography. It's a solid stylish number font if you need something that works well with bright colors, and we would recommend using it for that as opposed to neutral colors.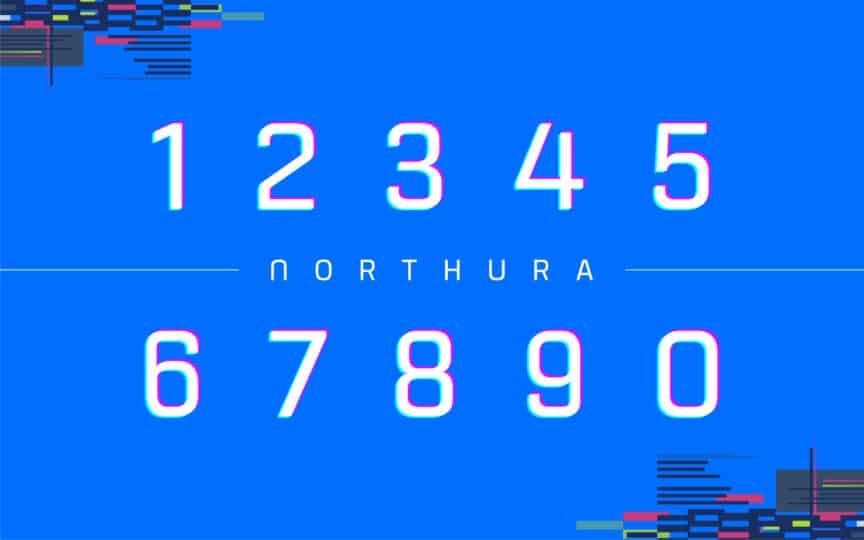 Northura
Northura is a futuristic typeface that features straight lines; unlike Vangeda, it works best in black and similar colors. This is one of the most stylish number fonts if you need to create a design related to technology, innovation, or something similar.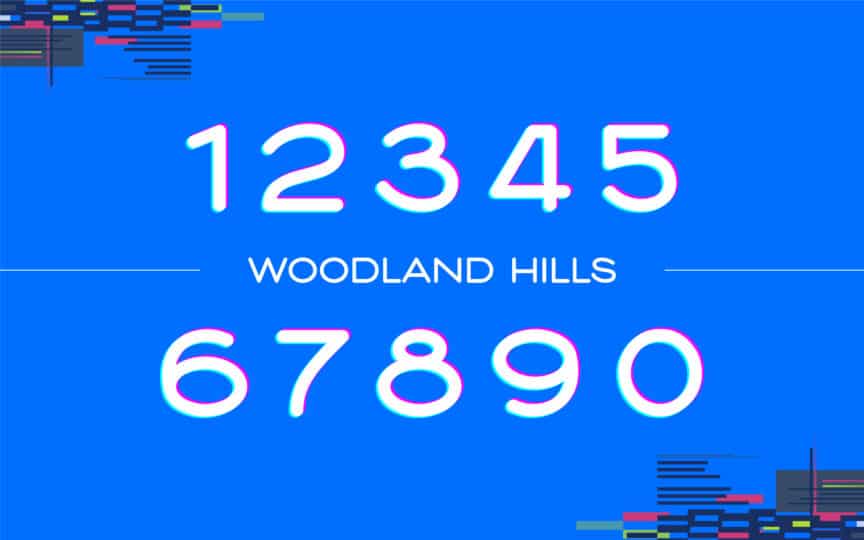 Woodland Hills
If you want something that gives a distinct outdoor feel, Woodland Hills is an excellent font choice. You can use this font if you run an outdoor blog or YouTube channel, and the same is true if you wish to design outdoorsy clothing. It'll also work well on social media banners and similar platforms.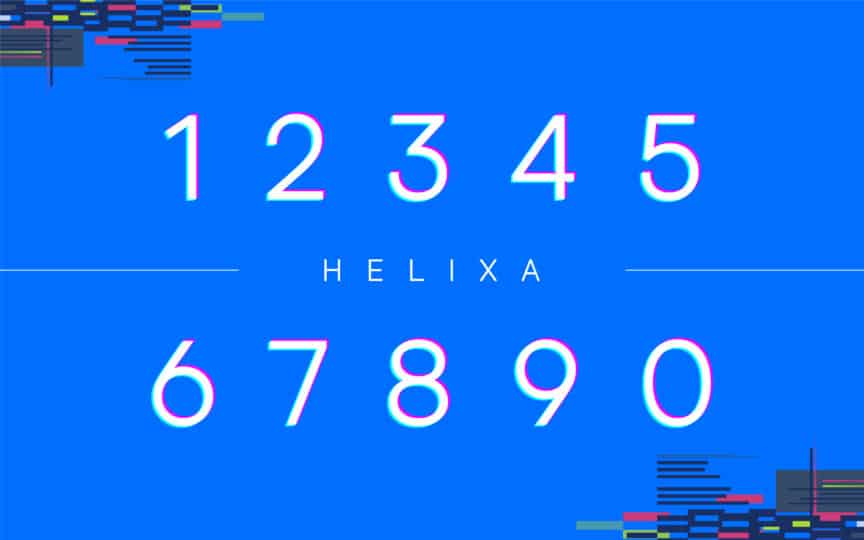 Helixa
Another good font for numbers is Helixa. This font is quite simple in its typeface, and it's also pretty thin – making it a great choice if you want to use it as a slogan or in a main body of text. The Helixa font works across a versatile range of designs and eras. 
Design Cuts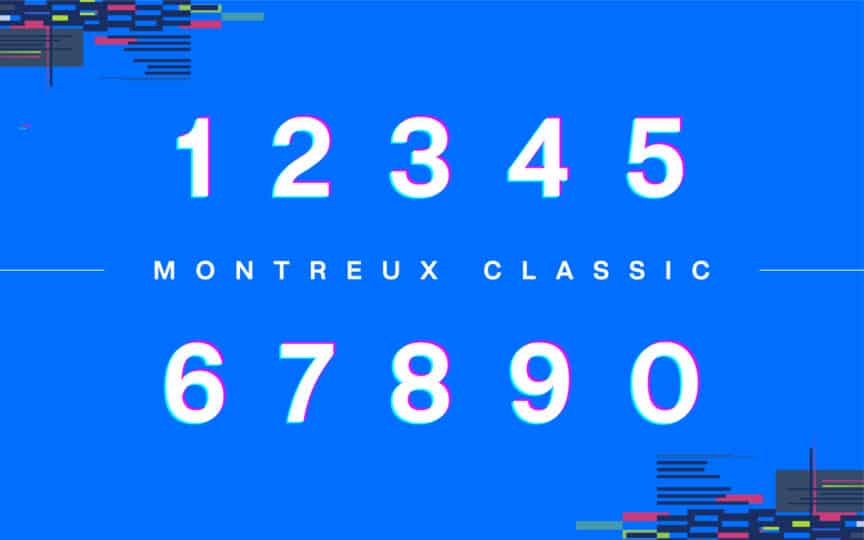 Montreux Classic
If you're looking for a classy number font to use in your designs, Montreux Classic could be worth your attention. It's quite similar to Helvetica and other fonts of that nature, meaning that it's quite versatile.
You will also not have too many problems using it with letters, making it an ideal choice if you don't want to use more than one typeface in a design.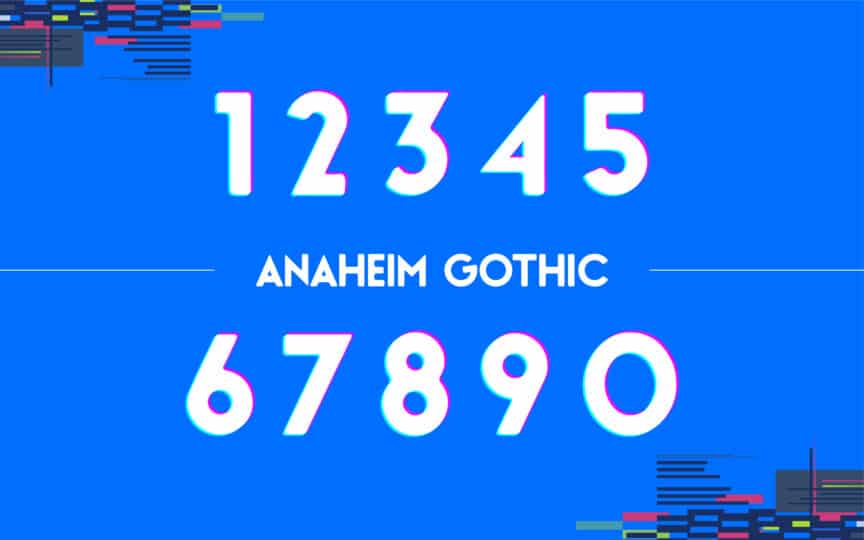 Anaheim Gothic
Anaheim Gothic is a somewhat bold font with good spacing between each character. As a result, this is one of the best number fonts if you need something for a title or main heading. You can also use it with different colors, meaning that it's a handy option that you can refer to time and time again.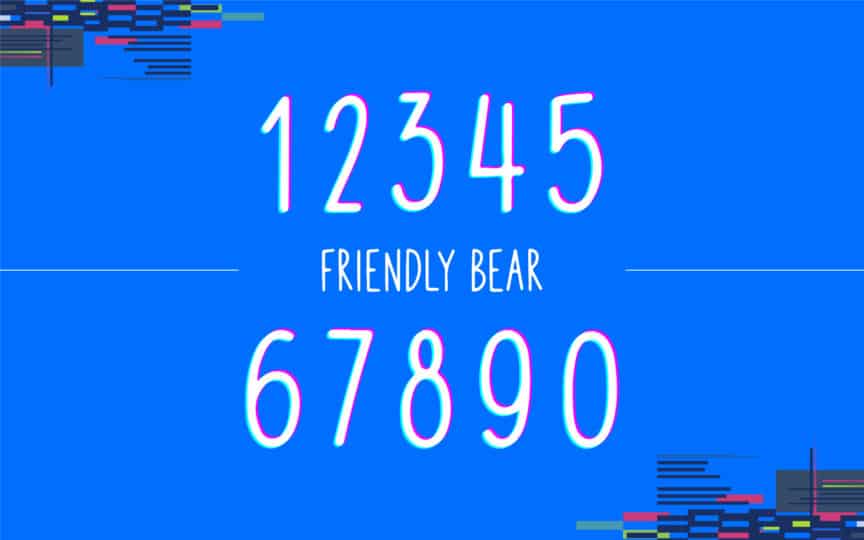 Friendly Bear
Friendly Bear features a typeface that works well with children's designs. It's best used on birthday cards and when using graphics for T-shirts and the like. You can also use it if you want to create a unique poster for your kids and similar things.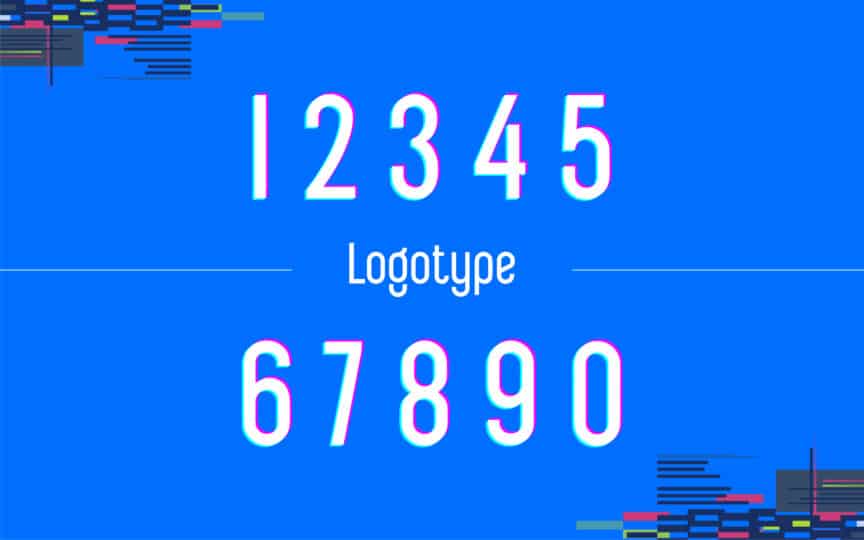 Logotype
Logotype is a modern-looking font that works well with logos – as you might have guessed from the name. You can use this font if you need more minimalist-looking numbers, and keeping it colored black is the best approach. It works well on white, light blue, and gray backgrounds.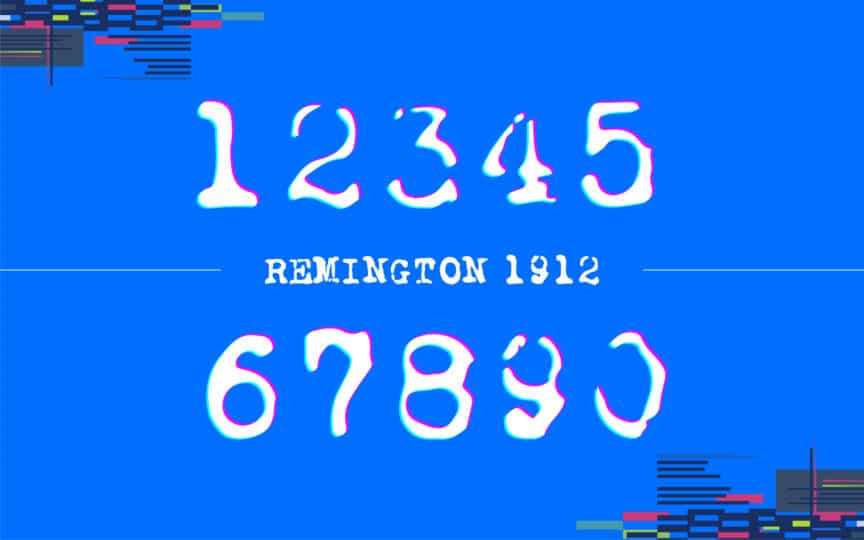 Remington 1912
If you're looking for an older design, Remington 1912 is one of the main number fonts that you should be looking at. It looks like it was designed for a barber shop and men's skincare items, meaning that you can always use it for either of those.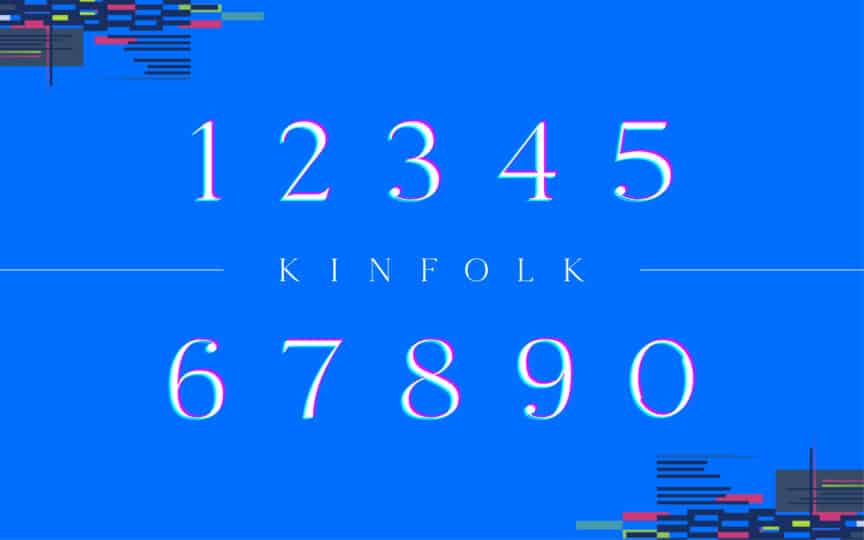 Kinfolk
Kinfolk is a popular magazine, and you might have seen it featured in stores near you. The Kinfolk font is largely associated with letters, but it can also work for numbers. You can use it on mockups for Kinfolk magazine if you're a fan, and it'll also work well on logos that you create. 
Canva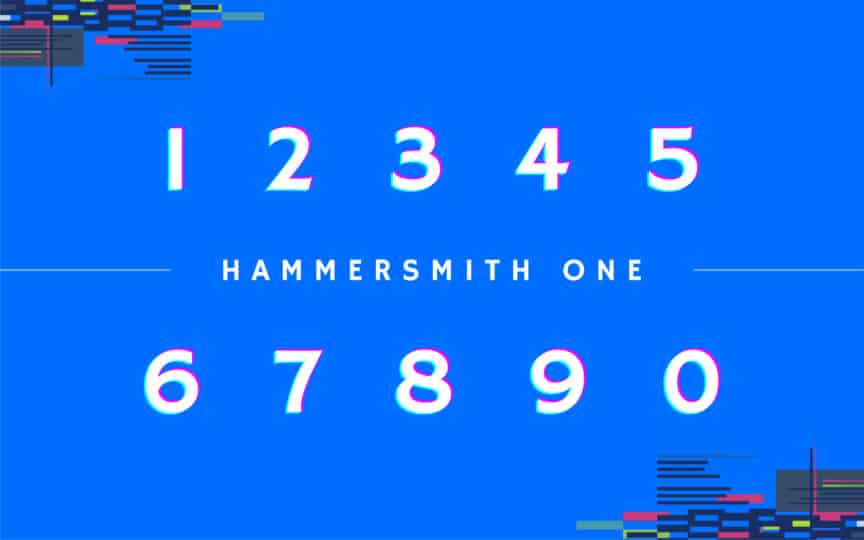 Hammersmith One
Hammersmith One is one of the best number fonts you can use on Canva for creating high-quality designs. It's easy to read, and you'll also get a solid level of boldness if you need it. You can always use Hammersmith One Bold if you need something that stands out even more.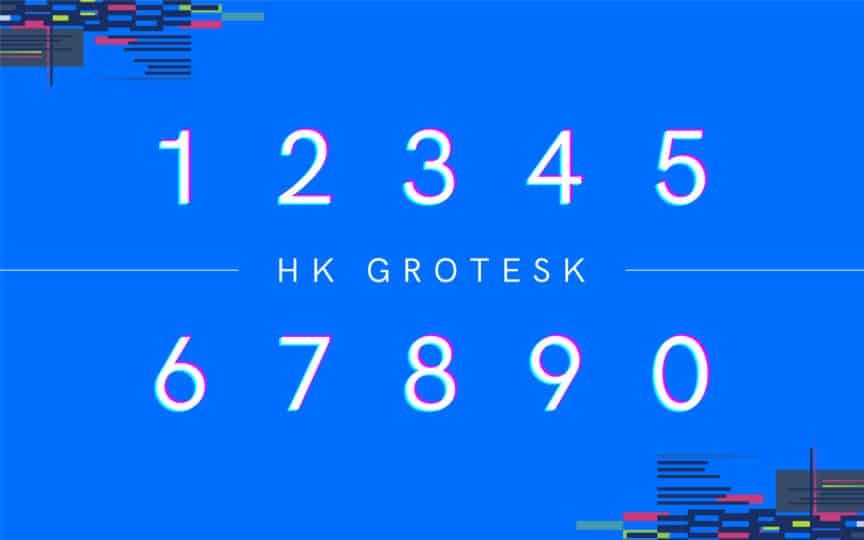 HK Grotesk
HK Grotesk is another one of the many fancy number fonts you can use in Canva. This font is easy to read and will also work across numerous designs. You should have no problems getting the most out of it, even if you're a beginner.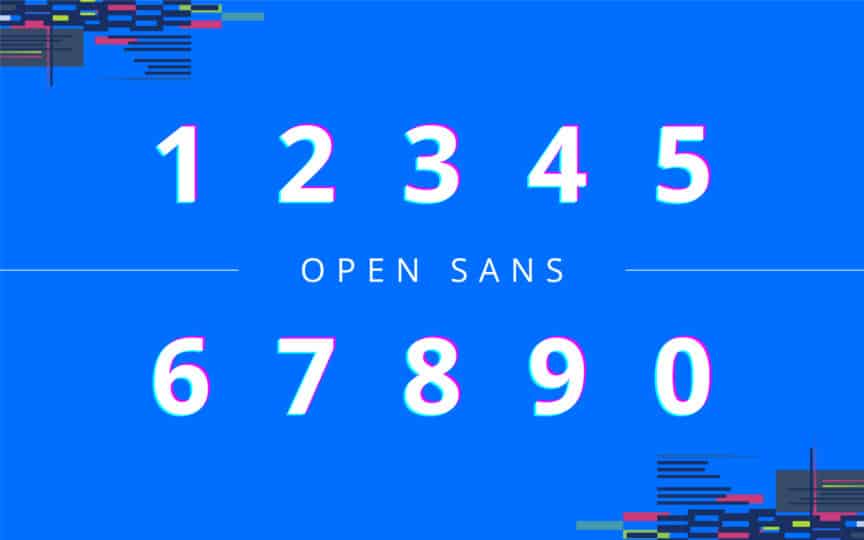 Open Sans
Open Sans is an ideal font if you need something basic for title and logo designs. It's quite similar to HK Grotesk and fonts of that nature, meaning that you've got a broad range of options to choose from if you're interested in that aesthetic.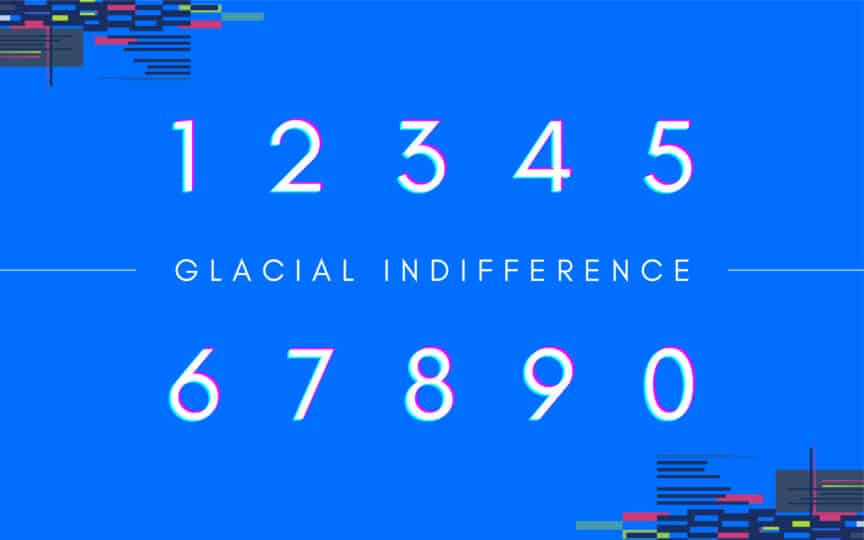 Glacial Indifference
Glacial Indifference is a minimalist-style font that works well if you need something for a design magazine and similar things. One of the main differences is that compared to some of the others we've mentioned, you can use this font if you need something with more curved edges.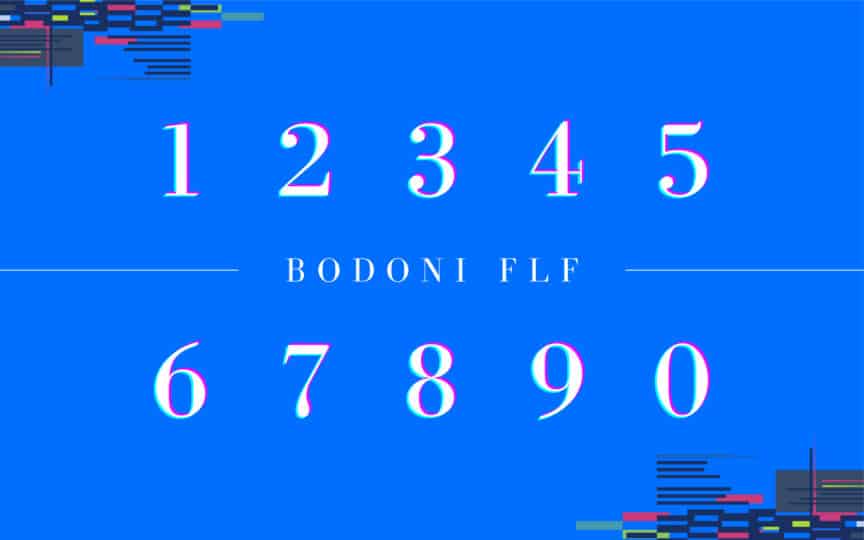 Bodoni FLF
Bodoni FLF is a font that's quite similar to Times New Roman, which you will almost certainly have seen before. You can use Bodoni FLF if you need a number font for designing what's going to appear on a front door, and it will also be a good choice if you want to try something that will work with street signs and similar.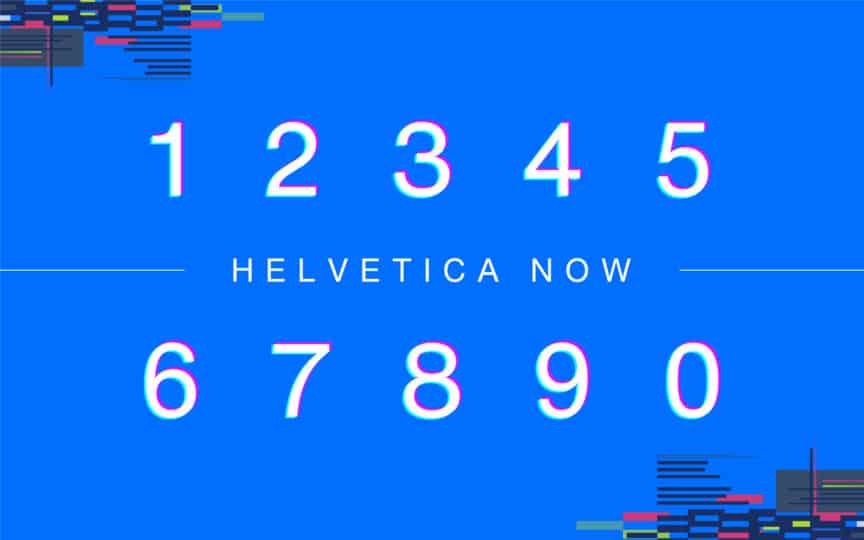 Helvetica Now
Helvetica Now is one of the most popular fonts in the world, and it's a slight alteration on the standard Helvetica font. You can use this font in numerous situations, making it one of the best number fonts for a diverse range of designs. It's also both beginner-friendly and good for advanced users. 
Knockout Sumo
Knockout Sumo is quite similar to Helvetica, but it's more bold – making it a good choice if you're looking for something that has a subtle difference. The font works in logo design, and it's also a handy choice for T-shirt designs.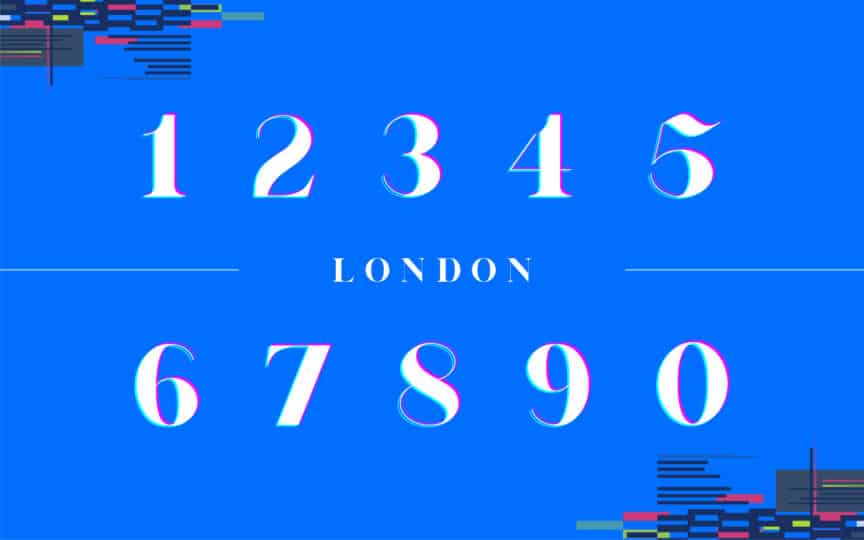 London
The London font features numbers in different fonts to what we have already mentioned. The font is quite bold and features elements you may expect from Times New Roman. If you're an influencer in the travel space, you could potentially find this an incredibly useful font – especially in your social media designs.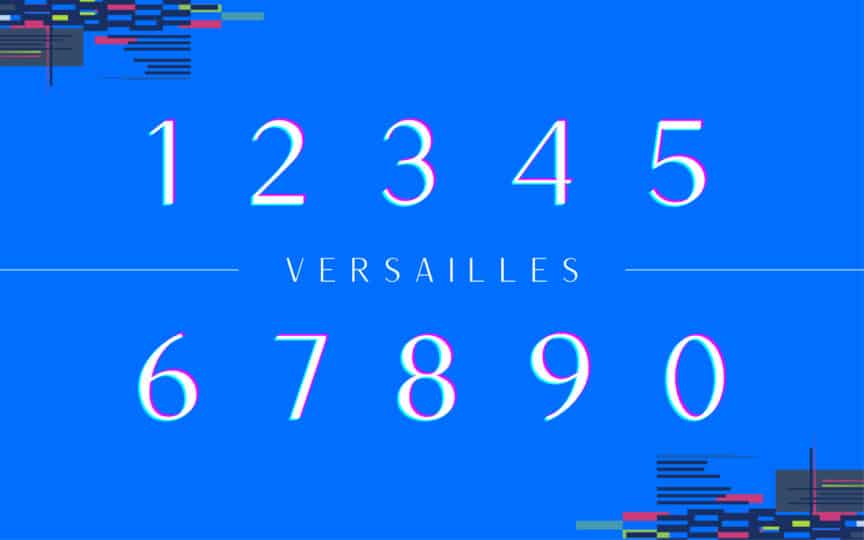 Versailles
Versailles is quite similar to London, but it has perhaps a bit more elegance to it than the aforementioned font. So, if you want something similar to the London font, this is a viable alternative. You can use Versailles with numerous designs.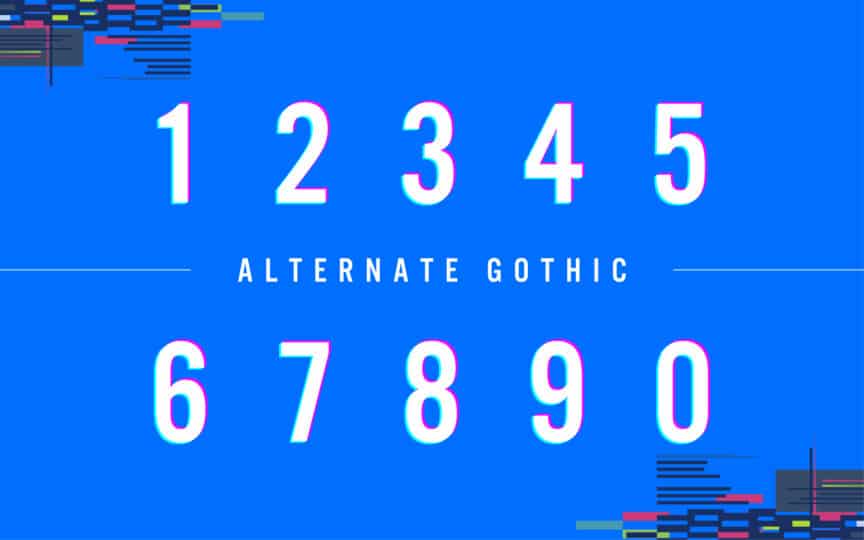 Alternate Gothic
Alternate Gothic is a series of font designs that you will find in Canva, and there isn't a huge difference between them minus the default size. These fonts are very similar to a bold version of the Arial font that you'll find in Microsoft Word and other programs. 
MyFonts.com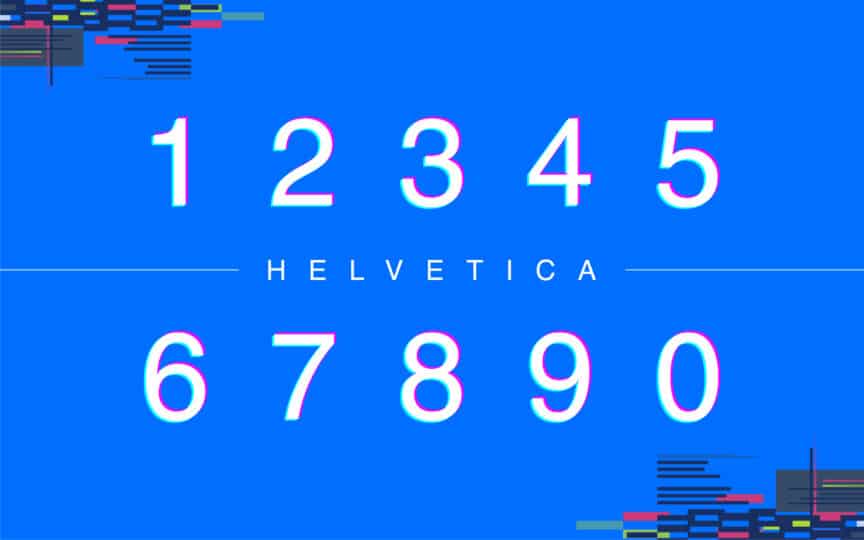 Helvetica
Helvetica is one of the most widely-used fonts out there. It originated in Switzerland, and as you might expect, it features Swiss-style precision and sensibility. The numbers in this font are easy to read, meaning that it's a good choice when you need something that clearly portrays your message but isn't too fussy.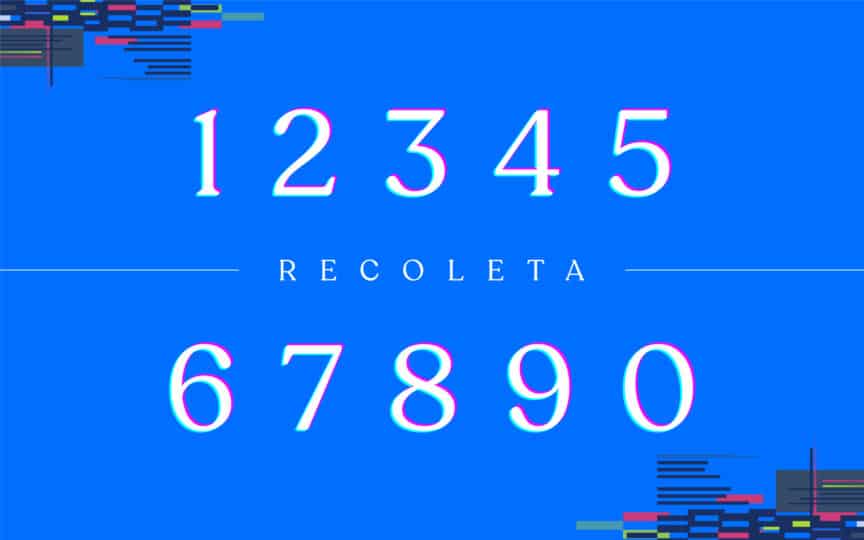 Recoleta
The Recoleta font is quite similar to what you'll see on clothing brands like Patagonia, and it's a great choice if you need something that works well with outdoor-style designs. Similarly, it's an ideal choice if you want something that is a good option to use with letters and not just numbers.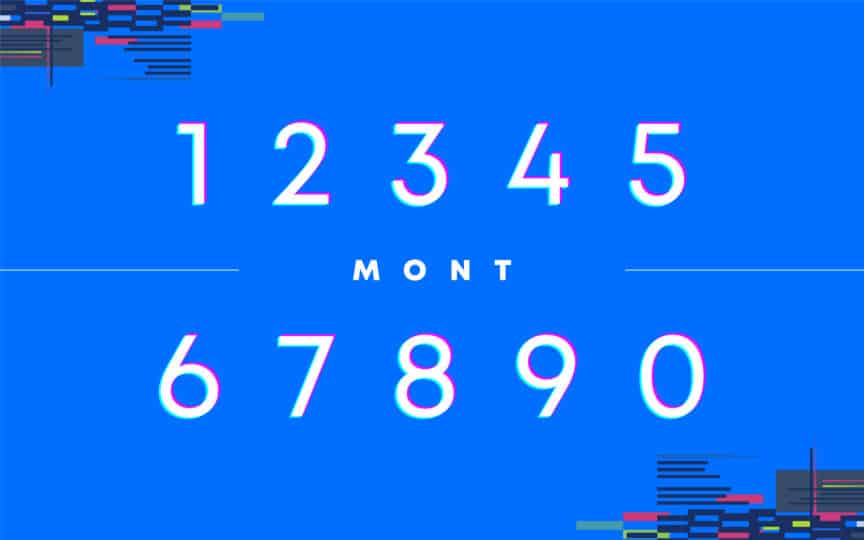 Mont
Mont is one of those number fonts that is both easy to use and read. It features a simple typeface, and you can use both the normal version and something that's more bolded. When it comes to numbers, you're better off using these in more minimal designs as they're quite small.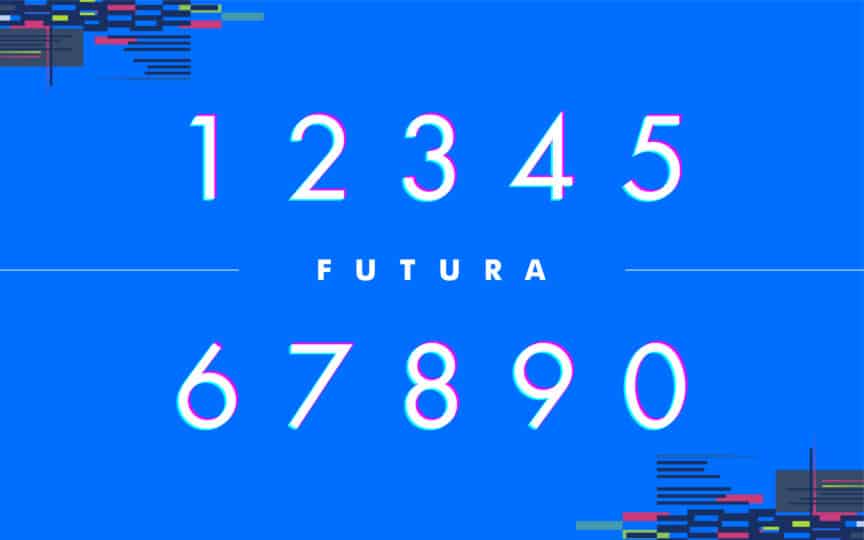 Futura
Futura is a great font for creatives, and you might have seen it feature on the likes of Adobe Fonts in the past. This font is quite similar to Mont, making it a viable alternative if you want something that is slightly different.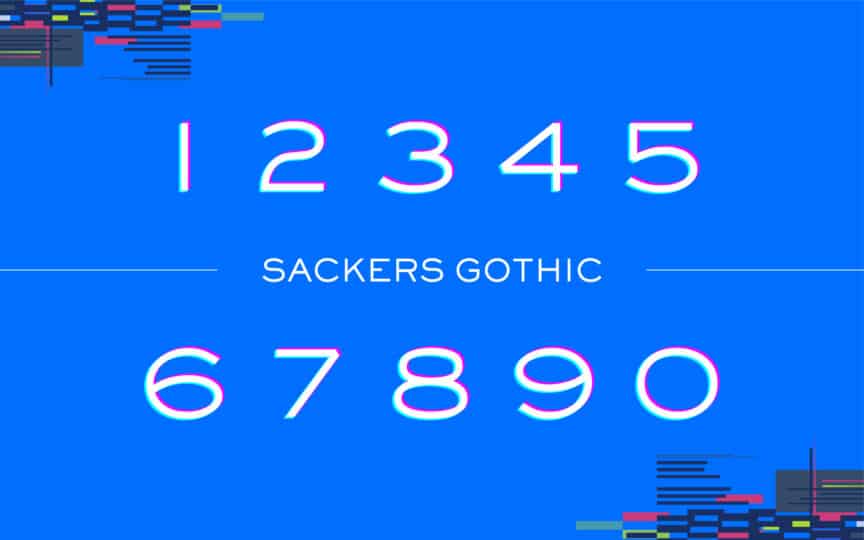 Sackers Gothic
The Sackers Gothic font features capital letters, and the numbers are quite bolded. The spaces are quite large between each character, meaning that it's a good choice if you need something that feels like it has space to breathe.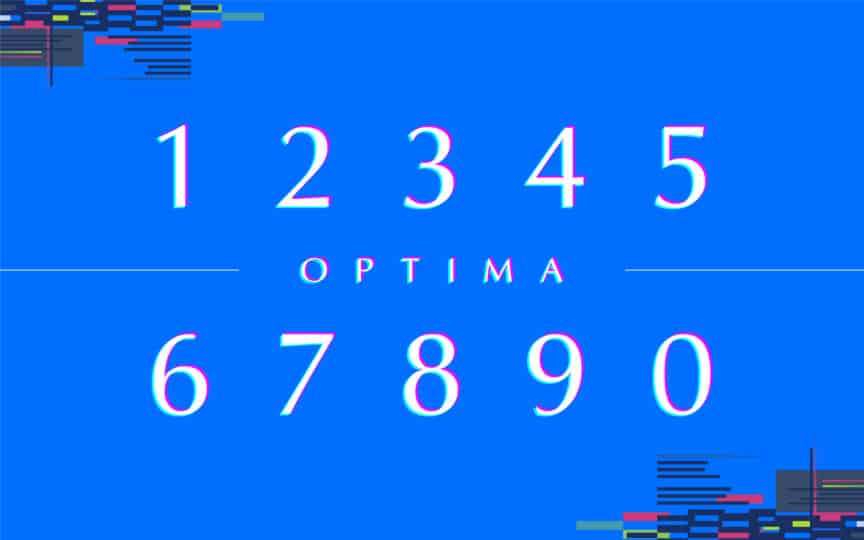 Optima
The Optima font is a clean font that features somewhat bolded writing. It works well if you need something for a title, and you can also use it on different headings when creating online profiles. It's also an ideal choice if you need something for designing a logo.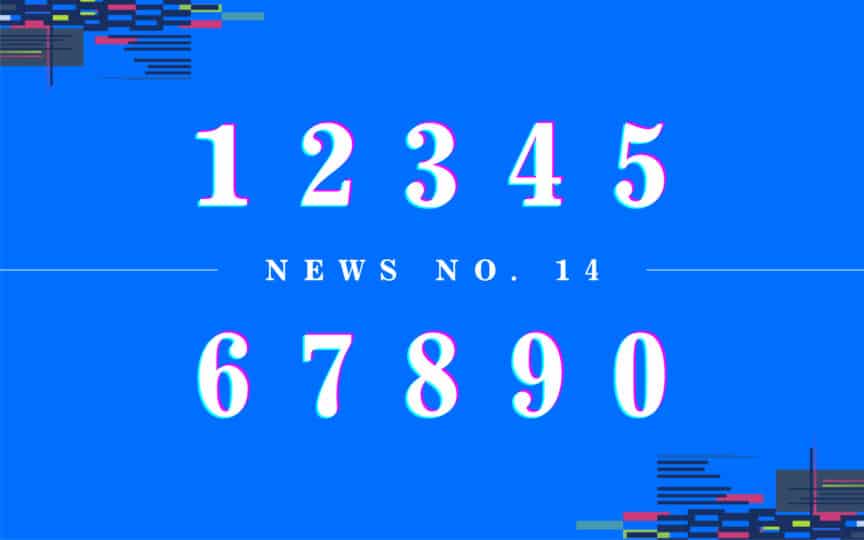 News No. 14
The News No. 14 font is an easy-to-read font that works well for designs related to journalistic practices. You can use it for headlines, and it will also work well in the main body of any text you use.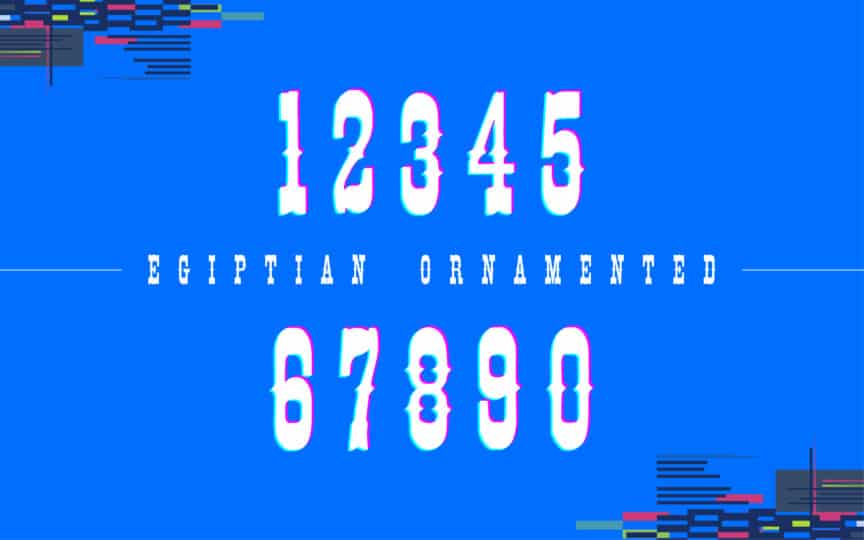 Egiptian Ornamented
This font is one of the more unique options on this list of number fonts. You can use numbers in different shapes, making it a great choice if you're aiming for a more creative design that might otherwise be difficult to attain.
Consider using this font if you need to create something for your a poster, some clothing, or something similar.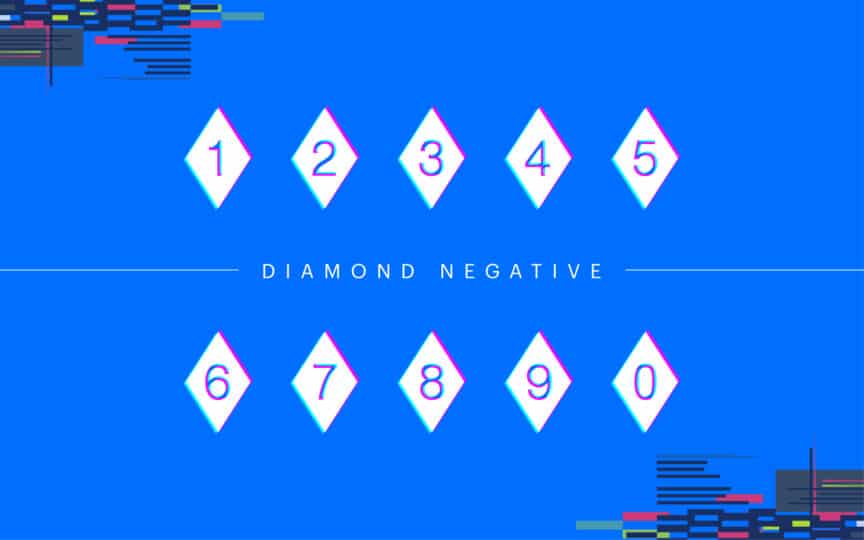 Diamond Negative
Another unique number font that you can try is Diamond Negative. Like the previously mentioned font, your numbers will appear in different shapes. Another benefit is that you can change the colors of your numbers and shapes without too many issues.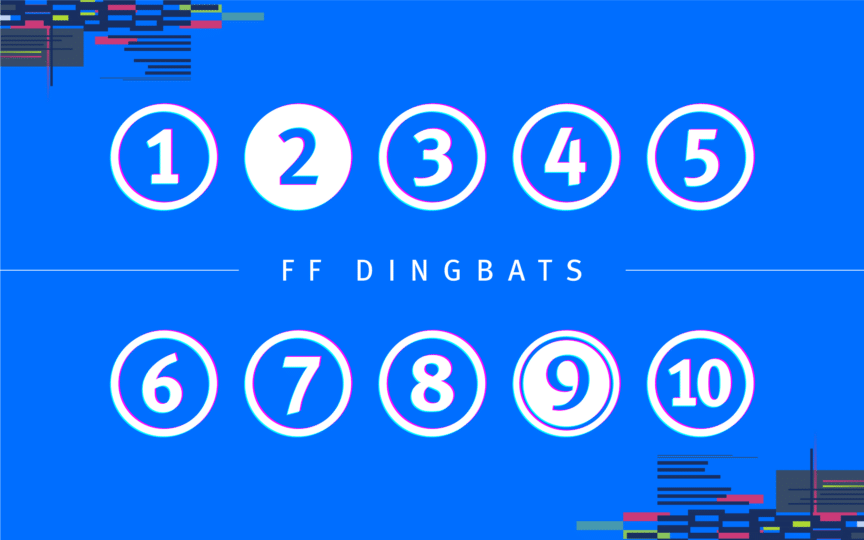 FF Dingbats
FF Dingbats is a great font for those of you who need symbols in your designs as well. Like Diamond Negative, it's easy to customize the different colors and whatnot on your fonts. On top of that, you can use them in black and white – making it a great choice if you need to create signs and similar things. 
All of the best number fonts
So, there you have it – that's our list of the best number fonts. There are several interesting designs to choose from across the web, and you can use these for numerous creations.
You will find fonts that work well in logos and main bodies of text, along with those that are great for users who need something to use in physical designs – such as posters and shirts.
We have included fonts from several websites here, and it's worth checking out each of them to experiment with your favorite designs. On top of that, it's also a good idea to give each font and website a trial period.
Ultimately, the best choice will depend on your individual needs – and it's likely that you'll have to try several designs throughout your career.
Fabrik: A branding agency for our times.