Shades of blue: The many different kinds of blue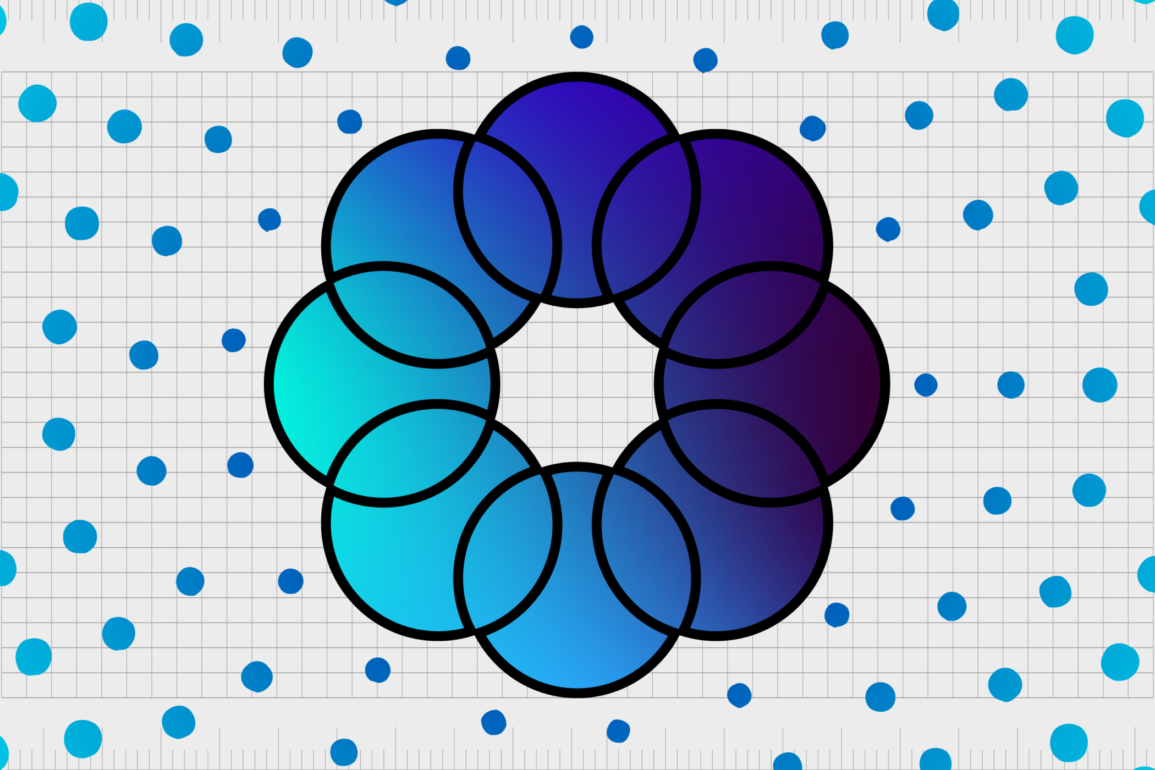 There are dozens of different shades of blue in the world today, stretching from the softest baby blue to the deepest midnight blue. This cool and relaxing shade is one of the most versatile in the world, appearing in a host of different environments, from business branding to the natural world.
According to studies dating back to the 1940s, blue is the world's favorite color, and it's easy to see why. Shades of blue can be calming and soothing, or rich and powerful, depending on where you land in the spectrum.
It's also worth noting we're often exposed to this color on a regular basis, as we constantly see the blues of the sky, as well as natural bodies of water.
While it would be difficult to name all the kinds of blue in one article, we're going to use this opportunity to cover a host of the most popular choices.
Here's your complete guide to different shades of blue.
Different shades of blue: An introduction
Blue is one of the coolest colors in the spectrum, often associated with ice, water, and lower temperatures. We often find blue in nature in the form of the pale blue of the daytime sky or the rich blue of a pool of deep water.
Because of the presence of this color in many consistent areas throughout the world, we often see blue as serene and calm.
Blue is often viewed as a non-threatening color, which can also appear as traditional and conservative, depending on the hue. Commonly, this shade is seen as a symbol of reliability and stability, or peace and tranquility.
Blue is secure and orderly, and in the branding world, it can often convey a sense of trustworthiness and credibility.
In color psychology, all shades, no matter how popular, have positive and negative feelings linked to them. For instance, while cool shades of blue can be calming, their coldness is also often associated with feelings of aloofness or sadness.
Often considered the least appetizing color, blue is the color used by a number of weight loss companies. According to scientists, this is likely because we don't see a lot of blue in the food landscape (aside from blueberries).
Blue can also be inspiring. While it lowers pulse rate and body temperature, studies have shown people can be more productive in blue rooms, perhaps because the color assists with reducing feelings of stress and tension.
Colors and names of shades of blue
The different shades of blue we're going to cover today fall into several categories. As you might already know, blue has an entire spectrum of shades starting with the lightest, palest of colors, and running all the way to the deepest and darkest colors.
Mixed correctly, colors of blue can be extremely close to either white or black. Additionally, it's possible to create different types of blue by mixing the shade with other complementary colors. For instance, there are numerous shades of grey-blue, purple-blue, and green-blue.
Today, we're going to cover many of the components of the blue color palette, starting with the lightest shades.
Light shades in the blue color palette
Lighter shades of blue are often considered relaxing, calming, and soft. Depending on how you define "light blue", you might include brighter shades, like electric blue, as well as traditionally pale shades of blue, like sky blue or baby blue.
Light blue is often the most calming color on the spectrum, as well as often coming across as sincere and reliable. The depth and mystery of darker blue isn't as significant here, so we can enjoy a cleaner, more tranquil experience from these hues.
Different color blues: Bright blue shades
While lighter shades of blue are usually associated with extra levels of white in the mixture, or a kind of cool paleness, bright blues add a sense of vibrancy to an otherwise cold shade. These kinds of blue are more likely to be seen as fun, friendly, and refreshing.
Names of shades of blue: Rich blues
The term "rich" in color composition is usually given to hues with a significant amount of pigment and depth. These colors are often closer to "truer" blues, as they feature more of the central primary color, rather than subduing it with various extra hues like white, black, green and purple.
Different color blues: Dark blue shades
Darker blue shades in the modern color spectrum are usually associated with sophistication and luxury, as more pigment in ancient times often meant you had more money to spend.
Because of their connection to things like the night sky, dark blue colors can also be linked to concepts like mystery and uncertainty.
Different blues: Green blue hues
As mentioned above, one of the factors which makes the blue color palette so expansive, is the ability to mix the shade with a range of other colors to get different results. One of the most common kinds of blue created by mixing colors are green/blue hues like turquoise and teal.
Colors of blue with purple shades
Similar to how mixing green and blue can create a wide range of new colors, combining blue and purples can also enhance your palette too. Some shades of blue are so close to purple it's difficult to tell where one hue ends and the other begins.
Common kinds of blue: Grey blue shades
Finally, the last section we'll be looking at on our journey through the various different shades of blue, is grey/blue shades. When hues from the blue color palette are mixed with elements of black and white, they can create pale or deep new shades.
These colors are often much cooler than many alternative blues and can have a more sophisticated impact.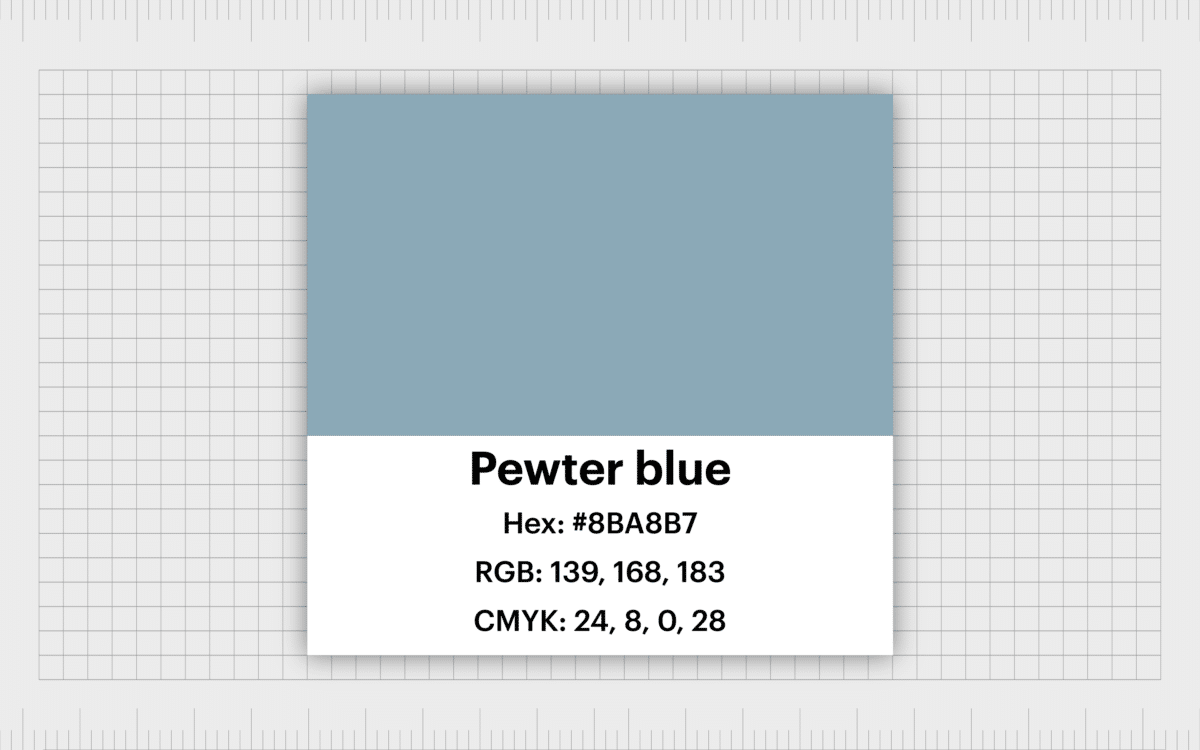 Pewter blue
Hex #8BA8B7
RGB 139, 168, 183
CMYK 24, 8, 0, 28
Modern and neutral, pewter blue is an excellent shade to mix with other colors if you're trying to create contrast. This color combines a lot of the prestige and authority associated with the color grey with the reliability and trustworthiness of blue.
Expanding your blue color palette
It's fair to say there are plenty of different shades of blue to choose from in today's versatile world. Whether you're looking for the perfect shade for your new bedroom, or you want a base color for your branding strategy, blue could be the perfect color for you.
Blue is an extremely diverse color, brimming with different options to choose from. While there are only a handful of blues in the natural world, from blue flowers to the sea, sky, and blue eyes, blue continues to be the most popular shade for the majority of the world.
Today, the various blues mentioned above can serve a wide range of purposes, from helping to identify your business as one your customers can trust to forming the foundation for a beautiful work of art.
Fabrik: A branding agency for our times.
Now read these:
—Exploring the colors of the rainbow