What are the different types of branding strategies?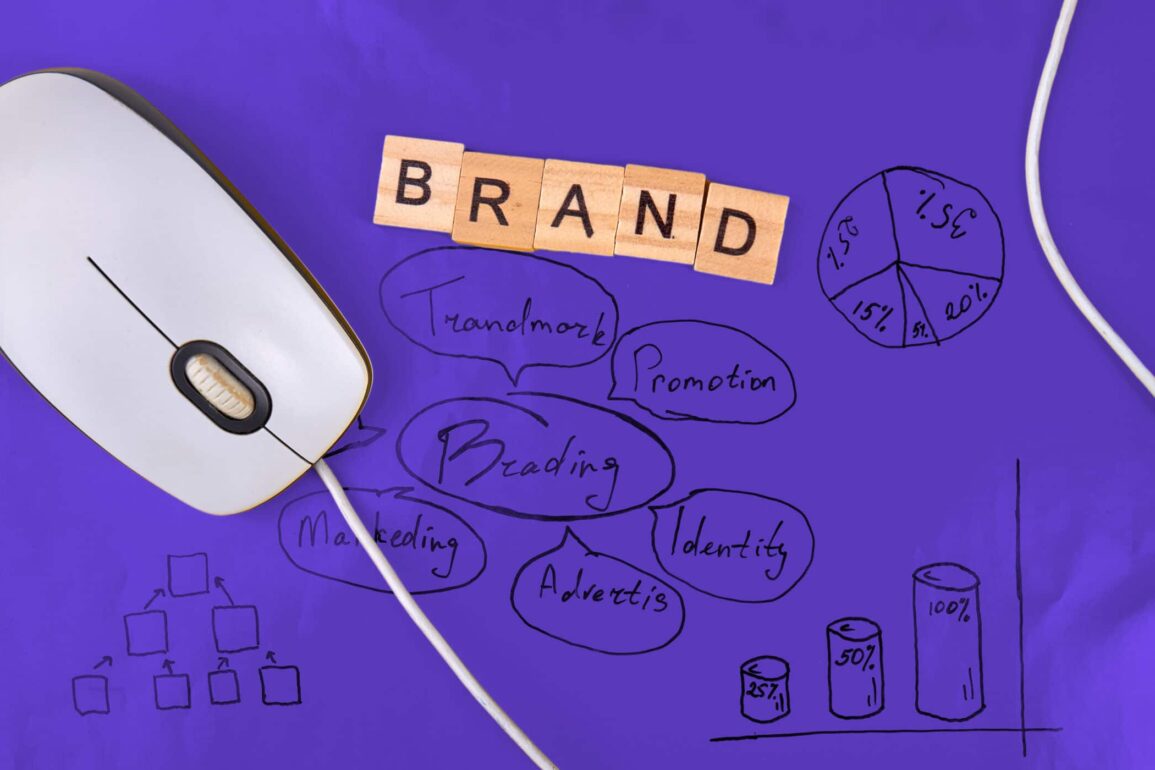 What are the different types of branding strategies? It's a question we hear quite a lot as branding specialists. Branding isn't just one action, like designing a logo – it's an ecosystem of connected efforts designed to develop a reputation or feeling.
Branding can also apply to a lot of different things. You've probably already heard of corporate branding, but personal branding or product branding can be just as valuable.
Understanding the different types of branding strategies and how they affect your audience is crucial. It means you can better identify what you really need to grow your organization.
Today, we'll be giving you our behind-the-scenes guide to branding strategies, and how they work.
It's time to discover the true depth of "branding".
Types of branding strategy: Personal branding
Let's start on a personal level.
Personal branding is the art of building an identity for yourself, often for career purposes, or to establish ground as a "thought leader". There are various great examples of personal branding strategies out there.
They're common among movie stars like Jennifer Lawrence and Tom Hardy, as well as politicians and athletes.
Entrepreneur Richard Branson has a fun personal brand as a creative, daring individual. Elon Musk, though often part of some controversy, is another excellent example. Outside of his companies, SpaceX and Tesla, Elon has a brand of his own, focused on eccentricity and creativity.
Musk even used some of his personal brand to sell things like "The Boring Company" flamethrower.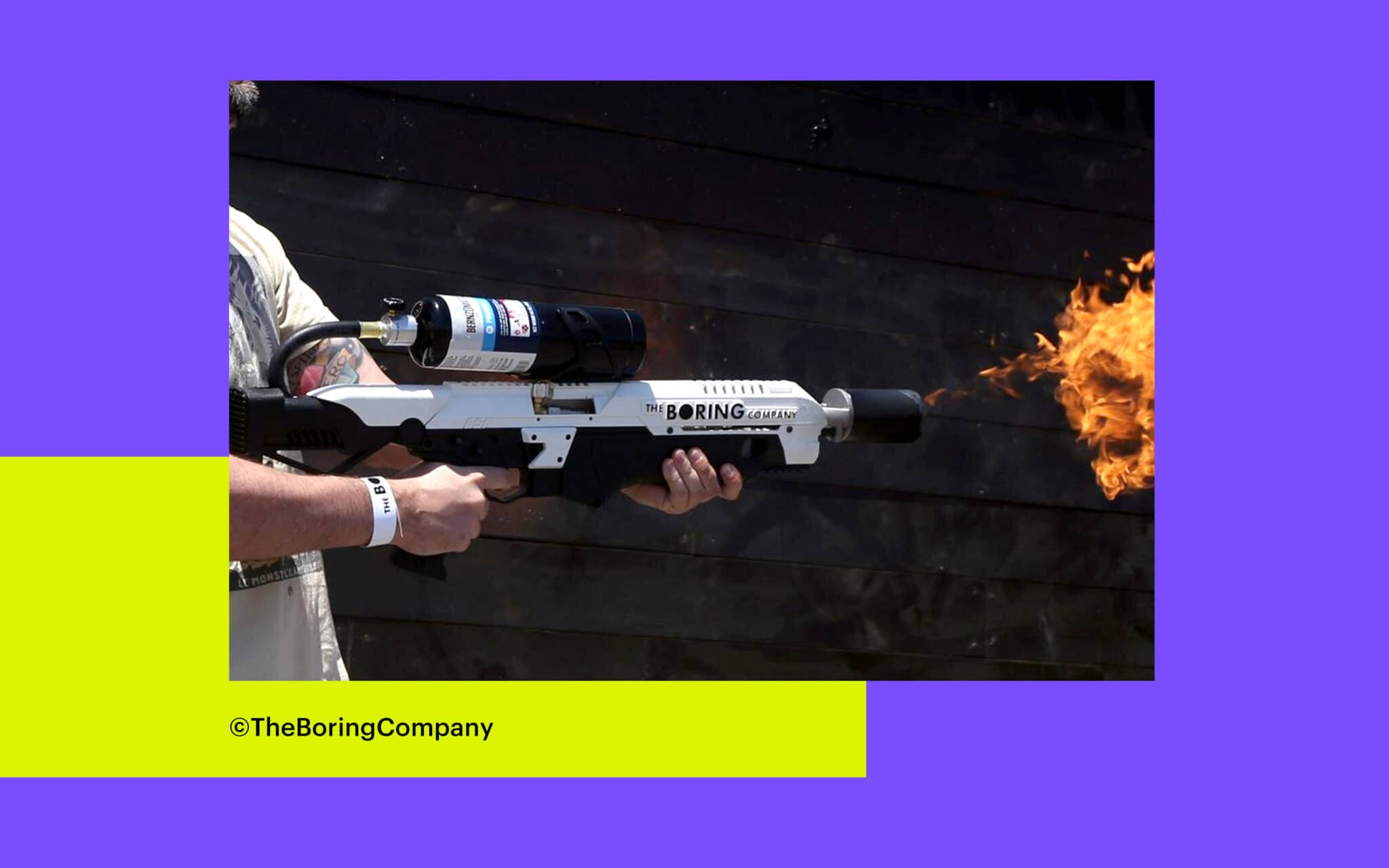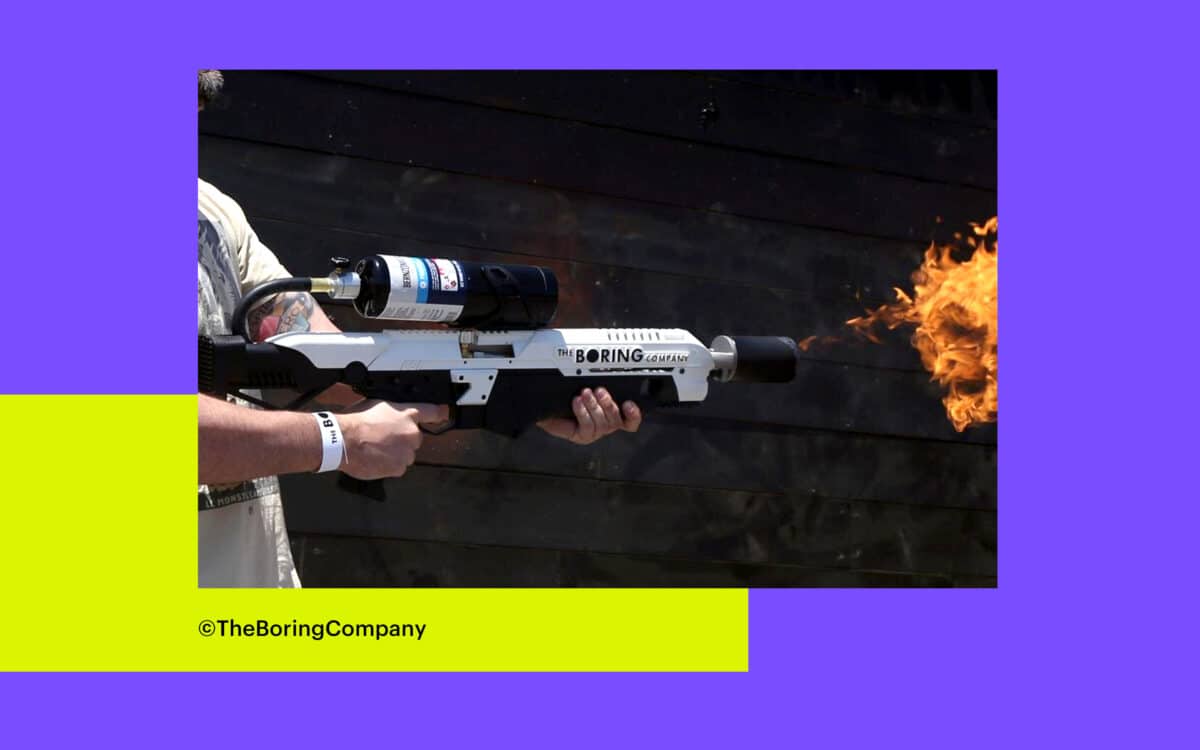 Fortunately, you don't need to be a billionaire entrepreneur or athlete to benefit from personal branding. Anyone can develop a memorable identity for themselves as a thought leader, public speaker, or just a great employee.
All you need is:
A platform: Often social media channels and blogs where you can share your vision, look at examples of personal websites.
Values: Something to define what you stand for: i.e. commitment to charity.
Authority: Proof of your knowledge or skills, i.e. blogs or TED talks.
Networking: Personal brands are built through connections with people who benefit you.
Commitment: It takes time to develop any brand, make sure you're committed.
An image: You may not have a logo with personal brand, but you will have a "look".
With personal branding, you decide what you want to be known for, and build your identity around this. Every blog, public appearance, and social media post contributes to your image – just like building a corporate brand.
Remember, though you can influence public perception with some great creative branding, it's still best to be yourself. Personal brands grow when they're authentic. It's difficult to play a role throughout your life, and personal branding requires constant commitment.
You need to live your brand. Figure out who you really are and highlight the best parts.
Types of branding strategy: Corporate branding
Probably one of the best-known examples of branding, corporate branding is the image you build for your business. This is what we specialize here at Fabrik. Corporate branding is the art of developing a specific message through everything your company does, says, and sells.
Some companies decide they want to build a reputation as a "green" or "eco-friendly" brand. This doesn't mean just adding a leaf to your logo. Green brands need to constantly champion the planet and commit to community efforts.
Corporate branding influences what you can charge as a company, which kind of audience you'll attract, and more. For an example, let's look at H&M and Levi's.
Both of these fashion brands could produce the same pair of jeans, with the same materials, dye, and extra features. On the surface, the jeans may look exactly the same, but H&M would be charging a fraction of the price for them.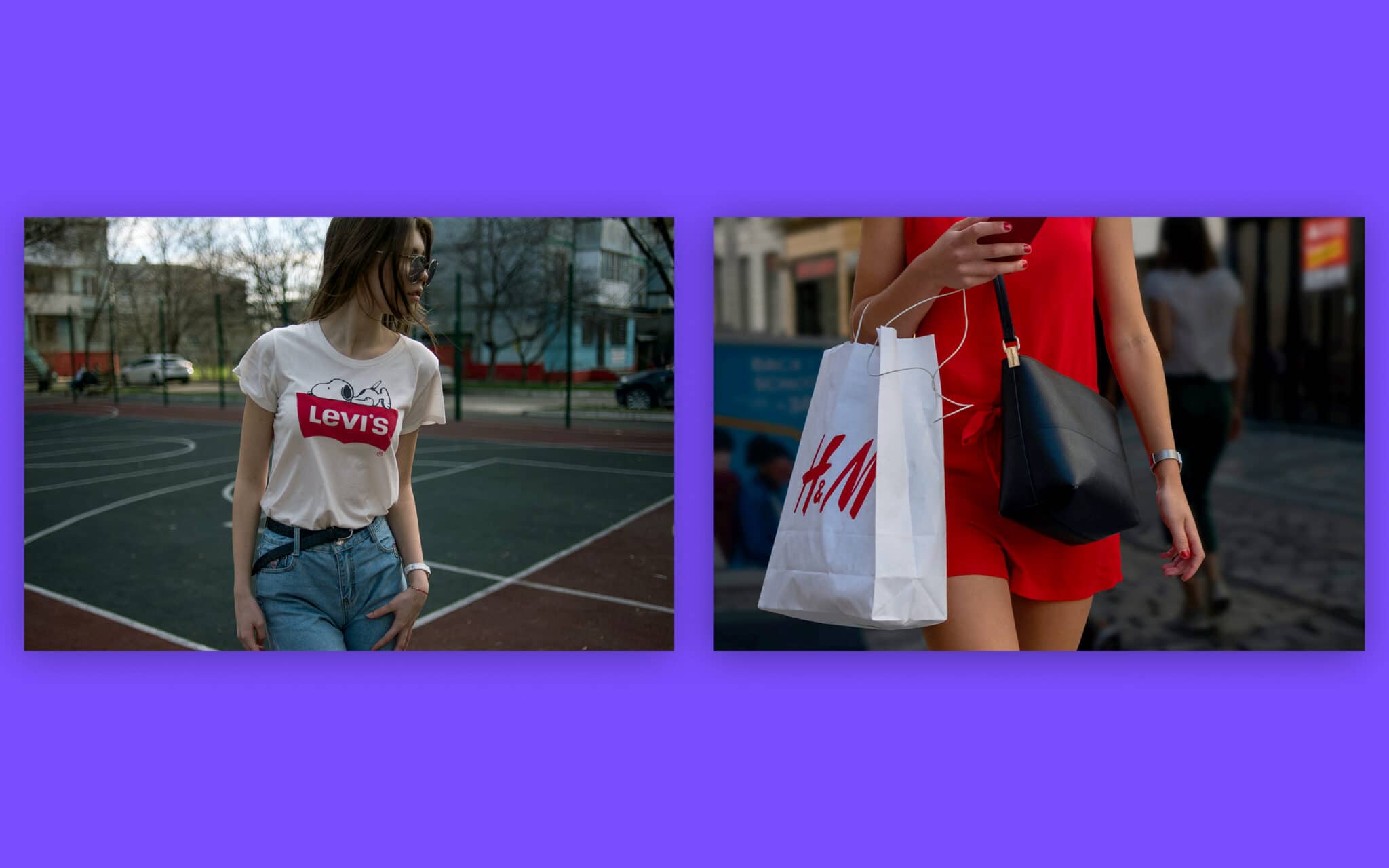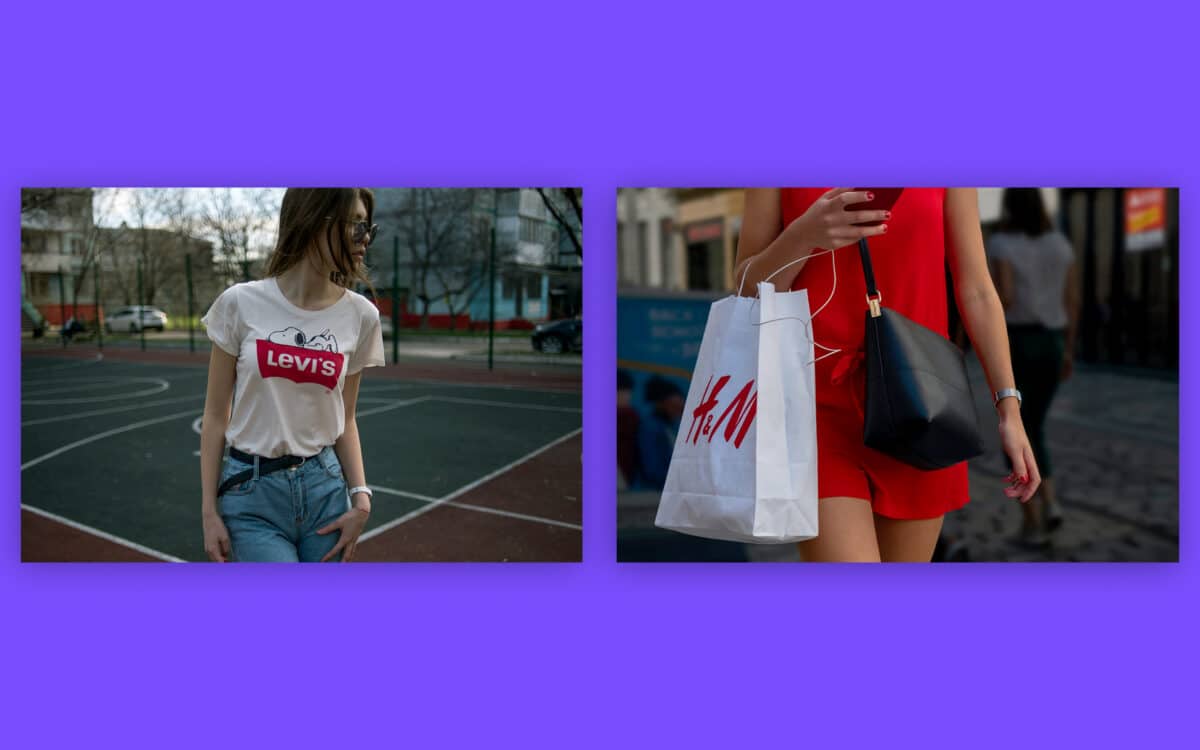 Why?
You could argue Levi's just fit better or are more luxurious. However, the ability to charge more largely comes from Levi's position as a more upmarket brand. Customers ultimately believe they're getting better quality because of the reputation one brand has built.
On the other hand, H&M has more of a reputation for delivering "good" clothing at reasonable pricing – sometimes with an eco-friendly element too.
The elements of a corporate brand can vary depending on the kind of company you're trying to build. We often recommend business leaders start by making some basic decisions about the brand they want to build.
This could include creating a user persona or target audience, so they know who they're trying to attract.
Once you have a target customer, you can use your branding strategies to develop a voice and image to appeal to a specific person. Often, this means creating assets like a logo, website, and tone of voice, aligned with a specific brand identity.
Some of the things you'll need to create your corporate brand are:
A logo: Logos are a fundamental part of branding. You'll need an image or emblem which conveys what your business stands for in simple shapes and colors.
Font choices: Typography can affect how your customers feel about you. A sans serif and serif font have two very different impacts on your audience.
Colors: Brand colors are emotional choices which influence the feelings of your audience. Blue often stands for reliability, while green could represent wealth or nature.
A platform: Your website and social media pages are where customers will come to learn about you and your products or services.
A tone of voice: A consistent personality should be evident in everything you do and say. Are you friendly, sophisticated, or worldly? It's up to you.
Every so often, as your business evolves, you may need a brand refresh or update to keep you ahead of the curve. Just look at how companies like Starbucks and Google have evolved over the years.
Types of branding strategy: Product branding
Product branding is often considered as a sub-section of corporate branding. Once you know what your business identity looks and sounds like, you can create a product to fit. Through colors, words, and images, product branding separates various similar products.
Like corporate branding, product branding starts with an understanding of the end user and what they need from your company.
The focus on customers and their pain points and needs is particularly high in product branding. Your aim is to position your product as a solution to their issue.
Knowing your audience and what they need from you influences the kind of image you're going to create. For instance, look at Oreo cookies. The snack company started in the US, until the parent brand, Kraft, decided to take advantage of the growing cookie market in China.
In 1996, Kraft took the Oreo to China, using the same branding and imagery common in the US. The launch achieved virtually no sales, and growth for the company remained flat.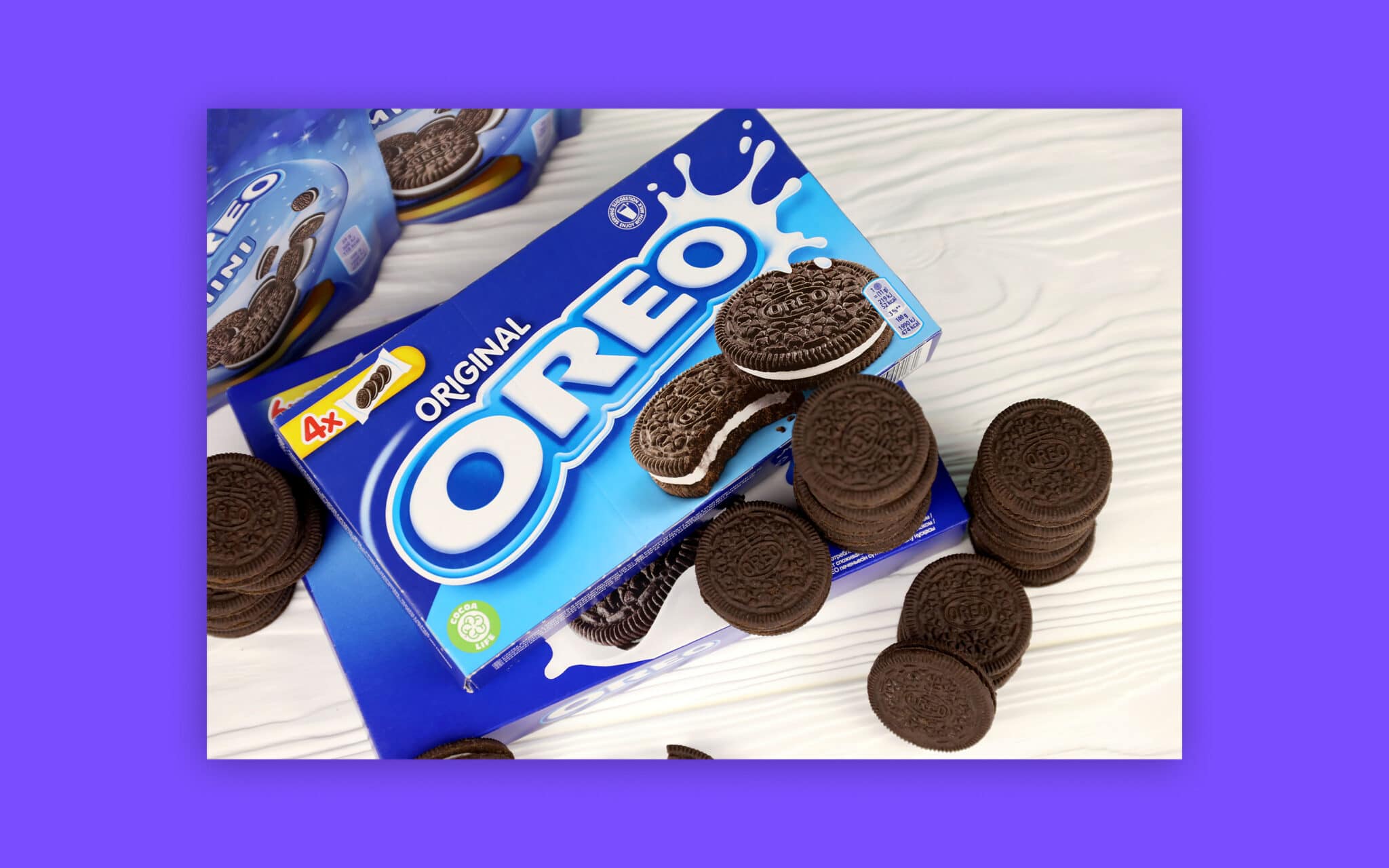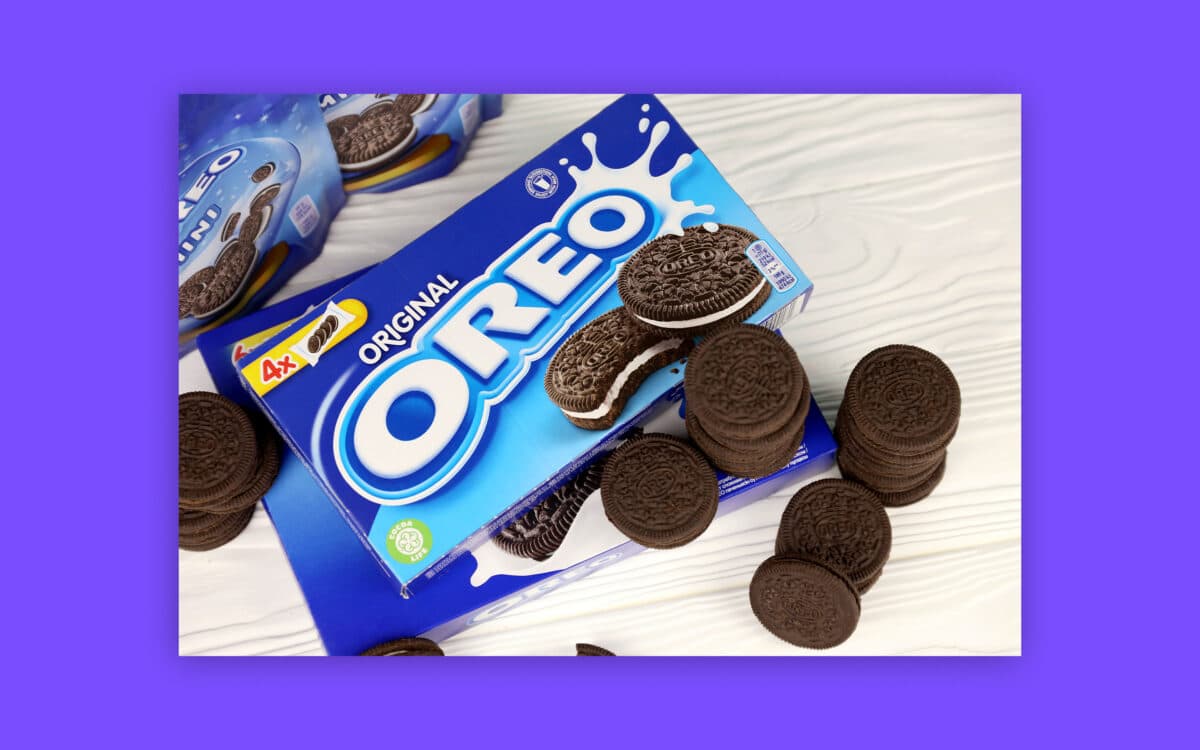 To figure out what went wrong, Oreo went to Chinese customers and discovered these consumers thought the cookies were too sweet, and expensive.
Oreo decided to relaunch in China with reduced sugar, and a smaller packet size. The launch which much more successful this time around. Eventually, Kraft even rolled out new flavors specially designed to suit the local tastes of their new audience.
Oreo learned from its mistake in China and consulted the Indian audience before rolling the cookie out even further. The team created new flavors to suit Indian tastes and leveraged the Cadbury brand equity (recently purchased by Kraft) to stand out in the market.
Product branding often builds off a company's corporate brand, and the understanding an organization has of its audience. The goal is connecting the right product to the right audience, to boost your chances of sales.
To do this, companies often need to consider:
Image: Everything from the use of the logo to the colors and shape of the packaging makes a huge difference to a product's appeal. Different markets will prefer different packaging.
Distribution: How are you going to get your product to your customers? What makes the most sense for the target audience you want to reach?
Pricing: Although your general price structure should stay similar in each company, it's important to consider competing options in your space.
Production: Depending on your audience, you may alter various aspects of production, like adding new flavors, or reducing the size of the packet.
Promotion: Companies need to promote their product with the correct strategies to generate audience attention. Sometimes, this could mean running social media campaigns, other times, it could mean offering free test samples in a grocery store.
Like with corporate branding, product branding may need to update and refresh with time, as audiences take on new tastes, and trends emerge.
Types of branding strategy: Service branding
Not every company will sell physical products.
You might be a company like Fabrik, which specializes in branding and marketing services. Alternatively, you might run an accounting firm, or a consulting group. Service branding is similar to personal branding, as it focuses on building the image of certain people and their skills.
However, rather than focusing on an individual person, you're looking at the service your entire team can offer to customers. Service branding highlights the experience you create through everything from your support strategy to your website experience.
Because service branding focuses more on what you do, than what you look like, the potential here lies in what you can really offer your audience. The evolution of the digital age means customer feedback and word of mouth has a huge impact on your brand.
You'll need to ensure you're providing a consistent experience across all platforms, so your clients backup your claims about what you can do.
Let's take a look at Air New Zealand – a flight company located in New Zealand.
There are tons of airlines you can book your flights with, but in 2014, Air New Zealand decided to make their service stand out. The brand wanted to be more than just another airline.
A branding campaign involving updated marketing campaigns and a specific tone of voice gave Air New Zealand a sense of humor.
Emerging at a similar time to a movie release (The Hobbit: Battle of the Five armies), New Zealand's service branding effort took advantage of the popularity of the movie. It also highlighted the presence of New Zealand in the trilogy.
Air NZ became the "official airline of Middle Earth" after a collaborator with the creator of the film. The result was a fantastic air-safety feature which featured some of the top actors from the films.
Fortunately, this wasn't the only example of Air New Zealand's new service brand and its tone of voice. The Company also celebrated the 50th anniversary of Sports Illustrated Swimwear, with the help of Chrissy Teigen.
Through the use of fun advertising campaigns, a playful tone of voice, and an updated brand image, the Air New Zealand brand re-identified its service. Air NZ became a modern and down-to-earth choice for airlines and increased its customers as a result.
Common elements of service branding strategies include:
Customer experience strategy: A company focused on service needs a strong strategy for Customer Experience. This could include having 24/7 call lines, or live chat on their site.
Tone of voice: Tone of voice builds a relationship with your customers. You need a consistent tone of voice on every channel you interact with.
Feedback: Companies in the service industry are constantly listening to and responding to feedback from their target audience.
Promotion: Like most types of branding strategies, service branding requires a commitment to regularly, well considered marketing campaigns.
Types of branding strategy: Cultural and geographic branding
For the sake of simplicity, let's bundle these branding strategy examples together. Geographic and cultural branding are actually slightly different practices. With geographic branding, you're focusing exclusively on a specific space.
For instance, a company named "Parisian cakes" might place a lot of images associated with Paris on their packaging and website.
Geographic branding connects a company to a specific space, often earning the commitment of a local community as a result. Geographic branding can even apply to entire locations. To attract tourism and economic growth, government groups work on "branding" their location in a specific place.
As an example, London is frequently associated with the underground, the theatre, and bustling crowds.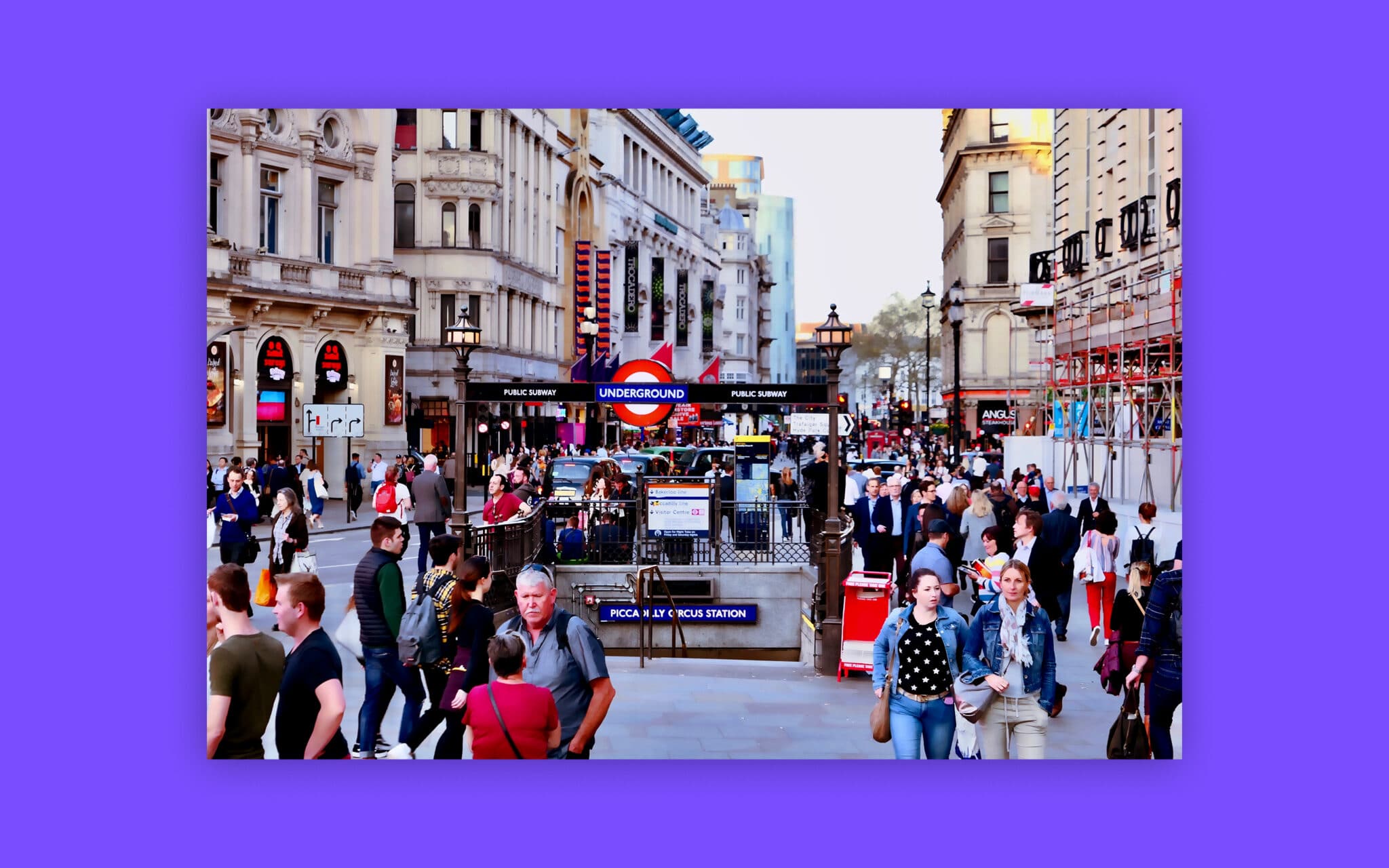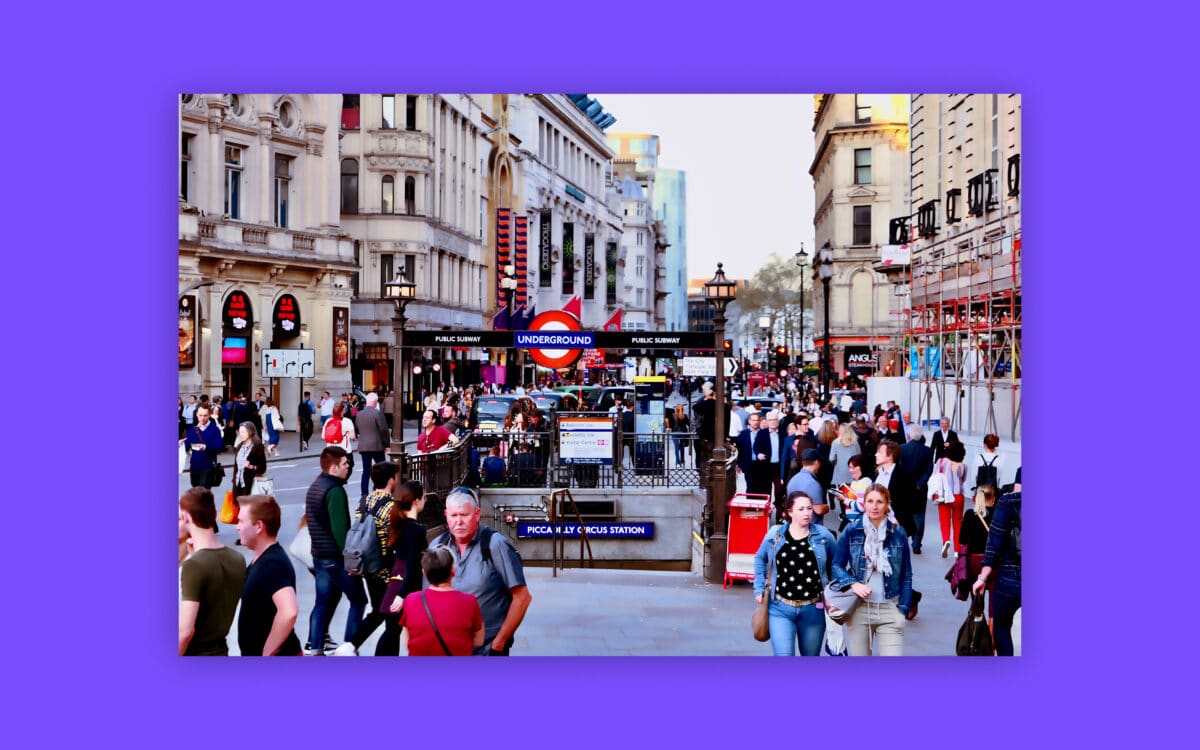 Cultural branding is similar because it also focuses on a specific group. However, rather than concentrating on the images or landmark of a location, cultural branding is all about the culture.
Finland, for instance, might regularly advertise itself to visitors not as the most beautiful place in the world, but as the top-ranked, happiest country on earth.
Companies take advantage of geographic and cultural branding to connect themselves with specific target audiences and demographics. If you want to capture the attention of proud citizens of the US, you might use the colors of the flag on your packaging.
Alternatively, you could focus on the specific cultural elements of a certain state, like "Southern Hospitality".
Sometimes, geographic branding can even help to position a brand. Many vineyards around the region of champagne leverage geographic branding to sell wine at a price premium. "Champagne" is actually named for the place it comes from, rather than a specific flavor or design.
Geographic and cultural branding can help to make your business stand out on a global scale. Alternatively, it's also a great way to showcase the down-to-earth and human nature of your business. Local branding elements can highlight a company as "home grown".
While local and global branding are different, they have similar goals. The idea is to build a positive shared identity and reputation for people in a specific place.
The two forms of branding often go together perfectly. The geography of a place can influence the culture of the people. For instance, the unique weather patterns in Scandinavia influence everything from local celebrations to the way of life.
People want to buy products from other people. Tapping into cultural and geographical branding is how businesses humanize themselves. You can demonstrate your business has a home, with specific cultural connotations.
Types of branding strategy: Retail branding
The last of the types of branding strategies we're looking at today is retail branding. Retailers are people and groups consumers interact with every day.
Retail branding strategies are unique because they're showcasing a specific experience, product, and "corporate" identity at once.
In a supermarket, you'll find similar products sitting side-by-side on the same shelves. In a specific retail store (like the Apple store), you'll only find a specific product.
The Apple store is probably one of the best examples of focused retail branding. Everything about the store showcases the underlying identity of the corporate brand and the simplicity the Company wants to offer.
Apple stores, like the phones and devices they make, are modern works of art. The aesthetic design reflects the values of the Company. It's also a fantastic way to build brand awareness.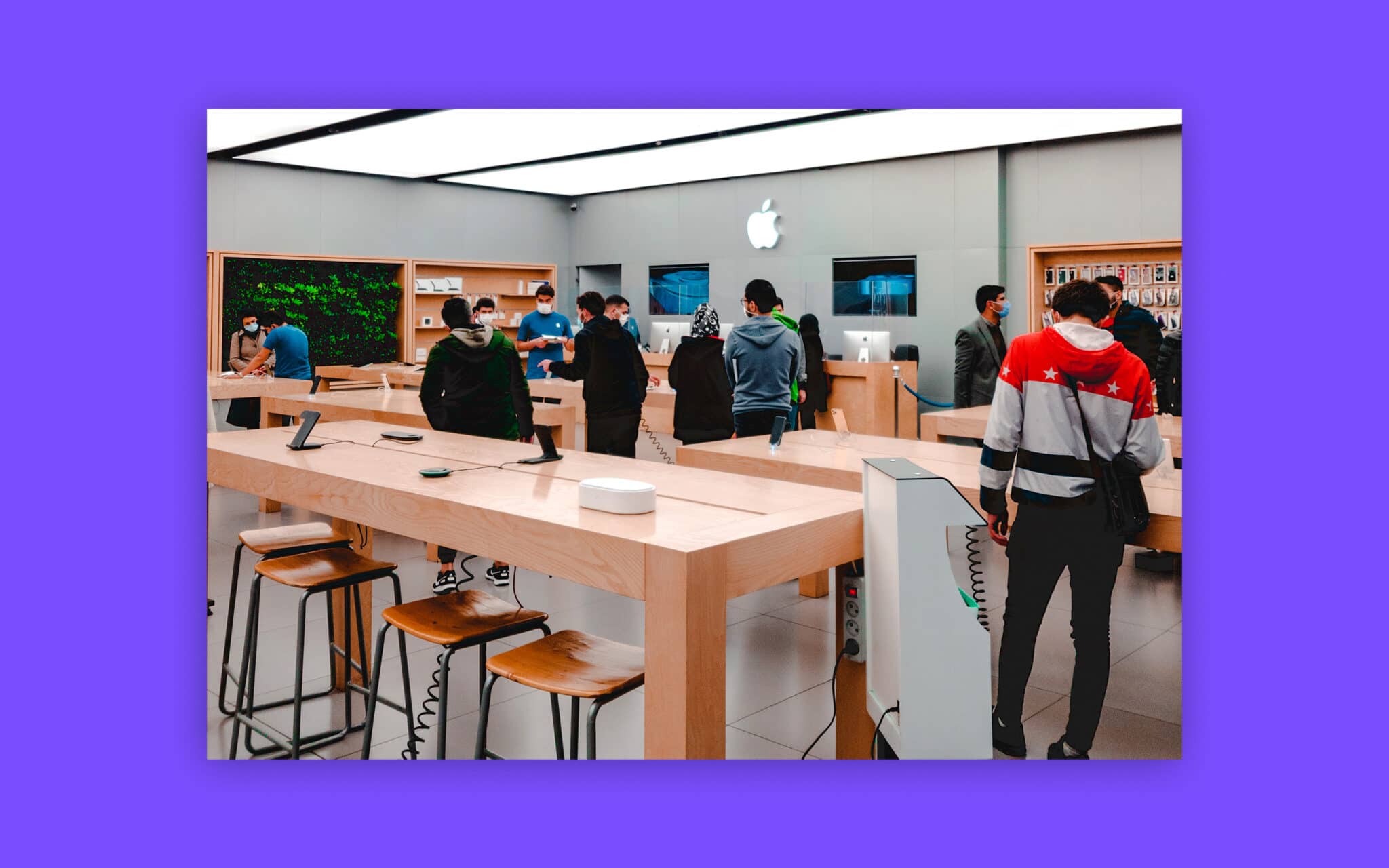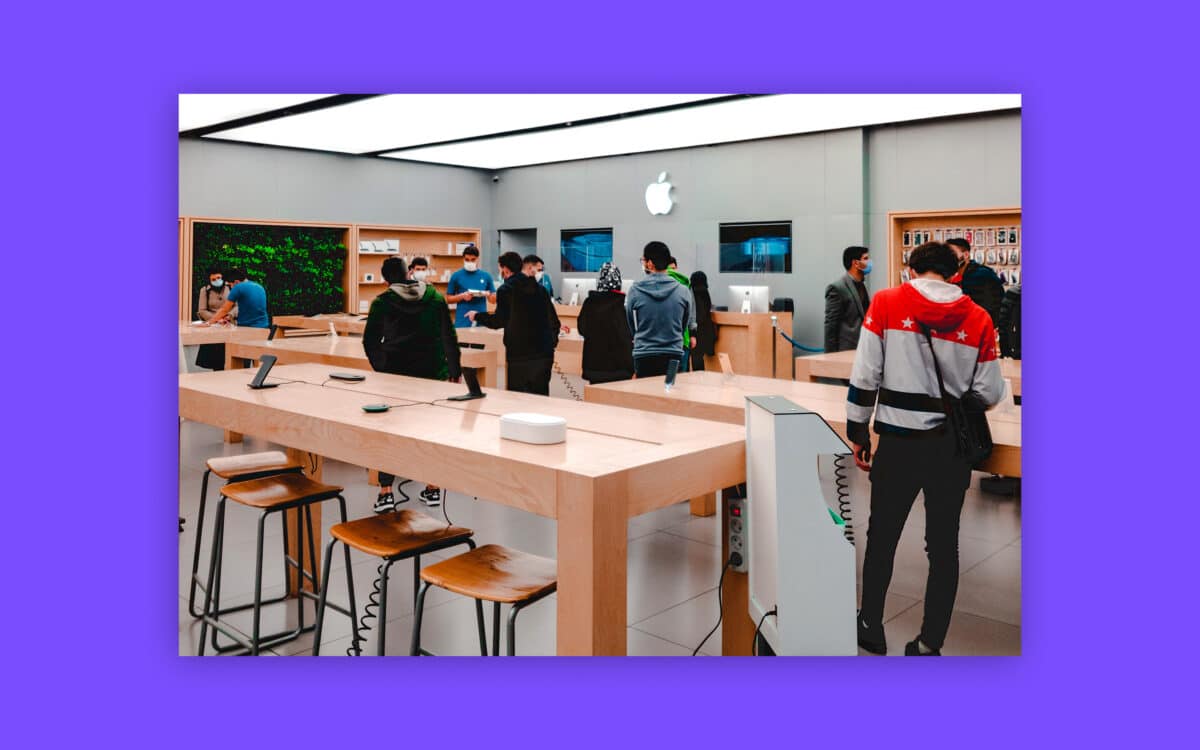 Retail branding can be complicated because each store may attempt to achieve a different goal. Amazon generally doesn't have much of a "retail" branding presence because the majority of products are shipped around the world from warehouses.
Yet, to develop more interest in new sub-sections of the brand, Amazon opened its own "Amazon Fresh" walk-in store, where customers can shop for groceries similar to the ones they get from any supermarket.
Some retailers have a very clear brand identity.
Trader Joes in America is a lot smaller than many of the bigger retailers in the country, like Walmart and Target. However, rather than trying to compete with those companies, the brand embraces its "intimate" experience.
Location-specific décor is evident in every building, and the company focuses on offering unique samples and fun experiences for customers.
Though many companies are moving into the digital world these days, there are still areas where retail branding makes a big impact on a company's success.
What are the different types of branding strategies?
There's more than one type of branding strategy you might need to consider if you're building a new company. With a little luck, the branding strategy examples above have given you an insight into the purpose of each branding effort and how it works.
You can also find extra information on branding from books like this one!
Different branding strategies work in unique ways, but they're all designed to strengthen your relationship with your audience and boost your chances of loyalty.
Knowing which types of branding strategy you need to consider when you build your identity is a must-have for successful growth.
If you need help building your brand – in any capacity – reach out to Fabrik today.
Fabrik: A branding agency for our times.

We've built our reputation, building brands for other people.
Do you need to bring a new brand to life or breathe new life into an existing one? If so, let's start a conversation