Get to the point: What is direct marketing?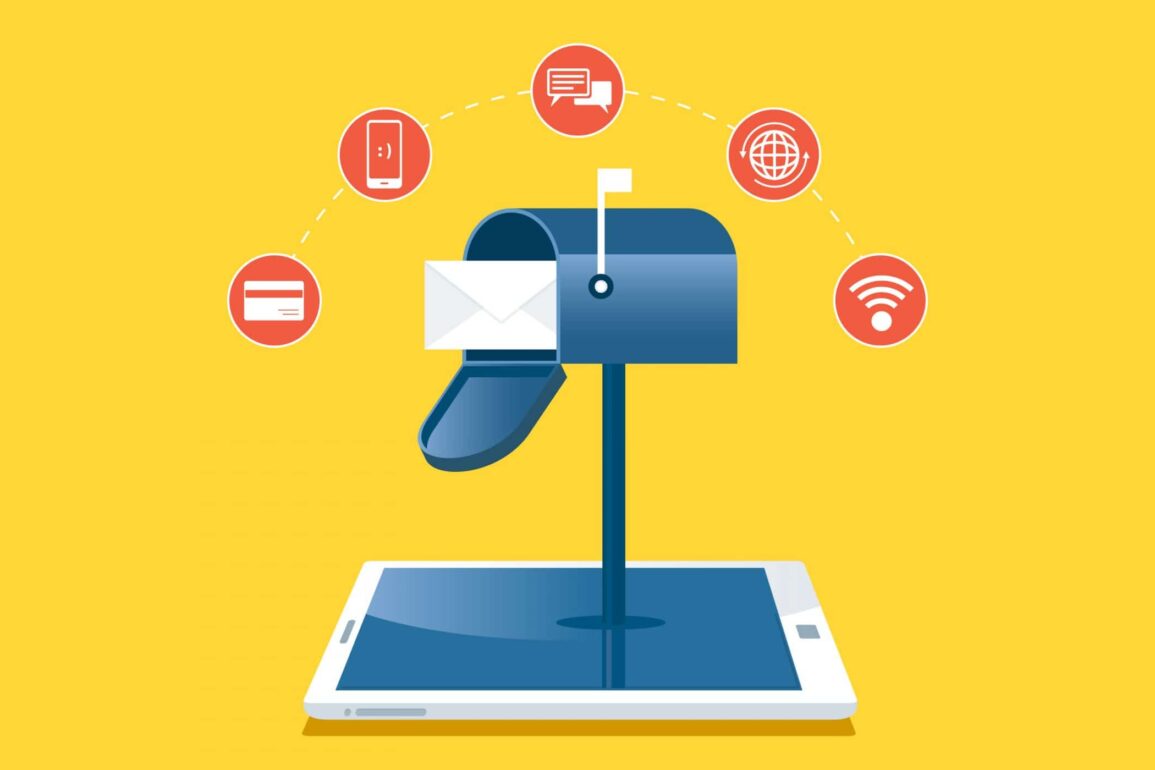 Ever wish you could just cut all of the middlemen out of marketing and get straight to the point?
That's precisely what direct marketing is all about.
Direct marketing campaigns are a form of promotion intended to allow companies to communicate directly with their target audience using a range of media and channels. For instance, if you type "What is direct marketing" into Google, you're likely to get plenty of information about 'direct mail' marketing.
Direct mail marketing is one of the most common direct marketing examples. It involves sending content through the post to a selection of customers most likely to purchase from your brand. You select those customers based on critical characteristics like their location, age-range, gender, career, and more.
Direct marketing is a great way to improve the ROI of your advertising spend and make sure that you're reaching the right customer base. However, because direct marketing is a more aggressive promotional method than inbound advertising, it needs to be carefully planned and implemented.
In this guide, you'll discover the answers to questions like:
What is direct marketing?
What is the purpose of direct marketing?
What is direct marketing in business?
What is a direct marketing channel?
What is a direct marketing agency?
Let's get started.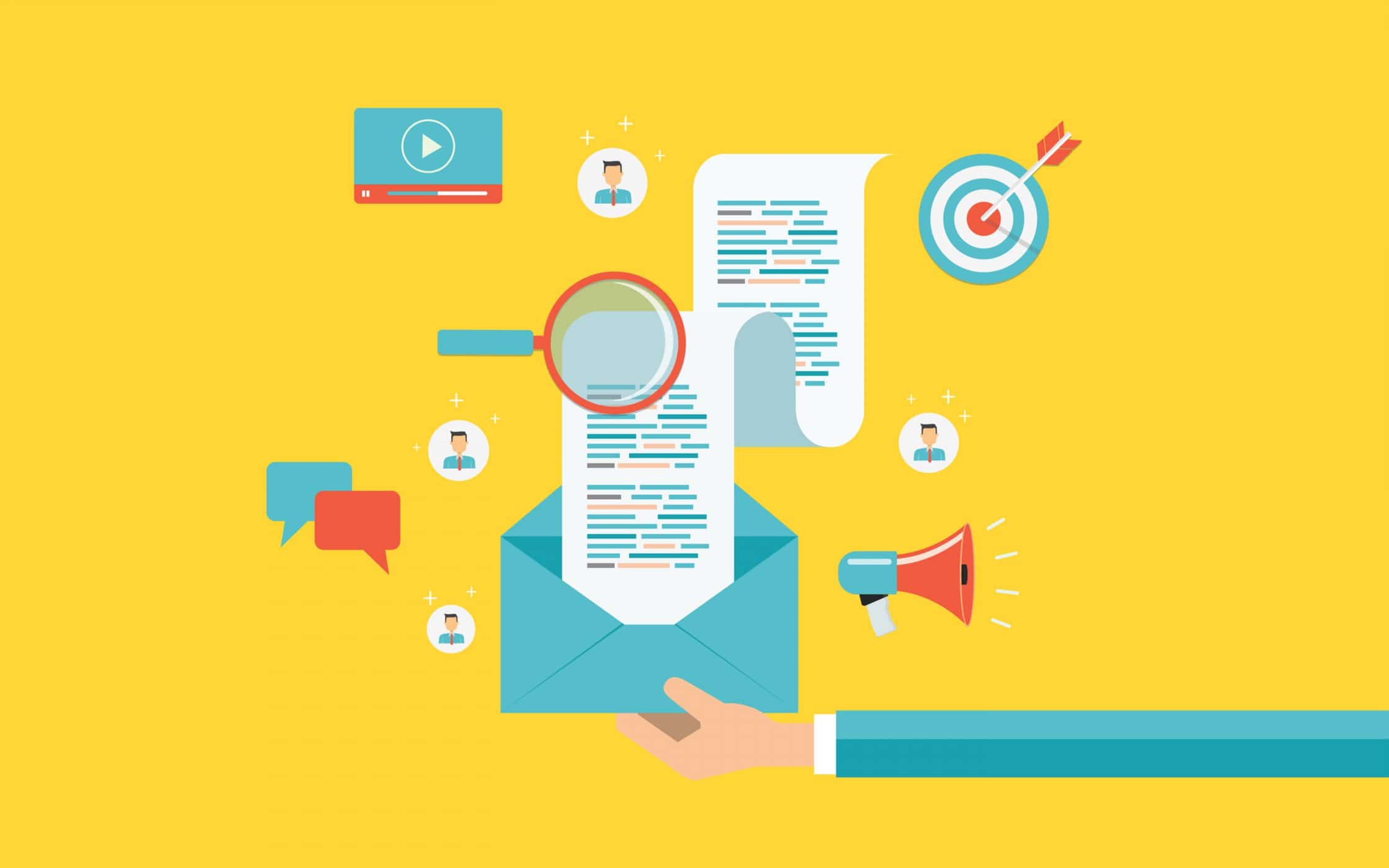 What is direct marketing? Your direct marketing definition
Let's start with the most obvious question: "What is direct marketing?"
Direct marketing is a promotional method of presenting information about your product, company, or service to your target audience. The audience in a direct marketing campaign is highly specific, to allow for refined results.
So, "What is the purpose of direct marketing?" This advertising strategy focuses on driving action from your intended audience, and it's beneficial for various reasons.
Direct marketing allows companies to very easily measure the success of their campaigns, and potentially inform future campaigns at the same time. For instance, if you connect with 1,000 people through an email marketing campaign, and you get 10 conversions, you know you have a 1% conversion rate. On the other hand, it would be hard to know for sure how many people see a promotional ad on a billboard or watch your snippet on TV.
Online direct marketing is obviously a lot easier to track than offline strategies, but there are many different types of direct marketing channels to explore.
What is a direct marketing channel?
Companies can access things like:
SMS text messages.
Targeted email campaigns.
Direct mail.
Coupons.
Targeted online display ads.
Targeted social media ads.
To help give you a more comprehensive direct marketing definition, here are a few principles to keep in mind:
Direct marketing is highly focused: A direct marketing campaign involves the identification of a specific consumer segment, which may include new or prospective customers for your brand. You'll need to know who you're trying to target before you get started.
Direct marketing is about influence: Your direct marketing campaign needs to convince your target audience to do something. This means that you'll need a goal before you start working. You might want new customers to sign up for your service, or existing consumers to renew their subscription, for instance.
Direct marketing makes communication more focused: Crucially, direct marketing needs to be straightforward. This means that you need to speak to a specific individual, and not merely produce something as part of a mass campaign.
Direct marketing must be measurable: Finally, to make the most of offline or online direct marketing, make sure that you can measure the outcome of your campaigns. The more you track your campaigns, the more informed your future marketing decisions will be.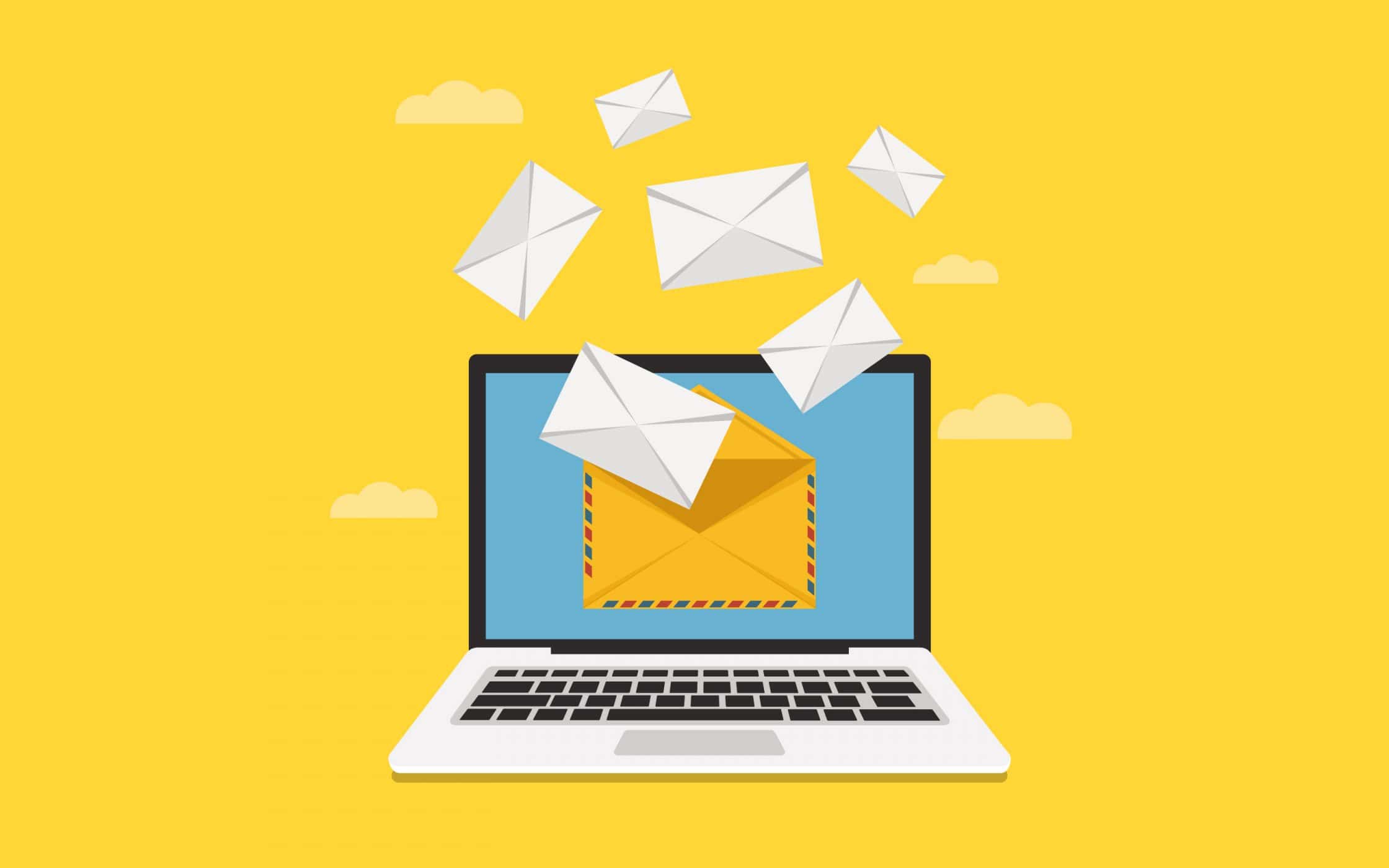 Online direct marketing: The benefits of missing out the middle man
Direct marketing often appears outdated in a world obsessed with SEO and organic traffic.
However, the truth is that this promotional strategy can be a great way to add diversity and depth to your marketing plan. Most of the top advertising agencies know that if you want to reach the right customers, you need to be prepared to explore a selection of different channels.
What's more, unlike mass advertising, which presents your message to everyone at once, a direct marketing campaign only appeals to the audience most suited to your brand. Offline or online direct marketing allows you to generate a lucrative response from targeted customers.
Often, small businesses are the first to ask, "What is direct marketing," because they're most in need of a way to get big results from a small marketing budget. Here are some of the biggest benefits of direct marketing:
Create deeper connections with your target market: Direct marketing forces companies to access a deeper understanding of their preferred audience. Through careful research into your most valuable customers, you'll discover important characteristics that help to inspire your other marketing strategies and improve brand affinity.
Optimise your marketing budget: Even if you're a huge company with a robust online presence, you don't want to waste your marketing money on something that isn't going to give you a return on investment. Direct marketing focuses your efforts on a specific sub-section of customers and increases your chance of engagement with personalised messages and strategies.
Upgrade customer loyalty: Each direct marketing campaign you produce will help you to learn more about your target audience. The more you learn, the more you can customise your communications to keep the relationship between you and your clients alive. You could even use sales, offers and exclusive discount codes to show repeat clients how much you value them.
Increase opportunities for upselling and cross-selling: Online direct marketing strategies like social media advertising and email ensure you stay consistently connected with the right people. This improves your chances of turning one-off customers into repeat buyers with discounts, sales, and targeted advertisements.
Get a foundation for the rest of your marketing: Measuring and tracking campaigns is an essential part of any direct marketing definition. The information you gather from direct marketing will show you where the best opportunities lie, and how you can get the most out of your future campaigns with targeted metrics.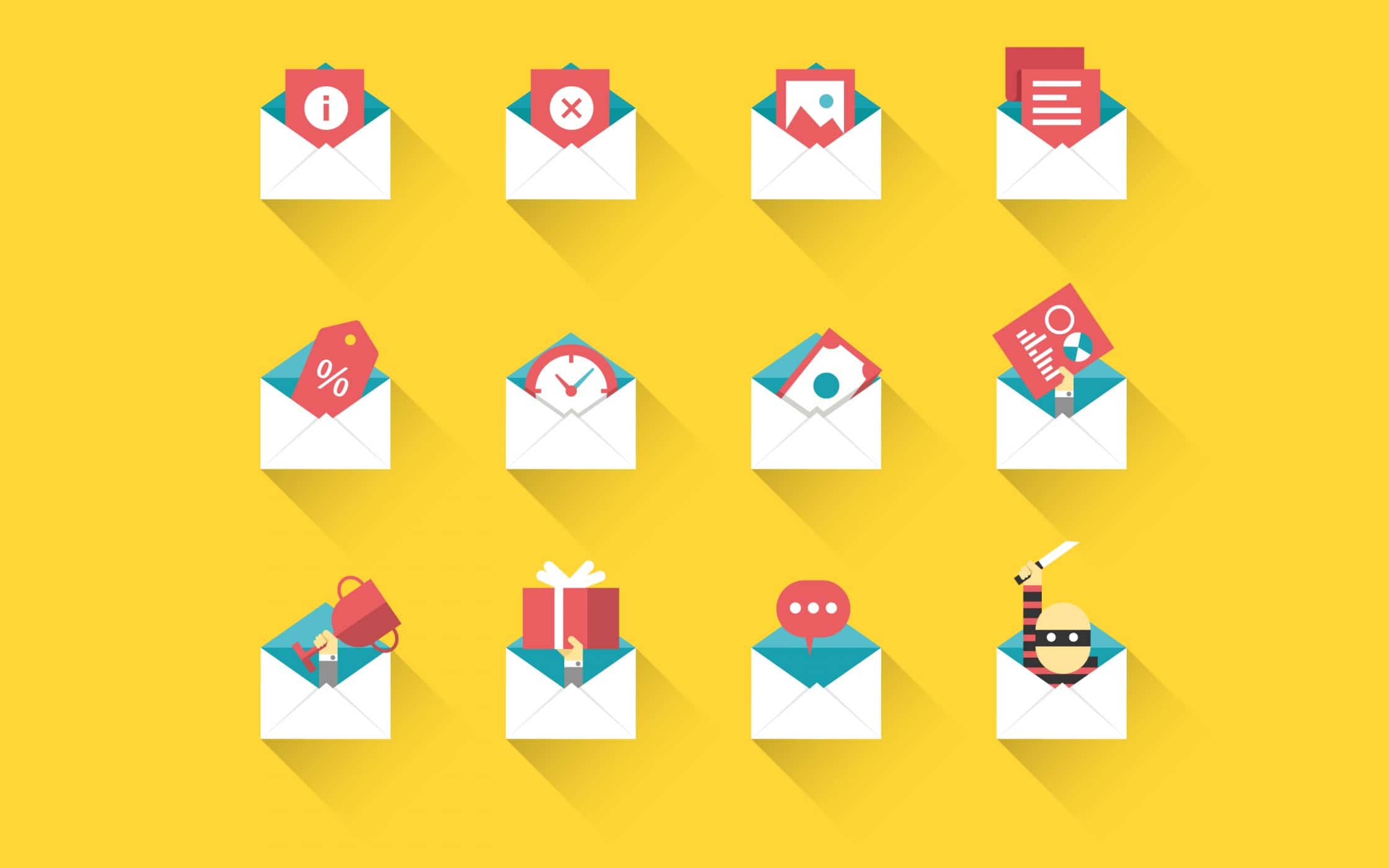 Direct marketing examples: What is direct marketing in business?
By this point, you have a fundamental answer to "What is direct marketing?" and "What is the purpose of direct marketing?"
Now, it's time to think about how you can use direct marketing to support and enhance your business. As we mentioned above, direct marketing is a fundamental way of connecting with your audience. To form an effective direct marketing plan, you'll need an in-depth understanding of your audience, and some innovative ideas that make your aggressive approach more 'appealing' than 'annoying'.
As the marketing environment continues to evolve, answering the question: "What is direct marketing in business?" becomes more complicated. Fortunately, we have some great examples to inspire you.
1. Ikea: Pregnancy test ads
Ikea, an innovative furniture store that's no stranger to thinking outside of the box, is excellent at creating direct marketing campaigns that generate fantastic reactions. This year (in 2018), the Swedish interiors company sent out a direct marketing ad that went viral for a unique reason: It asked customers to pee on the attached insert.
The ad ran exclusively in Sweden and encouraged female readers to pee on the direct mail document. If you peed on the ad and you were pregnant, you'd reveal a previously invisible text offering that provides a discount on one of Ikea's cribs. Don't worry; you didn't have to take the urine-soaked letter into Ikea to redeem your coupon.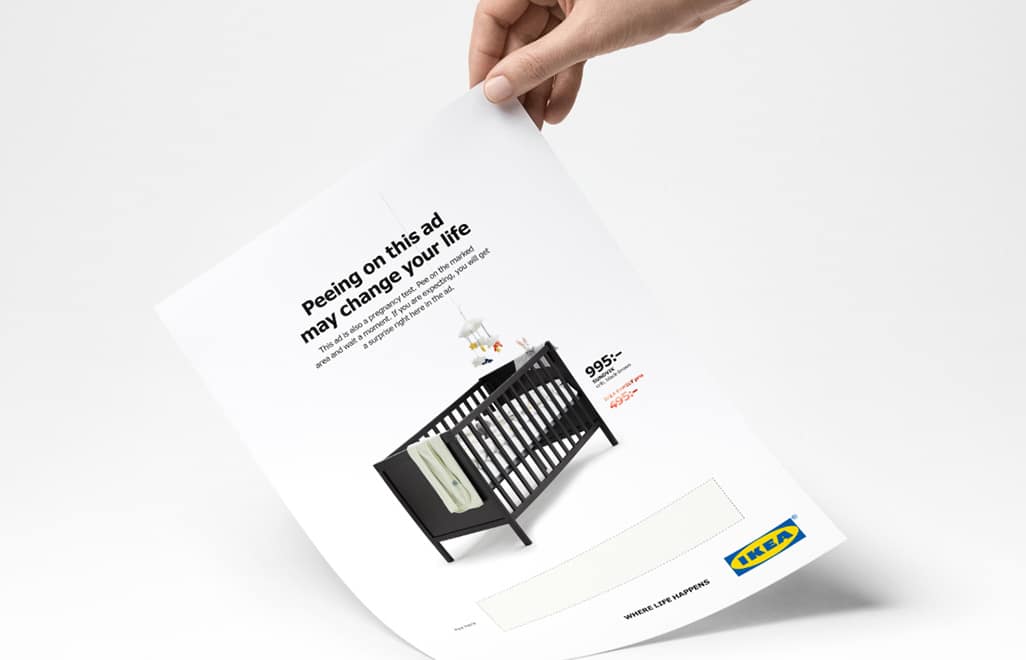 This is one of the most unusual direct marketing examples we've seen in a while. However, it's effective for various reasons. First of all, the ad is unique – it did something that no-one else was doing at the time. Secondly, it appeals to a specific customer – as all direct marketing campaigns should. The ad also asks people to join up with a long-term Ikea membership to redeem more discounts, leading to potential brand ambassadors.
Though it was an offline promotion, Ikea's ad was so effective that it generated buzz online too.
2. LavOnline: Tomato Splat
An older and lesser-mentioned direct mail advertising campaign was created by a company called 'LavOnline'. The business wanted to let people know about their laundry service, and how good they were at removing stains from almost anything.
LavOnline decided to infuse some of their brand personality into their direct marketing campaign by giving customers an opportunity to have some fun. Customers in the local area were sent a box with a splattable toy tomato. When you unfolded the box, it became a T-Shirt, complete with a target for you to aim your tomato at.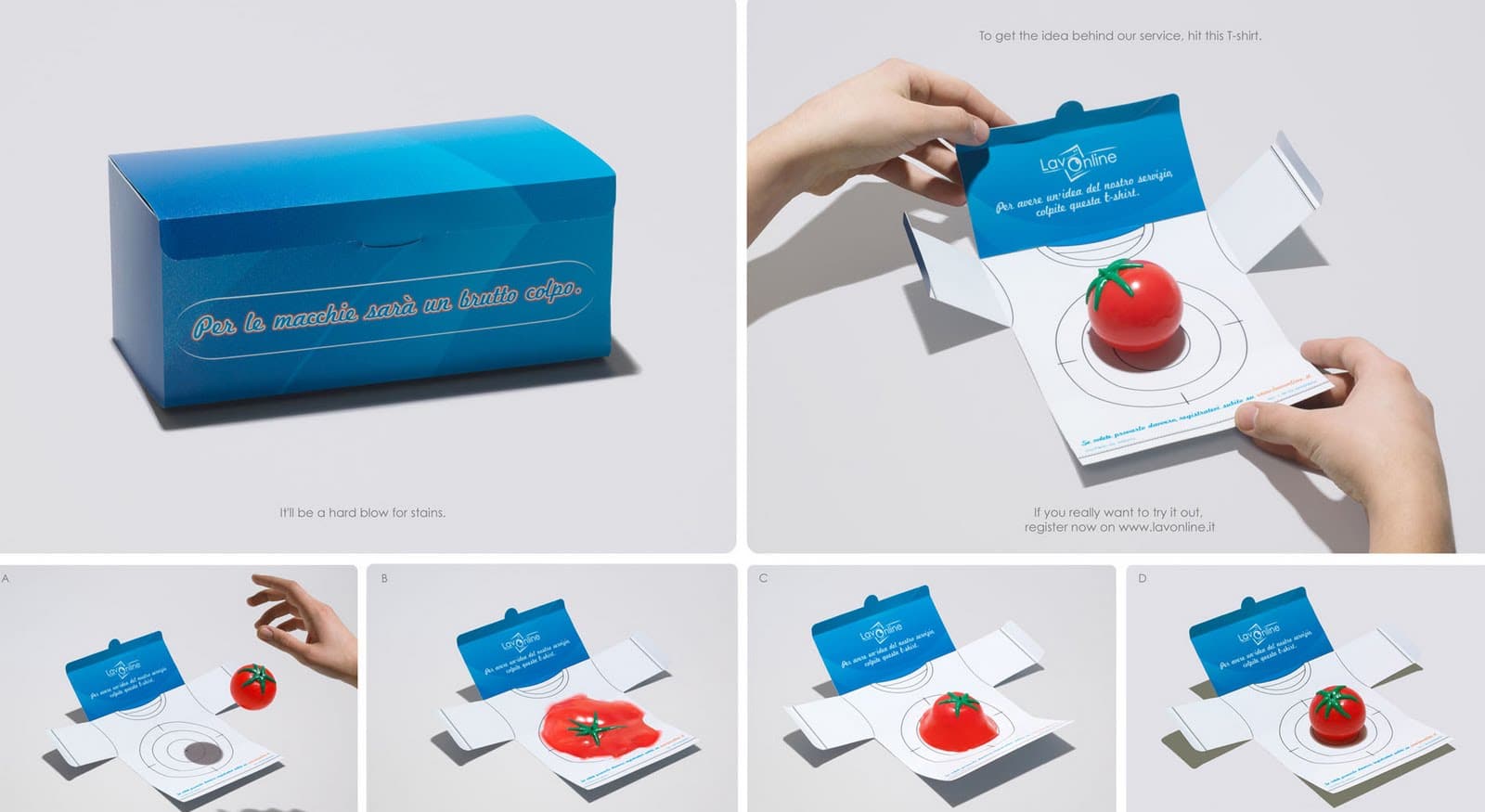 Like the Ikea ad, the LavOnline direct marketing campaign appealed to a specific target audience and brought a creative side to a simple mail strategy. With this promotion, LavOnline showed their value to customers and demonstrated their unique character too.
3. WVRST
WVRST is a hall-type restaurant in Toronto, Canada, that specialises in craft beer and cider. Another thing that the brand takes seriously? Sausages. With their direct marketing campaign, WVRST wanted to convince their audience that they were the ultimate place to go for artisan sausages and great drinks.
When planning their grand opening, WVRST decided to generate some extra buzz with a direct marketing campaign that doubled-up as an invitation to the new must-see destination. The tongue-in-cheek merchandise ads were t-shirts rolled up into the shape of sausages. These invitations weren't for just anyone, but hand-delivered to influencers, bloggers, and food critics who could help the business grow.
Wearing your shirt to the restaurant on opening night meant you got a free sausage of your choice. The campaign generated so much hype that the queue for the big day went around the block.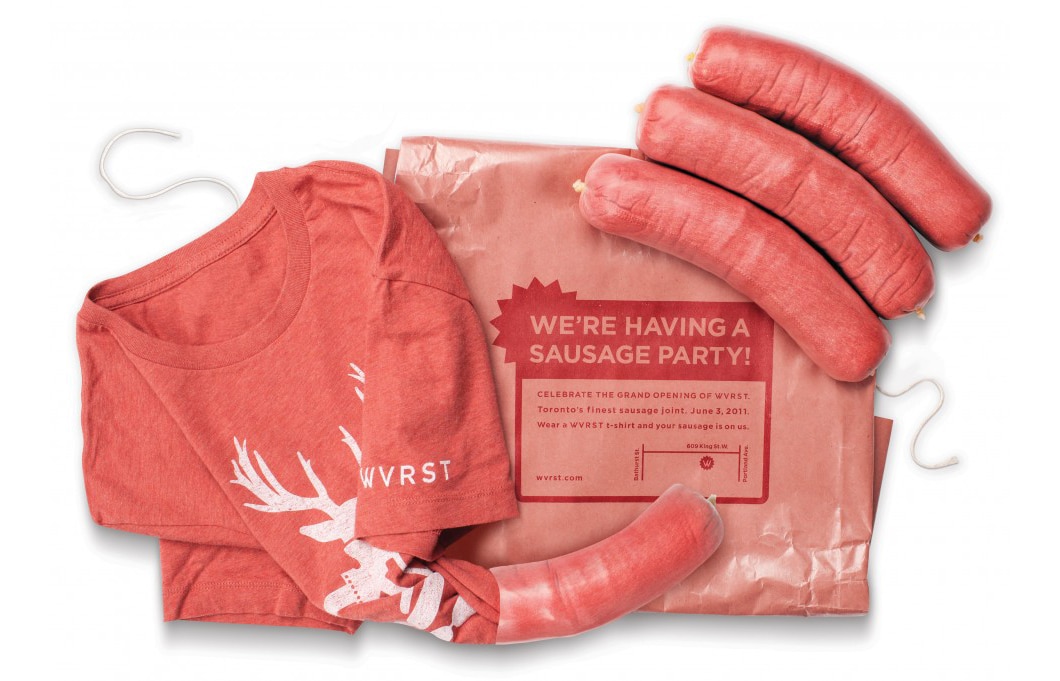 This innovative direct marketing campaign was effective because it targeted a specific audience and invited those people to become part of a community with exclusive swag. On top of that, WVRST gave their promotional a personal touch by hand-delivering each campaign.
Demystifying direct marketing: Tips for your direct marketing campaign
The primary goal of a direct marketing campaign is to convince your audience to do something that will deliver tangible, measurable value to your business. Whether you decide you want to drive subscriptions, improve sign-ups, or request more information is up to you. The key to success is just making sure you're sending the right message, in the proper format, to the correct people.
Direct marketing, like many advertising strategies, doesn't come with a one-size-fits-all guide for success. The channels you use and the campaigns you run will depend on your business goals and the preferences of your target audience. However, as a company that works on marketing campaigns all the time, we can offer a few tips on how to get started.
1. Know the customers you want to target intimately
The best direct marketing examples are effective because they speak to a specific target audience. Direct marketing isn't just generalised advertising, it's a carefully constructed message to a particular person, about a problem that you can solve. This means that you need to know your consumers inside and out before you can begin building your strategy.
Gather as much information as you can about your audience's pain points, the things they want most from their favourite companies and the kind of language you'll need to use to resonate with them. Tone of voice can go a long way in direct marketing. Don't rely on guess work either; you can find useful information in:
Focus groups.
Social media polls.
Email questionnaires.
Landing page questions.
Measurable metrics online.
Behaviour analytics.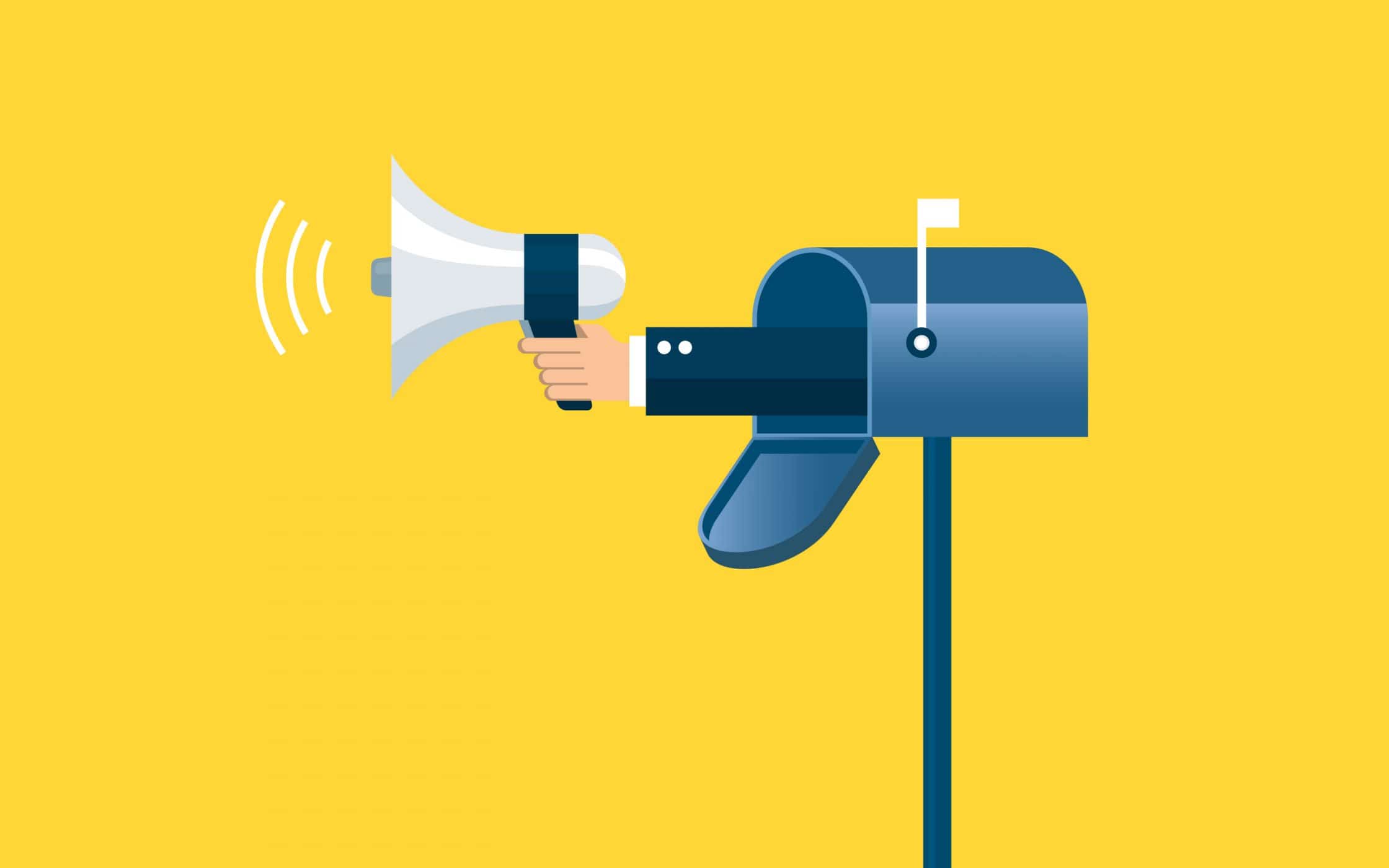 2. Think outside of the box
Today, consumers are more empowered and complicated than ever. No-one wants to receive a cold call from a company talking about their latest product, or a boring letter in their mailbox. As broader digital marketing campaigns grow more popular, if you want your direct marketing strategy to improve brand awareness and business results, you'll need to be creative.
A standard red flier with 'SALE' written on the front isn't going to grab any attention when your customers get several pieces of mail a day. Alternatively, if you're innovative with your direct marketing campaign, you could end up with an audience response that spreads across channels, and even into the online world through social media. Brainstorm ideas while asking yourself the following questions:
How will my customers use my product/service?
What are my customer's needs and expectations?
How can my clients recognise my brand?
What social, cultural, or life-stage ideas can I pull off?
How can I make an emotional connection with my audience?
3. Look for ways to build customer loyalty
Once you understand your customers and you have a few ideas in mind, you'll need to build a strategic direct marketing plan that speaks to that consumer. Remember, direct marketing doesn't just have to be about convincing someone to shop your latest sale or check out your new restaurant launch. One of the main reasons that companies use direct marketing today is that they want a way to build longer-lasting relationships with their niche audiences.
Direct marketing requires more planning and research than most marketing plans. The more you work on refining your campaigns, the more you'll learn about how to transform standard customers into devoted fans for your brand. You can even segment your direct marketing plans to suit specific audiences. For instance, you can send direct mail ads to your existing customers with a 'loyalty discount', and separate campaigns to new customers with a 'sign-up discount'.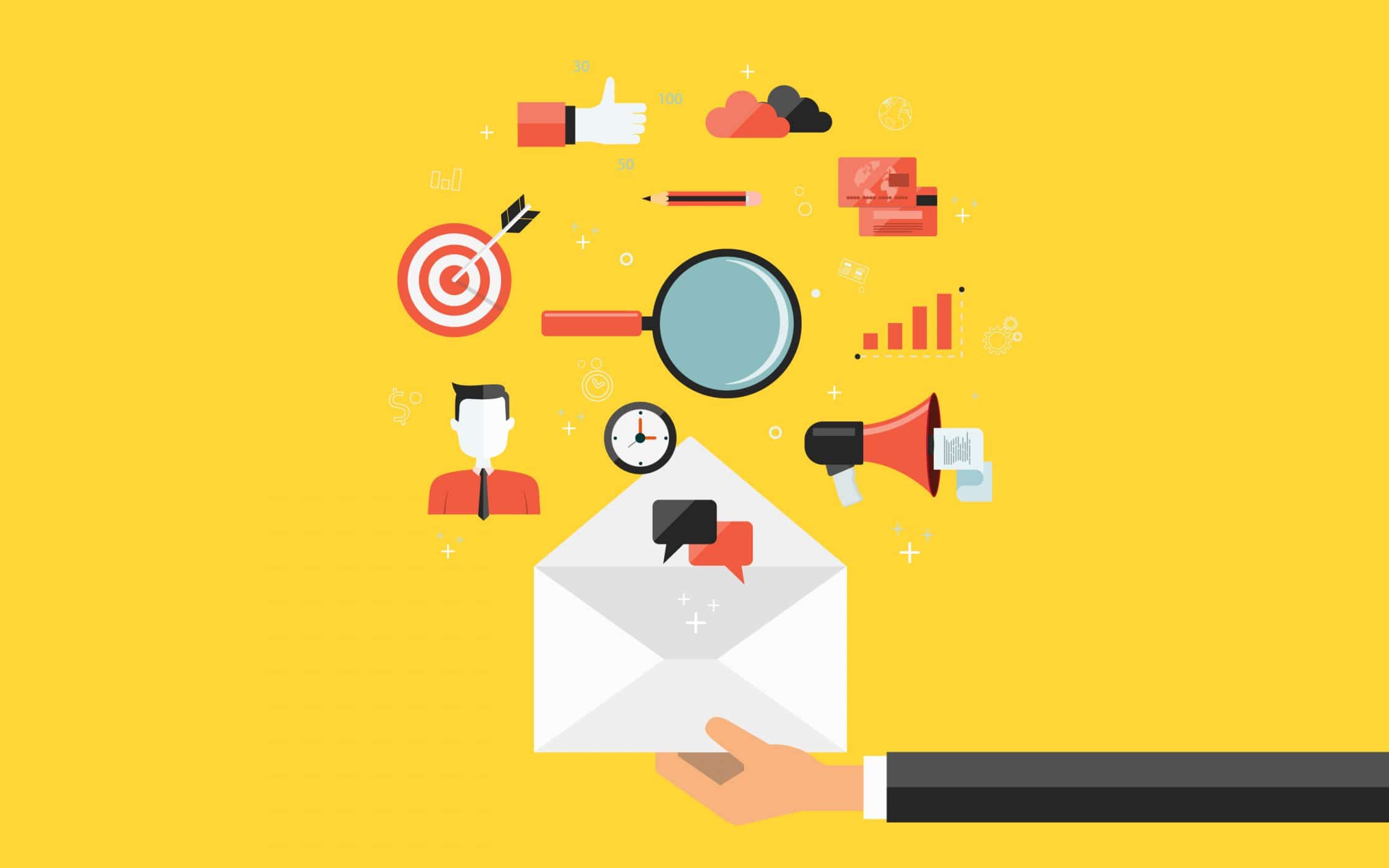 What is a direct marketing channel? Platform-specific campaigns
Direct marketing campaigns differ according to various factors, including your target audience, and your preferred channel. The focused nature of direct marketing means that it's crucial for companies to know how they can take advantage of each channel.
For example:
On social media channels:
Direct marketing on social media isn't just about sending messages out into the void. On social media, brands are expected to engage in valuable conversations with their target audience. This means that you'll need to respond to any questions your customers have about your ad and offer them additional information where necessary. The good news is that many social channels make direct marketing simpler by allowing you to create highly-specific ads according to demographic data like location, age, or even customer hobbies.
Over email:
If you prefer online direct marketing over offline options, you can also consider email marketing. The critical thing to remember here is that you need to make your subject lines and introductory text as compelling as possible to ensure that your audience clicks through to your content. Measure your click-through and engagement rate using email marketing tools and remember to A/B test each campaign carefully. Something as small as a specific adjective in your subject line can drastically change how readers resonate with your emails.
Via direct mail:
Probably the best-known form of direct marketing, mail involves sending catalogues, letters, and other content out to your customers through the postal service. The important thing to remember with direct mail marketing is that it needs to grab and hold customer attention. If your audience throws your marketing message out with the rest of the 'spam' email they get in their mailbox; you won't get anything.
The great thing about direct mail advertising is that it gives your customers something tangible to hold in their hands. This means that you can go beyond simply writing great content and using the right colours. With direct mail, you can provide an offline experience for your audience.
Other options include:
Internet marketing.
Face-to-face selling.
Telemarketing.
Direct-response marketing.
Event marketing.
Remember, although each direct marketing channel comes with its own specific nuances to consider, that doesn't mean that you can't see benefits by combining some of them. In fact, making sure that your direct mail ads link back to your social media campaigns is a great way to generate a stronger online presence, and improve the performance of your ads.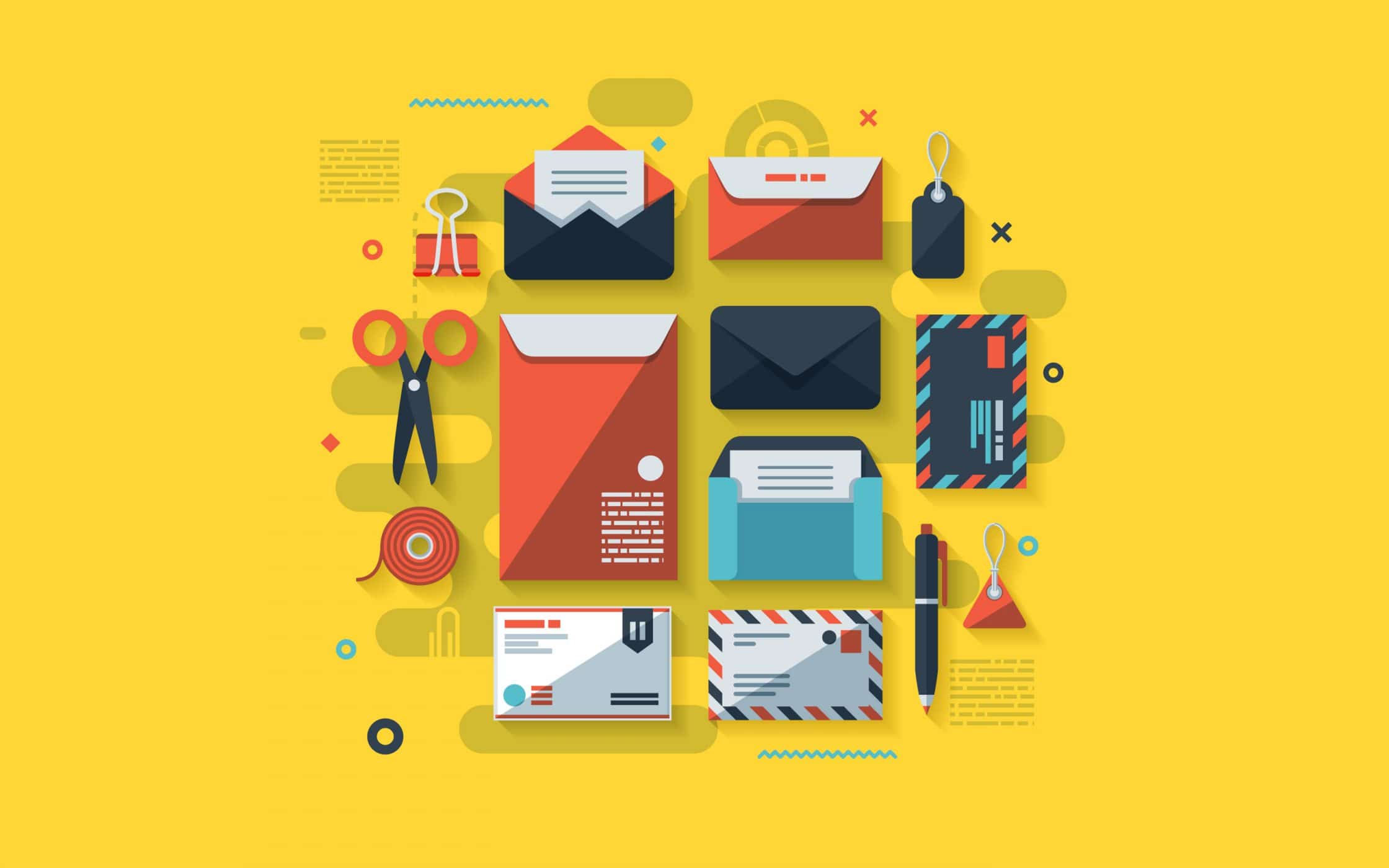 Need some help? What is a direct marketing agency?
Direct marketing is just another string on your advertising bow. Often, the most direct marketing campaigns are the ones that correspond with other promotional efforts. After all, the more avenues you use to connect with your audience and build lucrative relationships, the faster your brand will be able to grow.
Direct marketing campaigns target people who are most likely to be interested in your offer. This means that companies can avoid the 'spray and pray' approach to advertising that means significant expenses, and minimal results. However, as with most things in the advertising world, the type of direct marketing that will work for your business depends on your budget, your industry and the consumers you want to target.
One of the best features of direct marketing is that it gives you a straightforward way to speak to a highly bespoke target audience. However, just because there aren't any 'middlemen' in direct marketing doesn't mean that you have to figure everything out on your own.
A direct marketing agency can help you to understand which form of promotion will work best for you, and how you can find the custom audience you need to target.
A direct marketing agency can even eliminate some of the common concerns associated with advertising by making sure that an aggressive approach doesn't harm your reputation. With these campaigns, you'll need to make sure that you adhere to contact and privacy laws in your local area, like GDPR, for instance.
Want to learn more? Contact Fabrik today!
If you enjoyed this article, you might enjoy these too:
—Finding brand equity: The search for commercial value
—Better, faster, stronger: Conducting a SWOT analysis
—Out of sight, out of mind: Rejuvenating brand recall