Is Envato Elements worth it? An honest Envato Elements review (2023)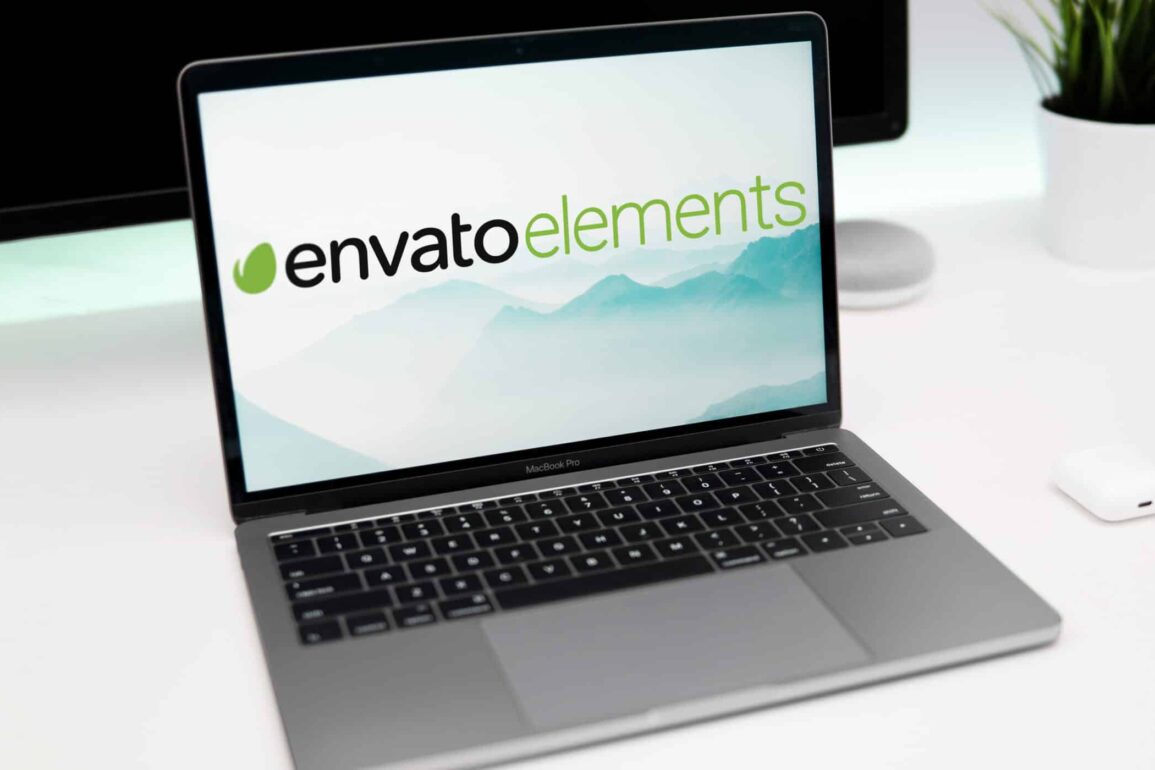 Is Envato Elements worth it? You might ask this question if you're looking for a royalty-free website to download videos and stock photos. Envato Elements is one of the most popular platforms for finding this kind of content, but doing your research before committing to a purchase is wise.
Envato Elements has millions of photos and a wide selection of stock video footage from numerous categories. You can use your license on multiple platforms, from social media accounts to work with your clients – though this will vary slightly, depending on your chosen plan.
With so many other options, knowing precisely what you can and can't do with Envato Elements is crucial. And today, we will provide you with a comprehensive Envato Elements review.
You'll find out about pricing, alternatives, and much more. But first, let's start by discussing how we put this review together – so you better understand the metrics for making the best possible decision.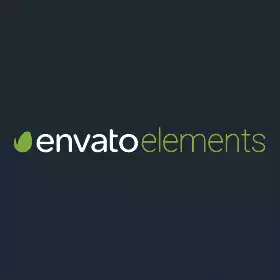 Envato Elements
If you need extra support to tell your story, subscribing to Envato Elements might be worth considering.
With your subscription, you will gain access to an extensive collection of resources and unlimited downloads each month. you can rest easy knowing that you have permission to use your content on multiple platforms.
Check out Envato Elements
Introduction: How we created this Envato Elements review
When putting together this Envato Elements review, we thought most of all about the type of people who would need a guide like this.
Looking for stock footage and photos is a challenging prospect for many individual creators, such as YouTubers – who might be unable to get the B-roll needed to bring their videos to life.
Freelancers might also be looking for Envato Elements and similar platforms to ensure that they can produce the best possible content for their clients. In these cases, the quality of what they can download is essential – but thinking about licensing is also crucial.
The same goes for businesses trying to make unique content stand out above their competitors.
Speaking of businesses, we also factored in how big your budget might be – as a lot of royalty-free footage platforms can cost quite a lot of money.
On top of that, we also figured that you would like to have a better understanding of what genres were available – and whether these would be generic or something more interesting.
To help you make more of an informed decision on whether you should choose Envato Elements or something else, we also compared the platform to some of its main competitors. After reading this review, you can give Envato Elements a test drive by signing up for a free seven-day trial.
What is Envato Elements?
When determining "is Envato worth it?", we first need to talk about what it is.
Envato Elements is a royalty-free stock footage platform. The service is one of the most established names in this space, and it has been around since 2006. Envato Elements mainly focuses on stock footage and video, offering millions of options in both of these respects.
Over time, however, Envato Elements' offerings have evolved. You can use the service for a broad selection of things now, and we'll go over many of the best ones later in this article. The tool is used by over 500,000 people around the world, and it offers multiple subscription options.
You can use Envato Elements as an individual, but it's also possible to create a membership where you invite multiple team members. When subscribing to a plan of this kind, you can add up to five people to a single team.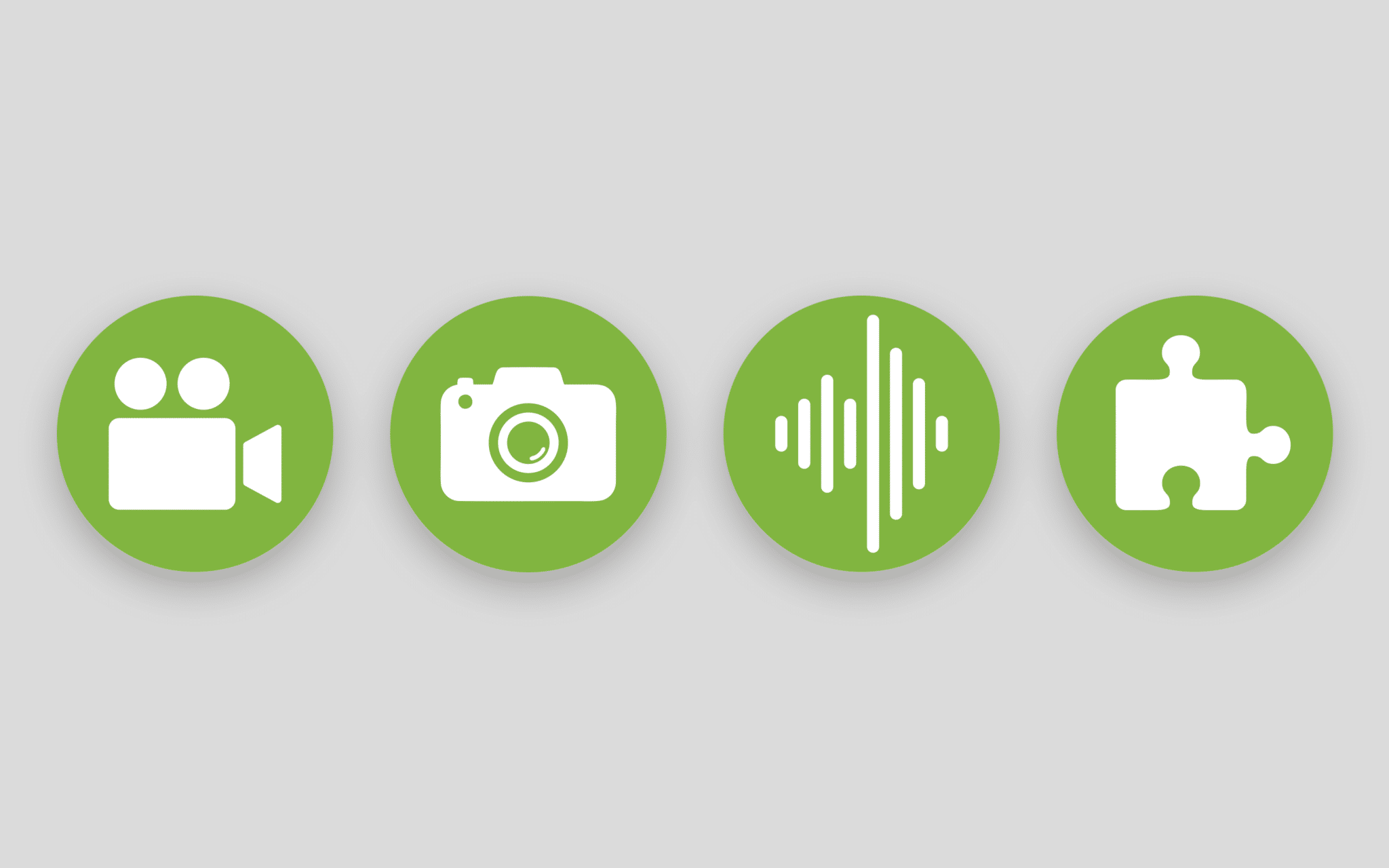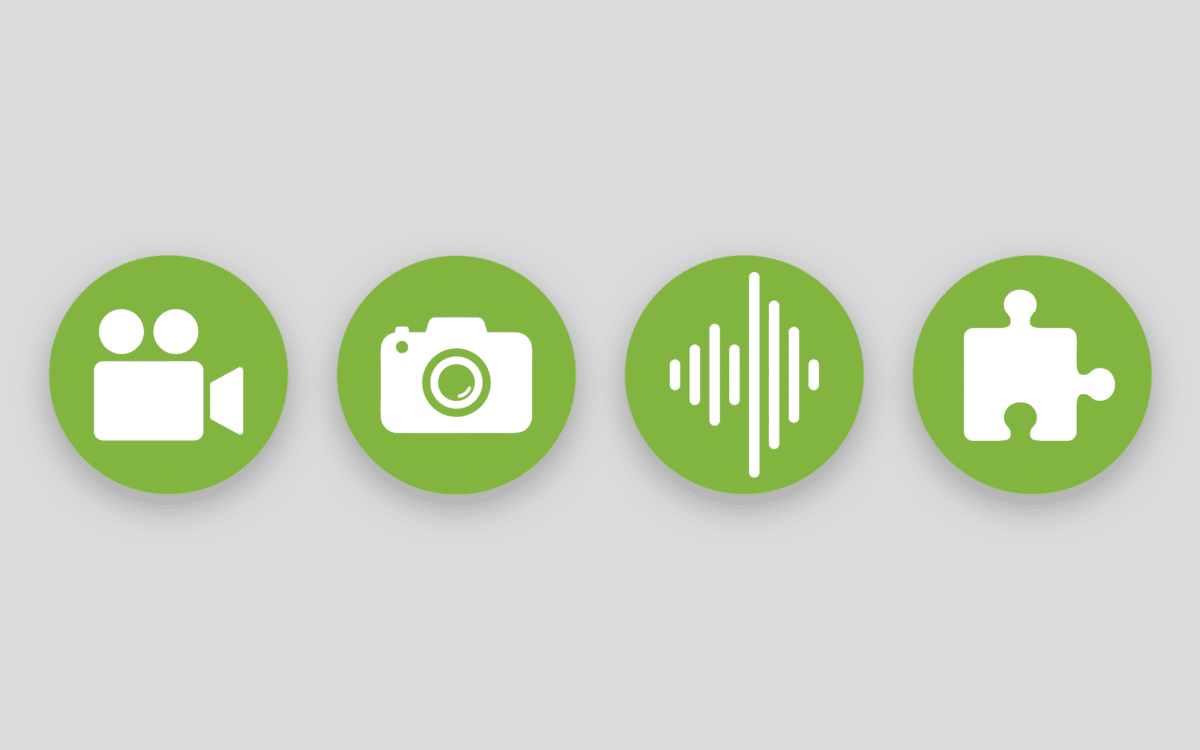 Envato Elements features
Now that you know more about Envato Elements, let's look more deeply at its top features. Below are some of the top things you can use the program for; to make everything easier for you to digest, we've broken it all down into different subsections.
Stock videos
Stock videos in Envato Elements are plentiful, and you will find around four million options. These videos cover numerous categories, such as travel and business. You'll also find numerous stock videos related to nature, lifestyle and a broad selection of other niches.
When using stock videos in Envato Elements, another nice thing is that you have a lot of customization options when filtering your search. Depending on your needs, you might be okay with 1080p videos – but in other instances, you may need 4K footage instead.
In Envato Elements, you can decide on more than the image quality. You've got several options when picking the frames per second (fps), meaning that you've got a better chance of choosing something that matches the timeline settings in your editing software.
Besides videos, Envato Elements also has several motion effects.
Photos
Videos are a crucial part of creating online content and brands these days, but they're not the only important thing you should consider. Photos are also essential for social media, websites, and much more – and they can help to really tell the story of your brand.
We actually think it's better to get a professional photographer for your brand, but you can use stock images if you're only just getting started.
Envato Elements has around seven million images to choose from, and like video content, these span across several categories. You can pick your photos based on numerous filters, such as the colors you need for your branding and how many people need to feature.
On top of that, you can decide whether you need landscape, portrait, or square images.
Sound effects
While you want your brand to be visually appealing, the reality is that sound effects are also important. If your videos don't appeal to that side of things, you face an uphill battle to retain your target audience. Luckily, you can find a wide variety of sound effects in Envato Elements.
You can discover things like city sounds and other things you'd hear in everyday life, but that's not all. When downloading from Envato Elements, you also have the ability to choose music that can soundtrack your content.
The music on Envato Elements covers various moods, and you can pick from a number of instrument types as well.
Other elements available
This Envato Elements review has so far covered the most important features you'll find, but they're not the only ones.
You could put in a good case for Envato being the most rounded royalty-free assets platform, and you'll find things like graphics and graphic templates that you can also use in your projects.
If you need fonts, you can also choose various options in Envato. Moreover, you can get add-ons for different programs – including Adobe Photoshop and Premiere Pro. These add-ons include photo presets, effects, and much more.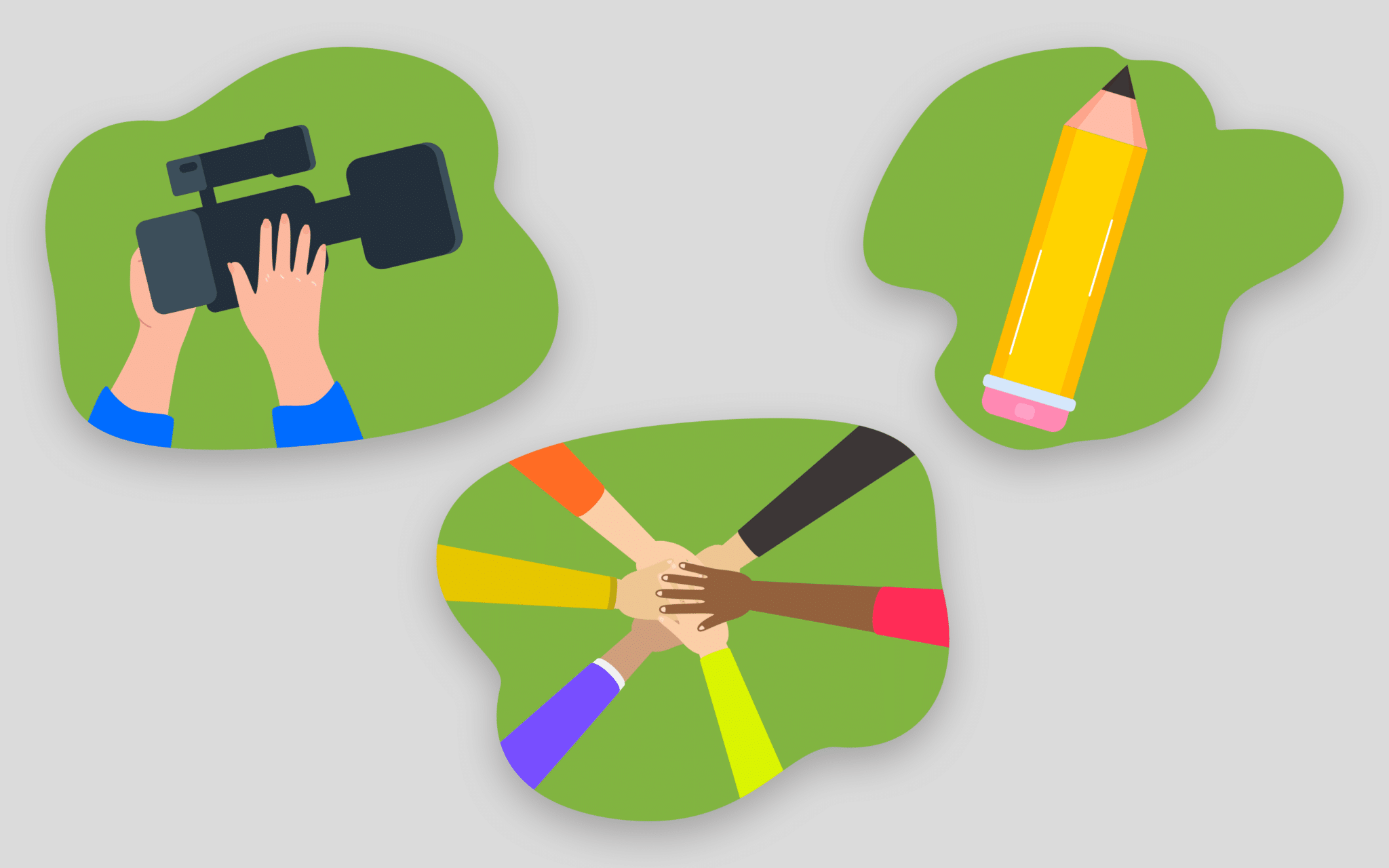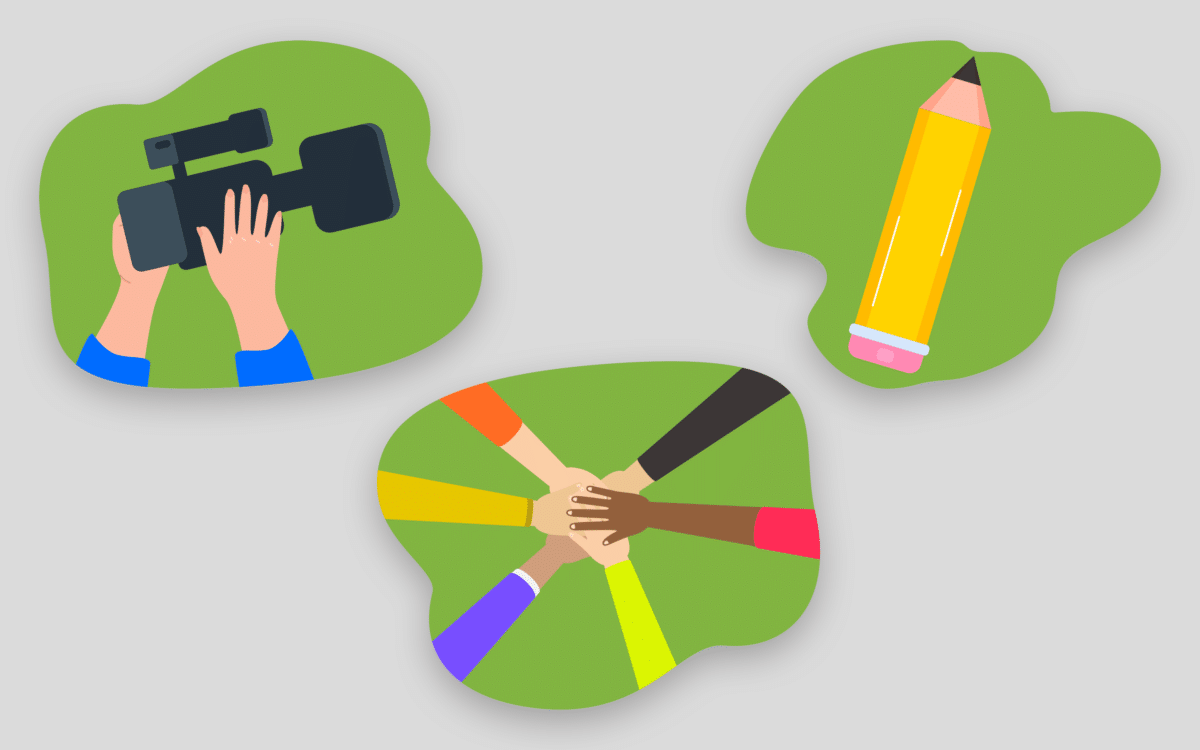 Who is Envato Elements used by?
Having read this far, you should have a better understanding of what Envato Elements is – along with the types of assets you'll find on the platform. Now, let's look at who's more likely to use the platform.
YouTubers
For those that make a living from YouTube, thinking of ways to engage audiences is essential for long-term growth. And if you look at many of your favorite creators, you'll notice that they often use stock footage and music to make their storytelling more impactful.
Envato Elements is one of many royalty-free platforms that YouTubers can use to grow their audiences, and it helps that everything is in one place. With some other websites of a similar nature, you've got to choose from different memberships, and things can get quite tricky to manage.
Filmmakers
Even if you make videos away from YouTube, you can still find several benefits from using Envato Elements.
For example, you can use the footage and sounds in videos you make for your clients. You can also ensure that businesses you work with are able to use these across their own networks – though we recommend reading more about licensing rules here.
Designers
People creating video content aren't the only ones that can benefit from using Envato Elements.
If you're a graphic designer of some kind, you might also find that this platform is worth using. Envato Elements has several stock photos that you can incorporate into your designs, along with numerous graphic templates.
Web and UI/UX designers can also benefit from using Envato Elements as part of their project workflow. You'll find several site and email templates, along with others designed for landing pages and more. And like graphic designers, you can benefit from the number of images ready for downloading.
Small business owners
Even if you're doing something that you're passionate about, running a small business can require a lot of effort. Focusing on your product or service is essential, but it's all in vain if you're unable to market yourself to anyone.
The good news is that even if you have a small budget at first, you've got plenty of options for building your audience.
Websites like Envato Elements are often the first place that many business owners go to when they're looking to build their audiences.
You can use the various templates and photos to talk more about what you do, and they'll give you a headstart – even if you need to teach yourself the basics of marketing beforehand.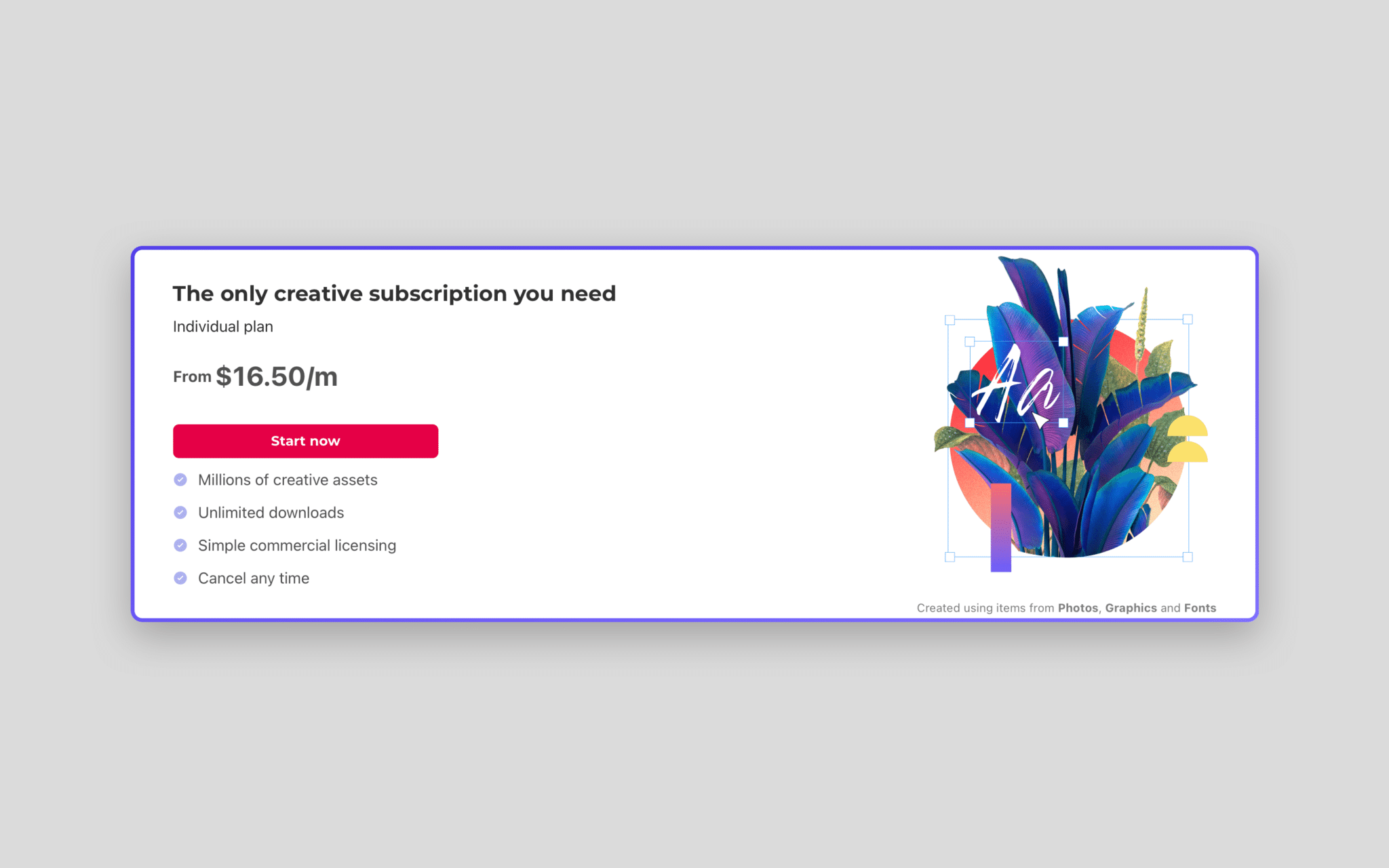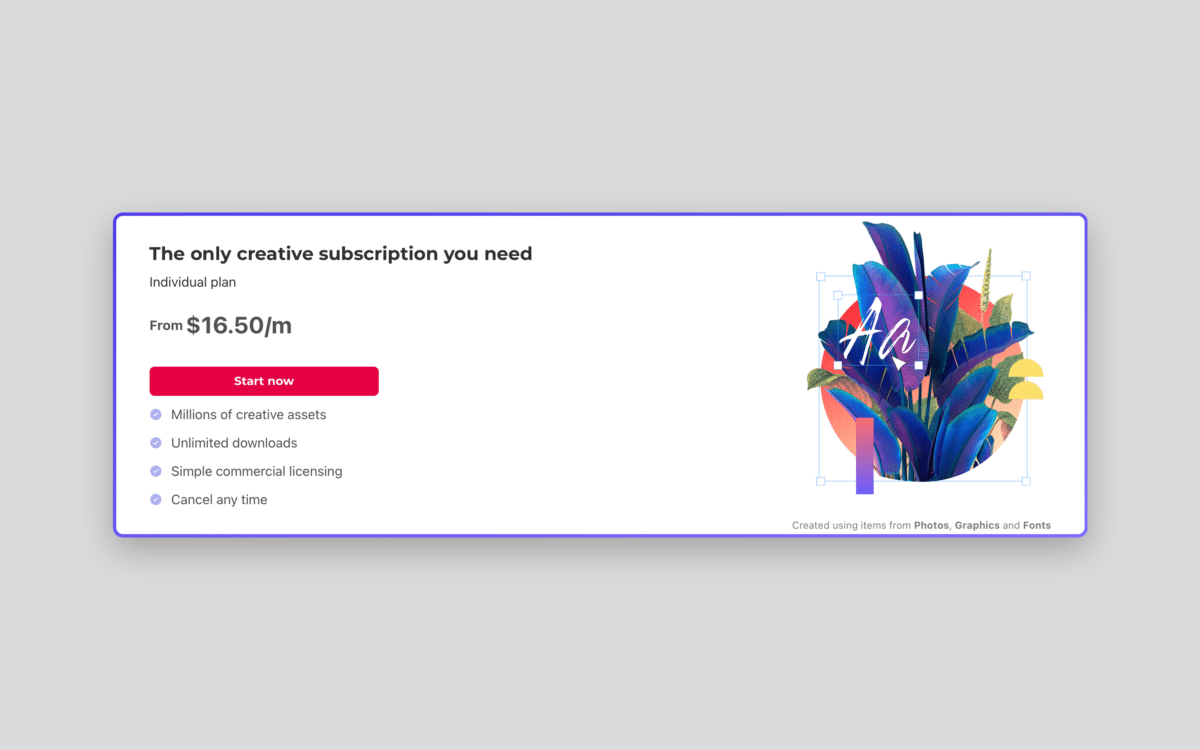 How much is Envato Elements? Envato Elements pricing
With the most important features in Envato Elements now covered, let's look at how much the service costs.
Pricing for Envato Elements depends on where you live and the plan you choose. But for the sake of simplicity, let's look at the US. The service costs less if you pay for an annual subscription, with an individual plan costing $16 per month if you get a yearly plan.
For the month-to-month version, you'll pay $39/mo instead.
If you're a student, you can get a discount on your Envato Elements subscription. Instead of paying $16/mo for annual subscriptions, you'll pay $11. Meanwhile, the monthly cost is $33 for rolling month-to-month plans.
You can also get several subscriptions if you're part of a team, ranging from 2-5. A subscription to a two-person plan costs $29/mo (annual subscription) and $58/mo (monthly).
The other pricing plans for Envato Elements are as follows:
3 x members: $37.25/mo (annual); $74.50/mo (monthly);
4 x members: $45.50/mo (annual); $91/mo (monthly);
5 x members: $53.75/mo (annual); $107.50/mo (monthly).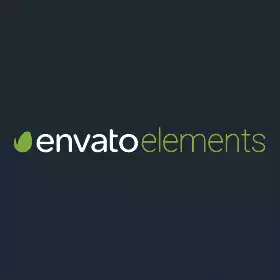 Is it worth paying for Envato Elements?
Is Envato Elements worth buying?
Envato Elements might seem a bit pricey for some people, so it's worth thinking about whether purchasing a plan is worth it for you. The answer to this question is that it depends on your needs.
If you need a broad range of assets, which is often common for businesses, then you might find that paying for Envato Elements is a good idea. Compared to some of the other best stock footage and royalty-free sites, Envato Elements caters to a wider range of genres.
Similarly, you may find that Envato Elements is a worthwhile purchase if you're part of a larger team.
The discounts for team members are quite significant, especially if you sign up for an annual subscription. You will likely find it easier to keep everyone within one plan than having lots of people choosing different things. Moreover, it'll help you achieve brand consistency.
Is Envato Elements good value for money?
If you're an individual, Envato Elements might be worth buying if you get an annual subscription – especially if you create a lot of content.
You'll get unlimited downloads when you sign up for a plan, meaning that you can get significant value for money if you need to make stuff for your clients – or yourself – on a regular basis.
However, some people might not find Envato Elements a worthwhile investment.
For example, you might want to think twice about getting the tool if you're looking to make your brand truly stand out with unique visuals. Stock footage is a good starting point, but you may find that it's quite generic once you grow.
Similarly, you may want to think about choosing an alternative if you need more photos or videos. While Envato Elements has a wide selection, others may be better suited to what you're looking for.
In terms of asset availability, Envato Elements is good value for money based on the volume. You can choose from several types of media, meaning that you only really need one membership.
Is Envato Elements worth it for a small business?
When you're a small business owner, your demands might differ from a freelancer, individual creator, or student.
In some cases, Envato Elements can be worth getting for your small business. Getting professional photos and whatnot is expensive, and in the beginning, the best option is to get your message and brand name out there in the most efficient manner.
You can use Envato Elements to make promo videos and populate the pages on your website. Moreover, you may find it handy if you're looking to develop covers for your blog posts – and you can similarly use the images and footage on Envato Elements for your social media pages.
But as your business grows, you might want to go for visuals that make you stand out. And the best way to do that is by hiring someone to take photos and videos for your business.
The return on investment is worthwhile in the long run, and people will likely feel a greater affinity to your products and services when you add more of a personal touch.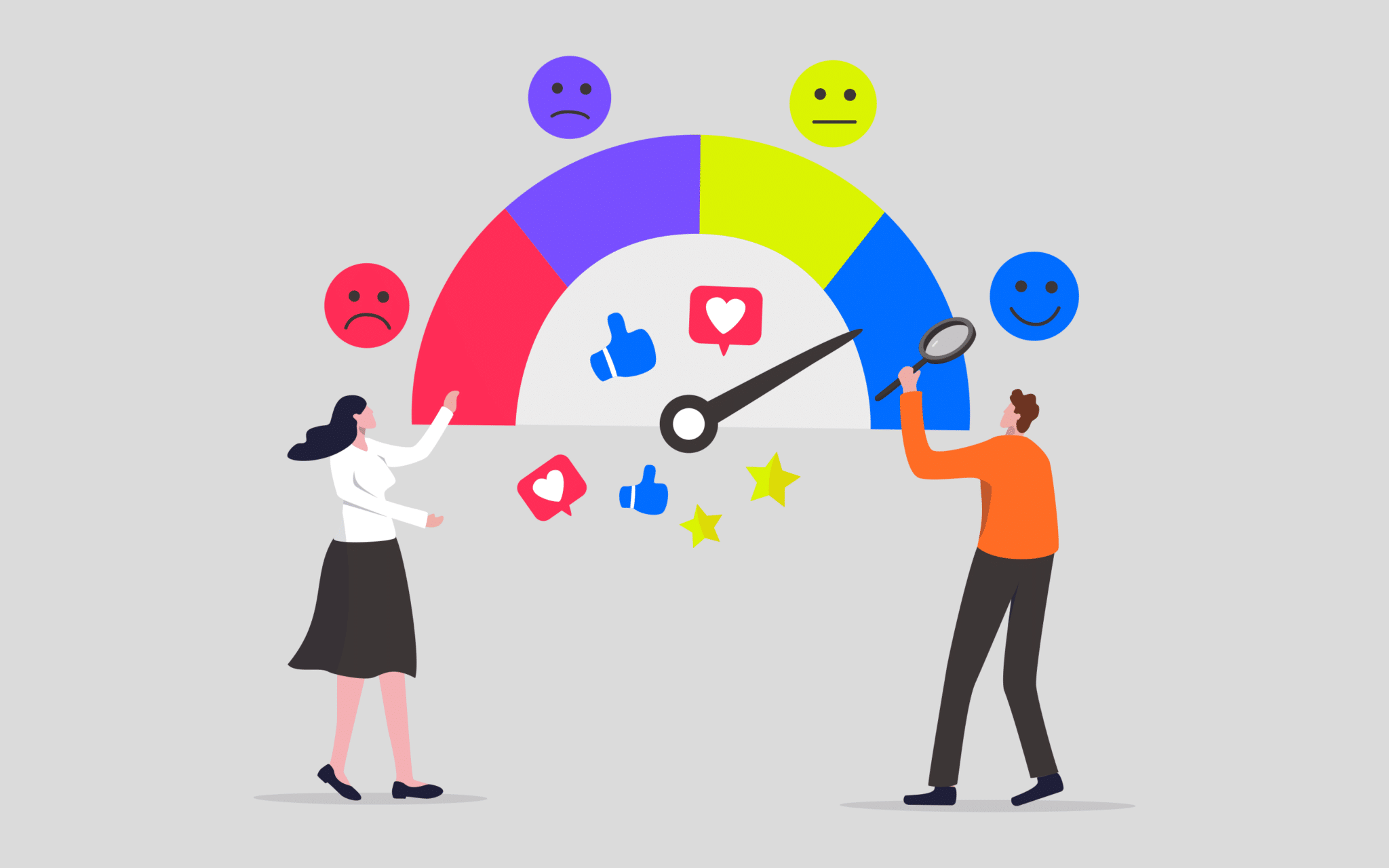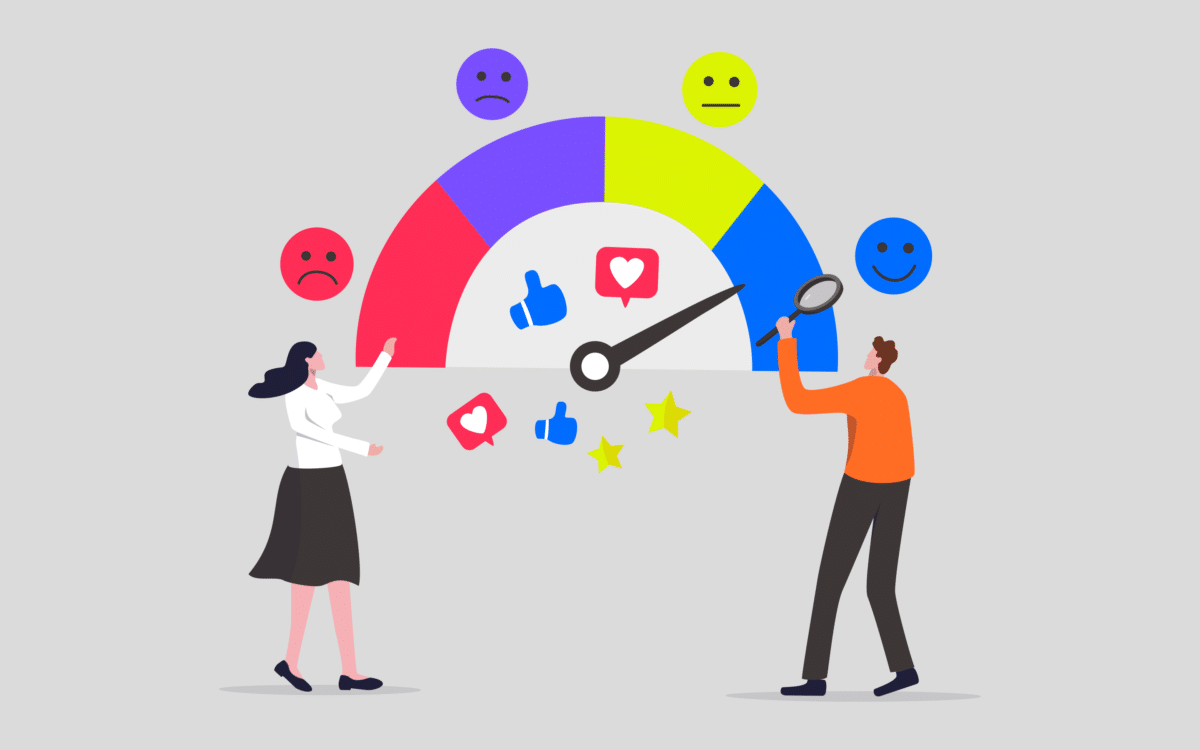 Advantages of Envato Elements
To help you make a better decision based on Envato Elements reviews, let's now check out the pros and cons of using this service. First, we'll talk about the advantages of signing up for a membership.
Lots of different royalty-free assets are available
As we've mentioned in this article already, one of the best things about Envato Elements is that you'll find a wide selection of royalty-free assets. You can use the service for video footage, and you will also find a good range of photos to choose from.
Beyond that, you can pick different templates and discover add-ons for apps you may already use.
Easy pricing
With some stock websites, you'll need to buy a set of credits to then purchase the assets you need. Some of these don't expire, whereas others allow you a maximum number of credits each month.
Envato Elements, on the other hand, is simple to understand. You pay a monthly or annual fee and get unlimited downloads.
Your license is valid across multiple sites and platforms
Another thing to consider when choosing a royalty-free platform is where your license is valid. The good news is that Envato Elements is available in numerous places. You can use your assets on YouTube, along with many of the biggest social media networks.
Find a selection of files for free
Each month, Envato Elements offers a selection of files that you can download and use for free. So, if you aren't ready to sign up for a full plan, you can test these to determine whether you want to invest more of your money into the service.
Multilingual options
If your mother tongue isn't English, or some of your team members speak a different language, you may benefit from the fact that Envato Elements is available in numerous languages. You can use the service in English, German, Brazilian Portuguese, and three other languages.
Unlimited downloads when you sign up for a subscription
Perhaps the biggest selling point in this Envato Elements review is that you get unlimited downloads when you sign up for a subscription. So, if you produce high volumes of content, you'll likely find this particularly helpful.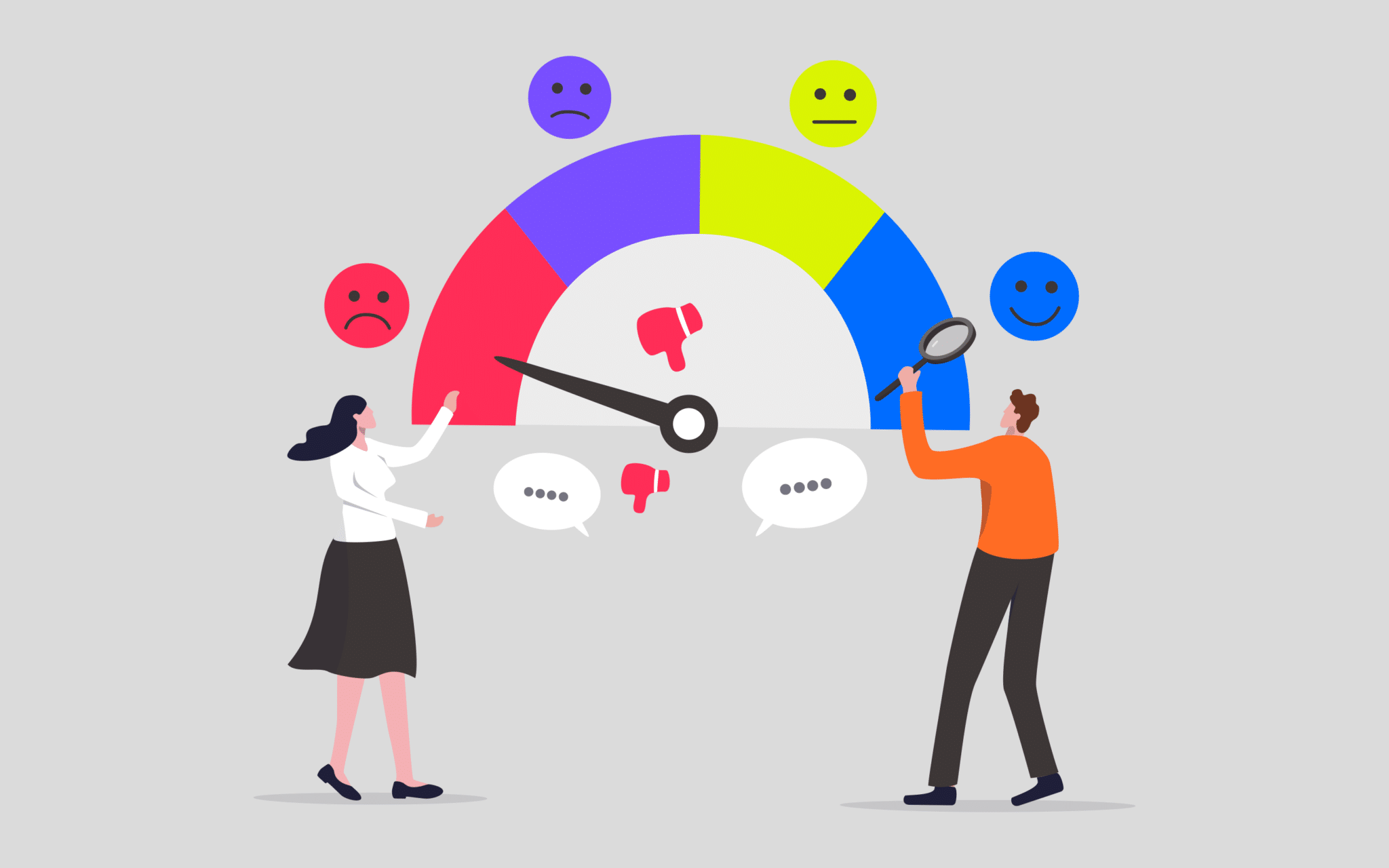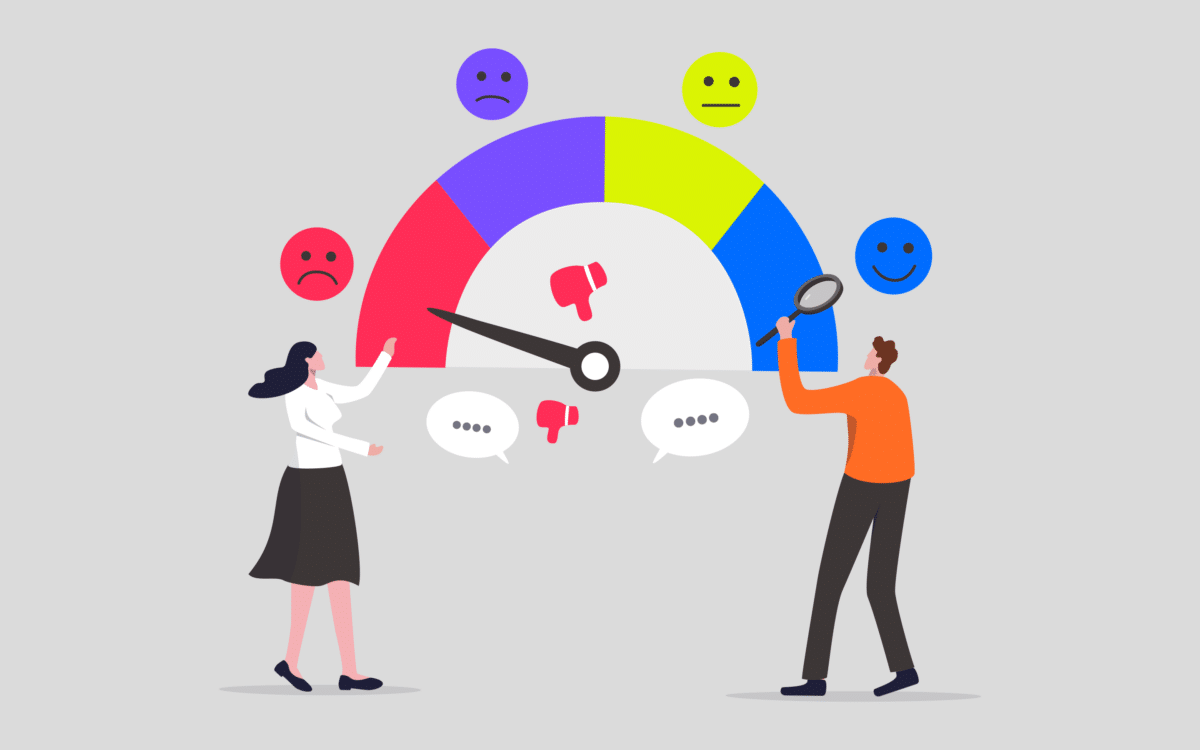 Disadvantages of Envato Elements
Despite the numerous benefits of using Envato Elements, it's not all sunshine and rainbows. You'll also need to consider the disadvantages of using the platform before you commit to a purchase.
You might find that some of the images and videos are quite generic
While Envato Elements does have a broad selection of visual assets, you might find that some of them are too generic. As a result, you may struggle to make your brand stand out compared to some of your competitors.
Besides pricing, it's worth looking at some of the other royalty-free platforms before committing – to see if you can find anything that better fits your needs.
Limited options in terms of photos than what you'll find on some of the other major stock websites
While you will find millions of photos and videos, your options are still somewhat limited compared to some of the other major platforms. For example, Adobe Stock has hundreds of millions of images.
Which is better: Storyblocks or Envato Elements?
When putting together this Envato Elements review, we figured that it would be smart to compare the platform to some of its competitors as well. Storyblocks is one of the main ones in this respect, and deciding whether it's better than Envato Elements depends on your needs.
Storyblocks offers arguably better-quality video content, and you can choose up to 4K. You'll find millions of clips to choose from, along with photos and more. Envato Elements is perhaps more varied, but Storyblocks offers a lot of excellent options.
In terms of pricing, Storyblocks offers more flexibility in its subscriptions. You can choose a starter plan with five monthly downloads, along with unlimited downloads – though the price is around double what you'll pay for Envato Elements in the latter respect.
Other Envato Elements alternatives
Before we conclude this Envato Elements review, let's identify some of your alternative options. We've already spoken about Storyblocks, and another choice is Adobe Stock. You can use Adobe Stock for images, videos, illustrations, and more.
If you're looking for royalty-free sounds, Artlist is an excellent choice for songs and sound effects. For videos, you can consider using Artgrid instead. Shutterstock also offers video content, along with millions of photos; Getty Images is arguably the best Envato Elements alternative if you're looking for pictures.
Canva has a wide selection of photos, videos, and numerous other elements – along with several templates. Many of these are free, but you can also consider upgrading to Canva Pro.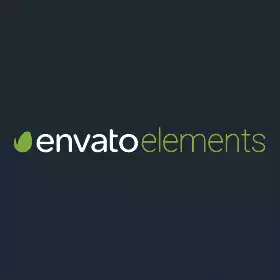 Can I use Envato Elements after the subscription ends?
If you've already created visual content with Envato Elements, you don't need to worry about removing this after your subscription ends. However, you should keep in mind that you won't be allowed to use it in anything new that you create.
Everything you need to know about Envato Elements
Is Envato Elements worth it? The answer is that it depends on your individual needs. If you're new to business or creative pursuit and need extra support to tell your story, you may find subscribing to Envato Elements is a good idea.
You'll find several visual assets, including millions of photos and videos. On top of that, you can pick from a broad range of royalty-free sound effects.
One of the best things about Envato Elements is that you don't have to worry about your pricing options. With your subscription, you will gain access to everything and unlimited downloads each month. Moreover, you're covered to use your content across numerous platforms.
Having read this review, you should better understand whether you should subscribe to Envato Elements. Moreover, you know your alternatives if you want to try something else.
Fabrik: A branding agency for our times.