Famous green logos: Popular companies with green logos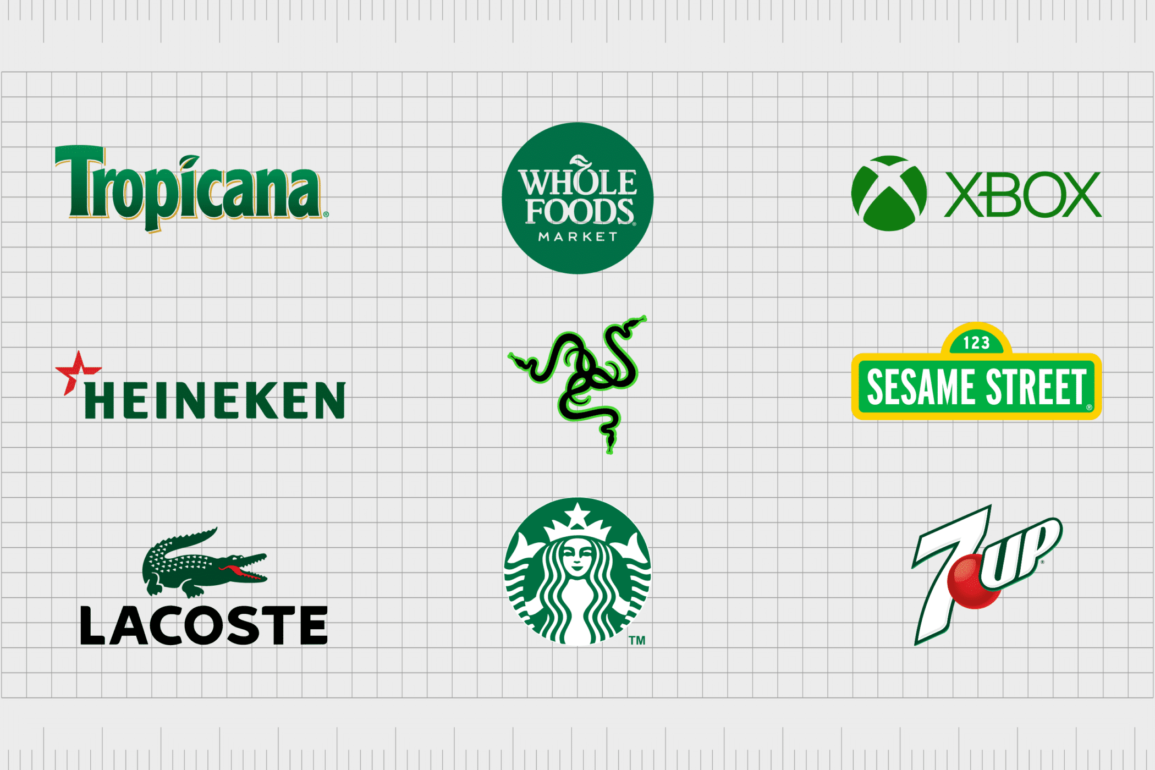 Associated with luck, nature, and security, there are plenty of famous green logos out there, capturing the hearts and minds of customers. Companies with green logos leverage the power of nature to demonstrate their sustainable side or use green to create a motivational impact.
Green is one of the most popular colors in the world, often evoking strong associations with the lush greens of forests, grass, and plants. The exact shades can also be relaxing, as shorter wavelength hues are generally considered less aggressive and jarring.
Studies show green can prompt creativity, reduce stress, and even inspire motivation in the right circumstances. Many people associate this color with optimism and fun, as well as good luck, thanks to four-leaf clovers, St Patrick's day, and similar concepts.
Today, we're going to be exploring some of the most popular green logos from around the world, to further understand the impact of this amazing shade.
Why do companies use green in their logos?
Green is a very popular shade across a wide variety of different industries. Like the world's favorite color, blue, green is calming, relaxing, and non-combative. It's great for appealing to a wide audience from different backgrounds, and of different ages.
In color psychology, green has a host of versatile meanings. Depending on the shade you choose and the context of your logo, you can inspire creativity, motivation, energy, or positivity. Green also frequently appears in the logos of companies who want to associate themselves with nature.
Green logos are common in food and beauty industries, where natural ingredients are a focus point.
Like all colors, green has both positive and negative associations, depending on the circumstances. Certain shades of green can be linked sickliness or ill-health, as well as negative feelings like envy or greed.
Green is also linked to money, which can be both a positive and negative thing.
Today's exploration of brands with green logos should give you a useful insight into how the color green can imbue a business image with additional meaning and depth.
What companies have a green logo?
The versatility of different shades of green, from vibrant, almost neon colors associated with energy, to deeper shades linked to nature and wealth, means green logos can appear almost anywhere.
While some industries like the health, beauty, and food landscapes are more commonly associated with green, there are also excellent examples of green logos elsewhere too.
Get inspired by popular green logos
Famous green logos are littered all over the business landscape today, in virtually every industry you can think of. The color green can link to ideas of wealth and innovation, as well as giving you a natural and organic image if you're situated in the health, beauty or food space.
As you can see from the companies with green logos above, the context of your logo and shades of green you use to depict your brand image can make a huge difference to the impact you create.
As a soothing and relaxing color in most instances, green can offer an excellent alternative to blue if you want to stand out from the crowd.
Green is also a great way to add vibrancy and vitality to a brand image in the right hues. A bright or neon shade of green can have the same energizing effects as yellow or orange.
With a little luck, the green logos above have given you all the inspiration you need to decide whether green is the perfect color for your brand.
Fabrik: A branding agency for our times.
Now read these:
—Famous companies with blue logos
—Well-known brands with red logos
—Popular brands with orange logos
—Today's most famous purple logos
—The timeless black and white logos
—Famous yellow logos with zest appeal
—Standout companies with pink logos
—Exploring the colors of the rainbow