If a friend, colleague, or stranger on the street asked you to name some high-end, designer audio visual brands, there's a good chance that Bang & Olufsen would be one of the names on your list.
As one of the companies considered to represent the pride of Danish manufacturing, B&O has emerged over the decades as a firm that's synonymous with luxury, authenticity, and style. While you might pay a little more cash to get your hands on the Bang and Olufsen design, you're paying for the chance to own something truly unique.
As famous Danish brands go, Bang and Olufsen are one of the best-known around the globe. They've earned their reputation not just for their incredible focus on quality, but also their unique approach to branding, based on a combination of impeccable design, emotional consumer focus, and innovation.
A name that's etched into annuals of Danish history, Bang & Olufsen is a brand unlike any other. Whether you're a die-hard devotee of the company already, or you're just starting to hear about them after the release of their Play sub-brand, it's hard not to be impressed by the experience they offer.
For customers around the world, Bang and Olufsen has delivered more than 90 years of unrivalled technology, along with some unforgettable lessons in marketing and branding. With the launch of our new series exploring distinctively Danish brands, we couldn't think of a better business to help get us started.
Come with us on an exploration of the Bang and Olufsen brand strategy, and discover what you could learn from this Danish legend.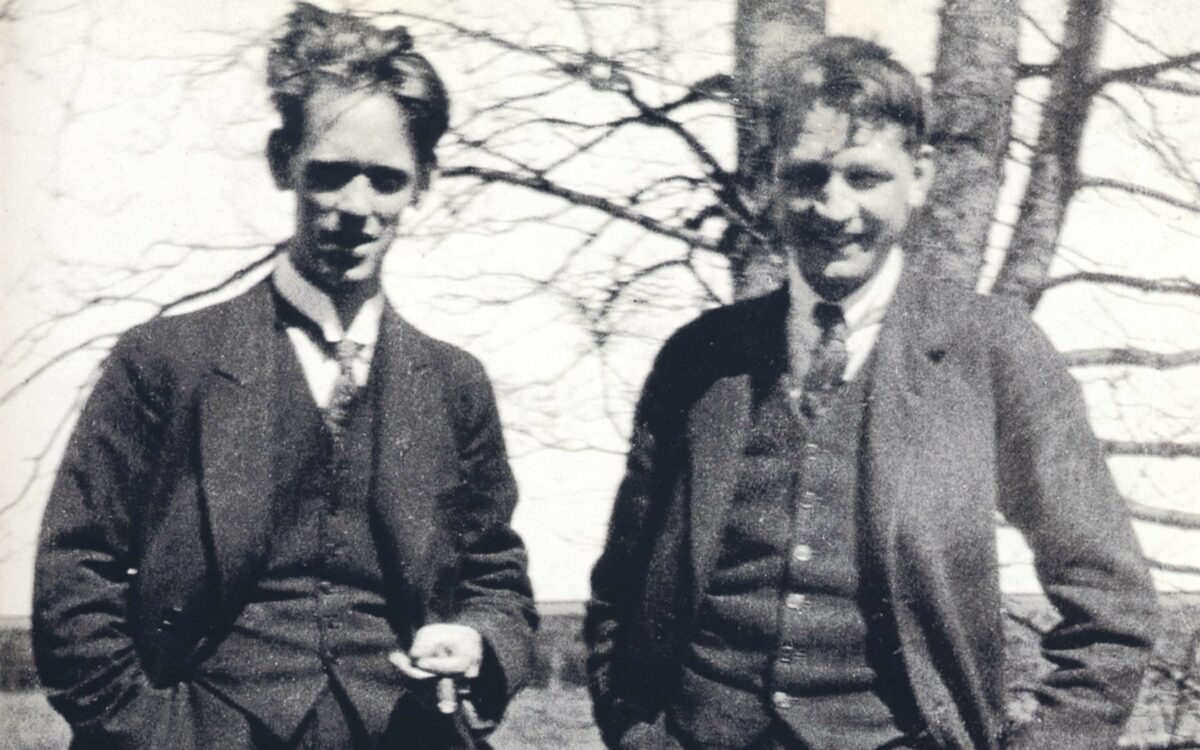 Famous Danish brands: The history of Bang and Olufsen
Denmark is a country known for its long-standing devotion to great quality, luxury, and design aesthetics. You just need to look back at some of the most famous Danish designers to see how much weight the nation places on value that stands the test of time. When the Bang and Olufsen brand began in 1925, founded in Struer, Denmark, the co-founders knew they had some pretty big expectations to live up to.
The innovators behind B&O were Svend Olufsen and Peter Bang. While Peter was responsible for the technology in the early designs, Svend took care of the clerical side of things and made sure the business could continue growing into the future. Together, though the pair had different views on how to establish and expand their brand, Peter and Svend managed to find their way with the Bang and Olufsen story. By 1927, the first B&O commercial product was released. The Bang and Olufsen Eliminator allowed radios to be powered by the mains, rather than huge batteries – a revolution for the time.
As the Bang and Olufsen brand began to take off, construction quickly spilled out of the Denmark attic where the company began, forcing the business to move to a factory in Struer. In the 1930s, the Bang and Olufsen brand strategy evolved with a focus on style, partially due to an emerging USP built around making technical gadgets a pleasure to live with. B&O wanted their products to be equally inspired by form and function.
Over the decades, the Bang and Olufsen story encountered many ups and downs. Not only did they supply radios to fighters who were standing against Germany in the war, but they also explored new ways to expand their portfolios with everything from electric shavers, to record players and televisions that could be hidden from sight when not in use.
Now, Bang and Olufsen continue to be one of the major players in the electronics market, working with designers like David Lewis and Jacob Jenson to create some of the most revolutionary, and internationally-renowned products in the industry. More than 90 years since they were founded, the mark that B&O had on their sector is still something that's celebrated and respected in Struer. Around a third of the 10,000-people living within the town are employed within "The Farm" – the B&O factory.
The incredible nature of the Bang and Olufsen design has also been immortalised with the development of a museum which opened in Struer during 2008, which showcases an incredible selection of more than 3,000 products created by B&O.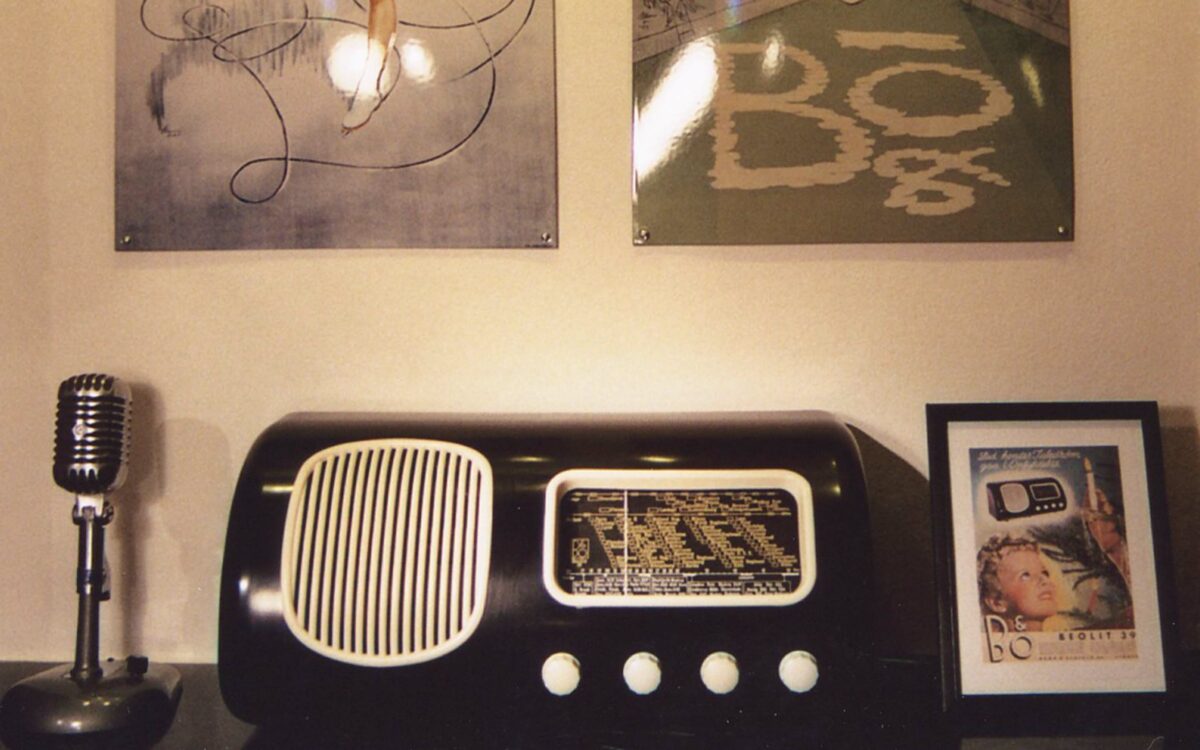 Bang and Olufsen branding: The B&O brand strategy
When it comes to Bang and Olufsen branding, one thing has always been clear – the company lives for design, innovation, and function. When building their brand, the company knew that they needed to showcase their unique values and purpose in everything they do, which is why every aspect of the B&O identity continues to be so iconic today.
Just look at the unmistakable design of the Bang and Olufsen logo for instance. The sans-serif font gives this almost century-old brand a modern feel, while the grey colour evokes thoughts of luxury, sophistication, and innovation. One particularly effective element in the design is the way the characters are situated. The "B" seems almost upside down, which indicates that this company has turned the audio world around, while the overall "neat" composition of the logo show's the brand's devotion to domesticated aesthetics.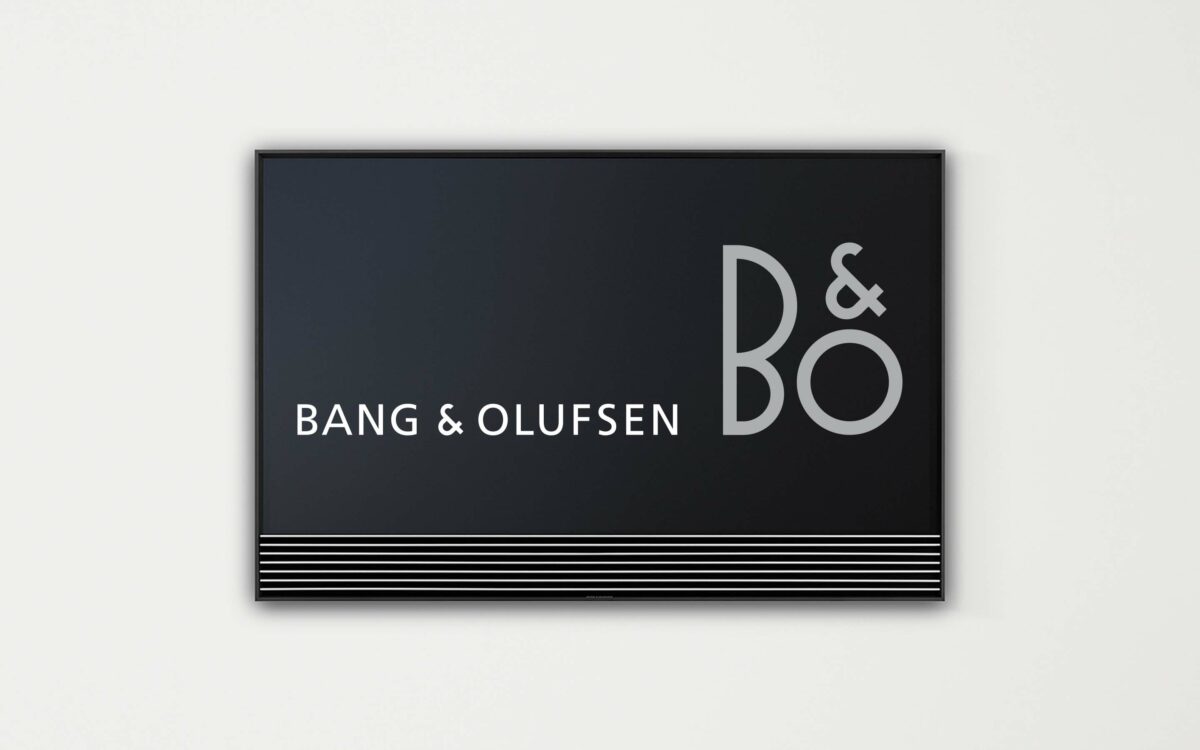 There's a great deal of power in the Bang and Olufsen brand logo, which is why it might surprise you to learn that the original design came from a 16-year old in the 1930s. A painter's apprentice called Henning Dahl Mikkelson charged 5 Kroner for the piece, which Svend eventually paid double for because he was so happy with the outcome.
The Bang and Olufsen strapline
Of course, as important as logos can be, they're not the only element of a brand identity. Another interesting element worth noting from the Bang and Olufsen brand strategy is their strapline, which emerged in 1968. The message was: "For those who discuss design and quality before price."
While it might not be the most creative slogan, or the most poetic, it perfectly encapsulates what B&O's focus as a company is all about. Today, the Bang and Olufsen marketing strategy still focuses on attracting customers in the audio and visual marketplace that are searching for impeccable quality, innovative technology, and a unique aesthetic appeal.
While other emerging companies have focused on exotic components and new techniques when developing their products, B&O has always taken a more high-brow approach to its design. The company creates its portfolio for a market of user personas built around good taste. Even in the face of growing competition like Apple, Beats, and Sony, the Bang and Olufsen brand has refused to compromise on value of luxury.
The Bang & Olufsen brand values: What success means to B&O
It's easy to wonder what's kept Bang and Olufsen so successfully on track over the years, as trends and demands in the marketplace have changed. As a technology company, B&O has always been in a great position to embrace emerging innovations, and adapt their products according to the needs of their customers. Certainly, this is one of the reasons that the B&O Play sub-brand was created.
However, as our readers will likely know by now, consistency is key to formulating an unforgettable company and a famous Danish brand. To keep themselves focused, Bang & Olufsen have followed a path set by their distinct brand values. Such as: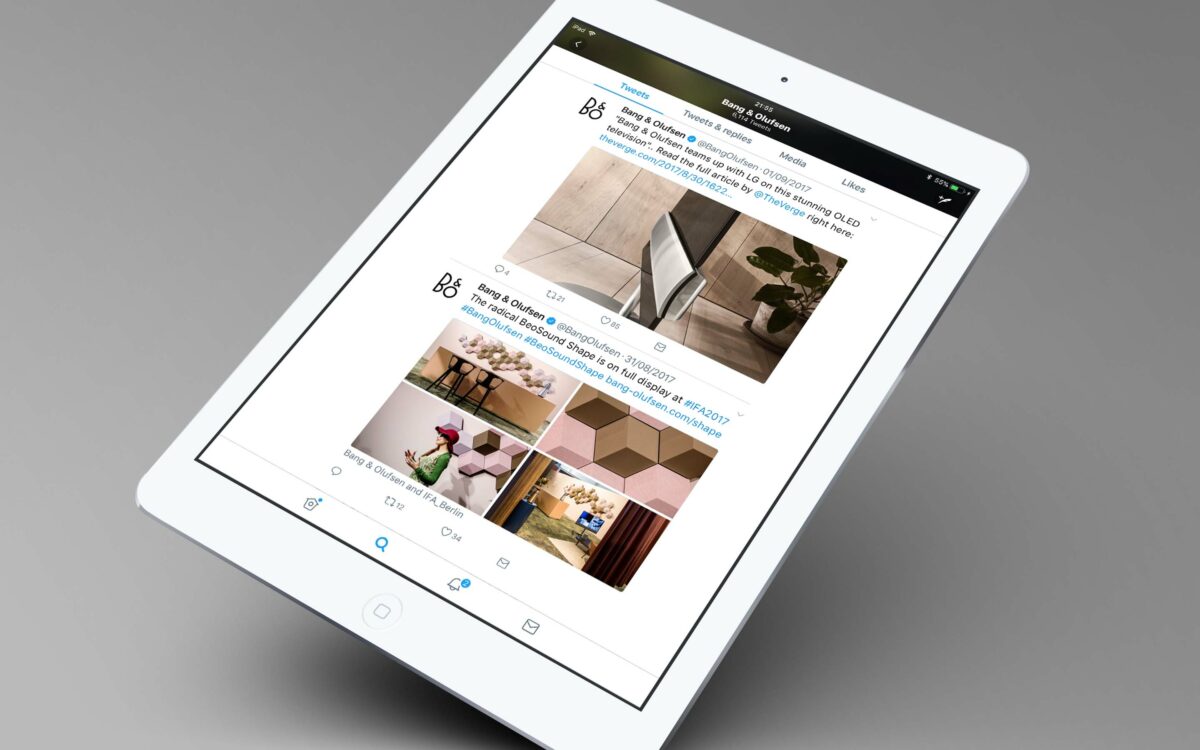 1. Authenticity
One of the things that makes B&O so appealing as a brand, is the fact that everything they do, is done for a reason. If you look at the social media marketing strategies that the company has implemented over the years, for instance, you can see that each product launch or new feature is explained to the audience. B&O are totally transparent about their decisions as a company.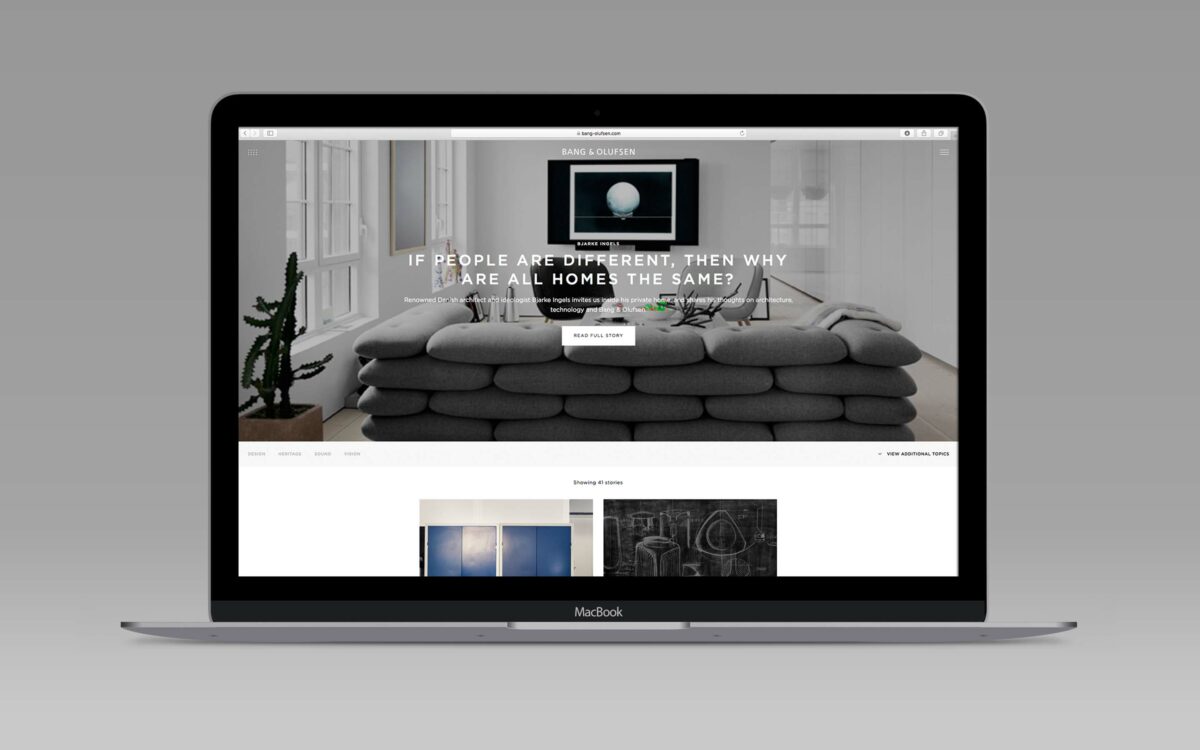 2. Credibility
One of the best things that any company can do in today's saturated marketplace, is learn how to position themselves as an authority in their industry. This is something that Bang and Olufsen have done incredibly well.
The Bang and Olufsen marketing strategy uses communication to build confidence and trust in the company's audience. B&O aim to develop credibility through honest messages, and incredible insights. They don't over-claim or spend thousands of dollars on pointless features, but simply draw attention to the fact that they know what they're doing.
For instance, if you head to the Bang and Olufsen brand website, you'll find a section called "Stories", where you can hear thoughts on technology from one of the most well-renowned Danish architects, along with blog posts, interviews, and articles.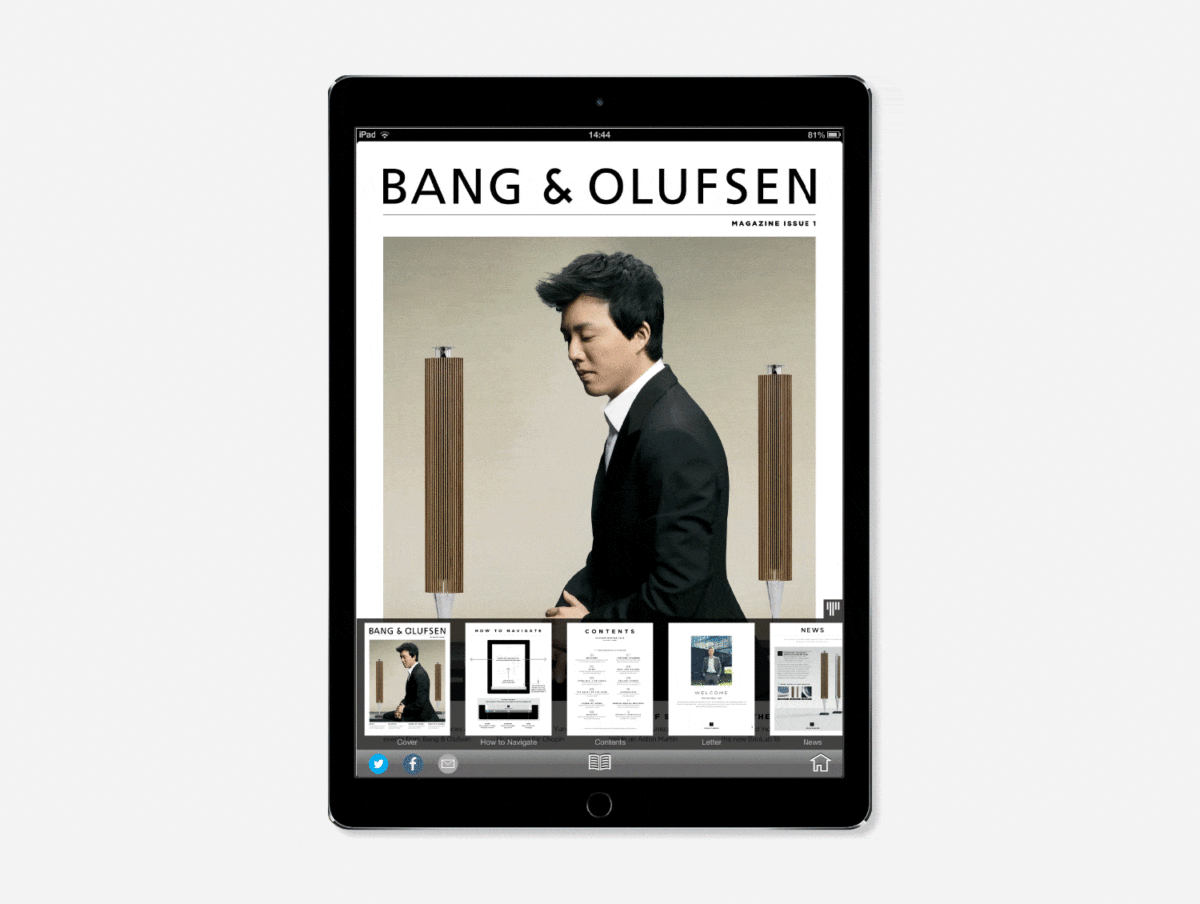 3. Simplicity
Bang & Olufsen's focus on simplicity and style as a brand is something that can be seen in everything they do, both online, and offline. While B&O believe that beauty is important alongside function, they don't over-work their designs. Instead, they take a minimalist approach – offering unique and innovative shapes that fit within the domestic world.
In their products, B&O create designs that their customers feel are "easy to live with", and they continue to express this value in their marketing efforts too. For instance, even the Bang and Olufsen brand website is distinct, uncluttered, and classical.
4. Innovation
Finally, in a small, and design-focused country like Denmark, inventiveness has long been a necessity for companies who want to move ahead of the crowd. When Bang and Olufsen entered the audio and sound marketplace, they almost instantly set themselves apart as innovators, by becoming the very first organisation to use the AC current to power radios.
Since their development in 1925, the Bang and Olufsen brand has adopted and enhanced the overall Danish spirit of creativity, and inventiveness, by creating a long list of innovations that have left their mark on the industry, as well as the country overall.
In part, it's the B&O focus on constant innovation in everything from their inbound marketing efforts, to their solutions for brand awareness that make them such a timeless brand. As long as the business can continue to inspire their audience, create new solutions for their customers, and stay true to the values that have held them aloft throughout the years, they'll always have a place in the hearts and homes of their followers.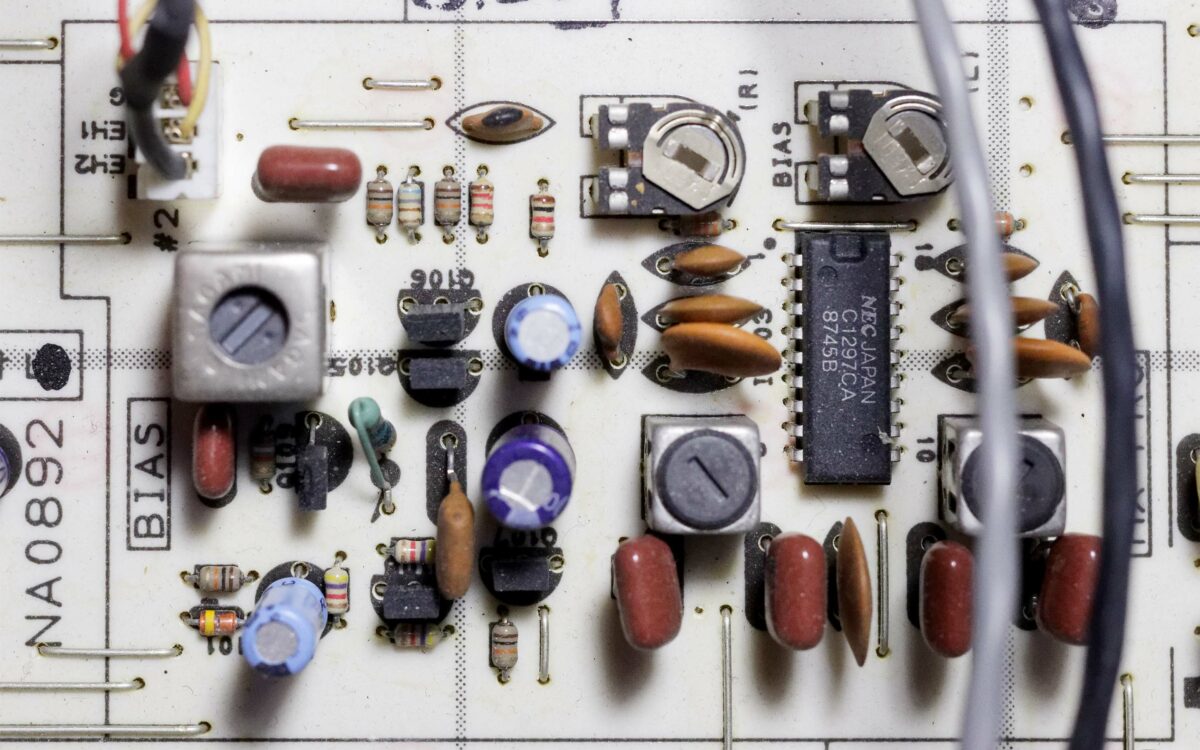 Pioneers in quality: Bang and Olufsen design
When we celebrate famous Danish brands like Bang and Olufsen, it's worth noting that even the design choices and the products created by the company have an impact on B&O's overall identity.
As any emerging business knows, while exceptional branding is the key to recognition and awareness among your target audience, you still need to ensure that you're producing an incredible product or service if you want to bring more customers to your door.
In a world where we're surrounded by too many radio stations to count, it's easy to forget that radio devices were once the most innovative thing in technology. Of course, people weren't always convinced by the longevity of the radio. In fact, some media outlets defined the devices as nothing more than a "fashion trend".
As trends go, radio, music, and the development of portable sound devices is something that has stood the test of time quite well. Over these decades of innovation, Bang and Olufsen grabbed their chance to forge a reputation and an identity among a following of "sound-lovers".
One of the things that made the B&O brand so unique was the fact that they didn't just create a radio with next-level quality in sound, but they also housed that device in a beautiful cabinet – transforming a radio from a standard portable device, into a stunning piece of furniture, and a status symbol for the Danish masses.
While the Bang and Olufsen brand has diversified over the years and now offers a wider product range, everything produced by the company continues to focus on this simple principle of combining beautiful design with state-of-the-art tech.
The perfect combination of form and function
For a business that's almost 100 years old, the continued allure and appeal of B&O products in today's market just goes to show how sustainable the Bang and Olufsen design approach really is. By combining visual appeal with technology, B&O found their differentiator and broke free from the competitors that swarmed the marketplace.
The Bang and Olufsen marketing strategy director Marie Schmidt once said that the company is distinctly design-driven, which means that they're not just focusing on industrial design, but every aspect of the complete user experience. This is a radio brand that knows how to appeal to its customers, by thinking about their products in terms of how they look, how they feel, how they sound, and how they work.
The instance and devotion to creating an unmatched user experience is part of what makes Bang and Olufsen's brand identity so appealing in the currently-crowded marketplace. Bang and Olufsen don't just focus on using design to create incredible products, they also use their knowledge of design to inspire affinity in their customers.
By creating something that their followers can truly fall in love with, appreciate, and continue to use as the decades passed by, Bang and Olufsen have unraveled the complexity of brand loyalty and created an almost cult-like following for their products.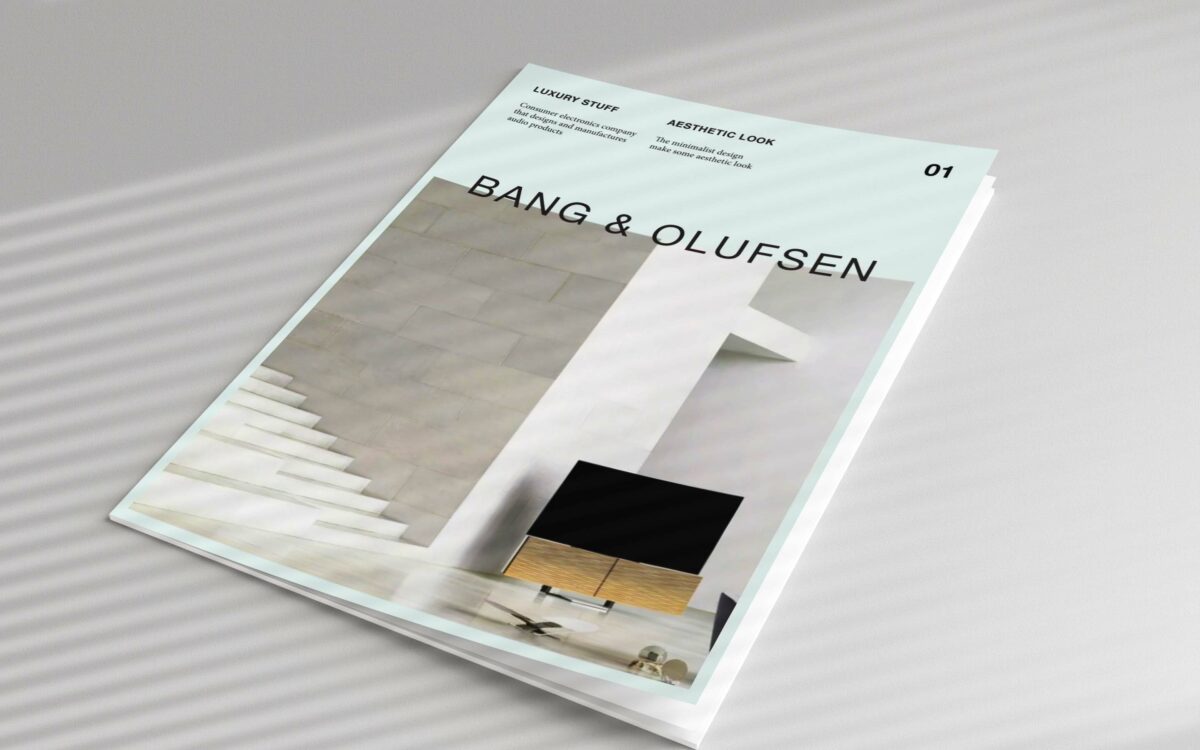 Bang and Olufsen marketing
Bang and Olufsen's customer-centric approach to transforming the audio world is also something it places very high on its agenda for marketing too. In an era where customer experience seems to be the only true way of differentiating yourself in any industry, it makes sense that this format would now be more successful for the iconic brand than ever before.
According to the Bang and Olufsen marketing team, the business is now, and always will be keen to let their customers know that they're taking care of them. This is something that the company conveys in a range of ways. For instance, when Bang & Olufsen releases new technology in the marketplace, they usually make sure that the devices are backward compatible with older products too.
At the same time, Bang & Olufsen focus on introducing sleek and innovative new products with videos and in-depth releases that help to inform customers about everything they need to know about the new release.
Video content and appealing to a younger audience
As masters in the world of technology, it makes sense that much of Bang and Olufsen's marketing strategy would be based around video, and opportunities that allow customers to both hear and see what the business has to offer. In their "Humblebragging" series, that began to air somewhat recently, the company attempts to highlight the power of the B&O brand as a status symbol, while showcasing their understanding of customers.
The focus on video in the Bang and Olufsen marketing strategy has also made it much easier for the brand to reach out to a younger generation of customers. After all, when your company has been around for more than 90 years, you can't continue to rely on your initial customers to drive you forward into the future.
Since the B&O identity is all about quality and craftsmanship, the brand found it difficult to create products for their primary brand that didn't exclude the millennial audience or the average music fan. As a result, they created "B&O Play", a secondary identity they could use to connect with younger generations, featuring products like wireless headphones and portable speakers.
The Bang and Olufsen marketing strategy: B&O Play
The "Play" sub-identity of Bang and Olufsen works on the same principles of the wider brand – focusing on values like quality and design. However, it's intended to appeal to customers in the younger generations. Ideally, the plan is to not just introduce new customers to the headphones and portable speakers that B&O Play produces, but also to create loyal life-long customers that go on to explore the bigger products from the brand.
In part, the newer brand was designed in response to the increasing marketing domination that companies like Ultimate Ears, Beats, and Sony had in the audio world. While Beats focused on linking up with big-name celebrity influencers to establish their position in the market, B&O Play decided to build on their heritage, and take a more emotional approach to their customers.
When we look at the Bang and Olufsen branding values, it's easy to see that the business has always wanted to create a unique and unforgettable experience for their audience, and that's something that they've continued to consider as they've expanded with B&O Play. The company identified a space for themselves within the emotional and magical experience that listening to music can create. According to the spokespeople behind the brand, B&O believe that music makes the world a better place and that Bang and Olufsen products can help to fuel the transformation.
In their Bang and Olufsen video advertisements, the company finds a way to communicate the power of music, and how it can change a situation and drive emotion in an audience. They continue to bring this idea to life today, in an effort to connect with a more social, emotionally-focused audience, while still retaining the iconic values that make their brand an unequivocal part of Danish history.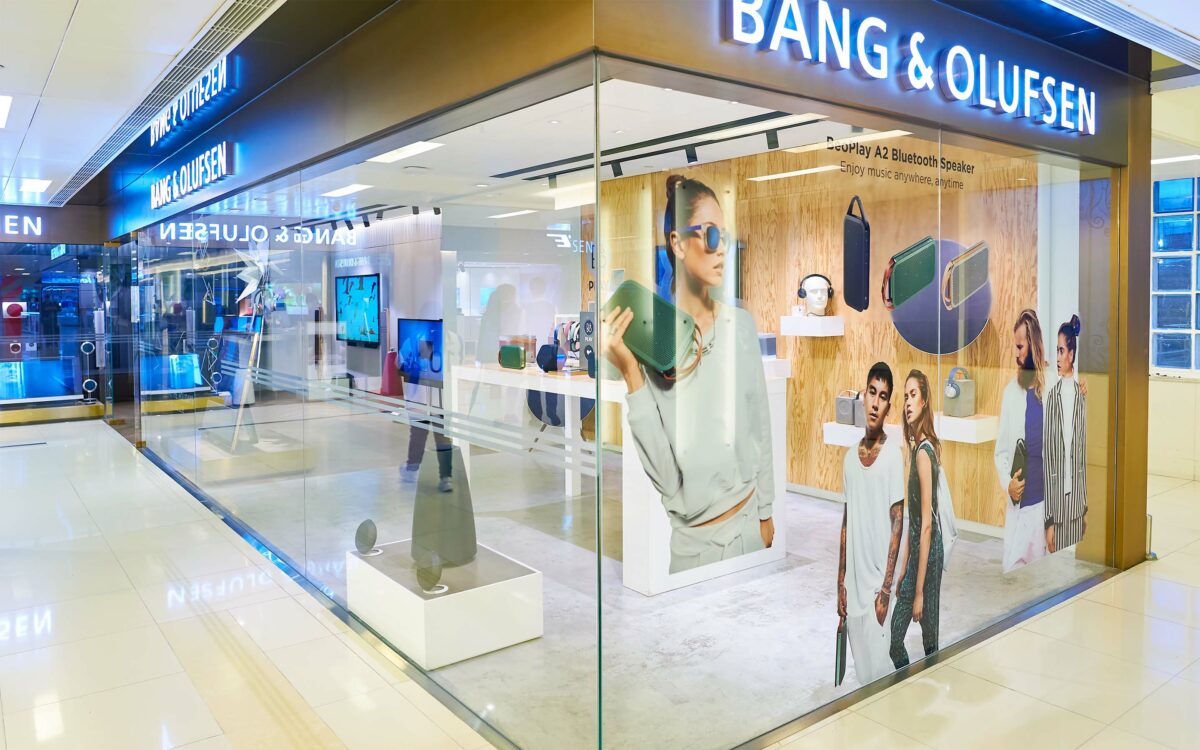 Distinguished Danes: Bang and Olufsen for sensational sound
While B&O will continue to put luxury and innovation first in everything they do, they're not afraid of embracing the future either. Alongside traditional advertising strategies, the brand is also looking into how they can connect further with their audience, by appearing at festivals, and supporting artistic events around the world.
The in-depth nature of the B&O marketing strategy is just one sign of how the brand has remained true to its values over the years, with an incredible attention to detail in everything from its products, to its social media presence.
As a Danish icon considered to be a sign of value and luxury, an innovator in the audio and technology environment, and a company that knows how to respond to the needs of its customers in everything from design to external communication, Bang and Olufsen is the perfect example of a truly timeless brand.
If you enjoyed this article, you might enjoy these too:
— Monzo: A brilliant approach to modern banking
— Pashley Bikes: A British brand with pedal power
— Moneybox: A smart investment in innovation