At Fabrik, we have a very special love affair with branding.
We believe that the right brand, in the right circumstances, can change the world. Whether it's with a truly unique brand identity that changes the perceptions of a generation, or a powerful personality that helps you to capture the hearts and minds of a devoted audience, great branding can transform your company from yet another struggling start-up, into an unforgettable household name.
For this week's "Breakthrough brands" celebration, we'll be exploring the innovation and inspiration behind "WeSwap", a peer-to-peer currency exchange platform that allows people across the world to swap travel money with people from different countries.
Here, we hope to show you how the WeSwap brand has pushed ahead of their competitors in the currency market, not just by embracing a strong unique selling point, but also by using exceptional marketing, customer-focused branding, and social expertise to excel in their marketplace.
Let's start the adventure.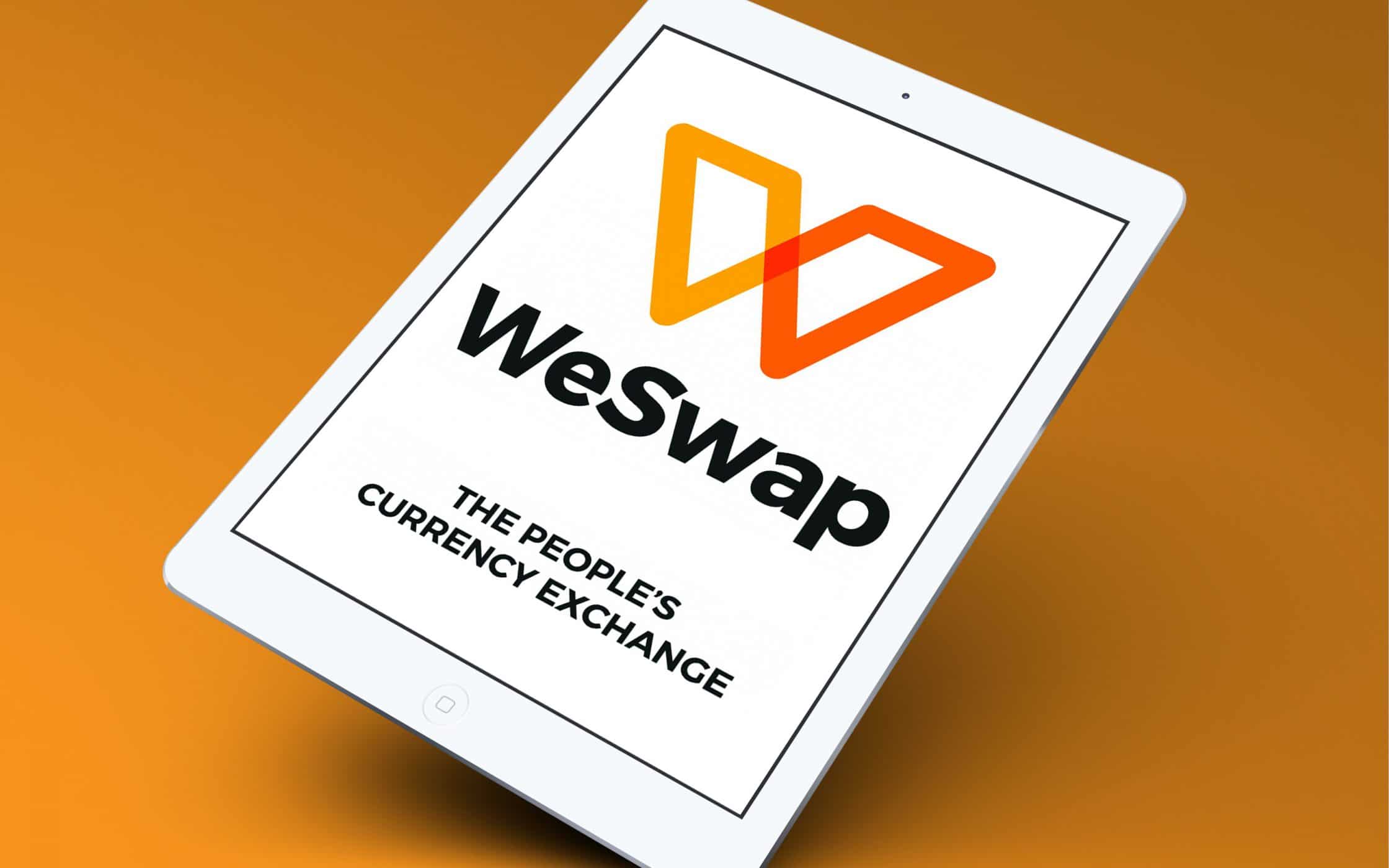 WeSwap history: The birth of a peer-to-peer pioneer
For those who aren't familiar with "WeSwap" yet, it's the first official currency company that allows its members to safely and securely swap travel money with people from across the world. In other words, it cuts the middleman out of the currency exchange experience.
Like many of our other breakthrough brands, WeSwap is still incredibly new, and still in the "beta" stage of finding its feet in the marketing world. Though the company originally began in 2011, it wasn't fully launched until 2015. However, already, the WeSwap brand has members in more than 10 countries across the globe and supports peer-to-peer swapping in 18 different currencies.
One of the elements that makes WeSwap so special, is the fact that it gives its customers the "real" interbank mid-rate exchange rate, and charges only 1% on top. That means that you get a much cheaper deal for converting cash than you would get from any bank or travel agent.
When you sign up to the WeSwap app or website, the company matches inbound travellers with outbound travellers throughout the digital network, making exchanges quick, and simple. You also receive your very own MasterCard, where you can load up money in six different currencies to take with you wherever you go.
Unlike many currency companies in the world today, where the WeSwap brand really stands out, is in its focus on experience and social connectivity. It makes sense that a business built entirely on peer-to-peer exchanges would place people at the heart of its brand, but WeSwap has done this with such incredible focus and finesse, that's it's worth celebrating.
Not only does the brand consistently remind you of the fun that lurks behind currency exchange with its bright colours, and images, but it has also begun to create a uniquely connected social community too, with its playful, laidback blog, social media adventures, and distinct tone of voice.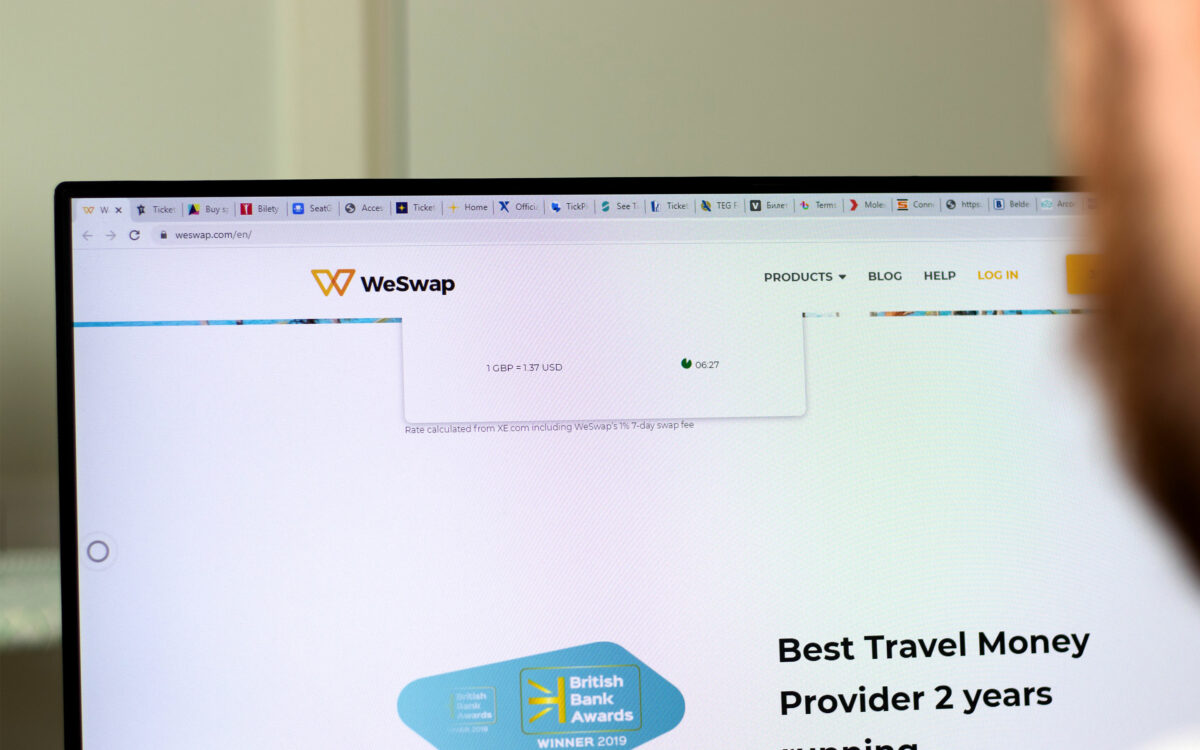 The WeSwap brand: A business built on people
If you dive into the history of the WeSwap brand, you'll learn that the company began when Jared Jesner, the founder, and CEO, spotted a distinct gap in the market. He believed that the foreign exchange industry was inefficient, stressful, and "lacking transparency."
As you can see from the crowdfunding campaign video the company made when it was developing the WeSwap marketing strategy, the business experienced a "Eureka" moment, where they decided it was time to make exchanging money simpler, and more efficient for everyone.
By choosing a brand purpose that aligns with basically anyone who's ever taken a vacation, WeSwap immediately put themselves in a great position to start establishing strong relationships with their customers and followers. That could be part of the reason why the customer base for the WeSwap brand is so varied, with people downloading the app from all walks of life.
However, like any good company, WeSwap dove down into the details of their user personas and found that they most needed to appeal to digital natives, who were looking for ways to explore the world in a more convenient way. In other words, they were the perfect company to respond to the experience-focused needs of the millennial generation.
Because they knew exactly which people they were marketing towards, WeSwap could start building their brand voice to appeal to the needs of millennial customers. Not only did they adapt their visual identity accordingly with bright colours and photos of younger consumers, but they also learned how to communicate with an audience who loves emojis, appreciates simplicity, and craves recognition.
That's why WeSwap refers to their customers in everything they do. For example, they say "we" in their branded blog posts, when they're talking about their community, and thank their audience for their input.
The result? A growth of about 204% in the last year alone, with 200,000 new users joining the network. Numbers like those speak for themselves.
WeSwap branding: An adventure in social media
Since the WeSwap branding strategy is focused so strongly on building affinity and loyalty among its customers, it makes sense that the company would devote a lot of its time and energy to social media marketing.
From the very beginning, the business realised that they needed to create a tone of voice and personality that was trustworthy and authentic enough to grab the attention of their target audience. According to an interview with the UK Marketing Manager for the WeSwap brand, Stephanie Meyer-Scott, finding the right personality was a complicated process, but it began with asking two simple questions:
Who are we as a company?
Who is our audience?
Once the organisation established that they wanted to be seen as young, innovative, and smart, and appeal to a millennial audience, crafting the right social media strategy became much easier. In June 2015, the WeSwap marketing team saw three times as many new likes on their Facebook compared to the month before, as well as five times more Twitter followers.
WeSwap achieved great results by using a range of proven techniques for success, such as:
Influencer marketing
In recent years, influencer marketing has emerged as a useful solution for expanding brand awareness and recognition for start-up companies who have yet to establish authority within their industry. By connecting with other popular companies in their space, and sharing the content that was created as a result, WeSwap started to tap into the followers of pre-existing businesses: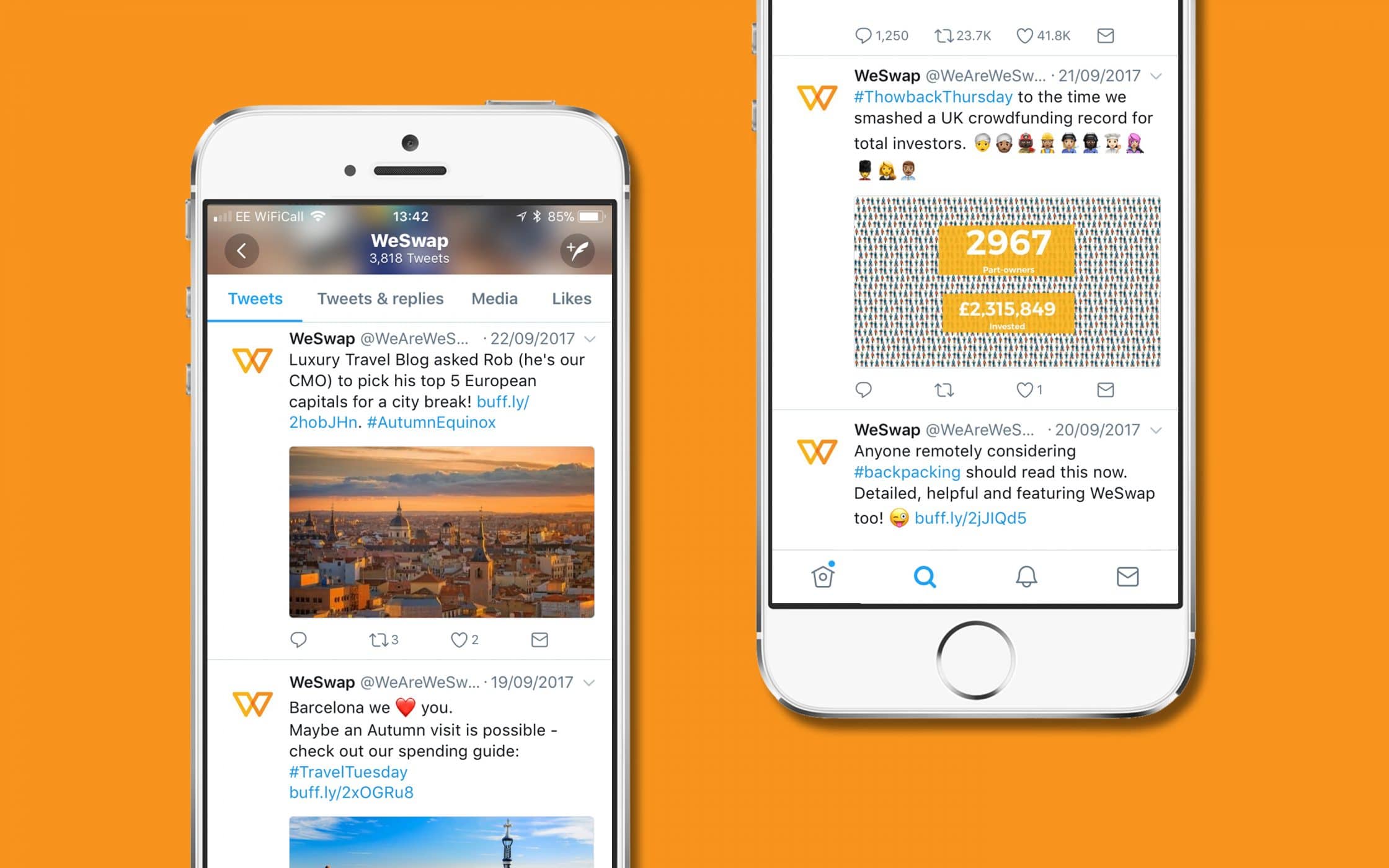 User-generated content
No matter which industry you're in, it's safe to say that all customers like to be appreciated by their favourite brands. Sharing user-generated content is one of the easiest ways to tell your customers that you value their opinions while leveraging the benefits of social proof and word of mouth marketing at the same time. All you need to do is ask people to share related blogs and photos on your social media page, and you're already on track to building a powerful community.
Visuals and videos
By far, one of the easiest ways to engage a millennial audience on social media today is with visual content. Whether you're sharing ideas and emotions through emojis, or you're capturing attention and educating your audience through videos and graphics, there are dozens of ways to get your audience involved.
The WeSwap brand has taken full advantage of that fact. On Facebook, Twitter, and even their website, the WeSwap marketing team are using images to improve engagement, encourage shares, and enhance customer experience.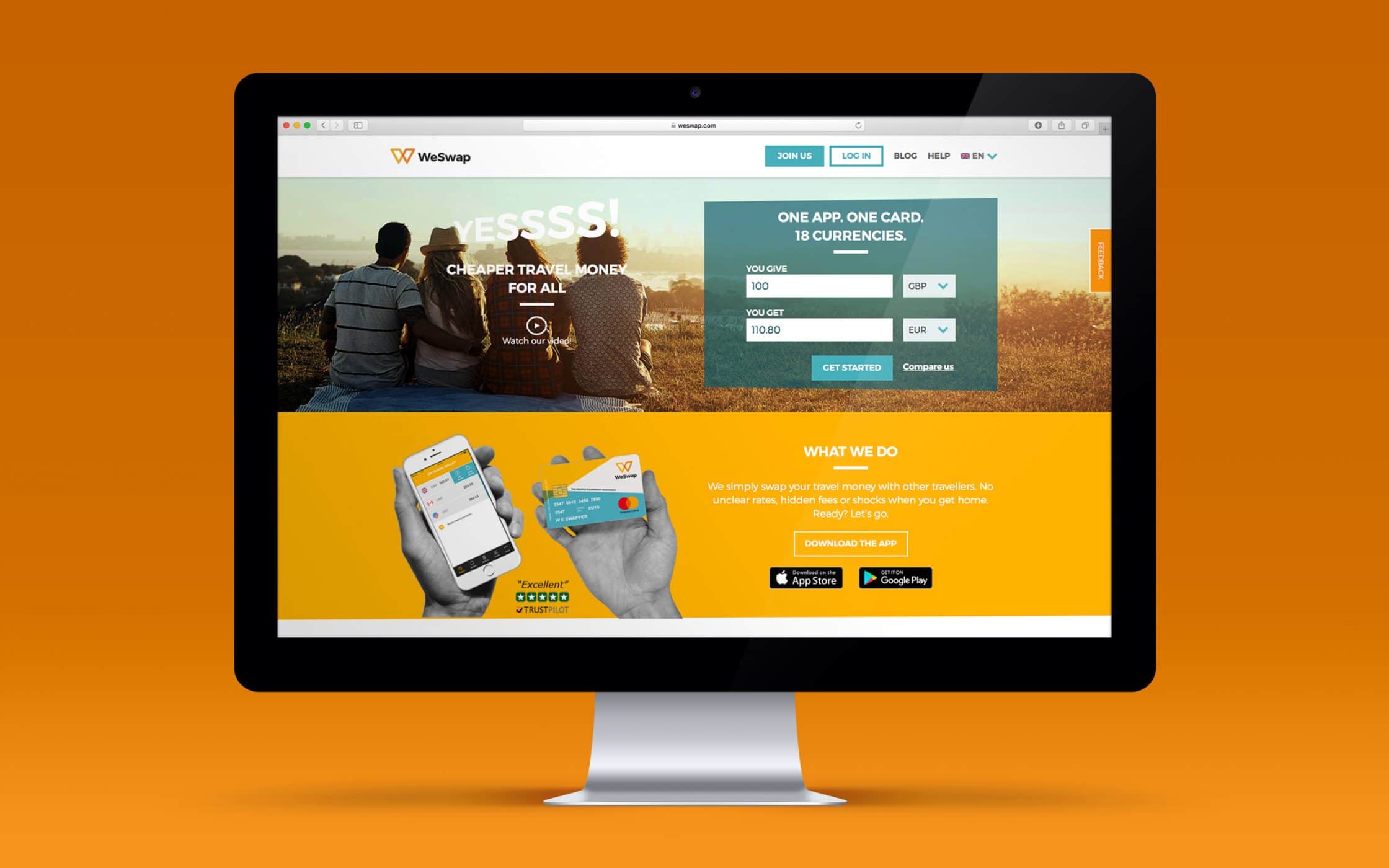 The WeSwap visual brand identity
Visual marketing isn't the only thing that the WeSwap branding department have learned to do well. The visual brand identity of the company is also a great point of differentiation for the organisation. It works well because it's built on an understanding of the underlying values and visions that propel the company forward.
According to the CMO for the WeSwap brand, Rob Stross, the start-up was designed to bring customers a more "twenty-first-century" experience when it comes to exchanging travel currency. In other words, WeSwap is all about giving their audience a modern, simple, and efficient experience. At the same time, they're focused on "doing things differently".
It's easy to see how WeSwap have already attempted to stand out as something unique in the marketplace when you consider the fact that they're the first peer-to-peer currency exchange to exist in the UK. With such a powerful USP, it makes sense that the brand would want to build on that idea of "being different" in their brand identity too.
Here's how the WeSwap brand identity shines through in each of their visual investments:
1. The MasterCard
It's hard to ignore the bright colours and unique appeal of the WeSwap bank card. For a company involved with finance, the card design can be just as important as creating any other visual element, from a logo to a website. Here, the blend of colours, gold, blue, and green speak volumes about what the business is trying to portray. While its unique shade of blue indicates trust and professionalism, yellow inspires creativity and joy. In other words, the tones say: WeSwap are experts in their field, but they know how to have fun too.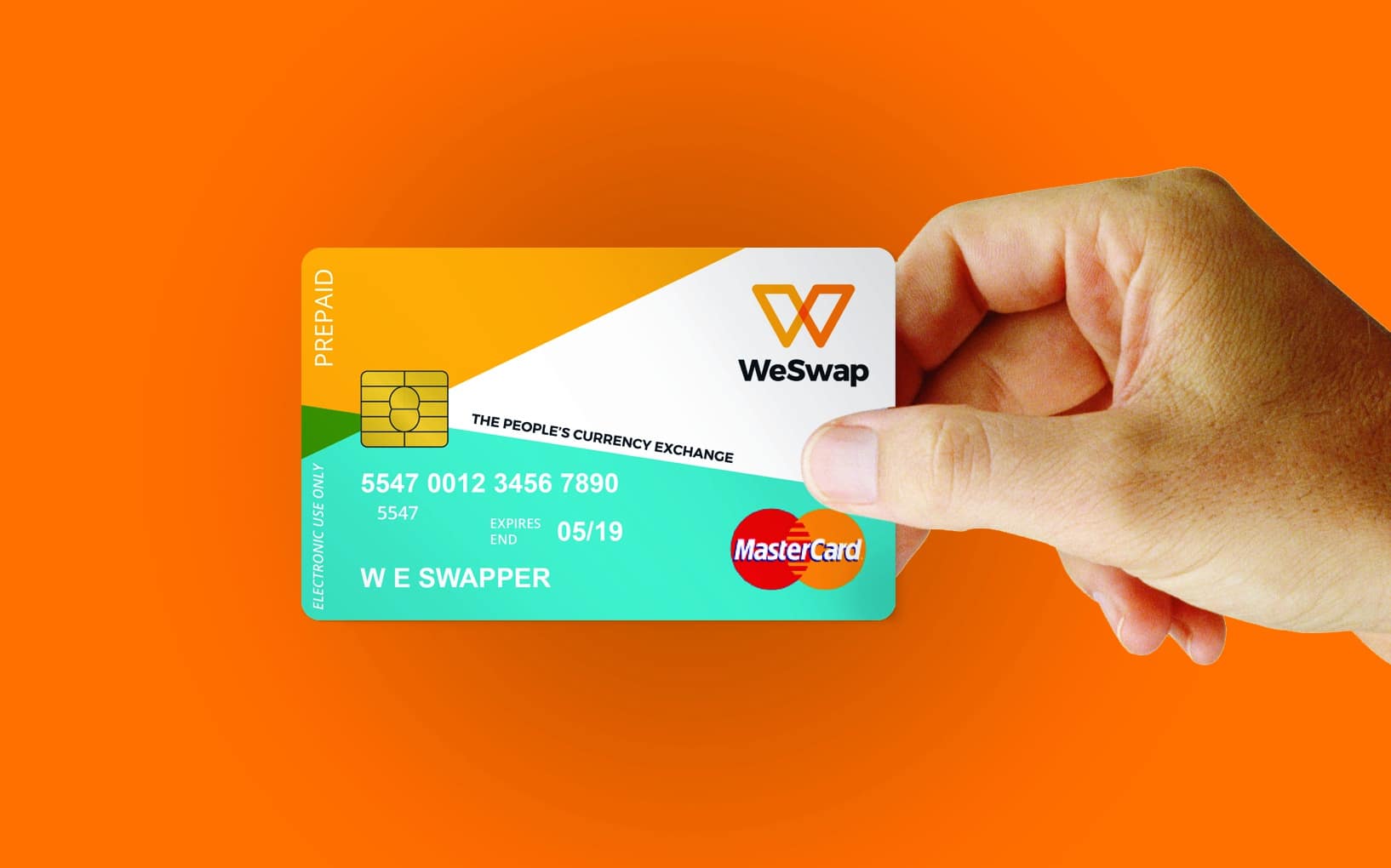 The use of intersecting lines on the card seems to showcase a blend of different ideas, while the single line of text "The people's currency exchange", draws attention to the key point of differentiation in the WeSwap branding initiative.
2. The website/app
The WeSwap brand website and app provide the same consistent experience that customers might come to expect from the moment they receive their bank card. The website is covered in the bright colours showcased on the card above, and brimming with useful information designed to put the minds of customers at ease. In fact, WeSwap even shows off their Trustpilot ratings on the landing page.
The use of bright colours, human imagery, and lots of reviews, further demonstrates WeSwap's devotion to a millennial market who prefer to use the opinions of everyday people when making decisions about how to spend, invest or use their money. In fact, 88% of customers trust online reviews just as much as recommendations from their friends or family.
3. The WeSwap logo
Finally, the WeSwap brand logo continues the creative, social, and innovative themes that the company has carried through the rest of its visual identity. The bright colours make the business seem fun and light-hearted, while the two different shades coming together to create a diamond at the intersection of the "W" seems to demonstrate the value at the heart of peer-to-peer sharing.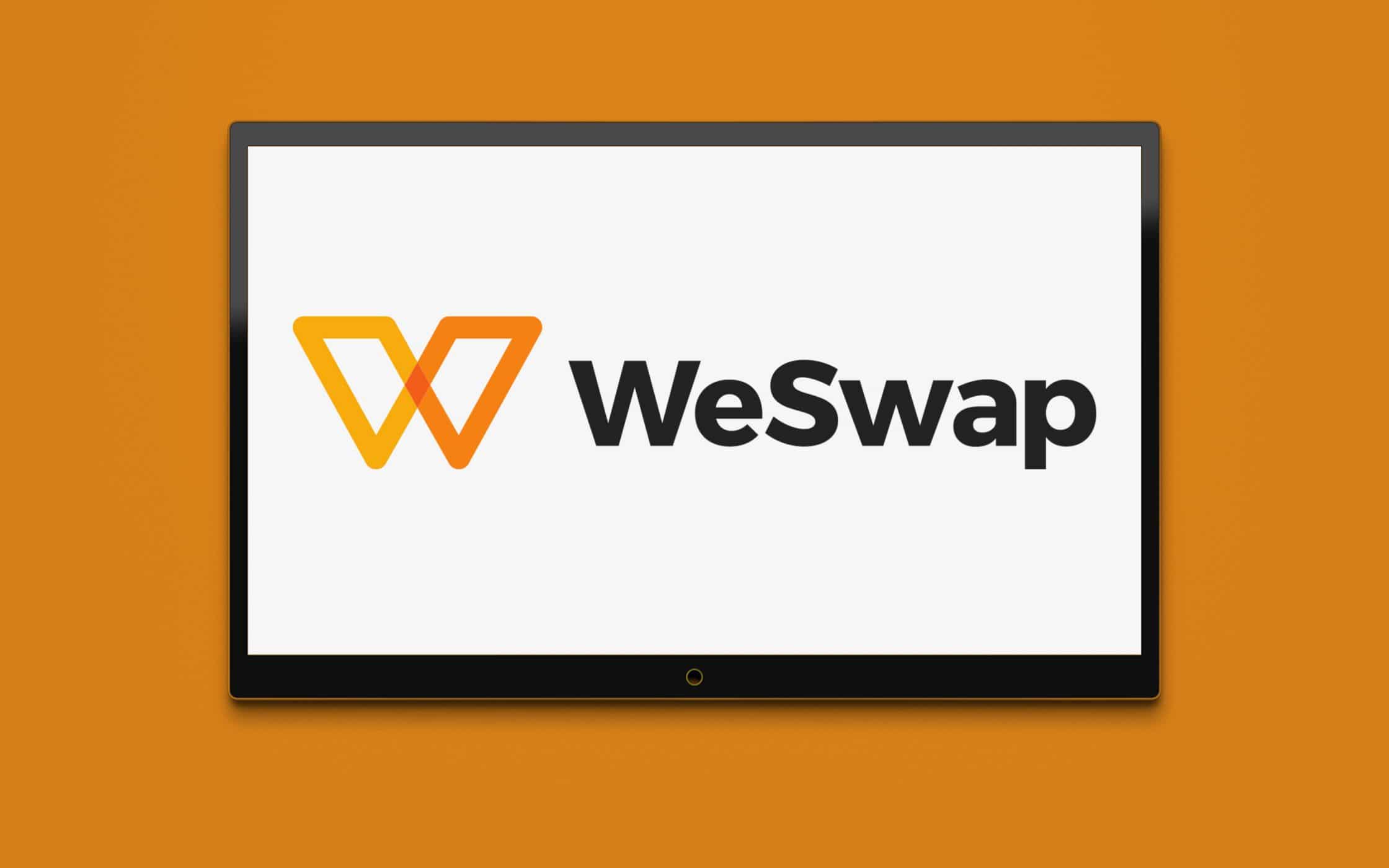 The "W" Itself could also be perceived as a crude bird or butterfly shape, which helps to draw focus back to the idea of flight and travel, which sits at the heart of the brand.
WeSwap marketing strategy: Adding fun to finance
The WeSwap brand doesn't just stand out in the world of currency exchange because it knows how to communicate with its audience, but also because it understands that audience wants to build "friendships" with their brands. Though financial companies need to establish trust to gain the loyalty of customers, which WeSwap has done with the use of reviews and testimonials, they also need to show off their human side if they want to connect with millennials.
In June 2015, the WeSwap marketing campaigns began with a series of humorous, colourful, and eye-catching visuals designed to start conversations among younger audiences.
The campaign ran for 10 weeks, and while it wasn't appreciated by all customers, it certainly achieved its goals of "grabbing public attention". According to the brand founder, they knew the somewhat controversial banners would spark debate, but they were willing to take the risk if it meant "cutting through the noise" of summer marketing.
While some people considered the campaign to be "grossly sexist", others could see the humour behind the images. Either way, WeSwap demonstrated their adaptable nature by apologising to the customers they had offended, rebranding their current look, and making changes to their ads in for the future.
The 2017 visuals represent the fun and laid-back nature of the company in a much more effective way. By showing real, authentic people in their advertisements, and replacing controversial comments with useful statistics, WeSwap learned how to showcase the "transparency" that they claimed was essential to their brand values.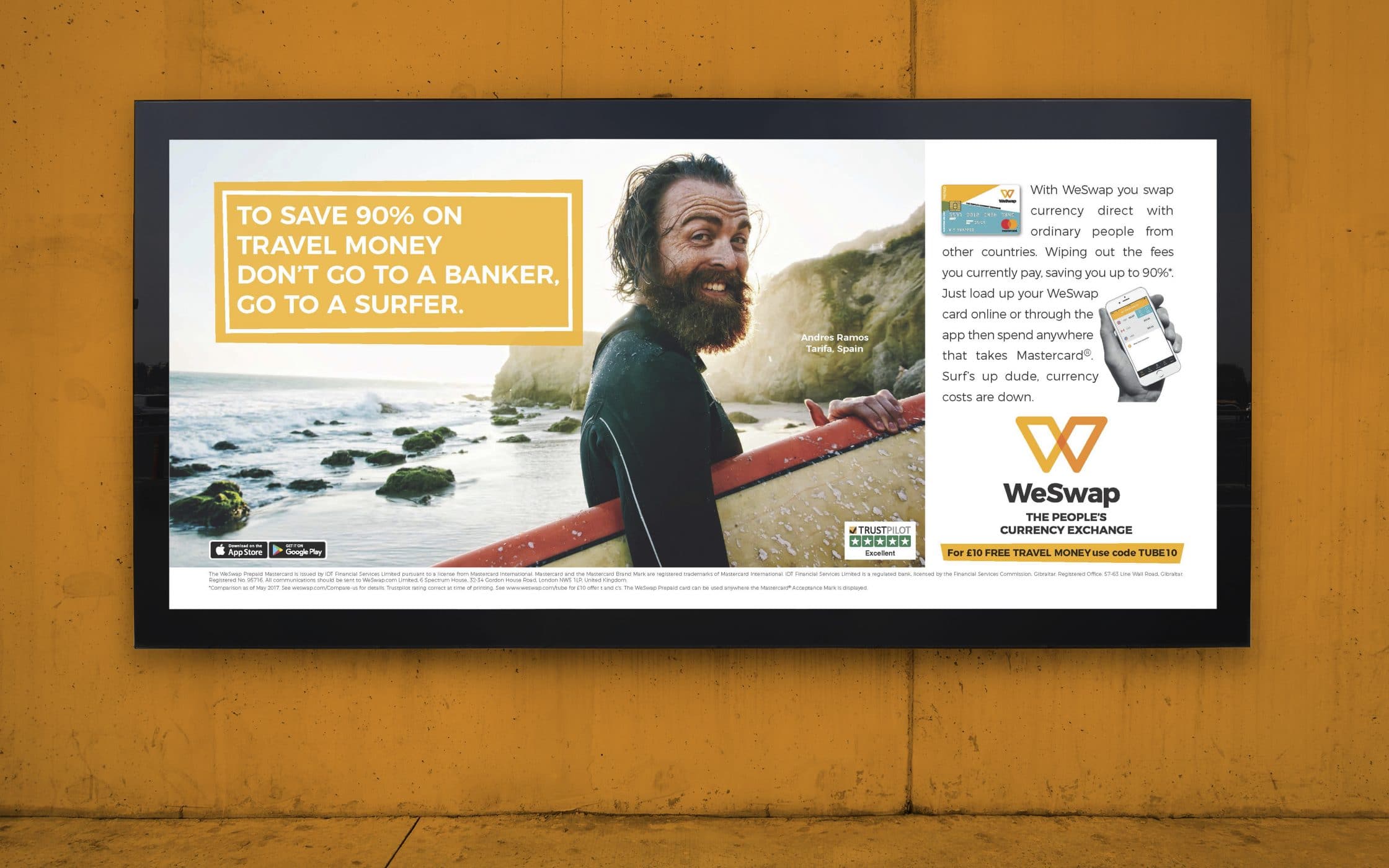 Breakthrough brands: Learning from WeSwap
Ultimately, the best thing companies can learn from the WeSwap brand, is that if they want to get the most out of their start-up, they need to begin by learning how to communicate with their audience. Sometimes, that will mean experimenting with controversial campaigns, changing your ideas, and exploring social media for a chance to find out what your customers are talking about.
Other times, it simply means diving into the data that you already have on your user personas and figuring out how you can communicate what makes you unique to a specific demographic.
By focusing WeSwap marketing campaigns on a specific audience, from a specific background, they've managed to grow their company significantly over the years, earning millions of pounds worth of crowd-funding finance.
If WeSwap has taught us anything, it's that becoming a successful brand is an incredible journey, and each business needs to learn how to understand the people they're going on that adventure with.
If you enjoyed this article, you might enjoy these too:
— Moneybox: A really smart investment in innovation
— Vivienne Westwood: From punk to style to icon
— Monzo: A modern approach to brilliant banking