Strategy is a pretty crucial element of incredible content marketing, but it's one that's often overlooked. Brands are so eager to dive head-first into the world of content creation, that they forget they need a comprehensive plan for creation and distribution to reap the rewards.
While it might seem like common sense to put your content marketing strategy down on paper, only about 32% of B2B marketers have a documented plan. Yet, interestingly, the experts who do document their strategy are more effective in almost every aspect of content marketing.
Maybe you're just getting started with a content marketing agency for the first time, and you need to know what your plan should look like. Perhaps you've been using the same strategies for years, and you've recognised the need for something fresh and new. Wherever you are in your content journey, it's time to upgrade and evolve your content marketing strategy.
Remember, the competition is getting fiercer, with 70% of B2B marketers planning on developing more content in 2017, than they did in 2016. If you don't make a change now, you could miss out on some serious results.
What is content marketing good for? A quick intro:
The chances are that you already understand the basic benefits of a content marketing strategy. When it comes to finding a content marketing agency, London companies and businesses around the world are consistently searching more passionately for a team that can help them outshine the competition.
Content marketing simply helps businesses to prepare and plan for reliable and cost-effective sources of traffic. Think about it for a minute. If you create just a single piece of content that creates steady traffic, you could continue to generate leads forever. The reliable leads you get from your evergreen content will give you flexibility to experiment in other marketing tactics and generate more revenue, through sponsored content, social media, and more.
To put it metaphorically, a content marketing strategy is like the cheese in your mousetrap. Unlike a shiny hook on the end of a fishing rod, mice aren't inherently attracted to traps. However, with a content marketing agency, you can craft the cheese you need to get their whiskers twitching.
There are far more informational searches like "Why does my content marketing strategy suck?" than transactional searches. It's critical to get your content out there, the brand that's most helpful is the brand that wins.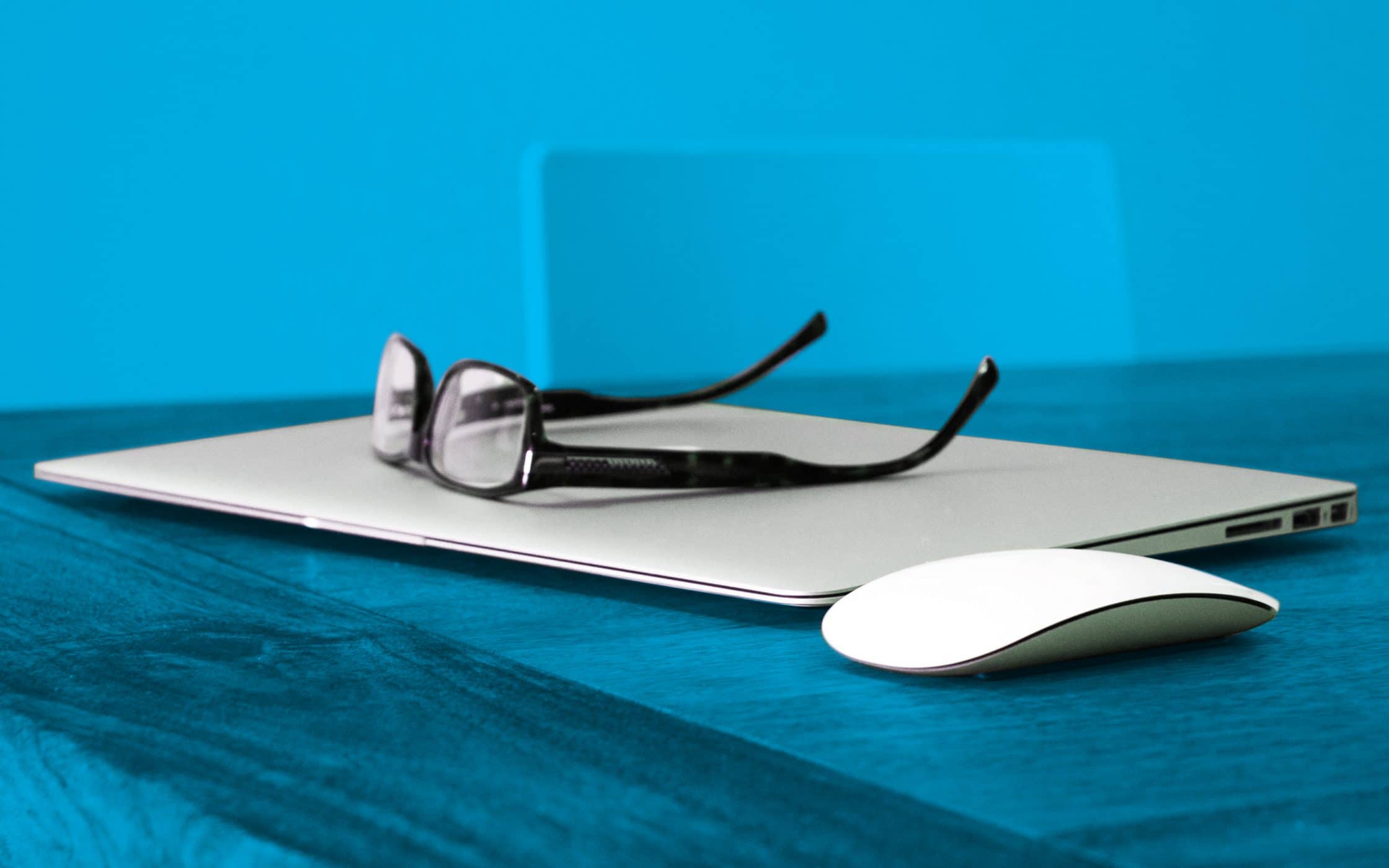 Building your own content marketing strategy
So, let's get down to the nitty gritty of your content marketing strategy.
Fundamentally, your content marketing strategy is your answer to "why"? In other words, it's why you're creating content, who you're trying to help, and how you're going to be helpful in a way that no-one else is. While there's no definitive template for building a content marketing strategy, there are a range of common components to include.
These are just some of the things your content marketing agency might ask you to consider.
1. Your purpose
What are you hoping to achieve with your content marketing strategy? Are you looking for a way to generate more leads, or do you want to improve brand loyalty and enhance retention rates? Perhaps you're just looking for a way to build awareness about your brand or product. Whatever the reason, you'll need to find your goals before you contact your content marketing agency.
2. Your audience
Any effective content marketing strategy requires a careful consideration of your target audience or buyer persona. Remember, you're not targeting yourself, you're in search of the people who want, or need your product. Rather than placing all your customers into one group, try to define at least a couple of groups with different characteristics. For instance, one group might be more price-conscious, whereas another is focused on top-quality service.
3. Your content type
There's more to content marketing than posting blogs and articles. If you know what your audience needs and values, you can expand your strategy to include a range of engaging content solutions. If you're not an expert in the world of content, then it can be hard to figure out where to get started, but here are a few content types you could think about:
Infographics
Guides and templates
Webinars and interviews
Podcasts
Videos
Custom illustrations
eBooks
Surveys
Case studies
Articles and blogs
4. Your ideas
When it comes to searching for a content marketing agency, London businesses and companies around the world often need help coming up with content inspiration. While your content marketing and SEO copywriting agency can certainly help with this, it's also useful to brainstorm a few topics that you might want to cover during your content strategy. Think about the most common questions your audience asks you, and topics you have expertise in.
5. Your uniqueness
It's always crucial to differentiate your brand in today's overly saturated market. This is true in content marketing as it is anywhere else. There's a lot of content being published around the world today, and that means that you need to work hard to really stand out. Your content marketing agency can help, but it's useful for you to know what makes you different from your competitors.
6. Your challenges
Though building a content marketing strategy can be fun and interesting, it has its share of challenges. The content marketing institute found that producing engaging content is the biggest challenge that B2B content marketers face. Other problems included issues with measuring the effectiveness of campaigns, and being consistent with content production. The more you understand about the challenges you face, the more you can design strategies to overcome them.
7. Your SEO strategy
Most of the time, your content marketing agency will be able to help you better-understand SEO if you're struggling. According to experts, search is the biggest source of traffic for any site producing content, which means that your plan needs to include a strategy for search engine optimisation. Plenty of web users use search to help them find useful information, and if you can make the most of your Google strategies, you can place yourself right in the path of your audience.
8. Your distribution plan
A lot of people who engage in a content marketing strategy, forget to focus on the "marketing" part. They know how to create content, but they don't know how to get their audience consuming that content. Think about where your customers will access your information, whether you'll be sending out newsletters, connecting with guest post opportunities, or using social media.
9. Commit to a schedule
As we mentioned previously, producing content on a consistent basis can be a serious marketing challenge. However, quality and consistency should always be a key focus when it comes to your content marketing strategy. Whether you're publishing every week, or every month, you need to deliver content regularly so your captive audience can stay engaged with your company.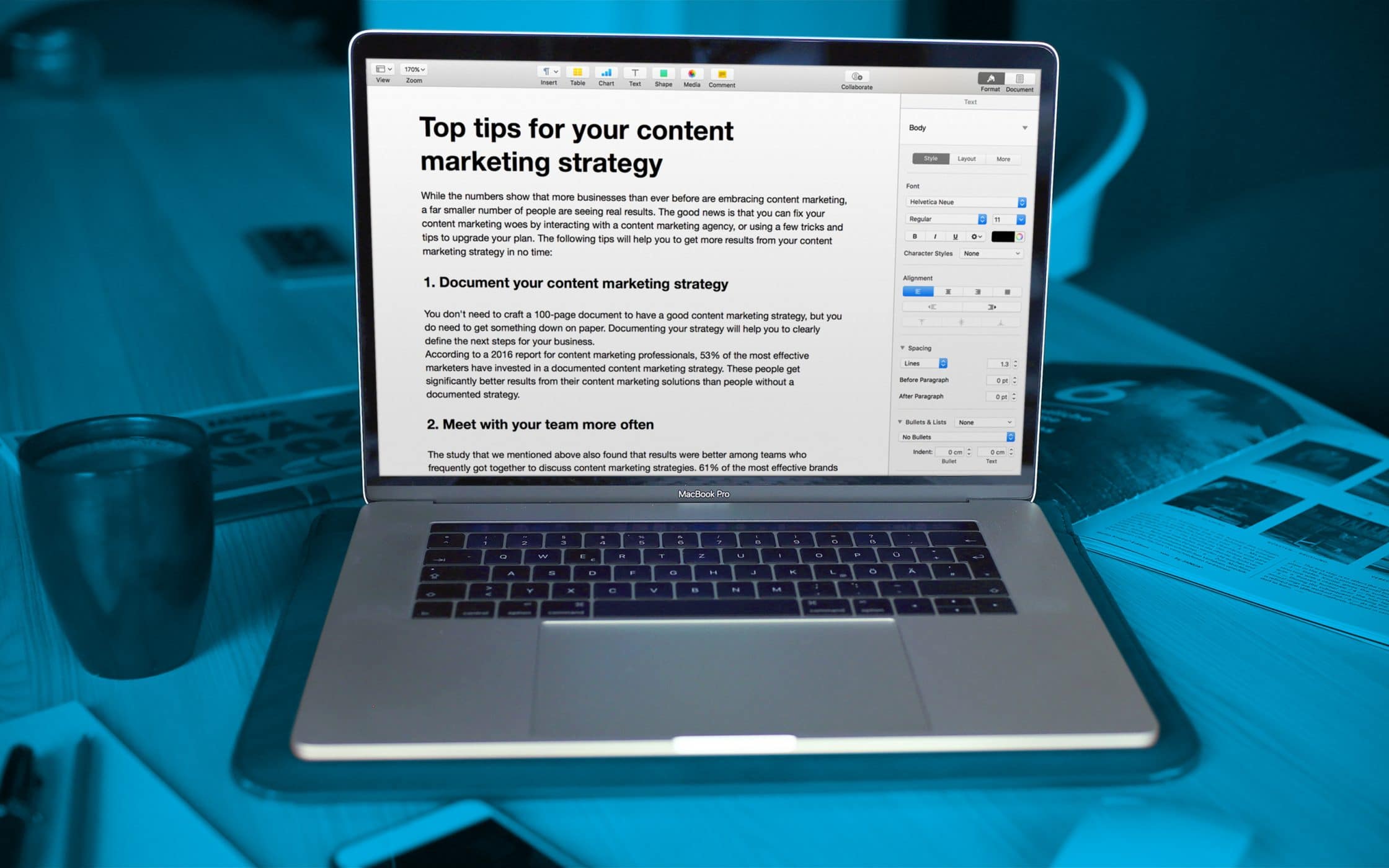 The top tips for your content marketing strategy
While the numbers show that more businesses than ever before are embracing content marketing, a far smaller number of people are seeing real results. The good news is that you can fix your content marketing woes by interacting with a content marketing agency, or using a few tricks and tips to upgrade your plan.
The following tips will help you to get more results from your content marketing strategy in no time:
1. Document your content marketing strategy
You don't need to craft a 100-page document to have a good content marketing strategy, but you do need to get something down on paper. Documenting your strategy will help you to clearly define the next steps for your business.
According to a 2016 report for content marketing professionals, 53% of the most effective marketers have invested in a documented content marketing strategy. These people get significantly better results from their content marketing solutions than people without a documented strategy.
2. Meet with your team more often
The study that we mentioned above also found that results were better among teams who frequently got together to discuss content marketing strategies. 61% of the most effective brands met on a weekly or daily basis. If you're not sure what to cover in your meetings, try looking at the answers to some of the following questions:
What new content was created since the last meeting?
How did the content perform, and what could we do better?
Who's responsible for promoting the content?
What are our competitors doing, and how can we do it better?
Are there any marketing trends available that can help improve our content?
What topics might we cover in future content?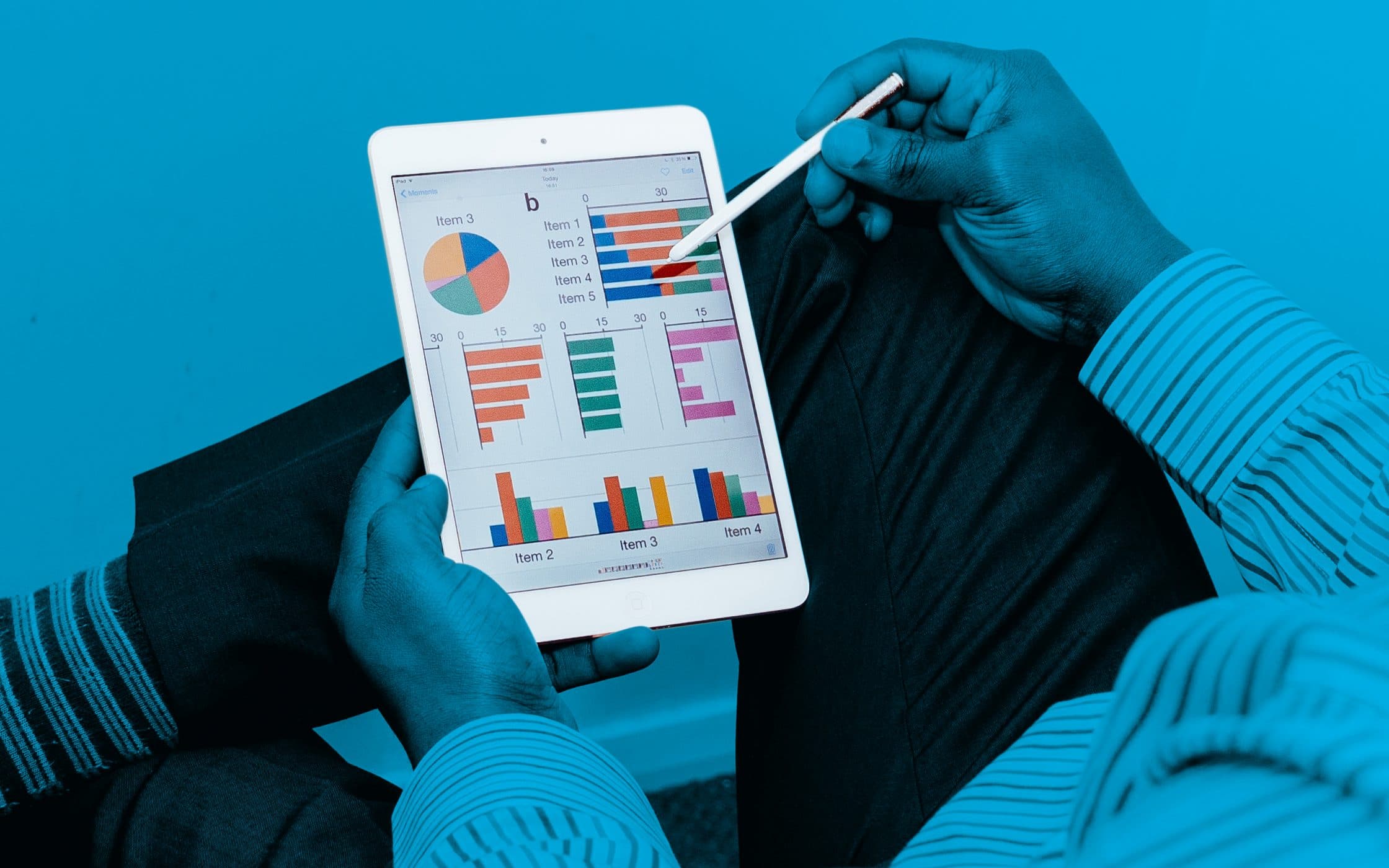 3. Define metrics you need to track
Once you've pinpointed the goals of your content, and you're ready to start moving forward with your content marketing agency, think about what kind of metrics you'll need to track. Measuring your performance will help you to evaluate whether your content marketing strategy is helping you achieve your goals, and what's delivering the best results so you can adjust your plan accordingly. A few metrics to consider include:
Sales metrics: How often your readers convert into sales.
Lead generation metrics: How often your readers convert into leads (look at how often readers are subscribing to newsletters, submitting requests, filling out forms, etc.).
Sharing metrics: How often is your content being shared and liked on social media?
Consumption metrics: How many people have viewed and consumed your content?
4. Focus on quality and customer-centric content
Terms like storytelling, video content, and image optimisation are all buzz-worthy in the marketing space because they uncover the soul of engaging content. The effectiveness of any marketing strategy comes from the value it offers. Well-written and thoughtful content will always stand out in a sea of otherwise un-interesting information.
Remember, developing a deep understanding of your customer challenges and pain points, content preferences, and needs, will help you to create quality content that appeals to them on every stage of the buyer cycle.
5. Publish more content
One of the factors you'll need to consider carefully when building a content strategy, is frequency. Should you be publishing more content, or less? This topic is a highly controversial one, with many blogging experts dithering between the two. However, a study of 13,500 content marketers by HubSpot found that the best results come from 16 posts a month.
4 Posts a week lead to 4.5 more leads, and 3.5 more traffic than anyone who published less than four blogs a month. So, it's a good idea to work on your content frequency. The more you can afford to publish, the better.
6. Optimise for SEO
Is your content marketing strategy SEO optimised? If not, you'll need to work on it. When it comes to hiring a content marketing agency, London experts can often help you track down the best local and global search solutions for your business. Remember, content marketing goes beyond the blogs, and includes optimising every page with:
Titles.
Meta descriptions.
H1 tags.
Images.
Calls to action.
Internal and external links.
Page loading times.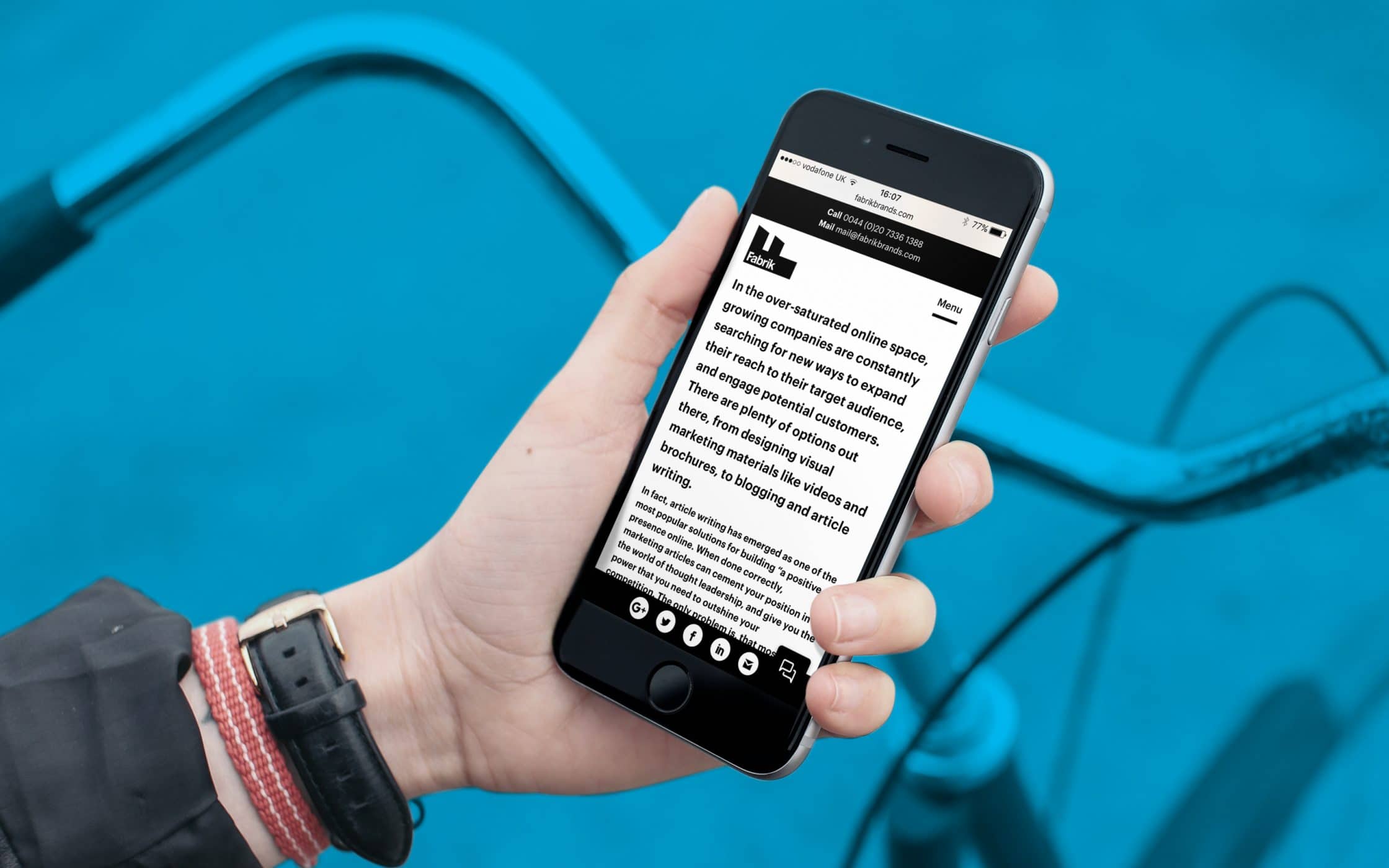 7. Have a plan for distribution
Finally, as we mentioned before, it's common for some business owners to spend most of their time on content creation, and forget about marketing. However, it's crucial to have a plan to get your content in front of your audience. A solid content distribution plan is essential, but 26% of business owners simply don't have one.
Instead of just hoping that people will find your content, make sure you have a plan for how, where, and when you're going to distribute and promote each piece you create.
Working with a Content Marketing Agency, London: What to look for
The unfortunate truth of the content marketing world, is there's no shortage of under-staffed, under-skilled brands. According to experts, 34% of marketers cited problems with content in their marketing skills. The content marketing problem goes further than you'd think too, with half of all senior marketing leaders feeling as though they need a deeper knowledge of content marketing.
Using a content marketing agency could help to relieve some of the pressure, but first you need to know exactly what to look for. When it comes to hiring a content marketing agency, London experts can offer:
Cost savings: Agencies are typically cheaper than hiring full-time people to manage a content workload.
Niche experts: Rather than relying on general professionals for your content marketing strategy, the right agency can give you guidance from experts that know how to make the most out of your specific niche.
Better material: Most content marketing agencies will produce content that is far more valuable and engaging than that produced by individuals. These people have undergone extensive training to help them deliver exceptional content.
Higher accountability: A content marketing agency is contractually obligated to perform well when it comes to supporting your business. That means that these experts have a vested interest in keeping you happy.
Troubleshooting: When you hit a problem, you need people with a lot of experience to help you overcome that issue. A content marketing agency can help you to figure out what's going wrong and how to fix it.
While finding and vetting the perfect content marketing agency for your business might seem like quite a significant task, it's also crucial to your long-term success. Here, we'll look at just some of the features you might want to evaluate when looking at content agencies.
1. A great business strategy
Above all, the content marketing agency that you choose needs to understand your business goal, and help you to come up with a plan that caters to your brand. Content marketing can have a range of objectives, but the strategy you follow should be specifically suited to your goals and what you want to accomplish. From link building to lead generation, content marketing professionals will help you to make the most out of your method.
2. They practice what they preach
It makes sense that if you're looking for a content marketing agency that can deliver consistent quality, you might want to evaluate the content that they produce on their website. Visit the company's blog and ask yourself if you like what you see. Do their posts make you want to invest in them? Do they have a good following, and do they post with consistency?
3. A solid promotional strategy
On the same lines, it's also a good idea to look at how your content marketing agency promotes themselves online. Having a social media marketing plan can be essential for a content strategy, and while it's only one part of the puzzle, it's worth evaluating. Look at how frequently they invest in their own promotion, and whether their tactics are impressive.
4. Previous success
If a content marketing agency is brand new, then you might not be able to find many testimonials from previous clients. However, if you can see any case studies, then you should look at them for a good insight into whether the business will be a good fit for your brand.
Specifically, you should look for quality of content, expertise, and attention to detail. If possible, try to find out whether the work that they have done for other companies has generated results, from increased traffic to greater conversions.
5. Their services
A lot of content marketing agencies offer a range of service. However, though the one you like might offer a collection of fantastic services, if they don't offer the one you're looking for, then none of the others matter. You know exactly what your business is looking for, and you don't want to waste your time on a content marketing agency that can't provide it.
However, keep in mind that if they don't seem to offer exactly the service you want, you shouldn't be immediately dissuaded. Try reaching out to the content agency and ask if they can offer something extra.
6. Communication
Finally, one of the most important things you can look for when you're hiring a content marketing agency, is good communication. You need to enjoy working with the business, and feel as though you're seeing eye-to-eye if you want great results. You need someone who you can see becoming a valued and trusted business partner for you and your brand.
Remember, a content marketing agency can be a huge advantage for your business. These experts have the background and knowledge to provide an outside perspective to your marketing strategies, and deliver something to your company that you didn't know you were missing before. With a content marketing agency, you can hand some of your workload over to someone else, and enjoy the benefits of incredible results.
Investing in your content marketing strategy
The truth is, today's customers are bombarded with more messaging and advertising than they know what to do with. The impact of traditional advertising channels has been diluted, and content marketing is emerging as a strategy to resonate powerfully with your audience. With the right content marketing strategy, you can convey your brand personality, and tailor your value to the needs of your customers.
Content marketing not only show-cases your subject-matter expertise, but it gains trust among your audience by highlighting the topics that matter most to your prospects. By creating well-crafted content, you can draw new traffic to your social media accounts and website, boost your performance across Google, and give audiences the chance to share your brand reach for you.
When it comes to building and maintaining your content marketing strategy, remember that some aspects should remain consistent even as your methods evolve. For instance, your business goals and mission might stay the same as the content you produce begins to change. However, other parts of your content marketing strategy will benefit from being updated and reviewed frequently. This is where a content marketing agency can come in handy.
As more and more brands recognise the impact of content marketing, make sure that you don't fall behind by revisiting your strategy, team processes, and core topics on a regular basis.
If you enjoyed this article, you might enjoy these too:
– How to write a brand positioning statement
– Do you need a re-brand or a brand refresh?
– Conducting a competitor analysis for success