Looking for the best desktop computer for graphic design? A high-quality desktop computer for graphic design is a must-have investment for creative professionals
While skill and creativity will take you a long way in the world of graphic design, you're always going to need a high-quality computer too, so you can experiment with the best software.
The best desktop computer for graphic design is a powerful tool in your strategy for professional success.
Although desktop computers may not be as versatile as laptops and portable tablets, they offer the added benefit of boosted processing power and reliability.
If you've been struggling to find the right desktop computer for graphic design, then you're in the right place.
We've filtered through some of the most impressive products on the market to bring you this list of our top performers.
Our best desktop computer for graphic design choices are:
Apple iMac 5K (best Mac)
Dell XPS 8930 (best connection ports)
ASUS ROG Strix (best graphics)
Kingdel Mini PC (best space saving)
HP Pavilion gaming desktop (best tower)
Skytech Archangel Gaming PC (best cooling)
Apple Mac mini (best portable)
CyberpowerPC Gamer Xtreme (best set)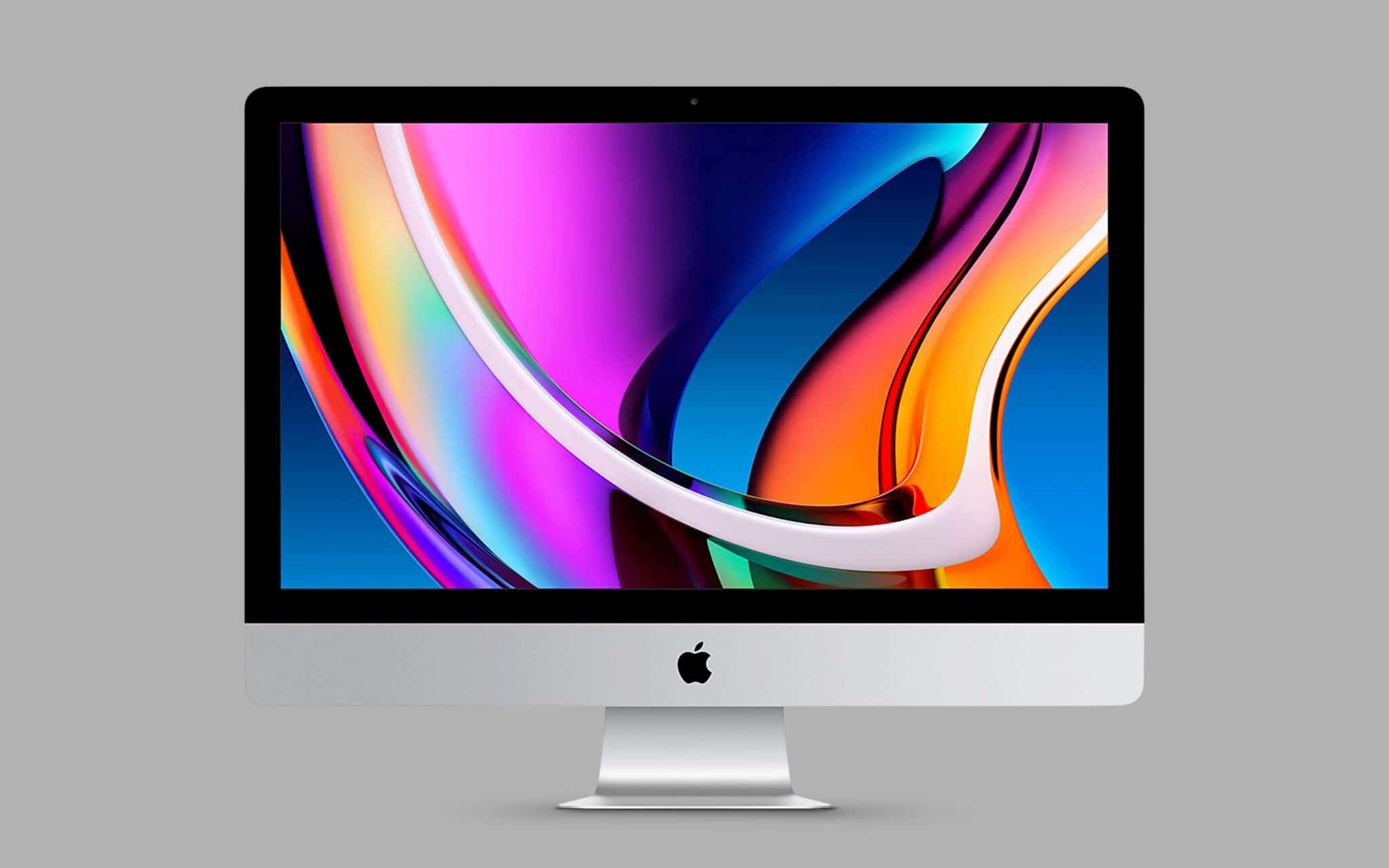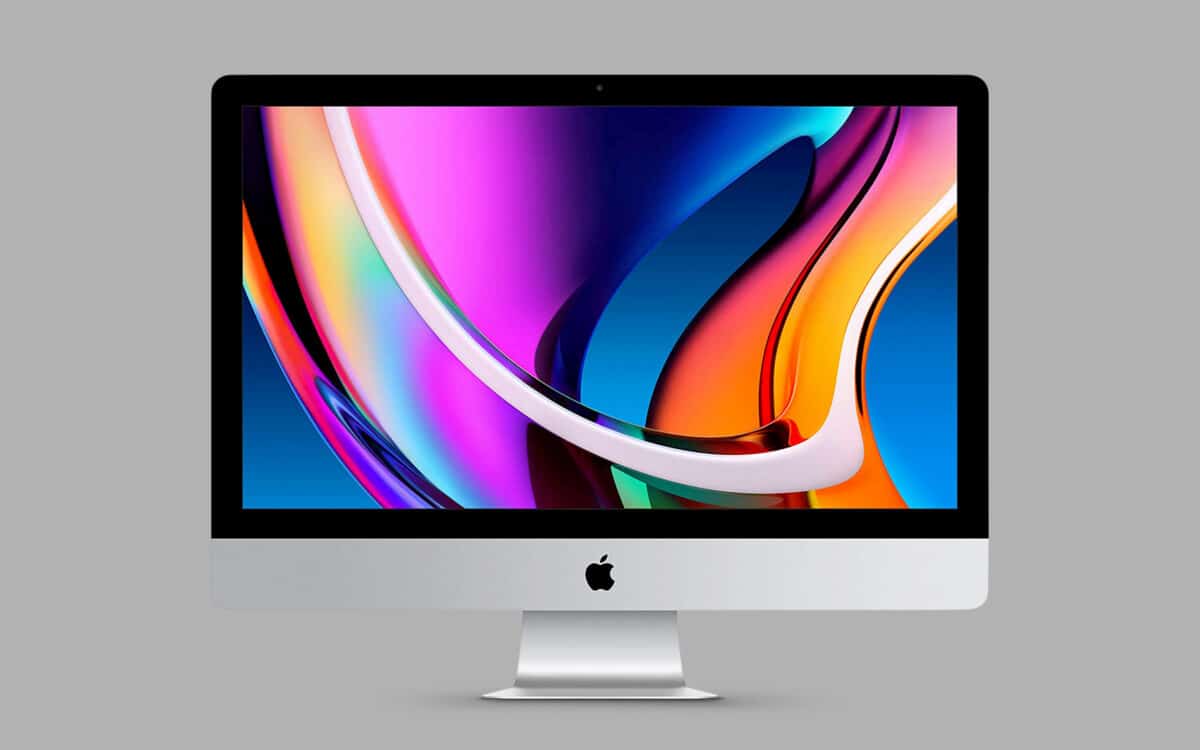 1. Apple iMac 5K (best Mac desktop computer for graphic design)
There are few brands demanding as much attention as the professional design space as Mac. That's why we had to include the iMac as our top Mac desktop computer for graphic design.
If you love working with Apple products, then this 5k product from Mac will give you all the functionality you need to impress your clients and make the most of your skills.
This all-in-one desktop comes with access to a powerful 10th gen Intel Core i5 processor, capable of a sensational 3Ghz speed.
There's a full 8GB of RAM, so you can tackle a range of tasks, including using Photoshop for video and animation.
Your iMac also has a dedicated GPU, and 2GB of video memory too.
Features include:
Full 5k 27-inch display
Up to 8TB of storage
Gigabit ethernet
500 Nits of brightness customization
SD card slot for your peripherals
Superfast SSD performance
Retina display supporting 1 billion colors
AMD Radeon Pro 5300 graphics
2 USB type-C and 4 USB ports
6-core 10th gen Intel Core i5
Easily among the most powerful computers on the market today, the Apple iMac might be a little expensive to some.
Still, it also stands out as one of the most effective Mac desktop products around – perfect for transforming your graphic design strategy.
There's even a 1080p camera built-in for your video conferencing sessions.
The biggest issue is how loud the fan can be, at times.
Pros:
Incredible 5K display
USB C and USB ports
10th gen Intel Core i5
Amazing display with 1 billion colors
Leading graphics card
Cons:
Loud fan performance
Not suitable for Microsoft users
Apple iMac 5K
iMac and powerful processors go hand in hand. Up to a 6-core Intel Core i7 processor gives the 21.5-inch iMac all the power you need for creating in Photoshop, editing video, or making music.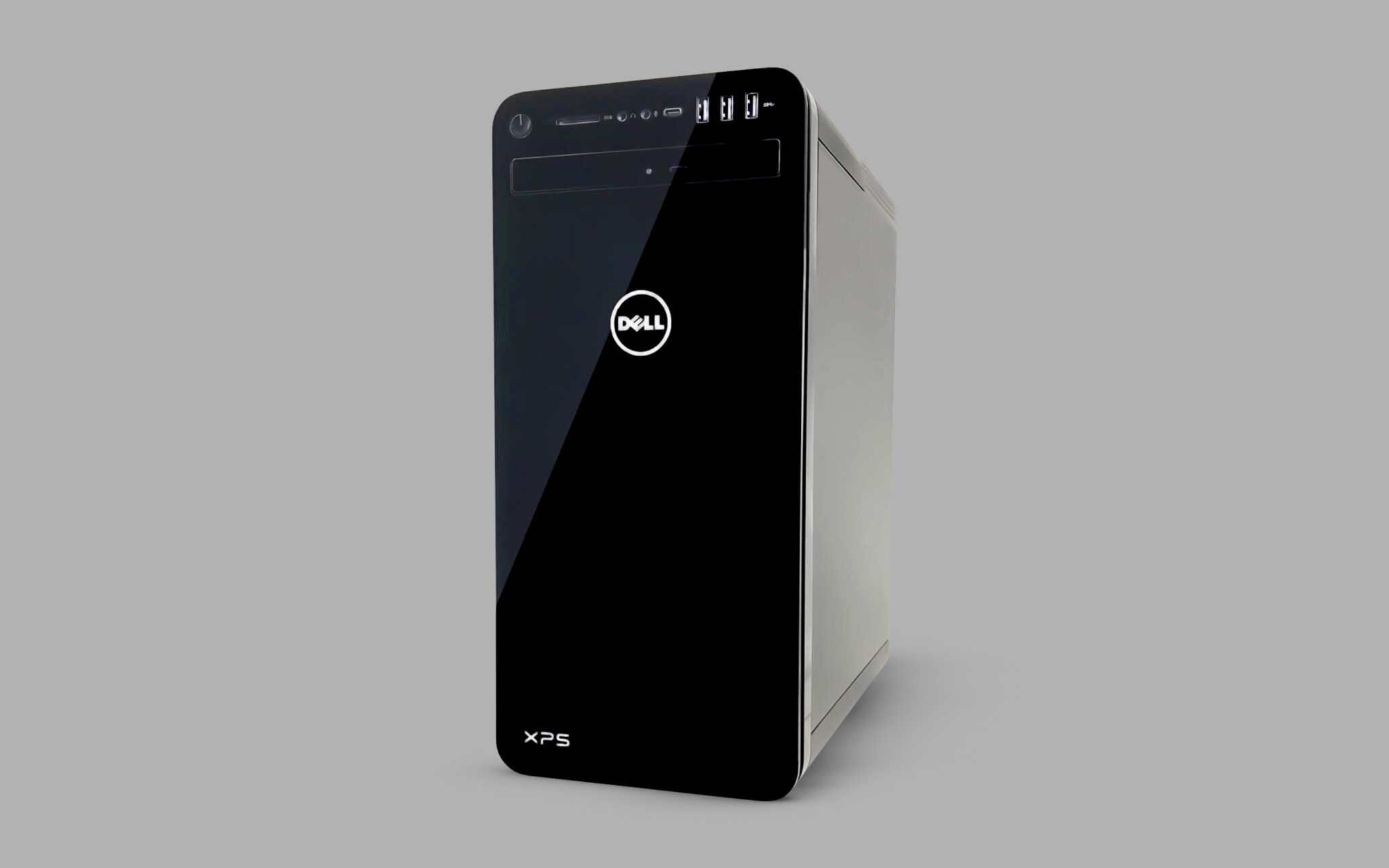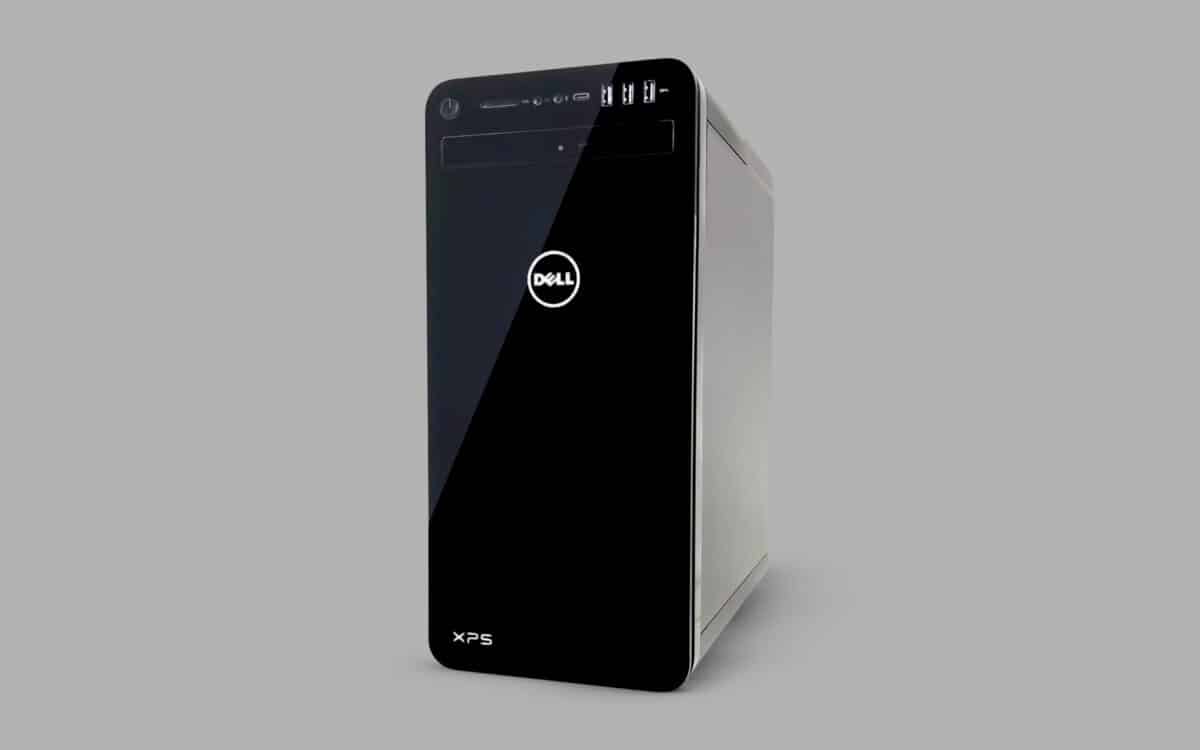 2. Dell XPS 8930 (best connection ports)
Among the leading graphic design PCs on the market today for versatility, the Dell XPS 8930 is a powerful professional computer.
The Intel i7-8700 processor (8th generation) helps to drive speedy results when you're working on Photoshop, while the 4.60Ghz is great for video production.
This XPS even includes 64GB of DDR4 memory, and a 256GB SSD card.
You can enjoy 2TB of SATA hard drive space for your files too.
If you're looking for amazing graphical performance Dell has you covered with the GeForce GTX 1060 from NVIDIA, which can produce wonderfully vibrant colors with no problem.
There's also Bluetooth streaming, and wireless internet built in.
Features include:
Intel i7-8700 6-core processor (8th gen)
4.60Ghz processing
256GB of SSD and 2TB HDD
DVD burner
Nvidia GeForce 1060 graphics
Windows 10 Pro built-in
1 year limited warranty
Wired keyboard included
Full 11 USB ports
5:1 channel audio
More than just an amazing work computer, the Dell XPS 8930 can be a hub for all your graphic design components, with up to 11 USB ports to use in total.
There's a high-performance integrated audio system for listening to your favorite tunes while you work too.
One slight downside is there's no support for dual monitors here and it can be quite loud.
Pros:
Excellent amount of storage
Brilliant iCore processor
Good graphic performance
5:1 surround sound included
High number of connection ports
Cons:
No dual display support
Very loud fans
No products found.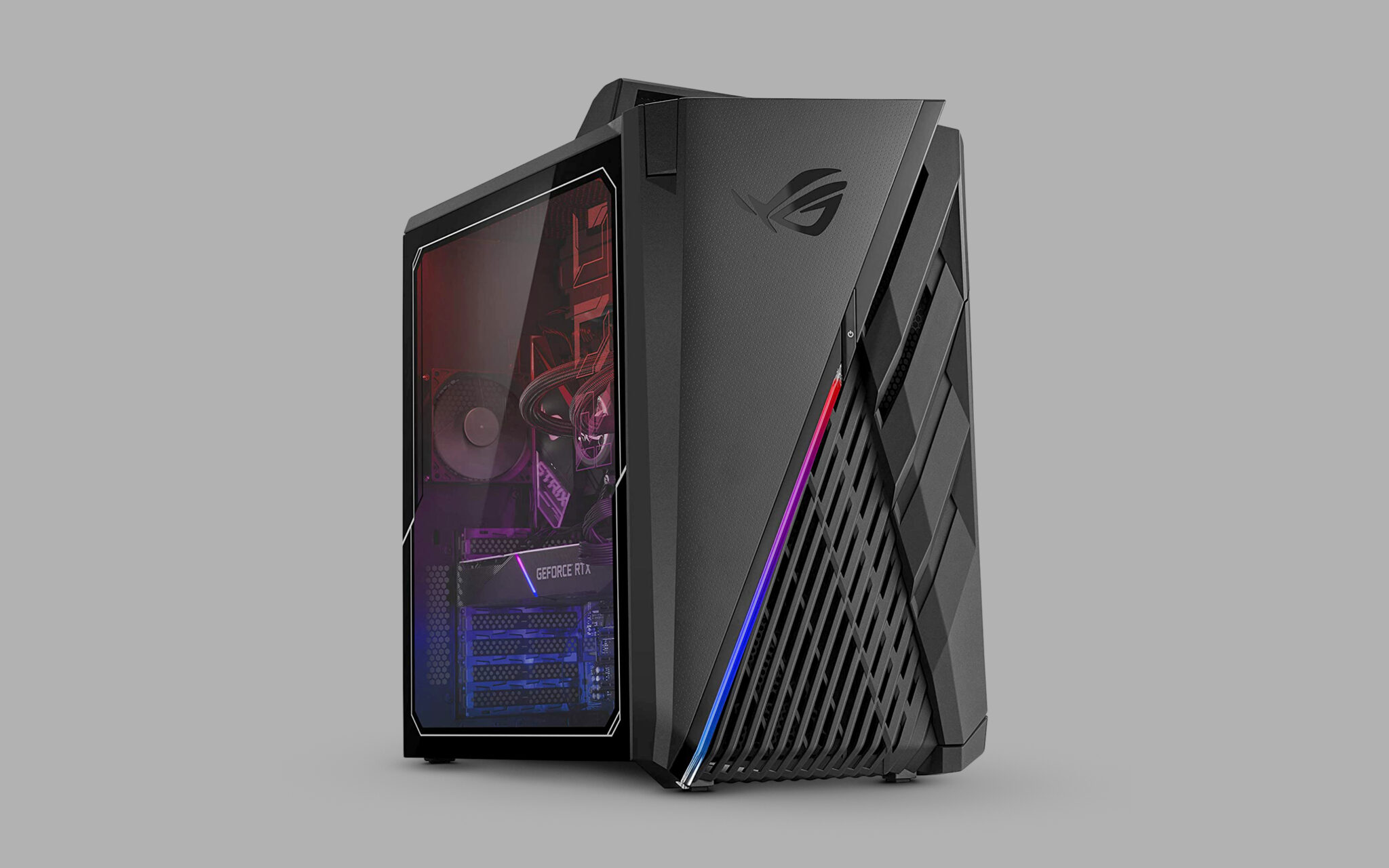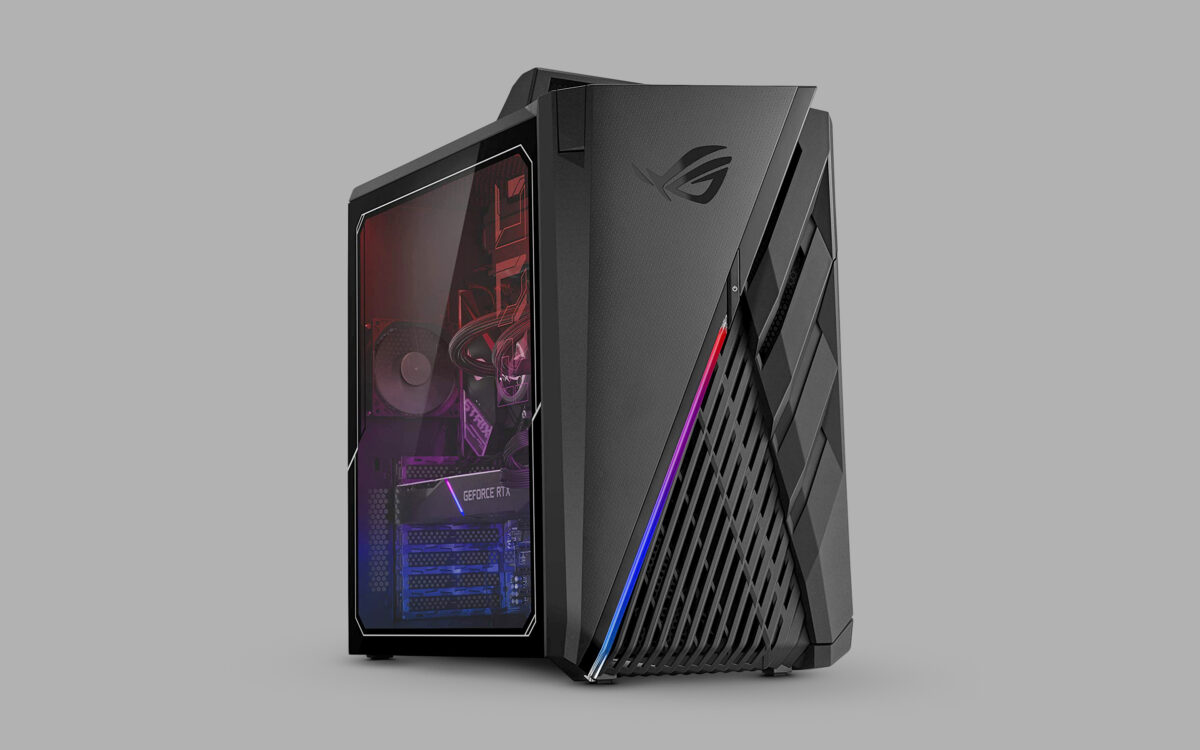 3. ASUS ROG Strix (best graphics)
One thing you may notice as you begin to shop for the best desktop computer for graphic design and animation, is these PCs are often advertised as gaming rigs.
Gamers and graphic designers need a lot of the same things – from high processing power, to sensational graphics.
The ASUS ROG Strix might be called a gaming computer, but it's actually a fantastic tool for designers too.
An Intel Core i7 processor ensures you can speed through even the toughest programs with ease, while your NVIDIA GeForce RTX 2070 graphics card takes you to the top end of visual performance.
There's a 16GB DDR4 system included, and a 512GB SSD with a 1TB HDD for extra storage space. Windows 10 is already built in.
Features include:
NVIDIA GeForce RTX 2070
512GB SSD
1TB HDD
16GB DDR4
Advanced air cooling
Windows 10 home support
Excellent Intel Core i7 processor
Notably, this gaming computer and graphic design PC comes with various open ports so you can adjust and expand your PC's performance however you see fit.
The powerful NVIDIA graphics card means pushing your device to perform at its best couldn't be easier.
One slight downside is the high price, which might be too much for some consumers.
Also this PC is a little bulky.
Pros:
Excellent SSD and HDD
NVIDIA GeForce RTX 2070
Powerful i7 processor
Advanced air cooling
Windows 10 included
Cons:
Quite bulky (takes up a lot of space in the office)
Quite expensive
ASUS ROG Strix
ROG Strix G15CS is a Windows 10 gaming desktop that delivers phenomenal gaming experiences powered by the Intel Core i7 processors, GeForce RTX 2070 graphics, and lightning-fast SSD storage.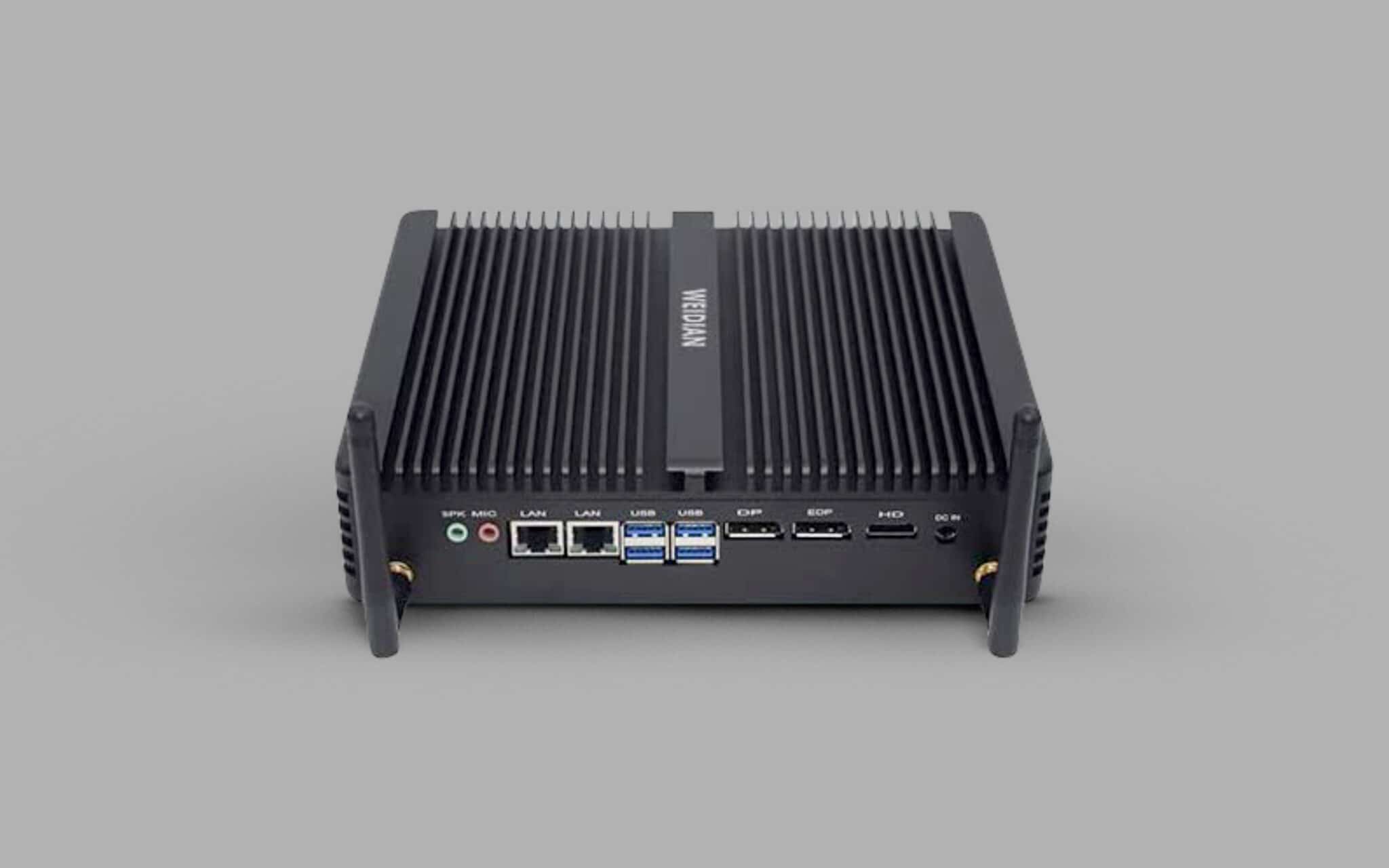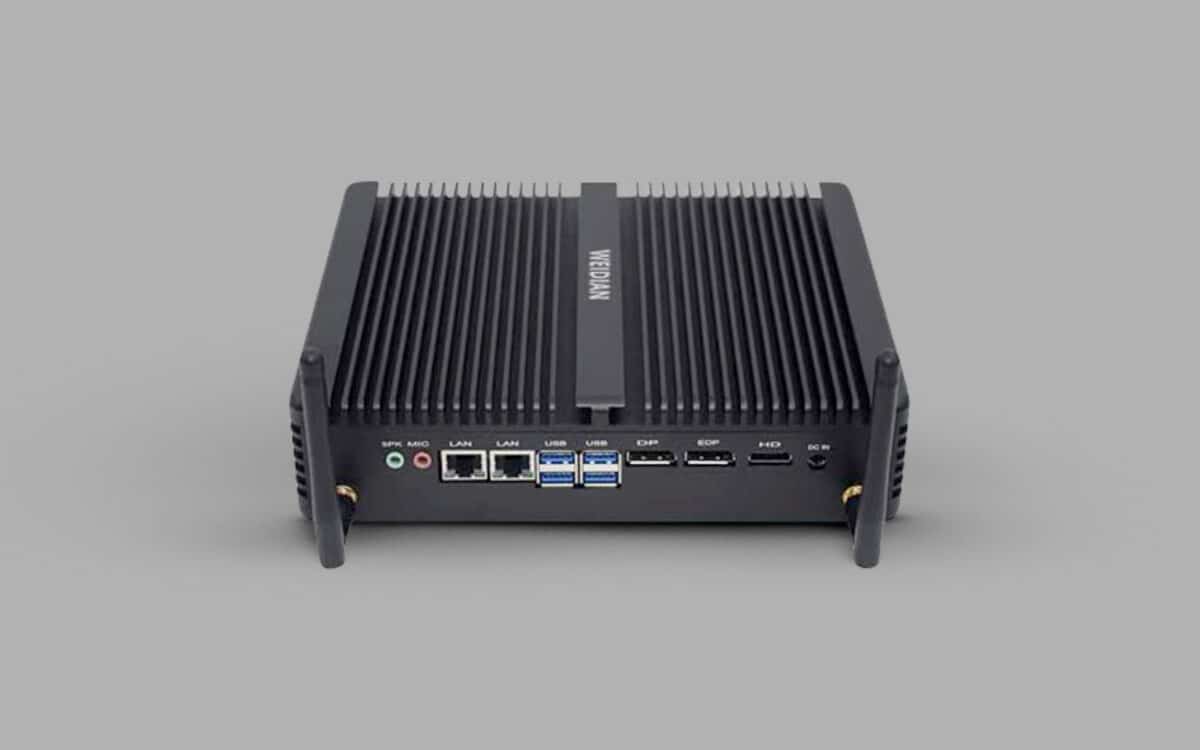 4. Kingdel Mini PC (best space saving)
If you're still working in a small office space, creating brand assets for clients, then you might need a smaller PC. Fortunately, the WEIDIAN mini PC could be the perfect option.
This computer comes with a powerful Intel i7 processor, with more than enough power to run complicated programs like Photoshop.
Wi-Fi and Bluetooth connectivity are already built-in, for extra fast connection speeds, and you get full support for 4K graphics.
This desktop computer for graphic design is space-saving and energy saving, with no fan power required.
If you need the perfect silent computer, the WEIDIAN could be the perfect choice, thanks to its unique design.
There's also a 1-year guarantee included with your purchase, so you can contact the WEIDIAN team if you have any issues.
Features include:
Intel i7 8550U Processor
4 cores and 8 threads
4K Graphics support
M2 Wi-Fi connectivity
Bluetooth 4.0
HDMI and EDP connectivity
Fan-free cooling
Excellent energy saving design
1-year warranty
Space-saving structure
The ideal option for any graphic designer without a lot of desk space, this unique computer isn't just small, it's great for your energy bills too.
The fan-free construction means you can use up to 80% less energy than a standard computer for graphic design.
One possible problem is there's not a lot of expansion options available. You might also find the CPU needs an upgrade.
Pros:
Intel i7 processor
Excellent 4K graphic support
High-speed connectivity
Space saving design
Energy saving performance
Cons:
CPU might need an upgrade
No extension options
Sale
Kingdel Mini PC
The Kingdel Mini PC is a perfect silent computer with fanless design. The DC 12V 5A power supply and 15W-20W power consumption saves more than 80% energy compared to the consumption of traditional computers.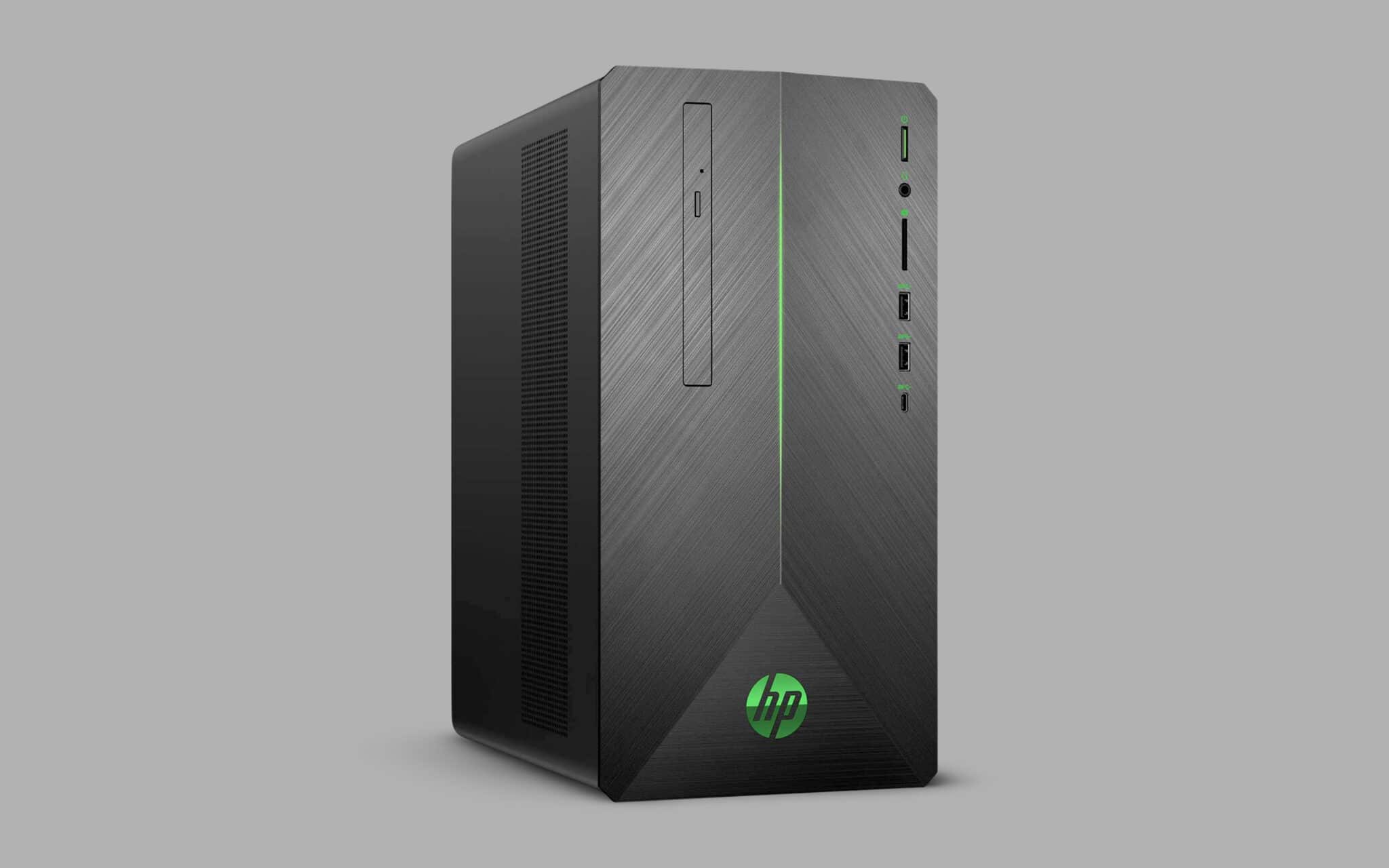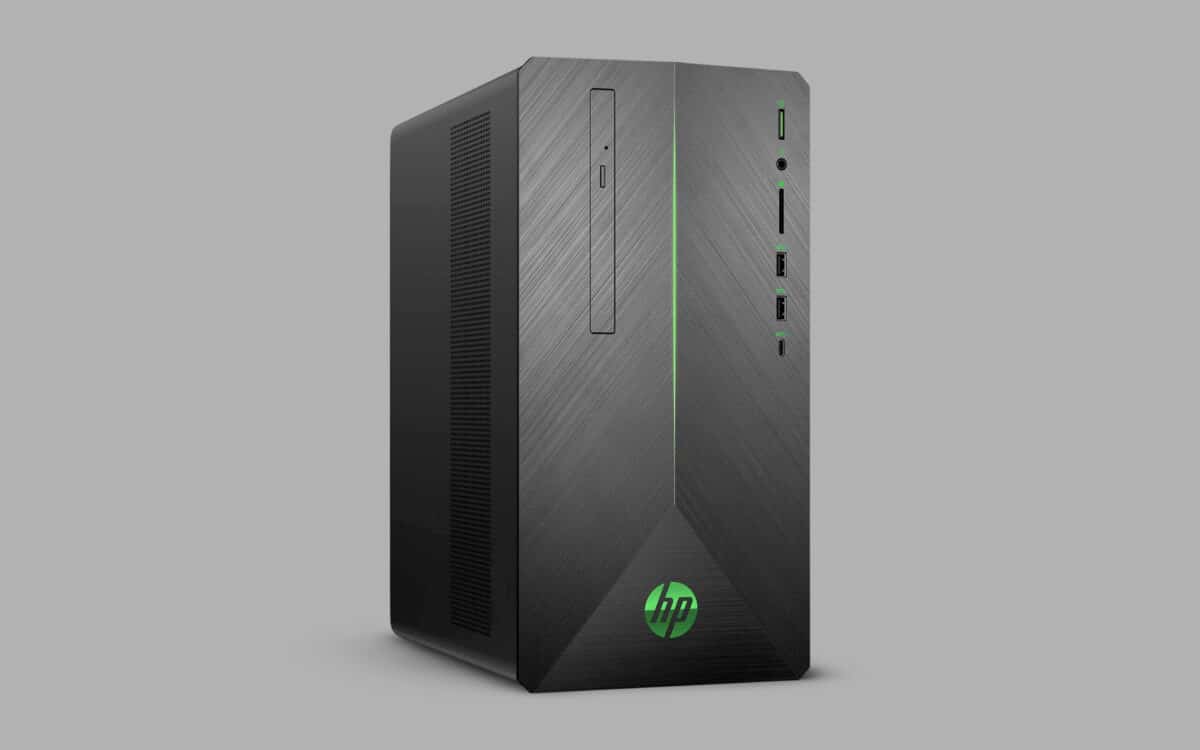 5. HP Pavilion gaming desktop (best tower)
If you want a simple and reliable tower perfect for graphic design projects, the HP Pavilion could be the product for you.
You don't get a screen and other peripherals with this product, but the purchase does include a wired keyboard.
Within the tower, you'll find an Intel Core i5-9400F processor for speedy performance, and a NVIDIA GeForce GTX 1660Ti graphics card. There's 8GB of RAM and 256GB SSD too.
Created to be the perfect workhorse for professional and personal life, the HP Pavilion has a substantial bandwidth performance and 5.1 sound so you can really turn up the speakers.
If you're building videos for customers, then the extra sound will definitely come in handy.
The HP Pavilion also comes with plenty of connection ports.
Features include:
Intel Core i5-9400F processor
NVIDIA GeForce GTX 1660 Ti
256GB SSD and 8GB of RAM
5.1 surround sound
4 USB 2.0
Up to 4 additional USBs
HDMI and microphone input
Wi-Fi connectivity 802.11a/b/g
Bluetooth 4.2
Ready to keep you connected with both Bluetooth and Wi-Fi, this handy tower PC has everything you need to launch into action.
There's Windows 10 built-in too. One slight problem is despite the extra connectivity ports, there's only one HDMI and display port.
Buying a high-quality display to go alongside your PC can be expensive, so remember to factor that into your budget.
Pros:
High performance graphics card
256 SSD and 8GB of RAM
Perfect for programs like Photoshop
Excellent Processor power
Wi-Fi and Bluetooth connectivity
Cons:
Only 1 HDMI and display port
Can be expensive with extra peripherals
Sale
HP Pavilion gaming desktop
The HP Pavilion Gaming Desktop is all about smooth performance and crisp graphics wrapped up in a bold design. This PC offers the latest technology plus the ability to upgrade, keeping performance up-to-date.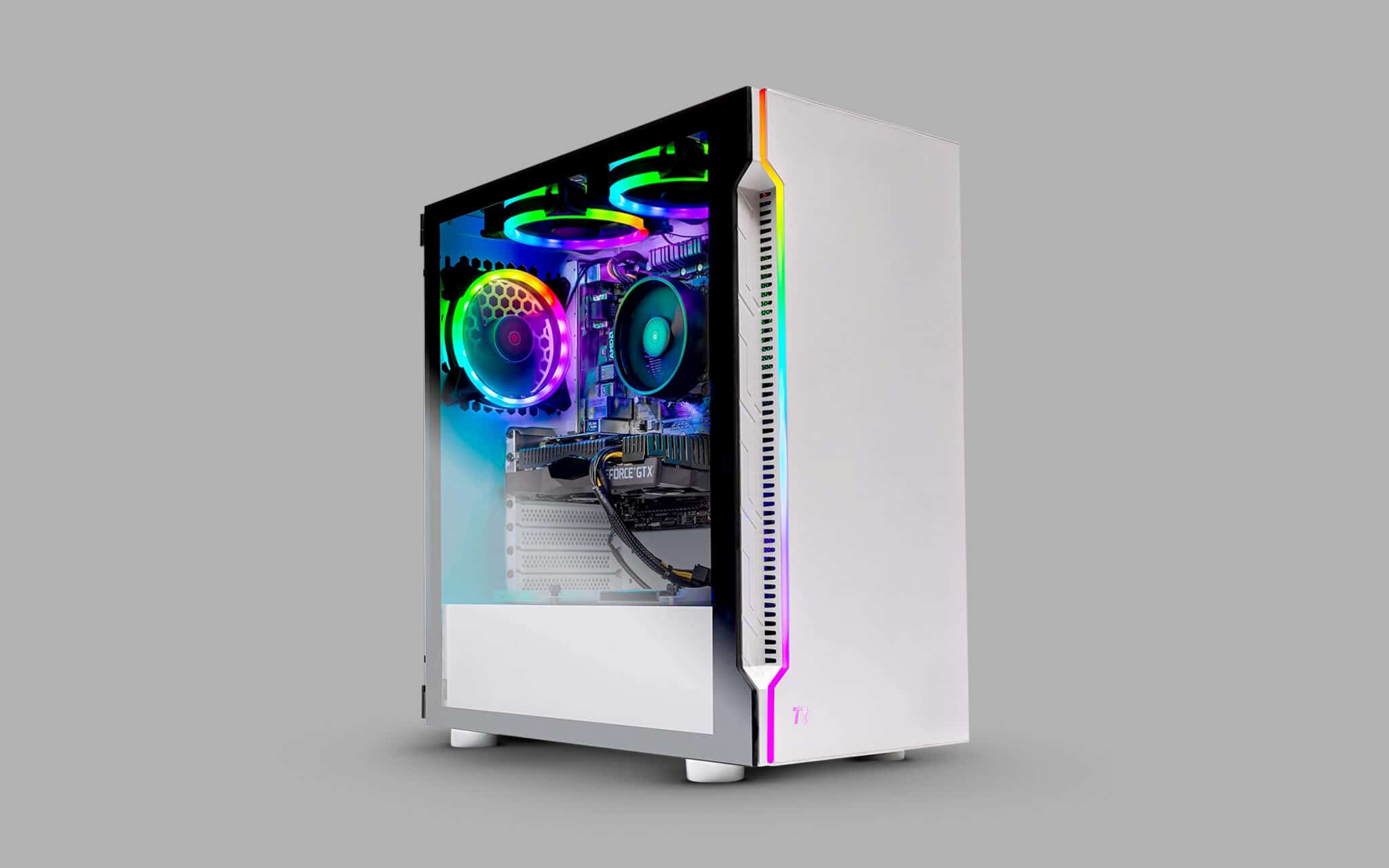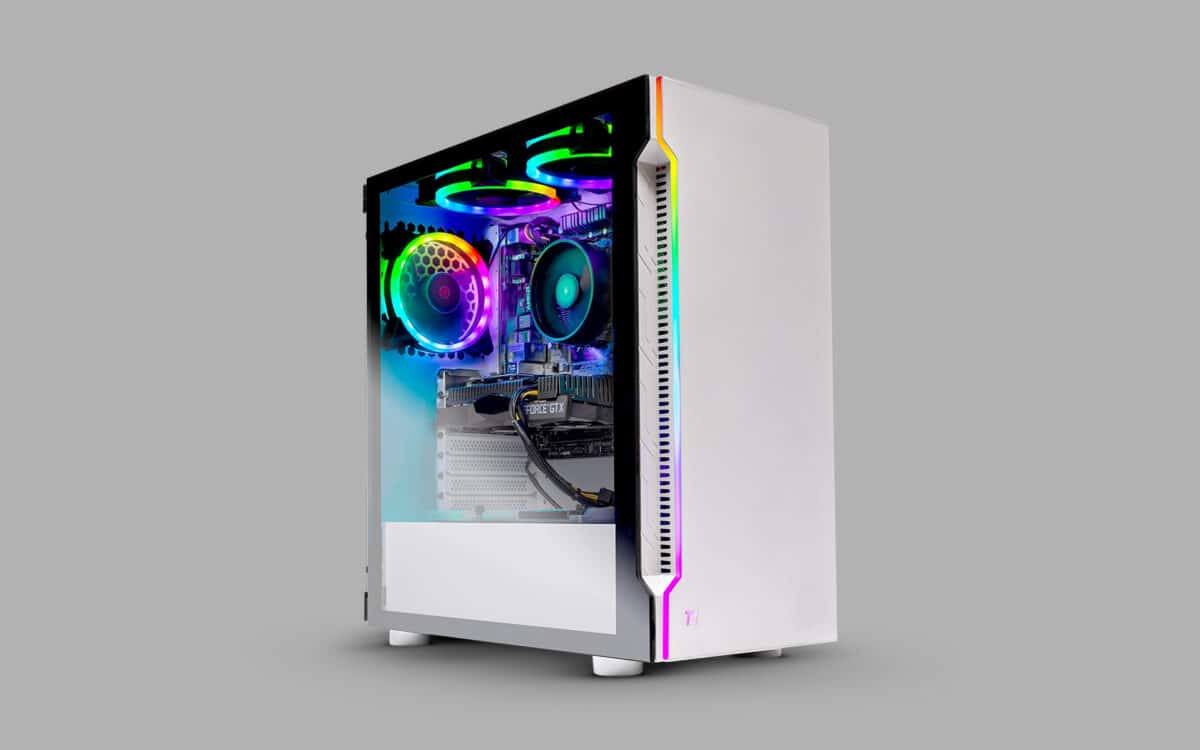 6. Skytech Archangel Gaming PC (best cooling)
This Skytech Archangel Gaming PC isn't just for people who love to spend their nights gaming online.
The AMD Ryzen 5 6-core processor ensures a high performance for graphic designers and artists working with high-intensity software too. T
here's a GeForce GTX 1660 Super 6GB graphics card, and you get an impressive 16GB HDD memory, combined with a fantastic 500GB SSD too.
Perhaps the most impressive thing about this graphic design PC is that it comes with extra features intended to keep your device cool as you work.
The heat spreads out evenly throughout the machine, so you're less likely to have problems with lost performance.
The AMD high performance Wraith cooler will keep your device in excellent condition day after day. There's even a set of 3 RGB ring fans with 80 plus certified 500 watt power supply.
Features include:
AMD Ryzen 5 3600 6-core 12-thread 3.6GHz
500GB SSD
Max boost CPU
B450 motherboard
GeForce GTX 1660 Super 6GB Graphics card
16GB DDR4 Gaming memory
Heat spreading technology
AMD high-performance Wraith cooler
Wi-Fi and wired internet compatible
HD audio and microphone
4 USB x 3.2, 2 USB 3.0 and 2 USB 2.0
3 RGB ring fans
With everything you need to run a fantastic graphic design project, while keeping your cool, the powerful Skytech Archangel computer is a great investment for any modern professional.
You get lifetime free technical support in the USA included, as well as 1 year of parts and labor warranty too.
The biggest issue is that the keyboard included isn't ideal for most professionals. You may also find that you get a different graphics card to the one listed.
Pros:
Excellent high-quality cooling technology
500GB SSD and 16GB DDR4
Powerful graphics and CPU performance
Lots of USB connections
Wi-Fi and wired internet ready
Cons:
Graphics cards can differ
Not the best included keyboard
Skytech Archangel Gaming PC
Experience true PC gaming performance with Skytech Gaming's New Archangel series. Featuring the newest GTX graphics technology from NVIDIA and powered by AMD's Ryzen 5 3600 6-core processor, the New Archangel delivers the best price-to-performance value gaming rig in the market.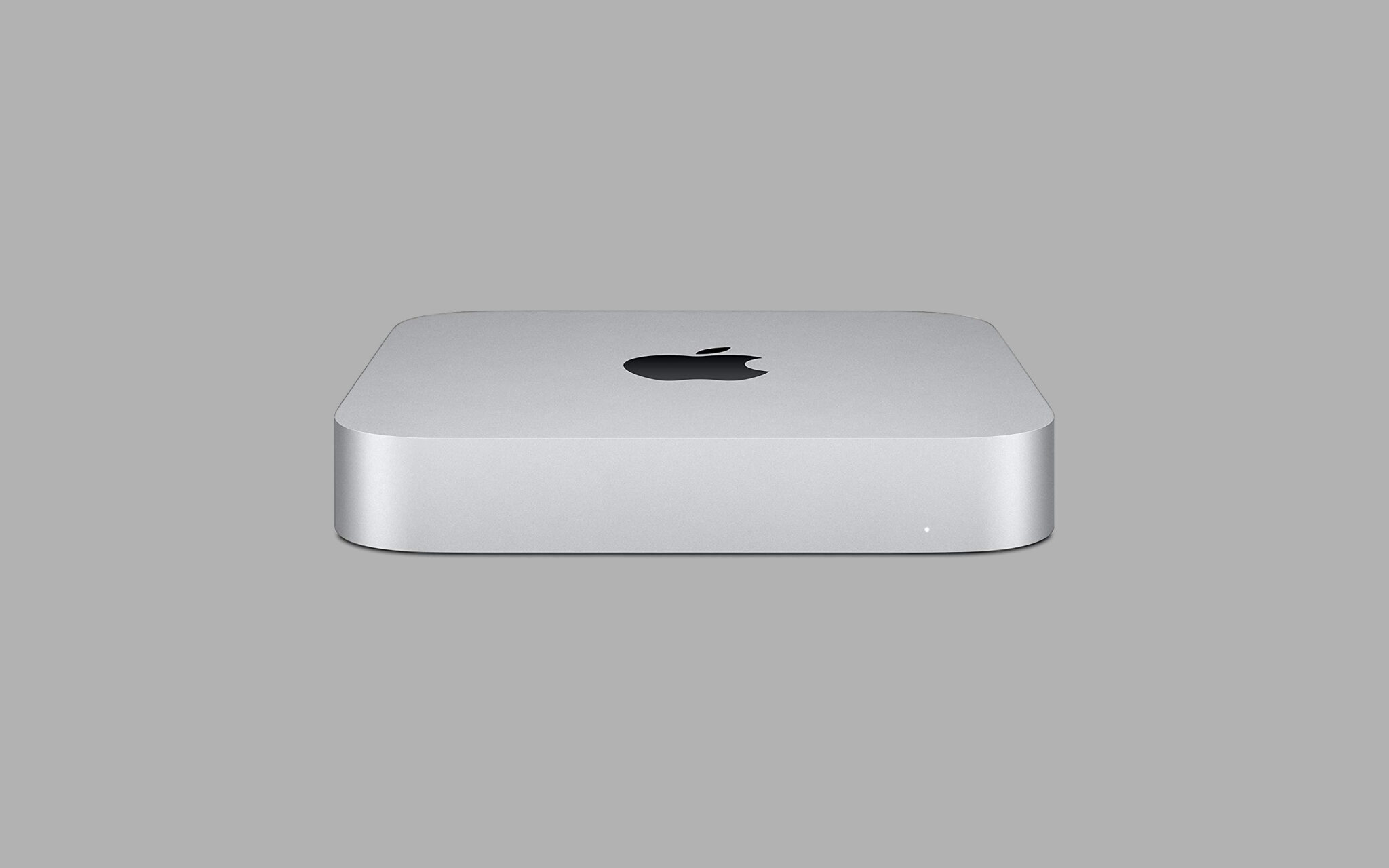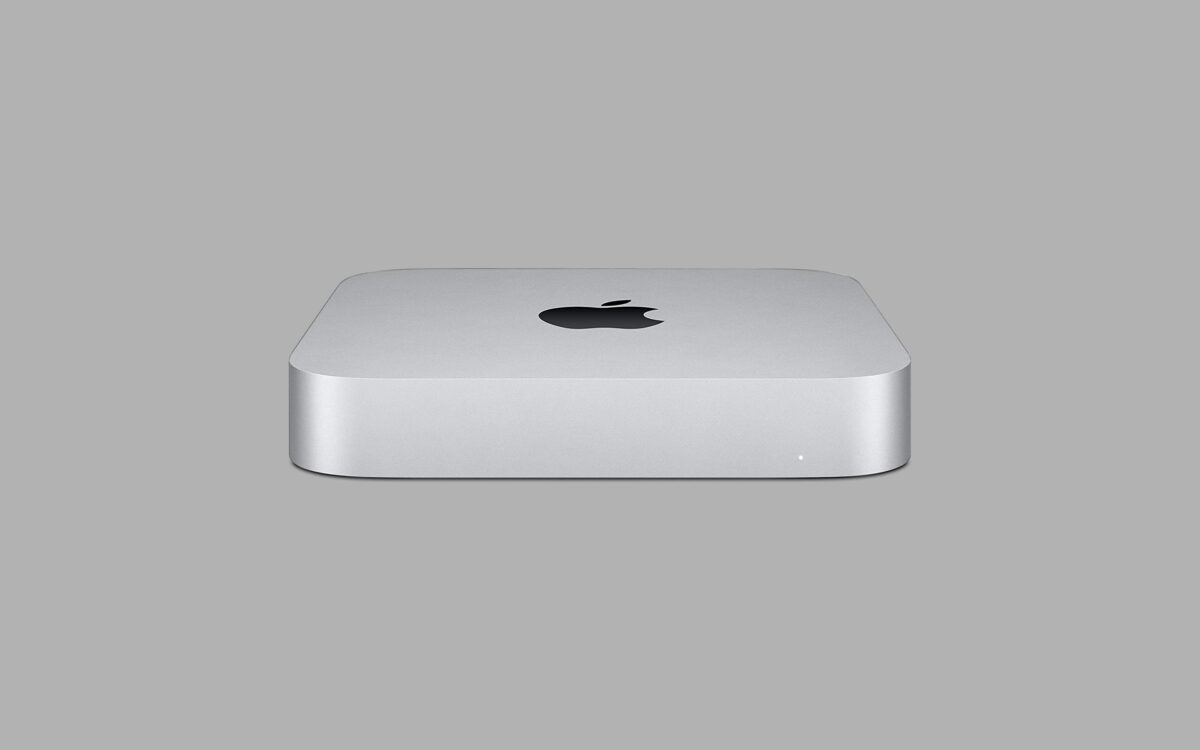 7. Apple Mac mini (best portable desktop computer for graphic design)
Usually, when you invest in the best desktop computer for graphic design and animation, you expect the device to stay put.
Unlike laptops and tablets you can take on the move, desktop devices generally stay in one place.
This doesn't have to be the case for an Apple Mac Mini, though. This miniature Mac desktop computer for graphic design bundles a lot of power into a tiny space.
Inside a neat container, Apple includes a 6-core, eighth generation Core i5 processor, Intel UHD graphics, 8GB 2,666MHz DDR4, and ultrafast SSD performance.
Despite the small size, there's also four thunderbolt ports, 2 USB 3 ports and one HDMI.
Features include:
8th gen 6 core Intel i5 processor
8GB 2,666MHz DDR4
SSD storage
2 USB 3 ports
Gigabit ethernet
3 USB type-C ports
MacOS built-in
1 HDMI 2.0 port
802.11ac Wi-Fi
To make the most of this desktop computer for graphic design, you'll need to buy all your required extras, such as a displace (screen), keyboard, and mouse.
You might need a little additional storage too, depending on how frequently you use the product.
A possible downside is the tiny computer can easily heat up very quickly.
Pros:
Powerful i5 processor
Gigabit ethernet and Wi-Fi
SSD storage
Extremely small and portable
Plenty of USB connections
Cons:
You'll need to buy the extras separately
Can heat up quickly
Sale
Apple Mac mini
The HUION Kamvas 13 packs a lot of punch at a very friendly price. If you're looking for a versatile drawing tablet, this is made for you.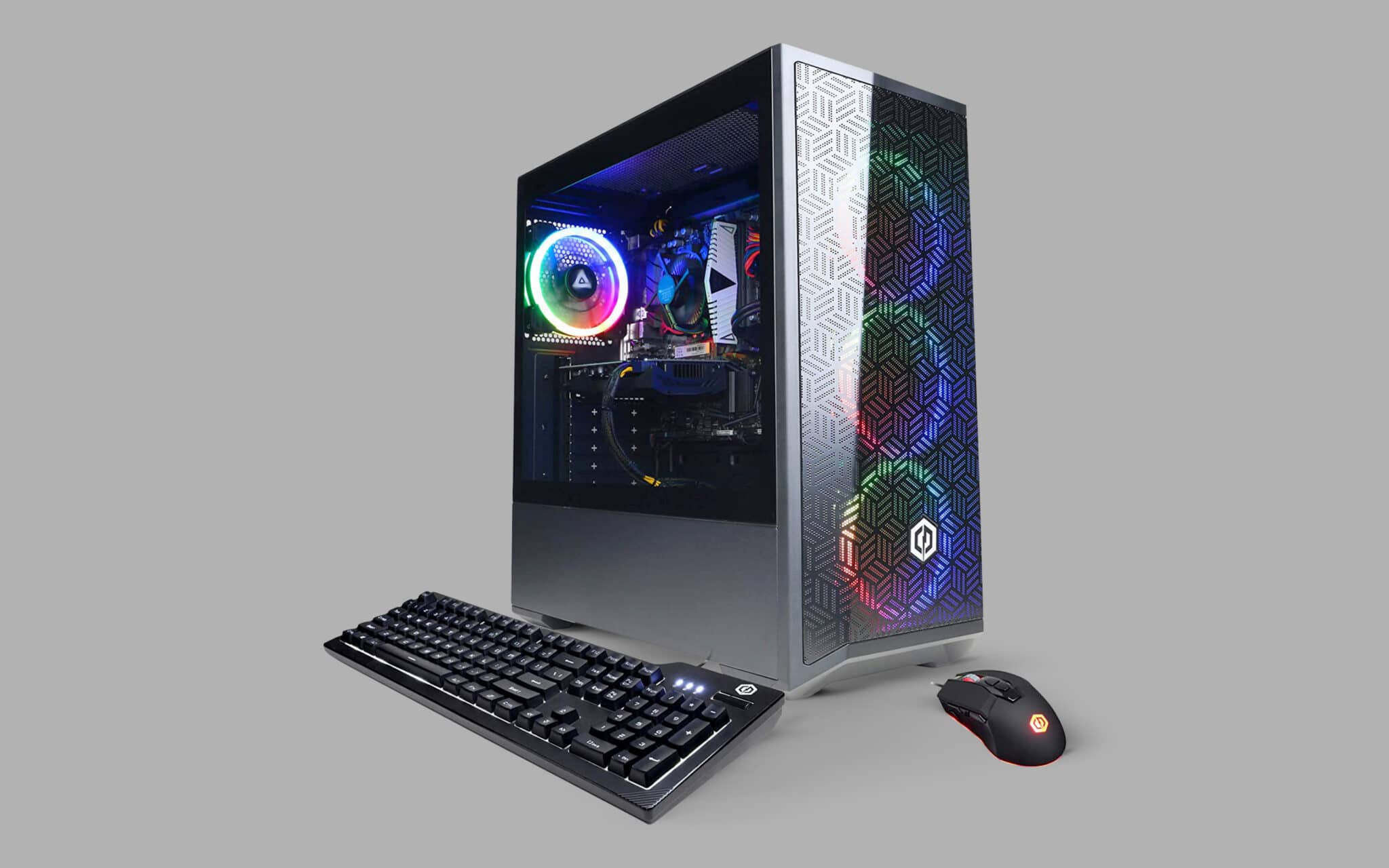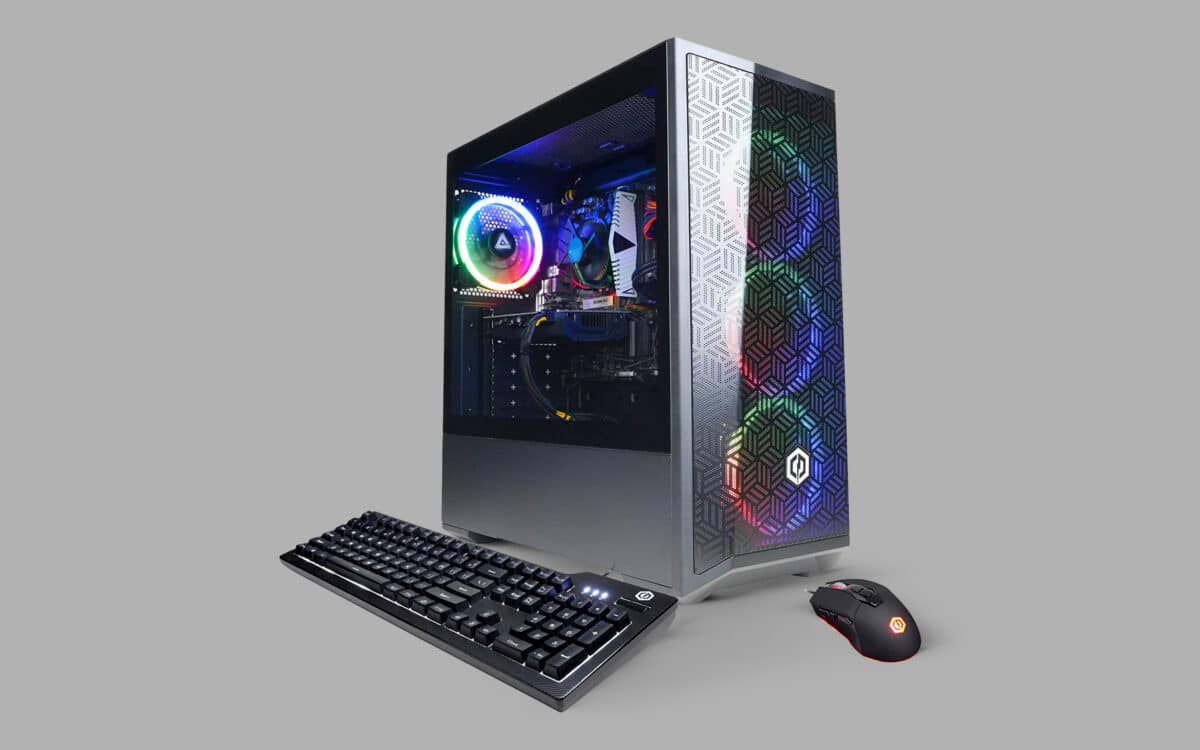 8. CyberpowerPC Gamer Xtreme (best set)
If you've got the cash to splash on a state-of-the-art computer with all the added extras, why worry about buying everything separately?
This CyberPowerPC bundle comes with an RGB mouse and keyboard included, as well as a host of fantastic features to explore.
With your NVIDIA GeForce GTX 1660 graphics card, you won't have to worry about your images and animations looking incredible when you're presenting to clients.
You also get a wide selection of connectivity options included as standard, including network ethernet, 6 USB 3.1 ports, 2 USB 2.0 ports, and an Audio 7.1 channel.
Features include:
Full RGB case, mouse, and keyboard set
Audio 7.1 channel
Network ethernet connection and Wi-Fi
2 USB 2.0 ports and 6 USB 3.1 ports
NVIDIA GeForce GTX 1660
Intel B460 chipset
Intel Core i5-10400F CPU
Windows 10 Home
500GB PCI-E SSD
1-year warranty
Designed to deliver excellent performance with all of your graphic design projects, this gaming PC / workhorse has it all.
Whether you're connecting animation tablets to your PC through one of the many USB ports, or working on VR-ready designs, you can do it all with the CpyberPowerPC gaming PC. Just make sure that everything is properly installed before you begin working.
Pros:
Extra accessories included
I5 processor for powerful performance
8 USB ports in total
High-quality chipset and SSD card
1-year warranty
Cons:
No monitor included
Some components may be loose upon arrival
Sale
CyberpowerPC Gamer Xtreme
With its compact size, incredible performance, and wide array of ports, Mac mini is perfect for a surprising range of uses like gaming and digital art creation.
How to choose the best desktop computer for graphic design
Choosing the best desktop computer for graphic design takes time and focus. The more time you spend working on projects as a graphic designer, the more you'll learn about the tools you need to do your best work.
Some professionals work best on a Mac computer, while others love having a portable tablet or laptop.
Choosing the right product for your needs is often a personal thing. Any designer accessing high-quality software and programs, however, will need a computer capable of running well.
Here are some of the points you may need to consider when examining the best desktop computer for graphic design users:
The GPU
The graphics processing unit is easily one of the most valuable components of your computer if you're doing graphics work. Make sure you get a GPU with a lot of power. If you're concerned your new investment might become outdated quickly, ensure it's easy to replace your GPU.
Processor
The CPU, or central processing unit, is how your computer runs crucial programs and functions. You'll need something strong enough to run programs like Photoshop, so don't make the mistake of cutting corners here. The faster the processor, the better your results will be and you'll likely upgrade less frequently.
Memory
Memory is another valuable part of your desktop computer for graphic design. Extra memory helps your computer to run at top speed. The right memory strategy will help you with running a lot of programs at the same time. If you can afford to purchase one, a computer with extra RAM is a good investment.
Hard Drive
The RAM on your computer is the short-term memory, and the stuff which helps your PC to operate when you use it. The hard drive on the other hand, is the long-term memory. You can improve your long-term memory and speed on a computer for graphic design with hard disk drives, or solid-state drives.
Peripherals
Finally, you'll need the additional components which go alongside your computer to give you the best results. This includes things like a keyboard, mouse, the largest computer monitor you can afford, speakers, and anything else you might need. You might even decide to look into tablets you can use with your computer.
As the technology available for graphic design computers continues to evolve, it's safe to say there's no one-size-fits-all product. The good news is you shouldn't have too much trouble finding something suitable for you, as long as you're willing to experiment.
Fabrik: A branding agency for our times.