The best computer for graphic design is an important purchase for any creative professional. A good computer for graphic design will help you design a range of amazing graphics, from website assets, to branded packaging.
Your computer for graphic design should be a device which allows you to experiment with colors, shapes, fonts, and effects to create the perfect result.
You don't just use your graphic design PC for logos, either. These products are a crucial component in everything from web design to animation.
While every professional has their own needs (and preferences) regarding design tech, there are some key factors to look for in a desktop computer for graphic design.
Whether you're just starting your career in graphic design, or you've been designing logos for the last 40 years, there's one tool that's always going to be crucial to your day-to-day operations.
From a strong processor capable of running programs like Photoshop, to a great display, you need to check all the right boxes.
Fortunately, you won't be doing your research alone.
To help you find a good computer for graphic design, we've scoured the internet and created this handy list.
Our top choices for the best computer for graphic design are:
Apple iMac with 4K display (best Mac)
Microsoft Surface Studio 2 (best Windows)
Dell XPS 8930 (best for ports)
Apple 16-inch MacBook Pro (best portable)
HP Envy x360 (best 2-in-1)
iBUYPOWER Gaming Element Mini (best budget PC)
HP Pavilion Desktop (best standalone tower)
ASUS ROG GA15 (best cooling)
CyberpowerPC Gamer Xtreme (Best VR Ready)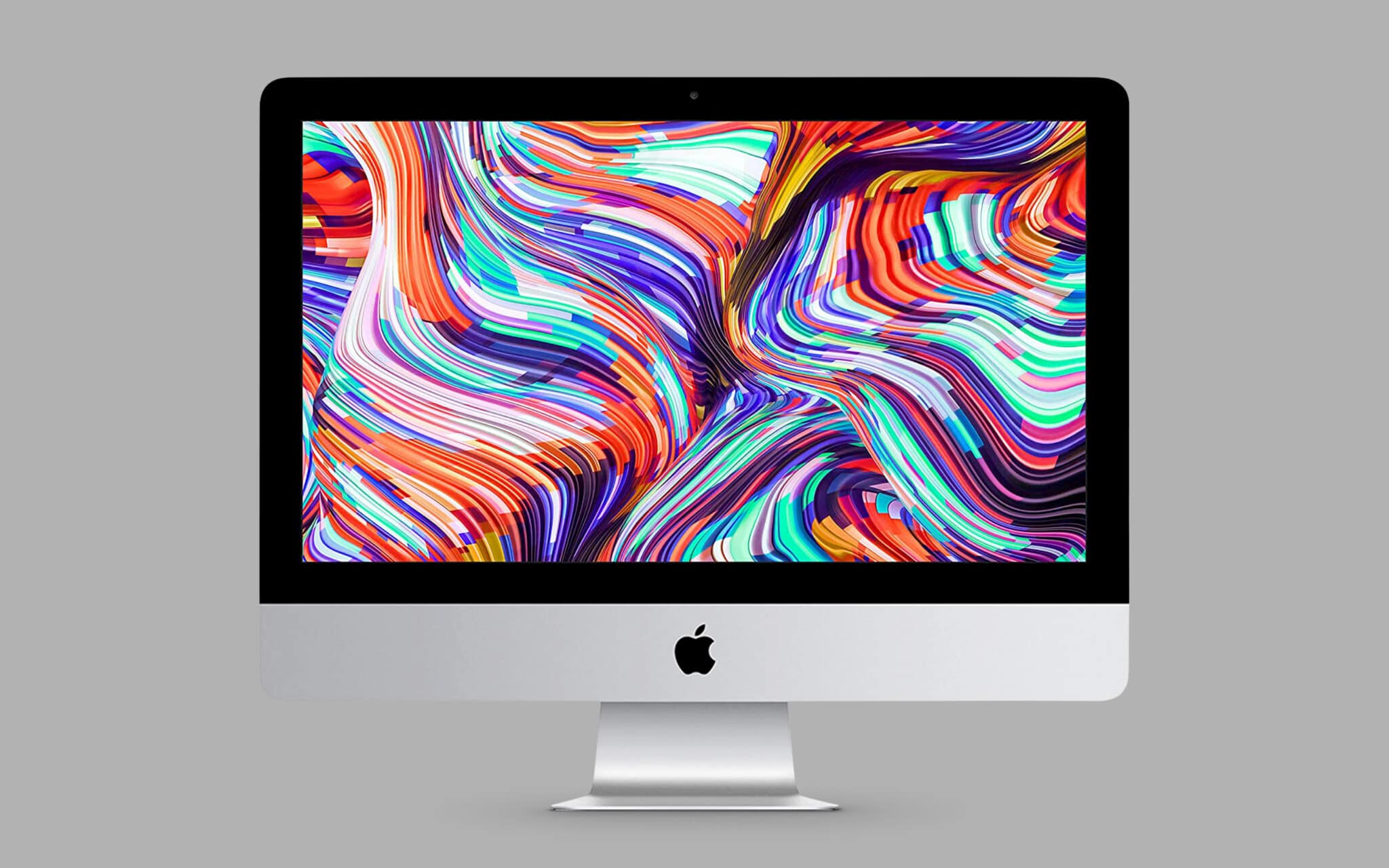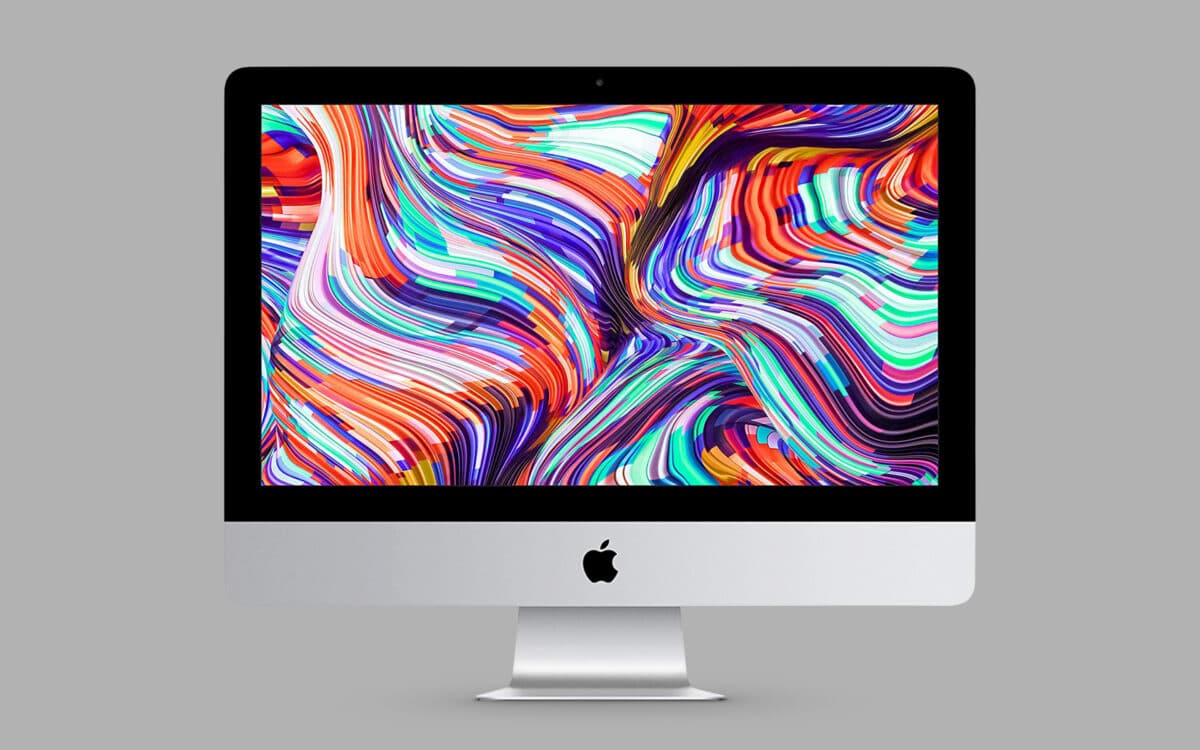 1. Apple iMac with 4K display (best Mac)
As mentioned above, everyone has their own preferences in graphic design technology. Some people prefer to work on tablets or laptops. Others love the intuitive interface of a Windows PC.
The godfather of all design tools has to be the Mac, however.
The Apple iMac (with 4K monitor) is easily the top Mac computer for graphic design available right now.
The iMac is an all-in-one desktop PC delivering incredible performance through an Intel Core i5 processor, and a 3Ghz speed.
You can even clock up to 3.5Ghz if you need to. A full 8GB of RAM means you can tackle any task (including Photoshop).
The iMac also comes with a dedicated AMD GPU, the Radeon Pro 500, which has its own 2GB of video memory.
Features include:
21.5-inch 4K display
AMD Radeon Pro 560X graphics
Quad-core 8th Gen Intel Core i5
Ultrafast SSD storage
2 USB type-C ports and 4 USB ports
Retina display with 1 billion colors and 500 Nits brightness
SDX card slot for plugging in peripherals
Gigabit ethernet port
Up to 1TB or 8TB of storage (depending on size)
1080p webcam and built-in microphone
The iMac is incredible in almost every way.
From the stunning display capable of reproducing up to one billion colors, to the built in 1080p camera, it has it all.
There's even an Apple T2 security chip built-in for extra protection. Not to mention, you get Siri access too.
The fan noise can be loud when the CPU is under pressure, and it's fair to say Apple computers aren't cheap.
Pros:
Sensational 4K display
AMD Radeon Pro graphics
Exceptional SSD storage space
1080p cam and built-in microphone
Amazing processing power
Cons:
Very expensive
Loud fan during operation
Apple iMac with 4K display
Apple is well-known for creating beautiful desktop computers and the latest 21.5-inch 4K iMac is no exception. The all-in-one computer offers capable hardware wrapped in a sleek, beautiful frame with a breathtaking 4K display.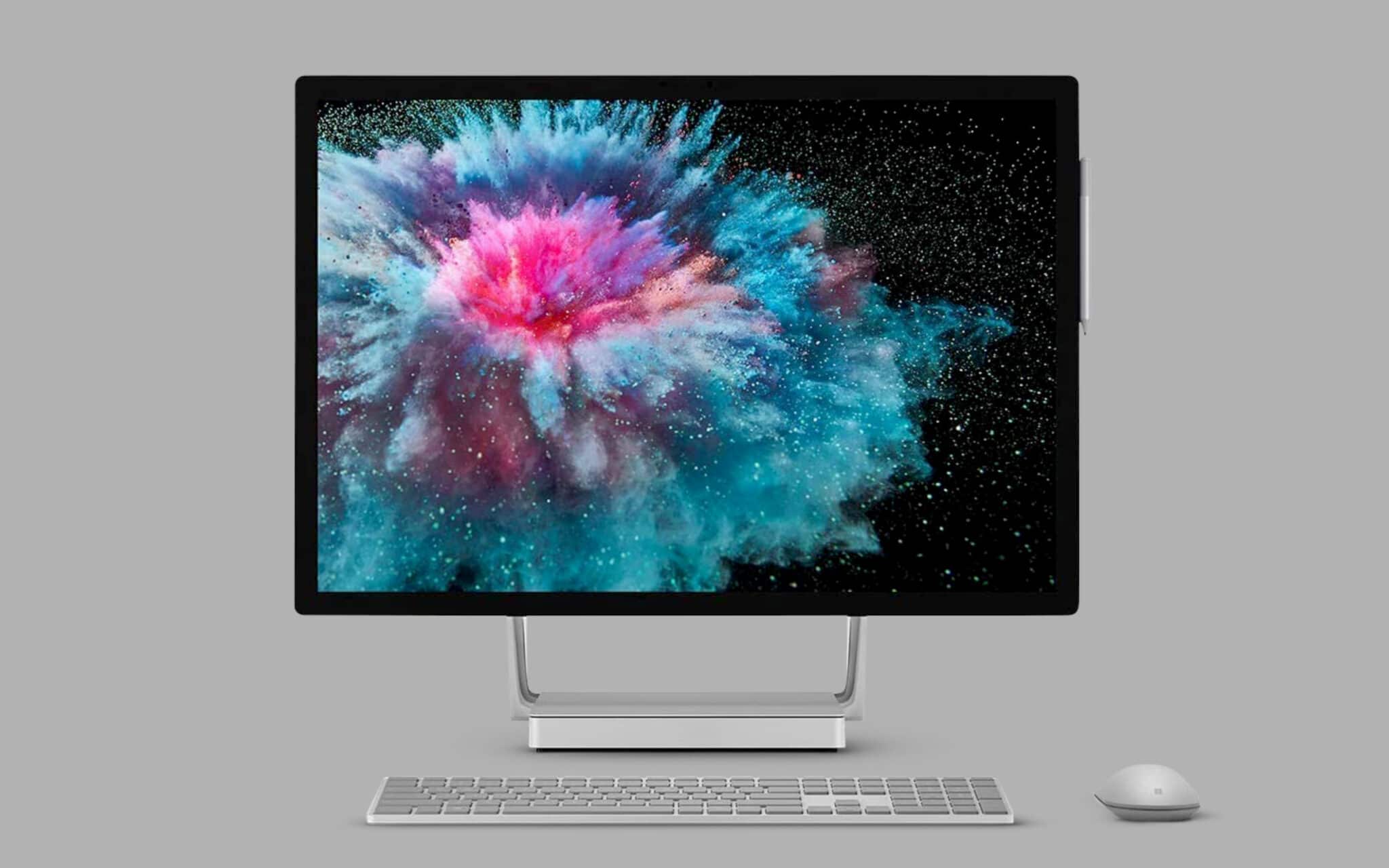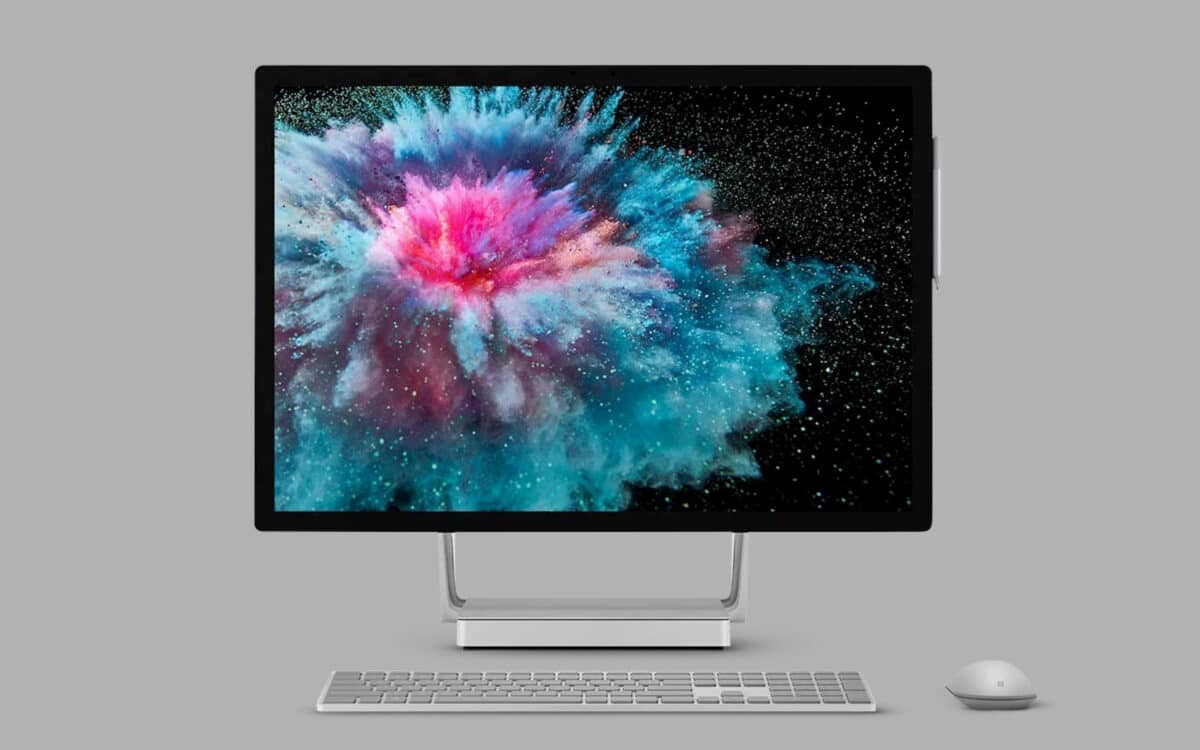 2. Microsoft Surface Studio 2 (best Windows)
Though Mac might be the go-to choice for many creative professionals and designers, it's not the only option. You may decide to build your brand assets through Windows instead.
In this case, it only makes sense to choose a computer for graphic design built by the parents of Windows: Microsoft.
The Microsoft Surface Studio 2 is the most recent version of the Surface Studio, designed with an impressive 2TB of hard-drive space and 32GB of RAM.
High-end GPU functionality comes from an impressive NVIDIA 980M, ideal for video editing.
There's also a slightly cheaper version of the computer with a NVIDIA 965M.
The display is part of what makes the Surface Studio 2 so impressive. You can transform your screen into a pixel-sense activated touchscreen.
Features include:
Core i7 3960X processor
32GB of RAM
Up to 2TB of hard-drive capacity
4 USB 3.0 connections and 1 USB type-C
Full-sized SD Card reader
Wi-Fi wireless networking
Bluetooth wireless 4.0
Windows 10 Pro
28-inch pixel sense display
4,500 x 3,000 resolution
1TB SSD
NVIDIA 980M GPU
Depending on where you buy the Microsoft Surface 2, you should be able to adjust your RAM, and GPU according to your needs.
There's also ethernet jack ports, and mini display ports for connectivity, alongside an SD card reader.
It's a bit of a shame you only get 1 USB C slot, however, and the graphics card could probably do with an update.
Pros:
Fantastic processing power
Lots of memory for all your design projects
Amazing 28-inch Pixel Sense display
4,500 x 3,000 resolution
Expandable storage
Cons:
Slightly outdated GPU
Only 1 USB type-C slot
Microsoft Surface Studio 2
Tilt the display weightlessly to work at 20 degrees down in Studio Mode or upright in Desktop Mode. Keep creativity flowing when you draw with the improved Surface Pen and use Surface Dial for intuitive shortcuts.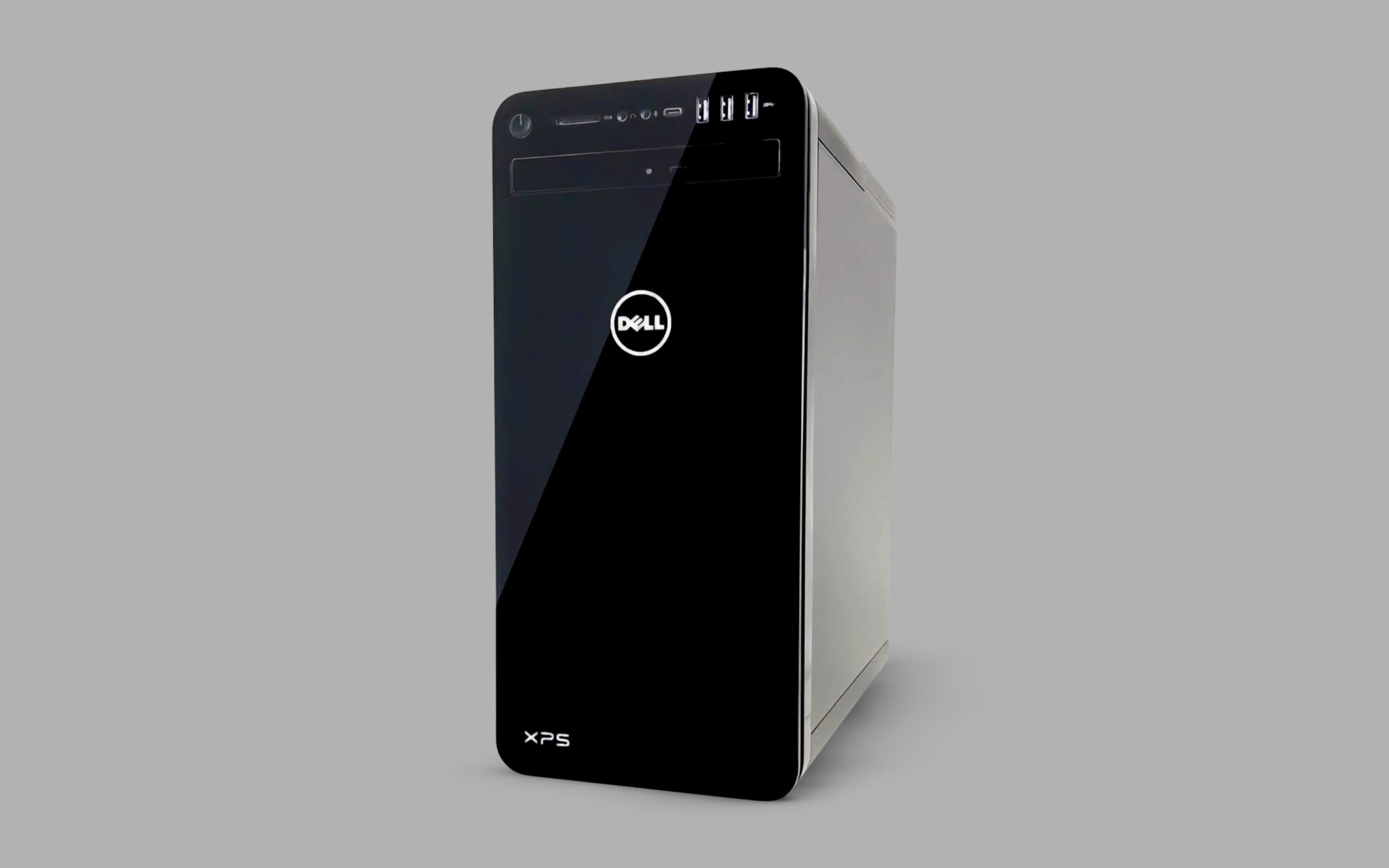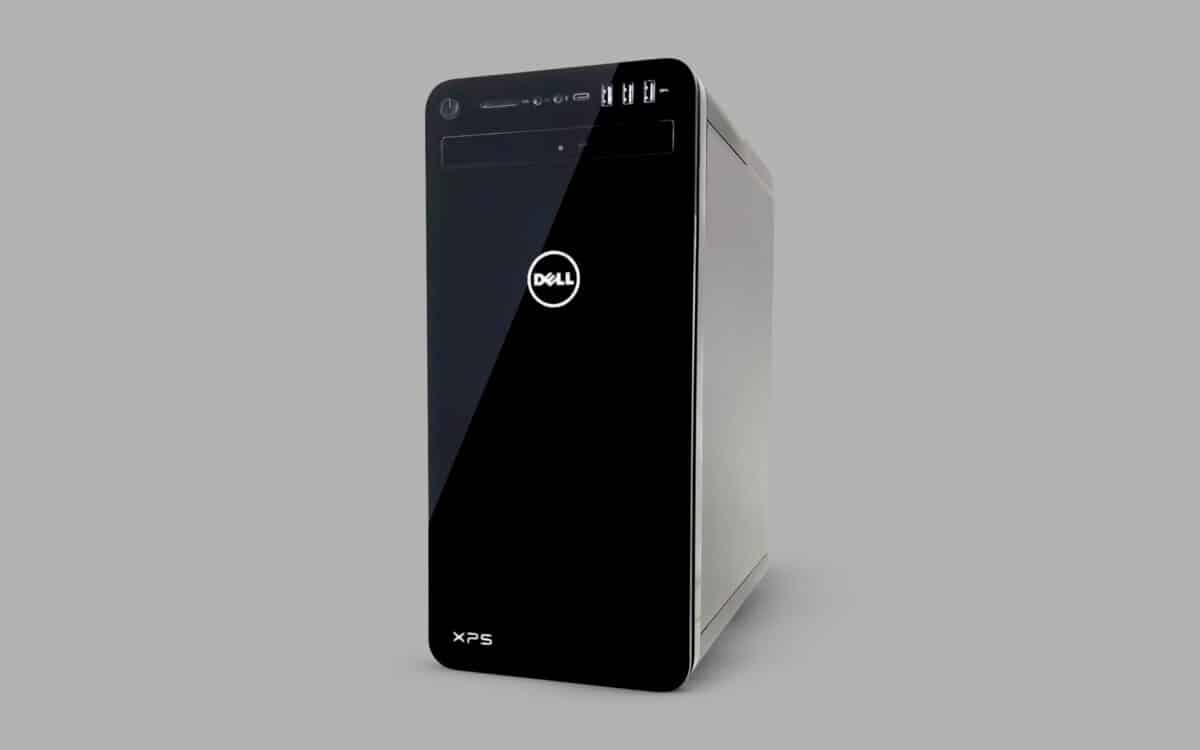 3. Dell XPS 8930 (best flexible computer for graphic design)
Probably the most versatile computer for graphic design we've seen so far.
The Dell XPS 8930 is an incredible workhorse, designed with an 8th generation Intel i7-8700 core processor.
Capable of speeds of up to 4.60GHz on Windows 10, it's one of the fastest options around.
The XPS also comes with an incredible 64GB of DDR4 memory, and an a 256GB SSD. A 2TB SATA hard drive ensures you've got plenty of storage..
For graphical performance, the Dell has a sensational NVIDIA GeForce GTX 1060 with compellingly crisp graphic representation and vibrant colors.
Connectivity comes from access to Dell Wireless technology, as well as a Bluetooth streaming option.
Features include:
8th Gen Intel Core i7-8700 6-core
4.60GHz processing speed
64GB DDR4 Memory
256GB SSD plus 2TB HD
6GB NVIDIA GeForce GTC 1060
DVD burner
Windows 10 Pro
1 year limited warranty
Wired keyboard
Integrated 5:1 channel audio
Full 11 port options (USB)
The Dell XPS will transform your entire graphic design experience in a matter of minutes, with incredible power and fantastic connectivity options. There's even high-level integrated audio too.
Plus, the option to access up to 11 ports means you can connect almost anything.
You don't get a monitor included with the price, and there's no support for running two monitors at the same time.
Pros:
Lots of SSD and hard-drive storage
Windows 10 Pro included
Excellent GPU performance
High-level audio integration
Powerful processing speed
Cons:
No display included
No 2 monitor support
Dell XPS 8930
Move at the speed of your ideas: The latest 8th Gen Intel Core i7 6-core processor and high-performance graphics mean you get speed and power for video edits, video playback and gaming.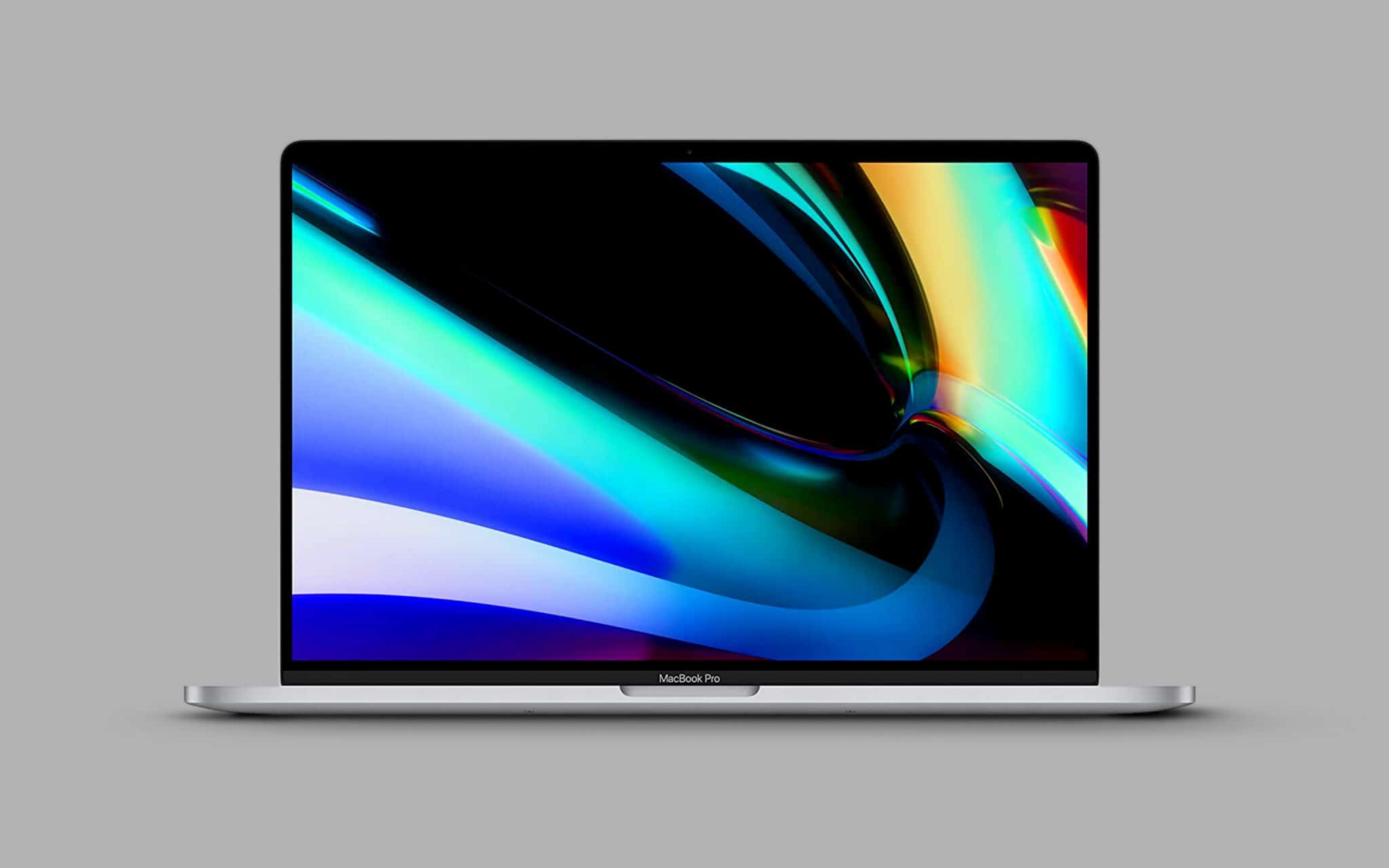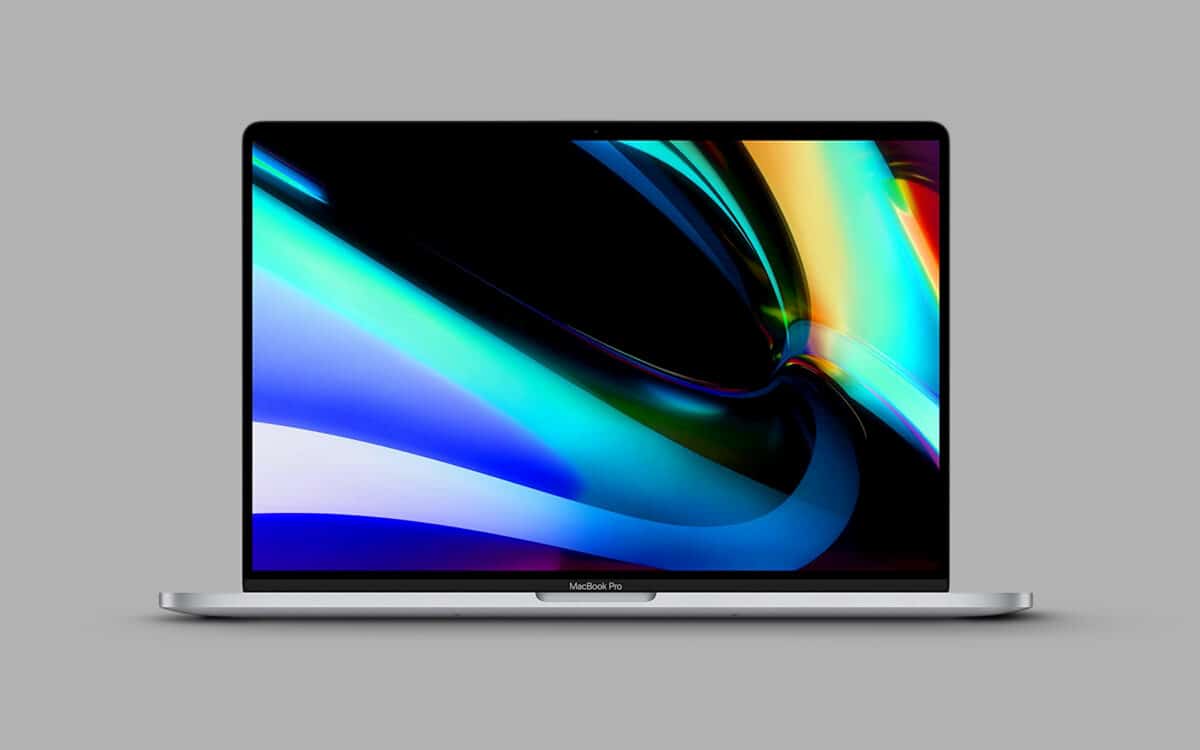 4. Apple 16-inch MacBook Pro (best portable)
If you're looking for a professional computer for graphic design, it doesn't always need to be a desktop.
A portable laptop gives you more freedom to work on the move and show your projects to clients.
The Apple 16-inch MacBook Pro is one of the market leaders for professional performance.
Offering up to 512GB of storage, 16GB of RAM and a 16-inch Retina display, the MacBook Pro is built to impress.
In the sleek and streamlined shell, you'll find a sensational 5300M graphics card for quality image processing, and an ultrafast SSD.
There's also an 8 core processor and up to 8TB of SSD storage, which is more than you'll find with most desktop computers for graphic design.
Features include:
8TB SSD storage
8 core processor
16-inch retina display
64GB memory
AMD Radeon Pro 5300M graphics
Six-speaker sound system
P3 wide color gamut
Studio quality microphone
500 Nits of brightness
Promising ongoing and consistent performance, this amazing MacBook Pro comes with a 28% improved airflow design, so you don't have to worry about overheating.
There's plenty of memory for all of your hefty design files, and you get ethernet and Wi-Fi connectivity options too.
There aren't a lot of thunderbolt ports, which is a significant problem for some users. Plus, the MacBook is pretty expensive.
Pros:
Clear 16-inch screen
Amazing memory of up to 8TB
Improved fan and heat sink performance
8 core processing power
In-built graphical excellence
Cons:
Limited thunderbolt ports
Quite expensive
Apple 16-inch MacBook Pro
With an immersive 16-inch Retina display, superfast processors, next-generation graphics, the largest battery capacity ever in Macbook pro, a magic keyboard, and massive storage, it's the ultimate pro notebook for the ultimate user.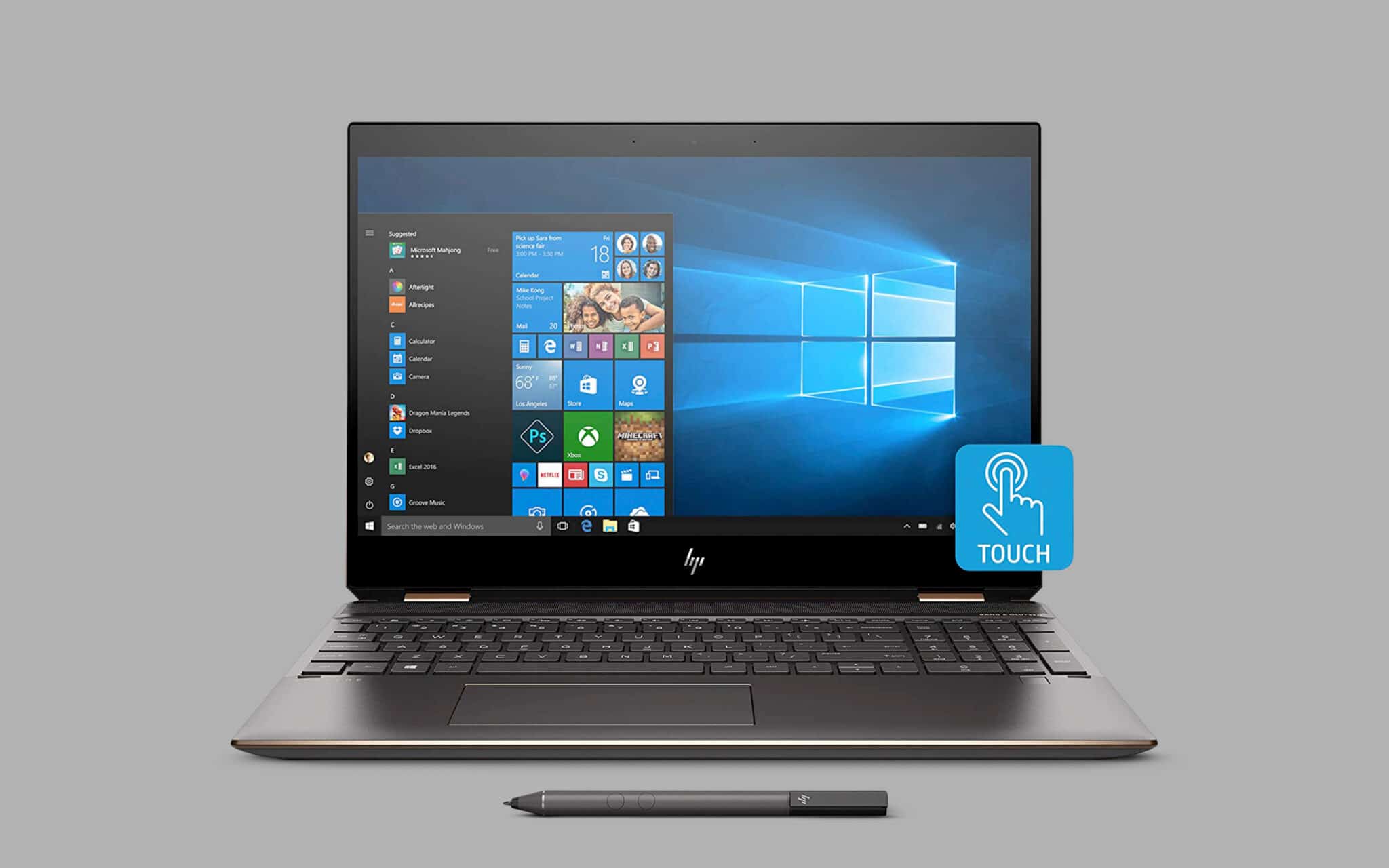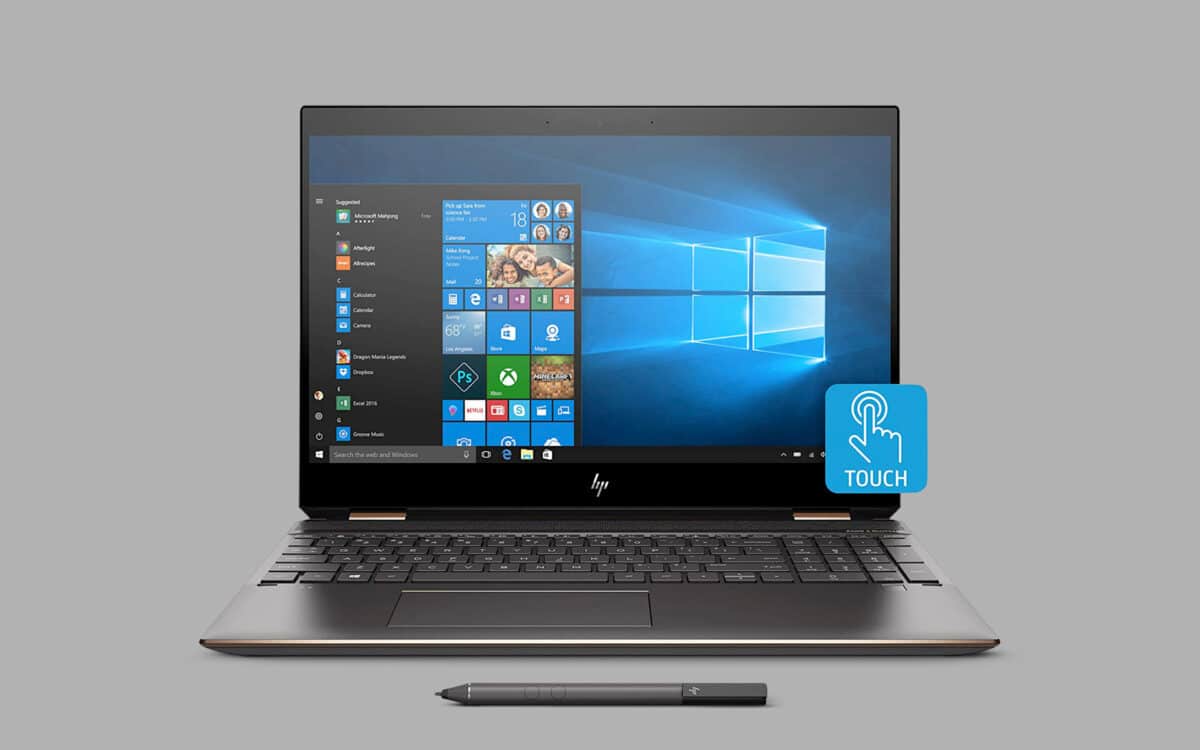 5. HP Envy x360 (best 2-in-1 computer for graphic design)
One of the leading laptops and tablet solutions for graphic designers, the HP Envy x360 supports a different kind of work.
If you want to be able to draw designs and work on Photoshop at the same time, the HP Envy x360 has you covered, with a convertible 15.6-inch diagonal display.
The screen is surprisingly large for a 2-in-1 tablet, with touch screen response.
With an integrated webcam and microphone for video meetings, the HP Spectre sets you up for success.
There's an 10th generation Intel Core processor and 12GB RAM.
Windows 10 is installed already, and you get the extra bonuses of 512GB SSD and Bluetooth for a sturdy performance.
Features include:
Windows 10
10th Gen Intel Core Processor
12GB of RAM
512GB SSD
Bluetooth 4.0 or Wi-Fi
Tablet or laptop functionality
Webcam and microphone
6-cell lithium battery
With a powerful lithium ion battery returning an average of 13 hours, it's easy to see that HP has gone above and beyond here.
If you're looking for a dual tablet and laptop combo for your graphic design career, this could be the product for you.
The built-in microphone and camera could be better. The fan noise is also quite loud.
Pros:
Excellent 2-in-1 functionality
Great RAM and SSD
Good quality sound
Powerful processor
Cons:
Loud fan performance
Not the best camera and microphone
HP Spectre x360
Bring your ideas to life with the power of a digital pen and your imagination. With a screen resolution that boasts impressive color and a four-core, eight-way processing for maximum high-efficiency power to go, the options are endless.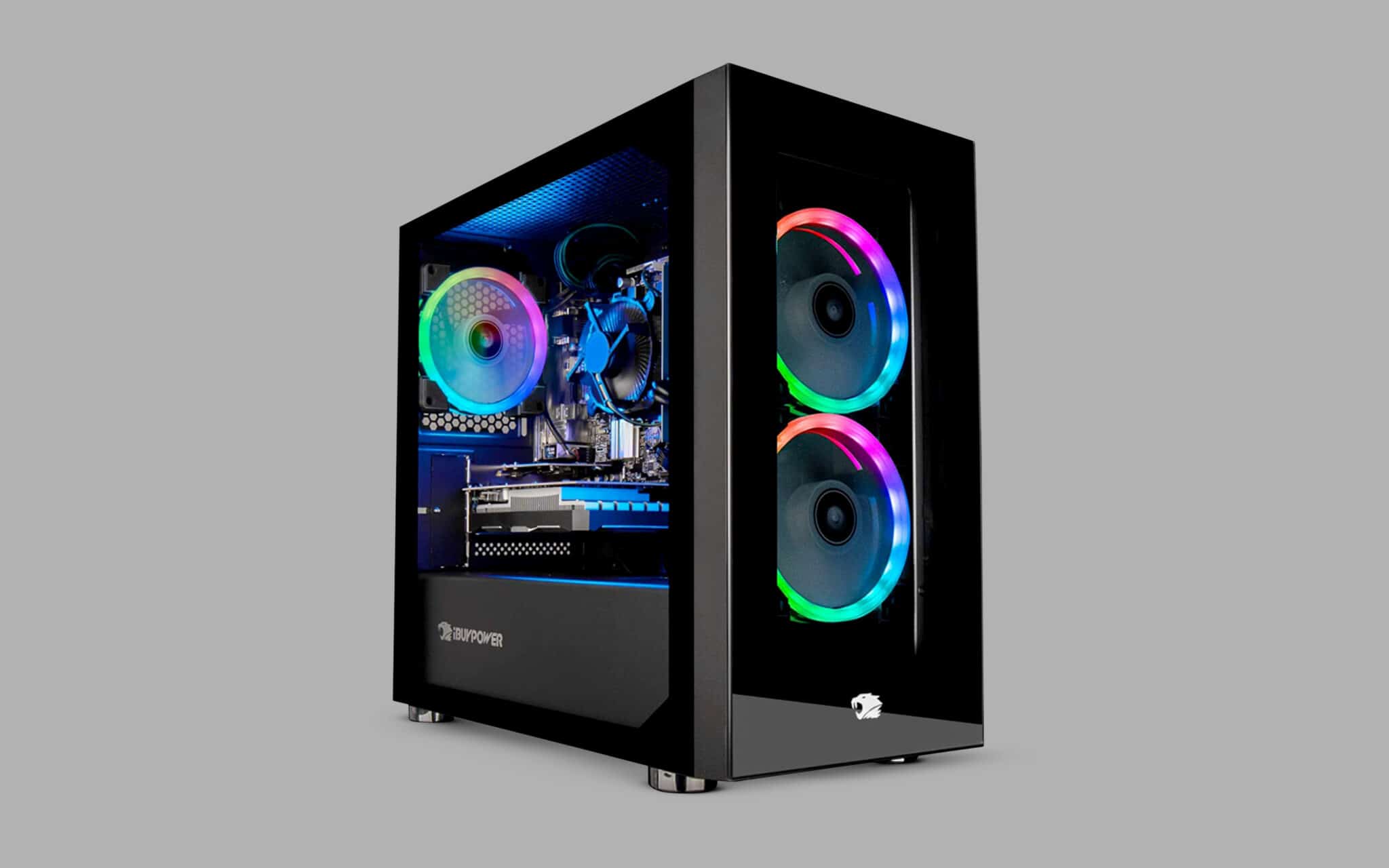 6. iBUYPOWER Gaming Element Mini (best budget PC)
When choosing a good computer for graphic design, it's important not to cut corners. While you're sure to have limitations on your budget, you do get what you pay for.
If you're looking for the best computer for a graphic design student or beginner, the iBUYPOWER Gaming Element Mini desktop might be ideal for you.
Equipped with an AMD Ryzen 5 3600 3.6GHz CPU, and a powerful NVIDIA graphics card, this device delivers great performance for a low price.
The special tempered glass RGB gaming case looks fantastic, and you get the extra peace of mind of a 1-year parts and labor guarantee, for a computer fully assembled in the US.
There's even Windows 10 Home 64-bit included for all of your productivity software requirements.
Features include:
AMD Ryzen 5 3600 CPU
1-year parts and labor warranty
240GB SSD
8GB DDR4
Genuine Windows 10 Home
NVIDIA GT 730 graphics card
Dual-link DVI-D HDMI
4 USB 3.0 and 2 USB 2.0 ports
Network ethernet port
Audio 7.1 channel
Tempered glass gaming case
Wi-Fi included
Designed to take up minimal space in your home or office, this Element Mini PC is a great option for beginners who don't want to spend a small fortune.
Although you don't get a lot of RAM to begin with, you can always upgrade. And there's plenty of open SATA and M.2 ports available.
Pros:
1-year parts and labor warranty
High-quality CPU and graphics
Audio 7.1 channel functionality
Lots of connection points
Extensible design
Cons:
Not much RAM
May be difficult to set up at first
iBUYPOWER Gaming Element Mini
Introducing the iBUYPOWER Element Mini 9300! This system comes with an AMD Ryzen 5 3600, which is a great value for performance CPU which will help run most games at great frame rates.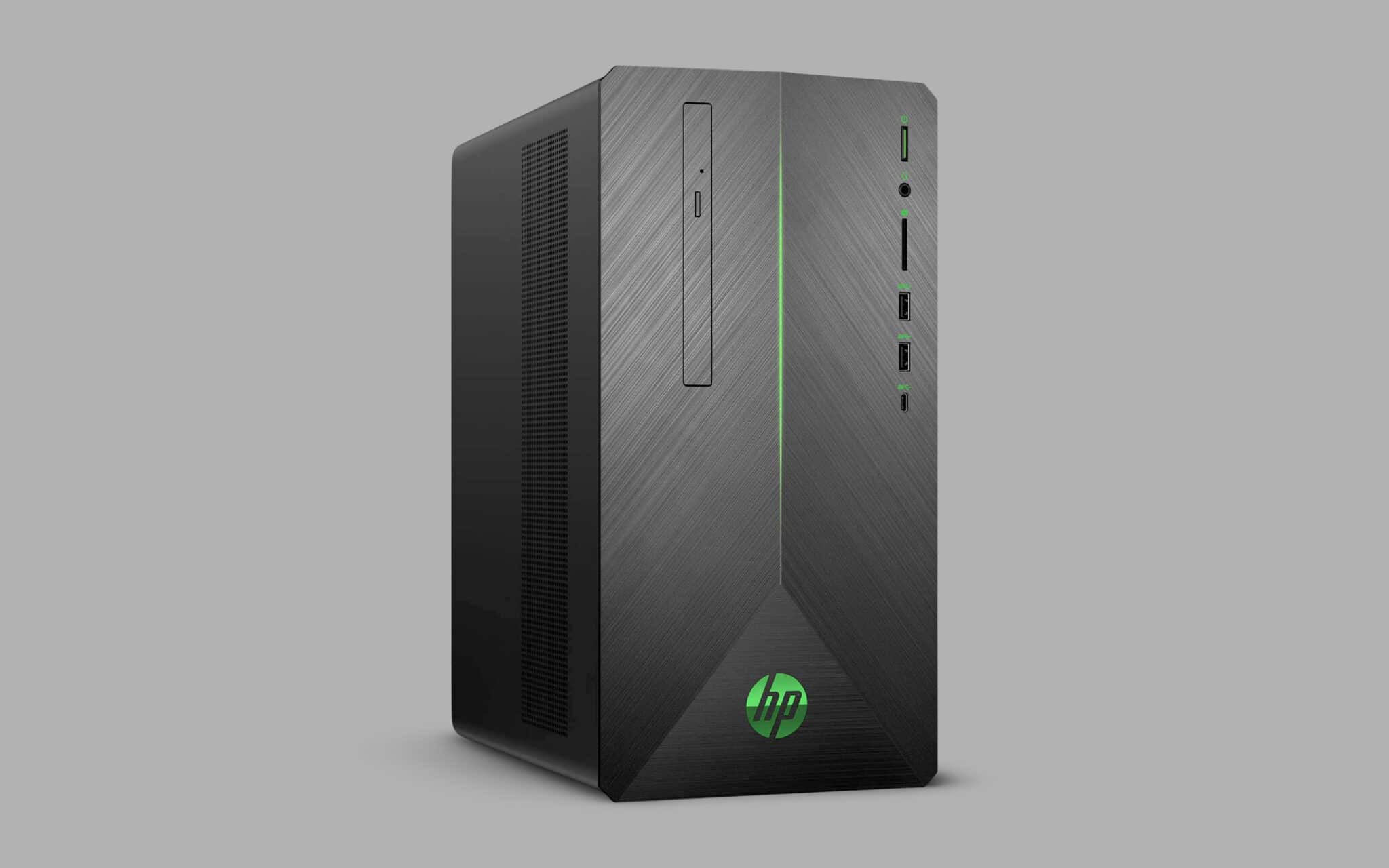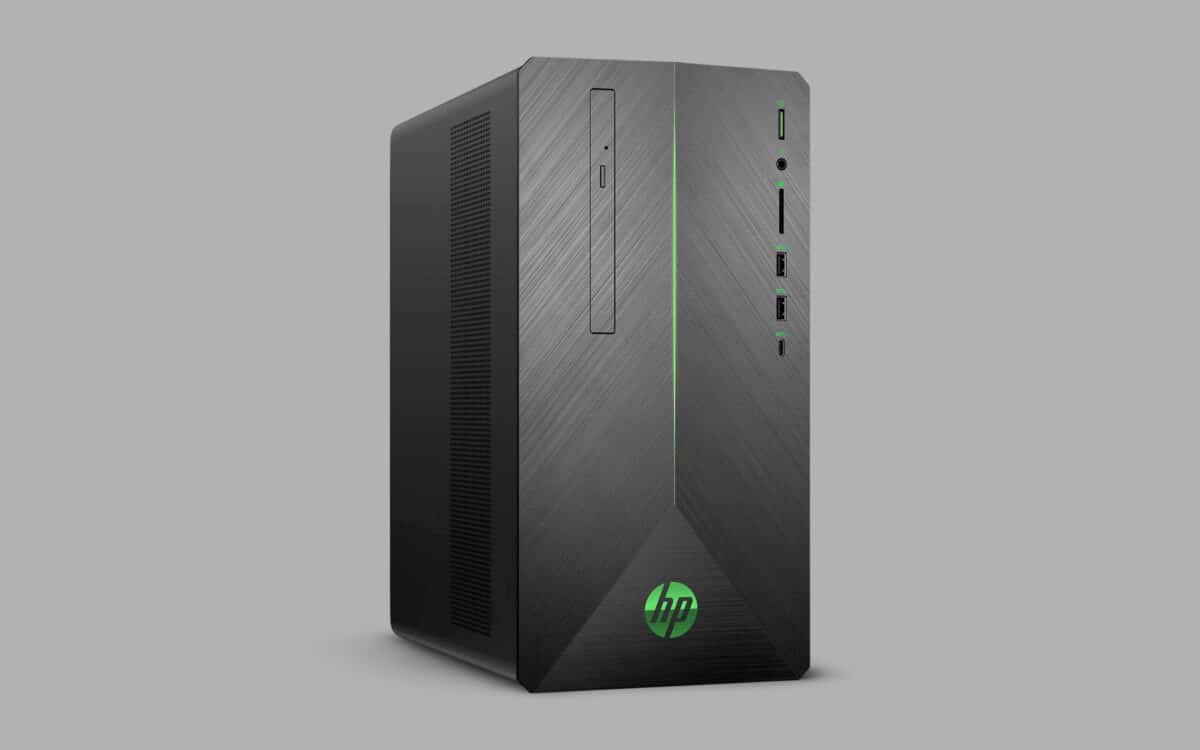 7. HP Pavilion Desktop (best standalone tower)
If you're looking for a tower for your desktop computer for graphic design, and you already have all the bonus peripherals, HP has you covered.
This Pavilion desktop doesn't come with its own display and keyboard, but the tower alone is well worth the price.
The Intel Core i5-9400F processor works alongside the NVIDIA GeForce GTX 1660 Ti 6GB graphics card for a sensational performance.
You can use this computer to play hard-core games or create some amazing videos and animations for your clients.
There's even a substantial bandwidth performance thanks to a powerful SSD and RAM combo.
With 5.1 surround sound you even get a great audio experience, which is great if you're building immersive experiences for customers.
Features include:
NVIDIA GeForce GTX 1660 Ti 6GB graphics card
Intel Core i5-9400F processor
4.10GHz speed
2,666Mhz DDR4 RAM
SSD card functionality
Windows 10 built-in
25GB flash memory
5.1 surround sound
4 x USB 2.0 and 1 x USB 3.1, 1 USB type-C
HDMI and headphone jack
802.11b/g/n/ac Wi-Fi
Bluetooth 4.2
With various connectivity options to keep you productive on the internet and Windows 10 built-in, the HP Pavilion comes brimming with features to get you up and running with your next graphic design project.
It can be a bit expensive if you need to add on the extra peripherals, however. There's also only 1 HDMI and display port.
Pros:
Excellent graphics card
Strong processing speed
Windows 10 included
Surround sound for audio
Multiple USB connections
Cons:
Only 1 HDMI and display port
Can be expensive
HP Pavilion Desktop
The HP Pavilion Gaming Desktop is all about smooth performance and crisp graphics wrapped up in a bold design. This PC offers the latest technology plus the ability to upgrade, keeping performance up-to-date.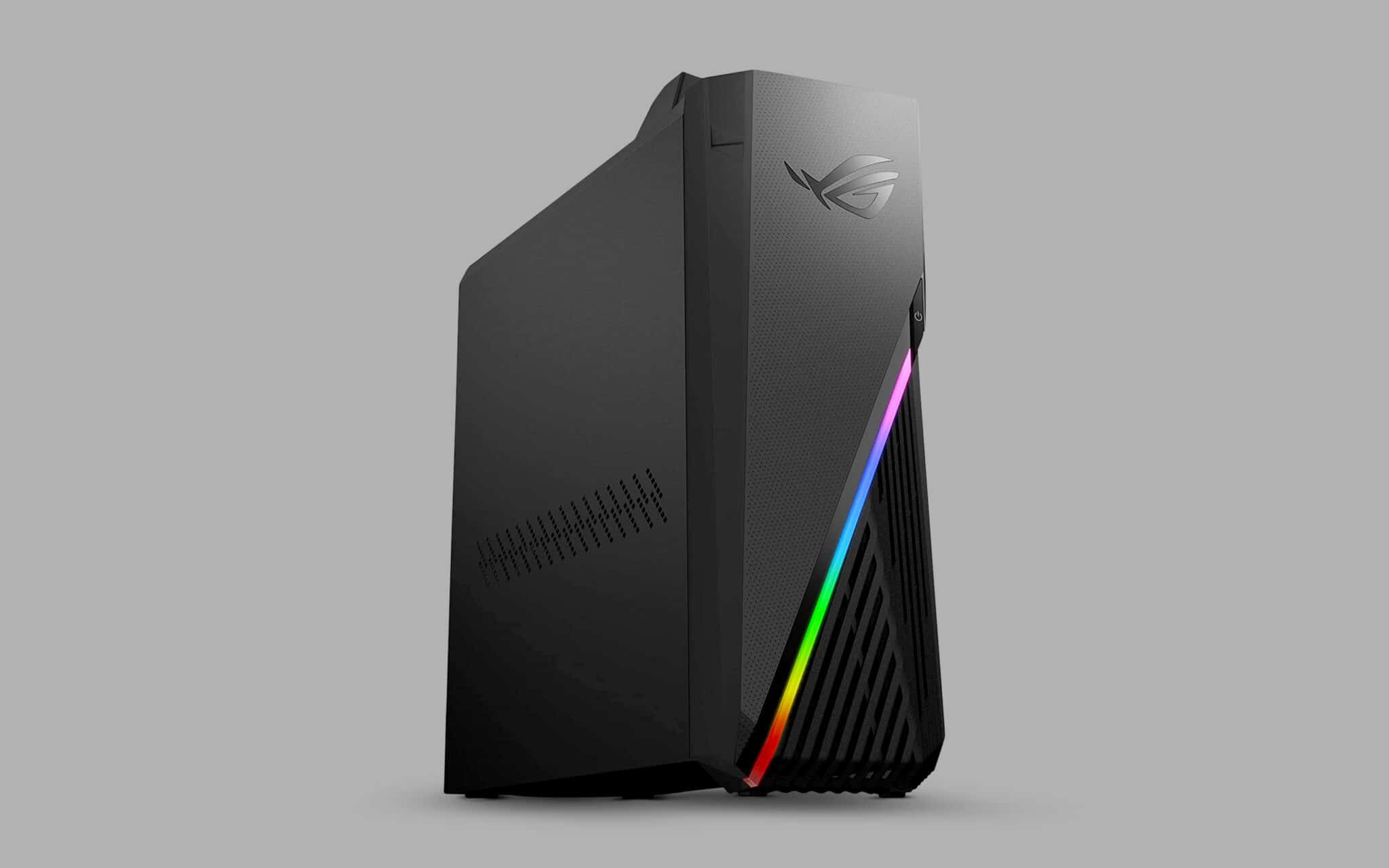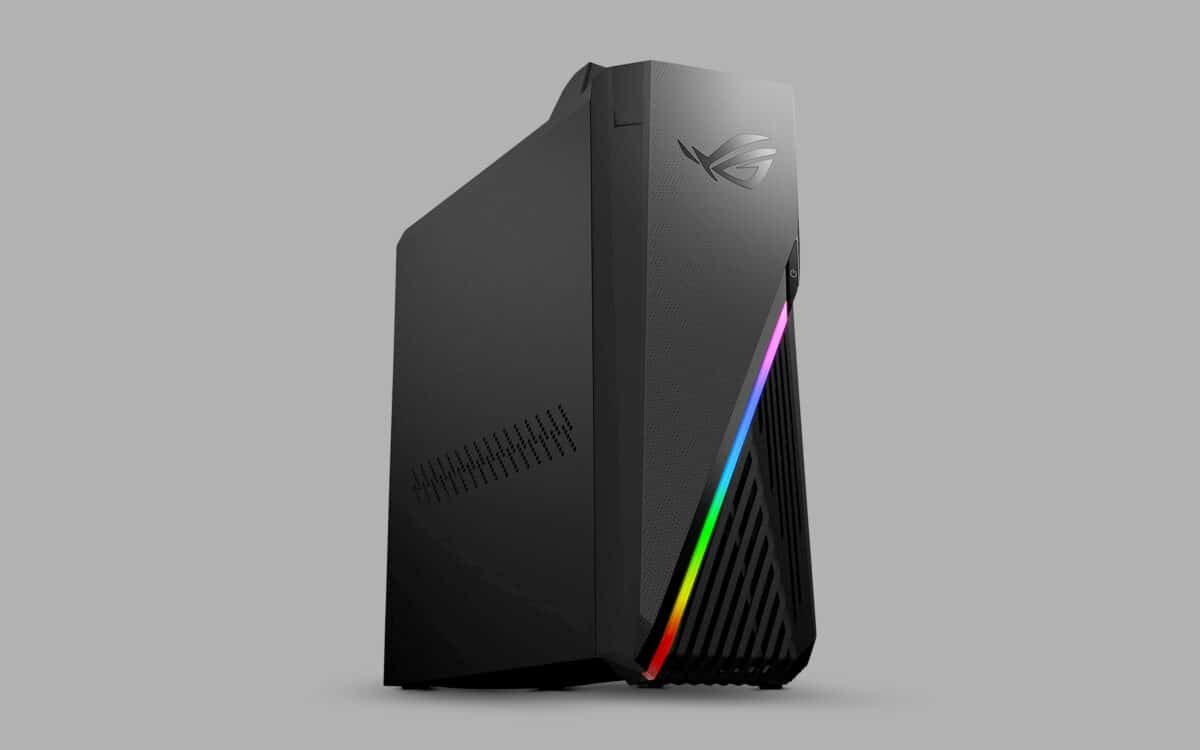 8. ASUS ROG GA15 (best cooling computer for graphic design)
When you're shopping for the best computer for graphic design, you'll often see a lot of "gaming rigs" suggested by professionals.
That's because a computer designed to allow for fast-paced gaming can often handle the most demanding design applications too.
The ASUS ROG GA15 is an excellent example of a desktop computer for graphic design that can also deliver excellent results in your playtime too.
This product comes with a powerful NVIDIA GeForce GTX 1660Ti graphics card, combined with an AMD Ryzen 5 processor.
There's even a built-in carry handle on the case so you can transport your entire machine wherever you go.
Features include:
GTX 1660Ti graphics card
AMD Ryzen 5 processor
Built-in carry handle
Built-in headphone hook
Tailored cooling solutions
Thermal support for better processing
RGB lighting
Windows 10 operating system
Ryzen 5 3600 GPU
FHD Ultra support
Aura Sync support
One of the best things about the ASUS ROG is how focused it is on better cooling and protection.
Widened vents on all sides of the machine allow for better airflow, so you don't have to worry about your computer overheating.
You can maintain a better FPS with ambient temperatures up to 15 degrees cooler. Still, it's a shame you only get 16GB of RAM.
Pros:
Excellent customized cooling solutions
FHD Ultra screen display support
Excellent processing times and FPS
Windows 10 operating system
Compact and portable design
ASUS ROG GA15
The ASUS ROG GA15 features comprehensive cooling enabling high-level processor performance required for serious gaming and work. The multi-zone chassis keeps the CPU, graphics card, and power supply in separate chambers to minimize thermal interference and lower ambient temperatures.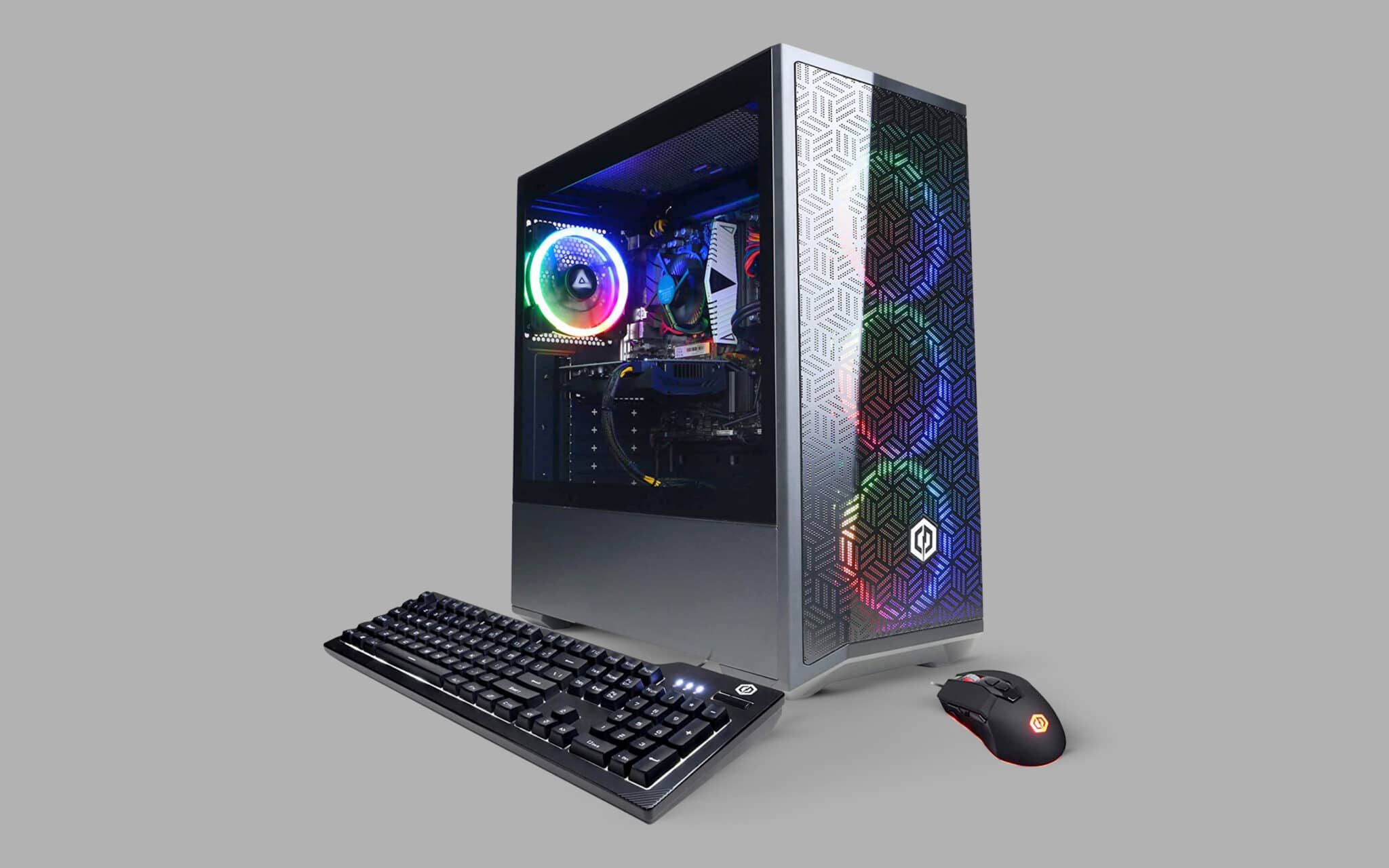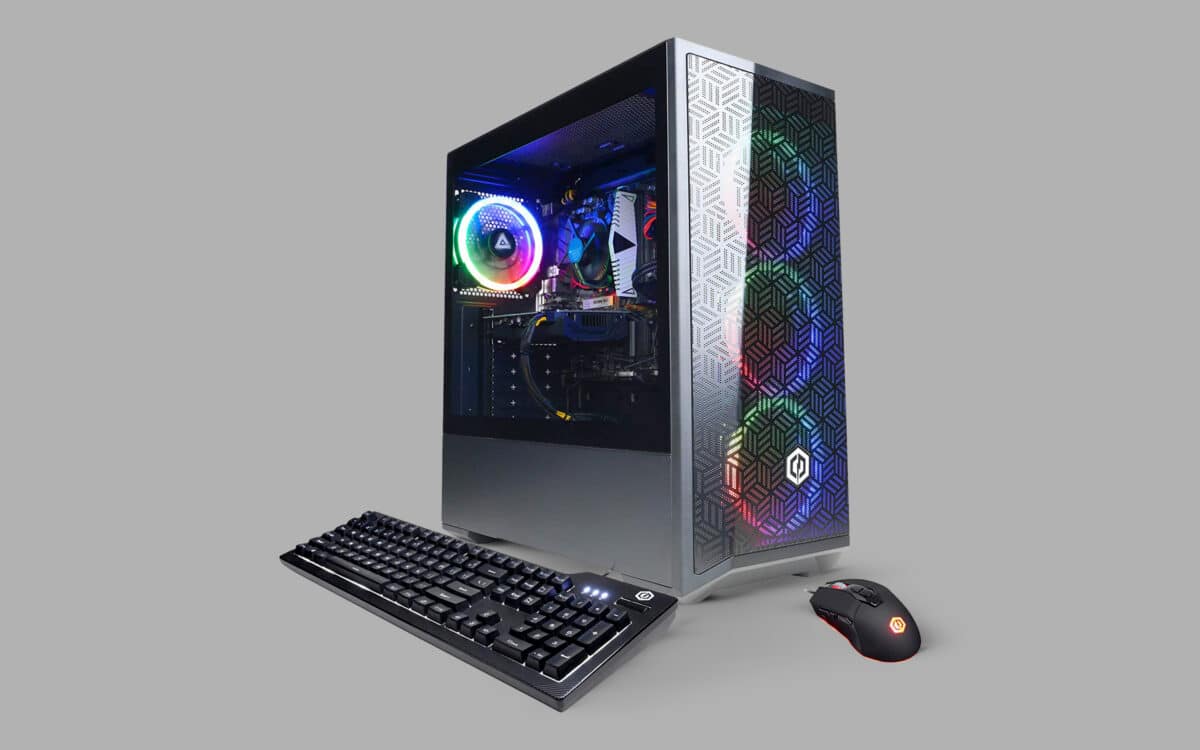 9. CyberpowerPC Gamer Xtreme (Best VR Ready)
Graphic design is growing more intelligent by the day.
These days, you can build websites that allow people to virtually walk around your office with the help of a VR headset. Even if you're not designing for Extended Reality quite yet, it might still be worth investing in a PC that's capable of running new programs.
The CyberpowerPC Gamer XTtreme VR Gaming PC is packed with technology for the modern graphic designer. If you want to ensure that you're ready for any project, the CyberpowerPC has you covered.
This computer comes with an Intel Core i5-10400F CPU, and some of the best Intel chipsets on the market. There's a 500GB SSD, and you get Windows 10 Home included as standard.
Features include:
Mouse and keyboards include
RGB tempered glass case
Audio 7.1 channel
Network ethernet cable and Wi-Fi
6 USB 3.1 and 2 USB 2.0 ports
NVIDIA GeForce GTX 1660 Super 6GB video
Intel Core i5-10400F CPU
Intel B460 chipset
Windows 10 Home
500GB PCI-E SSD
With a year of warranty included for peace of mind, the CyberPowerPC Xtreme will set you up for success from day one.
Multiple connectivity points make it quick and easy for you to enjoy using a range of peripherals, including animation tablets, with your device. There's even RGB lighting when you want to have some fun with your case.
You may find that some components aren't properly installed when you first receive this device.
Pros:
Tempered glass case with RGH
NVIDIA GeForce graphics card
Powerful i5 processor
Plenty of connection points
High-quality audio
Cons:
Some components may not be properly installed
CyberpowerPC Gamer Xtreme
The CyberPowerPC Gamer Xtreme VR is optimized for gaming, and is also VR ready. The Intel CPU and High Performance GPU gives the computer the raw power it needs to function at a high level.
How to choose the best computer for graphic design
Finding the best computer for graphic design is a personal process. Like any investment in your career, you'll need to think carefully about what you purchase to deliver your best work.
Are you looking for something with enough processing power to handle things like video editing and photoshop? Do you need your computer to be portable, or will it just stay in one place?
Here are a few points to consider when you're picking a computer you can trust.
GPU
The Graphics Processing Unit, or GPU, is one of the most important parts of your PC. If you plan on doing regular design work, then a good GPU will provide you with much faster, and clearer graphical performance. Having a great graphics card makes it much easier to unlock the full potential of your PC programs.
Processer
The Central Processing Unit, or CPU, is the solution you need to run the brains of your computer. The kind of software that graphics designers run everyday can be overwhelming for a low-end CPU. You need your device to run at around 1GHz at a minimum. If you have a bit more cash to spend, use a faster processor.
Memory
The processor isn't the only component of your desktop computer that helps it to run faster. The memory you have also plays a significant role too. The RAM on your computer should usually be at around 16GB if you're a design expert.
HDD and SSD
Your hard drive is essentially your computer's long-term storage. There are hard-disk drives and solid-state drives, depending on what you need. While both drives do the same thing for the most part, they often work better together. SSDs will launch and boot programs faster, while an HDD will help you to manage your files long-term and they're cheaper to buy at larger sizes.
Monitor performance
A graphics card can only do so much. You'll need a good monitor for graphic design if you want to deliver the best results too. Look for monitors with high resolutions so you can show off your designs to the best of your ability.
Good luck finding the best graphic design computer on the market for your needs and budget.
Remember you can find guidance on other awesome products by checking our other best-selling lists.
Fabrik: A branding agency for our times.