There are plenty of reasons why we consider Virgin to be a quintessentially British brand.
Despite its incredible size, this unique company stays ahead of the competition thanks to its endearing personality, it's one-of-a-kind approach to marketing, and its recognisable image – something that remains consistent throughout many of the Virgin brand extensions.
Today, most organisations know that if they want to get ahead of the competition, they need to develop a strong brand identity. The question is, what happens when your company grows beyond a single product and manifesto? What do you do when you need to distribute your image across multiple groups and products?
Designing a strategy that makes sure everything in your portfolio fits and works together seamlessly could help you to deliver a strong brand message, and establish greater affinity with your audience. Brand architecture creates a network in which every service, product, and individual brand is properly organised, helping your customer to interact with your company, and form stronger opinions about you.
There are very few entrepreneurs out there that know how to brand it like Branson, which is why we decided to dive a little deeper into the concept of brand architecture, with the help of one of our favourite corporate empires.
Identifying brand hierarchy: What brings the Virgin brand together?
There are countless features and characteristics that can help to define your brand. Everything from the position you claim in the marketplace, to your unique selling point contributes to your overall reputation, and the way customers perceive your company.
One of the most basic building blocks for brand strategy is your company architecture. For some organisations, architecture is simple, because it's all about harnessing the ideas and values behind a singular company. For other businesses, like the Virgin brand, your name will stretch a lot further, connecting with new segments over the years.
To help you better understand the concept of brand architecture, let's look at just some of the hierarchy options available for modern empire brands:
1. The "branded house" model
The branded house model is potentially the most well-known and common option for any emerging company who wants to break into countless different sectors. Essentially, it's all about showing the same identity regardless of which market you interact with. Virgin is by far one of the best-known branded house companies in the world.
Whether you're looking at the Virgin Trains brand, the Virgin Atlantic brand, or even Virgin Money, the company concentrates on delivering the same unique experience, despite the presence of varied products.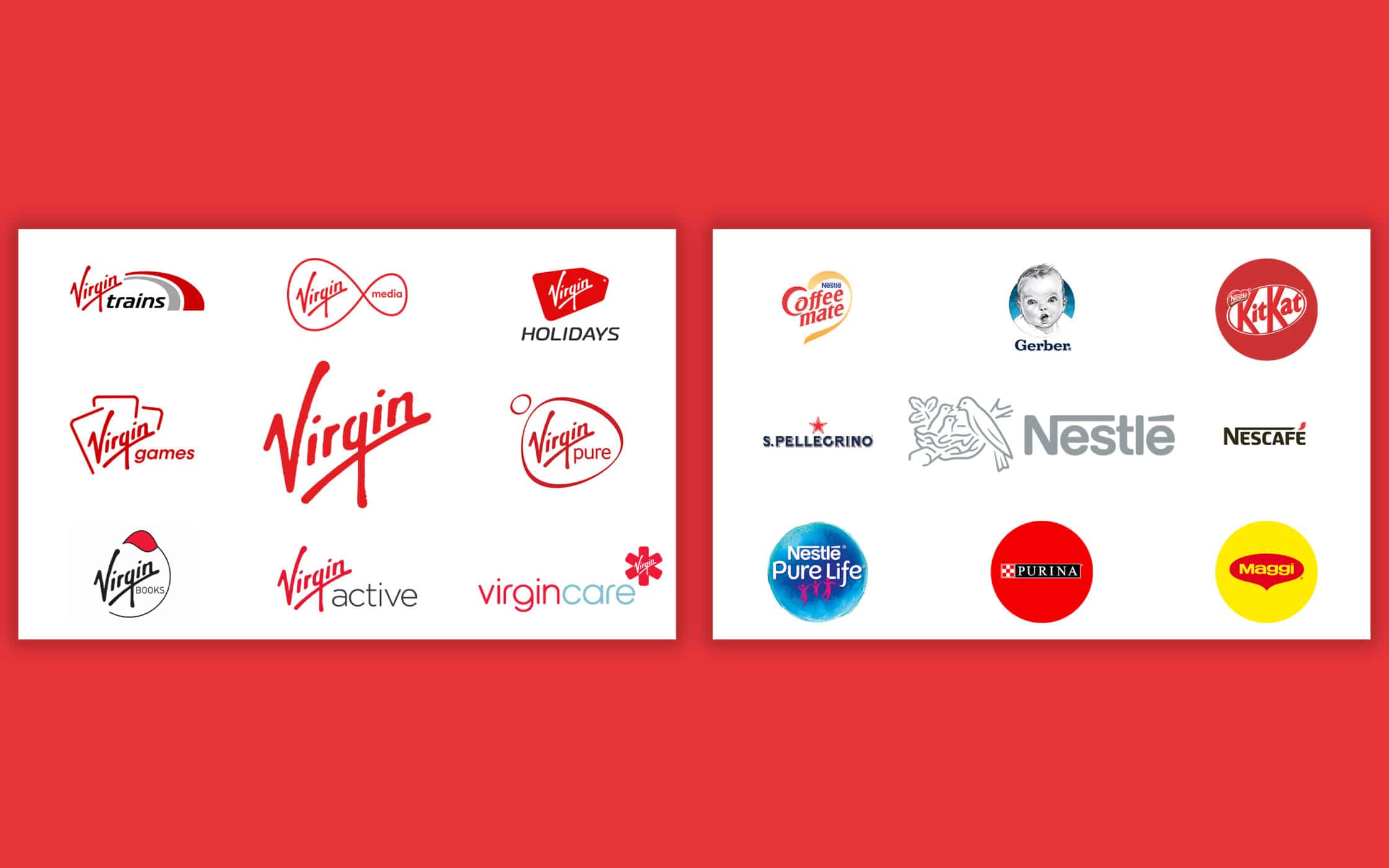 2. The "house of brands" model
In contrast to the branded house strategy, which connects every sub-group in your company into a sort of corporate family, the "house of brands" model allows organisations to market a range of brands under a singular roof. The style, tone of voice, and image delivered by each individual brand doesn't necessarily need to be the same.
Imagine the Nestle brand, for instance. It showcases a very different identity when marketing its flagship product, compared to when it is advertising various sub-brands. With a house of brands model, you can create a new personality for every product you sell, giving each section of your company its own distinct meaning and value.
3. The hybrid brand architecture
Finally, if the hierarchy for your empire brand doesn't fit into either of the two categories above, then you might better identify as a "hybrid" company. This simply means that you employ a combination of techniques to enhance your awareness strategy.
One great example of the hybrid model is the Coca-Cola brand, this company has leveraged the strength of it's flagship company with a variety of name extensions, including Diet Coke, and Coke Zero. However, if you go further into the Coke portfolio, you can also find a number of house brands like Sprite, and Fanta too.
Who's house? Virgin's house: The monolithic brand
Virgin is more than just a house band, it's a monolithic empire.
With more than 200 extensions or sub-brands thriving under the Virgin name, this is a company that's learned how to use the House brand architecture to its advantage, dipping its finger into countless new pies. With Virgin Atlantic, Virgin Money, Virgin Active, and Virgin Mobile (among countless others), the company uses its familiar name as a signpost for consumer trust, followed by an additional product or service title.
The Virgin Company's unique approach to brand extension allows it to extend its services without losing any customer loyalty or visibility – which is possibly why this organisation has quickly emerged as one of the best-known brands in the world.
If we look back over the Virgin brand history, it's easy to see that Branson has expanded his services multiple times. The company started off as a record store, and now has a presence in everything from telecommunications, to financial services. Of course, the thing that makes Virgin so special, is that it maintains it's memorable personality, regardless of where the brand goes.
Whether you're banking with Virgin, or you're using its services to send texts to your friends, every company within the Virgin framework draws from a single identity. This means that the organisation never needs to start from scratch when it's exploring the benefits of a new product. Every new and improved offering taps into more than 40 years of brand identity, cultivated through excellent customer service, and a careful attention to detail.
A house brand like Virgin has a lot to offer when it comes to enhancing customer loyalty, but there are risks to consider too. After all, every time the Virgin Group encounters an epic failure, like Virgin Brides, or Virgin Cola, the entire identity loses some of its hard-earned authority.
The way that Virgin has overcome this issue, is to make experimentation and the potential for failure part of their brand reputation. Customers know that this is a company that thinks outside of the box, so when something doesn't go entirely according to plan, the brand, and its followers are more inclined to simply laugh it off.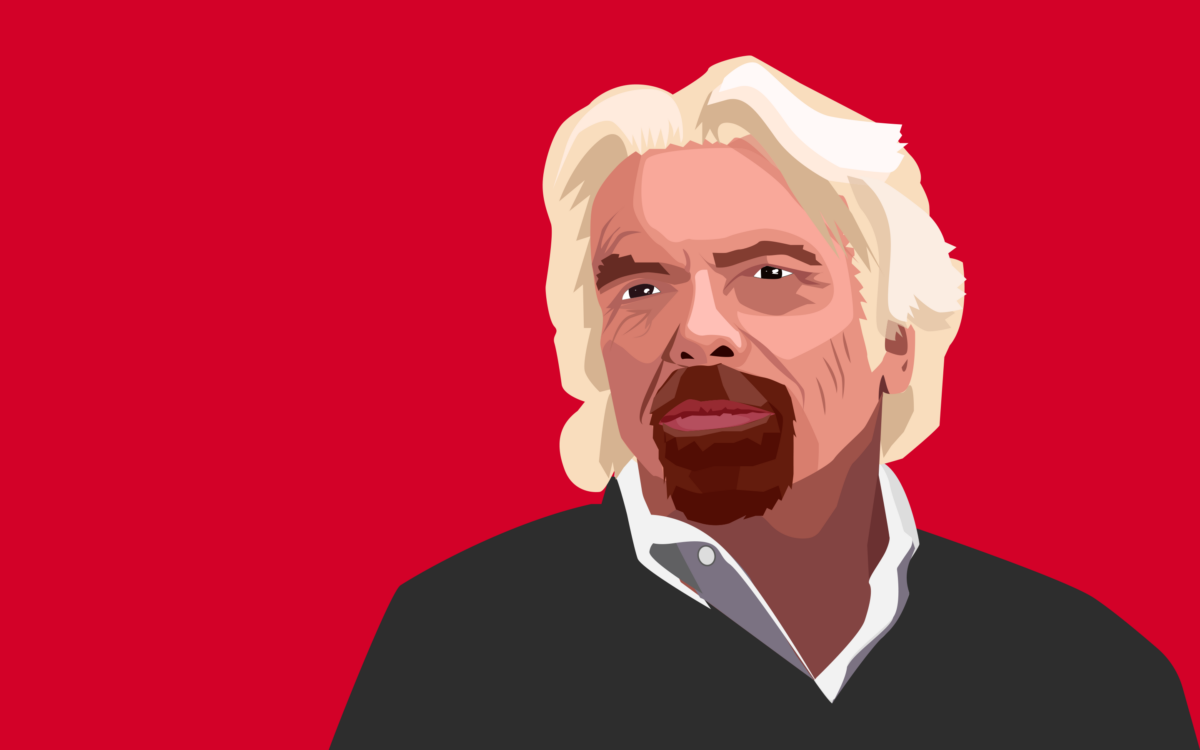 Leveraging a logo: Connecting the dots between Virgin sub-brands
If you want to build an empire brand like Virgin, then the first thing you need to know, is that consistency is key.
Whenever we work with a new company here at Fabrik, we urge consistency in everything from their tone of voice, to the images they use when interacting with their customers. After all, without consistency, you end up creating a mis-matched image that struggles to establish any familiarity with your target market.
Of course, when your company spans across multiple industries, maintaining consistency can be much harder. This is something that the Virgin empire has struggled with over the years, as while they continue to use the same name in all their brand sub-groups, some of their logos and brand image seem to change drastically from one company to another.
Of course, over the years, Virgin has started to get more of a handle on visual branding, making sure that it uses the same colours and shapes in many of its most lucrative sub-groups. What's more, while some of the logos might need a little work, each new company in the Virgin portfolio is driven by a singular set of brand values, which help to ensure that if nothing else, the experience customers get is consistent.
Branson developed the Virgin Group by targeting verticals where he felt things weren't as effective, or appealing as they should be. In other words, he entered the business environment with the purpose to make the world a better place – regardless of which industry that took up into.
If you read Branson's book, or check out his countless interviews online, it's easy to see that almost all his stories surrounding entrepreneurial success seem to start as tales of customer discontent. For instance, his success with Virgin Records was due partly to the fact that no established company on the market was willing to publish Mike Oldfield's album "Tubular Bells" – a musical sensation that went on to sell 16 million copies around the world.
In the case of the Virgin Atlantic brand, Branson found himself stranded with 50 other passengers one day in Puerto Rico, when American Airlines cancelled his flight to the Virgin Islands. In response, Branson chartered a plan, sold all the tickets, and came up with the plan to begin his very own travel company.
Looking at the Virgin sub-brands, it's easy to see the spaces where the companies connect.
1. The Virgin Trains brand
The Virgin Trains brand was launched in 1997. Though it hasn't always been the most popular company around, it's powerful in the way that it helps to highlight Virgin's unique personality, and their devotion to bringing fun and excitement into the world of travel.
The Virgin Trains brand claims that it's on a mission to make every second spent with their customer as incredible as possible – an echo of their overall brand purpose to transform lives and deliver excellence for their customers. Virgin Trains also uses the iconic typography of the Virgin logo in its image, making it easier to tap into years of credibility.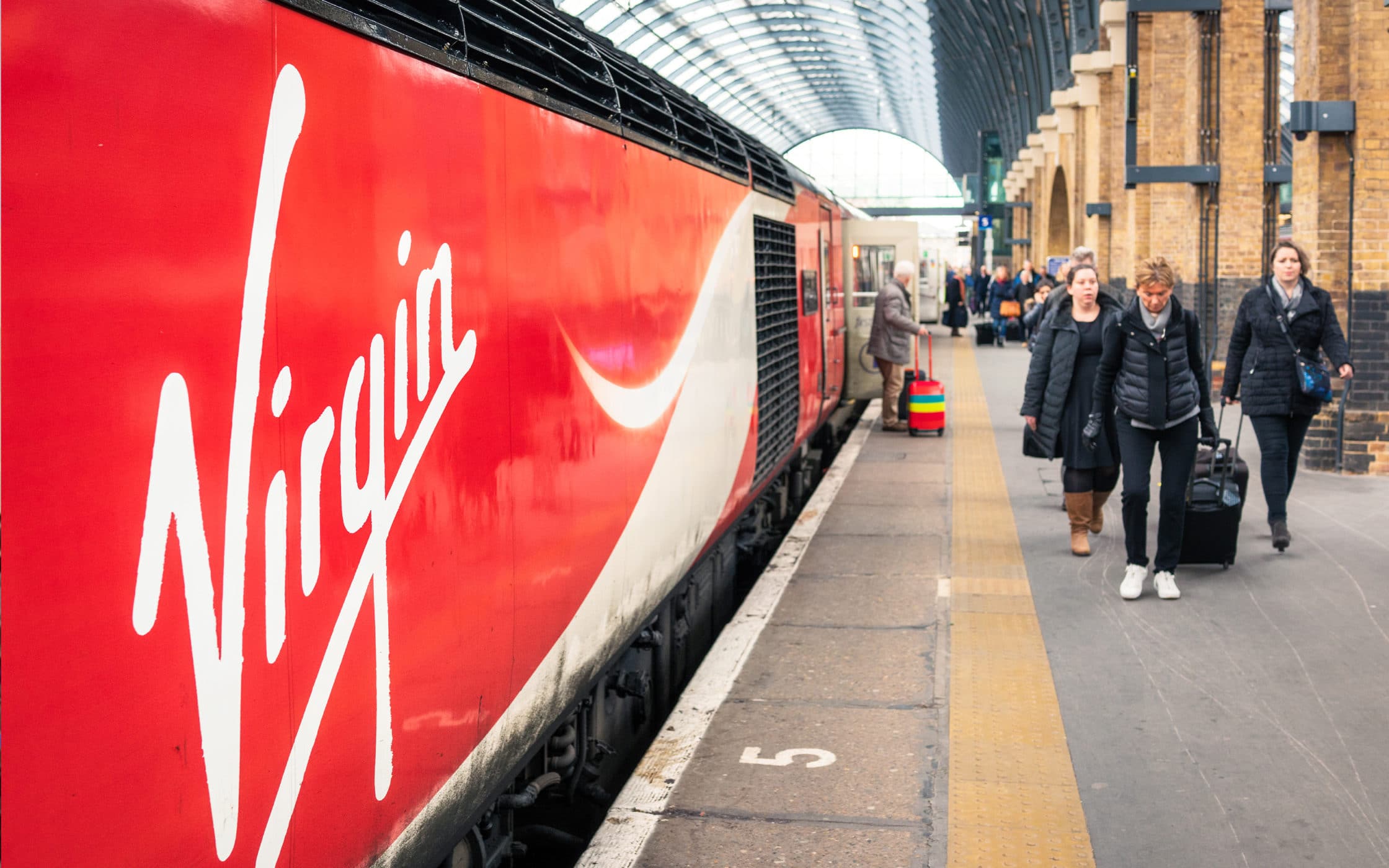 2. The Virgin Atlantic brand
Just like Virgin Trains, the Virgin Atlantic brand is arguably one of the most recognisable companies in the air today. Everything from the logo, to the visuals on the airplanes themselves represent Virgin's unique style, complete with their bold red colour scheme.
Once again, the values that drive Virgin Atlantic are based around customer experience. The organisation hopes to deliver better value and better service to its customers wherever they are in the world, which may be one of the reasons why the Virgin Atlantic brand has won a number of prestigious industry awards.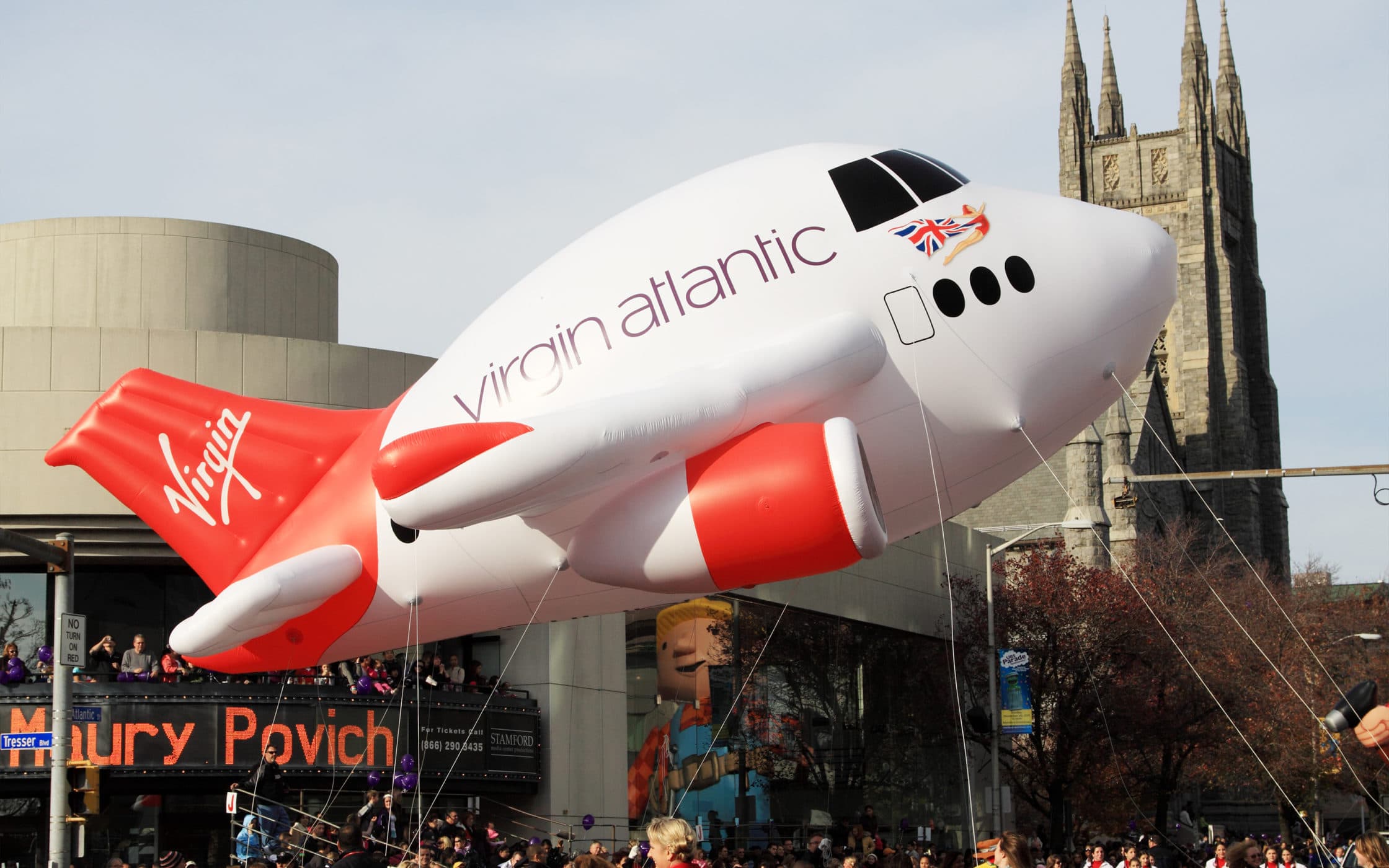 3. The Virgin Active brand
It might not be easy for most consumers to make the connection between a company that began with a record label, and a health and fitness brand, but Virgin has never been a company known for colouring within the lines. The Virgin Active brand is another example of how the empire organisation has moved into new industries to deliver exceptional customer experience.
The Virgin Active brand advertising materials use Virgin's exceptional voice to inform its customers of everything it has to offer when it comes to helping people achieve their goals in the world of fitness. Once again, the "Active" extension uses Virgin's signature logo too, giving it that extra dose of impact for brand recognition.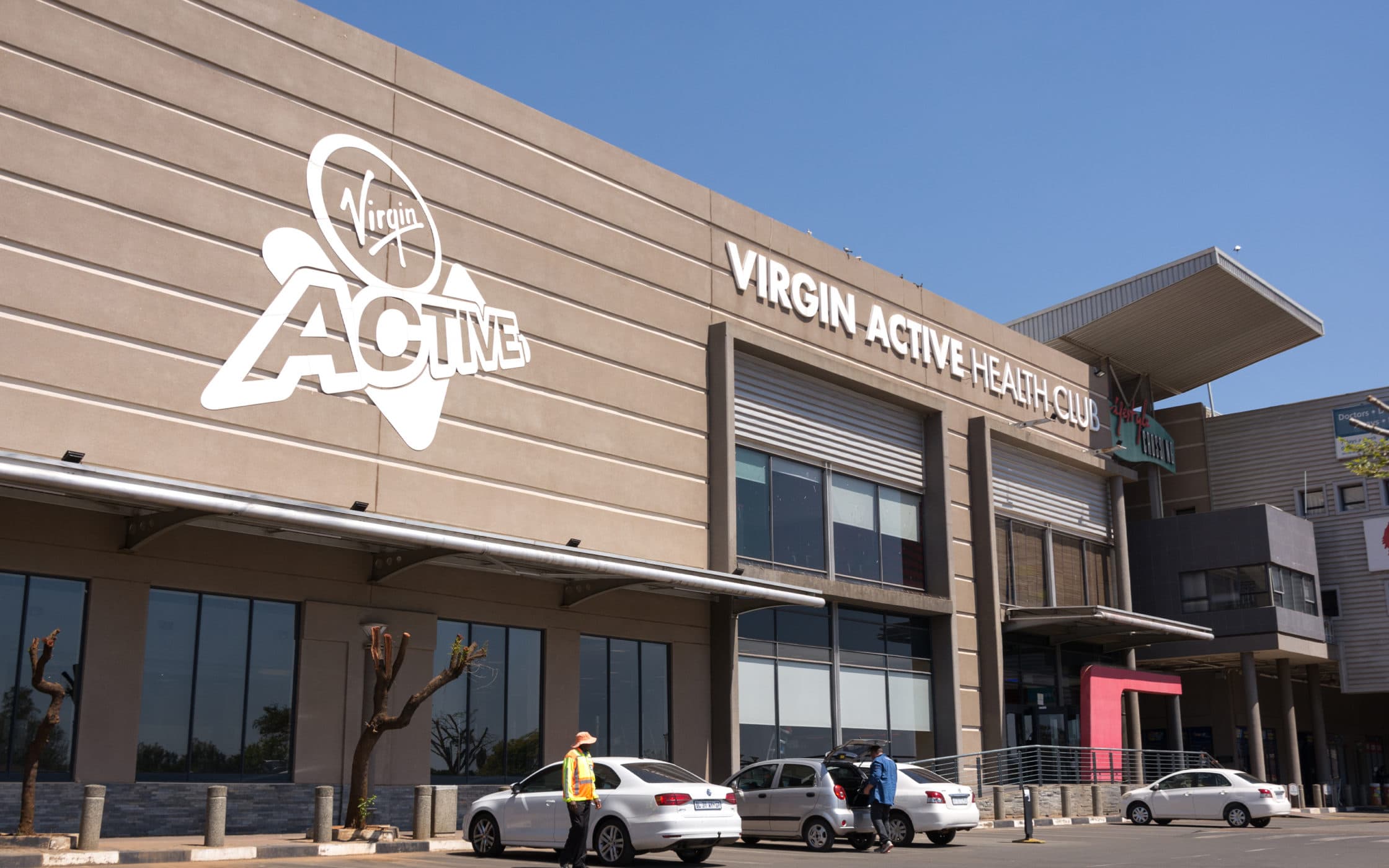 4. The Virgin Mobile brand
Virgin Mobile is one of the many Virgin sub-brands that has moved outside of Britain to plaster the company colours across the world. As experts in connecting with customers, Virgin know that it needs to appeal to a younger, more connected audience with its Virgin mobile marketing efforts, which is why the Group has added an extra element of youthful vibrancy to its identity online.
Just like any other segment of the Virgin Empire, the Virgin Mobile brand thrives because it talks to its customer like a friend, rather than a big-name corporation. Combine that familiar and friendly voice with the signature logo, and you've got yet another memorable sub-group from Virgin.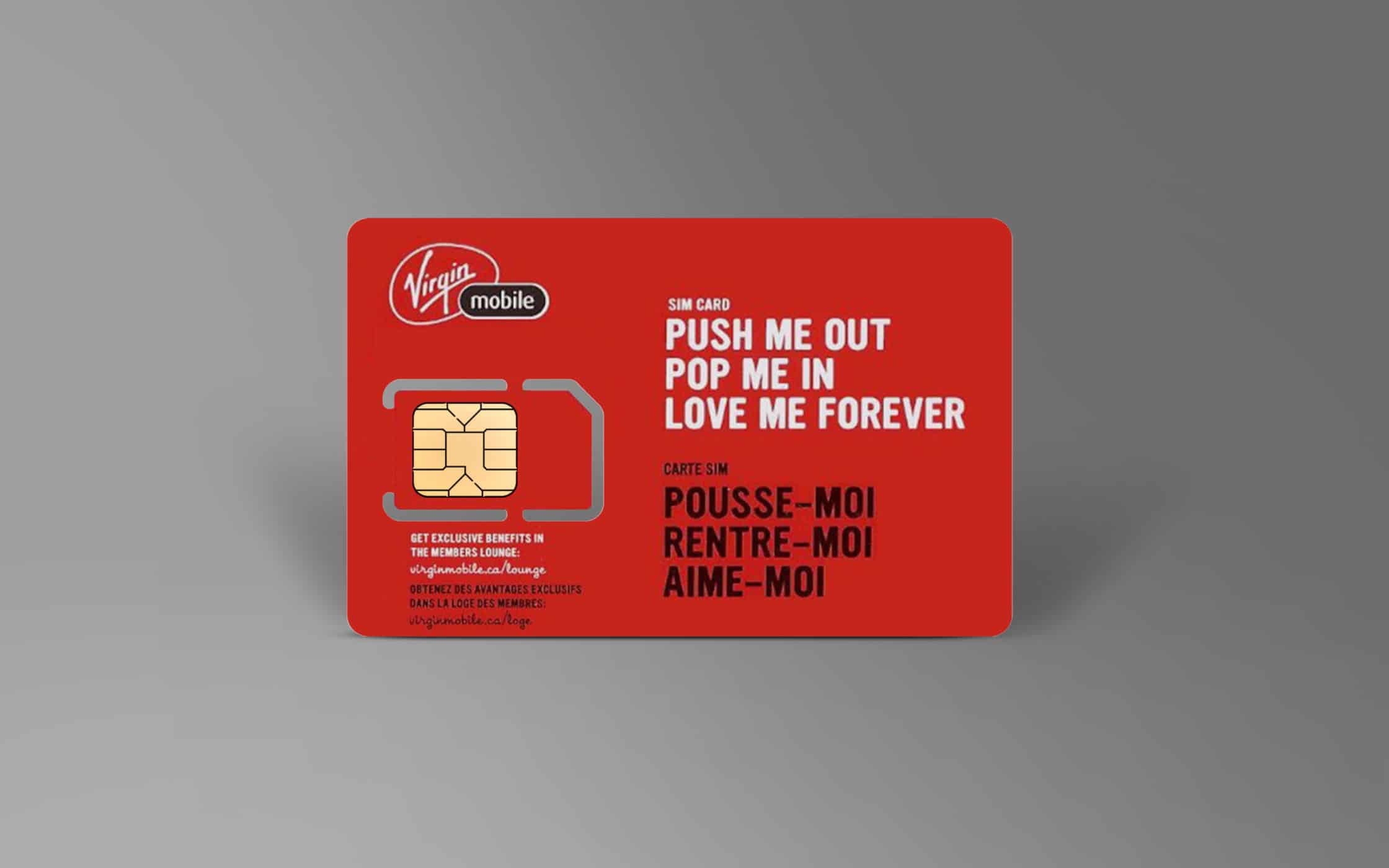 5. Virgin Money brand
Finally, Virgin Money is an incredible demonstration of how Branson has built the Virgin Empire around an ambition to deliver experiences and services that customers simply can't get anywhere else. Sure, there are other banking companies out there, some of which might be more innovative than others, however, the Virgin Money brand takes a particularly unique approach to captivating audiences, by building its efforts around a purpose of "making everybody better off".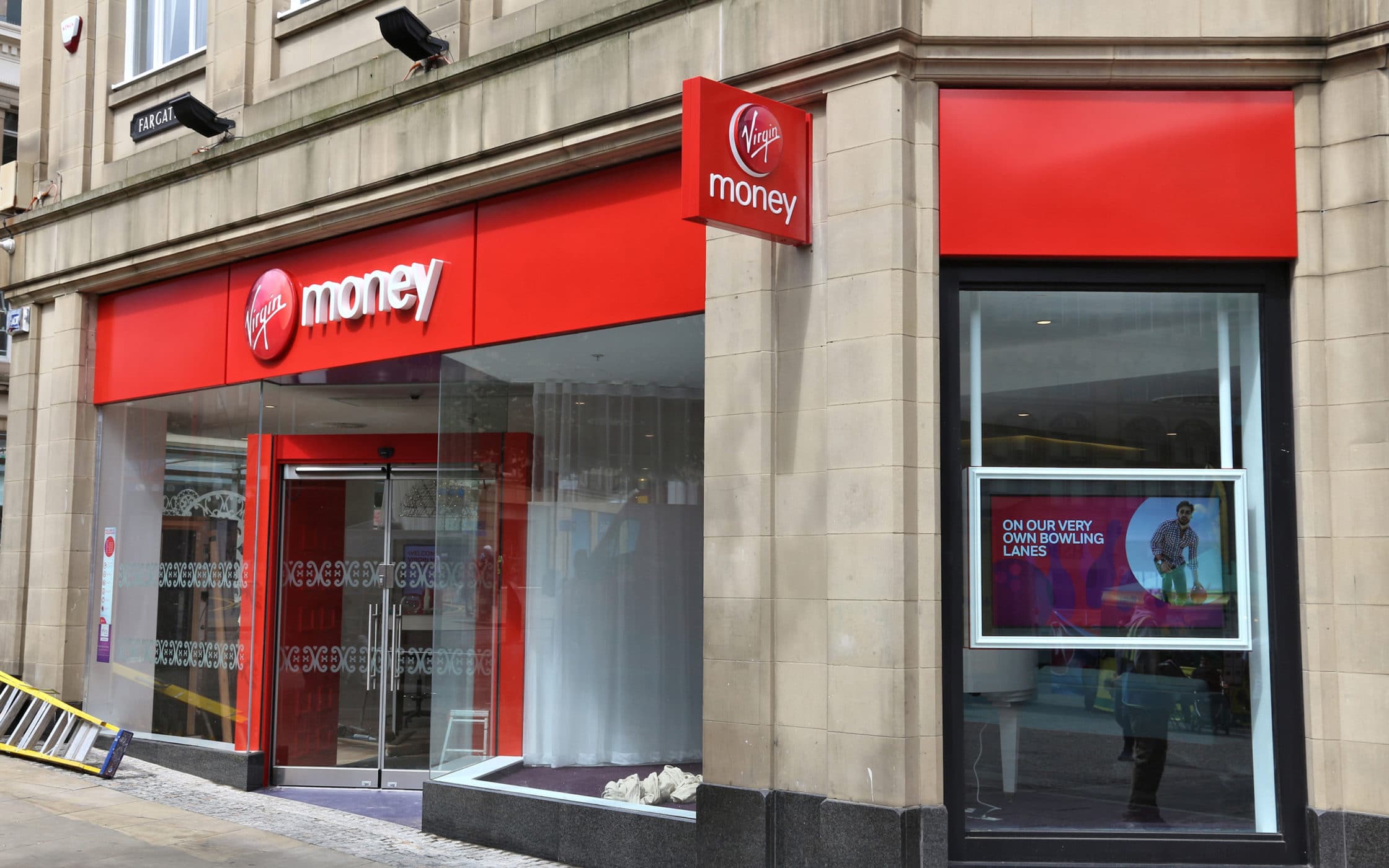 How build a brand like Branson: Creating an empire
As demonstrated in the evaluations above, every sub-group developed by the Virgin Empire contributes to a strong reputation for the company, because it works on the same strong values that have made the Virgin brand so compelling over the years.
When a company creates a new brand, it makes a promise to its customers, and that promise is something that needs to be represented in everything your company does. Virgin excels at serving its promise of "making things better" at every touchpoint, regardless of whether you're watching the latest shows, or planning a flight.
So, how do you build a brand like Branson?
The simple answer, is to start with your values and work your way up. Once you know what makes your company unique, and how you're going to differentiate your organisation from the other competitors in your industry, building an empire doesn't seem like such a huge challenge.
Virgins values are:
Curiosity: Branson is never afraid to dip his toes into a new vertical – from space travel to bridal wear, no industry is too obscure.
Incredible service: The entire Virgin team is always available to answer questions on social media, and respond to customer concerns.
Innovation: Virgin Money gives customers new ways to access their banking through mobile, and the Virgin Atlantic brand is constantly updating its fleet of planes.
Exceptional experiences: No matter where you interact with Virgin, it will aim deliver top-of-the-line customer satisfaction.
Disruption: Virgin is no stranger to getting ahead of the competition. With everything from Virgin Media, to Virgin Galactic, its fingers are always on the pulse.
Honesty: Not every Virgin brand is a success, Branson has built an empire by knowing when to admit something might have been a flop.
Once you understand your own values, you can take a few lessons out of the Virgin Empire's book for guidance on creating your own monolithic brand. For instance:
1. Be ready to innovate constantly
When Virgin launched into the travel industry, it didn't just create the Virgin Trains brand. It also looked for countless new ways to give customers the best travel experience around, whether it was with flights with the Virgin Atlantic brand, or interstellar travel through the world's first commercial spaceline. Branson built his brand identity off his own image as an adventurous individual, willing to boldly go where no-one else had gone before, with an energy that outshines many other entrepreneurs.
2. Embed yourself into your customer's lifestyle
Want to make sure that you're always achieving top-of-mind awareness with your customer? Follow them into the homes, and give them value in every part of their life. This is something that the Virgin Empire does exceptionally well. Its position as a house brand means that it's been able to expand its brand architecture to include everything from home entertainment to business banking. Virgin effectively offers something for everyone.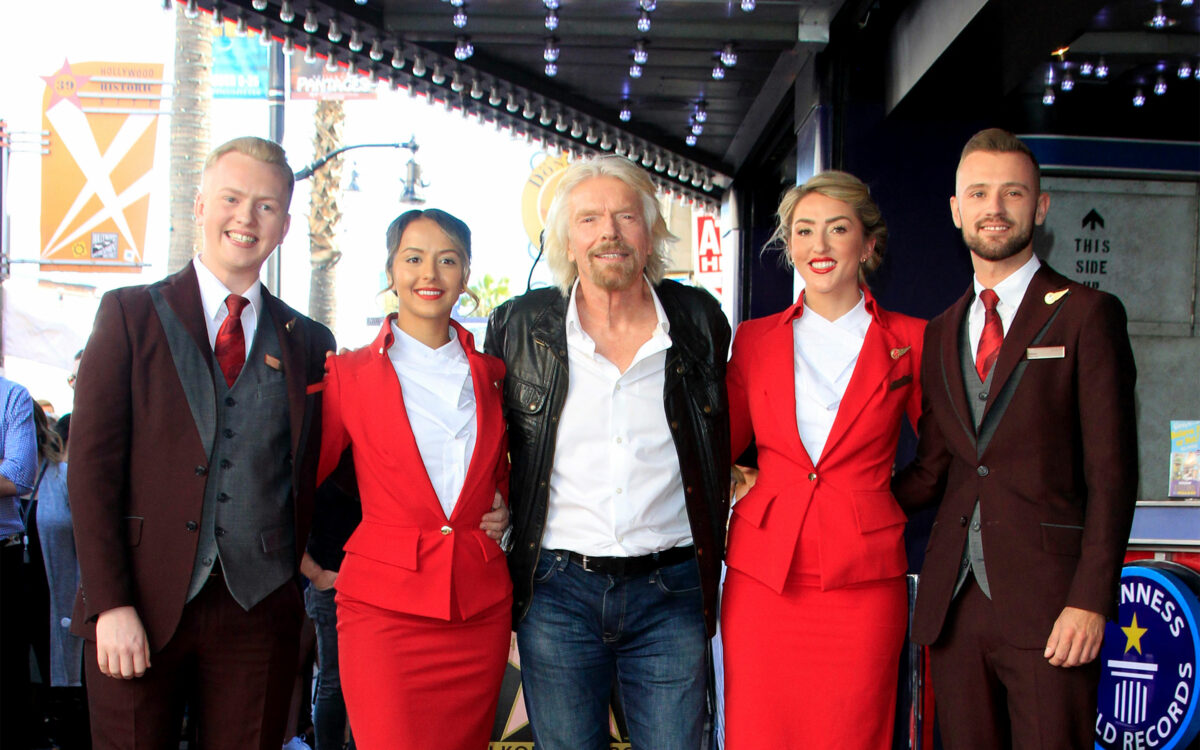 3. Have a personality
The Virgin Empire would never have achieved the power and reach that it possesses today without its exceptional personality. Whether it's on the various branded websites, which include blogs and messages to engage and entertain customers, or its social media campaigns, which are packed full of the company's unique attitude, Virgin knows how to showcase its human side. Since we all know that people prefer to do business with "people", instead of companies, it's important to remember that no matter how big your organisation might get, you still need to maintain a persistent personality.
4. Do something differently
Why is Virgin Media more compelling for its customers than BT and Sky? The simple answer is that it brings fun back to the entertainment experience. No matter which industry the Virgin Empire explores, it knows that it needs to offer its customers something different to stand out. The Virgin Mobile brand didn't come to life to start offering customers the same sims and calling experiences as everyone else. Instead, it launched with the intention to deliver the experiences its clients need, for a price they can afford.
If you can maintain a powerful presence wherever you go with your brand, then you can become more than just a house company. The Virgin Empire uses its compelling personality, and a distinct tone of voice to establish itself as a truly transcendent brand.
Virgin embraces its brand values on such an epic scale, that it's hard for anyone to steal its thunder – regardless of which industry they choose to explore. Though its brand extensions and sub-groups aren't always on-point, Virgin has established an identity that can withstand almost any mistake.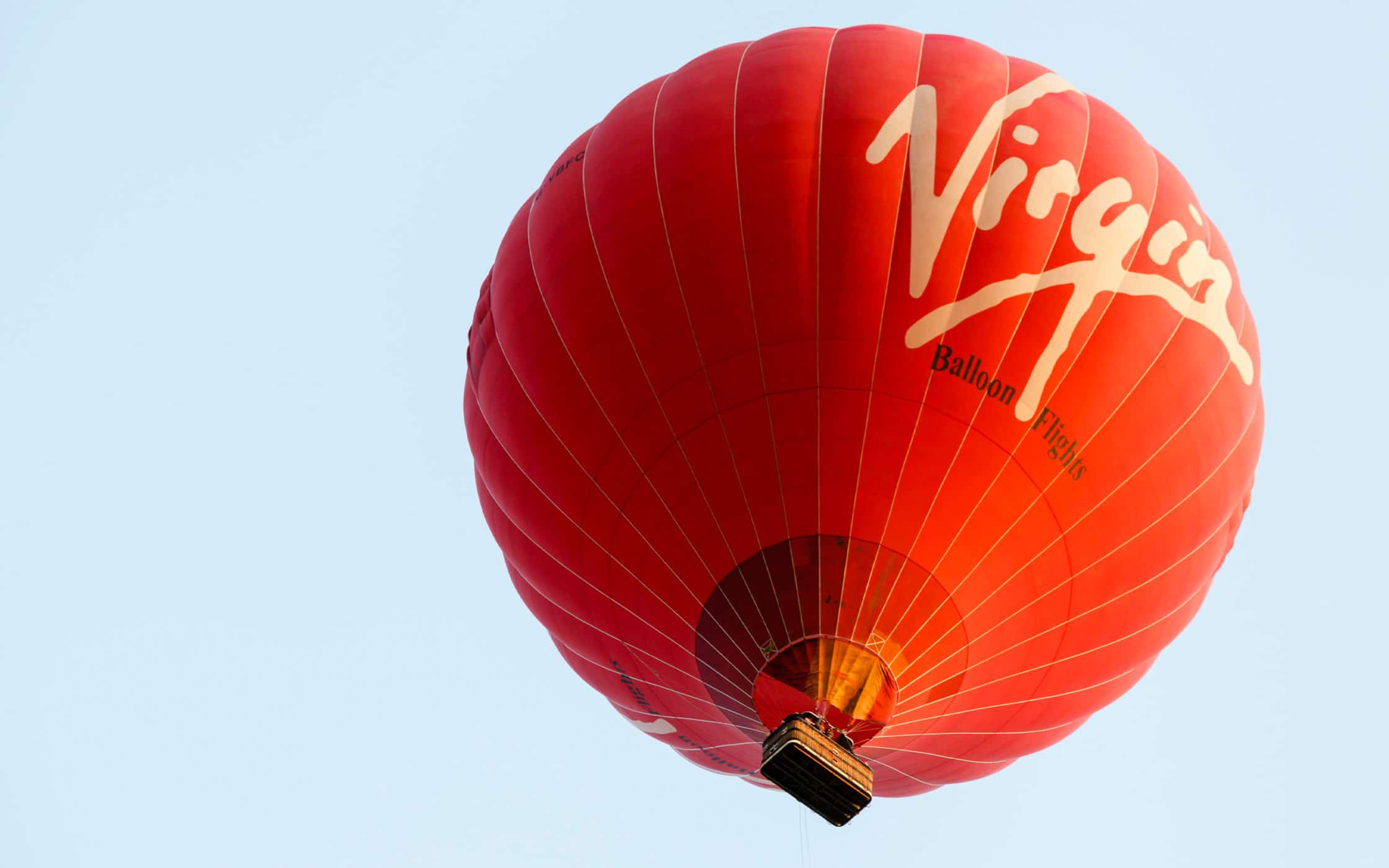 A passion for purpose: What makes the Virgin Group work
Whether you're looking at the Virgin Atlantic brand, the Virgin Money brand, or the Virgin Active brand, you'll notice that one thing constantly remains the same throughout the Virgin Empire. No matter where this company goes, it's devoted to showcasing its brand values, and building an identity around strong, unforgettable customer experiences.
When the Virgin Group began in the 1970s, it started out with a deliberate intention to cultivate a visual identity and tone of voice that was very different to that of the standard business, and that's what makes the Virgin brand architecture so unique, and compelling.
Just like any organisation with a strong architecture, Virgin knows that it needs to take its voice with it, regardless of which industry it chooses to explore. That's why when the business decided to move into the airline industry during 1984, it maintained its recognition.
Throughout the years, the Virgin Empire has used its unique brand architecture to bring a new definition to the concept of disruption. Over forty years of innovation, it has shaken things up with a distinctive brand, capable of turning almost any industry on its head. Unlike other companies that have tried to expand and failed, Virgin has become the master of the Empire business, by ensuring that it constantly focus on offering something entirely different to anything else that exists in the marketplace.
According to the experts behind the Virgin brand, this is a group that's always been intent on redefining the relationship between customers and companies, while changing businesses for good. If you can harness the power of personality like Virgin, then you could end up with a brand architecture that's just as astronomical.
If you enjoyed this article, you might enjoy these too:
— Wired for sound: A short history of Bluetooth
— No introduction need: How iconic brands are born
— The Virgin experience: Brand it like Branson