Quintessentially British brands: Vivienne Westwood, from punk to style to symbol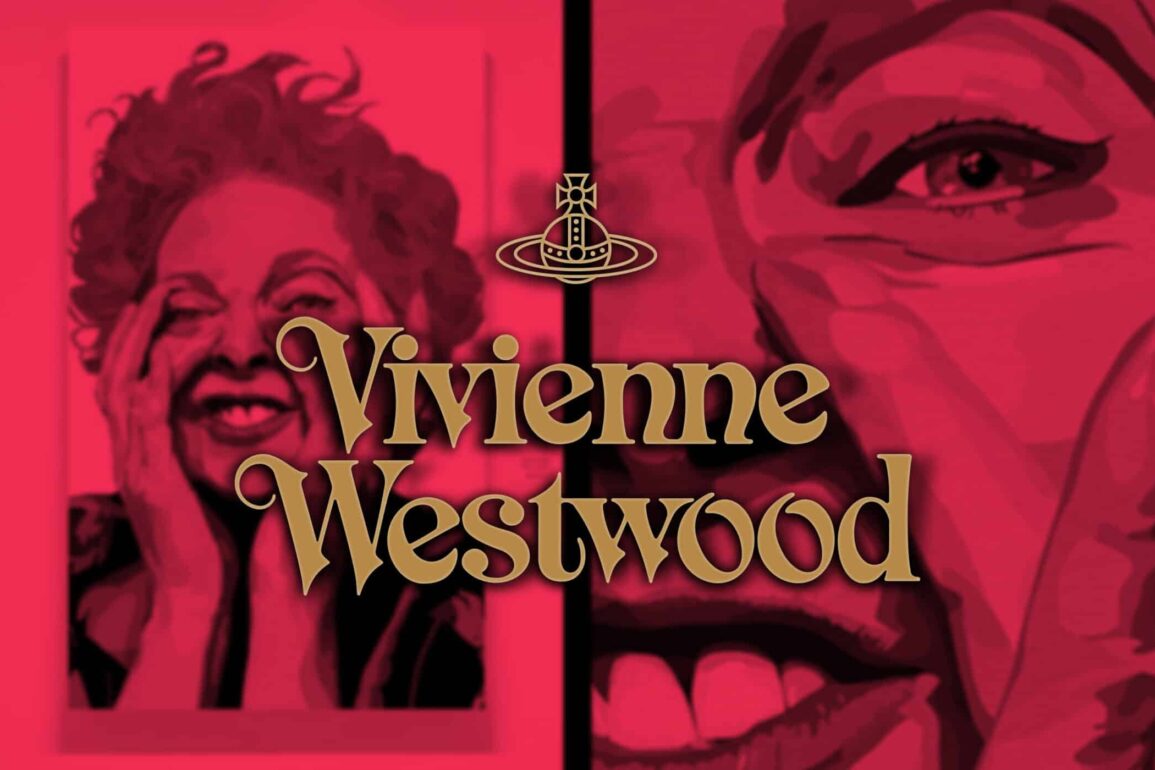 While there are many fashion designers in Britain that have created something of a cult following among their fans, there's only one Great British Brand known for designing their very own genre: punk.
For people across the UK, and even the globe, Dame Vivienne Westwood is more than just an insight into incredible branding, she's the embodiment of British fashion. The name behind one of the most infamous labels in the world, Vivienne Westwood has flown the flag for Britain across a universe of style-based, and political adversity.
With a distinctive personality, and an unmistakable character that resonates in everything she does, Vivienne Westwood has become the British staple of iconic, premium design. Today, the Vivienne Westwood brand is a perfect example of what can be accomplished with an indisputable purpose, a strong set of values, and a world-changing image.
It's impossible to argue with the fact that Vivienne Westwood is a British fashion legacy. However, in today's Quintessentially British Brands analysis, we're going to dive into not only the history of this symbolic seamstress, but also the branding and marketing details that have made her truly unforgettable.
Long live the Queen of Punk.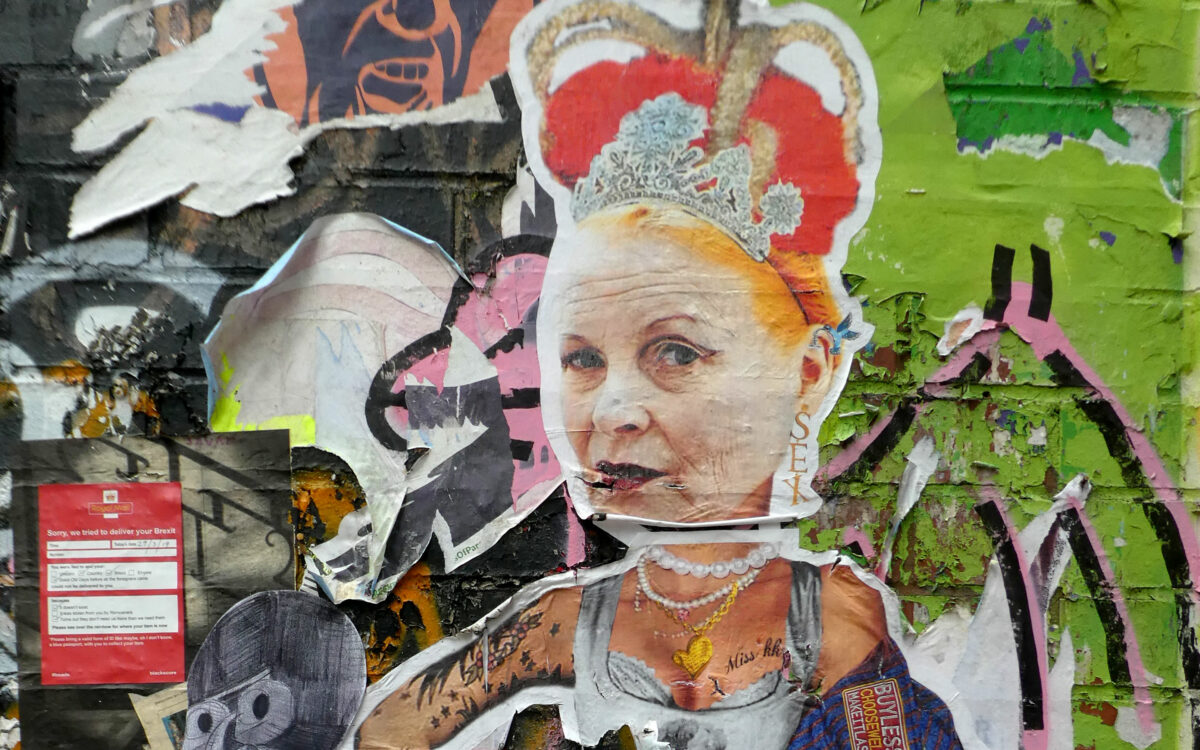 Vivienne Westwood: An icon in British style
As everyone's favourite Dame of fashion, the co-founder of the punk movement, and a truly inspirational campaigner, it's easy to feel a sense of cultural pride thinking about Vivienne Westwood, whether you agree with her approach or not.
For those unfamiliar with this British icon, Vivienne Westwood is the British designer responsible for delivering new-wave fashion and modern punk into the streets of England. Her career in fashion began when she joined forces with Malcolm McLaren, the manager of the Sex Pistols, and began to craft the signature look for the emerging punk movement in London.
Although Vivienne's personal relationship and business with McLaren came to an emotional end in 1984, her focus on the fashion revolution continued, igniting the future of the Vivienne Westwood brand. Ever since, the Vivienne Westwood identity has inspired, motivated, and moved, using shocking pieces, iconic British imagery, and unforgettable political statements.
Westwood's contribution to the world of fashion and British identity overall has been commemorated multiple times with a range of retrospective showings highlighting her work. Vivienne was also made a "Dame" in 2006, even though her British brand movements have long been connected with controversy and drama.
In fact, the entire Vivienne Westwood brand manifesto seems to be built on the desire to make a statement. For instance, she wore a sheer gown without underwear to receive her OBE from the Queen in 1992, and she's spent much of her life exploring political activism. However, the constant seduction that Vivienne has held with controversy may be part of what makes her brand so appealing and such an impeccable Great British Brand.
After all, in the world of marketing and branding, one of the most important things a company can do, is find a way to stand out from the crowd. That's particularly true in today's modern world, where the over-saturation of modern brands has made it harder than ever to truly communicate with your audience.
When it comes to differentiation strategies, Vivienne Westwood is the queen of brand identity, acting as one of the few labels in the world to create a stir not just in the fashion industry, but in the country tabloids too. Perhaps this is why the Vivienne Westwood brand has become a symbol for people who want to stand out and speak for something.
Today, the Vivienne Westwood identity is more than just a label, it's a symbol of fashion freedom, identity, and uniqueness.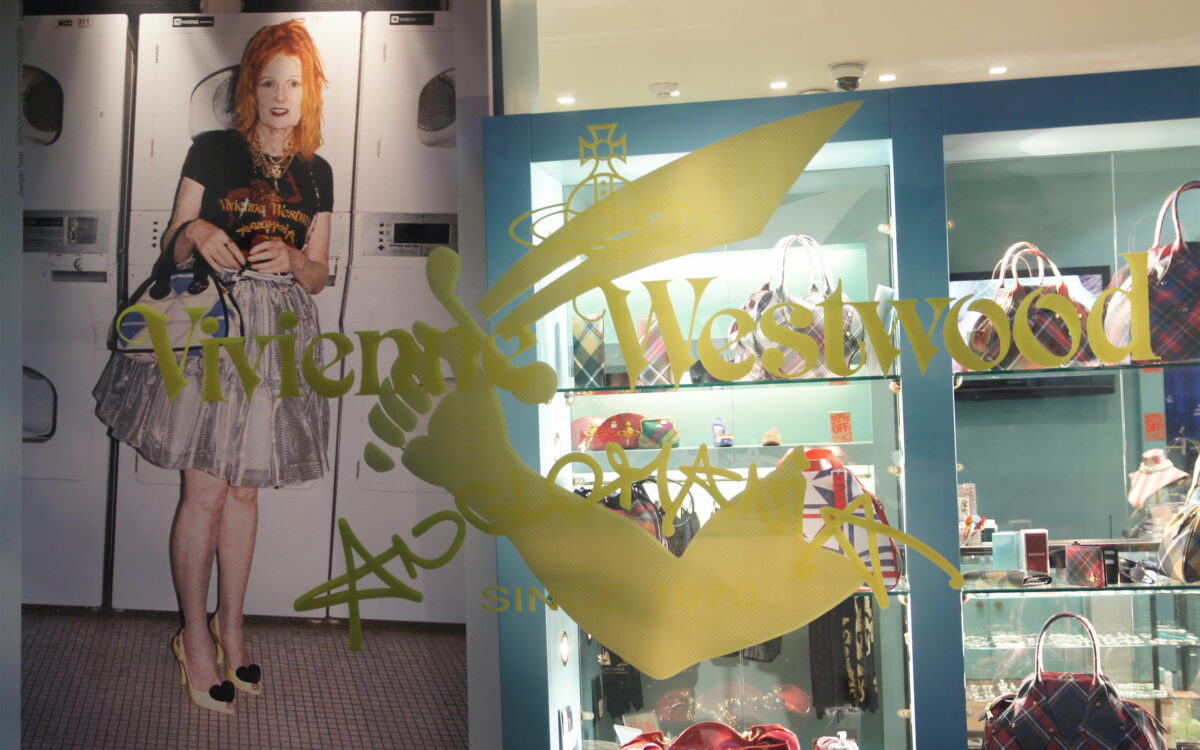 The history of Vivienne Westwood
Known across the world for her inspiring, innovative, and unforgettable designs, Vivienne Westwood is a true Quintessentially British Brand. Originally, Vivienne Swire, Westwood was born in Derbyshire in 1941, and she began designing thirty years later after she met a famous entrepreneur called Malcolm McLaren – the man best known for managing the Sex Pistols, the UK's foremost punk band.
In an effort to follow her passions, Vivienne moved to London, leaving behind a divorce, and a life as a primary school teacher. In London, the Vivienne Westwood identity began to form for the first time, in the decade when Vivienne and McLaren ran a store originally called "Let it Rock" on King's Road. Soon, Westwood became known as one of the leading inspirations behind the punk movement, with many calling her the "Queen of Punk".
Westwood's store on King's Road evolved and reinvented itself several times, just like various iconic brands – reshaping for the needs of their audience. The first redesign used a name called "Too Fast to Live, Too Young to Die". During this time, the store stocked clothing for people who loved Rock music, along with vinyl records. When 1974 rolled around, the shop was rebranded again and adopted the name "Sex". To create consistency for the brand, "Sex" emphasised themes of fetish, sadomasochism, and bondage.
In 1977, the store became "Seditionaries", and in the 1980s, it was finally renamed one last time, "The World's End". You can still visit the location today, although it has become a celebration of one of the world's quintessentially British brands, showcasing various Westwood collections, and an impressive backward-spinning clock.
Although the Vivienne Westwood brand eventually broke out of London and began to move across the globe, the identity of the style icon has remained firmly rooted in its geographical roots. Indeed, Vivienne continued to use the same iconic British fabrics as she began showing her clothing in Paris, as the very first British designer to appear in France since Mary Quant.
The Queen of Punk began to use her new collections to create something called the "New Romantic" movement in fashion, which moved through popular culture like a storm, gathering the interest of various countries across the world. By the 1990s, Vivienne had been officially recognised as "British Fashion Designer" of the year by the official UK Council.
Although Westwood's position in the marketplace has evolved and expanded over the years, her unique brand identity remains the same. For instance, traditional fabrics from the UK remain essential to Westwood, all the way from Scottish Tartans, to Harris Tweed and Irish Linens.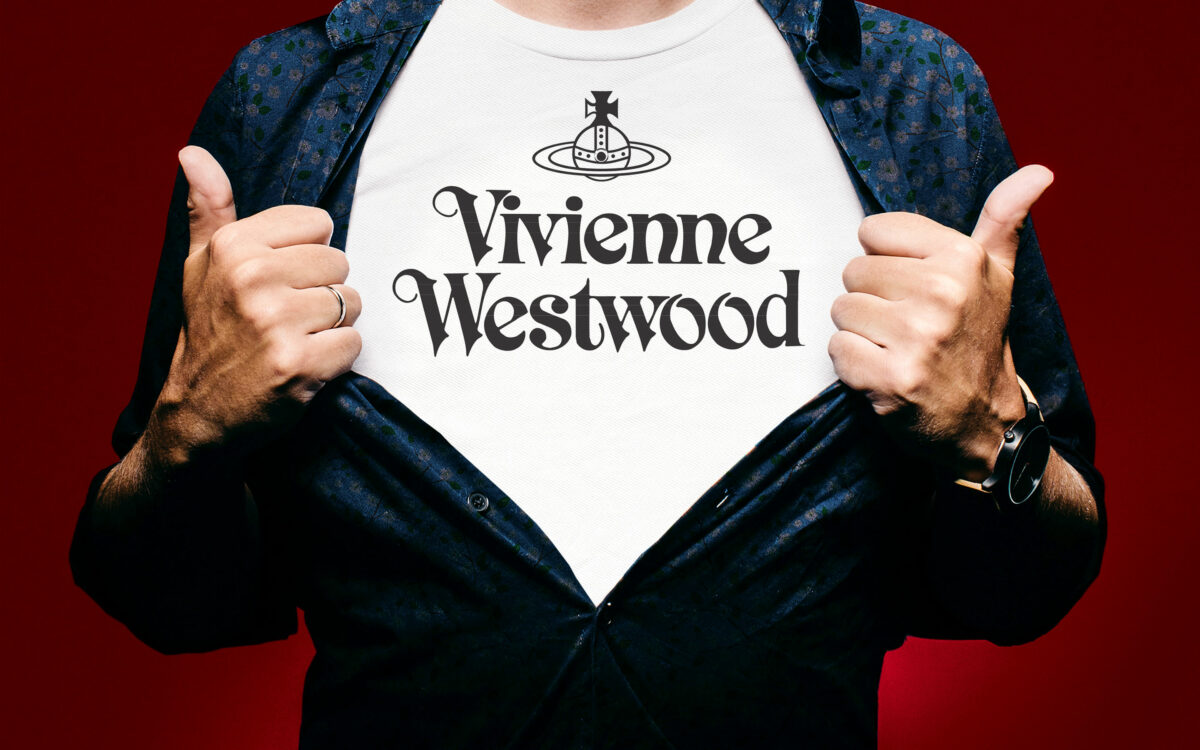 From style to symbol: Vivienne Westwood brand identity
In part, it's Westwood's devotion to her British heritage that helps to make her such an iconic Great British Brand. However, she's recognised today as one of Britain's treasures, not just because of her impeccable use of style, but also as a result of her unique visual and verbal identity.
The Vivienne Westwood brand constantly pays homage to its roots using British tweeds, wools, tartans, and linens to convey the heritage and vibrancy of British style. However, the brand identity of Vivienne Westwood will forever be steeped in rebellion too – something that we can see in every marketing stunt and outlandish design Westwood places into the eye of the public.
One of the elements of the Vivienne Westwood identity that has remained stable throughout the years is the iconic Orb logo, which emerged during the late 1980s when Vivienne was first stepping out as a designer and icon in her own right. This incredible element of visual branding was inspired by the royal iconography of Britain, and intended to represent the importance of the past, while the rings of Saturn signify the future.
Although there's an inherently forward-thinking element about the Vivienne Westwood identity, it's worth noting that this brand focuses mostly on the past. In fact, Westwood once told the media that she doesn't believe in progress, and she's not interested in the future. She noted that although technology is great for some things, it's important to put a limit on the potential of machines to avoid degenerating individuality through standardisation.
This could be why traditional clothing articles often act as a jumping point for most Westwood designs. In fact, the brand has returned to the kilt numerous times, using the Scottish garment as a point of social commentary in the aim to focus the public on accepting men in skirts.
Of course, although many of the Vivienne Westwood brand values have remained the same over the years, Westwood's focus as an individual has evolved. For instance, the punk aesthetic championed throughout the 80s and 90s quickly transformed into a parody of the upper classes, as Westwood began to express her anti-establishment opinions through her designs. As well as pushing her thoughts into her fashion, Westwood also used her brand identity to actively protest the government.
Although it's easy to argue that the brand focus of Vivienne Westwood has changed drastically over the decades, it's also fair to suggest that the purpose of the brand has remained the same. After all, from the very beginning, Westwood used her designs as a way of shocking the public, and inspiring change. The only thing that has really changed over the years then is the crusade that Vivienne has devoted her time and efforts to.
In the past, the focus was more on the strains of the time – such as war and society. Today, society remains to be a common theme for Westwood, but the brand identity focuses more on a push for climate change. Indeed, the slogan T-shirts that were originally designed for the punk movement have begun to feature slogans like "Climate Revolution" and "Save the Arctic" instead. Westwood has even begun to scale down the production in her clothing line, in an attempt to convince her fans to buy according to quality, rather than quantity.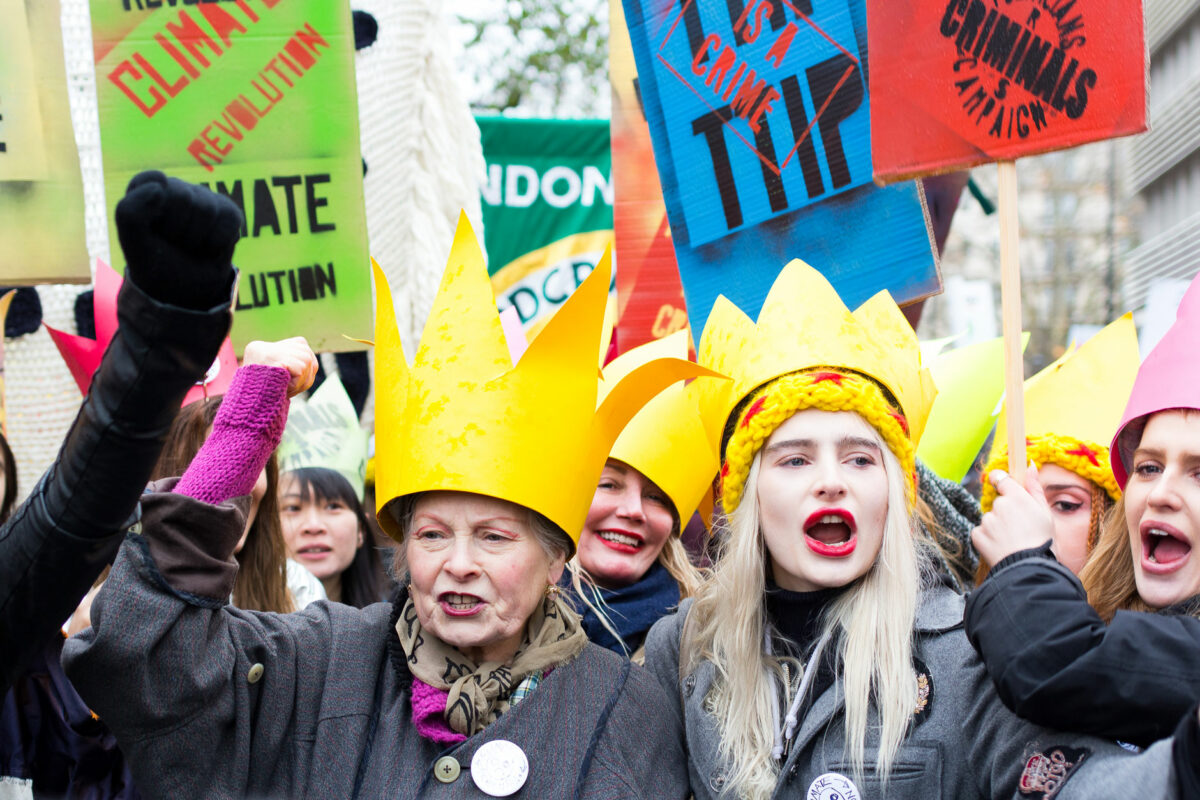 Great British brands: Vivienne Westwood today
As a quintessentially British brand, it's safe to say that the Vivienne Westwood identity will always have a place in the history of the UK, and the creation of the punk ideology. However, in the decades since Westwood made her split from her partner Malcolm McLaren, she's also adopted a rebel aesthetic that's entirely new, and unique to her. In some respects, it could be argued that Vivienne Westwood's personal brand is more innovative than her clothing line.
Westwood's approach to branding has never been focused on following rules, or becoming "one of the crowd". Instead, Vivienne shows us aspiring companies just how important it is to find your edge within the marketplace. Everything from her website – brimming with shocking images and unique ideas, to her innovative fashion shows are undeniably different.
The truth is that the Vivienne Westwood brand has remained largely consistent over the years, as Westwood has always been an activist, involved with political concepts, and significant change. Vivienne has always been consistent with using her cutting-edge decisions in fashion to highlight her own opinions. In fact, if you head to her Twitter page, you'll see not just Westwood's latest designs, but her social commentaries too.
Part of the reason why Westwood's branding has become so environmentally focused in recent years may be linked to the controversy the company experienced after Westwood was accused of using the green movement as nothing but a marketing strategy. Towards the beginning, The Vivienne Westwood brand was using materials that weren't environmentally friendly, while producing around 9 collections a year, compared to the average 2 for most designers.
Of course, Westwood quickly responded to the claims that she wasn't truly dedicated to climate change, by making a huge push in her branding efforts. This goes to show how important it is to not only establish your brand identity but remain true to the ethics and values that you establish for yourself over the years.
Making sure that your voice, behaviour, and marketing campaigns align with your USPs as a brand is an essential part of ensuring consistency and developing brand loyalty. Today, Westwood has become known for her campaigning regarding the "green" movement. She has been widely quoted by the media after her advice to "buy less, choose well" when it comes to fashion.
Westwood even made the decision to enhance her brand identity by working with other influential figures in her space. For instance, the luxury retailer Yoox worked alongside the Vivienne Westwood brand to raise awareness for environmental change, while simultaneously promoting a range of eco-friendly fashion through a channel on its website.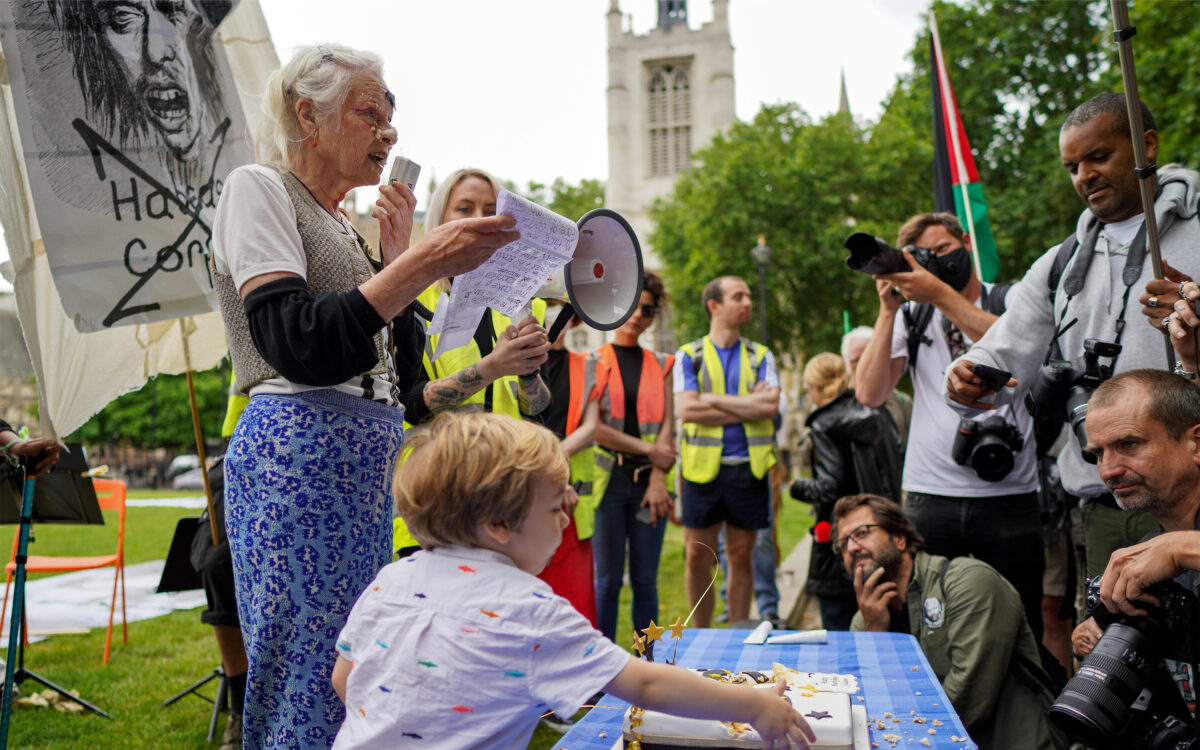 Meaningful marketing: Using brand identity for influence
Over the years, Vivienne Westwood has become a master of presence, both online and off. In fact, for many marketers, her brand is an insight into what can be accomplished when you use controversy in the right way. As the ultimate face of British Fashion, Vivienne Westwood has used her personal brand, the runway, and the streets as a platform through which to voice her views on politics and continue to build affinity among her followers.
In fact, you might argue that the outspoken nature of the Vivienne Westwood brand is what has turned the icon into such an unforgettable label over the years. People know when they purchase a piece of clothing from Vivienne Westwood, they're supporting a concept of community and social change. Indeed, wearing a piece by Westwood today is more than just a fashion statement, it's a political experience.
Here are just some of the ways that the Vivienne Westwood brand has used marketing to highlight its identity, and spread brand recognition over the years:
1. Provocative in punk
In 1977, Westwood appeared in public wearing one of her classic slogan shirts, emblazoned with an inverted image of Christ on the cross, a red Nazi swastika, and the word "Destroy" printed on the front. The imagery, though shocking, epitomised Westwood's view of politics, and Westwood has said that the shirt was all about bringing people together to stand up against horrific dictators around the world.
Perhaps what other brands can learn from this, is the fact that when you stand up against something important, people take notice. Part of finding your brand purpose, mission, and vision, is deciding what you're willing to fight for – regardless of whether it means isolating a potential audience or not. The key is making sure that you're appealing to the beliefs of the people that you most want to sell yourself, and your brand to.
2. Taking over Dazed
In July 2008, Vivienne Westwood told the readers of Daze to "Get a Life", from the front page of the Dazed magazine. The "Active Resistance Edition" was intended to address many of the political concerns that Westwood found to be the most important, including rising sea levels, and propaganda.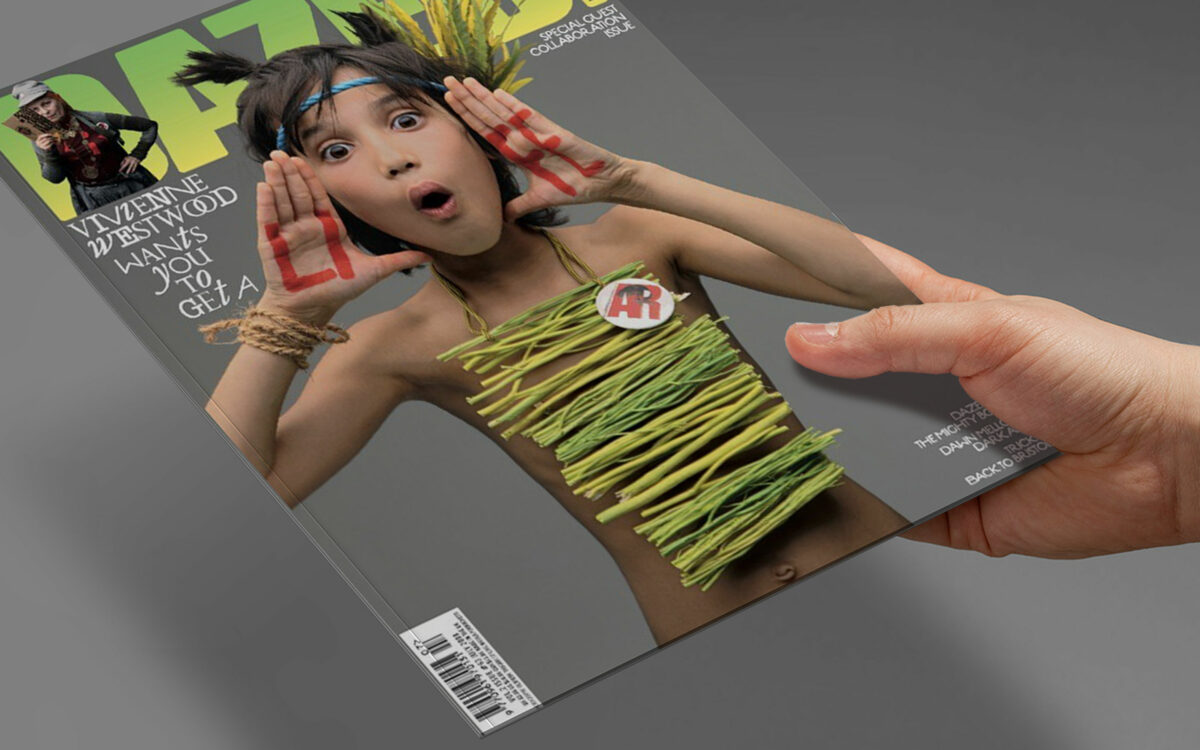 The results of the campaign just go to show how useful it can be to use other publications to get your voice heard as a rising or even an established brand. Networking with other people in your industry, or communicating with brands from areas that you want to get involved with, could be a powerful way to expand your authority in the marketplace.
3. The "Vote Green" campaign
In 2015, Vivienne Westwood was focused entirely on getting the world to re-think their political views. She used her position as one of the Great British Brands to talk to the UK public about how they were currently being controlled by the "1 percent". Although it's true that Westwood's show was a way for her to showcase her new product line, she linked her marketing efforts to a political statement to inspire greater action from her followers.
The Vivienne Westwood brand is a perfect example of how effective it can be to link your campaigns to bigger social and economic issues. Westwood draws greater attention to her brand in a saturated fashion environment by staying true to her ideas of British heritage, punk revolution, and inspirational change.
4. Protesting at the Paralympics
At the London 2012 Paralympics, Vivienne Westwood launched a campaign to address climate change concerns. The event was more of a guerrilla stunt than a standard marketing campaign, but it was an incredible way to draw attention to the visual and verbal identity that Westwood has created for herself over the years.
Westwood shows other brands how important it is to stay true to your identity, regardless of what you want to accomplish as a brand. Even as the world has changed, Westwood continues to use methods that are designed to shock and inspire her audience, because that's what her followers have come to expect. At the same time, she shows the authenticity of her brand by taking action to support her values.
5. Stripping for PETA
Finally, another exceptional example of what makes the Vivienne Westwood brand so unforgettable is the PETA video, where Westwood used her own personal brand to draw attention to her support of vegetarianism. In the video, Westwood asked people to preserve the world's water supply by avoiding the consumption of meat.
Although the video was somewhat controversial, it fit perfectly with the identity that Vivienne has built for herself over the years – as does every other marketing campaign created by this incredible brand. Perhaps more than anything else, the Vivienne Westwood identity could be used as a champion for consistency in branding.
While the circumstances of a brand may change, its underlying values and voice should always remain the same. That's why Vivienne Westwood is a truly quintessential British brand.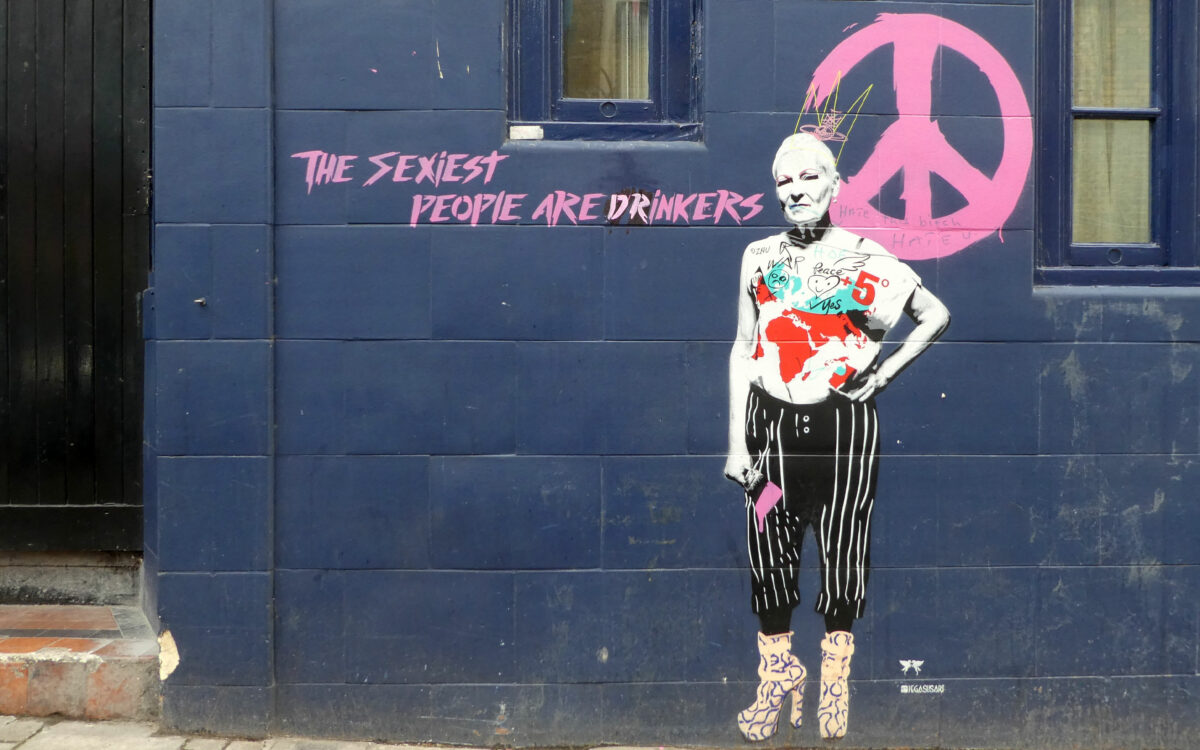 What's next for the Vivienne Westwood brand?
Over decades in the spotlight, the Vivienne Westwood brand has transformed bondage gear, safety pins, and controversial images into the pinnacle of British fashion. Despite her, undoubtedly combative nature, Vivienne Westwood's personal brand, and her clothing company have both emerged as a crucial part of what makes British culture truly unique.
As the world has changed, Westwood has changed with it, acknowledging the fact that great brands must be versatile to survive. However, ever since she broke free from McLaren and started to establish her own brand identity, Vivienne has maintained a recognisable character that continues to speak volumes in the world of marketing today.
Unlike many of the alternative companies in her industry, Vivienne Westwood has used her branding expertise in a unique way, by creating a platform to develop real change. Perhaps part of the reason for this is that the entire Vivienne Westwood identity is built on a foundation of revolution.
Today, Westwood continues to be an activist, an eco-warrior, and an unforgettable great British brand. Remaining true to her politics, image, and brand throughout the years, Westwood has maintained her UK heritage and punk roots for decades. She's just as daring in her 70s as she's ever been, and Westwood today is a lesson for all those who want to learn how to do branding right.
If you want your company to stand the test of time, then you need to stand out and stand for something. There's no better way to learn that lesson than to study the growth of the Vivienne Westwood brand.
If you enjoyed this article, you might enjoy these too:
— Pashley, hand-built bicycles with serious pedal power
— What your brand personality says about you