By now, the chances are you're familiar with our obsession with all things "branding". At Fabrik, we believe that a brand, when created properly, can change the world. Though there are many great brands out there, there are only a handful of quintessentially British brands that have fundamentally shaped the evolution of an era.
More than just a footprint on the winding road of fashion history, Dr Martens have helped to forge a range of British subcultures, permeating from the niche, to the mainstream. Introduced to the country more than 50 years ago, Doc Martens have transformed Britain with decades of musical and style-based movements.
Emerging as physical representation of individuality and soul, DM's stayed consistent as fashions came and went, embraced by everyone from skinheads to pop-stars, punks, to policemen. They might only be shoes and boots, but when it comes to British brands, Dr Martens have kicked, scuffed, and danced their way into the worlds of music, style, and politics.
We think that they deserve their very own article, in a celebration of quintessentially British brands, and Dr Marten's history.
Dr Martens history: Where did it all begin?
It's safe to say that Doc Martens have made their mark on British culture. These boots are an essential feature in our collection of quintessentially British brands, but the original doctor actually came from Germany, not England. Of course, it's in Britain where DMs transformed from a standard work boot into an iconic fashion piece – but we'll get to that a little later.
The man behind the signature "air-cushioned" sole, was Dr Klaus Maertens. This German soldier injured his foot in a skiing accident, and decided he was just about sick of wearing the standard-issue WWII army boot. In the search for foot-based comfort, he built his own shoe, and sold the patent on to a British shoe manufacturer (the Griggs company) in 1959. One year later, on the 1st of April, Dr. Martens hit the high-street, now with classic yellow stitching and a trademark "AirWair" tag.
Though they emerged on April Fool's day, these shoes were no joke. In fact, they represented the end of footwear as we knew it. Our little island country was about to be rocked by over half a century of boot-based style.
Of course, the evolution of the boot would probably have been a big surprise to Dr. Maertens, who had built his shoe for function over fashion. Still, by the time the late 1970s rolled around, Dr. Martens history made the shoes a staple for standard police footwear in the UK. The oil-resistant soles made them perfect for handling traffic accidents. Plus, Doc Martens earned a reputation with builders and factory workers too, thanks to their sturdy, practical nature.
As we soon came to learn, Docs were never going to stick to their utilitarian destiny. From Hippies to Punks, everyone in Britain gradually joined the Dr. Marten love affair.
Here's a quick outline of the history of Dr Martens:
1950s-60s: Era of the Mods
Back in the 1950s, the mod movement was in love with clean-cut fashion solutions like polo shirts, Italian mohair suits, and so on. These are the people who hung out constantly in cafes, and rode Vespas covered in mirrors, while listening to bands like "The Who" religiously. When the Who's lead guitarist, Pete Townshend, started to strut his stuff in a pair of docs, the shoes became a must-have for the mod generation.
1960s-70s: The Skinheads
By the mid-1960s, we were starting to see the introduction of "skins", dressed in braces, checkered shirts, and of course, cherry-red Docs. Enthralled by ska music, the movement celebrated an era of multiculturalism, and took inspiration from the Jamaican rude boy. Unfortunately, the look quickly became adopted by right-wing racists, but later evolved when a Two-Tone ska revival began.
1970s-80s: Goths & Punks
A movement that began with Malcolm McLaren and Vivienne Westwood, punk style was provocative, radical, and exciting. It encouraged entire generations to slash their clothes, put safety pins through their ears, and shave their hair into bizarre styles. From punk, emerged the darker alternative, "Goth", A group who also embraced the Dr Martens history, though often in darker colours.
1980s: Grunge
Combining metal with hardcore, the grunge movement actually began in Seattle during the mid-1980s. With the arrival of bands like Alice in Chains, Pearl Jam, and Nirvana, it gradually made its way over to the UK, where designers like Marc Jacobs sent models down the runway wearing flannel shirts and classic DM boots.
1990s-2000s: BritPop
Finally, Britpop was a culmination of sixties music, indie-pop, and punk. These influences not only emerged in the music of the age, but also in the style and attitude too. Bands like Oasis and Blur wore fishtail jackets in a backwards nod to the mods, while Pulp took their cue from an androgynous goth approach. Though the styles varied during the Britpop era, the choice of footwear, whether black work shoes, or burgundy high-tops, remained the same.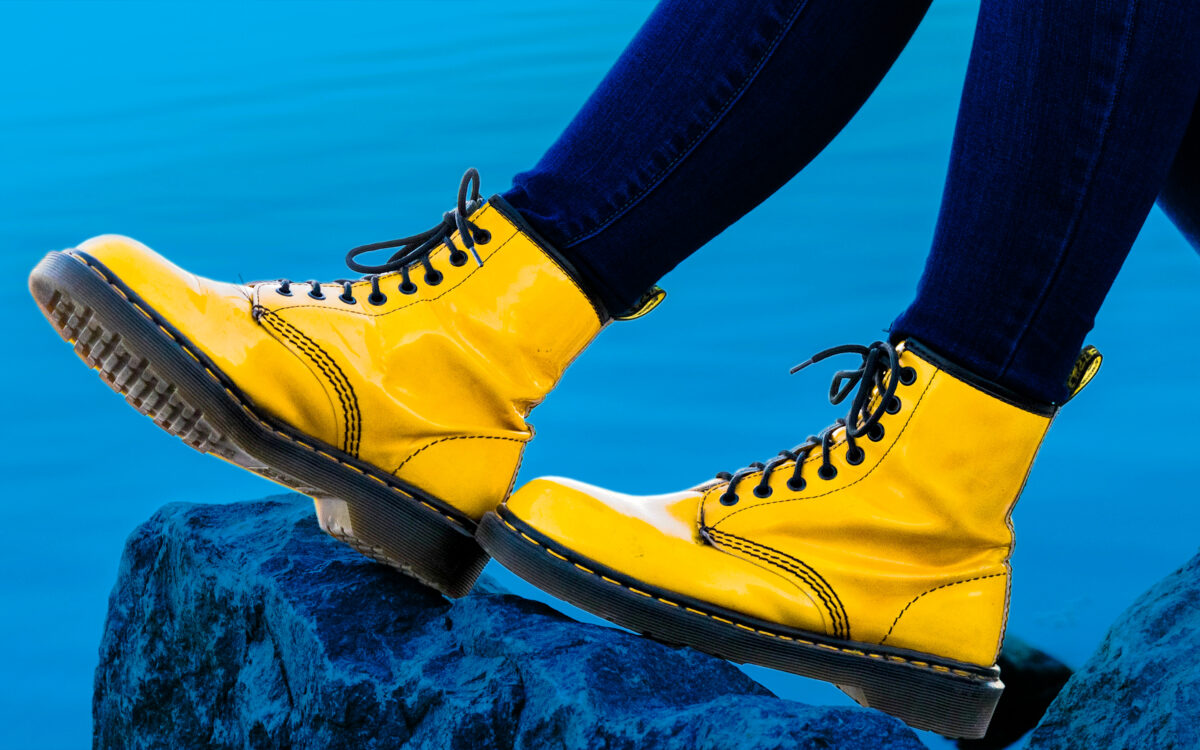 History of Dr Martens: From work to fashion
So, what happened to transform Dr Martens from a work boot, to a fashion staple?
For a few years following their appearance in Britain, Doc Martens continued to be a working man's boot, worn by postmen and by factory-workers. According to the author of a "Doctor Martens: The Story of an Icon", Martin Roach, it wasn't until Pete Townshend, guitar-enthusiast and key member of The Who, started wearing DMs, that they became fashionable.
According to Townshend, he bought DMs because he was tired of the "foppish" clothes popular in the 1960s. He announced that he was sick of "Dressing up as a Christmas tree" in clothes that got in the way of his music. He decided to move onto "utility wear" instead. The air-cushioned soles of his docs let him bounce around naturally on stage, and connected him to his working-class roots.
As the face behind the fashion revolution of Dr Martens in the 60s, Townshend was also fundamental in creating one of the most defining images of 1970s pop culture. The rock opera "Tommy" featured Elton John owning the stage in a pair of stilted DM boots, standing four and a half feet high. Today, those same boots are celebrating British brands in the Northampton museum.
Throughout their rise to fame, Dr Martens have appeared almost everywhere. In fact, they even stepped into the House of Commons, where Tony Benn was photographed wearing a pair in Parliament. The 85-year-old claimed that his sons had told him about Docs back in the 70s, and he'd learned they were very comfortable. Tony had been wearing them ever since.
It says something special about the enduring nature of quintessentially British brands, that with the right outreach, the right image, and the right marketing, companies can truly stand the test of time. As the fashion world constantly evolved, it's difficult to believe that a pair of boots could be worn just as easily by older and younger generations alike.
Today, Docs are a wardrobe must-have for models like Agyness Deyn, and popstars like Miley Cyrus. More than 50 years after their creation, and the enduring appeal of Dr. Martens has remained strong. Throughout their history, Docs have created a brand that remains unshakably, undeniably cool – in the face of all odds.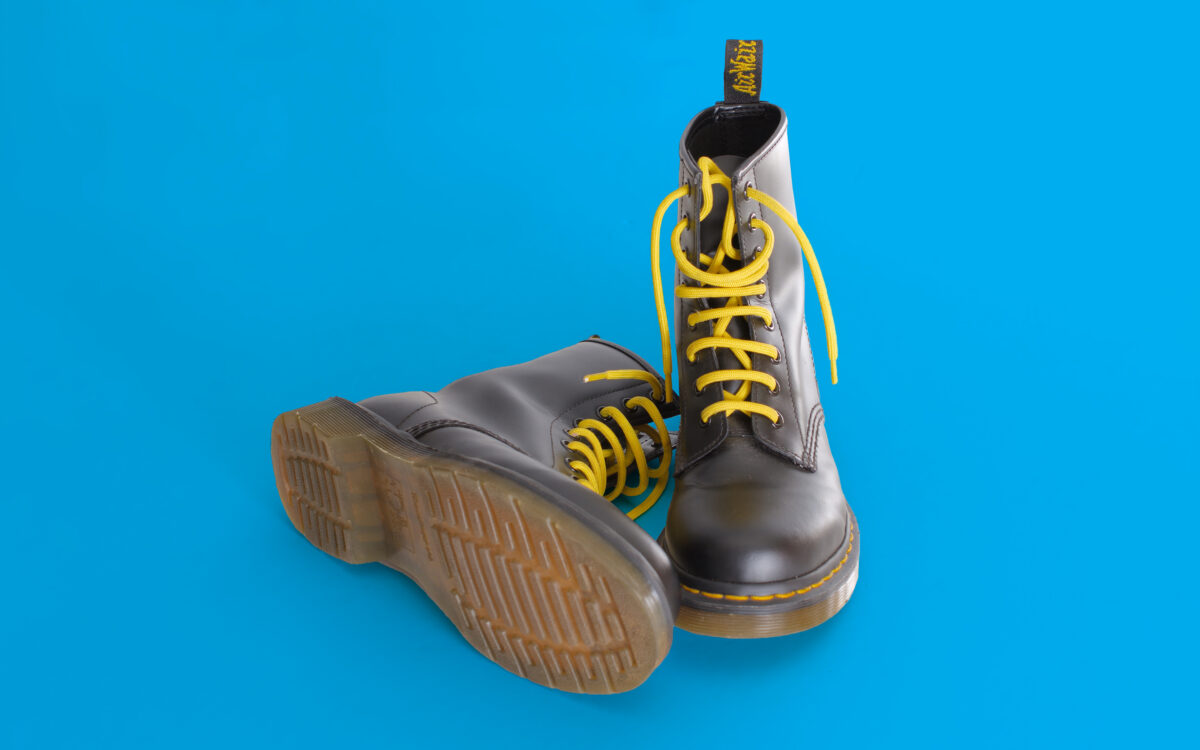 The ups and downs of Dr Martens
Of course, just like with any brand, Dr Martens history hasn't been all roses.
Companies big and small are always vulnerable to problems in the marketplace, whether they're self-induced, or issues beyond their control. As we mentioned above, by the 70s, Doc Martens had already been embraced by a host of subcultures determined to brandish their individuality with DMs as part of their unique uniform.
Goths, mods, and glam-rockers all adopted the boots, but it was the emerging members of the skinhead movement that lead to issues for the boot brand. While most of the skinheads patrolling the streets in boots and braces weren't actually violent, they came to be regarded with fear as a more dangerous group emerged.
An off-shoot of the skinhead subculture, certain gangs began to appear, identified by racism and aggression. They used their docs as part of their image of fear and hatred, with some believing that the best way to "christen" a new pair of Dr. Martens was with fresh blood. Sadly, the actions of certain skinheads meant that Dr Martens became synonymous with violence.
Interestingly, at the same time, Docs maintained their position as the ideal work boot. Police officers around the UK were still wearing them, meaning that gangs and police would clash against each other, creating a bizarre juxtaposition. While the first wave of "aggressive" skinheads was over by around 1972, the movement had already done its damage.
Racism and anger had wrenched Dr Martens from their position in the workplace, and inserted them firmly into the world of youth subculture. As time passed, Docs regained their footing, showing the flexibility and durability to change with the needs of the time. In the 70s, punk exploded into the UK, and docs surged back to life.
Because, at this time in Dr Martens history, the boots were only available in black or cherry red, punks started customising their own shoes as a badge of individuality. After all, creativity was a significant feature in the world of punk fashion. Gradually, Dr Martens edged their way into the world of alternative thought, and that's something the company continues to champion in its branding today.
When the 80s emerged, musicians like Morrissey and Madness became known for wearing Doc Martens, with members of their fan club imitating their style. At the same time, AirWair started to notice that smaller sizes of DMs were starting to fly off the shelves, as increasing numbers of women grabbed a pair.
As the years went on, Docs finally shed their association with violent subcultures, and began to appeal to a wider audience. This meant that the brand could start to gain popularity among an entirely new generation of wearers. By 1994, over half of Dr Martens wearers were female, with the company producing shoes and boots in a range of styles and patterns.
Of course, that wasn't the only threat the company faced. By its fortieth birthday in 2000, problems were starting to emerge with the brand's marketing. Sales started to decline by 2001, and in 2002, Griggs and Co, and AirWair almost collapsed, closing all but a single factory to avoid bankruptcy.
Fortunately, showing the true determination of quintessentially British brands, the company quickly got back on their feet (no pun intended). By revitalising their branding, and connecting with globally-renowned designers like Vivienne Westwood and Jimmy Choo, the organisation won the "Turnaround of the Year" award.
Since then, Dr Martens history has gotten back on track, with a brand resurgence. In 2010, the brand celebrated its 50th anniversary, and half a century entrenched within the heart of British culture. With their original style more than 5 decades old, the brand continues to combine nostalgia, with individuality, to win the minds of their audience.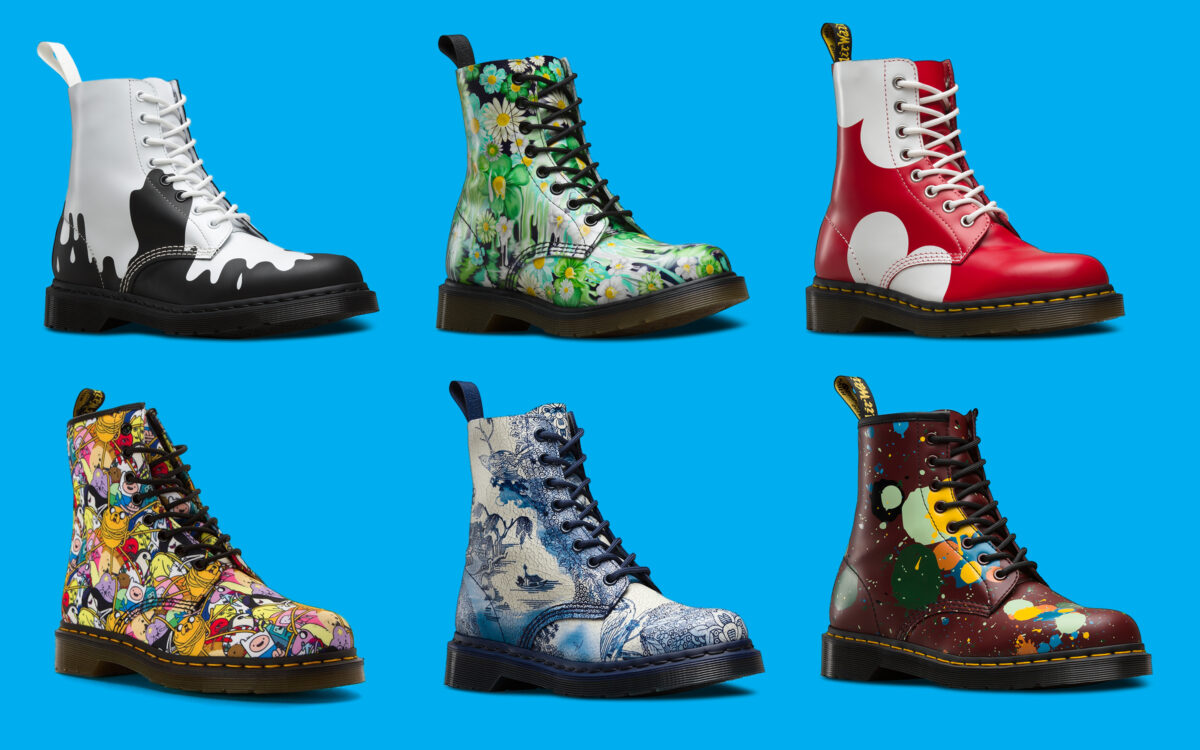 The king of British brands in footwear?
It seems that Dr Martens are constantly seeing ever-increasing levels of popularity in the UK. The iconic image of fashion individuality has endured many fading subcultures and trends over the decades, consistently finding new ways to be loved, regardless of the changing eras.
Not so long ago, the announcement of a new "Adventure Time" collection left fans jumping for joy in the knowledge that they could discover another new way to express their passions and interests. Of course, who can forget that time when the whole world was gossiping about Miley Cyrus's video featuring her swinging on a wrecking ball in nothing but a pair of her own cherry-red DMs?
We've even seen cheap imitations of Dr Martens appearing in stores all around the world, as companies and manufacturers desperately try to take advantage of the enduring adoration of this great British brand. These throw-away replicas items aren't built to last anywhere near as long as a pair of authentic Dr. Martens, however, and lack the creativity and style of the original.
It's hard to imagine that a boot born in a war would be able to emerge as one of the most coveted and fashionable boots that money can buy. However, Doc Martens seem to have a unique ability to embrace change and adapt, while maintaining their nostalgic air of tradition.
Part of the beauty that makes the DM brand so appealing, is their versatility, and the fact that they've always been available to a pretty much unlimited audience. Whether you're looking for something smart and refined, or you're hankering for the days of classic punk, there a million ways to wear docs.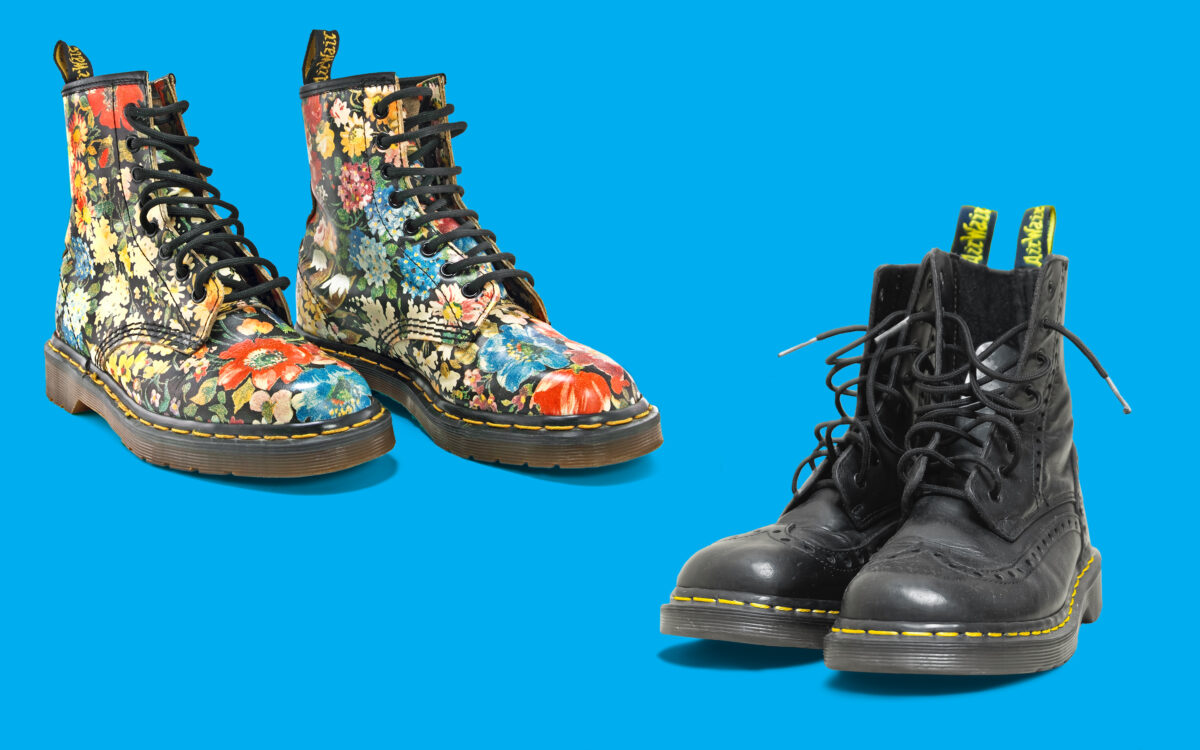 How Dr Martens nails its branding
As we outlined above, Dr. Martens didn't always have total control over their branding.
The unfortunate truth is that even if you invest in incredible marketing, iconic logos, and great communication strategies, there's always the chance that something can go awry. What sets great brands apart from others, is their ability to adjust and adapt.
After a host of problems with racist connotations and potential bankruptcy, for instance, Dr. Martens chose to take their brand in a confident, bold, and fundamentally British direction. It wanted to become more than just a work boot, and officially define itself as a fashion item.
By tapping into the long-standing loyalty of their customers, the brand came up with a campaign that would celebrate their heritage and challenge perceptions by encouraging the inherent feature of Doc Marten brand value: self-expression.
The "First and Forever", campaign asked customers and fans to share the memories of their very first pair of Dr. Martens. A digital engagement platform was designed for the new era, and users could upload their experiences, leading to a reach of over 10 million customers. The campaign was even given a visual design award at the DADI Awards.
The creative branding was based around the idea that everyone remembers their first Doc Martens experience. The creative solution allowed Dr Martens to connect with their audience in a way that deepened their relationship with an already beloved brand. Additionally, the experience allowed Dr Martens history to evolve even further, as the brand associated itself with other common rites of passage responsible for shaping consumer identity.
The branding and marketing solutions that have helped to shape the recent history of Dr Martens have remained incredibly creative through the years. The business began to engage with its customers in new ways, through personalised email newsletters and suggested products based on browser history.
As the world of marketing became more focused and refined, Doc Martens have done what they do best, and adapted to the times, cutting out the batch and blast approach to marketing, and using behavioural data and demographic research to shape their campaigns.
Even the arrival of the #StandForSomething campaign helped to bring the brand into the modern age. Using an integrated marketing strategy that was designed to appeal primarily to a wide target audience, the campaign was all about the customer. Dr Marten define their customer as rebellious, free-thinking individuals – a pattern that has remained true throughout the ages.
The 2014 revamp of the campaign involved the use of films that focused on a range of diverse characters that showed the versatility of DM's target audience. From the old to the young, Dr Martens know that they have a connection with all things British, almost untouched by time. They leveraged their online community to increase results during their 2013 campaign, and teased fans with videos that charted their history over the years.
Perhaps one of the most unique elements of Doc Marten's branding, is that they know how important it is not to focus entirely on themselves, but their audience. Their videos are all about how they connected with their customers throughout the years. Following the visual campaigns, the company even invited fans to get involved and share their own stories and experiences. Overall, the purpose of the campaign was to celebrate diversity, something that's always been connected with DMs.
Now, the "Stand for Something" tour takes place every year, across the world. It unites the brand with customers who share a passion for music. After all, As Dr Martens have said themselves, without music, Docs would have remained a workwear boot. The tribes of music lovers who wear these boots have now become inseparable from the brand itself.
Quintessentially British brands: Doc Martens keep their soul
In the world of British brands, there are a few names that really stand out among the crowd. Dr Martens have managed to adjust their branding throughout the years to appeal to people who cultivate their own unique style, but share the same spirit. Docs have always been the badge of honour for individuals who are proud to show their sense of self-expression.
The simple nature of Dr Martens allows their wearers to create the boot that appeals to them, crafting a unique image that suits their individual style. From a practical perspective, the unbeatable durability and comfort of these incredible shoes make them ideal for everything from pavement pounding every-day wear, to gig style, and street fashion.
On an emotional level, Dr Martens are all about empowerment and attitude. As the world of globalisation and social media emerge, every aspect of subcultural style seems to have changed, except for Docs. Diverse individuals, fans, and celebrities continue to champion the boot of Britain – attracted to its authenticity and alternative appeal.
Grab an Oxford English Dictionary today, and you'll find that the shoe brand has actually made its mark on everyday vernacular: DMs, or Doc Martens are defined as: "a type of heavy lace-up boot or shoe with air-cushioned sole". In our opinion, they should be classed as an icon of branding too.
This simple, but comfortable footwear, originally made for the factory floor, has become a global icon popular among a range of audiences. Let's hope its popularity never dies.
If you enjoyed this article, you might enjoy these too:
– Flying the flag for great British brands
– How to build your own, personal brand
– The craft beer revolution comes of age