Speak to any marketing expert today and you're sure to hear the same thing: "Online marketing is King". In fact, to many, brochure design is something from a bygone era. Well, I'm here to tell you otherwise. Brochure design is alive, well and available from a good brochure design agency near you…
While it's true that the digital age is well and truly underway, that doesn't necessarily mean that online marketing is the only way to expand brand visibility, and improve your marketing efforts. In fact, at Fabrik, we still find ourselves dealing with elements of "traditional" brochure design on a regular basis. Why? Because physical, printed design still has value in today's marketplace.
In an environment where customers are constantly plagued with new advertisements online, the traditional marketing brochure and annual report is considered a tangible, yet novel item, that can appeal to more senses than anything online.
Whether you're dedicated to running a multi-tiered marketing campaign, or you're hoping to simply expand your marketing efforts and improve your reach with traditional brochure design, you've come to the right place. We're here to tell you that brochure design is still going strong, and managing your offline presence is just as important as building your online brand.
Though managing successful online marketing solutions are critical, if you ignore the power of face-to-face, or printed offline design, then you're holding yourself back from a world of opportunities.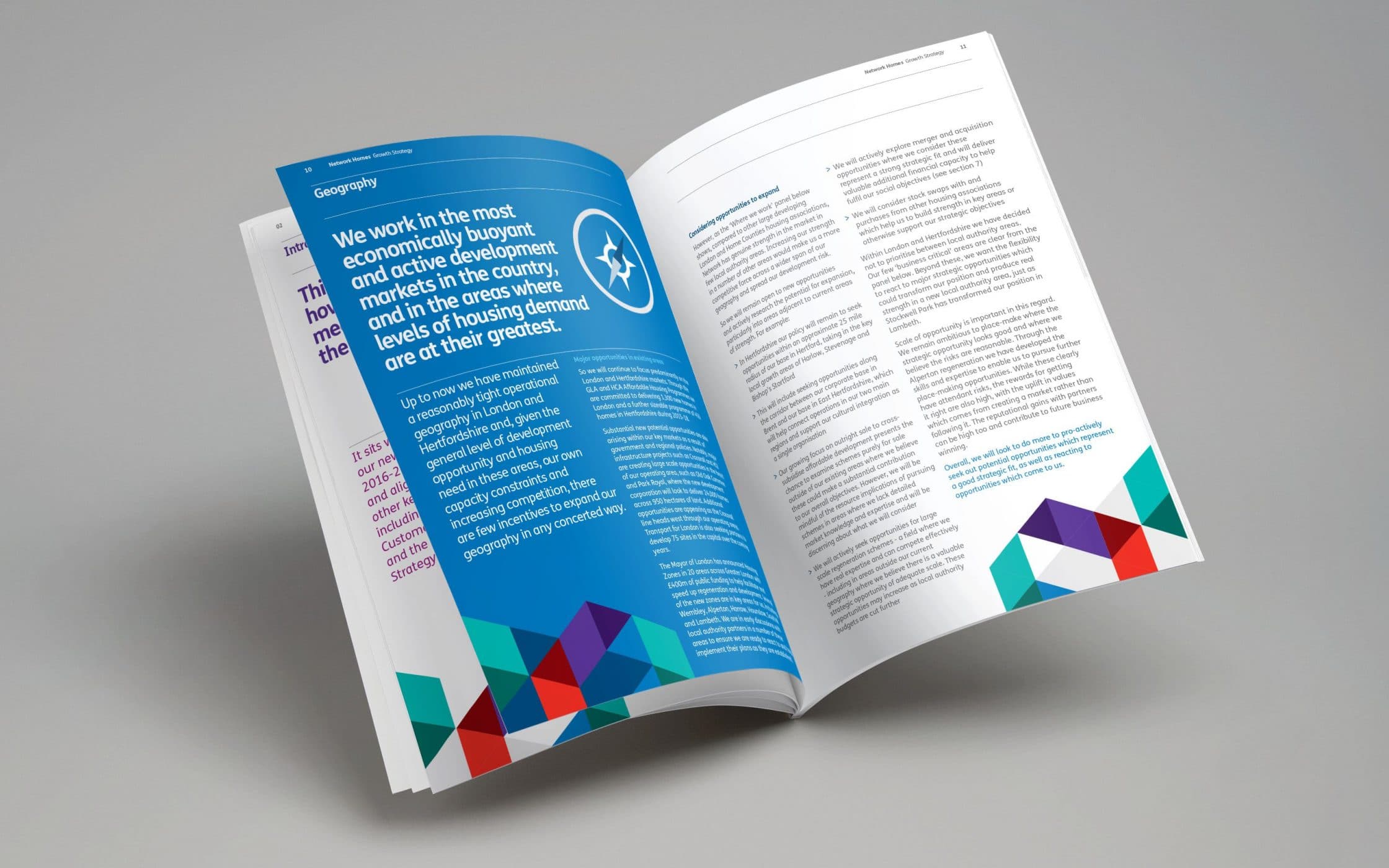 Print marketing and brochure design in the digital age
Online marketing can help you to do a lot for your brand.
After all, the presence that you create through things like social media, your website, and even your online logo can help to outline you as a credible, reputable company. However, if you use digital marketing in combination with other tactical tools, you can potentially earn much greater results.
Today's average company needs printed sales literature for a range of reasons. Here are just some of the things that you should consider when it comes to using print marketing and brochure design in the digital age:
Brochure design boosts credibility:
It may sound old-fashioned, but people still expect "real" credible companies to have printed literature. It's easy to justify spending marketing budget on a credible online presence, but if you want to do business with other companies, or you want to show your value, you need the printed proof to back you up.
Brochures are still convenient:
Though we can browse the internet and click through products at our leisure, there's still something convenient and relaxing about being able to flick through a brochure without having to go online. A good brochure design will ensure that your clients, investors, and customers, have simple access to the critical details of your business.
Brochure design is versatile:
Often, online marketing solutions will include a combination of social media and website-based advertising. Though you can play with the design of websites, and even update your social media account regularly, there's only so much you can do to stand out. Brochure design, on the other hand, allows you to play with a range of different senses, from touch (different materials), to smell, and sight (shapes and colours).
Print marketing gets attention:
Today's websites can be beautiful and impressive – particularly if you have the right digital design agency on hand. However, that doesn't change the fact that sites are skimmed in as little as 15 seconds. To make matters worse, studies show that we read digital text up to 30% slower than printed text. That means readers get bored faster. If you want someone to really soak up your message, printed media is still the way to go.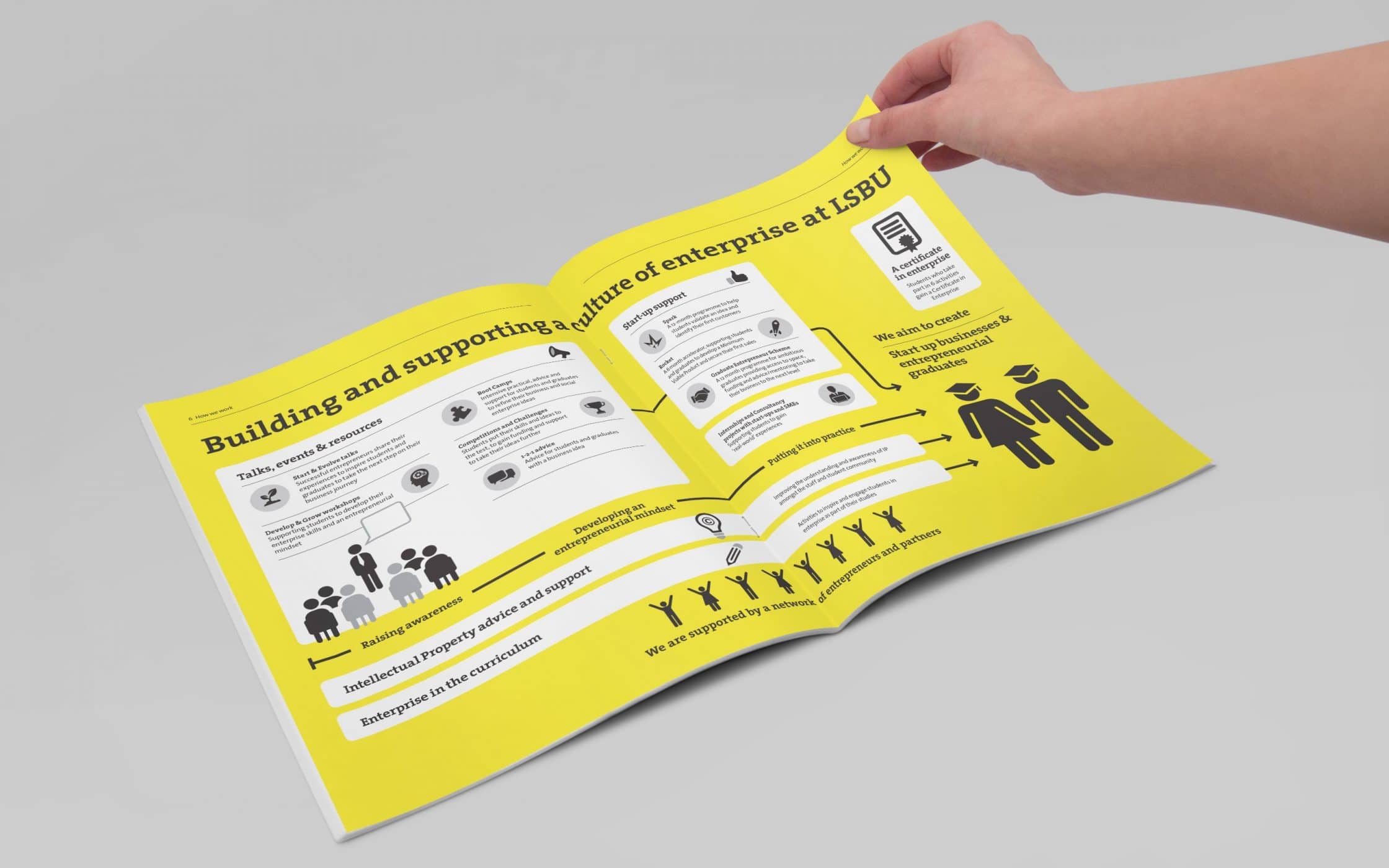 Brochure design is personal
Studies indicate that marketing campaigns designed to engage several senses are naturally more memorable. In a world where customers are searching for "experience", a brochure that can be touched and held often appeals to customers on a deeper, personal level. If you don't believe that printed media has more of an impact, consider the fact that 79% of all customers will respond to their direct-mail post immediately. On the other hand, only 45% respond to an email straight away.
From the moment you see it, the resonating benefits of physical brochures are clear. When well-designed and produced, a great brochure can outline your company's benefits instantly, and give you something that differentiates you from your competitors.
As more companies ignore the value of printed media, it's the organisation that embraces traditional advertisement and printed literature who earns more customers. Ignoring the age-old benefit of printed brochures means limiting your marketing reach, and diminishing your full potential.
If you really want to get ahead of the crowd today, you need to use your physical marketing, right alongside your online efforts. Combined, the two support a stronger, more engaging brand.
Digital design and brochure design
So, what's the difference between digital design and brochure design? Isn't it just the same thing used on a different medium? Well, not really…
At Fabrik, we work on a host of digital designs like websites and online campaigns, but we also focus on print design too. Print design can take the form of:
Magazine and press ads.
Outdoor campaigns.
Annual reports and brochure.
Product packing design.
Exhibition graphics.
Wayfinding and signage.
As an extension of your online image, the printed materials that you create help to build a reputation for your brand, and ensure that you have right impression on your target audience. In that sense, both digital design and brochure design focus on building your brand, and making your company more relatable to customers.
In print-based design, just as with online marketing, your aim is to ensure that your audience is engaged by the imagery, formatting, and content on the page. You want them to stick around for long enough to get a better understanding of your message, and potentially convert into a customer. Online, this means that you're convincing someone to click through pages on a website. Offline, it means encouraging your readers to keep going through your brochure.
Both print and web design require an understanding of how to use layout to direct a customer towards a specific action. The differences between print and digital design often come with figuring out how you're going to have the right impact on your audience. Online, you might use video and dynamic imagery to draw attention. Offline, you might consider using different shapes and textures to capture your audience's imagination.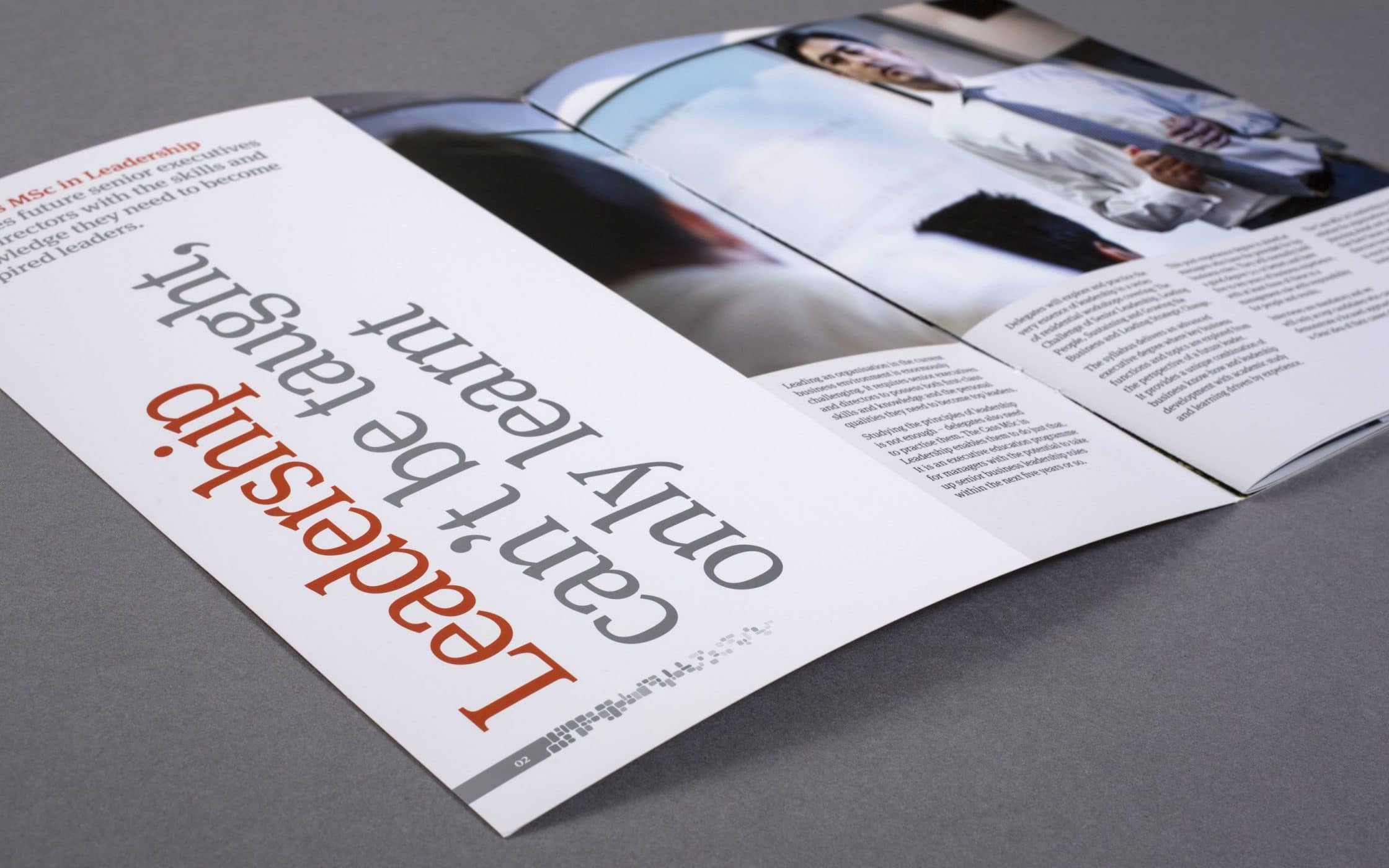 Brochure design inspiration: Creating the perfect brochure
Brochure design can be the first step in upgrading your lead-nurturing resource kit.
While you might take steps online to capture leads and encourage them to interact with your brand, there are still dozens of ways to grow your company outside of the online world. For instance, when you meet someone in a trade show, or event, you can take advantage of a brochure to remind your prospective client of what sets you apart from the competition.
Unlike simply asking your client to visit your website, a physical brochure gives them instant access to everything they need to know about your company. These solutions can be particularly effective for B2B industries, because your brochure can build credibility by conveying crucial messages about the value of your service or product.
What does every great brochure need?
So, which elements do great brochures need to be effective? The answer to that question will often depend on which designer you ask, but usually, it comes down to a few very important factors:
1.
An attention-grabbing cover
We all know that today's consumers have seriously short attention spans. We're talking about eight seconds. That means that if your brochure isn't beautiful and intriguing enough to pique interest, then it's going to be useless. A visually appealing design, attention-grabbing headline, and the promise of impeccable content can help to make your brochure more effective.
2.
Compelling content
Content matters regardless of whether you're online, or offline. If you're handing out brochures and expecting people to read them, then you need to make sure that the information contained within is interesting, and valuable. Make sure the content that you include blends well with your brand image, and use graphs, charts, and different content styles to show your value to your customers in a range of ways.
3.
Powerful guidance
Finally, like many types of marketing material, the primary purpose of your brochure is to convince your customer to move to the next step in the buying cycle. Ask yourself what you want your brochure to accomplish before you begin looking for brochure design inspiration. For instance, do you want customers to pick up the phone? Do you want them to contact you via email? A simple format, and a good call-to-action is crucial with any brochure design.
Your brochure design inspiration
The type of brochure you create will depend on your goals as a company. However, to help get your creative juices flowing, we thought we'd show you five incredible brochure designs.
1.
TVNZ 7 Triangular Folding Brochure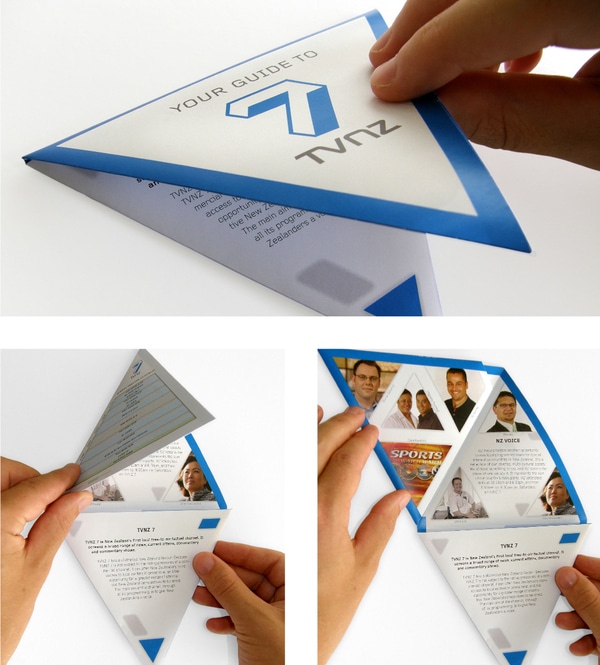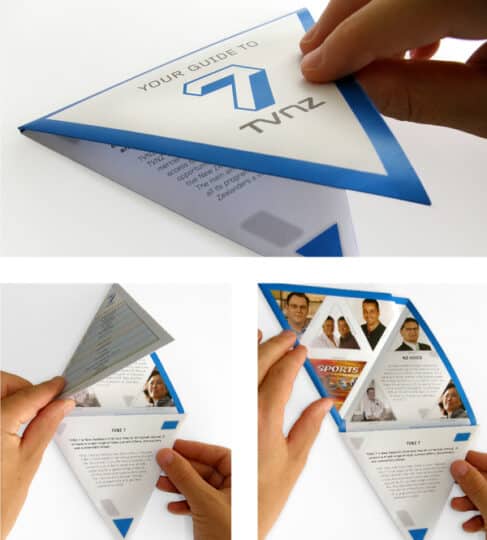 Who ever said that brochures had to be printed on A4 paper? The world of brochure design has evolved drastically in recent years, and new shapes or formats can draw intrigue from your customers.
2.
LSBU brochure suite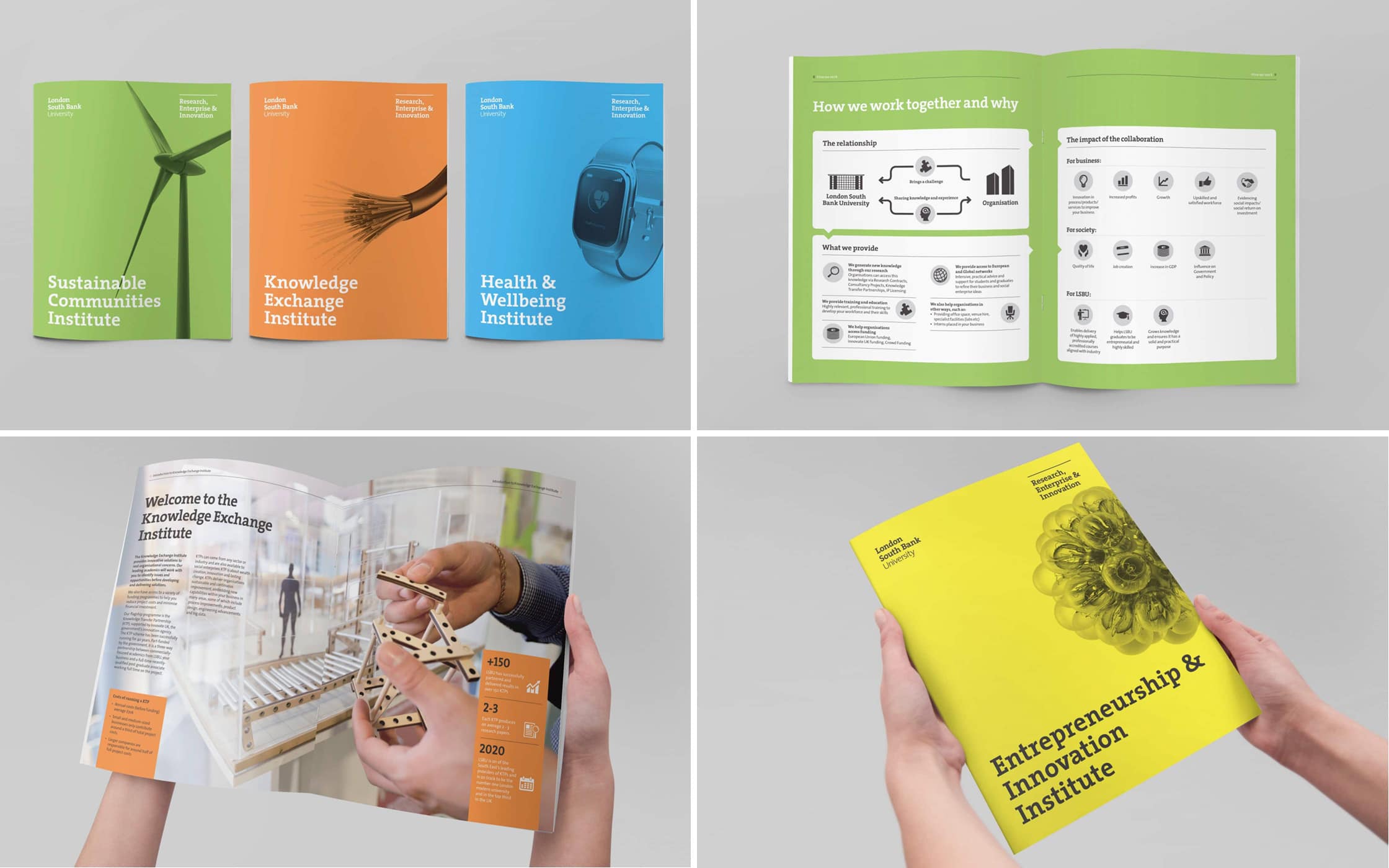 Depending on the goal of your brochure design, something simple, sophisticated, and efficient might work perfectly for you.
3.
Snowbordets Historie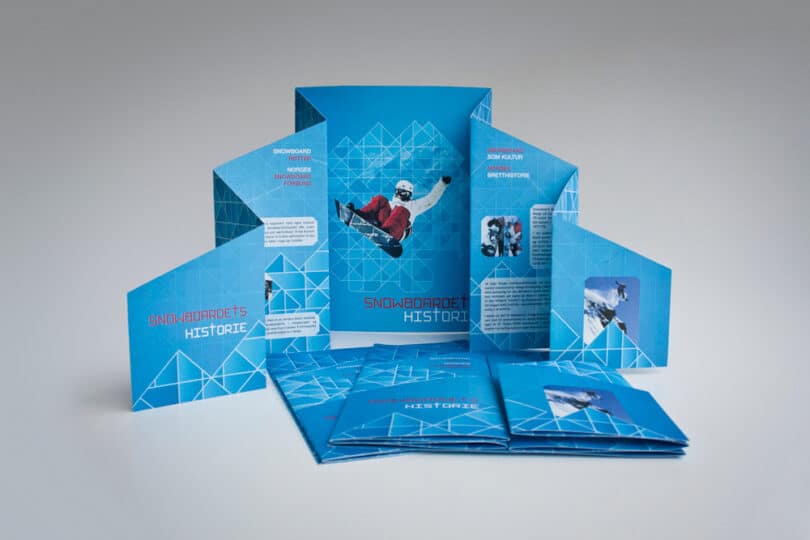 One of the most exciting benefits that printed media has over digital design, is that it can be a 3D visual experience. This brochure shape was designed to flow with the brand identity of the company, and evoke images of mountains.
Brochure design ideas: 6 types of promotional brochure
By this stage, you may be starting to get an idea of what brochure design in the digital age can accomplish. However, if you're not used to exploring the idea of print media, then you might be wondering what kinds of promotional brochure you can create.
Just as there are dozens of different types of television advertisements, websites, radio ads, and direct mail packs, there are also a host of different types of brochures too. Knowing which kinds of brochures to deploy when expanding the reach of your brand can be essential in encouraging sales and enquiries.
Here are just 6 of the most common types of promotional brochure:
1.
Leave-behind brochures
A self-explanatory concept to most, a leave-behind brochure is something that you leave behind after meeting with a potential client or customer. The chances are that you'll have already had a conversation with the customer about the benefits or availability of your service or product. Your brochure then leaves the door open for an order to be made after you left.
2.
Responses to inquiries
You might have sparked the interest of a customer through a television or radio advertisement, and they've gotten in touch to ask for more details. One great way to wow them is with brochure design. It helps you to get your product advertisements in front of people who are already interested in your company and what it has to offer. Here, you can hammer home the unique value of your company, and pack your brochure with facts that convince customers they can't live without your product.
3.
Handouts
Sometimes, you'll simply want to make sure that when someone asks you for details about what your product can offer, you don't have to direct them to a website and hope they visit in their free time. Handout brochures can be a great way to give your customers, or potential customers access to all the most essential information they need about your company in an offline setting. However, it's crucial to put design first in this instance, as your brochure could either engage your customer, or send them running to your competitors.
4.
Point of sale brochures
Also known as the "point of purchase" brochure, this is the kind that you might encounter when you enter a store, trade-show, or building. Usually, it's placed at an eye-catching and convenient height, and is designed to help draw customers in and convince them to find out more. If you want this kind of brochure to really work for your company, you'll need to pay close attention to the cover design. Create an enticing headline and make customers curious enough that they'll want to pick your brochure up and read what's inside.
5.
Direct mail brochures
Designed typically for cold prospects, direct mail brochures sent with letters or offers is a great way to start informing people about your company. These types of brochures start to generate interest for your brand before people might ever have a chance to find you online. Your aim should be to focus on breaking through the clutter that other people receive in the mail. Make your brochure beautiful and engaging, and make sure that you don't pad it with junk mail. That's one sure way to make sure that your design ends up in the trash.
6.
Sales support tools
Finally, sales support brochures can be accessed by employees in stores as a selling aid. Your salespeople use these brochures to guide them through their sales pitch. Often, they have larger photos, larger pictures, and larger headlines. Ideally, sales support brochures are designed to work alongside the conversations a salesperson has with your customers, and shouldn't be too complex.
Designing a brochure that supports your online efforts
As you can see from the section above, there are several great ways that you can use brochure design to boost your marketing and brand visibility efforts. However, besides making sure that people see your company offline, and expanding your sales opportunities, brochures can also be a great form of support for your online marketing efforts.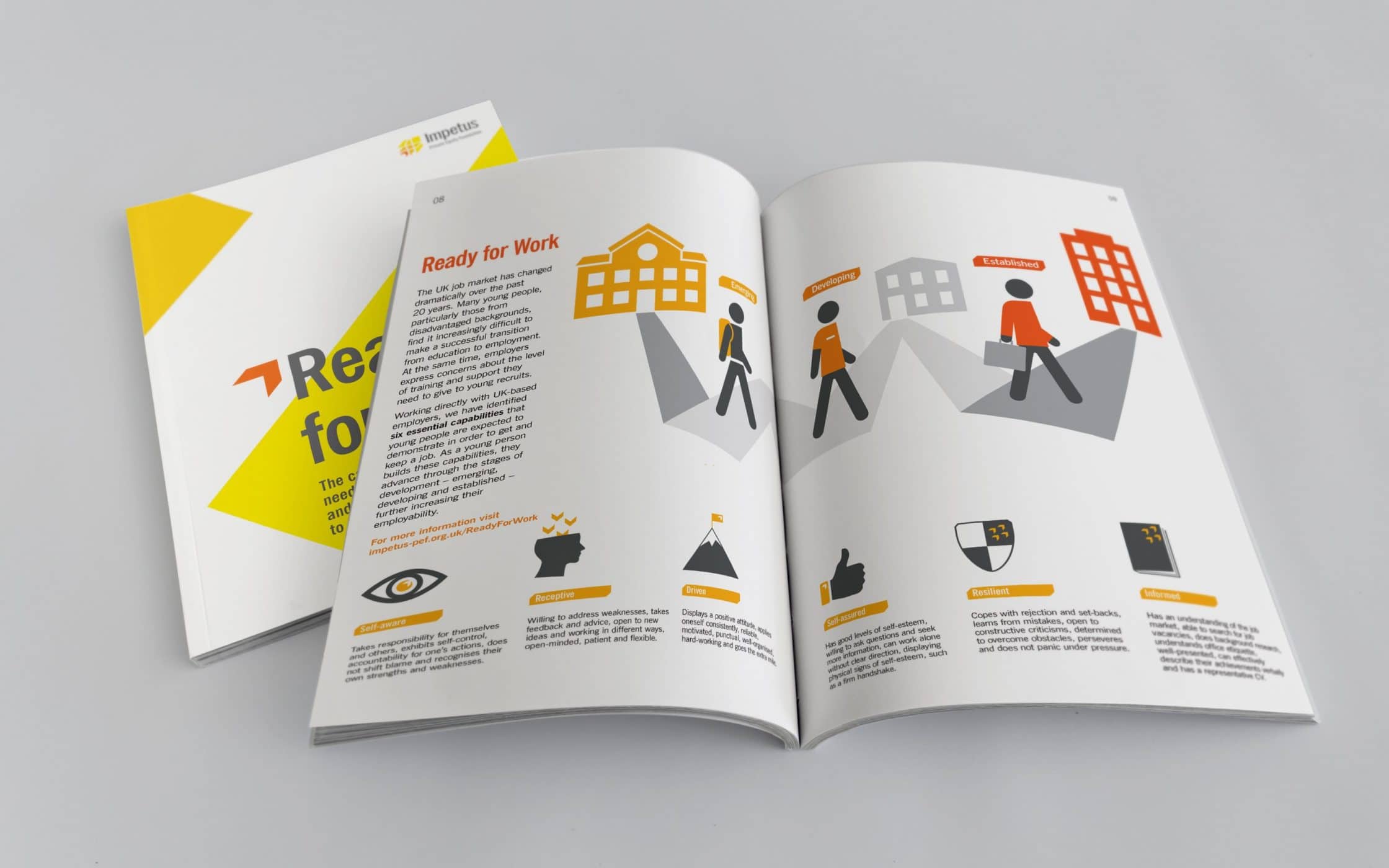 If you're hoping to create a comprehensive, multi-channel approach to marketing, then here are a few golden rules for designing a brochure that works for your business.
1.
Know what your reader is looking for
When it comes to efficient, effective, and successful marketing, there's a golden rule that applies to all mediums. Simply put, you need to know what your customer is looking for, and present yourself as the solution to their problems.
Begin by thinking carefully about the questions that your customers, clients, or investors ask you most often. Look at your FAQ page on your website, and start planning ways that you can offer information offline that people would otherwise have to search for. For instance, if you owned a medical spa that offered Botox treatments, you might want to tell customers what your procedures involve, a little bit about the risks of Botox, and how they can get in touch to schedule a treatment.
The nature of any new business often means that customers will have questions that they need to ask before they can begin trusting a company. Your brochure is a great way to tackle those questions, and start building a relationship with your customers.
2.
Motivate them to keep on reading
The first page that your reader is going to see when they're exposed to your brochure is the front cover. Like the landing page of your website, if you get the front cover brochure design wrong, then you may lose the attention of your prospective client, stakeholder or employee.
Try to avoid simply following what other people in your industry are doing. Your brochure is your chance to make sure that your product stands out amongst the crowd. Draw attention to your value, add imagery that excites the eyes, and provide content that convinces the reader to keep reading.
3.
Tell them what they need to know
While it can be easy to get carried away talking about your business, your history, your manifesto, and a range of other things in your company brochure, it's important to make sure that your main focus is on telling customers exactly what they need to know. For the most part, this will usually involve describing your product or service in detail.
Remember not just to draw attention to what your product or service can do, but what it can do for the customer. They want to know why working with you will make their life easier, or better in some way.
4.
Make it a keeper
Want to get real value for money out of your brochure design? Inserting helpful information into the mix will encourage the reader to keep hold of it, refer to it, or pass it on to other people. For instance, a business that sells paint could include a guide on colour schemes, and how-to information to get the most out of DIY projects. If you were selling skincare products, you could offer expert tips on dealing with dry skin or wrinkles.
5.
Remember the importance of high-quality images
These days, using low-quality imagery online or offline can do terrible things to your business reputation. Basically, low-quality images convince your customers that you're not invested in your business, whereas high-quality images set a precedent for good standards.
If possible, you should try to make the imagery that you use as personal as possible too. For instance, rather than just copying stock imagery into the mix, take real photos of the people in your company. This will make your brand seem more authentic and relatable.
6.
Keep it simple and clear
Perhaps one of the most important brochure design tips, is to keep your creation clear and simple. Make sure that your audiences can read and understand your message, and aren't going to be confused by any strange design or technical jargon. Be aware of the role that space plays in helping text and images to stand out, and be sure to use text and colours that work seamlessly together.
7.
Limit your fonts
You should turn to your brand guidelines for advice on how to use fonts for your marketing materials. However, you might have many more options to work with when it comes to creating printed brochures. As exciting as it might be to play with new designs, try not to go overboard. Your fonts should remain consistent with your other marketing materials, and above all else, they should be easy to read.
8.
Guide the reader through the page
When you're using brochure design as a way to support your online and offline marketing efforts, you need to have your customer in mind. While some customers will already be familiar with your company, some will be learning about your brand for the first time. Make it easy for all customers to understand your message and what you're offering. Plan your page layout carefully so that it guides the reader through each aspect of your brochure, and leaves them feeling enlightened.
9.
Remember your brand
Like any other marketing material, a brochure design is an extension of your brand, so be sure that you stick to your core values when creating your handout. Remember your fonts, brand colours, and logos, and how they should be used. After all, you want your customers to recognise that the brochure belongs to you. Additionally, consistent branding will help your target audience to grow more familiar with your company as a whole.
10.
Edit and proofread
In the digital world, if something goes wrong with your content, it doesn't take much effort to head online and edit it away. However, when you print physical media, you've only got one chance to get it right. One mistake could mean thousands of pounds wasted on resources. Before you even think about okaying the overall design, make sure that you go through each page and proof your content for errors.
Printed brochure design: It still matters
Today's businesses are often so focused on what they need to be doing for their brand at a digital level, that they forget about the importance and value of printed, and traditional design. Today's brochures are still an effective way to grab the attention of an audience, and nurture leads for your company.
No matter how you use brochure design, you may find that this innovative solution helps to further build your brand, improve your chances of sales, and expand your visibility. Of course, that's only if you know how to use it to your advantage.
If you enjoyed this article, you might enjoy these ones too:
– Conducting a marketing audit to fix your communication woes
– How to write a design brief that agencies can actually use
– Copywriting tips to make your communications effective