The ultimate list of companies, products, and brands owned by Nestlé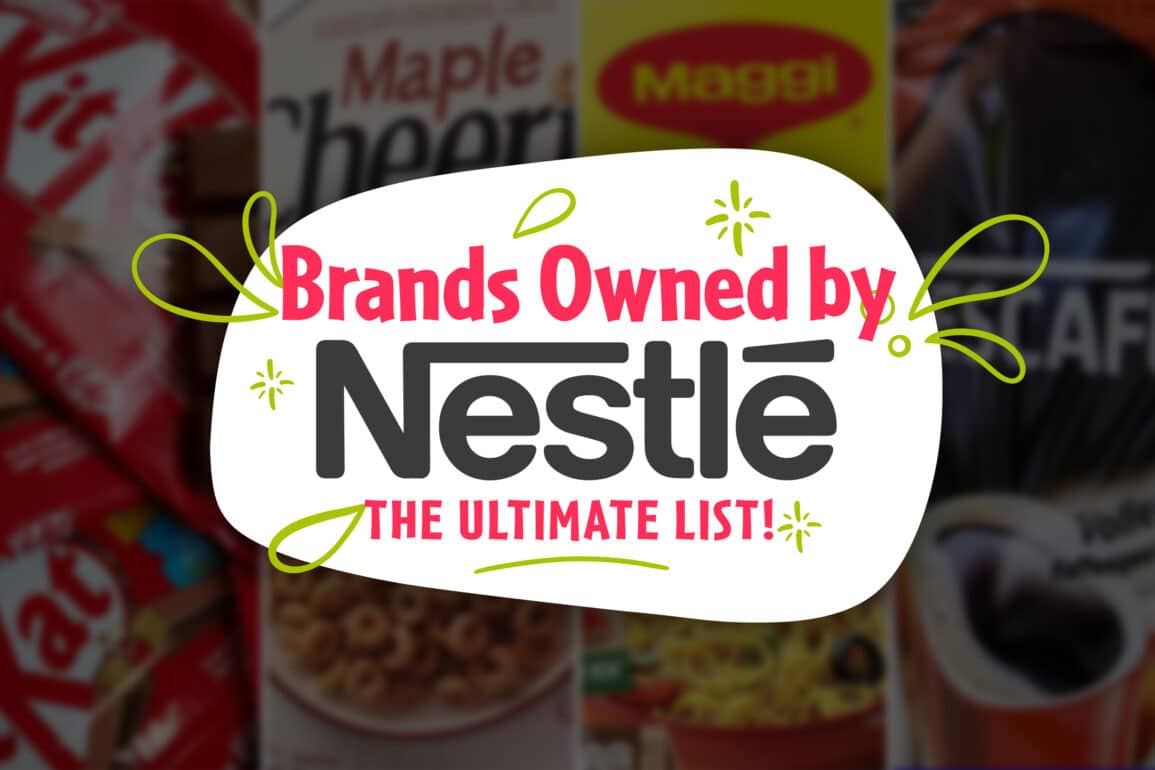 Love them or loathe them, it's hard to avoid all the various brands owned by Nestlé today. This well-known brand has become one of the largest food and beverage companies in the world. 
Not only does it own various confectionary companies, but it's responsible for products in countless other categories too. The list of Nestlé subsidiaries includes everything from companies in the baby food and pet food sector to brands in the cosmetics industry.
If you're looking for a way to avoid Nestlé owned products, due to the recent controversies around the company, or you're just interested in Nestlé sister companies, you're in the right place.
Today, we're going to comprehensively answer the question "Who does Nestlé own?" With insights into the biggest acquisitions, and most well-known brands.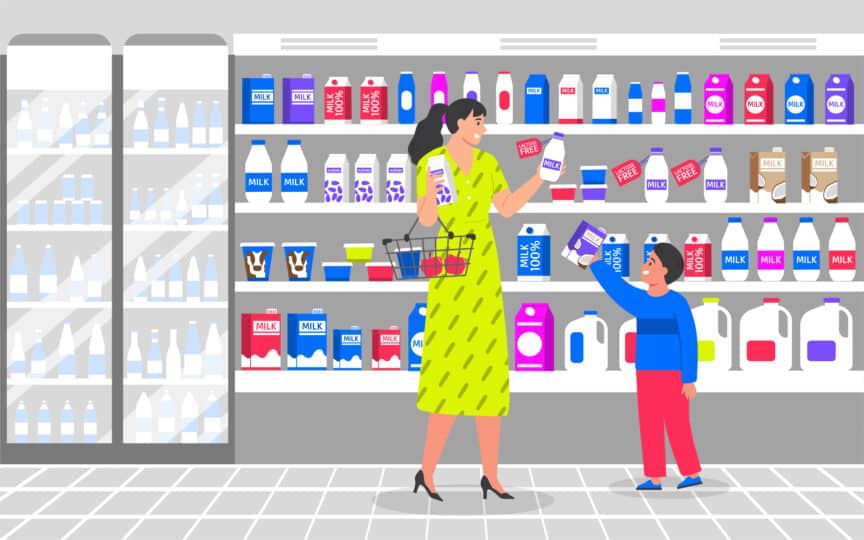 What does Nestlé sell? Products Nestlé owns
Before we dive into our Nestlé company list, let's take a moment to look at the various products owned by Nestlé. The multinational food and drink conglomerate, first launched in 1866, may be best-known for its confectionary products, but it sells items in a range of industries.
According to Forbes, Nestlé is the world's largest food and beverage company. Products Nestlé owns range from baby food to medical food, bottled water, breakfast cereals, dairy products, and ice cream. The company also sells pet foods, snacks, coffee, and tea.
29 of the companies owned by Nestlé earn more than $1 billion in sales every year. These include well-known companies like Nespresso, Nescafe, Smarties, Kit Kat, Nesquik, and Maggi.
Despite being associated with various controversies, the Swiss multinational company has grown significantly over the years. It started out selling infant food, and mounted an aggressive strategy for expansion following World War II.
By 2022, Nestlé was boasting sales of around $92.2 billion, and had a market cap of $347.9 billion. It has a major presence in just about every food and beverage sector you can think of, selling everything from non-dairy creamer and milk products to chocolate.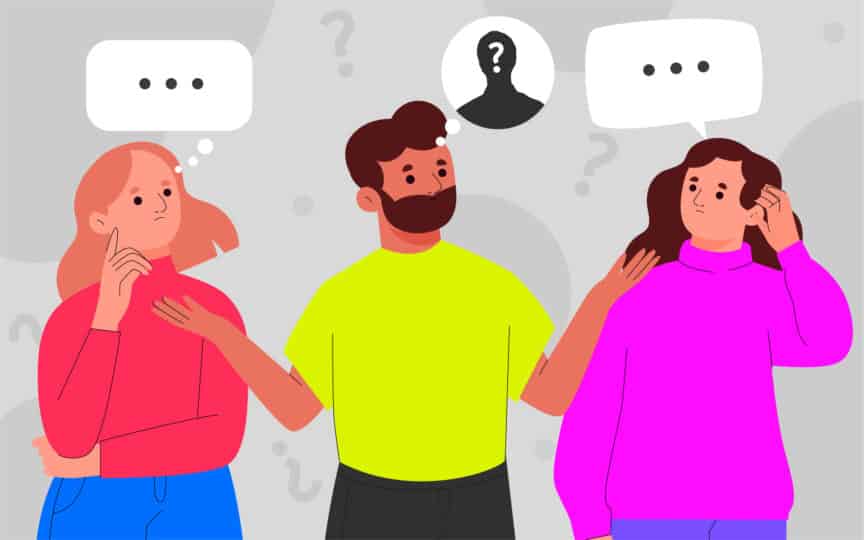 Who owns Nestlé? The owner of Nestlé
Nestlé's origins start in the 1860s, when two separate Swiss enterprises formed, which would eventually become the foundations of the conglomerate brand. While Mark Schneider is currently the CEO of Nestlé, he doesn't own the brand.
In fact, there's no single owner of Nestlé. The company belongs to a wide selection of shareholders, including various institutional investors. The Vanguard Group currently holds the largest share, of 3.51%, followed by Norges Bank Investment Management with 2.92%.
It's also worth noting that while Nestlé has expanded through joint ventures and acquisitions over the years, it has also sold many of its products through the years, including regional spring water brands.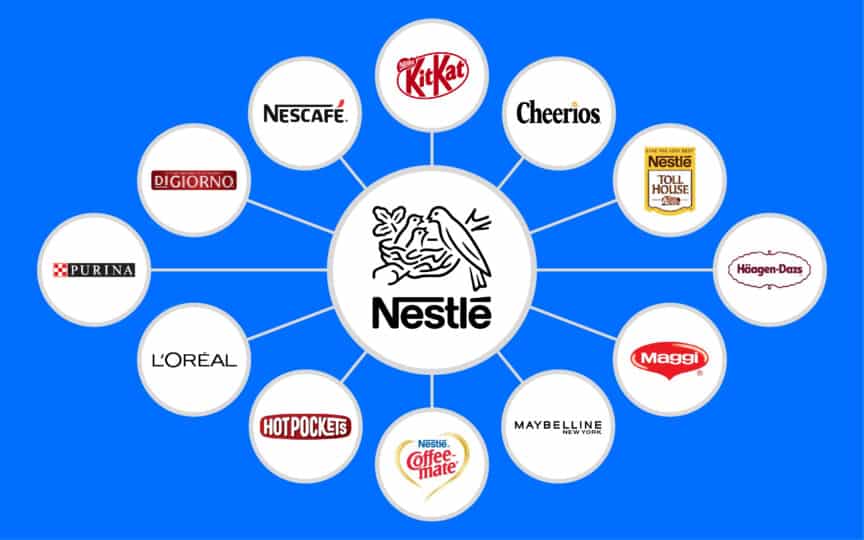 How many companies does Nestlé own?
Nestlé is best-known throughout the world for being a purveyor of candy. However, their empire is much larger than you might think. The Nestlé company list includes bottled water brands, pet companies, healthcare organizations and more.
One of the reasons it's so difficult to get a full view of the different products Nestlé owns, is that not every company operating under the parent brand uses its logo. Many of the businesses owned by Nestlé still operate independently.
This mean's it's often difficult to identify Nestlé products when you're shopping in your standard grocery store or supermarket. In recent years, keeping Nestlé's logo off certain products has actually been a strategic move for many organizations.
Although companies are still happy to sell their products through Nestlé, many consumers have begun to boycott the brand due to its connections with child labor scandals and health issues.
At the time of writing, Nestlé owns more than 2,000 brands, selling everything from cosmetics to frozen foods. However, it's difficult to get an exact number.
Some of the best-known Nestlé subsidiaries include:
KitKat
Cheerios
Toll House
Haagan Dazs
Maggi
Maybelline
Coffee Mate
Hot Pockets
Loreal
Purina
DiGiorno
Nescafe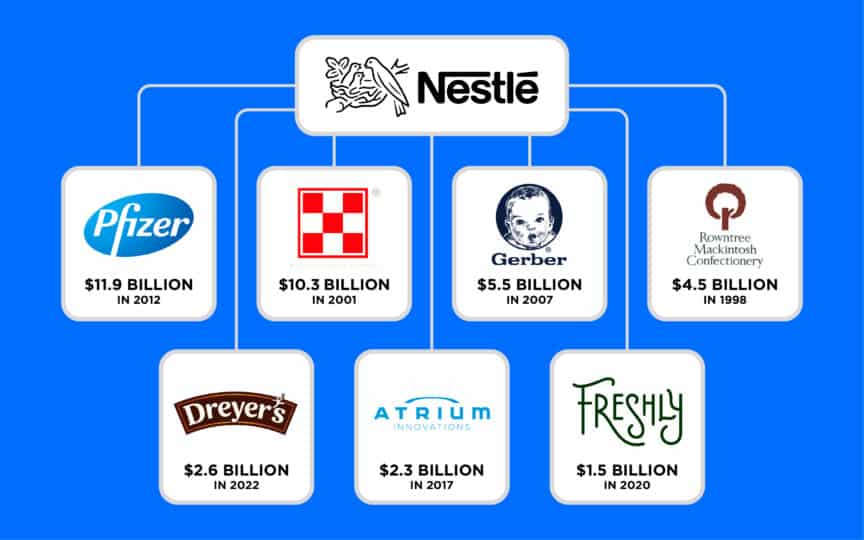 The biggest Nestlé acquisitions: Nestlé owned companies
To become one of the world's largest food companies, Nestlé has aggressively merged with and acquired various other successful brands.
Some of the most notable acquisitions ever made by Nestlé include:
Pfizer Inc Infant Nutrition: $11.9 billion in 2012.
Ralston Purina: $10.3 billion in 2001.
Gerber: $5.5 billion in 2007.
Rowntree Mackintosh: $4.5 billion in 1988.
Dreyer's: $2.6 billion in 2022.
Altrium Innovations: $2.3 billion in 2017.
Freshly: $1.5 billion in 2020.
In 2018, Nestlé also struck a $7.15 billion distribution deal, allowing Nestlé to sell and distribute Starbucks coffee and products globally. Though Starbucks isn't technically "owned by Nestlé", the Starbucks deal represents one of the most lucrative in the company's history.
The Starbucks acquisition strengthened Nestlé's already significant footprint in the coffee industry, adding to its collection of coffee products from Nespresso and Nescafe. Within just 6 months of the agreement, Nestlé had launched 29 Starbucks products in 40 countries.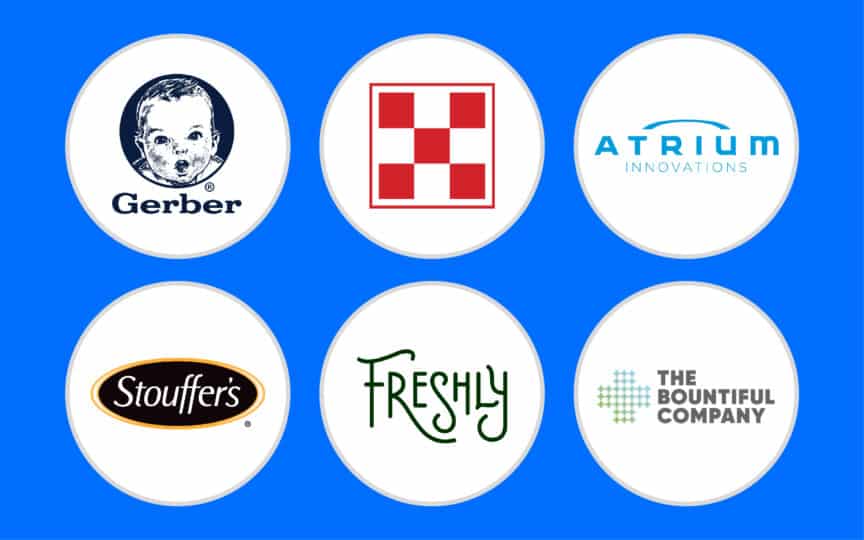 Brands owned by Nestlé: 6 major companies
The list of brands owned by Nestlé has grown exponentially through the years, encompassing a wide variety of different niches and industries. Today, Nestlé is one of the largest sellers of bottled water, confectionary, and various other forms of food and beverages.
Nestlé is also a major stakeholder in L'Oreal, the multinational cosmetics company. This also gives the company a minority stake in various other personal care and beauty brands like Urban Decay, Lancôme, Maybelline, and Garnier.
Here are some of the most significant companies owned by Nestlé.
1. Gerber Products Co.
Gerber is one of the biggest baby food and baby products companies in the world. Founded in 1927, the company was acquired by Nestlé for $5.5 billion in 2007. At the time, Gerber was already earning around $2 billion in annual sales.
In 2020, Nestlé's Nutrition and Health Science division, which includes the Gerber brand, was responsible for around 14.4% of Nestlé's global sales. The acquisition of Gerber was a major turning point in Nestlé's history, as prior to this, it had no major stake in the baby food market.
2. Ralston Purina
The pet food brand, Ralston Purina was initially founded as the Robinson-Danforth Commission in 1894. After Nestlé acquired the company for $10.3 billion, it became "Nestlé Purina Petcare". Under the Nestlé Group, the business has expanded its global sales drastically.
The company is responsible for a wide variety of well-known pet food brands, including Friskies, Felix, and Pro Plan. In 2020, the Petcare segment of Nestlé's brand accounted for around 16.6% of the company's total sales.
The acquisition of Purina also helped the company expand significantly.
The company wanted to expand its focus beyond human food and products, to explore a wide range of pet products and other items.
3. Atrium Innovations
Another of the large companies owned by Nestlé today, Atrium Innovations started life as a subsidiary of a Canadian biotech company. It spun off to form its own brand in 2006, and was eventually acquired in 2014 by an investment consortium.
As consumers grow more invested in health-care products, Nestlé decided to purchase Atrium to expand its collection of vitamin and supplement products. The deal boosted Nestlé's position in the nutritional supplements market.
However, it also allowed Nestlé to begin advertising itself as a more health-focused company.
4. Stouffer's
While Nestlé's acquisition of Stouffer's wasn't the most expensive on this list, costing only $105 million, it was one of the most significant purchases in the company's history. Stouffers, the frozen food company was founded in 1922, and initially produced restaurant chains.
Nestlé purchased Stouffer's in 1973 from a defense contractor named Litton Industry. At the time of the acquisition, frozen meals were becoming extremely popular. The acquisition of Stouffer's provided a template for the company's future forays into different types of food.
Nestlé used the acquisition to bring healthier products into the frozen food industry, such as the "Lean Cuisine" line of low-calorie meals.
5. Freshly
Freshly launched in 2012 as a popular meal delivery service, offering fresh, fully cooked meals to customers throughout the United States. The company offered a weekly subscription service, capitalizing on the growing trend of subscription-based services.
In 2020, the company was delivering more than 1 million meals per week to customers throughout the US. The same year, Nestlé acquired Freshly, but allowed the company to continue operating as a standalone brand.
The acquisition of Freshly allowed Nestlé to gain additional exposure in the growing healthy foods market. It also ensured the company could capitalize on the rise of meal delivery services.
6. The Bountiful Company
Launched in 1971, the Bountiful Company is another nutritional company providing supplements, vitamins, and related products to consumers. In 2021, Nestlé acquired a number of the organization's core brands, including Nature's Bounty, and Puritan's Pride.
The acquisition was intended to help companies expand its collection of health science products, making the company a global leader in vitamins, minerals, and supplements. Today, the Nestlé group have a huge number of supplement and mineral brands in their portfolio.
Which companies does Nestlé own? An overview
The list above represents only a tiny fraction of the brands owned by Nestlé today. While it would be impossible to create a comprehensive list of more than 2000 companies here, we can take a closer look at some of the sectors where Nestlé has the biggest footprint.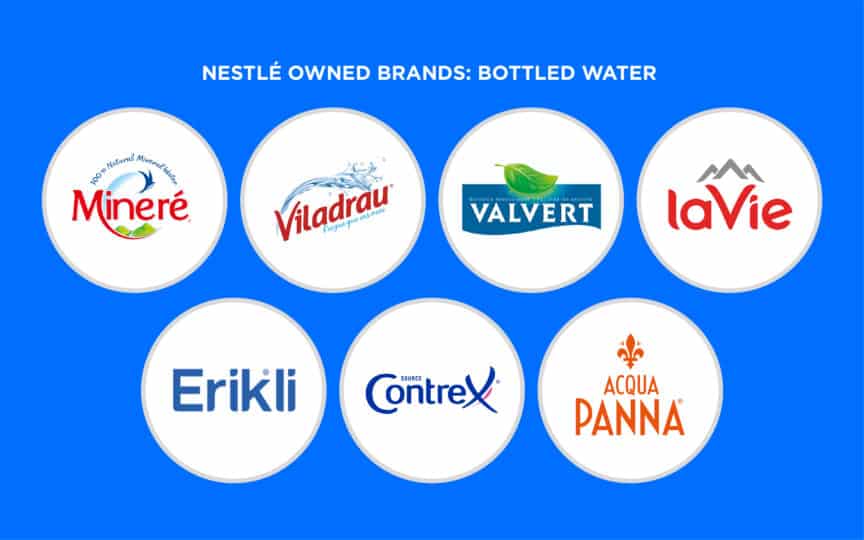 Nestlé owned brands: Bottled water
As mentioned above, Nestlé controls significant portions of the global water market, making billions of dollars from its subsidiaries every year. The brands owned by Nestlé in the bottled water segment include branded solutions like Nestlé Splash, and Nestlé Purelife.
Thre are also countless well-known names under the Nestlé group, such as Buxton, S. Pellegrino, Perrier, Glaciar, and Vittel. Even though Nestlé sold many of its North American water brands to private equity firms in 2021, it still maintains a significant presence in the industry.
Unfortunately, Nestlé's forays into the bottled water landscape are a major source of controversy for the brand. Nestlé's operations have led to severe depletions in natural resources. Additionally, the company has a massive plastic pollution footprint of around 95,000 tons per year.
Some other bottled water brands owned by Nestlé include:
Minere
Viladrau
Valvert
La Vie
Erekli
Contrex
Acqua Panna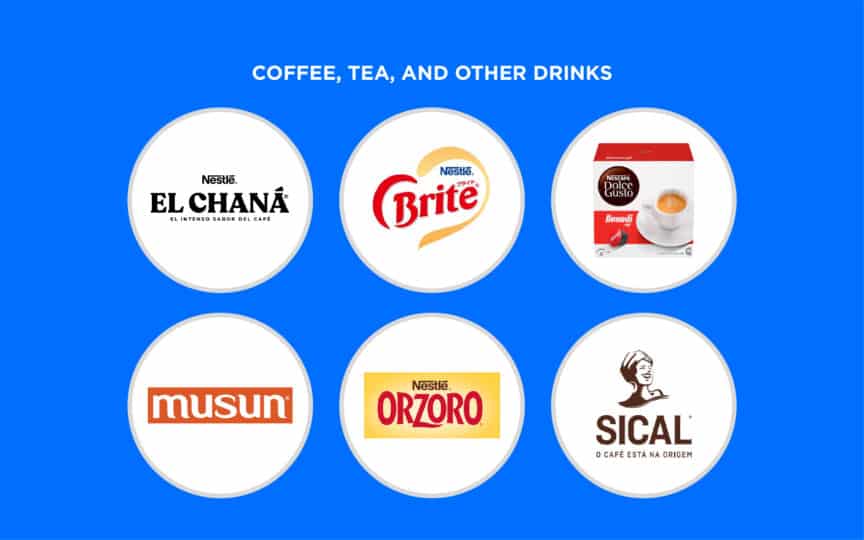 Coffee, tea, and other drinks
The brands owned by Nestlé in the beverage sector expand far beyond those in the bottled water industry. The company also owns subsidiaries responsible for various other beverages.
In the coffee industry, Nestlé owns Nespresso, Nescafe, Coffee-Mate, and many other well-known global brands, such as Aquila, Bonka, and Cremora.
In the wider drinks environment, Nestlé is responsible for popular brands like Nestea, Nesquik, Ovaltime, Bolero, Ecco, Like Chocolate, and Abuelita. As mentioned above, the company has also invested in a deal to distribute Starbucks coffee products.
Additional drink and beverage companies owned by Nestlé include:
El Chana
Brite
Bundi
Café Musun
Orzoro
Sical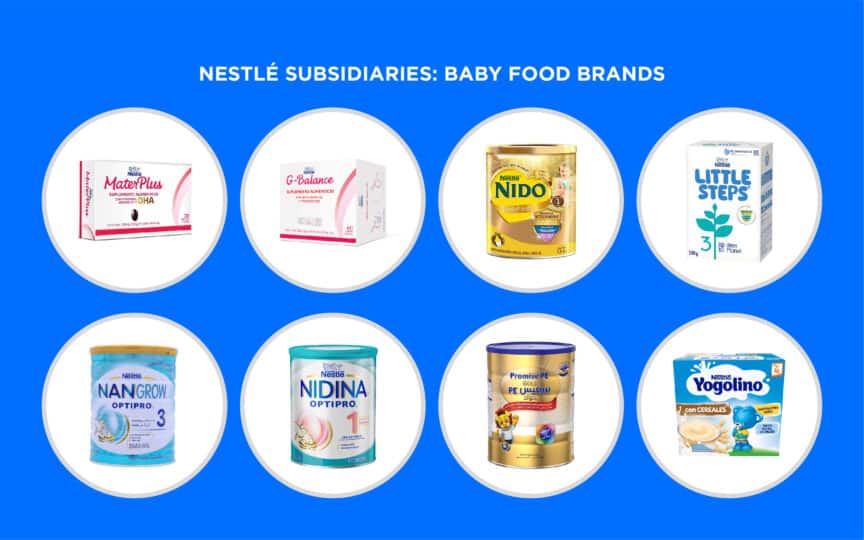 Nestlé subsidiaries: Baby food brands
Gerber might be the best-known of the baby food brands owned by Nestlé, but it's far from the company's only brand in the industry. Like in the bottled water world, Nestlé's baby food products have received heavy criticism over the years.
The company has been slammed for aggressive marketing strategies, suggesting mothers should use Nestlé milk substitutes instead of breast feeding. Additionally, in developing countries, Nestlé has contaminated the water of many people to create substitutes.
Well-known brands owned or partially owned by Nestlé in the baby food sector include Cerelac, SMA Nutrition, Cognita Gold, Materna, Nativa, Sinlac, and Lactogrow.
Here are some more baby food brands connected to Nestlé:
Mater-Plus
G-Balance
Excella Gold
Little Steps Folgemilch
Nangrow
Nidina
Promise PE Gold
Yogolino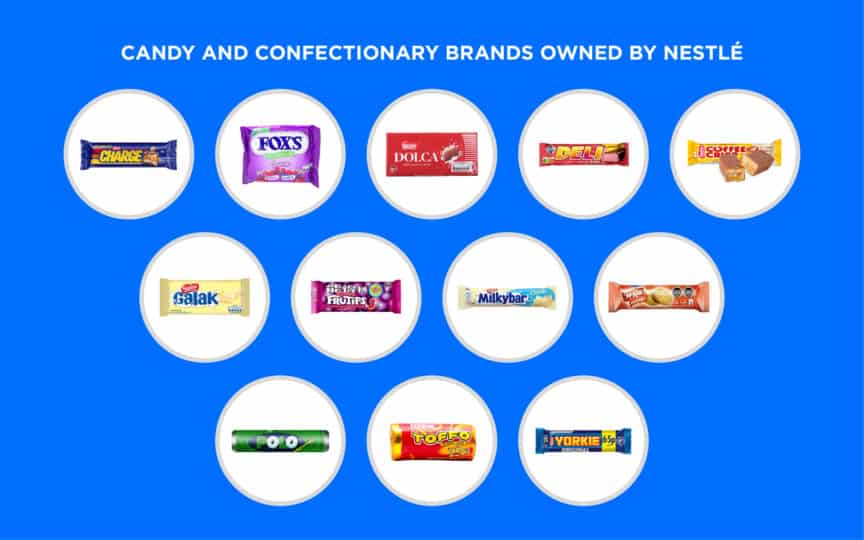 Candy and confectionary brands owned by Nestlé
Of all the sectors Nestlé has invested in over the years, the confectionary landscape is likely the largest. The company is responsible for dozens of different well-known brands in this landscape. In the chocolate and candy space, well-known brands include KitKat and Quality Street.
You may also be familiar with names like Aero, Rowntree's Smarties, After Eight, and Caramac. In the wider confectionery space, Nestlé is responsible for Toll House, Baton, Anticol, Bolera, Calipso, and many other big names.
Additional confectionary companies owned by Nestlé include:
Charge
Fox's
Dolca
Deli
Coffee Crisp
Galak
Fun Fruit
Milkybar
McKay
Polo
Toffo
Yorkie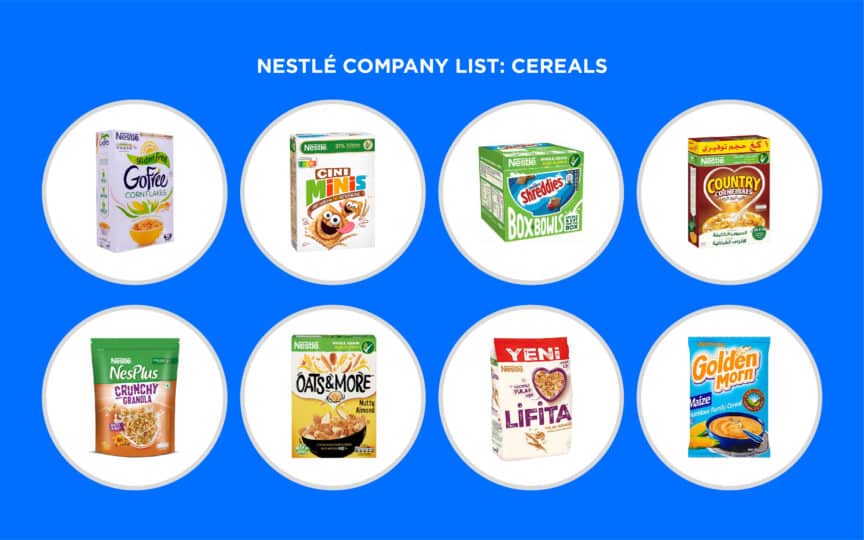 Nestlé company list: Cereals
Nestlé owned brands are everywhere in the cereal aisle. Unfortunately, they're not all the healthiest options for your breakfast. A company document leaked in 2021 even found that around 60% of the products owned by Nestlé are unhealthy in some way.
Some of the most common Nestlé owned cereal brands you're likely to be familiar with include Fitness and Nesquik cereal. However, the company is also responsible for names like Curiously Cinnamon, Golden Nuggets, Honey Stars, Mix, Nesfit, Nestlé Musili, and Lion cereal.
Other cereal brands connected to Nestlé include:
GoFree cereal
Cini Minis
Box Bowls
Country corn flakes
NesPlus
Oats & More
Lifita
Golden Morn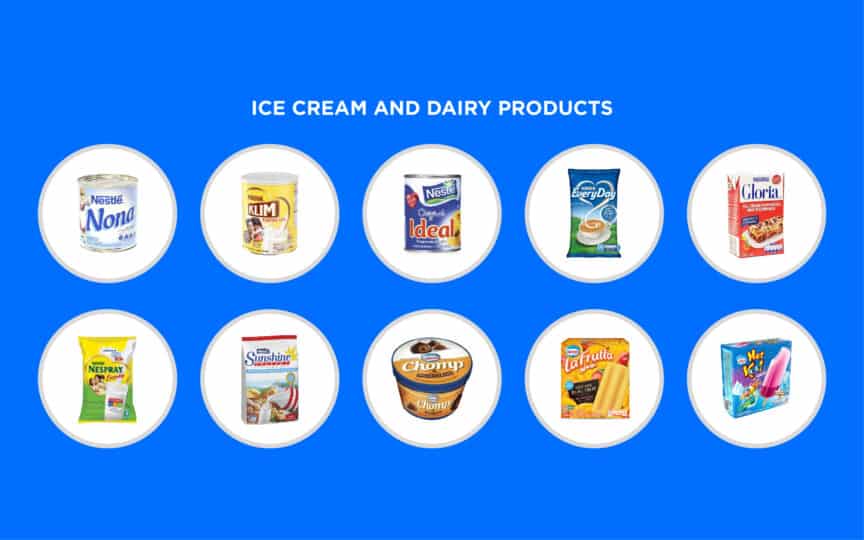 Ice cream and dairy products
When it comes to dairy products and ice cream, Nesquik has a massive share in the current market. As mentioned above, one of the company's biggest acquisitions was of the Dreyer's brand.
However, Nestlé is also responsible for Haagan-Das, Nestlé Ice cream, Scoops, Real Dairy, Centella, and Baton ice cream. Outside of the ice cream space, Nestlé offers a wide range of dairy products through brands like EasyWhip, Anchor, Carnation, Svelty, and Dancow.
Other dairy and ice cream products linked to Nestlé include:
Cap Nona
KLIM
Ideal
Every Dau
Gloria
Nespray
Sunshine
Chomp
La Frutta
Mat Kool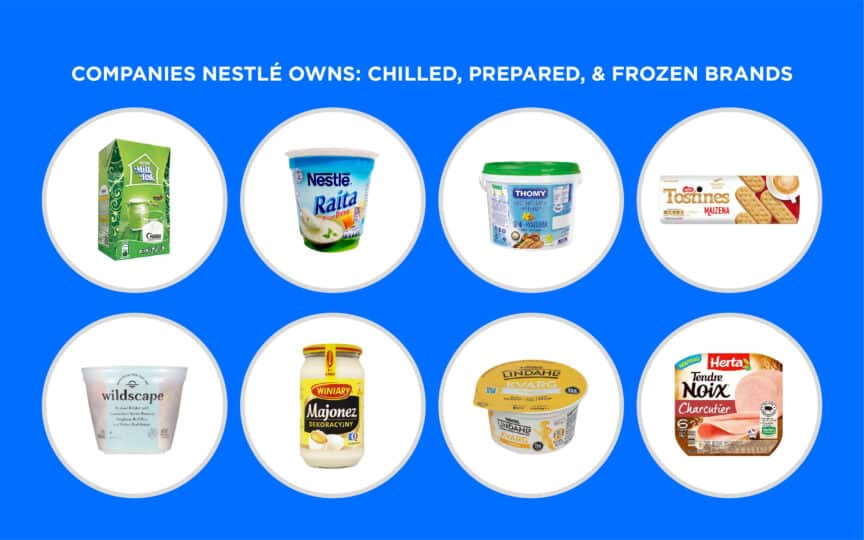 Companies Nestlé owns: Chilled, prepared, and frozen product brands
If you're looking for a fast meal, Nestlé offers a variety of chilled and frozen products. Since its acquisition of Souffer's the company's product portfolio has expanded drastically. You're probably already aware of some well-known names on this list.
For instance, Nestlé is responsible for Lean Cuisine, Maggi, Hot Pockets, DiGiorno, Tombstone Pizza, Life Cuisine, and even the California Pizza Kitchen.
Nestlé also has a growing presence in the food service and delivery sector. The company is responsible for Chef, Chef-Mate, and Freshly.
Additional culinary companies owned by Nestlé include:
Milk Pak
Raita
Thomy
Tostines
Wildscape Food
Winiary
Lindahls
Herta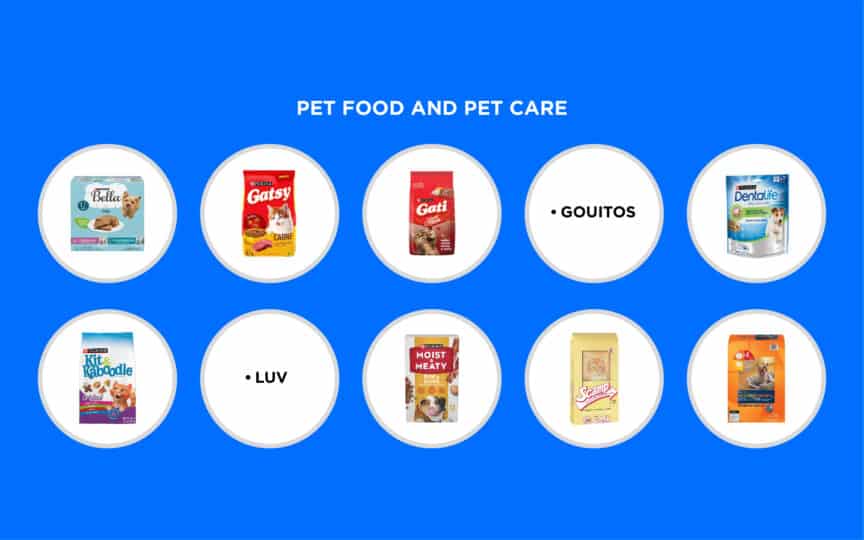 Pet food and pet care
Since the purchase of the Purina brand, Nestlé's focus on the pet food industry has only continued to grow. The Nestlé company today is responsible for all aspects of the "Purina" line, including Purina One and Purina Pro Plan, and Friskies.
Nestlé is also the name behind Fancy Feast, Alpo, Bakers Complete, Bonzo, Felix, Gourmet cat food, and Lily's Kitchen. There are also some lesser-known organizations in the Nestlé pet food segment, such as Dogui, Darling, and Honest to Dog.
Other pet food companies connected with Nestlé include:
Bella
Gatsy
Gati
Gouitos
Dentalife
Kit & Kaboodle
Luv
Moist & Meaty
Scamp
SecondNature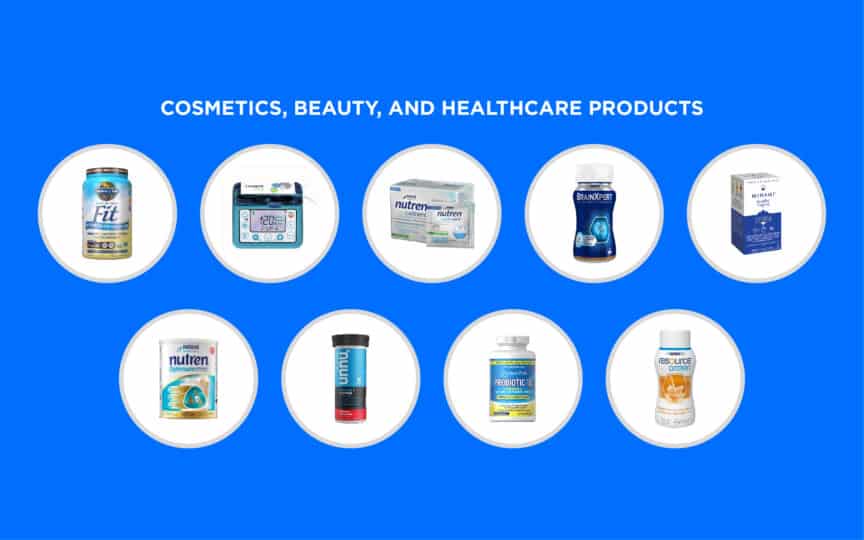 Cosmetics, beauty, and healthcare products
Nestlé doesn't fully own any beauty brands at this stage. However, the brand is responsible for 20.1% of L'Oreal, which has a huge number of international brands under its banner. For instance, Nestlé has a stake in Maybelline, Garnier, and the Body Shop through L'Oreal.
Also through the L'Oreal brand, Nestlé is partially connected with luxury fragrance brands like Yves Saint Laurent and Ralph Lauren. The conglomerate has a much larger stake in the healthcare and supplements landscape, however.
As the Nestlé health science sector continues to grow, the list of products in the lineup is increasing. Some well-known names include Optifast, Boost, Compleat, Nature's Bounty, and Vital Proteins.
Other health organizations linked to Nestlé include:
Garden of Life
Compat
Celltrient
BrainXpert
Minami
Nutren
Nuun
Puritan's Pride
Resource
The evolving Nestlé family: Nestlé owned brands
As you can see from the list above, there are countless brands owned by Nestlé today. As one of the world's biggest parent company brands, Nestlé has secured a place in virtually every part of the food and beverage industry.
Plus, the diverse portfolio of brands in the Nestlé portfolio has also allowed the company to expand into different product categories over the years. Nestlé now has a hand in everything from the food you see in grocery stores, to the health and beauty sector.
It's difficult to fully grasp the massive impact Nestlé has had on the world as we know it today. Even despite the controversies the company has faced, it has continued to grow every year, with more acquisitions and mergers.
Whether you're a fan of the Nestlé brand, or you're concerned about the health issues and ethical problems the business has faced over the years, the list above should give you a better insight into exactly how many brands the world's largest food company is responsible for.
Fabrik: A branding agency for our times.