When you consider British heritage, what do you think of? Vintage cars? Classic clothing? Perhaps even retro radios?
At Fabrik Brands, we have something of a passion for the past, as we believe that the lessons we learn from historical brands can teach us how to capture the hearts and minds of audiences in the present. After all, sometimes you must look back before you can move forward.
It's our obsession with all things "old" but not forgotten, that's led us to begin our "Quintessentially British brands" series, where we dive back into the history of companies that have contributed to the culture, and identity of iconic British brands.
Since legacy is a key factor of what makes quintessentially British brands so compelling, we felt we couldn't continue our series without a look at one of the most memorable, and iconic identities in the bunch: the Roberts Radio brand.
A permanent feature of any image that delineates the true history and growth of the UK economy, Roberts Radio is the ultimate English radio brand. In fact, its ancestry might be more significant than any brand we've covered so far, thanks to its HRH from the Prince of Wales, and Royal Warrant from the Queen.
Over more than 80 years in the industry, Roberts Radios has maintained a reputation for exceptional quality, incredible design, and innovation. Today, the Roberts Radio logo has found its way into homes across the globe, from the USA to Japan, but the heart of the brand stays firmly at home within Britain.
So, what makes Roberts Radio such a compelling British brand?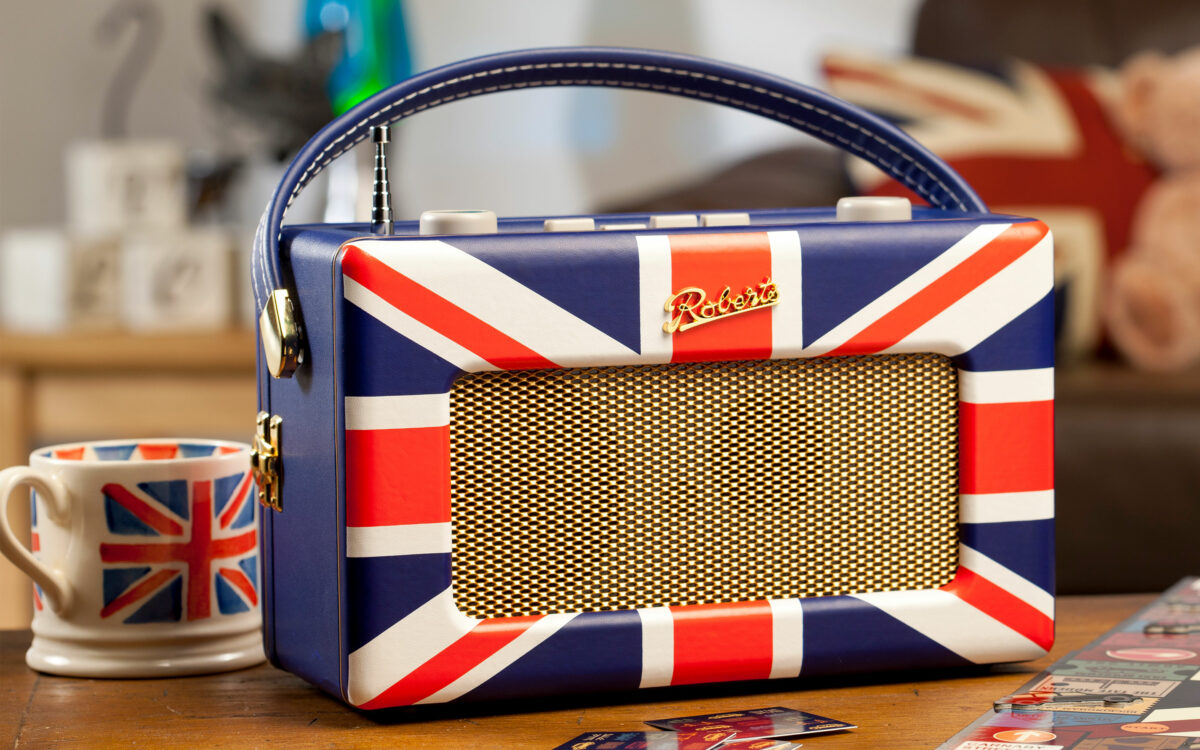 A tale of tradition: The history of the Roberts Radio brand
A little over 80 years ago, in 1932, Harry Roberts and Leslie Bidmead officially founded the Roberts Radio company. The venture began on an extremely tight budget. In fact, Bidmead had to sell his motorbike just to pay for the small factory the pair were using in London.
Despite their humble beginnings, the Roberts Radio brand began with some powerful brand values. They decided from the beginning that they would remain true to their expectations of quality, and continue to push the boundaries of what was possible in the audio industry. The quintessentially British brand remained true to this concept, embedding value into the heart of their brand purpose. Now, they continue to be the UK leader for portable radios.
The unique style of the Roberts Radio image, and the pervasive attention to detail that has remained a significant element within the Roberts Radio brand identity over the years, has helped the company to become beloved around the world. In fact, it holds the kind of customer loyalty that many businesses can only dream about.
Perhaps one of the most important aspects of the company's identity is the legacy that came packaged with the letter Harry Roberts received in 1940, informing him that the Queen had purchased her very own Roberts Radio from Harrods that year. Since then, the company has been awarded two Royal Warrants and became the official supplier of radio receivers to the Prince of Wales, and her Majesty the Queen.
When it comes to establishing a true cultural icon, it's hard to get any better than a brand that's managed to make its way into the home of the Royal Family. In fact, the Roberts Radio logo has been a staple within the homes of royalty for more than 60 years. For some, this identifies Roberts Radio as a true underdog story. From a company that began in poverty, desperately trying to make ends meet from a small London factory to the supplier of music for one of the most famous families in the world.
Today, the Roberts Radio brand has remained true to its background, with an ever-lasting USP that centres around exceptional quality and unparalleled style. In 1956, the original "Revival" was created by Harry Roberts, inspired by the design of a handbag his wife owned. Years later, the product continued to evolve, into the R200, and a British icon was born.
Though the business began to struggle in the 1980s as the Roberts Radio brand battled against electronic giants from around the world, a chance appearance in a Martini advertisement boosted demand for the product. The R200 was re-introduced in shocking red, to demonstrate the passion and focus of the company. Since then, a collection of patterns and colours have been introduced to reflect the fashion of emerging home interior trends.
Like many heritage-focused brands, Roberts Radio shows us just how important it is to stay true to your identity while adapting to a world where constant change is an ever-significant factor.
The Roberts Radio brand identity: A historical company in a modern world
Perhaps the easiest way to describe the Roberts Radio brand identity is as both inherently vintage, and impeccably timeless. While the two descriptors might seem to contradict each other, the truth is that Roberts Radio has actively been able to embrace the best of both worlds. As an electronics company, the organisation has embraced the latest trends and innovations to improve the performance of their products.
However, those tweaks and changes beneath the surface haven't come at the sacrifice of the iconic imagery and visual identity that Roberts Radio strives to convey. Though the company maintains a distinct essence of the past, it also embraces the technology of the future, capitalising on its retro aesthetic and history to ensure an ongoing presence within the new millennium. The full impact of the visual Roberts Radio branding can be seen in three areas, its products, its website and its logo.
1. The Roberts Radio logo
The Roberts radio logo is simple, clean, and iconic, just like the brand itself. Designed in black and white, the impact of the iconography is perfect for a company that wants to maintain a timeless sense of class and sophistication throughout the ages.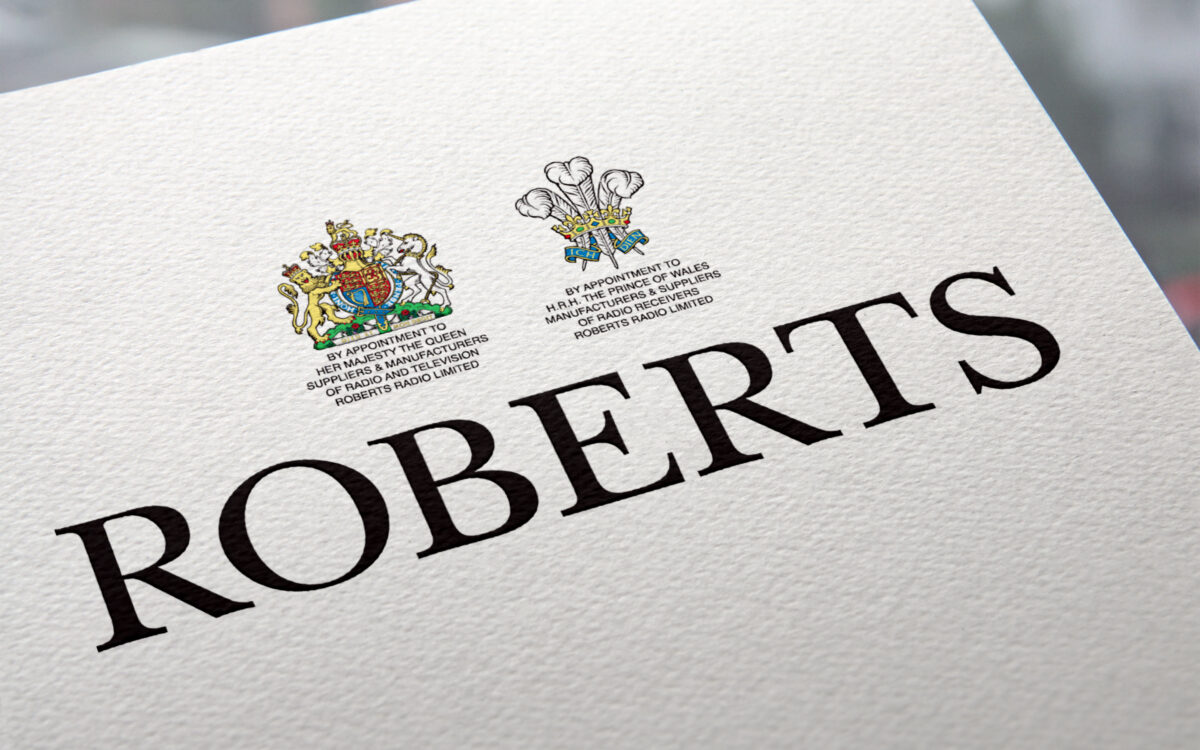 Rather than using an image or graphics to portray their identity, Roberts carefully chose typography as the key to their visual essence. Notably, they've picked a Serif font that's perfect for outlining that sense of unique heritage that's so important to the overall appeal of the Roberts Radio brand.
Serif fonts are ideal for organisations that want to promote feelings of class, and authenticity. They make the brand seem established, classical, and respectable in nature – which is a fantastic way to build upon the iconic nature of the Roberts Radio branding. Interestingly, the company chose to combine their font-based logo with two images which highlight their recognition in the eyes of the royal family.
2. The Roberts Radio website
Like many organisations, the Roberts Radio brand has been careful to recreate and adjust the feel of its website over the years, keeping track of modern trends and preferences. Most recently, the company hired a professional branding agency to refresh their website for them, with new designs that are simple, clean, and ideal for drawing focus to the iconic heritage of the brand.
The website maintains a unique contemporary look, combined with modern elements like a video graphic, and the occasional use of bright colour to add personality to the otherwise white, black, and cream shading.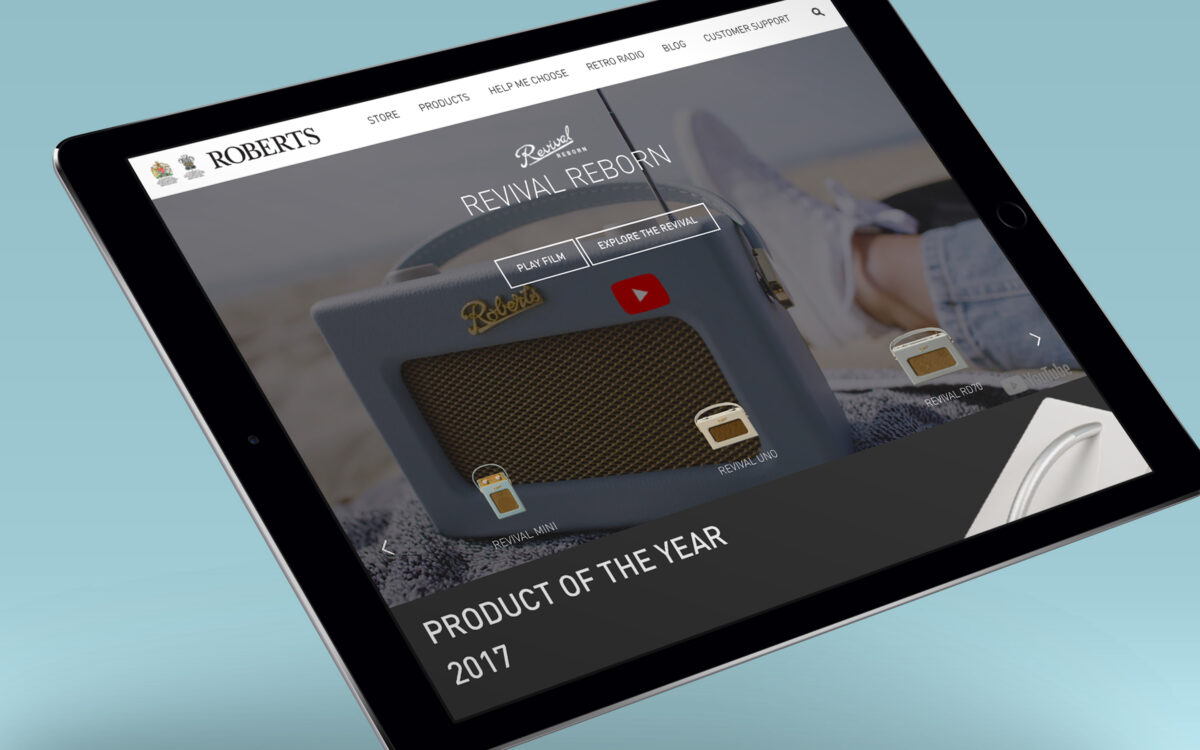 To help keep customer attention on the overall quality and beauty of the Roberts Radio products, each item has been professionally photographed to showcase the superb details of each make and model. There's also a microsite available for the R-Line range – which just goes to show how far the Roberts Radio brand portfolio and marketing reach have expanded.
3. Roberts Radio products
It's hard to address the full impact of the Roberts Radio brand identity without giving some focus to the products that have made the company so iconic. The golden mesh, the leather handles, and the bright colours of the Roberts Radio flagship products all help to provoke instant feelings of nostalgia and vintage excitement in customers around the world.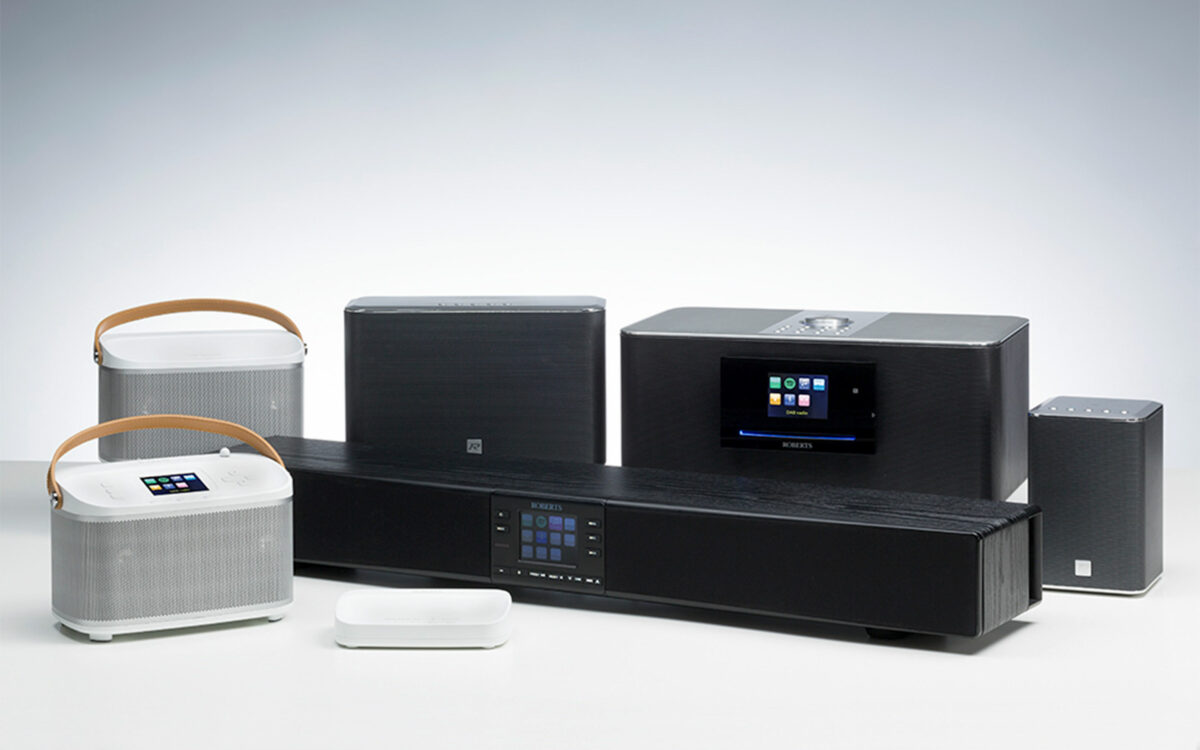 The Roberts Radio brand is an excellent example of how the marketing mix can be used to ensure visual consistency across every channel and point of interaction that a company has with its customers. The brand doesn't just maintain its sense of heritage in its timeless logo, its beautiful marketing materials, and its carefully-designed website, but also in the iconic products it has created throughout the years.
When it comes to brand identity, Roberts Radio branding embraces a specific type of vintage design which might be called "progressive retro". In other words, it reminds generations of British citizens what it felt like to be sitting in a different era, with nothing but their music and the sounds of the radio to keep them entertained. Yet, beneath the skin, everything remains completely up-to-date.
This progressive retro nature puts Roberts Radio in good company in the annals of impeccable design, alongside organisations like Coca-Cola, Gucci, and Aston Martin which all use history alongside modern quality to keep their customers feeling that strong sense of affinity that organisations today have to work tirelessly to recreate.
If the Roberts Radio brand had truly refused to address the needs of the era, then it may not have aged as successful as it has today. After all, there are plenty of funky modern alternatives to the old-fashioned radio out there. Yet, there's a strange sense that your MAC, PC and your new games console will all become obsolete before the Roberts Radio logo seems truly outdated.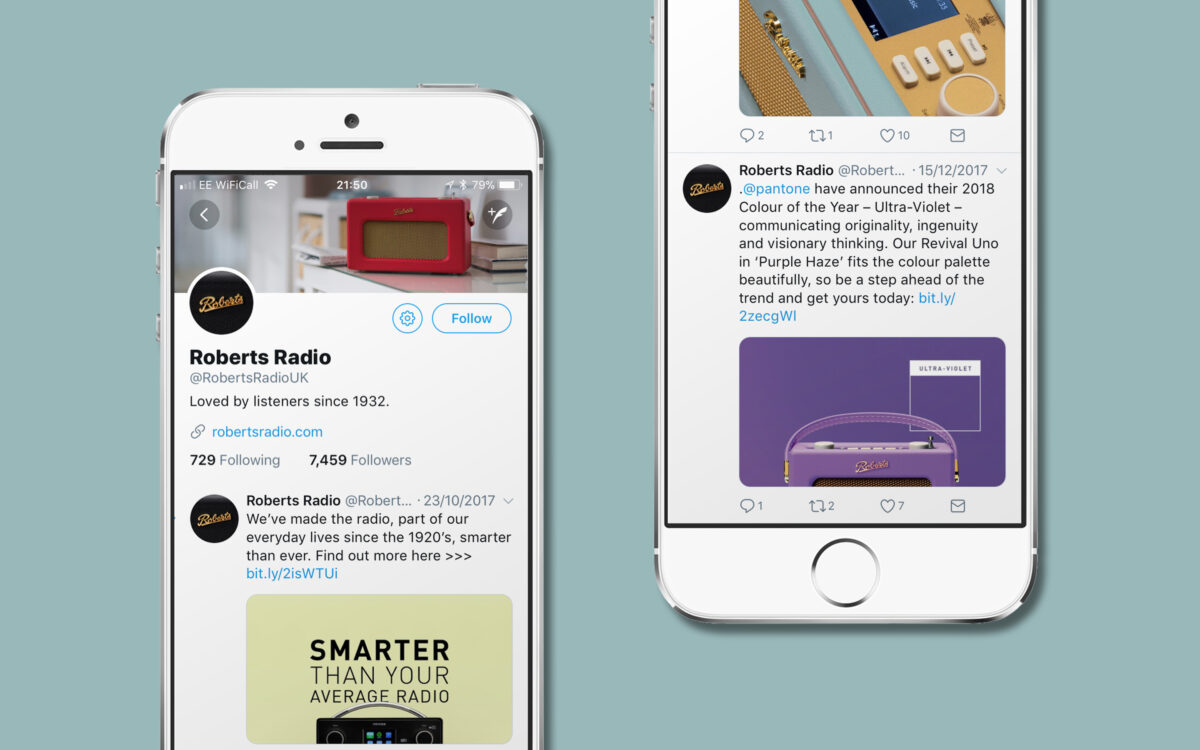 Roberts Radio marketing: Tuning into an incredible tone of voice
We've covered the visual elements that make the Roberts Radio brand so unique. However, if you've read through our blog posts before, then you'll know that there's a lot more to a sustainable brand than the way it looks.
Today, more customers than ever before have begun to focus on putting quality first, and modern companies need to work increasingly harder to make sure that they're delivering on expectations. That's why Roberts Radio couldn't allow themselves to fall behind on the times. If they wanted to maintain the loyalty of their target customers, they couldn't rest on the appeal of their Royal background, they needed to get out there and engage.
As we've mentioned, Roberts Radio delivers a combination of uncompromising quality, and a devotion to delivering next-level experience for customers around the world. But, in combination with this, the tone of voice the brand uses is both welcoming, and classical – fitting for a company that wants to remind you of its heritage at every opportunity.
Just look at the visual posts on the Roberts Radio page for instance, which are packed full of pastel-toned pictures, with an ever-so-slightly de-saturated hue, designed to make you think of times gone by. Combined with words like "bespoke", and "exclusive" in the copy, these images help to remind customers that they're dealing with a quintessentially British brand.
Of course, as a company that knows all about the power of consistency, the Roberts Radio brand has retained the same visual essence and personality across all its social media channels. On Instagram, the company is simple, yet effective, using classic images to evoke memories in its customers.
Then on Twitter, the Roberts Radio brand actively embraces its position as a British icon, using every opportunity to showcase the heritage that sits at the heart of its identity.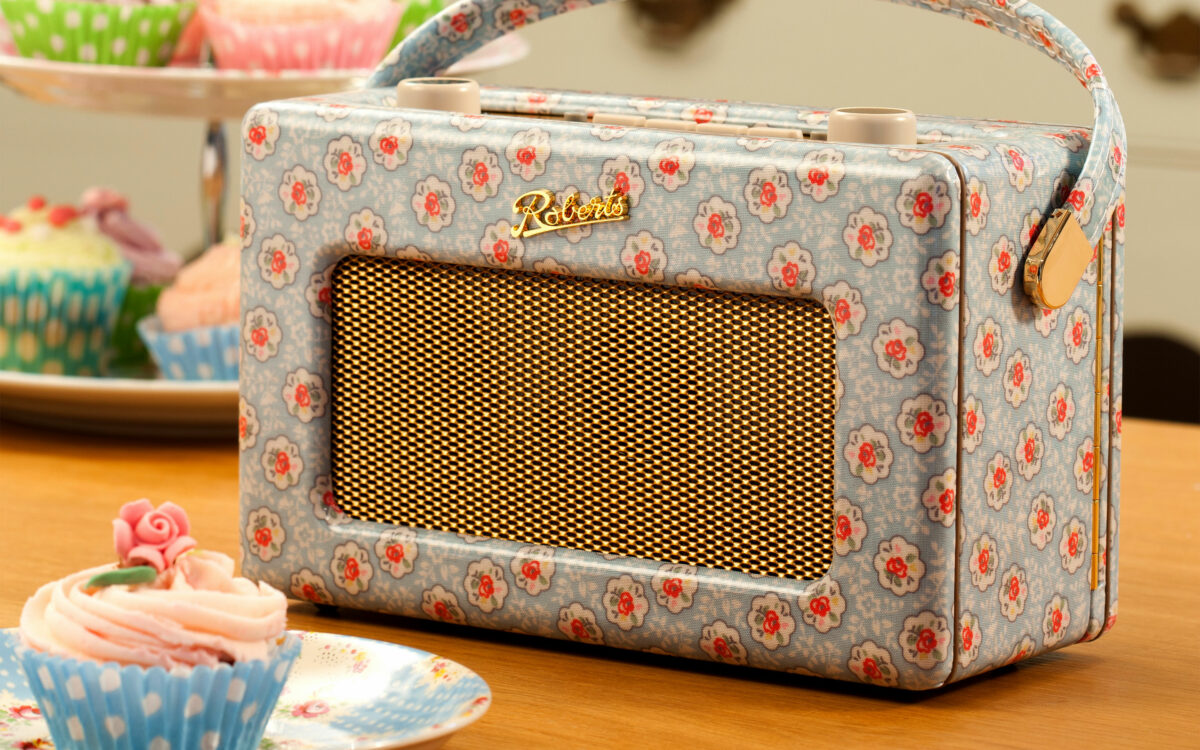 Roberts Radio branding: The throwback theory and the power of heritage
The more you examine the visual and verbal identity of the Roberts Radio brand, the more you can see one pervading theme in everything the company does. While the Roberts Radio branding team have clearly experimented with new ideas and concepts from time-to-time, their main focus is consistently on the power of heritage, and how vintage imagery can capture the hearts and minds of their audience.
While there are plenty of companies out there that are keen to demonstrate how proud they are of their heritage, Roberts Radio is an organisation that takes that pride to the next level. After all, they even use their position as a Royal company in their logo!
It's a persistent idea of practicality, tradition, and style that keeps the Roberts Radio brand on track in everything they do, and we've seen similar results from other companies who hope to evoke nostalgic moments in their customers to engage and empower them throughout the years.
Heritage marketing is a form of nostalgic marketing and branding – something that we've covered before here at Fabrik. Of course, being successful at eliciting feelings of loyalty and reminding your customers of strong, emotional memories means following a few rules. For instance:
1. Always remain consistent
Consistency is key to any brand, but it becomes particularly important when you're building your identity around an idea of long-standing legacy. The Roberts Radio brand has embraced consistency in everything they do, from their marketing campaigns on social media to their stunningly vintage products. That's what helps to make the company so appealing in these ever-changing digital times.
In a world where things seem to be constantly evolving, the Roberts Radio branding allows customers to hold on to something that feels familiar, and simple. While the products produced may match competitors in terms of function, it's their old-fashioned image that helps to make them so appealing to today's confused customers. It's also why Roberts Radio brand fans so easily become ambassadors for the company.
2. Consider the current environment
True heritage branding is complicated because it requires company to keep a solid focus on the past, without being disrespectful of the present. Ultimately, if you want to appeal to your customers from a nostalgic perspective, then you need to keep your image, your identity, and even your voice anchored somewhere in history. As you may have seen during this article, the Roberts Radio branding team have done this particularly well.
However, they haven't held onto the past so stubbornly that they've been unable to embrace the future at the same time. The Roberts Radio marketing strategy involves plenty of activity on social media – which is an inherently modern practice. At the same time, the technology team behind the audio company have continued to work hard to make sure that the parts and components beneath the surface of your "retro" radio, perform just as well as any other modern device.
You can still connect a Roberts Radio to your phone, or stream music on it from a Wi-Fi device, but you also get that unique nostalgic vibe from the design that you can't get anywhere else. In other words, it's the best of both worlds.
3. Keep your customers in mind
Finally, the natural sense of pride that comes attached to true heritage as a Great British brand can be difficult to overlook. Unfortunately, most customers can't establish a true connection with a business that loves itself more than its consumers. That's why it's so important to make sure that you keep your feet on the ground, and your eyes on your target audience when you're growing your presence as a nostalgia-focused company.
While the Roberts Radio branding has stayed mostly consistent over the years, the company hasn't been afraid to make changes when necessary. Whether that means getting customers involved in a marketing scheme that asks them to come down and pick up their own personalised radio or looking for some input in the form of consumer content, Roberts Radio stays connected to its fans at all times.
Brands like Roberts Radio use the power of heritage and nostalgia for a reason. After all, the impact of companies that can inspire powerful memories in their customers has been proven by science time and time again.
One study published by the Journal of Consumer Research in 2014 found that people who were asked to think of nostalgic memories while shopping were more willing to pay extra money for products, than people who were asked to conjure up images of the future or present.
In simple terms, the Roberts Radio brand has always been perfectly positioned to take advantage of the value that heritage has to offer when it comes to building trust and loyalty in customers. By maintaining their image and voice over the years, along with a constant focus on quality, Roberts has been able to outshine their competitors consistently for almost a century. As far as we can see, the love that customers have for this vintage brand won't be changing anytime soon.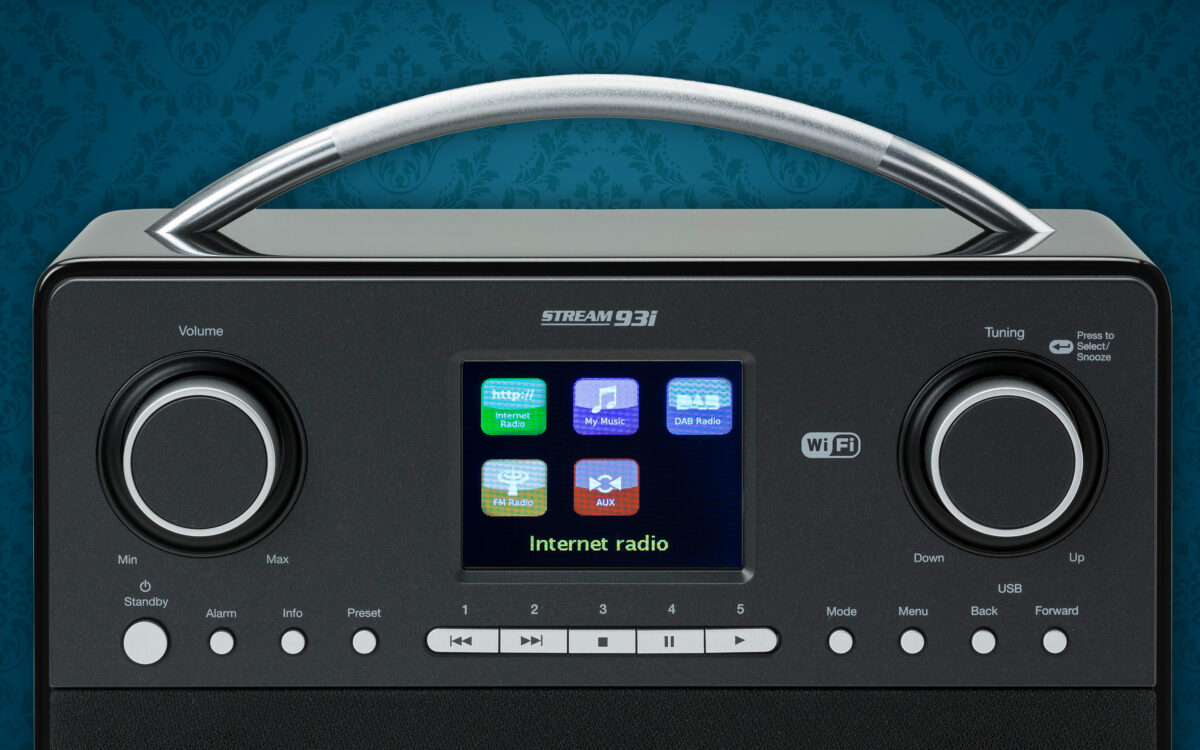 Learning from nostalgic brands: Roberts Radio today
For some people, the concept of the quintessentially British brand isn't as sturdy today as it was a few years ago. Economic turmoil and social changes in the form of Brexit have left some companies wondering whether building on the power of heritage can continue to be a powerful strategy in today's trying times.
While the socioeconomic factors of the day have caused something of an identity crisis, many great British brands continue to see benefits in embracing their iconic history in the face of adversity. Vivienne Westwood, Burberry, Pashley, and even Roberts Radio all continue to capture the hearts and minds of their audience regardless of what else might be happening in the marketplace.
So, what can we really learn from a heritage brand like Roberts Radio?
Perhaps the most important lesson that the Roberts Radio brand can teach us is that heritage really does have power when it's used correctly. If you can keep the image, voice, and values of your brand consistent throughout the years, then you can appeal to something in your customers that stands the test of time.
While the preferences and needs of people in the British marketplace might have changed over the years, their craving for quality remains the same, and Roberts Radio has always made quality a key part of their identity – something that's evidenced by their position as the Queen's favourite radio brand.
As a company that began with nothing, moved into the Royal eye, and now embraces the full value of heritage, retro appeal, and nostalgia, Roberts Radio has used history to become a truly timeless brand.
If you enjoyed this article, you might enjoy these too:
— Moneybox: A really smart investment in innovation
— Vivienne Westwood: From punk to style to symbol
— A passion for the past: Nostalgia marketing