How to present a logo to a client: Mastering the art of logo presentation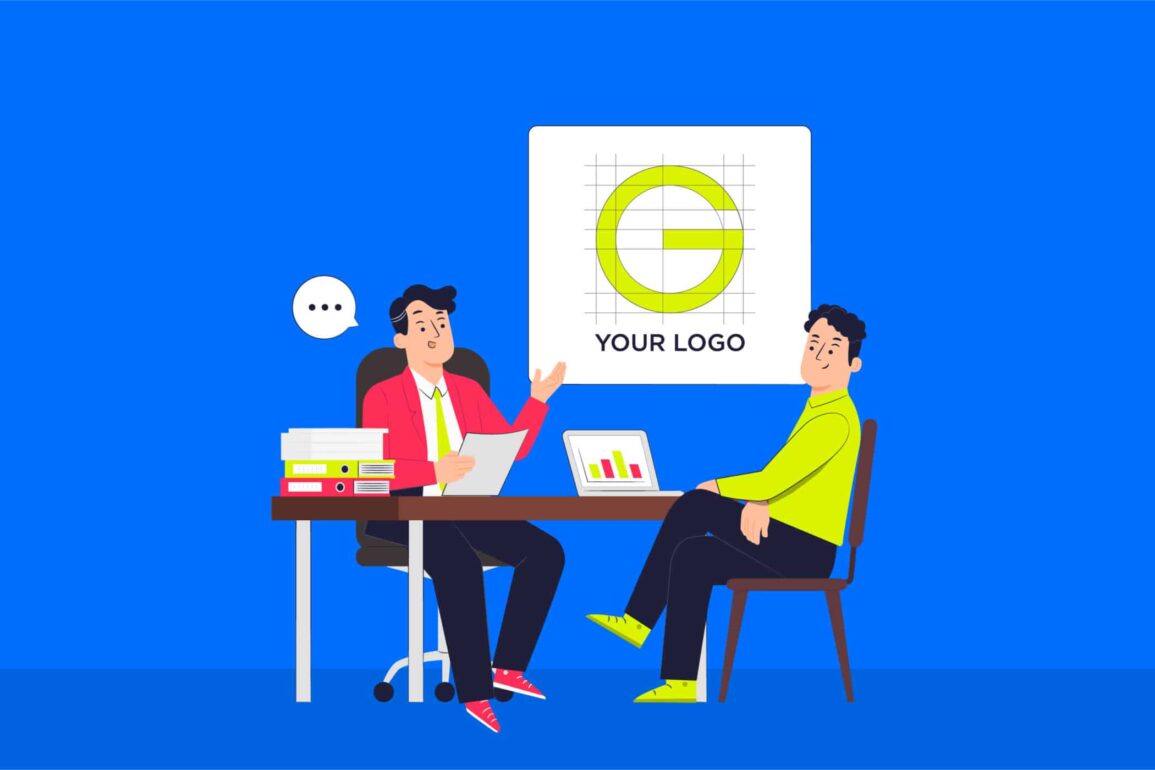 Learning how to present a logo to a client can be complex. If you want your clients to fall in love with your design, you can't simply email them a version of your logo and leave it at that. The best logo designers are also salespeople.
They know how to position their creations as valuable, engaging, and appealing assets.
With an effective logo presentation, designers show their clients they've delivered what they were paid to do. You can use your presentation to highlight your understanding of your client's objectives, show your processes, and essentially validate your work.
Indeed, how you show your logo can determine how your client assesses your value as a designer. If you're successful at highlighting the benefits of your work, you could potentially convince your client to become an advocate for your brand, recommending you to other leads.
Today, we will look at some key steps in learning how to present a logo to a client, from creating your original mockups to "selling" the idea.
How do you sell a logo to a client? The importance of presentation
Before we dive into some step-by-step guidance for an effective logo presentation, it's worth exploring why it's so important to "present" a logo in the first place. Not every designer will necessarily deliver a formal presentation alongside their logo concepts.
If you've ever hired a freelancer from a site like Fiverr, you'll know the majority of these designers send logo files without any explanation or insights.
While this might work for some companies who feel they can confidently determine what they "want" from a logo, it's rarely a good idea for a professional branding agency or team.
Premium logo designers understand a logo is only as valuable as the strategy and story behind it. If you're selling a high-quality logo to a customer, you're not just convincing them you've created the right image, and you're effectively presenting your version of what their brand should be.
Learning how to present logo design concepts to your clients ensures you can:
Validate your value
Explaining your process and the thought behind your logo design helps show your client you were "worth the money." They want evidence of the time, effort, and expertise that went into creating their brand image.
Guide your clients
A good logo presentation helps you to highlight your expertise in branding and guide your customers toward using their visual assets correctly. You can even provide tips on how and where to use the logo in different formats.
Build client relationships
With a good logo presentation, you showcase your credibility and strengthen your relationship with your client. This could mean you have a better chance of being hired for future projects or being recommended to other clients.
Think of it this way; a logo is the product of your work and expertise, but its presence in the packaging. It's how you make your chosen solution stand out.
How to mock up a logo design
The first step in learning how to present a logo to a client is mocking up your designs. This might seem like a relatively straightforward process for a professional logo designer. However, there are some key steps you'll need to follow to ensure you deliver the right results.
Begin by making sure you have a clear design brief from your client. Detailed briefs will reduce your risk of making mistakes when understanding what your customer wants from you. You must do the work if your customer doesn't deliver much information independently.
Ask questions about the company's personality, target audience, likes, and dislikes.
Create an outline of your brief and share it with the client to see if they agree with all the assumptions you've made before you begin working. Your brief can also include some extra details on the "deliverables" for the project.
Ask the questions: How many logo versions will you produce, what kind of files do your customers need, and what software should you use?
Once you both agree on a brief:
Begin working on multiple ideas
Create a series of different ideas, so your client has multiple options.
This should help reduce your risk of going "back to the drawing board" if your customer doesn't like your first idea. For each logo, create multiple variations (black and white, color, monochrome, etc.) in different sizes.
Explain your work
As you create your logos, make notes about why you've chosen specific designs, colors, shapes, and typography. Try highlighting how the logo elements relate to the brief and the overall brand identity you hope to create. This will help with your logo presentation.
Create complementary brand assets
Be prepared to show your customers your logo in context. Creating fonts, color palettes, and examples of how your logo might look in different scenarios will help your customers to see your vision.
Define use and misuse cases
Identify whether your logos can be stretched, rotated, changed, or placed on different backgrounds. Highlight use cases that will and won't work for each design you create.
Keep your client informed
Keep your client up-to-date on the design process. Show them your original sketches, and see which ones they respond to best, so you know whether you should double down on one concept over another. Ask for feedback, and respond accordingly.
How to present logos to clients: The presentation flow
Once you have your logo mockups, you can start thinking about how to outline your logo presentation. If you've agreed to create a few variations of your client's logo, you may need to create separate presentations for each design.
Don't simply place a selection of alternatives on a slide at the end of the demonstration. Give every potential logo the same degree of respect and attention.
As you're creating your presentation, try to use the following flow:
Step 1: Pre-framing your logo
Mastering pre-framing is one of the most important parts of learning how to present a logo to a client. It's the process of preparing your clients to understand your logo and what it represents before you start introducing concepts.
A good way to "pre-frame" is to start by explaining what a logo should be for the client.
It's not just a form of identification; it's a way of highlighting a brand's unique personality and values. Before you present, you can outline what you've learned about the company, its target audience, and its general identity to demonstrate your understanding of the organization.
Crucially, highlight the goals you aimed to achieve with your logo based on the objectives set by the client.
What specifically did your customer ask you for before you began designing? What were they looking for in the logo, and what did they want to avoid? Re-iterate this at the beginning of your presentation to validate your process.
Step 2: Explain your strategy
Once you've laid the groundwork and prepared your client's "frame of mind" for the logo presentation, it's time to discuss your strategy. Once again, it's helpful to return to the brief here, so you can demonstrate how you created your mockups with the needs of the company in mind.
Talk about the research you did. Which questions did you ask during the briefing process?
What kind of market insights did you gather before designing? If you created a range of sketches and shared them with your client in the early stages of the design, you can re-iterate their feedback and highlight how their insights guided your decisions when creating new versions of the logo.
Explain how you made certain decisions about everything from shapes to colors and font choices to validate how you came up with your final creation. This is an excellent opportunity to show your clients how you paid close attention to their interests and needs every step of the way.
Step 3: Reveal the logos
Finally, it's time to start walking your customers through your logos. Crucially, during a logo presentation, it's important not to give your clients too many options. While you might sketch dozens of designs during the creative process, the more examples you show your clients, the more confused they'll become. 
Showcasing too many logos at a time also dilutes the impact of each image. It can tell your clients that you need help understanding what they're trying to achieve, mainly if the various logos are all very different. Ideally, you'll want to narrow your logo options down to about three choices.
When revealing your logo, always:
Show one logo at a time
Refrain from diluting the impact of your logo by showing it alongside other options.
Focus on building a single case for each logo. If you're using a slideshow presentation, an entire slide (or more) should be dedicated to showcasing each logo, explaining its value and components, and highlighting what makes it special.
Show the logo in context
A great way to make a logo presentation more impactful is to demonstrate what your logo is going to look like in different scenarios. Don't just present the asset on a clean white background; highlight what it might look like on a website, at the bottom of an email signature, or on a piece of packaging.
Take your time
Take your time with the logo presentation.
Give your clients a couple of seconds to absorb the image before moving on to the next slide or variation. You can even show all logos side-by-side at the end of the presentation to remind your customers what each image looks like when making a decision.
Step 4: Collect feedback and insights
There are a few ways to collect client feedback during a logo presentation. Some designers prefer to hold all questions and comments until the end of the presentation so clients can absorb each concept fully and formulate a response.
Others prefer to ask for feedback after presenting each logo design to allow for a more consistent communication.
In either case, when collecting feedback about your designs, don't try to pressure your client to make a decision there and then. Instead, ask them specific questions about what they like, dislike, and how they feel about each logo.
Encourage your customers to focus first on what they like about each logo. Ask specifically for insights into how they feel the design makes sense according to their business goals, then make notes of what they say.
After discussing the positive aspects of each logo, you can discuss any potential concerns or issues.
Step 5: Plan next steps
Even if your logo concepts presentation goes perfectly according to plan, there's no guarantee your client will decide to go with a specific design there and then. In many cases, teams may need to go away and think about their options for a little while before making a choice.
Provide your clients with the assets you've created and a copy of your presentation, with notes so that they can go back over it again later. You can also email the person making the decision, highlighting what they liked about each logo and the points you've covered.
From there, decide on the next stage in the design process. Do you need to tweak a logo's colors or shapes? Are there specific aspects of two logos your client would like you to combine? Determine exactly how you're going to come up with your final result.
How to explain your logo design: Top tips
Learning how to present logos to clients can be one of the most daunting parts of being a logo designer. While you might be confident in your designs and understanding of the logo landscape, you must also convince your clients that you've done your job correctly.
It's important to be relatively thick-skinned during the logo presentation process, as you might find your customers aren't 100% happy with your design the first time around.
Don't take it personally if they have negative feedback. It's also worth ensuring you include all the correct information in your presentation without overwhelming your clients with too much data.
When you're explaining your logo design, remember to:
Talk about the features and benefits
As you introduce each of your logo designs, explain the features carefully. Discuss why you chose a specific typography and what it says about the brand.
Address the kind of messages you're hoping to send with the color palette, shape choices, and logo positioning. Try statements like: "This logo tells your audience that [company name] is a reliable, stable, and authentic brand with a commitment to excellence."
Always refer back to the brief
Referring back to the brief and the objectives highlighted by your client is a great way to demonstrate how you've done your job effectively and consistently.
You might point out that your clients told you they wanted to be seen as an authority in their field and wanted to earn the trust of their customers. As such, you chose a logo color palette with specific colors associated with confidence and credibility, such as blue and black.
Tell a story
Help your clients to visualize how their business will benefit from your branding choices by telling a story. Showcase your logo on a website, and explain how customers will perceive the image when they see it.
Talk about how the logo will stand out on supermarket shelves and entice customers to click on an app when they see it on their phones. Presenting the logo in contextual situations should help you to tell your story.
Show variations of each logo
Many companies will use different variations of their logo for other use cases. If you're designing an image for a software company, they might use a smaller version of the logo for their app.
If you're creating a combination logo with a wordmark and a graphic, some companies may use these elements separately occasionally. You may even find companies decide to invert the colors of their logos at times, from black on a white background to white on a black background.
Be calm and professional
As a designer, it's easy to feel disheartened or upset if your logos don't get the immediate response you want.
However, it's crucial to maintain your professional attitude. Don't respond negatively if someone says something terrible about your logo. Listen to your client's concerns, and try to alleviate them by explaining your decisions and referencing the brief and the company's goals.
Logo presentation examples for inspiration
If you're learning how to present a logo to a client for the first time, looking at some prior "logo presentation" examples may be helpful to get you started. Here are some models available to check out online for your inspiration.
Raks brand presentation
This logo presentation looks at the various elements of the potential logo on offer, from color choices to font options. The brand-style presentation also highlights what the emblem might look like in different contexts.
Logo presentation Ana-Luz
In this presentation, we can see how the induvial pages in a presentation might look when designers want to draw attention to the elements of a specific logo. The slide is simple and lays out the various color components.
TamraCapital final logo
In this example, we can see what the final logo chosen by the client and the designer will look like in various styles. There are also insights into the origins of the logo and the inspiration the designer used.
NorthMech logo design
This logo presentation demonstrates what a logo presentation may look like if you're relying on a simple one-pager to get as much information across to a client as possible. It's straight to the point and brimming with detail.
Booster brand guidelines
This logo presentation doesn't just showcase the potential logo on offer for the client but also the various branding elements the business may use to help its image stand out in different environments. The presentation is brief and straightforward.
Learning how to present a logo
Figuring out how to effectively present a logo to a client can be more challenging than most designers think. You need to be able to sell your ideas and vision to your client in a way that's emotionally compelling and logical at the same time.
Hopefully, the tips above will have given you some insights into explaining your logo design to a potential customer and making your choices stand out. Good luck creating your own phenomenal logo presentations for your customers.
Fabrik: A branding agency for our times.