Want to make sure that your customers can find you online?
Then you're going to need some great keyword research.
Keyword research is at the heart of any effective SEO campaign. After all, while the search engines may consider other factors besides your keywords when determining where to rank you online, the terms you target will make or break your chances of appearing in front of your audience.
Targeting the right relevant, competitive, and "high intent" keywords is one of the best ways to ramp up your chances of a successful digital presence.
However, sometimes, when you want to find the best keywords for your campaigns, you'll need to stop and ask yourself: "What are my competitors doing?"
Taking a peek behind the scenes of your competitor's keyword research will help you to find opportunity gaps and content topics that you might not have encountered on your own.
Today, we're going to walk you through the basics of competitor keyword analysis, so you can learn from the enemy, and upgrade your SEO.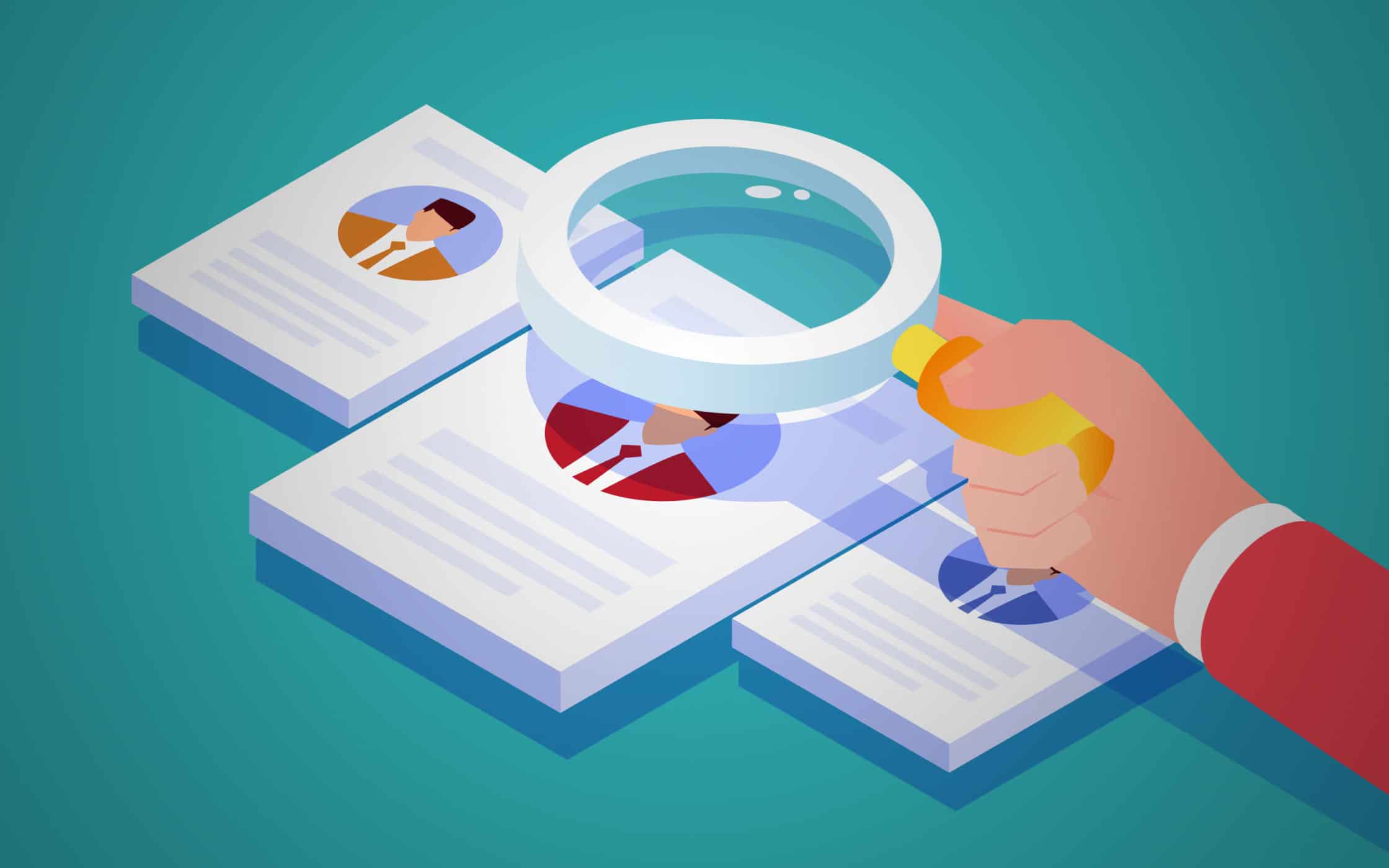 What is competitor keyword research?
Competitor keyword analysis is your chance to check out what your competitors are doing online and learn from both their successes and their mistakes. Through effective competitor keyword research, you can determine what kind of SEO strategies work best for your niche, and what you need to do to differentiate yourself from the companies that already exist online.
When you find out what kind of keywords and phrases are driving traffic for your audience, you can adopt the relevant strategies that might be suitable for your audience, and even improve them. This means that you gain a competitive advantage.
Like general competitor analysis, keyword-focused competitive research helps you to rank higher, gain more customers, and even drive more conversions. By the time you're finished with your strategy, you'll be able to answer questions like:
Who are my competitors, and how can I stand out when compared to them online?
What keywords should I be targeting, and which terms are my competitors missing?
What topics do I need to cover with my content marketing strategy?
How can I improve my position with the search engines based on what my competition is doing?
Although not everything that works for your competitors when it comes to search engine optimization will necessarily work for you too, competitor keyword research will give you a head start. It ensures that you understand your position in the existing online space for your niche and that you can figure out how to grow more successfully going forward.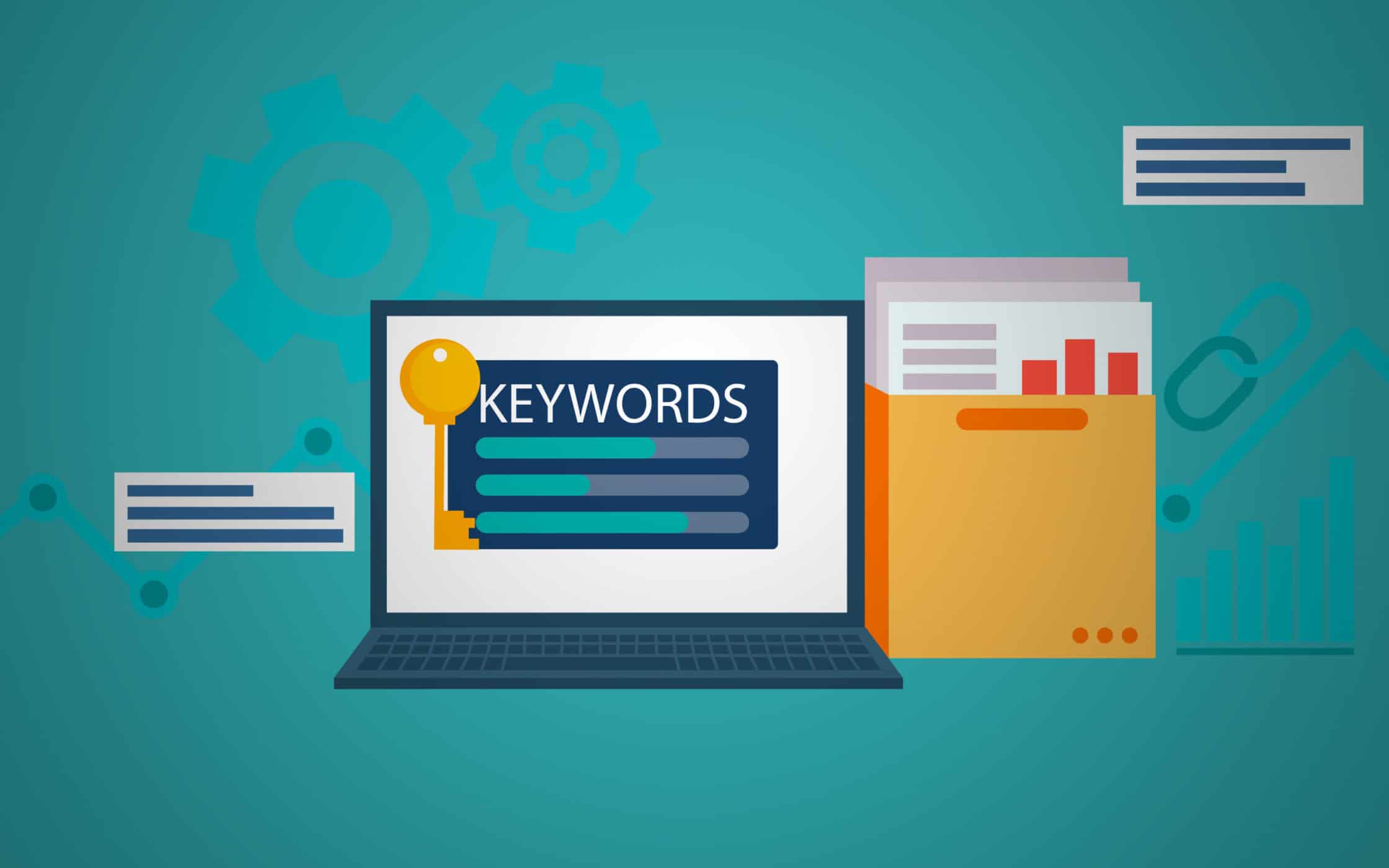 Why competitor research matters for your keywords
So, why is competitor keyword analysis so critical?
Why can't you just march to the beat of your own drum and choose keywords based on what you know about your audience?
You can – to some extent. Effective keyword research requires a close evaluation of your brand identity, your target customer and your chosen industry. However, competitor keyword analysis gives you an additional string in your bow when you're building your online presence. If you can understand the competitive landscape for your keywords, then you'll be able to see how difficult it's going to be to rank for certain terms and figure out where you should be spending your time and budget.
More importantly, a comprehensive strategy for competitor keyword research will also introduce you to opportunity gaps in your niche. This means that you can see which keywords have high intent levels but haven't yet been captured by your competition. For instance, you might discover that you can become the leading authority on "local social media marketing" because everyone else is focusing on global presence.
Other benefits of competitor keyword research include:
Opportunities to remodel your content strategy: Once you find out which keywords your competitors aren't taking advantage of, you can remodel your content strategy to cover new topics and attract niche customers.
Support your PPC strategies: As well as giving you inspiration for your content marketing campaigns, competitor keyword analysis will also help you to find keywords that you can use for your pay-per-click strategies and gain a strong ROI with.
Discover secondary keyword opportunities: Strong competitor keyword research gives some excellent insights into secondary keywords that you might not have considered for your campaigns before. This will help you to build out a more complete SEO strategy.
A competitor keyword analysis is incredibly helpful in helping you to fine-tune your marketing plans, make the most out of your budget, and create more effective SEO campaigns.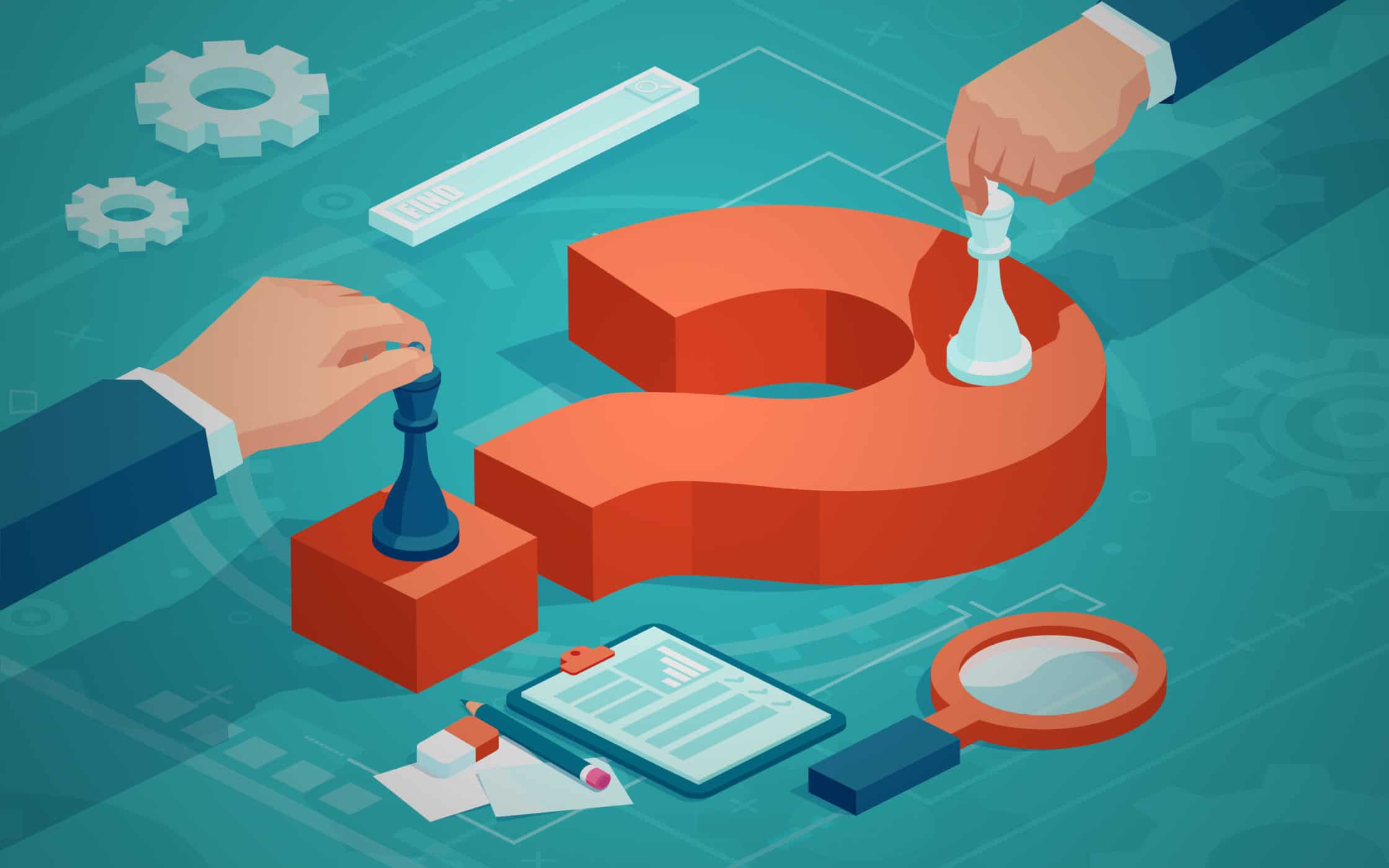 How to conduct an effective competitor keyword analysis
Now you know what competitor keyword research is, and why it's so valuable to your company, it's time to start planning how you're going to use this kind of analysis to your advantage.
While good SEO is vital for today's online businesses, it's often difficult to get your strategy right – particularly when you're a beginner. Competitor analysis will give you a good starting point that you can use to start building a campaign that works for your brand.
Here are some of the steps you'll need to take to get started.
1. Audit your own website
Before you can compare yourself to any other company, you need to know which short and long-tail keywords you're already ranking for. A service like Google AdWords will help you to see what kind of pages are generating the most attention for your website, and which keywords you've been successful with so far. You can also use your internal analysis to find out which keywords you need to work harder at ranking for in the future.
Identifying your strengths and weaknesses when it comes to keyword rankings will give you a good insight into the amount of work that you're going to need to do to reach your SEO goals. Remember, it's also worth doing some research into the competitiveness of the words you're trying to rank for too. Tools like SEMrush and the Google Search Console will give you an overview of things like keyword competition and search intent.
2. Identify your competition
Once you know where you stand in regards to keyword and SEO impact, you can begin to figure out who your biggest competitors are. At this point, you don't need to worry about looking at every business that sells a similar product and service to you. Instead, you're going to be focusing on the companies that already have a stake in the keywords and phrases that you want to rank for.
One of the best tools for identifying your competition is BuzzSumo. With this tool, you can simply enter the keywords or phrases that you want to rank for into a search bar and find the companies that are already ranking for those terms. Make a list of your major competitors so that you can analyse them more fully later.
3. Analyse your competition's ranking
Your research will hopefully give you a list of five to ten competitors in your industry that is ranking for the kind of terms that you want people to use when they're searching for you. Now that you have that list, the next step is to look for keywords that those competitors are ranking for that you're not. Using Ahrefs or SEMrush, access the Keyword Gap tool to find areas that you might have forgotten to cover with your content strategy. This will give you a list of topics to cover when you're coming up with blog, podcast, or video ideas for your website.
Conducting a full keyword gap analysis will also help you to track down things that you're ranking for that your competitors aren't. This could help you to determine where you should be spending more of your time if you want to stand out or appeal to a more specific audience.
4. Start working on your rankings
With your list of keywords in mind, think about which words and phrases are likely to attract the most customers and dedicated audience members in the future. This is your chance to look at your user personas and think carefully about what attracts people to your website. There's a good chance that you won't be able to beat your competition with every keyword that's related to your industry, which means that you're going to have to be selective about what you want to rank for.
Choose a range of "head" or seed keywords that you can use to build content pillars from. This means that if you want to rank for something like social media marketing, then you might also need to create content that helps you to rank for:
Social media marketing tips.
Social media marketing guide.
SMM strategies.
Social media marketing expertise.
Social media marketing guidelines.
And so on. With your keywords in mind, you can begin building a framework for future content creation, starting with the keyword gaps that you identified above, the cluster that they belong to, and the different content types that you want to create. For instance, you might want to build blog posts, cornerstone pieces, guides, landing pages and more for each keyword cluster.
5. Commit to long-term growth
Finally, remember that you're not going to achieve incredible results overnight. Succeeding with your keyword strategy is going to take a lot of time and effort. You'll need to build out a full content strategy and convince your audience that you're the thought leader on specific topics. Simply using keywords and phrases as often as possible in your content won't help you to rank in the current SEO environment. You'll need to use everything from your blogs to your podcasts and videos to convince your audience that you're the go-to resource for a certain topic.
As you continue to work on your content strategy and fill the gaps in your keyword strategy, you might find that other aspects of your SEO campaign begin to improve too. For instance, you might attract more engagement from your audience in the form of comments and feedback, or you might encourage authoritative websites to link back to you from their blogs.
6 amazing competitor keyword research tools
Clearly, there are benefits to watching your competition.
While you don't want to lose your unique identity by trying to be too similar to your competition, a regular analysis of other brands in your industry gives you a lot of opportunities for growth.
Competitor keyword research also ensures that you know how to capture the attention of the search engines when you're trying to enhance your position online.
The only problem?
Conducting this kind of research can be a time-consuming and exhausting process. Manually searching through each of your competitor's websites and looking for evidence of the keywords that they're trying to rank for could take weeks, even months. That's why there are competitor keyword research tools to help you out.
Here are some of the services that you can use to accelerate your research.
1. The Google Keyword Planner tool
Many businesses, large and small rely on the Google Keyword Planner tool for help finding the right words to target on their websites. However, did you know that you can also access Google to learn more about your competition too? Once you log into your Google admin account, select the option to search for new keywords using "a phrase, website or category".
Enter the website URL of the competitor that you want to analyse, then click on "Get Ideas". Google will generate a list of competitor terms for you quickly and easily. What's more, the tool is completely free to use!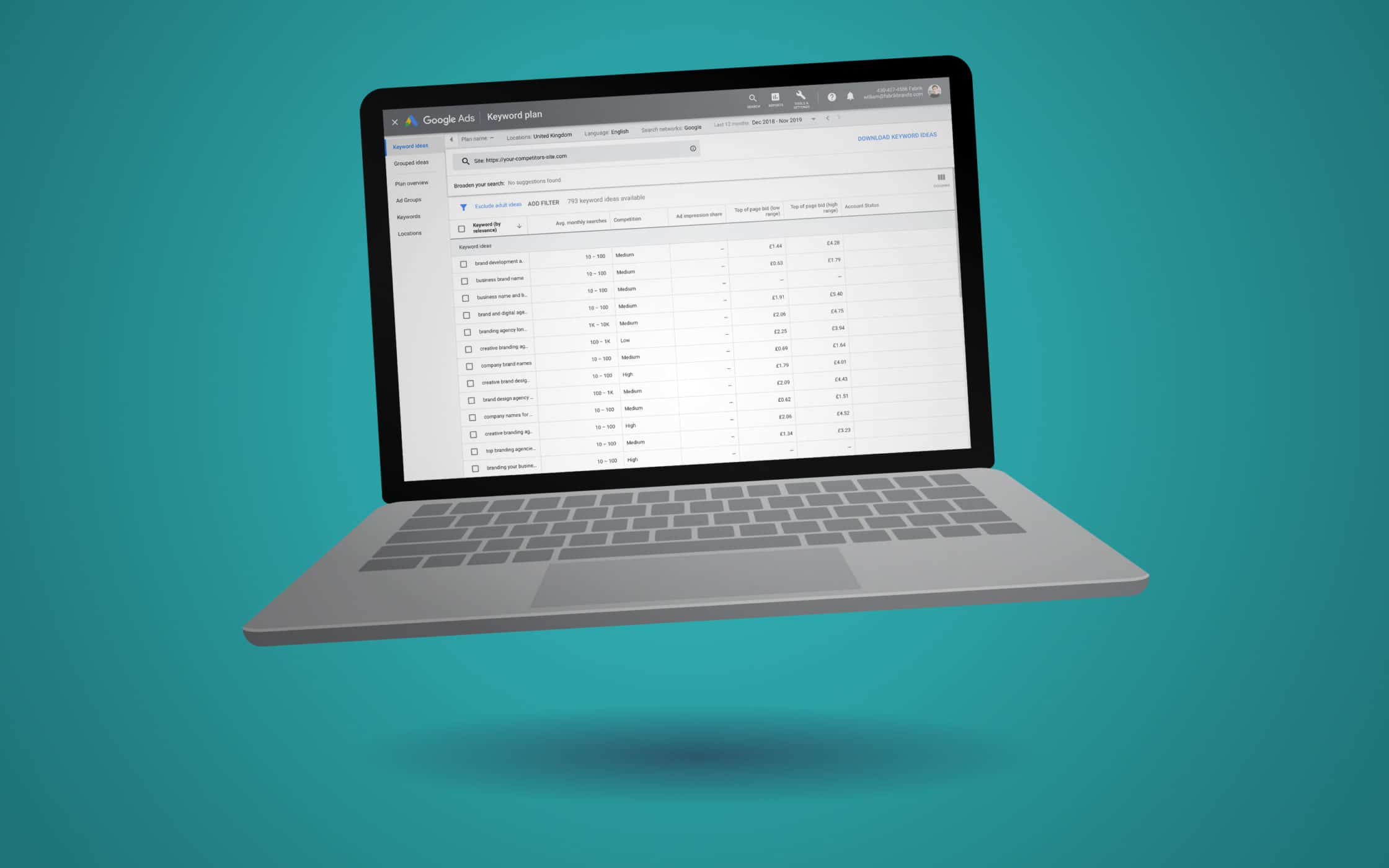 2. SEMRush
SEMRush is one of the world leaders in competitor keyword analysis. It comes with an immersive organic keyword research tool which highlights the ranking of jut about any domain. All you need to do is input the website of your competitor and collect information from the list provided by SEMrush. Not only do you get useful insights into ranking potential, but you can also see the URL that ranks for each keyword term. This can be very helpful in helping you to figure out what kind of content you need to produce to get ahead of the competition.
SEMRush gives some of the most advanced analytics available for people who want to make the most out of keyword research, and there's a 7-day free trial available too.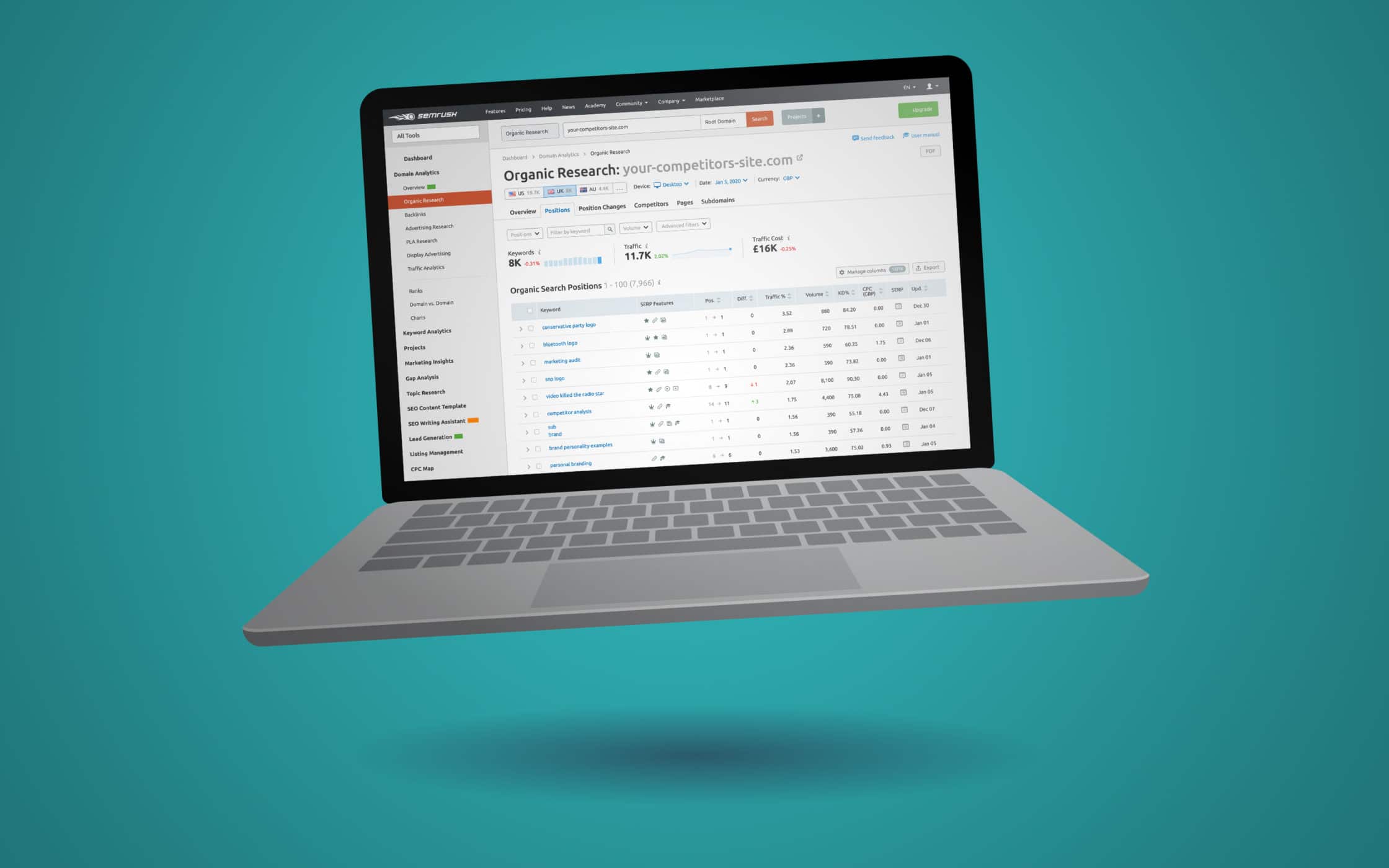 3. SE Ranking
Another excellent choice if you're trying to find gaps for growth in your industry, SE Ranking helps with competitor keyword analysis. There's a huge database to search through, with more than 3 billion keywords from across 68 countries, and SE ranking converts that data into helpful lists to guide your SEO strategy. You can compare your content to your competitors and pinpoint missed keyword opportunities, and chances to ranking. 
SE Ranking also offers useful market insights through keyword ranking data and gives you the power to make informed decisions about your organic and paid advertising strategies. The company has also just released an update that allows you to access historical data on domains and keywords, going back to 2020. Such data comes in handy for deeper niche analysis and seeing a bigger picture of a new project you're about to hop on.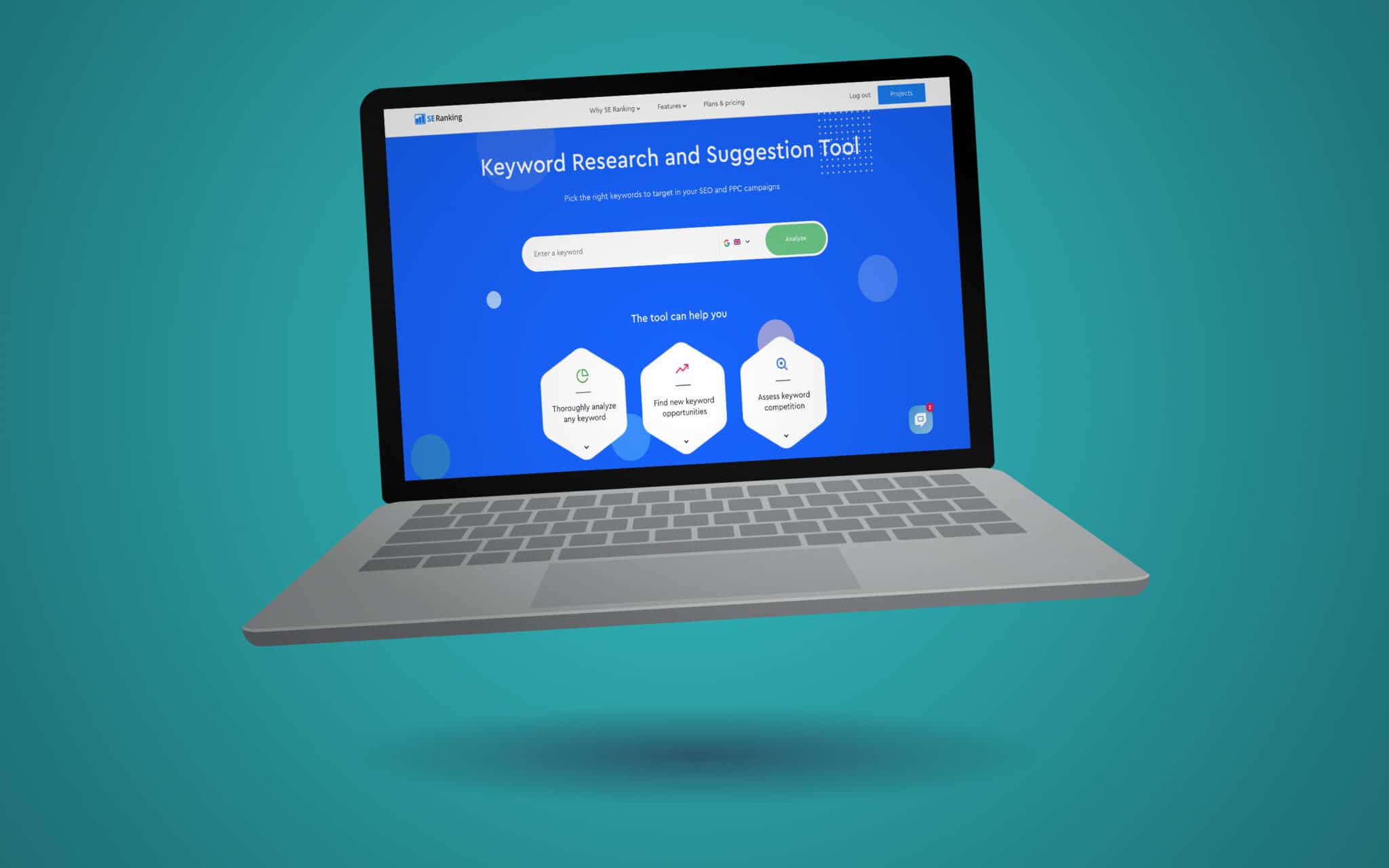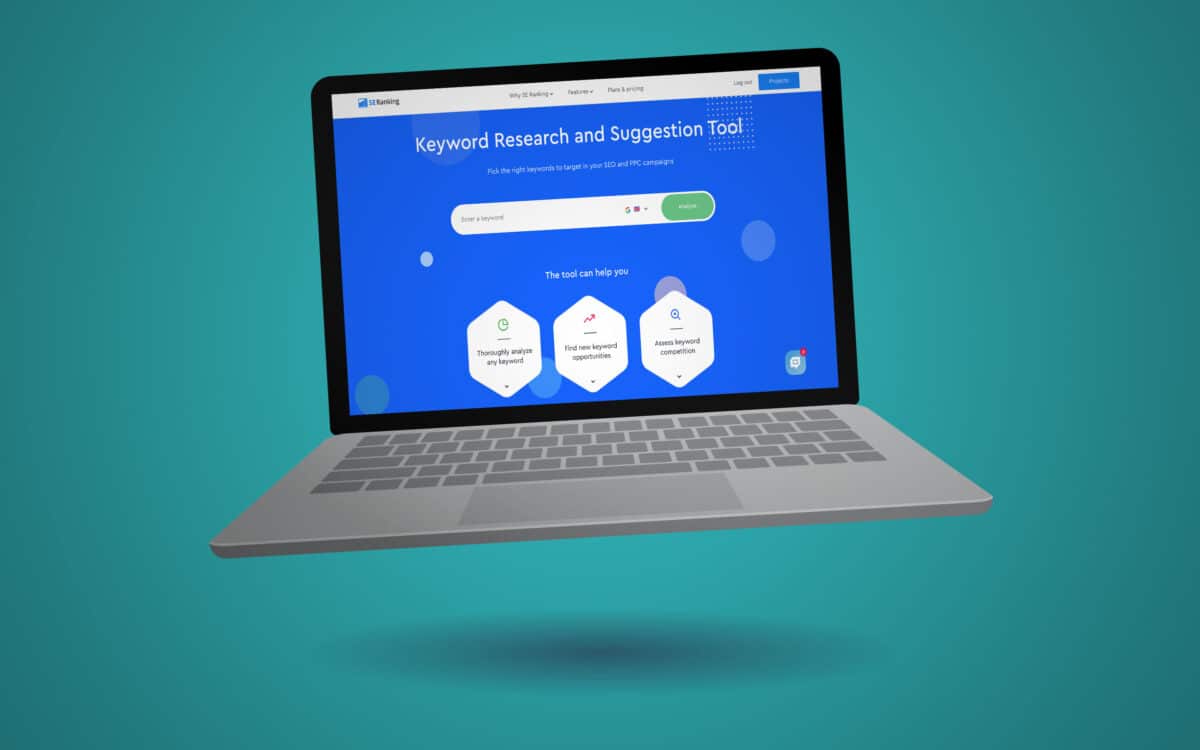 4. SpyFu
SpyFu is a competitor keyword research tool that's all about helping you to spy on the competition. With this tool, you can get a complete overview of your competitor's most competitive search terms. What's more, SpyFu comes with a number of other useful features too – like the option to check competitor backlinks.
Enter your competitor's URL into the search box provided on the SpyFu website and download their keywords into a spreadsheet. You'll be able to see things like the estimated monthly clicks generated by your competitors, and their top organic competitors too. SpyFu is an excellent service for people who want to go beyond basic competitor keyword analysis for a deep dive into the keyword strategies of other brands.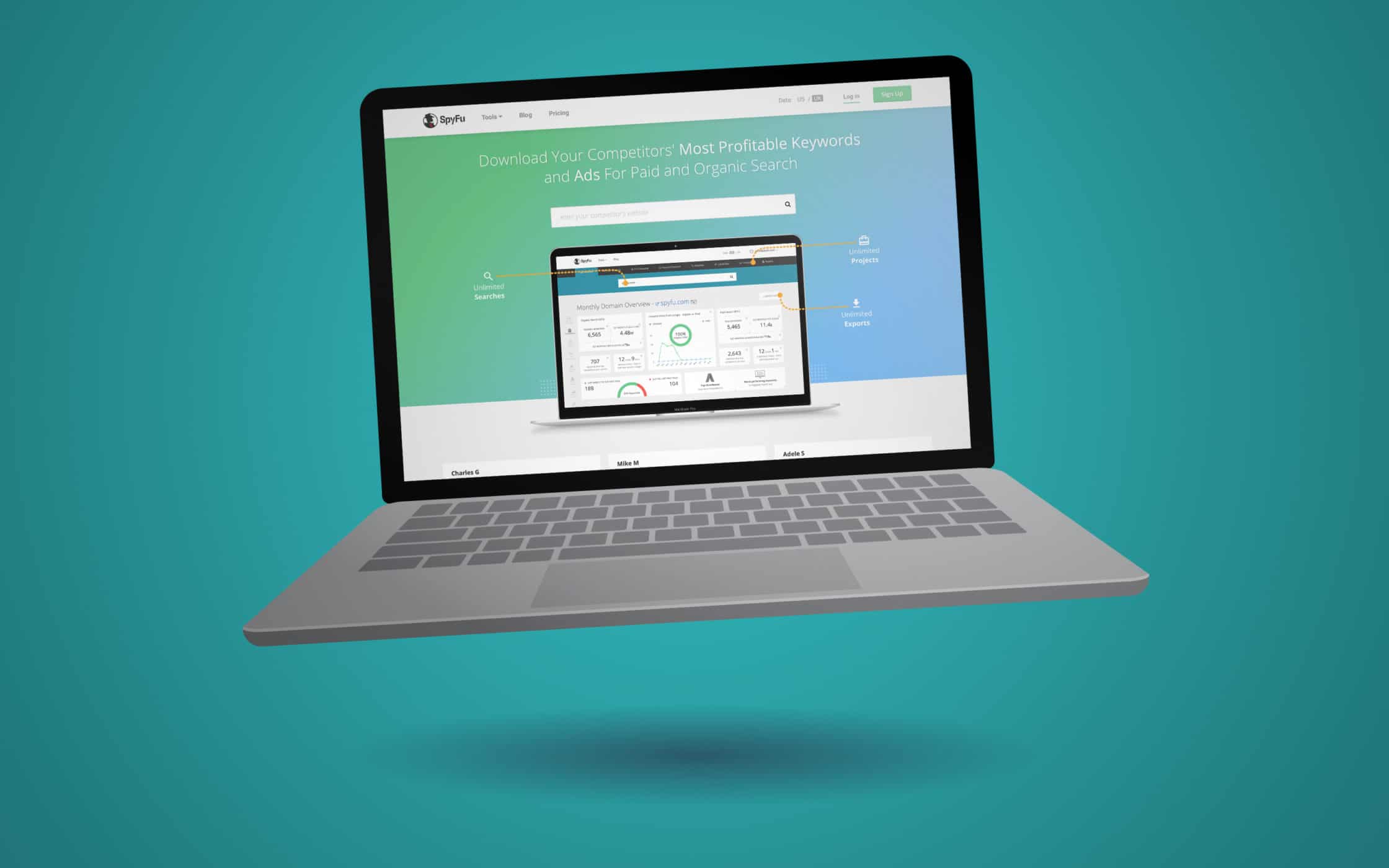 5. Keyword Spy
Similar to SpyFu, Keyword Spy is a popular tool for conducting competitor keyword analysis in the modern landscape. The data you get from this software is insightful and accurate, and the reports are easy-to-understand too. Once you run a search on a competitor's URL, you'll get a complete overview on relevant data like keywords, PPC statistics, and even organic keyword strategies too.
Though Keyword Spy isn't the most robust service on the market for keyword research, it is one of the easiest to use – making it excellent for beginners. If you want more than you can get from Google, but you're not ready for SpyFu yet, this could be the tool for you.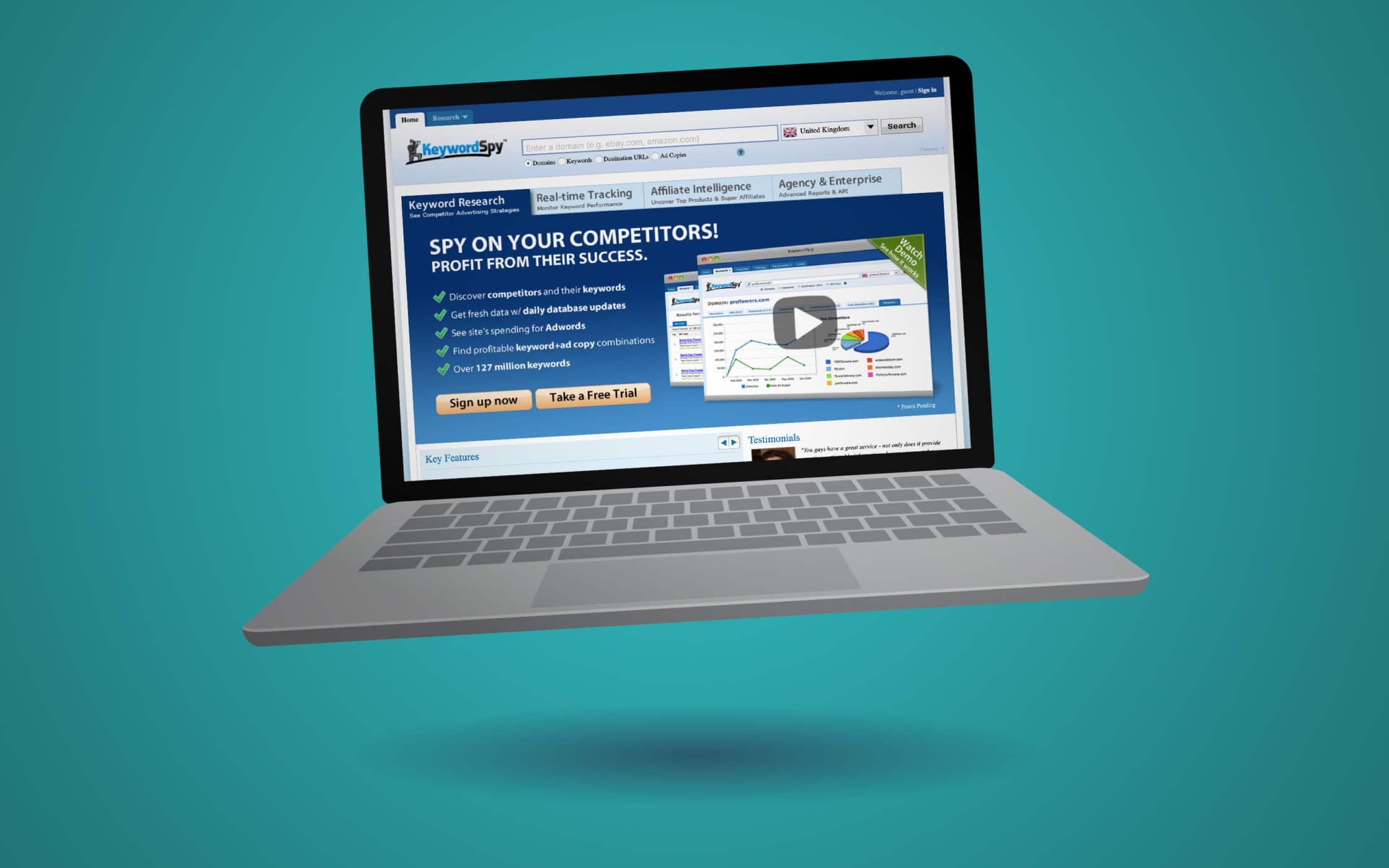 6. BuzzSumo
BuzzSumo is one of the more popular tools in the competitor keyword analysis environments today. This software brings a unique twist to the analysis process, by allowing you to look at things from a social and "trending" perspective. Basically, you get to see which websites are ranking highest for which keywords.
BuzzSumo is particularly useful if you need help figuring out who your main competitors are for certain terms before you start producing new content for your site. Using BuzzSumo, you can start your content plan by thinking about which keywords matter most to you, then coming up with a plan to out-rank your biggest competitors.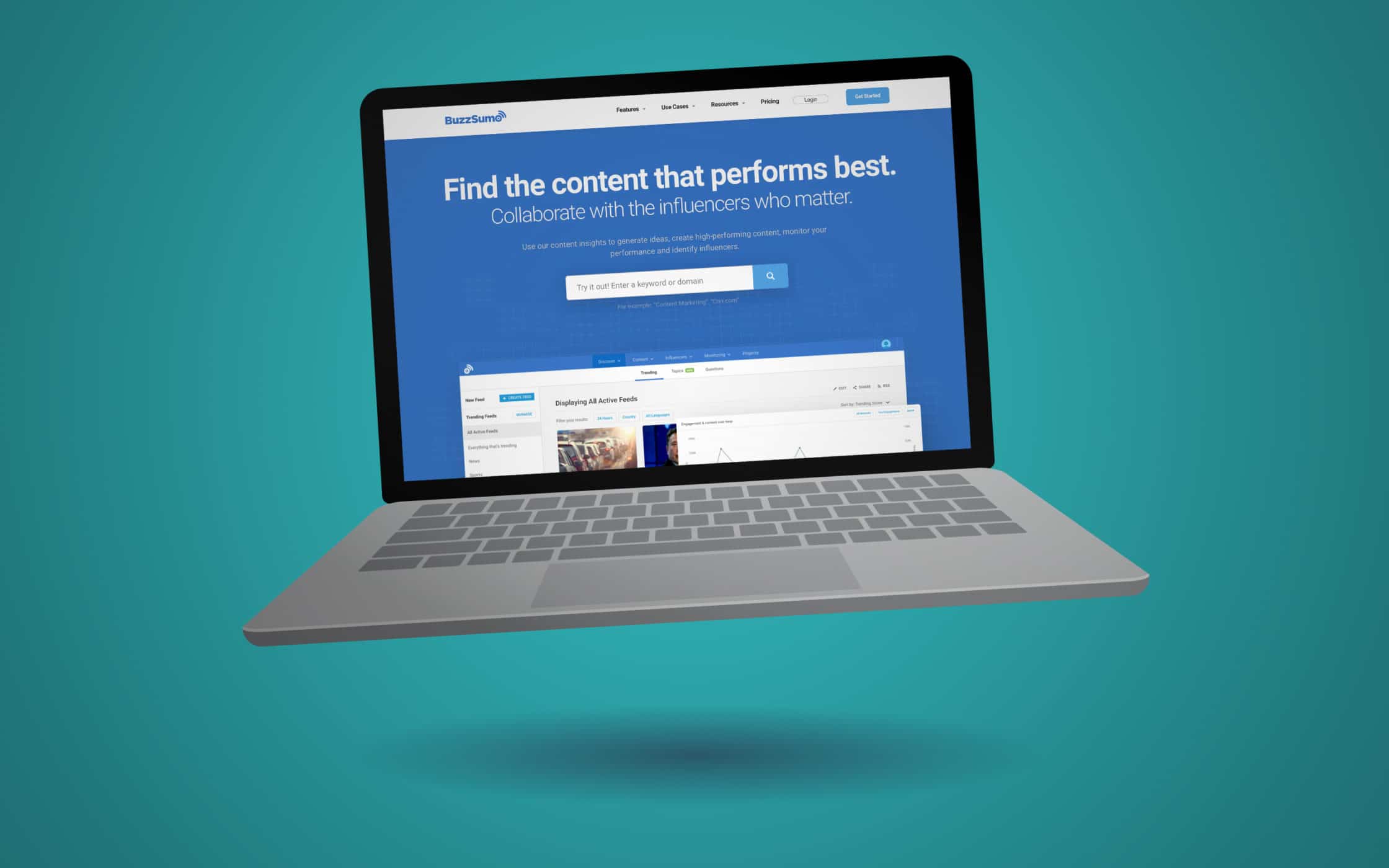 If none of the top competitor keyword analysis tools we mentioned above appeal to you, keep in mind that new software options are appearing on the market all of the time. The tools that appeal to you will often depend on both your budgets and your unique requirements. Consider alternatives like:
Tips for using your competitor keywords
Competitor keyword research isn't just about trying to beat the competition or perform better than them for all the terms that they want to rank for. It's about using what you learn from your competitors to inform your own strategy for SEO success.
A thorough competitor keyword analysis will highlight opportunities that you can take advantage of to get ahead of other businesses in your space. However, it will also draw attention to weaknesses that you might have overlooked in your own keyword strategy.
Once you've completed your competitor keyword research:
Use crucial terms for competitive benchmarking: Ensure that you constantly check how you're stacking up to other leading companies in your industry. This can be a very useful strategy over time, particularly if you need to figure out how well you're growing in your chosen marketplace.
Look for gaps in your content and keyword portfolio: Use the information you learn about your competitors and your keyword strategy to inspire you to target new terms and develop appropriate content for your audience. This will boost your chances of appealing to your audience with all the information they need.
Set up Google alerts: Set up alerts for crucial keywords that you want to rank for so you can keep an eye on both your progress and how other companies are getting ahead of you. Google Alerts help you to track your competitor's movements and make sure that you're not falling behind with your campaigns.
Constantly search for new competitors: Remember that new businesses are launching websites online all of the time. Searching for new competitors will allow you to update your research and gain new inspiration from other brands.
Start by targeting weak competitors and work your way up: Don't push yourself to try and accomplish too much too fast. Set goals for your SEO ranking strategy and work gradually towards becoming more present in the search engines for the phrases that you want people to associate with your brand.
Competitor keyword analysis is just one component of a comprehensive and ongoing SEO strategy. By combining your own keyword strategies with the insights that you gain from the competition, you can give yourself a crucial advantage. The more you know about your competition and the tactics that they're using to stand out in the Google results pages, the easier it is to find your own place in the digital world.
If you enjoyed this article, you might enjoy these too:
— Keyword research: The key to unlocking your SEO
— Audit checklist: Optimisation from the inside out
— Making your mark: How to find a profitable niche