The 19 best and most popular yoga brand logos to inspire your own designs and ideas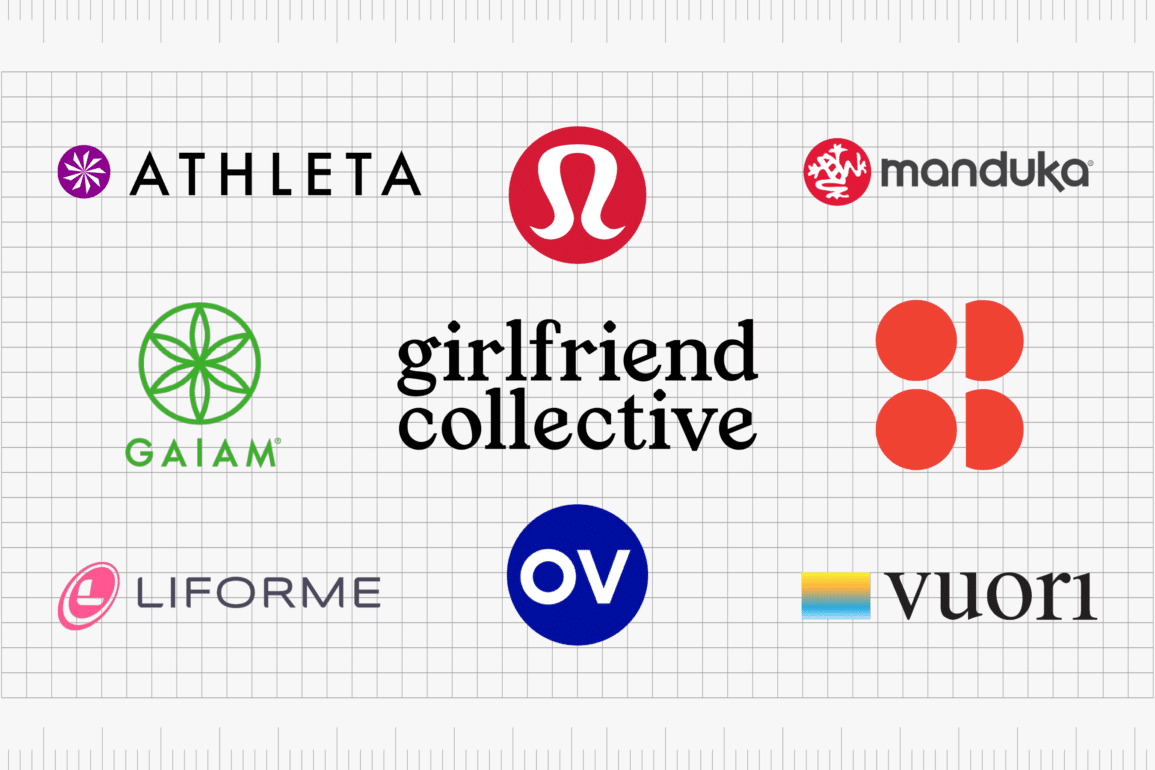 How many popular yoga brand logos are you familiar with? Even if you're not a practicing yogi yourself, there's a good chance you're aware of a few well-known brands, from Lululemon, to Girlfriend Collective. After all, these companies have achieved incredible growth lately.
Demand for yoga lessons, products, and yoga clothing brands is higher than ever now that consumers are more invested in their mental and physical health. Since the pandemic in particular, yoga has emerged as one of the world's most popular activities.
Not only is it an easy way to improve your balance, endurance, and physical fitness, but it's an excellent way to reduce stress, anxiety, and even depression.
What's more, yoga clothing brands even appeal to consumers who don't practice yoga themselves. Activewear trends have increased the demand for yoga pants and similar clothing items, leading to new revenue opportunities for growing companies.
Whether you're interested in the yoga revolution, or you need inspiration for your own brand, this list of yoga brand logos and companies is sure to enlighten you.
The rising popularity of yoga brands
Yoga is far from a new concept. Some experts believe Yoga's origins can be traced back more than 5,000 years, to spiritual practices described in ancient Indian texts. However, there's no denying that interest in yoga has increased in recent years.
According to some reports, more than 36 million people practice yoga in the US, and there may be over 300 million active participants worldwide. So why have yoga classes and yoga products become such a common part of the modern athletic world?
The answer depends on who you ask. First, it's worth acknowledging there are numerous benefits to practicing yoga. No matter what type of yoga you explore (from hot yoga to traditional yoga), you can improve your flexibility, endurance, and mental health, while promoting relaxation.
Yoga is a fantastic way to enhance circulation, minimize stress, and improve balance. Plus, it's one of the most accessible "sports" available. You don't need to be a long-distance runner or athlete to start investing in yoga. Anyone can start with a few basic moves a day.
Much of yoga's popularity can also be tied to the cultural changes created by the pandemic. According to Fortune Business Insights, the global yoga clothing market is set to reach a value of $46.67 billion in 2030, thanks to increased shopping after the pandemic.
During the pandemic, consumers became more interested in preserving their physical and mental health, but couldn't access the gyms and health centers they used previously. Yoga emerged as a popular and simple way to exercise from home, appealing to people of all fitness levels.
It also helps that yoga has become a popular trend among influencers and celebrities. Countless well-known figures frequently post content about their favorite yoga mats, share yoga classes online, and champion the benefits of the practice to their followers.
The 19 most popular yoga brand logos and companies
There are thousands of yoga companies and brands operating worldwide today. These include companies offering yoga classes and guidance, as well as yoga clothing brands. Today, we're looking specifically at the most popular yoga brand logos and companies from well-known organization.
Let's dive in.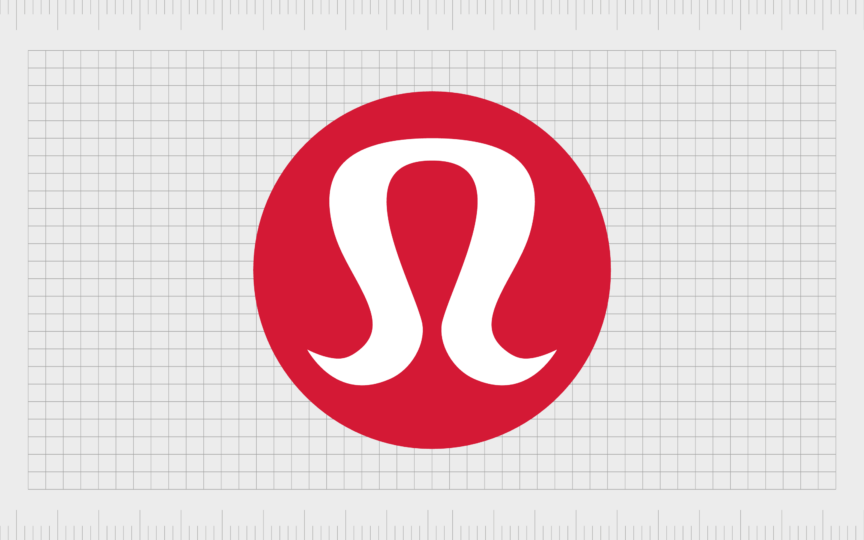 1. Lululemon
Launch date: 1998
Revenue: $8.11 billion
Probably the best-known of any of the yoga brand logos on this list comes from Lululemon. The Lululemon Athletica brand (affectionately known as Lulu") was first founded in 1998, by Chip Wilson.
The first standalone store opened in November 2000, and focused primarily on clothing.
Today, Lululemon is known for selling everything from yoga pants and yoga wear to athletic wear, lifestyle apparel, personal care products, and accessories. The name "Lululemon", interestingly, was chosen because Wilson believed it would sound "western" to Japanese buyers.
The Lululemon logo features the word "Lululemon" in lowercase font, and a circular badge in red, with a white curved shape inside. The shape looks a little like a stylized "A", a woman's face (with hair), or the Omega symbol. 
Find out more about the Lululemon logo here.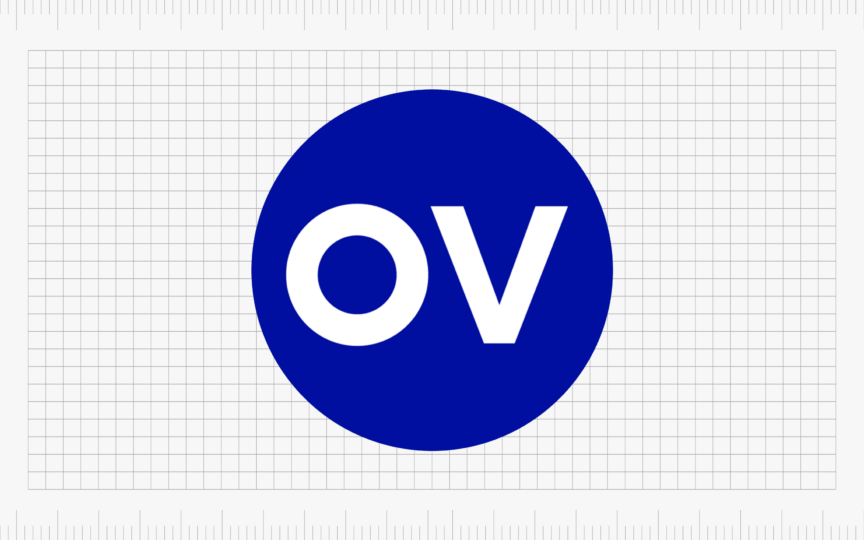 2. Outdoor Voices
Launch date: 2013
Revenue: $90 million
Another of the most popular yoga logos among consumers, Outdoor Voices, or "OV", is an American company focused on the sale of various kinds of athletic apparel. It was founded by Tyler Haney in 2013, who had a deep love of sports and athletics.
Outdoor Voices operates 18 stores across the United States, and also sells products through its website. The company's logo is relatively simple, sometimes featuring a wordmark in a basic sans-serif font, and other times using only a circular badge.
The circular badge, depicted in dark blue, features the letters "OV" in white, sans-serif font in the center. The colors are commonly associated with calmness and serenity.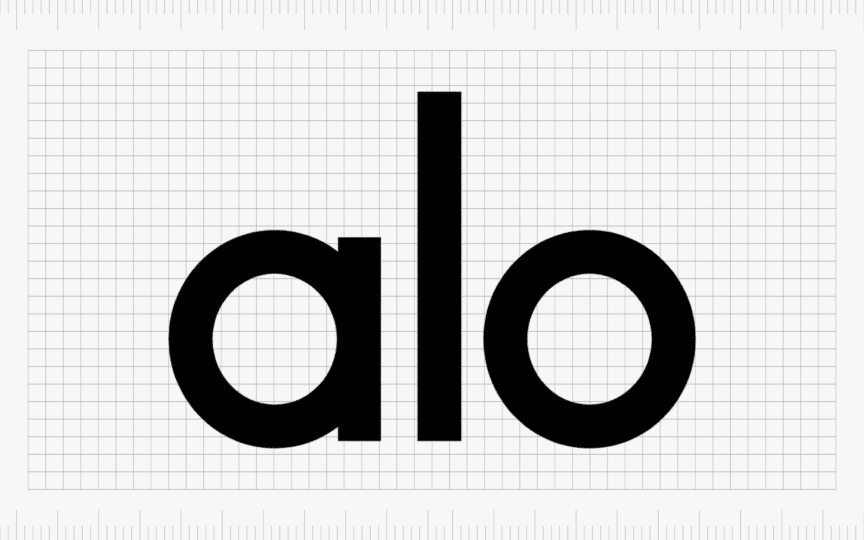 3. Alo Yoga
Launch date: 2007
Revenue: $274.1 million
Launched in Los Angeles in 2007, Alo Yoga was created to spread the value of yoga to consumers all over the globe. The company is known for its sustainable and modern clothing, designed to combine comfort and innovation.
Like many yoga brand logos, the symbol used by Alo Yoga is relatively straightforward. It sometimes includes the word "Yoga", but most commonly features the word "Alo" in lowercase font. Often, the inscription is presented in black on a white background, though this design is sometimes inverted.
The Alo yoga logo is straightforward, accessible, and modern. It appeals to a younger consumer base, and demonstrates the contemporary personality of the yoga company.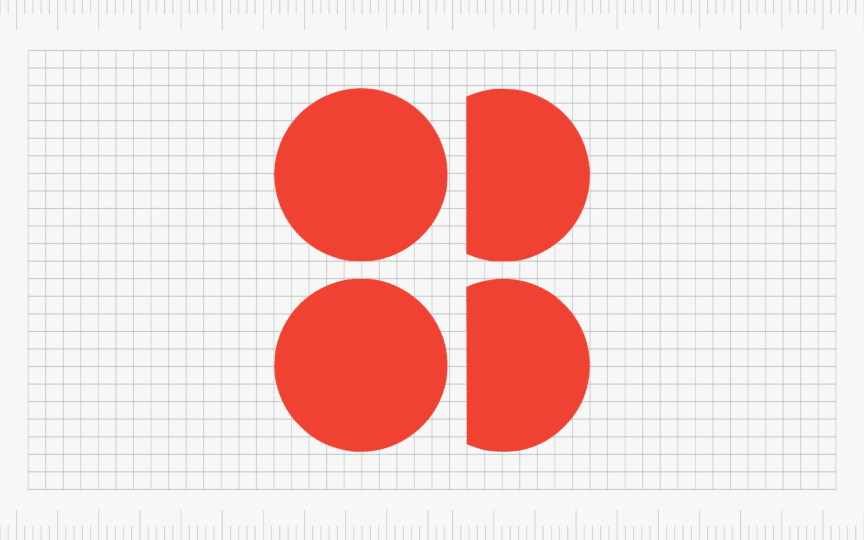 4. Sweaty Betty
Launch date: 1998
Revenue: $589.1 million
British retailer, Sweaty Betty was launched in 1998 as an activewear company focused on women's clothing. The brand has more than 50 boutiques located across the United Kingdom, as well as stores throughout the United States.
Notably, this company was named after a song with the same name, by a British band called the "Macc Lads". The company is best known for its comfortable and stylish clothing, as well as its colorful line of yoga leggings.
Sweaty Betty's logo is quite unique, featuring a series of four orange circles, with a line cutting the edge off the circles on the right-hand side.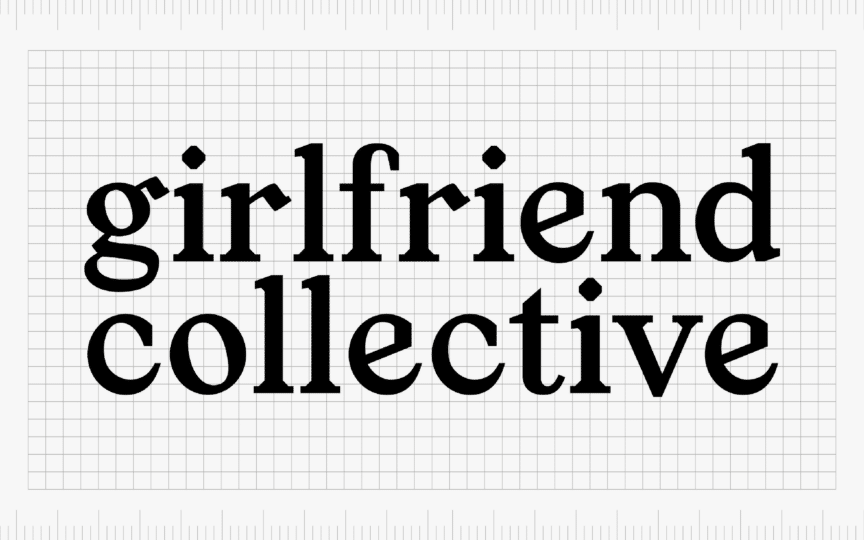 5. Girlfriend Collective
Launch date: 2016
Revenue: $30.7 million+
Popular among lovers of sustainable fashion brands, Girlfriend Collective launched into the yoga and activewear scene in 2016. It made a splash in the industry by offering customers leggings for free (you just had to pay for the shipping costs).
Since then, Girlfriend Collective has grown massively in the yoga apparel space, creating products for consumers of all shapes and sizes. The company's straightforward logo is a wordmark, featuring geometric shapes (like diamonds over the "I" characters).
Though the logo is relatively simple, it gives the company quite a sophisticated air, thanks to the use of a traditional serif font, and black and white coloring.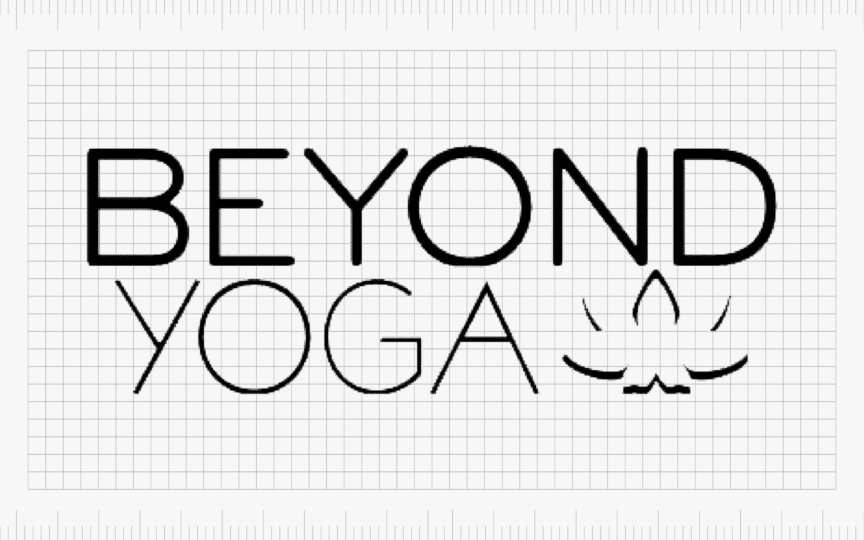 6. Beyond Yoga
Launch date: 2006
Revenue: $100 million+
Currently part of the Levi Strauss & Co family, Beyond Yoga first launched in 2006, promising responsibly made clothing for activewear fans. Based in Los Angeles, California, Beyond Yoga creates all of its clothing from sustainable materials, like organic cotton.
Beyond Yoga is a female-led yoga company, with a strong online presence and robust global following. The company uses a straightforward black and white logo, featuring its name in uppercase letters, in a sans-serif font.
The design is often accompanied by a lotus flower, which uses thick lines in certain areas to give the image a three-dimensional shape.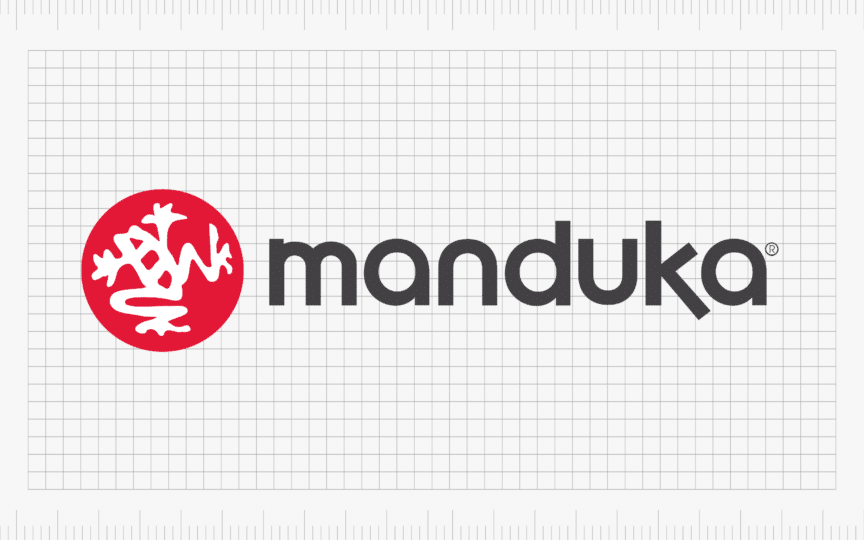 7. Manduka
Launch date: 1997
Revenue: $9.8 million
One of the most popular yoga brands among professional instructors and yogis, Manduka is best-known for its premium range of yoga mats and equipment. The company creates high quality towels, bags, apparel, and props, for all kinds of consumers.
The yoga business stands out from other competitors in its space with quite a unique logo. It features the name "Manduka" in all lowercase letters with sharp serifs, giving the company quite a modern brand identity.
The badge for the Manduka brand, placed on its products, features a tree frog silhouette, placed inside of a red circle. This connects the company to the natural world, and concepts like passion.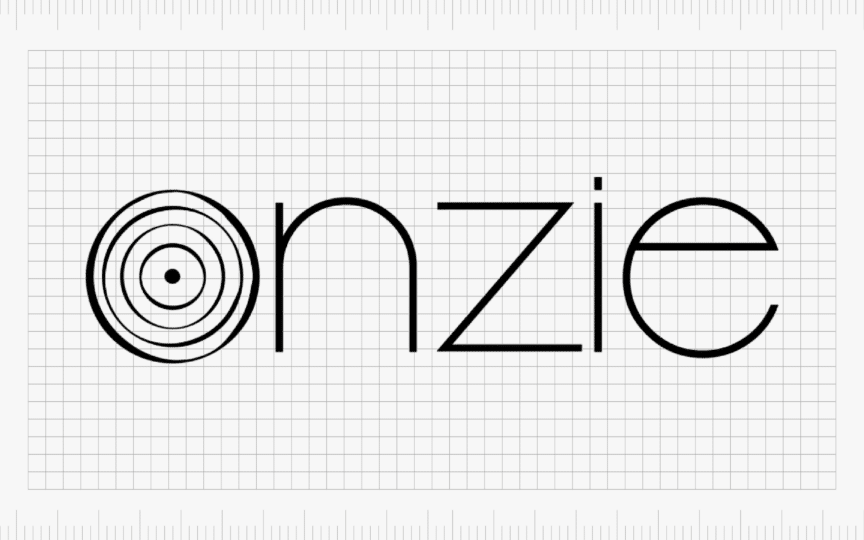 8. Onzie
Launch date: 2010
Revenue: $8.6 million
Though not quite as large as some of the other companies on this list, Onzie is quickly emerging as one of the most popular yoga brand logos worldwide. The female founded company is well-known for its colorful pairs of leggings and unique design styles.
Onzie has quite a broad target audience, appealing to yoga practitioners and everyday consumers in search of comfort. It also sells its products through a variety of online retailers, such as ASOS.
Onzie's logo conveys the creativity and fun nature of the brand. Alongside a simple typography choice, with sleek letters, there's a stylized letter "O" featuring a hand-drawn swirl.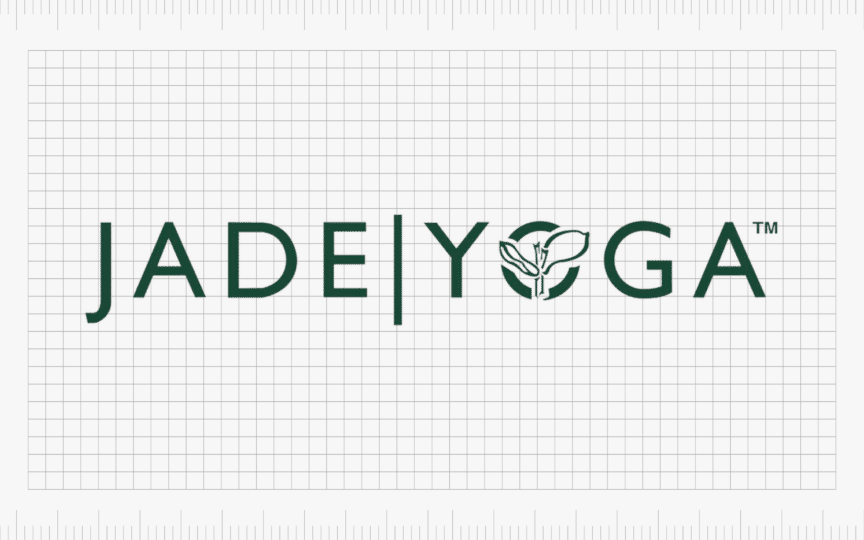 9. Jade Yoga
Launch date: 2002
Revenue: $5 million+
Another popular yoga brand appealing to eco-conscious shoppers, Jade Yoga is a company that specializes in high-quality yoga mats and accessories. The company promises premium quality and an affordable price range, and takes a sustainable approach to production.
Since its launch in 2002, the Jade Yoga logo has become synonymous with quality and environmental protection. The company is extremely popular among yoga instructor experts and professionals.
This company's logo is a little different to some of the other options on this list. It features the brand name, in a simple green font. Inside of the "O" of the Yoga, there's an image of a plant, helping to connect the brand to its sustainable values.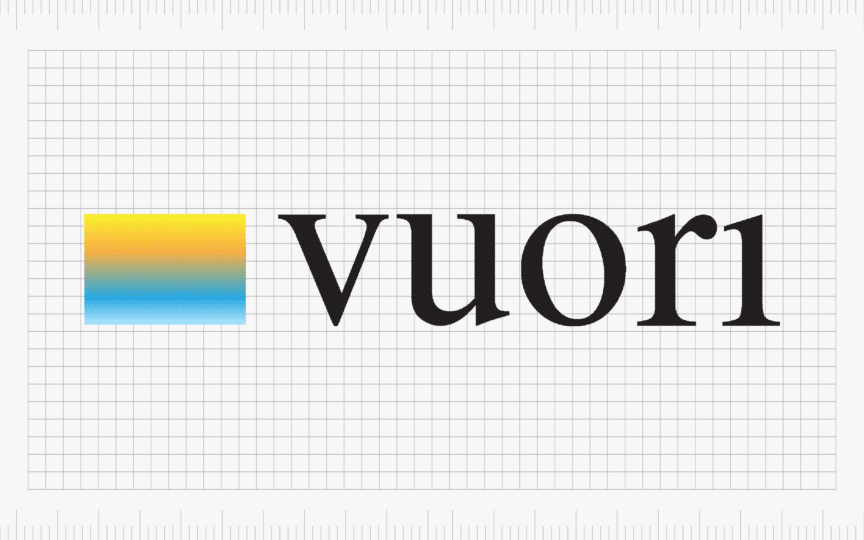 10. Vuori
Launch date: 2015
Revenue: $320.8 million
Though Vuori sells more than just yoga clothing and accessories, the yoga landscape is one of the brand's biggest focus areas. This company, launched in 2015, promises premium, high-quality products for a range of specific activities.
Consumers can find a range of men and women's activewear designed specifically for yoga, surfing, swimming, and more. Plus, all of the designs are inspired by the Cali coast.
The Vuori abstract logo takes inspiration from the luxury fashion landscape, featuring a serif inscription with sleek grey letters, accompanied by a gradient rectangle in the colors of yellow and blue. These shades represent the sun, sea, and sky.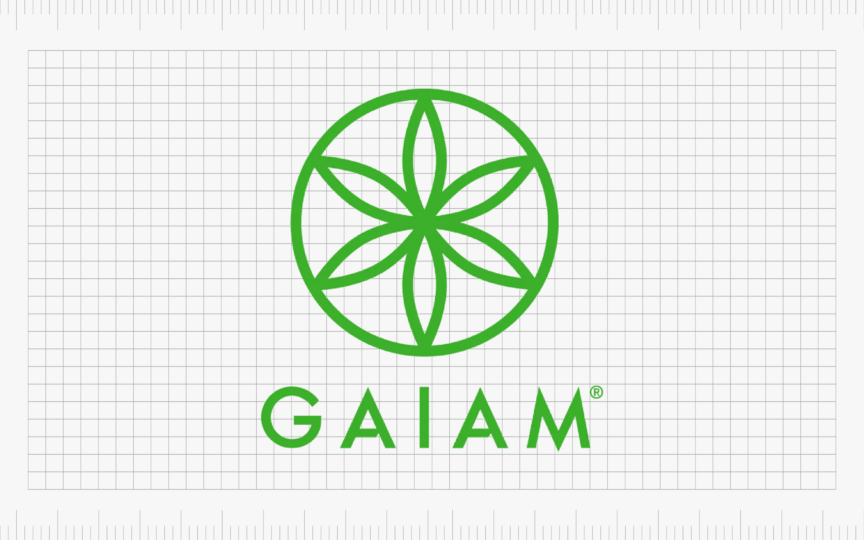 11. Gaiam
Launch date: Unknown
Revenue: $66.83 million
If you're looking for more affordable yoga accessories and clothing, then Gaiam could be the company for you. The brand name was inspired by the word "Gaia," the name for the Ancient Greek goddess, and the words "I am." According to the company, it means "I am the earth."
Gaiam is a sustainable yoga company, focused on health and wellness. It also has a massive distribution network, with more than 18,000 stores, and 38,000 retail locations.
The Gaiam logo includes the name of the company in uppercase, sans-serif letters, and a flower symbol inside of a green circle. The simple color palette and design connects the company to concepts of harmony and peace.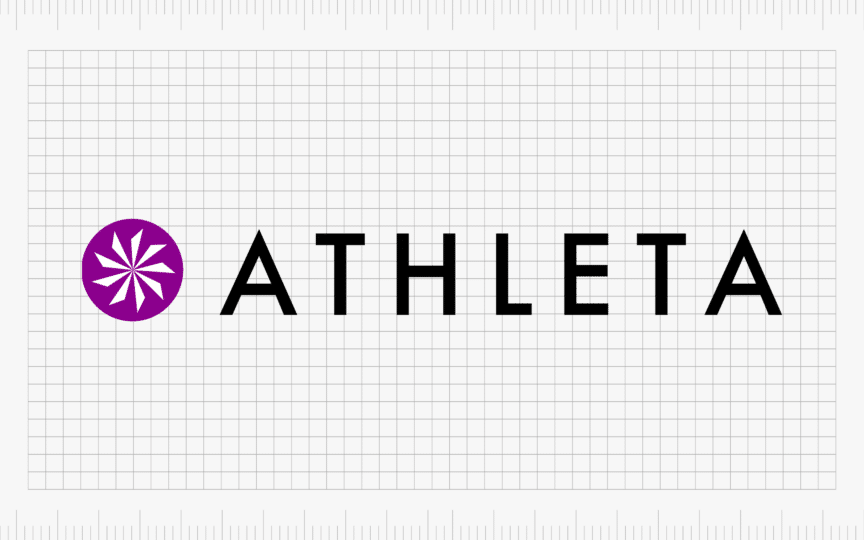 12. Athleta
Launch date: 1998
Revenue: $1.4 billion
Premium fitness and lifestyle brand Athleta has one of the most modern logos on this list. The company offers specialist yoga clothes and accessories, as well as a range of products for yoga teachers, athletes, and everyday consumers.
After launching in 1998, Athleta was purchased by the Gap company, which helped to accelerate its growth in regions around the world.
The Athleta logo includes a bold wordmark, written in black, sans-serif font, with all uppercase characters. Accompanying the inscription is a purple circle, with a flower graphic element in the center, featuring sharp petals.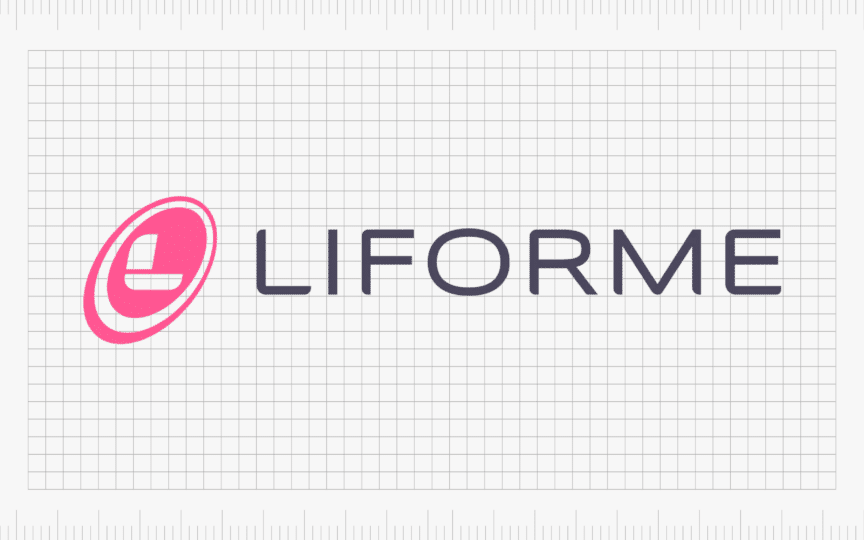 13. Liforme
Launch date: 2022
Revenue: $1.4 billion
Quickly emerging as one of the most popular yoga companies on this list, Liforme was introduced in 2022, and is best-known for selling high-performance yoga equipment. It specializes in unique alignment systems, and yoga mats, which are ethical, and biodegradable.
Compared to the other yoga brands on this list, Liforme has quite a modern emblem, with a sleek, sophisticated green inscription on the right, and a pink and white emblem on the left. The graphic element features clean lines, making up the shape of an "L."
Overall, this yoga logo aims to convey ideas of compassion, humanity, and modernity, with a unique combination of colors and shapes.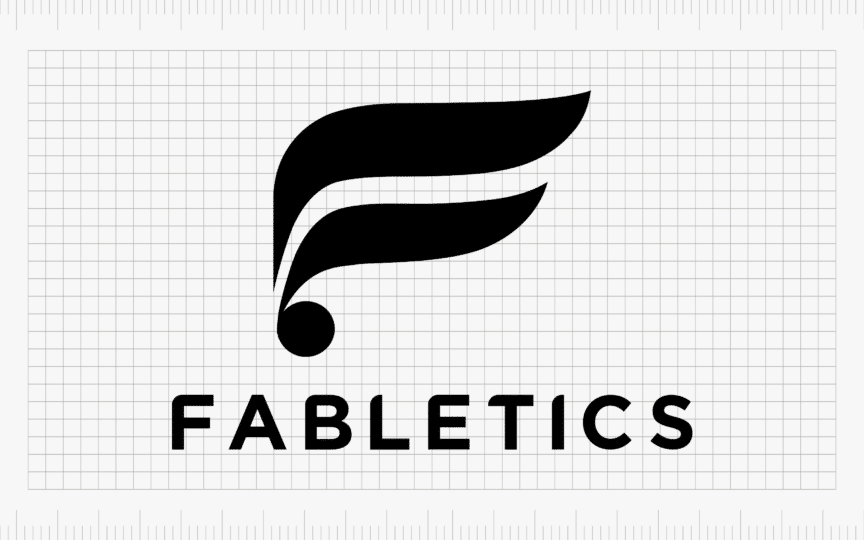 14. Fabletics
Launch date: 2013
Revenue: $500 million
Though Fabletics doesn't focus exclusively on yoga wear, it has increased its investment in the yoga landscape in recent years. The brand now competes directly with well-known and popular yoga brand logos, like Lululemon.
Since launching in 2013, Fabletics has introduced a variety of affordable activewear options, focusing on both male and female customers. It also has 85 brick and mortar stores around the world, as well as a robust ecommerce site.
The Fabletics logo features the name of the company, accompanied by a unique artistic design, that represents a pair of wings.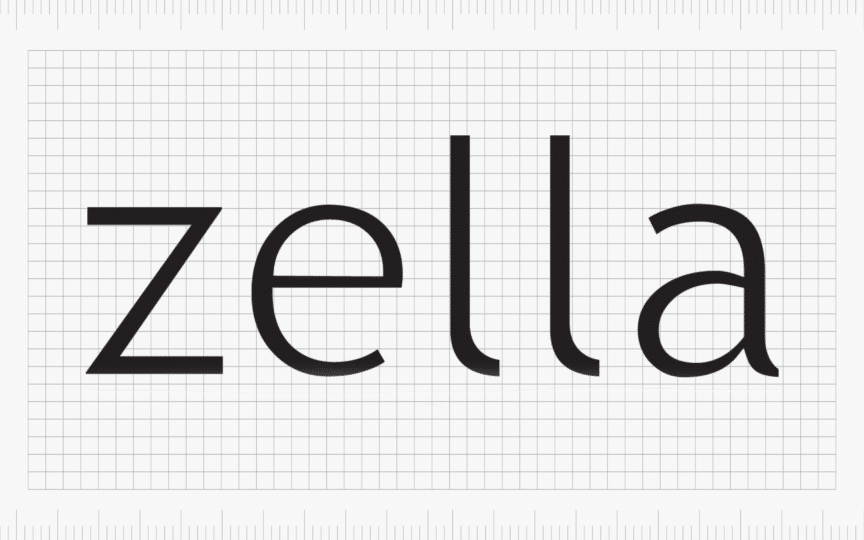 15. Zella
Launch date: 2007
Revenue: Unknown
A sub-brand of the Nordstrom Company, Zella is a unique activewear brand, committed to creating comfortable and practical activewear. The company's most popular product is its Zella brand leggings, which have captured the attention of yogis around the world.
More than just an activewear company, Zella commits to creating products that improve physical performance, while using high-quality ethical materials.
While Zella belongs to Nordstrom it has its own logo, featuring a simple black wordmark, in sans-serif font on a clean white background.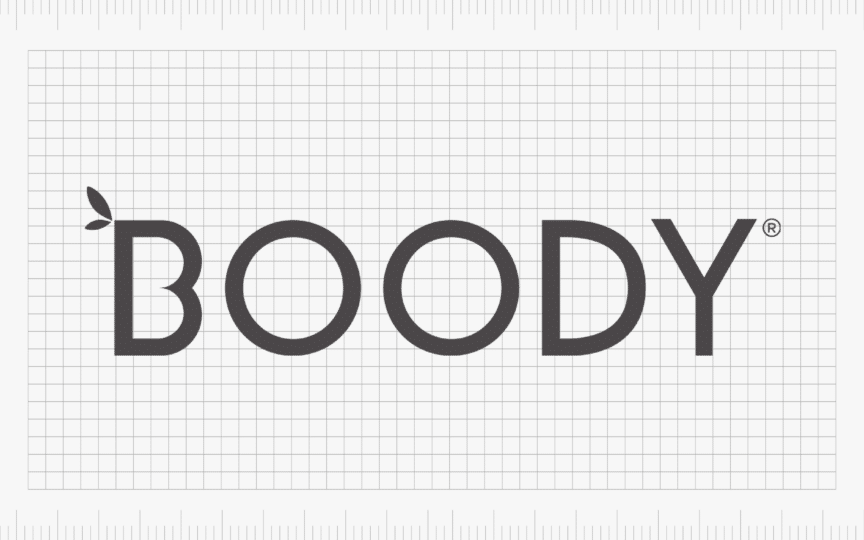 16. Boody
Launch date: 2011
Revenue: $5 million (estimated)
Boody is one of the top Australian yoga brands, with a growing presence worldwide. It was launched in Sydney in 2011, with the goal of delivering eco-friendly and affordable clothing to athletes everywhere. The company takes a unique approach to product creation.
For instance, most of the Boody clothing products are made from sustainable bamboo viscose. The brand also uses state-of-the-art machines to reduce waste, and never uses any pesticides.
The Boody logo is simple but attractive, featuring a sans-serif inscription in a soft shade of grey. On the top left edge of the letter "B" there are two leaves, referencing the company's sustainable approach to production.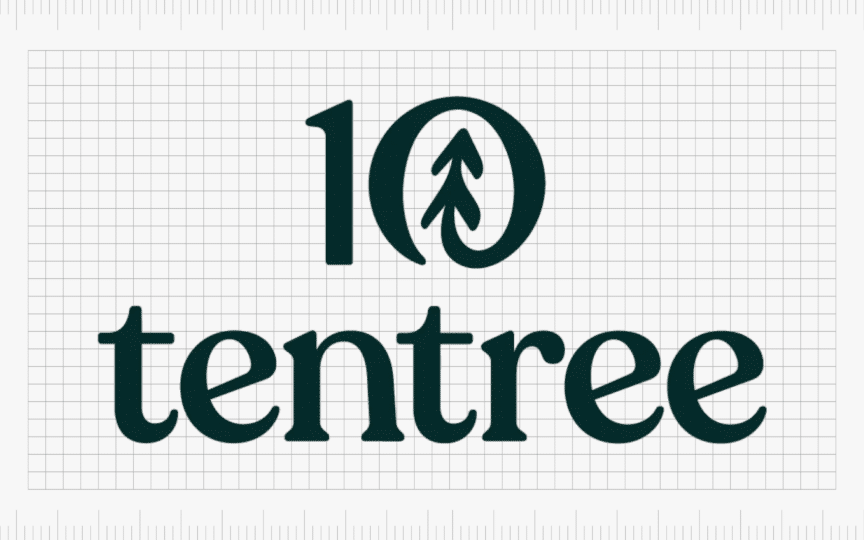 17. Tentree
Launch date: 2011
Revenue: $40.1 million (estimated)
Another of the most popular eco-conscious yoga clothing brands in the world today, Tentree started life in 2011, with an ambitious goal to not only create attractive yoga products and clothing, but also give something back to the environment.
The company sells products in regions all over the world, and even rewards customers for shopping, as well as allowing them to plant their own virtual tree forest.
Like many yoga brand logos, the Tentree emblem is a simple combination mark. It features the brand name in a sleek serif font (all in lowercase). Above this is the number "10", with a tree shape positioned in the inside of the "0".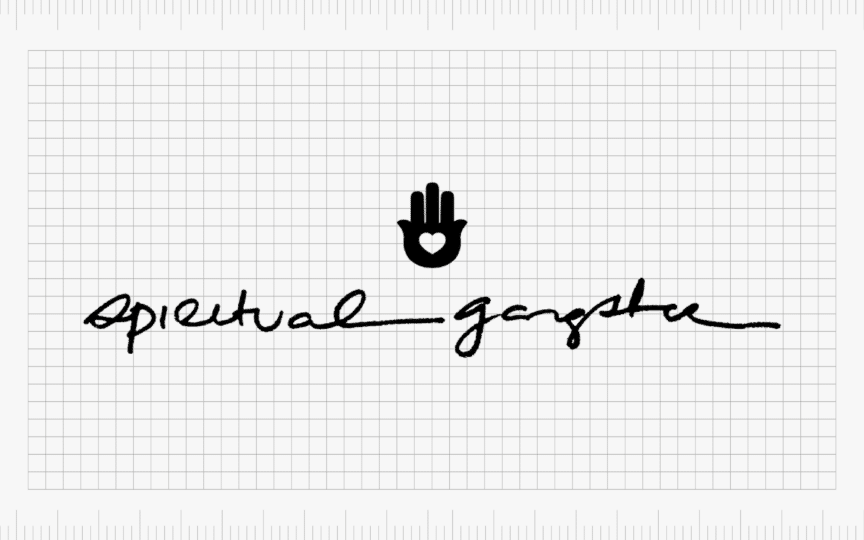 18. Spiritual Gangster
Launch date: 2011
Revenue: $690k
Though Spiritual Gangster might not earn as much revenue as some of the yoga companies on this list, it's quickly gaining a lot of attention worldwide. The company was created by a team of renowned yoga instructors, and designs a wide range of different types of clothing.
The company specializes in the creation of activewear clothing, as well as eco-friendly garments made with sustainable materials.
This yoga company's logo is quite interesting. It features a wordmark, designed to look like authentic handwriting, as well as a hand symbol with a heart in the middle.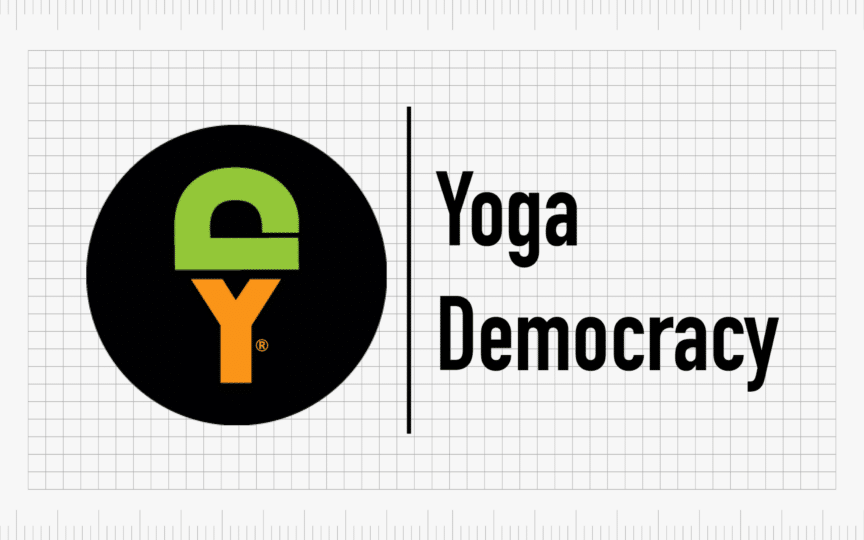 19. Yoga Democracy
Launch date: 2015
Revenue: $1 million (approximately)
Experts in eco-friendly and sustainable activewear, Yoga Democracy was launched in 2015, with a vision to create high-quality, and environmentally friendly garments. Many of the products produced by the brand are made from post-consumer recycled plastic.
Additionally, the company is well-known for its commitment to corporate social responsibility. The brand even gives 1% of all of its profits to nonprofit companies.
The modern yoga logo used by "YD", features the letters "YD" designed to look like a tree, in colors of green and orange, on a black circular background.
Quick tips for designing your own yoga logos
If you're inspired by the yoga brand logos mentioned above, you might be interested in creating your own yoga brand. Designing unique logos for the yoga industry can be tricky.
While many of these emblems feature the same elements, you'd expect to see on fitness logos or wellness logos, they all have their own unique elements.
Here are some quick tips to help you design a fantastic logo for your new venture:
Know your shapes
Evocative shapes are common in the yoga industry. Natural shapes like flowers (particularly lotus flowers), and leaves are common. But you can also experiment with clean lines, circles, mandalas, and even the om symbol.
Master color choices
Color psychology is important in any logo design process, but it's particularly crucial for yoga companies. Think carefully about what the colors you choose represent, such as green for nature, or blue for tranquility.
Keep it simple
The best logo will always be straightforward and versatile. Make sure the logos you create can work well when printed on a variety of products, and used online. Stick to simple, solid colors, and legible wordmarks where possible.
Consider fonts
Remember that your choice of typeface is crucial when coming up with great logo ideas. Handwritten fonts can seem endearing, but sans-serif fonts are often more modern and legible. Serif fonts are great for conveying ideas off sophistication.
Above all else, remember the best way to master the logo design process is to work with a professional. While there are many online yoga logo makers out there, most of these are only capable of generating generic images.
If you want your logo to stand out, you need to be willing to invest in the support of a design expert, who can help you convey your unique brand personality.
Learning from the best yoga brands and their logos
As you can see from all of the popular yoga brand logos and companies mentioned above, the brand images used by yoga companies can vary drastically. Every company takes its own unique approach to showcasing its values, personality, and spirit.
However, there are some commonalities between these logos worth mentioning too, such as minimalistic design elements, and evocative color palettes.
If you're inspired by the yoga logos and companies above, and you're ready to dive into the creation of your own yoga brand, don't underestimate the power of your logo. Connect with a logo design expert to create an image that resonates with, and enlightens your audience.
Fabrik: A branding agency for our times.