Virgin Media is one of the biggest, most well-known companies in the world, and there's a good reason for that. Not only does this quintessentially British brand know what it takes to capture the hearts and minds of its customers, but it's also a sub-brand of one of the most compelling companies in the world.
Perhaps one of the things that makes the Virgin Media brand so appealing, is the fact that it's an organisation designed specifically for the current era. In an age where everyone craves consistent internet connections, exceptional experiences, and on-demand entertainment, Virgin Media has learned how to deliver with incredible efficiency.
Today, Virgin Media is, without doubt, one of the biggest telecommunications and media companies in the UK. Emerging from the heart of the Virgin Group, this company is all about fun, disruption, and of course, getting to know its customers.
While Virgin Media might still compete with other big-name brands like BT and Sky when it comes to earning brand recognition, it has achieved something that no other entertainment brand has been able to manage – a consistent, and truly effective brand voice.
It's this unique personality, and one-of-a-kind approach to marketing that's prompted us to dive a little deeper into one of the many sub-brands in the Virgin portfolio, and discover a little more about the features that make this company so special.
Are you ready to go behind the scenes with Virgin Media?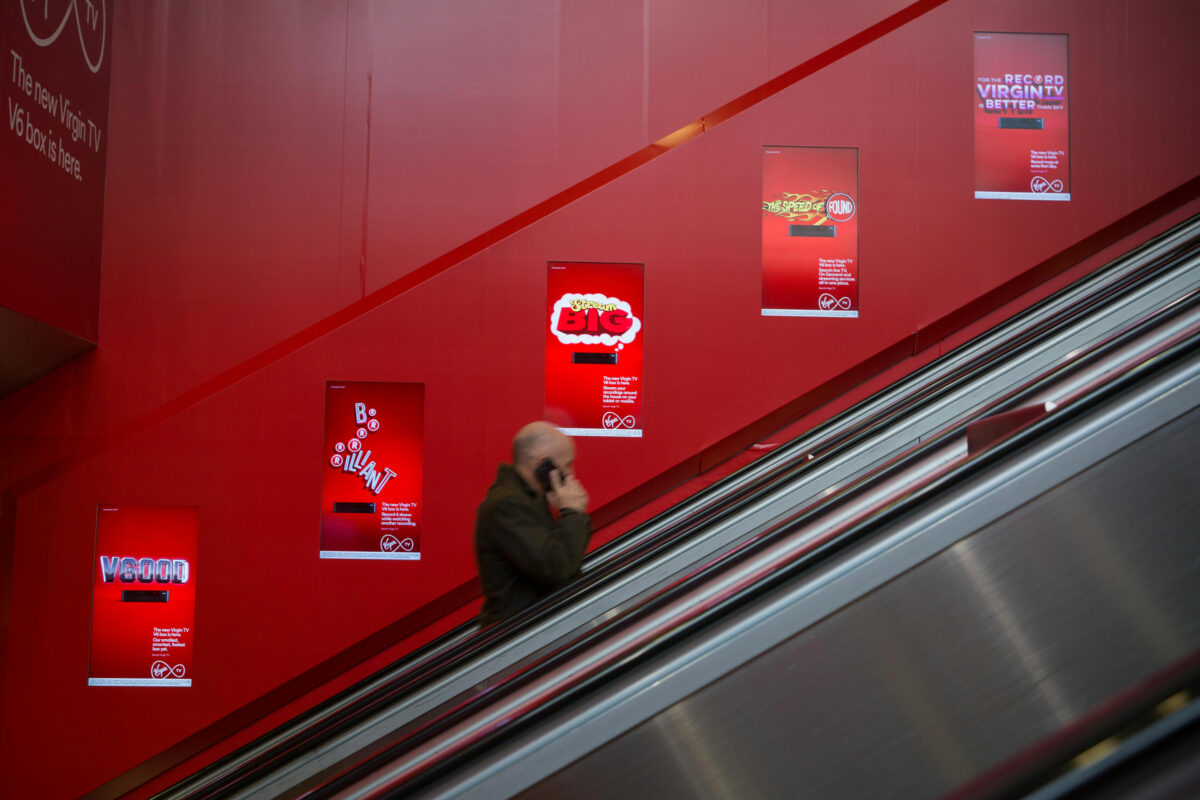 Virgin Media history: Where did the brand begin?
Before we get to the bottom of what makes the Virgin Media brand such an exceptional example to those craving inspiration for their own business development, let's look at where this organisation began.
Today, Virgin Media is one of the biggest names in entertainment history. The range of broadband solutions offered by the business is astronomical, which means that it is one of the fundamental companies supporting our journey into the digital world. Virgin Media also offers a range of additional products that are all based on communication, connections, and entertainment.
Virgin Media began in 2006, following a merger of NTL, Telewest, and another Virgin sub-brand called "Virgin Mobile". It burst into the marketplace with celebrity-packed advertisements and marketing stunts to showcase its unique offering of TV, home phone, and broadband packages. In fact, Virgin Media was the first to offer these components that we currently take for granted, in a single bundle.
In 2010, the company announced that it had decided to start trials in order to deliver television and broadband services through telegraph poles in Berkshire. The trial allowed the company to provide connections to more than a million homes in the UK, expanding the digital world into rural areas, and supporting a nation of virtual nomads.
Today, the Virgin Media brand continues to offer some of the most impressive broadband and television packages in the world, most recently moving their 100Mbps entry level up to a top speed of 300Mbps.
Of course, it's not just the unique selling point of Virgin Media that makes it so appealing in today's marketplace. Over the years, other companies like BT and Sky have begun to offer their own, similar deals, which means that Virgin is no longer the only player in the marketplace. This is a problem that happens for many companies, who may start off with a unique product, and gradually find that they lose their edge to other organisations.
The great thing about Virgin Media is that it never relied entirely on its unique collection of products and services to stay ahead of the game. Instead, the company has devoted much of its time and energy to building a unique personality that speaks to its audience and establishes relationships in the digital marketplace.
It's the voice and vivacity of Virgin Media that differentiates it from its competition.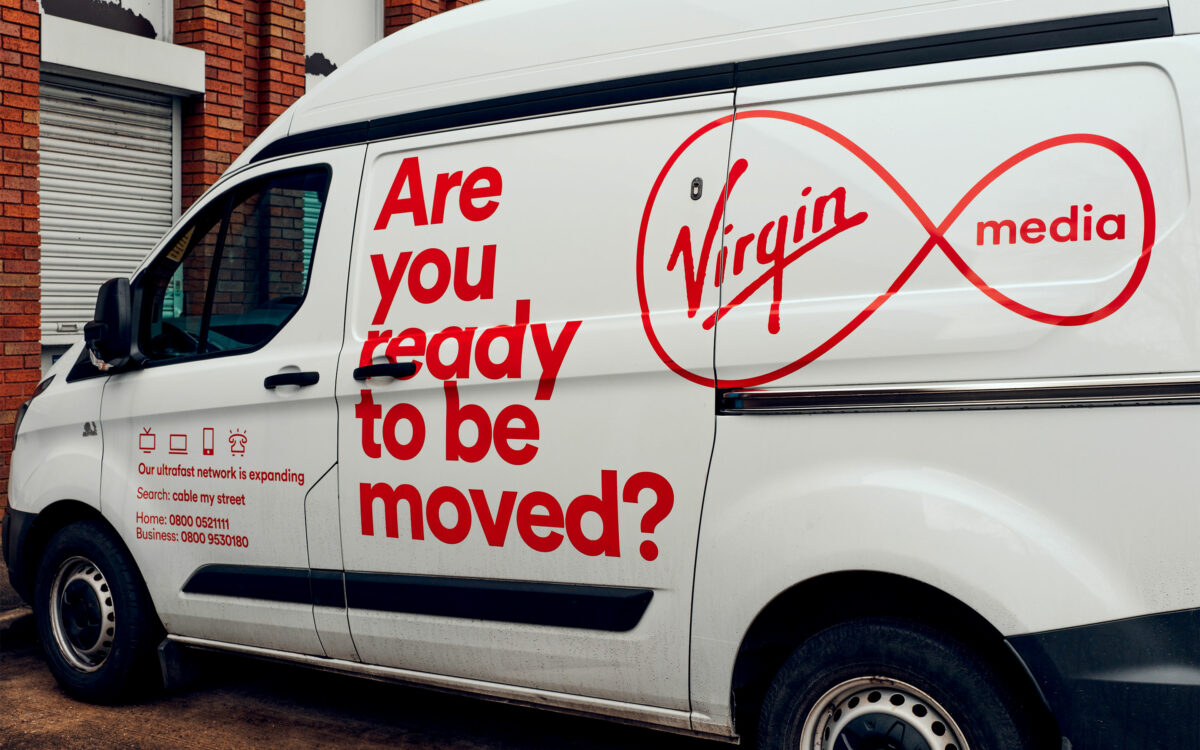 Virgin Media brand values: The power of purpose
So, how did the Virgin Media branding team develop such a powerful voice for their brand? Well, as you might already know if you read Fabrik articles, there's a lot involved in creating a powerful online presence. To begin the process successfully, you not only need to understand the target customer you're hoping to sell to but also establish some unique values that can keep you focused on the path to success.
If you look a little deeper into the world of brand values, you'll find that simply establishing your own purpose in a specific marketplace can be enough to boost profits. According to RealBusiness.co.uk, around 40% of customers stop using or avoid working with a brand because they don't have values that speak to their needs.
Perhaps even more importantly, for companies like Virgin Media, who rely on their connections with younger generations, around 60% of customers between the age of 18 and 24 would be willing to pay more to work with a company that resonates with their beliefs.
Today, increasingly focused, and empowered customers are choosing to buy from brands that have something "human" about them. Specifically, in the millennial generation, consumers are looking for brands that have a social conscience, a strong set of values, and the power to change the world.
This is exactly where the Virgin Media brand stands out. It consistently has its finger on the pulse of its target market, and that allows it to stay ahead of other big-name brands. For instance, in 2016, Virgin Media created the "Impact Award", that encouraged companies from around the world to engage in greener projects. This initiative fits perfectly with the Virgin Media brand values, which include:
Constant curiosity: Virgin Media claims to work on a basis of insatiable curiosity. It wants to know what makes customers tick, and what it can do to deliver better experiences.
Heartfelt services: Another way in which the company stands out, is in its ability to provide fantastic service to its customers. The Virgin Media branding team has worked hard on understanding what clients want from its service initiatives.
Surprising: As a forward-thinking media company, it makes sense that Virgin Media would want to surprise and engage its customers. The organisation claims that it wants to defy expectations in everything it does, coming up with fresh ways of doing things. This is certainly something we can see in Virgins marketing campaigns:
Red hot experiences: Virgin Media thrives on experience, creating sensational solutions that are designed to get more people involved with the brand. From the V Festival to countless experiential campaigns, it's easy to see that experience matters to this company.
Smart disruption: Virgin Media loves outsmarting other companies like BT and Sky, and constantly punches above its weight with new and exciting initiatives.
Honesty: Finally, Virgin Media prides itself on being honest and transparent with its customers. It believes in sharing its story with customers – something you can see throughout the company's website.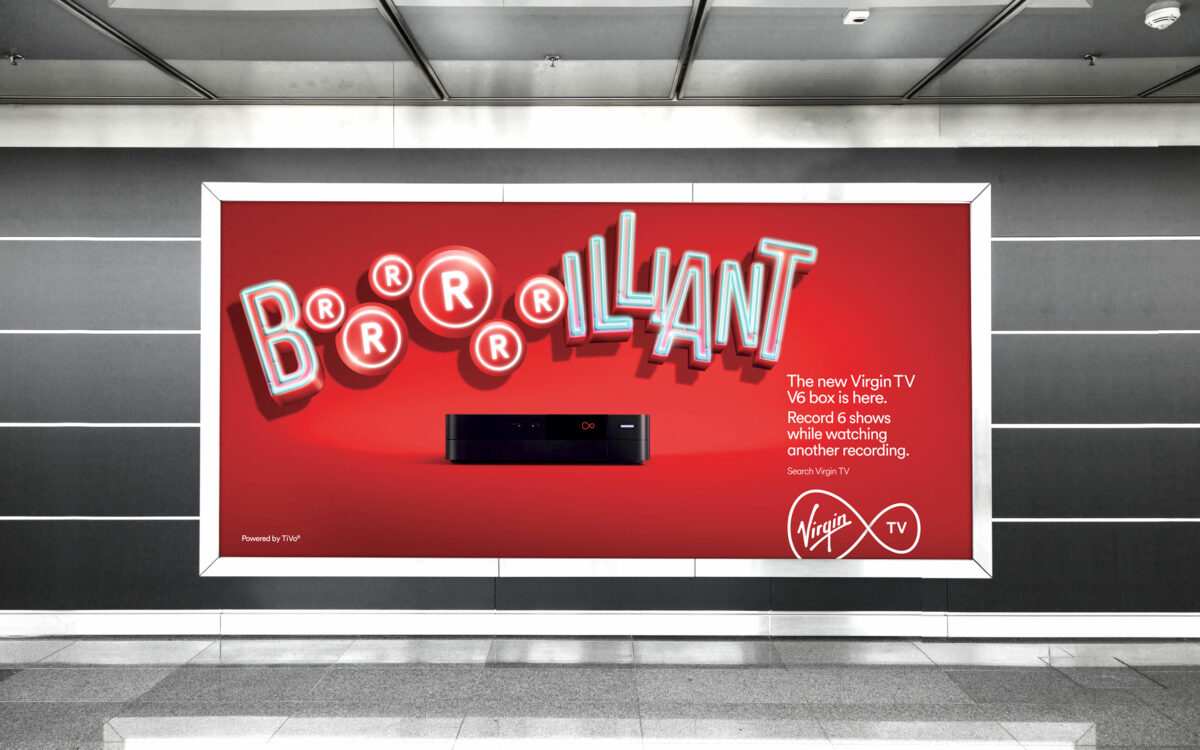 Why "disruption" is key to Virgin Media branding
While many of the Virgin Media values are fairly generic for an entertainment company, it's worth drawing attention to one ambition in particular: the goal to be disruptive. Alongside the standard claims of providing high-quality service and value, Virgin Media also wants to maintain its humanity by being witty and disruptive in the marketplace.
This one-of-a-kind value works perfectly with the overall personality of the "Virgin" Group, driven by part-time astronaut and full-time entrepreneur Richard Branson. As noted above, Branson developed the Virgin Media brand in 2006, and the power of the organisation grew rapidly, thanks to a unique product collection, and a powerful presence both online, and offline.
When it comes to understanding the theme of disruption for Virgin Media, it's worth looking at the marketing strategies that the company has used. Many of the adverts we've seen over the years feature celebrities parodying themselves, and the Virgin founder himself showing off the playfulness of the brand.
So, what makes disruption so important to the Virgin Media brand identity? The simple answer is that it differentiates the company from other organisations in the industry. Because it embraces a sense of fun that you can't find anywhere else on the market, the Virgin Media branding team can cut through the screens that most consumers have put up today to block out standard marketing messages.
After all, today's customers are sick of traditional advertising techniques. They want marketing solutions that allow them to understand what makes their favourite brands tick. Of course, what makes the Virgin Media brand truly special, is the fact that it can develop this playful voice, without overlooking other important values that resonate with its customers.
While Virgin Media might be all about disruption, the company also knows just how important it is to show its ethical and responsible side too. That's why the Virgin Media brand values highlight "smart" disruption. They're not just out to make an impact, they want to make changes in a sustainable way.
In 2015, the company began its largest network expansion project, putting £3 billion of investment into extending its networks by 2020. This highlights the organisations devotion to expanding in a way that's good for its customers, society, and the environment too. After all, not only will it be delivering more broadband and entertainment connections to its clients, but it will be doing it while lowering its carbon footprint – something that gives the company an edge with the millennial market.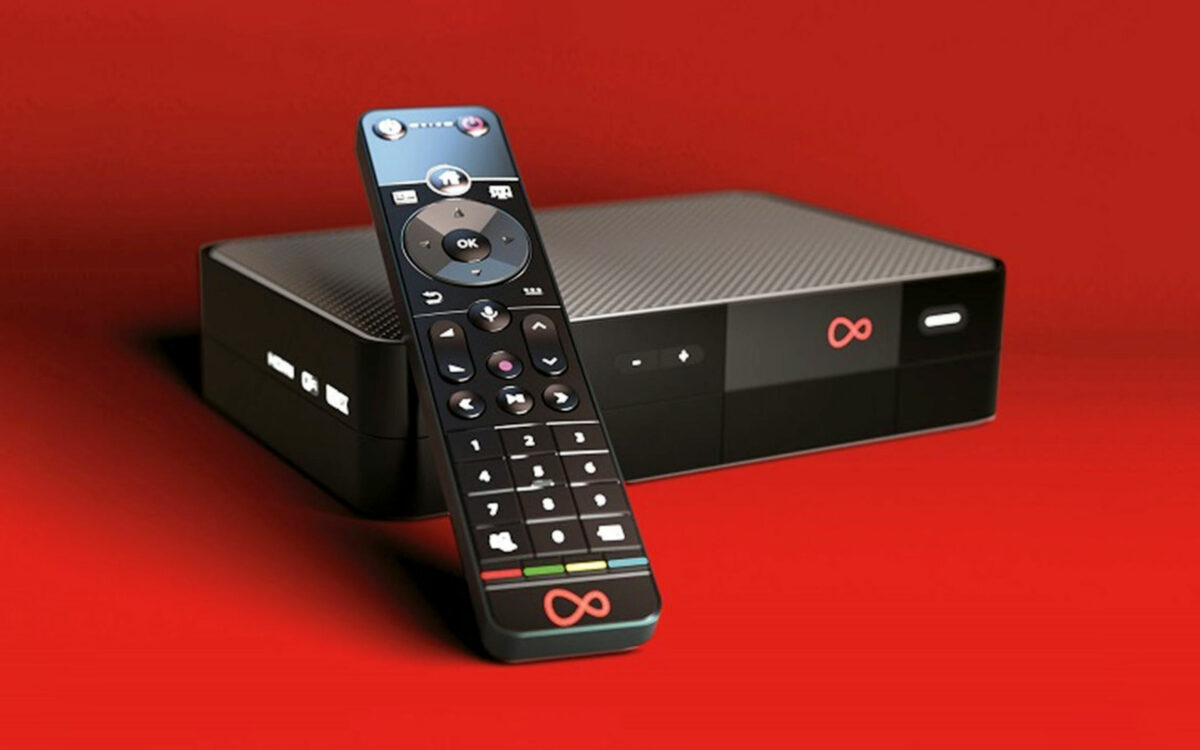 From national pride to something simple: The Virgin Media logo
Perhaps the simplest way to describe what makes Virgin Media's branding so effective is to say that while there are other companies like it out there, none understand their customers quite as much as this disruptive organisation.
It's clear to see that Virgin Media has built its company around a strong knowledge of its user personas, making changes to its framework as and when it needs to. The brand understands that it needs to capture the attention of an apathetic millennial audience – one that values social consciousness over price points. As such, it has invested in projects that enable it to make its business processes more sustainable.
Of course, it's not just the practices of Virgin Media that have changed over the years, but its image too – all an effort to resonate more effectively with customers.
For instance, in 2012, the Virgin Media organisation unveiled a refresh that incorporated the Union Jack flag. It was responding to a powerful sense of patriotism that had begun to emerge in the run-up to the UK Olympic Games and the Queen's Jubilee. Although the "infinity" logo remained the same, elements of the company image changed to appeal to a wider audience.
Of course, the excitement of the Olympic Games didn't last forever, and the Virgin media branding team decided, after a couple of years, that it needed to harness something simpler if it wanted to continue earning the respect of its target market. In an age were countless companies were taking the "minimalist" approach to logo design, Virgin joined in, with a logo designed by Wolff Olins.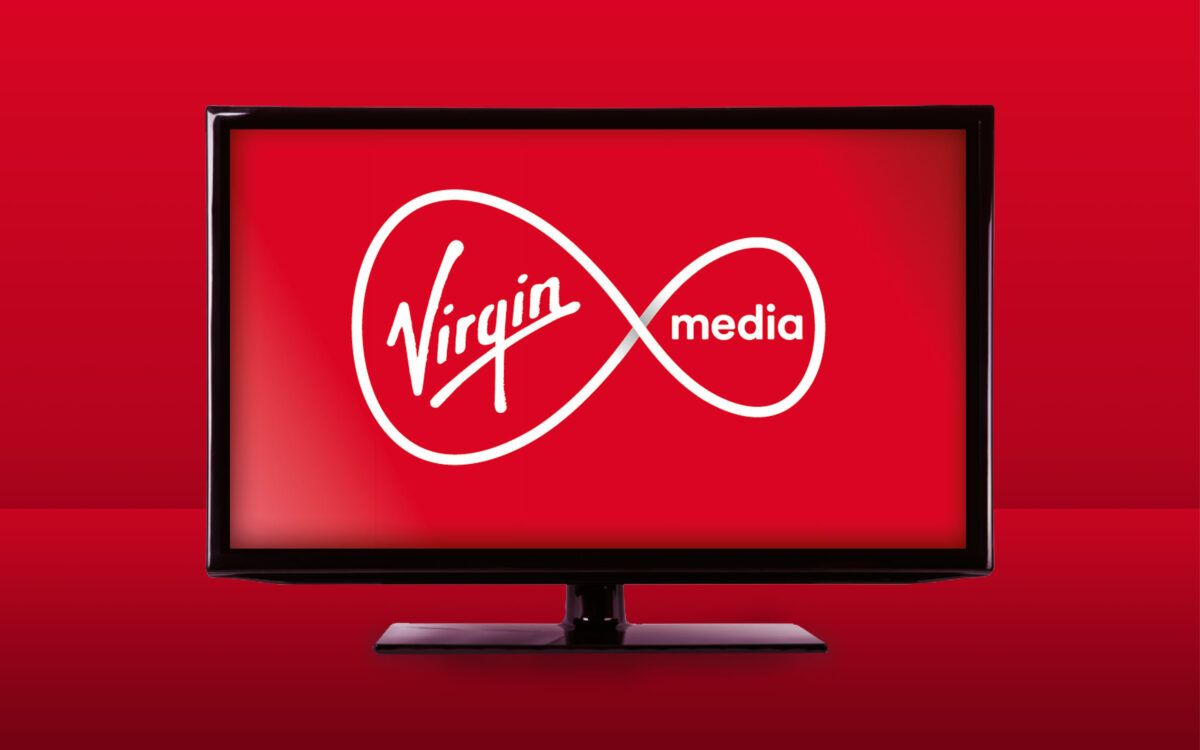 While the red colouring, the infinity design, and the typography all remained familiar, the complicated parts of the logo were banished in favour of something bold, easy-to-recognise, and strategically simplified.
Virgin Media and brand experience: Knowing your crowd
Virgin Media is a fantastic extension of a quintessentially British brand, known for innovation, and its wonderfully "human" persona, despite the size of the Virgin company. The Virgin Media brand identity embraces the energetic and playful nature of the overall Virgin brand, built on the back of one unique entrepreneur.
Richard Branson created the Virgin empire with an overwhelming desire to do things differently, and approach the world with personality. The leadership behind Virgin Media understands that customers make decisions with emotion, not logic. If you want to tap into the market, then you need to know how to resonate with your clients through distinct relationships and characteristics.
Because Virgin Media understands its audience, it can create marketing strategies that really get people talking. For example:
1. Television marketing campaigns
Virgin Media still spends a lot of money on television advertising, in an age where other companies have focused their efforts almost entirely online. However, it's important to note that the company stands out from other organisations, by telling amazing stories in its campaigns.
The tone of each advertisement is light-hearted, exciting, and plays on the unique personality of the business. In other words, these are advertisements that are worth watching, regardless of whether you're checking them out on TV, or looking them up on YouTube. They build brand recognition, and Virgin Media knows this.
2. Virgin Media Shorts
Of course, just like any modern company, Virgin Media appreciates that it needs to expand beyond television ads if it wants to earn the hearts and minds of potential customers. As such, it has tapped into other forms of content marketing elsewhere, such as in its "Virgin Media Shorts", a film-making competition that ran for 6 years.
The Virgin Media Shorts campaign is an incredible example of how Virgin Media shows its customers that it genuinely wants them to get involved. It's a new step in engagement for a company that's all about experience.
3. VFestival
Virgin Media has even got involved with marketing that moves beyond the digital sphere. Because the company understands that it is speaking to a millennial audience who prefer experiences to tangible objects, it creates things like the "VFestival" – an event that's been running since 1996 to encourage people to join together in celebrations under the banner of Virgin Media.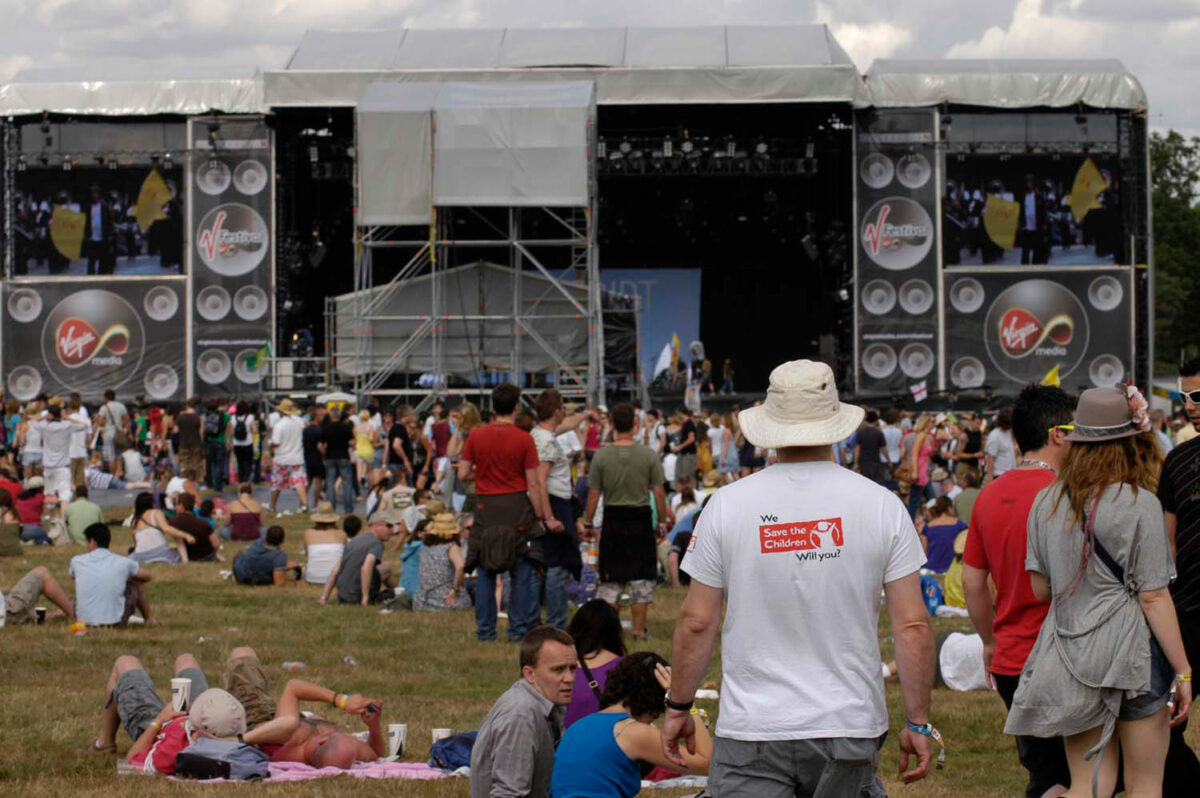 No matter where you look, you can find countless examples of Virgin Media's devotion to its customers, and its storytelling expertise. The brand's strategy is all about listening to audiences, learning, and developing new ideas that allow it to connect more strongly with the people that matter to the organisation.
Through philanthropy, paid media, sponsorship, and social activity, the Virgin Media brand creates a customer experience unlike any other – helping to build its name and profile as something that young audience members want to connect with.
Lessons to learn from Virgin Media in customer experience
When you consider the amount of effort that the company puts into showcasing its brand values through customer experience, it's easy to see why this organisation recently won a "Gold" award from the Design Business Association for its marketing campaigns.
Virgin Media knows that it takes great people to deliver a wonderful customer experience. Its path to success began with a solid understanding of how it could satisfy audiences, and accomplish its goals at the same time. It needed to go beyond things like consistency across channels and Net Promotor score, and start thinking about how it could collaborate with people at every possible touch-point.
In other words, Virgin Media takes an integrated, omnichannel approach to branding.
On social media, for example, it doesn't just share updates about its latest products and services, it provides useful insights into trends that are happening in the industry, along with guidance on how to make the most of your entertainment system. At the same time, Virgin Media is constantly available to answer questions about services and broadband connections.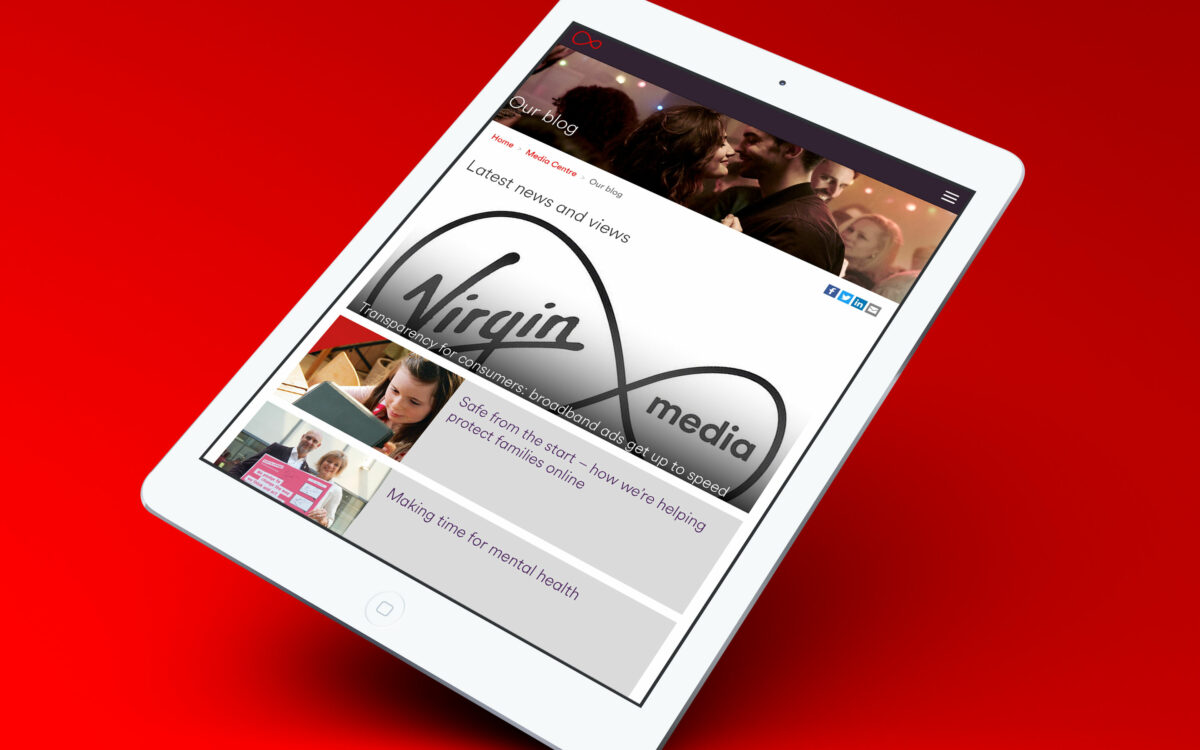 The company's helpful approach to connecting with customers goes beyond social media channels too. On its website blog, the organisation frequently posts new and updated information about everything from employment strategies, to brand growth.
In a recent campaign, Virgin Media even delved deeper into its brand voice strategy, to find out whether it could have a greater impact on customer experience. The company enhanced its marketing mix by creating the "tone of voice" campaign. This strategy allowed it to expose different customers to different elements of its personality to determine which features had the most positive, lasting impressions.
The value of vision: The Virgin Media brand
Is the Virgin Media brand the only business in the UK that can offer exceptional broadband speeds and great entertainment packages? Probably not. However, it might be the ultimate inspiration for companies who need to develop their brand personality to stay ahead of the game in this competitive world.
Through the use of humour, playfulness, and a distinctly emotional approach to branding and marketing, Virgin Media makes its competitors look corporate and boring in comparison. Ultimately, when people are inviting a system for entertainment into their home, they don't select the brand that looks dull, they choose the company that they feel can give them the best experience.
By establishing itself as a brand that does things differently, and with a sense of unique personality, Virgin Media has given customers a reason to choose it over competitor brands. It connects with people on a deep level and uses its understanding of what motivates them to make changes to its products and services whenever necessary. This is the hallmark of a timeless brand – not just a company that sticks to the same consistent voice and image throughout the years – but a business that knows how to adapt to its target market.
Virgin Media doesn't necessarily overthrow its entire identity every time a new trend emerges in the marketplace, but it does make changes when it needs to ensure that it has the right personality to sell to its target audience. As we've seen through more than a decade of success, this strategy is working.
Perhaps it's time for other brands in the entertainment industry to take a leaf out of Virgin's book and get some experience in the world of personality development, and customer experience.
If you enjoyed this article, you might enjoy these too:
— Brand promise: Why it pays to be true to your word
— Barbara I Gongini: A disruptive Nordic fashion brand
— Punk and disorderly: The enduring impact of punk