The ultimate list of credit card company logos and symbols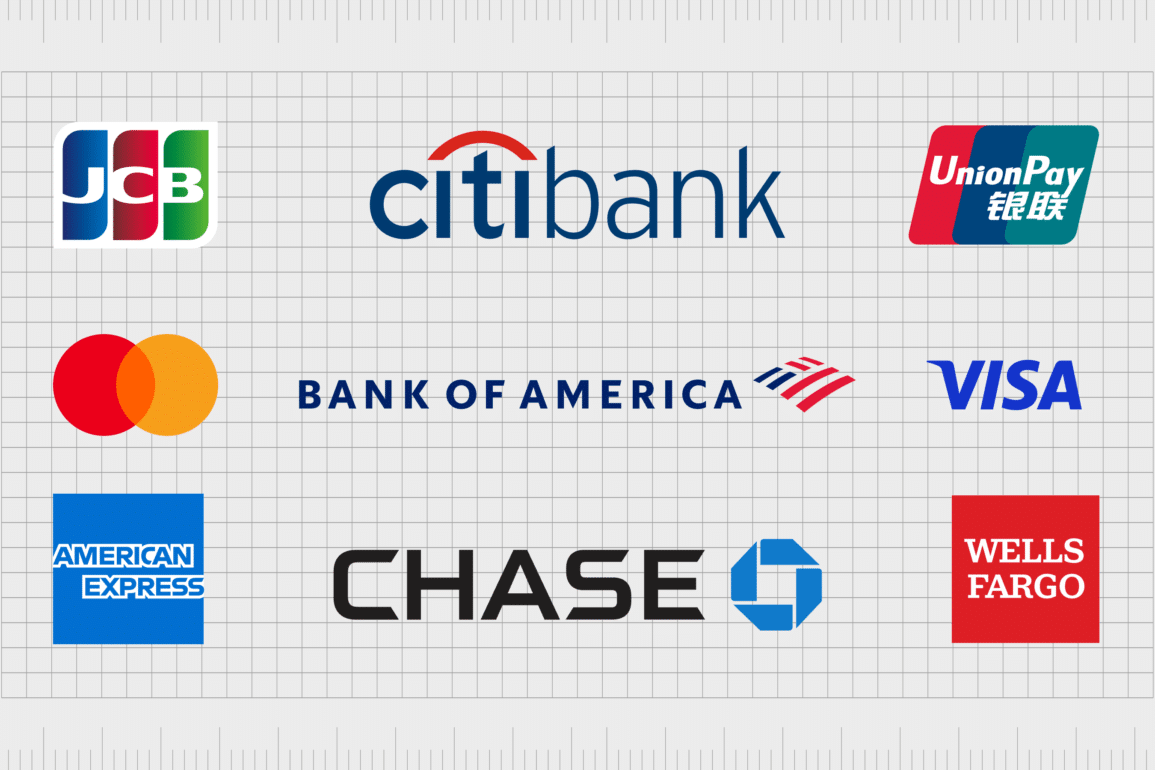 Credit card company logos serve an important purpose in the financial world. Like many brand symbols, credit card logos aren't just there to define a company and differentiate it from its competitors. They're also intended to leave a lasting impression on potential customers.
Financial companies, banks, and credit unions work with specialists on the logo design process, to ensure they can convey important messages with simplistic design elements.
The logo on a credit or debit card needs to be instantly recognizable, and capable of showcasing the credibility of a brand. After all, financial brands need to earn the trust of their target audience instantly. Without trust, a credit card company would never grow.
Today, we're going to take a closer look at some of the most popular and well-known credit card symbols and debit card logos, recognized all over the modern world.
Common features of credit card company logos
Every company should take its own unique approach to logo design. Every credit card company has different values, a clear mission, and a personality it needs to convey through a combination of shapes, typography, and color psychology.
However, if you've ever looked at the logos on the cards in your wallet, you might have noticed some similarities in design elements. For instance, credit card logos need to be highly versatile, so they can appear on mobile apps (for banking), and smaller cards.
This means it's unlikely you'll see any credit card issuer using a particularly complex logo. Alongside minimalistic design methods, credit card companies often use:
Simple shapes
Simple shapes, such as lines, and circles are common in the financial industry. They convey ideas like community, inclusion, and forward momentum. Most of these shapes are basic, featuring only one or two colors, and very few details.
Streamlined typography
Script style and decorative fonts are uncommon in the credit card space. Companies tend to stick to very simplistic depictions of their name, using sans-serif typefaces, and bold lines. Sans serif fonts often make a brand seem more modern and approachable.
Evocative colors
Color psychology is extremely common in the financial industry. Many companies use colors like blue, associated with trust, as well as green and gold to convey wealth. However, other shades, like orange, for creativity, and red for passion appear frequently too.
Major credit card logos: Memorable credit card symbols
You may have noticed that many payment network companies, fintech startup brands, and other financial innovators have updated their logos over the years, opting for more simplistic designs. However, each brand still maintains a unique visual identity.
If you're thinking of creating your own business cards as a budding credit card company, or you want to design a card for a department store, taking inspiration from existing brands can be very helpful.
Here are some of the most memorable credit card company logos you may be familiar with in the world today.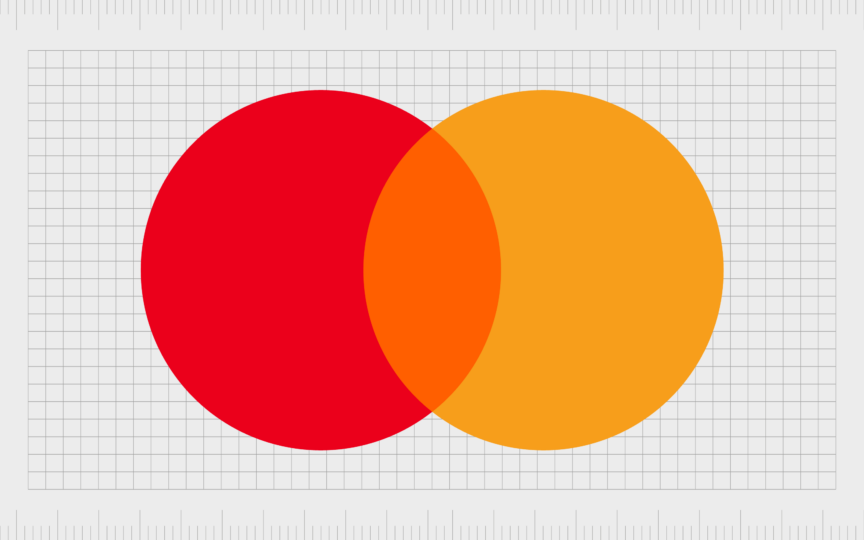 1. Mastercard
It's hard to find anyone who isn't familiar with the Mastercard logo. First introduced in 1966, Mastercard is the second-largest payment processing corporation in the world, offering everything from transaction processing to debit and credit cards.
Mastercard was actually developed by an alliance of several banks and regional associations in response to the BankAmericard of Bank of America (later Visa). Like many credit card logos, the Mastercard symbol has evolved over the years.
Today it features two overlapping circles, one in yellow to symbolize joy and wealth, and one in red, to highlight passion and vitality. The overlapping shape is highlighted in orange, a color frequently connected with creativity.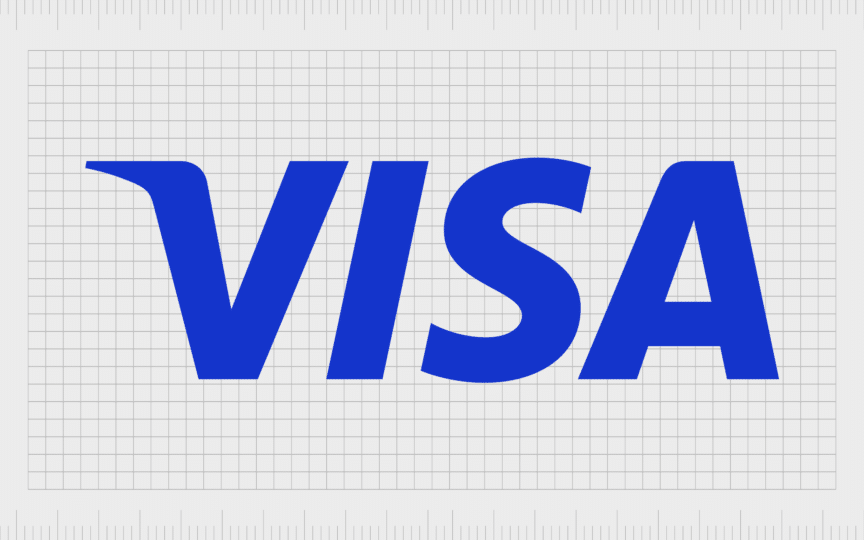 2. Visa
If you're familiar with the Mastercard brand, you're no doubt aware of its biggest competitor, Visa. This American multinational payment card services company is one of the world's most valuable companies.
Although Visa doesn't issue cards directly, it does provide financial institutions with Visa-branded payment products. The company was originally established by the Bank of America in 1958. Visa is one of the world's largest card payment organizations (surpassed by UnionPay in 2015).
However, Visa is still considered the dominant bankcard company worldwide. Its cards feature a simple logo, consisting of the name "Visa" in a bold blue font, with a slight slant to the letters. The design of the typography conveys ideas of speed and forward momentum.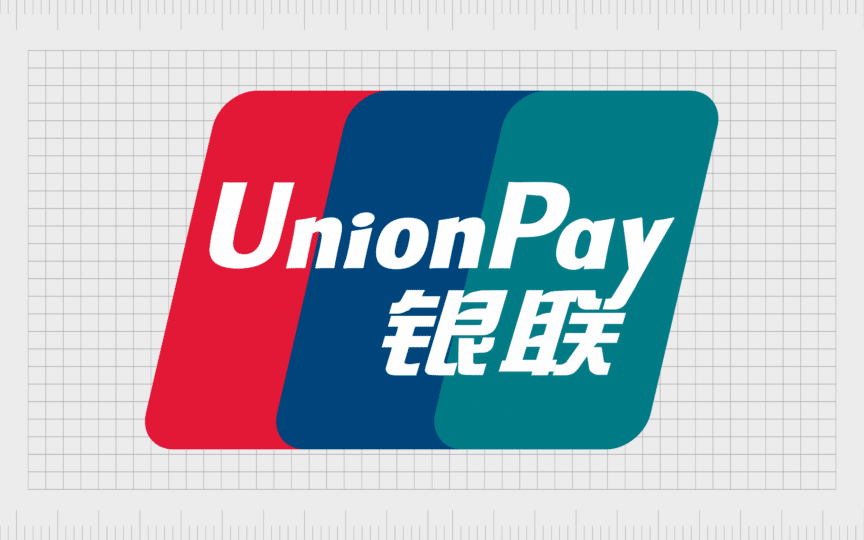 3. UnionPay
Compared to some of the other credit card company logos on this list, UnionPay might not be as familiar to some western customers. However, it stands as one of the largest credit card companies in the world, overtaking Visa and Mastercard in total value of payments made.
UnionPay is a state-owned Chinese financial services corporation, providing bank card services and a major card scheme throughout mainland China. The credit and debit cards created by UnionPay feature a simple logo, featuring a slanted rectangle, in the colors of red, green, and blue.
These colors stand for vitality, wealth, and reliability. The word "UnionPay" is written in a white sans-serif font on the top of the multi-colored rectangle, with the Chinese version of the name positioned underneath.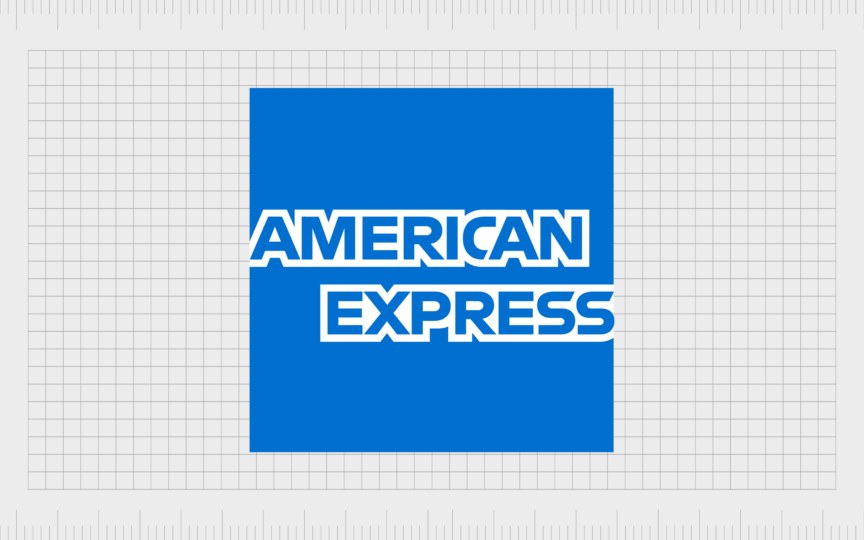 4. American Express
Currently ranked as the fourth largest card network in the world (based on payment volume), American Express, or "Amex" was first launched in 1850. It was initially an express mail dispatcher, before introducing financial and travel services in the 1900s.
Amex handles more than $1.15 trillion in purchase volume per year, and is one of the largest banks in the United States. The company's logo is technically a centurion or gladiator, which appears on some traveller's cheques, and credit cards.
However, like most credit card symbols, there's a simpler version of the logo, which features a stylized inscription in white and blue, on a blue background. The colors aim to represent ideas of excellence and trustworthiness.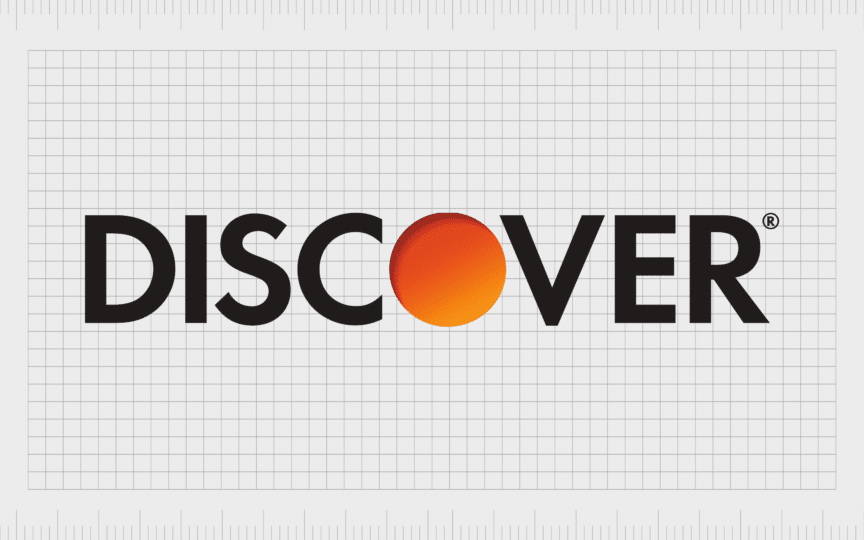 5. Discover
Initially introduced in 1985 by the Sears brand, Discover is a credit card brand common in the United States. When launched, Discover was an innovative card provider, as it didn't charge an annual fee, and offered higher credit limits than most alternatives.
Most of the cards offered by the Discover brand are issued by the Discover brand, and processed through a proprietary payment network. Discover is currently the third largest credit card brand in the US, behind Visa and Mastercard, with over 57 million card holders.
Like many credit card logos, the Discover symbol is relatively simple, featuring the company's name in black, with the "O" replaced by a gradient orange, yellow, and red circle. The image looks similar to a sun, reminding us of vitality and ambition.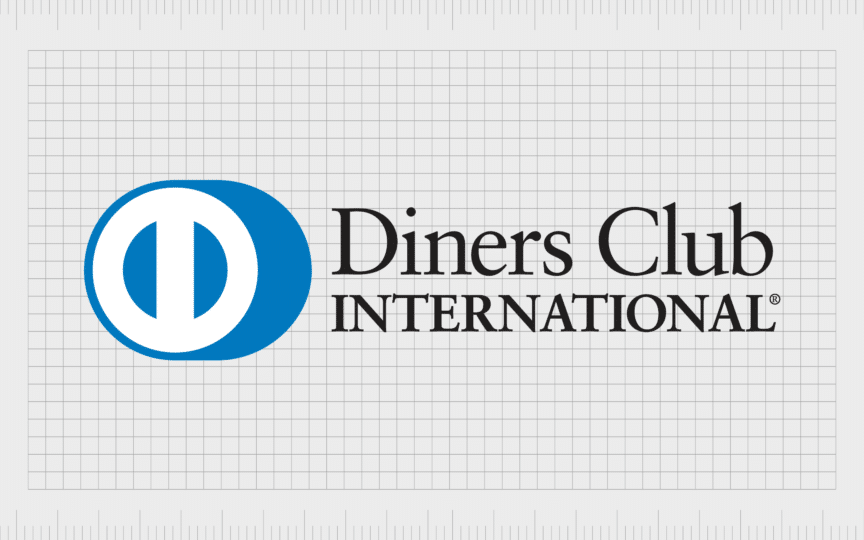 6. Diners Club International
Otherwise known as "DCI", Diners Club International is a charge card company owned by the Discover Financial Services parent company. It was formed in 1950, and became the first independent payment card company worldwide.
The idea for Diners Club was conceived in a restaurant in New York city, where the founder realized he had left his wallet in another suit. He thought up a multi-purpose charge card to avoid similar issues in the future.
The Diners Club International card symbol is one of the most unique credit card logos on this list, as it's one of the few with a serif typeface, and a relatively long inscription. The inscription is accompanied by a pair of overlapping blue circles, with a white design in the left-hand circle.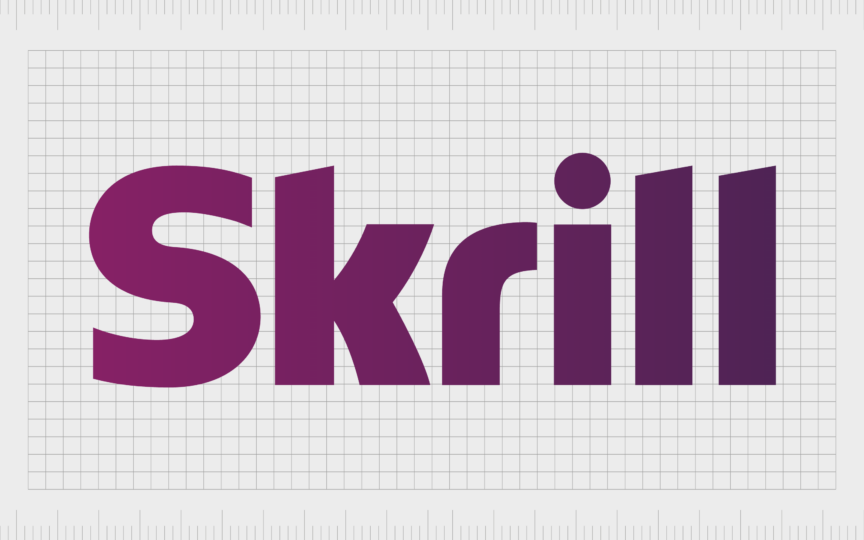 7. Skrill
Perhaps a little lesser known than some of the other financial companies on this list, Skrill is part of the PaySafe Limited global payments platform. Skrill operates in more than 100 countries, offering card payment solutions, and digital wallets.
Skrill produces its own cards for consumers, which can be used to pay merchants and other Skrill users, or purchase cryptocurrency. Skrill also offers cross-border payments through its remittance service, allowing users to send money overseas.
Like many credit card symbols and debit card logos, Skrill's logo features a simple inscription, with a purple gradient, representing wealth and royalty. The sans-serif typeface makes the company appear modern, friendly, and accessible.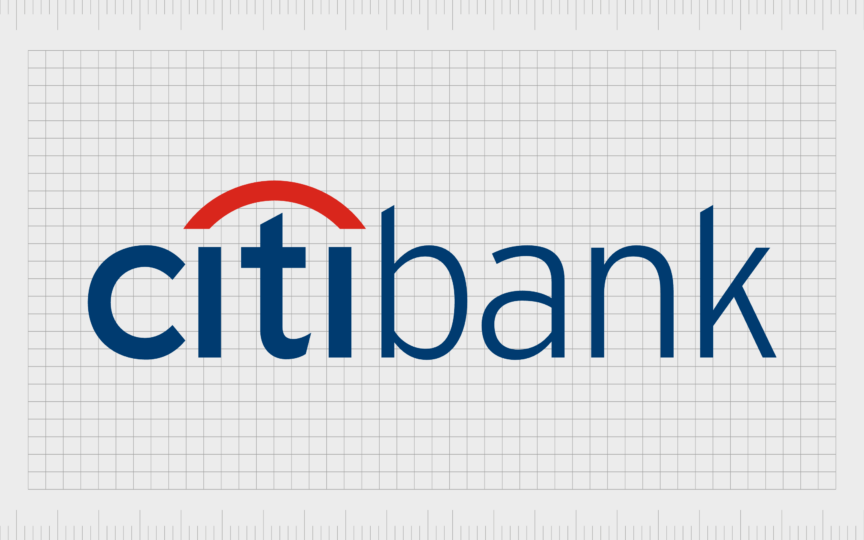 8. Citi
Citi, or Citibank is the primary US banking subsidiary of the multinational financial services company, Citigroup. It was initially founded in 1812 as the City Bank of New York. Today, the bank has branches in 19 countries, and primarily serves the United States.
Citi offers a variety of financial products, including debit cards and credit cards, as well as the "CitiGold" card for customers with larger bank accounts.
The Citibank credit cards, often featuring co-branding with Visa or Mastercard, generally don't feature the full "Citibank" name. Instead, they just show the "Citi" component, written in a sleek sans-serif font, with a red curved line between the two "I's".
Find out more about the Citibank logo here.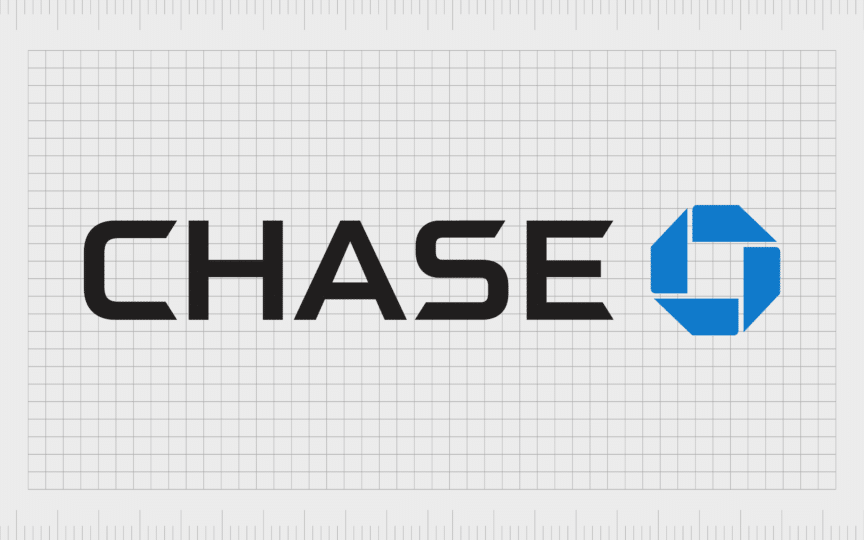 9. Chase
JPMorgan Chase Bank, or "Chase" is an American national bank with headquarters in New York City. It manages the consumer and commercial banking component of the financial services holding company, JPMorgan Chase.
Chase offers a range of ATMs and banking branches worldwide, and serves more than 25 million debit card users and 18.5 million checking account holders. The company also offers credit card services, often through co-branded cards with Visa or master card logos.
The Chase logo occasionally features a geometric wordmark depicted in a sleek black font. However, the most memorable part of the design is the circular shape, made up of four blocky shapes, in a soft shade of blue.
Find out more about the Chase logo here.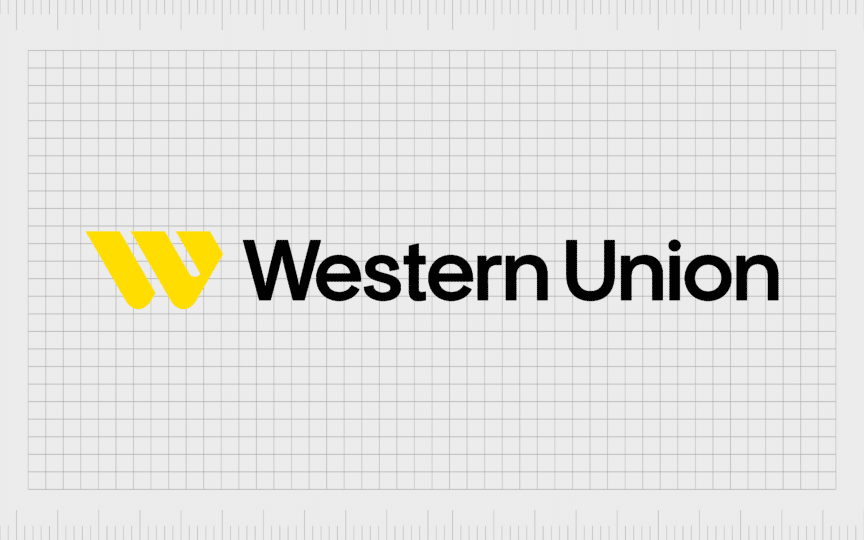 10. Western Union
Like many famous banking companies, Western Union offers credit and debit cards through partnerships with issuers like Mastercard and Visa. Although these cards do feature the logos of other companies, they also draw attention to the Western Union logo.
Western Union was founded in 1851 as a printing company. However, it eventually merged with a variety of telegraph companies, and moved into the financial space. By 2006, it was described by the New York Times as the world's largest money-transfer brand.
The Western Union logo features the name "Western Union" written in a simple, sans-serif font, often in black or white. The credit card symbol includes a yellow "W", in stylized font, intended to convey ideas of wealth and luxury.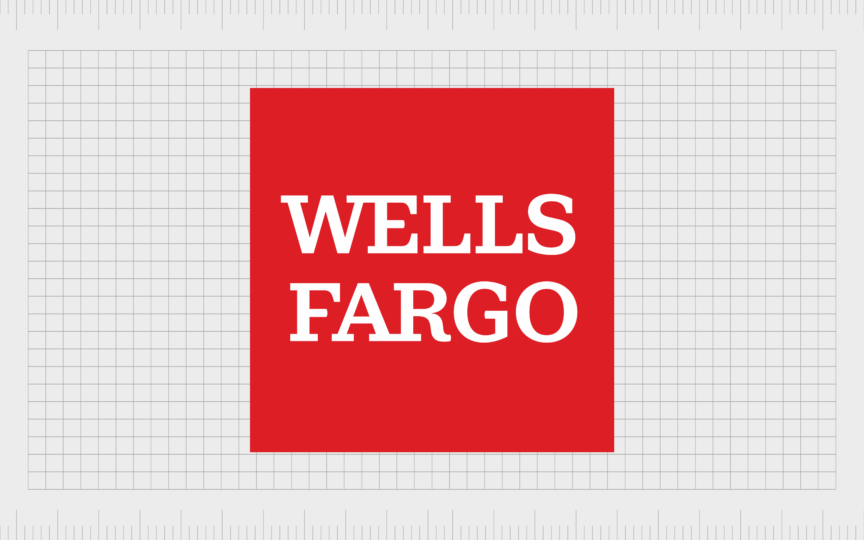 11. Wells Fargo
First introduced in 1929, Wells Fargo & Company is an American multinational financial services brand, with a massive global presence. Currently, the company operates in 35 countries worldwide, with more than 70 million customers.
It's one of the "Big Four Banks" in the United States, and offers a range of products, including banking, credit card, and debit card services. Most of the credit cards offered by Wells Fargo feature co-branding elements from companies like Visa and Mastercard.
Typically, Wells Fargo credit cards include the name "Wells Fargo" written in a serif font, either on a single line, or on two levels, printed within a red square. The inscription may appear in white, black, or a golden color, depending on the card.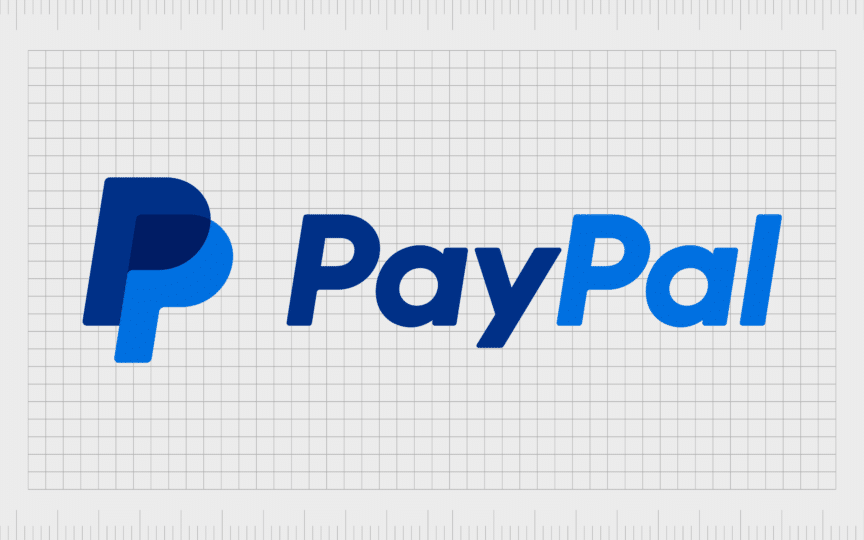 12. PayPal
American multinational financial tech company, PayPal, is one of the most recognizable financial brands in the world. Initially named "Confinity", PayPal, is most commonly associated with online money transfer services. However, it also offers credit and debit cards.
PayPal is one of the biggest companies in the world, and is ranked number 143rd on the Fortune 500 list of the largest companies in the US by revenue. Like most PayPal products, PayPal debit and credit cards feature the two overlapping "P's" in the PayPal symbol, each in its own shade of blue.
Many cards also feature the name "PayPal" either written in blue or white, with a slight slant to the sans-serif letters. Most cards are also co-branded with Mastercard, or Visa components.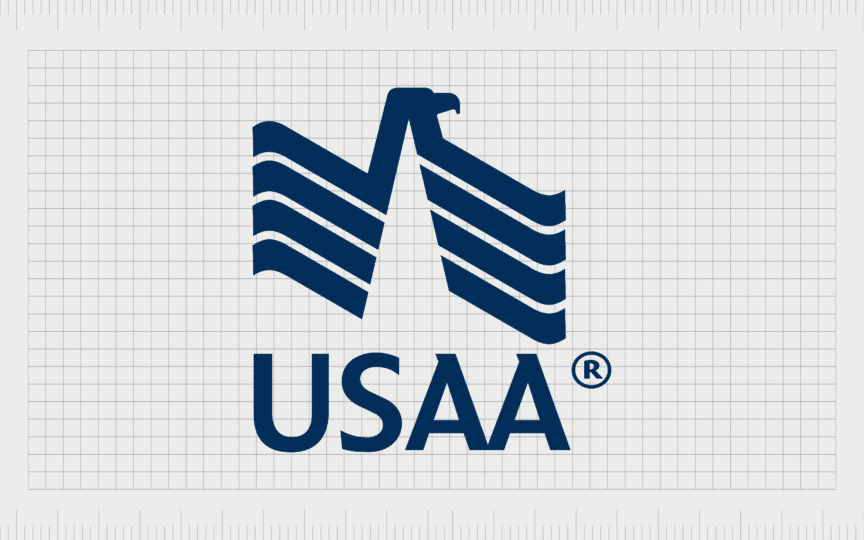 13. USAA
The USAA, or United Services Automobile Association, is an American financial services company which exclusively provides banking and insurance products to veterans, members of the military and their families. It was founded in 1922, by 25 army offices. 
USAA offers credit card, reward cards, and debit cards to members of its community, partnering with brands like American Express and Visa. The cards produced by the company feature co-branding elements, combining payment processor symbols with the USAA logo.
The logo for USAA features an eagle design, created using four silver lines, either depicted in white, or a silver gradient. The letters "USAA" appear underneath in simple sans-serif font.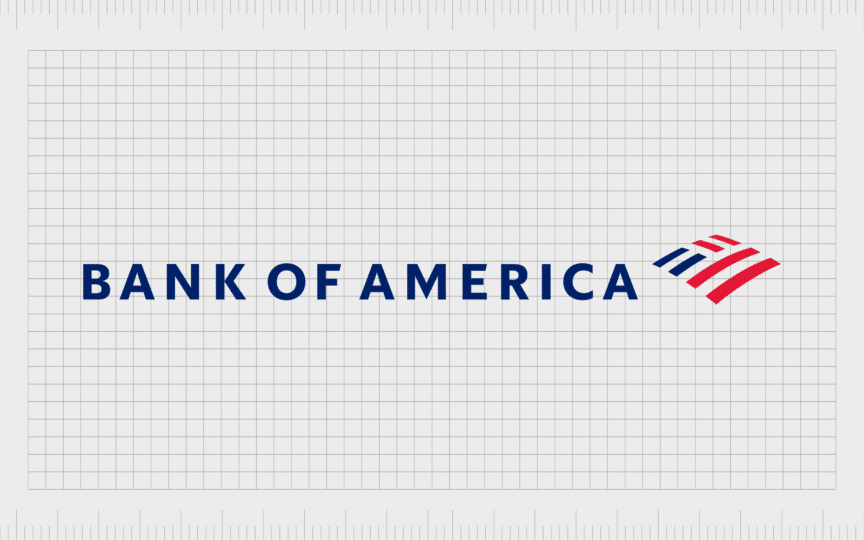 14. Bank of America
Offering a range of co-branded cards, business cards, and other financial products, the Bank of America is a multinational investment bank and financial services holding company. It's the second largest banking institution in the US, following JPMorgan Chase.
Bank of America partners with various other vendors, such as Visa and Mastercard to enable credit card and debit card payment options for customers. The cards offered by the brand include both the Bank of America logo, and other co-branding elements.
The Bank of America logo design features the name of the company, in uppercase, blue letters, written in a sans-serif font. We also see a square shape, depicted in red, and blue lines, intended to resonate with the flag of America.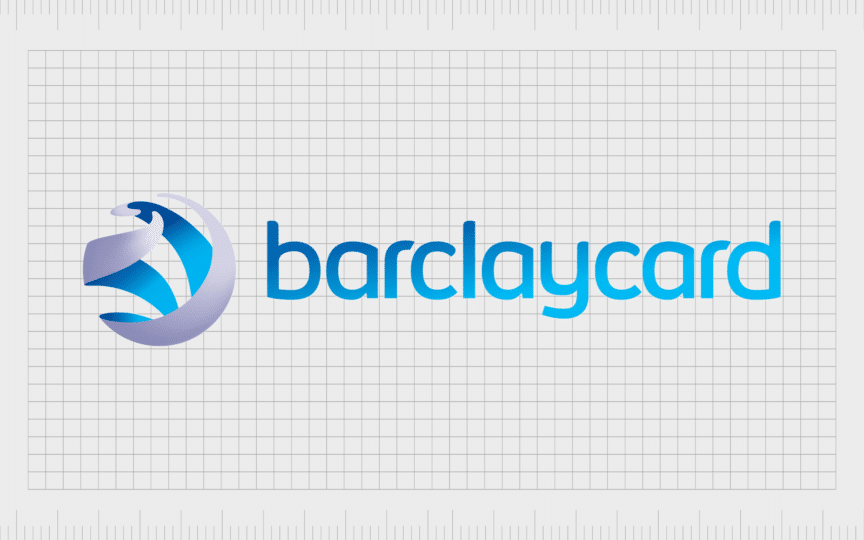 15. Barclays (Barclaycard)
Barclaycard, owned by the Barclays brand in the United Kingdom, is a dedicated credit card solution that first launched in 1966 as a charge card. Following the introduction of revolving credit options offered by the Bank of England, Barclaycard became the first credit card launched in the UK.
However, it's worth noting, Barclay's wasn't the first issuer to introduce credit cards to the United Kingdom, as American Express and Diner's Club already had operations in the region.
Barclaycard features quite a unique logo on its products, featuring a wordmark in all lowercase letters, often in a blue gradient font. There's also a three-dimensional circular shape on the right, often associated with a globe.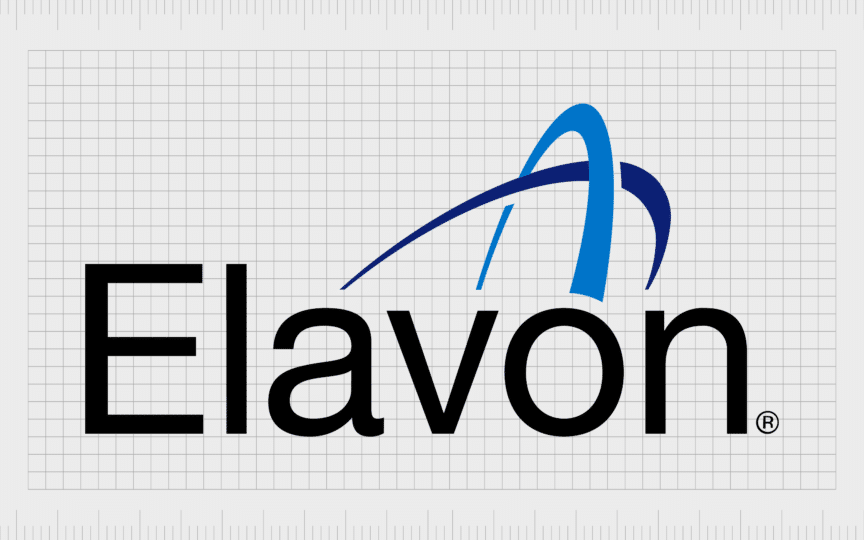 16. Elavon
Formerly Nova, Elavon Inc is a processor of credit card transactions in the US, and a subsidiary of the U.S. Bancorp business. Elavon supports merchant processing services in more than 30 countries, with more than 1million merchant locations worldwide.
Currently, Elavon stands as the fourth largest credit card processor in the United States, and one of the top acquirers in the European marketplace. The company has a relatively simplistic, but modern logo, featuring a black wordmark in sans-serif font.
Above the wordmark, we see a symbol created with two curved lines, in different shades of blue, used to represent trustworthiness and reliability.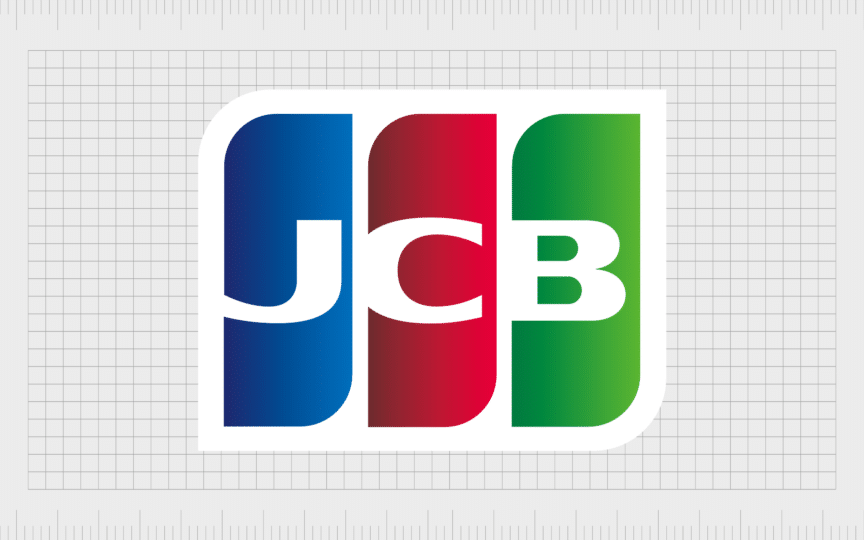 17. JCB
Otherwise known as the Japan Credit Bureau, JCB is a credit card company based in Tokyo, with cards accepted at various JCB networks. The company has various strategic alliances with Discover Network merchants in the US, RuPay merchants in India, and UnionPay companies in China.
JCB was founded in 1961, and quickly established itself as a leading credit card brand and merchant account provider. The JCB cards issued today feature the various security seals and other elements common on financial institution products.
However, cards also showcase the JCB logo, which features the letters "J" "C" and "B" written in white sans-serif font. Each letter appears in its own rectangle with curved edges on two sides, in colors of blue, red, and green.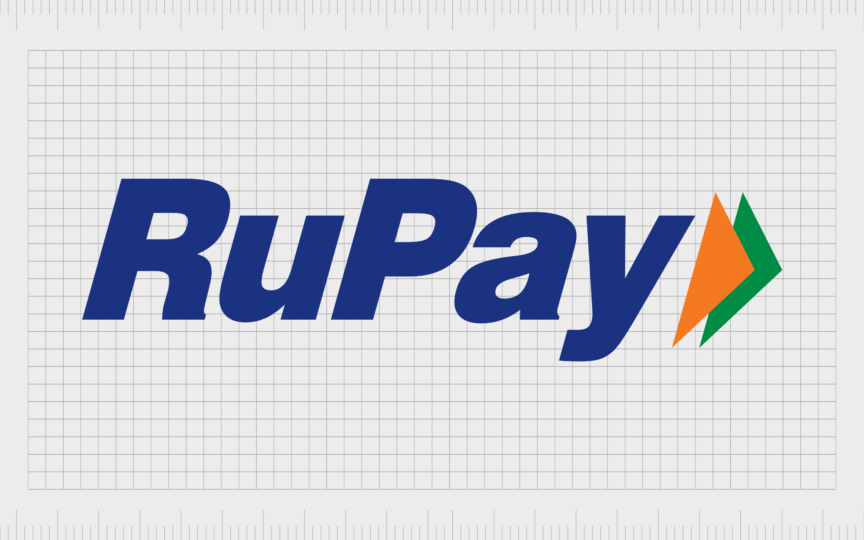 18. RuPay
Perhaps one of the lesser-known brands on this list for some consumers, RuPay is an Indian multinational payment service system and financial services company. It was created to support the Reserve Bank of India, who wanted to create a new payment system.
RuPay facilitates electronic payments for all Indian financial institutions and banks, and also partners with Discover Financial and JCB. The company was launched in 2014, making it one of the newer credit card companies mentioned here.
Like most credit card company logos, RuPay features a simplistic wordmark, in sans-serif bold font, with characters tilted to the right to symbolize forward progression. The design also includes two overlapping triangles, orange and green.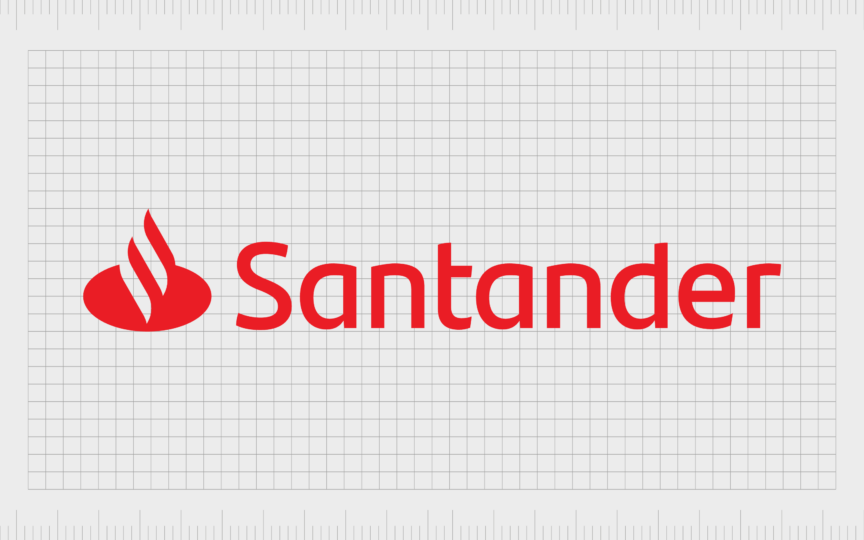 19. Santander
Banco Santander, better known simply as the Santander Group, is a Spanish multinational financial services company, with a global presence. The company operates as the 19th largest banking institution in the world, and serves customers with a range of financial services.
Santander produces co-branded cards and supports various payment methods for consumers worldwide. Most Santander cards feature the logo of Visa or Mastercard, alongside the Santander emblem, which features a torch-style design, and the word "Santander" in sans-serif font.
On some of the most recent cards produced by Santander, a new logo appears, eliminating the wordmark completely, in favor of the evocative flame symbol.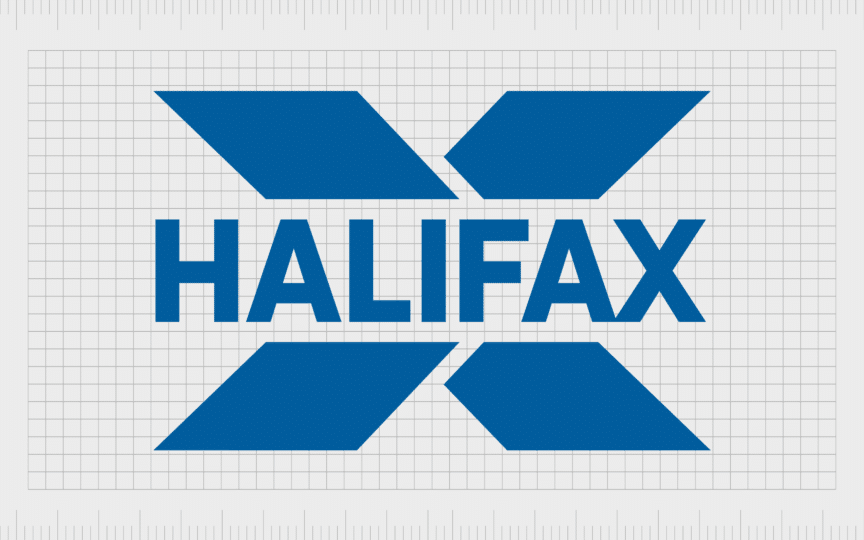 20. Halifax
Halifax, otherwise known as the Halifax Building Society, is a British banking brand, which operates as a trading division of the Bank of Scotland. It's named after a town in West Yorkshire, where it was initially established as a building society in 1853.
Today, Halifax offers a range of financial products, including online and mobile banking, solutions for business owners, credit, and debit cards.
The debit and credit card symbols used on Halifax cards generally feature Visa or Mastercard branding, as well as the large "X" shape used by the Halifax brand. Some also include the Halifax wordmark, depicted in an uppercase, sans-serif font, often in blue.
The impact of credit and debit card logos
As you can see from the list of credit card company logos and debit card logos above, the signs and symbols used by financial companies come in a variety of different styles. Many banking institutions and financial services brands offer co-branded cards. 
This means their business logos are often combined with the logos used by well-known payment processors like Visa and Mastercard. While all of the credit card logos above have their own unique elements, they're largely designed to be straightforward and evocative.
They use a combination of color and shape psychology, as well as straightforward typography to engage customers, and pave the way for consumer trust.
Fabrik: A branding agency for our times.