How to market an insurance agency: Brilliant insurance marketing strategies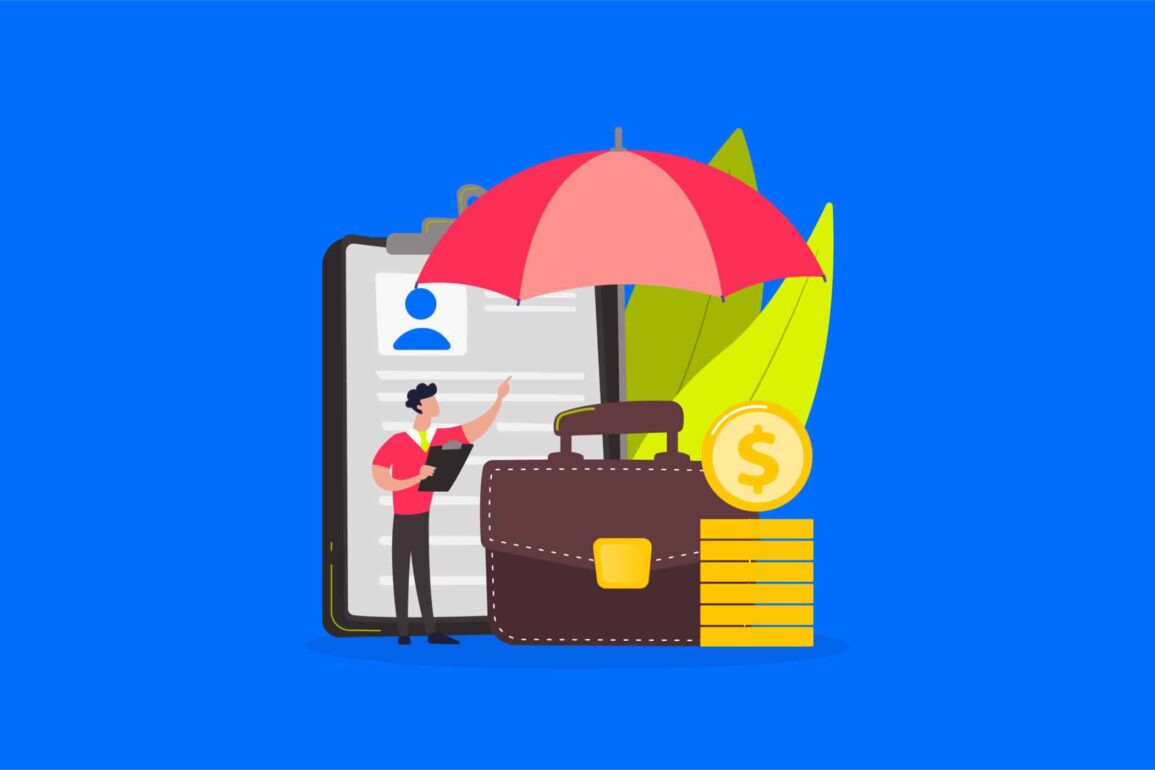 Figuring out how to market an insurance agency can be complicated. Choosing the best insurance marketing strategies ensures you can reach a wider audience, generate trust for your company, and unlock new revenue.
However, failing to implement your campaigns correctly, you could waste both time and money.
Every business must invest in marketing to generate demand for its product or service. In the insurance landscape, this can be a tricky process. After all, while most people are aware of the need for insurance, few recoup the cash they spend on premiums.
This often means consumers view insurance as a burden, and the overall perception of insurance brands can be quite negative.
In order to outshine the competition, and create loyal customers, insurance agencies need to use both their branding and marketing skills to develop strong relationships with each potential client.
Used correctly, the right promotional techniques can help consumers to view their insurance provider as an essential protector rather than a money-grabbing corporation.
Insurance marketing: Why is marketing important in insurance?
Learning how to effectively market an insurance agency means knowing how to position your company in the right light for your target audience.
Since most insurance agencies offer similar services, purchases are often driven by a company's reputation, customer connection, and other emotional factors.
Through immersive, engaging, and compelling marketing campaigns, insurance agencies can showcase their unique brand, capture interest from specific audiences, and drive new sales.
Effective insurance marketing can even prevent some companies from ending up in a "race to the bottom" with their services, where they're forced to compete solely on low prices for premiums.
The core benefits of good insurance marketing include the following:
Earning customer trust
81% of consumers say they need to be able to trust a brand before working with them. Marketing can be an incredible way for an insurance agency to demonstrate its credibility.
This is particularly true when marketing campaigns include signs of social proof, such as reviews, testimonials, and industry accreditation.
Increasing sales
Sales in any industry start with awareness. In order to attract traffic to a website and leads to a sales team, companies need to invest in effective marketing. The better the insurance marketing campaign, the more sales a company can unlock.
Improve brand awareness
Brand awareness isn't just a crucial tool for generating sales. It can also open new doors for a company in other avenues. Great brand awareness helps organizations attract new shareholders, earned media, and even new employees.
Greater differentiation
Competition in the insurance landscape is high. Countless vendors and resellers are offering similar solutions for consumer protection. Marketing is a way for companies to showcase their unique selling proposition.
Stronger reputation
The more customers are exposed to a brand with the right marketing campaigns, the more likely they are to trust that company. Good marketing campaigns generate familiarity, leading to more loyalty and conversions.
How to market an insurance company: Getting started
Proper planning and preparation are crucial to any insurance marketing strategy. While promotion is essential for any brand, it can also be an expensive endeavor. Investing in new campaigns at random, without the right data and guidance, can lead to lost revenue and a lower budget.
If you want to learn how to market an insurance agency the right way, you need to start with the following steps to build your marketing strategy.
Step 1: Know your audience
Different marketing campaigns will attract specific audiences. The most effective marketing strategies for insurance companies are those which speak directly to a certain niche.
With this in mind, every insurance company should clearly understand who they're trying to attract before they start promoting. After all, each type of insurance company has its own ideal customer.
Ask yourself who is most likely to benefit from the services that you can offer. Are you selling home insurance to new buyers or car insurance to people with years of no-claims? What are the core characteristics of the people you want to reach?
A set of buyer personas will help you step into your target audience's shoes when designing your campaigns.
Step 2: Analyze the competition
Just as every insurance agency has its own target market, each company also has a set of competitors it needs to fight against for market share.
When you began building your brand, you probably recognized a few key competitors in your industry. These are the companies that offer similar services and solutions to you.
Analyzing the competition will help you determine exactly what makes your solution better. Even if you offer the same policies, you may be able to provide your customers with more support, better customer service, or a greater level of convenience.
Examining the competition will also inspire you on what kind of marketing strategies you might use.
Step 3: Establish clear goals
This is an often-overlooked part of creating an insurance marketing strategy, but it's more important than most business leaders realize. Every marketing campaign you invest in will deliver specific results to your business.
Some strategies are designed to raise brand awareness for customers at the "top of the funnel" (the beginning of their purchasing journey).
Other solutions are intended to convert customers when they're aware of your service and ready to purchase. Make sure you have clear goals in mind for every campaign, so you know which metrics you should be tracking to analyze the success of your strategies.
Marketing an insurance company: Insurance agency marketing ideas
Once you've conducted the right research into your target audience and competitors, you can begin to experiment with different marketing ideas.
The good news for today's brands is there is no shortage of marketing strategies for insurance companies. The bad news is you may have to commit to some experimentation before finding the best solution for your organization.
Here are some of the best insurance agency marketing ideas you can try.
1. Invest in SEO to boost your visibility
When it comes to marketing an insurance company, few things are more valuable than your presence on the search engine result pages.
Around 93% of all online experiences start with a search engine. The better you can position your brand when people are looking for insurance on Google, the more likely you are to attract new leads.
Good SEO can take a while to master. It requires you to understand how the algorithms work for solutions like Google; some of the most important strategies to consider include:
Choosing the right keywords
Keywords are a core component of a good SEO campaign. Think carefully about the terms your customers are most likely to search for, and try focusing on the most "competitive" keywords. This means your chosen keywords should have a high search volume and low competition levels.
Tools like Ahrefs and SEMrush can help you to make the right decisions.
Think local
The chances are your insurance agency will be targeting specific customers in a certain region. Adding local terms to your keywords and making sure you have a strong presence on your Google My Business page can improve your chances of finding more local audiences.
Remember technical SEO
Technical SEO involves optimizing your website to ensure it loads quickly and delivers effective experiences to your target audience. You can use tools like Google PageSpeed Insights to see where you can improve your site's loading times.
It's also worth making sure your site is user-friendly and easy to navigate.
Invest in backlinks
Backlinking can be an excellent way to generate more traffic for your insurance company. Guest posting on relevant industry blogs and listing your site on directories for insurance companies is a great way to generate more authoritative backlinks.
2. Develop a content marketing plan
Content marketing has emerged as one of the most valuable marketing strategies for insurance agencies and virtually all other companies.
Producing high-quality, relevant, and engaging content for your website will help to strengthen your SEO presence and demonstrate your thought leadership to your target audience.
It's also a fantastic way to keep people on your website for longer.
The key to effective content marketing is ensuring you produce pieces that provide real value to your customers across every stage of the buying funnel. Help them understand the value of insurance, choose the right policy, and protect their assets with your content.
When developing your content marketing plan:
Research topics carefully
Consider what your clients most want to know when shopping for insurance.
At the top of the funnel, they're likely to be interested in learning about the different types of insurance. As they move through their purchasing cycle, they may want advice on lowering their premiums or expanding their services.
Choose different types of content
While written blog posts and articles are excellent for SEO, they're far from the only form of content you can use. Podcasts, videos, infographics, and various other kinds of content can help you to generate more traffic.
Link internally
When creating content on your website, it's worth making sure you include internal links to other pages on your site. This will help customers to navigate your website, and it could also assist with your SEO rankings.
3. Use PPC campaigns to collect leads
Content marketing campaigns generate organic traffic and improve your insurance agency's leads over time.
However, paid ads can help to boost your online presence more rapidly. PPC marketing involves bidding for specific keywords to attract unique audience members. When you pay for PPC ads, they appear at the top of the search results.
When creating your PPC ads, make sure you're focusing on the right intent. PPC campaigns work best when you're targeting customers at the bottom of the funnel when they're most likely to make a purchase. Here are some quick tips to help you:
Choose intent-focused keywords
Select long-tail, intent-focused keywords relevant to your target audience. You're more likely to get conversions from a keyword like "Beginner car insurance New York" than just "car insurance". Specific terms will also be a lot less expensive to rank for in most PPC campaigns.
Experiment with bid amounts
You'll need to set an appropriate bid amount to appear above other competing brands in the search engines. Tools like Google Ads will suggest potential budget options for you, but it's worth experimenting to get the best results.
Create accompanying landing pages
Every PPC ad you create should connect customers to a relevant landing page. This page is where you'll highlight the benefits of your services and convince customers to convert. Make sure the page is relevant to the ad
4. Nurture customers with email marketing
Purchasing insurance can be a daunting concept for many consumers. Not every prospect you attract to your website will be willing to convert immediately. That's why it's so helpful to have an email marketing strategy, to help you nurture your leads.
You can improve your chances of customers signing up for your email marketing campaigns by offering something valuable in return for their address.
You could offer access to a free insurance calculator to help customers find the right premiums or provide customers with access to a webinar, eBook, or digital download. Once you have a list of leads:
Automate your campaigns
Use email marketing software to ensure you're sending valuable emails to customers at the right time. You can leverage email automation software to automatically send customers welcome emails, updates about their policies, and more.
Personalize each email
Separate your customers into segments based on their demographics, insurance needs, and other factors. This will ensure you can send the most relevant messages to each customer and improve your chances of conversions.
Use compelling CTAs
When customers click on your emails, you must convince them to take the next step. A good "Call to Action" or CTA should immediately inform your audience of the benefits of visiting your website and buying a policy.
5. Expand your reach on social media
Social media advertising is another must-have in the insurance marketing world. It's a way of connecting with your audience on a more emotional level and expanding your reach to new clients.
The important thing to remember is you should always be using the right social channels based on your target audience.
For example, if you're selling business insurance, it makes more sense to advertise on LinkedIn than on Instagram or Facebook. Most social media platforms will also allow you to target specific people with your campaigns, so use your personas to your advantage.
Set precise target audiences
Always use the targeting tools included in your social media platform to ensure you're connecting with the right customers. You can experiment with different targeting strategies to determine the best reach.
Explore different media
While written updates can be helpful on social media, using compelling visuals and other content may help you to attract more attention. Experiment with different ad formats like video or photo carousels.
Track your analytics
Most social media platforms have built-in reporting tools that can help you learn more about your audience and their preferences. Use these tools to determine which marketing strategies most benefit your brand.
Marketing for insurance agencies: Quick tips
The insurance industry is saturated with local and national brands, all competing for similar customers. This can make it extremely difficult to stand out if you don't know how to market an insurance agency effectively.
Most companies will combine the abovementioned strategies to generate the most attention and engagement from their audience.
Here are a few extra tips which can help you separate yourself from your target audience and grow your insurance company:
1. Optimize your website
Your website is essentially your digital storefront as an insurance agency. It's where customers will come to learn more about your services, and your organization.
Ensure you have the right design in place. Around 94% of first impressions rely on a site's appearance, so working with a professional designer may be worthwhile.
Ensure your site is easy to navigate on every platform, and make sure your customers know how to contact you if they have questions about your policies or want to request a quote.
Keep in mind that your website should also reflect your brand, showcasing your logo, colors, and even your tone of voice.
2. Build credibility with meaningful campaigns
Your website is essentially your digital storefront as an insurance agency. It's where customers will come to learn more about your services and your organization.
Ensure you have the right design in place. Around 94% of first impressions rely on a site's appearance, so working with a professional designer may be worthwhile.
Ensure your site is easy to navigate on every platform and make sure your customers know how to contact you if they have questions about your policies or want to request a quote.
Remember that your website should also reflect your brand, showcasing your logo, colors, and even your tone of voice.
3. Partner with other entities
Another great way to build trust and credibility as an insurance agency is to partner with other entities. A car insurance company could partner with a local racing team or a garage to promote its services.
You could even consider investing in sponsorship marketing relevant to your chosen industry, to connect your company with groups your customers care about.
Influencer marketing can also be helpful for insurance companies, as it's a way of generating credibility and trust by aligning yourself with a well-known figure. When choosing partners, make sure you always opt for relevant entities with the right target audience.
4. Build referral networks
Your existing loyal customers are one of the most important resources you have when it comes to insurance marketing. Consumers are far more likely to trust the recommendations given to them by other like-minded individuals.
With this in mind, consider creating a referral network that rewards your customers whenever they bring someone new to your company.
You can also expand your referral network through affiliate marketing. Give other companies, brokers, and individuals a chance to earn rewards for driving new traffic to your organization. Referrals will help you to spread the word about your business via word of mouth.
5. Analyze and optimize
As mentioned above, learning how to market an insurance agency requires some experimentation. You'll need to explore a range of different marketing strategies to determine which solution works best for your goals.
Having the right systems in place to track valuable marketing metrics, such as ROI (Return on Investment) and CAC (Customer Acquisition Cost) is extremely helpful.
The more you analyze your campaigns, the more you'll be able to determine which strategies generate revenue and opportunities for your business. This means you can eliminate ineffective marketing strategies and double down on the methods that work.
How do I market an insurance agency?
There's no one-size-fits-all method for learning how to market an insurance agency. Like many organizations, insurance companies need to experiment with a host of different promotional strategies to expand brand reach, boost recognition, and connect with their audience.
However, if you follow the tips and guidance above, you should find you start to access some fantastic results.
If all else fails, you can always consider working with a professional marketing or branding agency to boost your chances of success. Specialist companies can work with you to find the ideal insurance marketing strategy for your specific needs.
Fabrik: A branding agency for our times.
Now read these: 
—How to start and grow an insurance agency 
—The essential guide to insurance branding 
—Ultimate list of insurance company logos 
—Your guide to naming an insurance company