It's easy to overlook the value of personal branding for students. While branding is often associated with businesses and entrepreneurs, personal branding examples for students demonstrate just how effective the right strategy can be, no matter your age or experience.
A lot of emerging professionals in the talent market assume they should wait until they start their own business or launch their career to refine their brand identity.
However, starting early with your personal branding strategy can be an excellent way to unlock new opportunities before you even leave college. With a compelling personal brand, you can show potential employers, business leaders, and would-be clients your value in an engaging way.
The more time you invest into developing your personal brand as a student, the easier it will be to control your image in the evolving digital and offline world as you grow.
Here's everything you need to know about personal branding for students and how you can use your brand to reach your target audience.
What is personal branding for students?
Before we explore some personal branding examples for students, and discuss how you can develop your own brand identity, let's discuss what personal branding actually is for academics. Personal branding is the process of shaping your personal reputation.
It's how you determine what people think and feel about you, when they encounter your personal website, LinkedIn profile, resume, or business card.
Just as business owners develop brands for their companies to help them connect emotionally with customers, individual people can also cultivate their own compelling brands.
For college students, personal branding is a fantastic way to take control of your offline and online presence, as quickly as possible. After all, even if you're not actively cultivating your own brand identity, the people you meet as you launch your career will still form opinions of you.
Everything you share with the world as a student, from your portfolio to your Instagram account, can influence your professional life.
For students, personal branding is more than just a great way to boost your chances of unlocking new employment opportunities. It can also be a fantastic way to learn more about yourself.
During the branding process, you'll discover your goals, values, and strengths. This can help you to market yourself more effectively, and decide what you want to accomplish in your career.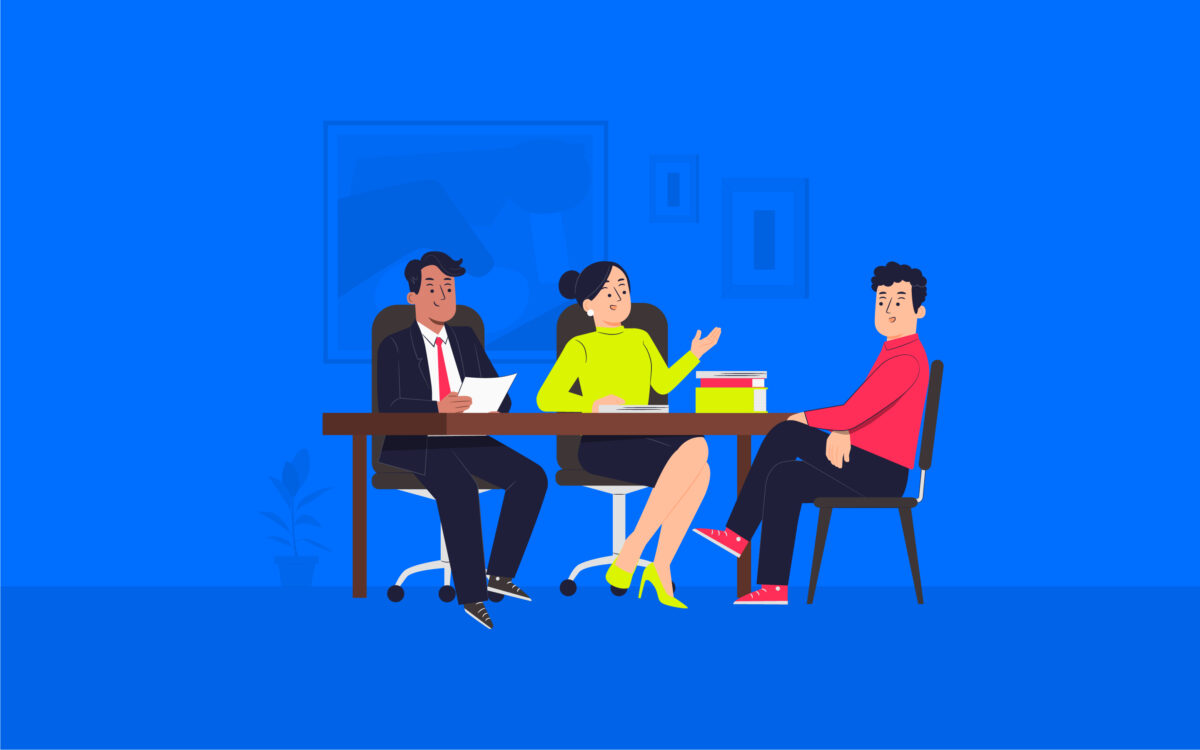 The benefits of personal branding for college students
As mentioned above, there are a number of reasons why personal branding makes sense for students. First and foremost, learning how to master personal branding improves your chances of developing work experience, by making you more appealing to your ideal employer.
It can strengthen your presence in job interviews, enhance your personal statements, and even capture the attention of would-be customers and clients. Notably, personal branding for students has grown increasingly important in recent years, as the digital world continues to evolve.
In the past, most employers and college admission professionals evaluated a student based on their personal statements, applications, and previous academic achievements.
However, a study found that up to 35% of admission officers now check social media when looking into a student. Additionally, 91% of hiring managers examine an individual's online presence before inviting them to an interview.
Developing a personal brand as a college student allows you to:
Learn more about yourself
As you create your personal brand, define your mission statement as a college student, and build your identity, you'll learn more about yourself. You'll discover your passions, goals, and ambitions for your professional life.
Gain an advantage in the job market
Since personal branding is still heavily overlooked by many students, developing your own brand is a great way to stand out from other candidates.
You'll learn how to draw attention to your strengths during your job search, which could mean you're more likely to earn lucrative employment opportunities.
Protect your identity
The earlier you start developing your personal brand and professional network, the easier it is to protect your reputation. You can give yourself the best possible starting point as you enter the professional world.
How can a student create a personal brand?
The good news for students is learning how to create a personal brand doesn't have to be as complex as it seems. Building a personal brand is similar to developing any kind of brand, for a business, a product, or even a non-profit.
It all starts with research, getting to know yourself, your target audience, and the value you bring to your market.
While the process involved in building a personal brand can vary for each student, there are some steps you can follow to get yourself on the right track.
1. Develop your personal brand framework
The first step in defining an excellent personal brand as a student, is defining your core brand attributes, or the "essence" of you brand. Think about your strengths and passions as a student.
What have you accomplished during your education, and what unique qualities do you have? What are your values as you enter the business world, and what motivates you to pursue your career goals?
When developing your framework, think about:
Your personal brand goals
What do you want to accomplish with your personal brand? High school students might be focused on improving their appearance to admissions officers, while graduates might want to appear as a thought leader in their industry.
Your strengths and accomplishments
What have you achieved so far in your professional career. If you don't have years of experience in your space, what kind of offline and online courses have you completed. What volunteer work have you done?
Your values and passions
What drives you in your industry? What do you value most as a professional, and what are you passionate about? For instance, Elon Musk developed a personal brand around a passion for innovation and sustainability.
Your target audience
Who specifically are you trying to reach with your personal brand? What kind of people do you want to connect with, and what are their pain points and goals? Define some user personas, to help you tailor your brand to your audience.
Your brand image
How are you going to present yourself to the world? What kind of colors and imagery will you be using on your personal website and blog posts? How do you dress for interviews, networking events, and conferences?
Your tone of voice
What kind of personality do you want to convey to people both in real life and online? Do you want to seem friendly and approachable, or professional and sophisticated? How will you communicate with your audience?
2. Create your personal brand assets
Once you have a clear framework for your personal brand, the next step is making sure people can interact with that brand as frequently as possible. The assets you develop for your personal brand will depend on a number of factors, including your goals, and your profession.
For instance, if you want to stand out in the photography or graphic design industry, you might concentrate on developing a personal portfolio, where you can showcase your work to potential employers and clients.
If you're trying to pursue a career in marketing, you might develop your own blog, or experiment with volunteer marketing campaigns.
Some of the key assets you'll need to think about include:
Your personal website
Although designing a website can seem like an unusual step for some students, it's a great way to strengthen your presence online.
Your own website is a fantastic opportunity to showcase a great personal brand statement, your years of experience in your field, and even the things you've accomplished so far.
Your social media presence
As mentioned above, many employers and admission officers now examine social media accounts when evaluating a student. Make sure your social media presence represents your strengths, and the identity you want to convey to your audience.
Create a complete LinkedIn profile where you can showcase your experience and credentials.
Resumes and cover letters
A resume or cover letter is an excellent way to provide an insight into your unique selling proposition as a professional. They can highlight your education, your experience, and accomplishments.
Remember, every cover letter and resume you produce should be tailored to the job you're applying for.
There are various other ways you can build on your personal brand image too. For instance, you could consider creating business cards you can pass out at networking or employment events. You might create a unique email signature, with links to your social media accounts.
Some students and professionals even create personal brand logos to showcase on their website, emails, and resumes.
3. Build your network and USP
Now you have a clear idea of the image you want to convey, and you've started to build the assets required to support your personal brand, it's time to start developing your presence.
As a student, one of the best things you can do to make your personal brand really stand out is focus on differentiating yourself. Look at other professionals and job seekers in your space.
Consider how they showcase their personal brand, through marketing strategies, volunteer work, and memberships with industry bodies.
Ask yourself how you can set yourself apart from other candidates in your space, by strengthening your skills in specific areas, or looking for ways to gain experience through internships and entry-level roles.
Another way to strengthen the impact of your personal brand is to start investing heavily in networking. Remember, up to 70% of all open positions in the professional world aren't listed online.
Connecting with small businesses, startups and entrepreneurs in the real world can be an excellent way to get your foot in the door of your industry.
When building your network, think carefully about the connections that will support your brand identity. Connect with alumni from your college, the professors you learned from, and potential employers in your space.
Attend career and internship fairs on campus, visit industry events, and join groups on social media channels like LinkedIn and Facebook.
4. Live by your personal brand
One of the most important things to think about when developing personal branding for students, is the identity you create needs to match your actions and behaviors. It's not enough to simply tell people what makes you special, you need to consistently showcase your values.
Once you've evaluated the personal brand you want to build, you can create a short and strong personal branding statement, highlighting who you are, what you do, and who your audience is.
This statement can guide you in making the right decisions to strengthen your image in your professional and personal life.
Whenever you're making decisions about which roles to take, which courses to pursue, and even what networking strategies to invest in, ask if these decisions resonate with your brand values.
Each time you post something on your Instagram or Twitter account, ask yourself how the content will reflect on the brand you want to build.
Living by your personal brand ensures you can create an authentic, reliable, and consistent image that other people will trust and respect.
Personal branding examples for students
Now that we've covered the core steps involved in building an effective personal brand as a student, it's time to check out some inspiration. There are plenty of personal branding examples for students to learn from in the world today.
You don't have to focus exclusively on other students. Remember, many of the world's biggest entrepreneurs and business owners started out as graduates too.
Here are some great personal brand examples for students you can learn from.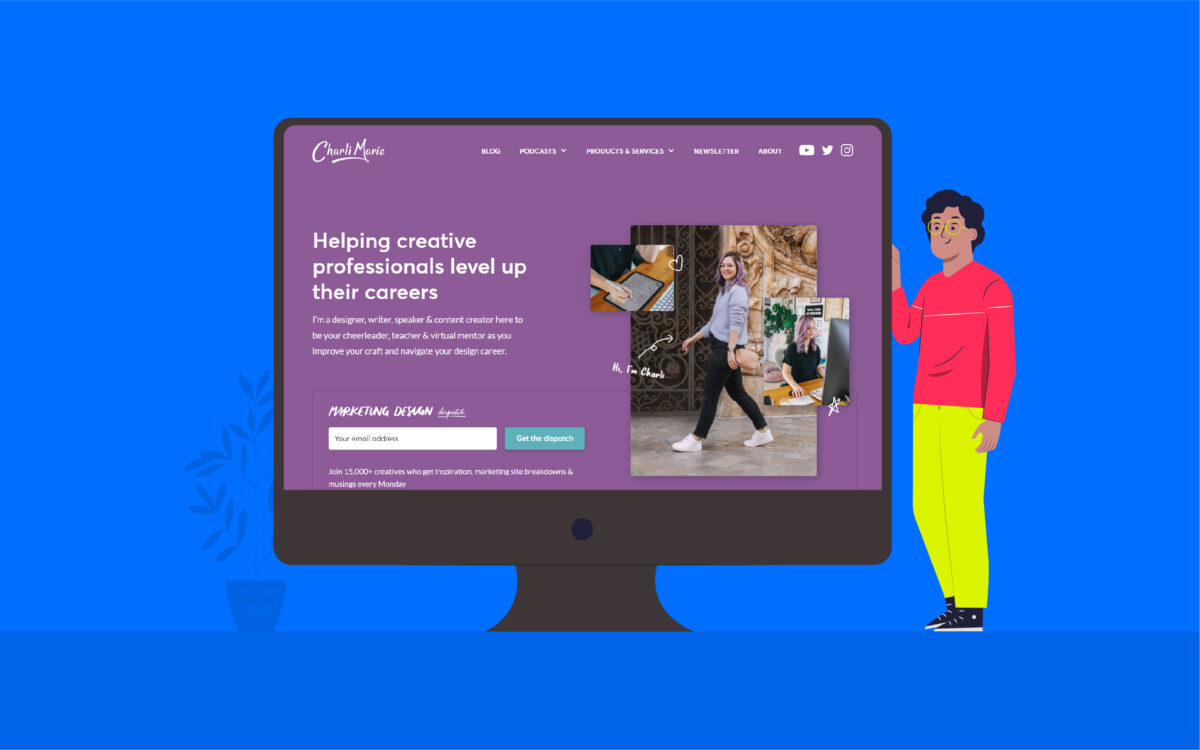 1. Charli Marie
Now considered one of the leading internet personalities in the creative world, Charli Marie offers an excellent insight into the power of personal branding. Her website highlights her commitment to helping creative professionals "level up" their career.
Charli Marie's website immediately draws attention to her passion for the marketing space, with authentic photos, and behind the scenes insights into her work.
Charli also strengthens her personal brand by maintaining a strong presence across a variety of channels. She invests in regular blogging, social media content production, podcasting and video creation.
She also highlights the companies she's worked with in the past, from Stripe to Shopify, to demonstrate her experience in the technology world.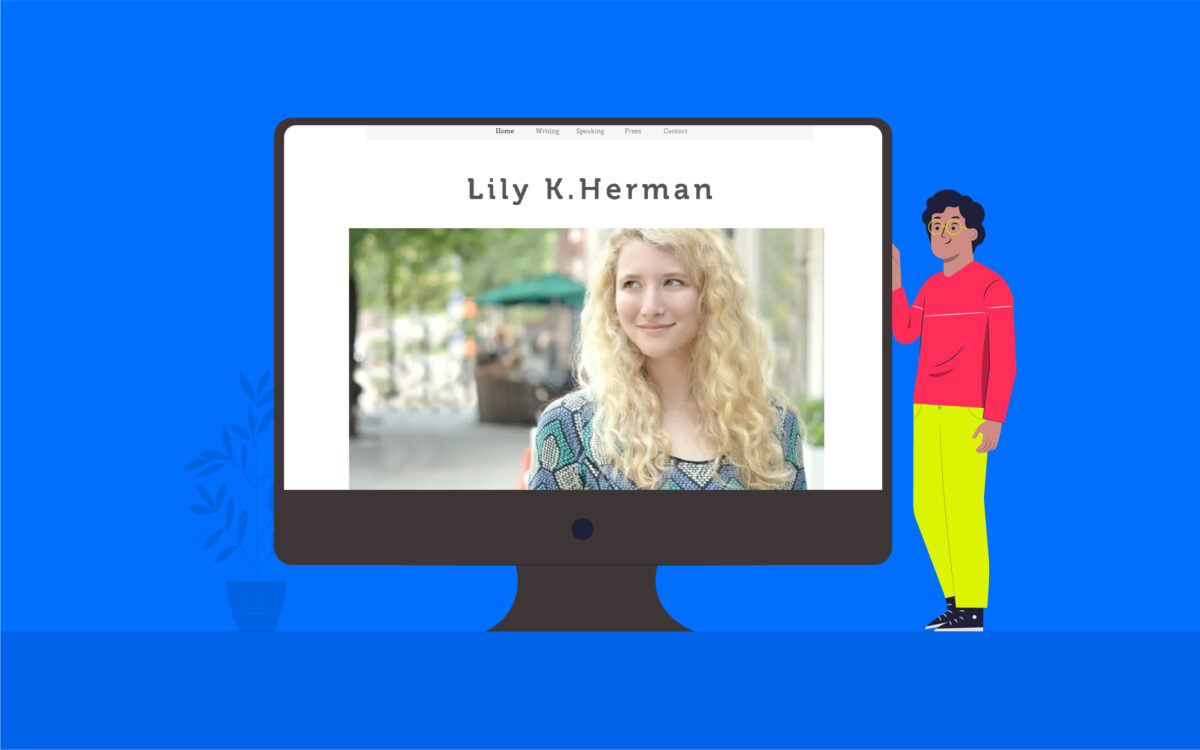 2. Lily Herman
Writer, editor, and digital strategist Lily Herman built her personal brand with a focus on accomplishment, and innovation.
The Lily Herman website immediately introduces potential clients and employers to Lily's accomplishments, from the publications she's worked with in the past, to the businesses she's helped to create.
Lily's online presence ensures everyone can find out everything they need to know about her writing and speaking skills, with case studies, examples, and press releases. Her website is simple, but impressive.
Lily lets her accomplishments speak for her.
She also has a strong and active presence across social media, with a comprehensive LinkedIn profile, Twitter account, and Facebook page.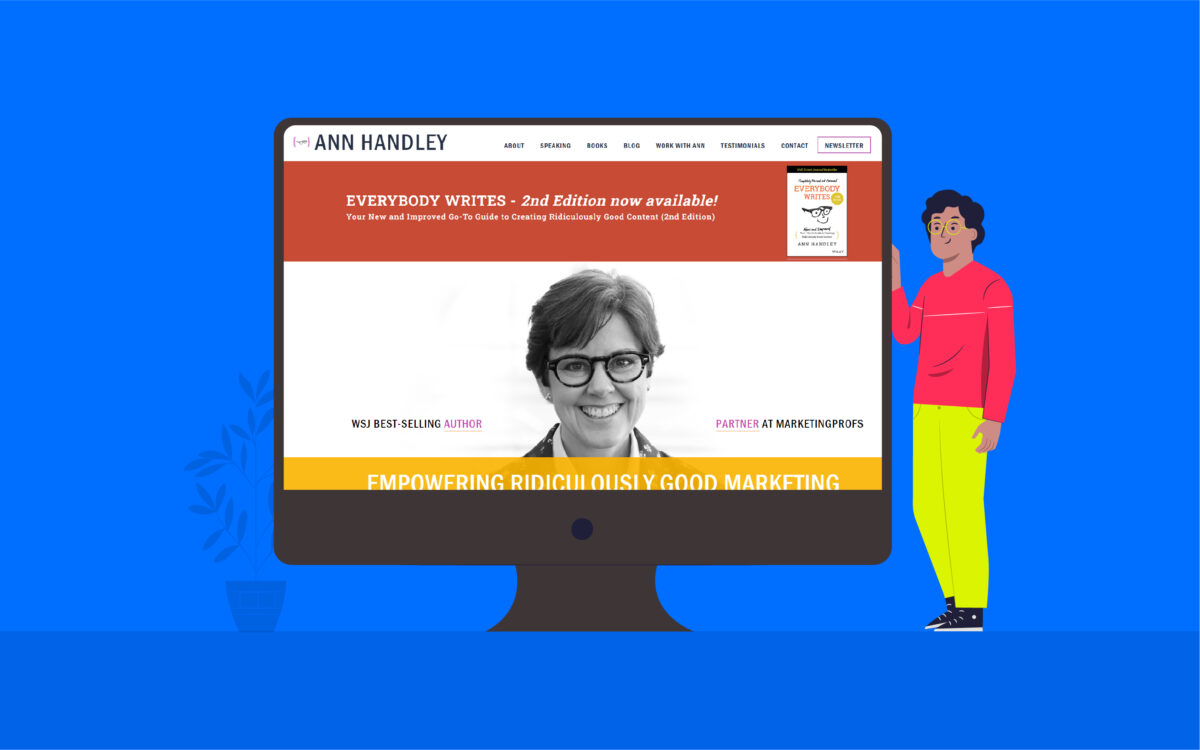 3. Ann Handley
Wall Street Journal bestselling author, Ann Handley offers fantastic inspiration for those in search of personal branding examples for students.
From her early years, Ann has focused heavily on showcasing a rich personal brand. She networks frequently with other professionals in her space, both on LinkedIn, and through in-person events.
Ann provides an insight into her background and skill sets on her website, with a rich and emotional "about" page, and a frequently updated blog. She also ensures she can maintain a strong brand identity with her target audience, with dedicated newsletters.
Ann has a great presence on social media, and she consistently gets involved with real-life events, to ensure she's showcasing her personal branding as frequently as possible.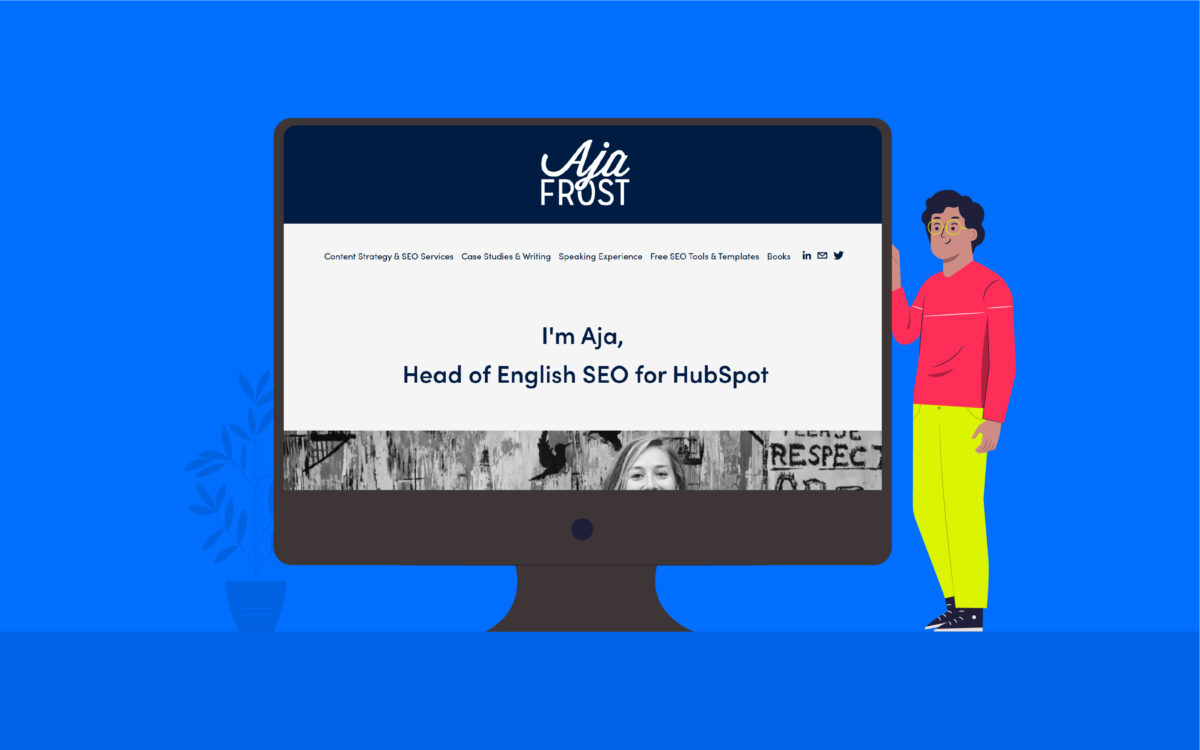 4. Aja Frost
Perhaps one of the best examples of how personal branding can assist students in forming the foundations of their career, Aja Frost is an author who wrote her way through college, connecting constantly with some of the world's leading publications.
She's now a senior SEO expert at HubSpot, where she's worked since graduating.
Aja demonstrates how hard work in the branding landscape can really pay off. By networking with other companies and gaining experience with companies like Business Insider and The Muse in early years, she's been able to create a fantastic portfolio showing off her experience.
She also has countless followers on social media, where she shares helpful tips on marketing, and answers simple questions about writing and SEO.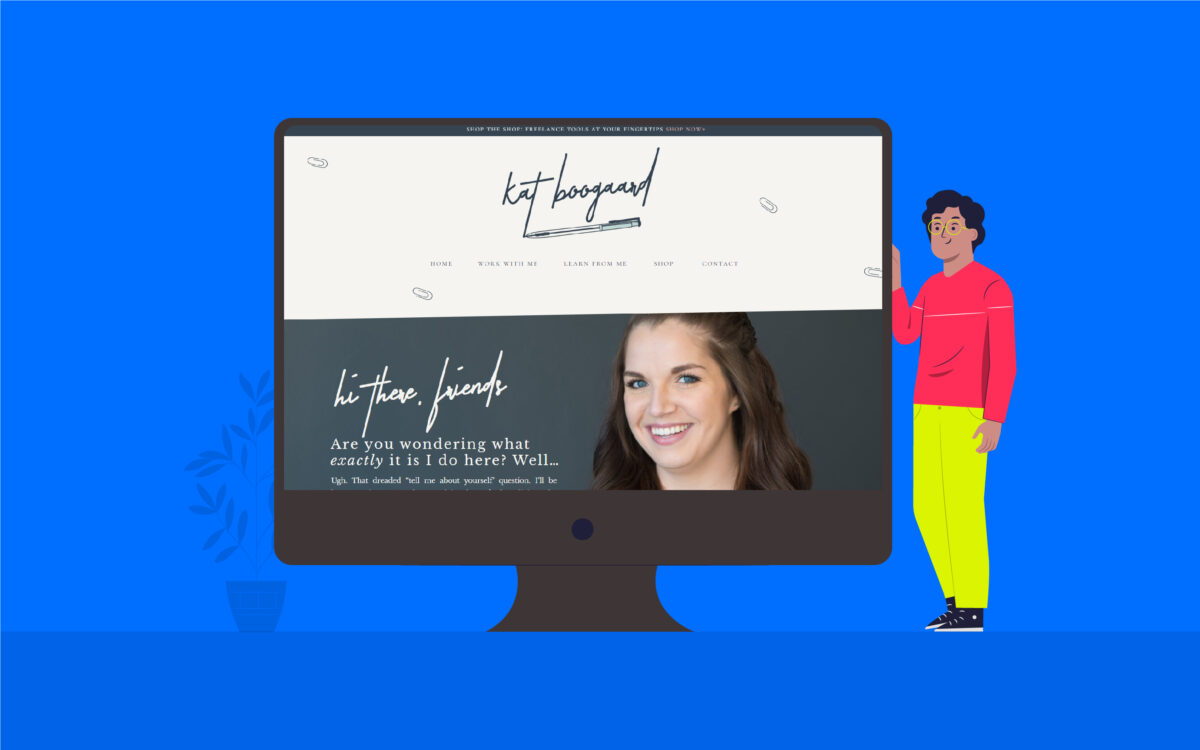 5. Kat Boogaard
Another of the best personal brand examples worth checking out for students comes from Kat Boogaard, a six-figure earning freelance writer who has been published in some of the biggest publications in the world.
Part of what makes Kat's personal brand so compelling is the professional image she's created for herself.
Kat's website and social media presence share a consistent aesthetic, with high-quality photos, carefully chosen colors, and logo designs. Her website speaks to other freelancers and potential clients alike, with a clean portfolio page and an excellent, educational blog.
Kat, like many other experts in the personal branding world, is also extremely active on social media. She carefully cultivates posts to make her appear more fun and likeable, showcasing her unique personality in everything she does.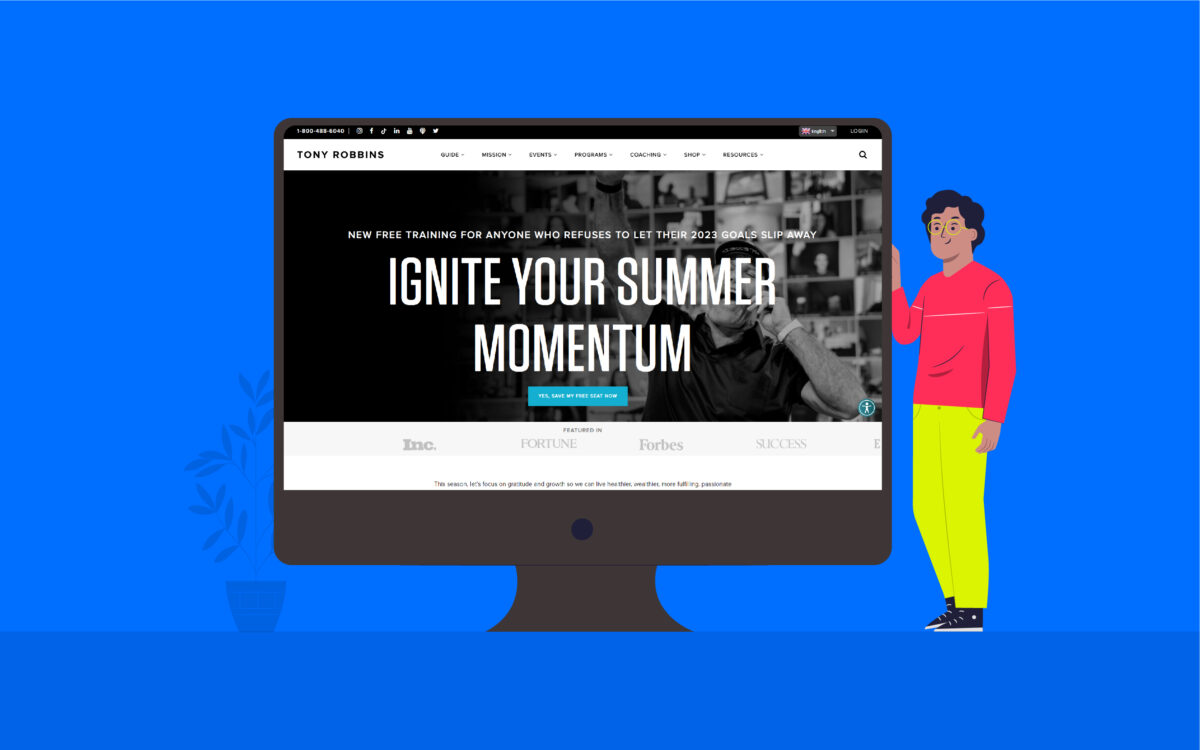 6. Tony Robbins
Probably one of the best personal branding examples around comes from Tony Robbins, one of the world's best-known financial experts and entrepreneurs. This incredible figure has been building his personal identity for years, appearing in infomercials, self-help books, and seminars alike.
Tony is an expert at managing both his online and offline presence. He showcases the same confidence, charisma, and knowledge at speaker sessions as he does online.
Plus, he's constantly sharing content that demonstrates his understanding of his industry, through books, podcasts, blog posts, and even online newsletters.
Tony focuses on building an image that's all about innovation, discovery, and accomplishment. His strong brand remains consistent throughout everything he does.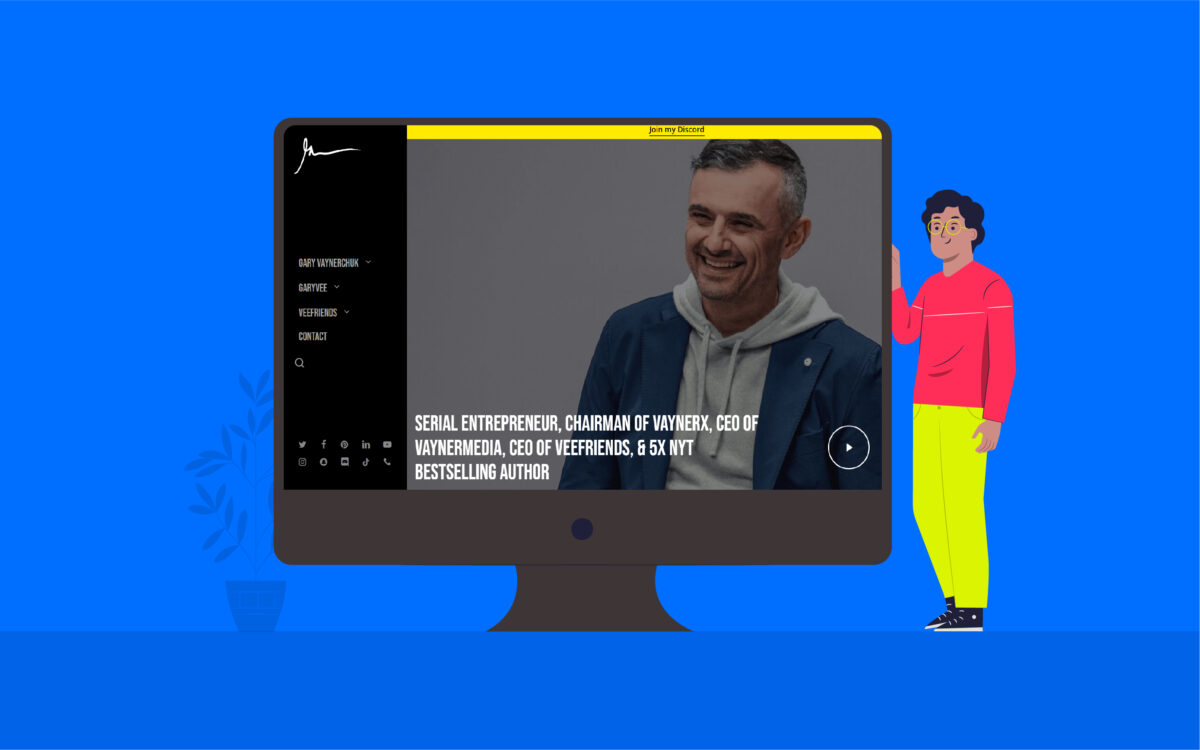 7. Gary Vaynerchuk
Speaking of industry leaders with an excellent personal brand, Gary Vaynerchuk knows all about the power of personal branding.
Part of what makes Gary's brand so compelling is how he speaks to his target audience. The choice of words used in his blog posts, articles, and even videos demonstrates his passion, but also his commitment to helping others.
Gary is extremely transparent and authentic with his personal brand. He shares his history with his followers consistently, provides insights into his life, and even talks about his failures alongside his successes. This makes him appear more trustworthy and compelling.
Gary even strengthened his personal brand by generating a nickname for himself that's easy to remember. Countless people today simply know him by "Gary Vee".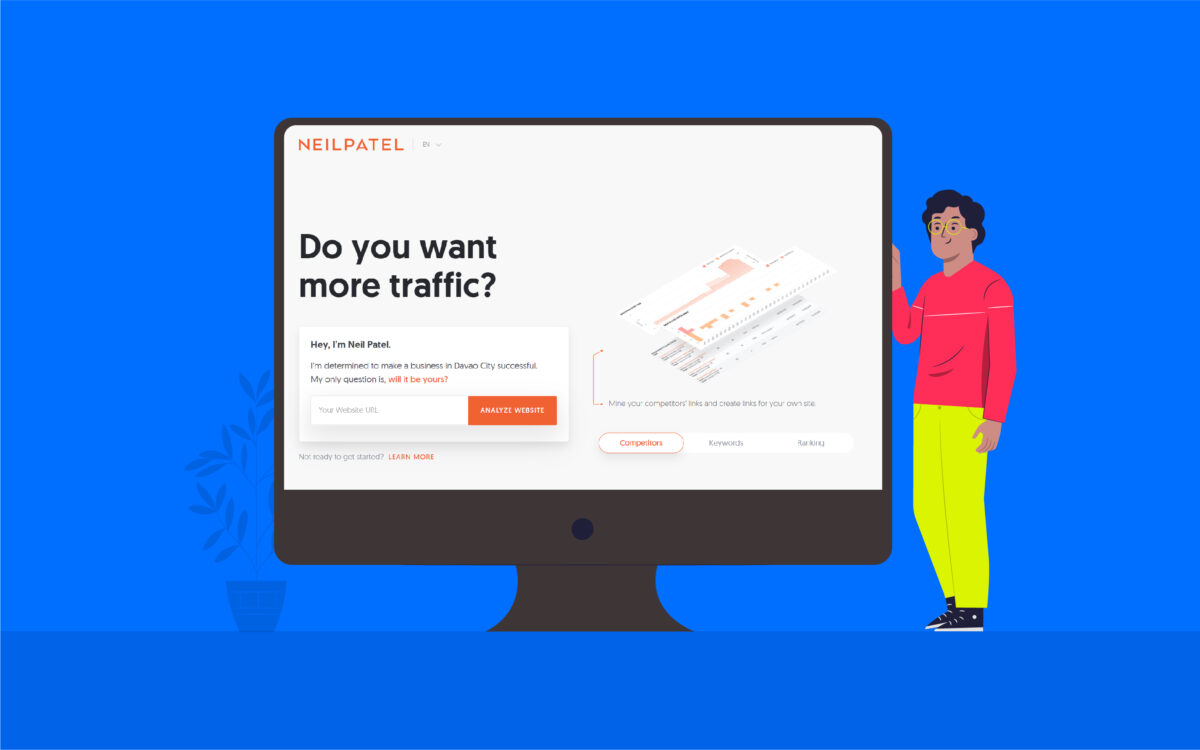 8. Neil Patel
Neil Patel offers an insight into how a personal brand can be just as, if not more powerful than a business brand. The founder of Hello Bar, and Crazy Egg, Neil Patel has built a reputation for himself as both a friendly and knowledgeable expert.
The language on his website and social media posts is accessible and easy-to-understand. Neil also consistently shares his insights through a comprehensive blog, a set of digital marketing training courses, as well as videos and event appearances.
Neil even shares his mission statement with his followers, letting them know his goal is to teach them one new marketing tactic each day.
Neil has crafted a compelling image for his brand too, with a consistent color palette across all of his online channels, and his own mascot-style logo.
Creating the ultimate student brand
Learning how to master personal branding for students takes time and effort. As you can see from the personal branding examples for students listed above, you'll need to be committed to creating a consistent and powerful image wherever you go.
Everything from your social media profiles to your personal website, and your resume should convey your clear values and skills.
While it takes time to develop a compelling brand, committing to refining and optimizing your image can make a huge difference to your future in any industry. The way you present yourself in the professional world with your personal brand can open the door to endless opportunities.
Don't underestimate the value of creating your own personal brand.
Fabrik: A branding agency for our times.

We've built our reputation, building brands for other people.
Do you need to bring a new brand to life or breathe new life into an existing one? If so, let's start a conversation
Now read these: 
—The essential guide to personal branding 
—How to rebrand yourself on social media 
—Best personal brand statement examples
—Steps to reinventing your personal brand 
—The best books on personal branding
—Your guide to personal logo design