The best corporate events are memorable. Unfortunately, the worst ones are difficult to forget too.
Regardless of whether you're organising a new product launch, a seminar, or just taking part in a charity promotion, you have an opportunity to make an impact when you're part of an event. That impact has a direct correlation with the development and sustainability of your brand.
These days, the average corporate events definition is changing. In the past, corporate events used to be stuffy rooms filled with executives and pie charts. Today, some of the most significant business events feature everything from exclusive releases to celebrity appearances and more. That's because organisations are beginning to realise that it's not just the way they present themselves online that affects their brand, but the experiences they create offline too.
In an age where experience is everything, the corporate event is an important way to build upon the existing digital connections you've built with your consumer base. Used correctly, your corporate events ideas can create brand loyalty, improve revenue, and even repair a damaged reputation.
However, if you're hoping for the best results, then you need to remember one golden rule:
"Don't just create corporate events. Build a brand experience."
Today, we're going to go beyond the venue, the entertainment, and even the hors-d'oeuvres at your corporate events to discover how these offline experiences affect your brand.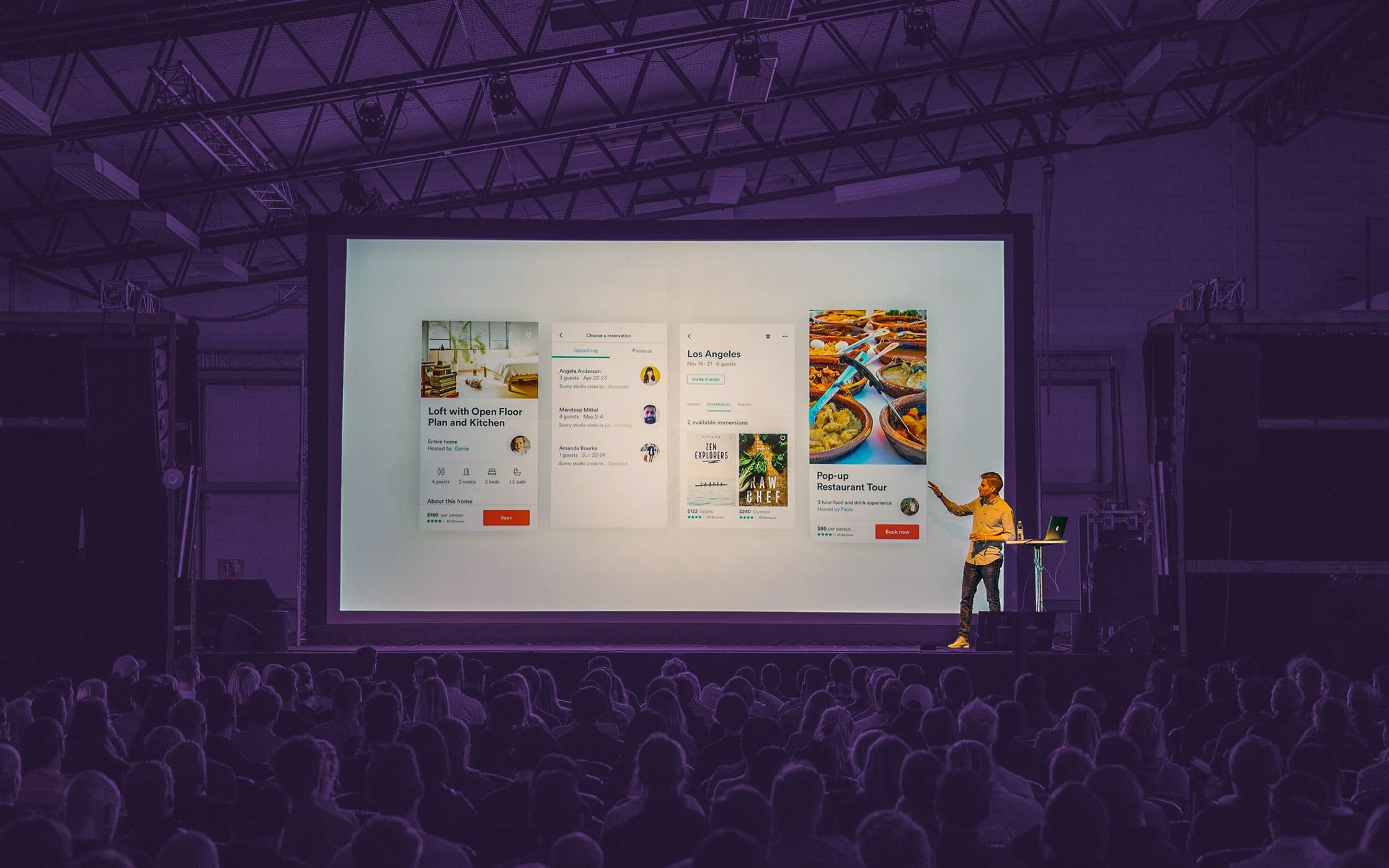 What are corporate events and what do they do for your brand?
There are many different types of corporate events.
A celebration of your marketing team's biggest win, a new product launch, or even a partner event with your favourite charity can all be 'corporate events'.
Essentially, corporate events are any experience sponsored by your company. Since there are so many different types of corporate events, there are also many unique goals for each experience. For instance:
A trade show raises product and brand awareness.
A team-building event improves company culture.
An appreciation event supports employee engagement.
Perhaps one of the most important ways to use corporate events is a way of getting new customers in the door. Events that are open to the public increase your exposure to potential customers and demonstrate what your business has to offer. They're a way to share your USP with the world and develop your brand at the same time. The benefits of corporate events include:
Enhanced customer affinity: These days, businesses are so caught up in their digital marketing campaigns and SEO that they forget how important it is to connect with their customers offline too. The face-to-face interactions available in corporate events help to strengthen the relationships that brands have with their customers, paving the way for long-term loyalty.
Improved visibility: Many corporate events ideas revolve around launching a new product or service or drawing attention to the brand in some way. If your event is successful, it may generate a lot of buzz that pulls more focus to your company. Think of it like having an article go viral online. With a corporate events agency, you can make sure that your company gets the attention it deserves.
Develop prestige and credibility: When's the last time you saw a cowboy builder running his own corporate event? For the most part, professional events are reserved for companies that are committed to their brand. Show the right image in your events, and you'll instantly develop more credibility for your brand, and remind your customers that you have genuine value to offer them.
Build trust: Corporate events demonstrate that you're the real deal. If you're lucky enough to be able to partner up with social influencers, celebrities, and other brands in your event, you can even benefit from something called the "halo effect." This happens when a new brand piggybacks off the existing respect another business has.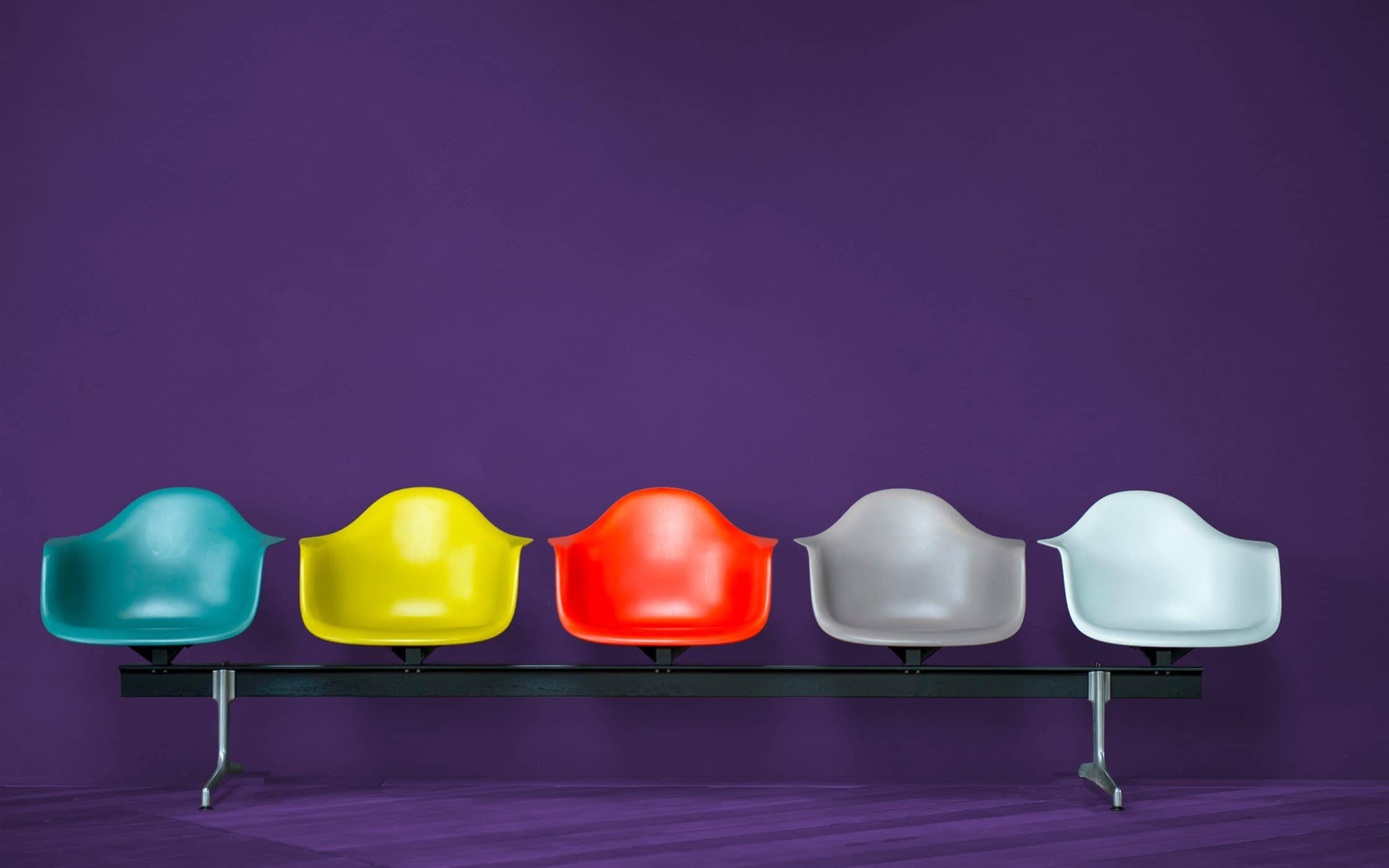 The 5 types of corporate events with a direct link to branding
You could argue that all types of corporate events link back to branding in some way.
Even team-building programs and business celebrations build your employer brand, which can make you more appealing to both top-tier talent, and your target audience. What's more, the more media coverage your brand gets because of an event, the more you build brand awareness.
Look at it this way.
Brands exist to be memorable. Whether it's Nike with their sportswear or Coca-Cola with their carbonated drinks – all brands are committed to creating a significant connection with their target audience. The same is true of events. With an event, you leave a lasting impression on your audience and build on the feelings they already have about your company.
It's no wonder that 80% of marketers feel that live events are crucial to their company's success.
Events are an essential part of your brand strategy for several reasons. First, they show your customers that you're the same business in 'real life' as you are online. At the same time, events have a measurable ROI. One report shows that events can deliver up to five times the amount of your initial investment back to you.
So, which types of corporate events are most beneficial to branding?
Types of corporate events 1: Trade shows
Trade shows are exhibitions designed to show your customers and shareholders what you're capable of. They're an easy way to accelerate brand awareness because they give you another avenue for showcasing your products and services. Trade shows also boost brand recognition by giving you a chance to demonstrate your unique personality, values, and image to the world.
Types of corporate events 2: Appreciation events
Appreciation events have a different kind of impact on your brand. They're not about improving your relationships with customers, so much as they are about strengthening connections with existing employees, and potential future talent. Of course, if your celebration of a team achievement is picked up by the media, this can also make your business look more credible in the eyes of consumers too.
Types of corporate events 3: Seminars
Thought leadership is an essential concept for many brands today. That's one of the reasons why things like knowledge bases and authority articles are becoming a more common component of marketing. Through seminars and conferencing, you can demonstrate your expertise in your field and convince your customers that you're the reliable company you've branded yourself to be.
Types of corporate events 4: Charity events
It's no secret that today's customers want to connect with companies that contribute something to the world. Your consumers want evidence that you care about more than just profit and revenue, and you can show them that you share their values through charity events. Partnering up with a non-profit as part of your CSR initiative gives depth to your brand and convinces your customers that you're not just another faceless corporation.
Types of corporate events 5: Product launch
Finally, a product launch isn't just an excellent way to generate excitement about your new product or service; it's also a method of reminding your customers of what sets you apart from your competitors. By implementing your brand identity into your brand launches, you can differentiate yourself from other companies offering similar solutions, and generate loyalty among your target audience.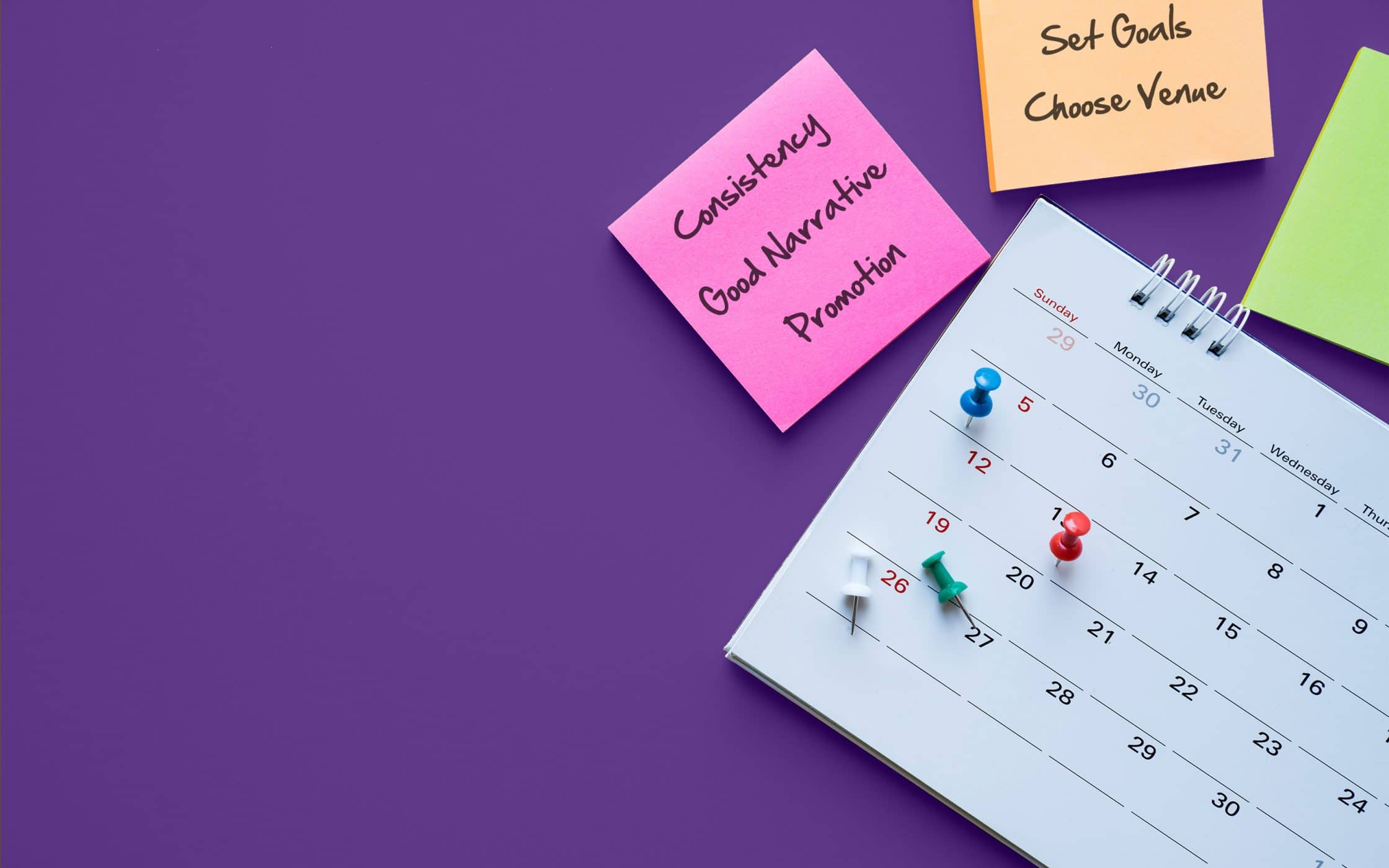 Important points to remember when planning corporate events
Corporate events are all about being active in your industry.
As the marketplace grows increasingly competitive, companies that want to build lasting relationships with their customers need to do more than send the occasional email or social media update.
With the right ideas for corporate events, you can give your business a personalised way of building relationships with your target audience, as well as developing loyalty and recognition. As great as digital marketing is, it still doesn't compete with those face-to-face experience you get with the help of a corporate events specialist.
Corporate events allow you to connect with your current clients, attract future ones, and strengthen the foundations of your brand. So, how do you start planning?
1. Set clear and measurable goals
No matter the types of corporate events you're creating, planning and hosting a professional affair is a time-consuming and often expensive process. This means that it's important to know what you want to accomplish from day one. Are you hoping to generate more awareness for your company, or do you just want to attract the attention of potential partner brands?
Setting goals from the moment you start working on your corporate events definition will ensure that you have a benchmark on which you can measure your success.
Remember, the biggest results from your corporate events might come after the affair takes place. For instance, if you aim to improve brand awareness, then you might need to track the number of new customers that come to your website or social media pages after your event has been covered by relevant industry publications.
2. Choose the right venue
There are a lot of different elements you need to get right if you want your brand image to shine through in your corporate events. While decorating everything in your brand colours and spraying your logo as far as the eye can see will help, you also need to think carefully about the venue you're going to choose.
After all, the environment you select for your corporate event can highlight certain parts of your personality. A festival in the middle of a field might be fine for a music company, but it's not going to have the right impact for a banking organisation. Think about the kind of reputation you already have and the venue that will fit with it.
3. Be consistent
While you're working on getting the venue right, think about the other things you can do to align your online presence with the experience you're creating offline. Your food, drinks, décor, and anything else crucial to your corporate events should match the identity you've established for yourself. When conceptualising the affair, ask yourself:
Does this feel like the brand?
Will this speak to our audience?
What does this say about our company?
Remember, go beyond image when you're aiming for consistency. While logo cookies might be a great way to spruce up your buffet table, you'll also need to think about whether the speakers you have are relevant to your company, and the music you're using will appeal to your target audience. Remember, it's a brand experience, not just a conference.
4. Create a narrative that's easy to share
Just because corporate events are 'offline' experiences doesn't mean that they can't help to improve your brand reputation online too. Remember, building a brand is all about creating a perception of your company that your customers can carry with them wherever you go. An event is a fantastic way for you to tap into the user-generated content that makes your brand identity more authentic and believable.
By giving your attendees a simple message that they can easily share through digital platforms, you improve your chances of reaching a wider audience and leaving the right impression too. Some of the ways that you can create a shareable message for your brand include:
Giving people a chance to win an in-person competition when they tweet a branded hashtag.
Sharing photos, videos, and snippets of the content on social media.
Coming up with a slogan to accompany the name of your event.
Asking people to contribute to articles about your event with quotes.
5. Promote the event (before and after)
Finally, remember that like anything else in your branding strategy, corporate events require a marketing strategy. To get the most out of your ideas for corporate events, you need a promotional strategy that drives attention to the experience before it happens and keeps people talking about it afterwards too.
Team up with corporate events companies to promote your events on as many different channels as possible before the day. The more people there are attending your experience, the better your brand image becomes. Once the event has passed, remember to keep people talking about it with:
Follow up podcasts, press releases, articles, and photos.
Videos from the event published on social media and your website.
Emails to attendees thanking them for coming.
Social media updates with photos from the event.
Opportunities to sign up for the next event.
If you had any sponsors or influencers at your corporate events, remember to ask them to contribute to your promotional strategies too. This will improve your reach and give you access to a wider audience.
Corporate events ideas: Examples of companies getting it right
Still not sure how corporate events tie into your brand strategy?
Ultimately, everything your business does, either offline or online, contributes to the way that your customers think and feel about you.
An event that consistently showcases the brand image you've been trying to build is just another way to prove to your audience that you are what you say you are. Let's take a look at some examples.
1. The Content Marketing World Conference (CMI)
The Content Marketing Institute is a company dedicated to (you guessed it), digital content, and how it can be used to promote a business. This organisation is an excellent example of how corporate events ideas can tie in with your brand strategy. For instance, the company's logo is orange:
So, you can guess what the colour theme of their content marketing world conference is each year too:
By implementing their brand colours into their corporate events, content marketing world created a consistent link between their online identity and their offline experiences. The company really commits to the colour theme, with orange food, and even speakers dressed up in orange garments. It's a simple way to make that brand connection, but the orange shades make every CMI event as memorable as possible by reminding you of just one of the things that makes the company unique.
2. The Dreamforce Conference (Salesforce)
Another fantastic example of a company that brings their brand with them to into their ideas for corporate events is Salesforce. Throughout the years, Salesforce has focused on building a brand that sets them apart as a digital selling trailblazer. The Dreamforce conference is just as forward-thinking and innovative as the company that hosts it. In fact, in 2017, the event included a concert from Alicia Keys and Lenny Kravitz.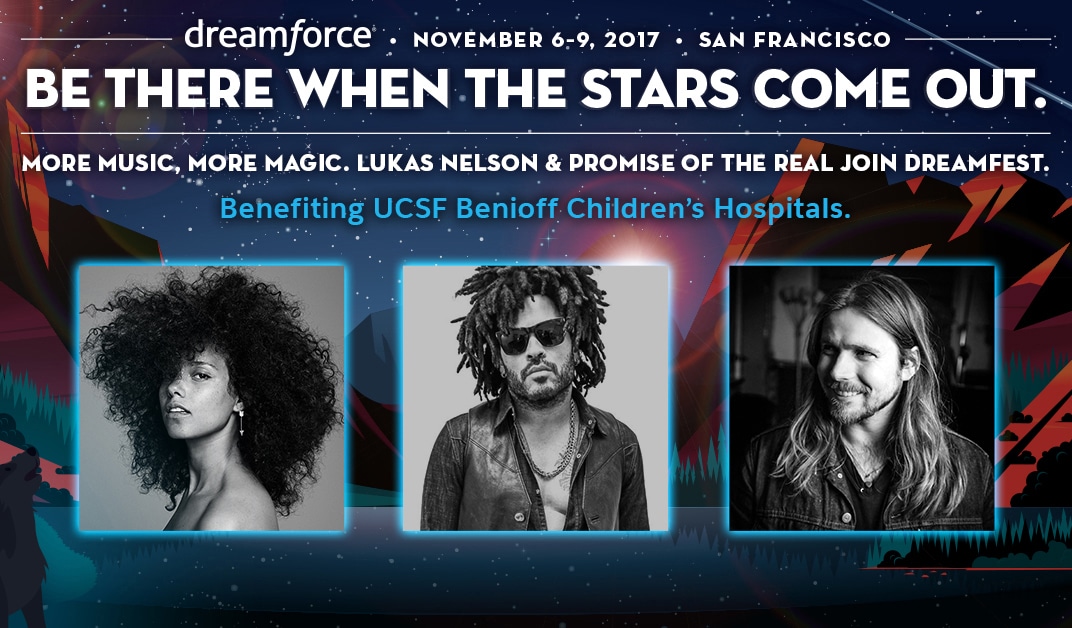 Salesforce's corporate events bring their unique, adventurous identity into the offline world, providing them with a brand-new way to connect with their audience. Whether it's an exhibition hall lined with grass and trees or rock-climbing walls for people to play on while they wait for the next speech, it's not just another business event.
3. The B2B Marketing Forum (MarketingProfs)
You don't necessarily need to have the budget to deck your own exhibition hall with greenery if you want to bring your brand back into your corporate events. The key to success is simply remembering what your business stands for, and the identity you're trying to create.
For instance, the B2B marketing forum by MarketingProfs perfectly harnesses the quirky and fun-loving attitude of the online company and refines it into something that provides attendees with an unforgettable live experience. Although the conference is a corporate event, with a lot of professionals attending, it's all about having fun. In the 2017 meeting, the opening featured a respected content marketer, Ann Handley, tap-dancing her way onto the stage.
A few tap-dancing lessons aren't likely to blow your entire corporate events budget, but they instantly allowed MarketingProfs to remind their attendees of what makes their brand so engaging and interesting.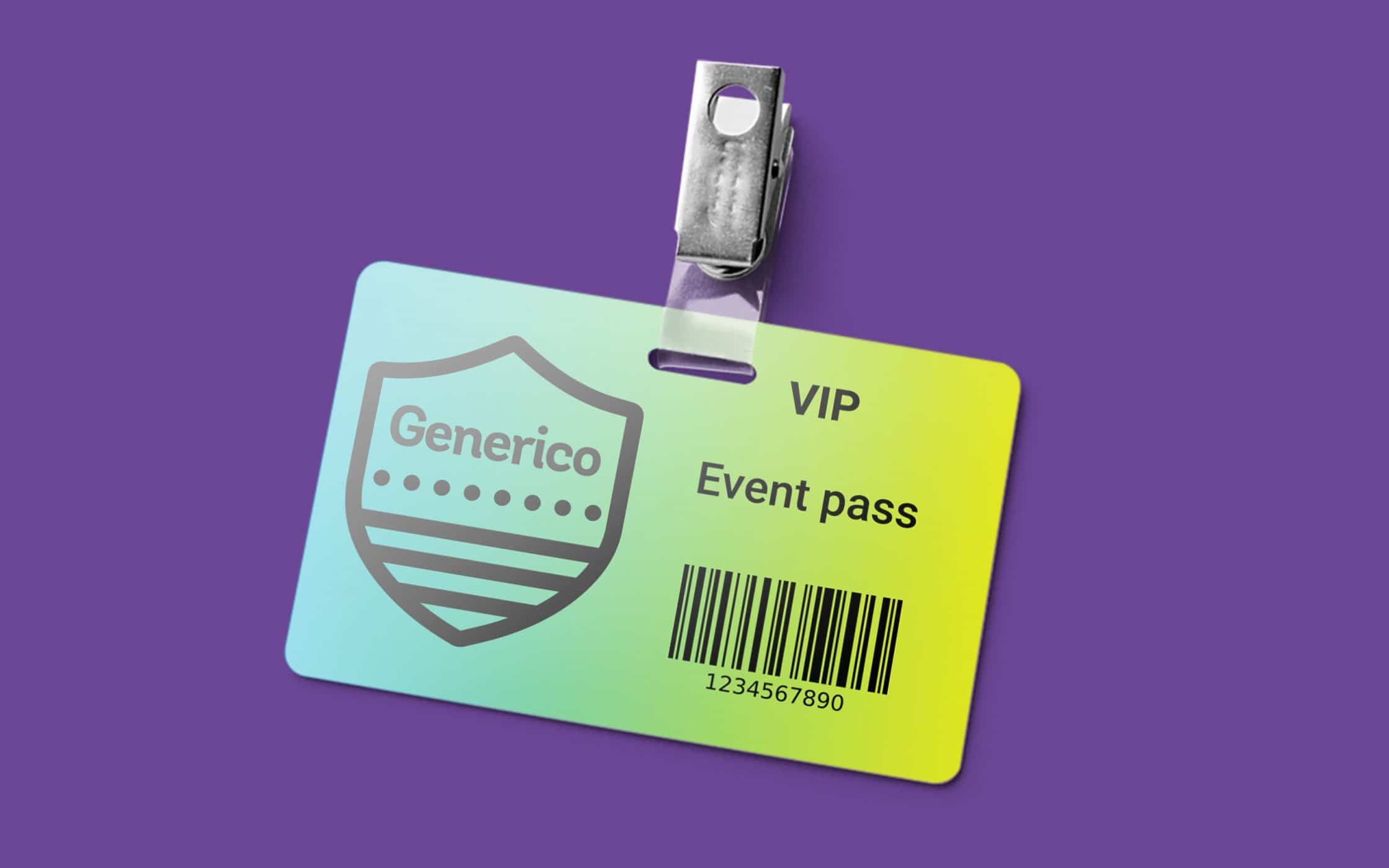 Make your corporate events count
At the end of the day, it's easy to write corporate events off as stuffy experiences packed full of bored business executives who can't wait to get home and watch Netflix. However, the truth is that ideas for corporate events are becoming more creative and inspiring by the day.
Corporate events are a fantastic opportunity for your brand to speak to its target audience in a memorable way. Whether you're launching a new product, or simply explaining to the public what you've got coming up next, you're engaging in a face-to-face interaction that's inherently more memorable than any one-off blog post or social media status.
Hosting the right corporate events can elevate the effectiveness of your brand and demonstrate that you have the credibility to be right there at the top of the pack with the leaders in your industry. It's all about making sure that you don't forget about the importance of consistent brand, just because you're in a different environment.
Build your corporate events on top of your existing identity and use them as a way of proving to your customers that you're worth their commitment and investment. With a little planning and the right branding, your corporate events could be the talk of your niche for years to come.
What better way to help your customers, stakeholders and investors understand the value of your brand, than to let them experience it for themselves?
If you enjoyed this article, you might enjoy these too:
— How to restore your sparkle after a brand crisis
— The eco has landed: Your guide to green branding
— Sowing the seeds of success with evergreen content