There's more to running a successful business than attracting plenty of valuable customers. If you want to stay ahead of the competition, offer incredible experiences to clients, and ensure you're always coming up with creative new ideas, then you need to draw the right talent onto your team.
While things like salary, benefits, and title can all contribute to how attractive your role might be, many of the world's most iconic brands have one thing in common when it comes to recruitment: a powerful employer branding strategy.
Careers and company positions are starting to draw the same level of cynicism and scrutiny as most other purchasing decisions. When your customers are trying to decide whether your brand is trustworthy, they look at testimonials for insights into your business vision, transparency, and value. When skilled professionals need to decide whether they want to devote a huge portion of their lives to your brand, they look for similar reviews from sites like Glassdoor and LinkedIn.
Ultimately, 89% of HR professionals suggest that recruitment is becoming more like "marketing". It's up to you to make sure that your would-be employees like what they see when they look you up online, and that's where an employer branding strategy comes in handy.
With the Harvard Business Review suggesting that employer branding may become an essential part of the recruitment strategy by 2020, it's time to ask yourself what you can do to convince job-seekers that your company offers the best opportunities for personal and professional growth.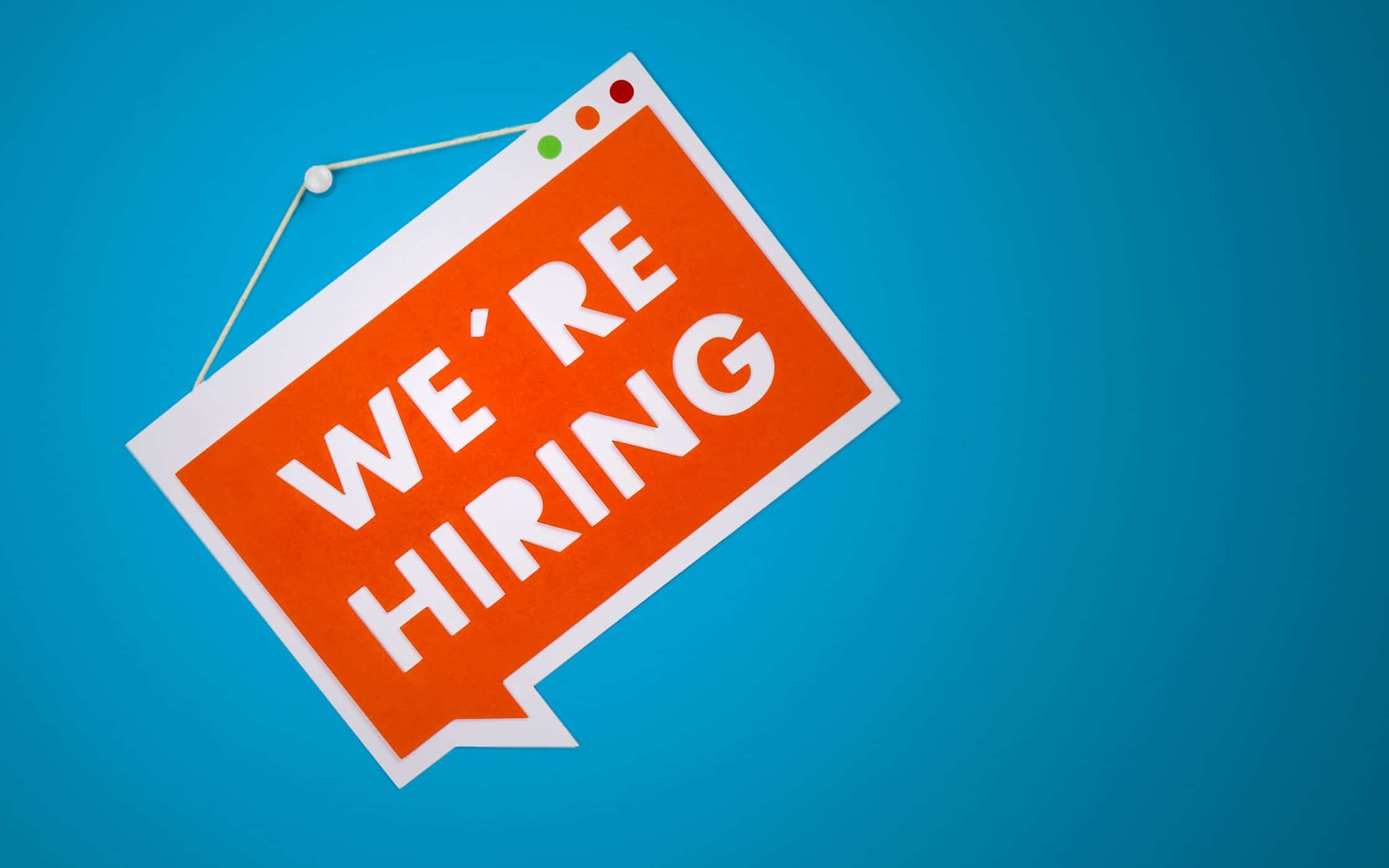 What is employer branding? Your employer branding definition
Before you can start unlocking the benefits of employer branding, you'll need to answer one simple question: "What is employer branding?"
The average employer branding definition suggests that your recruitment brand, just like your commercial image, is the thing that dictates your reputation with shareholders, employees, customers, and future job candidates. The employer branding process involves a close consideration of everything from your brand advocacy programmes to your strategies for internal communication.
All companies have an employer brand, regardless of whether they consciously cultivate it or not. Just like your commercial brand helps you to differentiate yourself in the consumer market, your employer brand is how you set yourself apart from other organisations recruiting similar talent. The statistics speak for themselves:
Companies with a good talent brand drive up to twice the number of applicants per job.
Employers with stronger brands see a 43% reduced cost per hire.
84% of professionals would think about leaving their current job in exchange for a career with a company featuring a good corporate reputation.
In an environment where approximately half of all employers are struggling to find the right candidates for their team, an employer branding strategy allows you to stop searching for talent and start letting it come to you. 94% of candidates are more likely to apply for a position offered by a company with a good employer brand, which improves your chances of being able to pick and choose the perfect hires.
To make the most of strategic employer branding, all your company needs to do is figure out how it can use marketing, employee advocacy, and brand awareness to answer the question: "Why should people want to work for you?"
The employer branding process: Strategic employer branding
Joan Jett might not worry about her bad reputation, but your company should. According to a study by the Harvard Business Review, a poor employer branding strategy could cost an organisation as much as 10% more per hire.
Think of it this way, if you had the choice between a career that pays slightly more, and one that allows you to follow your passions, enjoy your time at work, and build your personal skills while paying the bills – which would you prefer to take? Strategic employer branding gives you more opportunities to sell your internal positions, without relying on salary alone.
So, how do you start developing your own employer branding definition, and strengthening your chances of attracting the right hires?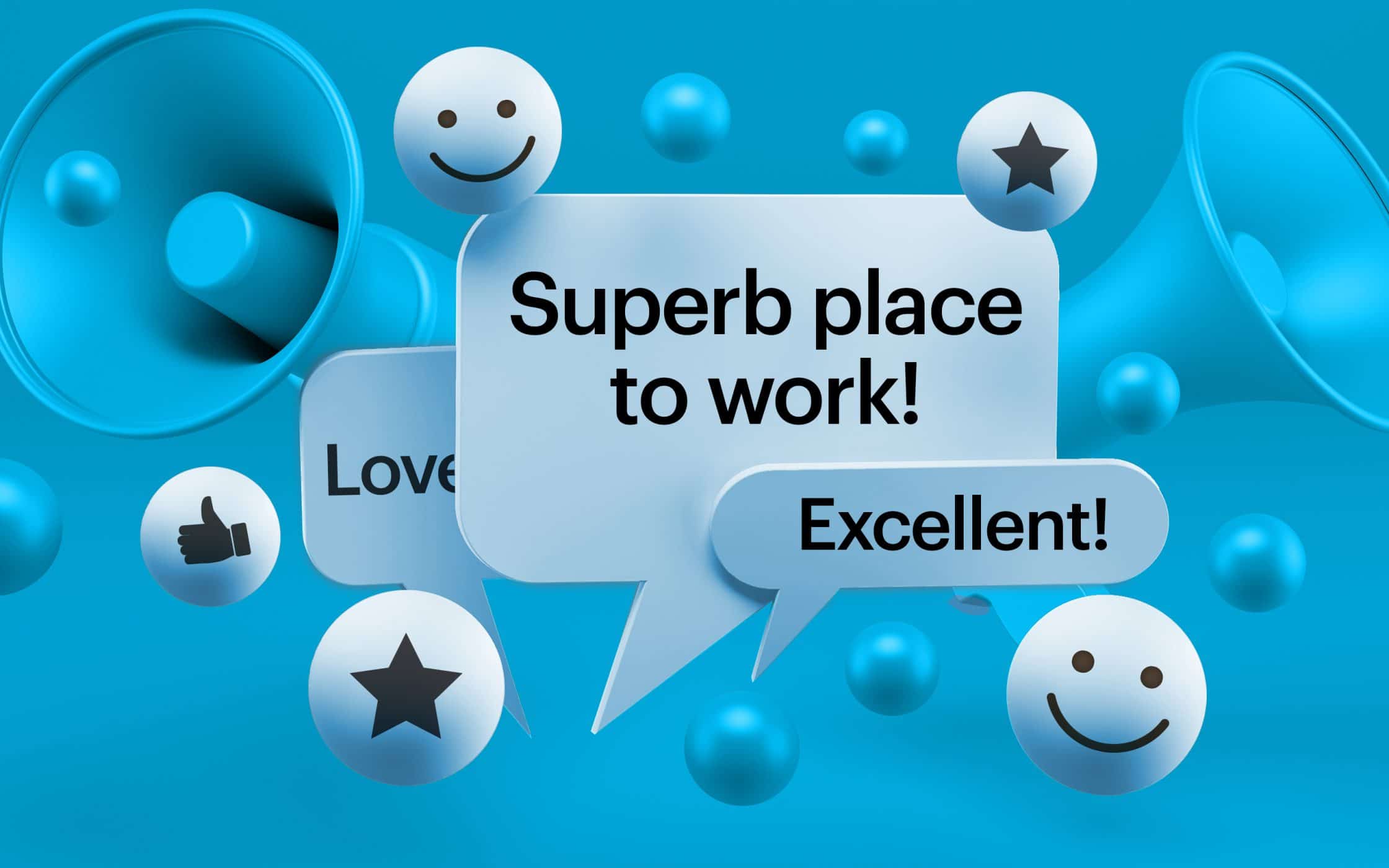 Step 1: Evaluate your existing reputation
It's hard to rebrand yourself in the eyes of potential recruits if you don't know what they think about you, to begin with. Unless your company is completely new, you'll need to start your employer branding strategy by looking for insights into how staff perceive your brand. Anonymous surveys and polls are a good way to get started internally.
Externally, you can look for information about your brand by looking for reviews on recruitment websites like Glassdoor. Alternatively, try typing your brand name into Google, or a social media search to see what comes up. If the response to your company is good, you can build on it. If it's bad, then you'll at least know where you need to start when repairing relationships.
Step 2: Understand and nurture company culture
The next step in the employer branding process involves figuring out what it's like to work in your business. This means looking at your company culture, and how your employees define your brand. The research you did on your existing reputation will help here, but remember to keep an eye out for specific things that you can advertise to would-be hires.
For instance, 83% of millennials feel more engaged by a brand when that organisation fosters a more "inclusive" culture. If you're not sure that everyone is on the same page with the kind of culture you want to portray, try developing a brand manifesto that you can use to communicate your ethos to current and prospective employees. For instance, the L'Oréal Talent website showcases exactly what this business has to offer their staff.
Step 3 Refine your message and create plenty of content
Once you've defined your corporate culture, and highlighted your brand values for your employees, you'll be able to start creating content that can enhance your messages and give you more opportunities to attract talent. Your content is what allows you to demonstrate your "employer value proposition". In other words, it demonstrates what you can give job candidates that no-one else can.
There are various ways you can get involved with employer branding content. For instance, case studies of happy employees who have accomplished wonderful things with your brand can show future hires how you support personal growth. On the other hand, video testimonials and behind-the-scenes peeks into company experiences can provide an authentic insight into what it's like to work for a company.
Step 4: Build brand advocacy
Since your future recruits will trust your employees three times more when looking for information on how it feels to work with you, it makes sense to get your existing team members involved in the recruitment process. Employee advocacy programmes can be a wonderful way of drawing new talent towards your company while building your brand reputation too.
Tools for employee advocacy make it easy to find and curate relevant content that your staff can share on their own social channels. Just make sure that before you get anyone involved in an advocacy campaign, you devote some time to setting up social media guidelines and support.
Step 5: Listen, adapt and optimise
Even if you're working alongside an employer branding agency to ensure you make the right impact on future hires, it's important to track your efforts and make changes based on the information you collect.
Keep an eye on your content marketing campaigns to see what kind of candidate drives the most recruits to your team. Track any referrals that come through social media, and during the onboarding process, ask your new professionals which features most attracted them to the idea of working with your brand. This will help you to build on your employer branding process in the future and develop a more strategic approach to earning new employees.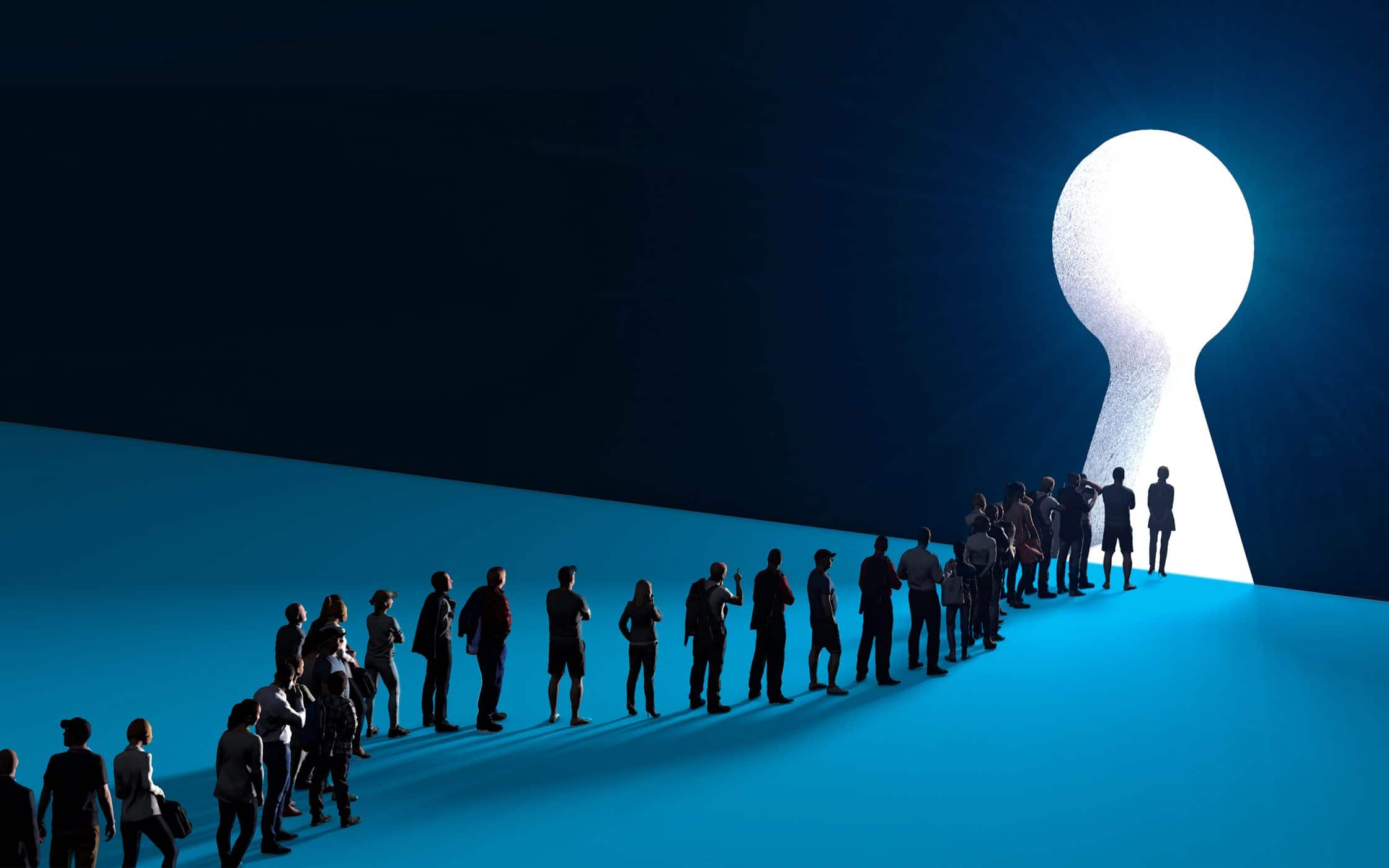 Tips for success: How to unlock the benefits of employer branding
By this point, you should be starting to recognise the importance of employer branding in your search for the best high-performing teams. The benefits of employer branding are potentially unlimited. Not only does the right reputation help you to attract incredible talent without as much investment into recruitment strategies, but it also ensures that you build a profitable company culture for your organisation.
Remember, happy employees who love where they work are more likely to deliver great results for your business. Satisfied employees can lead to a 20% increase in sales, and engaged staff also work harder because they want to maintain a strong position within their chosen roles.
With the value of strategic employer branding in mind, here are a few tips to improve your chances of great results.
1. Promote important company values with storytelling
Research suggests that around 52% of all UK professionals will avoid taking a job if they feel that the company's values don't align with their own expectations. Unfortunately, when the average company writes a job description, they don't always showcase useful information about brand purpose and culture.
A good way to demonstrate your unique values in a way that's authentic and easy for talent to understand is to use storytelling. Create a narrative for your brand that helps to showcase just how unique, and valuable your company can be. This might mean that you share stories from customers about their experiences with your brand, or that you simply build up some of the information on your "About" page.
2. Use a collection of different media
When you're demonstrating your employer branding strategy online, it's important to make sure that you go beyond standard written articles and blog-posts. While these content options are a great way to help your company rank online for the search terms candidates are looking for, there are other ways to engage your hires too.
For instance, try giving professionals a behind-the-scenes tour that shows off what it's like to work for your brand with a vlog or video post. On the other hand, you could consider giving an employee control over your social media accounts for a day, with plenty of live video content and pictures from his or her experiences around the office.
3. Be active on the right channels
When you're creating a standard marketing strategy, one of the first things you'll do is develop a buyer persona, complete with ideas on where your demographic are likely to spend their time online. The same technique can be helpful in strategic employer branding.
Knowing whether your ideal employee is active on Facebook, LinkedIn, or Instagram is a great way to streamline the hiring process. For instance, McDonald's know that many of its employees are younger students, so it uses Snapchat to connect with recruits. While Microsoft uses Twitter to demonstrate what it's like to work in a tech company.
4. Keep your promises
You can spend all the time and money in the world on an employer branding strategy designed to help you outshine your competitors, but if your claims aren't honest and authentic, then you'll never get great results. At the end of the day, even if you haven't turned your employees into advocates for your brand, they're probably going to be talking about your company on social media and other sites.
The truth about your organisation will come out, whether you want it to, or not. That's why it's so crucial to build an authentic image of your company from day one and make sure you're always working on a better hiring experience.
5. Link your employer brand to your consumer brand
Remember, in today's interconnected world, your employer brand and your consumer brand should fit seamlessly together. A strong employer brand creates happier workers who are more likely to go that extra mile for your customers and clients. At the same time, today's socially-conscious clients are more likely to buy from companies who treat their workers well.
If that wasn't enough, 25% of job-seekers in the UK have actively stopped purchasing from a business because they had a negative experience when applying for a job. Who you are as an employer has a direct impact on your reputation as a brand. If you can focus on both exceptional employee experiences and wonderful customer interactions, then you'll end up with a better image overall.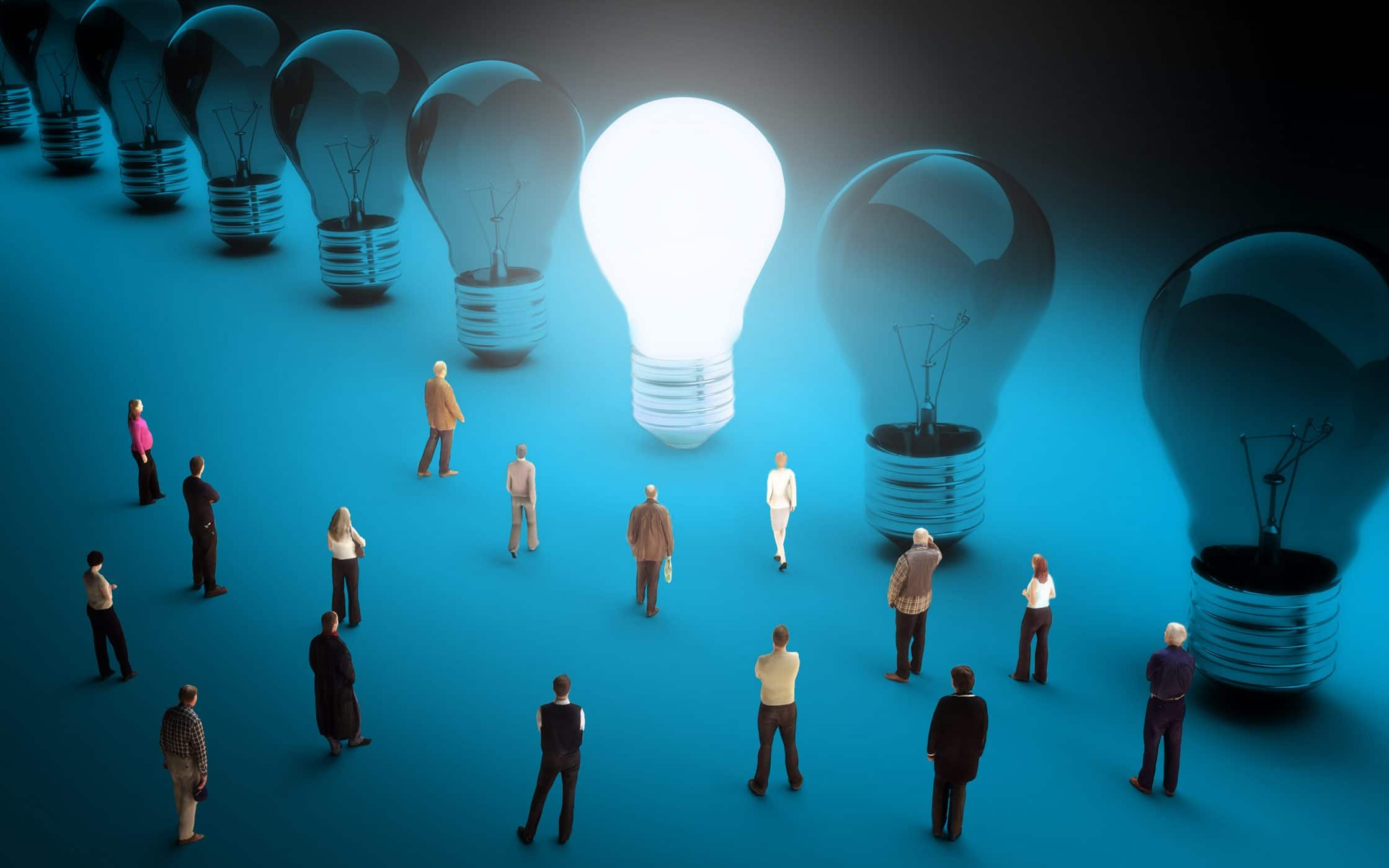 Employer branding case studies: Examples of branding done well
There are plenty of articles on employer branding out there designed to showcase the importance of attracting talent to your team. In today's candidate-first marketplace, it's not enough to simply create job listings and hope that people will apply. Instead, you need to demonstrate why your company is so great, and what should prompt applicants to work with you.
If you're still unsure of the importance of employer branding, or you need a little guidance to help you excel with the process, the following employer branding case studies should help you to understand what makes a business so attractive to modern talent. These employer branding examples should lead the way to better recruitment.
1. Vodafone employer branding
When leading communications company Vodafone began looking at their employer branding strategy, they were under the impression that they already had a great reputation. However, after analysing the marketplace, the organisation realised that they weren't conveying their message clearly enough.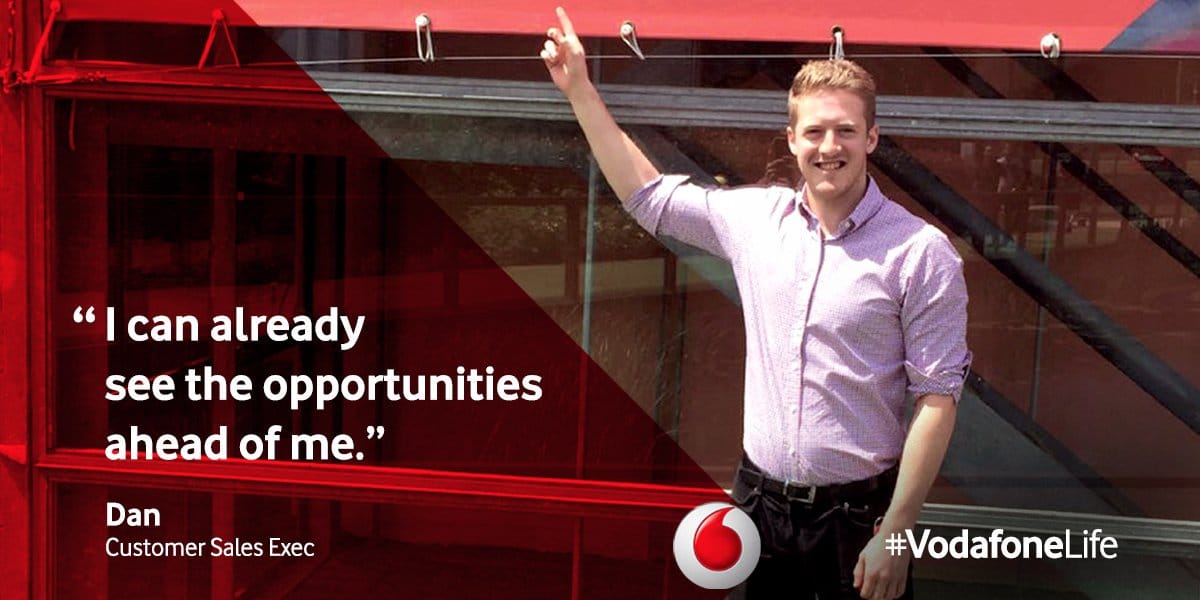 Through research into more than 40,000 people, Vodafone listened to what their audience had to say about their brand and translated those comments into useful information that they could use to generate an employer value proposition. The Vodafone "EVP" is based on something called the "Two-way deal" – the company's approach to ensuring that staff get as much out of their career as they're willing to put in.
2. Unilever employer branding
Another great addition to our list of employer branding case studies, Unilever has always focused on building a strong brand for their company. They believe that maintaining a position as an industry leader is critical to their success, and the only way they can do that is by listening and responding to the needs of their staff.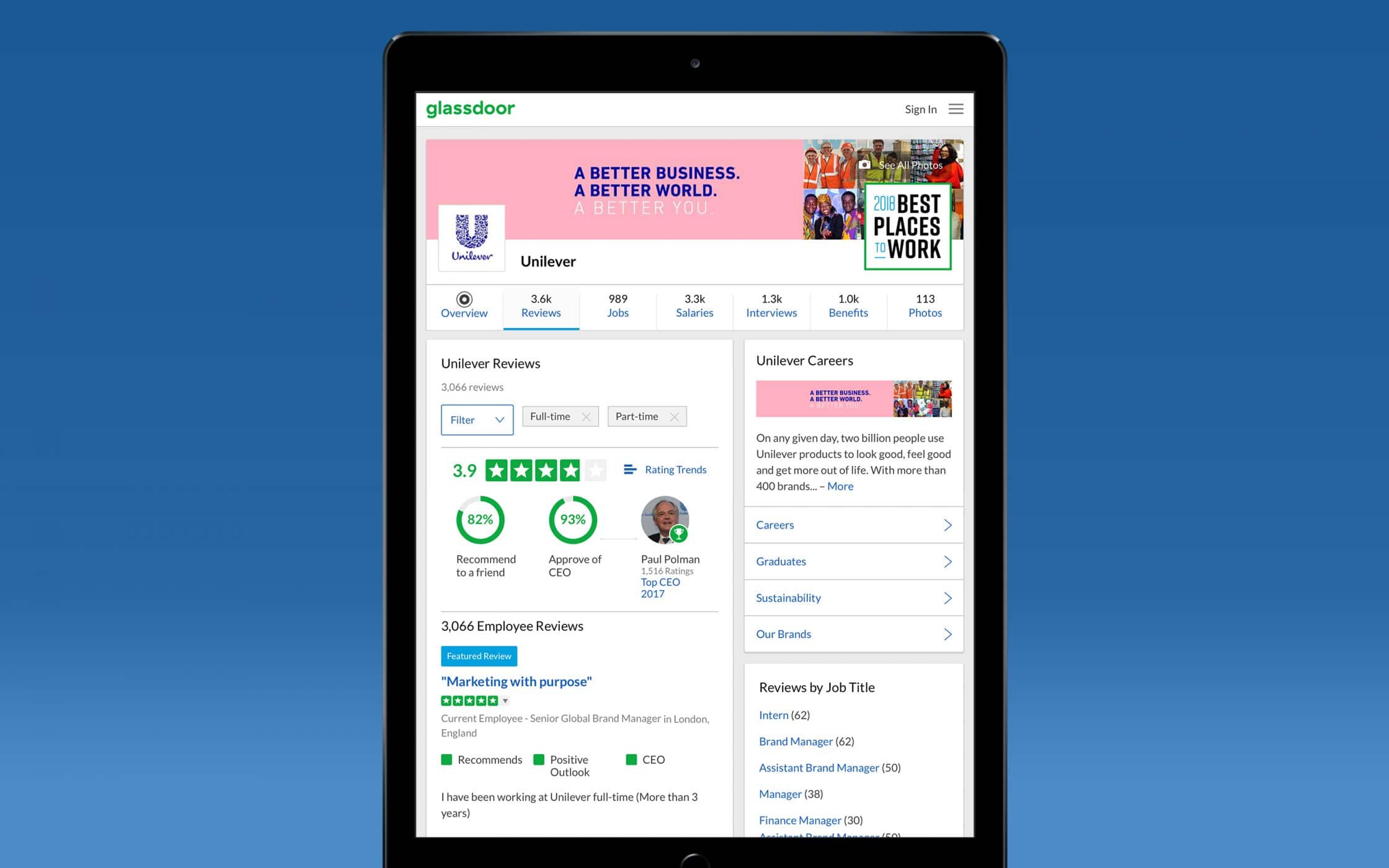 With the help of review company "Glassdoor", the Unilever employer branding strategy saw a serious boost in the last couple of years. The organisation decided that they would actively respond to each testimonial left on the Glassdoor website, to better manage their reputation. The result was a jump from number 24 in the "Best Place to Work in the UK rankings" all the way to number 7. Unilever found that the more they paid attention to staff concerns, the more they could improve their company culture for future hires.
3. L'Oréal employer branding
This is one of the many employer branding examples online today that demonstrates the importance of social proof. Once L'Oreal reached the 300,000-follower mark on LinkedIn, they celebrated the event by turning it into a recruitment opportunity.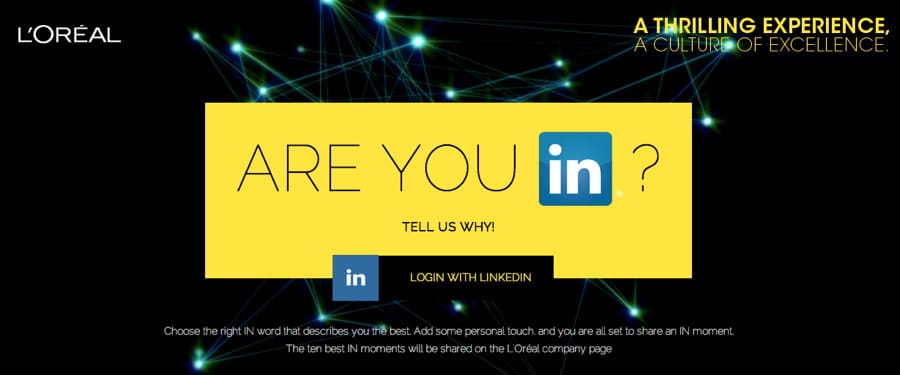 The "Are You In" campaign identified brand advocates within the business and asked them to share their story of how they came to work with the company. By creating this unique content, L'Oreal was able to cultivate a fantastic long-term marketing strategy based on real, authentic, and easy-to-trust information. L'Oreal didn't just tell candidates that they're a great company to work for, they used employee advocates to prove their claims.
4. GE employer branding
Speaking of advocates in employer branding, most organisations know that it takes more than just a social media account to transform a worker into a brand ambassador. Allowing your recruits to share their stories is a great way to develop unique and engaging content for your brand. However, you'll need to make sure that your people are following the right guidelines to support your image.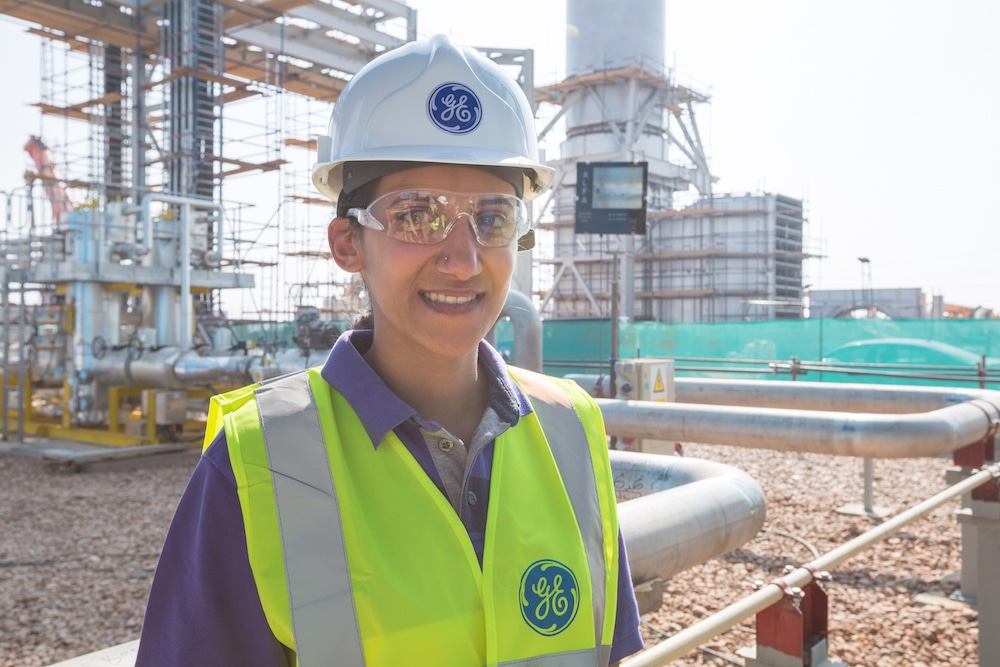 When GE was trying to bring new talent into their organisation, they knew they had to be open and honest with the people on their team. Their "How to be a Digital Industrial Brand Ambassador" programme was perfect for this, as it trained the workforce on how to use social media channels appropriately.
5. Cisco employer branding
Strategic employer branding works best when it's clear and authentic. If your brand doesn't highlight real experiences and showcase what your company is really like, then top talent will see through your lies. Of course, that doesn't mean that you can't adjust the existing perception people have of your brand.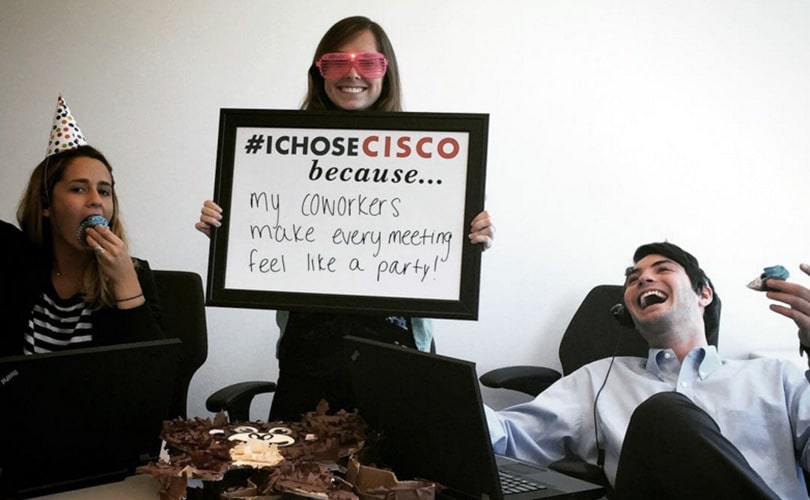 Cisco, the telecommunications brand, had some serious trouble with sending a strong and consistent employer message on social media until they stopped for a moment and asked themselves who they wanted to be as an organisation. By evaluating their purpose as a brand, Cisco was able to take control of their social efforts with an employer branding strategy anchored in employee advocacy.
6. Hootsuite employer branding
Finally, social media company Hootsuite tapped into the importance of employer branding when looking for new talent to join their social marketing team. We all know how difficult it can be to continue sending a clear and consistent message about your brand as your organisation grows, but a clear playbook can make life a little easier.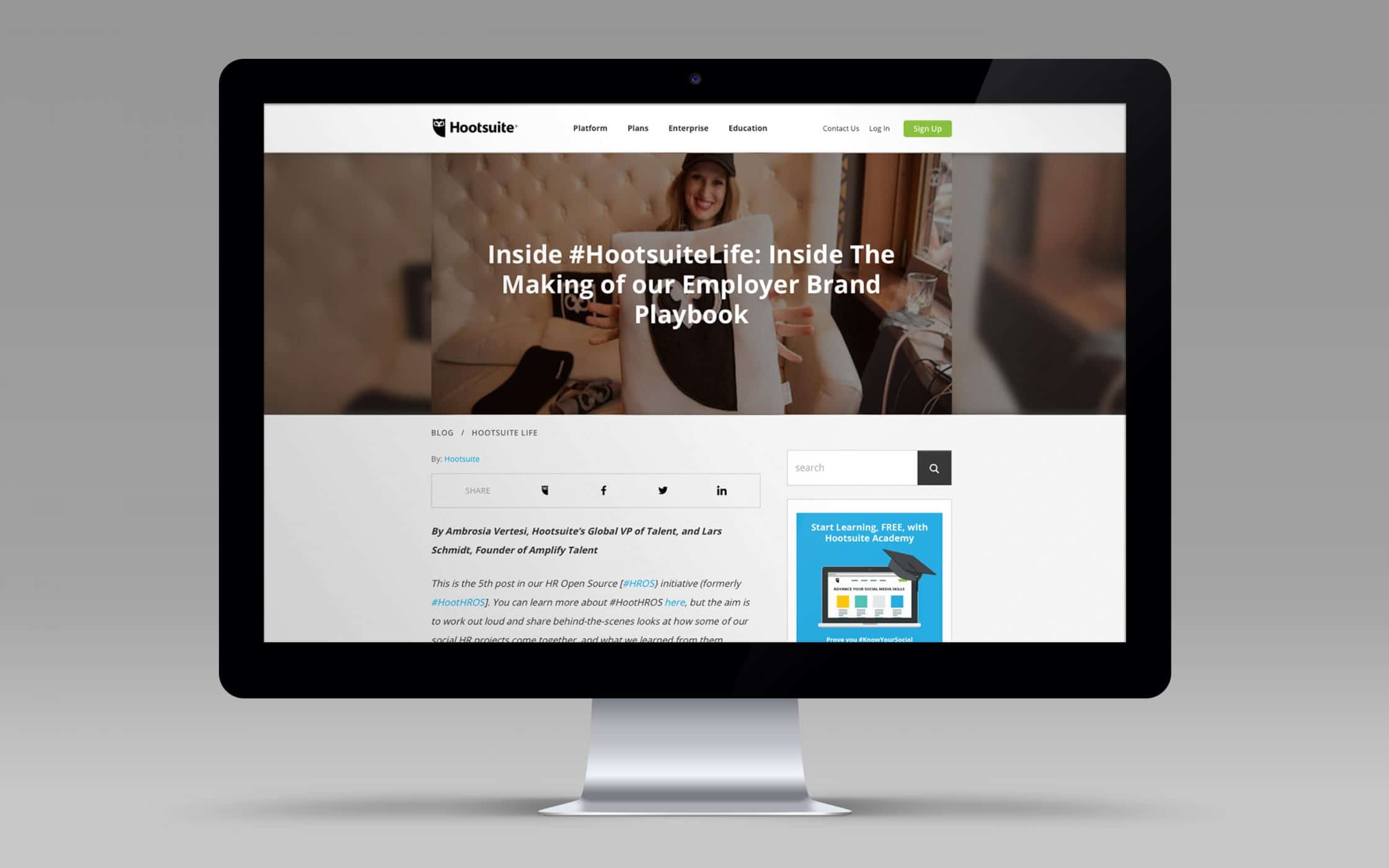 When Hootsuite started to scale globally, they made sure that they had a brand manifesto and employer branding library available to ensure that everyone was sharing social media content according to the same values and goals. The result was clearer brand themes, a more consistent tone, and an increase of 50% in qualified applicants per job listing.
Is it time to create your own employer branding strategy?
Branding is no longer a strategy reserved entirely for attracting customers and loyalty.
Today, more than ever, social media channels and review websites like Glassdoor have become a source of instant information about the way that brands interact and engage with their employees. Whether the conversation starting about your brand is good or bad, it's sure to have an impact on your employment potential.
Studies have shown that job seekers in the modern world are much more interested in applying to companies who have positive online reputations. In fact, working with an employer branding agency could be enough to reduce the amount you spend on gaining new staff.
The good news? There are plenty of tactics out there that companies can use to define and shape their employer brand. All you need to do is figure out who you are, what your employer value proposition is, and how you're going to communicate with top-tier talent.
Try new techniques, explore best practices, and when in doubt, turn to the experts here at Fabrik for help.
If you enjoyed this article, you might enjoy these too:
— Your mission: Brand aims & objectives
— An insiders view on trusting gut feel
— Why some brands become a way of life