Making the choice between Microsoft Word vs Apple Pages is one of the major decisions most content creators and professionals will need to make these days.
Whether you're writing up notes for a meeting, creating a PR campaign, or typing a blog, you're going to need some form of word processor. Microsoft Word and Apple Pages are two of the gold-standard options.
Most people simply choose the word processor already installed on the device they use. If you're a Windows computer user, Microsoft Word seems like the natural choice. For Mac users, it makes more sense to stick with Apple Pages.
However, you're not limited to just one option. You're free to switch to Word on a Mac device if you prefer the functionality. So, how do you know which product is best?
Today, we're going to offer a quick rundown of Apple Pages vs Microsoft Word, to help you make the best word processing choice.
Apple Pages vs Word: The price
One of the first things you're going to consider when choosing between Pages vs Word, is how much you're going to pay. The good news is there are free versions of both applications available.
Apple used to charge for the software with each Apple device – but Pages now comes installed alongside any hardware you buy – ready to use.
Microsoft also has a free version of Word – but it's only available on the web. If you've ever used the web versions of Microsoft Office apps before, you'll know they're not quite as extensive as the desktop or smartphone options.
You will have to pay if you want to gain access to things like OneDrive cloud storage, and latest word updates.
Word prices start at $6.99 per month for the Microsoft 365 subscription which comes with access to all Office apps. You can also pay a flat $69.99 per year.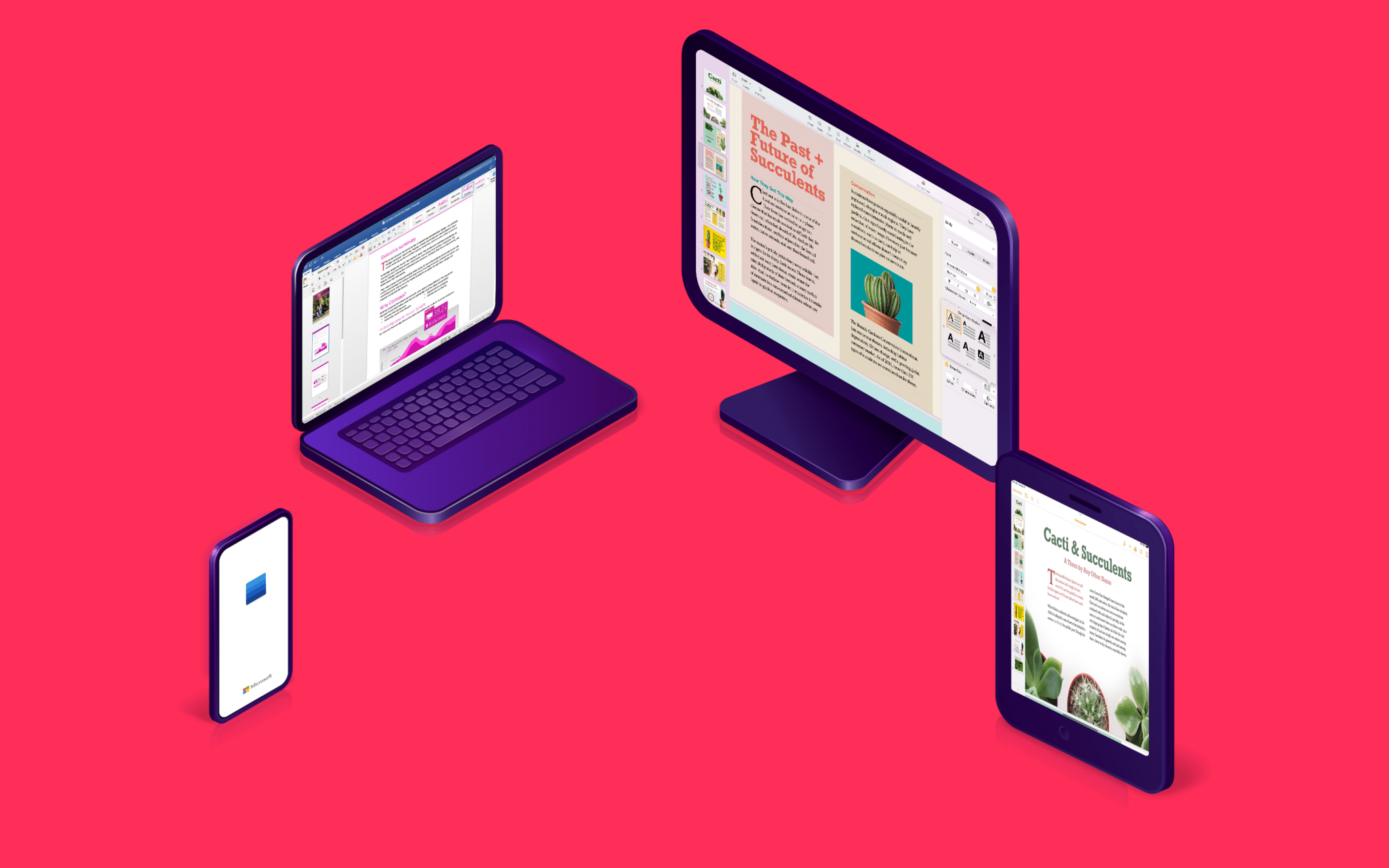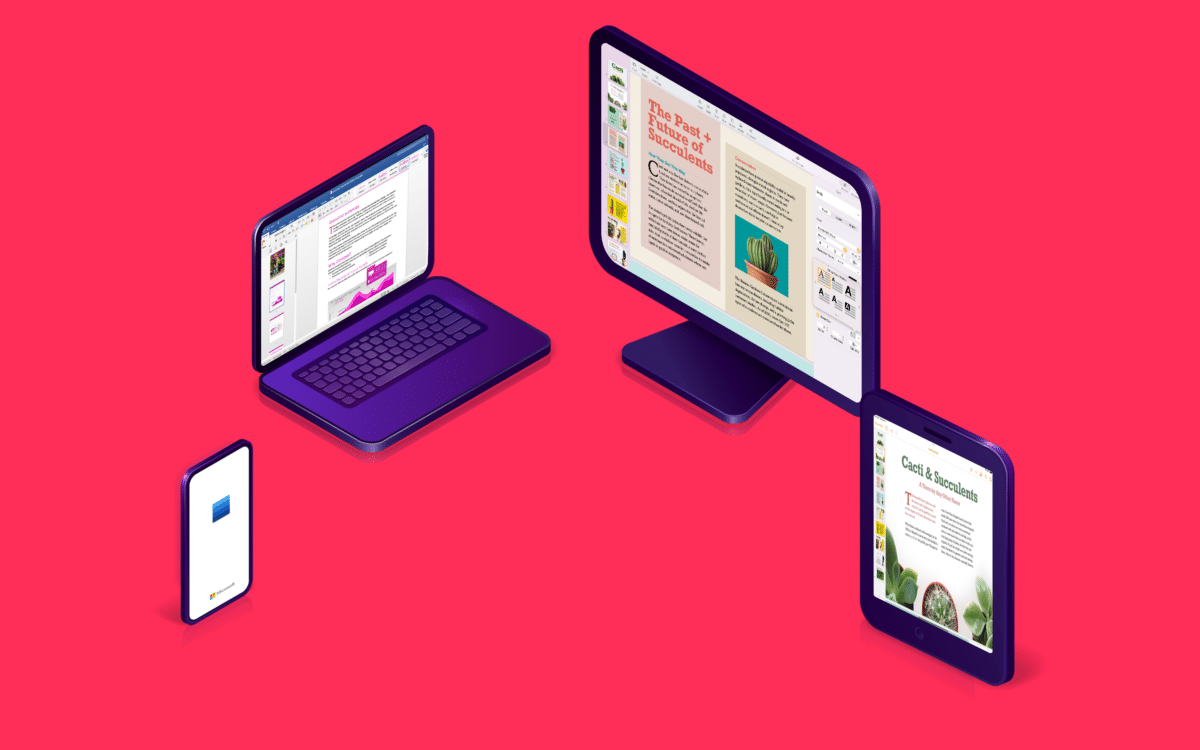 Pages vs Microsoft Word: Accessibility
Once you've considered the costs of the apps from both Apple and Microsoft, the next step is looking at accessibility. Pages, for instance, is only available for use on Apple devices, which means Mac, iPad, or iPhone.
There's also a web-based version on iCloud, but it doesn't have anything close to the same functionality.
The Pages app for Apple iOS is pretty similar to what you get on a desktop. The formatting of the menu is more or less the same, although you get the feature bar placed at the bottom of the screen.
Some things, like the table of contents, will only appear as a dropdown menu, rather than a permanent fixture beside the document.
Microsoft Word has a much wider reach in terms of accessibility. You can download the service on both Windows and Mac operating systems, first of all. You'll also be able to access the web application on the cloud – though it's still a lot more basic than the desktop alternative.
Microsoft Word for Android and iOS is also pretty impressive. You can access third-party fonts and implement various keyboard shortcuts. Everything is just about where you would expect it to be in terms of layout too.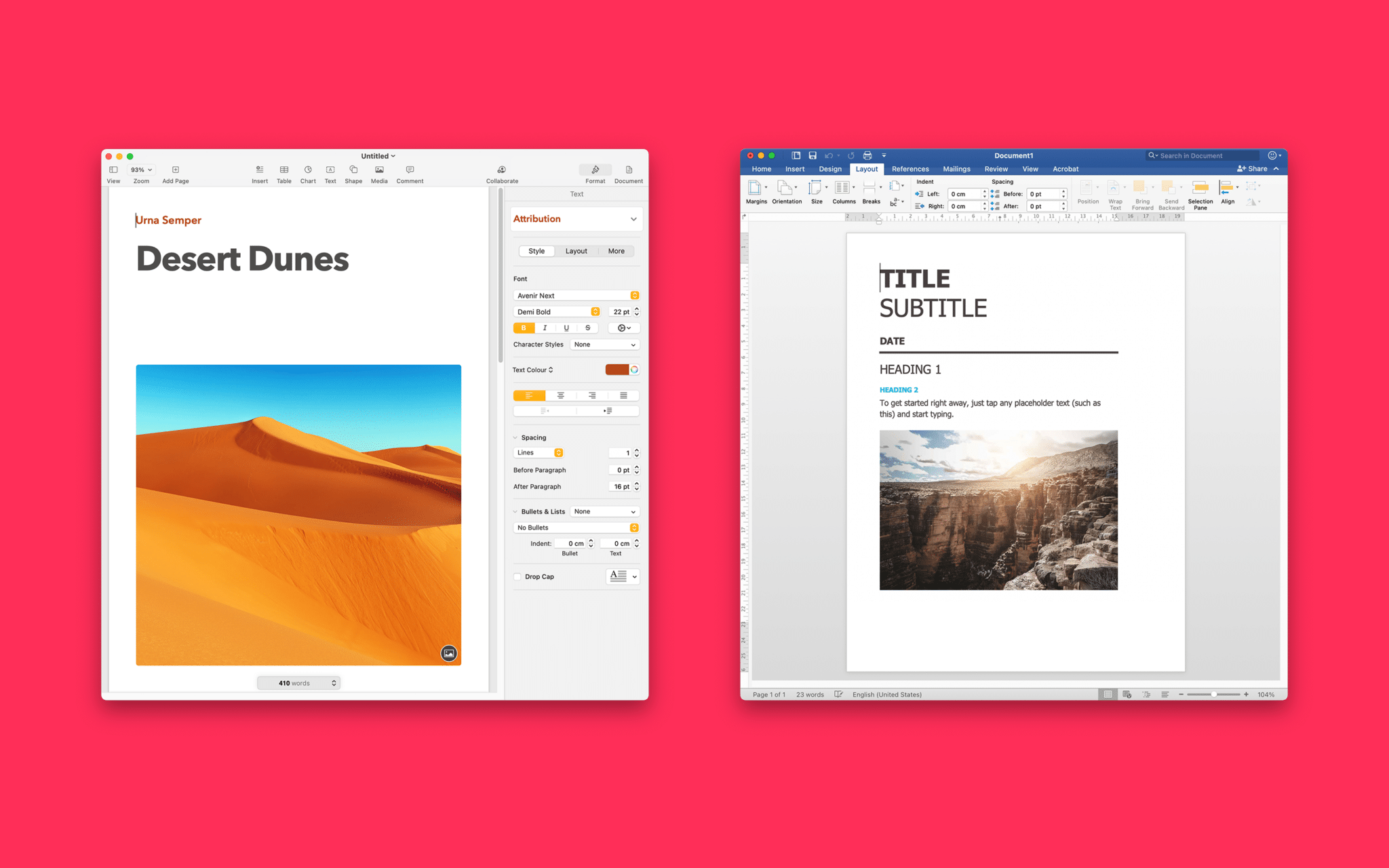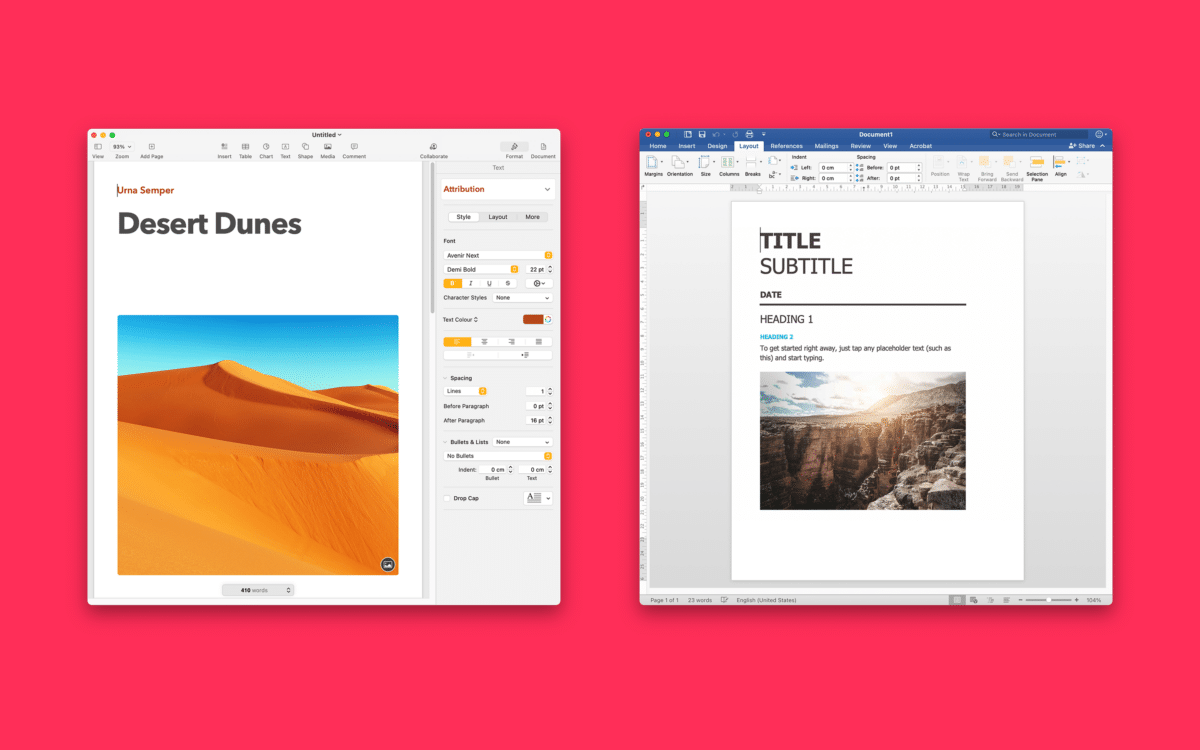 Pages or Word: Templates and layouts
The exact user interface or "layout" you get from both Apple Pages and Microsoft Word will vary depending on the version of the app you're using. Both are designed to be relatively straightforward though, so you shouldn't have to worry about user experience.
The toolbox on Word for managing your features will be located at the top of the page when your on desktop (or using the web version). Everything is also in a wonderfully familiar, and easy-to-memorize order – which might be why the design for Word hasn't changed much over the years.
Objectively, Apple Pages does look a little better, with editing options placed to the right side of your document. You can also add tables, media, and charts from the content section at the top of the page. Overall, the experience is less cluttered.
In terms of creating your own content, Word and Pages also offer access to a host of default templates. Word has a slightly richer selection than Pages, but you can also download third-party templates from the web too.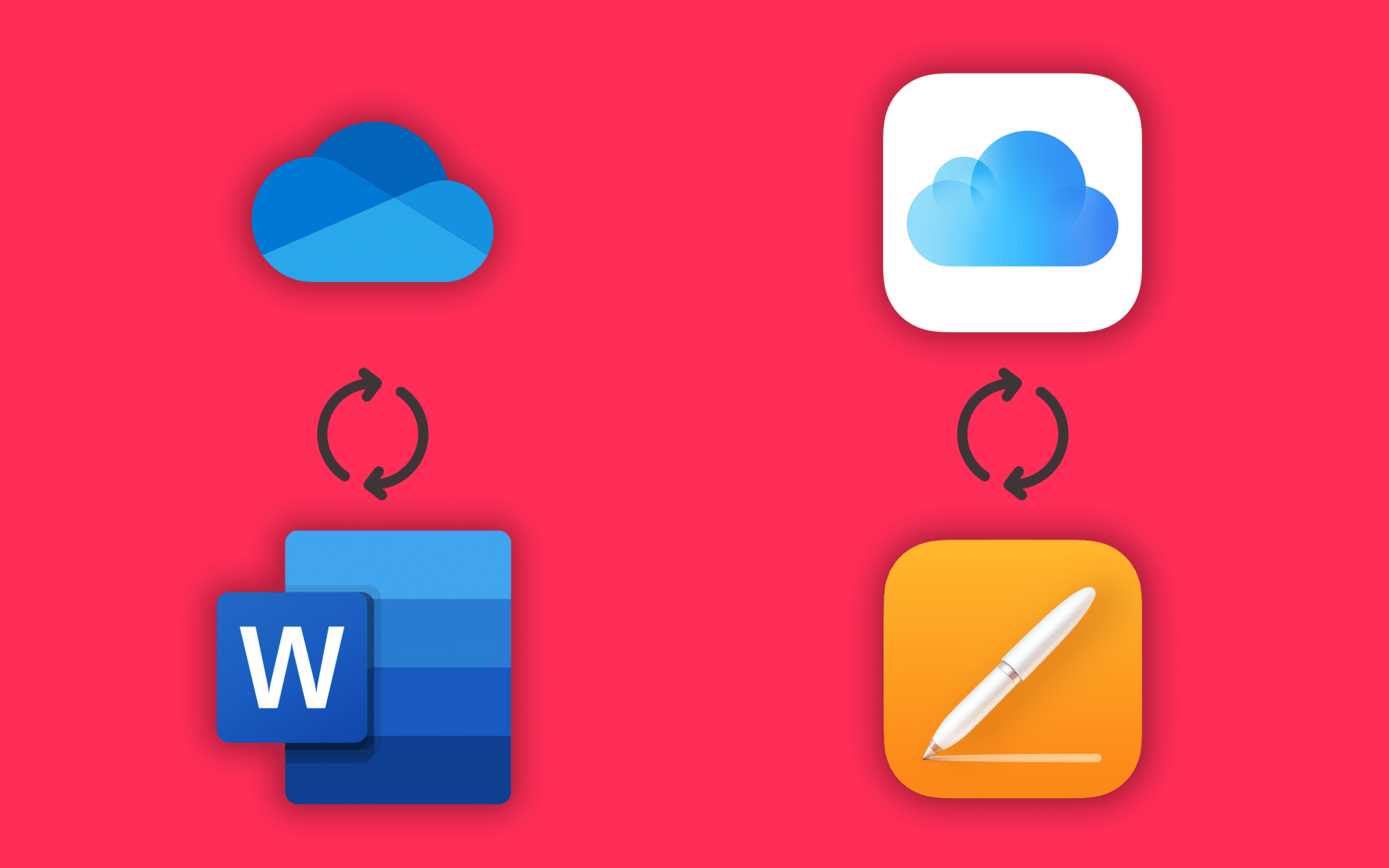 Word or Pages: Saving and cloud access
Saving and access to the cloud are some of the most important factors to consider when asking "Is Pages equivalent to Microsoft Word?" You need to know you're going to be able to safely preserve all of your work, after all.
In the past, Microsoft has been notoriously poor with auto-saving and losing access to various files. Though the autosave feature has been around for a while, it used to save only every 2 minutes, which is plenty of time to lose something important.
Today, users can access autosave which saves every time you stop typing. With each stop, your document is uploaded into your OneDrive, either immediately, or when you have an internet connection. Unfortunately, OneDrive can be a little awkward to use for some.
Word also allows you to create documents which live entirely online, or you can save your files in OneDrive. You can also access a "Personal Vault" for storing particularly sensitive content.
Pages takes a slightly different approach to saving and cloud access. Pages will autosave automatically, without telling you exactly when your content is being preserved. Word, on the other hand, lets you know at the top of the page when it's saving.
When it comes to storage and sharing, Apple Pages is integrated tightly with iCloud. Once you hit "save", the software automatically sends your content to the default iCloud folder. Unfortunately, sharing and managing content on iCloud isn't quite as simple as it is on Word.
Both products feature collaboration features too, for sharing your documents with eithers. With both Apple and Microsoft, you can share a document with full editing permission, or as a "view only" option. Word is a lot more comprehensive in this regard, however.
With access to OneDrive in the cloud, Microsoft does make it a little easier to share, store, and collaborate on documents. You can also choose to save your content to Dropbox and Box if you prefer.
If you need to, you can even annotate documents at the same time as your colleagues with Microsoft's help – which is ideal for the age of remote working.
Pages does allow for basic sharing and tracking of changes, but it's not as streamlined or smooth as the experience you get from Word.
Is Pages the same as Word? Feature sets
To choose between Microsoft Word vs Apple Pages correctly, you'll need to know if you're going to get more-or-less the same features from both.
First, both programs do the basic word-processing tasks, like fonts, formatting, and saving to the cloud. However, Word does seem to have a few more options when it comes to accessing different fonts. Not all of the fonts you like will work properly with pages.
In fact, for the most part, the functionality of Pages seems to be pared down from what you get from Microsoft. You get nearly all the same functionality, but there are some missing parts.
With Apple, you can add images, videos, tablets, stats, and shapes to your content or set a password for a specific page. You'll also be able to do spelling and grammar checking – which is also available from Microsoft Word.
However, Microsoft's word processing document takes things to the next level. There's a researcher function, so you can search for information on the web when you don't want to open a separate browser tab as you work.
If you have a computer or tablet with a touchscreen, you'll also be able to draw in your document. Pages only supports this with the iPad.
If you're looking to get your work published, it's also worth noting Microsoft Word is the standard for publishing companies. While you can save your Pages as Word documents, this can sometimes lead to various formatting issues.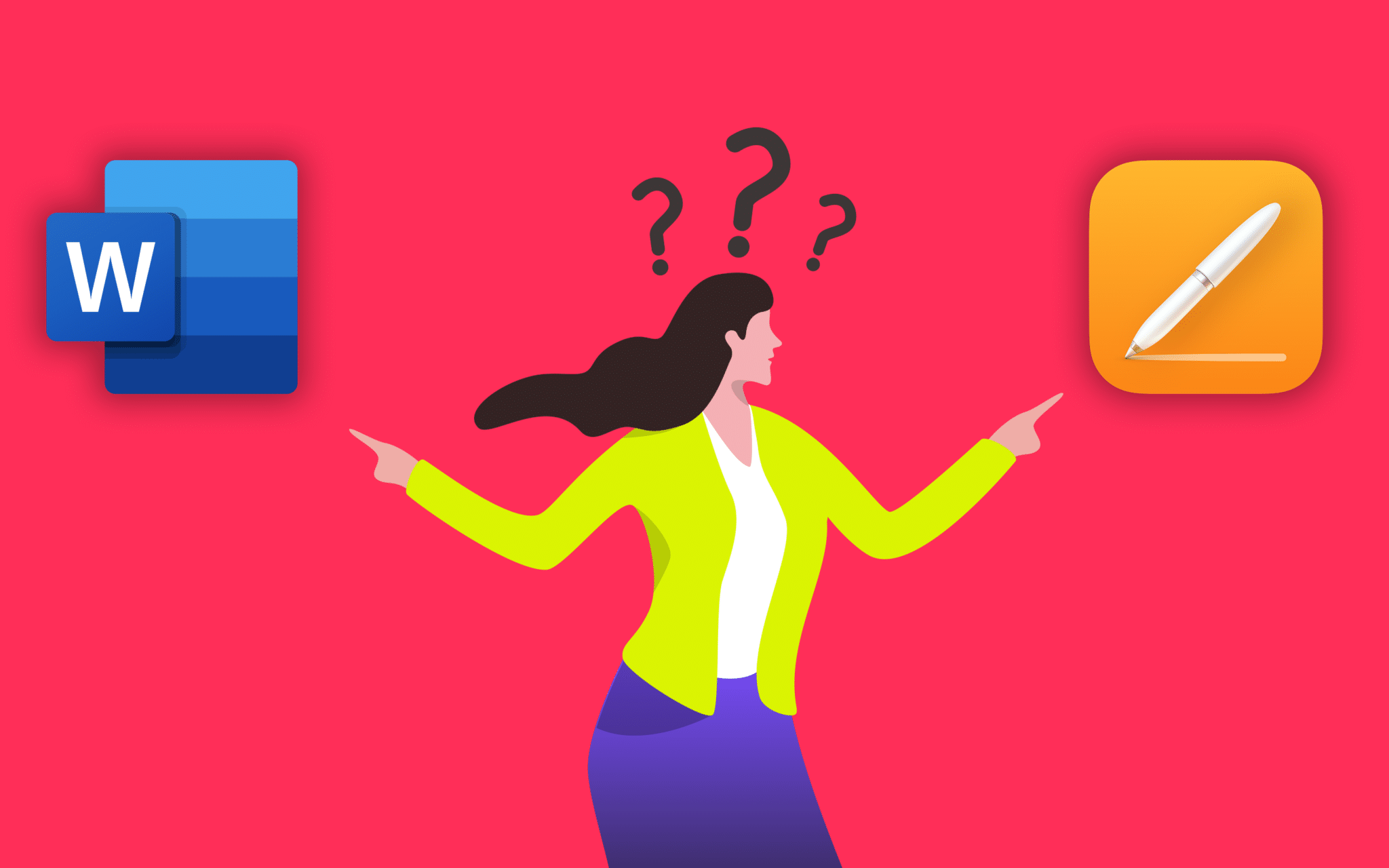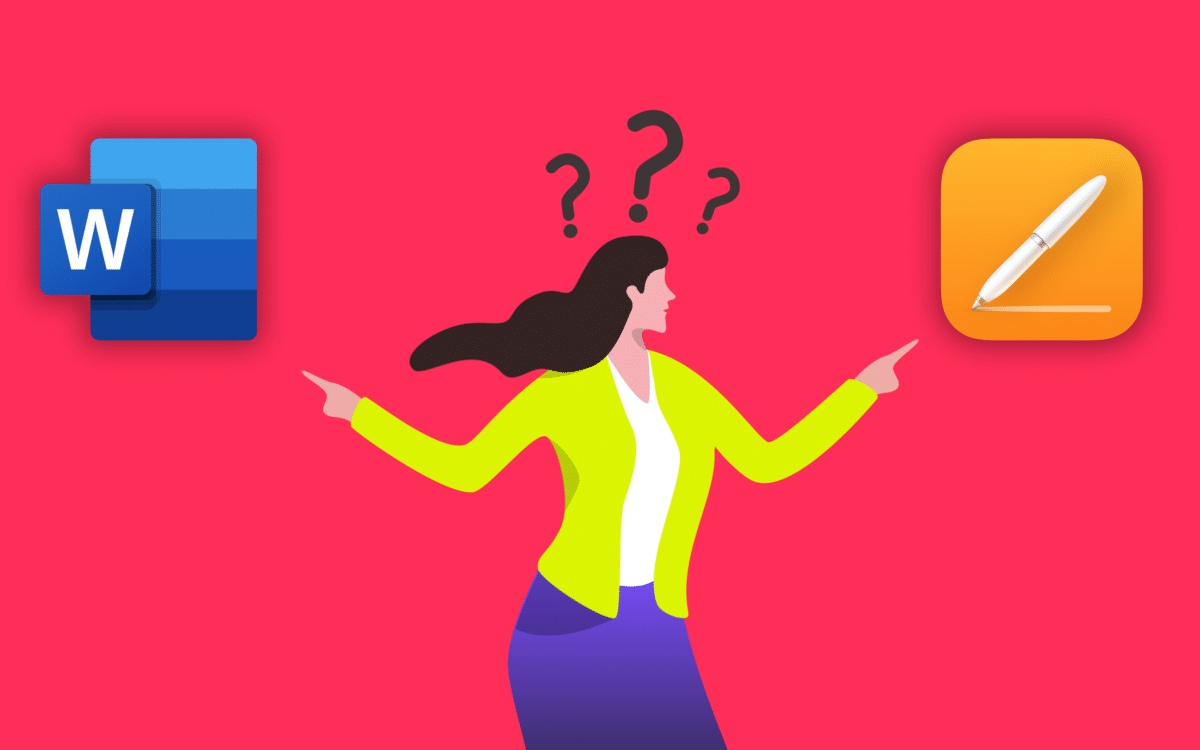 Is Pages better than Word or vice versa?
Ultimately, there's no one-size-fits-all when it comes to choosing the perfect word processing tool. Apple Pages may make the most sense for you if you're looking for a solution combining simplicity, with ease of use and basic functionality.
If you're happy with just the basics for your word processing service, there's no need to download something else with an Apple computer.
Microsoft Word, on the other hand, is a more universally available and feature-rich tool intended for a wide range of needs. The product offers a much wider range of features out of the box, as well as further flexible storage options.
However, you may find the app to be a little cluttered and bloated if you're just looking for simplicity.
FAQ:
Is Pages better than Word for Mac?
If you want only the very basics for your word processing tool, Pages is already installed into Mac devices, and it won't cost you anything to access. The only thing you'd need to pay for is extra storage – and that's only if you want to.
What is the equivalent to Word for Apple Macs?
Pages is the dedicated Apple tool for Apple computers and applications. It's offered as part of the full iCloud office suite from Apple.
What is the equivalent to Pages for Windows?
Microsoft Word is the leading word processing tool provided for Windows devices. It's available on Mac too but is primarily intended for Microsoft users. Microsoft Word comes as part of the Microsoft Office 365 package from Microsoft.
Where can I get Microsoft Word?
| Version | Where to buy |
| --- | --- |
| Microsoft Office Home & Student 2021 | Amazon |
| Microsoft Office Home & Business 2021 | Amazon |
| Microsoft 365 Personal | Amazon |
| Microsoft 365 Family | Amazon |
| Microsoft Office Professional 2021 | Amazon |
Fabrik: A branding agency for our times.