How to start an architecture firm: The steps to starting an architecture business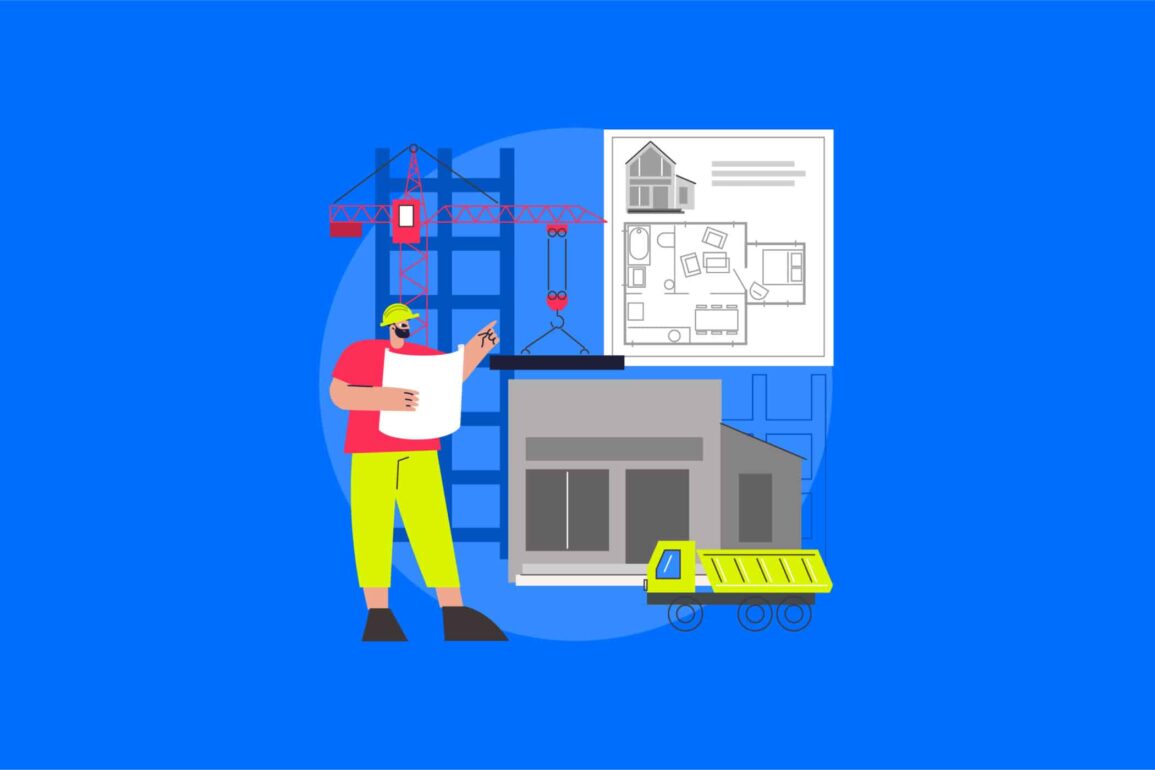 Learning how to start an architecture firm takes dedication, patience, and a little creativity. The good news is an architecture company can be an extremely lucrative endeavor. After all, there will always be a need for people who can effectively design and build the spaces we use every day.
In 2023, the global market size for architecture was worth more than $376.08 billion, and demand continues to grow. However, just like any profitable industry, architecture suffers from one major problem: competition.
To ensure the success of your new business, you need to be willing to conduct the right research, form the correct strategy, and take steps toward growth.
Putting the right amount of time and effort into launching an effective architecture firm from day one is crucial. That's why we've put together this guide, covering all the steps you'll need to follow to make your architecture firm dream a reality.
Let's get building.
Costs and profits: How profitable is an architecture firm?
Before you learn how to start an architecture firm, you may first want to ensure this kind of business is actually worthwhile. As mentioned above, starting an architecture business can be a lucrative strategy for the right professional, but the amount your company will actually make is variable.
While the average salary for an architect is about $92,594 per year in the United States, it's difficult to determine the exact profit of any architecture business. The amount a company will make will depend on its chosen niche, location, and the customers it serves.
For instance, an architecture company specializing in high-end building designs for leading companies may make a lot more than a business focusing on remodeling jobs for homeowners.
Before diving into building your architecture firm, it might be worth looking at the potential profitability of each niche you're thinking of working in.
How much money do you need to start an architecture firm?
As well as thinking about the amount of money you can potentially make, it's also worth considering how much you're going to spend on the development of your firm.
Although larger businesses can certainly make more profits, they generally invest more in real estate, vehicles, hiring talent, and sourcing materials. The cost of launching your firm will depend on the following:
Service scope: What kind of services do you want to provide? A consulting company won't incur many outgoing costs compared to a landscaping and construction brand.
Supply expenses: How much are you going to spend on software, hardware, materials, and resources for your business?
Real estate: Are you going to have a physical office or allow your professionals to work remotely? Do you need supplies for the office you build?
Human resources: How many experts are you going to hire for your team, and what will their annual salary be? How much will you spend on benefits?
Marketing and promotion: How are you going to promote your company, and how much will you spend on your advertising and branding campaigns?
How to start an architecture firm: Architecture business ideas
If you decide you do want to learn how to start an architecture firm, one of the first things you'll need to do is choose a business idea. In other words, you'll need to determine your niche – the kind of architecture services you're going to offer and who you're going to serve.
Since the architecture landscape is already relatively cluttered, the more specific your niche is, the better your chances of success will be.
Think about whether there's a gap in the market you can fill with your specific skills or knowledge. Ask yourself what kinds of architecture you're most passionate about.
There are numerous ways to get started in the architecture landscape; here are just some ideas you can consider pursuing:
Construction
Architecture and construction often go hand-in-hand. If you know how to develop and plan stunning buildings, you can also hire professionals to bring your ideas to life. Just keep in mind while the construction landscape can be very profitable, it also requires a lot of work.
You'll need the right team, and you'll need exceptional attention to detail.
Custom building design
As a custom building design company, you can assist other businesses or homeowners in designing the perfect structure for their needs. This will allow you to take a more consultative and artistic approach to architecture.
You may decide to help your clients build their homes and properties with construction services, or you could focus on design alone.
Remodeling
Architecture doesn't have to involve building new structures from scratch. You could also consider renewing or renovating existing homes and buildings.
You might assist homeowners with adding to their homes and implementing new rooms and resources. Or you could consider helping businesses with specific remodeling tasks, such as making their properties eco-friendlier.
Inspection and consulting
If you're an expert in all things building, you could also consider getting involved with the inspection and consulting landscape. Your experts could assist companies and homeowners in examining the potential faults with their properties and deciding where to make changes.
Homebuyers frequently hire certified architects to determine whether their homes comply with code requirements.
Landscaping
If you're more interested in creating outdoor spaces than physical buildings, you could consider taking a landscaping approach. The scope of work in this industry requires a significant focus on planning and designing.
You may create open parking spaces for governments, parking lots, or even roadways, depending on your area of expertise.
Architecture firm structure: How to structure your business
One of the most important steps you'll need to take when you're learning how to start an architecture firm is deciding how you're going to structure your business.
Though passion and commitment will take you a long way in this industry, you still need to ensure you have the right legal structure in place, as well as the correct certifications.
Before you start considering structures, ensure you and your team have the right degrees and accolades in place to showcase your knowledge of the industry.
Once you've ensured you have the right certifications, you can begin to think about structuring options. There are four key structure options most companies consider:
Sole trader
In a sole trader business, you are the exclusive owner of the business, and you're also responsible for it legally. This can be the easiest option for beginners, but it does come with a lot of liability as your organization starts to grow.
Partnership
If you opt for a partnership, you share the ownership of your company with someone else. This can be an ideal option if you want to start your business with a friend, relative, or another professional.
Limited company
Limited companies are private entities with more protections available for owners. The owner of the business is only responsible for debts in the company to a certain extent, and they have more protections regarding tax.
Limited liability partnership
In a limited liability partnership, all of the partners working together in a company have limited liability related to the business.
Every structure option has its own legalities and requirements to consider. If you're starting an architecture firm for the first time and you don't have a lot of experience in the business world, it's worth speaking to a legal professional about your options.
A tax and accounting professional will help you to set up your business and register it with the correct authorities.
Starting an architecture firm
The architecture firm business plan
When you own an architecture firm, defining its structure is just the first step in ensuring you're on the right track to success. Before you start building a brand and considering marketing opportunities, you'll also need to develop a comprehensive business plan.
A good business plan will not only provide direction when you're growing your business, but it should also help you to acquire funding and support when you're starting your business. While the structure of an architecture firm's business plan can vary, most will include the following:
An executive summary
The executive summary is a brief overview of the company's vision, overall goals, and the strategies you're going to use to achieve these goals. It highlights what products and services you're going to sell and what your business stands for.
Company overview
A company overview expands on the executive summary, highlighting the concept behind the business and what it aims to accomplish. Name specific clients you want to serve and specific services you're going to offer. Outline what makes the business distinctive from the competition.
Product/service description
On a product or service description page, you'll share a little more information about what your company actually does. Highlight exactly what kind of solutions you're going to offer in the architectural market and how they'll support customers.
Market research
The market research section of the business plan outlines everything you know about the market you serve, your niche audience, and even the competitors you're going to be fighting against.
The more detail you can include here about your company's potential and who you're going to serve, the easier it will be to position your brand.
Financial projections
In this section of your business plan, you'll draw attention to how much money you're going to need to invest in your company and how much you can reasonably expect to earn based on your market research.
This document will be particularly important when you're searching for support from investors.
Organization and management
Here's where you outline your company's business structure, who is in charge, and which employees you're going to have. Highlight who the key members of staff in your organization will be and what they're responsible for.
Marketing and sales
Define how you're going to take your solution to the market, how you're going to connect with customers, and exactly which channels and promotional strategies you're going to use. Define your buyer persona and how you're going to reach them using the market research gathered.
Designing an architecture firm: Creating an identity
Now you have a clear vision of what your company is going to be, it's time to start outlining an identity. After all, the brand you build for your organization will determine how well you can connect with your target audience.
When starting an architecture business, it's important to think about how you're going to present yourself to your clients.
The best way to boost your chances of developing a compelling brand identity is to work with a specialist or brand strategist. They'll be able to help you define key aspects of your brand, such as:
Your core mission, vision, and values
When learning how to start an architecture firm, defining a core vision and mission for your company is crucial. These are core components of your brand essence, and they'll help to set you apart from the other competitors in your space.
Define what stating a small architecture business or firm really means to you. How are you going to make the world a better place and serve your customers?
What kind of values will guide you when you're delivering your services? How can you differentiate yourself from competitors using things like expertise, exceptional customer care, and empathy? Creating a set of brand guidelines that highlight your core identity can be very useful here.
Your brand image
Your brand image will be essential to marketing and promoting your architecture firm. It will determine what colors and fonts you'll use in your website, logo, and marketing assets.
It also provides insight into how you want to present yourself to your audience across different channels, both offline and online.
Think about how your image can resonate with your audience on a psychological level. For instance, certain colors are aligned with specific ideas and feelings. Blue is considered trustworthy, while red is passionate and bold.
Ask how you'll convey the core values and vision of your organization through a beautiful logo design that you can include in all of your marketing campaigns.
Your tone of voice
Finally, ask how you're going to convey your personality through a compelling voice. Consider what kind of characteristics you want customers to associate with your brand.
Do you want to be perceived as authoritative and professional? Are you hoping to make customers feel at ease with your business using a friendly and playful tone?
Your tone of voice will influence everything from the name and marketing slogans you use for your business to how you interact with clients across social media, networking events, and even on your own website.
Creating some intuitive editorial guidelines could be helpful here, as they'll ensure you can maintain consistency across different channels.
How do architecture firms get clients? Marketing ideas
Once you learn how to start an architecture firm, you'll need to figure out how you're going to convince customers to come and try out your services.
While there's no one-size-fits-all strategy for promoting your company, there are a few steps you can take to boost your chances of reaching clients.
Here are some of the best ways to start connecting with customers:
Develop an online presence
The majority of today's architecture clients are likely to begin their search for a reputable company online. With that in mind, it's important to have a strong digital presence. Work with a professional web design company to create a website capable of showcasing your work and brand personality.
Having a website where you can highlight your portfolio will make your organization look more professional and legitimate.
Experiment with social media
Social media is a phenomenal tool for connecting with potential clients. Through the right channels, you can connect with your target audience, build relationships with clients and showcase your unique personality. The key to success is selecting the right platforms.
A B2B architect may focus more heavily on Facebook and LinkedIn, while a company building homes may stand out on Instagram.
Use content to your advantage
Developing a content marketing strategy is a phenomenal way to demonstrate thought leadership and expertise to your target audience. You can create everything from articles (SEO-optimized to boost your presence on the search engines) to videos and even podcasts.
Use your knowledge of your target audience to determine what kind of content is most likely to resonate with your customers.
Build your network
Word of mouth is still an extremely valuable tool for architects looking for clients. Developing a network can be an excellent way to generate referrals from other well-known companies. You could even consider partnering with other like-minded brands on offers for new clients.
You can develop your network by entering design competitions, attending events, and even joining forums and professional directories.
Remember offline presence
Although being active online is important for architects in today's world, it's worth making sure you have a strong offline presence too.
Developing your offline marketing strategies with tools like banners, branded vehicles, and even direct mail advertising could be ideal if you want to connect with local customers.
Tips on starting an architecture business
As you can see, there are various steps involved in learning how to start an architecture firm from scratch. Even if you develop an amazing service or product and commit to connecting with the right audience, there's still no guarantee of success.
However, you can use the following tips to boost your chances of thriving:
Protect your business
Defending your company is essential in the architecture world. Not only do you need to access the right architecture insurance, but you'll also need to make sure you're leveraging trademark and copyright law to protect your intellectual property and designs.
Consider asking for help from a legal professional here.
Develop customer loyalty
The most important thing any architecture firm can do is build a strong relationship with its target audience. Focusing on delivering exceptional customer experiences will improve your chances of repeat interactions with clients.
It also means they'll be more likely to refer your business to other consumers.
Monitor your reputation
Pay attention to what people are saying about your business in your industry, and focus on consistently improving your brand presence. Listen to your customers, respond to their reviews, and keep a close eye on what the competition might be doing to outshine you in your space.
Create partnerships
Partnering with other brands, companies, and thought leaders can be an excellent way to strengthen your brand presence and boost your credibility. Just make sure you're not partnering with any companies that might steal customers from you. Do your research before launching a partnership.
The easiest way to make sure your venture is successful as possible is to work with the right professionals. Leveraging the assistance of legal, accounting, and even branding experts throughout your business-building process will ensure you can overcome a number of hurdles.
Fabrik: A branding agency for our times.
Now read these: 
—Essential marketing strategies for architects
—How to name an architectural company 
—Branding considerations for architect firms 
—Your guide to architecture firm logo design  
—The ultimate list of architecture firm logos