The most famous luxury and high-end fashion brand logos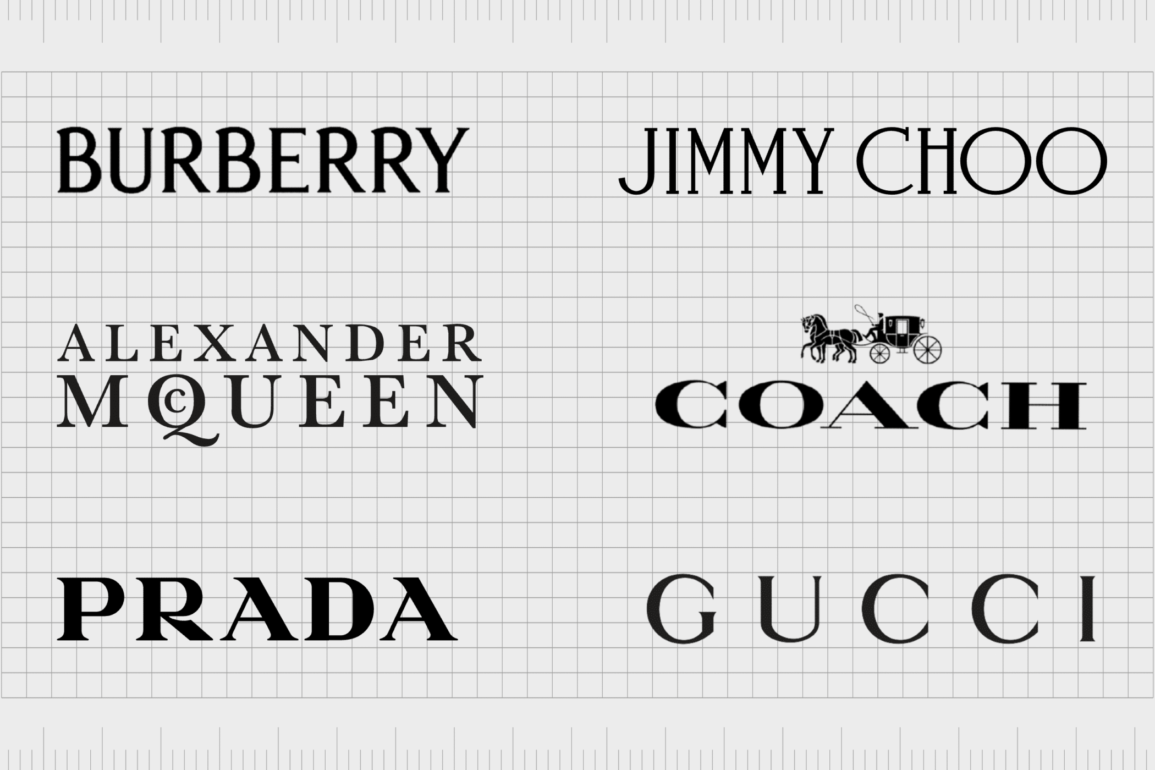 High-end fashion brand logos are more than just symbols of differentiation for innovative designers. The right emblems, badges, and wordmarks ensure fashion companies can effectively capture the attention of their target audience, showcase their personality, and drive brand loyalty.
For any company, the right logo is often crucial to cultivating success. As an essential part of your company's visual identity, your emblem tells customers what to expect from your company, while highlighting your unique values, purpose, and mission.
However, in the high-end fashion space, where companies rely on brand equity to convince their customers to pay more for their products, a logo can be particularly essential.
Today, we're going to be looking at some of the most memorable and highly renowned luxury fashion logos of all time. We'll be looking at how these innovative emblems shape the perception of their target audience, and strengthen a company's reputation.
What is a high-end fashion brand?
A high-end fashion brand, otherwise known as a luxury fashion brand, is a company committed to the design and sale of superior clothing. While the definition of "high-end" can vary depending on who you ask, the majority of luxury fashion companies follow a specific brand positioning strategy.
They focus on embodying excellence and opulence in everything they do.
High-end fashion brands typically invest heavily in the development of quality products. They use the best materials, technologies, and processes to ensure their clothing looks and feels amazing.
Often, high-end brands focus not just on promoting their clothing, but also showcasing the expertise of the person behind the designs.
Just look at Louis Vuitton, or Fendi for instance.
The personal brand of the designer is just as important as the image and identity of the company itself. Because these companies have such a high level of positive brand equity, they can sell their items at a higher price point than most.
They focus on cultivating exceptional loyalty among customers, and excelling as leaders in their field.
Which countries have the most high-end fashion brands?
High-end fashion brands and their luxury logos appear all over the globe. However, some countries do appear to have a higher volume of designers in this industry than others. For example, the most commonly referenced "fashion capitals" of the world include Milan, Paris, and New York.
Interestingly, however, South Koreans are the world's biggest spenders on luxury goods.
Common traits of high-end fashion brand logos
A great logo should always be unique to the company it represents. Effective logo design involves choosing everything from colors and shapes carefully, to convey specific messages and ideas to a target audience.
However, since high-end fashion brands all focus on showcasing luxury, they tend to have a few brand design elements in common.
Some of the most common components found in high-end fashion brand logos include:
Monograms
Since personal and professional branding often go hand-in-hand in the high fashion world, monograms are relatively common. An attractive monogram logo draws attention to the founder of a fashion company, while demonstrating sophistication and authority.
Gucci, Louis Vuitton, and many other well-known luxury brands use monograms.
Emblems
Emblems are also a relatively common choice for fashion brands. They demonstrate prestige, and tradition, which can be ideal for long-standing companies.
Crests, shields, and similar marks all showcase authority and affluence.
Minimalism
Although fashion trends can come and go, minimalism in logo design is almost consistently associated with quality and elegance. Most high-end fashion brands use streamlined shapes, and basic color palettes to convey an air of timelessness.
It's also common to see a lot of negative or white space in these emblems.
Line work
Rather than relying heavily on shapes and graphics, most luxury fashion brand logos keep things simple with basic lines. Basic lines can draw attention to the name of a fashion brand, and demonstrate ideas like strength and stability.
Strategic typography
Most high-end fashion brands avoid playful typefaces, choosing either script-style fonts, or serif typeface options. These font choices are ideal for demonstrating luxury and sophistication.
It's also worth noting that many fashion designers and luxury fashion brands often preserve the same logo design for as long as possible. While other companies may experiment frequently with logo updates, luxury fashion companies prefer to demonstrate consistency with their logos.
The most famous logos of high-end fashion brands
Now we've covered some of the basics of high-end fashion brand logos; it's worth taking a closer look at some of the most memorable emblems in the world today.
Here are some of the most attractive designs, created by well-known high-end fashion brands.
1. Gucci
Perhaps one of the most famous high-end fashion brands in the world, Gucci is an Italian company, first launched in 1921. Founded by Guccio Gucci, the business exudes excellence and authority in everything it does, from its wordmark logo to its well-known monogram.
The official Gucci logo features a simple, sleek and sophisticated wordmark, with significant spacing between the letters to highlight balance and grace. The interlocking "G's" in the accompanying monogram often used on Gucci products further draw attention to Gucci's artistic nature.
Find out more about the Gucci logo here.
2. Chanel
French fashion brand Chanel is an excellent example of a company with a phenomenal luxury fashion logo. First founded by Coco Chanel in 1910, the Chanel brand specializes in luxury goods, women's style, and accessories.
It's also known for revolutionizing haute couture.
The Chanel logo has remained a consistent asset for the brand for decades, showcasing authority and strength. The interlocking "C's" in the monogram draw attention to the name of the founder, while also conveying sophistication and stability.
The design almost looks like the links in a chain. Underneath the symbol, we often see the name, "Chanel" depicted in an uppercase, sans-serif font, channeling ideas of consistency, power and authority.
Find out more about the Chanel logo here.
3. Fendi
Best known for its shoes, accessories, and timepieces, Fendi was first founded in Rome, during 1925. Like many luxury fashion brands, the Fendi company name is based on the names of its founders, Adele, and Eduardo Fendi, who started their business with a luxury fur and leather store.
While the Fendi emblem has gone through a handful of changes over the years, it has retained a consistent aesthetic of elegance and fortitude.
The bold sans-serif letters in the wordmark give the company an image of power and tenacity. The black and white color palette also ensures the current logo can work seamlessly across all products, and materials.
4. Versace
Perhaps one of the most interesting examples of high-end fashion brand logos comes from Versace. Launched in 1978, Versace doesn't have quite as much history and heritage as some of the other brands on this list.
However, it conveys a rich background through its logo design.
The emblem in the Gianni Versace logo is based on the head of Medusa, a beautiful Greek mythological creature, known for turning people into stone. This imagery tells us Versace is committed to creating clothing and designs that stop viewers in their tracks.
The bold clothing line creations from the company definitely support this idea.
5. Dior
Another excellent example of minimalism in fashion brand logo design, the Dior wordmark is simple, yet compelling.
Founded by Christian Dior in 1946, the Dior French multinational fashion house sells clothing and shoes only available in dedicated stores. It positions itself as a brand committed to exclusivity, which makes it all the more appealing to customers.
Though simplistic, the Dior logo is undoubtedly powerful. The sleek serifs in the wordmark help to make the image appear more traditional, while the streamlined design creates a timeless aesthetic.
Dior's logo instantly tells us we're dealing with an authority in the fashion space.
6. Coach
Otherwise known as Coach New York, Coach is an American luxury fashion brand, specializing in leather accessories, and ready-to-wear clothing. This luxury fashion house takes advantage of traditional imagery, to remind customers of its long-standing heritage in the garment space.
The Coach logo, designed by Bonny Cashin, tells the story of the company's origins. It reminds us of the upper-class aristocracy who cultivated stunning, custom-made garments decades ago.
The accompanying wordmark in the emblem is bold and broad, with blocky, refined serifs, demonstrating tenacity, vitality, and influence.
7. Louis Vuitton
Perhaps the most simplistic of all the high-end fashion brand logos on this list, the Louis Vuitton logo seems relatively basic at a glance.
Although the company is best-known for its monogram emblem, featuring an interlocking "L" and "V", which still appears on garments today, its official logo is just a sans-serif wordmark.
The Louis Vuitton current logo, with its sleek lines and beautiful spacing, highlights the strength and power of the company. When combined with the "LV" monogram, this eye-catching brand identity reminds customers they're buying from a long-standing innovator in the fashion space.
8. Ralph Lauren
Like many high-end fashion brands, Ralph Lauren is best-known for using a combination of images in its visual branding. The official Ralph Lauren wordmark, featuring sleek, serif characters, is beautifully balanced, and elegant.
The accompanying horse graphic, shown on many of the Ralph Lauren garments and accessories, reminds customers of the history of the company.
Since launching in 1967, the Ralph Lauren brand has made very few changes to its brand assets, retaining a consistent sense of heritage and power. In the world of fashion, Ralph Lauren is seen as an innovator, capable of connecting the past, and the future in their designs.
9. Dolce & Gabbana
Also known simply as D&G, Dolce & Gabbana is a luxury Italian fashion house, founded by Stefano Gabbana and Domenico Dolce in 1985. Although the Dolce & Gabbana logo has a lot in common with many other emblems in the fashion industry, it features some unique components too.
The official logo includes the business name, and the name of the two founders, presented in large, sans-serif letters, with very little spacing. Perhaps the most interesting component of the logo is the small ampersand in the middle.
The logo not only looks modern and contemporary, it also highlights the connection between the two designers, making the two names almost appear like one.
10. Valentino
Founded by Valentino Garavani in 1960, the Valentino fashion brand is a staple of the Italian landscape. The emblem of the company includes many common elements found in high-end fashion brand logos, from a distinctive serif-style inscription, to a black and white color palette.
However, what distinguishes the Valentino design most from other luxury fashion logos is the included monogram-style design at the top of the image. This emblem uses the letter "V" placed inside of an oval to demonstrate innovation, discovery, and inclusion.
11. Burberry
Regarded as one of the best high-end fashion brands in the UK, Burberry is a luxury fashion house which was first established in 1856 by Thomas Burberry.
Like many companies in this industry, the Burberry brand has refined its image over the years, adopting a more modern design to connect with younger audiences.
The current Burberry logo is an attractive wordmark, featuring the name of the company in all capital letters. The sharp serifs on the characters convey strength and innovation, showcasing Burberry as a cutting-edge brand in its industry.
Though the old logo for the company had a significant degree of equity, the new emblem helps to highlight the brand's commitment to the future.
12. Balenciaga
Luxury French fashion brand, Balcenciaga was first launched in 1919 in Spain, but the company is based in Paris, France. Though the Balenciaga logo, like many luxury fashion brand logos, revolves mainly around a wordmark, it's unique in the industry.
Where other high-end clothing companies convey their brand name in sophisticated serif fonts, Balenciaga chose a bold, confident sans-serif font for their image. The simple logo highlights the modernity of the company, and its commitment to sleek, sophisticated design.
13. Givenchy
Another innovator in modern design, Givenchy is a French luxury fashion brand, best known for its haute couture and ready-to-wear clothing and accessories.
Like Balenciaga, Givenchy uses a simplistic, sans-serif wordmark as its core brand logo. The clean lines and spacing demonstrate stability, strength, and authority.
However, Givenchy is also well-known for the interlocking "G" monogram which often appears on its clothing. The monogram looks almost like a Celtic knot, showcasing the power of reflection and balance in logo design.
14. Giorgio Armani
Otherwise known simply as "Armani", the Giorgio Armani Italian clothing brand was first launched in 1975, in Milan. The company is considered Italy's second biggest luxury fashion group, falling just behind Prada in terms of popularity and impact.
The Armani logo screams elegance, with beautifully curved sans-serif characters, and well-balanced thick and thin lines. Minimalist and sophisticated, this recognizable logo often appears alongside a range of brand elements, including a modernized eagle emblem.
Armani's design is evidence that a good logo doesn't have to be complex to be memorable.
15. Prada
Another interesting example of high-end fashion brand logos, the Prada emblem strays from the normal components of many well-known luxury emblems. Though, like other high-end logos in the world of luxury fashion, Prada utilizes a serif-style wordmark, the typeface is quite unique.
The serifs on many of the letters almost look geometric in design, from the bold triangles on the "A's" to the rectangular shape on the "R". By combining elements of classic design with a modern flair, Prada distinguishes itself as a thought leader and innovator in the fashion space.
16. Jimmy Choo
First launched in 1996, Jimmy Choo is a British luxury fashion hand specializing in handbags, and shoes. It was introduced to the world by Shoemaker Jimmy Choo, who initially distributed shoes via stalls in a local UK market.
The Jimmy Choo logo is a little more playful than some of the other emblems on this list, with large, round "O's" drawing attention to the brand name.
The fluid nature of the letters, combined with the wider "O" elements create an image of creativity and sophistication. This brand from London, England tells us with its logo that it's not afraid to think outside of the box and experiment with new ideas.
17. Yves Saint Laurent
Like many of the high-end fashion brands we've discussed so far, Yves Saint Laurent is best known for a combination of different brand assets.
The brand, first launched in 1962, has a modern official logo, featuring the name "Saint Laurent" in bold, uppercase letters. In some instances, the name is also combined with the word "Paris", placed underneath the inscription.
At the same time, many people also associate the Yves Saint Laurent logo with the YSL vertical monogram. The relatively long emblem is somewhat playful and unconventional, highlighting YSL as a brand committed to transformation and discovery.
18. Alexander McQueen
British fashion designer, Alexander McQueen chose an interesting emblem for his brand identity. The design seems to convey the creator's personal style, showcasing eccentricity and creativity.
McQueen is best known for using exaggerated shapes and innovative tailoring in his clothing, so the curvaceous "Q" in the logo inscription makes a lot of sense.
Another interesting element of this logo is the decision to place the "C" from "McQueen" within the "Q". This may be an attempt by the designer to demonstrate his interest in combining elements of traditional fashion with concepts of the future.
19. Hermès
The Hermès fashion brand, established in 1837, has a very different brand image to many of its competitors. In fact, it's the first time in this list we're looking at an emblem that doesn't use the color palette of black and white.
The French brand has used the same design in its logo since the 1950s, featuring a Duke carriage with a horse, depicted in orange.
Underneath the old-fashioned cart-and-horse design, we see the name of the company, depicted in blocky, serif letters, with the word "Paris" inscribed underneath.
This is a bright and eye-catching logo, which seems to combine elements of the past and present.
20. Tom Ford
Though Tom Ford hasn't been around for as long as some of the other luxury fashion brands mentioned in this list, the company has been making waves in the high-end space.
Purchased by Estee Lauder in 2022, the Tom Ford brand focuses on made-to-measure and ready-to-wear clothing.
Tom Ford is best-known for his work with Gucci before he launched his own brand. The Tom Ford logo conveys the designers' commitment to building his own unique image in the fashion space.
Though simplistic, the modern wordmark is confident and strong, as well as wonderfully bold.
Learning from luxury fashion brand logos
As you can see from the high-end fashion brand logos mentioned above, many luxury companies have used similar tactics to convey sophistication, authority, and affluence in their brand images.
While many of the designs mentioned above have overlapping themes, they all use unique elements to convey the underlying brand's values.
Looking at the luxury fashion brand logos above, we can see how the right combination of color, typography, and shapes can transform a company's identity, strengthen brand equity and capture the attention of customers.
If you need help designing your own original logo, remember a little help can go a long way. Contact Fabrik Brands today to find out how we can transform your brand's logo into a symbol of opulence, wealth, and innovation.
Fabrik: A branding agency for our times.