Camera company logos: The world's largest camera companies and their logos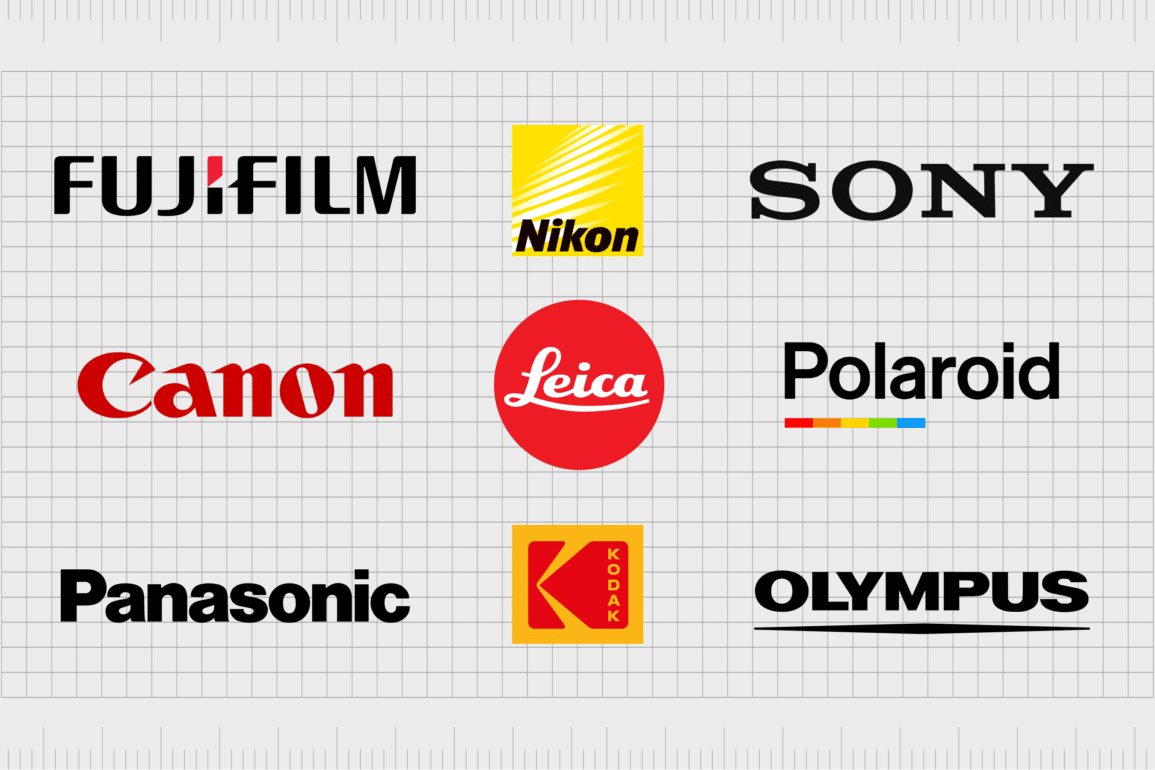 Some camera company logos are instantly recognizable, but there's a very good chance that you might not have seen various others – even if you're an avid photographer. And when looking at photography companies, you'll find some that manufacture both lenses and camera bodies – whereas others will solely produce one or the other.
Camera manufacturers must ensure their logos fit their values more than most other industries. Visual art is their main purpose, and creating something inconsistent can result in users choosing a competitor instead.
For example, a brand specializing in vintage-style cameras might want to choose fonts and colors that fit a film look.
You'll find plenty of consumer-level camera brands that go beyond the disposable point-and-shoot devices you might remember from childhood.
You'll find a broad selection of DSLR cameras for entry-level photographers, along with mirrorless options, once you have a few years of experience. Similarly, you can choose from various zoom and prime lenses – allowing you to take photos exactly how you want.
You'll discover some of the most famous camera brand logos in this guide. We'll also talk more about the company's background, the reasons they're famous, and much more.
Fujifilm
One of the most famous camera companies is Fujifilm, and many creators are drawn to the brand for the colors you'll get when taking photos with its suite of devices. The company was founded in 1934, and today, it's headquartered in the Minato district of Tokyo, Japan.
Fujifilm has developed several legendary cameras over the years. The XT-30 was, for many creatives, the perfect introduction to the company's suite of products.
Since then, the XT-4 and XT-5 have also become favorites – while the XS-10 has provided an ideal cross between the XT-30 and some of the higher-end models.
Of course, we can't forget about some of the other Fujifilm cameras that have found their way onto the market in the past. The FinePix series was also incredibly popular.
Away from camera bodies, Fujifilm has developed a broad range of its cameras. The 27mm lens is fondly referred to as the "pancake lens" for its compact size. Meanwhile, the 70-300 zoom lens – along with the 35mm prime – is also loved among Fujifilm fans.
Fujifilm has over 70,000 employees across the globe, and in 2021, the company made over $20 billion in revenue.
Fujifilm has used its current logo since 2006; it features the name of the company in capital letters, with a red section at the top of the first I. Before that, the logo featured the word "Fuji" in red next to the main text.
Leica
If you ask photographers what their dream camera is, many of them will mention Leica.
The German manufacturer is one of the largest camera companies in the world, and it's also one of the oldest. The current version of Leica was founded in 1986 under its new name, but it had previously existed as Ernst Leitz Wetzlar since 1869.
Leica cameras are instantly recognizable, and they're typically quite compact.
The colors you can capture on these devices are incredible, and you can also expect to pay a hefty price tag to own one. The company specializes in high-end devices that last a long time, and the design will remind you of some of the older film-style cameras that you may have seen elsewhere.
Besides its suite of cameras, Leica also has various lenses that you can buy for the different bodies you use. These include the 50mm lens, known across multiple manufacturers and the photography industry as the "nifty fifty". Why? Simple: Its versatility is up there with the best.
You can also find zoom lenses like the 24-70mm, which will cover you in a broad range of situations. This lens is useful for food and product photography, and you can also use it for urban and landscape shots.
As for the Leica logo, you'll see the red circle from a reasonable distance if you visit one of the company's land-based stores. It also features heavily on the manufacturer's different products. The writing itself is in more of a retro and joined-together font, featuring just the name of the company.
Leica has around 1,800 employees worldwide, and it reported over $400 million in revenue during the 2021-2022 financial year. The company is headquartered in the town of Wetzlar, Germany, which is also where it was founded.
Sony
When looking at the biggest camera companies, it would be impossible to leave Sony off the list. In fact, Sony belongs to the Hall of Fame for consumer electronics in several fields. You might have used several Sony products in the past, including its suite of PlayStations and the old Walkman mobile phones.
If you're into photography or filmmaking, you should definitely check out its camera range as well.
Sony has several camera ambassadors around the world, and some of the most popular photography YouTubers rely on the manufacturer to develop content that helps them grow.
The company's Alpha camera series is one of the most popular today, and you'll find a selection of other devices designed specifically for video content instead.
If we look at lenses, you'll find a broad selection when purchasing a Sony camera. The 16-35mm is a popular choice if you need a bit more versatility, and the 24-70mm will also work in this respect.
Sony is the second-biggest camera manufacturer in the world, and it also owns over half of the market when it comes to image sensors. The company has more than 100,000 employees across all of its entities, and its headquarters are – like Fujifilm – located in Minato, Tokyo.
The Sony logo is simple but – at the same time – effective. It features the name in all caps and has straighter edges than what you'll find with Fujifilm. Of all the camera company logos on this list that you'll recognize if you're not a photographer, Sony is close to the top of that.
Canon
Canon is another Japanese company to make our list of the top camera companies and camera logos. It's headquartered in Tokyo but is in the Ota district rather than Minoto. Canon was founded in 1937, making it one of the older photography brands on our list.
Today, Canon has a broad suite of high-end cameras that can help you take amazing photos. The EOS series is especially popular with amateur and professional photographers alike, and you'll also find the Powershot series a great option if you're thinking about starting a photography YouTube channel.
Canon's Powershot cameras are also great if you want to combine your photo and video efforts in other ways, though they typically don't let you change the lenses on your camera bodies.
Speaking of lenses, Canon has a broad range of interchangeable options for its cameras. The 70-200mm lens is ideal if you're into landscape, wildlife, or portrait photography. Another potential alternative is the 75-300mm. Meanwhile, if you're looking for an entry-level prime lens, you can use the 50mm.
Canon also designs other forms of electronics; it's particularly well-known for its suite of printers. The company has over 180,000 employees worldwide, and it made around $30 billion in the 2021 tax year.
As for Canon's logo, it follows a similar theme to what you've already seen in this article. The company's name is spelled out, though this time, it features both upper and lowercase letters. Canon's logo is usually seen in red.
The current logo, used since 1956, is much more simplified than the original Kwanon one – which featured the Goddess of Mercy.
Polaroid
Polaroid is perhaps one of the coolest photography companies, and their cameras are a great option if you're interested in more of a retro photography style.
If you work with brands that have a similar kind of aesthetic, you may also want to invest in a Polaroid camera; even the more expensive options still cost less than many digital cameras.
Polaroid was founded in 1934 in Cambridge, Massachusetts. The original company was sold in 2002, and the current brand – Polaroid B.V. – has been going on since 2008. It's headquartered in the Netherlands and has over 300 employees.
In 2022, Polaroid made over $30 million in revenue.
You can easily tell a Polaroid camera by the rainbow line that features close to the lens. The shape is also quite unique; they feature more of a square-style shape than what you'll find with many of the more modern camera options on the market.
They're also very similar to the Fujifilm Instax devices in how they operate.
When using a Polaroid camera, you can decide on the type of film you'd like to use with your device. Moreover, you can pick from a pretty extensive suite of cameras.
Buying a Polaroid camera might actually be a great option for beginner photographers, as you'll need to think more carefully about the composition you use in your images. The rainbow is synonymous with Polaroid – but believe it or not, this isn't the actual logo.
Instead, the official Polaroid logo features the name of the company in lowercase letters. The letters are all in more of a modern, rounded aesthetic; you'll find several 80s-style fonts that are similar in Canva and on other platforms.
Nikon
Another of the most famous camera logos is Nikon, which – like many we've mentioned already – is headquartered in Japan.
Founded in 1917, Nikon was one of the pioneers in the photography space; for many beginner photographers, the brand is their first taste of taking pictures without using their smartphones.
Nikon has more than 20,000 employees around the world, and in 2022, it made around $4 billion in revenue. The company has several classic DSLR cameras, with the D3400 being one that many photographers may remember fondly.
However, rumors have suggested that Nikon will soon stop developing DSLR cameras to focus on other areas of the business.
Even if you soon won't be able to buy new Nikon DSLRs, you will still be able to get your hands on various mirrorless options.
The Nikon Z is one that you may want to consider looking at, and you can also – at the higher end of the scale – get the Nikon Z9. This is a powerful option that will set you back over $5,000 in most cases.
As for camera lenses, the best option is arguably the 50mm – which, besides taking great photos, is also durable. For those who want a telescopic lens, you may wish to think about getting the 400mm or 105mm.
The Nikon logo is quite simple; it usually features either white or black writing, with yellow either in a line or a square.
Kodak
Historically, Kodak is one of the biggest camera companies. You might remember going on holiday in the late 1990s or early 2000s and taking a disposable Kodak camera with you, before going to a print store when you got back to get the pictures developed.
Today, however, Kodak isn't the powerhouse it once was in the photography space. You can still buy film Kodak cameras, though, such as its range of half-frame cameras with a 35mm lens.
You can opt for many of these whether you want to have your flash switched on or off, and you also have the choice to manually wind your film to the next one.
Though you might look at other brands first for digital cameras, Kodak does have a suite of options in this respect. You will also find a selection of instant print cameras, which work in a similar fashion to Polaroid's suite of products.
Away from cameras, Kodak also has a suite of printers. On top of that, you can purchase clothing and accessories for your smartphone – including lenses, tripods, and phone covers. In addition to working with consumers, Kodak also develops technology for other companies.
Kodak has 4,200 employees in various locations around the world; at the company's peak, it had over 100,000 people working for it. Despite downsizing, Kodak is still headquartered in Rochester, New York – which is where it was founded in 1888.
Despite going under the radar in the modern photography space, Kodak still generated $1.05 billion in revenue in 2022. This was 5% higher than it achieved in 2021, so its future looks quite bright.
Kodak's current logo features the letter K carved in a red square, and that square is on the back of a larger – amber – one. Within the red square, you'll see the word Kodak go from top to bottom in all caps.
The company has used this icon since 2016, and it's very similar to the version it used between 1987 and 2006. Kodak is one example of good brand naming; even today, it's still recognizable.
Find out more about the Kodak logo here. 
Olympus
If you're looking for retro-style cameras that take intriguing images, Olympus is well worth checking out. Like Leica, Olympus mainly focuses on designing high-end devices that will stand the test of time.
You'll find several weather-sealed options, which are an ideal choice if you need something that will allow you to capture shots in colder conditions with confidence.
Olympus also has a "tough" range, which it has designed for those who want some adventure – and also want their camera to get involved. The tough cameras are shockproof, waterproof, and dustproof. On top of that, Olympus tough cameras are also designed not to freeze.
Olympus Corporation has more than 30,000 employees worldwide, and the company is headquartered in Japan. The company made over $5 billion in revenue in 2021, which was an increase in 2020, 2019, and 2018.
The Olympus logo is, like many of the other famous camera company logos, quite straightforward. It features the name of the company in all caps, with a line-like icon beneath it. Both the icon and logos are typically in black.
Olympus has been around since 2019, making it one of the oldest photography companies in the world.
Panasonic
Another Japanese consumer tech company that develops high-end cameras is Panasonic.
The company was founded in 1918, and its headquarters are in Osaka – which is also where it was originally established. Panasonic is one of many technical brand names that you'll find in the world today, but it continues to stand ahead of its competitors with unique products that emphasize quality.
Panasonic has several camera series worth checking out, including the suite of Lumix products that are often also used for videography. You'll find Lumix cameras with interchangeable lenses, along with others that still have a fixed option instead.
Besides the range of Lumix cameras, Panasonic also has a broad range of handheld camcorders. These will remind you of the types that you might have been familiar with during your childhood and early teens. Besides both of these, Panasonic also has a selection of higher-end video cameras.
Panasonic also has a selection of lenses that you can use with its interchangeable bodies. The 24-70mm (f/2.8) is one popular choice with photographers, and you can also choose the 14-140mm zoom lens if you want more flexibility.
Another option, though this one is a prime lens instead of zoom, is to go for the 25mm.
Panasonic has more than 240,000 employees, and its 2021 revenue exceeded $60 billion. The logo features the name of the company in bolded Helvetica, with both upper and lowercase letters. Panasonic's logo is usually in black or white.
SIGMA
You might have noticed that for some camera manufacturers, we didn't mention a huge range of lenses.
That's because, for a couple of the bigger companies, one company – SIGMA – provides many of the lenses that those camera bodies use. SIGMA also has its own suite of cameras, but we'll talk more about that shortly.
SIGMA has been around since 1961, and it was founded in Setagaya, Tokyo. Now, it's headquartered in Kawasaki – which is part of the Greater Tokyo Area.
SIGMA provides lenses for Sony E-mount cameras, along with L-mount Leica and Panasonic models. You'll find a broad selection of focal lengths that you can consider using, such as 24mm, 50mm, 85mm, and 30mm for prime lenses.
If you're looking for a zoom lens instead, don't worry; you'll also find a wide range of lenses for these. The 24-105mm is one popular option, and another that you may wish to consider checking out is the 24-70mm. 100-400mm is another focal length that you can pick from for zoom lenses.
Besides the camera manufacturers mentioned above, SIGMA also develops lenses for Fujifilm X-mount cameras. SIGMA has two interchangeable lens cameras, along with another that has a fixed lens.
You can switch between video and still image modes for these, and the image quality is excellent; so are the colors.
Like many of the camera logos mentioned so far, SIGMA's logo features predominantly writing. It's also all in capital letters, and the font is quite a mixture of straight and rounded on the edges.
Viltrox
To round off our list of camera logos, let's look at Viltrox. The brand is one of the newer ones on our list, having originally been founded in 2009.
Viltrox is located in Shenzhen, China, and it mainly produces third-party camera lenses that are a fraction of the price of what you'll find with the official lenses. There is a slight trade-off in quality, but it's not huge – and you can still capture amazing shots.
Viltrox develops camera lenses for Fujifilm, Sony, Panasonic, Olympia, and various other manufacturers. You can also get several accessories, such as lens adapters and studio lights.
You'll find numerous focal lengths when looking for a Viltrox lens, and the company has a selection of zoom and prime lenses available.
The Viltrox logo features all capital letters, and the font is slightly italicized.
The biggest photography brands and camera logos in one place
Many camera company logos are quite similar.
Most big manufacturers have their names as the main part of their icons, and the font style is also quite similar. We shouldn't be too surprised here, as many camera manufacturers are based in a country that values simplicity and beauty in equal measure.
If you're a photographer, you'll probably recognize many of the companies we've spoken about today. And if you're not, you might have discovered a few brands you hadn't previously heard of.
Moreover, you may have discovered that some brands you already use for other items – such as printers – also create cameras.
While it's easy to default to stock image websites, the best brands often get their pictures taken for them. Professional brand photography is crucial, and we've written a full guide explaining why.
Fabrik: A branding agency for our times.